Flock!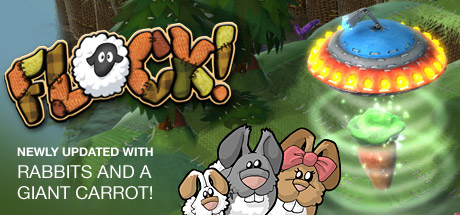 Store | Hub | SteamDB
Developer: Proper Games Publisher: Capcom
Genre: Casual, Strategy
Languages: English, French, German, Italian, Spanish
Tags: Casual (28), Strategy (27), Puzzle (8), Aliens (6)
Category: Single-player, Shared/Split Screen, Steam Achievements, Partial Controller Support
Release date: Apr 7, 2009
Price: $0.99 80%
Score rank: 36% Userscore: 75% Old userscore: 74% Metascore: 65%
Owners: 33,042 ± 5,091
Players in the last 2 weeks: 613 ± 1,200 (1.86%)
Players total: 20,112 ± 3,972 (60.87%)
Peak concurrent players yesterday: 3
Playtime in the last 2 weeks: 01:02 (average) 01:02 (median)
Playtime total: 01:06 (average) 00:23 (median)

Steam Spy is still in beta, so expect major bugs.
Peak daily concurrent players:
CCU data courtesy of SteamDB. Used with permission.
Hourly concurrent players:
YouTube:
The views data is based on top 50 videos uploaded last week. Actual number of views might be more than the number shown.

The displayed number of videos uploaded yesterday is limited to 50, so if there were more videos uploaded, the number will still show 50.

If the game has commonly used word as its name (like "FEAR" or "Volume") its number of Youtube views might be wrong.
Games similar to this one:
#
Game
Release date

Price

Score rank
(Userscore / Metascore)

Owners

Players

Playtime (Median)

1
Waddle Home
Jul 7, 2016
$5.99
N/A (N/A)
43,303 ±5,828
2,052 ±1,268
00:05 (00:06)
2
RPG Fighter League
Nov 11, 2016
$2.54
N/A (N/A)
2,463 ±1,390
205 ±401
07:17 (02:25)
3
3dSunshine
Nov 1, 2016
Free
N/A (N/A)
14,571 ±3,381
2,052 ±1,268
00:23 (00:53)
4
VirZOOM Arcade
Jun 30, 2016
Free
N/A (N/A)
51,307 ±6,344
10,261 ±2,837
15:44 (00:04)
5
Seance: The Unquiet (Preview)
May 2, 2017
Free
N/A (N/A)
4,515 ±1,882
1,437 ±1,061
00:05 (00:08)
6
One Man Is Not No Man
Mar 18, 2016
$3.99
N/A (N/A)
5,541 ±2,085
0 ±0
00:00 (00:00)
7
The FOO Show featuring Will Smith
Apr 5, 2016
Free
92% (95%)
64,237 ±7,098
19,497 ±3,910
01:02 (00:05)
8
LOST ORBIT
May 12, 2015
$8.39
N/A (N/A/72%)
1,231 ±982
1,026 ±897
01:38 (02:15)
9
The Astonishing Game
Feb 6, 2017
$1.01
N/A (N/A)
5,336 ±2,046
616 ±695
01:01 (00:40)
10
EMPORIUM
May 17, 2017
$0.99
N/A (N/A)
2,052 ±1,268
821 ±802
00:35 (00:45)
11
Real Heroes: Firefighter
Mar 14, 2017
$4.99
N/A (N/A)
2,873 ±1,501
205 ±401
00:28 (00:09)
12
Senza Peso
Oct 11, 2016
Free
74% (90%)
42,688 ±5,786
21,139 ±4,072
01:00 (00:12)
13
Containment: The Zombie Puzzler
Mar 2, 2012
$1.99
74% (90%)
74,703 ±7,655
24,833 ±4,413
03:24 (00:42)
14
Deisim
Dec 19, 2016
$4.79
N/A (N/A)
1,231 ±982
410 ±567
06:04 (04:02)
15
Creeper World 2: Anniversary Edition
Nov 16, 2016
$2.49
N/A (N/A)
2,668 ±1,446
2,052 ±1,268
11:14 (07:00)
16
YOU DON'T KNOW JACK Vol. 4 The Ride
Nov 5, 2013
$1.49
N/A (N/A)
68,546 ±7,332
10,672 ±2,893
06:33 (00:37)
17
QbQbQb
Oct 29, 2014
$3.14
N/A (N/A)
20,112 ±3,972
5,131 ±2,006
00:41 (00:18)
18
Moorhuhn (Crazy Chicken)
Feb 5, 2015
$0.99
67% (88%)
29,963 ±4,848
10,467 ±2,865
01:36 (00:11)
19
The Manhole: Masterpiece Edition
$1.49
N/A (N/A)
58,490 ±6,773
8,825 ±2,631
00:19 (00:06)
20
YOU DON'T KNOW JACK TELEVISION
Nov 5, 2013
$1.49
N/A (N/A)
66,494 ±7,222
8,620 ±2,600
00:47 (00:24)
21
Receiver
Apr 29, 2013
$1.99
61% (86%)
768,582 ±24,533
316,258 ±15,745
01:26 (00:20)
22
YOU DON'T KNOW JACK Vol. 3
Nov 5, 2013
$1.49
N/A (N/A)
68,957 ±7,354
8,620 ±2,600
03:44 (00:33)
23
Crazy Machines Elements
Feb 10, 2012
$4.99
N/A (N/A)
30,374 ±4,881
8,620 ±2,600
03:03 (01:48)
24
Oh My Gore!
Oct 20, 2016
$1.24
N/A (N/A)
2,052 ±1,268
1,231 ±982
01:07 (01:30)
25
Melon Simulator
Nov 3, 2016
$4.49
N/A (N/A)
1,026 ±897
821 ±802
00:15 (00:11)
26
AudioBeats
Jan 5, 2017
$3.99
N/A (N/A)
2,258 ±1,330
1,642 ±1,134
06:58 (01:15)
27
Tvori
Aug 25, 2016
$13.39
N/A (N/A)
1,532 ±1,340
1,225 ±1,198
01:02 (01:03)
28
Critical Mass
Jun 20, 2011
$1.99
53% (83%/81%)
119,854 ±9,695
53,565 ±6,482
02:23 (00:14)
29
Cosmic Osmo and the Worlds Beyond the Mackerel
$1.49
N/A (N/A)
58,490 ±6,773
12,724 ±3,159
00:59 (00:09)
30
Star Trek: Starfleet Academy
May 8, 2015
$9.99
N/A (N/A)
7,799 ±2,473
6,157 ±2,197
02:25 (01:04)
31
Don't Shoot Yourself!
Apr 10, 2015
$3.99
N/A (N/A)
1,847 ±1,203
1,437 ±1,061
00:46 (00:20)
32
YOU DON'T KNOW JACK HEADRUSH
Nov 5, 2013
$1.49
N/A (N/A)
66,084 ±7,199
10,261 ±2,837
00:44 (00:26)
33
Woof Blaster
Sep 22, 2015
Free
49% (81%)
65,263 ±7,155
8,209 ±2,537
01:17 (00:08)
34
Spelunx and the Caves of Mr. Seudo
$1.49
N/A (N/A)
58,490 ±6,773
12,724 ±3,159
00:33 (00:15)
35
The Franz Kafka Videogame
Apr 6, 2017
$6.99
46% (80%/66%)
2,873 ±1,501
2,258 ±1,330
02:13 (02:00)
36
BRAINPIPE: A Plunge to Unhumanity
Jul 6, 2009
Free
46% (80%)
76,961 ±7,769
15,187 ±3,451
01:05 (00:10)
37
Fractal: Make Blooms Not War
Nov 29, 2011
$6.99
N/A (N/A)
202,766 ±12,609
78,397 ±7,841
03:10 (00:20)
38
YOU DON'T KNOW JACK Vol. 1 XL
Nov 5, 2013
$1.49
42% (78%)
74,088 ±7,623
31,195 ±4,946
01:59 (00:22)
39
Terra Lander
Feb 6, 2015
$0.59
N/A (N/A)
106,103 ±9,122
8,825 ±2,631
00:32 (00:07)
40
Boneless Zombie
Jul 27, 2015
$0.99
N/A (N/A)
5,952 ±2,160
1,437 ±1,061
00:12 (00:18)
41
Unfortunate Spacemen
May 6, 2016
$9.99
40% (77%)
3,284 ±1,605
2,258 ±1,330
10:35 (18:08)
42
Musclecar Online
Feb 12, 2015
$2.39
N/A (N/A)
12,929 ±3,184
1,642 ±1,134
00:08 (00:13)
43
In the Darkness of the Sea
Feb 1, 2017
Free
N/A (N/A)
1,847 ±1,203
616 ±695
00:05 (00:04)
44
Simutrans
May 24, 2016
Free
35% (74%)
94,611 ±8,614
49,871 ±6,254
01:59 (00:07)
45
Funfair
Aug 20, 2016
Free
N/A (N/A)
29,553 ±4,815
6,773 ±2,305
00:14 (00:10)
46
Filthy Lucre
Dec 11, 2016
$4.41
N/A (N/A)
1,026 ±897
821 ±802
04:31 (04:37)
47
SugarMill
Dec 15, 2016
$9.89
N/A (N/A)
1,231 ±982
616 ±695
13:13 (13:05)
48
Tidalis
Jul 16, 2010
$0.49
30% (71%/75%)
164,799 ±11,368
53,360 ±6,469
03:10 (00:26)
49
Wildlife Park 2 - Marine World
Jul 17, 2014
$2.79
N/A (N/A)
30,990 ±4,930
11,903 ±3,055
03:37 (00:57)
50
Subsiege
Mar 8, 2017
$8.99
N/A (N/A)
1,847 ±1,203
1,231 ±982
08:45 (16:26)
51
One Night Two Crazies
Aug 10, 2016
$0.62
N/A (N/A)
1,642 ±1,134
410 ±567
00:03 (00:01)
52
Cahors Sunset
Jan 13, 2015
$0.49
N/A (N/A)
7,388 ±2,407
2,052 ±1,268
00:42 (00:35)
53
the research facility NO.507
Nov 30, 2016
$3.99
N/A (N/A)
616 ±695
410 ±567
00:29 (00:19)
54
GoatPunks
Jan 20, 2017
$4.99
N/A (N/A)
3,899 ±1,749
616 ±695
00:20 (00:13)
55
YOU DON'T KNOW JACK MOVIES
Nov 5, 2013
$1.49
N/A (N/A)
68,136 ±7,310
15,392 ±3,475
01:00 (00:28)
56
Colossal Kaiju Combat: Kaijuland Battles
Aug 11, 2014
$4.99
N/A (N/A)
7,388 ±2,407
3,694 ±1,702
00:20 (00:09)
57
Chicken Shoot Gold
Nov 1, 2003
$6.99
16% (60%)
83,118 ±8,074
12,109 ±3,082
00:13 (00:07)
58
Furfly
Dec 18, 2015
$0.49
N/A (N/A)
6,157 ±2,197
1,026 ±897
00:37 (00:30)
59
Starlight Drifter
May 18, 2016
$11.04
N/A (N/A)
616 ±695
205 ±401
00:24 (00:08)
60
FLASHOUT 2
Jun 6, 2014
$0.99
14% (57%)
26,885 ±4,592
10,672 ±2,893
00:47 (00:22)
61
Lantern
Nov 15, 2016
$3.49
N/A (N/A)
612 ±1,198
0 ±0
00:00 (00:00)
62
Hunted: One Step Too Far
Sep 2, 2016
$3.34
N/A (N/A)
5,336 ±2,046
0 ±0
00:00 (00:00)
63
RoboSports VR
Nov 7, 2016
Free
N/A (N/A)
10,672 ±2,893
2,463 ±1,390
00:11 (00:08)
64
Air Guardians
Jan 28, 2015
$2.99
11% (53%)
46,176 ±6,018
4,105 ±1,794
00:23 (00:21)
65
Worms Blast
Oct 19, 2011
$1.59
10% (51%/73%)
400,402 ±17,715
51,512 ±6,356
00:32 (00:06)
66
Trench Run
Apr 7, 2016
$1.99
N/A (N/A)
15,803 ±3,521
1,642 ±1,134
02:45 (00:18)
67
Perfection.
Aug 28, 2013
$0.59
N/A (N/A)
17,650 ±3,721
7,183 ±2,373
00:23 (00:22)
68
AsteroidsHD
Mar 4, 2016
$0.99
N/A (N/A)
13,135 ±3,210
1,437 ±1,061
03:42 (00:04)
69
Gumboy - Crazy Adventures
Dec 19, 2006
$0.99
8% (49%/69%)
73,061 ±7,570
9,441 ±2,721
00:10 (00:03)
70
A.V.
Feb 13, 2015
$6.99
N/A (N/A)
1,231 ±982
1,026 ±897
01:56 (02:28)
71
Hexaball
Mar 13, 2017
$0.49
N/A (N/A)
8,414 ±2,569
616 ±695
00:08 (00:07)
72
Kingdom Tales
Feb 13, 2014
$1.49
N/A (N/A)
9,851 ±2,780
1,437 ±1,061
11:49 (09:07)
73
Turba
Jul 2010
$4.99
4% (40%/76%)
54,180 ±6,519
26,269 ±4,539
00:51 (00:19)
74
3SwitcheD
Mar 29, 2012
$9.99
4% (38%)
62,390 ±6,995
13,135 ±3,210
01:49 (00:13)
75
FPV Air Tracks
May 23, 2016
Free
3% (37%)
7,593 ±2,440
5,952 ±2,160
01:19 (00:19)
76
Lost Route
Jun 14, 2016
$4.99
N/A (N/A)
1,838 ±1,468
1,225 ±1,198
00:13 (00:13)
77
X-17
Mar 2, 2016
$4.99
N/A (N/A)
2,463 ±1,390
0 ±0
00:00 (00:00)
78
Project Druid - 2D Labyrinth Explorer-
Jul 30, 2015
$0.49
N/A (N/A)
99,331 ±8,826
2,463 ±1,390
00:43 (00:03)