App

NiGHTS into Dreams...
NiGHTS into Dreams...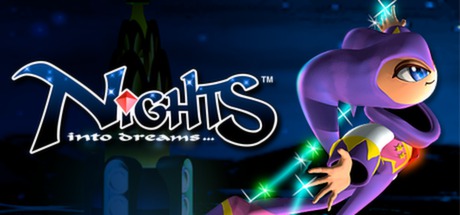 Store | Hub | SteamDB | Site
Developer: SEGA Publisher: SEGA
Genre: Adventure
Languages: English, German, French, Italian, Spanish
Tags: Adventure (44), Classic (35), Great Soundtrack (23), Surreal (23), Score Attack (23), Action (19), Retro (14), Singleplayer (11), 2.5D (11), Platformer (9), Colorful (9), Flight (8), Female Protagonist (6)
Category: Single-player, Steam Achievements, Partial Controller Support
Release date: Dec 17, 2012
Price: $7.99
Score rank: 84% Userscore: 93% Old userscore: 88%
Owners: 257,848 ± 20,265
Players total: 44,500 ± 8,421 (17.26%)
Playtime total: 00:58 (average) 00:16 (median)

Steam Spy is still in beta, so expect major bugs.
Peak daily concurrent players:
CCU data courtesy of SteamDB. Used with permission.
Hourly concurrent players:
YouTube:
The views data is based on top 50 videos uploaded last week. Actual number of views might be more than the number shown.

The displayed number of videos uploaded yesterday is limited to 50, so if there were more videos uploaded, the number will still show 50.

If the game has commonly used word as its name (like "FEAR" or "Volume") its number of Youtube views might be wrong.
Games similar to this one:
#
Game
Release date

Price

Score rank
(Userscore / Metascore)

Owners

Players

Playtime (Median)

1
Serious Sam Classic: The First Encounter
Mar 22, 2010
Free
97% (97%/87%)
722,390 ±33,899
183,821 ±17,112
02:26 (00:37)
2
Noitu Love 2 Devolution
Apr 23, 2012
$4.99
94% (96%/80%)
71,948 ±10,707
41,173 ±8,100
01:27 (00:43)
3
Delta Force: Black Hawk Down
Jun 18, 2009
$14.99
94% (96%/77%)
30,360 ±6,955
13,724 ±4,676
04:41 (03:04)
4
RIVE
Sep 13, 2016
$14.99
94% (96%)
138,905 ±14,876
24,953 ±6,306
01:55 (00:45)
5
Spider: Rite of the Shrouded Moon
Aug 6, 2015
$9.99
N/A (N/A)
32,855 ±7,236
3,743 ±2,442
00:44 (00:12)
6
Quake Mission Pack 1: Scourge of Armagon
Aug 3, 2007
$2.99
94% (96%)
284,049 ±21,269
36,598 ±7,637
01:39 (00:16)
7
Savant - Ascent
Dec 4, 2013
$1.99
91% (95%)
218,755 ±18,667
101,892 ±12,741
01:35 (00:55)
8
The Apogee Throwback Pack
Jul 1, 2013
$9.99
91% (95%)
54,065 ±9,282
29,944 ±6,908
02:42 (00:18)
9
Sam & Max 301: The Penal Zone
Free
87% (94%)
528,588 ±29,005
102,723 ±12,793
02:50 (02:11)
10
Space Ace
Aug 27, 2013
$9.99
N/A (N/A)
7,070 ±3,356
4,991 ±2,820
00:58 (00:51)
11
Terminal Velocity
May 5, 2014
$6.99
N/A (N/A)
52,401 ±9,138
4,991 ±2,820
00:33 (00:27)
12
Delta Force
Jun 18, 2009
$4.99
84% (93%)
21,626 ±5,870
10,813 ±4,151
07:12 (03:00)
13
NyxQuest
Sep 27, 2010
$2.99
84% (93%)
31,191 ±7,050
15,804 ±5,018
01:08 (00:38)
14
Comanche 4
Jun 18, 2009
$9.99
N/A (N/A/74%)
23,289 ±6,092
13,308 ±4,605
04:32 (01:04)
15
Star Trek: 25th Anniversary
May 7, 2015
$4.79
N/A (N/A)
10,397 ±4,070
7,486 ±3,454
01:01 (01:04)
16
Major Mayhem
Feb 24, 2014
$4.99
N/A (N/A)
41,173 ±8,100
27,864 ±6,663
02:52 (02:11)
17
Painkiller: Black Edition
Jan 24, 2007
$9.99
84% (93%)
338,529 ±23,218
174,255 ±16,661
04:51 (01:17)
18
Cobalt
Feb 2, 2016
$19.99
81% (92%/69%)
20,794 ±5,756
13,724 ±4,676
04:58 (02:32)
19
Monster Bash
May 5, 2014
$4.99
N/A (N/A)
48,658 ±8,805
4,991 ±2,820
00:44 (00:11)
20
Kung Fury: Street Rage
May 28, 2015
$2.99
81% (92%)
96,485 ±12,399
77,354 ±11,102
02:07 (00:40)
21
Near Death
Aug 2, 2016
$14.99
81% (92%/70%)
10,397 ±4,070
6,654 ±3,256
02:56 (01:23)
22
Tom Clancy's Ghost Recon: Island Thunder
Jul 15, 2008
$4.99
N/A (N/A/82%)
99,812 ±12,611
17,883 ±5,338
01:54 (00:19)
23
Joint Operations: Combined Arms
Sep 29, 2009
$19.99
81% (92%)
9,149 ±3,818
3,743 ±2,442
106:58 (160:51)
24
Marlow Briggs
Sep 20, 2013
$4.99
81% (92%)
113,952 ±13,474
54,897 ±9,353
02:05 (01:58)
25
METAL SLUG
Jun 25, 2015
$7.99
81% (92%)
142,648 ±15,075
81,929 ±11,425
01:53 (00:44)
26
MURI
Dec 6, 2013
$3.99
81% (92%)
42,420 ±8,222
22,874 ±6,037
01:39 (01:24)
27
Armed and Dangerous
Jul 8, 2009
$5.99
77% (91%/78%)
19,962 ±5,640
12,061 ±4,384
01:55 (03:06)
28
Sayonara UmiharaKawase
Oct 5, 2015
$14.99
77% (91%)
14,556 ±4,816
9,149 ±3,818
00:39 (00:19)
29
Marc Eck's Getting Up: Contents Under Pressure
Dec 13, 2013
$14.99
77% (91%/69%)
51,570 ±9,065
25,369 ±6,358
03:37 (01:29)
30
Bird Assassin
Aug 27, 2014
$1.99
77% (91%)
14,972 ±4,884
9,565 ±3,904
01:02 (01:10)
31
Neon Drive
May 12, 2016
$9.99
77% (91%)
12,892 ±4,532
11,645 ±4,308
02:06 (00:49)
32
Quake Mission Pack 2: Dissolution of Eternity
Aug 3, 2007
$2.99
77% (91%)
283,633 ±21,253
22,874 ±6,037
01:44 (00:14)
33
Thunder Wolves
May 15, 2013
$9.99
77% (91%/69%)
108,962 ±13,176
31,607 ±7,097
01:33 (00:49)
34
Red Faction
Aug 5, 2009
$9.99
77% (91%/78%)
551,878 ±29,636
202,535 ±17,962
02:50 (00:48)
35
Shadow Man
Oct 18, 2013
$4.99
77% (91%)
68,621 ±10,457
20,794 ±5,756
01:56 (00:41)
36
Tom Clancy's Ghost Recon: Desert Siege
Jul 15, 2008
$4.99
N/A (N/A/82%)
99,812 ±12,611
14,556 ±4,816
01:29 (00:24)
37
Conflict Desert Storm
May 28, 2012
$6.99
73% (90%/56%)
26,201 ±6,461
17,467 ±5,276
07:23 (05:05)
38
MDK 2
Sep 17, 2009
$9.99
73% (90%/83%)
19,547 ±5,581
10,397 ±4,070
04:05 (00:32)
39
Zombie Shooter
May 27, 2009
$4.99
73% (90%)
117,279 ±13,669
41,173 ±8,100
02:38 (00:48)
40
Attractio
Jan 18, 2016
$19.99
N/A (N/A)
49,906 ±8,918
4,991 ±2,820
00:36 (00:19)
41
Grey Cubes
May 15, 2015
$0.49
69% (89%)
27,864 ±6,663
9,565 ±3,904
01:56 (01:32)
42
ORCS
May 20, 2016
$0.49
69% (89%)
8,318 ±3,640
5,822 ±3,046
02:15 (01:19)
43
Chicken Little
Feb 24, 2015
$9.99
N/A (N/A)
6,238 ±3,153
3,743 ±2,442
00:47 (00:36)
44
Intrusion 2
Sep 11, 2012
$9.99
69% (89%/80%)
385,524 ±24,775
167,185 ±16,320
01:42 (00:30)
45
Alien Zombie Megadeath
Oct 18, 2011
$4.99
N/A (N/A)
27,864 ±6,663
8,734 ±3,730
02:29 (02:38)
46
What The Box?
Sep 12, 2016
$4.99
66% (88%)
42,004 ±8,181
39,093 ±7,893
01:19 (01:02)
47
Lugaru HD
Oct 8, 2010
$9.99
66% (88%)
191,307 ±17,457
61,551 ±9,903
00:57 (00:17)
48
Alien Shooter
May 27, 2009
$4.99
66% (88%)
80,266 ±11,309
32,855 ±7,236
01:14 (00:54)
49
Rad Rodgers
Dec 1, 2016
$11.99
N/A (N/A/73%)
6,654 ±3,256
4,991 ±2,820
01:04 (01:11)
50
Another World
Apr 4, 2013
$9.99
66% (88%)
166,354 ±16,279
67,373 ±10,361
01:10 (00:30)
51
METAL SLUG 2
Apr 14, 2016
$6.99
66% (88%)
37,014 ±7,680
7,486 ±3,454
00:45 (00:26)
52
Judge Dredd: Dredd vs Death
Mar 26, 2009
$7.99
63% (87%/55%)
77,770 ±11,132
40,341 ±8,018
04:26 (01:35)
53
Iron Grip: Warlord
Dec 5, 2008
Free
63% (87%/59%)
153,045 ±15,615
63,630 ±10,069
02:31 (00:56)
54
UmiharaKawase Shun Steam Edition
Nov 24, 2015
$11.99
N/A (N/A)
9,149 ±3,818
4,575 ±2,700
00:12 (00:08)
55
A Legend of Luca
Apr 5, 2016
$9.99
63% (87%)
11,229 ±4,230
9,981 ±3,988
01:12 (00:57)
56
Rise of the Triad: Dark War
May 5, 2014
$6.99
N/A (N/A)
51,570 ±9,065
7,070 ±3,356
00:26 (00:14)
57
Serious Sam Double D XXL
Aug 30, 2011
$9.99
63% (87%)
489,911 ±27,925
118,527 ±13,742
01:36 (00:28)
58
Ring Runner: Flight of the Sages
Nov 19, 2013
$4.99
60% (86%/75%)
128,508 ±14,309
67,789 ±10,393
03:13 (01:09)
59
Hocus Pocus
May 5, 2014
$4.99
N/A (N/A)
53,233 ±9,210
8,318 ±3,640
00:27 (00:22)
60
Tron 2.0
Oct 10, 2014
$9.99
60% (86%/84%)
38,677 ±7,851
23,289 ±6,092
02:24 (03:49)
61
Call of Tomsk-7
Aug 10, 2015
$0.99
60% (86%)
23,705 ±6,146
12,892 ±4,532
01:14 (00:40)
62
Hive Jump
Jan 18, 2017
$19.99
57% (85%)
5,822 ±3,046
4,575 ±2,700
03:11 (01:27)
63
STAR WARS: X-Wing Alliance
Apr 28, 2015
$9.99
57% (85%)
246,619 ±19,819
54,481 ±9,317
03:04 (00:12)
64
Call of Duty: United Offensive
Oct 13, 2006
$19.99
57% (85%/87%)
186,732 ±17,247
98,564 ±12,532
05:34 (01:34)
65
Watch This!
Sep 23, 2016
$0.99
54% (84%)
25,369 ±6,358
19,962 ±5,640
01:09 (00:41)
66
Strike Suit Infinity
Apr 30, 2013
$6.99
54% (84%/66%)
208,774 ±18,236
122,686 ±13,981
01:59 (00:52)
67
Kingpin
Aug 19, 2009
$9.99
52% (83%)
15,388 ±4,952
12,061 ±4,384
02:09 (01:29)
68
Explodemon
Mar 25, 2014
$8.99
N/A (N/A)
27,032 ±6,563
9,149 ±3,818
02:07 (00:18)
69
Nam
Nov 6, 2014
$6.99
52% (83%)
37,845 ±7,766
6,654 ±3,256
01:00 (00:16)
70
Daedalus - No Escape
Oct 28, 2014
$4.99
52% (83%)
21,626 ±5,870
5,822 ±3,046
06:59 (00:23)
71
SMASHING THE BATTLE
May 15, 2016
$11.99
49% (82%)
17,467 ±5,276
16,635 ±5,149
01:22 (00:36)
72
Shadow Ops: Red Mercury
Jul 2, 2014
$6.99
49% (82%/61%)
18,299 ±5,400
4,159 ±2,574
20:07 (32:48)
73
Aces Wild: Manic Brawling Action!
Jan 31, 2014
$9.99
49% (82%)
48,658 ±8,805
17,467 ±5,276
01:41 (00:33)
74
POSTAL
Mar 21, 2013
$1.99
49% (82%/56%)
313,992 ±22,361
190,891 ±17,438
02:10 (00:41)
75
On My Own
Feb 26, 2016
$4.99
N/A (N/A)
21,210 ±5,814
5,822 ±3,046
03:10 (00:37)
76
Gigantic Army
Mar 6, 2014
$5.99
49% (82%)
85,256 ±11,655
41,173 ±8,100
01:40 (01:07)
77
Earthworm Jim 2
Nov 4, 2009
$19.99
N/A (N/A)
18,715 ±5,461
6,654 ±3,256
00:51 (02:30)
78
Capsized
Apr 29, 2011
$9.99
49% (82%/80%)
537,322 ±29,243
223,330 ±18,861
01:04 (00:28)
79
Vintage Year
Jan 2, 2015
$2.99
N/A (N/A)
19,131 ±5,521
12,892 ±4,532
01:51 (02:00)
80
Black & White Bushido
Oct 2, 2015
$9.99
47% (81%)
11,645 ±4,308
7,902 ±3,548
00:31 (00:20)
81
Xotic
Sep 16, 2011
$9.99
47% (81%/67%)
93,158 ±12,183
33,271 ±7,281
00:47 (00:32)
82
AquaNox
Apr 20, 2010
$4.99
45% (80%/67%)
113,536 ±13,450
24,121 ±6,200
02:03 (00:17)
83
Dark Sector
Mar 24, 2009
$9.99
45% (80%/66%)
73,611 ±10,830
37,014 ±7,680
04:02 (02:09)
84
PAC-MAN and the Ghostly Adventures
Oct 29, 2013
$19.99
45% (80%)
10,397 ±4,070
7,070 ±3,356
02:47 (01:21)
85
Bet On Soldier
Dec 5, 2014
$7.99
45% (80%)
22,042 ±5,926
5,406 ±2,935
01:11 (00:37)
86
Phantaruk
Aug 16, 2016
$11.99
N/A (N/A/53%)
13,724 ±4,676
4,575 ±2,700
00:54 (00:46)
87
Vertical Drop Heroes HD
Jul 25, 2014
$6.99
45% (80%/70%)
252,857 ±20,068
79,018 ±11,221
02:03 (00:30)
88
Stargunner
May 5, 2014
Free
N/A (N/A)
64,878 ±10,167
2,495 ±1,994
00:31 (00:18)
89
Dragon's Lair
May 17, 2013
$9.99
45% (80%)
42,420 ±8,222
34,518 ±7,416
00:43 (00:30)
90
Shadowgrounds
May 8, 2006
$1.04
45% (80%/74%)
551,046 ±29,614
242,876 ±19,668
02:19 (01:09)
91
Kung Fu Strike: The Warrior's Rise
Jul 24, 2012
$9.99
45% (80%)
160,531 ±15,992
65,294 ±10,200
03:04 (01:10)
92
Eradicator
Nov 6, 2014
$6.99
N/A (N/A)
22,458 ±5,982
4,159 ±2,574
00:22 (00:14)
93
Jet Gunner
Aug 4, 2014
$0.99
45% (80%)
145,975 ±15,250
92,742 ±12,156
02:37 (01:02)
94
Karateka
Dec 3, 2012
$9.99
45% (80%/48%)
29,944 ±6,908
9,981 ±3,988
01:10 (00:54)
95
iBomber Attack
Nov 1, 2012
$5.99
43% (79%)
59,471 ±9,735
19,962 ±5,640
05:02 (04:12)
96
Raptor: Call of The Shadows - 2015 Edition
Feb 13, 2015
$4.99
43% (79%)
22,458 ±5,982
10,813 ±4,151
02:18 (02:00)
97
Tom Clancy's Rainbow Six: Vegas
Apr 9, 2008
$9.99
43% (79%/85%)
288,208 ±21,424
88,999 ±11,908
01:48 (00:16)
98
DESYNC
Feb 28, 2017
$14.99
43% (79%/69%)
2,911 ±2,154
2,495 ±1,994
03:05 (05:30)
99
Chaser
Jul 16, 2010
$4.99
41% (78%/66%)
81,097 ±11,367
29,112 ±6,811
05:00 (00:50)
100
Prince of Persia: The Two Thrones
Nov 21, 2008
$9.99
41% (78%/85%)
199,208 ±17,813
54,065 ±9,282
04:54 (01:53)
101
Hail to the King: Deathbat
Oct 30, 2014
$5.99
41% (78%)
8,734 ±3,730
6,238 ±3,153
01:41 (00:30)
102
Tembo: The Badass Elephant
Jul 21, 2015
$14.99
41% (78%)
33,687 ±7,327
21,626 ±5,870
02:15 (00:58)
103
Insanity's Blade
Dec 4, 2014
$5.99
39% (77%)
17,883 ±5,338
8,318 ±3,640
00:57 (00:17)
104
Zero Reflex
Nov 4, 2015
$3.99
39% (77%)
24,121 ±6,200
9,981 ±3,988
01:34 (00:30)
105
Bionic Commando Rearmed
Jul 28, 2009
$9.99
39% (77%/86%)
420,459 ±25,872
111,457 ±13,326
02:20 (00:27)
106
Life is Pain
Dec 15, 2016
$2.99
N/A (N/A)
11,229 ±4,230
832 ±1,151
00:55 (00:23)
107
MDK
Sep 17, 2009
$9.99
39% (77%)
18,715 ±5,461
12,061 ±4,384
01:24 (00:17)
108
NecrovisioN: Lost Company
Feb 19, 2010
$6.99
39% (77%)
94,822 ±12,291
17,467 ±5,276
04:16 (01:46)
109
Larva Mortus
Mar 19, 2009
$4.99
39% (77%/64%)
136,410 ±14,742
39,509 ±7,934
01:27 (00:29)
110
Slain!
Mar 24, 2016
$6.49
39% (77%/74%)
22,042 ±5,926
19,547 ±5,581
02:19 (01:20)
111
Project Freedom
Oct 14, 2009
$2.99
N/A (N/A)
21,210 ±5,814
10,813 ±4,151
02:58 (01:11)
112
AquaNox 2: Revelation
Apr 20, 2010
$4.99
37% (76%/59%)
112,705 ±13,400
16,219 ±5,084
02:47 (01:33)
113
LocoCycle
Feb 14, 2014
$9.99
37% (76%)
19,547 ±5,581
8,734 ±3,730
01:11 (00:41)
114
Alien Breed 2: Assault
Sep 22, 2010
$9.99
37% (76%/63%)
491,991 ±27,984
138,489 ±14,854
01:53 (00:27)
115
Legacy of Kain: Soul Reaver 2
Dec 6, 2012
$6.99
37% (76%/77%)
322,726 ±22,670
52,401 ±9,138
01:54 (01:06)
116
Alien Breed 3: Descent
Nov 17, 2010
$9.99
37% (76%/64%)
301,932 ±21,928
47,411 ±8,692
06:03 (00:16)
117
Rayman: Raving Rabbids
Jun 13, 2008
$9.99
37% (76%/58%)
14,972 ±4,884
11,229 ±4,230
03:02 (00:55)
118
Mighty Gunvolt
Sep 29, 2015
$4.99
37% (76%)
24,537 ±6,253
6,238 ±3,153
00:43 (00:30)
119
The Aquatic Adventure of the Last Human
Jan 19, 2016
$4.99
37% (76%/76%)
9,565 ±3,904
6,654 ±3,256
01:41 (02:49)
120
Bionic Commando
Jul 28, 2009
$9.99
35% (75%/69%)
159,699 ±15,950
60,303 ±9,802
02:30 (00:52)
121
Aztaka
Nov 5, 2009
$9.99
35% (75%)
34,518 ±7,416
11,229 ±4,230
05:15 (03:37)
122
The First Templar
May 12, 2011
$9.99
35% (75%/57%)
123,102 ±14,004
43,668 ±8,342
04:24 (01:58)
123
THE LAST BLADE
Aug 31, 2016
$9.99
N/A (N/A)
11,645 ±4,308
4,575 ±2,700
00:51 (00:18)
124
Painkiller Overdose
Oct 30, 2007
$4.99
33% (74%/65%)
259,512 ±20,330
69,453 ±10,520
02:44 (00:35)
125
Crow
Oct 6, 2014
$4.99
N/A (N/A)
23,705 ±6,146
2,911 ±2,154
00:22 (00:17)
126
Sacred Citadel
Apr 16, 2013
$9.99
33% (74%/61%)
521,518 ±28,811
130,172 ±14,401
02:03 (00:50)
127
Kraven Manor
Sep 26, 2014
$5.99
31% (73%/58%)
172,592 ±16,581
24,537 ±6,253
00:58 (00:51)
128
Unreal II: The Awakening
Mar 17, 2008
$14.99
30% (72%/75%)
287,376 ±21,393
59,056 ±9,700
03:18 (00:38)
129
STAR WARS: TIE Fighter Special Edition
Apr 28, 2015
$9.99
30% (72%)
149,302 ±15,422
43,668 ±8,342
04:14 (00:20)
130
Nexuiz
May 10, 2012
$9.99
30% (72%/54%)
304,427 ±22,018
119,775 ±13,814
00:58 (00:20)
131
Blood Omen 2: Legacy of Kain
Sep 24, 2013
$6.99
28% (71%)
244,124 ±19,719
41,588 ±8,141
01:39 (02:00)
132
Who's That Flying!
Jan 31, 2011
$5.99
28% (71%/76%)
26,201 ±6,461
13,724 ±4,676
01:01 (00:39)
133
The Ship Single Player
Nov 20, 2006
Free
28% (71%)
1,377,823 ±46,777
368,889 ±24,235
01:50 (00:43)
134
YAIBA: NINJA GAIDEN Z
Mar 21, 2014
$29.99
27% (70%/49%)
22,458 ±5,982
14,556 ±4,816
03:00 (00:40)
135
Dinocide
Jan 21, 2016
$3.99
N/A (N/A/51%)
62,383 ±9,970
16,219 ±5,084
02:31 (02:08)
136
NecroVisioN
May 20, 2009
$4.99
27% (70%/63%)
113,952 ±13,474
52,401 ±9,138
03:30 (01:05)
137
STAR WARS: X-Wing Special Edition
Apr 28, 2015
$9.99
27% (70%)
145,975 ±15,250
38,677 ±7,851
04:18 (00:17)
138
Full Spectrum Warrior: Ten Hammers
Jul 17, 2007
$9.99
26% (69%/70%)
157,620 ±15,846
22,874 ±6,037
01:48 (00:22)
139
The Chaos Engine
Aug 29, 2013
$9.99
26% (69%/40%)
97,317 ±12,452
50,738 ±8,992
02:11 (01:28)
140
Tango Fiesta
Sep 24, 2015
$12.99
N/A (N/A)
25,785 ±6,410
7,070 ±3,356
00:51 (00:28)
141
Strike Vector
Jan 28, 2014
$11.99
26% (69%/73%)
180,078 ±16,937
133,499 ±14,584
02:11 (00:41)
142
Scarygirl
Apr 9, 2012
$6.99
N/A (N/A)
10,813 ±4,151
7,070 ±3,356
02:12 (00:56)
143
Stick 'Em Up 2
Jul 27, 2015
$2.99
26% (69%)
11,229 ±4,230
4,991 ±2,820
00:38 (00:32)
144
Tex Murphy: Mean Streets
Jun 12, 2014
$5.99
N/A (N/A)
40,757 ±8,059
7,070 ±3,356
01:02 (00:10)
145
Arma: Combat Operations
Mar 12, 2008
$7.99
26% (69%/74%)
44,915 ±8,460
28,696 ±6,762
08:16 (00:52)
146
Alice in Wonderland
Oct 6, 2014
$19.99
N/A (N/A/63%)
8,734 ±3,730
4,159 ±2,574
01:22 (03:15)
147
Plain Sight
Apr 5, 2010
$4.99
23% (67%/76%)
177,582 ±16,819
114,784 ±13,523
02:46 (00:42)
148
Data Jammers: FastForward
Oct 24, 2011
Free
23% (67%)
77,354 ±11,102
10,813 ±4,151
00:22 (00:12)
149
Redline
Oct 23, 2014
$6.99
N/A (N/A)
21,210 ±5,814
4,159 ±2,574
00:17 (00:31)
150
Alien Shooter: Revisited
May 27, 2009
$4.99
23% (67%)
43,668 ±8,342
14,556 ±4,816
01:05 (01:12)
151
Watchmen: The End Is Nigh
Mar 4, 2009
$4.99
22% (66%/61%)
40,341 ±8,018
19,547 ±5,581
01:45 (01:34)
152
Foreign Legion: Multi Massacre
Jul 9, 2012
$6.99
22% (66%)
71,532 ±10,676
36,182 ±7,593
01:35 (00:47)
153
DogFighter
Jun 14, 2010
$2.99
22% (66%)
279,890 ±21,113
121,854 ±13,933
01:42 (00:32)
154
Foreign Legion: Buckets of Blood
Aug 4, 2009
$4.99
21% (65%)
84,009 ±11,570
61,551 ±9,903
01:33 (00:36)
155
Versus: Battle of the Gladiator
Aug 26, 2016
Free
19% (64%)
38,677 ±7,851
26,617 ±6,512
03:57 (01:37)
156
El Matador
Apr 3, 2014
$3.99
19% (64%/54%)
23,289 ±6,092
5,406 ±2,935
02:43 (00:23)
157
Alone in the Dark: The New Nightmare
Oct 29, 2013
$6.99
19% (64%/66%)
16,219 ±5,084
7,070 ±3,356
00:42 (00:32)
158
Kane & Lynch: Dead Men
Dec 13, 2007
$6.99
18% (63%/67%)
442,085 ±26,529
145,143 ±15,206
02:24 (00:54)
159
Cannon Fodder 3
Aug 6, 2012
$14.99
N/A (N/A/49%)
34,102 ±7,372
11,229 ±4,230
00:31 (00:23)
160
Pyramid Raid
Dec 15, 2015
$2.99
17% (62%)
64,462 ±10,135
47,827 ±8,730
00:38 (00:15)
161
Alpha Prime
Nov 7, 2007
$4.99
17% (62%/59%)
306,091 ±22,078
68,621 ±10,457
01:52 (00:30)
162
Rogue Warrior
Dec 1, 2009
$4.99
16% (61%/29%)
78,602 ±11,191
36,182 ±7,593
03:14 (02:02)
163
The Secret of Pineview Forest
Oct 31, 2016
Free
16% (61%)
15,804 ±5,018
4,575 ±2,700
00:23 (00:14)
164
Exodus from the Earth
Oct 24, 2008
$14.99
16% (61%)
14,972 ±4,884
4,991 ±2,820
18:01 (31:39)
165
Big Brain Wolf
Nov 5, 2009
$9.99
16% (60%)
25,785 ±6,410
13,724 ±4,676
01:32 (00:59)
166
Cold War
Jan 8, 2014
$1.24
16% (60%/64%)
27,864 ±6,663
9,149 ±3,818
02:38 (02:28)
167
Pound of Ground
Nov 5, 2010
$9.99
16% (60%)
17,883 ±5,338
8,734 ±3,730
01:45 (00:49)
168
Wasteland Angel
Sep 1, 2011
$9.99
15% (59%)
91,494 ±12,074
24,537 ±6,253
01:04 (01:06)
169
Chasing Dead
Mar 3, 2016
$9.99
15% (59%)
3,743 ±2,442
3,327 ±2,302
02:03 (03:29)
170
Toxic Bunny HD
Jul 18, 2014
$5.99
N/A (N/A)
6,238 ±3,153
3,743 ±2,442
01:30 (01:04)
171
Primal Fears
Jan 8, 2013
$9.99
13% (57%)
65,294 ±10,200
26,617 ±6,512
01:21 (01:19)
172
Blood II: The Chosen + Expansion
Jul 14, 2014
$4.99
13% (57%/72%)
14,972 ±4,884
8,734 ±3,730
02:26 (04:17)
173
Lost Planet: Extreme Condition - Colonies Edition
Feb 11, 2010
$19.99
13% (57%/70%)
44,915 ±8,460
25,369 ±6,358
03:20 (01:15)
174
Naval Warfare
May 25, 2011
$2.99
12% (56%/57%)
103,971 ±12,871
32,855 ±7,236
01:00 (00:34)
175
Fastigium
Dec 18, 2016
Free
N/A (N/A)
10,813 ±4,151
3,327 ±2,302
00:27 (00:07)
176
CT Special Forces: Fire for Effect
Mar 13, 2014
$9.99
N/A (N/A)
129,756 ±14,378
9,565 ±3,904
00:42 (00:15)
177
MDK 2 HD
Jul 30, 2012
$14.99
12% (55%/73%)
10,397 ±4,070
5,822 ±3,046
02:03 (00:33)
178
Heavy Fire: Afghanistan
Aug 15, 2014
$2.99
11% (54%)
32,023 ±7,143
21,210 ±5,814
02:02 (02:05)
179
Pixel Hunter
Jul 17, 2014
$2.99
11% (53%)
30,775 ±7,003
10,397 ±4,070
00:40 (00:19)
180
Legendary
Dec 1, 2008
$0.59
11% (53%/50%)
290,287 ±21,501
118,111 ±13,718
01:35 (00:50)
181
Painkiller: Redemption
Feb 25, 2011
$4.99
10% (52%/43%)
206,694 ±18,145
37,430 ±7,723
02:08 (00:43)
182
The Club
Feb 20, 2008
$14.99
9% (51%/67%)
19,547 ±5,581
7,070 ±3,356
00:56 (00:40)
183
Booster Trooper
Apr 23, 2010
$4.99
9% (51%)
40,341 ±8,018
25,369 ±6,358
03:43 (00:30)
184
Bierzerkers
Feb 25, 2016
$4.99
9% (50%)
217,091 ±18,595
111,041 ±13,301
00:31 (00:14)
185
Crouching Pony Hidden Dragon
Jul 14, 2014
$9.99
N/A (N/A)
22,042 ±5,926
4,575 ±2,700
00:19 (00:08)
186
Alone in the Dark
Oct 29, 2013
$9.99
7% (47%/55%)
46,163 ±8,577
12,061 ±4,384
02:01 (00:35)
187
Dark Void
Jan 19, 2010
$9.99
7% (47%/57%)
44,915 ±8,460
22,042 ±5,926
04:00 (00:36)
188
Babel Rising
Aug 7, 2012
Free
7% (47%)
22,458 ±5,982
19,547 ±5,581
00:56 (01:10)
189
Tom Clancy's Rainbow Six: Lockdown
May 13, 2008
$9.99
7% (46%/59%)
74,859 ±10,921
22,042 ±5,926
02:34 (00:39)
190
Dark Void Zero
Apr 12, 2010
$4.99
7% (46%)
34,934 ±7,461
23,705 ±6,146
01:29 (00:33)
191
Predator Simulator
May 15, 2015
$2.99
N/A (N/A)
22,042 ±5,926
2,911 ±2,154
00:34 (00:23)
192
Onikira: Demon Killer
Aug 27, 2015
$13.99
6% (45%)
45,747 ±8,538
25,785 ±6,410
01:46 (01:03)
193
Coniclysm
Mar 26, 2010
$4.99
N/A (N/A)
9,981 ±3,988
2,911 ±2,154
00:15 (00:13)
194
Cabela's African Adventures
Oct 16, 2013
$29.99
N/A (N/A)
5,406 ±2,935
3,327 ±2,302
01:07 (00:44)
195
Grizzly Project
Apr 23, 2016
$4.99
6% (44%)
4,159 ±2,574
3,743 ±2,442
02:10 (01:21)
196
Greed: Black Border
Jan 13, 2010
$4.99
6% (44%)
103,139 ±12,819
38,677 ±7,851
02:08 (00:34)
197
Batman: Arkham Origins Blackgate - Deluxe Edition
Apr 1, 2014
$19.99
5% (42%)
575,999 ±30,276
119,775 ±13,814
03:05 (00:56)
198
Damnation
May 22, 2009
$9.99
5% (41%/41%)
70,700 ±10,614
24,537 ±6,253
03:05 (00:34)
199
Cabela's Dangerous Hunts 2013
Oct 22, 2012
$29.99
5% (41%)
11,645 ±4,308
8,734 ±3,730
04:01 (01:40)
200
Burn Zombie Burn
Aug 12, 2010
$9.99
5% (41%/72%)
91,079 ±12,046
46,163 ±8,577
01:04 (00:50)
201
Bunch Of Heroes
Sep 21, 2011
$4.99
5% (41%)
160,531 ±15,992
107,298 ±13,075
01:19 (00:39)
202
Huntsman - The Orphanage Halloween Edition
Sep 13, 2013
$9.99
5% (41%)
121,438 ±13,910
17,051 ±5,213
00:41 (00:10)
203
Twin Sector
Sep 16, 2009
$4.99
5% (41%/49%)
76,939 ±11,072
29,528 ±6,859
02:49 (00:45)
204
Clan of Champions
Oct 30, 2012
$39.99
N/A (N/A/42%)
2,079 ±1,820
1,248 ±1,410
00:23 (00:22)
205
Dark Raid
Jun 3, 2014
$3.99
N/A (N/A)
17,467 ±5,276
3,743 ±2,442
00:43 (00:41)
206
Red Johnson's Chronicles - 1+2 - Steam Special Edition
Sep 5, 2014
$9.99
N/A (N/A)
14,556 ±4,816
2,911 ±2,154
01:34 (00:40)
207
Dark Matter
Oct 17, 2013
$9.99
4% (40%)
15,388 ±4,952
10,397 ±4,070
01:54 (00:52)
208
BlackSoul Extended Edition
Feb 26, 2014
$6.99
N/A (N/A)
23,289 ±6,092
4,991 ±2,820
01:03 (02:00)
209
Blacklight: Tango Down
Jul 14, 2010
$0.99
4% (39%/65%)
49,074 ±8,843
42,420 ±8,222
02:03 (01:44)
210
Down To One
Jan 7, 2016
$0.99
4% (39%)
103,139 ±12,819
73,611 ±10,830
02:13 (00:30)
211
CDF Ghostship
Jun 26, 2015
$9.99
4% (38%)
7,779 ±5,760
6,668 ±5,332
00:53 (00:35)
212
Dead Horde
Jul 27, 2011
$9.99
4% (38%)
99,812 ±12,611
65,710 ±10,232
01:43 (02:00)
213
Umbrella Corpsâ"¢/Biohazard Umbrella Corpsâ"¢
Jun 21, 2016
$29.99
3% (36%)
11,645 ±4,308
9,565 ±3,904
02:44 (01:12)
214
OCEAN CITY RACING
Nov 14, 2014
$1.79
3% (35%)
68,205 ±10,425
17,883 ±5,338
01:43 (00:37)
215
Sniper Art of Victory
Jan 31, 2014
$2.99
3% (35%)
158,868 ±15,909
46,163 ±8,577
01:47 (01:11)
216
Global Ops: Commando Libya
Oct 26, 2011
$4.99
3% (35%/37%)
54,065 ±9,282
15,804 ±5,018
00:55 (00:23)
217
Shadow Harvest: Phantom Ops
Apr 5, 2011
$9.99
2% (32%/34%)
48,243 ±8,768
31,191 ±7,050
02:11 (00:29)
218
Miner Wars 2081
Nov 28, 2012
$9.99
2% (31%/52%)
81,097 ±11,367
46,163 ±8,577
01:34 (00:51)
219
Manhunter
May 30, 2014
$4.99
2% (31%)
69,037 ±10,488
23,705 ±6,146
03:28 (00:39)
220
Painkiller: Resurrection
Oct 27, 2009
$9.99
2% (30%/38%)
176,335 ±16,760
22,458 ±5,982
03:16 (04:34)
221
Chernobyl Commando
Jun 6, 2014
$9.99
1% (28%)
51,154 ±9,028
9,981 ±3,988
01:24 (01:05)
222
Deep Black : Reloaded
Apr 18, 2012
$29.99
1% (26%/39%)
11,229 ±4,230
5,822 ±3,046
01:19 (00:28)
223
Orc Attack: Flatulent Rebellion
May 15, 2014
$9.99
N/A (N/A)
21,210 ±5,814
2,495 ±1,994
00:22 (00:12)
224
Garshasp: Temple of the Dragon
Sep 24, 2012
$1.49
1% (25%)
33,271 ±7,281
5,406 ±2,935
00:35 (00:18)
225
Cargo 3
Dec 8, 2014
$4.99
1% (23%)
10,813 ±4,151
2,079 ±1,820
00:46 (00:10)