Tetrobot and Co.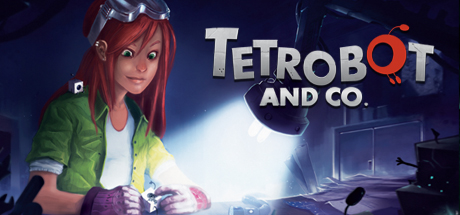 Store | Hub | SteamDB | Site
Developer: Swing Swing Submarine Publisher: Swing Swing Submarine
Genre: Casual, Indie
Languages: English, French, Italian, German, Spanish, Portuguese-Brazil, Traditional Chinese
Tags: Puzzle (47), Indie (44), Casual (35), Robots (10)
Category: Single-player, Steam Achievements, Full controller support, Steam Trading Cards, Steam Cloud
Release date: Oct 22, 2013
Price: $9.99
Score rank: 99% Userscore: 98% Old userscore: 97% Metascore: 72%
Owners: 78,887 ± 7,975
Players in the last 2 weeks: 635 ± 878 (0.81%)
Players total: 28,897 ± 4,827 (36.63%)
Followers: 1,950
Peak concurrent players yesterday: 6
Playtime in the last 2 weeks: 00:04 (average) 00:04 (median)
Playtime total: 03:58 (average) 02:04 (median)

Steam Spy is still in beta, so expect major bugs.
Peak daily concurrent players:
CCU data courtesy of SteamDB. Used with permission.
Hourly concurrent players:
YouTube:
The views data is based on top 50 videos uploaded last week. Actual number of views might be more than the number shown.

The displayed number of videos uploaded yesterday is limited to 50, so if there were more videos uploaded, the number will still show 50.

If the game has commonly used word as its name (like "FEAR" or "Volume") its number of Youtube views might be wrong.
Games similar to this one:
#
Game
Release date

Price

Score rank
(Userscore / Metascore)

Owners

Players

Playtime (Median)

1
Pony Island
Jan 4, 2016
$4.99
95% (96%/86%)
382,411 ±17,553
239,613 ±13,897
03:07 (02:21)
2
English Country Tune
Aug 9, 2012
$4.99
92% (95%)
326,515 ±16,221
97,237 ±8,854
00:49 (00:13)
3
Wolfenstein 3D
Aug 3, 2007
$4.99
89% (94%)
355,412 ±16,923
174,226 ±11,851
01:52 (00:16)
4
Cogs
Apr 14, 2009
$9.99
81% (92%/73%)
657,671 ±23,013
341,702 ±16,593
01:39 (00:23)
5
Alien: Isolation
Oct 6, 2014
$39.99
77% (91%/81%)
1,124,242 ±30,072
906,565 ±27,011
10:58 (04:23)
6
Five Nights at Freddy's 2
Nov 10, 2014
$7.99
77% (91%/62%)
526,896 ±20,601
408,777 ±18,148
04:23 (01:21)
7
Penumbra Overture
Mar 6, 2009
$9.99
77% (91%/73%)
521,201 ±20,489
237,293 ±13,829
02:58 (01:14)
8
Puzzle Dimension
Jun 21, 2010
$2.99
77% (91%/79%)
118,541 ±9,776
60,325 ±6,974
01:56 (00:31)
9
Aliens versus Predator Classic 2000
Jan 15, 2010
$4.99
71% (89%)
226,536 ±13,512
179,288 ±12,022
02:49 (00:49)
10
DOOM 3
Aug 3, 2007
$4.99
67% (88%/87%)
467,414 ±19,405
308,586 ±15,769
05:16 (01:30)
11
Resident Evil 0 / biohazard 0 HD REMASTER
Jan 19, 2016
$19.99
67% (88%)
330,523 ±16,320
137,314 ±10,521
06:52 (03:27)
12
The Turing Test
Aug 30, 2016
$19.99
64% (87%/74%)
223,372 ±13,418
90,277 ±8,531
04:19 (03:56)
13
Quake IV
Aug 4, 2011
$14.99
59% (85%/81%)
206,287 ±12,895
109,893 ±9,412
05:04 (01:12)
14
Final DOOM
Aug 3, 2007
$4.99
59% (85%)
450,962 ±19,060
134,782 ±10,424
02:00 (00:05)
15
Closure
Sep 7, 2012
$9.99
59% (85%/78%)
422,909 ±18,459
183,296 ±12,155
01:46 (00:36)
16
Chuck's Challenge 3D
Feb 28, 2014
$3.99
54% (83%)
23,624 ±4,364
14,132 ±3,375
02:16 (01:24)
17
Major\Minor
Oct 2016
$19.99
49% (81%)
9,914 ±2,827
6,117 ±2,221
05:55 (03:09)
18
Lucius
Oct 26, 2012
$9.99
47% (80%/59%)
750,057 ±24,573
512,975 ±20,327
04:25 (02:22)
19
Serena
Jan 30, 2014
Free
42% (78%)
762,291 ±24,773
259,229 ±14,454
00:44 (00:11)
20
Runespell: Overture
Jul 20, 2011
$9.99
42% (78%/69%)
122,549 ±9,939
67,708 ±7,388
04:03 (02:24)
21
Pixel Puzzles: Japan
Apr 17, 2014
$6.99
42% (78%)
324,828 ±16,179
211,349 ±13,052
05:36 (03:56)
22
The Evil Within
Oct 13, 2014
$19.99
42% (78%/68%)
630,461 ±22,532
509,811 ±20,265
11:50 (04:21)
23
Kairo
Apr 24, 2013
$4.99
37% (75%/76%)
130,142 ±10,243
85,004 ±8,278
01:58 (00:58)
24
Rise of the Triad
Jul 31, 2013
$14.99
27% (69%/67%)
238,348 ±13,860
165,367 ±11,546
04:26 (01:38)
25
Safecracker: The Ultimate Puzzle Adventure
Aug 29, 2007
$4.99
20% (63%/69%)
83,949 ±8,227
36,490 ±5,424
01:48 (00:24)
26
Overcast - Walden and the Werewolf
Apr 18, 2014
$0.99
16% (60%)
637,000 ±22,649
363,427 ±17,112
03:47 (03:28)
27
Lucius II
Feb 13, 2015
$19.99
16% (60%/48%)
136,259 ±10,481
67,075 ±7,354
04:31 (02:51)
28
Doorways: Prelude
Sep 20, 2013
$9.99
16% (60%)
91,964 ±8,611
60,958 ±7,010
02:33 (02:27)
29
Magical Drop V
Nov 15, 2012
$0.99
11% (53%)
33,116 ±5,167
24,046 ±4,403
01:46 (00:49)
30
Season Match 2
Oct 10, 2014
$0.79
9% (50%)
7,593 ±2,474
6,750 ±2,333
03:41 (03:02)