Tetrobot and Co.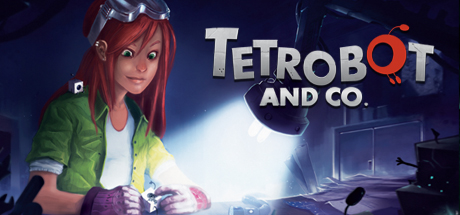 Store | Hub | SteamDB | Site
Developer: Swing Swing Submarine Publisher: Swing Swing Submarine
Genre: Casual, Indie
Languages: English, French, Italian, German, Spanish, Portuguese-Brazil, Traditional Chinese
Tags: Puzzle (47), Indie (44), Casual (36), Robots (10)
Category: Single-player, Steam Achievements, Full controller support, Steam Trading Cards, Steam Cloud
Release date: Oct 22, 2013
Price: $2.99 70%
Score rank: 99% Userscore: 98% Old userscore: 97% Metascore: 72%
Owners: 75,408 ± 7,592
Players in the last 2 weeks: 3,722 ± 2,975 (4.94%)
Players total: 32,803 ± 5,007 (43.5%)
Followers: 1,879
Peak concurrent players yesterday: 14
Playtime in the last 2 weeks: 01:53 (average) 02:07 (median)
Playtime total: 04:35 (average) 01:40 (median)

Steam Spy is still in beta, so expect major bugs.
Peak daily concurrent players:
CCU data courtesy of SteamDB. Used with permission.
Hourly concurrent players:
YouTube:
The views data is based on top 50 videos uploaded last week. Actual number of views might be more than the number shown.

The displayed number of videos uploaded yesterday is limited to 50, so if there were more videos uploaded, the number will still show 50.

If the game has commonly used word as its name (like "FEAR" or "Volume") its number of Youtube views might be wrong.
Games similar to this one:
#
Game
Release date

Price

Score rank
(Userscore / Metascore)

Owners

Players

Playtime (Median)

1
Gunpowder
Jul 8, 2015
$0.99
N/A (N/A/76%)
10,201 ±2,792
7,801 ±2,442
03:47 (03:57)
2
The Room Two
Jul 5, 2016
$1.24
99% (98%)
117,212 ±9,465
75,608 ±7,602
03:32 (03:04)
3
Pony Island
Jan 4, 2016
$1.64
95% (96%/86%)
317,834 ±15,582
211,822 ±12,722
03:03 (02:23)
4
English Country Tune
Aug 9, 2012
$0.99
92% (95%)
315,233 ±15,518
92,210 ±8,395
00:42 (00:11)
5
Zero Escape: Zero Time Dilemma
Jun 29, 2016
$23.99
86% (93%/78%)
33,604 ±5,068
27,803 ±4,610
17:54 (20:21)
6
Cogs
Apr 14, 2009
$9.99
82% (92%/73%)
627,466 ±21,886
328,035 ±15,830
01:46 (00:25)
7
Five Nights at Freddy's 2
Nov 10, 2014
$3.99
78% (91%/62%)
500,653 ±19,552
383,041 ±17,105
04:54 (01:21)
8
Alien: Isolation
Oct 6, 2014
$9.99
78% (91%/81%)
1,063,312 ±28,475
846,490 ±25,413
11:32 (04:26)
9
Puzzle Dimension
Jun 21, 2010
$2.99
78% (91%/79%)
117,012 ±9,457
62,007 ±6,884
02:44 (00:27)
10
Slender: The Arrival
Oct 28, 2013
$2.49
70% (89%/65%)
388,641 ±17,229
276,029 ±14,522
03:02 (01:23)
11
Nosferatu: The Wrath of Malachi
Mar 6, 2014
$0.99
67% (88%/70%)
483,251 ±19,210
254,827 ±13,953
01:57 (01:08)
12
The Turing Test
Aug 30, 2016
$7.99
67% (88%/74%)
202,221 ±12,431
76,808 ±7,662
05:11 (03:41)
13
DOOM 3
Aug 3, 2007
$1.24
67% (88%/87%)
433,046 ±18,186
288,831 ±14,855
05:04 (01:22)
14
Puzzle Agent 2
Jun 30, 2011
$1.99
61% (86%/63%)
450,048 ±18,539
66,207 ±7,114
03:05 (02:57)
15
Closure
Sep 7, 2012
$0.99
61% (86%/78%)
408,643 ±17,667
175,819 ±11,591
01:40 (00:40)
16
Please, Dont Touch Anything
Mar 26, 2015
$1.99
59% (85%)
216,023 ±12,848
182,419 ±11,807
02:00 (01:19)
17
Chuck's Challenge 3D
Feb 28, 2014
$0.99
53% (83%)
22,402 ±4,138
14,202 ±3,295
02:45 (01:27)
18
Welcome to the Game
Jun 15, 2016
$0.99
51% (82%)
68,007 ±7,210
57,806 ±6,647
01:44 (00:57)
19
Major\Minor
Oct 2016
$7.99
49% (81%)
9,601 ±2,709
7,401 ±2,378
04:26 (03:32)
20
Lucius
Oct 26, 2012
$1.49
46% (80%/59%)
678,472 ±22,757
464,249 ±18,829
03:58 (02:17)
21
Serena
Jan 30, 2014
Free
44% (79%)
682,072 ±22,817
255,227 ±13,964
00:44 (00:09)
22
Runespell: Overture
Jul 20, 2011
$0.99
42% (78%/69%)
131,814 ±10,037
72,008 ±7,419
04:47 (02:16)
23
The Evil Within
Oct 13, 2014
$9.99
42% (78%/68%)
558,059 ±20,642
458,849 ±18,719
12:49 (04:23)
24
Call of Cthulhu: Dark Corners of the Earth
Jun 16, 2009
$1.24
30% (71%/76%)
217,423 ±12,889
112,812 ±9,285
04:42 (01:15)
25
Minds Eyes
Aug 31, 2016
Free
27% (69%)
170,218 ±11,405
120,213 ±9,585
00:51 (00:19)
26
Overcast - Walden and the Werewolf
Apr 18, 2014
$0.49
16% (60%)
582,062 ±21,080
319,834 ±15,631
05:48 (03:15)
27
Doorways: Prelude
Sep 20, 2013
$1.99
16% (60%)
97,410 ±8,628
62,207 ±6,895
02:19 (02:03)
28
Magical Drop V
Nov 15, 2012
$0.99
11% (53%)
31,003 ±4,868
22,602 ±4,156
02:17 (00:37)
29
Season Match 2
Oct 10, 2014
$0.51
9% (50%)
6,001 ±2,141
4,801 ±1,915
07:05 (04:32)
30
DesertLand 2115
Nov 18, 2016
$4.99
N/A (N/A)
2,400 ±1,354
1,800 ±1,173
00:21 (00:26)