Tetrobot and Co.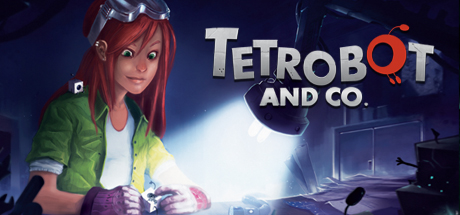 Store | Hub | SteamDB | Site
Developer: Swing Swing Submarine Publisher: Swing Swing Submarine
Genre: Casual, Indie
Languages: English, French, Italian, German, Spanish, Portuguese-Brazil, Traditional Chinese
Tags: Puzzle (48), Indie (45), Casual (36), Robots (12), Difficult (6)
Category: Single-player, Steam Achievements, Full controller support, Steam Trading Cards, Steam Cloud
Release date: Oct 22, 2013
Price: $9.99
Score rank: 99% Userscore: 98% Old userscore: 97% Metascore: 72%
Owners: 72,267 ± 9,127
Players in the last 2 weeks: 877 ± 1,718 (1.21%)
Players total: 29,509 ± 5,832 (40.83%)
Followers: 1,998
Peak concurrent players yesterday: 3
Playtime in the last 2 weeks: 02:06 (average) 02:06 (median)
Playtime total: 05:29 (average) 01:56 (median)

Steam Spy is still in beta, so expect major bugs.
Peak daily concurrent players:
CCU data courtesy of SteamDB. Used with permission.
Hourly concurrent players:
YouTube:
The views data is based on top 50 videos uploaded last week. Actual number of views might be more than the number shown.

The displayed number of videos uploaded yesterday is limited to 50, so if there were more videos uploaded, the number will still show 50.

If the game has commonly used word as its name (like "FEAR" or "Volume") its number of Youtube views might be wrong.
Games similar to this one:
#
Game
Release date

Price

Score rank
(Userscore / Metascore)

Owners

Players

Playtime (Median)

1
Pony Island
Jan 4, 2016
$4.99
95% (96%/86%)
414,330 ±21,846
251,127 ±17,011
03:13 (02:23)
2
English Country Tune
Aug 9, 2012
$4.99
92% (95%)
318,877 ±19,167
85,817 ±9,945
01:02 (00:12)
3
Wolfenstein 3D
Aug 3, 2007
$4.99
89% (94%)
357,118 ±20,283
168,321 ±13,928
01:10 (00:15)
4
Cogs
Apr 14, 2009
$9.99
81% (92%/73%)
620,290 ±26,725
319,178 ±19,176
01:33 (00:26)
5
Alien: Isolation
Oct 6, 2014
$39.99
81% (92%/81%)
1,279,122 ±38,352
972,892 ±33,458
11:04 (04:20)
6
Penumbra Overture
Mar 6, 2009
$9.99
77% (91%/73%)
525,440 ±24,599
227,942 ±16,207
03:05 (01:24)
7
Puzzle Dimension
Jun 21, 2010
$2.99
77% (91%/79%)
109,304 ±11,224
62,029 ±8,456
02:03 (00:34)
8
Five Nights at Freddy's 2
Nov 10, 2014
$7.99
74% (90%/62%)
554,347 ±25,266
422,761 ±22,067
04:56 (01:18)
9
Aliens versus Predator Classic 2000
Jan 15, 2010
$4.99
67% (88%)
228,845 ±16,239
173,139 ±14,125
03:22 (00:46)
10
Resident Evil 0 / biohazard 0 HD REMASTER
Jan 19, 2016
$19.99
67% (88%)
353,204 ±20,172
153,868 ±13,316
07:04 (03:20)
11
DOOM 3
Aug 3, 2007
$4.99
67% (88%/87%)
485,994 ±23,659
325,201 ±19,356
04:47 (01:21)
12
The Turing Test
Aug 30, 2016
$19.99
64% (87%/74%)
232,458 ±16,366
91,839 ±10,288
05:01 (03:46)
13
Closure
Sep 7, 2012
$9.99
61% (86%/78%)
422,460 ±22,059
183,979 ±14,561
01:54 (00:50)
14
Final DOOM
Aug 3, 2007
$4.99
61% (86%)
459,797 ±23,013
140,017 ±12,703
01:17 (00:04)
15
Quake IV
Aug 4, 2011
$14.99
56% (84%/81%)
225,533 ±16,121
127,671 ±12,130
03:58 (01:21)
16
Chuck's Challenge 3D
Feb 28, 2014
$3.99
53% (83%)
18,669 ±4,639
11,442 ±3,632
04:43 (01:23)
17
Major\Minor
Oct 2016
$19.99
48% (81%)
8,130 ±3,061
6,323 ±2,700
03:14 (02:16)
18
Lucius
Oct 26, 2012
$9.99
46% (80%/59%)
771,147 ±29,793
519,116 ±24,451
04:04 (02:25)
19
The Evil Within
Oct 13, 2014
$19.99
44% (79%/68%)
750,972 ±29,402
615,171 ±26,614
12:14 (04:08)
20
Serena
Jan 30, 2014
Free
42% (78%)
824,444 ±30,804
277,625 ±17,885
00:29 (00:12)
21
Runespell: Overture
Jul 20, 2011
$9.99
42% (78%/69%)
116,831 ±11,604
60,825 ±8,373
04:06 (02:31)
22
Pixel Puzzles: Japan
Apr 17, 2014
$6.99
42% (78%)
363,442 ±20,462
227,942 ±16,207
05:38 (04:17)
23
Kairo
Apr 24, 2013
$4.99
34% (74%/76%)
122,854 ±11,899
85,817 ±9,945
01:55 (00:59)
24
Rise of the Triad
Jul 31, 2013
$14.99
26% (69%/67%)
204,154 ±15,338
135,199 ±12,483
03:32 (01:51)
25
Safecracker: The Ultimate Puzzle Adventure
Aug 29, 2007
$4.99
18% (62%/69%)
85,215 ±9,910
40,349 ±6,820
01:38 (00:32)
26
Doorways: Prelude
Sep 20, 2013
$9.99
17% (61%)
82,806 ±9,769
55,103 ±7,970
02:10 (02:16)
27
Overcast - Walden and the Werewolf
Apr 18, 2014
$0.99
16% (60%)
688,040 ±28,144
428,783 ±22,224
03:21 (03:30)
28
Lucius II
Feb 13, 2015
$19.99
15% (59%/48%)
144,232 ±12,893
70,460 ±9,012
04:10 (02:40)
29
Magical Drop V
Nov 15, 2012
$0.99
9% (51%)
32,219 ±6,094
25,896 ±5,463
01:27 (00:35)
30
Season Match 2
Oct 10, 2014
$3.99
8% (49%)
4,517 ±2,281
2,108 ±1,558
03:52 (04:48)