Where is my Heart?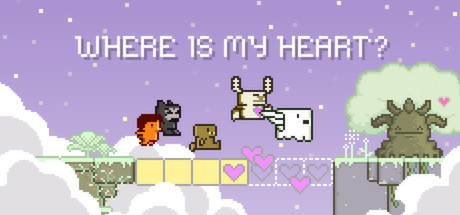 Store | Hub | SteamDB | Site
Developer: Schulenburg Software Publisher: Die Gute Fabrik
Genre: Adventure, Casual, Indie
Languages: English
Tags: Indie (32), Casual (27), Adventure (26), Puzzle (17), Platformer (16), Pixel Graphics (16), Puzzle-Platformer (12), Cute (7)
Category: Single-player, Steam Achievements
Release date: May 29, 2014
Price: $7.99
Old userscore: 81% Metascore: 74%
Owners: 38,227 ± 6,045
Players total: 10,744 ± 3,204 (28.1%)
Peak concurrent players yesterday: 1
Playtime total: 01:12 (average) 00:36 (median)

Steam Spy is still in beta, so expect major bugs.
Peak daily concurrent players:
CCU data courtesy of SteamDB. Used with permission.
Hourly concurrent players:
YouTube:
The views data is based on top 50 videos uploaded last week. Actual number of views might be more than the number shown.

The displayed number of videos uploaded yesterday is limited to 50, so if there were more videos uploaded, the number will still show 50.

If the game has commonly used word as its name (like "FEAR" or "Volume") its number of Youtube views might be wrong.
Games similar to this one:
#
Game
Release date

Price

Score rank
(Userscore / Metascore)

Owners

Players

Playtime (Median)

1
The Price of Freedom
Dec 22, 2016
Free
95% (96%)
40,226 ±6,201
22,237 ±4,610
00:17 (00:13)
2
Quarries of Scred
Apr 22, 2015
$1.49
N/A (N/A)
7,496 ±2,676
500 ±691
01:33 (01:01)
3
NightSky
Mar 1, 2011
$4.99
89% (94%/78%)
560,417 ±23,133
205,378 ±14,009
01:14 (00:23)
4
Nock: Hidden Arrow
Nov 29, 2016
$4.99
N/A (N/A)
5,497 ±2,292
1,249 ±1,092
04:52 (06:55)
5
Nevrosa: Prelude
Feb 23, 2017
Free
89% (94%)
32,731 ±5,593
21,487 ±4,532
00:33 (00:14)
6
Bloo Kid 2
Oct 1, 2015
$3.99
N/A (N/A)
73,706 ±8,393
12,243 ±3,421
00:51 (00:17)
7
Circa Infinity
Sep 8, 2015
$1.99
89% (94%/80%)
11,243 ±3,278
8,495 ±2,849
01:21 (00:47)
8
Trip to Vinelands
Oct 21, 2016
$0.49
89% (94%)
10,494 ±3,167
2,499 ±1,545
00:25 (00:30)
9
The Tale of a Common Man
Sep 2, 2016
$9.99
N/A (N/A)
1,499 ±1,197
999 ±977
04:15 (04:20)
10
Zero G Arena
Nov 3, 2016
$5.99
89% (94%)
79,952 ±8,741
48,221 ±6,789
01:48 (00:27)
11
Transcripted
$7.99
N/A (N/A/78%)
25,985 ±4,983
11,743 ±3,350
04:27 (01:09)
12
The Cat and the Coup
Jun 15, 2011
Free
86% (93%)
117,930 ±10,616
20,238 ±4,398
00:31 (00:14)
13
Smash Party VR
Dec 18, 2016
Free
N/A (N/A)
11,743 ±3,350
7,246 ±2,631
00:50 (00:19)
14
Switchcars
Mar 4, 2016
$8.99
86% (93%)
85,449 ±9,037
21,987 ±4,584
01:28 (00:20)
15
oO
Jul 6, 2015
$0.66
82% (92%)
56,466 ±7,346
32,980 ±5,614
01:28 (00:27)
16
Expand
Sep 30, 2015
$2.99
82% (92%)
51,220 ±6,997
12,243 ±3,421
01:17 (00:58)
17
KAMUI
Dec 11, 2014
$3.99
82% (92%)
43,474 ±6,446
11,243 ±3,278
00:33 (00:14)
18
Oh...Sir! Prototype
Dec 21, 2015
Free
78% (91%/64%)
168,650 ±12,695
106,187 ±10,074
00:13 (00:07)
19
Guardian's Oath
Sep 28, 2016
$1.99
N/A (N/A)
91,696 ±9,361
7,745 ±2,721
00:41 (00:03)
20
Lightfish
Oct 19, 2011
$0.99
N/A (N/A)
43,474 ±6,446
15,741 ±3,879
01:23 (00:30)
21
Slavistan
Jul 29, 2016
$0.69
78% (91%)
27,734 ±5,148
21,987 ±4,584
02:27 (01:05)
22
Another Perspective
Aug 8, 2014
$5.99
78% (91%)
62,713 ±7,742
17,240 ±4,059
01:19 (00:33)
23
Who Is Mike - A Visual Novel
Sep 29, 2015
Free
78% (91%)
86,948 ±9,116
21,987 ±4,584
128:26 (00:34)
24
Deep Under the Sky
Aug 22, 2014
$4.99
N/A (N/A)
23,736 ±4,763
2,748 ±1,620
00:27 (00:39)
25
Cats are Liquid
Jul 25, 2016
$0.64
74% (90%)
16,990 ±4,030
13,242 ±3,557
04:16 (01:27)
26
Dynamite Jack
May 10, 2012
$9.99
74% (90%)
159,405 ±12,342
58,715 ±7,491
01:03 (00:14)
27
Dead End Road
Jul 8, 2016
$2.99
74% (90%)
5,497 ±2,292
3,498 ±1,828
01:28 (01:43)
28
Eets Munchies
Mar 11, 2014
$1.74
74% (90%)
508,198 ±22,030
200,631 ±13,846
02:02 (00:48)
29
Fovos VR
Jan 3, 2017
Free
N/A (N/A)
18,739 ±4,232
12,243 ±3,421
01:02 (00:17)
30
Corporate Lifestyle Simulator
Mar 12, 2014
$4.99
71% (89%)
128,424 ±11,078
30,482 ±5,398
00:49 (00:18)
31
Gunman Clive
Jan 3, 2014
$1.99
71% (89%)
50,220 ±6,928
27,484 ±5,125
01:22 (00:34)
32
Mouse Playhouse
Mar 31, 2017
Free
N/A (N/A)
19,738 ±4,343
10,244 ±3,129
01:07 (00:13)
33
GunGirl 2
Sep 1, 2016
Free
71% (89%)
27,983 ±5,172
5,996 ±2,394
02:10 (01:42)
34
This World Unknown
Sep 2, 2016
$5.99
N/A (N/A)
3,998 ±1,954
999 ±977
03:05 (03:53)
35
Polynomial 2 - Universe of the Music
May 31, 2016
$9.59
68% (88%)
7,745 ±2,721
5,747 ±2,343
00:34 (00:25)
36
Probability 0
Jun 12, 2014
$6.99
N/A (N/A)
17,989 ±4,146
4,747 ±2,130
00:58 (00:54)
37
Motte Island
Apr 7, 2014
$4.99
N/A (N/A)
23,236 ±4,713
4,997 ±2,185
00:49 (00:19)
38
The Misadventures of P.B. Winterbottom
Apr 20, 2010
$1.24
68% (88%/79%)
158,406 ±12,303
100,440 ±9,797
01:21 (00:35)
39
Teddy Terror
May 21, 2015
$4.99
N/A (N/A)
5,996 ±2,394
750 ±846
00:16 (00:11)
40
Metrico+
Aug 23, 2016
$13.99
N/A (N/A/66%)
138,917 ±11,522
18,739 ±4,232
01:09 (00:21)
41
OlliOlli2: Welcome to Olliwood
Aug 11, 2015
$3.74
65% (87%/82%)
74,706 ±8,450
30,232 ±5,375
02:11 (00:47)
42
Wake Up
Aug 9, 2016
Free
65% (87%)
50,220 ±6,928
19,738 ±4,343
00:12 (00:08)
43
Lucky Night: Texas Hold'em VR
Jul 26, 2017
Free
65% (87%)
27,983 ±5,172
17,739 ±4,118
03:49 (00:12)
44
Bombernauts
Dec 29, 2017
$4.99
65% (87%)
4,747 ±2,130
4,497 ±2,073
04:23 (01:06)
45
Reveal The Deep
Dec 4, 2015
$0.49
62% (86%)
100,690 ±9,810
54,468 ±7,215
00:44 (00:17)
46
Irrational Exuberance: Prologue
Apr 5, 2016
Free
62% (86%)
113,433 ±10,412
56,716 ±7,363
00:32 (00:08)
47
Combat Cats
Jun 26, 2015
$2.99
N/A (N/A)
4,747 ±2,130
1,249 ±1,092
01:51 (00:43)
48
Orborun
Sep 5, 2014
$5.99
N/A (N/A)
186,389 ±13,346
35,229 ±5,803
00:48 (00:12)
49
Jack Lumber
Apr 30, 2013
$4.99
N/A (N/A)
154,658 ±12,157
56,966 ±7,379
02:01 (00:48)
50
Pineapple Smash Crew
Feb 2, 2012
$9.99
56% (84%/62%)
20,988 ±4,479
11,743 ±3,350
01:50 (01:14)
51
Luxuria Superbia
Jan 28, 2014
$6.99
56% (84%)
34,480 ±5,741
9,744 ±3,052
00:47 (00:17)
52
Post Human W.A.R
Dec 14, 2017
$10.49
N/A (N/A)
2,249 ±1,466
1,499 ±1,197
02:15 (01:31)
53
Of Carrots And Blood
Mar 25, 2016
$2.99
N/A (N/A)
24,236 ±4,813
5,996 ±2,394
00:41 (00:52)
54
DubWars
Jul 19, 2016
$7.49
56% (84%)
22,237 ±4,610
12,742 ±3,490
03:35 (00:55)
55
Hyperspace Invaders II: Pixel Edition
Sep 4, 2015
$0.49
53% (83%)
39,477 ±6,142
13,742 ±3,624
00:20 (00:08)
56
WARTILE
Feb 8, 2018
$19.99
53% (83%)
13,742 ±3,624
10,993 ±3,241
02:59 (02:03)
57
Gimbal
Nov 19, 2013
$6.99
53% (83%)
30,482 ±5,398
8,745 ±2,891
08:47 (01:40)
58
AaaaaAAaaaAAAaaAAAAaAAAAA!!! for the Awesome
Nov 23, 2011
$9.99
51% (82%)
257,097 ±15,673
133,171 ±11,281
00:53 (00:17)
59
OlliOlli
Jul 22, 2014
$3.24
51% (82%/78%)
184,890 ±13,292
90,196 ±9,284
02:03 (00:29)
60
BasementVR
Dec 19, 2016
Free
N/A (N/A)
8,495 ±2,849
4,997 ±2,185
00:16 (00:12)
61
A Walk in the Dark
Nov 7, 2013
$6.99
51% (82%/67%)
18,489 ±4,204
11,493 ±3,314
01:55 (01:33)
62
Last Dream: World Unknown
Jun 1, 2017
$9.99
N/A (N/A)
8,745 ±2,891
2,249 ±1,466
32:46 (48:14)
63
Fighting Fantasy Legends
Jul 27, 2017
$4.99
47% (80%)
1,999 ±1,382
1,249 ±1,092
03:11 (03:02)
64
Electronic Super Joy: Groove City
Jun 6, 2014
$4.99
47% (80%)
84,450 ±8,984
34,230 ±5,720
01:47 (00:28)
65
NaissanceE
Feb 13, 2014
$2.99
47% (80%/66%)
73,456 ±8,379
28,983 ±5,263
02:51 (01:01)
66
Steel Storm: Burning Retribution
May 11, 2011
$14.99
47% (80%/55%)
379,025 ±19,028
159,655 ±12,352
02:17 (00:43)
67
The Polynomial - Space of the music
Oct 15, 2010
$0.69
43% (78%)
157,406 ±12,265
126,925 ±11,013
00:39 (00:15)
68
1000 Amps
Feb 22, 2012
$4.99
43% (78%)
36,978 ±5,945
19,738 ±4,343
01:39 (00:28)
69
Warriors & Castles
Jun 30, 2015
$2.99
N/A (N/A)
10,494 ±3,167
1,999 ±1,382
00:32 (00:26)
70
DROD RPG: Tendry's Tale
Feb 12, 2016
$5.99
N/A (N/A)
3,248 ±1,762
750 ±846
01:26 (01:26)
71
Proxy Blade Zero
Jul 28, 2014
$4.99
43% (78%)
24,985 ±4,887
8,245 ±2,807
00:55 (00:23)
72
Legend of Numbers
Jun 2, 2016
Free
43% (78%)
43,224 ±6,427
8,245 ±2,807
08:41 (01:51)
73
Tales of Aravorn: Seasons Of The Wolf
Jan 15, 2015
$24.99
N/A (N/A)
2,231 ±1,782
1,487 ±1,455
08:51 (08:20)
74
Void Raiders
Jun 14, 2016
$2.49
N/A (N/A)
4,247 ±2,015
3,748 ±1,892
01:17 (01:50)
75
Dyad
Apr 24, 2013
$14.99
41% (77%/80%)
30,732 ±5,420
19,488 ±4,316
00:52 (00:22)
76
Incredipede
Mar 18, 2013
$4.99
41% (77%/74%)
154,158 ±12,137
53,718 ±7,165
01:34 (00:29)
77
Swarm Arena
Aug 19, 2010
$3.99
N/A (N/A)
25,235 ±4,911
16,740 ±4,000
01:26 (00:33)
78
Glitchspace
May 5, 2016
$12.99
39% (76%)
13,492 ±3,591
9,494 ±3,012
02:04 (00:50)
79
Snapshot
Aug 30, 2012
$9.99
N/A (N/A/74%)
291,077 ±16,676
95,193 ±9,538
00:55 (00:22)
80
Shadow Puppeteer
Sep 29, 2014
$2.99
N/A (N/A/57%)
59,964 ±7,570
15,990 ±3,909
01:32 (00:20)
81
1979 Revolution: Black Friday
Apr 4, 2016
$5.99
37% (75%/80%)
36,478 ±5,905
25,985 ±4,983
02:37 (01:54)
82
Starseed Pilgrim
Apr 16, 2013
$5.99
37% (75%/83%)
291,577 ±16,690
87,448 ±9,142
01:14 (00:12)
83
MachineCraft
Mar 25, 2016
Free
37% (75%)
303,070 ±17,016
221,868 ±14,560
03:49 (00:11)
84
Steno Arcade
Mar 30, 2016
Free
37% (75%)
68,709 ±8,104
30,482 ±5,398
00:09 (00:03)
85
Baezult
Aug 3, 2016
Free
N/A (N/A)
28,483 ±5,218
3,748 ±1,892
00:28 (00:15)
86
Runeous: Part One
May 31, 2016
Free
37% (75%)
35,729 ±5,844
3,998 ±1,954
00:26 (00:20)
87
The Hurricane of the Varstray -Collateral hazard-
Dec 21, 2015
$1.99
35% (74%)
9,744 ±3,052
5,247 ±2,239
03:59 (01:01)
88
Trauma
Aug 8, 2011
$6.99
35% (74%/62%)
246,603 ±15,350
89,197 ±9,233
00:42 (00:17)
89
It Lurks in the Woods
Feb 8, 2017
Free
N/A (N/A)
3,498 ±1,828
1,749 ±1,293
00:16 (00:28)
90
Life Forge ORPG
Mar 27, 2017
Free
33% (73%)
54,717 ±7,232
42,225 ±6,353
06:19 (00:11)
91
Elegy for a Dead World
Dec 10, 2014
$14.99
31% (72%)
114,682 ±10,469
30,732 ±5,420
00:50 (00:19)
92
Pid
Oct 31, 2012
$0.99
31% (72%/63%)
652,362 ±24,956
281,333 ±16,395
01:30 (00:30)
93
bob's game
Feb 21, 2017
Free
N/A (N/A)
10,744 ±3,204
999 ±977
00:09 (00:10)
94
ULTRAWORLD EXODUS
Dec 4, 2014
Free
N/A (N/A)
18,489 ±4,204
2,249 ±1,466
04:54 (14:24)
95
Altitude0: Lower & Faster
Sep 2014
$14.24
30% (71%)
3,498 ±1,828
2,748 ±1,620
03:02 (04:57)
96
Bob Came in Pieces
Jan 22, 2010
$6.99
28% (70%/73%)
66,710 ±7,985
42,974 ±6,409
02:01 (00:35)
97
Kickoff Legends
Dec 13, 2016
Free
N/A (N/A)
9,994 ±3,090
3,998 ±1,954
00:10 (00:09)
98
Euclidean
Sep 25, 2015
$4.99
28% (70%/62%)
18,989 ±4,260
9,744 ±3,052
01:09 (00:21)
99
Colour Bind
Sep 24, 2012
$9.99
N/A (N/A)
10,494 ±3,167
5,247 ±2,239
05:40 (01:33)
100
Bard to the Future
Feb 27, 2015
$4.99
N/A (N/A)
24,735 ±4,862
3,248 ±1,762
00:15 (00:27)
101
Bad Bots
May 17, 2013
$0.74
27% (69%/49%)
30,732 ±5,420
11,743 ±3,350
00:52 (00:17)
102
Leadwerks Game Launcher
Aug 24, 2015
Free
N/A (N/A)
75,455 ±8,492
12,992 ±3,524
00:07 (00:03)
103
Mutant Storm: Reloaded
Mar 21, 2012
$4.99
N/A (N/A)
23,486 ±4,738
5,996 ±2,394
01:50 (01:19)
104
Pay2Win: The Tricks Exposed
Dec 15, 2015
$1.69
N/A (N/A)
23,736 ±4,763
4,747 ±2,130
14:37 (00:38)
105
ASTROKILL
May 27, 2016
$4.99
N/A (N/A)
13,992 ±3,657
2,249 ±1,466
00:14 (00:21)
106
Redactem
Aug 1, 2016
$0.99
N/A (N/A)
95,943 ±9,576
9,744 ±3,052
00:20 (00:07)
107
MirrorMoon EP
Sep 4, 2013
$1.49
24% (67%/73%)
106,687 ±10,097
50,970 ±6,980
01:58 (01:08)
108
Noct
Oct 21, 2015
$2.49
24% (67%)
67,460 ±8,030
21,737 ±4,558
00:43 (00:24)
109
Astro Tripper
Sep 15, 2011
$4.99
N/A (N/A)
29,482 ±5,308
8,495 ±2,849
00:27 (00:08)
110
The Uncertain: VR Experience
Apr 25, 2017
Free
N/A (N/A)
19,488 ±4,316
8,245 ±2,807
00:09 (00:07)
111
XenoShyft
Mar 29, 2016
$9.99
N/A (N/A)
1,249 ±1,092
1,249 ±1,092
02:10 (02:56)
112
ComPet - Beast Battles
Nov 29, 2016
Free
22% (65%)
13,492 ±3,591
7,246 ±2,631
01:05 (00:47)
113
Hold the door!
Sep 2, 2016
Free
N/A (N/A)
29,233 ±5,286
8,745 ±2,891
00:09 (00:06)
114
Contract
Jan 5, 2016
$2.99
N/A (N/A)
9,744 ±3,052
2,249 ±1,466
00:45 (01:15)
115
Volo Airsport
Dec 4, 2014
$12.99
18% (62%)
8,495 ±2,849
7,496 ±2,676
05:40 (00:43)
116
Visibility
May 25, 2015
Free
16% (60%)
32,731 ±5,593
6,496 ±2,492
00:31 (00:07)
117
Avalon Lords: Dawn Rises
Apr 28, 2016
Free
16% (60%)
49,221 ±6,859
14,741 ±3,753
00:27 (00:07)
118
The Joylancer: Legendary Motor Knight
Nov 7, 2014
$2.99
N/A (N/A)
46,972 ±6,700
9,744 ±3,052
00:21 (00:15)
119
Sentinel
Apr 22, 2014
Free
13% (57%)
42,725 ±6,390
4,497 ±2,073
00:42 (00:32)
120
Congo
Mar 21, 2016
$9.99
13% (56%)
3,498 ±1,828
2,748 ±1,620
01:28 (01:03)
121
Pregnancy
Mar 2, 2015
$1.99
13% (56%)
7,496 ±2,676
4,497 ±2,073
01:02 (00:35)
122
Gunslingers
Dec 17, 2015
Free
11% (54%)
102,939 ±9,919
42,974 ±6,409
06:13 (00:19)
123
Trulon: The Shadow Engine
Mar 1, 2016
$7.99
N/A (N/A)
9,245 ±2,972
1,999 ±1,382
02:11 (02:22)
124
TRIP Steam Edition
Jun 19, 2015
$1.99
N/A (N/A)
37,977 ±6,025
5,996 ±2,394
00:13 (00:06)
125
Truffle Saga
Jun 6, 2014
$0.99
N/A (N/A)
59,215 ±7,523
5,247 ±2,239
00:47 (00:13)
126
CO-OP : Decrypted
Aug 17, 2015
$9.99
N/A (N/A)
15,491 ±3,848
2,499 ±1,545
00:21 (00:17)
127
The Flock
Aug 21, 2015
$16.99
5% (41%/36%)
24,985 ±4,887
5,247 ±2,239
00:46 (00:47)
128
Northern Regime
Feb 17, 2017
$10.99
N/A (N/A)
3,248 ±1,762
500 ±691
00:08 (00:05)
129
AMOK
Mar 22, 2016
$0.99
4% (39%)
18,739 ±4,232
2,748 ±1,620
04:24 (06:43)
130
Dead Sky
Nov 22, 2013
$1.99
4% (38%)
33,980 ±5,699
14,491 ±3,721
00:53 (00:38)
131
SpellKnights
Jul 13, 2016
Free
3% (37%)
76,954 ±8,576
24,985 ±4,887
00:16 (00:07)
132
Flight of the Icarus
May 12, 2010
$0.49
3% (37%)
72,207 ±8,307
44,973 ±6,556
00:41 (00:20)
133
The Glow
Dec 10, 2015
$3.99
N/A (N/A)
7,246 ±2,631
750 ±846
08:25 (08:22)
134
So Many Cubes
Oct 6, 2016
$0.49
N/A (N/A)
162,154 ±12,448
110,185 ±10,262
03:54 (04:25)
135
bit Dungeon+
Mar 22, 2016
$0.79
2% (33%)
16,990 ±4,030
5,996 ±2,394
00:40 (00:27)
136
Rabiez: Epidemic
Mar 4, 2016
$0.49
2% (31%)
204,628 ±13,983
127,424 ±11,035
03:48 (04:12)
137
Martial Law
May 26, 2015
$2.99
N/A (N/A)
1,116 ±1,260
372 ±727
00:27 (00:13)
138
The Note
Jul 23, 2015
$1.19
N/A (N/A)
158,406 ±12,303
5,747 ±2,343
00:15 (00:08)
139
C-RUSH
Feb 17, 2014
$1.99
N/A (N/A)
25,985 ±4,983
3,998 ±1,954
00:37 (00:13)
140
Vigil: Blood Bitterness
Jun 29, 2007
Free
0% (17%/61%)
64,712 ±7,864
19,988 ±4,371
00:16 (00:03)
141
Wonky Pigeon!
Nov 26, 2015
$4.99
N/A (N/A)
7,995 ±2,764
1,499 ±1,197
00:04 (00:04)
142
One Day For Ched
Sep 12, 2014
$0.51
N/A (N/A)
46,223 ±6,647
4,247 ±2,015
00:18 (00:02)
143
Eternity's Child
Jul 31, 2008
$4.99
N/A (N/A)
17,490 ±4,088
2,998 ±1,692
00:15 (00:14)
144
Zone 22
Jul 31, 2015
$7.99
N/A (N/A)
2,499 ±1,545
0 ±0
00:00 (00:00)
145
Rift's Cave
Dec 1, 2014
$4.99
N/A (N/A)
12,992 ±3,524
999 ±977
01:20 (01:24)