App

Cook, Serve, Delicious!
Cook, Serve, Delicious!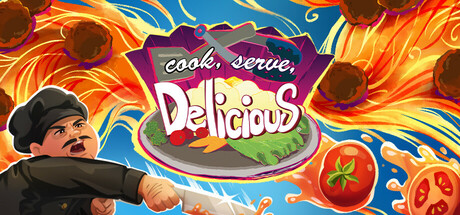 Store | Hub | SteamDB | Site
Developer: Vertigo Gaming Inc. Publisher: Vertigo Gaming Inc.
Genre: Action, Indie, Simulation, Strategy
Languages: English
Tags: Simulation (192), Indie (175), Management (135), Casual (93), Typing (75), Action (72), Difficult (70), Strategy (62), Arcade (56), Singleplayer (43), Comedy (30), GameMaker (24), Fast-Paced (18), Local Co-Op (17), Co-op (7)
Category: Single-player, Shared/Split Screen, Steam Achievements, Full controller support, Steam Trading Cards, Steam Cloud, Steam Leaderboards
Release date: Oct 8, 2013
Price: $9.99
Score rank: 94% Userscore: 96% Old userscore: 95%
Owners: 424,848 ± 19,198
Players in the last 2 weeks: 5,223 ± 2,129 (1.23%)
Players total: 279,750 ± 15,581 (65.85%)
Peak concurrent players yesterday: 90
Peak on Twitch yesterday: 2 viewers, 1 channels
YouTube stats: 3,877 views and 33 comments for videos uploaded last week, 4 new videos uploaded yesterday.
Playtime in the last 2 weeks: 02:04 (average) 01:23 (median)
Playtime total: 07:59 (average) 02:59 (median)

Steam Spy is still in beta, so expect major bugs.
Peak daily concurrent players:
CCU data courtesy of SteamDB. Used with permission.
Hourly concurrent players:
YouTube:
The views data is based on top 50 videos uploaded last week. Actual number of views might be more than the number shown.

The displayed number of videos uploaded yesterday is limited to 50, so if there were more videos uploaded, the number will still show 50.

If the game has commonly used word as its name (like "FEAR" or "Volume") its number of Youtube views might be wrong.
Games similar to this one:
#
Game
Release date

Price

Score rank
(Userscore / Metascore)

Owners

Players

Playtime (Median)

1
Factorio
Feb 25, 2016
$20
99% (98%)
793,383 ±26,222
773,855 ±25,898
68:23 (28:16)
2
Bit Blaster XL
Jan 22, 2016
$0.99
99% (98%)
202,092 ±13,244
132,382 ±10,720
01:55 (00:43)
3
The Price of Freedom
Dec 22, 2016
Free
97% (97%)
27,703 ±4,904
13,851 ±3,468
00:20 (00:14)
4
The Binding of Isaac: Rebirth
Nov 4, 2014
$14.99
97% (97%)
1,829,732 ±39,769
1,782,728 ±39,258
108:27 (43:20)
5
Bullet Heaven 2
Dec 7, 2015
$11.99
97% (97%)
9,537 ±2,877
7,720 ±2,589
05:11 (04:17)
6
Game Dev Tycoon
Aug 29, 2013
$9.99
94% (96%/68%)
1,271,366 ±33,174
1,223,000 ±32,539
12:54 (07:38)
7
20XX
Nov 25, 2014
$14.99
94% (96%)
50,410 ±6,616
45,868 ±6,311
08:33 (03:09)
8
Wallpaper Engine
Oct 10, 2016
$3.99
94% (96%)
1,831,775 ±39,791
1,809,522 ±39,550
11:17 (03:00)
9
DEADBOLT
Mar 14, 2016
$9.99
94% (96%/76%)
111,719 ±9,848
64,261 ±7,469
08:13 (04:07)
10
Waves
Nov 16, 2011
$4.99
91% (95%/82%)
114,443 ±9,968
71,754 ±7,893
03:02 (00:36)
11
Little Inferno
Nov 19, 2012
$9.99
91% (95%/68%)
797,925 ±26,297
506,594 ±20,961
04:44 (03:26)
12
Hot Dogs, Horseshoes & Hand Grenades
Apr 5, 2016
$19.99
91% (95%)
48,593 ±6,495
47,004 ±6,388
06:20 (03:40)
13
Trickster VR - Procedural Dungeon Crawler
Aug 12, 2016
$10.39
91% (95%)
13,170 ±3,381
10,899 ±3,076
01:22 (00:40)
14
Oh...Sir!! The Insult Simulator
Oct 25, 2016
$1.99
91% (95%/64%)
133,744 ±10,775
116,487 ±10,056
02:47 (01:40)
15
Papo & Yo
Apr 18, 2013
$14.99
91% (95%/70%)
379,207 ±18,138
109,902 ±9,768
03:09 (01:03)
16
Universe Sandbox ²
Aug 24, 2015
$24.99
91% (95%)
230,022 ±14,129
222,983 ±13,912
12:30 (03:15)
17
Slash It 2
Jan 24, 2017
$0.99
91% (95%)
16,803 ±3,820
10,445 ±3,011
02:36 (03:00)
18
SimplePlanes
Dec 17, 2015
$12.99
88% (94%/67%)
140,556 ±11,046
130,338 ±10,637
21:55 (03:49)
19
Prison Architect
Oct 6, 2015
$29.99
88% (94%/83%)
2,178,965 ±43,380
1,983,231 ±41,396
27:28 (10:10)
20
Paint the Town Red
Oct 13, 2015
$14.99
88% (94%)
167,805 ±12,069
166,670 ±12,028
09:15 (04:38)
21
Niche - a genetics survival game
Sep 15, 2016
$18.99
88% (94%)
27,475 ±4,884
27,021 ±4,844
22:36 (07:20)
22
Genital Jousting
Nov 17, 2016
$4.99
88% (94%)
152,137 ±11,492
130,338 ±10,637
00:57 (00:39)
23
Thumper
Oct 10, 2016
$15.99
88% (94%/85%)
43,143 ±6,120
39,737 ±5,874
04:12 (02:17)
24
Lovely Planet
Jul 31, 2014
$5.99
88% (94%/61%)
249,550 ±14,716
154,181 ±11,569
02:58 (02:06)
25
Fortix
Apr 14, 2010
$0.99
88% (94%)
127,613 ±10,525
73,117 ±7,967
02:40 (01:34)
26
Software Inc.
May 1, 2015
$13.99
88% (94%)
69,483 ±7,767
67,894 ±7,678
19:46 (08:15)
27
The Adventures of Fei Duanmu 端木斐异闻录
Mar 9, 2017
$3.99
88% (94%)
7,947 ±2,627
4,314 ±1,935
02:41 (02:47)
28
Bullets And More VR - BAM VR
Sep 7, 2016
$14.99
84% (93%)
2,498 ±1,472
2,271 ±1,404
06:35 (08:42)
29
Sky Rogue
Jul 30, 2015
$9.99
84% (93%)
20,890 ±4,259
20,436 ±4,212
04:33 (02:14)
30
STARWHAL
Sep 29, 2014
$11.99
84% (93%)
95,142 ±9,088
70,392 ±7,818
03:14 (01:17)
31
Boson X
Sep 15, 2014
$2.99
84% (93%)
82,881 ±8,483
62,671 ±7,376
05:30 (02:22)
32
GRIP
Feb 2, 2016
$15.99
84% (93%)
21,799 ±4,350
20,890 ±4,259
03:22 (01:03)
33
American Truck Simulator
Feb 2, 2016
$19.99
84% (93%/76%)
616,496 ±23,120
596,513 ±22,743
48:54 (18:36)
34
Pavlov VR
Feb 27, 2017
$9.99
81% (92%)
12,489 ±3,293
10,672 ±3,044
03:53 (02:03)
35
Clone Drone in the Danger Zone
Mar 16, 2017
$14.99
81% (92%)
6,812 ±2,432
6,358 ±2,349
05:38 (05:07)
36
Rivals of Aether
Sep 22, 2015
$14.99
81% (92%)
118,758 ±10,154
115,806 ±10,027
22:41 (05:25)
37
Serious Sam Classics: Revolution
Apr 30, 2014
$9.99
81% (92%)
741,838 ±25,358
109,675 ±9,758
04:06 (00:50)
38
Human: Fall Flat
Jul 22, 2016
$14.99
81% (92%/70%)
76,750 ±8,163
68,575 ±7,716
05:47 (03:01)
39
LUFTRAUSERS
Mar 18, 2014
$9.99
81% (92%/80%)
363,539 ±17,760
244,328 ±14,562
03:51 (02:16)
40
Ultimate General: Civil War
Nov 16, 2016
$29.99
77% (91%)
42,235 ±6,056
39,964 ±5,891
46:34 (12:18)
41
The Sad Story of Emmeline Burns
Jan 5, 2016
Free
77% (91%)
76,977 ±8,175
19,074 ±4,069
00:46 (00:25)
42
Fly O'Clock
Jul 8, 2016
$0.49
77% (91%)
31,336 ±5,216
21,118 ±4,282
03:23 (02:27)
43
Parkitect
May 5, 2016
$17.99
77% (91%)
60,855 ±7,269
56,768 ±7,020
07:45 (02:48)
44
Replica
Jul 11, 2016
$2.99
77% (91%)
81,064 ±8,389
69,711 ±7,780
02:33 (01:40)
45
My Summer Car
Oct 24, 2016
$14.99
77% (91%)
212,538 ±13,582
207,315 ±13,414
18:02 (07:42)
46
OlliOlli2: Welcome to Olliwood
Aug 11, 2015
$14.99
73% (90%/82%)
66,986 ±7,626
31,563 ±5,235
02:24 (00:43)
47
Ultratron
Mar 18, 2013
$9.99
73% (90%)
86,060 ±8,644
54,951 ±6,907
02:41 (01:20)
48
Planet Coaster
Nov 17, 2016
$44.99
73% (90%/84%)
643,517 ±23,621
626,260 ±23,302
20:08 (09:31)
49
Osmos
Aug 18, 2009
$9.99
73% (90%/80%)
566,540 ±22,165
338,789 ±17,145
02:16 (00:44)
50
Moonbase Alpha
Jul 6, 2010
Free
73% (90%)
1,212,555 ±32,400
824,492 ±26,730
01:40 (00:35)
51
Sword With Sauce: Alpha
Jan 27, 2017
$2.99
73% (90%)
69,029 ±7,742
64,034 ±7,456
02:26 (01:00)
52
ASTRONEER
Dec 15, 2016
$19.99
73% (90%)
708,913 ±24,790
690,066 ±24,459
09:56 (06:21)
53
BIT.TRIP RUNNER
Feb 28, 2011
$9.99
73% (90%)
815,409 ±26,583
584,025 ±22,504
02:32 (01:15)
54
Amazing Frog?
Nov 21, 2014
$15.99
73% (90%)
42,916 ±6,104
42,462 ±6,072
22:05 (07:54)
55
Ninja Pizza Girl
Sep 30, 2015
$9.99
70% (89%/82%)
108,767 ±9,717
14,987 ±3,607
01:29 (00:41)
56
Another Adventure
Mar 10, 2017
$1.99
70% (89%)
37,012 ±5,669
32,017 ±5,272
01:09 (01:08)
57
Serious Sam VR: The Last Hope
Oct 17, 2016
$39.99
70% (89%)
23,842 ±4,550
21,345 ±4,305
04:09 (01:49)
58
Reveal The Deep
Dec 4, 2015
$0.99
70% (89%)
100,138 ±9,324
56,540 ±7,006
00:46 (00:18)
59
Cube Destroyer
Feb 15, 2016
$0.5
66% (88%)
167,578 ±12,061
127,613 ±10,525
04:29 (03:28)
60
Okhlos: Omega
Aug 18, 2016
$12.99
66% (88%/69%)
180,521 ±12,518
54,270 ±6,864
02:09 (00:39)
61
Horizon Shift
May 29, 2015
$1.69
N/A (N/A)
124,889 ±10,412
76,523 ±8,151
03:01 (03:04)
62
HardCube
Jun 30, 2016
$1.99
N/A (N/A)
30,882 ±5,178
20,663 ±4,236
03:35 (03:30)
63
Rise to Ruins
Oct 27, 2014
$9.99
66% (88%)
49,955 ±6,586
35,650 ±5,564
07:26 (02:19)
64
Plantera
Jan 28, 2016
$2.99
66% (88%)
119,893 ±10,202
87,195 ±8,701
16:37 (03:44)
65
Super Duper Party Pooper
Jun 6, 2016
$0.99
60% (86%/40%)
44,052 ±6,184
33,379 ±5,383
03:04 (03:22)
66
Jalopy
Apr 22, 2016
$12.99
60% (86%)
71,073 ±7,855
66,077 ±7,574
06:32 (03:09)
67
Space Distant
Dec 20, 2016
$2.99
N/A (N/A)
29,746 ±5,082
26,567 ±4,803
06:09 (06:32)
68
Streamline
Sep 30, 2016
$19.99
60% (86%)
581,300 ±22,452
218,896 ±13,783
03:02 (02:11)
69
CHKN
Apr 1, 2016
$14.99
60% (86%)
16,349 ±3,768
15,668 ±3,688
08:15 (04:03)
70
Another Brick in the Mall
Nov 3, 2016
$12.99
60% (86%)
25,432 ±4,699
23,842 ±4,550
12:02 (07:09)
71
99Vidas
Dec 22, 2016
$12.99
57% (85%/69%)
6,812 ±2,432
5,450 ±2,175
06:53 (05:41)
72
Guts and Glory
Feb 15, 2017
$9.99
57% (85%)
12,943 ±3,352
10,899 ±3,076
01:57 (01:08)
73
TIMEframe
Jul 7, 2015
$7.99
57% (85%)
80,837 ±8,377
12,262 ±3,263
01:24 (00:56)
74
Surgeon Simulator 2013
Apr 19, 2013
$9.99
55% (84%/71%)
1,731,864 ±38,696
1,497,074 ±35,988
03:34 (01:51)
75
Warbands: Bushido
Nov 29, 2016
$7.99
55% (84%)
7,493 ±2,551
7,039 ±2,472
08:54 (02:47)
76
Cargo Commander
Nov 1, 2012
$9.99
55% (84%)
139,421 ±11,001
89,693 ±8,824
03:07 (01:26)
77
Super Galaxy Squadron EX Turbo
Jan 23, 2015
$11.99
55% (84%)
82,881 ±8,483
15,668 ±3,688
02:43 (02:02)
78
We Need to Go Deeper
Feb 8, 2017
$9.99
52% (83%)
18,847 ±4,045
17,257 ±3,871
04:46 (03:52)
79
Imagine Earth
May 20, 2014
$19.99
52% (83%)
18,166 ±3,971
16,576 ±3,794
06:56 (02:25)
80
Millie
Apr 18, 2014
$0.51
52% (83%)
110,810 ±9,808
67,667 ±7,665
03:27 (02:52)
81
Endless Space® 2
Oct 6, 2016
$29.99
52% (83%)
60,174 ±7,228
55,178 ±6,921
16:46 (07:44)
82
Tavern Tycoon - Dragon's Hangover
Jan 31, 2017
$10.99
52% (83%)
14,987 ±3,607
14,532 ±3,552
04:29 (03:29)
83
Once in Yaissor
Nov 9, 2016
$0.99
50% (82%)
29,746 ±5,082
28,384 ±4,964
04:53 (05:56)
84
Steep
Dec 2, 2016
$29.99
48% (81%/72%)
93,780 ±9,023
87,876 ±8,735
14:22 (08:12)
85
Jet Racing Extreme
Jul 14, 2015
$3.99
48% (81%)
174,617 ±12,311
69,483 ±7,767
04:13 (01:26)
86
ANIMALITY
Feb 2, 2017
$1.99
N/A (N/A)
14,532 ±3,552
12,035 ±3,232
03:07 (03:03)
87
Microsoft Flight Simulator X: Steam Edition
Dec 18, 2014
$9.99
45% (80%)
781,121 ±26,019
690,066 ±24,459
51:23 (05:09)
88
I am Bread
Apr 9, 2015
$12.99
45% (80%/60%)
504,096 ±20,910
401,233 ±18,657
02:55 (01:07)
89
Shark Attack Deathmatch 2
May 28, 2015
$2.99
45% (80%)
61,763 ±7,323
49,047 ±6,526
01:40 (00:46)
90
Dungeon of Zolthan
May 11, 2016
$0.99
43% (79%)
68,121 ±7,690
44,733 ±6,232
03:49 (03:33)
91
Holy Potatoes! A Weapon Shop?!
Jul 13, 2015
$14.99
41% (78%/69%)
141,692 ±11,091
99,230 ±9,282
06:12 (03:29)
92
Finding Bigfoot
Jan 31, 2017
$15.99
41% (78%)
19,982 ±4,165
18,166 ±3,971
03:52 (03:27)
93
Share
May 3, 2016
$4.99
41% (78%)
9,310 ±2,843
6,358 ±2,349
01:21 (01:32)
94
SPORE™ Galactic Adventures
Jun 23, 2009
$19.99
41% (78%/70%)
801,331 ±26,353
437,337 ±19,477
17:22 (03:20)
95
MAKE IT as an Artist
Mar 9, 2017
Free
N/A (N/A)
1,589 ±1,174
454 ±628
00:04 (00:02)
96
Feed and Grow: Fish
Jan 8, 2016
$14.99
39% (77%)
39,737 ±5,874
38,375 ±5,772
17:58 (05:05)
97
Depth Hunter 2: Deep Dive
Aug 20, 2014
$14.99
39% (77%)
184,154 ±12,643
79,247 ±8,295
03:25 (02:03)
98
Pixel Puzzles: UndeadZ
Jun 6, 2014
$6.99
37% (76%)
149,639 ±11,397
91,282 ±8,902
06:39 (04:39)
99
MachineCraft
Mar 25, 2016
Free
37% (76%)
259,087 ±14,995
183,019 ±12,604
02:47 (00:12)
100
Legend of Numbers
Jun 2, 2016
Free
35% (75%)
47,004 ±6,388
11,354 ±3,140
15:05 (01:01)
101
Monster Loves You!
Mar 18, 2013
$9.99
35% (75%)
225,481 ±13,989
111,946 ±9,858
02:15 (01:26)
102
The Deer
Mar 28, 2016
$0.99
32% (73%)
347,644 ±17,368
226,843 ±14,031
03:56 (03:28)
103
Warhammer 40,000: Space Wolf
Feb 17, 2017
$11.99
32% (73%)
3,179 ±1,661
2,498 ±1,472
05:59 (04:32)
104
SimAirport
Mar 6, 2017
$19.99
29% (71%)
20,663 ±4,236
20,209 ±4,189
10:27 (06:06)
105
Showdown Adventure
Sep 23, 2016
$2.99
N/A (N/A)
7,947 ±2,627
4,087 ±1,884
02:27 (02:37)
106
Hard Room
Jan 21, 2016
$2.99
N/A (N/A)
128,295 ±10,553
62,217 ±7,350
03:22 (02:58)
107
Ampu-Tea
May 30, 2014
$4.99
26% (69%)
173,255 ±12,263
129,203 ±10,591
02:49 (02:44)
108
Survivor Squad
Jan 21, 2015
$2.99
25% (68%)
156,451 ±11,654
104,225 ±9,512
03:01 (01:39)
109
Yury
Dec 9, 2014
$1.99
22% (66%)
80,383 ±8,354
48,593 ±6,495
03:20 (03:18)
110
Hare In The Hat
Apr 1, 2015
$1.99
22% (66%)
42,008 ±6,039
30,882 ±5,178
04:17 (03:29)
111
Xsyon - Prelude
Dec 29, 2014
$29.99
21% (65%)
7,720 ±2,589
7,266 ±2,512
06:57 (01:46)
112
Train Simulator
Sep 17, 2015
$15.99
20% (64%)
987,301 ±29,245
872,631 ±27,498
63:55 (07:14)
113
Overhell
May 28, 2016
$1.99
N/A (N/A)
47,231 ±6,404
34,515 ±5,474
03:30 (03:31)
114
NORTH
Apr 27, 2016
$1.99
19% (63%)
51,318 ±6,675
32,017 ±5,272
03:15 (03:30)
115
Dream
Jul 31, 2015
$8.99
18% (62%/59%)
89,466 ±8,813
63,580 ±7,430
02:44 (00:53)
116
Heckabomb
Feb 27, 2015
$5.99
N/A (N/A)
113,081 ±9,908
69,938 ±7,792
03:18 (03:05)
117
The Tower Of Elements
Aug 5, 2015
$1.99
N/A (N/A)
188,468 ±12,790
74,479 ±8,041
02:59 (02:58)
118
RuneScape: Idle Adventures
Sep 1, 2016
Free
15% (59%)
175,298 ±12,335
139,648 ±11,010
25:32 (01:56)
119
Cosmic Dust & Rust
May 17, 2016
$0.99
15% (59%)
143,735 ±11,170
77,204 ±8,187
03:06 (03:22)
120
Dead Bits
Jun 7, 2014
$0.99
15% (59%)
690,747 ±24,471
452,097 ±19,803
03:20 (02:03)
121
Frontier
Mar 4, 2016
$12.99
N/A (N/A)
3,633 ±1,776
1,135 ±992
00:15 (00:19)
122
Drayt Empire
Jul 16, 2016
$0.99
N/A (N/A)
95,597 ±9,110
53,816 ±6,836
03:19 (03:25)
123
Zombie Boom
Aug 23, 2016
$3.99
13% (56%)
51,091 ±6,660
38,602 ±5,789
03:51 (04:08)
124
RaceRoom Racing Experience
Feb 12, 2013
Free
12% (55%)
3,354,281 ±53,741
1,311,784 ±33,696
04:34 (00:26)
125
Invasion
Sep 18, 2015
$1.99
12% (55%)
148,731 ±11,363
62,898 ±7,390
07:22 (04:27)
126
Shroud of the Avatar: Forsaken Virtues
Nov 24, 2014
$39.99
12% (55%)
37,467 ±5,703
33,379 ±5,383
57:44 (08:28)
127
Endorlight
Apr 26, 2016
$0.5
11% (54%)
413,268 ±18,934
249,777 ±14,723
04:56 (04:27)
128
Aircraft War X
Aug 5, 2016
$2.99
11% (54%)
108,767 ±9,717
86,741 ±8,678
04:43 (03:11)
129
BoneBone: Rise of the Deathlord
Jun 17, 2016
$1.99
N/A (N/A)
55,178 ±6,921
44,960 ±6,248
03:41 (03:18)
130
King's Guard TD
Jun 8, 2016
$0.99
N/A (N/A)
125,343 ±10,431
83,789 ±8,529
03:04 (03:00)
131
Factions: Origins of Malu
Mar 23, 2015
Free
N/A (N/A)
1,135 ±992
1,135 ±992
00:59 (01:37)
132
Ballistic Protection
Oct 12, 2016
$4.99
9% (50%)
72,890 ±7,955
38,148 ±5,755
03:54 (04:21)
133
Lup
Apr 1, 2016
$0.99
9% (50%)
201,638 ±13,229
94,007 ±9,034
03:08 (03:17)
134
Clergy Splode
Sep 17, 2015
$0.99
8% (48%)
169,621 ±12,134
111,719 ±9,848
03:49 (03:30)
135
Make it indie!
Apr 1, 2015
$0.99
8% (48%)
154,181 ±11,569
106,950 ±9,636
03:19 (03:20)
136
Locked-in syndrome
Jan 7, 2016
$2.99
N/A (N/A)
97,867 ±9,218
48,820 ±6,511
03:25 (03:22)
137
Dear RED - Extended
Apr 12, 2016
$2.99
N/A (N/A)
44,506 ±6,216
34,515 ±5,474
03:32 (03:30)
138
Star Drifter
Jun 1, 2016
$0.99
5% (42%)
110,356 ±9,788
70,392 ±7,818
03:39 (03:28)
139
Canyon Capers
Apr 25, 2014
$6.99
5% (42%)
320,396 ±16,674
197,778 ±13,102
02:47 (01:58)
140
Blitzkrieg 3
May 6, 2015
$20.99
5% (42%)
47,231 ±6,404
44,279 ±6,200
17:27 (05:40)
141
Neon Hardcorps
May 30, 2016
$0.99
N/A (N/A)
161,220 ±11,830
86,741 ±8,678
03:20 (03:29)
142
Cuties
May 29, 2016
$2.99
N/A (N/A)
62,444 ±7,363
37,467 ±5,703
03:11 (03:29)
143
Retention
Jan 13, 2015
$0.99
4% (40%)
153,727 ±11,552
109,902 ±9,768
03:19 (03:19)
144
EeOneGuy Adventure
Jun 9, 2016
$0.99
N/A (N/A)
162,582 ±11,880
89,239 ±8,802
02:28 (03:09)
145
//N.P.P.D. RUSH//- The milk of Ultraviolet
Feb 13, 2014
$3.99
4% (40%)
100,819 ±9,356
58,811 ±7,146
02:24 (01:33)
146
STARUSHKO LUB
Oct 24, 2016
$0.99
N/A (N/A)
61,082 ±7,282
47,004 ±6,388
06:10 (05:25)
147
Final Quest II
Oct 18, 2016
$0.99
N/A (N/A)
80,383 ±8,354
50,410 ±6,616
03:25 (03:23)
148
Trump Simulator 2017
Feb 11, 2017
$0.99
N/A (N/A)
34,969 ±5,510
33,379 ±5,383
06:34 (03:29)
149
Altar Guardian
Oct 24, 2016
$1.99
N/A (N/A)
15,668 ±3,688
12,489 ±3,293
03:17 (03:29)
150
Rise of the Ancients
May 31, 2016
$0.5
2% (33%)
52,453 ±6,748
34,061 ±5,438
02:59 (03:08)
151
The Last Hope
Aug 29, 2016
$1.99
N/A (N/A)
40,873 ±5,957
28,611 ±4,984
02:54 (03:16)
152
Forbidden planet
Jan 11, 2016
$0.99
N/A (N/A)
125,116 ±10,422
90,147 ±8,847
03:43 (03:31)
153
Catacomb Explorers
Oct 22, 2016
$1.99
N/A (N/A)
45,868 ±6,311
42,916 ±6,104
04:09 (03:30)
154
Moonbase 332
Sep 18, 2015
$4.99
N/A (N/A)
16,122 ±3,741
11,354 ±3,140
04:31 (04:07)
155
Uriel's Chasm
Sep 12, 2014
$4.99
1% (27%)
225,935 ±14,003
121,710 ±10,279
02:21 (01:25)
156
Wooden House
Sep 5, 2016
$2.99
N/A (N/A)
25,659 ±4,720
23,161 ±4,484
03:43 (04:00)
157
The face of hope: Underground
Oct 28, 2016
$0.99
N/A (N/A)
29,746 ±5,082
27,703 ±4,904
03:25 (03:30)
158
Jackal
Apr 21, 2016
$2.99
N/A (N/A)
27,021 ±4,844
20,663 ±4,236
03:54 (03:31)
159
Totem
Aug 30, 2016
$0.59
N/A (N/A)
33,606 ±5,402
24,751 ±4,636
03:14 (03:24)