Stick it to The Man!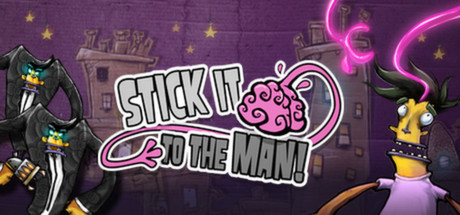 Store | Hub | SteamDB | Site
Developer: Zoink Games Publisher: Ripstone
Genre: Action, Adventure, Indie
Languages: English, French, Italian, German, Spanish, Japanese
Tags: Adventure (46), Indie (36), Comedy (31), Action (30), Platformer (28), Puzzle (15), Funny (9), 2D (6), Singleplayer (6)
Category: Single-player, Steam Achievements, Steam Trading Cards, Partial Controller Support, Steam Cloud
Release date: Dec 13, 2013
Price: $14.99
Score rank: 89% Userscore: 94% Old userscore: 95% Metascore: 83%
Owners: 52,849 ± 6,952
Players in the last 2 weeks: 719 ± 994 (1.36%)
Players total: 27,740 ± 5,037 (52.49%)
Followers: 1,169
Peak concurrent players yesterday: 2
YouTube stats: 71 views and 3 comments for videos uploaded last week, 1 new videos uploaded yesterday.
Playtime in the last 2 weeks: 02:56 (average) 02:56 (median)
Playtime total: 03:15 (average) 02:20 (median)

Steam Spy is still in beta, so expect major bugs.
Peak daily concurrent players:
CCU data courtesy of SteamDB. Used with permission.
Hourly concurrent players:
YouTube:
The views data is based on top 50 videos uploaded last week. Actual number of views might be more than the number shown.

The displayed number of videos uploaded yesterday is limited to 50, so if there were more videos uploaded, the number will still show 50.

If the game has commonly used word as its name (like "FEAR" or "Volume") its number of Youtube views might be wrong.
Games similar to this one:
#
Game
Release date

Price

Score rank
(Userscore / Metascore)

Owners

Players

Playtime (Median)

1
Major Mayhem
Feb 24, 2014
$4.99
N/A (N/A)
44,957 ±6,412
26,066 ±4,882
03:12 (01:33)
2
Supercharged Robot VULKAISER
Jun 4, 2015
$4.99
97% (97%)
37,066 ±5,822
15,783 ±3,799
02:14 (02:00)
3
JUJU
Dec 10, 2014
$19.99
N/A (N/A/65%)
5,978 ±2,338
4,304 ±1,984
11:17 (04:41)
4
Gold Rush! Classic
Jul 25, 2014
$5.99
N/A (N/A)
131,763 ±10,977
69,110 ±7,950
04:05 (04:06)
5
Spider: Rite of the Shrouded Moon
Aug 6, 2015
$9.99
N/A (N/A)
33,479 ±5,533
6,935 ±2,518
01:11 (00:41)
6
Zombie Kill of the Week - Reborn
Mar 13, 2015
$1.04
95% (96%)
50,457 ±6,793
31,327 ±5,353
04:34 (02:52)
7
Bleed 2
Feb 8, 2017
$9.99
95% (96%/83%)
3,587 ±1,811
3,109 ±1,686
04:28 (06:49)
8
Super Mutant Alien Assault
Jul 11, 2016
$9.99
N/A (N/A)
3,826 ±1,870
2,630 ±1,551
02:17 (02:38)
9
Batman: Arkham Asylum Game of the Year Edition
Mar 26, 2010
$4.99
95% (96%/91%)
98,523 ±9,492
91,588 ±9,152
18:11 (14:05)
10
Delta Force: Black Hawk Down
Jun 18, 2009
$14.99
92% (95%/77%)
29,174 ±5,165
12,196 ±3,340
13:38 (01:57)
11
Mighty Switch Force! Hyper Drive Edition
Jun 25, 2015
$9.99
92% (95%/85%)
15,783 ±3,799
11,718 ±3,274
03:19 (02:30)
12
IS Defense
Apr 19, 2016
$5.99
92% (95%/50%)
15,305 ±3,741
14,587 ±3,652
03:59 (03:34)
13
Noitu Love 2: Devolution
Apr 23, 2012
$4.99
92% (95%/80%)
59,066 ±7,350
35,631 ±5,709
03:57 (00:55)
14
Super Cyborg
Jul 8, 2015
$4.99
92% (95%)
37,783 ±5,878
18,892 ±4,157
03:40 (03:13)
15
Max: The Curse of Brotherhood
May 21, 2014
$14.99
89% (94%)
49,262 ±6,712
27,261 ±4,993
05:49 (02:31)
16
Miracle Fly
Oct 26, 2015
$7.99
N/A (N/A)
17,457 ±3,996
9,565 ±2,958
05:33 (04:08)
17
Platypus
Aug 15, 2014
$6.99
89% (94%)
43,762 ±6,326
22,239 ±4,510
02:36 (01:10)
18
Counter Spell
Oct 5, 2015
$6.99
89% (94%)
4,783 ±2,091
4,304 ±1,984
03:17 (02:10)
19
Flywrench
Aug 24, 2015
$6.99
89% (94%)
5,500 ±2,243
4,783 ±2,091
01:58 (02:26)
20
Sam & Max 301: The Penal Zone
Free
89% (94%)
512,704 ±21,642
90,871 ±9,116
03:11 (01:09)
21
Lucius Demake
Aug 8, 2016
$4.99
89% (94%)
17,935 ±4,050
8,609 ±2,806
02:32 (02:45)
22
Rune Classic
Jun 13, 2012
$9.99
89% (94%)
119,328 ±10,446
37,066 ±5,822
03:23 (01:10)
23
Lethe - Episode One
Aug 1, 2016
$14.99
89% (94%)
4,783 ±2,091
3,826 ±1,870
02:51 (02:52)
24
Tallowmere
Mar 3, 2015
$4.99
89% (94%)
20,566 ±4,337
13,870 ±3,562
06:12 (04:19)
25
Star Trek : 25th Anniversary
May 7, 2015
$5.99
N/A (N/A)
6,935 ±2,518
4,544 ±2,038
01:21 (01:31)
26
Bleed
Jul 3, 2013
$4.99
86% (93%)
133,915 ±11,066
108,806 ±9,975
03:07 (01:25)
27
ESCHATOS
Sep 18, 2015
$14.99
86% (93%)
5,500 ±2,243
4,304 ±1,984
03:12 (02:30)
28
Ittle Dew
Jul 23, 2013
$9.99
86% (93%/67%)
148,502 ±11,653
71,262 ±8,073
03:48 (02:09)
29
Explosionade
Sep 23, 2015
$3.99
N/A (N/A)
12,196 ±3,340
7,652 ±2,645
02:25 (02:45)
30
80 Days
Sep 28, 2015
$9.99
86% (93%/84%)
88,958 ±9,020
40,414 ±6,080
04:27 (01:56)
31
Delta Force
Jun 18, 2009
$4.99
86% (93%)
20,566 ±4,337
8,848 ±2,845
06:11 (01:18)
32
Adventure in the Tower of Flight
Dec 23, 2015
$7.99
N/A (N/A)
13,152 ±3,468
8,370 ±2,767
06:10 (04:22)
33
Earth Overclocked
Dec 4, 2015
Free
N/A (N/A)
21,522 ±4,437
10,522 ±3,102
01:48 (01:26)
34
Weird Hero
Nov 18, 2016
$3.99
86% (93%)
6,696 ±2,474
4,304 ±1,984
02:43 (03:19)
35
DEXED
Sep 26, 2016
$9.99
N/A (N/A)
1,435 ±1,145
1,196 ±1,045
00:39 (00:56)
36
Dandy: Or a Brief Glimpse Into the Life of the Candy Alchemist
Aug 4, 2015
$9.99
N/A (N/A)
9,087 ±2,883
4,304 ±1,984
02:26 (02:14)
37
Ys VI: The Ark of Napishtim
Apr 28, 2015
$19.99
83% (92%)
53,805 ±7,015
24,392 ±4,723
08:29 (05:12)
38
Monster Bash
May 5, 2014
$4.99
N/A (N/A)
50,936 ±6,825
2,391 ±1,479
00:53 (01:24)
39
Disney G-Force
Oct 6, 2014
$19.99
N/A (N/A/61%)
11,718 ±3,274
4,783 ±2,091
115:07 (05:50)
40
Secret Agent
May 5, 2014
$4.99
N/A (N/A)
56,675 ±7,199
2,391 ±1,479
01:55 (02:09)
41
Earth Defense Force: Insect Armageddon
Dec 14, 2011
$9.99
83% (92%/69%)
70,066 ±8,005
58,588 ±7,320
07:25 (03:17)
42
Delta Force Black Hawk Down: Team Sabre
Jun 18, 2009
$9.99
79% (91%)
21,761 ±4,461
11,957 ±3,307
08:34 (02:00)
43
Gurumin: A Monstrous Adventure
Mar 30, 2015
$9.99
79% (91%)
73,653 ±8,207
34,435 ±5,612
05:52 (04:28)
44
Shadow Man
Oct 18, 2013
$4.99
79% (91%)
84,414 ±8,786
24,870 ±4,769
06:50 (00:50)
45
Witch and Hero()
Apr 21, 2016
$4.99
N/A (N/A)
3,235 ±2,110
1,797 ±1,572
03:51 (02:33)
46
Death Skid Marks
Nov 20, 2014
$4.99
79% (91%)
21,522 ±4,437
17,218 ±3,968
07:29 (04:39)
47
NotCoD
May 19, 2016
$4.99
N/A (N/A)
1,797 ±1,572
1,438 ±1,406
02:15 (02:52)
48
Knightmare Tower
Jun 16, 2014
$3.99
79% (91%)
19,609 ±4,235
12,674 ±3,405
05:10 (03:57)
49
Near Death
Aug 2, 2016
$6.74
79% (91%/70%)
10,283 ±3,067
7,652 ±2,645
02:13 (02:24)
50
Raptor: Call of the Shadows (1994 Classic Edition)
May 5, 2014
$4.99
N/A (N/A)
57,870 ±7,275
7,174 ±2,561
01:49 (00:54)
51
Sayonara Umihara Kawase
Oct 5, 2015
$14.99
75% (90%)
9,565 ±2,958
4,783 ±2,091
03:13 (02:02)
52
Zombie Shooter
May 27, 2009
$4.99
75% (90%)
133,676 ±11,056
47,827 ±6,614
02:45 (01:19)
53
Death Ray Manta SE
Sep 17, 2015
$2.99
N/A (N/A)
52,610 ±6,936
22,479 ±4,534
02:46 (02:42)
54
Armed and Dangerous
Jul 8, 2009
$5.99
75% (90%/78%)
21,522 ±4,437
12,913 ±3,436
02:14 (00:47)
55
Clash of Puppets
Dec 16, 2014
$4.99
N/A (N/A)
14,109 ±3,592
8,848 ±2,845
02:58 (02:38)
56
Ace of Seafood
Apr 8, 2016
$11.99
75% (90%)
7,652 ±2,645
6,457 ±2,430
04:58 (04:27)
57
Darksiders
Sep 23, 2010
Free
75% (90%/83%)
45,675 ±6,463
38,261 ±5,915
21:47 (10:31)
58
Spaceman Sparkles 3
Mar 21, 2016
$4.99
N/A (N/A)
4,783 ±2,091
2,630 ±1,551
02:50 (03:24)
59
Super Furball
Apr 21, 2015
$3.99
N/A (N/A)
10,283 ±3,067
4,544 ±2,038
03:57 (02:56)
60
Apocalypse: Party's Over
May 30, 2016
$4.99
75% (90%)
11,000 ±3,172
6,696 ±2,474
03:46 (04:20)
61
Mayhem Triple
Sep 4, 2015
$4.99
N/A (N/A)
7,413 ±2,604
4,544 ±2,038
05:32 (06:20)
62
Aqua Kitty - Milk Mine Defender
Feb 3, 2014
$6.99
75% (90%)
53,805 ±7,015
31,805 ±5,393
03:31 (01:40)
63
Blacksea Odyssey
Jun 1, 2016
$9.99
75% (90%/74%)
15,544 ±3,770
3,109 ±1,686
03:24 (02:01)
64
The Fall
May 30, 2014
$9.99
72% (89%/76%)
182,699 ±12,925
114,067 ±10,213
02:55 (02:32)
65
Rot Gut
Jul 12, 2016
$1.99
72% (89%)
9,087 ±2,883
4,065 ±1,928
01:03 (00:51)
66
Grey Cubes
May 15, 2015
$0.99
72% (89%)
32,283 ±5,434
13,152 ±3,468
01:47 (01:03)
67
Moccasin
Feb 21, 2017
$0.99
N/A (N/A)
32,522 ±5,454
21,044 ±4,387
02:56 (03:30)
68
Earn to Die 2
May 5, 2016
$4.99
72% (89%)
10,522 ±3,102
10,044 ±3,031
10:37 (06:44)
69
Rad Rodgers: World One
Dec 1, 2016
$8.99
N/A (N/A/72%)
4,544 ±2,038
2,391 ±1,479
01:22 (02:16)
70
Adventures of Pip
Jun 4, 2015
$14.99
72% (89%/72%)
22,718 ±4,558
12,196 ±3,340
02:32 (01:00)
71
Headlander
Jul 25, 2016
$19.99
72% (89%/74%)
20,087 ±4,286
12,913 ±3,436
04:41 (04:19)
72
Tiny Barbarian DX
Dec 3, 2013
$9.99
72% (89%)
29,174 ±5,165
16,500 ±3,885
02:15 (01:21)
73
Super Chibi Knight
Jun 24, 2015
$4.99
69% (88%)
13,392 ±3,500
9,565 ±2,958
06:20 (04:05)
74
Azure Striker Gunvolt
Aug 28, 2015
$7.49
69% (88%)
31,327 ±5,353
24,631 ±4,746
05:50 (03:34)
75
The Brookhaven Experiment
Jul 5, 2016
$19.99
69% (88%)
56,675 ±7,199
53,805 ±7,015
06:47 (01:52)
76
Intrude
Aug 1, 2016
$3.99
69% (88%)
2,516 ±1,861
1,797 ±1,572
01:47 (03:33)
77
Spooky Cats
Jun 4, 2015
$2.99
69% (88%)
14,587 ±3,652
8,131 ±2,727
02:14 (01:40)
78
The Way
May 20, 2016
$6.74
69% (88%/67%)
25,348 ±4,815
10,522 ±3,102
04:28 (01:58)
79
Mekazoo
Nov 14, 2016
$19.99
N/A (N/A/80%)
2,630 ±1,551
1,196 ±1,045
02:11 (02:56)
80
NeonXSZ
Feb 22, 2016
$14.99
69% (88%)
4,544 ±2,038
3,587 ±1,811
02:29 (01:42)
81
Avoid - Sensory Overload
Apr 8, 2014
$4.99
69% (88%)
16,500 ±3,885
10,522 ±3,102
07:29 (01:44)
82
LASTFIGHT
May 19, 2016
$14.99
N/A (N/A)
1,913 ±1,322
1,435 ±1,145
02:36 (03:06)
83
Anodyne
Mar 22, 2013
$4.49
69% (88%/75%)
199,199 ±13,495
104,023 ±9,753
03:00 (01:46)
84
Delta Force Land Warrior
Jun 18, 2009
$9.99
N/A (N/A/74%)
18,413 ±4,104
5,978 ±2,338
03:42 (02:35)
85
Tcheco in the Castle of Lucio
Jun 22, 2015
$0.99
69% (88%)
21,283 ±4,412
14,587 ±3,652
05:37 (03:39)
86
Dustoff Heli Rescue
Mar 6, 2015
$3.99
66% (87%)
27,979 ±5,059
20,087 ±4,286
02:42 (02:32)
87
Judge Dredd: Dredd vs. Death
Mar 26, 2009
$7.99
66% (87%/55%)
73,414 ±8,194
37,783 ±5,878
02:41 (00:53)
88
Prince of Persia: The Sands of Time
Nov 21, 2008
$9.99
66% (87%/89%)
221,917 ±14,244
109,045 ±9,986
04:04 (01:29)
89
The Haunted: Hells Reach
Oct 24, 2011
$8.99
66% (87%/51%)
65,045 ±7,713
47,827 ±6,614
06:01 (02:11)
90
Ittle Dew 2
Nov 15, 2016
$19.99
66% (87%)
2,870 ±1,620
2,391 ±1,479
07:24 (11:54)
91
GIGA WRECKER
Feb 6, 2017
$19.99
66% (87%)
6,457 ±2,430
4,544 ±2,038
12:22 (05:56)
92
Seraph
Sep 20, 2016
$12.99
66% (87%/80%)
16,500 ±3,885
12,913 ±3,436
03:20 (01:58)
93
VelocityUltra
Dec 12, 2013
$9.99
66% (87%)
77,001 ±8,392
31,805 ±5,393
03:59 (01:55)
94
METAL SLUG 2
Apr 14, 2016
$6.99
63% (86%)
40,653 ±6,098
9,087 ±2,883
01:02 (00:42)
95
Ring Runner: Flight of the Sages
Nov 19, 2013
$0.99
63% (86%/75%)
149,698 ±11,700
80,827 ±8,598
04:15 (01:23)
96
A Lenda do Heri - O Heri desta Cano
Mar 24, 2016
$15.99
63% (86%)
11,239 ±3,206
10,761 ±3,137
10:14 (07:05)
97
Droid Assault
Jan 9, 2013
$9.99
63% (86%)
93,023 ±9,223
57,153 ±7,230
02:24 (01:22)
98
Iron Grip: Warlord
Dec 5, 2008
Free
63% (86%/59%)
164,764 ±12,274
65,523 ±7,741
02:53 (00:44)
99
DeathSpank: Thongs of Virtue
Nov 30, 2010
$14.99
63% (86%/78%)
107,132 ±9,898
26,544 ±4,927
09:03 (03:44)
100
Rocketbirds 2 Evolution
Jan 26, 2017
$9.99
63% (86%)
9,326 ±2,920
6,935 ±2,518
04:33 (02:36)
101
Pharaonic
Apr 28, 2016
$10.39
63% (86%)
21,044 ±4,387
4,783 ±2,091
02:36 (00:57)
102
Meltdown
Jun 5, 2014
$6.99
63% (86%)
66,718 ±7,811
44,240 ±6,361
04:18 (02:20)
103
XIIZEAL
Jun 5, 2015
$11.99
N/A (N/A)
3,109 ±1,686
2,630 ±1,551
01:23 (01:17)
104
Isbarah
Feb 25, 2015
$13.99
N/A (N/A)
2,156 ±1,723
1,438 ±1,406
02:07 (03:13)
105
The Tiny Tale 2
Jan 30, 2015
$6.99
N/A (N/A)
5,022 ±2,143
2,870 ±1,620
05:43 (04:08)
106
Prison Run and Gun
Mar 16, 2016
$1.99
63% (86%)
8,370 ±2,767
5,739 ±2,291
02:47 (02:23)
107
She Wants Me Dead
May 13, 2016
$7.99
N/A (N/A)
7,413 ±2,604
4,544 ±2,038
02:39 (02:29)
108
Hive Jump
Jan 18, 2017
$19.99
60% (85%)
6,217 ±2,384
5,022 ±2,143
04:41 (02:29)
109
Gnomes Vs. Fairies: Greckel's Quest
Jul 1, 2016
$9.99
N/A (N/A)
5,261 ±2,193
3,109 ±1,686
02:30 (01:24)
110
Mystik Belle
May 22, 2015
$9.99
60% (85%)
4,065 ±1,928
2,870 ±1,620
06:03 (10:12)
111
Oceanhorn: Monster of Uncharted Seas
Mar 17, 2015
$14.99
60% (85%/74%)
187,720 ±13,101
99,480 ±9,538
05:25 (02:22)
112
htoL#NiQ: The Firefly Diary
May 18, 2016
$14.99
60% (85%)
10,044 ±3,031
7,174 ±2,561
06:07 (03:11)
113
Viking Squad
Oct 4, 2016
$14.99
60% (85%)
8,370 ±2,767
6,696 ±2,474
03:30 (02:50)
114
Shadow Blade: Reload
Aug 10, 2015
$14.99
60% (85%/70%)
22,239 ±4,510
11,478 ±3,240
03:34 (02:38)
115
Call of Duty: United Offensive
Oct 13, 2006
$19.99
60% (85%/87%)
182,938 ±12,933
92,306 ±9,188
06:23 (01:16)
116
Over 9000 Zombies!
Feb 25, 2015
$9.99
60% (85%)
71,501 ±8,086
48,783 ±6,679
02:43 (01:24)
117
Duke of Alpha Centauri
Dec 28, 2016
$2.99
58% (84%)
36,827 ±5,804
19,370 ±4,209
03:40 (03:27)
118
Rack N Ruin
Sep 1, 2015
$9.99
N/A (N/A)
16,979 ±3,941
8,609 ±2,806
07:20 (04:27)
119
Jim Power -The Lost Dimension
Sep 30, 2015
$1.99
N/A (N/A)
11,718 ±3,274
5,500 ±2,243
05:43 (05:38)
120
Zombie Shooter 2
Nov 18, 2009
$9.99
58% (84%)
130,567 ±10,927
44,718 ±6,395
04:49 (01:31)
121
Last Knight: Rogue Rider Edition
Oct 3, 2014
$7.99
58% (84%)
29,892 ±5,229
20,566 ±4,337
03:11 (02:06)
122
Vintage Year
Jan 2, 2015
$2.99
N/A (N/A)
19,370 ±4,209
12,196 ±3,340
02:26 (01:28)
123
Square Brawl
Oct 22, 2015
$4.99
58% (84%)
12,196 ±3,340
5,978 ±2,338
01:11 (01:28)
124
Zenohell
Oct 14, 2015
$9.99
N/A (N/A)
15,783 ±3,799
2,152 ±1,403
01:11 (02:21)
125
Bear Simulator
Feb 26, 2016
$14.99
55% (83%)
11,718 ±3,274
10,522 ±3,102
07:38 (02:20)
126
LEGO Indiana Jones 2: The Adventure Continues
Feb 18, 2010
$19.99
55% (83%/66%)
44,957 ±6,412
20,805 ±4,362
14:59 (05:39)
127
Hard Reset Redux
Jun 3, 2016
$19.99
55% (83%/73%)
73,892 ±8,221
39,457 ±6,007
03:26 (01:31)
128
Aces Wild: Manic Brawling Action!
Jan 31, 2014
$9.99
55% (83%)
58,349 ±7,305
21,044 ±4,387
01:20 (00:39)
129
Strike Suit Infinity
Apr 30, 2013
$6.99
55% (83%/66%)
214,025 ±13,988
122,915 ±10,602
02:40 (00:57)
130
Amaranthine
Apr 6, 2016
$2.99
N/A (N/A)
3,826 ±1,870
2,391 ±1,479
04:36 (04:05)
131
TWINKLE STAR SPRITES
May 26, 2016
$7.99
N/A (N/A)
25,109 ±4,792
3,109 ±1,686
10:33 (04:37)
132
Fighties
Jul 13, 2015
$4.99
52% (82%)
10,761 ±3,137
9,087 ±2,883
05:17 (03:24)
133
Overkill VR: Action Shooter FPS
Mar 10, 2017
$19.99
52% (82%)
6,935 ±2,518
6,696 ±2,474
04:26 (02:33)
134
Super Star Path
Jun 22, 2015
$4.99
52% (82%)
21,044 ±4,387
12,435 ±3,372
04:35 (05:55)
135
Spaceman Sparkles 2
May 20, 2015
$2.99
N/A (N/A)
10,044 ±3,031
6,217 ±2,384
03:16 (03:36)
136
Velocity 2X
Aug 19, 2015
$19.99
N/A (N/A)
52,610 ±6,936
10,761 ±3,137
07:34 (02:22)
137
Gatling Gears
Aug 30, 2011
$9.99
50% (81%)
43,522 ±6,309
18,413 ±4,104
02:41 (01:50)
138
Trigger Runners
Mar 3, 2016
$1.99
N/A (N/A)
13,870 ±3,562
9,326 ±2,920
04:08 (03:42)
139
Weapon of Choice
Sep 23, 2015
$4.99
N/A (N/A)
6,457 ±2,430
4,783 ±2,091
02:14 (03:12)
140
TimeShift
Jul 23, 2009
$19.99
50% (81%/71%)
132,959 ±11,026
45,675 ±6,463
02:45 (00:52)
141
Sky Gamblers: Storm Raiders
Jan 7, 2015
$9.99
50% (81%)
10,283 ±3,067
8,131 ±2,727
06:57 (03:33)
142
Airport Madness: World Edition
May 28, 2015
$9.99
50% (81%)
17,935 ±4,050
13,392 ±3,500
07:12 (02:34)
143
Crysis 2 - Maximum Edition
Mar 22, 2011
$29.99
50% (81%)
102,110 ±9,663
100,915 ±9,607
27:01 (16:47)
144
GIGANTIC ARMY
Mar 6, 2014
$5.99
48% (80%)
77,479 ±8,418
38,501 ±5,934
01:42 (00:50)
145
Protoshift
Jan 15, 2016
$0.99
N/A (N/A)
14,587 ±3,652
8,370 ±2,767
04:11 (03:30)
146
Shadowgrounds
May 8, 2006
$6.99
48% (80%/74%)
564,357 ±22,705
240,330 ±14,823
02:34 (01:08)
147
TRON RUN/r
Feb 16, 2016
$19.99
48% (80%)
13,631 ±3,531
9,565 ±2,958
02:52 (02:22)
148
Darkstar One
Feb 13, 2008
$9.99
48% (80%/71%)
97,567 ±9,446
53,805 ±7,015
07:40 (02:20)
149
Run Rabbit Run
Mar 31, 2016
$3.99
N/A (N/A)
13,152 ±3,468
8,370 ±2,767
10:36 (03:24)
150
A.R.E.S. Extinction Agenda EX
Oct 3, 2014
$9.99
45% (79%)
12,435 ±3,372
7,652 ±2,645
03:23 (03:20)
151
Doctor Who: The Eternity Clock
Nov 15, 2012
$9.99
45% (79%)
22,479 ±4,534
19,848 ±4,261
05:08 (03:04)
152
Ninjahtic
Jul 6, 2015
$1.99
45% (79%)
12,435 ±3,372
6,935 ±2,518
05:47 (04:32)
153
Gun Metal
Jan 16, 2014
$9.99
45% (79%)
208,764 ±13,815
105,936 ±9,843
03:07 (02:44)
154
Rocket Knight
May 11, 2010
$14.99
45% (79%/63%)
10,044 ±3,031
6,217 ±2,384
04:05 (02:20)
155
Shadow Ops: Red Mercury
Jul 2, 2014
$6.99
45% (79%/61%)
22,479 ±4,534
3,587 ±1,811
02:47 (02:18)
156
Curse of the Crescent Isle DX
Aug 21, 2015
$4.99
N/A (N/A)
7,891 ±2,686
5,739 ±2,291
03:36 (02:45)
157
Way of the Samurai 4
Jul 23, 2015
$24.99
45% (79%/72%)
62,175 ±7,541
56,914 ±7,215
17:58 (08:12)
158
Hail to the King: Deathbat
Oct 30, 2014
$5.99
45% (79%)
6,457 ±2,430
4,065 ±1,928
08:32 (02:51)
159
Strike Suit Zero: Director's Cut
Apr 8, 2014
$19.99
45% (79%)
36,827 ±5,804
26,305 ±4,905
03:41 (02:16)
160
Section 8: Prejudice
May 4, 2011
$9.99
45% (79%/77%)
224,069 ±14,313
182,459 ±12,916
06:51 (03:08)
161
Sniper Elite
Jul 16, 2009
$2.99
44% (78%/76%)
420,398 ±19,600
281,700 ±16,047
07:38 (01:07)
162
Prince of Persia: The Two Thrones
Nov 21, 2008
$9.99
44% (78%/85%)
204,938 ±13,688
60,023 ±7,409
04:01 (00:56)
163
Dark Sector
Mar 24, 2009
$9.99
44% (78%/66%)
80,827 ±8,598
32,044 ±5,414
02:50 (01:06)
164
BloodRayne
Sep 14, 2006
$9.99
44% (78%/65%)
70,545 ±8,032
37,783 ±5,878
03:57 (03:02)
165
PixelJunk Shooter Ultimate
Oct 21, 2015
$9.99
N/A (N/A)
6,935 ±2,518
5,022 ±2,143
03:13 (04:47)
166
Deadly 30
Jan 8, 2014
$4.99
44% (78%)
159,981 ±12,095
100,197 ±9,572
02:40 (01:24)
167
Assault Suit Leynos
Aug 30, 2016
$19.99
N/A (N/A)
1,674 ±1,237
717 ±810
02:40 (01:16)
168
Cubway
Aug 11, 2016
$3.99
N/A (N/A)
7,891 ±2,686
4,783 ±2,091
03:15 (03:50)
169
Cashtronauts
Aug 31, 2016
$7.99
N/A (N/A)
9,087 ±2,883
4,783 ±2,091
04:19 (04:47)
170
Urban Chaos
Oct 15, 2013
$6.99
44% (78%)
14,587 ±3,652
5,978 ±2,338
01:32 (00:44)
171
Bet On Soldier
Dec 5, 2014
$7.99
44% (78%)
33,240 ±5,514
4,544 ±2,038
02:50 (00:33)
172
Alien Breed: Impact
Jun 3, 2010
$9.99
44% (78%/64%)
424,702 ±19,700
151,611 ±11,774
02:36 (01:04)
173
Hot Tin Roof: The Cat That Wore A Fedora
Feb 20, 2015
$14.99
N/A (N/A/66%)
116,458 ±10,320
18,652 ±4,130
02:14 (01:37)
174
Smell Of Death
Jul 4, 2016
$15.99
N/A (N/A)
8,370 ±2,767
717 ±810
07:07 (06:52)
175
Chaser
Jul 16, 2010
$4.99
41% (77%/66%)
100,197 ±9,572
34,435 ±5,612
04:35 (01:03)
176
Fist Puncher
Jun 21, 2013
$9.99
41% (77%/73%)
44,957 ±6,412
29,653 ±5,208
04:15 (01:55)
177
GALAK-Z
Oct 29, 2015
$9.99
41% (77%/78%)
216,177 ±14,058
72,936 ±8,167
04:58 (01:54)
178
BossConstructor
Oct 24, 2016
$14.99
41% (77%)
13,152 ±3,468
12,196 ±3,340
07:28 (02:56)
179
Cross of the Dutchman
Sep 10, 2015
$8.99
41% (77%/59%)
22,239 ±4,510
9,805 ±2,994
03:16 (03:19)
180
LocoCycle
Feb 14, 2014
$9.99
41% (77%)
19,848 ±4,261
6,696 ±2,474
01:45 (01:30)
181
Cast of the Seven Godsends - Redux
Jul 20, 2015
$6.99
N/A (N/A)
41,609 ±6,169
17,696 ±4,023
05:56 (04:19)
182
NecroVisioN: Lost Company
Feb 19, 2010
$6.99
41% (77%)
97,089 ±9,423
16,979 ±3,941
02:22 (00:55)
183
Attractio
Jan 18, 2016
$19.99
N/A (N/A)
57,631 ±7,260
4,304 ±1,984
01:17 (00:59)
184
Anima Gate of Memories
Jun 2, 2016
$19.99
41% (77%)
11,957 ±3,307
8,848 ±2,845
04:12 (02:01)
185
Alien Attack: In Space
Jun 21, 2016
$1.99
41% (77%)
29,174 ±5,165
23,674 ±4,653
04:23 (04:29)
186
Bloody Good Time
Oct 29, 2010
$4.99
41% (77%/73%)
133,198 ±11,036
106,893 ±9,887
09:18 (01:47)
187
FEIST
Jul 23, 2015
$9.99
41% (77%)
33,240 ±5,514
21,283 ±4,412
03:05 (01:27)
188
Deadlings: Rotten Edition
Nov 11, 2014
$3.99
41% (77%)
70,066 ±8,005
40,175 ±6,062
03:12 (02:41)
189
AquaNox 2: Revelation
Apr 20, 2010
$4.99
41% (77%/59%)
130,806 ±10,937
17,935 ±4,050
03:01 (00:46)
190
A Blind Legend
Apr 7, 2016
$6.99
41% (77%)
12,913 ±3,436
7,413 ±2,604
01:35 (01:22)
191
1979 Revolution: Black Friday
Apr 4, 2016
$5.99
39% (76%/80%)
17,457 ±3,996
10,283 ±3,067
01:55 (01:10)
192
BiT Evolution
Jun 9, 2015
$9.99
N/A (N/A)
62,175 ±7,541
18,413 ±4,104
04:22 (02:06)
193
Envoy
Mar 17, 2016
$4.99
N/A (N/A)
26,544 ±4,927
18,892 ±4,157
04:38 (04:26)
194
Platformines
Mar 28, 2014
$9.99
39% (76%/67%)
121,719 ±10,550
47,109 ±6,564
02:54 (02:08)
195
Zombie Vikings
Dec 7, 2015
$5.39
39% (76%/74%)
18,892 ±4,157
9,565 ±2,958
03:53 (03:54)
196
Arkshot
May 19, 2016
$4.99
N/A (N/A)
5,739 ±2,291
3,826 ±1,870
01:46 (02:22)
197
Livelock
Aug 30, 2016
$19.99
39% (76%/73%)
12,196 ±3,340
10,522 ±3,102
14:28 (03:20)
198
Zero Reflex : Black Eye Edition
Nov 4, 2015
$3.99
39% (76%)
19,370 ±4,209
6,935 ±2,518
00:57 (00:51)
199
Olympia Rising
Jul 23, 2015
$4.99
N/A (N/A)
17,218 ±3,968
7,891 ±2,686
04:43 (03:17)
200
Alien Shooter 2 Conscription
May 18, 2012
$9.99
N/A (N/A)
84,175 ±8,774
13,631 ±3,531
03:00 (01:12)
201
Master Reboot
Oct 29, 2013
$14.99
39% (76%/59%)
89,197 ±9,032
39,457 ±6,007
03:51 (02:23)
202
Vampire of the Sands
Jul 17, 2015
$4.99
N/A (N/A)
25,109 ±4,792
11,239 ±3,206
04:38 (05:43)
203
Spirits of Xanadu
Mar 26, 2015
$9.99
39% (76%)
23,435 ±4,630
14,587 ±3,652
03:30 (03:01)
204
Vector Strain
Dec 9, 2015
$4.99
N/A (N/A)
21,044 ±4,387
12,435 ±3,372
03:42 (03:26)
205
VR Journey
Dec 15, 2016
$2.99
N/A (N/A)
11,478 ±3,240
6,457 ±2,430
03:22 (03:33)
206
Mighty Gunvolt
Sep 29, 2015
$2.49
39% (76%)
29,892 ±5,229
10,044 ±3,031
00:38 (00:28)
207
Tank Brawl
Apr 20, 2016
$3.99
N/A (N/A)
5,261 ±2,193
717 ±810
00:51 (00:46)
208
Woah Dave!
Oct 30, 2014
$4.99
39% (76%)
22,957 ±4,582
10,283 ±3,067
03:13 (01:42)
209
Riddled Corpses
Jun 2, 2015
$7.99
37% (75%)
26,783 ±4,949
16,500 ±3,885
03:15 (02:43)
210
Warp
Mar 21, 2012
$9.99
37% (75%)
44,240 ±6,361
28,457 ±5,102
05:41 (02:04)
211
Assassin's Creed Freedom Cry
Feb 25, 2014
$14.99
37% (75%)
127,459 ±10,796
70,066 ±8,005
07:24 (04:15)
212
Rayman Raving Rabbids
Jun 13, 2008
$9.99
37% (75%/58%)
17,457 ±3,996
10,283 ±3,067
03:52 (01:15)
213
Story Of the Survivor
Feb 16, 2016
$4.99
N/A (N/A)
22,718 ±4,558
2,152 ±1,403
00:23 (00:25)
214
Corgi Warlock
Dec 3, 2015
$2.99
37% (75%)
26,305 ±4,905
18,652 ±4,130
02:36 (03:02)
215
Left Alone
Apr 28, 2016
$6.99
37% (75%)
7,891 ±2,686
5,739 ±2,291
03:07 (02:49)
216
LEGO Indiana Jones: The Original Adventures
Jul 8, 2009
$19.99
37% (75%/78%)
50,218 ±6,777
28,457 ±5,102
21:26 (03:41)
217
Jelly Killer
Mar 24, 2016
$2.99
37% (75%)
11,478 ±3,240
6,935 ±2,518
03:42 (03:54)
218
The Aquatic Adventure of the Last Human
Jan 19, 2016
$9.99
37% (75%/76%)
12,913 ±3,436
8,370 ±2,767
02:02 (02:25)
219
ROM: Extraction
Dec 7, 2016
$19.99
37% (75%)
4,783 ±2,091
3,587 ±1,811
01:14 (00:39)
220
ARSLAN: THE WARRIORS OF LEGEND
Feb 9, 2016
$59.99
37% (75%/57%)
6,696 ±2,474
4,783 ±2,091
04:24 (03:39)
221
Incoming Forces
Mar 6, 2014
$9.99
N/A (N/A/67%)
151,611 ±11,774
76,045 ±8,339
03:37 (03:27)
222
Onechanbara Z2: Chaos
Jun 2, 2016
$39.99
35% (74%)
10,283 ±3,067
8,848 ±2,845
13:04 (04:21)
223
Adventure Time: Finn and Jake's Epic Quest
Apr 11, 2014
$9.99
35% (74%)
23,196 ±4,606
22,239 ±4,510
02:21 (01:34)
224
Retrovirus
Jan 31, 2013
$9.99
35% (74%/70%)
29,892 ±5,229
22,957 ±4,582
04:18 (01:46)
225
The First Templar - Steam Special Edition
May 12, 2011
$9.99
35% (74%/57%)
128,654 ±10,846
46,631 ±6,530
04:37 (01:18)
226
Bionic Commando
Jul 28, 2009
$9.99
35% (74%/69%)
157,589 ±12,004
63,849 ±7,642
02:33 (01:00)
227
Ubersoldier II
Mar 25, 2014
$9.99
35% (74%/62%)
35,392 ±5,689
11,718 ±3,274
03:12 (01:01)
228
ManaCollect
Apr 17, 2015
$6.99
N/A (N/A)
9,805 ±2,994
4,304 ±1,984
54:59 (03:12)
229
Watch This!
Sep 23, 2016
$3.99
35% (74%)
18,892 ±4,157
11,239 ±3,206
01:42 (01:24)
230
Delta Force: Task Force Dagger
Jun 18, 2009
$9.99
N/A (N/A/51%)
16,739 ±3,913
2,870 ±1,620
01:11 (00:58)
231
Age of Barbarian Extended Cut
Jun 3, 2016
$12.99
34% (73%)
3,826 ±1,870
3,348 ±1,750
02:26 (02:04)
232
Men of Valor
Feb 9, 2016
$9.99
34% (73%/71%)
9,805 ±2,994
6,935 ±2,518
13:20 (02:06)
233
EARTHLOCK: Festival of Magic
Sep 27, 2016
$29.99
34% (73%)
11,718 ±3,274
9,565 ±2,958
06:07 (03:11)
234
Scary Girl
Apr 9, 2012
$6.99
N/A (N/A)
16,500 ±3,885
7,652 ±2,645
03:13 (00:49)
235
Wooden Sen'SeY
Dec 5, 2013
$9.99
N/A (N/A)
33,240 ±5,514
12,913 ±3,436
02:32 (01:12)
236
Adventure Time: The Secret Of The Nameless Kingdom
Nov 18, 2014
$4.99
34% (73%)
8,609 ±2,806
6,696 ±2,474
06:08 (03:28)
237
BloodRayne 2
Sep 14, 2006
$9.99
32% (72%/67%)
74,610 ±8,260
38,261 ±5,915
03:52 (02:29)
238
Lost Planet: Extreme Condition
Jun 26, 2007
$14.99
32% (72%/66%)
450,051 ±20,279
273,091 ±15,800
06:20 (01:24)
239
Kill to Collect
Apr 6, 2016
$19.99
32% (72%/57%)
8,131 ±2,727
5,261 ±2,193
04:23 (02:42)
240
Battle Fantasia -Revised Edition-
Jul 7, 2015
$14.99
32% (72%)
7,891 ±2,686
3,826 ±1,870
01:56 (02:47)
241
Viktor
Jun 13, 2014
$7.99
32% (72%)
19,848 ±4,261
11,718 ±3,274
02:44 (02:22)
242
FIVE: Guardians of David
Nov 24, 2015
$14.99
N/A (N/A/66%)
15,065 ±3,712
9,805 ±2,994
08:16 (09:29)
243
A.R.E.S.: Extinction Agenda
Jan 19, 2011
$4.99
32% (72%/68%)
121,958 ±10,561
83,697 ±8,749
02:44 (01:39)
244
Guns n Zombies
Oct 30, 2014
$7.99
30% (71%)
103,545 ±9,731
68,871 ±7,936
03:55 (01:26)
245
The Next World
Mar 7, 2016
$8.7
30% (71%)
1,913 ±1,322
1,435 ±1,145
03:59 (03:10)
246
Elliot Quest
Nov 10, 2014
$9.99
30% (71%)
20,805 ±4,362
4,544 ±2,038
03:07 (01:13)
247
Zombie Camp
Jul 31, 2016
$1.99
N/A (N/A)
8,848 ±2,845
4,544 ±2,038
02:19 (02:48)
248
Castle Torgeath: Descent into Darkness
Dec 15, 2016
$7.99
N/A (N/A)
3,235 ±2,110
1,797 ±1,572
01:50 (02:29)
249
Phantaruk
Aug 16, 2016
$5.99
N/A (N/A/53%)
16,739 ±3,913
4,544 ±2,038
01:23 (01:20)
250
Revenge of Roger Rouge
Apr 22, 2016
$0.69
N/A (N/A)
5,261 ±2,193
4,065 ±1,928
06:10 (03:21)
251
Bubsy Two-Fur
Dec 17, 2015
$4.99
30% (71%)
12,196 ±3,340
6,217 ±2,384
04:19 (04:11)
252
Toren
May 11, 2015
$9.99
29% (70%/57%)
52,610 ±6,936
27,022 ±4,971
02:30 (01:30)
253
Incandescent
Jun 30, 2015
$0.99
N/A (N/A)
19,848 ±4,261
10,522 ±3,102
03:48 (02:43)
254
Magnetic By Nature
Nov 10, 2014
$9.99
N/A (N/A)
31,327 ±5,353
14,826 ±3,682
04:27 (01:33)
255
YAIBA: NINJA GAIDEN Z
Mar 21, 2014
$29.99
29% (70%/49%)
21,522 ±4,437
12,196 ±3,340
05:58 (01:13)
256
Kill The Plumber
Dec 31, 2015
$4.99
N/A (N/A)
7,891 ±2,686
5,739 ±2,291
03:01 (02:58)
257
Who's That Flying?!
Jan 31, 2011
$5.99
29% (70%/76%)
34,435 ±5,612
16,979 ±3,941
01:53 (00:45)
258
Toxic Bunny HD
Jul 18, 2014
$5.99
N/A (N/A)
10,283 ±3,067
5,978 ±2,338
02:54 (01:02)
259
Darkest of Days
Sep 2009
$19.99
29% (70%/51%)
13,392 ±3,500
12,913 ±3,436
10:24 (08:33)
260
Wyv and Keep: The Temple of the Lost Idol
Aug 8, 2014
$14.99
N/A (N/A)
23,435 ±4,630
12,674 ±3,405
03:47 (04:16)
261
Banzai Escape
Feb 29, 2016
$5.99
N/A (N/A)
10,283 ±3,067
6,935 ±2,518
14:14 (04:57)
262
Majestic Nights
Oct 30, 2014
$4.99
N/A (N/A/32%)
18,174 ±4,077
10,283 ±3,067
02:51 (01:18)
263
The Chaos Engine
Aug 29, 2013
$9.99
27% (69%/40%)
95,893 ±9,364
45,675 ±6,463
02:53 (01:14)
264
Nightmare on Azathoth
Oct 30, 2015
$4.99
N/A (N/A)
7,413 ±2,604
3,109 ±1,686
05:09 (01:51)
265
Scourge: Outbreak
Apr 2, 2014
$7.99
26% (68%)
126,502 ±10,755
48,544 ±6,663
05:31 (04:29)
266
Dinocide
Jan 21, 2016
$9.99
N/A (N/A/51%)
61,218 ±7,482
16,739 ±3,913
03:38 (03:14)
267
The Ship: Single Player
Nov 20, 2006
Free
25% (67%)
1,317,630 ±34,660
368,745 ±18,358
01:53 (00:46)
268
Malebolgia
May 6, 2015
$12.99
25% (67%)
17,218 ±3,968
9,087 ±2,883
04:56 (02:40)
269
Marble Mountain
Apr 4, 2016
$9.99
N/A (N/A)
5,261 ±2,193
3,348 ±1,750
10:16 (04:47)
270
Stonerid
Aug 15, 2014
$0.49
24% (66%)
42,566 ±6,239
27,022 ±4,971
03:41 (02:12)
271
Urban Pirate
Jun 17, 2016
$6.99
N/A (N/A)
6,935 ±2,518
3,826 ±1,870
03:09 (04:01)
272
Watchmen: The End is Nigh
Mar 4, 2009
$4.99
24% (66%/61%)
39,696 ±6,025
24,153 ±4,700
01:55 (01:15)
273
Hyperspace Pinball
Sep 30, 2015
$2.99
N/A (N/A)
10,283 ±3,067
8,131 ±2,727
02:32 (02:28)
274
Disney Planes
Oct 6, 2014
$19.99
N/A (N/A)
11,957 ±3,307
6,217 ±2,384
03:25 (02:52)
275
Epigenesis
Aug 1, 2014
Free
24% (66%)
233,395 ±14,607
117,176 ±10,351
02:30 (02:02)
276
Hounds : The Last Hope
Jan 27, 2016
Free
24% (66%)
12,674 ±3,405
10,044 ±3,031
31:21 (03:34)
277
ARMA: Combat Operations
Mar 12, 2008
$7.99
24% (66%/74%)
47,827 ±6,614
28,935 ±5,144
09:55 (01:29)
278
Fair Strike
Apr 23, 2015
$3.99
N/A (N/A/56%)
5,500 ±2,243
3,109 ±1,686
04:13 (03:51)
279
Devil's Dare
Oct 21, 2014
$12.99
22% (65%)
20,805 ±4,362
12,674 ±3,405
03:28 (02:24)
280
Swiftly
Jan 26, 2016
$0.99
22% (65%)
15,783 ±3,799
11,478 ±3,240
04:20 (03:12)
281
Infinity Runner
Jul 14, 2014
$6.99
22% (65%/56%)
12,674 ±3,405
9,565 ±2,958
06:18 (02:52)
282
Delta Force Xtreme 2
Jun 18, 2009
$19.99
N/A (N/A)
13,870 ±3,562
5,978 ±2,338
10:54 (04:42)
283
4089: Ghost Within
Jan 9, 2015
$5.99
21% (64%)
17,696 ±4,023
8,848 ±2,845
02:28 (01:43)
284
Disney Epic Mickey 2: The Power of Two
Oct 6, 2014
$19.99
21% (64%)
18,652 ±4,130
10,522 ±3,102
11:07 (04:14)
285
Q*bert: Rebooted
Jul 7, 2014
$4.99
21% (64%)
11,718 ±3,274
8,848 ±2,845
03:47 (01:19)
286
BloodRayne Betrayal
Apr 30, 2014
$9.99
21% (64%)
88,958 ±9,020
56,436 ±7,184
04:12 (02:33)
287
Smithy
Jun 3, 2016
$3.99
N/A (N/A)
10,761 ±3,137
8,609 ±2,806
02:49 (02:50)
288
E.T. Armies
Mar 3, 2016
$14.99
21% (64%/54%)
10,522 ±3,102
7,413 ±2,604
03:09 (02:28)
289
Woodle Tree 2: Worlds
Sep 16, 2016
$3.99
20% (63%)
23,913 ±4,677
18,413 ±4,104
04:01 (04:24)
290
Tommy Tronic
Oct 28, 2010
$9.99
N/A (N/A)
2,870 ±1,620
2,152 ±1,403
04:49 (11:18)
291
Flashback
Oct 1, 2013
$9.99
20% (63%)
26,066 ±4,882
18,174 ±4,077
09:22 (05:20)
292
Sky To Fly: Faster Than Wind
Mar 25, 2016
$3.99
N/A (N/A)
15,065 ±3,712
8,370 ±2,767
04:40 (03:24)
293
Alien Shooter: Revisited
May 27, 2009
$4.99
20% (63%)
53,805 ±7,015
19,848 ±4,261
01:52 (00:39)
294
Blood Knights
Nov 13, 2013
$9.99
20% (63%)
69,110 ±7,950
39,935 ±6,043
03:05 (02:22)
295
Commander Cool 2
Dec 17, 2015
$2.99
N/A (N/A)
14,109 ±3,592
10,522 ±3,102
02:53 (01:28)
296
Frontlines: Fuel of War
Feb 29, 2008
$19.99
20% (63%/73%)
265,439 ±15,577
143,720 ±11,464
05:33 (01:30)
297
Action Alien
Jun 26, 2015
$3.99
N/A (N/A)
16,739 ±3,913
10,283 ±3,067
02:27 (02:48)
298
Ninjahtic Mind Tricks
Jul 16, 2015
$1.99
N/A (N/A)
10,522 ±3,102
5,261 ±2,193
07:07 (04:20)
299
I am Weapon: Revival
Oct 23, 2015
$15.99
20% (63%)
14,826 ±3,682
8,131 ±2,727
04:27 (02:28)
300
The Ship: Remasted
Oct 31, 2016
$6.79
19% (62%)
49,740 ±6,745
32,283 ±5,434
01:21 (00:53)
301
Wanderlust Adventures
Aug 10, 2015
$9.99
19% (62%)
19,609 ±4,235
18,413 ±4,104
06:29 (04:03)
302
Sun Blast: Star Fighter
Apr 2, 2015
$1.99
19% (62%)
172,416 ±12,556
123,872 ±10,643
03:28 (03:12)
303
Vector Thrust
Jul 2, 2015
$24.99
19% (62%/57%)
38,740 ±5,952
22,479 ±4,534
05:05 (01:46)
304
Zombie Camp: Last Survivor
Apr 17, 2015
$2.99
N/A (N/A)
4,065 ±1,928
957 ±935
00:57 (00:38)
305
Ninja Blade
Nov 19, 2009
$9.99
19% (62%/61%)
18,652 ±4,130
11,718 ±3,274
04:35 (01:55)
306
Adventure World
Aug 2, 2016
$4.99
N/A (N/A)
12,196 ±3,340
7,891 ±2,686
05:13 (04:00)
307
Code of Princess
Apr 14, 2016
$14.99
17% (61%/53%)
12,435 ±3,372
7,891 ±2,686
02:25 (01:37)
308
Mad Combat Marines
Jul 13, 2016
$0.99
17% (61%)
16,500 ±3,885
11,000 ±3,172
02:36 (02:21)
309
Woolfe - The Red Hood Diaries
Mar 17, 2015
$9.99
17% (61%/55%)
65,523 ±7,741
43,283 ±6,292
02:27 (01:30)
310
Will Fight for Food: Super Actual Sellout: Game of the Hour
Apr 22, 2015
$5.99
N/A (N/A)
18,652 ±4,130
10,283 ±3,067
02:54 (03:10)
311
Super Helmets on Fire DX Ultra Edition Plus Alpha
Feb 15, 2016
$0.99
N/A (N/A)
9,565 ±2,958
5,500 ±2,243
08:05 (03:36)
312
Pirates of the Caribbean: At World's End
Oct 6, 2014
$19.99
N/A (N/A)
13,631 ±3,531
7,652 ±2,645
04:12 (03:52)
313
Big Brain Wolf
Nov 5, 2009
$9.99
17% (60%)
29,174 ±5,165
15,544 ±3,770
02:36 (01:04)
314
Sniper Ghost Warrior 3
Apr 24, 2017
$49.99
16% (59%)
37,305 ±5,841
26,066 ±4,882
04:27 (02:50)
315
The Waste Land
Sep 16, 2014
$9.99
16% (59%)
10,044 ±3,031
6,217 ±2,384
06:33 (03:40)
316
Rogue Warrior
Dec 1, 2009
$4.99
16% (59%/29%)
79,871 ±8,547
38,740 ±5,952
02:51 (01:05)
317
Shadowgrounds Survivor
Nov 14, 2007
$9.99
16% (59%/79%)
505,530 ±21,491
143,959 ±11,473
02:57 (01:47)
318
Heavy Fire: Afghanistan
Aug 15, 2014
$2.99
16% (59%)
39,218 ±5,989
23,435 ±4,630
02:17 (01:51)
319
Stay Dead Evolution
Feb 4, 2015
$5.99
N/A (N/A)
28,696 ±5,123
12,913 ±3,436
03:22 (03:14)
320
Shadowcrypt
Sep 15, 2014
$9.99
N/A (N/A)
4,783 ±2,091
3,348 ±1,750
01:11 (01:42)
321
I, Gladiator
Apr 7, 2015
$7.99
14% (57%)
13,392 ±3,500
9,565 ±2,958
08:06 (03:34)
322
Prospekt
Feb 18, 2016
$9.99
14% (57%/43%)
20,566 ±4,337
16,500 ±3,885
04:10 (03:12)
323
Primal Fears
Jan 8, 2013
$9.99
14% (57%)
67,197 ±7,839
25,587 ±4,837
01:44 (00:38)
324
Inversion
Jul 26, 2012
$9.99
14% (57%)
47,109 ±6,564
29,892 ±5,229
04:17 (02:07)
325
Unearthed: Trail of Ibn Battuta - Episode 1 - Gold Edition
Jan 3, 2014
$4.99
14% (57%)
38,979 ±5,971
20,566 ±4,337
03:44 (01:34)
326
Biodrone Battle
Jul 16, 2015
$1.99
14% (57%)
101,393 ±9,629
77,001 ±8,392
04:30 (03:32)
327
Wickland
Feb 6, 2015
$0.99
13% (56%)
118,132 ±10,394
73,175 ±8,181
02:42 (01:46)
328
Solarix
Apr 30, 2015
$19.99
13% (56%)
23,196 ±4,606
10,761 ±3,137
04:07 (02:42)
329
Lost Planet: Extreme Condition Colonies Edition
Feb 11, 2010
$19.99
13% (56%/70%)
51,175 ±6,841
29,414 ±5,187
22:40 (01:25)
330
! That Bastard Is Trying To Steal Our Gold !
Mar 3, 2016
$3.99
N/A (N/A)
7,413 ±2,604
4,304 ±1,984
05:47 (06:14)
331
Marvel: Ultimate Alliance
Jul 26, 2016
$39.99
13% (56%)
9,326 ±2,920
5,739 ±2,291
09:44 (06:21)
332
Marvel: Ultimate Alliance 2
Jul 26, 2016
$39.99
12% (54%)
11,239 ±3,206
4,783 ±2,091
04:59 (04:37)
333
MDK2 HD
Jul 30, 2012
$14.99
12% (54%/73%)
11,957 ±3,307
6,696 ±2,474
01:20 (00:54)
334
Radical Spectrum: Volume 1
Jul 8, 2016
$0.99
N/A (N/A)
51,414 ±6,857
30,609 ±5,291
04:27 (04:25)
335
Disposable Heroes
Mar 22, 2016
$4.99
N/A (N/A)
8,370 ±2,767
4,544 ±2,038
03:05 (03:56)
336
Princess Kaguya: Legend of the Moon Warrior
Aug 4, 2015
$10.99
N/A (N/A)
2,875 ±1,989
1,797 ±1,572
02:09 (03:13)
337
Guncraft
Aug 9, 2013
$14.99
10% (52%/73%)
136,785 ±11,184
105,458 ±9,820
04:58 (01:30)
338
Rubber and Lead
Sep 4, 2015
$4.99
N/A (N/A)
36,348 ±5,766
24,392 ±4,723
04:31 (04:39)
339
DreamBreak
Jul 21, 2016
$6.99
N/A (N/A/46%)
6,935 ±2,518
3,109 ±1,686
01:53 (02:34)
340
GEARGUNS - Tank offensive
Sep 20, 2016
$7.99
10% (51%)
14,587 ±3,652
8,848 ±2,845
03:42 (04:27)
341
QUALIA 3: Multi Agent
Apr 18, 2014
$4.99
N/A (N/A)
13,392 ±3,500
957 ±935
26:37 (35:27)
342
Damage Inc. Pacific Squadron WWII
Aug 28, 2012
$39.99
N/A (N/A)
3,587 ±1,811
3,348 ±1,750
20:58 (05:37)
343
Samudai
Feb 9, 2015
$2.99
N/A (N/A)
20,566 ±4,337
10,522 ±3,102
04:01 (01:35)
344
Quick Slick Deadly
Sep 21, 2015
$1.99
N/A (N/A)
30,370 ±5,270
19,609 ±4,235
03:31 (03:33)
345
Dusty Revenge:Co-Op Edition
Feb 17, 2014
$4.99
9% (50%)
82,980 ±8,711
17,696 ±4,023
02:24 (02:23)
346
Scapeland
Mar 31, 2016
$3.99
N/A (N/A)
11,239 ±3,206
6,457 ±2,430
08:20 (04:40)
347
Runeyana
Mar 21, 2017
$8.99
N/A (N/A)
7,413 ±2,604
3,348 ±1,750
05:02 (05:32)
348
The Stalin Subway: Red Veil
Oct 24, 2014
$2.99
8% (49%)
16,261 ±3,856
12,674 ±3,405
03:06 (01:56)
349
Kidnapped
Aug 4, 2015
$2.99
8% (49%)
102,110 ±9,663
69,349 ±7,964
04:26 (03:26)
350
Infinium Strike
Jul 14, 2016
$9.99
N/A (N/A)
3,109 ±1,686
2,630 ±1,551
01:39 (01:39)
351
ALONE IN SPACE
Feb 22, 2016
$9.99
8% (48%)
5,739 ±2,291
4,544 ±2,038
02:29 (02:19)
352
Fabula Mortis
Oct 27, 2014
$11.99
N/A (N/A)
16,261 ±3,856
10,283 ±3,067
06:04 (03:44)
353
Albedo: Eyes from Outer Space
Apr 10, 2015
$14.99
7% (47%/66%)
52,849 ±6,952
22,718 ±4,558
02:35 (01:26)
354
Call of Juarez: The Cartel
Sep 13, 2011
$9.99
7% (47%/51%)
207,329 ±13,768
173,611 ±12,599
08:26 (03:02)
355
Young Justice: Legacy
Nov 19, 2013
$2.99
7% (47%)
6,217 ±2,384
3,109 ±1,686
06:49 (03:53)
356
Blazing Angels 2: Secret Missions of WWII
May 13, 2008
$9.99
7% (46%/72%)
19,370 ±4,209
10,522 ±3,102
10:27 (03:46)
357
The Bluecoats: North vs South
Feb 2, 2015
$4.99
7% (46%)
24,153 ±4,700
14,109 ±3,592
02:15 (02:17)
358
Fly in the House
Mar 6, 2015
$9.99
6% (45%)
10,283 ±3,067
7,652 ±2,645
01:37 (00:59)
359
Red Goddess: Inner World
Aug 31, 2015
$2.49
N/A (N/A/53%)
2,152 ±1,403
478 ±661
01:04 (00:29)
360
Onikira - Demon Killer
Aug 27, 2015
$13.99
6% (44%)
46,153 ±6,497
24,153 ±4,700
02:54 (01:11)
361
Burstfire
Sep 24, 2015
Free
6% (43%)
69,588 ±7,978
49,023 ±6,696
04:29 (05:13)
362
Obludia
Jul 18, 2014
$8.99
N/A (N/A)
15,065 ±3,712
8,370 ±2,767
03:09 (02:07)
363
R.I.P.D.: The Game
Jul 16, 2013
$9.99
5% (42%)
34,196 ±5,592
21,761 ±4,461
02:50 (01:58)
364
Wave of Darkness
Nov 5, 2015
$29.99
N/A (N/A)
12,435 ±3,372
6,457 ±2,430
04:34 (03:48)
365
Dusk 12
Aug 22, 2014
$0.79
5% (41%)
8,370 ±2,767
4,544 ±2,038
03:42 (02:51)
366
Beyond Space Remastered Edition
Jun 18, 2014
$4.99
5% (41%)
31,805 ±5,393
18,652 ±4,130
03:16 (01:17)
367
Crispy Chicken
Apr 18, 2017
$7.99
N/A (N/A)
7,174 ±2,561
4,783 ±2,091
03:05 (03:41)
368
Cabela's Dangerous Hunts 2013
Oct 22, 2012
$29.99
4% (40%)
12,674 ±3,405
8,848 ±2,845
04:21 (01:49)
369
Postal III
Feb 17, 2012
$11.99
4% (40%/24%)
81,545 ±8,636
72,697 ±8,154
06:00 (02:47)
370
Air Conflicts: Pacific Carriers
Sep 21, 2012
$12.99
4% (40%)
114,784 ±10,245
47,349 ±6,581
04:44 (00:37)
371
Dark Matter
Oct 17, 2013
$9.99
4% (39%)
22,000 ±4,486
16,022 ±3,828
03:28 (01:46)
372
Blacklight: Tango Down
Jul 14, 2010
$0.99
4% (38%/65%)
64,566 ±7,684
52,370 ±6,921
02:38 (00:54)
373
Blue Sheep
Mar 31, 2016
$1.99
N/A (N/A)
6,935 ±2,518
3,348 ±1,750
03:01 (04:55)
374
Castle Werewolf 3D
Feb 7, 2017
$2.99
N/A (N/A)
17,218 ±3,968
14,826 ±3,682
03:03 (03:29)
375
Tiamat X
May 29, 2015
$1.99
N/A (N/A)
43,762 ±6,326
16,500 ±3,885
03:39 (03:32)
376
Umbrella Corps/Biohazard Umbrella Corps
Jun 21, 2016
$29.99
3% (36%)
9,326 ±2,920
8,131 ±2,727
04:08 (01:52)
377
Kick-Ass 2
Aug 15, 2014
$19.99
N/A (N/A)
16,979 ±3,941
8,848 ±2,845
03:02 (02:40)
378
Robotex
Nov 19, 2014
$4.99
2% (32%)
167,872 ±12,389
109,523 ±10,008
02:42 (02:16)
379
Hush
Jul 29, 2015
$9.99
N/A (N/A)
10,522 ±3,102
6,696 ±2,474
06:44 (05:58)
380
Bloodbath
Jun 16, 2014
$14.99
N/A (N/A)
8,131 ±2,727
4,065 ±1,928
02:57 (01:26)
381
Ku: Shroud of the Morrigan
Mar 17, 2014
$4.99
N/A (N/A)
27,500 ±5,015
15,783 ±3,799
02:33 (01:44)
382
Psichodelya
Aug 8, 2014
$6.99
N/A (N/A)
56,436 ±7,184
22,239 ±4,510
02:59 (02:16)
383
Knight Adventure
Oct 15, 2015
$4.99
N/A (N/A)
11,000 ±3,172
9,565 ±2,958
02:48 (02:56)
384
Killbot
Jul 10, 2016
$0.99
N/A (N/A)
25,348 ±4,815
22,479 ±4,534
03:11 (03:29)
385
Masterspace
Jun 15, 2015
$13.99
1% (27%)
9,805 ±2,994
3,826 ±1,870
19:25 (43:43)
386
Solar Shifter EX
Sep 11, 2015
$4.99
N/A (N/A)
17,696 ±4,023
6,935 ±2,518
03:04 (03:02)
387
Hard Truck Apocalypse: Arcade / Ex Machina: Arcade
Mar 14, 2014
$4.99
1% (25%)
24,153 ±4,700
14,587 ±3,652
03:49 (02:52)
388
Alone in the Dark: Illumination
Jun 11, 2015
$19.99
1% (23%)
6,935 ±2,518
3,826 ±1,870
02:57 (02:22)
389
Zombies on a Plane
Mar 25, 2016
$4.99
N/A (N/A)
7,413 ±2,604
6,457 ±2,430
02:44 (03:17)
390
Once Bitten, Twice Dead!
Jul 7, 2015
$4.99
N/A (N/A)
22,239 ±4,510
12,435 ±3,372
03:27 (03:46)
391
Barbarian Brawl
Feb 12, 2015
$4.99
N/A (N/A)
2,875 ±1,989
2,516 ±1,861
02:06 (02:46)
392
Iron Soul
Feb 26, 2014
$4.99
N/A (N/A)
12,196 ±3,340
4,544 ±2,038
01:54 (02:13)