OMG Zombies!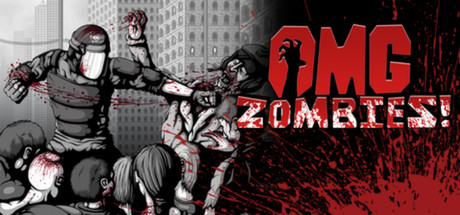 Store | Hub | SteamDB | Site
Developer: Laughing Jackal LTD Publisher: Ghostlight LTD
Genre: Action, Strategy
Languages: English
Tags: Zombies (125), Action (82), Strategy (60), Indie (33), Puzzle (25), Gore (17), Singleplayer (16), Casual (5)
Category: Single-player, Steam Achievements, Full controller support, Steam Trading Cards, Steam Leaderboards
Release date: Feb 13, 2014
Price: $0.49 90%
Score rank: 45% Userscore: 79% Old userscore: 79%
Owners: 28,983 ± 5,263
Players total: 19,988 ± 4,371 (68.97%)
Followers: 498
Peak concurrent players yesterday: 1
YouTube stats: 43 views and 11 comments for videos uploaded last week, 0 new videos uploaded yesterday.
Playtime total: 04:42 (average) 03:34 (median)

Steam Spy is still in beta, so expect major bugs.
Peak daily concurrent players:
CCU data courtesy of SteamDB. Used with permission.
Hourly concurrent players:
YouTube:
The views data is based on top 50 videos uploaded last week. Actual number of views might be more than the number shown.

The displayed number of videos uploaded yesterday is limited to 50, so if there were more videos uploaded, the number will still show 50.

If the game has commonly used word as its name (like "FEAR" or "Volume") its number of Youtube views might be wrong.
Games similar to this one:
#
Game
Release date

Price

Score rank
(Userscore / Metascore)

Owners

Players

Playtime (Median)

1
Don't Starve
$3.74
97% (97%/79%)
4,552,545 ±65,670
3,910,426 ±60,902
24:30 (06:00)
2
Braid
Apr 10, 2009
$14.99
89% (94%/90%)
1,228,520 ±34,228
805,521 ±27,727
03:51 (01:39)
3
Dying Light
Jan 26, 2015
$15.99
82% (92%/87%)
2,419,063 ±47,973
2,291,888 ±46,701
36:42 (22:30)
4
Insurgency
Jan 22, 2014
$1.49
78% (91%/74%)
5,031,510 ±69,005
4,149,784 ±62,724
18:37 (03:54)
5
Arizona Sunshine
Dec 6, 2016
$39.99
65% (87%/81%)
124,926 ±10,926
116,681 ±10,560
08:37 (03:58)
6
Dead Pixels
Dec 7, 2012
$2.99
62% (86%)
258,097 ±15,703
199,631 ±13,811
02:19 (00:52)
7
Tom Clancy's Rainbow Six Siege
Dec 1, 2015
$14.99
59% (85%)
4,597,768 ±65,993
4,340,921 ±64,140
104:25 (27:30)
8
Sniper Elite: Nazi Zombie Army 2
Oct 31, 2013
$4.49
56% (84%/53%)
426,497 ±20,183
359,786 ±18,539
05:28 (03:06)
9
Zombie Driver HD
Oct 17, 2012
$0.99
53% (83%)
262,844 ±15,847
195,884 ±13,681
03:28 (01:20)
10
The Flame in the Flood
Feb 24, 2016
$5.99
41% (77%/73%)
398,014 ±19,498
190,887 ±13,506
04:39 (01:34)
11
Rising Storm 2: Vietnam
May 30, 2017
$12.49
41% (77%/81%)
484,462 ±21,510
451,732 ±20,771
22:05 (08:35)
12
Contagion
Oct 25, 2013
$2.49
37% (75%/62%)
1,131,078 ±32,845
885,724 ±29,073
06:01 (02:30)
13
RAGE
Oct 3, 2011
$2.49
37% (75%/79%)
1,403,916 ±36,583
1,153,065 ±33,162
16:23 (07:41)
14
The Walking Dead: A New Frontier
Dec 20, 2016
$24.99
37% (75%)
325,806 ±17,642
236,360 ±15,028
09:36 (07:41)
15
Dead Rising 2
Sep 27, 2010
$19.99
35% (74%/78%)
765,295 ±27,027
483,463 ±21,488
08:46 (03:28)
16
GhostControl Inc.
Jun 6, 2014
$14.99
35% (74%)
9,994 ±3,090
7,995 ±2,764
03:45 (02:54)
17
CastleMiner Z
Feb 3, 2014
$1.99
31% (72%)
340,048 ±18,023
295,574 ±16,804
07:13 (02:31)
18
How to Survive 2
Sep 8, 2016
$3.74
30% (71%/69%)
615,384 ±24,240
497,704 ±21,801
10:27 (04:03)
19
Dead Island Definitive Edition
May 31, 2016
$4.99
28% (70%)
311,565 ±17,253
249,102 ±15,427
07:52 (03:17)
20
Frozen State
Aug 5, 2016
$11.99
27% (69%)
24,485 ±4,838
21,487 ±4,532
03:59 (01:20)
21
Ghost in the Shell: Stand Alone Complex - First Assault Online
Jul 28, 2016
N/A
25% (68%)
1,875,885 ±42,268
1,364,439 ±36,067
07:23 (00:58)
22
Breach & Clear: Deadline Rebirth (2016)
Jul 20, 2015
$0.99
10% (52%)
78,703 ±8,673
48,471 ±6,806
03:41 (01:32)
23
Better Late Than DEAD
Mar 3, 2016
$2.99
2% (33%)
42,974 ±6,409
23,986 ±4,788
01:58 (00:29)
24
Day One : Garry's Incident
Sep 25, 2013
$1.49
0% (18%)
93,694 ±9,463
66,211 ±7,955
01:53 (00:55)