Get Off My Lawn!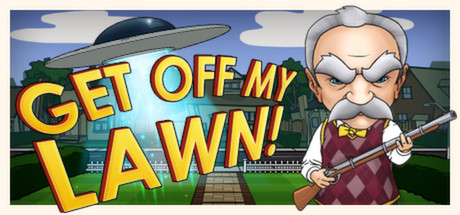 Store | Hub | SteamDB | Site
Developer: Digital Leisure Inc. Publisher: Digital Leisure Inc.
Genre: Casual, Free to Play, Indie
Languages: English, French, Italian, German, Spanish, Danish, Dutch, Finnish, Japanese, Korean, Norwegian, Polish, Portuguese, Portuguese-Brazil, Russian, Simplified Chinese, Swedish, Traditional Chinese, Turkish
Tags: Free to Play (78), Casual (45), Indie (36), Shooter (35), Tower Defense (24), Multiplayer (20), Aliens (20), Singleplayer (18), Arcade (10), Action (8), Funny (6), Horror (6)
Category: Single-player, Steam Achievements, Steam Trading Cards, Steam Leaderboards
Release date: Nov 11, 2014
Free
Score rank: 35% Userscore: 74% Old userscore: 74%
Owners: 362,293 ± 17,755
Players in the last 2 weeks: 719 ± 994 (0.2%)
Players total: 161,222 ± 11,847 (44.5%)
Followers: 2,379
Peak concurrent players yesterday: 5
YouTube stats: 733 views and 18 comments for videos uploaded last week, 4 new videos uploaded yesterday.
Playtime in the last 2 weeks: 00:32 (average) 00:32 (median)
Playtime total: 01:04 (average) 00:19 (median)

Steam Spy is still in beta, so expect major bugs.
Peak daily concurrent players:
CCU data courtesy of SteamDB. Used with permission.
Hourly concurrent players:
YouTube:
The views data is based on top 50 videos uploaded last week. Actual number of views might be more than the number shown.

The displayed number of videos uploaded yesterday is limited to 50, so if there were more videos uploaded, the number will still show 50.

If the game has commonly used word as its name (like "FEAR" or "Volume") its number of Youtube views might be wrong.
Games similar to this one:
#
Game
Release date

Price

Score rank
(Userscore / Metascore)

Owners

Players

Playtime (Median)

1
Princess Remedy in a World of Hurt
Jan 1, 2016
Free
97% (97%)
143,232 ±11,166
60,800 ±7,276
01:09 (00:40)
2
Voices from the Sea
Mar 24, 2015
Free
86% (93%)
180,577 ±12,537
50,780 ±6,649
22:36 (00:15)
3
Dark Messiah of Might & Magic
Oct 25, 2006
$9.99
86% (93%/72%)
1,011,506 ±29,642
199,705 ±13,184
06:03 (00:24)
4
Dr. Langeskov, The Tiger, and The Terribly Cursed Emerald: A Whirlwind Heist
Dec 4, 2015
Free
86% (93%)
463,398 ±20,077
333,829 ±17,044
00:48 (00:26)
5
Disturbed
Oct 3, 2016
Free
86% (93%)
101,561 ±9,403
62,849 ±7,397
00:51 (00:21)
6
Half Minute Hero: Super Mega Neo Climax Ultimate Boy
Sep 27, 2012
$9.99
79% (91%/75%)
465,903 ±20,131
270,980 ±15,357
02:38 (00:49)
7
Echoes+
Jan 15, 2015
Free
79% (91%)
244,337 ±14,583
122,966 ±10,347
00:28 (00:09)
8
Lost Lands: A Hidden Object Adventure
Sep 24, 2015
Free
75% (90%)
144,371 ±11,211
68,542 ±7,725
13:34 (00:27)
9
Missing Translation
Sep 24, 2015
Free
72% (89%)
344,076 ±17,303
217,239 ±13,751
00:49 (00:20)
10
Trick and Treat - Visual Novel
Dec 30, 2016
Free
72% (89%)
173,974 ±12,306
119,095 ±10,182
00:53 (00:16)
11
Black Rose
Mar 15, 2016
Free
55% (83%)
132,757 ±10,751
75,373 ±8,101
00:50 (00:16)
12
Avadon: The Black Fortress
Aug 17, 2011
$9.99
55% (83%/75%)
226,120 ±14,029
96,551 ±9,168
09:40 (00:56)
13
Absent
Aug 31, 2015
Free
50% (81%)
96,323 ±9,158
24,365 ±4,606
00:53 (00:07)
14
Awkward Dimensions Redux
Oct 21, 2016
Free
50% (81%)
182,399 ±12,601
117,728 ±10,124
00:39 (00:18)
15
the static speaks my name
Aug 10, 2015
Free
50% (81%)
320,622 ±16,703
202,893 ±13,289
00:18 (00:13)
16
Comedy Quest
Sep 2, 2015
Free
48% (80%)
96,323 ±9,158
26,870 ±4,837
00:41 (00:13)
17
Apotheon Arena
Dec 8, 2015
Free
48% (80%)
299,900 ±16,155
206,309 ±13,401
00:50 (00:12)
18
Rescue the Great Demon 2
Nov 18, 2016
Free
43% (78%)
89,719 ±8,838
61,711 ±7,330
00:48 (00:13)
19
GlassWire
Jun 7, 2016
Free
43% (78%)
97,006 ±9,190
53,741 ±6,840
05:22 (00:33)
20
goalunited PRO football manager for experts
Mar 6, 2017
Free
41% (77%)
29,603 ±5,077
22,771 ±4,453
01:46 (00:16)
21
Eldevin
Nov 5, 2014
Free
41% (77%)
356,600 ±17,615
196,062 ±13,064
06:13 (00:25)
22
Imprisoned Light
Oct 28, 2016
$1.99
37% (75%)
7,287 ±2,519
5,465 ±2,181
02:54 (01:46)
23
Think To Die
Sep 22, 2016
Free
35% (74%)
51,008 ±6,664
28,464 ±4,978
00:26 (00:16)
24
Tactical Genius Online
Jan 20, 2017
Free
32% (72%)
93,818 ±9,038
27,553 ±4,898
00:52 (00:09)
25
Immortal Empire
Dec 3, 2015
Free
27% (69%)
114,313 ±9,976
44,404 ±6,218
03:08 (00:19)
26
Epic Arena
May 5, 2015
Free
26% (68%)
169,647 ±12,152
71,730 ±7,903
01:22 (00:33)
27
8-Bit Armies: Arena (Free)
Feb 17, 2017
Free
N/A (N/A)
14,574 ±3,562
10,703 ±3,053
00:54 (00:19)
28
Riding Club Championships
Sep 27, 2016
Free
23% (66%)
79,700 ±8,330
49,869 ±6,589
04:10 (00:20)
29
:
Sep 29, 2015
Free
23% (66%)
84,254 ±8,565
17,989 ±3,958
03:08 (00:07)
30
Nova Blitz
Oct 25, 2016
Free
23% (66%)
12,524 ±3,302
2,733 ±1,542
00:29 (00:35)
31
Soccer Manager
Feb 9, 2016
Free
20% (63%)
181,488 ±12,569
116,590 ±10,075
03:39 (00:20)
32
Angeldust
Nov 18, 2016
Free
19% (62%)
231,813 ±14,204
189,458 ±12,842
01:09 (00:17)
33
Lost Saga NA
Nov 25, 2014
Free
16% (60%)
279,405 ±15,594
130,936 ±10,677
06:09 (00:16)
34
Affected Zone Tactics
Nov 17, 2015
Free
16% (59%)
80,611 ±8,378
19,583 ±4,129
11:55 (00:26)
35
Florensia
Nov 29, 2016
Free
14% (57%)
109,075 ±9,745
72,185 ±7,928
06:44 (00:17)
36
Elemental Heroes
Mar 3, 2016
Free
14% (57%)
90,858 ±8,894
36,434 ±5,632
03:52 (00:14)
37
emoj.io
Oct 14, 2016
Free
13% (56%)
29,603 ±5,077
15,712 ±3,699
01:48 (00:16)
38
World of Fishing
Sep 6, 2016
Free
11% (53%)
227,259 ±14,064
139,816 ±11,033
02:28 (00:20)
39
Heroes of Scene
Aug 26, 2015
Free
10% (52%)
264,604 ±15,175
153,024 ±11,542
00:58 (00:13)
40
Disney Movies VR
May 16, 2016
Free
10% (52%)
77,195 ±8,198
34,840 ±5,508
00:42 (00:18)
41
Gothic 3: Forsaken Gods Enhanced Edition
Mar 22, 2011
$9.99
9% (50%)
191,963 ±12,926
66,948 ±7,635
05:10 (00:45)
42
Epic Cards Battle(TCG)
Jul 9, 2015
Free
9% (50%)
149,836 ±11,421
62,394 ±7,371
03:42 (00:16)
43
Tactical Craft Online
Feb 12, 2016
Free
9% (50%)
271,891 ±15,383
198,794 ±13,154
02:30 (00:10)
44
Jackpot Poker by PokerStars
Mar 20, 2017
Free
7% (46%)
11,613 ±3,180
8,198 ±2,672
05:22 (00:21)
45
Twisted Worlds
Jun 17, 2016
Free
7% (46%)
59,661 ±7,207
21,633 ±4,340
01:02 (00:20)