Get Off My Lawn!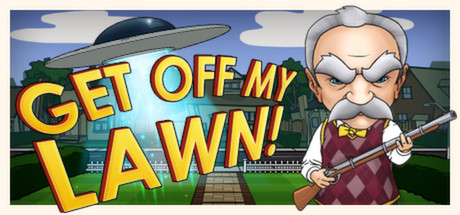 Store | Hub | SteamDB | Site
Developer: Digital Leisure Inc. Publisher: Digital Leisure Inc.
Genre: Casual, Free to Play, Indie
Languages: English, French, Italian, German, Spanish, Danish, Dutch, Finnish, Japanese, Korean, Norwegian, Polish, Portuguese, Portuguese-Brazil, Russian, Simplified Chinese, Swedish, Traditional Chinese, Turkish
Tags: Free to Play (76), Casual (43), Indie (35), Shooter (34), Tower Defense (23), Multiplayer (19), Singleplayer (18), Aliens (18), Arcade (8), Action (7), Funny (6), Horror (5)
Category: Single-player, Steam Achievements, Steam Trading Cards, Steam Leaderboards
Release date: Nov 11, 2014
Free
Score rank: 33% Userscore: 74% Old userscore: 74%
Owners: 368,762 ± 17,887
Players in the last 2 weeks: 1,089 ± 1,231 (0.3%)
Players total: 165,534 ± 11,987 (44.89%)
Followers: 2,344
Peak concurrent players yesterday: 8
YouTube stats: 163 views and 9 comments for videos uploaded last week, 1 new videos uploaded yesterday.
Playtime in the last 2 weeks: 00:17 (average) 00:22 (median)
Playtime total: 01:21 (average) 00:19 (median)

Steam Spy is still in beta, so expect major bugs.
Peak daily concurrent players:
CCU data courtesy of SteamDB. Used with permission.
Hourly concurrent players:
YouTube:
The views data is based on top 50 videos uploaded last week. Actual number of views might be more than the number shown.

The displayed number of videos uploaded yesterday is limited to 50, so if there were more videos uploaded, the number will still show 50.

If the game has commonly used word as its name (like "FEAR" or "Volume") its number of Youtube views might be wrong.
Games similar to this one:
#
Game
Release date

Price

Score rank
(Userscore / Metascore)

Owners

Players

Playtime (Median)

1
Networm
Oct 27, 2015
$1.99
N/A (N/A)
6,358 ±2,349
454 ±628
03:52 (02:34)
2
Soft Body
May 17, 2016
$12.99
N/A (N/A)
1,135 ±992
908 ±888
02:44 (01:58)
3
Lifestream - A Haunting Text Adventure
Sep 19, 2016
$2.99
N/A (N/A)
1,574 ±1,377
1,574 ±1,377
00:36 (01:21)
4
Reverse x Reverse
Dec 10, 2015
$9.99
N/A (N/A)
1,589 ±1,174
908 ±888
04:13 (03:33)
5
The VR Museum of Fine Art
Aug 20, 2016
Free
97% (97%)
64,488 ±7,483
28,611 ±4,984
00:22 (00:06)
6
Kokurase - Episode 1
Nov 10, 2016
Free
N/A (N/A)
9,083 ±2,808
1,135 ±992
00:26 (00:36)
7
Clean'Em Up
Aug 18, 2016
Free
N/A (N/A)
27,703 ±4,904
5,223 ±2,129
00:58 (00:46)
8
Epic Battle Fantasy 3
Sep 1, 2016
Free
91% (95%)
97,413 ±9,196
54,497 ±6,879
03:59 (00:30)
9
LostWinds 2: Winter of the Melodias
Mar 24, 2016
$9.99
N/A (N/A)
3,179 ±1,661
454 ±628
04:42 (01:56)
10
RED
Jan 14, 2017
Free
88% (94%)
6,812 ±2,432
4,087 ±1,884
00:16 (00:14)
11
MANDAGON
Aug 3, 2016
Free
88% (94%)
363,539 ±17,760
259,314 ±15,001
00:35 (00:16)
12
Dragon Age™: Origins Awakening
Mar 16, 2010
$9.99
84% (93%/82%)
152,591 ±11,509
53,589 ±6,821
00:09 (00:01)
13
Brief Karate Foolish
Nov 18, 2016
Free
84% (93%)
82,654 ±8,471
61,082 ±7,282
00:09 (00:04)
14
HEBEREKE!: March! Red Army Girls' Brigade
Sep 30, 2016
Free
N/A (N/A)
20,663 ±4,236
4,314 ±1,935
00:23 (00:14)
15
Voices from the Sea
Mar 24, 2015
Free
84% (93%)
178,023 ±12,431
45,414 ±6,279
00:40 (00:21)
16
Godot Engine
Feb 23, 2016
Free
81% (92%)
154,862 ±11,594
91,055 ±8,891
05:29 (00:01)
17
Avernum 2: Crystal Souls
Jan 14, 2015
$19.99
81% (92%/78%)
92,190 ±8,946
19,755 ±4,141
20:52 (00:31)
18
Echoes+
Jan 15, 2015
Free
77% (91%)
242,284 ±14,501
115,806 ±10,027
00:31 (00:08)
19
SWARMRIDERS
Jun 15, 2016
Free
77% (91%)
63,126 ±7,403
24,069 ±4,571
00:15 (00:03)
20
The Knobbly Crook: Chapter I - The Horse You Sailed In On
Jun 9, 2015
Free
74% (90%)
96,051 ±9,132
21,118 ±4,282
00:28 (00:07)
21
Pink Heaven
Nov 3, 2015
Free
74% (90%)
137,605 ±10,929
60,628 ±7,255
00:30 (00:11)
22
Sepia Tears
Jan 8, 2016
Free
70% (89%)
130,565 ±10,646
50,183 ±6,601
01:02 (00:13)
23
Silver Creek Falls: Chapter 1
Aug 12, 2015
Free
70% (89%)
122,845 ±10,327
37,694 ±5,721
00:44 (00:27)
24
Electric Highways
Oct 28, 2015
Free
70% (89%)
131,701 ±10,692
52,453 ±6,748
00:38 (00:09)
25
Mooch
Sep 7, 2015
$4.99
N/A (N/A)
2,725 ±1,538
1,362 ±1,087
05:14 (05:04)
26
Frosty Kiss
Jan 8, 2016
Free
66% (88%)
132,382 ±10,720
56,086 ±6,978
00:32 (00:18)
27
3DMark 11
Oct 2, 2012
$19.99
N/A (N/A)
31,336 ±5,216
28,838 ±5,004
01:53 (00:14)
28
Galcon 2: Galactic Conquest
Dec 5, 2014
Free
60% (86%)
245,236 ±14,589
123,072 ±10,336
06:39 (00:21)
29
Regeria Hope Episode 1
Jul 25, 2016
Free
60% (86%)
54,497 ±6,879
21,799 ±4,350
01:48 (00:46)
30
Off-Peak
Oct 21, 2016
Free
57% (85%)
101,500 ±9,387
65,396 ±7,535
00:37 (00:11)
31
Escape the Game
Oct 13, 2016
Free
57% (85%)
170,303 ±12,158
106,269 ±9,605
00:20 (00:13)
32
Dwarfs - F2P
Oct 18, 2012
Free
57% (85%)
600,374 ±22,816
216,625 ±13,712
01:56 (00:43)
33
Call of Cthulhu: Shadow of the Comet
Nov 4, 2015
$5.99
N/A (N/A)
3,406 ±1,719
908 ±888
05:18 (04:46)
34
The Bard's Tale
Dec 11, 2009
$9.99
55% (84%/70%)
391,015 ±18,418
108,085 ±9,687
05:02 (00:40)
35
The Abbey of Crime Extensum
May 19, 2016
Free
55% (84%)
61,763 ±7,323
18,393 ±3,996
00:19 (00:08)
36
Ley Lines
Dec 5, 2016
Free
55% (84%)
10,899 ±3,076
4,541 ±1,985
00:17 (00:18)
37
Black Rose
Mar 15, 2016
Free
52% (83%)
129,203 ±10,591
71,981 ±7,905
00:43 (00:16)
38
The Secret of Tremendous Corporation
Oct 12, 2015
Free
52% (83%)
96,732 ±9,164
25,659 ±4,720
00:26 (00:09)
39
Mainland
May 8, 2015
Free
52% (83%)
103,317 ±9,471
25,886 ±4,741
00:33 (00:08)
40
MyDream
Feb 20, 2015
Free
50% (82%)
11,126 ±3,108
3,860 ±1,830
00:10 (00:08)
41
Ultimate Tic-Tac-Toe
Apr 28, 2015
Free
50% (82%)
250,231 ±14,737
131,701 ±10,692
00:48 (00:13)
42
Avadon: The Black Fortress
Aug 17, 2011
$9.99
50% (82%/75%)
230,022 ±14,129
91,963 ±8,935
08:07 (00:39)
43
Summoner
Mar 12, 2014
$4.99
50% (82%/78%)
112,854 ±9,898
27,248 ±4,864
04:13 (00:32)
44
Disney Infinity 1.0: Gold Edition
Dec 9, 2016
$29.99
N/A (N/A)
1,362 ±1,087
908 ±888
02:38 (02:19)
45
Realities
Apr 5, 2016
Free
48% (81%)
161,674 ±11,846
67,667 ±7,665
00:23 (00:10)
46
Metal Reaper Online
Sep 17, 2015
Free
45% (80%)
210,267 ±13,509
91,963 ±8,935
02:12 (00:21)
47
Gorky 17
Sep 27, 2013
$4.99
45% (80%)
554,505 ±21,929
93,553 ±9,012
01:32 (00:05)
48
Absent
Aug 31, 2015
Free
45% (80%)
92,190 ±8,946
25,432 ±4,699
02:38 (00:13)
49
Dev Guy
May 20, 2015
Free
45% (80%)
274,074 ±15,422
141,011 ±11,064
00:41 (00:14)
50
Apotheon Arena
Dec 8, 2015
Free
45% (80%)
298,370 ±16,091
205,044 ±13,340
00:44 (00:11)
51
Planet in the Shadows
Apr 15, 2016
$3.99
N/A (N/A)
2,725 ±1,538
681 ±769
02:30 (02:28)
52
Starship Titanic
Oct 27, 2016
$5.99
N/A (N/A)
1,135 ±992
681 ±769
01:06 (01:03)
53
Famaze
May 5, 2014
Free
43% (79%)
165,307 ±11,979
45,641 ±6,295
00:26 (00:09)
54
Ortus Regni
Jun 21, 2016
Free
43% (79%)
48,366 ±6,480
16,349 ±3,768
02:13 (00:22)
55
Rising Angels: Reborn
Sep 12, 2014
Free
43% (79%)
188,695 ±12,798
56,086 ±6,978
01:43 (00:12)
56
goalunited PRO – football manager for experts
Mar 6, 2017
Free
41% (78%)
23,615 ±4,528
18,393 ±3,996
02:06 (00:16)
57
PHAT PHROG
Oct 27, 2016
Free
N/A (N/A)
12,262 ±3,263
2,952 ±1,601
00:06 (00:04)
58
FATED: The Silent Oath
Apr 28, 2016
$9.99
41% (78%/67%)
2,271 ±1,404
1,817 ±1,256
01:08 (00:55)
59
MSI Electric City
Aug 9, 2016
Free
41% (78%)
52,680 ±6,763
21,572 ±4,328
00:19 (00:06)
60
Take the Dream IX
Apr 1, 2016
Free
41% (78%)
52,907 ±6,778
10,218 ±2,978
01:30 (00:29)
61
Ludu
Dec 4, 2016
Free
N/A (N/A)
7,039 ±2,472
1,817 ±1,256
00:18 (00:07)
62
Rescue the Great Demon 2
Nov 18, 2016
Free
39% (77%)
80,610 ±8,366
55,178 ±6,921
00:37 (00:12)
63
Plenty: Skyhearth
Oct 20, 2016
Free
N/A (N/A)
20,209 ±4,189
6,812 ±2,432
00:13 (00:07)
64
Littlstar VR Cinema
Oct 22, 2016
Free
N/A (N/A)
17,484 ±3,896
3,406 ±1,719
00:13 (00:10)
65
Quintet
May 11, 2015
Free
37% (76%)
160,993 ±11,822
74,025 ±8,017
00:50 (00:16)
66
The Banner Saga: Factions
Feb 25, 2013
Free
35% (75%/67%)
453,686 ±19,838
123,072 ±10,336
04:13 (00:34)
67
GameLooper
Jan 21, 2016
Free
35% (75%)
170,984 ±12,183
106,723 ±9,626
00:44 (00:05)
68
Win Big Or Die
Oct 13, 2016
Free
N/A (N/A)
13,851 ±3,468
2,044 ±1,332
00:10 (00:05)
69
Lop Nor Zombie VR (HTC Vive)
Sep 30, 2016
$2.39
N/A (N/A)
908 ±888
0 ±0
00:00 (00:00)
70
Into The Unknown
Nov 9, 2016
Free
N/A (N/A)
12,716 ±3,323
5,223 ±2,129
00:15 (00:08)
71
Zezenia Online
Jul 7, 2016
Free
30% (72%)
60,401 ±7,242
31,790 ±5,254
02:45 (00:10)
72
Dimmdrive :: Gaming Ramdrive @ 10,000+ MB/s
Jan 1, 2015
$9.79
29% (71%)
6,585 ±2,391
5,904 ±2,264
13:27 (01:05)
73
Relive
Oct 15, 2015
Free
27% (70%)
73,117 ±7,967
14,532 ±3,552
00:44 (00:18)
74
Call of Cthulhu: Prisoner of Ice
Nov 4, 2015
$5.99
N/A (N/A)
2,725 ±1,538
227 ±444
02:21 (00:47)
75
Invisible Apartment
Mar 2, 2015
Free
27% (70%)
180,067 ±12,502
69,711 ±7,780
00:18 (00:06)
76
Immortal Empire
Dec 3, 2015
Free
27% (70%)
124,434 ±10,393
52,907 ±6,778
02:49 (00:17)
77
REALITY
Nov 30, 2016
Free
N/A (N/A)
11,354 ±3,140
4,541 ±1,985
00:12 (00:11)
78
Epic Arena
May 5, 2015
Free
25% (68%)
173,482 ±12,271
77,885 ±8,223
02:20 (00:37)
79
Zombie Vikings: Stab-a-thon
Dec 22, 2016
Free
N/A (N/A)
16,349 ±3,768
11,581 ±3,171
00:18 (00:13)
80
Ghoul Kid
Apr 26, 2016
Free
25% (68%)
74,706 ±8,054
33,833 ±5,420
00:16 (00:07)
81
PlayClaw 5 - Game Recording and Streaming
Sep 10, 2013
$39.99
23% (67%)
13,397 ±3,410
12,489 ±3,293
20:19 (05:08)
82
Project "Fire"
Oct 1, 2016
Free
N/A (N/A)
20,209 ±4,189
4,087 ±1,884
01:15 (02:41)
83
Астролорды: Облако Оорта
Sep 29, 2015
Free
23% (67%)
79,929 ±8,330
19,755 ±4,141
02:42 (00:09)
84
Bitardia Cards: Memes of 2ch
May 19, 2016
Free
23% (67%)
53,589 ±6,821
17,030 ±3,845
01:18 (00:09)
85
Dungeon Hero
Jul 7, 2015
$2.09
N/A (N/A)
20,209 ±4,189
5,677 ±2,220
02:46 (01:35)
86
Avencast: Rise of the Mage
Mar 17, 2010
$9.99
22% (66%/68%)
259,768 ±15,015
66,986 ±7,626
02:46 (00:32)
87
The Big Secret of a Small Town
Oct 22, 2015
$6.99
N/A (N/A)
2,498 ±1,472
1,362 ±1,087
06:47 (06:49)
88
Kitten Squad
Jan 4, 2017
Free
N/A (N/A)
5,677 ±2,220
4,996 ±2,082
00:20 (00:06)
89
The Divergent Series: Allegiant VR
Mar 17, 2016
Free
22% (66%)
81,745 ±8,424
22,253 ±4,396
00:19 (00:11)
90
Linkrealms
May 19, 2016
Free
21% (65%)
21,345 ±4,305
10,445 ±3,011
01:59 (00:30)
91
The Gate
Apr 27, 2015
Free
20% (64%)
118,758 ±10,154
38,829 ±5,806
08:34 (00:27)
92
Kult: Heretic Kingdoms
Aug 26, 2015
$5.99
N/A (N/A)
34,288 ±5,456
5,677 ±2,220
01:45 (00:07)
93
Pool Nation FX Lite
Dec 7, 2015
Free
19% (63%)
538,610 ±21,613
260,677 ±15,041
01:52 (00:12)
94
Angels & Demigods - SciFi VR Visual Novel
Sep 28, 2016
Free
19% (63%)
21,572 ±4,328
5,450 ±2,175
00:15 (00:10)
95
Walkover
Mar 23, 2015
Free
18% (62%)
103,317 ±9,471
28,384 ±4,964
00:21 (00:03)
96
World of Soccer online
Aug 26, 2015
Free
18% (62%)
347,417 ±17,362
236,153 ±14,316
01:04 (00:12)
97
March of War: FaceOff - M
Jul 16, 2015
Free
17% (61%)
108,767 ±9,717
56,540 ±7,006
05:12 (00:35)
98
Affected Zone Tactics
Nov 17, 2015
Free
16% (60%)
77,431 ±8,199
19,074 ±4,069
06:09 (00:29)
99
Moon Breakers
May 17, 2012
Free
16% (60%)
366,945 ±17,843
48,139 ±6,465
07:26 (00:17)
100
Beyond Divinity
Oct 29, 2012
$5.99
15% (59%/73%)
394,421 ±18,498
51,772 ±6,704
03:42 (00:06)
101
Intruder Alert: Ixian Operations
Jul 21, 2016
Free
N/A (N/A)
33,152 ±5,365
7,493 ±2,551
01:09 (00:14)
102
ERR - 001
Dec 13, 2016
Free
N/A (N/A)
3,633 ±1,776
681 ±769
00:11 (00:05)
103
Forgotten Myths CCG
Mar 21, 2016
Free
13% (57%)
54,497 ±6,879
13,397 ±3,410
00:50 (00:12)
104
Ravensword: Shadowlands
Dec 6, 2013
$6.99
13% (57%)
191,193 ±12,882
27,703 ±4,904
02:14 (00:19)
105
One Manga Day
May 4, 2015
Free
13% (57%)
151,683 ±11,475
61,309 ±7,296
01:30 (00:11)
106
Shadow Hunter
Apr 20, 2015
Free
13% (57%)
72,662 ±7,943
9,083 ±2,808
00:16 (00:07)
107
Codename: Rogue Fleet
Jan 15, 2016
Free
13% (57%)
94,461 ±9,056
39,056 ±5,823
00:27 (00:09)
108
Elemental Heroes
Mar 3, 2016
Free
13% (56%)
89,466 ±8,813
36,785 ±5,651
07:36 (00:17)
109
Holy Avatar vs. Maidens of the Dead
Feb 20, 2014
$5.49
13% (56%)
78,793 ±8,271
14,760 ±3,580
01:17 (00:22)
110
Beneath The Cherry Trees / 桜の樹の下には
Oct 14, 2016
Free
13% (56%)
13,170 ±3,381
1,362 ±1,087
00:04 (00:05)
111
Adventure Chronicles: The Search For Lost Treasure
Apr 29, 2014
$4.99
N/A (N/A)
6,812 ±2,432
908 ±888
03:08 (02:42)
112
Racecar.io
Oct 18, 2016
Free
12% (55%)
46,776 ±6,373
33,833 ±5,420
00:58 (00:05)
113
Grotesque Tactics 2 – Dungeons and Donuts
Nov 21, 2011
$5.49
12% (55%/48%)
111,719 ±9,848
32,244 ±5,291
05:15 (00:31)
114
Curse of Mermos
Jun 23, 2015
Free
12% (55%)
171,665 ±12,207
76,977 ±8,175
00:24 (00:06)
115
Vinyl
Jul 1, 2016
Free
12% (55%)
60,628 ±7,255
22,480 ±4,418
00:27 (00:10)
116
Full Tilt Poker
Jan 26, 2016
Free
N/A (N/A)
77,658 ±8,211
27,248 ±4,864
01:26 (00:11)
117
One Way To Die: Steam Edition
Sep 1, 2015
Free
11% (54%)
173,027 ±12,255
51,318 ±6,675
00:27 (00:02)
118
Rustbucket Rumble
May 4, 2015
Free
10% (52%)
259,314 ±15,001
140,102 ±11,028
00:49 (00:09)
119
Heroes of Scene
Aug 26, 2015
Free
10% (52%)
253,183 ±14,823
150,775 ±11,440
00:54 (00:15)
120
PooShooter: Toilet Invaders
Oct 3, 2016
Free
N/A (N/A)
17,711 ±3,921
3,406 ±1,719
00:19 (00:28)
121
Gothic 3: Forsaken Gods Enhanced Edition
Mar 22, 2011
$9.99
9% (51%)
197,324 ±13,087
76,523 ±8,151
05:00 (00:43)
122
Dream Of Mirror Online
Aug 14, 2015
Free
9% (50%)
202,320 ±13,252
66,532 ±7,600
11:34 (00:13)
123
Eclipse --- Defending the motherland
May 26, 2016
Free
N/A (N/A)
67,667 ±7,665
22,707 ±4,440
00:35 (00:04)
124
Epic Cards Battle(TCG)
Jul 9, 2015
Free
9% (50%)
155,316 ±11,611
72,208 ±7,918
23:20 (00:17)
125
Within
Jun 16, 2016
Free
9% (50%)
45,414 ±6,279
14,305 ±3,524
04:12 (00:17)
126
Uebergame
Oct 26, 2015
Free
8% (49%)
148,277 ±11,345
71,073 ±7,855
00:20 (00:04)
127
Clash of the Monsters
Apr 13, 2016
Free
8% (48%)
86,060 ±8,644
39,283 ±5,840
00:10 (00:05)
128
Alteil: Horizons
Oct 27, 2016
Free
8% (48%)
20,663 ±4,236
8,175 ±2,664
05:28 (00:40)
129
Astro Lords: Oort Cloud
Jan 15, 2016
Free
N/A (N/A)
79,020 ±8,283
26,340 ±4,782
00:34 (00:01)
130
SAGA
Aug 4, 2015
Free
6% (45%/61%)
108,767 ±9,717
31,563 ±5,235
02:35 (00:13)
131
Regimental Chess
Apr 29, 2015
Free
6% (45%)
93,553 ±9,012
24,751 ±4,636
00:19 (00:07)
132
Sphere III: Enchanted World
Dec 2, 2015
Free
6% (45%)
139,648 ±11,010
59,265 ±7,173
04:53 (00:28)
133
TDP5 Arena 3D
Mar 26, 2015
Free
6% (45%)
174,617 ±12,311
54,724 ±6,893
01:08 (00:17)
134
Spartans Vs Zombies Defense
Jan 6, 2015
Free
6% (44%)
175,752 ±12,351
69,029 ±7,742
01:18 (00:22)
135
Rumble Fighter: Unleashed
Dec 16, 2016
Free
5% (43%)
19,755 ±4,141
13,851 ±3,468
00:51 (00:10)
136
Gladiators Online: Death Before Dishonor
Nov 4, 2015
Free
5% (42%)
151,683 ±11,475
75,614 ±8,102
03:28 (00:18)
137
Jaunt VR - Experience Cinematic Virtual Reality
Mar 28, 2016
Free
N/A (N/A)
48,820 ±6,511
12,035 ±3,232
00:21 (00:08)
138
Dungeon-Party
Mar 13, 2013
Free
4% (39%)
366,491 ±17,832
42,462 ±6,072
00:38 (00:13)
139
Skilltree Saga
Dec 4, 2014
$9.99
N/A (N/A)
28,157 ±4,944
5,450 ±2,175
06:53 (01:19)
140
Alganon
May 19, 2015
Free
3% (36%)
117,168 ±10,085
28,157 ±4,944
01:41 (00:20)
141
Akaneiro: Demon Hunters
Nov 25, 2014
Free
3% (35%/53%)
79,247 ±8,295
24,978 ±4,657
02:22 (00:32)
142
Berserk: The Cataclysm
Sep 22, 2016
Free
N/A (N/A)
20,209 ±4,189
5,450 ±2,175
01:25 (00:04)
143
HIT
Feb 9, 2015
Free
3% (34%)
293,829 ±15,968
103,090 ±9,460
00:11 (00:04)
144
BattleSpace
Jan 7, 2015
Free
2% (32%)
127,841 ±10,535
35,196 ±5,528
01:57 (00:01)
145
Wartune
Aug 15, 2016
Free
N/A (N/A)
26,113 ±4,762
4,768 ±2,035
41:05 (00:08)
146
Plastic Playground
Apr 18, 2016
Free
2% (31%)
80,383 ±8,354
25,205 ±4,678
00:09 (00:03)
147
24 Hours 'til Rescue
Feb 19, 2016
$3.99
N/A (N/A)
11,354 ±3,140
1,362 ±1,087
00:05 (00:04)
148
Galaxy Combat Wargames
Sep 29, 2016
Free
N/A (N/A)
16,349 ±3,768
2,271 ±1,404
01:34 (00:11)
149
Confrontation
Apr 4, 2012
$9.99
2% (29%/51%)
347,190 ±17,356
87,649 ±8,723
01:07 (00:19)
150
Shadow of Kingdoms
Aug 11, 2015
Free
1% (27%)
83,562 ±8,517
21,572 ±4,328
01:19 (00:08)
151
All Guns On Deck
Aug 28, 2015
$12.99
N/A (N/A)
71,754 ±7,893
5,450 ±2,175
02:15 (01:15)
152
Jacob
Jul 18, 2016
Free
0% (18%)
38,375 ±5,772
9,083 ±2,808
00:23 (00:03)
153
Legends of Persia
Jun 3, 2014
$19.99
N/A (N/A)
46,549 ±6,357
4,541 ±1,985
00:46 (00:14)