App

Aces Wild: Manic Brawling Action!
Aces Wild: Manic Brawling Action!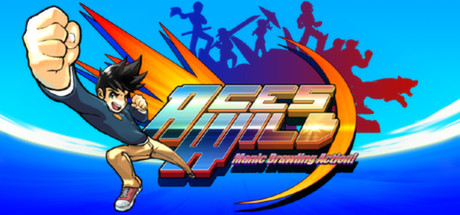 Store | Hub | SteamDB | Site
Developer: Culture Attack Studio, Tyler Doak Publisher: Culture Attack Studio
Genre: Action, Indie
Languages: English
Tags: Action (50), Indie (45), Beat 'em up (37), Great Soundtrack (19), Character Action Game (13), Controller (12), Local Co-Op (12), Anime (7)
Category: Single-player, Shared/Split Screen, Partial Controller Support
Release date: Jan 31, 2014
Price: $9.99
Score rank: 54% Userscore: 83% Old userscore: 81%
Owners: 53,963 ± 6,530
Players in the last 2 weeks: 635 ± 1,243 (1.18%)
Players total: 19,848 ± 3,960 (36.78%)
Followers: 866
Peak concurrent players yesterday: 4
Playtime in the last 2 weeks: 00:02 (average) 00:02 (median)
Playtime total: 00:54 (average) 00:23 (median)

Steam Spy is still in beta, so expect major bugs.
Peak daily concurrent players:
CCU data courtesy of SteamDB. Used with permission.
Hourly concurrent players:
YouTube:
The views data is based on top 50 videos uploaded last week. Actual number of views might be more than the number shown.

The displayed number of videos uploaded yesterday is limited to 50, so if there were more videos uploaded, the number will still show 50.

If the game has commonly used word as its name (like "FEAR" or "Volume") its number of Youtube views might be wrong.
Games similar to this one:
#
Game
Release date

Price

Score rank
(Userscore / Metascore)

Owners

Players

Playtime (Median)

1
Mini Ghost
Apr 28, 2017
$1.59
99% (98%)
13,025 ±3,208
5,996 ±2,176
01:34 (01:11)
2
Major Mayhem
Feb 24, 2014
$4.99
N/A (N/A)
39,697 ±5,601
26,671 ±4,591
04:43 (01:36)
3
Supercharged Robot VULKAISER
Jun 4, 2015
$4.99
97% (97%)
37,216 ±5,423
15,093 ±3,453
02:44 (01:15)
4
Crystal Caves
May 5, 2014
$4.99
N/A (N/A)
55,410 ±6,617
4,549 ±1,896
01:14 (01:04)
5
Noitu Love 2: Devolution
Apr 23, 2012
$4.99
92% (95%/80%)
56,857 ±6,703
39,076 ±5,557
01:39 (01:05)
6
Streets of Fury EX
Jun 25, 2015
$9.99
92% (95%)
7,857 ±2,491
6,203 ±2,214
02:18 (01:45)
7
A-10 VR
Apr 5, 2016
$4.99
92% (95%)
13,025 ±3,208
10,958 ±2,942
03:45 (00:23)
8
The Apogee Throwback Pack
Jul 1, 2013
$9.99
92% (95%)
56,444 ±6,678
29,772 ±4,850
02:14 (00:20)
9
Oddworld: Abe's Exoddus
Aug 28, 2008
$2.99
92% (95%)
372,983 ±17,162
138,938 ±10,477
03:59 (00:18)
10
Space Ace
Aug 27, 2013
$9.99
N/A (N/A)
6,409 ±2,250
4,135 ±1,807
00:31 (00:33)
11
Run or Die
Dec 11, 2014
$4.99
89% (94%)
13,232 ±3,233
8,270 ±2,556
02:17 (01:22)
12
Rogue Trooper
Mar 29, 2007
$9.99
86% (93%/69%)
71,330 ±7,508
20,055 ±3,981
03:23 (01:32)
13
HoloBall
Apr 25, 2016
$7.04
86% (93%)
26,878 ±4,609
24,190 ±4,372
01:22 (00:54)
14
NyxQuest: Kindred Spirits
Sep 27, 2010
$2.99
86% (93%)
27,705 ±4,679
15,300 ±3,477
01:54 (00:50)
15
Delta Force
Jun 18, 2009
$4.99
86% (93%)
24,397 ±4,391
13,852 ±3,308
04:21 (00:43)
16
Bleed
Jul 3, 2013
$4.99
86% (93%)
118,056 ±9,658
92,005 ±8,526
02:14 (01:16)
17
Monster Bash
May 5, 2014
$4.99
N/A (N/A)
50,034 ±6,288
3,101 ±1,565
01:54 (00:49)
18
NiGHTS Into Dreams
Dec 17, 2012
$7.99
82% (92%)
251,619 ±14,098
50,034 ±6,288
01:10 (00:18)
19
forma.8
Feb 23, 2017
$7.49
N/A (N/A)
1,654 ±1,143
1,034 ±903
00:28 (00:33)
20
Megabyte Punch
Oct 15, 2013
$2.24
82% (92%/69%)
237,766 ±13,705
72,570 ±7,573
02:46 (00:47)
21
Tom Clancy's Ghost Recon Island Thunder
Jul 15, 2008
$4.99
N/A (N/A/82%)
90,144 ±8,440
13,025 ±3,208
02:47 (00:35)
22
Battle Dome
Jun 8, 2017
$14.99
82% (92%)
15,920 ±3,547
13,232 ±3,233
02:21 (01:10)
23
Shank
Oct 25, 2010
$9.99
82% (92%/67%)
524,740 ±20,352
252,859 ±14,133
02:07 (00:56)
24
Raptor: Call of the Shadows (1994 Classic Edition)
May 5, 2014
$4.99
N/A (N/A)
56,237 ±6,666
7,030 ±2,357
00:30 (00:14)
25
Thunder Wolves
May 15, 2013
$9.99
78% (91%/69%)
122,191 ±9,826
40,317 ±5,644
01:42 (00:34)
26
Kung Fury: Street Rage
May 28, 2015
$1.49
78% (91%)
75,258 ±7,712
60,579 ±6,919
01:28 (00:28)
27
Death Ray Manta SE
Sep 17, 2015
$2.99
N/A (N/A)
52,722 ±6,455
24,397 ±4,391
02:20 (01:52)
28
Z.A.R.
May 1, 2015
$5.99
N/A (N/A)
15,300 ±3,477
1,447 ±1,069
00:39 (01:15)
29
Bird Assassin
Aug 27, 2014
$1.99
74% (90%)
18,608 ±3,835
7,236 ±2,391
02:56 (00:43)
30
Rot Gut
Jul 12, 2016
$0.99
74% (90%)
9,924 ±2,800
3,928 ±1,762
00:46 (00:47)
31
Sayonara Umihara Kawase
Oct 5, 2015
$4.49
74% (90%)
12,819 ±3,183
6,823 ±2,322
03:51 (01:48)
32
Requiem: Avenging Angel
Jul 7, 2016
$9.99
N/A (N/A)
3,101 ±1,565
827 ±808
02:10 (02:50)
33
Zombie Shooter
May 27, 2009
$4.99
74% (90%)
133,976 ±10,289
45,072 ±5,968
02:04 (01:12)
34
Knight Squad
Nov 16, 2015
$14.99
74% (90%)
92,005 ±8,526
31,840 ±5,016
03:20 (02:05)
35
Blacksea Odyssey
Jun 1, 2016
$9.99
74% (90%/74%)
20,882 ±4,062
5,996 ±2,176
02:23 (01:00)
36
Marc Eck's Getting Up: Contents Under Pressure
Dec 13, 2013
$2.99
74% (90%/69%)
56,444 ±6,678
29,979 ±4,867
03:55 (00:49)
37
Nandeyanen!? - The 1st Stra
Jul 22, 2015
$1.99
N/A (N/A)
13,852 ±3,308
1,034 ±903
00:33 (00:28)
38
Ember Kaboom
Jun 3, 2016
$4.99
N/A (N/A)
21,089 ±4,082
1,034 ±903
00:20 (00:28)
39
Shadow Man
Oct 18, 2013
$4.99
74% (90%)
72,984 ±7,594
20,469 ±4,022
04:34 (00:32)
40
Shmups Skill Test
Jun 9, 2016
$4.99
N/A (N/A)
3,928 ±1,762
2,895 ±1,512
00:37 (00:57)
41
Star Trek: Judgment Rites
May 8, 2015
$9.99
N/A (N/A)
8,270 ±2,556
5,582 ±2,100
02:02 (00:47)
42
Grey Cubes
May 15, 2015
$0.99
70% (89%)
32,254 ±5,048
12,819 ±3,183
02:30 (00:56)
43
Tornuffalo
Dec 12, 2016
$0.99
N/A (N/A)
2,199 ±1,626
1,885 ±1,505
01:19 (01:56)
44
Tomb Raider II
Nov 28, 2012
$6.99
70% (89%)
722,810 ±23,881
109,373 ±9,296
04:44 (00:19)
45
Adventures of Pip
Jun 4, 2015
$14.99
70% (89%/72%)
23,570 ±4,316
8,063 ±2,524
02:55 (01:59)
46
Intrusion 2
Sep 11, 2012
$9.99
70% (89%/80%)
372,363 ±17,148
163,128 ±11,352
01:38 (00:28)
47
Rad Rodgers: World One
Dec 1, 2016
$11.99
N/A (N/A/72%)
5,996 ±2,176
3,308 ±1,617
00:51 (00:41)
48
Tiny Barbarian DX
Dec 3, 2013
$29.99
70% (89%)
28,739 ±4,765
16,747 ±3,638
03:59 (01:08)
49
Legacy of Kain: Defiance
Dec 6, 2012
$6.99
67% (88%/70%)
268,573 ±14,565
55,203 ±6,605
02:36 (00:24)
50
Another World 20th Anniversary Edition
Apr 4, 2013
$9.99
67% (88%)
157,546 ±11,157
66,988 ±7,276
01:07 (00:35)
51
Choplifter HD
Jan 11, 2012
$9.99
67% (88%/65%)
78,980 ±7,900
27,498 ±4,661
03:44 (01:01)
52
HordeZ
Apr 29, 2016
$16.99
67% (88%)
19,848 ±3,960
18,815 ±3,856
11:03 (01:14)
53
JUDGEMENT SILVERSWORD - Resurrection -
Sep 18, 2015
$4.99
N/A (N/A)
2,895 ±1,512
1,861 ±1,212
01:16 (01:13)
54
Vertigo
Dec 22, 2016
$14.99
64% (87%)
5,789 ±2,139
5,169 ±2,021
01:11 (01:07)
55
The Way
May 20, 2016
$14.99
64% (87%/67%)
21,709 ±4,142
8,684 ±2,619
03:54 (03:05)
56
Mini Ninjas
Sep 8, 2009
$9.99
64% (87%/74%)
361,198 ±16,889
130,255 ±10,145
03:57 (01:02)
57
I Am The Hero
Jan 16, 2017
$2.99
64% (87%)
8,270 ±2,556
7,030 ±2,357
02:00 (01:08)
58
Delta Force 2
Jun 18, 2009
$4.99
61% (86%)
26,464 ±4,573
13,852 ±3,308
07:11 (00:57)
59
Comanche 4
Jun 18, 2009
$9.99
61% (86%/74%)
25,844 ±4,519
14,059 ±3,333
05:14 (01:13)
60
Pharaonic
Apr 28, 2016
$15.99
61% (86%)
20,262 ±4,001
4,342 ±1,852
01:56 (01:24)
61
The Path of Greatest Resistance
Feb 17, 2017
$3.99
N/A (N/A)
3,722 ±1,715
2,688 ±1,457
00:26 (00:28)
62
ALLTYNEX Second
Dec 11, 2014
$7.99
N/A (N/A)
42,178 ±5,773
10,544 ±2,886
01:18 (00:16)
63
Iron Grip: Warlord
Dec 5, 2008
Free
61% (86%/59%)
150,516 ±10,905
62,853 ±7,047
04:13 (00:46)
64
XIIZEAL
Jun 5, 2015
$11.99
N/A (N/A)
2,481 ±1,400
1,654 ±1,143
01:09 (01:37)
65
Blue Effect VR
Feb 8, 2017
$14.99
59% (85%)
5,376 ±2,061
3,928 ±1,762
07:08 (02:13)
66
Tron 2.0
Oct 10, 2014
$9.99
59% (85%/84%)
35,768 ±5,316
19,848 ±3,960
04:22 (01:46)
67
Yomawari: Night Alone
Oct 25, 2016
$19.99
59% (85%)
13,646 ±3,284
8,270 ±2,556
05:08 (03:24)
68
Serious Sam Double D XXL
Aug 30, 2011
$0.99
59% (85%)
510,888 ±20,082
107,719 ±9,226
01:39 (00:24)
69
Spermination
Apr 29, 2015
$2.99
59% (85%)
22,950 ±4,258
13,232 ±3,233
02:05 (00:37)
70
Renegade Ops
Oct 26, 2011
$15
59% (85%/76%)
722,396 ±23,874
210,475 ±12,894
03:05 (01:12)
71
METAL SLUG 2
Apr 14, 2016
$6.99
59% (85%)
43,418 ±5,857
10,544 ±2,886
01:01 (00:36)
72
BANZAI PECAN: The Last Hope For the Young Century
Jan 26, 2015
$5.99
N/A (N/A)
25,224 ±4,465
2,895 ±1,512
00:27 (00:46)
73
Zombie Shooter 2
Nov 18, 2009
$9.99
54% (83%)
154,858 ±11,061
47,760 ±6,143
03:02 (00:58)
74
A Legend of Luca
Apr 5, 2016
$19.99
54% (83%)
10,958 ±2,942
8,270 ±2,556
01:30 (00:54)
75
Blade Arcus from Shining: Battle Arena
Jul 28, 2016
$14.99
54% (83%)
4,342 ±1,852
2,895 ±1,512
02:37 (03:48)
76
Strike Suit Infinity
Apr 30, 2013
$6.99
54% (83%/66%)
204,686 ±12,716
109,166 ±9,287
02:20 (00:53)
77
Glass Wing
Jun 24, 2015
$5.99
N/A (N/A)
79,393 ±7,920
5,996 ±2,176
00:56 (00:08)
78
Jet Gunner
Aug 4, 2014
$0.99
51% (82%)
144,314 ±10,678
95,107 ±8,669
02:14 (01:24)
79
What The Box?
Sep 12, 2016
$2.49
51% (82%)
36,595 ±5,378
33,081 ±5,113
01:13 (00:46)
80
Rosenkreuzstilette
Feb 2, 2017
$7.99
51% (82%)
3,515 ±1,666
2,068 ±1,278
02:03 (02:19)
81
Dragon's Lair
May 17, 2013
$9.99
49% (81%)
46,520 ±6,063
36,595 ±5,378
00:56 (00:28)
82
Glare
Oct 10, 2013
$9.99
N/A (N/A/69%)
17,574 ±3,726
7,443 ±2,425
02:13 (00:41)
83
Daedalus - No Escape
Oct 28, 2014
$4.99
49% (81%)
22,950 ±4,258
7,236 ±2,391
00:50 (00:14)
84
Xotic
Sep 16, 2011
$9.99
49% (81%/67%)
96,967 ±8,753
37,009 ±5,408
00:52 (00:25)
85
Kingpin Life of Crime
Aug 19, 2009
$9.99
49% (81%)
14,886 ±3,430
12,405 ±3,131
02:10 (00:29)
86
Earthworm Jim 2
Nov 4, 2009
$19.99
N/A (N/A)
22,123 ±4,181
8,270 ±2,556
00:54 (00:17)
87
Dragon's Lair 2: Time Warp
Oct 24, 2013
$9.99
N/A (N/A)
5,789 ±2,139
2,068 ±1,278
02:45 (03:46)
88
Cluck Yegger in Escape From The Planet of The Poultroid
Nov 9, 2015
$2.99
N/A (N/A)
13,439 ±3,259
2,274 ±1,340
00:35 (00:55)
89
Ballistic Tanks
Sep 20, 2016
$4.99
N/A (N/A)
5,996 ±2,176
5,169 ±2,021
01:47 (01:42)
90
iBomber Attack
Nov 1, 2012
$5.99
46% (80%)
57,064 ±6,715
16,334 ±3,593
02:17 (00:25)
91
Kung Fu Strike - The Warrior's Rise
Jul 24, 2012
$9.99
44% (79%)
169,331 ±11,566
77,946 ±7,848
04:01 (00:45)
92
GIGANTIC ARMY
Mar 6, 2014
$5.99
44% (79%)
77,739 ±7,838
38,043 ±5,483
01:50 (01:13)
93
SMASHING THE BATTLE
May 15, 2016
$11.99
44% (79%)
22,329 ±4,201
20,262 ±4,001
02:40 (00:55)
94
TRON RUN/r
Feb 16, 2016
$19.99
44% (79%)
10,751 ±2,915
8,684 ±2,619
02:54 (01:42)
95
Gunjack
Apr 5, 2016
$9.99
44% (79%)
16,540 ±3,615
13,646 ±3,284
02:09 (00:44)
96
Hail to the King: Deathbat
Oct 30, 2014
$5.99
44% (79%)
10,131 ±2,829
7,236 ±2,391
03:11 (01:32)
97
Pixel-Warfare: Pro
Sep 20, 2016
$0.99
N/A (N/A)
18,608 ±3,835
1,654 ±1,143
03:28 (02:03)
98
Black & White Bushido
Oct 2, 2015
$12.99
42% (78%)
12,198 ±3,105
8,890 ±2,650
01:18 (00:36)
99
AquaNox
Apr 20, 2010
$4.99
42% (78%/67%)
130,048 ±10,137
22,950 ±4,258
02:07 (00:15)
100
Descent: FreeSpace The Great War
May 7, 2014
$9.99
42% (78%)
19,021 ±3,877
10,751 ±2,915
02:03 (00:29)
101
Adventure Time: Magic Man's Head Games
Apr 5, 2016
$4.99
42% (78%)
3,722 ±1,715
2,688 ±1,457
02:29 (07:29)
102
Alien Breed: Impact
Jun 3, 2010
$9.99
42% (78%/64%)
427,566 ±18,374
155,065 ±11,068
03:35 (01:05)
103
Hordelicious
Jul 10, 2015
$3.99
40% (77%)
34,321 ±5,208
7,030 ±2,357
00:50 (00:29)
104
Crewsaders
Nov 17, 2016
$1.49
N/A (N/A)
6,203 ±2,214
1,654 ±1,143
00:16 (00:27)
105
TEMBO THE BADASS ELEPHANT
Jul 21, 2015
$14.99
40% (77%)
40,937 ±5,688
28,118 ±4,714
02:28 (00:41)
106
GALAK-Z
Oct 29, 2015
$9.99
40% (77%/78%)
188,559 ±12,205
60,579 ±6,919
04:27 (01:55)
107
Zeit
Jan 12, 2011
$9.99
N/A (N/A/72%)
8,477 ±2,588
5,789 ±2,139
01:00 (00:16)
108
Alien Shooter 2 Conscription
May 18, 2012
$9.99
N/A (N/A)
87,457 ±8,313
14,886 ±3,430
02:15 (00:35)
109
Raptor: Call of The Shadows - 2015 Edition
Feb 13, 2015
$4.99
40% (77%)
23,777 ±4,335
11,371 ±2,997
02:05 (00:43)
110
Umihara Kawase Shun: Steam Edition
Nov 24, 2015
$3.59
N/A (N/A)
9,717 ±2,771
4,135 ±1,807
01:37 (01:59)
111
Vertical Drop Heroes HD
Jul 25, 2014
$6.99
40% (77%/70%)
238,800 ±13,734
74,845 ±7,690
02:30 (00:29)
112
STAR WARS SHADOWS OF THE EMPIRE
Feb 7, 2017
$4.01
38% (76%)
59,338 ±6,848
12,405 ±3,131
01:10 (00:42)
113
Woah Dave!
Oct 30, 2014
$4.99
38% (76%)
17,367 ±3,704
7,857 ±2,491
01:13 (01:07)
114
Legacy of Kain: Soul Reaver 2
Dec 6, 2012
$6.99
38% (76%/77%)
308,063 ±15,598
45,279 ±5,982
02:13 (00:19)
115
VRZ: Torment
May 18, 2017
$13.99
38% (76%)
6,203 ±2,214
5,582 ±2,100
03:54 (01:12)
116
Cinemaware Anthology: 1986-1991
Nov 14, 2014
$9.99
N/A (N/A)
8,890 ±2,650
5,169 ±2,021
01:11 (00:25)
117
The First Templar - Steam Special Edition
May 12, 2011
$2.49
36% (75%/57%)
123,639 ±9,884
43,211 ±5,843
04:29 (01:20)
118
Kraven Manor
Sep 26, 2014
$5.99
36% (75%/58%)
178,221 ±11,866
24,810 ±4,428
01:30 (00:22)
119
Zero Reflex : Black Eye Edition
Nov 4, 2015
$3.99
36% (75%)
19,848 ±3,960
6,409 ±2,250
01:05 (00:30)
120
Death Dojo
Nov 8, 2016
Free
N/A (N/A)
15,093 ±3,453
7,030 ±2,357
00:31 (00:18)
121
Warp
Mar 21, 2012
$9.99
35% (74%)
44,038 ±5,899
29,566 ±4,834
03:29 (01:33)
122
Sacred Citadel
Apr 16, 2013
$2.49
35% (74%/61%)
510,061 ±20,066
135,010 ±10,328
02:32 (00:41)
123
AquaNox 2: Revelation
Apr 20, 2010
$4.99
35% (74%/59%)
126,326 ±9,991
17,574 ±3,726
03:23 (00:39)
124
Ubersoldier II
Mar 25, 2014
$9.99
35% (74%/62%)
41,351 ±5,716
13,025 ±3,208
02:48 (00:47)
125
Insanity's Blade
Dec 4, 2014
$5.99
35% (74%)
24,397 ±4,391
10,958 ±2,942
01:40 (00:28)
126
BIOS
Dec 13, 2016
$14.99
35% (74%)
6,616 ±2,286
5,169 ±2,021
02:36 (00:47)
127
Mighty Gunvolt
Sep 29, 2015
$1.24
35% (74%)
29,566 ±4,834
8,890 ±2,650
01:19 (00:44)
128
ROM: Extraction
Dec 7, 2016
$9.99
33% (73%)
4,135 ±1,807
2,068 ±1,278
00:28 (00:36)
129
Aztaka
Nov 5, 2009
$9.99
33% (73%)
37,629 ±5,453
11,578 ±3,025
02:24 (00:55)
130
Castle Torgeath: Descent into Darkness
Dec 15, 2016
$7.99
N/A (N/A)
3,308 ±1,617
1,447 ±1,069
02:37 (02:58)
131
Battle Fantasia -Revised Edition-
Jul 7, 2015
$14.99
31% (72%)
7,236 ±2,391
5,996 ±2,176
01:56 (01:11)
132
Phantaruk
Aug 16, 2016
$11.99
N/A (N/A/53%)
18,608 ±3,835
7,030 ±2,357
01:00 (00:29)
133
THE LAST BLADE
Aug 31, 2016
$9.99
N/A (N/A)
13,852 ±3,308
2,274 ±1,340
00:34 (00:29)
134
Elliot Quest
Nov 10, 2014
$14.99
30% (71%)
22,536 ±4,220
6,616 ±2,286
08:17 (01:12)
135
Bierzerkers
Feb 25, 2016
$4.99
30% (71%)
216,678 ±13,083
108,959 ±9,279
00:39 (00:14)
136
Who's That Flying?!
Jan 31, 2011
$1.49
30% (71%/76%)
27,498 ±4,661
17,574 ±3,726
01:02 (00:28)
137
The Chaos Engine
Aug 29, 2013
$9.99
28% (70%/40%)
101,723 ±8,965
51,482 ±6,378
01:52 (01:15)
138
Blood Omen 2: Legacy of Kain
Sep 24, 2013
$6.99
28% (70%)
229,290 ±13,458
42,384 ±5,787
02:35 (00:22)
139
On My Own
Feb 26, 2016
$4.99
28% (70%)
15,507 ±3,500
3,928 ±1,762
01:28 (01:24)
140
Toxic Bunny HD
Jul 18, 2014
$5.99
N/A (N/A)
9,924 ±2,800
4,962 ±1,980
02:15 (01:13)
141
NecroVision
May 20, 2009
$4.99
27% (69%/63%)
113,714 ±9,479
54,790 ±6,580
04:27 (01:04)
142
Nexuiz
May 10, 2012
$9.99
27% (69%/54%)
270,640 ±14,621
102,343 ±8,993
01:22 (00:20)
143
STAR WARS - X-Wing Special Edition
Apr 28, 2015
$9.99
27% (69%)
187,939 ±12,185
44,038 ±5,899
08:05 (00:14)
144
Data Jammers: FastForward
Oct 24, 2011
Free
25% (68%)
78,980 ±7,900
12,405 ±3,131
00:43 (00:10)
145
YAIBA: NINJA GAIDEN Z
Mar 21, 2014
$29.99
25% (68%/49%)
18,815 ±3,856
11,371 ±2,997
02:32 (01:41)
146
Scary Girl
Apr 9, 2012
$6.99
N/A (N/A)
14,679 ±3,406
7,650 ±2,458
02:39 (00:34)
147
Resilience: Wave Survival
Dec 23, 2015
$5.99
23% (66%)
4,342 ±1,852
3,101 ±1,565
00:47 (00:46)
148
Watchmen: The End is Nigh
Mar 4, 2009
$4.99
23% (66%/61%)
39,283 ±5,572
24,810 ±4,428
01:58 (00:58)
149
Dogfight 1942
Sep 21, 2012
$9.99
23% (66%)
110,613 ±9,349
52,102 ±6,416
03:17 (00:56)
150
Mytheon
Dec 8, 2015
$9.99
23% (66%)
5,996 ±2,176
5,169 ±2,021
04:59 (00:54)
151
Foreign Legion: Multi Massacre
Jul 9, 2012
$6.99
23% (66%)
80,634 ±7,982
35,148 ±5,270
01:47 (00:45)
152
Plain Sight
Apr 5, 2010
$4.99
22% (65%/76%)
184,217 ±12,064
115,782 ±9,565
01:49 (00:42)
153
4089: Ghost Within
Jan 9, 2015
$5.99
22% (65%)
14,886 ±3,430
6,823 ±2,322
01:52 (01:36)
154
Stick 'Em Up 2: Paper Adventures
Jul 27, 2015
$2.99
22% (65%)
12,612 ±3,157
6,409 ±2,250
02:18 (00:59)
155
Zanzarah: The Hidden Portal
Aug 20, 2015
$7.99
22% (65%)
42,798 ±5,815
9,097 ±2,681
04:33 (00:25)
156
El Matador
Apr 3, 2014
$3.99
21% (64%/54%)
25,844 ±4,519
6,409 ±2,250
01:01 (00:30)
157
Kings of Kung Fu
Jun 25, 2015
$9.99
21% (64%)
20,675 ±4,042
16,334 ±3,593
01:44 (00:59)
158
DogFighter
Jun 14, 2010
$2.99
21% (64%)
273,535 ±14,699
129,428 ±10,112
01:46 (00:32)
159
Frontlines: Fuel of War
Feb 29, 2008
$19.99
19% (63%/73%)
258,235 ±14,282
139,145 ±10,485
05:20 (01:32)
160
Pirates of the Caribbean: At World's End
Oct 6, 2014
$4.99
N/A (N/A)
8,477 ±2,588
4,342 ±1,852
03:07 (02:51)
161
Foreign Legion: Buckets of Blood
Aug 4, 2009
$4.99
19% (63%)
93,659 ±8,603
64,714 ±7,151
02:03 (00:36)
162
Infinite Tanks
Mar 25, 2017
$3.99
18% (62%)
2,688 ±1,457
2,481 ±1,400
02:22 (02:01)
163
Alpha Prime
Nov 7, 2007
$4.99
18% (62%/59%)
305,168 ±15,525
67,608 ±7,309
02:01 (00:37)
164
Full Spectrum Warrior
Jul 17, 2007
$9.99
18% (62%/80%)
151,550 ±10,942
39,283 ±5,572
01:42 (00:14)
165
Versus: Battle of the Gladiator
Aug 26, 2016
Free
18% (62%)
45,899 ±6,022
31,013 ±4,950
01:58 (00:38)
166
The Ship: Remasted
Oct 31, 2016
$4.99
17% (61%)
51,482 ±6,378
33,701 ±5,160
01:37 (00:42)
167
Code of Princess
Apr 14, 2016
$14.99
17% (61%/53%)
13,232 ±3,233
9,717 ±2,771
01:23 (00:38)
168
Redline
Oct 23, 2014
$6.99
N/A (N/A)
26,051 ±4,537
2,688 ±1,457
00:08 (00:09)
169
Fowl Space
Mar 21, 2012
$4.99
16% (60%)
21,502 ±4,122
9,717 ±2,771
00:28 (00:19)
170
Cannon Fodder 3
Aug 6, 2012
$4.49
N/A (N/A/49%)
35,975 ±5,332
11,992 ±3,078
02:14 (00:35)
171
Big Brain Wolf
Nov 5, 2009
$4.99
16% (60%)
23,156 ±4,278
11,578 ±3,025
02:38 (01:28)
172
Wasteland Angel
Sep 1, 2011
$9.99
15% (59%)
93,039 ±8,574
25,431 ±4,483
01:08 (00:23)
173
Cold War
Jan 8, 2014
$4.99
14% (58%/64%)
34,735 ±5,239
11,785 ±3,052
01:30 (00:34)
174
Shadowcrypt
Sep 15, 2014
$9.99
N/A (N/A)
3,101 ±1,565
2,274 ±1,340
04:22 (00:31)
175
Primal Fears
Jan 8, 2013
$9.99
14% (57%)
67,402 ±7,298
29,152 ±4,800
01:36 (00:48)
176
Naval Warfare
May 25, 2011
$2.99
13% (56%/57%)
118,676 ±9,683
30,806 ±4,934
01:17 (00:18)
177
Painkiller: Recurring Evil
Feb 29, 2012
$9.99
12% (55%/38%)
169,951 ±11,587
27,085 ±4,626
01:42 (00:34)
178
Marvel: Ultimate Alliance 2
Jul 26, 2016
$39.99
12% (54%)
9,924 ±2,800
5,996 ±2,176
21:19 (06:26)
179
MDK2 HD
Jul 30, 2012
$14.99
12% (54%/73%)
10,544 ±2,886
7,236 ±2,391
03:50 (01:33)
180
iStorm
Apr 16, 2017
Free
10% (52%)
4,342 ±1,852
2,274 ±1,340
00:29 (00:28)
181
Pixel Hunter
Jul 17, 2014
$2.99
10% (51%)
32,047 ±5,032
7,857 ±2,491
00:24 (00:19)
182
Painkiller Redemption
Feb 25, 2011
$1.24
10% (51%/43%)
211,509 ±12,926
42,384 ±5,787
02:27 (00:40)
183
Garshasp: The Monster Slayer
May 9, 2011
$4.99
9% (50%/49%)
69,469 ±7,409
24,397 ±4,391
01:47 (00:32)
184
Earthworm Jim 3D
Nov 4, 2009
$19.99
9% (50%)
22,123 ±4,181
7,857 ±2,491
00:41 (00:13)
185
Project Root
May 1, 2014
$9.99
9% (50%)
42,178 ±5,773
7,030 ±2,357
01:25 (00:41)
186
Blazing Angels 2: Secret Missions of WWII
May 13, 2008
$9.99
8% (48%/72%)
22,123 ±4,181
13,852 ±3,308
07:39 (01:04)
187
Dark Void
Jan 19, 2010
$9.99
7% (47%/57%)
41,764 ±5,745
23,777 ±4,335
02:41 (01:10)
188
Alone in the Dark
Oct 29, 2013
$9.99
7% (47%/55%)
55,823 ±6,642
17,988 ±3,770
01:57 (00:31)
189
Babel Rising
Aug 7, 2012
Free
7% (46%)
21,502 ±4,122
18,608 ±3,835
01:27 (00:56)
190
ALONE IN SPACE
Feb 22, 2016
$9.99
6% (45%)
3,101 ±1,565
2,068 ±1,278
02:25 (05:07)
191
Coniclysm
Mar 26, 2010
$4.99
N/A (N/A)
12,198 ±3,105
4,135 ±1,807
00:34 (00:19)
192
Red Johnson's Chronicles - 1+2 - Steam Special Edition
Sep 5, 2014
$9.99
N/A (N/A)
22,123 ±4,181
2,068 ±1,278
00:43 (01:46)
193
Dark Void Zero
Apr 12, 2010
$4.99
6% (44%)
34,114 ±5,192
23,777 ±4,335
01:04 (00:17)
194
Greed: Black Border
Jan 13, 2010
$4.99
6% (44%)
107,925 ±9,234
40,110 ±5,630
02:18 (00:35)
195
Burn Zombie Burn!
Aug 12, 2010
$9.99
5% (42%/72%)
89,111 ±8,391
45,486 ±5,995
01:47 (00:27)
196
Cabelas African Adventures
Oct 16, 2013
$29.99
N/A (N/A)
8,477 ±2,588
5,996 ±2,176
02:48 (00:55)
197
Crouching Pony Hidden Dragon
Jul 14, 2014
$9.99
N/A (N/A)
28,325 ±4,731
4,342 ±1,852
00:26 (00:14)
198
Bunch of Heroes
Sep 21, 2011
$4.99
5% (41%)
164,989 ±11,417
113,714 ±9,479
01:28 (00:45)
199
Dark Matter
Oct 17, 2013
$9.99
4% (40%)
19,642 ±3,940
13,646 ±3,284
02:58 (01:01)
200
Air Conflicts: Pacific Carriers
Sep 21, 2012
$12.99
4% (40%)
107,305 ±9,208
48,794 ±6,209
05:47 (00:59)
201
Huntsman: The Orphanage (Halloween Edition)
Sep 13, 2013
$9.99
N/A (N/A)
130,461 ±10,153
14,266 ±3,357
03:40 (00:16)
202
Deformers
Apr 20, 2017
$29.99
N/A (N/A)
7,650 ±2,458
3,101 ±1,565
00:49 (00:27)
203
Blacklight: Tango Down
Jul 14, 2010
$0.99
4% (39%/65%)
58,718 ±6,812
51,275 ±6,365
03:05 (01:01)
204
Deus Ex: Breach
Jan 24, 2017
Free
4% (38%)
43,005 ±5,829
14,266 ±3,357
03:45 (00:15)
205
Down To One
Jan 7, 2016
$0.99
3% (37%)
100,689 ±8,920
74,224 ±7,658
01:59 (00:38)
206
Grizzly Valley
Apr 23, 2016
$4.99
3% (35%)
4,549 ±1,896
3,722 ±1,715
01:08 (00:53)
207
Global Ops: Commando Libya
Oct 26, 2011
$1.24
3% (35%/37%)
64,094 ±7,117
14,886 ±3,430
01:25 (00:18)
208
OCEAN CITY RACING: Redux
Nov 14, 2014
$2.99
3% (35%)
63,060 ±7,059
17,781 ±3,748
01:29 (00:19)
209
The Slingshot VR
Jul 6, 2016
$2.24
N/A (N/A)
1,447 ±1,069
1,241 ±990
00:17 (00:22)
210
Painkiller: Resurrection
Oct 27, 2009
$9.99
2% (30%/38%)
176,774 ±11,818
24,190 ±4,372
02:05 (00:27)
211
Miner Wars 2081
Nov 28, 2012
$9.99
2% (30%/52%)
89,731 ±8,420
46,933 ±6,090
03:19 (00:41)
212
Bloodbath
Jun 16, 2014
$14.99
N/A (N/A)
8,063 ±2,524
4,755 ±1,938
02:25 (02:22)
213
Street Fighter V CFN Beta
Mar 28, 2017
Free
1% (28%)
505,305 ±19,972
122,191 ±9,826
01:22 (00:15)
214
Shadow Harvest: Phantom Ops
Apr 5, 2011
$3.39
N/A (N/A/34%)
37,629 ±5,453
23,156 ±4,278
02:07 (00:49)
215
Masterspace
Jun 15, 2015
$13.99
1% (27%)
15,920 ±3,547
6,616 ±2,286
04:30 (02:14)
216
Alone in the Dark: Illumination
Jun 11, 2015
$19.99
1% (24%)
7,030 ±2,357
4,135 ±1,807
02:43 (06:22)
217
Cargo 3
Dec 8, 2014
$4.99
1% (24%)
14,886 ±3,430
3,928 ±1,762
01:03 (00:18)
218
Orc Attack: Flatulent Rebellion
May 15, 2014
$9.99
N/A (N/A)
19,642 ±3,940
4,342 ±1,852
02:09 (01:48)
219
Razor2: Hidden Skies
Jul 19, 2010
$9.99
1% (21%/61%)
62,440 ±7,024
18,194 ±3,792
00:27 (00:14)
220
Sayaka
Jan 4, 2017
$0.74
N/A (N/A)
1,571 ±1,374
943 ±1,064
00:09 (00:10)
221
Star Raiders
May 11, 2011
$9.99
N/A (N/A)
7,030 ±2,357
5,582 ±2,100
00:44 (00:21)
222
Battle For The Sun
Jul 22, 2015
$4.99
N/A (N/A)
10,131 ±2,829
1,034 ±903
00:15 (00:06)
223
Deer Hunt Legends
Jan 16, 2015
$4.99
N/A (N/A)
5,789 ±2,139
2,274 ±1,340
02:49 (00:25)