App

Aces Wild: Manic Brawling Action!
Aces Wild: Manic Brawling Action!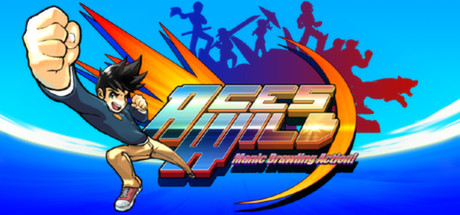 Store | Hub | SteamDB | Site
Developer: Culture Attack Studio, Tyler Doak Publisher: Culture Attack Studio
Genre: Action, Indie
Languages: English
Tags: Action (50), Indie (45), Beat 'em up (37), Great Soundtrack (19), Character Action Game (13), Controller (12), Local Co-Op (11), Anime (7)
Category: Single-player, Shared/Split Screen, Partial Controller Support
Release date: Jan 31, 2014
Price: $9.99
Score rank: 55% Userscore: 83% Old userscore: 80%
Owners: 58,793 ± 7,257
Players in the last 2 weeks: 1,051 ± 1,187 (1.79%)
Players total: 19,676 ± 4,198 (33.47%)
Followers: 859
Peak concurrent players yesterday: 2
Playtime in the last 2 weeks: 00:32 (average) 00:41 (median)
Playtime total: 01:16 (average) 00:31 (median)

Steam Spy is still in beta, so expect major bugs.
Peak daily concurrent players:
CCU data courtesy of SteamDB. Used with permission.
Hourly concurrent players:
YouTube:
The views data is based on top 50 videos uploaded last week. Actual number of views might be more than the number shown.

The displayed number of videos uploaded yesterday is limited to 50, so if there were more videos uploaded, the number will still show 50.

If the game has commonly used word as its name (like "FEAR" or "Volume") its number of Youtube views might be wrong.
Games similar to this one:
#
Game
Release date

Price

Score rank
(Userscore / Metascore)

Owners

Players

Playtime (Median)

1
Serious Sam Classic: The Second Encounter
Sep 22, 2010
Free
97% (97%/85%)
741,590 ±25,753
107,748 ±9,824
02:46 (00:30)
2
UBERMOSH Vol.3
Aug 15, 2016
$1.99
97% (97%)
20,613 ±4,297
5,387 ±2,197
01:01 (00:15)
3
Delta Force: Black Hawk Down
Jun 18, 2009
$14.99
92% (95%/77%)
28,577 ±5,059
11,946 ±3,271
03:10 (00:53)
4
Oddworld: Abe's Exoddus
Aug 28, 2008
$2.99
92% (95%)
377,354 ±18,379
133,514 ±10,935
04:48 (00:21)
5
The Apogee Throwback Pack
Jul 1, 2013
$9.99
92% (95%)
50,361 ±6,716
25,297 ±4,760
02:01 (00:20)
6
Noitu Love 2: Devolution
Apr 23, 2012
$4.99
92% (95%/80%)
59,027 ±7,271
37,946 ±5,830
01:45 (01:13)
7
Crystal Caves
May 5, 2014
$4.99
N/A (N/A)
59,730 ±7,315
4,450 ±1,996
01:18 (00:24)
8
Space Ace
Aug 27, 2013
$9.99
N/A (N/A)
7,261 ±2,550
5,153 ±2,148
01:16 (00:36)
9
Alien Zombie Megadeath
Oct 18, 2011
$4.99
N/A (N/A)
26,234 ±4,848
8,432 ±2,748
01:15 (00:41)
10
Rune Classic
Jun 13, 2012
$9.99
89% (94%)
110,559 ±9,951
36,072 ±5,684
02:21 (00:51)
11
Savant - Ascent
Dec 4, 2013
$1.99
89% (94%)
234,002 ±14,475
113,136 ±10,066
01:38 (00:37)
12
HoloBall
Apr 25, 2016
$14.99
89% (94%)
27,171 ±4,933
23,424 ±4,581
01:57 (00:56)
13
QUAKE II
Aug 3, 2007
$4.99
89% (94%)
347,137 ±17,628
150,614 ±11,614
04:55 (00:46)
14
Counter Spell
Oct 5, 2015
$6.99
89% (94%)
6,559 ±2,424
4,919 ±2,099
03:47 (02:12)
15
Star Trek : 25th Anniversary
May 7, 2015
$5.99
N/A (N/A)
11,946 ±3,271
8,432 ±2,748
04:53 (00:46)
16
NyxQuest: Kindred Spirits
Sep 27, 2010
$2.99
85% (93%)
22,721 ±4,511
11,946 ±3,271
02:14 (00:30)
17
Run or Die
Dec 11, 2014
$4.99
85% (93%)
12,180 ±3,303
8,432 ±2,748
01:36 (01:05)
18
Delta Force
Jun 18, 2009
$4.99
85% (93%)
21,315 ±4,370
10,775 ±3,107
06:32 (00:48)
19
NiGHTS Into Dreams
Dec 17, 2012
$7.99
82% (92%)
262,110 ±15,319
50,829 ±6,748
00:57 (00:17)
20
Tom Clancy's Ghost Recon Island Thunder
Jul 15, 2008
$4.99
N/A (N/A/82%)
102,829 ±9,597
15,928 ±3,777
02:46 (00:21)
21
Unbox
Sep 5, 2016
$19.99
82% (92%/68%)
44,739 ±6,331
20,379 ±4,272
02:30 (01:04)
22
METAL SLUG
Jun 25, 2015
$7.99
82% (92%)
152,487 ±11,686
91,352 ±9,046
02:32 (00:48)
23
Monster Bash
May 5, 2014
$4.99
N/A (N/A)
54,343 ±6,977
5,153 ±2,148
00:25 (00:15)
24
Raptor: Call of the Shadows (1994 Classic Edition)
May 5, 2014
$4.99
N/A (N/A)
59,730 ±7,315
8,667 ±2,786
01:09 (00:15)
25
Delta Force Black Hawk Down: Team Sabre
Jun 18, 2009
$9.99
78% (91%)
22,018 ±4,441
12,180 ±3,303
10:04 (00:56)
26
Hero of Many
Sep 15, 2014
$6.99
78% (91%)
20,144 ±4,248
2,811 ±1,586
01:19 (01:09)
27
Tom Clancy's Ghost Recon Desert Siege
Jul 15, 2008
$4.99
N/A (N/A/82%)
102,595 ±9,586
18,973 ±4,122
02:07 (00:29)
28
Thunder Wolves
May 15, 2013
$9.99
78% (91%/69%)
122,740 ±10,485
34,198 ±5,535
01:48 (00:37)
29
Mages of Mystralia
May 18, 2017
$22.49
78% (91%)
4,919 ±2,099
3,279 ±1,714
01:50 (01:46)
30
Kung Fury: Street Rage
May 28, 2015
$2.99
78% (91%)
87,370 ±8,846
68,163 ±7,814
01:52 (00:28)
31
Ember Kaboom
Jun 3, 2016
$4.99
N/A (N/A)
26,469 ±4,869
2,108 ±1,374
00:46 (00:56)
32
Disney's Chicken Little
Feb 24, 2015
$9.99
N/A (N/A)
4,450 ±1,996
1,874 ±1,295
01:07 (01:34)
33
Nandeyanen!? - The 1st Stra
Jul 22, 2015
$1.99
N/A (N/A)
13,351 ±3,458
703 ±793
00:10 (00:07)
34
Marc Eck's Getting Up: Contents Under Pressure
Dec 13, 2013
$2.99
75% (90%/69%)
53,406 ±6,917
28,577 ±5,059
04:06 (01:04)
35
Zombie Shooter
May 27, 2009
$4.99
75% (90%)
133,514 ±10,935
47,081 ±6,494
02:20 (00:56)
36
Shadow Man
Oct 18, 2013
$4.99
75% (90%)
80,343 ±8,483
24,829 ±4,716
02:23 (00:25)
37
Bird Assassin
Aug 27, 2014
$1.99
75% (90%)
16,162 ±3,805
7,496 ±2,591
00:57 (00:36)
38
Tornuffalo
Dec 12, 2016
$0.99
N/A (N/A)
2,577 ±1,519
1,874 ±1,295
00:13 (00:17)
39
Star Trek: Judgment Rites
May 8, 2015
$5.99
N/A (N/A)
10,775 ±3,107
4,919 ±2,099
13:54 (01:15)
40
Conflict Desert Storm
May 28, 2012
$6.99
71% (89%/56%)
25,532 ±4,782
17,333 ±3,940
04:59 (01:16)
41
Grey Cubes
May 15, 2015
$0.99
71% (89%)
29,045 ±5,101
10,306 ±3,038
02:13 (01:07)
42
Adventures of Pip
Jun 4, 2015
$14.99
71% (89%/72%)
22,955 ±4,535
11,009 ±3,140
05:43 (02:22)
43
Rad Rodgers: World One
Dec 1, 2016
$11.99
N/A (N/A/72%)
5,153 ±2,148
2,108 ±1,374
01:21 (01:56)
44
Tiny Barbarian DX
Dec 3, 2013
$29.99
71% (89%)
27,406 ±4,955
17,099 ±3,914
02:44 (01:03)
45
Terminal Velocity
May 5, 2014
$6.99
N/A (N/A)
59,262 ±7,286
4,216 ±1,943
00:22 (00:17)
46
Legacy of Kain: Defiance
Dec 6, 2012
$6.99
68% (88%/70%)
273,822 ±15,658
55,748 ±7,067
02:24 (00:23)
47
Alien Shooter
May 27, 2009
$4.99
68% (88%)
90,649 ±9,011
37,946 ±5,830
02:23 (00:34)
48
Choplifter HD
Jan 11, 2012
$9.99
68% (88%/65%)
73,784 ±8,130
23,424 ±4,581
03:39 (00:58)
49
Another World 20th Anniversary Edition
Apr 4, 2013
$9.99
68% (88%)
162,091 ±12,048
64,181 ±7,582
01:22 (00:33)
50
Avoid - Sensory Overload
Apr 8, 2014
$4.99
68% (88%)
19,207 ±4,148
12,649 ±3,366
06:45 (01:19)
51
Delta Force Land Warrior
Jun 18, 2009
$9.99
68% (88%/74%)
18,505 ±4,071
7,027 ±2,509
05:15 (01:19)
52
Tomb Raider: Legend
Mar 29, 2007
$6.99
68% (88%/82%)
856,366 ±27,670
202,848 ±13,478
05:45 (01:12)
53
Hocus Pocus
May 5, 2014
$4.99
N/A (N/A)
59,262 ±7,286
4,919 ±2,099
01:44 (00:37)
54
Lugaru HD
Oct 8, 2010
$9.99
65% (87%)
183,407 ±12,816
61,838 ±7,443
01:36 (00:25)
55
Comanche 4
Jun 18, 2009
$9.99
N/A (N/A/74%)
24,829 ±4,716
13,351 ±3,458
06:52 (01:26)
56
MDK 2
Sep 17, 2009
$9.99
65% (87%/83%)
19,910 ±4,223
7,027 ±2,509
02:51 (02:37)
57
FIVE: Champions of Canaan
Sep 27, 2016
$4.99
N/A (N/A)
5,622 ±2,244
2,577 ±1,519
02:12 (02:47)
58
Lightblade VR
May 31, 2016
$3.99
65% (87%)
36,775 ±5,739
35,838 ±5,666
01:02 (00:38)
59
Eterium
Apr 15, 2014
$4.99
N/A (N/A)
7,964 ±2,671
3,045 ±1,651
01:15 (00:57)
60
The Way
May 20, 2016
$14.99
62% (86%/67%)
29,748 ±5,162
10,541 ±3,073
04:04 (01:59)
61
Iron Grip: Warlord
Dec 5, 2008
Free
62% (86%/59%)
144,055 ±11,359
56,217 ±7,096
03:05 (01:01)
62
Delta Force 2
Jun 18, 2009
$4.99
62% (86%)
24,126 ±4,649
10,072 ±3,004
07:12 (02:11)
63
Droid Assault
Jan 9, 2013
$9.99
62% (86%)
86,901 ±8,823
53,640 ±6,932
02:30 (01:19)
64
Square Brawl
Oct 22, 2015
$4.99
60% (85%)
12,414 ±3,335
6,793 ±2,467
01:26 (00:33)
65
METAL SLUG 2
Apr 14, 2016
$6.99
60% (85%)
39,117 ±5,919
8,901 ±2,824
00:43 (00:44)
66
ALLTYNEX Second
Dec 11, 2014
$7.99
N/A (N/A)
45,442 ±6,380
10,775 ±3,107
00:44 (00:17)
67
Spermination
Apr 29, 2015
$2.99
60% (85%)
19,207 ±4,148
10,541 ±3,073
01:23 (00:47)
68
Call of Duty: United Offensive
Oct 13, 2006
$9.99
60% (85%/87%)
197,929 ±13,313
101,190 ±9,520
08:50 (00:57)
69
Call of Tomsk-7
Aug 10, 2015
$0.99
57% (84%)
27,406 ±4,955
9,604 ±2,933
00:47 (00:22)
70
Jet Gunner
Aug 4, 2014
$0.99
55% (83%)
151,785 ±11,659
101,424 ±9,531
02:40 (01:22)
71
Trials on Tatooine
Jul 18, 2016
Free
55% (83%)
178,488 ±12,643
119,929 ±10,364
01:03 (00:17)
72
Rocket Fist
May 12, 2016
$4.99
N/A (N/A)
2,108 ±1,374
1,171 ±1,024
01:15 (01:37)
73
Strike Suit Infinity
Apr 30, 2013
$6.99
55% (83%/66%)
216,200 ±13,914
124,145 ±10,545
02:33 (00:57)
74
Zombie Shooter 2
Nov 18, 2009
$9.99
55% (83%)
150,379 ±11,605
48,955 ±6,622
02:47 (00:49)
75
Sonic the Hedgehog 4 - Episode II
May 15, 2012
$9.99
55% (83%/54%)
248,758 ±14,924
66,523 ±7,719
06:14 (00:53)
76
A Legend of Luca
Apr 5, 2016
$19.99
55% (83%)
12,180 ±3,303
10,072 ±3,004
01:08 (00:29)
77
Karateka
Dec 3, 2012
$9.99
55% (83%/48%)
30,216 ±5,203
11,009 ±3,140
01:35 (01:02)
78
Felt Tip Circus
Apr 5, 2016
$7.99
N/A (N/A)
26,234 ±4,848
3,748 ±1,832
00:21 (00:18)
79
Xotic
Sep 16, 2011
$9.99
52% (82%/67%)
97,442 ±9,342
32,559 ±5,400
01:08 (00:27)
80
Rosenkreuzstilette
Feb 2, 2017
$9.99
52% (82%)
3,748 ±1,832
2,811 ±1,586
02:45 (02:06)
81
TWINKLE STAR SPRITES
May 26, 2016
$7.99
N/A (N/A)
23,892 ±4,626
3,514 ±1,774
00:26 (00:31)
82
What The Box?
Sep 12, 2016
$4.99
52% (82%)
38,180 ±5,848
34,198 ±5,535
01:31 (00:45)
83
Dragon's Lair
May 17, 2013
$9.99
50% (81%)
42,631 ±6,180
32,793 ±5,420
00:52 (00:26)
84
Velocity 2X
Aug 19, 2015
$19.99
N/A (N/A)
46,144 ±6,429
6,793 ±2,467
02:55 (02:31)
85
Gatling Gears
Aug 30, 2011
$9.99
50% (81%)
37,478 ±5,794
20,144 ±4,248
02:39 (01:14)
86
Dragon's Lair 2: Time Warp
Oct 24, 2013
$9.99
N/A (N/A)
10,072 ±3,004
5,856 ±2,290
01:18 (00:33)
87
Shadowgrounds
May 8, 2006
$1.04
47% (80%/74%)
562,400 ±22,432
250,164 ±14,966
02:19 (01:11)
88
iBomber Attack
Nov 1, 2012
$5.99
47% (80%)
54,577 ±6,992
17,099 ±3,914
01:44 (00:27)
89
Shadow Ops: Red Mercury
Jul 2, 2014
$6.99
47% (80%/61%)
21,550 ±4,394
4,919 ±2,099
04:25 (04:19)
90
UNLOVED
Sep 29, 2016
$9.99
47% (80%)
11,712 ±3,239
10,072 ±3,004
03:06 (01:22)
91
Kung Fu Strike - The Warrior's Rise
Jul 24, 2012
$9.99
47% (80%)
166,542 ±12,213
70,505 ±7,947
02:45 (00:47)
92
GIGANTIC ARMY
Mar 6, 2014
$5.99
45% (79%)
84,091 ±8,679
40,523 ±6,025
02:21 (01:10)
93
EPOCH
Jun 5, 2014
$9.99
N/A (N/A)
3,748 ±1,832
2,108 ±1,374
01:44 (01:56)
94
Raptor: Call of The Shadows - 2015 Edition
Feb 13, 2015
$4.99
44% (78%)
23,189 ±4,558
10,541 ±3,073
01:27 (00:40)
95
PAC-MAN and the Ghostly Adventures
Oct 29, 2013
$19.99
44% (78%)
10,072 ±3,004
6,793 ±2,467
25:10 (01:16)
96
LocoCycle
Feb 14, 2014
$9.99
44% (78%)
17,802 ±3,993
8,667 ±2,786
02:08 (01:11)
97
Rocket Knight
May 11, 2010
$14.99
44% (78%/63%)
8,901 ±2,824
7,027 ±2,509
02:24 (02:02)
98
AquaNox
Apr 20, 2010
$4.99
44% (78%/67%)
133,983 ±10,954
22,018 ±4,441
02:54 (00:29)
99
Urban Chaos
Oct 15, 2013
$6.99
44% (78%)
13,586 ±3,488
4,685 ±2,048
01:33 (00:25)
100
Sniper Elite
Jul 16, 2009
$7.99
44% (78%/76%)
435,678 ±19,747
292,326 ±16,178
06:27 (01:05)
101
Vertical Drop Heroes HD
Jul 25, 2014
$6.99
44% (78%/70%)
244,308 ±14,790
70,973 ±7,973
08:57 (00:45)
102
Alien Breed: Impact
Jun 3, 2010
$9.99
44% (78%/64%)
435,210 ±19,736
151,316 ±11,641
03:17 (01:03)
103
Bet On Soldier
Dec 5, 2014
$7.99
44% (78%)
36,072 ±5,684
4,919 ±2,099
05:48 (01:58)
104
Alien Breed 2: Assault
Sep 22, 2010
$9.99
41% (77%/63%)
494,706 ±21,040
133,046 ±10,916
02:13 (00:29)
105
Descent: FreeSpace The Great War
May 7, 2014
$9.99
41% (77%)
20,144 ±4,248
12,883 ±3,397
02:44 (00:41)
106
Scrap Garden - The Day Before
Oct 7, 2016
Free
41% (77%)
133,046 ±10,916
91,352 ±9,046
00:30 (00:16)
107
MDK
Sep 17, 2009
$9.99
41% (77%)
18,973 ±4,122
10,072 ±3,004
00:47 (00:30)
108
Alien Shooter 2 Conscription
May 18, 2012
$9.99
N/A (N/A)
74,487 ±8,168
14,288 ±3,577
01:36 (00:49)
109
Hot Tin Roof: The Cat That Wore A Fedora
Feb 20, 2015
$14.99
N/A (N/A/66%)
124,613 ±10,564
20,613 ±4,297
02:08 (01:23)
110
Hordelicious
Jul 10, 2015
$3.99
39% (76%)
36,072 ±5,684
6,793 ±2,467
01:11 (00:28)
111
BiT Evolution
Jun 9, 2015
$9.99
N/A (N/A)
55,045 ±7,022
18,973 ±4,122
02:48 (01:39)
112
TEMBO THE BADASS ELEPHANT
Jul 21, 2015
$14.99
39% (76%)
38,415 ±5,866
22,487 ±4,488
02:16 (01:12)
113
Tank Brawl
Apr 20, 2016
$3.99
N/A (N/A)
6,090 ±2,335
1,171 ±1,024
10:36 (15:58)
114
Zero Reflex : Black Eye Edition
Nov 4, 2015
$3.99
39% (76%)
20,144 ±4,248
7,730 ±2,631
01:40 (00:27)
115
Legacy of Kain: Soul Reaver 2
Dec 6, 2012
$6.99
39% (76%/77%)
304,506 ±16,511
38,883 ±5,902
02:08 (00:24)
116
Special Tactics
Apr 26, 2016
$9.99
N/A (N/A)
2,451 ±1,813
2,101 ±1,678
00:39 (00:50)
117
Cinemaware Anthology: 1986-1991
Nov 14, 2014
$9.99
N/A (N/A)
7,261 ±2,550
5,622 ±2,244
00:56 (00:38)
118
Bionic Commando: Rearmed
Jul 28, 2009
$9.99
39% (76%/86%)
406,399 ±19,072
106,109 ±9,749
01:36 (00:23)
119
Mighty Gunvolt
Sep 29, 2015
$4.99
39% (76%)
32,559 ±5,400
10,072 ±3,004
00:54 (00:22)
120
Black & White Bushido
Oct 2, 2015
$12.99
39% (76%)
13,586 ±3,488
8,667 ±2,786
00:59 (00:32)
121
Project Freedom
Oct 14, 2009
$2.99
39% (76%)
19,676 ±4,198
7,730 ±2,631
01:26 (00:33)
122
Delta Force: Task Force Dagger
Jun 18, 2009
$9.99
N/A (N/A/51%)
17,568 ±3,967
3,982 ±1,888
05:36 (00:49)
123
Watch This!
Sep 23, 2016
$3.99
37% (75%)
22,721 ±4,511
15,225 ±3,693
01:24 (01:01)
124
Alien Breed 3: Descent
Nov 17, 2010
$9.99
37% (75%/64%)
320,200 ±16,931
46,379 ±6,445
02:50 (00:23)
125
Tango Fiesta
Sep 24, 2015
$6.49
N/A (N/A)
25,297 ±4,760
6,090 ±2,335
03:00 (01:01)
126
AquaNox 2: Revelation
Apr 20, 2010
$4.99
37% (75%/59%)
132,343 ±10,887
15,460 ±3,721
06:31 (00:50)
127
Story Of the Survivor
Feb 16, 2016
$4.99
N/A (N/A)
20,847 ±4,321
2,342 ±1,448
00:21 (00:38)
128
Warp
Mar 21, 2012
$9.99
35% (74%)
46,144 ±6,429
26,469 ±4,869
03:35 (01:44)
129
Sacred Citadel
Apr 16, 2013
$9.99
35% (74%/61%)
511,805 ±21,400
139,370 ±11,172
02:32 (00:41)
130
Kraven Manor
Sep 26, 2014
$5.99
35% (74%/58%)
170,524 ±12,358
23,424 ±4,581
01:39 (00:26)
131
Insanity's Blade
Dec 4, 2014
$5.99
35% (74%)
23,189 ±4,558
11,243 ±3,173
01:20 (00:59)
132
Spell Fighter VR
Mar 23, 2016
Free
35% (74%)
102,127 ±9,564
52,937 ±6,886
00:52 (00:21)
133
V ARRR
Jun 10, 2016
$9.99
34% (73%)
2,342 ±1,448
1,874 ±1,295
00:20 (00:22)
134
VRZ: Torment
May 18, 2017
$19.99
34% (73%)
5,387 ±2,197
4,919 ±2,099
01:29 (00:38)
135
Lunar Stone - Origin of Blood
Nov 18, 2016
$14.99
N/A (N/A)
1,171 ±1,024
937 ±916
00:44 (00:53)
136
STAR WARS SHADOWS OF THE EMPIRE
Feb 7, 2017
$5.99
34% (73%)
66,289 ±7,706
17,333 ±3,940
01:28 (00:43)
137
Unreal 2: The Awakening
Mar 17, 2008
$14.99
32% (72%/75%)
292,795 ±16,191
66,757 ±7,733
02:31 (00:37)
138
Rain Blood Chronicles: Mirage
Nov 11, 2013
$9.99
32% (72%/68%)
14,054 ±3,548
7,261 ±2,550
01:59 (00:38)
139
Insecticide Part 1
Jul 1, 2008
$1.99
32% (72%/65%)
111,496 ±9,993
22,018 ±4,441
01:32 (00:14)
140
Deathtrap Dungeon
Oct 3, 2013
$6.99
N/A (N/A)
11,243 ±3,173
4,685 ±2,048
00:29 (00:18)
141
THE LAST BLADE
Aug 31, 2016
$9.99
N/A (N/A)
14,757 ±3,636
2,577 ±1,519
01:09 (00:54)
142
Slain: Back from Hell
Mar 24, 2016
$12.99
30% (71%/74%)
24,829 ±4,716
19,442 ±4,173
02:32 (01:20)
143
Elliot Quest
Nov 10, 2014
$14.99
30% (71%)
22,252 ±4,465
6,090 ±2,335
07:34 (02:01)
144
Phantaruk
Aug 16, 2016
$11.99
N/A (N/A/53%)
23,189 ±4,558
7,730 ±2,631
00:51 (00:34)
145
The Chaos Engine
Aug 29, 2013
$9.99
29% (70%/40%)
99,316 ±9,432
47,081 ±6,494
01:58 (01:14)
146
Blood Omen 2: Legacy of Kain
Sep 24, 2013
$6.99
29% (70%)
234,704 ±14,497
44,271 ±6,297
03:08 (00:31)
147
Nexuiz
May 10, 2012
$9.99
29% (70%/54%)
300,290 ±16,396
111,496 ±9,993
00:55 (00:17)
148
Who's That Flying?!
Jan 31, 2011
$5.99
29% (70%/76%)
31,388 ±5,302
16,631 ±3,860
01:49 (00:34)
149
Toxic Bunny HD
Jul 18, 2014
$5.99
N/A (N/A)
9,838 ±2,968
5,856 ±2,290
01:20 (00:54)
150
Majestic Nights
Oct 30, 2014
$4.99
N/A (N/A/32%)
17,099 ±3,914
9,838 ±2,968
01:26 (01:03)
151
Cruel Arena
Aug 18, 2015
$0.99
N/A (N/A)
9,135 ±2,860
2,108 ±1,374
00:26 (00:35)
152
Strike Vector
Jan 28, 2014
$11.99
27% (69%/73%)
173,803 ±12,476
120,397 ±10,384
02:26 (00:51)
153
STAR WARS: TIE Fighter Special Edition
Apr 28, 2015
$9.99
26% (68%)
191,605 ±13,099
48,721 ±6,606
02:49 (00:16)
154
Scary Girl
Apr 9, 2012
$6.99
N/A (N/A)
15,460 ±3,721
6,324 ±2,380
03:22 (01:03)
155
Foreign Legion: Multi Massacre
Jul 9, 2012
$6.99
25% (67%)
72,145 ±8,039
32,090 ±5,361
01:40 (00:33)
156
Sonic Lost World
Nov 2, 2015
$29.99
23% (66%)
132,109 ±10,877
51,532 ±6,794
06:01 (01:08)
157
Watchmen: The End is Nigh
Mar 4, 2009
$4.99
23% (66%/61%)
37,243 ±5,776
23,189 ±4,558
03:11 (01:21)
158
Watchmen: The End is Nigh Part 2
Jul 29, 2009
$4.99
23% (66%/44%)
31,153 ±5,283
9,369 ±2,897
03:13 (01:36)
159
Plain Sight
Apr 5, 2010
$4.99
22% (65%/76%)
181,533 ±12,750
117,118 ±10,242
01:46 (00:34)
160
Kings of Kung Fu
Jun 25, 2015
$9.99
22% (65%)
18,270 ±4,045
14,757 ±3,636
01:39 (00:38)
161
Zanzarah: The Hidden Portal
Aug 20, 2015
$7.99
22% (65%)
41,460 ±6,094
14,523 ±3,607
03:49 (00:49)
162
El Matador
Apr 3, 2014
$3.99
22% (65%/54%)
28,577 ±5,059
8,432 ±2,748
02:22 (00:32)
163
Stick 'Em Up 2: Paper Adventures
Jul 27, 2015
$2.99
21% (64%)
10,072 ±3,004
3,982 ±1,888
01:02 (01:07)
164
DogFighter
Jun 14, 2010
$2.99
21% (64%)
291,389 ±16,152
135,388 ±11,012
01:44 (00:32)
165
Foreign Legion: Buckets of Blood
Aug 4, 2009
$4.99
20% (63%)
87,370 ±8,846
62,541 ±7,485
01:46 (00:40)
166
Overruled!
Sep 15, 2015
$12.99
N/A (N/A)
40,054 ±5,990
9,135 ±2,860
02:35 (02:43)
167
Alien Shooter: Revisited
May 27, 2009
$4.99
20% (63%)
57,154 ±7,155
17,099 ±3,914
05:14 (00:31)
168
Fowl Space
Mar 21, 2012
$4.99
17% (61%)
27,640 ±4,976
11,243 ±3,173
00:28 (00:20)
169
Code of Princess
Apr 14, 2016
$14.99
17% (61%/53%)
10,541 ±3,073
8,432 ±2,748
02:19 (01:10)
170
The Ship: Remasted
Oct 31, 2016
$19.99
17% (61%)
48,487 ±6,590
31,622 ±5,322
01:40 (00:36)
171
Pound of Ground
Nov 5, 2010
$1.99
17% (61%)
19,910 ±4,223
11,946 ±3,271
01:54 (00:38)
172
Cannon Fodder 3
Aug 6, 2012
$14.99
N/A (N/A/49%)
39,352 ±5,937
12,414 ±3,335
03:41 (00:32)
173
The Secret of Pineview Forest
Oct 31, 2016
Free
16% (60%)
21,081 ±4,346
8,667 ±2,786
00:55 (00:26)
174
Predator Simulator
May 15, 2015
$2.99
N/A (N/A)
20,379 ±4,272
2,577 ±1,519
01:12 (00:26)
175
Evil Tag
Apr 7, 2017
$7.99
15% (59%)
3,514 ±1,774
2,577 ±1,519
01:52 (02:07)
176
Wasteland Angel
Sep 1, 2011
$9.99
15% (58%)
88,073 ±8,882
24,595 ±4,694
01:48 (00:20)
177
Block Story
Dec 10, 2015
$2.99
15% (58%)
19,442 ±4,173
8,667 ±2,786
53:45 (01:09)
178
Scooby Doo! & Looney Tunes Cartoon Universe: Adventure
Jul 16, 2014
$19.99
N/A (N/A)
6,090 ±2,335
3,514 ±1,774
01:25 (01:00)
179
Shadowcrypt
Sep 15, 2014
$9.99
N/A (N/A)
4,919 ±2,099
3,279 ±1,714
00:30 (00:45)
180
Cold War
Jan 8, 2014
$4.99
14% (57%/64%)
30,451 ±5,223
8,198 ±2,710
00:51 (00:22)
181
Primal Fears
Jan 8, 2013
$9.99
14% (57%)
63,009 ±7,513
23,424 ±4,581
02:08 (00:43)
182
iStorm
Apr 16, 2017
Free
N/A (N/A)
5,856 ±2,290
3,514 ±1,774
03:17 (04:34)
183
Tank Universal
Aug 21, 2008
$4.99
13% (56%)
107,514 ±9,813
29,045 ±5,101
13:30 (00:19)
184
Fossil Echo
Jul 8, 2016
$14.99
N/A (N/A/61%)
2,342 ±1,448
1,874 ±1,295
01:46 (02:48)
185
Naval Warfare
May 25, 2011
$2.99
13% (56%/57%)
117,586 ±10,262
34,433 ±5,554
01:03 (00:15)
186
Yar's Revenge
Apr 28, 2011
$9.99
N/A (N/A/56%)
3,748 ±1,832
1,405 ±1,122
00:40 (00:50)
187
Gun Monkeys
Jun 28, 2013
$5.99
13% (56%)
790,546 ±26,588
456,994 ±20,223
01:33 (00:52)
188
Blood II: The Chosen + Expansion
Jul 14, 2014
$4.99
12% (55%/72%)
16,397 ±3,832
8,901 ±2,824
04:06 (01:27)
189
CT Special Forces: Fire for Effect
Mar 13, 2014
$9.99
N/A (N/A)
138,902 ±11,154
14,054 ±3,548
03:41 (00:34)
190
SHOCK TROOPERS 2nd Squad
Sep 28, 2016
$7.99
N/A (N/A)
11,243 ±3,173
703 ±793
00:29 (00:27)
191
Legendary
Dec 1, 2008
$2.99
11% (53%/50%)
280,614 ±15,851
121,100 ±10,415
01:53 (00:41)
192
Pixel Hunter
Jul 17, 2014
$2.99
10% (52%)
29,748 ±5,162
7,027 ±2,509
00:35 (00:13)
193
Guncraft
Aug 9, 2013
$14.99
10% (52%/73%)
127,893 ±10,703
98,613 ±9,398
05:00 (01:17)
194
Painkiller Redemption
Feb 25, 2011
$4.99
10% (52%/43%)
201,208 ±13,423
40,054 ±5,990
02:43 (00:49)
195
Booster Trooper
Apr 23, 2010
$0.99
10% (51%)
47,784 ±6,542
28,811 ±5,080
04:20 (00:17)
196
World War II GI
Nov 13, 2015
$6.99
N/A (N/A)
7,027 ±2,509
1,405 ±1,122
00:09 (00:12)
197
Project Root
May 1, 2014
$2.49
9% (50%)
40,054 ±5,990
6,559 ±2,424
03:01 (00:48)
198
ALPAGES : THE FIVE BOOKS
Oct 23, 2015
$0.99
8% (49%)
15,694 ±3,749
2,108 ±1,374
00:13 (00:17)
199
Tom Clancy's Rainbow Six Lockdown
May 13, 2008
$9.99
8% (48%/59%)
70,505 ±7,947
19,442 ±4,173
04:04 (00:47)
200
Blazing Angels 2: Secret Missions of WWII
May 13, 2008
$9.99
7% (47%/72%)
22,721 ±4,511
13,586 ±3,488
04:30 (01:12)
201
Young Justice: Legacy
Nov 19, 2013
$2.99
7% (47%)
6,559 ±2,424
4,216 ±1,943
03:53 (01:33)
202
Alone in the Dark
Oct 29, 2013
$9.99
7% (46%/55%)
45,910 ±6,413
14,054 ±3,548
04:53 (00:54)
203
Undead Shadows
Feb 2, 2015
$0.99
N/A (N/A)
10,306 ±3,038
1,640 ±1,212
00:15 (00:20)
204
Babel Rising
Aug 7, 2012
Free
7% (46%)
22,955 ±4,535
19,676 ±4,198
01:29 (00:57)
205
Dark Void
Jan 19, 2010
$9.99
7% (46%/57%)
45,442 ±6,380
21,784 ±4,417
04:14 (01:49)
206
Dark Void Zero
Apr 12, 2010
$4.99
6% (44%)
39,586 ±5,955
22,018 ±4,441
01:43 (00:21)
207
Greed: Black Border
Jan 13, 2010
$1.24
6% (43%)
109,857 ±9,919
39,117 ±5,919
05:11 (00:34)
208
Burn Zombie Burn!
Aug 12, 2010
$9.99
5% (42%/72%)
91,586 ±9,057
40,757 ±6,042
01:51 (00:29)
209
Bunch of Heroes
Sep 21, 2011
$4.99
5% (41%)
168,415 ±12,281
112,667 ±10,045
01:27 (00:47)
210
Cabelas African Adventures
Oct 16, 2013
$14.99
N/A (N/A)
8,667 ±2,786
4,919 ±2,099
02:46 (01:14)
211
Air Conflicts: Pacific Carriers
Sep 21, 2012
$12.99
5% (41%)
117,586 ±10,262
52,235 ±6,840
06:07 (00:58)
212
Cabela's Dangerous Hunts 2013
Oct 22, 2012
$14.99
4% (40%)
11,946 ±3,271
9,369 ±2,897
02:00 (00:47)
213
BlackSoul: Extended Edition
Feb 26, 2014
$6.99
N/A (N/A)
25,063 ±4,738
3,748 ±1,832
06:55 (01:22)
214
Blacklight: Tango Down
Jul 14, 2010
$0.99
4% (38%/65%)
60,901 ±7,386
53,640 ±6,932
03:22 (01:26)
215
Deus Ex: Breach
Jan 24, 2017
Free
3% (37%)
40,289 ±6,007
14,757 ±3,636
00:41 (00:22)
216
Down To One
Jan 7, 2016
$0.99
3% (37%)
98,145 ±9,376
70,973 ±7,973
01:25 (00:27)
217
CDF Ghostship
Jun 26, 2015
$9.99
3% (36%)
4,216 ±1,943
3,045 ±1,651
02:07 (01:51)
218
Dead Horde
Jul 27, 2011
$1.99
3% (36%)
108,920 ±9,877
69,334 ±7,881
01:52 (00:47)
219
Global Ops: Commando Libya
Oct 26, 2011
$4.99
3% (35%/37%)
60,199 ±7,343
14,288 ±3,577
01:39 (00:22)
220
Sniper Art of Victory
Jan 31, 2014
$2.99
3% (34%)
156,704 ±11,847
41,460 ±6,094
02:00 (00:20)
221
Tunnel Rats
May 15, 2009
$19.99
N/A (N/A/30%)
2,108 ±1,374
937 ±916
00:07 (00:05)
222
Miner Wars 2081
Nov 28, 2012
$9.99
2% (30%/52%)
91,352 ±9,046
49,190 ±6,638
02:47 (00:45)
223
Manhunter
May 30, 2014
$4.99
2% (30%)
61,370 ±7,414
19,442 ±4,173
01:52 (00:23)
224
Time of Shadows
Sep 11, 2009
$9.99
N/A (N/A)
9,838 ±2,968
3,982 ±1,888
03:32 (00:55)
225
Shadow Harvest: Phantom Ops
Apr 5, 2011
$9.99
N/A (N/A/34%)
41,225 ±6,077
24,361 ±4,671
04:22 (01:11)
226
Cargo 3
Dec 8, 2014
$4.99
1% (24%)
11,712 ±3,239
2,342 ±1,448
00:25 (00:18)
227
Razor2: Hidden Skies
Jul 19, 2010
$9.99
1% (22%/61%)
69,568 ±7,894
19,676 ±4,198
01:09 (00:13)
228
Orc Attack: Flatulent Rebellion
May 15, 2014
$9.99
N/A (N/A)
19,207 ±4,148
2,342 ±1,448
06:12 (10:06)
229
Deer Hunt Legends
Jan 16, 2015
$4.99
N/A (N/A)
6,324 ±2,380
2,577 ±1,519
00:24 (00:31)