App

Aces Wild: Manic Brawling Action!
Aces Wild: Manic Brawling Action!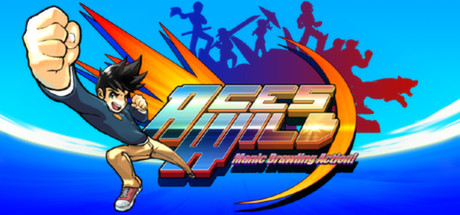 Store | Hub | SteamDB | Site
Developer: Culture Attack Studio, Tyler Doak Publisher: Culture Attack Studio
Genre: Action, Indie
Languages: English
Tags: Action (50), Indie (45), Beat 'em up (37), Great Soundtrack (19), Character Action Game (13), Local Co-Op (12), Controller (12), Anime (6)
Category: Single-player, Shared/Split Screen, Partial Controller Support
Release date: Jan 31, 2014
Price: $9.99
Score rank: 57% Userscore: 84% Old userscore: 81%
Owners: 63,334 ± 7,428
Players total: 24,605 ± 4,630 (38.85%)
Followers: 880
Peak concurrent players yesterday: 2
Playtime total: 01:42 (average) 00:23 (median)

Steam Spy is still in beta, so expect major bugs.
Peak daily concurrent players:
CCU data courtesy of SteamDB. Used with permission.
Hourly concurrent players:
YouTube:
The views data is based on top 50 videos uploaded last week. Actual number of views might be more than the number shown.

The displayed number of videos uploaded yesterday is limited to 50, so if there were more videos uploaded, the number will still show 50.

If the game has commonly used word as its name (like "FEAR" or "Volume") its number of Youtube views might be wrong.
Games similar to this one:
#
Game
Release date

Price

Score rank
(Userscore / Metascore)

Owners

Players

Playtime (Median)

1
UBERMOSH Vol.5
May 25, 2017
$0.99
97% (97%)
20,048 ±4,179
2,734 ±1,543
00:27 (01:18)
2
A-10 VR
Apr 5, 2016
$4.99
95% (96%)
11,847 ±3,212
9,796 ±2,921
01:48 (01:15)
3
Charlie Murder
May 12, 2017
$9.99
92% (95%)
9,341 ±2,852
7,290 ±2,520
04:17 (02:01)
4
Streets of Fury EX
Jun 25, 2015
$9.99
92% (95%)
11,391 ±3,150
8,885 ±2,782
02:52 (01:29)
5
Delta Force: Black Hawk Down
Jun 18, 2009
$14.99
89% (94%/77%)
39,869 ±5,893
12,986 ±3,363
03:30 (01:54)
6
Alien Zombie Megadeath
Oct 18, 2011
$4.99
N/A (N/A)
33,945 ±5,438
10,480 ±3,021
01:27 (00:22)
7
NyxQuest: Kindred Spirits
Sep 27, 2010
$2.99
86% (93%)
33,262 ±5,383
17,770 ±3,934
01:19 (00:47)
8
Delta Force Black Hawk Down: Team Sabre
Jun 18, 2009
$9.99
82% (92%)
31,895 ±5,271
16,403 ±3,780
03:29 (01:55)
9
Battle Dome
Jun 8, 2017
$14.99
82% (92%)
15,947 ±3,727
14,125 ±3,508
03:42 (01:50)
10
Run or Die
Dec 11, 2014
$4.99
82% (92%)
15,947 ±3,727
10,252 ±2,988
03:47 (01:47)
11
Armed and Dangerous
Jul 8, 2009
$5.99
77% (91%/78%)
19,365 ±4,107
11,391 ±3,150
66:35 (01:24)
12
Clash of Puppets
Dec 16, 2014
$4.99
N/A (N/A)
16,175 ±3,754
10,024 ±2,955
02:22 (02:22)
13
Adventures of Pip
Jun 4, 2015
$14.99
71% (89%/72%)
21,187 ±4,296
9,341 ±2,852
03:00 (01:42)
14
Rot Gut
Jul 12, 2016
$1.99
71% (89%)
10,708 ±3,054
3,873 ±1,837
00:58 (00:53)
15
Choplifter HD
Jan 11, 2012
$9.99
68% (88%/65%)
88,850 ±8,798
29,617 ±5,079
02:40 (00:40)
16
Prince of Persia: Warrior Within
Nov 21, 2008
$9.99
65% (87%/83%)
226,910 ±14,057
80,421 ±8,370
06:22 (01:17)
17
Serious Sam Double D XXL
Aug 30, 2011
$9.99
62% (86%)
563,175 ±22,138
124,846 ±10,428
01:11 (00:23)
18
Dimensional
Dec 14, 2016
$4.99
N/A (N/A)
5,012 ±2,089
2,734 ±1,543
00:28 (00:26)
19
Call of Duty: United Offensive
Oct 13, 2006
$19.99
57% (84%/87%)
201,850 ±13,259
105,937 ±9,606
06:33 (01:17)
20
Karateka
Dec 3, 2012
$9.99
57% (84%/48%)
37,363 ±5,705
11,619 ±3,181
00:55 (00:39)
21
SHOCK TROOPERS
May 18, 2016
$7.99
N/A (N/A)
27,794 ±4,921
3,417 ±1,725
01:04 (01:03)
22
Gatling Gears
Aug 30, 2011
$9.99
52% (82%)
45,792 ±6,316
22,326 ±4,410
03:00 (01:17)
23
Eradicator
Nov 6, 2014
$6.99
N/A (N/A)
26,199 ±4,777
3,645 ±1,782
01:37 (00:33)
24
The Initial
Jul 17, 2017
$7.99
52% (82%)
20,276 ±4,203
16,631 ±3,806
01:46 (00:54)
25
Sonic the Hedgehog 4 - Episode II
May 15, 2012
$9.99
52% (82%/54%)
263,134 ±15,137
71,764 ±7,907
04:47 (00:50)
26
DESYNC
Feb 28, 2017
$14.99
49% (81%/69%)
8,657 ±2,746
6,379 ±2,357
02:36 (01:05)
27
Xotic
Sep 16, 2011
$9.99
49% (81%/67%)
102,975 ±9,471
28,705 ±5,001
01:26 (00:26)
28
Bet On Soldier
Dec 5, 2014
$7.99
47% (80%)
41,008 ±5,977
6,835 ±2,440
01:41 (01:08)
29
iBomber Attack
Nov 1, 2012
$5.99
47% (80%)
64,246 ±7,481
20,276 ±4,203
03:15 (00:26)
30
NecroVisioN: Lost Company
Feb 19, 2010
$6.99
43% (78%)
107,760 ±9,688
20,276 ±4,203
02:01 (00:40)
31
SEGA Mega Drive and Genesis Classics
Jun 1, 2010
Free
41% (77%)
2,532,918 ±46,849
1,297,443 ±33,575
03:34 (00:25)
32
Prince of Persia: The Two Thrones
Nov 21, 2008
$9.99
41% (77%/85%)
225,771 ±14,022
65,840 ±7,573
06:19 (00:58)
33
TankZone Battle
Sep 21, 2015
$8.99
N/A (N/A)
5,240 ±2,136
2,734 ±1,543
01:21 (01:54)
34
DisneyPixar Finding Nemo
Feb 24, 2015
$9.99
N/A (N/A)
6,151 ±2,315
2,962 ±1,606
00:58 (00:48)
35
Vertical Drop Heroes HD
Jul 25, 2014
$6.99
41% (77%/70%)
252,882 ±14,840
75,865 ±8,129
03:00 (00:37)
36
Bionic Commando: Rearmed
Jul 28, 2009
$9.99
37% (75%/86%)
433,088 ±19,416
106,848 ±9,647
01:55 (00:25)
37
MDK
Sep 17, 2009
$7.49
35% (74%)
19,137 ±4,083
11,391 ±3,150
01:01 (00:20)
38
Adventure Time: The Secret Of The Nameless Kingdom
Nov 18, 2014
$4.99
35% (74%)
12,758 ±3,334
10,252 ±2,988
04:18 (02:23)
39
Insanity's Blade
Dec 4, 2014
$5.99
35% (74%)
31,439 ±5,233
11,847 ±3,212
00:59 (00:18)
40
Adventure Time: Finn and Jake's Epic Quest
Apr 11, 2014
$9.99
35% (74%)
30,528 ±5,157
28,478 ±4,981
03:08 (01:24)
41
The Aquatic Adventure of the Last Human
Jan 19, 2016
$9.99
32% (72%/76%)
13,441 ±3,422
8,885 ±2,782
03:11 (01:53)
42
Crow
Oct 6, 2014
$9.99
N/A (N/A)
26,883 ±4,839
3,645 ±1,782
00:36 (00:28)
43
Elliot Quest
Nov 10, 2014
$14.99
30% (71%)
24,149 ±4,587
6,607 ±2,399
03:05 (00:39)
44
Redux: Dark Matters
Dec 12, 2014
$12.99
N/A (N/A/61%)
14,353 ±3,536
2,962 ±1,606
00:50 (01:10)
45
Strike Vector
Jan 28, 2014
$11.99
26% (68%/73%)
186,814 ±12,755
136,921 ±10,921
02:31 (00:50)
46
YAIBA: NINJA GAIDEN Z
Mar 21, 2014
$29.99
26% (68%/49%)
18,909 ±4,059
11,847 ±3,212
02:55 (01:19)
47
On My Own
Feb 26, 2016
$4.99
24% (67%)
16,859 ±3,832
6,835 ±2,440
01:20 (00:29)
48
Foreign Legion: Multi Massacre
Jul 9, 2012
$6.99
22% (65%)
83,838 ±8,546
37,591 ±5,722
01:32 (00:39)
49
Majestic Nights
Oct 30, 2014
$4.99
N/A (N/A/32%)
19,593 ±4,131
13,214 ±3,393
01:56 (01:14)
50
Foreign Legion: Buckets of Blood
Aug 4, 2009
$4.99
22% (65%)
92,268 ±8,965
66,752 ±7,626
01:37 (00:42)
51
Plain Sight
Apr 5, 2010
$4.99
22% (65%/76%)
178,156 ±12,457
108,215 ±9,709
01:39 (00:39)
52
Kings of Kung Fu
Jun 25, 2015
$9.99
21% (64%)
18,226 ±3,985
14,581 ±3,564
03:49 (01:02)
53
Delta Force Xtreme 2
Jun 18, 2009
$19.99
21% (64%)
16,403 ±3,780
6,379 ±2,357
11:54 (03:51)
54
Momento Temporis: Light from the Deep
Oct 27, 2016
$4.99
N/A (N/A)
2,734 ±1,543
456 ±630
00:10 (00:05)
55
4089: Ghost Within
Jan 9, 2015
$5.99
18% (61%)
18,226 ±3,985
11,619 ±3,181
02:13 (02:13)
56
The Ship: Remasted
Oct 31, 2016
$19.99
16% (60%)
56,955 ±7,044
36,224 ±5,617
01:33 (01:04)
57
Rogue Warrior
Dec 1, 2009
$4.99
16% (60%/29%)
92,495 ±8,976
41,008 ±5,977
05:44 (01:30)
58
Cold War
Jan 8, 2014
$4.99
14% (57%/64%)
36,679 ±5,653
12,302 ±3,274
01:26 (00:33)
59
Primal Fears
Jan 8, 2013
$9.99
13% (56%)
60,828 ±7,279
23,010 ±4,477
01:11 (00:43)
60
MDK2 HD
Jul 30, 2012
$14.99
12% (54%/73%)
7,974 ±2,635
5,240 ±2,136
01:06 (00:51)
61
Garshasp: The Monster Slayer
May 9, 2011
$4.99
10% (51%/49%)
71,536 ±7,894
21,643 ±4,342
01:09 (00:33)
62
QUALIA 3: Multi Agent
Apr 18, 2014
$4.99
N/A (N/A)
13,669 ±3,451
2,506 ±1,477
00:53 (00:20)
63
Project Root
May 1, 2014
$9.99
9% (50%)
46,020 ±6,332
8,885 ±2,782
00:53 (00:27)
64
Painkiller Redemption
Feb 25, 2011
$4.99
9% (50%/43%)
220,987 ±13,873
41,008 ±5,977
01:46 (00:33)
65
Fly in the House
Mar 6, 2015
$9.99
8% (48%)
19,593 ±4,131
15,264 ±3,646
02:58 (02:58)
66
Alone in the Dark
Oct 29, 2013
$9.99
6% (45%/55%)
55,816 ±6,973
20,504 ±4,226
06:45 (00:44)
67
Bunch of Heroes
Sep 21, 2011
$4.99
5% (42%)
177,929 ±12,449
122,796 ±10,342
01:48 (00:46)
68
Air Conflicts: Pacific Carriers
Sep 21, 2012
$12.99
5% (41%)
122,796 ±10,342
57,867 ±7,100
05:01 (00:45)
69
Cabelas African Adventures
Oct 16, 2013
$29.99
N/A (N/A)
7,518 ±2,559
4,784 ±2,041
02:02 (01:17)
70
Burn Zombie Burn!
Aug 12, 2010
$9.99
4% (40%/72%)
91,129 ±8,910
41,919 ±6,043
01:13 (00:27)
71
Deus Ex: Breach
Jan 24, 2017
Free
4% (39%)
54,905 ±6,916
18,226 ±3,985
00:44 (00:18)
72
Down To One
Jan 7, 2016
$0.99
3% (37%)
114,822 ±10,001
83,155 ±8,511
01:45 (00:26)
73
Global Ops: Commando Libya
Oct 26, 2011
$4.99
3% (35%/37%)
63,334 ±7,428
13,897 ±3,479
00:55 (00:19)
74
Dark Raid
Jun 3, 2014
$3.99
N/A (N/A)
25,288 ±4,694
3,189 ±1,667
00:19 (00:24)
75
Miner Wars 2081
Nov 28, 2012
$9.99
2% (30%/52%)
96,141 ±9,151
50,804 ±6,653
02:04 (00:35)
76
Shadow Harvest: Phantom Ops
Apr 5, 2011
$9.99
N/A (N/A/34%)
47,842 ±6,456
27,566 ±4,900
03:39 (00:48)
77
Bloodbath
Jun 16, 2014
$14.99
N/A (N/A)
6,151 ±2,315
3,873 ±1,837
01:12 (01:02)
78
Garshasp: Temple of the Dragon
Sep 24, 2012
$4.99
1% (26%)
46,248 ±6,347
7,746 ±2,597
00:14 (00:09)
79
Cargo 3
Dec 8, 2014
$4.99
1% (23%)
13,214 ±3,393
3,417 ±1,725
00:20 (00:14)