App

Aces Wild: Manic Brawling Action!
Aces Wild: Manic Brawling Action!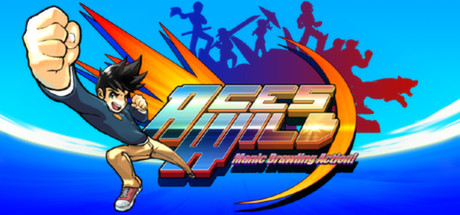 Store | Hub | SteamDB | Site
Developer: Culture Attack Studio, Tyler Doak Publisher: Culture Attack Studio
Genre: Action, Indie
Languages: English
Tags: Action (60), Indie (55), Beat 'em up (47), Great Soundtrack (29), Local Co-Op (22), Character Action Game (13), Controller (12), Hack and Slash (11), Bullet Hell (10), Anime (6), Spectacle fighter (5)
Category: Single-player, Shared/Split Screen, Partial Controller Support
Release date: Jan 31, 2014
Price: $9.99
Score rank: 53% Userscore: 83% Old userscore: 80%
Owners: 54,775 ± 7,376
Players total: 17,393 ± 4,156 (31.75%)
Followers: 919
Peak concurrent players yesterday: 1
Playtime total: 01:11 (average) 00:29 (median)

Steam Spy is still in beta, so expect major bugs.
Peak daily concurrent players:
CCU data courtesy of SteamDB. Used with permission.
Hourly concurrent players:
YouTube:
The views data is based on top 50 videos uploaded last week. Actual number of views might be more than the number shown.

The displayed number of videos uploaded yesterday is limited to 50, so if there were more videos uploaded, the number will still show 50.

If the game has commonly used word as its name (like "FEAR" or "Volume") its number of Youtube views might be wrong.
Games similar to this one:
#
Game
Release date

Price

Score rank
(Userscore / Metascore)

Owners

Players

Playtime (Median)

1
UBERMOSH Vol.5
May 25, 2017
$0.99
95% (96%)
28,815 ±5,350
5,711 ±2,381
01:48 (00:16)
2
A-10 VR
Apr 5, 2016
$4.99
92% (95%)
12,980 ±3,590
10,384 ±3,211
01:04 (00:22)
3
Streets of Fury EX
Jun 25, 2015
$9.99
92% (95%)
12,201 ±3,481
10,384 ±3,211
03:45 (02:37)
4
Charlie Murder
May 12, 2017
$9.99
89% (94%)
10,384 ±3,211
6,750 ±2,589
04:41 (02:11)
5
Run or Die
Dec 11, 2014
$4.99
89% (94%)
14,278 ±3,766
9,605 ±3,088
02:40 (01:45)
6
Delta Force: Black Hawk Down
Jun 18, 2009
$14.99
82% (92%/77%)
38,420 ±6,177
17,912 ±4,218
04:01 (00:44)
7
Delta Force Black Hawk Down: Team Sabre
Jun 18, 2009
$9.99
82% (92%)
28,815 ±5,350
14,797 ±3,833
11:38 (02:33)
8
NyxQuest: Kindred Spirits
Sep 27, 2010
$2.99
82% (92%)
36,603 ±6,029
19,989 ±4,456
02:34 (01:06)
9
Battle Dome
Jun 8, 2017
$14.99
78% (91%)
13,499 ±3,661
11,941 ±3,444
03:08 (01:32)
10
Clash of Puppets
Dec 16, 2014
$4.99
N/A (N/A)
17,912 ±4,218
10,903 ±3,291
04:08 (02:43)
11
Armed and Dangerous
Jul 8, 2009
$5.99
74% (90%/78%)
19,470 ±4,397
10,384 ±3,211
01:26 (00:51)
12
Rot Gut
Jul 12, 2016
$1.99
67% (88%)
11,682 ±3,406
3,634 ±1,900
00:42 (00:27)
13
Alien Zombie Megadeath
Oct 18, 2011
$4.99
N/A (N/A)
33,229 ±5,745
9,086 ±3,004
01:34 (00:29)
14
Adventures of Pip
Jun 4, 2015
$14.99
67% (88%/72%)
23,623 ±4,844
10,384 ±3,211
01:48 (01:14)
15
Choplifter HD
Jan 11, 2012
$9.99
64% (87%/65%)
95,792 ±9,754
37,382 ±6,093
04:12 (00:35)
16
Dimensional
Dec 14, 2016
$4.99
N/A (N/A)
5,192 ±2,271
1,038 ±1,015
00:48 (00:29)
17
Eradicator
Nov 6, 2014
$6.99
N/A (N/A)
26,219 ±5,103
3,375 ±1,831
03:41 (00:20)
18
Prince of Persia: Warrior Within
Nov 21, 2008
$9.99
61% (86%/83%)
217,543 ±14,697
76,841 ±8,736
05:37 (01:04)
19
Serious Sam Double D XXL
Aug 30, 2011
$9.99
61% (86%)
549,828 ±23,358
123,309 ±11,066
01:43 (00:24)
20
SHOCK TROOPERS
May 18, 2016
$7.99
N/A (N/A)
29,335 ±5,398
4,673 ±2,154
00:50 (00:36)
21
Call of Duty: United Offensive
Oct 13, 2006
$19.99
56% (84%/87%)
207,678 ±14,360
104,877 ±10,206
06:47 (01:31)
22
DESYNC
Feb 28, 2017
$14.99
51% (82%/69%)
12,461 ±3,518
9,605 ±3,088
02:23 (01:16)
23
Sonic the Hedgehog 4 - Episode II
May 15, 2012
$9.99
49% (81%/54%)
258,300 ±16,014
65,159 ±8,045
03:54 (00:42)
24
Gatling Gears
Aug 30, 2011
$9.99
49% (81%)
46,728 ±6,812
22,325 ±4,709
03:18 (01:36)
25
Karateka
Dec 3, 2012
$9.99
49% (81%/48%)
39,199 ±6,240
14,797 ±3,833
02:16 (00:53)
26
Xotic
Sep 16, 2011
$9.99
46% (80%/67%)
100,464 ±9,989
34,786 ±5,878
01:50 (00:30)
27
The Initial
Jul 17, 2017
$9.99
46% (80%)
22,845 ±4,763
19,989 ±4,456
01:44 (01:05)
28
iBomber Attack
Nov 1, 2012
$5.99
44% (79%)
66,197 ±8,108
19,989 ±4,456
02:58 (00:31)
29
Bet On Soldier
Dec 5, 2014
$7.99
42% (78%)
41,536 ±6,423
6,230 ±2,487
01:33 (01:06)
30
SEGA Mega Drive and Genesis Classics
Jun 1, 2010
N/A
42% (78%)
2,457,352 ±49,286
1,293,576 ±35,801
03:23 (00:27)
31
NecroVisioN: Lost Company
Feb 19, 2010
$6.99
42% (78%)
104,618 ±10,193
16,614 ±4,062
02:03 (00:38)
32
Vertical Drop Heroes HD
Jul 25, 2014
$6.99
40% (77%/70%)
236,753 ±15,332
75,283 ±8,647
03:40 (00:41)
33
Prince of Persia: The Two Thrones
Nov 21, 2008
$9.99
40% (77%/85%)
216,505 ±14,662
65,159 ±8,045
05:04 (00:55)
34
Insanity's Blade
Dec 4, 2014
$5.99
37% (75%)
27,517 ±5,228
10,644 ±3,251
01:11 (00:49)
35
Adventure Time: Finn and Jake's Epic Quest
Apr 11, 2014
$9.99
37% (75%)
26,219 ±5,103
23,883 ±4,870
03:13 (01:24)
36
MDK
Sep 17, 2009
$9.99
37% (75%)
24,921 ±4,975
16,355 ±4,030
01:58 (00:34)
37
Adventure Time: The Secret Of The Nameless Kingdom
Nov 18, 2014
$4.99
37% (75%)
11,163 ±3,330
8,567 ±2,917
03:16 (02:04)
38
TankZone Battle
Sep 21, 2015
$2.24
35% (74%)
3,634 ±1,900
1,817 ±1,343
00:20 (00:32)
39
Bionic Commando: Rearmed
Jul 28, 2009
$9.99
35% (74%/86%)
421,327 ±20,450
110,329 ±10,468
01:52 (00:23)
40
The Aquatic Adventure of the Last Human
Jan 19, 2016
$9.99
33% (73%/76%)
15,316 ±3,900
8,567 ±2,917
03:03 (01:59)
41
Crow
Oct 6, 2014
$9.99
N/A (N/A)
22,845 ±4,763
3,634 ±1,900
00:23 (00:13)
42
DisneyPixar Finding Nemo
Feb 24, 2015
$9.99
N/A (N/A)
9,346 ±3,046
3,634 ±1,900
02:35 (01:02)
43
YAIBA: NINJA GAIDEN Z
Mar 21, 2014
$29.99
28% (70%/49%)
25,700 ±5,052
16,355 ±4,030
04:58 (02:30)
44
Elliot Quest
Nov 10, 2014
$9.99
28% (70%)
28,815 ±5,350
8,048 ±2,827
03:55 (01:06)
45
On My Own
Feb 26, 2016
$4.99
27% (69%)
19,729 ±4,427
5,711 ±2,381
01:55 (01:11)
46
Strike Vector
Jan 28, 2014
$11.99
25% (68%/73%)
176,007 ±13,220
128,501 ±11,297
02:27 (00:54)
47
Foreign Legion: Multi Massacre
Jul 9, 2012
$6.99
23% (66%)
82,033 ±9,026
38,680 ±6,198
01:40 (00:40)
48
Redux: Dark Matters
Dec 12, 2014
$12.99
N/A (N/A/61%)
15,316 ±3,900
1,817 ±1,343
00:11 (00:16)
49
Majestic Nights
Oct 30, 2014
$4.99
N/A (N/A/32%)
17,912 ±4,218
12,720 ±3,554
03:02 (01:14)
50
Rogue Warrior
Dec 1, 2009
$4.99
22% (65%/29%)
88,263 ±9,363
41,536 ±6,423
02:40 (00:49)
51
Plain Sight
Apr 5, 2010
$4.99
22% (65%/76%)
179,901 ±13,366
111,627 ±10,529
01:32 (00:33)
52
Kings of Kung Fu
Jun 25, 2015
$9.99
21% (64%)
22,585 ±4,736
17,393 ±4,156
01:53 (01:12)
53
Foreign Legion: Buckets of Blood
Aug 4, 2009
$4.99
21% (64%)
89,821 ±9,445
63,342 ±7,932
01:41 (00:36)
54
4089: Ghost Within
Jan 9, 2015
$5.99
18% (62%)
19,989 ±4,456
11,682 ±3,406
02:00 (02:01)
55
Delta Force Xtreme 2
Jun 18, 2009
$19.99
17% (61%)
16,355 ±4,030
6,490 ±2,539
143:47 (02:20)
56
QUALIA 3: Multi Agent
Apr 18, 2014
$4.99
N/A (N/A)
13,239 ±3,626
1,558 ±1,243
01:38 (01:34)
57
Momento Temporis: Light from the Deep
Oct 27, 2016
$4.99
N/A (N/A)
4,932 ±2,213
1,298 ±1,135
00:16 (00:22)
58
The Ship: Remasted
Oct 31, 2016
$19.99
14% (58%)
63,601 ±7,948
43,872 ±6,601
01:37 (01:08)
59
Cold War
Jan 8, 2014
$4.99
13% (57%/64%)
36,344 ±6,008
10,384 ±3,211
01:17 (00:24)
60
Primal Fears
Jan 8, 2013
$9.99
13% (56%)
67,755 ±8,203
26,998 ±5,178
01:58 (00:56)
61
MDK2 HD
Jul 30, 2012
$14.99
11% (53%/73%)
10,903 ±3,291
7,269 ±2,687
04:24 (02:18)
62
Garshasp: The Monster Slayer
May 9, 2011
$4.99
9% (51%/49%)
66,717 ±8,140
22,066 ±4,681
01:11 (00:38)
63
Painkiller Redemption
Feb 25, 2011
$4.99
9% (50%/43%)
216,245 ±14,653
38,940 ±6,219
01:56 (00:37)
64
Project Root
May 1, 2014
$2.49
8% (49%)
45,170 ±6,698
5,452 ±2,327
01:20 (00:22)
65
Fly in the House
Mar 6, 2015
$9.99
7% (47%)
22,325 ±4,709
15,576 ±3,933
05:36 (02:56)
66
Alone in the Dark
Oct 29, 2013
$9.99
7% (46%/55%)
58,150 ±7,600
21,027 ±4,570
02:53 (00:48)
67
Air Conflicts: Pacific Carriers
Sep 21, 2012
$9.99
5% (42%)
121,492 ±10,984
56,333 ±7,480
06:04 (00:54)
68
Bunch of Heroes
Sep 21, 2011
$4.99
5% (42%)
178,603 ±13,317
118,896 ±10,866
01:28 (00:44)
69
Cabelas African Adventures
Oct 16, 2013
$5.99
N/A (N/A)
9,865 ±3,130
5,711 ±2,381
01:37 (00:50)
70
Burn Zombie Burn!
Aug 12, 2010
$9.99
4% (40%/72%)
95,013 ±9,714
45,949 ±6,755
01:15 (00:29)
71
Deus Ex: Breach
Jan 24, 2017
Free
4% (39%)
47,766 ±6,888
14,537 ±3,800
00:32 (00:21)
72
Down To One
Jan 7, 2016
$0.99
3% (37%)
111,887 ±10,541
81,773 ±9,012
01:54 (00:35)
73
Global Ops: Commando Libya
Oct 26, 2011
$4.99
3% (35%/37%)
75,543 ±8,662
17,133 ±4,125
01:08 (00:18)
74
Dark Raid
Jun 3, 2014
$3.99
N/A (N/A)
25,181 ±5,001
3,375 ±1,831
00:17 (00:23)
75
Miner Wars 2081
Nov 28, 2012
$9.99
2% (31%/52%)
99,426 ±9,937
50,362 ±7,072
02:12 (00:36)
76
Shadow Harvest: Phantom Ops
Apr 5, 2011
$9.99
1% (29%/34%)
42,314 ±6,483
23,364 ±4,817
04:13 (00:40)
77
Bloodbath
Jun 16, 2014
$14.99
N/A (N/A)
11,682 ±3,406
8,826 ±2,961
03:24 (01:54)
78
Garshasp: Temple of the Dragon
Sep 24, 2012
$4.99
1% (25%)
39,718 ±6,281
6,230 ±2,487
00:21 (00:11)
79
Cargo 3
Dec 8, 2014
$4.99
1% (23%)
14,797 ±3,833
3,634 ±1,900
00:15 (00:18)