App

Dangerous High School Girls in Trouble!
Dangerous High School Girls in Trouble!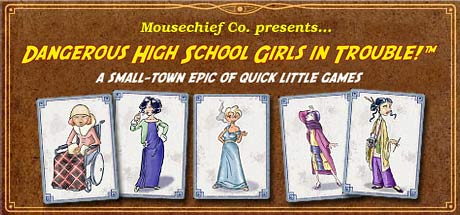 Store | Hub | SteamDB | Site
Developer: Mousechief Publisher: Mousechief
Genre: RPG, Indie, Casual
Languages: English
Tags: Indie (43), RPG (39), Casual (35), Female Protagonist (31), Board Game (28), Singleplayer (17)
Category: Single-player
Release date: Feb 23, 2009
Price: $19.99
Score rank: 37% Userscore: 75% Old userscore: 67% Metascore: 81%
Owners: 126,261 ± 10,807
Players in the last 2 weeks: 714 ± 1,399 (0.57%)
Players total: 25,881 ± 4,893 (20.5%)
Followers: 331
Peak concurrent players yesterday: 3
Playtime in the last 2 weeks: 00:02 (average) 00:02 (median)
Playtime total: 04:04 (average) 01:05 (median)

Steam Spy is still in beta, so expect major bugs.
Peak daily concurrent players:
CCU data courtesy of SteamDB. Used with permission.
Hourly concurrent players:
YouTube:
The views data is based on top 50 videos uploaded last week. Actual number of views might be more than the number shown.

The displayed number of videos uploaded yesterday is limited to 50, so if there were more videos uploaded, the number will still show 50.

If the game has commonly used word as its name (like "FEAR" or "Volume") its number of Youtube views might be wrong.
Games similar to this one:
#
Game
Release date

Price

Score rank
(Userscore / Metascore)

Owners

Players

Playtime (Median)

1
IronWolf VR
Mar 13, 2017
$19.99
99% (98%)
7,256 ±2,591
6,531 ±2,458
03:22 (01:27)
2
NightSky
Mar 1, 2011
$9.99
89% (94%/78%)
565,029 ±22,852
205,355 ±13,782
01:10 (00:23)
3
oO
Jul 6, 2015
$0.99
85% (93%)
52,972 ±7,000
31,444 ±5,394
01:23 (00:46)
4
10 Second Ninja
Mar 5, 2014
$1.99
81% (92%/72%)
84,174 ±8,824
50,553 ±6,839
01:55 (01:05)
5
Another Perspective
Aug 8, 2014
$5.99
77% (91%)
70,145 ±8,056
20,560 ±4,361
01:35 (00:36)
6
Future Unfolding
Mar 15, 2017
$19.99
N/A (N/A/75%)
2,221 ±1,774
1,850 ±1,619
02:28 (04:06)
7
Super Splatters
Jun 26, 2013
$9.99
N/A (N/A/73%)
143,918 ±11,538
55,390 ±7,158
01:44 (00:58)
8
Trash TV
Feb 23, 2015
$6.99
N/A (N/A)
32,170 ±5,455
4,354 ±2,007
00:48 (00:54)
9
Ghost Town Mine Ride & Shootin' Gallery
Oct 28, 2016
$8.99
71% (89%)
9,191 ±2,916
8,466 ±2,798
03:32 (01:06)
10
Gunman Clive
Jan 3, 2014
$1.99
71% (89%)
56,600 ±7,236
29,993 ±5,268
00:49 (00:22)
11
Cubotrox
Nov 11, 2016
$5.99
N/A (N/A)
8,466 ±2,798
1,209 ±1,057
04:56 (07:21)
12
Jack Lumber
Apr 30, 2013
$4.99
N/A (N/A)
165,929 ±12,389
57,567 ±7,298
01:35 (00:39)
13
Motte Island
Apr 7, 2014
$4.99
N/A (N/A)
27,090 ±5,006
3,628 ±1,832
00:19 (00:20)
14
NEON STRUCT
May 20, 2015
$17.99
65% (87%/62%)
55,874 ±7,190
18,141 ±4,097
03:24 (02:39)
15
Super Indie Karts
May 6, 2015
$9.99
65% (87%)
5,805 ±2,317
5,563 ±2,268
03:15 (01:05)
16
Ms. Splosion Man
Apr 3, 2013
$9.99
62% (86%)
66,033 ±7,816
21,043 ±4,412
04:23 (01:39)
17
Pineapple Smash Crew
Feb 2, 2012
$9.99
62% (86%/62%)
26,123 ±4,916
13,061 ±3,476
01:07 (00:42)
18
DubWars
Jul 19, 2016
$9.99
54% (83%)
16,448 ±3,901
11,126 ±3,208
04:43 (00:58)
19
BIT.TRIP BEAT
Nov 2, 2010
$9.99
54% (83%)
324,118 ±17,312
236,074 ±14,776
01:37 (00:45)
20
Kiai Resonance
Apr 23, 2015
$4.99
51% (82%)
19,108 ±4,204
12,094 ±3,345
01:44 (01:25)
21
Four Sided Fantasy
Aug 30, 2016
$9.99
51% (82%)
6,047 ±2,365
1,693 ±1,251
01:01 (00:59)
22
Shipwreck
Feb 13, 2015
$2.99
47% (80%)
9,433 ±2,954
5,805 ±2,317
02:52 (03:06)
23
BIT.TRIP VOID
Dec 19, 2012
$9.99
45% (79%)
48,860 ±6,723
25,881 ±4,893
00:57 (00:47)
24
Miner Warfare
Jun 11, 2015
$2.99
45% (79%)
15,964 ±3,843
10,401 ±3,102
02:45 (02:50)
25
Need For Drink
Apr 14, 2017
$1.99
45% (79%)
29,751 ±5,246
25,155 ±4,824
00:56 (00:30)
26
1000 Amps
Feb 22, 2012
$4.99
43% (78%)
42,329 ±6,258
25,639 ±4,870
02:48 (00:35)
27
Steel Storm: Burning Retribution
May 11, 2011
$14.99
43% (78%/55%)
395,472 ±19,121
171,250 ±12,586
01:57 (00:37)
28
Reflections
Jun 26, 2015
$9.99
N/A (N/A)
17,415 ±4,014
3,628 ±1,832
00:47 (00:47)
29
Glitchspace
May 5, 2016
$12.99
41% (77%)
19,834 ±4,284
12,578 ±3,411
01:55 (00:53)
30
Dyad
Apr 24, 2013
$14.99
41% (77%/80%)
37,491 ±5,889
22,737 ±4,586
00:37 (00:13)
31
Incredipede
Mar 18, 2013
$9.99
39% (76%/74%)
173,185 ±12,657
68,936 ±7,986
01:18 (00:23)
32
Steampuff: Phinnegan's Factory
Aug 29, 2017
$9.99
N/A (N/A)
1,480 ±1,448
740 ±1,024
02:23 (02:23)
33
The Path
Mar 18, 2009
$9.99
39% (76%/79%)
115,860 ±10,353
72,080 ±8,166
03:21 (01:09)
34
Elegy for a Dead World
Dec 10, 2014
$14.99
37% (75%)
120,456 ±10,556
33,621 ±5,577
00:47 (00:18)
35
Colour Bind
Sep 24, 2012
$9.99
N/A (N/A)
10,885 ±3,173
4,112 ±1,950
00:57 (00:33)
36
Luckslinger
Jul 16, 2015
$9.99
37% (75%/76%)
14,755 ±3,694
6,531 ±2,458
02:01 (01:54)
37
Shadow Puppeteer
Sep 29, 2014
$14.99
N/A (N/A/57%)
77,401 ±8,462
14,029 ±3,602
01:03 (00:35)
38
Cube & Star: An Arbitrary Love
Feb 14, 2014
$4.99
N/A (N/A)
36,524 ±5,813
9,917 ±3,029
01:32 (00:22)
39
Puddle
Nov 9, 2012
$7.99
35% (74%)
121,665 ±10,609
88,528 ±9,050
02:08 (01:06)
40
Can't Drive This
Sep 25, 2016
$9.99
33% (73%)
13,787 ±3,571
9,433 ±2,954
00:58 (00:52)
41
Lumo
May 24, 2016
$19.99
N/A (N/A/77%)
4,112 ±1,950
4,112 ±1,950
03:03 (02:46)
42
Euclidean
Sep 25, 2015
$4.99
28% (70%/62%)
19,592 ±4,257
11,126 ±3,208
01:36 (01:10)
43
The Joylancer: Legendary Motor Knight
Nov 7, 2014
$9.99
N/A (N/A)
48,134 ±6,673
14,997 ±3,725
00:44 (00:10)
44
Scraps: Modular Vehicle Combat
Jul 7, 2015
$14.99
27% (69%)
6,773 ±2,503
5,321 ±2,219
04:08 (03:33)
45
All Zombies Must Die!: Scorepocalypse
Apr 19, 2012
$4.99
N/A (N/A)
35,072 ±5,696
14,029 ±3,602
03:46 (00:51)
46
Noct
Oct 21, 2015
$9.99
25% (68%)
66,033 ±7,816
22,253 ±4,537
00:55 (00:28)
47
Wheels of Aurelia
Sep 20, 2016
$9.99
N/A (N/A/63%)
5,805 ±2,317
2,903 ±1,638
02:16 (02:47)
48
Congo
Mar 21, 2016
$9.99
14% (57%)
3,870 ±1,892
3,144 ±1,705
00:47 (00:35)
49
Starship Traveller
Mar 11, 2015
$4.99
N/A (N/A)
17,899 ±4,069
9,675 ±2,992
03:18 (02:04)
50
Pregnancy
Mar 2, 2015
$1.99
12% (55%)
7,740 ±2,676
5,805 ±2,317
04:01 (01:53)
51
SOL: Exodus
Jan 25, 2012
$7.99
N/A (N/A/57%)
66,759 ±7,859
26,849 ±4,984
01:53 (00:46)
52
Dragonflight
Jul 27, 2017
$15.99
10% (52%)
2,661 ±1,569
2,419 ±1,496
00:29 (00:56)
53
Maia
Dec 3, 2013
$13.99
6% (45%)
41,361 ±6,186
36,282 ±5,794
04:03 (00:53)
54
CHAOS - In the Darkness
Oct 7, 2015
$7.99
N/A (N/A)
1,693 ±1,251
726 ±819
00:24 (00:12)
55
Stranded
May 20, 2014
$0.99
2% (30%)
26,365 ±4,939
16,206 ±3,872
01:35 (01:04)
56
Joana's Life
Sep 1, 2016
$5.99
N/A (N/A)
112,232 ±10,189
4,838 ±2,115
01:41 (01:16)
57
Wonky Pigeon!
Nov 26, 2015
$4.99
N/A (N/A)
11,368 ±3,243
1,209 ±1,057
00:06 (00:08)
Geography of active players over time, share:
Geography of active players over time, total numbers: