App

Dangerous High School Girls in Trouble!
Dangerous High School Girls in Trouble!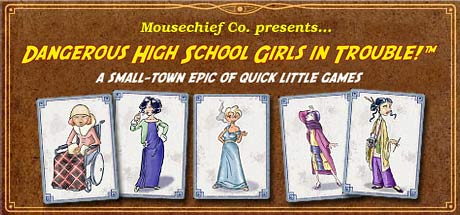 Store | Hub | SteamDB | Site
Developer: Mousechief Publisher: Mousechief
Genre: RPG, Indie, Casual
Languages: English
Tags: Indie (43), RPG (39), Casual (35), Female Protagonist (31), Board Game (28), Singleplayer (17)
Category: Single-player
Release date: Feb 23, 2009
Price: $9.99 50%
Score rank: 38% Userscore: 76% Old userscore: 67% Metascore: 81%
Owners: 117,116 ± 9,441
Players in the last 2 weeks: 886 ± 1,000 (0.76%)
Players total: 20,515 ± 3,951 (17.52%)
Followers: 316
Peak concurrent players yesterday: 2
Playtime in the last 2 weeks: 00:02 (average) 00:02 (median)
Playtime total: 01:55 (average) 00:48 (median)

Steam Spy is still in beta, so expect major bugs.
Peak daily concurrent players:
CCU data courtesy of SteamDB. Used with permission.
Hourly concurrent players:
YouTube:
The views data is based on top 50 videos uploaded last week. Actual number of views might be more than the number shown.

The displayed number of videos uploaded yesterday is limited to 50, so if there were more videos uploaded, the number will still show 50.

If the game has commonly used word as its name (like "FEAR" or "Volume") its number of Youtube views might be wrong.
Games similar to this one:
#
Game
Release date

Price

Score rank
(Userscore / Metascore)

Owners

Players

Playtime (Median)

1
Marvin's Mittens
Dec 17, 2014
$2.39
99% (98%)
6,772 ±2,270
4,780 ±1,907
02:58 (03:17)
2
IronWolf VR
Mar 13, 2017
$19.99
99% (98%)
4,581 ±1,867
4,581 ±1,867
01:49 (00:58)
3
Bullet Heaven 2
Dec 7, 2015
$3.95
99% (98%)
7,569 ±2,400
6,971 ±2,303
04:51 (04:02)
4
Abode
Dec 1, 2016
$7.99
95% (96%)
8,166 ±2,493
1,793 ±1,168
03:13 (02:28)
5
Escape Goat 2
Mar 24, 2014
$4.99
95% (96%/76%)
49,794 ±6,156
21,113 ±4,009
04:30 (03:09)
6
Chicken Invaders 4
Jun 6, 2014
$2.49
95% (96%)
11,951 ±3,016
10,556 ±2,834
05:39 (03:43)
7
I and Me
May 4, 2016
$7.99
95% (96%)
6,573 ±2,236
5,378 ±2,023
02:49 (02:04)
8
Tin Star
Jun 5, 2015
$3.99
95% (96%)
11,751 ±2,991
9,560 ±2,697
09:20 (04:06)
9
Critter Crunch
Sep 11, 2012
$1.39
92% (95%)
49,794 ±6,156
24,100 ±4,283
03:06 (01:08)
10
Planet Diver
Nov 30, 2015
$0.99
N/A (N/A)
9,162 ±2,641
6,374 ±2,202
03:22 (02:45)
11
Mimpi Dreams
Mar 22, 2016
$1.99
92% (95%)
5,577 ±2,060
2,589 ±1,404
01:43 (01:55)
12
Intake
Nov 6, 2013
$9.99
92% (95%)
50,989 ±6,230
27,486 ±4,574
02:57 (01:58)
13
Thieves' Gambit: The Curse of the Black Cat
Oct 17, 2014
$1.97
N/A (N/A)
2,589 ±1,404
1,593 ±1,101
00:49 (00:36)
14
Bio Inc. Redemption
May 18, 2017
$11.04
92% (95%)
15,934 ±3,482
15,735 ±3,461
03:46 (03:04)
15
Gryphon Knight Epic
Aug 20, 2015
$1.99
N/A (N/A/55%)
24,499 ±4,318
14,341 ±3,304
03:29 (03:33)
16
Papo & Yo
Apr 18, 2013
$9.85
92% (95%/70%)
378,037 ±16,957
106,958 ±9,022
02:27 (01:16)
17
Gravity Ghost
Jan 26, 2015
$10.04
92% (95%/75%)
17,727 ±3,673
7,370 ±2,368
02:45 (02:44)
18
Tales From Space: Mutant Blobs Attack
Aug 15, 2012
$3.19
92% (95%/83%)
173,084 ±11,476
73,894 ±7,499
03:41 (02:05)
19
Trouble Witches Origin - Episode1 Daughters of Amalgam -
Nov 21, 2016
$4.99
N/A (N/A)
2,390 ±1,348
1,793 ±1,168
02:56 (02:56)
20
Constant C
Mar 11, 2014
$9.99
N/A (N/A/60%)
9,162 ±2,641
6,772 ±2,270
02:01 (01:47)
21
Hatoful Boyfriend: Holiday Star
Dec 15, 2015
$1.99
92% (95%/54%)
46,408 ±5,943
16,930 ±3,590
02:59 (02:14)
22
Lovely Planet
Jul 31, 2014
$2.03
89% (94%/61%)
254,149 ±13,905
162,329 ±11,114
02:56 (02:04)
23
Season of 12 Colors
Mar 14, 2016
$2.39
89% (94%)
16,332 ±3,526
12,349 ±3,066
02:28 (01:53)
24
Transcripted
$4.79
N/A (N/A/78%)
28,681 ±4,672
14,739 ±3,349
04:00 (02:23)
25
Tiltagon
Mar 29, 2016
$0.74
N/A (N/A)
996 ±870
797 ±778
02:23 (02:29)
26
Fortix
Apr 14, 2010
$0.99
89% (94%)
117,713 ±9,465
75,488 ±7,580
03:00 (01:34)
27
Sora
Jan 5, 2016
$6.02
86% (93%/74%)
10,955 ±2,887
8,166 ±2,493
04:48 (02:25)
28
Cubotrox
Nov 11, 2016
$1.19
N/A (N/A)
6,573 ±2,236
598 ±674
00:29 (00:24)
29
Shaolin vs Wutang
May 9, 2016
$6.49
86% (93%)
4,382 ±1,826
4,183 ±1,784
01:46 (00:47)
30
Heroes Rise: HeroFall
Jul 11, 2014
$2.99
86% (93%)
14,938 ±3,372
7,967 ±2,462
04:45 (04:06)
31
Reflection of Mine
Feb 24, 2017
$5.59
N/A (N/A)
10,556 ±2,834
6,971 ±2,303
04:21 (04:15)
32
miniLAW: Ministry of Law
Aug 25, 2016
$3.99
N/A (N/A)
996 ±870
996 ±870
03:01 (02:55)
33
Critical Annihilation
Feb 12, 2016
$5.99
86% (93%)
7,569 ±2,400
7,370 ±2,368
02:13 (01:49)
34
Bombernauts
Jul 31, 2015
$6.49
86% (93%)
6,971 ±2,303
4,979 ±1,947
03:02 (02:18)
35
The Inner Darkness
Feb 24, 2017
$2.49
N/A (N/A)
5,975 ±2,132
2,788 ±1,457
02:14 (02:27)
36
Glorkian Warrior: The Trials Of Glork
Mar 24, 2015
$1.35
86% (93%)
39,636 ±5,492
29,080 ±4,705
03:11 (03:08)
37
Unmechanical
Aug 8, 2012
$2.49
86% (93%/74%)
86,044 ±8,092
32,665 ±4,986
02:31 (02:11)
38
Snake Pass
Mar 28, 2017
$9.99
82% (92%/71%)
16,532 ±3,547
14,540 ±3,327
02:42 (01:57)
39
Void Invaders
Aug 14, 2015
$0.5
82% (92%)
39,636 ±5,492
23,503 ±4,229
02:50 (02:30)
40
Candle
Nov 11, 2016
$7.49
82% (92%/80%)
22,507 ±4,139
10,158 ±2,780
07:20 (03:07)
41
6180 the moon
Sep 19, 2014
$1.99
82% (92%)
16,532 ±3,547
13,743 ±3,234
02:41 (01:53)
42
Ossuary
May 27, 2015
$3.99
N/A (N/A)
1,181 ±1,155
1,181 ±1,155
07:05 (12:17)
43
Titan Attacks!
Feb 3, 2012
$4.29
82% (92%)
141,415 ±10,374
88,634 ±8,213
02:57 (01:28)
44
IMSCARED
Feb 3, 2016
$3.99
82% (92%)
12,946 ±3,139
10,556 ±2,834
01:58 (01:18)
45
Stardust Galaxy Warriors: Stellar Climax
Nov 10, 2015
$2.49
82% (92%)
2,988 ±1,508
2,390 ±1,348
01:35 (01:56)
46
T.E.C. 3001
Apr 11, 2014
$3.99
78% (91%)
43,221 ±5,735
34,258 ±5,106
02:18 (01:40)
47
Cats are Liquid
Jul 25, 2016
$0.64
78% (91%)
11,951 ±3,016
9,361 ±2,669
02:13 (00:48)
48
Ultratron
Mar 18, 2013
$4.29
78% (91%)
86,243 ±8,102
57,562 ±6,619
02:14 (01:30)
49
Impossiball
Sep 28, 2016
$0.89
N/A (N/A)
14,739 ±3,349
11,951 ±3,016
02:27 (02:47)
50
Inside My Radio
May 11, 2015
$2.99
78% (91%/68%)
25,893 ±4,439
12,946 ±3,139
02:57 (02:20)
51
Pix the Cat
Jan 29, 2015
$1.99
78% (91%/77%)
94,410 ±8,476
44,416 ±5,814
02:52 (02:27)
52
Pizza Express
Jun 25, 2015
$0.69
78% (91%)
26,690 ±4,507
16,532 ±3,547
04:05 (03:39)
53
Shootout on Cash Island
Jun 1, 2017
$0.99
N/A (N/A)
2,067 ±1,528
886 ±1,000
01:58 (02:44)
54
XenoRaptor
Jun 16, 2014
$3.74
78% (91%)
8,565 ±2,553
6,573 ±2,236
02:05 (01:38)
55
Leos Fortune - HD Edition
Sep 8, 2015
$6.99
74% (90%)
10,158 ±2,780
6,772 ±2,270
02:03 (01:18)
56
stratO
Jun 1, 2015
$2.49
N/A (N/A)
9,162 ±2,641
5,179 ±1,985
03:53 (04:20)
57
Super Splatters
Jun 26, 2013
$4.99
N/A (N/A/73%)
135,838 ±10,167
53,778 ±6,398
02:05 (00:57)
58
Procyon
Feb 26, 2014
$1.99
74% (90%)
23,304 ±4,211
13,942 ±3,257
03:15 (02:29)
59
Luna Sky
Oct 2, 2015
$1.29
N/A (N/A)
48,400 ±6,069
22,507 ±4,139
03:33 (03:48)
60
Project Nimbus
Nov 5, 2014
$10.04
74% (90%)
27,686 ±4,590
22,109 ±4,102
04:58 (01:08)
61
Cosmochoria
Apr 27, 2015
$2.49
74% (90%)
26,690 ±4,507
21,312 ±4,027
05:35 (04:03)
62
The Cat Machine
Aug 12, 2015
$3.99
74% (90%)
4,382 ±1,826
3,784 ±1,697
03:57 (03:27)
63
Pivvot
Jul 14, 2014
$4.99
74% (90%)
18,125 ±3,714
13,942 ±3,257
03:13 (02:36)
64
AIRHEART - Tales of broken Wings
Oct 13, 2016
$14.99
N/A (N/A)
996 ±870
398 ±550
01:22 (00:52)
65
Mecha Ace
Dec 5, 2014
$3.95
74% (90%)
9,760 ±2,725
8,764 ±2,582
06:55 (05:09)
66
Canabalt
Apr 30, 2015
$0.98
74% (90%)
35,653 ±5,209
17,926 ±3,694
01:42 (00:56)
67
Gigachess
Dec 15, 2015
$1.35
N/A (N/A)
4,382 ±1,826
3,386 ±1,605
02:10 (01:55)
68
Dashy Square
Apr 25, 2016
$0.99
74% (90%)
18,723 ±3,775
14,938 ±3,372
04:49 (04:46)
69
Reign of Bullets
Aug 19, 2015
$4.99
N/A (N/A)
16,133 ±3,504
7,967 ±2,462
03:32 (02:57)
70
The Bug Butcher
Jan 19, 2016
$2.39
70% (89%/81%)
51,985 ±6,290
35,852 ±5,224
03:15 (02:17)
71
NEON STRUCT
May 20, 2015
$3.59
70% (89%/62%)
49,794 ±6,156
13,743 ±3,234
02:20 (01:33)
72
Bermuda
Mar 17, 2015
$2.99
N/A (N/A)
81,264 ±7,864
31,271 ±4,879
02:33 (02:00)
73
Iron Fisticle
Sep 16, 2014
$8.99
70% (89%)
14,341 ±3,304
11,353 ±2,939
02:45 (01:35)
74
Shoot 1UP
Sep 23, 2015
$3.99
N/A (N/A)
11,154 ±2,913
6,573 ±2,236
03:19 (03:12)
75
Dragon's Wake
Dec 10, 2015
$1.99
70% (89%)
19,718 ±3,874
12,946 ±3,139
04:09 (03:32)
76
Please, Don't Touch Anything 3D
Dec 7, 2016
$5.99
70% (89%)
11,353 ±2,939
9,361 ±2,669
02:32 (01:52)
77
Kromaia
Oct 23, 2014
$4.99
N/A (N/A/68%)
28,482 ±4,656
11,951 ±3,016
02:34 (02:40)
78
Bard's Gold
Aug 14, 2015
$1.99
N/A (N/A/58%)
2,988 ±1,508
2,191 ±1,291
04:54 (04:16)
79
Stories Untold
Feb 27, 2017
$4.99
70% (89%/81%)
16,332 ±3,526
10,756 ±2,861
04:04 (02:53)
80
Axes and Acres
Apr 7, 2016
$5.99
N/A (N/A)
11,353 ±2,939
8,365 ±2,523
03:09 (02:56)
81
Intensive Exposure
Sep 6, 2016
$0.99
70% (89%)
10,556 ±2,834
8,166 ±2,493
01:57 (01:35)
82
Club Life
Apr 13, 2016
$5.19
N/A (N/A)
14,142 ±3,281
10,158 ±2,780
04:32 (04:15)
83
Bunker Punks
Mar 30, 2016
$4.94
67% (88%)
8,365 ±2,523
6,772 ±2,270
03:02 (02:21)
84
WALLSLIDE
Jul 14, 2016
$1.99
N/A (N/A)
16,532 ±3,547
15,536 ±3,439
11:45 (03:29)
85
Cosmophony
Jul 9, 2015
$1.74
67% (88%)
10,556 ±2,834
8,365 ±2,523
02:27 (02:08)
86
Jack Lumber
Apr 30, 2013
$4.99
N/A (N/A)
160,735 ±11,059
57,960 ±6,642
01:49 (00:50)
87
Turret Terminator
Feb 28, 2017
$0.5
N/A (N/A)
3,187 ±1,557
2,390 ±1,348
02:15 (02:33)
88
Uncraft World
Sep 25, 2015
$4.99
67% (88%)
13,345 ±3,187
12,349 ±3,066
04:15 (02:43)
89
Forget Me Not: My Organic Garden
Aug 21, 2015
$3.99
67% (88%)
12,150 ±3,041
8,764 ±2,582
07:15 (05:16)
90
Porcunipine
May 21, 2015
$1.99
N/A (N/A)
24,100 ±4,283
12,946 ±3,139
03:58 (03:59)
91
Thirst VR
Aug 10, 2016
$0.74
N/A (N/A)
3,984 ±1,741
2,788 ±1,457
00:19 (00:16)
92
Retro/Grade
Mar 20, 2013
$1.99
67% (88%)
91,223 ±8,332
48,798 ±6,094
02:45 (01:55)
93
Ephemerid: A Musical Adventure
Feb 3, 2015
$0.49
67% (88%)
9,959 ±2,753
7,170 ±2,336
01:50 (01:12)
94
Phoenix Force
Nov 13, 2014
$0.49
64% (87%)
72,699 ±7,438
54,574 ±6,445
03:44 (02:23)
95
Captain Forever Remix
Jun 3, 2016
$5.99
64% (87%)
18,723 ±3,775
17,328 ±3,632
04:58 (02:28)
96
Super Indie Karts
May 6, 2015
$4.99
64% (87%)
5,378 ±2,023
4,581 ±1,867
02:21 (00:26)
97
Champion of the Gods
Jul 17, 2015
$4.89
64% (87%)
11,552 ±2,965
10,357 ±2,808
06:21 (03:52)
98
Ballpoint Universe - Infinite
Dec 17, 2013
$3.99
64% (87%)
127,274 ±9,842
70,508 ±7,325
03:41 (02:10)
99
Chicku
May 5, 2016
$1.24
N/A (N/A)
4,382 ±1,826
2,788 ±1,457
02:06 (02:22)
100
Spellsworn
Nov 2, 2015
$9.99
62% (86%)
15,735 ±3,461
9,162 ±2,641
02:55 (02:52)
101
Last Dream: World Unknown
Jun 1, 2017
$4.99
N/A (N/A)
2,191 ±1,291
996 ±870
40:33 (67:10)
102
Clandestinity of Elsie
Jul 8, 2015
$0.49
N/A (N/A)
23,702 ±4,247
15,735 ±3,461
03:32 (03:11)
103
Ballad of Solar
May 22, 2014
$0.69
62% (86%)
13,544 ±3,211
9,560 ±2,697
04:25 (04:00)
104
Knytt Underground
Oct 25, 2013
$3.49
62% (86%)
69,313 ±7,263
36,848 ±5,296
03:12 (01:09)
105
RETSNOM
Jul 23, 2015
$1.24
N/A (N/A)
10,756 ±2,861
6,971 ±2,303
03:42 (04:16)
106
Pinstripe
Apr 24, 2017
$9.99
62% (86%)
7,170 ±2,336
4,780 ±1,907
03:40 (03:17)
107
My Night Job
Apr 21, 2016
$1.39
N/A (N/A)
2,988 ±1,508
2,589 ±1,404
01:08 (00:44)
108
Chariot
Nov 12, 2014
$14.99
62% (86%/76%)
47,603 ±6,019
23,702 ±4,247
06:05 (02:10)
109
Scanner Sombre
Apr 26, 2017
$5.99
59% (85%/67%)
6,772 ±2,270
5,577 ±2,060
02:05 (02:09)
110
Sparkle 2
Jun 1, 2015
$2.39
N/A (N/A)
16,133 ±3,504
10,158 ±2,780
05:38 (05:39)
111
Ms. Splosion Man
Apr 3, 2013
$1.99
59% (85%)
67,720 ±7,179
23,104 ±4,193
03:01 (00:56)
112
Frederic: Resurrection of Music
May 16, 2014
$0.5
59% (85%)
143,805 ±10,461
90,227 ±8,287
03:41 (02:56)
113
Pof
Nov 8, 2013
$6.99
N/A (N/A)
43,819 ±5,775
29,080 ±4,705
02:46 (01:29)
114
Zolg
Dec 2, 2016
$0.49
59% (85%)
19,718 ±3,874
13,942 ±3,257
03:39 (03:10)
115
Pineapple Smash Crew
Feb 2, 2012
$1.99
59% (85%/62%)
25,495 ±4,405
12,548 ±3,090
01:32 (01:07)
116
OPUS: The Day We Found Earth
Apr 22, 2016
$3.59
59% (85%)
9,560 ±2,697
7,768 ±2,431
02:44 (02:16)
117
Polygon Attack
Dec 27, 2016
$0.62
N/A (N/A)
9,760 ±2,725
6,772 ±2,270
03:04 (03:30)
118
Link: The Unleashed Nexus
Aug 21, 2015
$4.99
N/A (N/A)
2,191 ±1,291
1,394 ±1,030
01:25 (00:57)
119
Tomb of Tyrants
Jun 25, 2015
$3.19
59% (85%)
24,300 ±4,300
19,718 ±3,874
03:52 (02:38)
120
Western Press
Apr 21, 2016
$1.64
N/A (N/A)
93,414 ±8,432
22,706 ±4,157
02:15 (01:45)
121
Oh My Gore!
Oct 20, 2016
$1.24
N/A (N/A)
2,788 ±1,457
2,390 ±1,348
02:39 (01:47)
122
It came from space, and ate our brains
Mar 19, 2015
$4.99
56% (84%)
91,820 ±8,359
52,184 ±6,302
03:59 (03:52)
123
Echo of the Wilds
Jun 10, 2014
$4.49
54% (83%)
26,291 ±4,473
18,125 ±3,714
03:12 (02:17)
124
BIT.TRIP BEAT
Nov 2, 2010
$2.99
54% (83%)
306,732 ±15,275
224,074 ±13,057
01:53 (00:54)
125
Fuego!
Nov 16, 2015
$0.49
N/A (N/A)
1,771 ±1,414
886 ±1,000
04:21 (02:43)
126
Instant Dungeon!
Nov 25, 2014
$1.33
54% (83%)
13,743 ±3,234
11,552 ±2,965
02:56 (01:27)
127
Road Not Taken
Aug 5, 2014
$4.49
54% (83%/75%)
52,981 ±6,350
33,462 ±5,047
04:17 (01:26)
128
Super Galaxy Squadron EX Turbo
Jan 23, 2015
$5.99
54% (83%)
91,820 ±8,359
22,308 ±4,120
02:12 (02:11)
129
Caromble!
Aug 27, 2015
$9.09
N/A (N/A)
7,768 ±2,431
996 ±870
01:21 (01:10)
130
Octave
Oct 18, 2016
$2.39
N/A (N/A)
34,657 ±5,136
23,901 ±4,265
03:43 (03:27)
131
Labyrinthine Dreams
May 26, 2015
$0.49
54% (83%)
98,991 ±8,680
35,055 ±5,165
02:11 (02:07)
132
Empire of the Gods
Jan 27, 2016
$0.49
N/A (N/A)
18,523 ±3,755
10,955 ±2,887
03:34 (02:58)
133
The Promised Land
Apr 25, 2014
$0.69
54% (83%)
26,490 ±4,490
21,113 ±4,009
09:12 (04:51)
134
The Spatials: Galactology
Jul 7, 2016
$9.74
54% (83%)
19,918 ±3,893
7,170 ±2,336
06:57 (02:32)
135
Full Bore
May 6, 2014
$3.74
N/A (N/A/72%)
57,363 ±6,607
26,291 ±4,473
03:23 (02:20)
136
OTTTD
Aug 6, 2014
$2.63
51% (82%)
52,383 ±6,314
31,669 ±4,910
05:10 (02:20)
137
The Novelist
Dec 10, 2013
$2.99
51% (82%/66%)
150,577 ±10,704
60,350 ±6,777
02:56 (01:28)
138
TIMEframe
Jul 7, 2015
$1.99
51% (82%)
91,024 ±8,323
17,727 ±3,673
01:52 (01:58)
139
iZBOT
Sep 1, 2015
$0.99
51% (82%)
6,971 ±2,303
4,979 ±1,947
02:57 (02:53)
140
Actual Sunlight
Apr 3, 2014
$0.49
51% (82%/77%)
11,154 ±2,913
7,170 ±2,336
01:21 (01:15)
141
Bloody Streets
Mar 12, 2015
$0.74
N/A (N/A)
17,926 ±3,694
9,959 ±2,753
02:19 (02:09)
142
Kiai Resonance
Apr 23, 2015
$1.24
49% (81%)
12,946 ±3,139
9,361 ±2,669
02:16 (01:49)
143
Treeker: The Lost Glasses
May 13, 2015
$3.99
N/A (N/A)
18,723 ±3,775
12,747 ±3,115
03:38 (02:47)
144
Frederic: Resurrection of Music Director's Cut
Apr 21, 2016
$0.59
49% (81%)
72,102 ±7,408
40,234 ±5,534
03:15 (03:11)
145
Three Fourths Home: Extended Edition
Mar 20, 2015
$1.69
N/A (N/A/77%)
28,482 ±4,656
17,129 ±3,611
02:28 (02:11)
146
Grimoire: Manastorm
Feb 4, 2015
$9.99
49% (81%)
219,891 ±12,935
109,945 ±9,147
02:39 (02:35)
147
Imagine Earth
May 20, 2014
$17.99
46% (80%)
17,328 ±3,632
16,930 ±3,590
04:57 (02:10)
148
Mysterious Space
May 15, 2015
$4
N/A (N/A)
13,345 ±3,187
7,170 ±2,336
04:00 (04:25)
149
Solar Flux
Oct 24, 2013
$2.99
46% (80%)
128,469 ±9,888
76,683 ±7,639
02:38 (02:08)
150
Cherry Tree High I! My! Girls!
Nov 20, 2014
$1.99
46% (80%)
68,716 ±7,232
25,694 ±4,422
02:17 (01:33)
151
Life Beetle
Apr 18, 2017
$0.49
46% (80%)
12,548 ±3,090
9,560 ±2,697
02:56 (03:14)
152
Mega Coin Squad
Aug 15, 2014
$2.99
N/A (N/A/56%)
9,361 ±2,669
4,581 ±1,867
03:42 (02:17)
153
Fist Slash: Of Ultimate Fury
Dec 10, 2015
$1.99
N/A (N/A)
10,556 ±2,834
6,573 ±2,236
03:09 (03:09)
154
Space Moth DX
Jan 22, 2016
$0.49
N/A (N/A)
23,104 ±4,193
12,150 ±3,041
02:47 (02:34)
155
Reflections
Jun 26, 2015
$9.99
N/A (N/A)
15,735 ±3,461
2,788 ±1,457
00:51 (00:52)
156
GearCity
May 30, 2014
$12.74
46% (80%)
21,710 ±4,065
19,320 ±3,835
44:33 (05:38)
157
ChargeShot
Sep 18, 2015
$3.39
N/A (N/A)
20,515 ±3,951
14,938 ±3,372
03:19 (03:48)
158
The Guest
Mar 10, 2016
$1.49
46% (80%/68%)
19,121 ±3,815
11,951 ±3,016
03:33 (03:06)
159
NEO AQUARIUM - The King of Crustaceans -
Jun 8, 2015
$3.59
46% (80%)
37,644 ±5,353
14,540 ±3,327
01:36 (00:37)
160
Heavenly Battle
Jun 15, 2016
$0.99
N/A (N/A)
93,215 ±8,423
79,471 ±7,777
03:41 (03:30)
161
XLarn
May 25, 2015
$3.49
N/A (N/A)
3,984 ±1,741
2,589 ±1,404
02:42 (02:21)
162
Dungeon of Zolthan
May 11, 2016
$0.49
46% (80%)
123,888 ±9,710
86,443 ±8,111
07:23 (03:30)
163
Sugar Cube: Bittersweet Factory
Nov 7, 2012
$1.74
44% (79%)
56,168 ±6,538
33,262 ±5,032
02:24 (01:26)
164
Tiny Brains
Dec 11, 2013
$1.99
44% (79%)
58,359 ±6,665
33,661 ±5,062
01:57 (01:23)
165
TurnOn
Jun 1, 2016
$2.99
44% (79%/67%)
13,942 ±3,257
8,764 ±2,582
02:48 (02:06)
166
Morphine
Oct 28, 2015
$0.92
44% (79%)
30,872 ±4,847
18,922 ±3,795
02:48 (02:33)
167
Fancy Skulls
Jun 16, 2014
$2.24
44% (79%)
58,160 ±6,653
33,063 ±5,016
03:46 (02:27)
168
Guns of Icarus Alliance
Mar 31, 2017
$9.99
44% (79%)
42,823 ±5,709
24,698 ±4,336
06:23 (01:54)
169
BATTLECREW Space Pirates
Jan 31, 2017
$9.99
N/A (N/A)
3,984 ±1,741
2,788 ±1,457
03:11 (03:35)
170
Journal
Feb 17, 2014
$1.49
44% (79%/59%)
21,909 ±4,084
14,142 ±3,281
02:32 (01:51)
171
Polyball
Jun 4, 2015
$7.49
N/A (N/A)
14,540 ±3,327
9,560 ±2,697
03:43 (03:02)
172
Finders
Apr 9, 2015
$0.59
42% (78%)
9,760 ±2,725
7,170 ±2,336
08:28 (04:45)
173
The Franz Kafka Videogame
Apr 6, 2017
$6.99
42% (78%/66%)
2,362 ±1,633
1,181 ±1,155
02:01 (02:16)
174
ReignMaker
Apr 16, 2014
$14.99
N/A (N/A)
58,558 ±6,676
30,872 ±4,847
03:47 (01:46)
175
BIT.TRIP VOID
Dec 19, 2012
$2.99
42% (78%)
50,392 ±6,193
28,681 ±4,672
01:42 (00:50)
176
Back to Bed
Aug 6, 2014
$1.49
42% (78%/57%)
134,444 ±10,115
61,546 ±6,844
02:16 (01:18)
177
Chronicles of a Dark Lord: Episode 1 Tides of Fate Complete
Dec 19, 2014
$0.99
N/A (N/A)
62,741 ±6,910
42,225 ±5,669
04:36 (03:30)
178
Unfortunate Spacemen
May 6, 2016
$9.99
40% (77%)
1,793 ±1,168
1,394 ±1,030
02:22 (03:24)
179
1979 Revolution: Black Friday
Apr 4, 2016
$2.39
40% (77%/80%)
24,300 ±4,300
14,341 ±3,304
01:53 (01:20)
180
MOAI: Build Your Dream
Feb 26, 2015
$0.69
38% (76%)
15,536 ±3,439
13,345 ±3,187
06:07 (02:54)
181
Albino Lullaby: Episode 1
Sep 14, 2015
$4.99
38% (76%)
22,905 ±4,175
15,137 ±3,394
03:28 (02:07)
182
iO
Dec 5, 2014
$1.99
38% (76%)
29,080 ±4,705
18,723 ±3,775
02:59 (01:23)
183
A Druid's Duel
Feb 25, 2015
$2.63
38% (76%/70%)
23,503 ±4,229
12,349 ±3,066
03:47 (01:38)
184
Dwarf Tower
Dec 23, 2014
$0.99
38% (76%)
24,300 ±4,300
17,727 ±3,673
02:33 (01:38)
185
BRAWL
Aug 13, 2015
$5.09
N/A (N/A)
13,544 ±3,211
9,361 ±2,669
05:21 (05:02)
186
Broken Bots
Jun 8, 2016
$3.49
N/A (N/A)
10,556 ±2,834
7,768 ±2,431
03:27 (03:45)
187
Child Phobia: Nightcoming Fears
Dec 20, 2016
$1.99
N/A (N/A)
6,573 ±2,236
5,577 ±2,060
03:20 (03:52)
188
Flame of Memory
Feb 1, 2017
$1.99
N/A (N/A)
4,979 ±1,947
3,386 ±1,605
03:03 (03:17)
189
The Dark Legions
Jul 9, 2016
$0.99
N/A (N/A)
9,560 ±2,697
3,585 ±1,652
05:47 (03:40)
190
Share
May 3, 2016
$2.49
37% (75%)
7,967 ±2,462
5,179 ±1,985
02:37 (02:24)
191
Traverser
Jul 9, 2015
$2.99
N/A (N/A/61%)
6,971 ±2,303
2,988 ±1,508
01:55 (02:07)
192
Puddle
Nov 9, 2012
$7.99
37% (75%)
122,294 ±9,647
88,833 ±8,222
01:57 (01:09)
193
Cubemen 2
Apr 8, 2013
$1.99
37% (75%/68%)
100,385 ±8,741
53,180 ±6,362
03:35 (01:48)
194
Dead In Bermuda
Aug 27, 2015
$5.99
37% (75%)
29,876 ±4,769
19,918 ±3,893
05:35 (03:18)
195
Really Big Sky
Feb 24, 2012
$2.49
35% (74%)
598,127 ±21,323
327,645 ±15,787
01:59 (01:17)
196
StarsOne
Apr 8, 2016
$4.89
35% (74%)
7,370 ±2,368
6,971 ±2,303
15:28 (05:35)
197
Ninja Stealth
Sep 29, 2016
$0.49
35% (74%)
37,844 ±5,367
26,490 ±4,490
05:00 (04:33)
198
Cubway
Aug 11, 2016
$0.99
N/A (N/A)
8,963 ±2,612
6,971 ±2,303
03:53 (03:10)
199
Qora
Oct 2, 2014
$1.99
33% (73%/63%)
36,250 ±5,253
18,922 ±3,795
04:24 (02:54)
200
Giana Sisters 2D
Oct 23, 2015
$3.99
33% (73%)
4,581 ±1,867
2,988 ±1,508
01:25 (00:42)
201
Shift
Aug 16, 2016
$0.49
33% (73%)
27,088 ±4,541
17,129 ±3,611
02:41 (02:12)
202
Yatagarasu Attack on Cataclysm
Jul 7, 2015
$9.89
33% (73%)
17,528 ±3,652
15,735 ±3,461
06:33 (01:34)
203
Fortify
Apr 8, 2016
$0.99
31% (72%)
7,170 ±2,336
5,179 ±1,985
01:42 (01:36)
204
The Purge Day
Nov 25, 2016
$1.49
N/A (N/A)
5,179 ±1,985
2,988 ±1,508
01:43 (02:25)
205
One More Line
Aug 28, 2015
$1.19
31% (72%)
12,349 ±3,066
9,162 ±2,641
02:52 (01:49)
206
Genius Greedy Mouse
Aug 12, 2016
$1.99
N/A (N/A)
7,170 ±2,336
5,776 ±2,096
02:31 (02:43)
207
Black The Fall
Free
N/A (N/A)
797 ±778
398 ±550
00:37 (00:24)
208
Concursion
Jun 6, 2014
$1.74
N/A (N/A/66%)
21,312 ±4,027
10,955 ±2,887
01:40 (01:27)
209
Bob Came in Pieces
Jan 22, 2010
$6.99
31% (72%/73%)
62,741 ±6,910
37,844 ±5,367
01:55 (00:38)
210
Wayward Terran Frontier: Zero Falls
Feb 11, 2016
$20.99
30% (71%)
5,378 ±2,023
5,179 ±1,985
10:00 (11:37)
211
Elements II: Hearts of Light
Apr 1, 2016
$0.49
N/A (N/A)
125,481 ±9,772
77,679 ±7,689
03:44 (03:31)
212
Deer Man
Apr 15, 2016
$1.99
30% (71%)
4,581 ±1,867
3,386 ±1,605
00:54 (00:41)
213
All Zombies Must Die!: Scorepocalypse
Apr 19, 2012
$0.99
N/A (N/A)
31,868 ±4,925
10,158 ±2,780
02:26 (00:35)
214
Warring States
Oct 6, 2014
$19.99
N/A (N/A)
9,959 ±2,753
4,581 ±1,867
02:12 (02:10)
215
Untamed: Life Of A Cougar
Aug 27, 2015
$1.49
28% (70%)
7,569 ±2,400
2,191 ±1,291
09:33 (03:23)
216
Project AURA
Jan 5, 2015
$19.99
28% (70%)
21,511 ±4,046
21,113 ±4,009
13:41 (03:23)
217
MetaTron
Dec 19, 2016
$7.99
N/A (N/A)
8,166 ±2,493
5,975 ±2,132
02:54 (02:57)
218
Pixel Puzzles 2: RADical ROACH
Aug 12, 2016
$0.99
N/A (N/A)
2,589 ±1,404
797 ±778
04:11 (04:54)
219
Orion Trail
Oct 12, 2015
$2.95
28% (70%)
6,174 ±2,168
5,577 ±2,060
03:24 (02:37)
220
Emerge: Cities of the Apocalypse
Apr 27, 2016
$3.19
28% (70%)
1,992 ±1,231
1,992 ±1,231
12:29 (24:45)
221
BlastZone 2
Feb 19, 2015
$1.01
N/A (N/A)
21,710 ±4,065
14,142 ±3,281
05:12 (05:19)
222
Heavy Gear Assault
Feb 10, 2017
$23.99
N/A (N/A)
24,499 ±4,318
15,536 ±3,439
02:57 (03:19)
223
Bohemian Killing
Jul 21, 2016
$6.49
27% (69%/55%)
8,963 ±2,612
4,780 ±1,907
01:55 (01:47)
224
Volt
Apr 14, 2014
$0.49
27% (69%)
68,118 ±7,200
46,806 ±5,969
02:14 (01:31)
225
Altitude0: Lower & Faster
Sep 2014
$11.39
N/A (N/A)
2,788 ±1,457
2,589 ±1,404
03:53 (03:58)
226
Macabre
Jul 6, 2015
$0.49
N/A (N/A)
32,067 ±4,940
24,499 ±4,318
06:16 (06:15)
227
Gentlemen!
Nov 5, 2013
$1.24
N/A (N/A)
48,201 ±6,057
29,876 ±4,769
03:30 (01:08)
228
Rhythm Destruction
Jun 16, 2014
$1.24
N/A (N/A)
52,782 ±6,338
34,856 ±5,151
02:20 (01:51)
229
Tulpa
Jan 29, 2015
$2.49
25% (68%)
45,611 ±5,892
21,113 ±4,009
02:48 (03:18)
230
Crest
Apr 23, 2015
$5.49
24% (67%)
4,780 ±1,907
4,382 ±1,826
01:22 (00:53)
231
Rush Bros.
May 24, 2013
$0.99
24% (67%)
161,930 ±11,100
109,746 ±9,139
02:07 (01:22)
232
FaeVerse Alchemy
Apr 2, 2014
Free
24% (67%)
112,336 ±9,246
58,757 ±6,687
07:50 (07:31)
233
Expect The Unexpected
Dec 8, 2016
$4.19
N/A (N/A)
886 ±1,000
886 ±1,000
02:56 (04:06)
234
Signal Ops
Nov 18, 2013
$1.49
24% (67%/61%)
8,365 ±2,523
6,573 ±2,236
01:43 (01:00)
235
Sky Mercenaries
Dec 16, 2014
$1.49
N/A (N/A)
44,018 ±5,788
32,267 ±4,956
02:49 (03:04)
236
Hare In The Hat
Apr 1, 2015
$0.49
24% (67%)
47,404 ±6,007
35,653 ±5,209
04:16 (04:04)
237
Pulstar
Jun 11, 2014
$0.99
N/A (N/A)
28,084 ±4,623
16,133 ±3,504
01:52 (01:15)
238
Amazing Princess Sarah
Aug 18, 2014
$1.69
23% (66%)
8,166 ±2,493
5,776 ±2,096
03:53 (03:07)
239
Zack Zero
Apr 29, 2013
$2.99
22% (65%)
81,862 ±7,893
46,408 ±5,943
02:13 (00:57)
240
POP: Methodology Experiment One
Dec 10, 2014
$1.99
22% (65%)
6,772 ±2,270
4,581 ±1,867
02:39 (02:50)
241
Three Dead Zed
Jul 7, 2014
$1.49
N/A (N/A)
79,073 ±7,758
25,495 ±4,405
02:50 (02:11)
242
Orbit HD
Mar 18, 2015
$0.99
22% (65%)
23,104 ±4,193
16,731 ±3,568
03:08 (01:27)
243
Farlight Explorers
Mar 11, 2015
$9.89
22% (65%)
4,382 ±1,826
3,984 ±1,741
07:11 (03:40)
244
Predestination
Feb 4, 2015
$22.49
N/A (N/A)
3,784 ±1,697
2,390 ±1,348
07:23 (07:53)
245
Herolike
Sep 28, 2016
$1.99
N/A (N/A)
4,581 ±1,867
2,191 ±1,291
01:22 (01:46)
246
Rabbit Hole 3D: Steam Edition
Apr 25, 2014
$0.74
21% (64%)
74,293 ±7,519
44,815 ±5,840
01:52 (01:10)
247
Montague's Mount
Nov 19, 2013
$0.99
21% (64%/39%)
75,687 ±7,590
37,246 ±5,324
02:39 (01:42)
248
Curses 'N Chaos
Aug 18, 2015
$3.39
N/A (N/A)
48,201 ±6,057
9,959 ±2,753
03:03 (02:13)
249
Action Alien
Jun 26, 2015
$0.99
N/A (N/A)
58,956 ±6,699
41,030 ±5,588
02:40 (02:56)
250
Dwelvers
Sep 11, 2014
$9.99
21% (64%)
8,365 ±2,523
5,776 ±2,096
20:00 (05:56)
251
Star Command Galaxies
Sep 17, 2015
$14.99
21% (64%)
8,565 ±2,553
6,772 ±2,270
03:38 (02:18)
252
Amigdala
Mar 28, 2016
$5.99
N/A (N/A)
29,080 ±4,705
22,706 ±4,157
03:19 (03:34)
253
Sky Nations
Jul 17, 2014
$13.99
18% (62%)
4,183 ±1,784
3,984 ±1,741
11:15 (11:10)
254
Party of Sin
Dec 13, 2012
$5.99
N/A (N/A)
82,857 ±7,941
44,018 ±5,788
02:25 (01:37)
255
Supreme: Pizza Empire
Jan 9, 2015
$2.49
18% (62%)
6,772 ±2,270
5,577 ±2,060
02:23 (02:19)
256
Ukrainian Ninja
Dec 23, 2014
$0.99
N/A (N/A)
14,341 ±3,304
11,951 ±3,016
02:08 (01:16)
257
Contract
Jan 5, 2016
$2.99
N/A (N/A)
10,158 ±2,780
1,195 ±953
02:28 (02:17)
258
Autocraft
Oct 15, 2014
$2.49
17% (61%)
24,499 ±4,318
22,109 ±4,102
06:24 (01:53)
259
Terror Lab
Mar 16, 2016
$0.99
N/A (N/A)
6,573 ±2,236
398 ±550
00:11 (00:07)
260
Arson and Plunder: Unleashed
Sep 25, 2015
$1.39
N/A (N/A)
20,117 ±3,913
13,942 ±3,257
03:14 (03:17)
261
Nanobots
Mar 15, 2016
$1.19
N/A (N/A)
6,374 ±2,202
4,979 ±1,947
02:27 (02:36)
262
Unalive
Jan 5, 2017
$0.5
N/A (N/A)
57,164 ±6,596
49,197 ±6,119
05:56 (06:31)
263
Rising Islands
Aug 2, 2016
$2.49
N/A (N/A)
9,361 ±2,669
6,174 ±2,168
02:13 (02:21)
264
Disillusions Manga Horror
Jan 16, 2015
$0.49
15% (59%)
35,453 ±5,195
25,495 ±4,405
03:03 (02:09)
265
Amulet of Dreams
Jun 3, 2016
$1.39
15% (59%)
4,780 ±1,907
3,585 ±1,652
03:54 (03:25)
266
Deserter Simulator
Jul 30, 2015
$9.99
15% (59%)
4,183 ±1,784
2,988 ±1,508
03:46 (04:00)
267
World of Diving
Aug 26, 2014
$6.79
15% (59%)
29,478 ±4,737
25,096 ±4,370
03:46 (01:51)
268
Canyon Capers
Apr 25, 2014
$0.69
N/A (N/A)
335,812 ±15,982
205,948 ±12,518
02:58 (02:01)
269
Super Trench Attack 2
Nov 6, 2015
$0.69
14% (57%)
15,735 ±3,461
10,357 ±2,808
03:31 (03:24)
270
Bunker - The Underground Game
May 21, 2015
$1.49
N/A (N/A)
21,113 ±4,009
10,158 ±2,780
05:41 (05:50)
271
Congo
Mar 21, 2016
$2.49
13% (56%)
5,179 ±1,985
4,382 ±1,826
00:59 (01:04)
272
Sumo Revise
Jun 25, 2015
$4.99
N/A (N/A)
58,558 ±6,676
43,819 ±5,775
03:53 (03:54)
273
Deathwave
Jun 9, 2016
$4.99
N/A (N/A)
7,967 ±2,462
5,577 ±2,060
02:00 (02:10)
274
Oblitus
Feb 27, 2015
$1.49
10% (52%/69%)
9,959 ±2,753
5,975 ±2,132
01:29 (00:46)
275
MyRPG Master
Feb 9, 2015
$33.99
N/A (N/A)
1,181 ±1,155
590 ±816
23:57 (20:05)
276
TRISTOY
Jan 15, 2015
$2.09
N/A (N/A/49%)
25,096 ±4,370
12,946 ±3,139
04:20 (05:08)
277
Team Indie
Oct 8, 2014
$1.29
N/A (N/A)
86,044 ±8,092
14,142 ±3,281
02:30 (02:35)
278
Social Justice Warriors
Feb 27, 2015
$1.99
10% (51%)
3,984 ±1,741
3,386 ±1,605
01:53 (01:58)
279
Nightfall: Escape
Jun 28, 2016
$9.99
N/A (N/A)
17,926 ±3,694
8,565 ±2,553
03:50 (03:53)
280
Jumping Tank
Jan 20, 2017
$0.49
N/A (N/A)
165,516 ±11,223
157,947 ±10,963
04:00 (04:01)
281
The Falling Sun
Apr 7, 2015
$4.99
8% (49%)
88,434 ±8,204
66,724 ±7,126
05:06 (03:29)
282
Final Rush
Nov 21, 2014
$4.99
8% (48%)
13,345 ±3,187
8,963 ±2,612
03:59 (02:58)
283
Montas
Mar 24, 2014
$9.99
7% (47%)
40,831 ±5,575
6,971 ±2,303
01:23 (00:43)
284
Star Horizon
May 28, 2015
$1.49
7% (47%)
8,365 ±2,523
6,374 ±2,202
03:14 (03:00)
285
Vitrum
Apr 22, 2014
$4.99
N/A (N/A)
25,096 ±4,370
15,137 ±3,394
02:19 (01:49)
286
Blaster Shooter GunGuy!
Aug 10, 2015
$1.49
7% (46%)
116,717 ±9,425
89,430 ±8,250
03:36 (03:26)
287
Arcade Tale
Mar 31, 2017
$0.49
N/A (N/A)
17,528 ±3,652
14,341 ±3,304
03:05 (03:15)
288
Starship Annihilator
Sep 2, 2016
$0.49
N/A (N/A)
9,162 ±2,641
8,166 ±2,493
03:43 (03:16)
289
Darkness Assault
Feb 6, 2015
$0.49
6% (45%)
48,997 ±6,107
35,653 ±5,209
03:46 (03:04)
290
Undeadz!
Sep 25, 2015
$0.99
6% (45%)
1,593 ±1,101
1,593 ±1,101
00:46 (01:20)
291
It Comes Around - A Kinetic Novel
Sep 29, 2016
$2.09
N/A (N/A)
7,170 ±2,336
4,979 ±1,947
02:48 (03:03)
292
Scribble Space
Jun 1, 2015
$0.99
6% (44%)
18,922 ±3,795
13,146 ±3,163
03:06 (03:14)
293
A-Men
Jan 24, 2014
$9.99
N/A (N/A)
12,946 ±3,139
9,560 ±2,697
03:17 (02:58)
294
Kitten Rampage
Feb 3, 2016
$3.99
N/A (N/A)
2,788 ±1,457
2,390 ±1,348
01:46 (01:41)
295
Sleeping Valley
Oct 8, 2016
$0.59
N/A (N/A)
89,629 ±8,259
73,496 ±7,479
03:10 (03:29)
296
Cube Land Arena
Mar 29, 2016
$0.49
N/A (N/A)
17,727 ±3,673
14,938 ±3,372
05:54 (06:34)
297
The Gleam: VR Escape the Room
Oct 14, 2016
$1.99
N/A (N/A)
9,560 ±2,697
6,374 ±2,202
03:55 (02:02)
298
//N.P.P.D. RUSH//- The milk of Ultraviolet
Feb 13, 2014
$0.79
4% (40%)
110,344 ±9,164
69,513 ±7,274
02:14 (01:27)
299
Cuties
May 29, 2016
$0.5
N/A (N/A)
75,090 ±7,560
48,798 ±6,094
03:15 (03:29)
300
AdvertCity
Jun 5, 2015
$4.99
N/A (N/A)
12,548 ±3,090
9,560 ±2,697
03:49 (04:38)
301
Dead Sky
Nov 22, 2013
$1.99
4% (38%)
31,271 ±4,879
15,337 ±3,416
01:55 (00:28)
302
Monument
Jun 5, 2015
$0.71
4% (38%)
9,560 ±2,697
8,166 ±2,493
04:59 (03:08)
303
Krampus
Oct 18, 2016
$1.99
N/A (N/A)
58,956 ±6,699
49,794 ±6,156
03:15 (03:30)
304
Centauri Sector
Jun 23, 2015
$0.99
N/A (N/A)
18,723 ±3,775
11,951 ±3,016
04:04 (03:52)
305
Zpeciation: Tough Days (TD)
Feb 15, 2017
$1.19
N/A (N/A)
590 ±816
295 ±577
01:27 (00:43)
306
Days Under Custody
Nov 23, 2015
$0.49
N/A (N/A)
17,129 ±3,611
11,353 ±2,939
03:41 (03:54)
307
LSDriver
Jan 3, 2017
$0.49
N/A (N/A)
2,988 ±1,508
2,390 ±1,348
02:58 (02:47)
308
Uriel's Chasm
Sep 12, 2014
$0.74
3% (35%)
232,041 ±13,287
135,639 ±10,160
02:24 (01:26)
309
Inescapable
May 21, 2014
$4.99
N/A (N/A)
18,125 ±3,714
4,581 ±1,867
00:55 (00:52)
310
Wake
$4.99
2% (33%)
51,188 ±6,242
32,267 ±4,956
03:00 (02:28)
311
Imagine Me
Dec 9, 2014
$2.99
N/A (N/A)
58,956 ±6,699
34,856 ±5,151
02:09 (01:26)
312
Bad Hotel
Oct 16, 2013
$4.99
N/A (N/A)
103,970 ±8,895
45,611 ±5,892
02:34 (01:24)
313
Undead Overlord
Jul 18, 2014
$14.99
2% (31%)
3,585 ±1,652
3,585 ±1,652
01:39 (01:31)
314
Night Forest
Nov 8, 2016
$0.49
N/A (N/A)
110,145 ±9,156
101,580 ±8,792
04:53 (03:30)
315
A.I. Invasion
Sep 30, 2015
$6.99
N/A (N/A)
12,747 ±3,115
8,963 ±2,612
03:46 (04:06)
316
AoF Chess Club 2.0
Nov 4, 2015
$0.91
N/A (N/A)
13,942 ±3,257
11,552 ±2,965
03:34 (03:32)
317
The face of hope: Underground
Oct 28, 2016
$0.49
N/A (N/A)
129,465 ±9,926
121,697 ±9,624
03:34 (03:30)
318
Dream Factory
Nov 2, 2015
$0.99
N/A (N/A)
12,150 ±3,041
8,764 ±2,582
02:48 (02:53)
319
Godus Wars
Feb 3, 2016
$14.99
0% (18%)
300,956 ±15,131
31,470 ±4,894
03:26 (00:33)
320
Countless Rooms of Death
Jan 9, 2015
$0.49
N/A (N/A)
4,581 ±1,867
3,984 ±1,741
02:15 (02:21)
321
Nicolay's Adventure
Jan 16, 2017
$0.49
N/A (N/A)
159,939 ±11,032
148,984 ±10,648
03:32 (03:30)