App

Spy Fox in "Dry Cereal"
Spy Fox in "Dry Cereal"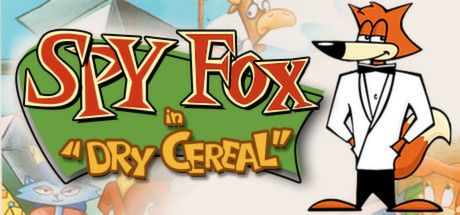 Store | Hub | SteamDB | Site
Developer: Humongous Entertainment Publisher: Humongous Entertainment, Nightdive Studios
Genre: Adventure, Casual
Languages: English, French, German, Dutch
Tags: Adventure (96), Point & Click (94), Casual (63), Family Friendly (53), Comedy (13), 1990's (6), Singleplayer (6)
Category: Single-player, Steam Trading Cards
Release date: Apr 17, 2014
Price: $6.99
Score rank: 92% Userscore: 95% Old userscore: 95%
Owners: 54,361 ± 7,337
Players in the last 2 weeks: 1,563 ± 1,529 (2.87%)
Players total: 35,723 ± 5,948 (65.71%)
Followers: 578
Peak concurrent players yesterday: 3
Playtime in the last 2 weeks: 01:52 (average) 03:09 (median)
Playtime total: 03:28 (average) 01:57 (median)

Steam Spy is still in beta, so expect major bugs.
Peak daily concurrent players:
CCU data courtesy of SteamDB. Used with permission.
Hourly concurrent players:
YouTube:
The views data is based on top 50 videos uploaded last week. Actual number of views might be more than the number shown.

The displayed number of videos uploaded yesterday is limited to 50, so if there were more videos uploaded, the number will still show 50.

If the game has commonly used word as its name (like "FEAR" or "Volume") its number of Youtube views might be wrong.
Games similar to this one:
#
Game
Release date

Price

Score rank
(Userscore / Metascore)

Owners

Players

Playtime (Median)

1
Mini Ghost
Apr 28, 2017
$1.99
99% (98%)
16,826 ±4,082
10,096 ±3,162
02:20 (02:17)
2
Serious Sam Classic: The First Encounter
Mar 22, 2010
N/A
97% (97%/87%)
815,418 ±28,397
209,938 ±14,417
02:39 (00:39)
3
Super House of Dead Ninjas
Feb 18, 2013
$6.99
95% (96%/79%)
143,669 ±11,928
104,839 ±10,189
04:19 (02:03)
4
Brothers - A Tale of Two Sons
Sep 3, 2013
$2.99
92% (95%/90%)
1,457,397 ±37,940
831,985 ±28,684
02:44 (01:50)
5
Warhammer 40,000: Dawn of War - Game of the Year Edition
Aug 7, 2007
$12.99
92% (95%/86%)
1,696,069 ±40,919
934,753 ±30,401
05:43 (01:54)
6
Brigador: Up-Armored Edition
Jun 2, 2016
$19.99
92% (95%/70%)
221,587 ±14,812
86,201 ±9,239
04:39 (01:23)
7
Savant - Ascent
Dec 4, 2013
$1.99
89% (94%)
231,423 ±15,137
119,077 ±10,859
02:31 (01:00)
8
Rune Classic
Jun 13, 2012
$9.99
89% (94%)
118,559 ±10,835
41,159 ±6,385
03:02 (00:52)
9
Zombie Training Simulator
Apr 15, 2016
$19.99
89% (94%)
80,247 ±8,915
64,716 ±8,006
03:21 (01:32)
10
QUAKE II
Aug 3, 2007
$4.99
86% (93%)
427,382 ±20,567
194,147 ±13,865
03:44 (00:33)
11
Worms Armageddon
Mar 19, 2013
$14.99
86% (93%)
807,911 ±28,266
527,303 ±22,842
06:27 (01:32)
12
The Dream Machine: Chapter 1 & 2
May 11, 2012
$3.99
86% (93%/75%)
140,045 ±11,776
72,740 ±8,488
05:37 (02:36)
13
Grow Home
Feb 4, 2015
$7.99
86% (93%/75%)
430,748 ±20,647
279,831 ±16,644
04:41 (02:12)
14
Eufloria HD
Oct 14, 2014
$14.99
86% (93%)
296,398 ±17,130
42,195 ±6,464
06:34 (02:33)
15
Alien Swarm: Reactive Drop
Apr 20, 2017
Free
86% (93%)
2,053,299 ±45,006
1,580,875 ±39,509
02:48 (00:50)
16
Serious Sam Fusion 2017 (beta)
$14.99
86% (93%)
2,792,870 ±52,450
218,998 ±14,725
03:17 (00:24)
17
METAL SLUG X
Oct 2, 2014
$7.99
82% (92%)
281,902 ±16,706
180,427 ±13,366
02:10 (01:05)
18
Shank
Oct 25, 2010
$9.99
77% (91%/67%)
550,083 ±23,330
273,618 ±16,458
02:08 (00:56)
19
Bulb Boy
Oct 29, 2015
$8.99
77% (91%/84%)
71,187 ±8,396
34,170 ±5,817
02:45 (02:16)
20
METAL SLUG
Jun 25, 2015
$7.99
77% (91%)
202,948 ±14,176
133,055 ±11,479
02:14 (00:48)
21
Beyond Good and Evil
May 13, 2008
$9.99
77% (91%)
226,505 ±14,975
131,761 ±11,423
04:26 (01:03)
22
UBERMOSH
Aug 13, 2015
$0.49
74% (90%)
133,832 ±11,512
96,815 ±9,792
02:09 (01:27)
23
Vanquish
May 25, 2017
$19.99
74% (90%/78%)
140,562 ±11,798
102,510 ±10,075
03:47 (02:27)
24
Grim Fandango Remastered
Jan 26, 2015
$14.99
74% (90%/84%)
784,872 ±27,861
423,241 ±20,467
04:48 (02:29)
25
SUPERHOT VR
May 25, 2017
$24.99
74% (90%/85%)
113,123 ±10,584
101,733 ±10,037
06:53 (02:36)
26
Geometry Wars 3: Dimensions Evolved
Nov 25, 2014
$14.99
74% (90%)
134,350 ±11,534
72,999 ±8,503
07:22 (02:22)
27
Kung Fury: Street Rage
May 28, 2015
$2.99
74% (90%)
100,956 ±9,999
82,577 ±9,043
02:15 (00:48)
28
Syberia
May 19, 2011
$12.99
70% (89%/82%)
562,250 ±23,586
279,054 ±16,621
04:23 (02:08)
29
Nex Machina
Jun 20, 2017
$19.99
70% (89%/84%)
164,896 ±12,778
58,503 ±7,612
02:17 (01:19)
30
Tomb Raider II
Nov 28, 2012
$6.99
70% (89%)
756,656 ±27,356
130,726 ±11,378
05:42 (00:16)
31
Oddworld: New 'n' Tasty
Feb 25, 2015
$19.99
70% (89%/87%)
330,050 ±18,075
160,754 ±12,617
04:55 (02:26)
32
Minecraft: Story Mode - Season Two
Jul 11, 2017
$24.99
70% (89%)
32,358 ±5,661
25,886 ±5,063
13:27 (09:25)
33
Meadow
Oct 26, 2016
$2.99
70% (89%)
159,459 ±12,566
141,598 ±11,841
05:52 (01:30)
34
Shadowgate (2014)
Aug 21, 2014
$14.99
67% (88%/68%)
138,750 ±11,722
78,694 ±8,828
04:03 (02:10)
35
Serious Sam 2
Jan 31, 2012
$9.99
67% (88%/74%)
1,025,614 ±31,841
536,105 ±23,032
04:30 (01:35)
36
Worms Ultimate Mayhem
Sep 28, 2011
$14.99
67% (88%/66%)
701,259 ±26,337
385,964 ±19,545
04:22 (01:25)
37
Counter-Strike: Condition Zero
Mar 1, 2004
$9.99
67% (88%/65%)
11,659,695 ±106,200
4,473,407 ±66,267
32:22 (01:13)
38
Counter-Strike: Condition Zero
Mar 1, 2004
$9.99
67% (88%/65%)
11,659,695 ±106,200
2,075,820 ±45,251
04:38 (00:32)
39
Stories Untold
Feb 27, 2017
$9.99
67% (88%/81%)
189,746 ±13,707
46,595 ±6,793
02:38 (02:15)
40
Marvel's Guardians of the Galaxy: The Telltale Series
Apr 18, 2017
$24.99
64% (87%/78%)
63,163 ±7,909
48,148 ±6,905
05:46 (04:01)
41
Commandos: Behind Enemy Lines
Mar 15, 2007
$4.99
64% (87%)
605,739 ±24,480
288,632 ±16,904
04:00 (00:24)
42
Supreme Commander
Sep 28, 2011
$14.99
64% (87%/86%)
894,630 ±29,742
332,897 ±18,153
09:37 (01:24)
43
Half-Life 2: Deathmatch
Nov 1, 2004
$4.99
64% (87%)
14,697,967 ±118,863
3,644,011 ±59,860
11:01 (00:38)
44
Out of Ammo
Sep 14, 2016
$14.99
61% (86%)
30,546 ±5,500
29,251 ±5,382
05:06 (01:52)
45
Raiden IV: OverKill
Sep 2, 2015
$14.99
61% (86%)
42,712 ±6,504
33,134 ±5,728
02:27 (01:05)
46
AI War: Fleet Command
Oct 21, 2009
$9.99
61% (86%/80%)
445,762 ±21,004
257,568 ±15,969
09:13 (01:20)
47
Binary Domain
Apr 27, 2012
$14.99
59% (85%/68%)
723,004 ±26,742
259,898 ±16,041
05:13 (01:15)
48
Fallout Shelter
Mar 29, 2017
Free
59% (85%/63%)
3,944,809 ±62,262
2,914,794 ±53,576
11:53 (02:02)
49
AirMech Strike
Nov 8, 2012
Free
59% (85%)
1,591,747 ±39,645
1,031,050 ±31,925
08:31 (01:20)
50
Seasons after Fall
Sep 2, 2016
$14.99
59% (85%/75%)
228,576 ±15,044
76,623 ±8,711
04:05 (02:15)
51
Renegade Ops
Oct 26, 2011
$15
59% (85%/76%)
787,460 ±27,907
217,186 ±14,664
03:13 (01:04)
52
Over 9000 Zombies!
Feb 25, 2015
$1.99
59% (85%)
97,074 ±9,805
68,340 ±8,227
02:53 (01:36)
53
The Descendant
Mar 24, 2016
$14.99
59% (85%/59%)
805,581 ±28,226
434,372 ±20,734
03:26 (03:30)
54
Crysis Warhead
Sep 17, 2008
$19.99
59% (85%/84%)
945,367 ±30,572
410,815 ±20,164
04:21 (02:16)
55
Strike Vector EX
Jul 19, 2017
$11.99
59% (85%)
22,780 ±4,750
18,120 ±4,236
02:04 (01:05)
56
ENSLAVED: Odyssey to the West Premium Edition
Oct 24, 2013
$19.99
59% (85%/70%)
455,340 ±21,228
213,562 ±14,541
05:20 (02:07)
57
SMITE
Sep 8, 2015
Free
56% (84%/83%)
7,365,163 ±84,779
5,358,976 ±72,465
40:30 (02:24)
58
Faeria
Mar 8, 2017
Free
56% (84%/80%)
1,024,320 ±31,821
609,363 ±24,553
11:35 (01:36)
59
DEFCON
Sep 29, 2006
$9.99
56% (84%/84%)
897,995 ±29,798
480,708 ±21,811
03:47 (00:40)
60
Tomb Raider I
Nov 28, 2012
$6.99
56% (84%)
770,893 ±27,612
274,136 ±16,474
02:25 (00:18)
61
Realm of the Mad God
Feb 20, 2012
Free
53% (83%/82%)
3,361,850 ±57,512
2,325,623 ±47,884
23:12 (01:08)
62
Transformice
Jan 30, 2015
Free
53% (83%)
2,706,410 ±51,636
2,064,171 ±45,125
15:49 (00:45)
63
PlanetSide 2
Nov 20, 2012
Free
53% (83%/84%)
8,855,953 ±92,823
5,554,935 ±73,763
22:53 (02:16)
64
King Arthur's Gold
Nov 5, 2013
$9.99
53% (83%/81%)
355,160 ±18,750
261,451 ±16,089
13:14 (01:30)
65
Shank 2
Feb 7, 2012
$9.99
53% (83%/72%)
621,788 ±24,802
312,706 ±17,594
03:44 (01:47)
66
Bloons TD Battles
Apr 20, 2016
Free
53% (83%)
1,488,978 ±38,347
1,304,668 ±35,902
09:03 (01:15)
67
Maize
Dec 1, 2016
$19.99
53% (83%/65%)
213,562 ±14,541
41,418 ±6,405
02:22 (01:39)
68
Mitos.is: The Game
Jul 29, 2015
Free
51% (82%)
2,266,343 ±47,273
1,943,541 ±43,791
09:01 (01:07)
69
Yonder: The Cloud Catcher Chronicles
Jul 17, 2017
$24.99
51% (82%/70%)
59,538 ±7,679
52,031 ±7,178
07:31 (03:21)
70
Yesterday
Mar 22, 2012
$9.99
51% (82%)
154,023 ±12,350
39,347 ±6,242
04:20 (03:48)
71
TWINKLE STAR SPRITES
May 26, 2016
$7.99
51% (82%)
31,581 ±5,593
7,766 ±2,773
01:15 (00:18)
72
8-Bit Hordes
Aug 12, 2016
$6.74
49% (81%)
41,159 ±6,385
32,358 ±5,661
03:19 (02:04)
73
Battlezone
May 11, 2017
$39.99
49% (81%)
6,730 ±2,582
3,883 ±1,961
04:27 (03:42)
74
Team Fortress Classic
Apr 1, 1999
$4.99
49% (81%)
6,030,207 ±76,817
853,212 ±29,047
10:57 (00:16)
75
War on Folvos
Aug 8, 2014
$0.99
N/A (N/A)
61,350 ±7,795
3,624 ±1,894
01:59 (01:34)
76
Duke Nukem 3D: 20th Anniversary World Tour
Oct 11, 2016
$19.99
49% (81%/72%)
35,982 ±5,970
28,734 ±5,334
09:35 (03:09)
77
Jotun: Valhalla Edition
Sep 29, 2015
$4.94
49% (81%/79%)
2,239,939 ±46,998
922,587 ±30,202
02:30 (01:05)
78
Infinity Wars: Animated Trading Card Game
Sep 5, 2014
Free
46% (80%)
692,199 ±26,167
394,248 ±19,754
16:19 (01:05)
79
The Pirate: Caribbean Hunt
Aug 24, 2016
Free
46% (80%)
602,115 ±24,407
477,602 ±21,740
05:39 (00:34)
80
Industry Giant 2
Aug 14, 2015
$9.99
46% (80%)
69,375 ±8,289
44,007 ±6,602
17:01 (04:51)
81
Mega Man Legacy Collection /
Aug 24, 2015
$14.99
44% (79%/85%)
119,595 ±10,883
98,368 ±9,870
04:44 (01:07)
82
Star Realms
Mar 8, 2016
Free
44% (79%)
109,240 ±10,401
64,716 ±8,006
17:53 (02:17)
83
Ashes of the Singularity: Escalation
Nov 10, 2016
$39.99
42% (78%/81%)
382,081 ±19,447
129,431 ±11,321
06:31 (02:08)
84
ONRAID
Apr 18, 2017
Free
42% (78%)
504,265 ±22,338
407,191 ±20,075
02:15 (00:31)
85
Ricochet
Nov 1, 2000
$4.99
42% (78%)
7,872,792 ±87,607
903,431 ±29,888
06:06 (00:03)
86
Event[0]
Sep 14, 2016
$19.99
42% (78%/75%)
200,360 ±14,085
74,811 ±8,607
03:32 (02:50)
87
WASTED
Jun 7, 2016
$12.99
40% (77%/68%)
164,378 ±12,758
71,964 ±8,442
04:36 (01:58)
88
Painkiller Hell & Damnation
Oct 31, 2012
$19.99
40% (77%/64%)
541,800 ±23,154
332,897 ±18,153
04:32 (02:16)
89
Dragons and Titans
Mar 12, 2014
Free
40% (77%/43%)
1,408,990 ±37,306
740,865 ±27,070
06:09 (00:35)
90
TOXIKK
Sep 10, 2016
Free
38% (76%)
830,691 ±28,661
491,839 ±22,062
02:03 (00:21)
91
Sniper Elite
Jul 16, 2009
$7.99
38% (76%/76%)
484,332 ±21,893
302,869 ±17,315
05:30 (01:04)
92
America's Army: Proving Grounds
Aug 2013
Free
38% (76%)
2,761,289 ±52,154
1,428,663 ±37,565
15:37 (00:30)
93
Strife
May 22, 2015
Free
38% (76%)
1,691,668 ±40,866
893,853 ±29,729
08:24 (01:14)
94
Battle Islands
Aug 6, 2014
Free
38% (76%)
581,923 ±23,995
335,227 ±18,216
15:09 (00:30)
95
Just Cause 3: Multiplayer Mod
Jul 20, 2017
Free
38% (76%)
204,502 ±14,230
163,860 ±12,738
03:31 (00:44)
96
Investigator
Jun 1, 2016
$1.99
38% (76%)
30,287 ±5,477
20,450 ±4,500
03:13 (02:40)
97
Watch This!
Sep 23, 2016
$3.99
36% (75%)
36,500 ±6,012
25,886 ±5,063
01:43 (00:49)
98
A New Beginning - Final Cut
Dec 11, 2012
$9.99
34% (74%/72%)
349,465 ±18,599
83,613 ±9,100
05:17 (01:56)
99
Gear Up
Jan 28, 2015
Free
34% (74%)
2,509,933 ±49,737
1,809,192 ±42,257
02:36 (00:23)
100
The Mean Greens - Plastic Warfare
Dec 8, 2015
$9.99
34% (74%)
202,431 ±14,157
140,304 ±11,787
02:54 (01:27)
101
The Way of Life Free Edition
May 31, 2016
Free
34% (74%)
1,315,540 ±36,051
855,541 ±29,086
00:26 (00:11)
102
Simply Chess
Sep 11, 2015
Free
34% (74%)
425,311 ±20,517
288,373 ±16,896
04:57 (00:33)
103
Alien Rage - Unlimited
Sep 24, 2013
$19.99
33% (73%/52%)
225,728 ±14,950
105,616 ±10,227
05:34 (00:55)
104
Farnham Fables
Jun 20, 2016
$0.99
33% (73%)
212,267 ±14,497
196,477 ±13,948
03:43 (03:31)
105
Rick and Morty: Virtual Rick-ality
Apr 20, 2017
$29.99
33% (73%)
61,868 ±7,828
57,726 ±7,561
04:03 (02:31)
106
Rise & Shine
Jan 13, 2017
$14.99
33% (73%)
51,773 ±7,161
25,369 ±5,012
02:49 (01:51)
107
Half-Life Deathmatch: Source
May 1, 2006
$9.99
33% (73%)
7,756,304 ±86,967
472,683 ±21,628
04:16 (00:11)
108
Marvel Heroes Omega
Jun 3, 2013
Free
31% (72%/81%)
5,786,359 ±75,267
2,673,793 ±51,326
30:03 (01:05)
109
Robocraft
Aug 24, 2017
Free
31% (72%)
14,075,920 ±116,395
10,224,819 ±99,598
18:30 (02:13)
110
1954 Alcatraz
Mar 11, 2014
$0.99
30% (71%)
178,615 ±13,299
73,517 ±8,533
03:20 (01:53)
111
Red Faction: Armageddon
Jun 6, 2011
$19.99
30% (71%/75%)
1,779,422 ±41,909
705,401 ±26,415
06:30 (02:06)
112
Orake 2D MMORPG
Jun 16, 2017
Free
30% (71%)
144,963 ±11,981
96,297 ±9,765
02:24 (00:08)
113
Dead Effect 2
May 6, 2016
$11.99
30% (71%/53%)
89,049 ±9,391
59,280 ±7,662
06:03 (02:50)
114
Warface
Jul 1, 2014
Free
28% (70%/62%)
9,005,317 ±93,588
5,895,858 ±75,967
15:47 (01:40)
115
EARTHLOCK: Festival of Magic
Sep 27, 2016
$19.99
28% (70%)
48,407 ±6,924
28,734 ±5,334
06:23 (02:13)
116
Deadlight: Director's Cut
Jun 21, 2016
$11.99
28% (70%)
128,137 ±11,265
30,805 ±5,523
02:59 (00:54)
117
Dungeonland
Nov 12, 2013
Free
27% (69%/67%)
1,094,213 ±32,886
430,489 ±20,641
02:33 (00:43)
118
Steel Ocean
Nov 12, 2015
Free
27% (69%)
1,010,859 ±31,612
654,146 ±25,439
08:45 (00:43)
119
Dogfight 1942
Sep 21, 2012
$9.99
25% (68%)
121,665 ±10,976
58,503 ±7,612
03:22 (01:09)
120
Legions of Ashworld
Jul 4, 2014
$4.99
N/A (N/A)
11,390 ±3,358
1,812 ±1,339
06:32 (12:43)
121
Business Tour - Online Multiplayer Board Game
Jul 27, 2017
Free
25% (68%)
931,647 ±30,350
816,453 ±28,415
04:56 (02:08)
122
Order of Battle: World War II
Apr 30, 2015
Free
25% (68%/81%)
226,764 ±14,984
136,938 ±11,645
23:14 (01:14)
123
Kingdom Wars
Apr 1, 2013
Free
24% (67%)
598,491 ±24,334
355,677 ±18,763
09:32 (00:54)
124
Orcs Must Die! Unchained
Apr 19, 2017
Free
24% (67%/87%)
1,804,273 ±42,199
1,085,670 ±32,758
07:56 (01:02)
125
Insanity Clicker
Jun 7, 2016
Free
24% (67%)
406,156 ±20,050
300,281 ±17,241
32:36 (01:48)
126
Super MNC
Apr 19, 2012
Free
24% (67%/76%)
1,578,545 ±39,480
765,975 ±27,524
10:21 (00:36)
127
Stronghold Kingdoms
Feb 27, 2012
Free
23% (66%/75%)
1,625,917 ±40,066
809,464 ±28,294
82:32 (00:47)
128
Heroes & Generals
Oct 18, 2016
Free
23% (66%)
16,781,812 ±126,734
11,879,470 ±107,172
12:49 (00:49)
129
Medieval: Total War - Collection
Jun 25, 2015
$9.99
23% (66%)
141,598 ±11,841
48,925 ±6,961
29:11 (04:23)
130
ASTA Online
Apr 26, 2017
N/A
23% (66%)
392,695 ±19,715
242,554 ±15,497
09:30 (00:27)
131
Evolve Stage 2
Feb 10, 2015
Free
23% (66%/77%)
6,008,722 ±76,682
4,153,711 ±63,876
08:28 (01:44)
132
Mirage: Arcane Warfare
May 23, 2017
$9.99
22% (65%/74%)
1,274,122 ±35,481
475,013 ±21,681
02:25 (02:03)
133
7th Legion
Oct 23, 2014
$6.99
N/A (N/A)
19,674 ±4,414
2,071 ±1,432
00:50 (01:00)
134
ARK: Survival Of The Fittest
Aug 29, 2017
N/A
21% (64%)
7,650,947 ±86,383
2,063,654 ±45,119
03:20 (00:23)
135
Across the Rhine
Nov 6, 2014
$6.99
N/A (N/A)
12,425 ±3,508
2,330 ±1,519
00:20 (00:18)
136
Last Man Standing
Mar 29, 2017
Free
19% (63%)
4,683,345 ±67,790
3,444,686 ±58,211
06:25 (01:08)
137
Tactical Intervention
Oct 8, 2013
N/A
19% (63%/47%)
2,835,841 ±52,850
1,472,152 ±38,131
03:20 (00:23)
138
Desperados: Wanted Dead or Alive
Nov 20, 2013
$4.99
18% (62%/78%)
101,474 ±10,024
52,031 ±7,178
03:49 (00:28)
139
Ace Combat Assault Horizon - Enhanced Edition
Jan 24, 2013
$19.99
17% (61%/77%)
433,077 ±20,703
254,203 ±15,864
05:25 (01:51)
140
Kaiju Panic
Oct 9, 2015
$9.99
N/A (N/A)
5,695 ±2,375
2,589 ±1,601
00:54 (01:15)
141
Einar
Jul 20, 2017
Free
16% (60%)
318,142 ±17,746
212,009 ±14,488
00:15 (00:05)
142
Spider-Man: Homecoming - Virtual Reality Experience
Jun 30, 2017
Free
16% (60%)
57,209 ±7,527
35,464 ±5,926
01:16 (00:11)
143
The Agony
Jun 14, 2017
$0.49
14% (58%)
129,173 ±11,310
111,570 ±10,511
03:50 (03:34)
144
Mighty No. 9
Jun 21, 2016
$19.99
14% (58%/52%)
161,271 ±12,637
78,953 ±8,843
03:56 (02:00)
145
Devil May Cry 3 Special Edition
Jun 12, 2007
$19.99
14% (58%/66%)
256,792 ±15,945
156,094 ±12,432
03:22 (00:28)
146
Metin2
May 8, 2017
Free
14% (58%)
822,148 ±28,514
649,487 ±25,348
12:30 (00:42)
147
Guardians of Orion
Dec 21, 2016
$0.99
13% (57%)
261,710 ±16,097
186,640 ±13,594
03:08 (00:55)
148
Heroes Tactics
Jun 21, 2017
Free
13% (57%)
92,932 ±9,593
70,411 ±8,351
16:37 (00:28)
149
Battle Battalions
Nov 3, 2015
Free
13% (56%)
187,158 ±13,613
91,896 ±9,540
01:06 (00:18)
150
The Secret of Pineview Forest
Oct 31, 2016
Free
13% (56%)
22,262 ±4,695
9,837 ±3,121
00:36 (00:16)
151
BioShock Remastered
Sep 15, 2016
$19.99
13% (56%)
3,926,171 ±62,116
993,774 ±31,344
05:08 (02:02)
152
Savage Resurrection
Aug 18, 2016
Free
13% (56%)
115,971 ±10,717
84,648 ±9,156
15:45 (02:57)
153
Inversion
Jul 26, 2012
$9.99
13% (56%)
49,443 ±6,998
31,581 ±5,593
09:07 (02:07)
154
Tomb Raider VI: The Angel of Darkness
Nov 28, 2012
$6.99
11% (54%)
557,590 ±23,488
70,928 ±8,381
03:08 (00:12)
155
Painkiller: Recurring Evil
Feb 29, 2012
$9.99
11% (54%/38%)
192,076 ±13,791
37,017 ±6,055
02:08 (00:33)
156
Viking: Battle for Asgard
Oct 17, 2012
$14.99
11% (53%)
1,059,525 ±32,362
255,239 ±15,896
03:11 (00:25)
157
Desert Law
Mar 25, 2015
$2.99
N/A (N/A)
19,674 ±4,414
2,071 ±1,432
00:17 (00:05)
158
A.V.A. Alliance of Valiant Arms
Jun 14, 2011
Free
9% (51%)
1,707,717 ±41,059
986,008 ±31,221
13:36 (00:44)
159
Guncraft
Aug 9, 2013
$14.99
9% (51%/73%)
134,867 ±11,556
105,875 ±10,240
04:03 (01:33)
160
Total War Battles: KINGDOM
Apr 9, 2015
Free
9% (50%)
707,731 ±26,459
492,616 ±22,079
13:14 (00:53)
161
Evolution RTS
Apr 7, 2014
Free
8% (48%)
158,165 ±12,515
51,514 ±7,143
02:23 (00:11)
162
METAL SLUG DEFENSE
May 1, 2015
Free
8% (48%)
536,105 ±23,032
276,983 ±16,559
02:00 (00:08)
163
Fight or Die
Jan 6, 2017
$2.99
N/A (N/A)
184,569 ±13,519
177,839 ±13,270
03:46 (03:31)
164
theHunter Classic
Jun 3, 2014
Free
5% (42%)
5,382,533 ±72,623
3,431,743 ±58,103
07:08 (00:38)
165
Cubesis
Aug 22, 2014
$4.99
N/A (N/A)
11,908 ±3,434
1,294 ±1,132
00:46 (00:45)
166
Apartment 666
Aug 3, 2016
$0.99
4% (39%)
150,917 ±12,225
131,761 ±11,423
03:52 (04:02)
167
Umbrella Corps/Biohazard Umbrella Corps
Jun 21, 2016
$29.99
3% (35%)
216,150 ±14,629
63,680 ±7,941
03:33 (02:02)
168
Russian Front
Jul 23, 2015
$14.99
N/A (N/A)
4,142 ±2,025
777 ±877
04:09 (02:02)