App

Spy Fox in "Dry Cereal"
Spy Fox in "Dry Cereal"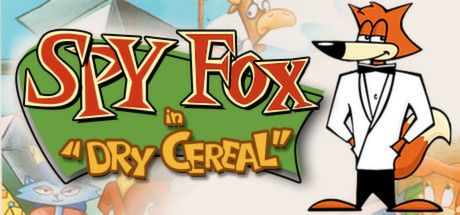 Store | Hub | SteamDB | Site
Developer: Humongous Entertainment Publisher: Humongous Entertainment, Nightdive Studios
Genre: Adventure, Casual
Languages: English, French, German, Dutch
Tags: Adventure (96), Point & Click (93), Casual (63), Family Friendly (51), Comedy (13), 1990's (7), Singleplayer (6)
Category: Single-player, Steam Trading Cards
Release date: Apr 17, 2014
Price: $6.99
Score rank: 91% Userscore: 95% Old userscore: 95%
Owners: 47,004 ± 6,388
Players in the last 2 weeks: 681 ± 769 (1.45%)
Players total: 25,886 ± 4,741 (55.07%)
Followers: 477
Peak concurrent players yesterday: 11
YouTube stats: 32 views and 4 comments for videos uploaded last week, 2 new videos uploaded yesterday.
Playtime in the last 2 weeks: 01:18 (average) 01:18 (median)
Playtime total: 03:20 (average) 02:20 (median)

Steam Spy is still in beta, so expect major bugs.
Peak daily concurrent players:
CCU data courtesy of SteamDB. Used with permission.
Hourly concurrent players:
YouTube:
The views data is based on top 50 videos uploaded last week. Actual number of views might be more than the number shown.

The displayed number of videos uploaded yesterday is limited to 50, so if there were more videos uploaded, the number will still show 50.

If the game has commonly used word as its name (like "FEAR" or "Volume") its number of Youtube views might be wrong.
Games similar to this one:
#
Game
Release date

Price

Score rank
(Userscore / Metascore)

Owners

Players

Playtime (Median)

1
Tick Tock Isle
Nov 19, 2015
$0.99
99% (98%)
42,008 ±6,039
14,987 ±3,607
02:58 (02:58)
2
Hector: Badge of Carnage - Full Series
Apr 27, 2011
$19.99
99% (98%/75%)
268,397 ±15,262
13,170 ±3,381
04:16 (03:28)
3
Red Comrades 2: For the Great Justice. Reloaded
Oct 14, 2016
$4.99
97% (97%)
7,266 ±2,512
4,996 ±2,082
03:23 (02:49)
4
Midsummer Night
Jun 17, 2016
$4.99
N/A (N/A)
21,799 ±4,350
13,170 ±3,381
02:57 (03:26)
5
Pajama Sam 2: Thunder and Lightning Aren't So Frightening
May 1, 2014
$6.99
97% (97%)
34,742 ±5,492
16,122 ±3,741
06:41 (01:34)
6
Bik - A Space Adventure
Oct 14, 2014
$4.99
N/A (N/A)
4,314 ±1,935
2,952 ±1,601
03:29 (02:26)
7
Tex Murphy: Under a Killing Moon
Jun 12, 2014
$9.99
N/A (N/A)
45,414 ±6,279
6,358 ±2,349
04:03 (01:15)
8
The Journey Down: Chapter Two
Aug 25, 2014
$10.99
94% (96%/78%)
123,526 ±10,355
24,524 ±4,614
04:08 (03:55)
9
Sword of the Samurai
Oct 17, 2014
$6.99
94% (96%)
19,528 ±4,118
5,677 ±2,220
02:17 (01:13)
10
Technobabylon
May 2015
$14.99
94% (96%/82%)
101,046 ±9,366
30,200 ±5,121
06:31 (03:17)
11
Putt-Putt® Travels Through Time
May 15, 2014
$6.99
91% (95%)
26,340 ±4,782
11,808 ±3,202
13:11 (01:34)
12
Sanitarium
Oct 29, 2014
$9.99
91% (95%)
18,847 ±4,045
11,581 ±3,171
05:20 (04:14)
13
Idol Magical Girl Chiru Chiru Michiru Part 2
Jul 29, 2015
$19.99
N/A (N/A)
6,812 ±2,432
2,044 ±1,332
04:17 (04:27)
14
The Coma: Cutting Class
Oct 19, 2015
$9.99
88% (94%/69%)
7,947 ±2,627
5,904 ±2,264
03:40 (03:07)
15
Blackwell Unbound
Jan 13, 2012
$4.99
88% (94%)
126,251 ±10,469
46,776 ±6,373
03:08 (02:18)
16
The Dig®
Jul 8, 2009
$5.99
88% (94%)
143,735 ±11,170
72,208 ±7,918
05:12 (01:49)
17
The Dream Machine: Chapter 1 & 2
May 11, 2012
$3.99
88% (94%/77%)
141,692 ±11,091
63,580 ±7,430
07:26 (02:46)
18
The Inner World
Sep 27, 2013
$14.99
88% (94%/72%)
94,007 ±9,034
39,737 ±5,874
04:29 (03:18)
19
Spy Fox 2 "Some Assembly Required"
May 1, 2014
$6.99
88% (94%)
30,427 ±5,140
15,214 ±3,634
03:06 (01:27)
20
Detective Grimoire
Aug 18, 2014
$6.99
84% (93%)
49,047 ±6,526
27,248 ±4,864
03:22 (02:47)
21
Sam & Max 201: Ice Station Santa
May 16, 2008
Free
N/A (N/A/82%)
161,447 ±11,838
38,829 ±5,806
03:15 (02:55)
22
Stray Cat Crossing
Aug 28, 2015
$2.99
81% (92%)
19,074 ±4,069
11,581 ±3,171
02:00 (01:55)
23
The Music Machine
May 6, 2015
$4.99
81% (92%)
26,113 ±4,762
14,305 ±3,524
02:39 (02:39)
24
The Deed
Nov 23, 2015
$0.99
81% (92%)
122,618 ±10,317
78,566 ±8,259
03:18 (02:47)
25
Resonance
Jul 25, 2012
$9.99
77% (91%/76%)
58,130 ±7,104
32,925 ±5,347
05:01 (03:09)
26
Disney•Pixar WALL-E
Feb 24, 2015
$19.99
N/A (N/A)
3,179 ±1,661
1,589 ±1,174
03:36 (06:08)
27
Freddi Fish 5: The Case of the Creature of Coral Cove
Jun 6, 2014
$6.99
N/A (N/A)
20,209 ±4,189
5,223 ±2,129
17:18 (01:29)
28
Airport Madness 4
Jul 24, 2015
$2.49
N/A (N/A)
11,354 ±3,140
8,175 ±2,664
06:27 (03:13)
29
Broken Sword 2 - the Smoking Mirror: Remastered
Dec 2, 2009
$5.99
73% (90%)
274,301 ±15,429
61,309 ±7,296
04:44 (02:29)
30
Nearwood - Collector's Edition
Apr 16, 2014
$1.99
73% (90%)
37,012 ±5,669
12,262 ±3,263
03:53 (03:47)
31
Legend of Miro
Aug 22, 2016
$9.99
N/A (N/A)
11,126 ±3,108
2,952 ±1,601
00:53 (01:18)
32
Morningstar: Descent to Deadrock
Feb 17, 2015
$9.99
73% (90%)
34,288 ±5,456
19,528 ±4,118
03:20 (03:03)
33
Tales of Monkey Island Complete Pack
Jul 7, 2009
$19.99
70% (89%/79%)
219,577 ±13,805
128,295 ±10,553
03:23 (02:49)
34
The Slaughter: Act One
Jan 28, 2016
$3.49
N/A (N/A)
7,720 ±2,589
3,633 ±1,776
02:29 (02:44)
35
Mooch
Sep 7, 2015
$4.99
N/A (N/A)
2,725 ±1,538
1,362 ±1,087
05:14 (05:04)
36
Runaway: A Twist of Fate
Apr 21, 2011
$9.99
70% (89%/79%)
117,395 ±10,095
25,432 ±4,699
06:49 (02:41)
37
Mimpi
Jan 20, 2015
$3.99
70% (89%)
7,493 ±2,551
4,314 ±1,935
02:19 (02:14)
38
Black Mirror III
Apr 3, 2014
$9.99
66% (88%/75%)
51,091 ±6,660
10,445 ±3,011
14:08 (09:01)
39
Soul Gambler
Jul 10, 2014
$0.49
66% (88%)
171,211 ±12,191
115,352 ±10,007
03:12 (02:27)
40
Journey of a Roach
Nov 4, 2013
$14.99
66% (88%/65%)
153,499 ±11,543
73,117 ±7,967
02:33 (01:58)
41
Small Town Terrors Pilgrim's Hook Collector's Edition
Jul 16, 2014
$2.99
N/A (N/A)
23,388 ±4,506
6,131 ±2,307
04:25 (04:24)
42
Fire
Apr 9, 2015
$9.99
63% (87%/64%)
17,030 ±3,845
11,581 ±3,171
02:25 (02:22)
43
Detective Case and Clown Bot in: Murder in the Hotel Lisbon
Jul 17, 2014
$5.99
63% (87%)
48,366 ±6,480
17,711 ±3,921
04:20 (04:01)
44
Heileen 3: New Horizons
Jul 17, 2014
$24.99
N/A (N/A)
14,987 ±3,607
9,764 ±2,911
03:01 (02:22)
45
Midvinter
May 5, 2016
$4.99
N/A (N/A)
7,039 ±2,472
3,860 ±1,830
04:05 (06:13)
46
DreadOut: Keepers of The Dark
Mar 24, 2016
$6.99
60% (86%)
17,711 ±3,921
8,175 ±2,664
02:40 (02:07)
47
Enigmatis: The Ghosts of Maple Creek
Oct 16, 2014
$2.99
57% (85%)
69,483 ±7,767
45,187 ±6,264
05:07 (04:10)
48
Kyoto Colorful Days
Jun 14, 2016
$0.99
N/A (N/A)
5,677 ±2,220
2,271 ±1,404
02:20 (03:04)
49
Theatre Of The Absurd
May 8, 2014
$4.99
57% (85%)
27,248 ±4,864
6,358 ±2,349
02:22 (03:06)
50
The Testament of Sherlock Holmes
Sep 25, 2012
$19.99
57% (85%/73%)
311,767 ±16,448
157,814 ±11,704
07:54 (03:24)
51
Metal Dead
Oct 6, 2014
$4.99
55% (84%)
38,829 ±5,806
25,205 ±4,678
03:13 (01:59)
52
Sinless + OST
Dec 16, 2015
$0.49
50% (82%)
37,012 ±5,669
20,436 ±4,212
04:37 (03:27)
53
Princess Isabella
Apr 15, 2014
$4.99
N/A (N/A)
14,305 ±3,524
4,087 ±1,884
03:48 (03:35)
54
SVRVIVE: The Deus Helix
Nov 17, 2016
$18.99
N/A (N/A)
2,725 ±1,538
1,589 ±1,174
01:23 (01:57)
55
Event[0]
Sep 14, 2016
$19.99
48% (81%/75%)
28,157 ±4,944
22,026 ±4,373
02:46 (02:28)
56
Tex Murphy: Martian Memorandum
Jun 12, 2014
$5.99
N/A (N/A)
46,549 ±6,357
5,450 ±2,175
02:18 (01:01)
57
Infinite Space III: Sea of Stars
Oct 29, 2015
$9.99
N/A (N/A)
19,982 ±4,165
9,537 ±2,877
02:38 (02:15)
58
The Maker's Eden
Jul 30, 2014
$8.99
N/A (N/A)
26,794 ±4,823
12,262 ±3,263
02:03 (01:32)
59
The Samaritan Paradox
Apr 18, 2014
$6.99
N/A (N/A/75%)
45,414 ±6,279
20,890 ±4,259
03:41 (02:42)
60
Midnight Mysteries
Sep 28, 2009
$9.99
N/A (N/A)
35,196 ±5,528
16,576 ±3,794
04:21 (03:24)
61
Mirror Mysteries
Apr 10, 2014
$4.99
41% (78%)
21,799 ±4,350
8,402 ±2,701
02:36 (02:25)
62
The Bunker
Sep 20, 2016
$19.99
41% (78%/57%)
7,493 ±2,551
4,768 ±2,035
01:54 (02:06)
63
Neoncube
Oct 2, 2015
$0.99
41% (78%)
6,812 ±2,432
4,996 ±2,082
05:14 (03:28)
64
Adam's Venture Chronicles
Aug 3, 2015
$14.99
39% (77%)
35,196 ±5,528
11,581 ±3,171
03:29 (02:40)
65
White Night
Mar 3, 2015
$14.99
39% (77%/68%)
19,528 ±4,118
10,445 ±3,011
04:33 (01:53)
66
Dyscourse
Mar 25, 2015
$14.99
37% (76%/71%)
69,711 ±7,780
38,375 ±5,772
02:50 (02:09)
67
Ether One
Mar 25, 2014
$9.99
37% (76%/82%)
54,497 ±6,879
27,703 ±4,904
03:41 (02:13)
68
Haunted
Aug 18, 2014
$14.99
N/A (N/A/76%)
15,668 ±3,688
6,131 ±2,307
02:59 (02:53)
69
Mirrored - Chapter 1
Oct 30, 2015
$1.99
35% (75%)
8,856 ±2,773
6,358 ±2,349
02:49 (03:03)
70
Blues and Bullets
Jul 22, 2015
$4.99
35% (75%/73%)
44,506 ±6,216
30,882 ±5,178
03:49 (02:34)
71
Alpha Polaris : A Horror Adventure Game
Oct 21, 2015
$9.99
33% (74%)
7,493 ±2,551
4,087 ±1,884
02:57 (03:35)
72
The Detail
Oct 28, 2014
$3.99
33% (74%/77%)
81,972 ±8,436
40,418 ±5,924
02:44 (01:52)
73
Return to Mysterious Island
Mar 6, 2014
$7.49
32% (73%)
41,327 ±5,990
13,397 ±3,410
03:33 (01:17)
74
Runaway, A Road Adventure
Mar 14, 2007
$9.99
30% (72%/74%)
118,304 ±10,134
39,964 ±5,891
06:23 (02:27)
75
Midnight Mysteries: Salem Witch Trials
Mar 28, 2012
$9.99
N/A (N/A)
31,563 ±5,235
13,851 ±3,468
04:53 (04:25)
76
Odysseus: Long Way Home
Feb 23, 2015
$3.99
N/A (N/A)
42,235 ±6,056
29,746 ±5,082
03:43 (03:30)
77
Residue: Final Cut
Aug 1, 2014
$1.99
N/A (N/A)
27,475 ±4,884
14,078 ±3,496
03:03 (02:18)
78
Bionic Heart 2
Sep 22, 2014
$14.99
N/A (N/A)
13,624 ±3,439
7,947 ±2,627
02:59 (03:05)
79
Face Noir
Oct 17, 2013
$9.99
N/A (N/A/59%)
69,711 ±7,780
38,375 ±5,772
05:09 (02:07)
80
Reversion - The Meeting (2nd Chapter)
Jul 8, 2014
$4.99
N/A (N/A)
22,934 ±4,462
14,078 ±3,496
02:10 (01:46)
81
Last Heroes
Nov 13, 2015
$1.99
N/A (N/A)
7,493 ±2,551
4,087 ±1,884
02:53 (03:47)
82
Mythos: The Beginning - Director's Cut
Oct 27, 2014
$5.99
N/A (N/A)
17,484 ±3,896
9,764 ±2,911
02:19 (01:58)
83
Obscuritas
Mar 17, 2016
$14.99
N/A (N/A/63%)
8,856 ±2,773
7,720 ±2,589
22:43 (04:46)
84
1HEART
Oct 13, 2014
$9.99
22% (66%)
16,576 ±3,794
10,672 ±3,044
04:51 (03:26)
85
Secret Files: Sam Peters
Oct 18, 2013
$9.99
22% (66%)
16,803 ±3,820
6,358 ±2,349
03:09 (02:13)
86
Jack Keane
Jun 27, 2008
$9.99
21% (65%/69%)
35,423 ±5,546
17,030 ±3,845
05:40 (03:02)
87
Hamlet or the Last Game without MMORPG Features, Shaders ...
Oct 22, 2012
$4.99
21% (65%)
42,689 ±6,088
22,026 ±4,373
02:36 (02:20)
88
Empress Of The Deep
May 8, 2014
$4.99
21% (65%)
13,851 ±3,468
4,996 ±2,082
02:38 (02:23)
89
Bone: The Great Cow Race
Jun 17, 2008
$9.99
N/A (N/A/76%)
50,410 ±6,616
4,087 ±1,884
02:09 (02:25)
90
Dark Fall: Lost Souls
Apr 21, 2010
$12.99
20% (64%/75%)
51,545 ±6,690
27,703 ±4,904
03:38 (02:34)
91
Al Emmo and the Lost Dutchman's Mine
May 9, 2014
$9.99
N/A (N/A/77%)
9,764 ±2,911
7,266 ±2,512
03:26 (02:39)
92
Wayward Manor
Jul 15, 2014
$6.99
N/A (N/A/41%)
8,402 ±2,701
3,406 ±1,719
01:48 (01:19)
93
Block Legend DX
Feb 24, 2015
$4.99
N/A (N/A)
6,812 ±2,432
5,904 ±2,264
04:08 (03:33)
94
Violett Remastered
Dec 13, 2013
$0.99
15% (59%/61%)
142,373 ±11,117
87,876 ±8,735
03:56 (03:08)
95
Myst V
Mar 16, 2012
$9.99
15% (59%/80%)
59,492 ±7,187
28,157 ±4,944
05:15 (02:10)
96
AR-K
Jul 21, 2014
$7.99
14% (58%)
90,828 ±8,880
44,279 ±6,200
03:23 (02:05)
97
Eleusis
Oct 16, 2013
$14.99
14% (58%)
41,554 ±6,007
19,528 ±4,118
03:08 (02:46)
98
Calvino Noir
Aug 27, 2015
$6.99
14% (58%/55%)
16,576 ±3,794
10,445 ±3,011
02:41 (02:17)
99
Adventure Chronicles: The Search For Lost Treasure
Apr 29, 2014
$4.99
N/A (N/A)
6,812 ±2,432
908 ±888
03:08 (02:42)
100
Millionaire Manor
May 15, 2014
$4.99
N/A (N/A)
23,842 ±4,550
5,904 ±2,264
02:51 (02:40)
101
The Land Of Lamia
Nov 23, 2015
$4.99
N/A (N/A)
20,436 ±4,212
10,672 ±3,044
03:34 (03:32)
102
Tibetan Quest: Beyond the World's End
Apr 7, 2016
$9.99
N/A (N/A)
12,943 ±3,352
8,629 ±2,737
03:54 (03:45)
103
Armikrog
Sep 30, 2015
$24.99
11% (54%/57%)
29,519 ±5,063
22,934 ±4,462
05:00 (03:32)
104
eXperience 112
Oct 24, 2014
$9.99
N/A (N/A)
27,930 ±4,924
4,768 ±2,035
02:38 (01:15)
105
The Mystery of the Druids
Apr 7, 2015
$4.99
N/A (N/A)
11,354 ±3,140
2,044 ±1,332
00:27 (01:03)
106
Rescue Lucy
Jun 3, 2016
$2.99
4% (39%)
9,083 ±2,808
6,812 ±2,432
02:26 (02:58)
107
Vault Cracker
May 15, 2014
$4.99
N/A (N/A)
7,720 ±2,589
2,044 ±1,332
02:40 (03:49)
108
COAST GUARD
Oct 21, 2015
$14.99
N/A (N/A/47%)
9,083 ±2,808
5,223 ±2,129
03:41 (04:56)
109
Dracula 3: The Path of the Dragon
Apr 17, 2014
$3.99
1% (26%)
43,143 ±6,120
5,223 ±2,129
01:25 (01:29)
110
Raywin
Jul 29, 2015
Free
N/A (N/A)
12,943 ±3,352
7,947 ±2,627
02:57 (03:26)