App

Spy Fox in "Dry Cereal"
Spy Fox in "Dry Cereal"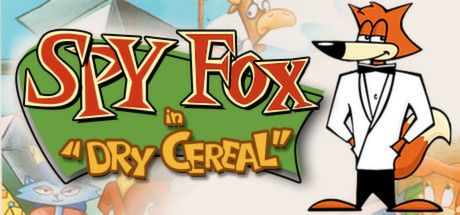 Store | Hub | SteamDB | Site
Developer: Humongous Entertainment Publisher: Humongous Entertainment, Nightdive Studios
Genre: Adventure, Casual
Languages: English, French, German, Dutch
Tags: Adventure (96), Point & Click (94), Casual (63), Family Friendly (53), Comedy (13), Singleplayer (6), 1990's (6)
Category: Single-player, Steam Trading Cards
Release date: Apr 17, 2014
Price: $6.99
Score rank: 92% Userscore: 95% Old userscore: 94%
Owners: 62,022 ± 7,864
Players in the last 2 weeks: 1,042 ± 1,019 (1.68%)
Players total: 36,483 ± 6,031 (58.82%)
Followers: 593
Peak concurrent players yesterday: 12
YouTube stats: 52 views and 2 comments for videos uploaded last week, 0 new videos uploaded yesterday.
Playtime in the last 2 weeks: 00:56 (average) 01:32 (median)
Playtime total: 03:13 (average) 01:57 (median)

Steam Spy is still in beta, so expect major bugs.
Peak daily concurrent players:
CCU data courtesy of SteamDB. Used with permission.
Hourly concurrent players:
YouTube:
The views data is based on top 50 videos uploaded last week. Actual number of views might be more than the number shown.

The displayed number of videos uploaded yesterday is limited to 50, so if there were more videos uploaded, the number will still show 50.

If the game has commonly used word as its name (like "FEAR" or "Volume") its number of Youtube views might be wrong.
Games similar to this one:
#
Game
Release date

Price

Score rank
(Userscore / Metascore)

Owners

Players

Playtime (Median)

1
Serious Sam Classic: The First Encounter
Mar 22, 2010
N/A
97% (97%/87%)
807,583 ±28,356
207,173 ±14,370
02:21 (00:31)
2
Mini Ghost
Apr 28, 2017
$1.99
97% (97%)
24,756 ±4,968
14,854 ±3,848
02:08 (00:50)
3
Super House of Dead Ninjas
Feb 18, 2013
$6.99
95% (96%/79%)
146,975 ±12,104
107,365 ±10,346
05:29 (02:18)
4
Brigador: Up-Armored Edition
Jun 2, 2016
$19.99
92% (95%/70%)
204,827 ±14,289
74,791 ±8,635
04:03 (01:00)
5
Brothers - A Tale of Two Sons
Sep 3, 2013
$14.99
92% (95%/90%)
1,461,415 ±38,120
852,926 ±29,140
02:45 (01:55)
6
Warhammer 40,000: Dawn of War - Game of the Year Edition
Aug 7, 2007
$12.99
92% (95%/86%)
1,670,933 ±40,753
933,450 ±30,482
05:28 (01:46)
7
Rune Classic
Jun 13, 2012
$9.99
89% (94%)
112,056 ±10,569
37,786 ±6,138
03:39 (01:16)
8
Zombie Training Simulator
Apr 15, 2016
$19.99
89% (94%)
69,579 ±8,329
55,507 ±7,439
05:11 (02:19)
9
Savant - Ascent
Dec 4, 2013
$1.99
89% (94%)
235,317 ±15,315
125,867 ±11,202
02:08 (00:51)
10
Eufloria HD
Oct 14, 2014
$14.99
86% (93%)
274,406 ±16,538
41,435 ±6,427
07:28 (01:58)
11
Alien Swarm: Reactive Drop
Apr 20, 2017
Free
86% (93%)
2,131,664 ±46,009
1,645,916 ±40,448
02:58 (00:49)
12
Serious Sam Fusion 2017 (beta)
$14.99
86% (93%)
2,728,426 ±52,022
217,857 ±14,736
02:46 (00:23)
13
QUAKE II
Aug 3, 2007
$4.99
86% (93%)
398,449 ±19,925
182,677 ±13,494
03:36 (00:36)
14
Worms Armageddon
Mar 19, 2013
$14.99
86% (93%)
802,371 ±28,264
514,935 ±22,649
07:58 (01:32)
15
The Dream Machine: Chapter 1 & 2
May 11, 2012
$3.99
86% (93%/75%)
149,060 ±12,190
75,312 ±8,665
06:57 (02:24)
16
Grow Home
Feb 4, 2015
$7.99
86% (93%/75%)
441,708 ±20,978
287,436 ±16,925
03:57 (02:07)
17
METAL SLUG X
Oct 2, 2014
$7.99
78% (91%)
288,478 ±16,956
180,071 ±13,398
02:45 (01:06)
18
METAL SLUG
Jun 25, 2015
$7.99
78% (91%)
205,349 ±14,307
130,558 ±11,409
02:13 (00:45)
19
Beyond Good and Evil
May 13, 2008
$9.99
78% (91%)
237,141 ±15,374
133,946 ±11,556
05:21 (02:01)
20
Minecraft: Story Mode - Season Two
Jul 11, 2017
$24.99
74% (90%)
40,392 ±6,346
33,617 ±5,789
10:32 (08:01)
21
Kung Fury: Street Rage
May 28, 2015
$2.99
74% (90%)
83,390 ±9,118
69,318 ±8,313
02:02 (00:29)
22
UBERMOSH
Aug 13, 2015
$0.99
74% (90%)
150,884 ±12,264
101,632 ±10,066
02:32 (01:23)
23
Shank
Oct 25, 2010
$9.99
74% (90%/67%)
530,571 ±22,990
267,110 ±16,316
02:09 (00:55)
24
Vanquish
May 25, 2017
$19.99
74% (90%/78%)
131,600 ±11,454
99,026 ±9,936
03:54 (02:12)
25
Bulb Boy
Oct 29, 2015
$8.99
74% (90%/84%)
83,130 ±9,104
35,180 ±5,922
02:32 (02:18)
26
Grim Fandango Remastered
Jan 26, 2015
$14.99
74% (90%/84%)
770,839 ±27,704
421,382 ±20,490
04:55 (02:18)
27
SUPERHOT VR
May 25, 2017
$24.99
74% (90%/85%)
120,395 ±10,956
108,407 ±10,396
07:12 (02:40)
28
Geometry Wars 3: Dimensions Evolved
Nov 25, 2014
$14.99
74% (90%)
132,382 ±11,488
73,227 ±8,544
05:08 (01:22)
29
Meadow
Oct 26, 2016
$2.99
71% (89%)
157,660 ±12,537
139,939 ±11,811
07:22 (01:31)
30
Syberia
May 19, 2011
$12.99
71% (89%/82%)
596,501 ±24,375
292,648 ±17,078
04:29 (02:15)
31
Nex Machina
Jun 20, 2017
$19.99
71% (89%/84%)
197,270 ±14,023
68,276 ±8,251
02:27 (01:07)
32
Oddworld: New 'n' Tasty
Feb 25, 2015
$19.99
71% (89%/87%)
320,792 ±17,880
154,533 ±12,412
05:39 (02:35)
33
Shadowgate (2014)
Aug 21, 2014
$14.99
68% (88%/68%)
134,467 ±11,578
77,397 ±8,784
04:39 (02:19)
34
Tomb Raider II
Nov 28, 2012
$6.99
68% (88%)
789,081 ±28,030
134,206 ±11,567
04:30 (00:18)
35
Serious Sam 2
Jan 31, 2012
$9.99
68% (88%/74%)
985,569 ±31,320
511,287 ±22,569
04:29 (01:36)
36
Worms Ultimate Mayhem
Sep 28, 2011
$14.99
68% (88%/66%)
693,182 ±26,274
367,699 ±19,142
04:39 (01:23)
37
Counter-Strike: Condition Zero
Mar 1, 2004
$9.99
68% (88%/65%)
11,740,049 ±106,943
4,537,474 ±66,966
30:22 (01:14)
38
Counter-Strike: Condition Zero
Mar 1, 2004
$9.99
68% (88%/65%)
11,740,049 ±106,943
2,100,914 ±45,677
03:22 (00:31)
39
Stories Untold
Feb 27, 2017
$9.99
68% (88%/81%)
195,967 ±13,976
48,992 ±6,989
02:52 (02:15)
40
Half-Life 2: Deathmatch
Nov 1, 2004
$4.99
65% (87%)
14,686,332 ±119,256
3,648,064 ±60,099
09:55 (00:38)
41
Marvel's Guardians of the Galaxy: The Telltale Series
Apr 18, 2017
$24.99
65% (87%/78%)
74,791 ±8,635
52,380 ±7,227
06:34 (04:32)
42
Commandos: Behind Enemy Lines
Mar 15, 2007
$4.99
65% (87%)
637,414 ±25,196
316,883 ±17,771
04:35 (00:27)
43
Supreme Commander
Sep 28, 2011
$14.99
65% (87%/86%)
860,484 ±29,268
321,834 ±17,909
11:07 (01:31)
44
Raiden IV: OverKill
Sep 2, 2015
$14.99
62% (86%)
43,259 ±6,567
30,750 ±5,537
02:32 (01:20)
45
AI War: Fleet Command
Oct 21, 2009
$9.99
62% (86%/80%)
417,212 ±20,389
236,881 ±15,366
07:03 (01:21)
46
Out of Ammo
Sep 14, 2016
$14.99
62% (86%)
29,708 ±5,442
28,665 ±5,346
03:35 (02:03)
47
Over 9000 Zombies!
Feb 25, 2015
$1.99
59% (85%)
105,280 ±10,245
76,875 ±8,755
02:15 (01:23)
48
The Descendant
Mar 24, 2016
$14.99
59% (85%/59%)
851,363 ±29,113
491,221 ±22,122
03:33 (03:30)
49
ENSLAVED: Odyssey to the West Premium Edition
Oct 24, 2013
$19.99
59% (85%/70%)
436,235 ±20,848
185,804 ±13,609
05:15 (02:03)
50
Binary Domain
Apr 27, 2012
$14.99
59% (85%/68%)
920,420 ±30,269
268,412 ±16,356
04:57 (01:16)
51
Fallout Shelter
Mar 29, 2017
Free
59% (85%/63%)
4,175,769 ±64,265
3,124,530 ±55,648
12:37 (02:03)
52
AirMech Strike
Nov 8, 2012
Free
59% (85%)
1,567,216 ±39,472
1,022,834 ±31,905
09:07 (01:17)
53
Seasons after Fall
Sep 2, 2016
$14.99
59% (85%/75%)
237,141 ±15,374
75,833 ±8,695
03:16 (02:16)
54
Renegade Ops
Oct 26, 2011
$15
59% (85%/76%)
979,575 ±31,225
213,948 ±14,603
03:21 (01:23)
55
Crysis Warhead
Sep 17, 2008
$19.99
56% (84%/84%)
961,855 ±30,941
408,873 ±20,184
05:04 (02:22)
56
Strike Vector EX
Jul 19, 2017
$11.99
56% (84%)
26,581 ±5,148
20,326 ±4,502
02:05 (00:55)
57
Faeria
Mar 8, 2017
Free
56% (84%/80%)
1,001,465 ±31,571
613,179 ±24,713
10:22 (01:39)
58
DEFCON
Sep 29, 2006
$9.99
56% (84%/84%)
872,992 ±29,480
474,543 ±21,743
02:30 (00:36)
59
Tomb Raider I
Nov 28, 2012
$6.99
56% (84%)
799,244 ±28,209
280,660 ±16,725
02:13 (00:18)
60
Bloons TD Battles
Apr 20, 2016
Free
54% (83%)
1,504,413 ±38,676
1,320,172 ±36,237
09:53 (01:20)
61
Maize
Dec 1, 2016
$19.99
54% (83%/65%)
205,088 ±14,298
40,132 ±6,326
02:13 (01:06)
62
Realm of the Mad God
Feb 20, 2012
Free
54% (83%/82%)
3,348,902 ±57,599
2,354,994 ±48,349
20:59 (01:09)
63
SMITE
Sep 8, 2015
Free
54% (83%/83%)
7,685,978 ±86,883
5,561,090 ±74,061
38:36 (02:18)
64
Transformice
Jan 30, 2015
Free
54% (83%)
2,763,346 ±52,352
2,131,925 ±46,012
15:55 (00:44)
65
TWINKLE STAR SPRITES
May 26, 2016
$7.99
54% (83%)
35,701 ±5,966
5,994 ±2,444
01:16 (00:46)
66
PlanetSide 2
Nov 20, 2012
Free
54% (83%/84%)
9,032,992 ±94,062
5,641,874 ±74,591
23:05 (02:11)
67
King Arthur's Gold
Nov 5, 2013
$9.99
54% (83%/81%)
348,154 ±18,626
255,122 ±15,946
08:58 (01:26)
68
Shank 2
Feb 7, 2012
$9.99
51% (82%/72%)
616,828 ±24,786
324,962 ±17,996
03:25 (01:39)
69
Yesterday
Mar 22, 2012
$9.99
51% (82%)
151,405 ±12,285
38,307 ±6,180
04:16 (02:46)
70
Jotun: Valhalla Edition
Sep 29, 2015
$14.99
49% (81%/79%)
2,192,904 ±46,663
935,274 ±30,512
02:22 (01:13)
71
8-Bit Hordes
Aug 12, 2016
$7.49
49% (81%)
49,513 ±7,026
36,744 ±6,053
04:09 (02:02)
72
Mitos.is: The Game
Jul 29, 2015
Free
49% (81%)
2,278,379 ±47,559
1,958,108 ±44,104
09:30 (01:05)
73
Yonder: The Cloud Catcher Chronicles
Jul 17, 2017
$24.99
49% (81%/70%)
66,973 ±8,171
59,155 ±7,680
08:01 (04:03)
74
Team Fortress Classic
Apr 1, 1999
$4.99
49% (81%)
5,998,367 ±76,884
843,284 ±28,975
07:17 (00:15)
75
Duke Nukem 3D: 20th Anniversary World Tour
Oct 11, 2016
$19.99
49% (81%/72%)
39,871 ±6,305
32,314 ±5,676
06:15 (02:58)
76
Infinity Wars: Animated Trading Card Game
Sep 5, 2014
Free
47% (80%)
694,485 ±26,298
400,273 ±19,971
11:35 (01:10)
77
The Pirate: Caribbean Hunt
Aug 24, 2016
Free
47% (80%)
633,766 ±25,124
514,414 ±22,638
05:11 (00:33)
78
Industry Giant 2
Aug 14, 2015
$9.99
47% (80%)
65,930 ±8,108
45,865 ±6,762
27:13 (05:11)
79
Star Realms
Mar 8, 2016
Free
45% (79%)
107,365 ±10,346
68,015 ±8,235
18:52 (01:56)
80
Ashes of the Singularity: Escalation
Nov 10, 2016
$39.99
45% (79%/81%)
376,299 ±19,364
128,994 ±11,340
08:02 (01:55)
81
Mega Man Legacy Collection /
Aug 24, 2015
$14.99
45% (79%/85%)
131,340 ±11,443
111,795 ±10,557
09:56 (01:13)
82
Battlezone
May 11, 2017
$39.99
43% (78%)
7,557 ±2,745
5,472 ±2,336
02:57 (01:19)
83
War on Folvos
Aug 8, 2014
$0.99
N/A (N/A)
50,295 ±7,081
3,127 ±1,765
00:58 (01:42)
84
Event[0]
Sep 14, 2016
$19.99
43% (78%/75%)
185,543 ±13,600
66,191 ±8,124
03:04 (02:10)
85
WASTED
Jun 7, 2016
$12.99
41% (77%/68%)
156,617 ±12,495
61,761 ±7,847
05:09 (01:54)
86
Painkiller Hell & Damnation
Oct 31, 2012
$19.99
41% (77%/64%)
563,927 ±23,701
341,379 ±18,444
04:53 (02:18)
87
ONRAID
Apr 18, 2017
Free
41% (77%)
548,291 ±23,370
446,920 ±21,102
02:15 (00:33)
88
Dragons and Titans
Mar 12, 2014
Free
41% (77%/43%)
1,387,406 ±37,145
748,428 ±27,299
04:48 (00:33)
89
TOXIKK
Sep 10, 2016
Free
39% (76%)
880,028 ±29,598
521,971 ±22,803
03:27 (00:22)
90
Sniper Elite
Jul 16, 2009
$7.99
39% (76%/76%)
486,270 ±22,010
312,192 ±17,639
06:44 (01:10)
91
America's Army: Proving Grounds
Aug 2013
Free
39% (76%)
2,809,471 ±52,784
1,461,415 ±38,120
14:13 (00:31)
92
Ricochet
Nov 1, 2000
$4.99
39% (76%)
7,866,570 ±87,882
938,922 ±30,571
01:16 (00:03)
93
Strife
May 22, 2015
Free
39% (76%)
1,669,890 ±40,741
889,931 ±29,764
07:49 (01:19)
94
Battle Islands
Aug 6, 2014
Free
39% (76%)
581,387 ±24,065
339,034 ±18,381
07:47 (00:26)
95
Investigator
Jun 1, 2016
$0.75
37% (75%)
32,574 ±5,699
17,199 ±4,141
02:54 (02:25)
96
Just Cause 3: Multiplayer Mod
Jul 20, 2017
Free
35% (74%)
251,213 ±15,824
201,700 ±14,179
02:43 (00:56)
97
Simply Chess
Sep 11, 2015
Free
35% (74%)
421,642 ±20,497
297,338 ±17,214
05:35 (00:33)
98
A New Beginning - Final Cut
Dec 11, 2012
$9.99
35% (74%/72%)
354,148 ±18,786
81,566 ±9,018
05:39 (02:34)
99
Gear Up
Jan 28, 2015
Free
35% (74%)
2,482,946 ±49,638
1,766,832 ±41,902
02:43 (00:23)
100
The Mean Greens - Plastic Warfare
Dec 8, 2015
$9.99
35% (74%)
182,416 ±13,485
125,085 ±11,167
03:08 (01:25)
101
Watch This!
Sep 23, 2016
$0.51
35% (74%)
37,265 ±6,095
25,278 ±5,020
03:12 (01:12)
102
The Way of Life Free Edition
May 31, 2016
Free
35% (74%)
1,298,543 ±35,939
845,630 ±29,015
00:37 (00:11)
103
Half-Life Deathmatch: Source
May 1, 2006
$9.99
33% (73%)
7,778,750 ±87,398
477,149 ±21,803
01:41 (00:11)
104
Rick and Morty: Virtual Rick-ality
Apr 20, 2017
$29.99
33% (73%)
64,627 ±8,027
58,894 ±7,663
05:24 (02:36)
105
Rise & Shine
Jan 13, 2017
$14.99
33% (73%)
53,161 ±7,280
19,805 ±4,444
02:24 (02:18)
106
Marvel Heroes Omega
Jun 3, 2013
Free
32% (72%/81%)
5,773,214 ±75,444
2,668,229 ±51,448
26:54 (01:08)
107
Robocraft
Aug 24, 2017
Free
32% (72%)
14,105,988 ±116,944
10,274,204 ±100,192
18:03 (02:08)
108
Farnham Fables
Jun 20, 2016
$0.99
32% (72%)
218,118 ±14,745
201,961 ±14,188
03:36 (03:31)
109
1954 Alcatraz
Mar 11, 2014
$9.99
30% (71%)
173,556 ±13,153
70,621 ±8,391
04:03 (02:45)
110
Alien Rage - Unlimited
Sep 24, 2013
$19.99
30% (71%/52%)
229,844 ±15,136
118,049 ±10,848
03:30 (00:54)
111
Dead Effect 2
May 6, 2016
$11.99
30% (71%/53%)
91,729 ±9,563
61,500 ±7,830
07:30 (03:12)
112
Warface
Jul 1, 2014
Free
29% (70%/62%)
9,551,315 ±96,673
6,301,178 ±78,777
14:18 (01:38)
113
Red Faction: Armageddon
Jun 6, 2011
$19.99
29% (70%/75%)
1,748,851 ±41,689
685,364 ±26,125
05:46 (01:50)
114
Deadlight: Director's Cut
Jun 21, 2016
$11.99
29% (70%)
128,213 ±11,306
30,750 ±5,537
02:19 (01:26)
115
Steel Ocean
Nov 12, 2015
Free
27% (69%)
1,015,277 ±31,787
671,292 ±25,856
10:09 (00:48)
116
Orake 2D MMORPG
Jun 16, 2017
Free
27% (69%)
129,516 ±11,363
89,123 ±9,426
02:30 (00:06)
117
Legions of Ashworld
Jul 4, 2014
$4.99
N/A (N/A)
10,424 ±3,224
2,867 ±1,690
02:08 (00:23)
118
Order of Battle: World War II
Apr 30, 2015
Free
26% (68%/81%)
223,590 ±14,929
140,200 ±11,822
46:07 (01:02)
119
EARTHLOCK: Festival of Magic
Sep 27, 2016
N/A
26% (68%)
46,907 ±6,839
27,102 ±5,198
05:50 (02:17)
120
Dogfight 1942
Sep 21, 2012
$1.49
26% (68%)
128,473 ±11,317
62,282 ±7,880
06:06 (01:10)
121
Dungeonland
Nov 12, 2013
Free
26% (68%/67%)
1,106,485 ±33,181
443,532 ±21,022
02:47 (00:46)
122
Super MNC
Apr 19, 2012
Free
24% (67%/76%)
1,555,750 ±39,328
763,021 ±27,564
07:51 (00:33)
123
Kingdom Wars
Apr 1, 2013
Free
24% (67%)
566,533 ±23,756
343,464 ±18,501
10:21 (01:00)
124
Orcs Must Die! Unchained
Apr 19, 2017
Free
24% (67%/87%)
1,789,503 ±42,169
1,086,158 ±32,876
08:51 (01:03)
125
Insanity Clicker
Jun 7, 2016
Free
24% (67%)
385,680 ±19,604
296,036 ±17,177
36:17 (01:52)
126
Across the Rhine
Nov 6, 2014
$1.74
N/A (N/A)
9,381 ±3,058
2,606 ±1,612
00:25 (00:36)
127
Heroes & Generals
Oct 18, 2016
Free
23% (66%)
16,971,747 ±127,901
12,093,937 ±108,504
14:19 (00:50)
128
ASTA Online
Apr 26, 2017
N/A
23% (66%)
378,123 ±19,411
241,832 ±15,525
11:12 (00:26)
129
Evolve Stage 2
Feb 10, 2015
Free
23% (66%/77%)
6,109,641 ±77,585
4,208,343 ±64,513
08:51 (01:42)
130
Mirage: Arcane Warfare
May 23, 2017
$9.99
22% (65%/74%)
1,268,835 ±35,527
483,142 ±21,939
02:37 (02:17)
131
Stronghold Kingdoms
Feb 27, 2012
Free
22% (65%/75%)
1,625,589 ±40,198
806,540 ±28,338
92:42 (00:49)
132
7th Legion
Oct 23, 2014
$1.74
N/A (N/A)
15,896 ±3,981
3,388 ±1,838
04:24 (02:21)
133
Medieval: Total War - Collection
Jun 25, 2015
$9.99
22% (65%)
136,552 ±11,667
52,901 ±7,262
34:33 (03:23)
134
Business Tour - Online Multiplayer Board Game
Jul 27, 2017
Free
21% (64%)
1,319,651 ±36,229
1,183,621 ±34,316
05:24 (02:22)
135
ARK: Survival Of The Fittest
Aug 29, 2017
N/A
21% (64%)
7,780,835 ±87,409
2,079,545 ±45,446
03:35 (00:22)
136
Tactical Intervention
Oct 8, 2013
N/A
20% (63%/47%)
2,819,113 ±52,874
1,476,008 ±38,310
02:44 (00:24)
137
Last Man Standing
Mar 29, 2017
Free
18% (62%)
4,927,584 ±69,759
3,617,314 ±59,847
06:51 (01:04)
138
Desperados: Wanted Dead or Alive
Nov 20, 2013
$4.99
18% (62%/78%)
108,668 ±10,408
60,458 ±7,764
05:42 (00:23)
139
Kaiju Panic
Oct 9, 2015
$9.99
N/A (N/A)
6,775 ±2,599
3,648 ±1,907
06:19 (01:32)
140
Spider-Man: Homecoming - Virtual Reality Experience
Jun 30, 2017
Free
17% (61%)
70,100 ±8,360
45,083 ±6,704
01:21 (00:12)
141
Einar
Jul 20, 2017
Free
17% (61%)
346,330 ±18,578
231,147 ±15,179
00:12 (00:05)
142
Ace Combat Assault Horizon - Enhanced Edition
Jan 24, 2013
$19.99
17% (61%/77%)
415,909 ±20,357
235,838 ±15,332
05:37 (01:38)
143
Metin2
May 8, 2017
Free
15% (59%)
880,028 ±29,598
696,830 ±26,343
09:54 (00:43)
144
Mighty No. 9
Jun 21, 2016
$19.99
14% (58%/52%)
169,908 ±13,014
85,475 ±9,231
04:56 (02:17)
145
Battle Battalions
Nov 3, 2015
Free
13% (57%)
184,240 ±13,552
87,820 ±9,357
06:15 (00:15)
146
Guardians of Orion
Dec 21, 2016
$0.99
13% (57%)
266,067 ±16,284
187,368 ±13,666
03:33 (01:00)
147
BioShock Remastered
Sep 15, 2016
$19.99
13% (57%)
3,858,625 ±61,796
1,025,961 ±31,954
05:23 (01:59)
148
Devil May Cry 3 Special Edition
Jun 12, 2007
$19.99
13% (57%/66%)
246,523 ±15,675
146,975 ±12,104
04:22 (00:30)
149
Inversion
Jul 26, 2012
$9.99
13% (56%)
48,210 ±6,933
32,574 ±5,699
05:50 (01:50)
150
The Agony
Jun 14, 2017
$0.49
13% (56%)
139,158 ±11,778
118,571 ±10,872
03:55 (03:44)
151
The Secret of Pineview Forest
Oct 31, 2016
Free
13% (56%)
22,932 ±4,782
11,206 ±3,342
00:48 (00:15)
152
Heroes Tactics
Jun 21, 2017
Free
13% (56%)
88,342 ±9,385
69,058 ±8,298
09:33 (00:32)
153
Savage Resurrection
Aug 18, 2016
Free
13% (56%)
118,310 ±10,860
85,475 ±9,231
05:26 (02:36)
154
Desert Law
Mar 25, 2015
$2.99
N/A (N/A)
19,805 ±4,444
2,606 ±1,612
01:17 (00:15)
155
Tomb Raider VI: The Angel of Darkness
Nov 28, 2012
$6.99
12% (55%)
579,302 ±24,021
75,312 ±8,665
02:22 (00:12)
156
Viking: Battle for Asgard
Oct 17, 2012
$14.99
11% (53%)
1,211,765 ±34,721
260,595 ±16,116
03:12 (00:25)
157
Painkiller: Recurring Evil
Feb 29, 2012
$9.99
11% (53%/38%)
183,198 ±13,514
30,490 ±5,513
03:16 (00:48)
158
Total War Battles: KINGDOM
Apr 9, 2015
Free
9% (51%)
679,110 ±26,006
465,943 ±21,546
13:06 (00:49)
159
A.V.A. Alliance of Valiant Arms
Jun 14, 2011
Free
9% (51%)
1,757,711 ±41,794
1,003,289 ±31,600
15:07 (00:42)
160
Guncraft
Aug 9, 2013
$14.99
9% (51%/73%)
126,649 ±11,237
99,547 ±9,962
04:07 (01:31)
161
METAL SLUG DEFENSE
May 1, 2015
Free
8% (49%)
504,251 ±22,413
272,061 ±16,467
02:12 (00:08)
162
Evolution RTS
Apr 7, 2014
Free
8% (48%)
153,230 ±12,359
57,070 ±7,543
01:50 (00:11)
163
Fight or Die
Jan 6, 2017
$2.99
N/A (N/A)
194,143 ±13,911
189,713 ±13,752
03:52 (03:31)
164
theHunter Classic
Jun 3, 2014
Free
5% (42%)
5,551,187 ±73,995
3,580,049 ±59,540
06:29 (00:38)
165
Cubesis
Aug 22, 2014
$4.99
N/A (N/A)
11,987 ±3,457
2,345 ±1,529
01:39 (00:11)
166
Apartment 666
Aug 3, 2016
$0.99
4% (38%)
172,774 ±13,124
156,096 ±12,474
04:02 (04:03)
167
Umbrella Corps/Biohazard Umbrella Corps
Jun 21, 2016
$29.99
3% (34%)
224,372 ±14,955
61,761 ±7,847
03:19 (01:55)
168
Russian Front
Jul 23, 2015
$14.99
N/A (N/A)
3,648 ±1,907
782 ±882
03:31 (03:02)