App

Spy Fox in "Dry Cereal"
Spy Fox in "Dry Cereal"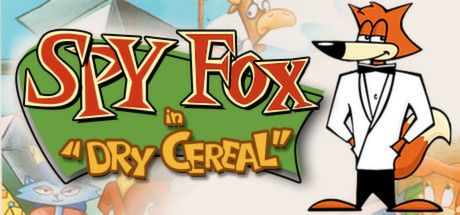 Store | Hub | SteamDB | Site
Developer: Humongous Entertainment Publisher: Humongous Entertainment, Nightdive Studios
Genre: Adventure, Casual
Languages: English, French, German, Dutch
Tags: Adventure (95), Point & Click (93), Casual (63), Family Friendly (52), Comedy (12), Singleplayer (6), 1990's (6)
Category: Single-player, Steam Trading Cards
Release date: Apr 17, 2014
Price: $6.99
Score rank: 92% Userscore: 95% Old userscore: 95%
Owners: 49,656 ± 6,279
Players total: 27,010 ± 4,631 (54.39%)
Followers: 486
Peak concurrent players yesterday: 7
Playtime total: 02:50 (average) 01:48 (median)

Steam Spy is still in beta, so expect major bugs.
Peak daily concurrent players:
CCU data courtesy of SteamDB. Used with permission.
Hourly concurrent players:
YouTube:
The views data is based on top 50 videos uploaded last week. Actual number of views might be more than the number shown.

The displayed number of videos uploaded yesterday is limited to 50, so if there were more videos uploaded, the number will still show 50.

If the game has commonly used word as its name (like "FEAR" or "Volume") its number of Youtube views might be wrong.
Games similar to this one:
#
Game
Release date

Price

Score rank
(Userscore / Metascore)

Owners

Players

Playtime (Median)

1
Fibrillation HD
Apr 11, 2017
$3.99
N/A (N/A)
1,662 ±1,149
1,039 ±908
02:13 (02:48)
2
Hector: Badge of Carnage - Full Series
Apr 27, 2011
$19.99
99% (98%/75%)
278,406 ±14,865
11,012 ±2,957
03:39 (03:38)
3
Tick Tock Isle
Nov 19, 2015
$0.99
99% (98%)
45,916 ±6,038
12,466 ±3,146
02:57 (03:03)
4
Bik - A Space Adventure
Oct 14, 2014
$4.99
N/A (N/A)
4,986 ±1,990
2,701 ±1,464
04:59 (01:06)
5
The Last Door: Season 2 - Collector's Edition
Mar 29, 2016
$9.99
92% (95%/84%)
27,841 ±4,702
11,427 ±3,012
03:50 (03:24)
6
Pajama Sam 2: Thunder and Lightning Aren't So Frightening
May 1, 2014
$6.99
92% (95%)
34,697 ±5,249
16,829 ±3,656
02:22 (01:47)
7
The Count Lucanor
Mar 3, 2016
$9.99
89% (94%/78%)
9,973 ±2,814
6,025 ±2,187
02:59 (02:51)
8
Sanitarium
Oct 29, 2014
$9.99
89% (94%)
19,945 ±3,980
13,297 ±3,249
04:19 (02:37)
9
The Inner World
Sep 27, 2013
$14.99
89% (94%/72%)
91,209 ±8,510
39,475 ±5,599
05:12 (02:48)
10
Tormentum - Dark Sorrow
Mar 4, 2015
$11.99
89% (94%/72%)
49,448 ±6,266
34,697 ±5,249
03:50 (03:46)
11
Putt-Putt Travels Through Time
May 15, 2014
$6.99
89% (94%)
29,087 ±4,806
11,635 ±3,039
02:19 (01:49)
12
The Frostrune
Feb 2, 2017
$9.99
89% (94%)
6,233 ±2,225
2,909 ±1,520
02:27 (03:22)
13
Wheely
Nov 9, 2016
$1.99
N/A (N/A)
2,701 ±1,464
2,285 ±1,347
04:34 (09:59)
14
Brilliant Shadows - Part One of the Book of Gray Magic
Nov 2, 2015
$6.99
86% (93%)
4,779 ±1,948
3,532 ±1,674
03:21 (03:40)
15
Blackwell Unbound
Jan 13, 2012
$4.99
86% (93%)
121,543 ±9,824
41,345 ±5,730
04:15 (02:39)
16
The Consuming Shadow
Nov 20, 2015
$9.99
86% (93%)
10,388 ±2,872
8,103 ±2,536
04:43 (03:38)
17
The Coma: Cutting Class
Oct 19, 2015
$9.99
86% (93%/69%)
9,349 ±2,725
8,103 ±2,536
05:13 (04:22)
18
Last Mage Standing
Dec 15, 2016
$1.49
N/A (N/A)
1,039 ±908
831 ±812
00:33 (00:39)
19
Nightmares from the Deep: The Cursed Heart
Feb 5, 2014
$9.99
83% (92%)
112,193 ±9,438
69,601 ±7,434
05:17 (03:34)
20
Bulb Boy
Oct 29, 2015
$8.99
79% (91%/84%)
54,019 ±6,549
24,516 ±4,412
03:06 (02:37)
21
Quest for Glory 1-5
Aug 29, 2016
$9.99
N/A (N/A)
81,236 ±8,032
13,505 ±3,275
05:52 (01:14)
22
The Deed
Nov 23, 2015
$0.99
79% (91%)
123,828 ±9,915
80,821 ±8,011
02:52 (02:31)
23
Airport Madness 4
Jul 24, 2015
$9.99
N/A (N/A)
10,388 ±2,872
6,233 ±2,225
02:40 (02:35)
24
Nearwood - Collector's Edition
Apr 16, 2014
$9.99
75% (90%)
36,567 ±5,389
10,804 ±2,929
06:32 (04:14)
25
The Blackwell Legacy
Jan 13, 2012
$4.99
75% (90%/80%)
141,904 ±10,614
60,668 ±6,941
03:43 (02:36)
26
Broken Sword 2 - the Smoking Mirror: Remastered
Dec 2, 2009
$5.99
75% (90%)
279,029 ±14,882
58,590 ±6,821
03:41 (01:29)
27
Grow Up
Aug 16, 2016
$9.99
75% (90%/71%)
51,734 ±6,409
37,813 ±5,480
04:21 (03:28)
28
Morningstar: Descent to Deadrock
Feb 17, 2015
$9.99
75% (90%)
33,242 ±5,138
17,452 ±3,723
03:20 (02:28)
29
The Music Machine
May 6, 2015
$2.49
75% (90%)
23,062 ±4,279
12,881 ±3,198
03:20 (02:09)
30
Kyoto Colorful Days
Jun 14, 2016
$9.99
N/A (N/A)
7,895 ±2,504
5,194 ±2,031
02:51 (03:00)
31
Chronology
May 12, 2014
$4.99
72% (89%)
79,159 ±7,928
20,984 ±4,082
03:11 (01:45)
32
Vampire Legends: The True Story of Kisilova
Dec 3, 2015
$9.99
72% (89%)
40,099 ±5,643
23,477 ±4,318
03:55 (03:32)
33
Tales of Monkey Island Complete Pack
Jul 7, 2009
$19.99
69% (88%/79%)
212,960 ±13,002
127,776 ±10,072
03:45 (02:59)
34
Gray Matter
Apr 1, 2014
$2.49
69% (88%/72%)
50,695 ±6,345
25,555 ±4,505
06:11 (02:14)
35
Paws: A Shelter 2 Game
Mar 24, 2016
$14.99
69% (88%)
9,973 ±2,814
7,687 ±2,471
08:31 (02:00)
36
Shadowgate (2014)
Aug 21, 2014
$14.99
69% (88%/68%)
128,399 ±10,097
71,056 ±7,511
03:40 (01:29)
37
(God's One Day World)
Jul 1, 2016
$9.99
69% (88%)
11,427 ±3,012
8,726 ±2,632
02:21 (02:36)
38
Freddi Fish 5: The Case of the Creature of Coral Cove
Jun 6, 2014
$6.99
N/A (N/A)
24,932 ±4,449
7,272 ±2,403
02:16 (02:01)
39
Lili: Child of Geos - Complete Edition
May 9, 2014
$9.99
69% (88%)
60,875 ±6,953
40,099 ±5,643
02:48 (01:39)
40
The Journey Down: Chapter One
Jan 9, 2013
$8.99
69% (88%/72%)
249,319 ±14,068
86,846 ±8,304
03:14 (02:24)
41
Space Pilgrim Episode IV: Sol
Mar 4, 2016
$1.99
69% (88%)
97,234 ±8,787
65,031 ±7,186
05:33 (03:32)
42
The Slaughter: Act One
Jan 28, 2016
$6.99
N/A (N/A)
8,518 ±2,601
5,194 ±2,031
02:55 (02:39)
43
Small Town Terrors Pilgrim's Hook Collector's Edition
Jul 16, 2014
$14.99
N/A (N/A)
23,062 ±4,279
6,441 ±2,261
03:24 (02:51)
44
Detective Case and Clown Bot in: Murder in the Hotel Lisbon
Jul 17, 2014
$5.99
66% (87%)
51,110 ±6,371
16,621 ±3,633
05:25 (03:39)
45
Drawn: The Painted Tower
Jan 19, 2011
$9.99
66% (87%)
8,518 ±2,601
6,233 ±2,225
05:20 (03:59)
46
Runaway: A Twist of Fate
Apr 21, 2011
$9.99
66% (87%/79%)
121,543 ±9,824
26,178 ±4,559
12:00 (04:08)
47
Message Quest
Oct 22, 2015
$2.99
66% (87%)
16,413 ±3,610
10,181 ±2,843
02:13 (01:31)
48
Adventures of Bertram Fiddle: Episode 1: A Dreadly Business
Apr 2, 2015
$5.99
66% (87%)
18,283 ±3,810
5,610 ±2,110
02:48 (01:54)
49
The Little Acre
Dec 13, 2016
$12.99
66% (87%/63%)
9,973 ±2,814
4,363 ±1,861
02:30 (02:35)
50
Seasons after Fall
Sep 2, 2016
$14.99
63% (86%/75%)
41,969 ±5,773
29,087 ±4,806
03:45 (02:29)
51
Midvinter
May 5, 2016
$4.99
N/A (N/A)
7,272 ±2,403
4,363 ±1,861
03:46 (03:25)
52
Spy Fox 3 "Operation Ozone"
May 15, 2014
$6.99
N/A (N/A)
31,996 ±5,041
10,596 ±2,901
01:43 (01:35)
53
Namariel Legends: Iron Lord Premium Edition
Jul 9, 2014
$6.99
N/A (N/A)
25,971 ±4,541
3,324 ±1,624
07:59 (03:27)
54
XBlaze Code: Embryo
Mar 1, 2016
$19.99
N/A (N/A)
2,493 ±1,407
1,247 ±995
01:27 (01:51)
55
Heileen 3: New Horizons
Jul 17, 2014
$24.99
N/A (N/A)
19,114 ±3,896
9,142 ±2,694
05:08 (03:18)
56
Projector Face
Jun 1, 2016
$4.99
N/A (N/A)
6,648 ±2,298
3,324 ±1,624
02:23 (02:40)
57
Sorcery! Part 3
Apr 5, 2016
$9.99
N/A (N/A)
14,959 ±3,446
4,155 ±1,816
05:26 (03:41)
58
Sorcery! Parts 1 and 2
Feb 2, 2016
$9.99
60% (85%/69%)
77,704 ±7,855
30,957 ±4,958
03:41 (01:34)
59
D: The Game
Oct 27, 2016
$5.99
N/A (N/A)
4,571 ±1,905
2,701 ±1,464
02:02 (02:49)
60
The Lost Crown
Jun 6, 2014
$9.99
60% (85%/71%)
64,823 ±7,175
19,945 ±3,980
05:34 (02:09)
61
D4: Dark Dreams Dont Die -Season One-
Jun 5, 2015
$14.99
60% (85%)
92,456 ±8,568
60,460 ±6,929
04:19 (03:15)
62
Fire
Apr 9, 2015
$9.99
60% (85%/64%)
21,608 ±4,142
17,037 ±3,678
03:16 (02:04)
63
Shiftlings
Mar 3, 2015
$14.99
N/A (N/A/70%)
90,793 ±8,491
17,452 ±3,723
02:51 (02:28)
64
Goetia
Apr 14, 2016
$14.99
58% (84%/79%)
48,617 ±6,213
13,505 ±3,275
03:08 (02:18)
65
Metal Dead
Oct 6, 2014
$4.99
58% (84%)
37,190 ±5,434
22,854 ±4,260
02:57 (01:48)
66
The Shivah
Nov 21, 2013
$4.99
58% (84%)
98,273 ±8,834
34,905 ±5,265
03:07 (01:28)
67
The Next BIG Thing
Apr 21, 2011
$9.99
58% (84%/75%)
88,924 ±8,403
39,683 ±5,614
04:15 (02:18)
68
realMyst: Masterpiece Edition
Feb 5, 2014
$17.99
55% (83%)
84,561 ±8,194
67,939 ±7,345
04:10 (02:08)
69
Whispering Willows
Jul 9, 2014
$9.99
55% (83%/64%)
39,475 ±5,599
20,984 ±4,082
02:45 (01:57)
70
The Charnel House Trilogy
Apr 16, 2015
$5.99
55% (83%/68%)
30,126 ±4,891
17,037 ±3,678
03:13 (02:41)
71
Still Life
Jun 1, 2011
$7.99
52% (82%/75%)
118,842 ±9,714
43,631 ±5,886
04:58 (01:53)
72
The Last Express Gold Edition
Nov 21, 2013
$6.99
52% (82%/82%)
26,594 ±4,595
14,128 ±3,349
05:05 (03:16)
73
Darkness Within 1: In Pursuit of Loath Nolder
Nov 13, 2014
$7.99
52% (82%)
55,058 ±6,612
18,491 ±3,832
04:22 (01:03)
74
SVRVIVE: The Deus Helix
Nov 17, 2016
$18.99
N/A (N/A)
4,779 ±1,948
3,532 ±1,674
01:30 (01:26)
75
The Emerald Maiden: Symphony of Dreams
Feb 18, 2016
$9.99
50% (81%)
25,140 ±4,468
14,128 ±3,349
03:06 (03:09)
76
Dead Synchronicity: Tomorrow Comes Today
Apr 10, 2015
$19.99
50% (81%/70%)
43,839 ±5,900
19,114 ±3,896
03:04 (02:37)
77
URU: Complete Chronicles
Aug 3, 2010
$9.99
N/A (N/A)
65,031 ±7,186
20,984 ±4,082
05:12 (01:08)
78
Doctor Who: The Adventure Games
Mar 17, 2014
$19.99
48% (80%)
56,512 ±6,699
39,683 ±5,614
04:49 (02:17)
79
Schrdingers Cat And The Raiders Of The Lost Quark
Sep 23, 2014
$9.99
N/A (N/A/59%)
40,099 ±5,643
17,245 ±3,700
04:05 (02:00)
80
Lumber Island - That Special Place
Oct 1, 2015
$4.99
N/A (N/A)
15,375 ±3,494
2,701 ±1,464
02:46 (01:07)
81
Boo Bunny Plague
Sep 4, 2014
$1.99
46% (79%)
16,621 ±3,633
11,012 ±2,957
03:34 (01:45)
82
Mirror Mysteries
Apr 10, 2014
$4.99
43% (78%)
21,608 ±4,142
7,895 ±2,504
01:53 (02:02)
83
Midnight Mysteries
Sep 28, 2009
$9.99
N/A (N/A)
36,774 ±5,404
15,167 ±3,470
05:01 (03:05)
84
Sylvio
Jun 5, 2015
$12.99
N/A (N/A/60%)
4,363 ±1,861
3,116 ±1,573
03:17 (03:27)
85
Duke Grabowski, Mighty Swashbuckler
Oct 6, 2016
$1.95
N/A (N/A)
2,493 ±1,407
1,247 ±995
04:32 (06:26)
86
Small Radios Big Televisions
Nov 8, 2016
$11.99
N/A (N/A/67%)
35,112 ±5,280
2,285 ±1,347
01:37 (02:00)
87
Project Abyss
Nov 18, 2016
$6.99
N/A (N/A)
7,687 ±2,471
3,740 ±1,723
03:12 (03:45)
88
1 Moment Of Time: Silentville
Jul 22, 2016
$0.99
41% (77%)
21,192 ±4,102
15,582 ±3,518
03:42 (03:55)
89
The Bunker
Sep 20, 2016
$19.99
41% (77%/57%)
6,233 ±2,225
5,194 ±2,031
02:21 (02:17)
90
Soulless: Ray Of Hope
Oct 18, 2016
$9.99
N/A (N/A)
8,726 ±2,632
3,740 ±1,723
01:51 (02:03)
91
Investigator
Jun 1, 2016
$5.99
39% (76%)
19,322 ±3,917
11,635 ±3,039
03:05 (02:58)
92
Airport Madness: Time Machine
Sep 18, 2015
$6.99
N/A (N/A)
9,142 ±2,694
6,025 ±2,187
09:04 (03:56)
93
Ether One
Mar 25, 2014
$19.99
39% (76%/82%)
50,279 ±6,319
27,425 ±4,667
06:36 (02:07)
94
Adam's Venture Chronicles
Aug 3, 2015
$14.99
39% (76%)
33,035 ±5,122
10,181 ±2,843
03:33 (02:42)
95
Haunted
Aug 18, 2014
$14.99
N/A (N/A/76%)
11,635 ±3,039
4,363 ±1,861
06:42 (04:47)
96
Mirrored - Chapter 1
Oct 30, 2015
$1.99
37% (75%)
10,181 ±2,843
6,648 ±2,298
04:36 (02:31)
97
The Mysterious Cities of Gold
Nov 20, 2013
$11.99
N/A (N/A)
40,722 ±5,687
6,025 ±2,187
05:11 (02:08)
98
Phantasmagoria 2: A Puzzle of Flesh
Aug 29, 2016
$5.99
N/A (N/A)
106,999 ±9,217
4,571 ±1,905
03:03 (04:02)
99
Infinite Space III: Sea of Stars
Oct 29, 2015
$9.99
N/A (N/A)
20,569 ±4,041
9,765 ±2,784
03:46 (02:28)
100
The Raven - Legacy of a Master Thief
Jul 23, 2013
$17.99
37% (75%/74%)
85,807 ±8,254
43,007 ±5,844
06:48 (04:00)
101
Legend of Miro
Aug 22, 2016
$9.99
N/A (N/A)
12,881 ±3,198
3,948 ±1,770
02:08 (02:25)
102
Dyscourse
Mar 25, 2015
$14.99
35% (74%/71%)
64,407 ±7,151
32,411 ±5,073
04:11 (01:52)
103
Richard & Alice
Jun 5, 2014
$5.99
35% (74%/70%)
65,862 ±7,232
25,555 ±4,505
03:41 (02:47)
104
The Detail
Oct 28, 2014
$3.99
34% (73%/77%)
78,951 ±7,918
33,242 ±5,138
02:47 (01:37)
105
Mahluk:Dark demon
Jul 19, 2016
$1.99
N/A (N/A)
17,037 ±3,678
8,311 ±2,569
02:09 (02:11)
106
City Quest
Aug 20, 2015
$9.99
N/A (N/A)
7,480 ±2,437
4,986 ±1,990
02:52 (02:51)
107
Return to Mysterious Island
Mar 6, 2014
$7.99
34% (73%)
43,215 ±5,858
13,713 ±3,300
03:29 (01:39)
108
Return to Mysterious Island 2
Mar 6, 2014
$7.99
N/A (N/A)
45,501 ±6,011
6,441 ±2,261
04:49 (03:09)
109
Blues and Bullets
Jul 22, 2015
$4.99
32% (72%/73%)
39,683 ±5,614
25,971 ±4,541
04:10 (01:50)
110
Cradle
Jul 24, 2015
$12.99
32% (72%/65%)
25,971 ±4,541
22,854 ±4,260
04:36 (03:59)
111
Alteric
Jul 13, 2016
$3.99
N/A (N/A)
8,103 ±2,536
5,402 ±2,071
03:03 (03:16)
112
The Old City: Leviathan
Dec 3, 2014
$5.99
32% (72%/62%)
39,060 ±5,569
15,790 ±3,541
02:09 (01:50)
113
Shin Samurai Jazz
Mar 16, 2015
$0.99
N/A (N/A)
18,283 ±3,810
2,909 ±1,520
02:09 (00:42)
114
FATED: The Silent Oath
Apr 28, 2016
$9.99
31% (71%/67%)
2,493 ±1,407
1,870 ±1,218
00:53 (00:56)
115
The Away Team
Jul 22, 2016
$5.99
N/A (N/A)
8,311 ±2,569
4,986 ±1,990
03:30 (03:02)
116
Nancy Drew: Secrets Can Kill REMASTERED
Jul 25, 2011
$6.99
N/A (N/A)
15,582 ±3,518
7,895 ±2,504
03:36 (03:20)
117
Wild Romance
Oct 19, 2016
$8.99
N/A (N/A)
1,870 ±1,218
1,454 ±1,074
02:04 (01:30)
118
Nevermind
Sep 29, 2015
$19.99
29% (70%)
27,010 ±4,631
15,167 ±3,470
03:12 (02:09)
119
Fluffy
Jan 11, 2017
$0.99
N/A (N/A)
42,592 ±5,816
40,930 ±5,701
03:22 (03:30)
120
Black Sails - The Ghost Ship
Sep 17, 2015
$9.99
27% (69%)
18,076 ±3,789
10,596 ±2,901
03:50 (03:12)
121
Masha Rescues Grandma
Dec 23, 2016
$3.99
N/A (N/A)
3,532 ±1,674
2,909 ±1,520
03:42 (03:56)
122
Last Heroes
Nov 13, 2015
$1.99
N/A (N/A)
10,181 ±2,843
4,571 ±1,905
05:02 (03:03)
123
Odysseus: Long Way Home
Feb 23, 2015
$3.99
N/A (N/A)
49,656 ±6,279
37,398 ±5,450
03:50 (03:31)
124
Adventurezator: When Pigs Fly
Sep 17, 2015
$19.99
N/A (N/A)
20,569 ±4,041
9,557 ±2,755
03:52 (01:20)
125
Reversion - The Meeting (2nd Chapter)
Jul 8, 2014
$4.99
N/A (N/A)
23,685 ±4,337
12,050 ±3,093
03:00 (02:20)
126
Virginia
Sep 22, 2016
$9.99
26% (68%/74%)
27,633 ±4,684
19,530 ±3,938
02:49 (02:02)
127
Midnight Mysteries: Salem Witch Trials
Mar 28, 2012
$9.99
N/A (N/A)
30,542 ±4,925
8,934 ±2,663
03:45 (02:48)
128
Face Noir
Oct 17, 2013
$9.99
N/A (N/A/59%)
65,238 ±7,197
36,151 ±5,358
03:33 (02:36)
129
Crime Secrets: Crimson Lily
Jul 14, 2016
$9.99
25% (67%)
21,815 ±4,162
11,635 ±3,039
03:15 (03:03)
130
Wayward Manor
Jul 15, 2014
$6.99
N/A (N/A/41%)
9,142 ±2,694
4,155 ±1,816
01:34 (01:17)
131
Al Emmo and the Lost Dutchman's Mine
May 9, 2014
$9.99
N/A (N/A/77%)
12,050 ±3,093
7,687 ±2,471
05:30 (03:05)
132
Mythos: The Beginning - Director's Cut
Oct 27, 2014
$5.99
N/A (N/A)
19,322 ±3,917
9,557 ±2,755
03:20 (02:12)
133
Bottle
Apr 21, 2016
$1.99
22% (65%)
7,687 ±2,471
4,986 ±1,990
01:48 (01:50)
134
Last Will
Aug 29, 2016
$12.99
N/A (N/A)
3,324 ±1,624
2,493 ±1,407
05:33 (04:43)
135
Hamlet or the Last Game without MMORPG Features, Shaders ...
Oct 22, 2012
$4.99
22% (65%)
47,786 ±6,160
25,555 ±4,505
04:00 (02:12)
136
Obscuritas
Mar 17, 2016
$14.99
N/A (N/A/63%)
6,233 ±2,225
4,779 ±1,948
04:18 (03:25)
137
Alter Ego
Aug 3, 2010
$9.99
22% (65%/59%)
22,854 ±4,260
5,817 ±2,149
03:58 (03:16)
138
Dark Fall: Lost Souls
Apr 21, 2010
$12.99
21% (64%/75%)
46,539 ±6,079
27,217 ±4,649
05:19 (01:47)
139
Secret Files: Sam Peters
Oct 18, 2013
$9.99
21% (64%)
17,868 ±3,767
5,194 ±2,031
02:56 (02:30)
140
Empress Of The Deep
May 8, 2014
$4.99
21% (64%)
11,635 ±3,039
4,571 ±1,905
02:50 (02:40)
141
Oracle
Feb 28, 2017
$1.99
20% (63%)
1,247 ±995
1,039 ±908
01:13 (01:50)
142
The Travels of Marco Polo
May 6, 2015
$6.99
N/A (N/A)
8,103 ±2,536
3,740 ±1,723
10:00 (03:04)
143
Void And Meddler
Oct 28, 2015
$3.99
20% (63%)
20,569 ±4,041
10,388 ±2,872
01:52 (01:58)
144
Unrest
Jul 23, 2014
$14.99
19% (62%/65%)
19,114 ±3,896
9,142 ±2,694
01:44 (01:18)
145
NightCry
Mar 28, 2016
$24.99
19% (62%)
4,571 ±1,905
2,909 ±1,520
05:39 (04:49)
146
Heileen 2: The Hands Of Fate
Jun 11, 2014
$9.99
N/A (N/A)
17,660 ±3,745
9,349 ±2,725
04:33 (02:28)
147
Hotel Collectors Edition
Apr 25, 2014
$6.99
N/A (N/A)
13,505 ±3,275
2,078 ±1,284
01:30 (01:49)
148
The Great Fusion
Feb 25, 2015
$2.99
N/A (N/A)
7,687 ±2,471
4,986 ±1,990
03:47 (03:08)
149
Dance of Death
Dec 21, 2015
$3.99
16% (60%)
23,062 ±4,279
16,621 ±3,633
04:04 (03:09)
150
Eleusis
Oct 16, 2013
$14.99
16% (59%)
42,800 ±5,830
17,245 ±3,700
02:35 (02:35)
151
Tibetan Quest: Beyond the World's End
Apr 7, 2016
$9.99
N/A (N/A)
15,167 ±3,470
9,142 ±2,694
03:57 (03:32)
152
Violett Remastered
Dec 13, 2013
$9.99
15% (58%/61%)
146,059 ±10,769
90,170 ±8,462
03:39 (03:17)
153
The Land Of Lamia
Nov 23, 2015
$4.99
N/A (N/A)
18,491 ±3,832
10,596 ±2,901
03:25 (03:27)
154
Myst V
Mar 16, 2012
$9.99
14% (57%/80%)
50,695 ±6,345
23,477 ±4,318
05:15 (03:04)
155
Mystic Diary - Quest for Lost Brother
Dec 8, 2016
$6.99
N/A (N/A)
2,909 ±1,520
1,662 ±1,149
01:52 (02:06)
156
AR-K
Jul 21, 2014
$7.99
14% (57%)
95,780 ±8,721
47,786 ±6,160
03:38 (02:21)
157
Memento Mori
Nov 9, 2012
$12.99
13% (56%/66%)
31,373 ±4,991
10,388 ±2,872
04:51 (03:09)
158
D.W.A.R.F.S.
Mar 20, 2014
$5.99
N/A (N/A)
5,402 ±2,071
1,662 ±1,149
01:05 (01:31)
159
Lost Civilization
Apr 15, 2014
$4.99
N/A (N/A)
34,489 ±5,233
4,571 ±1,905
03:30 (02:46)
160
Armikrog
Sep 30, 2015
$24.99
10% (52%/57%)
25,555 ±4,505
19,530 ±3,938
03:58 (03:13)
161
Drizzlepath: Genie
Feb 22, 2016
$7.99
10% (52%)
2,909 ±1,520
1,454 ±1,074
02:22 (00:58)
162
DisneyPixar Cars 2: The Video Game
Oct 6, 2014
$19.99
N/A (N/A)
9,349 ±2,725
4,155 ±1,816
09:14 (01:28)
163
ADventure Lib
Aug 4, 2015
$1.99
9% (50%)
7,480 ±2,437
5,194 ±2,031
02:22 (02:05)
164
Warriors' Wrath
May 26, 2016
$2.99
N/A (N/A)
21,608 ±4,142
14,336 ±3,374
03:56 (03:46)
165
Viktaram
Dec 1, 2016
$0.99
N/A (N/A)
2,493 ±1,407
1,247 ±995
01:54 (01:24)
166
Alternativa
Nov 5, 2010
$12.99
7% (47%/63%)
23,477 ±4,318
10,388 ±2,872
03:26 (01:23)
167
The Cameron Files: The Secret at Loch Ness
Jul 18, 2014
$2.99
N/A (N/A/66%)
22,646 ±4,241
2,285 ±1,347
13:51 (24:31)
168
Fairy Tale About Father Frost, Ivan and Nastya
Apr 30, 2014
$2.99
N/A (N/A)
14,544 ±3,398
1,870 ±1,218
02:15 (01:30)
169
A Sirius Game
Aug 21, 2015
$4.99
N/A (N/A)
14,751 ±3,422
10,388 ±2,872
04:10 (03:32)
170
Lost Horizon 2
Oct 1, 2015
$14.99
N/A (N/A/58%)
16,829 ±3,656
5,402 ±2,071
04:55 (06:02)
171
Mistwood Heroes
Dec 30, 2016
$0.99
N/A (N/A)
9,765 ±2,784
6,025 ±2,187
02:16 (02:22)
172
Horror in the Asylum
Feb 1, 2016
$4.99
N/A (N/A)
3,116 ±1,573
2,078 ±1,284
01:50 (02:07)
173
Endless Room
Sep 30, 2016
$1.99
N/A (N/A)
7,064 ±2,368
5,402 ±2,071
02:45 (02:51)
174
A Princess' Tale
May 20, 2016
$3.99
N/A (N/A)
2,909 ±1,520
2,285 ±1,347
03:14 (03:13)
175
Lex Mortis
Feb 9, 2015
$4.99
4% (39%)
49,033 ±6,240
44,046 ±5,914
03:27 (03:30)
176
Vault Cracker
May 15, 2014
$4.99
N/A (N/A)
6,233 ±2,225
2,078 ±1,284
02:04 (03:11)
177
Rescue Lucy
Jun 3, 2016
$2.99
3% (36%)
10,181 ±2,843
7,064 ±2,368
03:15 (03:19)
178
Disney Fairies: Tinker Bell's Adventure
Oct 6, 2014
$19.99
N/A (N/A)
7,272 ±2,403
4,779 ±1,948
08:08 (03:36)
179
COAST GUARD
Oct 21, 2015
$14.99
N/A (N/A/47%)
10,804 ±2,929
8,103 ±2,536
04:54 (02:53)
180
Broadside
Sep 18, 2015
$4.99
N/A (N/A)
7,895 ±2,504
4,986 ±1,990
06:07 (04:17)
181
Dracula 2: The Last Sanctuary
Apr 17, 2014
$4.99
1% (26%/68%)
38,852 ±5,554
7,272 ±2,403
02:08 (01:35)
182
SLG Remix
Jun 1, 2016
$2.99
N/A (N/A)
5,610 ±2,110
4,155 ±1,816
02:56 (03:17)
183
HotLead
Nov 6, 2015
$0.99
N/A (N/A)
103,883 ±9,082
77,289 ±7,834
04:06 (03:35)