Showtime!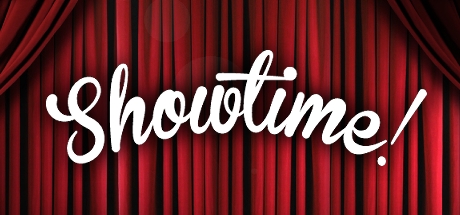 Store | Hub | SteamDB | Site
Developer: Myrtilus Entertainment Publisher: KISS ltd
Genre: Casual, Indie, Simulation, Strategy
Languages: English
Tags: Simulation (39), Casual (30), Strategy (29), Indie (26), Management (20), Movie (6)
Category: Single-player, Steam Trading Cards, Includes level editor
Release date: May 23, 2014
Price: $0.77 87%
Score rank: 25% Userscore: 67% Old userscore: 64%
Owners: 54,438 ± 6,600
Players in the last 2 weeks: 3,350 ± 1,637 (6.15%)
Players total: 25,963 ± 4,558 (47.69%)
Followers: 328
Peak concurrent players yesterday: 449
YouTube stats: 74,561 views and 363 comments for videos uploaded last week, 14 new videos uploaded yesterday.
Playtime in the last 2 weeks: 03:05 (average) 03:18 (median)
Playtime total: 05:24 (average) 03:10 (median)

Steam Spy is still in beta, so expect major bugs.
Peak daily concurrent players:
CCU data courtesy of SteamDB. Used with permission.
Hourly concurrent players:
YouTube:
The views data is based on top 50 videos uploaded last week. Actual number of views might be more than the number shown.

The displayed number of videos uploaded yesterday is limited to 50, so if there were more videos uploaded, the number will still show 50.

If the game has commonly used word as its name (like "FEAR" or "Volume") its number of Youtube views might be wrong.
Games similar to this one:
#
Game
Release date

Price

Score rank
(Userscore / Metascore)

Owners

Players

Playtime (Median)

1
Dream Car Racing 3D
Sep 22, 2016
$14.99
97% (97%)
4,606 ±1,920
4,188 ±1,830
08:48 (07:49)
2
Creeper World: Anniversary Editon
Nov 16, 2016
$4.99
N/A (N/A)
3,141 ±1,585
2,303 ±1,357
08:41 (11:49)
3
Zenge
Apr 12, 2016
$0.99
95% (96%)
49,832 ±6,315
34,966 ±5,290
01:45 (01:15)
4
Beat Da Beat
Mar 10, 2016
$1.99
92% (95%)
5,234 ±2,046
4,816 ±1,963
03:14 (02:44)
5
Viscera Cleanup Detail
Oct 23, 2015
$12.99
86% (93%)
477,592 ±19,540
416,454 ±18,248
08:20 (04:04)
6
Lakeview Cabin Collection
Apr 9, 2015
$9.99
86% (93%/70%)
39,991 ±5,657
29,941 ±4,895
03:17 (01:23)
7
Triple Town
Dec 6, 2012
$9.99
79% (91%)
55,904 ±6,689
47,948 ±6,194
42:30 (05:33)
8
Blood Harvest
Feb 7, 2017
$2.99
N/A (N/A)
3,769 ±1,736
1,675 ±1,157
04:00 (03:42)
9
Frog Climbers
Oct 6, 2016
$6.99
N/A (N/A)
49,832 ±6,315
9,841 ±2,806
02:14 (01:16)
10
Game Corp DX
Oct 2, 2015
$2.99
69% (88%)
89,823 ±8,478
65,954 ±7,265
04:36 (03:24)
11
ARMA: Cold War Assault
Aug 8, 2011
$0.99
60% (85%)
1,420,842 ±33,664
497,064 ±19,934
02:08 (00:15)
12
BlackSmith HIT
Aug 5, 2016
$0.49
60% (85%)
27,847 ±4,721
20,938 ±4,093
03:28 (02:48)
13
Blasters of the Universe
Jul 14, 2016
$14.99
N/A (N/A)
5,863 ±2,166
1,675 ±1,157
00:46 (00:50)
14
The Last NightMary - A Lenda do Cabeça de Cuia
Nov 2, 2015
$0.51
52% (82%)
50,670 ±6,368
34,757 ±5,274
03:22 (03:25)
15
Blueprint Tycoon
May 13, 2016
$2.99
50% (81%)
59,254 ±6,886
52,763 ±6,498
03:49 (01:12)
16
Asura
Apr 13, 2017
$9.99
48% (80%)
5,863 ±2,166
5,444 ±2,087
05:40 (04:29)
17
Paranormal State: Poison Spring
Apr 9, 2014
$1.99
48% (80%)
37,688 ±5,492
21,985 ±4,194
04:31 (03:50)
18
Shoppe Keep
May 20, 2016
$9.99
45% (79%)
99,245 ±8,912
94,220 ±8,683
07:38 (03:41)
19
Tyto Ecology
Apr 14, 2016
$6.99
39% (76%)
16,960 ±3,684
16,122 ±3,592
05:42 (02:06)
20
The Magical Silence
Jun 10, 2016
$0.99
37% (75%)
30,988 ±4,980
24,916 ±4,465
03:09 (03:30)
21
Defense Zone 3 Ultra HD
Dec 14, 2016
$2.99
34% (73%)
3,141 ±1,585
2,722 ±1,476
09:27 (10:41)
22
OutDrive
Feb 22, 2016
$2.99
29% (70%)
102,805 ±9,070
76,633 ±7,831
02:58 (03:16)
23
Wildlife Park 2
Jul 17, 2014
$6.99
26% (68%)
42,085 ±5,803
38,107 ±5,522
11:28 (03:45)
24
Snowman
Jan 27, 2017
$0.99
N/A (N/A)
119,555 ±9,781
43,341 ±5,889
02:29 (03:37)
25
The Treasures of Montezuma 3
Oct 16, 2014
$3.99
16% (59%)
6,281 ±2,242
4,816 ±1,963
04:41 (02:25)
26
Wildlife Park 3
May 12, 2014
$9.99
13% (56%)
81,239 ±8,063
34,966 ±5,290
10:13 (01:00)
27
Last Answer
Jan 9, 2017
$4.99
N/A (N/A)
65,326 ±7,230
35,594 ±5,337
03:27 (03:59)
28
The Housewife
Aug 25, 2016
$4.99
N/A (N/A)
37,688 ±5,492
18,844 ±3,883
02:56 (03:25)