Gunship!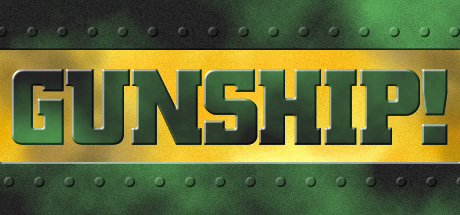 Store | Hub | SteamDB | Site
Developer: Microprose Publisher: Retroism
Genre: Action, Simulation
Languages: English
Tags: Simulation (29), Action (26)
Category: Single-player
Release date: Jul 11, 2014
Price: $6.99
Owners: 15,053 ± 3,493
Players total: 1,908 ± 1,243 (12.68%)
Followers: 194
Peak concurrent players yesterday: 2
Playtime total: 00:13 (average) 00:11 (median)

Steam Spy is still in beta, so expect major bugs.
Peak daily concurrent players:
CCU data courtesy of SteamDB. Used with permission.
Hourly concurrent players:
YouTube:
The views data is based on top 50 videos uploaded last week. Actual number of views might be more than the number shown.

The displayed number of videos uploaded yesterday is limited to 50, so if there were more videos uploaded, the number will still show 50.

If the game has commonly used word as its name (like "FEAR" or "Volume") its number of Youtube views might be wrong.
Games similar to this one:
#
Game
Release date

Price

Score rank
(Userscore / Metascore)

Owners

Players

Playtime (Median)

1
Trainz Trouble
Aug 26, 2014
$4.99
N/A (N/A)
11,025 ±2,989
3,604 ±1,709
02:42 (00:43)
2
Pozzo Jello Crusade
Sep 1, 2016
$2.99
N/A (N/A)
2,332 ±1,374
636 ±718
04:55 (03:54)
3
Monsterland
Dec 14, 2015
$0.99
N/A (N/A)
6,148 ±2,232
424 ±586
00:18 (00:12)
4
Eye of the Owl - Bosch VR
Dec 23, 2016
Free
N/A (N/A)
5,088 ±2,030
2,756 ±1,494
00:12 (00:10)
5
Tatsu
Aug 29, 2016
$9.99
N/A (N/A)
636 ±718
212 ±414
07:18 (02:26)
6
Blender
Apr 24, 2015
Free
95% (96%)
972,727 ±28,045
668,273 ±23,255
11:42 (00:16)
7
Animated Puzzles
Dec 16, 2016
$7.99
N/A (N/A)
1,060 ±927
1,060 ±927
05:21 (04:19)
8
Eleven: Table Tennis VR
Sep 22, 2016
$9.99
92% (95%)
25,654 ±4,560
24,382 ±4,445
02:29 (01:10)
9
Crazy Machines 3
Oct 18, 2016
$19.99
86% (93%/71%)
12,721 ±3,211
11,025 ±2,989
04:48 (03:04)
10
Beast Boxing Turbo
Nov 19, 2013
$4.99
86% (93%)
28,410 ±4,798
10,389 ±2,901
01:16 (00:57)
11
Wacky Wheels
May 5, 2014
$4.99
N/A (N/A)
70,177 ±7,541
6,997 ±2,381
00:16 (00:07)
12
All My Gods
Oct 13, 2015
$3.99
N/A (N/A)
4,876 ±1,988
1,272 ±1,015
02:54 (02:49)
13
Glittermitten Grove
Dec 13, 2016
$19.99
75% (90%)
7,209 ±2,417
6,360 ±2,270
05:59 (05:30)
14
Bomb U!
Sep 17, 2016
$5.99
N/A (N/A)
4,452 ±1,899
1,060 ±927
00:31 (00:28)
15
Super Mega Baseball: Extra Innings
Aug 21, 2015
$19.99
75% (90%)
15,689 ±3,566
14,205 ±3,393
51:37 (07:10)
16
Post Apocalyptic Mayhem
Mar 17, 2011
$9.99
72% (89%/44%)
231,309 ±13,689
168,764 ±11,693
03:38 (01:36)
17
Driver Parallel Lines
Feb 13, 2009
$9.99
72% (89%/61%)
23,534 ±4,367
18,445 ±3,866
09:12 (01:16)
18
House of the Dying Sun
Nov 1, 2016
$19.99
72% (89%/76%)
36,467 ±5,436
30,742 ±4,991
02:10 (00:59)
19
Mad Riders
May 30, 2012
$9.99
72% (89%)
17,173 ±3,731
13,145 ±3,264
01:36 (00:54)
20
TrackMania Canyon
Feb 27, 2013
$19.99
69% (88%/81%)
174,913 ±11,904
142,686 ±10,752
13:47 (03:39)
21
Cyberpong
Apr 28, 2016
$8.99
69% (88%)
7,421 ±2,452
5,936 ±2,193
03:57 (00:44)
22
Worms Crazy Golf
Oct 19, 2011
$9.99
69% (88%)
466,434 ±19,433
109,612 ±9,425
01:29 (00:25)
23
GT Legends
Nov 28, 2012
$7.99
66% (87%/84%)
124,877 ±10,059
59,788 ±6,961
01:17 (00:01)
24
Gas Guzzlers Extreme
Oct 8, 2013
$24.99
66% (87%/73%)
209,895 ±13,040
143,534 ±10,784
04:01 (01:44)
25
Making History: The Calm and the Storm Gold Edition
May 19, 2015
$4.99
66% (87%)
6,572 ±2,308
5,724 ±2,154
31:34 (30:01)
26
Eastside Hockey Manager
Dec 1, 2015
$19.99
63% (86%)
141,838 ±10,720
49,824 ±6,354
99:25 (06:08)
27
inMomentum
Oct 31, 2011
$9.99
N/A (N/A/59%)
86,714 ±8,383
31,590 ±5,060
02:08 (00:25)
28
Titanic VR Demo
Jan 31, 2017
Free
N/A (N/A)
13,993 ±3,367
10,389 ±2,901
00:11 (00:06)
29
Farming Simulator 2011
Oct 29, 2010
$9.99
60% (85%)
92,651 ±8,665
91,591 ±8,615
55:01 (19:36)
30
Kingspray Graffiti VR
Dec 6, 2016
$14.99
60% (85%)
2,968 ±1,551
2,332 ±1,374
01:27 (01:37)
31
We Are Stars
Dec 16, 2016
$9.99
N/A (N/A)
1,291 ±1,263
969 ±1,094
00:33 (00:42)
32
F-117A Nighthawk Stealth Fighter 2.0
Oct 30, 2014
$6.99
N/A (N/A)
16,537 ±3,661
4,876 ±1,988
00:28 (00:14)
33
Mall Empire
Feb 16, 2017
$3.99
55% (83%)
646 ±893
323 ±631
02:25 (01:12)
34
Command: Modern Air / Naval Operations WOTY
Sep 26, 2014
$79.99
55% (83%)
23,958 ±4,406
20,778 ±4,103
23:04 (04:12)
35
Trials 2: Second Edition
May 28, 2008
$9.99
55% (83%)
116,396 ±9,712
99,223 ±8,967
07:01 (02:09)
36
Demolition Company Gold Edition
Aug 4, 2011
$9.99
55% (83%)
25,442 ±4,541
25,230 ±4,522
06:39 (04:13)
37
Skeet: VR Target Shooting
Apr 5, 2016
Free
55% (83%)
105,796 ±9,259
58,728 ±6,899
02:52 (00:10)
38
Kopanito All-Stars Soccer
Nov 16, 2016
$11.99
55% (83%)
42,191 ±5,847
37,739 ±5,530
04:43 (01:19)
39
The Thing With Mistletoes
Feb 10, 2017
Free
N/A (N/A)
2,756 ±1,494
1,908 ±1,243
00:41 (00:51)
40
Princess Maker Refine
Feb 17, 2017
$9.99
52% (82%)
4,664 ±1,944
3,604 ±1,709
01:21 (01:34)
41
MiG-29 Fulcrum
Jun 2009
$9.99
N/A (N/A)
15,477 ±3,542
5,300 ±2,072
04:11 (00:52)
42
Cloudlands : VR Minigolf
Apr 5, 2016
$19.99
52% (82%)
28,834 ±4,834
26,078 ±4,597
01:47 (00:54)
43
nail'd
Nov 30, 2010
$4.99
52% (82%/69%)
102,615 ±9,119
63,181 ±7,155
02:01 (00:36)
44
Far Beyond: A space odyssey VR
Oct 28, 2016
$19.99
52% (82%)
4,664 ±1,944
3,392 ±1,658
01:42 (01:19)
45
Demolish & Build 2017
Oct 18, 2016
$10.99
50% (81%)
9,965 ±2,842
8,481 ±2,621
03:49 (03:31)
46
Armored Fist 3
Jun 18, 2009
$9.99
N/A (N/A)
15,689 ±3,566
4,452 ±1,899
01:35 (01:09)
47
World of Zoo
Oct 30, 2009
$14.99
48% (80%)
61,060 ±7,034
23,534 ±4,367
06:33 (00:57)
48
Blood Bowl: Chaos Edition
Oct 11, 2012
$19.99
48% (80%)
285,373 ±15,204
230,461 ±13,664
44:15 (08:51)
49
Winter Sports Trilogy Super Pack
Sep 10, 2015
$6.99
N/A (N/A)
6,997 ±2,381
5,512 ±2,113
03:39 (02:14)
50
KART CHASER : THE BOOST VR
Jan 25, 2017
$9.99
N/A (N/A)
2,544 ±1,436
212 ±414
00:02 (00:00)
51
Crazy Taxi
Mar 4, 2011
$7.99
48% (80%)
282,405 ±15,124
102,827 ±9,128
00:58 (00:18)
52
Star Tactics
Sep 7, 2016
$7.99
N/A (N/A)
8,269 ±2,588
5,936 ±2,193
04:22 (04:11)
53
Sonic & SEGA All-Stars Racing
Mar 3, 2010
$9.99
43% (78%/65%)
229,189 ±13,626
77,810 ±7,941
06:21 (00:58)
54
Mashed
Apr 24, 2014
$4.99
41% (77%)
26,714 ±4,653
12,085 ±3,129
01:57 (00:33)
55
Football Manager Touch 2017
Nov 3, 2016
$29.99
N/A (N/A)
791,666 ±25,307
126,361 ±10,119
40:36 (00:40)
56
Energy Hook
Jul 5, 2016
$17.99
N/A (N/A)
2,260 ±1,671
1,614 ±1,412
00:16 (00:22)
57
Sledgehammer / Gear Grinder
Mar 12, 2014
$7.99
N/A (N/A)
13,145 ±3,264
7,633 ±2,487
02:29 (02:14)
58
Super Button Soccer
Jul 20, 2016
$6.99
N/A (N/A)
3,180 ±1,605
2,544 ±1,436
04:34 (04:22)
59
Krautscape
Feb 24, 2016
$7.99
39% (76%)
25,654 ±4,560
8,905 ±2,686
02:26 (00:19)
60
F1 2011
Sep 19, 2011
$14.99
37% (75%/83%)
62,121 ±7,095
52,580 ±6,528
29:25 (09:06)
61
HTR+ Slot Car Simulation
May 29, 2014
$3.91
N/A (N/A)
14,841 ±3,468
3,604 ±1,709
00:52 (00:47)
62
Twisted Lands Trilogy: Collector's Edition
Oct 28, 2015
$19.99
N/A (N/A)
6,572 ±2,308
848 ±829
05:15 (03:30)
63
Frozen Cortex
Feb 19, 2015
$24.99
35% (74%/79%)
90,531 ±8,565
28,410 ±4,798
03:41 (01:15)
64
MXGP2 - The Official Motocross Videogame
Apr 7, 2016
$12.49
35% (74%)
19,929 ±4,019
19,929 ±4,019
22:45 (08:20)
65
Super Toy Cars
Jun 6, 2014
$9.99
35% (74%)
50,036 ±6,368
23,746 ±4,387
02:16 (01:45)
66
Split/Second
Oct 6, 2014
$19.99
35% (74%/79%)
34,346 ±5,276
26,290 ±4,616
05:07 (03:05)
67
Jet Car Stunts
May 1, 2014
$2.99
35% (74%/57%)
21,414 ±4,166
8,481 ±2,621
01:23 (00:26)
68
Dub Dash
Feb 16, 2016
$4.99
34% (73%)
18,445 ±3,866
6,360 ±2,270
01:18 (00:49)
69
Valentino Rossi The Game
Jun 16, 2016
$49.99
34% (73%/72%)
10,601 ±2,931
10,177 ±2,872
21:57 (05:54)
70
F-16 Multirole Fighter
Jun 18, 2009
$9.99
N/A (N/A)
16,325 ±3,637
6,784 ±2,345
02:45 (00:24)
71
Insane 2
Jan 24, 2012
$14.99
32% (72%)
59,364 ±6,936
25,018 ±4,503
03:58 (00:50)
72
Caravan
Sep 30, 2016
$14.99
32% (72%)
4,452 ±1,899
3,180 ±1,605
02:46 (02:58)
73
Airline Tycoon Deluxe
Nov 14, 2014
$7.99
30% (71%)
20,778 ±4,103
17,385 ±3,753
08:33 (04:58)
74
Bridge Constructor Stunts
Feb 23, 2016
$9.99
N/A (N/A)
33,286 ±5,194
8,905 ±2,686
02:14 (00:27)
75
Wings of Prey
Jan 8, 2010
$9.99
30% (71%/78%)
161,132 ±11,426
136,326 ±10,510
26:51 (06:32)
76
Death Rally
Aug 3, 2012
$9.99
30% (71%)
85,018 ±8,300
65,089 ±7,263
04:19 (01:28)
77
MotoGP13
Jun 20, 2013
$19.99
30% (71%)
37,739 ±5,530
31,166 ±5,026
15:09 (05:39)
78
Thrills & Chills - Roller Coasters
Sep 20, 2016
$4.99
N/A (N/A)
8,693 ±2,654
5,300 ±2,072
06:19 (00:49)
79
Falcon 4.0
Jan 8, 2016
$6.99
N/A (N/A/85%)
10,389 ±2,901
6,572 ±2,308
00:07 (00:05)
80
APC
Dec 13, 2016
$59.99
N/A (N/A)
5,088 ±2,030
5,088 ±2,030
114:59 (31:25)
81
Smash Cars
Oct 18, 2011
$9.99
N/A (N/A)
7,421 ±2,452
6,360 ±2,270
01:53 (00:57)
82
Red Baron Pack
Jan 7, 2016
$9.99
N/A (N/A)
4,452 ±1,899
2,120 ±1,310
01:48 (02:30)
83
Clutch
Jul 20, 2009
$9.99
N/A (N/A/51%)
30,742 ±4,991
12,933 ±3,237
02:57 (00:59)
84
MX Nitro
Feb 13, 2017
$19.99
N/A (N/A)
2,120 ±1,310
1,696 ±1,172
06:42 (04:08)
85
Speedball 2 HD
Dec 5, 2013
$9.99
27% (69%/53%)
135,478 ±10,477
76,750 ±7,886
03:03 (01:46)
86
Industry Manager: Future Technologies
Oct 6, 2016
$19.99
27% (69%)
15,265 ±3,517
14,841 ±3,468
10:20 (06:03)
87
Eight Mini Racers
Jan 12, 2016
$0.99
N/A (N/A)
19,293 ±3,954
15,053 ±3,493
02:49 (03:15)
88
Train Mechanic Simulator 2017
Mar 23, 2017
$14.99
26% (68%)
8,693 ±2,654
8,481 ±2,621
03:44 (02:28)
89
New Star Soccer 5
Sep 27, 2012
$14.99
25% (67%)
34,983 ±5,324
22,262 ±4,247
12:05 (04:33)
90
Formula Truck 2013
Feb 2, 2015
$9.99
25% (67%)
9,117 ±2,718
7,845 ±2,521
06:25 (01:09)
91
Real Boxing
Jul 2, 2014
$4.99
25% (67%)
116,608 ±9,721
70,601 ±7,564
04:33 (02:55)
92
MXGP - The Official Motocross Videogame Compact
Dec 3, 2014
$9.99
23% (66%)
4,240 ±1,853
2,968 ±1,551
05:56 (10:50)
93
18 Wheels of Steel: Extreme Trucker
Sep 23, 2009
$9.99
23% (66%)
49,188 ±6,314
24,594 ±4,464
03:06 (00:55)
94
Card of spirits
Jun 21, 2016
$1.99
N/A (N/A)
636 ±718
424 ±586
03:57 (02:38)
95
MX vs. ATV Unleashed
Apr 16, 2015
$9.99
22% (65%/71%)
23,534 ±4,367
11,025 ±2,989
03:21 (01:18)
96
The Great Art Race
$4.99
22% (65%)
64,453 ±7,227
17,597 ±3,776
02:37 (00:19)
97
WRC 4 FIA World Rally Championship
Oct 25, 2013
$29.99
21% (64%)
66,361 ±7,333
50,884 ±6,422
14:16 (04:37)
98
Lunch Truck Tycoon
May 28, 2015
$0.99
21% (64%)
20,353 ±4,061
18,233 ±3,844
02:09 (00:48)
99
Romance of the Three Kingdoms Maker /
Dec 9, 2015
$9.99
21% (64%)
150,107 ±11,028
14,205 ±3,393
05:10 (00:06)
100
The Golf Club
Aug 19, 2014
$29.99
20% (63%/70%)
50,248 ±6,381
49,188 ±6,314
17:59 (03:43)
101
Trainz: Murchison 2
Free
N/A (N/A)
35,831 ±5,389
6,572 ±2,308
05:41 (01:09)
102
Global ATC Simulator
Nov 10, 2014
$34.99
N/A (N/A)
2,332 ±1,374
2,120 ±1,310
10:25 (13:39)
103
F-22 Lightning 3
Jun 18, 2009
$9.99
N/A (N/A)
19,081 ±3,932
9,329 ±2,749
04:40 (00:44)
104
Wings Over Europe
May 30, 2014
$9.99
19% (62%/62%)
5,724 ±2,154
2,968 ±1,551
02:28 (02:29)
105
MiniBikers
Nov 5, 2015
$5.99
N/A (N/A)
22,474 ±4,268
17,385 ±3,753
04:13 (04:22)
106
GTR - FIA GT Racing Game
Sep 25, 2012
$6.99
N/A (N/A)
70,177 ±7,541
24,594 ±4,464
01:23 (00:24)
107
MotoGP15 Compact
Dec 10, 2015
$9.99
16% (60%)
5,724 ±2,154
4,452 ±1,899
13:09 (10:25)
108
Let Hawaii Happen VR
Oct 22, 2016
Free
N/A (N/A)
15,901 ±3,590
4,452 ±1,899
00:11 (00:13)
109
Task Force 1942: Surface Naval Action in the South Pacific
Nov 6, 2014
$6.99
N/A (N/A)
6,360 ±2,270
1,696 ±1,172
00:39 (00:53)
110
WRC 6 FIA World Rally Championship
Oct 7, 2016
$44.99
16% (59%/68%)
19,293 ±3,954
16,961 ±3,707
10:47 (02:48)
111
Ridge Racer Unbounded
Mar 29, 2012
$9.99
16% (59%/72%)
197,174 ±12,639
118,093 ±9,782
05:03 (01:05)
112
DIG IT! - A Digger Simulator
Oct 14, 2014
$17.99
16% (59%)
29,470 ±4,887
22,898 ±4,308
05:18 (02:42)
113
Soccertron
Mar 12, 2015
$4.99
N/A (N/A)
14,205 ±3,393
7,421 ±2,452
02:30 (03:09)
114
Petz Horsez 2
Jun 13, 2008
$9.99
N/A (N/A)
13,781 ±3,342
11,449 ±3,046
11:59 (02:54)
115
18 Wheels of Steel: Extreme Trucker 2
May 8, 2015
$9.99
N/A (N/A)
8,693 ±2,654
4,664 ±1,944
03:27 (03:16)
116
Ride 'em Low
Nov 4, 2013
$4.99
N/A (N/A)
17,597 ±3,776
5,724 ±2,154
01:38 (01:28)
117
Take On Helicopters
Oct 27, 2011
$19.99
15% (58%/70%)
323,748 ±16,193
112,792 ±9,560
06:39 (00:46)
118
Pro Cycling Manager 2015
Jun 18, 2015
$19.99
15% (58%)
58,728 ±6,899
39,859 ±5,683
94:00 (28:33)
119
Notruf 112 | Emergency Call 112
Nov 9, 2016
$34.99
14% (57%)
36,891 ±5,468
36,891 ±5,468
11:05 (07:03)
120
DUCATI - 90th Anniversary
Jun 9, 2016
$19.99
N/A (N/A)
1,696 ±1,172
1,060 ±927
05:04 (07:05)
121
Foosball - Street Edition
Apr 16, 2014
$4.99
12% (55%)
8,693 ±2,654
5,724 ±2,154
01:18 (01:13)
122
Pro Cycling Manager 2016
Jun 16, 2016
$29.99
12% (55%/64%)
47,491 ±6,204
47,279 ±6,190
93:46 (42:53)
123
Final Approach: Pilot Edition
Jun 22, 2016
$14.99
N/A (N/A)
24,594 ±4,464
9,329 ±2,749
00:14 (00:07)
124
Military Life: Tank Simulator
Jun 1, 2016
$4.99
N/A (N/A)
7,209 ±2,417
1,060 ±927
00:12 (00:14)
125
Monster Truck Destruction
Jul 10, 2015
$4.99
11% (53%)
64,029 ±7,203
14,841 ±3,468
01:51 (00:21)
126
Rig n Roll
Jul 9, 2010
$4.99
11% (53%/61%)
67,209 ±7,380
29,894 ±4,922
06:29 (00:49)
127
MotoGP14
Jun 20, 2014
$29.99
10% (51%/76%)
19,505 ±3,976
16,113 ±3,614
14:31 (03:57)
128
Bridge Project
Mar 28, 2013
$19.99
10% (51%)
151,379 ±11,075
98,375 ±8,928
03:09 (00:56)
129
MX vs. ATV Supercross Encore
Oct 27, 2015
$29.99
10% (51%)
19,081 ±3,932
18,233 ±3,844
72:19 (05:58)
130
Cricket Revolution
Oct 28, 2009
$2.99
10% (51%)
21,626 ±4,186
19,081 ±3,932
11:28 (02:09)
131
PRO EVOLUTION SOCCER 2017 TRIAL EDITION
Nov 23, 2016
Free
8% (48%)
311,451 ±15,883
225,796 ±13,525
14:35 (01:36)
132
Bowl Bound College Football
Sep 3, 2015
$9.99
N/A (N/A/80%)
6,148 ±2,232
5,088 ±2,030
29:05 (09:13)
133
Funfair Ride Simulator 3
Aug 4, 2016
$5.99
N/A (N/A)
3,816 ±1,758
2,544 ±1,436
02:20 (02:02)
134
Agricultural Simulator 2011: Extended Edition
Feb 23, 2011
$2.23
7% (46%)
50,884 ±6,422
33,710 ±5,227
02:19 (00:21)
135
Anti-Opoly
Aug 14, 2015
$9.99
N/A (N/A)
848 ±829
636 ±718
00:27 (00:27)
136
Hospital Tycoon
Feb 13, 2009
$4.99
7% (46%/51%)
213,288 ±13,145
85,654 ±8,331
03:41 (00:52)
137
Comic Book Hero: The Greatest Cape
Dec 9, 2015
$19.99
N/A (N/A)
5,512 ±2,113
2,544 ±1,436
27:53 (08:47)
138
R.B.I. Baseball 15
Apr 30, 2015
$19.99
6% (45%)
6,784 ±2,345
6,148 ±2,232
09:59 (04:12)
139
Agricultural Simulator 2012: Deluxe Edition
Apr 17, 2015
$7.99
N/A (N/A)
15,901 ±3,590
2,332 ±1,374
00:05 (00:05)
140
Colin McRae Rally
Jul 30, 2014
$6.99
6% (43%)
224,312 ±13,480
100,495 ±9,024
02:58 (00:47)
141
Club Manager 2015
Dec 4, 2014
$9.99
5% (42%)
22,050 ±4,227
11,237 ±3,018
17:37 (03:07)
142
Hospital Manager
Mar 25, 2015
$4.99
5% (41%)
23,110 ±4,328
9,329 ±2,749
03:14 (01:25)
143
Blue Tear
Dec 16, 2016
$7.99
N/A (N/A)
2,120 ±1,310
1,696 ±1,172
05:31 (07:05)
144
Off-Road Super Racing
Dec 22, 2016
Free
N/A (N/A)
24,382 ±4,445
20,565 ±4,082
00:13 (00:05)
145
Farm Machines Championships 2014
Mar 14, 2014
Free
4% (39%)
43,675 ±5,949
10,177 ±2,872
00:47 (00:24)
146
Starlite: Astronaut Rescue - Developed in Collaboration with NASA
Jan 27, 2014
$2.99
4% (38%)
8,693 ±2,654
5,300 ±2,072
00:28 (00:22)
147
Glacier 3: The Meltdown
Jan 23, 2014
$9.99
N/A (N/A)
186,786 ±12,302
24,382 ±4,445
00:17 (00:04)
148
Hotel Giant 2
Jan 27, 2010
$7.99
3% (37%/58%)
44,523 ±6,007
25,442 ±4,541
03:49 (00:38)
149
Motorama
Nov 21, 2014
$19.99
N/A (N/A)
34,134 ±5,260
10,389 ±2,901
00:48 (00:18)
150
War Truck Simulator
Jun 17, 2016
$5.99
N/A (N/A)
1,484 ±1,096
0 ±0
00:00 (00:00)
151
Logistics Company
Nov 5, 2014
$14.99
N/A (N/A)
17,809 ±3,799
11,661 ±3,074
04:33 (01:43)
152
Monster Jam Battlegrounds
Jun 10, 2015
$9.99
N/A (N/A)
11,661 ±3,074
9,753 ±2,811
04:12 (03:23)
153
Bus-Simulator 2012
Nov 22, 2013
$9.99
2% (33%)
37,103 ±5,483
31,166 ±5,026
06:23 (02:31)
154
Dive to the Titanic
Dec 17, 2010
$9.99
2% (32%)
6,572 ±2,308
6,148 ±2,232
03:17 (02:57)
155
Beach Resort Simulator
Nov 28, 2014
$9.99
N/A (N/A)
9,329 ±2,749
5,724 ±2,154
03:02 (01:26)
156
Starpoint Gemini
Feb 16, 2012
$13.99
2% (30%/46%)
59,788 ±6,961
26,078 ±4,597
08:40 (00:59)
157
New York Taxi Simulator
Mar 4, 2016
$4.99
N/A (N/A)
9,117 ±2,718
1,484 ±1,096
00:06 (00:09)
158
Helicopter Simulator 2014: Search and Rescue
Feb 28, 2014
$0.69
2% (30%)
62,545 ±7,119
21,626 ±4,186
01:25 (00:17)
159
MotoGP14 Compact
Nov 21, 2014
$9.99
N/A (N/A)
4,240 ±1,853
2,968 ±1,551
00:50 (00:34)
160
Jane's Advanced Strike Fighters
Mar 8, 2012
$9.99
2% (29%)
30,530 ±4,974
19,293 ±3,954
02:38 (00:27)
161
World Basketball Manager 2010
Apr 21, 2010
$4.99
1% (27%)
28,410 ±4,798
9,753 ±2,811
01:45 (00:25)
162
Ski-World Simulator
Nov 18, 2014
$9.99
N/A (N/A)
13,993 ±3,367
3,604 ±1,709
00:38 (00:21)
163
Woodcutter Simulator 2013
Dec 19, 2013
$9.99
1% (23%)
67,633 ±7,403
26,714 ±4,653
00:52 (00:18)
164
Mining Industry Simulator
Nov 28, 2014
$9.99
N/A (N/A)
12,933 ±3,237
9,329 ±2,749
02:20 (01:24)
165
Pro Rugby Manager 2015
Sep 18, 2014
$9.99
1% (20%)
14,417 ±3,418
13,357 ±3,290
34:09 (12:59)
166
Cabela's Hunting Expeditions
Oct 22, 2012
$29.99
N/A (N/A)
8,693 ±2,654
5,936 ±2,193
05:30 (03:09)
167
Mining & Tunneling Simulator
Mar 5, 2014
$9.99
N/A (N/A)
33,286 ±5,194
9,965 ±2,842
00:35 (00:17)
168
Prison Tycoon 4: SuperMax
$24.99
N/A (N/A)
23,322 ±4,347
15,053 ±3,493
03:43 (01:53)
169
Professional Farmer 2017
Mar 23, 2016
$14.99
N/A (N/A)
25,442 ±4,541
24,170 ±4,426
03:52 (00:58)
170
Trainz: Classic Cabon City
Sep 1, 2010
$19.99
N/A (N/A)
32,650 ±5,144
9,329 ±2,749
02:35 (00:28)
171
Agricultural Simulator: Historical Farming
Nov 6, 2013
$9.99
0% (14%)
113,004 ±9,569
33,710 ±5,227
01:05 (00:09)
172
Towtruck Simulator 2015
Mar 11, 2014
$9.99
0% (11%)
48,552 ±6,273
16,537 ±3,661
00:40 (00:11)
173
Professional Lumberjack 2015
Mar 5, 2015
$19.99
N/A (N/A)
23,746 ±4,387
21,414 ±4,166
01:13 (00:24)
174
World Basketball Tycoon
Nov 18, 2013
$9.99
0% (10%)
13,993 ±3,367
5,512 ±2,113
08:56 (01:34)
175
Luxury Hotel Emporium
Aug 7, 2015
$4.99
N/A (N/A)
6,784 ±2,345
848 ±829
00:05 (00:06)
176
Airport Simulator 2014
Dec 19, 2013
$9.99
0% (10%)
72,509 ±7,666
34,134 ±5,260
02:48 (00:25)
177
Forestry 2017 - The Simulation
Mar 25, 2016
$19.99
N/A (N/A)
11,237 ±3,018
9,753 ±2,811
03:18 (02:07)
178
Aviator - Bush Pilot
Nov 4, 2014
$9.99
N/A (N/A)
11,449 ±3,046
6,997 ±2,381
02:07 (02:11)
179
Extreme Roads USA
Jun 6, 2014
$9.99
N/A (N/A)
8,269 ±2,588
2,756 ±1,494
00:53 (00:18)
180
Construction Machines 2014
Mar 28, 2014
$0.69
0% (8%)
47,915 ±6,231
17,597 ±3,776
00:41 (00:17)
181
Skyscraper Simulator
Oct 21, 2013
$2.23
0% (7%)
62,969 ±7,143
23,534 ±4,367
01:13 (00:20)