Gunship!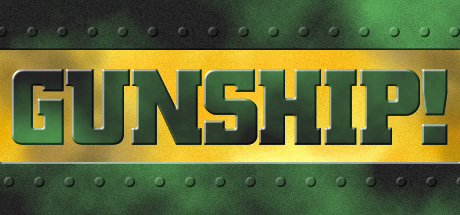 Store | Hub | SteamDB | Site
Developer: Microprose Publisher: Retroism
Genre: Action, Simulation
Languages: English
Tags: Simulation (29), Action (26)
Category: Single-player
Release date: Jul 11, 2014
Price: $6.99
Owners: 18,602 ± 4,093
Players total: 3,532 ± 1,783 (18.99%)
Followers: 203
Peak concurrent players yesterday: 1
Playtime total: 01:38 (average) 00:28 (median)

Steam Spy is still in beta, so expect major bugs.
Peak daily concurrent players:
CCU data courtesy of SteamDB. Used with permission.
Hourly concurrent players:
YouTube:
The views data is based on top 50 videos uploaded last week. Actual number of views might be more than the number shown.

The displayed number of videos uploaded yesterday is limited to 50, so if there were more videos uploaded, the number will still show 50.

If the game has commonly used word as its name (like "FEAR" or "Volume") its number of Youtube views might be wrong.
Games similar to this one:
#
Game
Release date

Price

Score rank
(Userscore / Metascore)

Owners

Players

Playtime (Median)

1
Puppy Dog: Jigsaw Puzzles
Jul 19, 2016
$1.99
N/A (N/A)
40,737 ±6,057
25,431 ±4,786
03:04 (03:10)
2
Snail Bob 2: Tiny Troubles
Sep 24, 2015
$4.99
N/A (N/A)
5,180 ±2,160
2,355 ±1,456
02:39 (02:26)
3
Flowers -Le volume sur printemps-
Aug 17, 2016
$19.99
97% (97%)
5,180 ±2,160
4,474 ±2,007
14:03 (14:31)
4
Kitty Cat: Jigsaw Puzzles
Jul 18, 2016
$1.99
N/A (N/A)
45,447 ±6,397
28,728 ±5,086
03:31 (03:09)
5
UniBall
Feb 24, 2017
Free
95% (96%)
12,009 ±3,288
8,006 ±2,685
06:55 (00:32)
6
Rose of Winter
Oct 17, 2016
$11.99
92% (95%)
1,884 ±1,302
1,177 ±1,029
04:33 (06:03)
7
Hidden Object Bundle 4 in 1
Oct 6, 2015
$7.99
89% (94%)
23,077 ±4,559
16,012 ±3,797
11:57 (10:17)
8
Legends of Atlantis: Exodus
Sep 3, 2015
$6.99
N/A (N/A)
12,009 ±3,288
3,061 ±1,660
14:34 (11:04)
9
Koi-Koi Japan [Hanafuda playing cards]
Apr 27, 2015
$9.99
85% (93%)
33,202 ±5,468
22,841 ±4,535
04:23 (02:47)
10
MHRD
Jan 5, 2017
$9.99
82% (92%)
4,709 ±2,059
4,003 ±1,898
04:10 (03:37)
11
Tradewinds Classics
Jul 17, 2009
$4.99
N/A (N/A)
6,593 ±2,436
4,239 ±1,953
03:11 (03:00)
12
Tradewinds Classics
Jul 17, 2009
$4.99
N/A (N/A)
6,593 ±2,436
4,945 ±2,110
06:23 (04:03)
13
Tradewinds Classics
Jul 17, 2009
$4.99
N/A (N/A)
6,593 ±2,436
4,709 ±2,059
02:33 (02:12)
14
YOU DONT KNOW JACK
Feb 8, 2011
Free
82% (92%/71%)
17,896 ±4,014
15,070 ±3,684
03:29 (01:28)
15
Stikbold! A Dodgeball Adventure
Apr 1, 2016
$9.99
82% (92%)
87,126 ±8,857
29,199 ±5,128
03:07 (01:28)
16
Princess Maker 2 Refine
Sep 28, 2016
$19.99
82% (92%)
19,309 ±4,170
15,306 ±3,712
09:45 (05:37)
17
Action Henk
May 11, 2015
$14.99
78% (91%/74%)
106,199 ±9,779
49,685 ±6,689
04:04 (01:43)
18
Tropico Reloaded
Jul 26, 2009
$6.99
78% (91%)
254,784 ±15,144
70,171 ±7,949
05:38 (00:23)
19
Gemini Lost
May 6, 2010
$6.99
N/A (N/A)
3,768 ±1,842
1,648 ±1,218
07:52 (10:57)
20
Alice's Patchwork
Mar 3, 2016
$4.99
N/A (N/A)
10,596 ±3,089
7,300 ±2,564
05:42 (04:34)
21
SkyDrift
Nov 21, 2011
$9.99
75% (90%/73%)
227,939 ±14,324
106,199 ±9,779
02:32 (00:30)
22
Luxor 3
Jun 10, 2008
$9.99
N/A (N/A)
26,844 ±4,917
10,596 ±3,089
17:15 (05:36)
23
Startopia
Oct 10, 2013
$6.99
75% (90%/86%)
199,212 ±13,392
67,110 ±7,774
04:29 (00:44)
24
LUXOR: Mah Jong
Jul 13, 2009
$9.99
N/A (N/A)
20,722 ±4,320
8,477 ±2,763
16:43 (04:07)
25
Delicious! Pretty Girls Mahjong Solitaire
Oct 14, 2016
$0.89
71% (89%)
40,031 ±6,004
30,612 ±5,250
06:05 (04:10)
26
Unseen Diplomacy
Apr 4, 2016
$2.99
71% (89%)
15,306 ±3,712
11,067 ±3,157
00:44 (00:37)
27
Apollo 11 VR
Apr 1, 2016
$9.69
71% (89%)
28,021 ±5,023
26,138 ±4,852
02:36 (01:08)
28
Shufflepuck Cantina Deluxe
Dec 6, 2013
$9.99
71% (89%)
50,392 ±6,736
32,731 ±5,429
03:23 (02:31)
29
Puzzler World
May 28, 2010
$0.74
68% (88%)
56,043 ±7,104
27,315 ±4,960
07:32 (01:06)
30
Sid Meier's Covert Action (Classic)
Oct 9, 2014
$6.99
N/A (N/A)
26,138 ±4,852
6,593 ±2,436
03:08 (00:22)
31
Silent Hunter III
Jun 13, 2008
$9.99
68% (88%/90%)
139,165 ±11,194
113,970 ±10,130
18:33 (03:59)
32
Lunar Flight
Apr 10, 2012
$14.99
68% (88%)
130,453 ±10,838
83,123 ±8,652
02:58 (01:04)
33
BlazeRush
Oct 28, 2014
$9.99
68% (88%/66%)
87,832 ±8,893
61,694 ±7,454
03:52 (02:01)
34
Putt-Putt and Fatty Bear's Activity Pack
May 15, 2014
$4.99
N/A (N/A)
17,425 ±3,961
2,590 ±1,527
01:20 (00:55)
35
SimpleRockets
Jun 3, 2015
$7.99
68% (88%)
28,021 ±5,023
21,664 ±4,417
06:10 (05:07)
36
Hidden Object 6-in-1 bundle
Mar 16, 2016
$11.99
N/A (N/A)
17,190 ±3,934
10,832 ±3,123
14:42 (07:32)
37
Among the Heavens
Nov 6, 2015
$2.99
65% (87%)
29,199 ±5,128
20,251 ±4,270
03:22 (03:30)
38
VRSailing by BeTomorrow
Jan 12, 2017
Free
N/A (N/A)
13,893 ±3,537
9,654 ±2,948
00:11 (00:05)
39
Sea Legends: Phantasmal Light Collector's Edition
Sep 17, 2014
$4.99
N/A (N/A)
17,896 ±4,014
2,826 ±1,595
03:42 (04:34)
40
Astrox: Hostile Space Excavation
Nov 30, 2015
$9.99
62% (86%)
18,367 ±4,067
15,070 ±3,684
07:39 (03:04)
41
AstroPop Deluxe
Aug 30, 2006
$4.99
N/A (N/A)
25,902 ±4,830
13,422 ±3,477
01:54 (00:16)
42
Carmageddon 2: Carpocalypse Now
Sep 19, 2014
$9.99
62% (86%)
81,945 ±8,590
40,973 ±6,074
03:36 (01:06)
43
Yosumin!
May 26, 2009
$5.99
N/A (N/A)
156,120 ±11,856
27,080 ±4,938
04:09 (00:22)
44
Atlantic Fleet
Feb 25, 2016
$9.99
59% (85%)
38,382 ±5,879
35,086 ±5,621
11:01 (03:32)
45
911: First Responders
Sep 25, 2014
$4.99
59% (85%)
40,502 ±6,039
37,911 ±5,843
16:14 (03:35)
46
Capitalism Plus
Mar 22, 2016
$5.99
N/A (N/A)
8,242 ±2,724
5,651 ±2,256
12:51 (01:16)
47
My Riding Stables: Life with Horses
Mar 27, 2014
$9.99
57% (84%)
11,538 ±3,223
7,771 ±2,645
09:21 (07:12)
48
Crash Dive
Jul 6, 2015
$6.99
N/A (N/A)
8,713 ±2,801
5,180 ±2,160
03:14 (02:34)
49
Mr Nibbles Forever
Apr 29, 2016
$0.99
N/A (N/A)
3,768 ±1,842
942 ±921
01:01 (01:21)
50
GE Neuro
Sep 5, 2016
Free
N/A (N/A)
25,196 ±4,763
4,709 ±2,059
00:20 (00:08)
51
The Next Penelope
May 29, 2015
$12.99
54% (83%/82%)
37,440 ±5,807
13,658 ±3,507
01:31 (00:32)
52
RC Mini Racers
Jul 16, 2015
$4.99
N/A (N/A)
32,025 ±5,370
5,887 ±2,302
00:58 (00:17)
53
Muddy Heights 2
Apr 19, 2016
$2.99
54% (83%)
10,361 ±3,054
9,654 ±2,948
00:55 (00:48)
54
Rotastic
Oct 11, 2012
$9.99
N/A (N/A)
10,832 ±3,123
5,887 ±2,302
02:01 (01:11)
55
Numba Deluxe
May 23, 2014
$2.99
N/A (N/A)
172,603 ±12,466
17,661 ±3,988
00:40 (00:10)
56
Mystery Case Files: Return to Ravenhearst
Apr 21, 2010
$9.99
N/A (N/A)
2,590 ±1,527
2,355 ±1,456
06:46 (09:15)
57
Mars Odyssey
Sep 8, 2016
$7.99
N/A (N/A)
3,297 ±1,723
1,413 ±1,128
00:16 (00:14)
58
Urban Trial Freestyle
Sep 18, 2013
$6.99
54% (83%/58%)
182,022 ±12,801
133,750 ±10,974
02:35 (01:20)
59
Evolution Planet: Gold Edition
Jul 7, 2016
$4.99
N/A (N/A)
6,122 ±2,348
4,239 ±1,953
02:55 (02:46)
60
MX vs. ATV Reflex
Nov 26, 2010
$19.99
52% (82%)
553,130 ±22,305
241,597 ±14,747
13:36 (01:11)
61
Pat & Mat
Nov 5, 2010
$1.39
52% (82%)
21,664 ±4,417
10,596 ±3,089
01:15 (00:33)
62
Toilet Tycoon
Sep 17, 2015
$4.99
N/A (N/A)
5,651 ±2,256
4,003 ±1,898
02:36 (03:07)
63
The chronicles of Emerland. Solitaire.
Jul 29, 2015
$3.99
N/A (N/A)
57,456 ±7,193
50,392 ±6,736
03:52 (03:30)
64
it's always monday
Nov 22, 2016
Free
49% (81%)
29,199 ±5,128
19,073 ±4,144
00:36 (00:19)
65
Carmageddon Max Pack
Jun 30, 1997
$9.99
47% (80%)
74,410 ±8,186
35,086 ±5,621
03:17 (00:39)
66
Luxor 2 HD
May 13, 2013
$9.99
N/A (N/A)
21,193 ±4,369
6,593 ±2,436
04:12 (01:24)
67
Wings! Remastered Edition
Oct 17, 2014
$14.99
47% (80%/61%)
28,728 ±5,086
19,780 ±4,220
04:35 (01:37)
68
Steel Armor: Blaze of War
Mar 5, 2015
$29.99
47% (80%/70%)
6,122 ±2,348
5,651 ±2,256
07:41 (04:07)
69
House of Snark 6-in-1 Bundle
Jul 20, 2016
$11.99
N/A (N/A)
6,829 ±2,480
4,945 ±2,110
06:31 (05:53)
70
Combat Wings: Battle of Britain
Oct 14, 2009
$4.99
45% (79%)
88,303 ±8,917
34,850 ±5,602
03:10 (01:30)
71
Roogoo
Dec 17, 2009
$1.99
45% (79%/72%)
83,358 ±8,664
19,544 ±4,195
00:28 (00:09)
72
Crash Time 3
Nov 25, 2009
$5.99
45% (79%)
27,080 ±4,938
18,602 ±4,093
11:45 (01:22)
73
Rube Works: The Official Rube Goldberg Invention Game
Apr 22, 2014
$4.99
N/A (N/A)
6,593 ±2,436
3,532 ±1,783
02:18 (02:36)
74
Nancy's Summer VR
Dec 13, 2016
$9.99
43% (78%)
5,651 ±2,256
2,119 ±1,381
01:43 (04:33)
75
Elementary My Dear Majesty!
Apr 16, 2015
$2.99
N/A (N/A)
32,260 ±5,390
19,780 ±4,220
03:45 (03:28)
76
Mob Rule Classic
Mar 31, 2017
Free
N/A (N/A)
36,970 ±5,770
7,064 ±2,522
02:28 (00:28)
77
Buzz Aldrin's Space Program Manager
Oct 31, 2014
$29.99
41% (77%/62%)
16,012 ±3,797
15,306 ±3,712
13:27 (05:46)
78
Cities in Motion
Feb 22, 2011
$19.99
41% (77%/70%)
246,777 ±14,904
192,383 ±13,160
21:45 (03:11)
79
Qvadriga
Jun 13, 2014
$19.99
41% (77%/72%)
23,312 ±4,582
6,593 ±2,436
09:38 (04:54)
80
0RBITALIS
May 28, 2015
$9.99
39% (76%/73%)
38,147 ±5,861
22,370 ±4,488
01:53 (01:03)
81
Big Thinkers Kindergarten
Aug 18, 2015
$6.99
N/A (N/A)
14,835 ±3,655
3,297 ±1,723
04:56 (01:19)
82
Cockroach Simulator
Sep 16, 2016
$8.99
39% (76%)
19,309 ±4,170
16,954 ±3,907
02:58 (01:26)
83
Zombie Solitaire
Jul 3, 2014
$6.99
N/A (N/A)
19,544 ±4,195
5,416 ±2,208
11:43 (03:02)
84
Cobi Treasure Deluxe
May 23, 2014
$2.99
37% (75%)
230,530 ±14,406
21,428 ±4,393
00:10 (00:04)
85
Mantis Burn Racing
Oct 12, 2016
$14.99
N/A (N/A/71%)
1,448 ±1,417
1,086 ±1,227
05:06 (07:32)
86
Chocolatier: Decadence by Design
Aug 12, 2009
$9.99
N/A (N/A)
6,593 ±2,436
4,709 ±2,059
19:32 (10:11)
87
Echelon: Wind Warriors
Aug 8, 2014
$3.99
N/A (N/A/63%)
8,713 ±2,801
6,122 ±2,348
02:58 (01:08)
88
Chime Sharp
Jul 19, 2016
$9.99
N/A (N/A/85%)
3,532 ±1,783
3,297 ±1,723
05:13 (07:30)
89
Doodle God
Sep 24, 2015
$5.99
33% (73%)
51,804 ±6,830
27,551 ±4,981
03:54 (02:40)
90
Eagle Flight
Dec 20, 2016
$39.99
32% (72%/73%)
5,887 ±2,302
3,768 ±1,842
04:22 (00:50)
91
VR RunningJoe
Oct 31, 2016
$4.99
N/A (N/A)
1,648 ±1,218
1,413 ±1,128
00:10 (00:13)
92
Hotel Dash Suite Success
May 6, 2010
$6.99
N/A (N/A)
6,593 ±2,436
3,768 ±1,842
13:56 (06:57)
93
Pretty Girls Mahjong Solitaire
Aug 24, 2015
$4.99
32% (72%)
24,254 ±4,673
20,722 ±4,320
05:26 (05:07)
94
The Wizard's Pen
Feb 18, 2009
$4.99
N/A (N/A)
21,664 ±4,417
6,358 ±2,393
02:02 (00:20)
95
Giant Machines 2017
Sep 29, 2016
$19.99
29% (70%)
14,364 ±3,596
12,245 ±3,321
03:54 (03:13)
96
StuntMANIA Reloaded
Nov 13, 2014
$4.99
N/A (N/A)
26,138 ±4,852
12,009 ±3,288
03:24 (02:23)
97
Carmageddon TDR 2000
Dec 4, 2014
$4.99
29% (70%)
66,168 ±7,719
21,428 ±4,393
01:34 (00:13)
98
Splendor
Sep 17, 2015
$4.99
27% (69%)
6,593 ±2,436
6,122 ±2,348
21:18 (06:14)
99
Zombie Pirates
Apr 20, 2011
$14.99
N/A (N/A)
25,196 ±4,763
4,709 ±2,059
03:17 (01:19)
100
Obliteracers
Feb 23, 2016
$14.99
27% (69%/78%)
15,306 ±3,712
10,832 ±3,123
04:04 (03:00)
101
MiniDrivers
Aug 31, 2015
$5.99
N/A (N/A)
25,196 ±4,763
19,544 ±4,195
03:50 (03:41)
102
Flora's Fruit Farm
Oct 1, 2009
$3.99
26% (68%)
49,685 ±6,689
15,070 ±3,684
01:31 (00:30)
103
Mini Motor Racing EVO
May 1, 2013
$4.99
26% (68%)
98,664 ±9,426
64,991 ±7,650
02:50 (01:04)
104
THE GAME OF LIFE - The Official 2016 Edition
Nov 3, 2015
$4.99
26% (68%)
12,009 ±3,288
11,538 ±3,223
03:31 (02:13)
105
Home Design 3D
Nov 20, 2015
$9.99
25% (67%)
48,272 ±6,593
21,899 ±4,441
06:47 (00:37)
106
Kanji Training Game
Sep 23, 2015
$4.99
N/A (N/A)
5,651 ±2,256
4,239 ±1,953
01:00 (01:09)
107
Cake Mania Collection
Jul 17, 2009
$14.99
N/A (N/A)
2,826 ±1,595
2,119 ±1,381
08:12 (15:54)
108
Cake Mania Collection
Jul 17, 2009
$14.99
N/A (N/A)
2,826 ±1,595
1,648 ±1,218
10:34 (14:13)
109
Polaris Sector
Mar 22, 2016
$39.99
23% (66%/76%)
10,125 ±3,019
9,419 ±2,912
53:36 (25:19)
110
Cake Mania Main Street
Feb 16, 2010
$6.99
N/A (N/A)
2,119 ±1,381
1,648 ±1,218
11:09 (16:40)
111
Pro Cycling Manager 2014
Jun 19, 2014
$9.99
22% (65%)
27,080 ±4,938
26,609 ±4,895
90:03 (24:08)
112
Zooloretto
Apr 3, 2014
$4.99
N/A (N/A)
14,364 ±3,596
6,593 ±2,436
03:37 (03:23)
113
Queen's Quest: Tower of Darkness
Sep 10, 2015
$9.99
21% (64%)
23,783 ±4,628
15,306 ±3,712
04:26 (03:37)
114
Meridian: Age of Invention
Sep 30, 2015
$2.99
N/A (N/A)
24,725 ±4,719
16,012 ±3,797
03:37 (03:29)
115
Castle: Never Judge a Book by its Cover
Jun 9, 2014
$3.39
20% (63%)
16,719 ±3,880
7,300 ±2,564
03:58 (03:40)
116
Aerofly FS 1 Flight Simulator
Oct 17, 2012
$9.99
20% (63%)
13,658 ±3,507
12,716 ±3,384
13:41 (04:11)
117
Zoo Park
Jun 13, 2014
$0.99
18% (62%)
72,291 ±8,068
26,609 ±4,895
01:56 (00:17)
118
Diner Mania
Jun 25, 2015
$3.99
N/A (N/A)
9,654 ±2,948
3,768 ±1,842
03:47 (04:22)
119
Fairy Tale Mysteries: The Puppet Thief
Jan 7, 2016
$9.99
18% (62%)
23,077 ±4,559
14,128 ±3,567
03:46 (03:31)
120
Bridge It +
Nov 18, 2013
$6.99
N/A (N/A)
51,569 ±6,815
28,492 ±5,065
03:08 (01:45)
121
Mahjong Pretty Girls Battle : School Girls Edition
Jun 22, 2015
$14.99
17% (61%)
31,083 ±5,291
20,251 ±4,270
04:42 (04:18)
122
LocoSoccer
Dec 9, 2015
$0.99
17% (61%)
24,489 ±4,696
14,128 ±3,567
02:36 (02:10)
123
Railroad Pioneer
Jul 1, 2014
$4.99
17% (61%/50%)
21,193 ±4,369
17,190 ±3,934
09:07 (02:03)
124
Emergency 2017
Oct 27, 2016
$39.99
16% (60%)
17,661 ±3,988
15,070 ±3,684
10:58 (06:53)
125
Sunny Hillride
Feb 1, 2016
$1.99
16% (60%)
12,009 ±3,288
2,590 ±1,527
00:16 (00:14)
126
Air Conflicts: Secret Wars
Sep 30, 2011
$12.99
15% (59%/65%)
88,774 ±8,941
40,031 ±6,004
05:51 (00:56)
127
Woody Two-Legs: Attack of the Zombie Pirates
Nov 2, 2010
$4.99
N/A (N/A)
34,144 ±5,545
14,599 ±3,626
00:56 (00:17)
128
Tesla's Best Friend
Nov 11, 2016
$3.99
N/A (N/A)
9,890 ±2,984
5,651 ±2,256
03:44 (03:54)
129
DinerTown Tycoon
Sep 30, 2009
$9.99
N/A (N/A)
5,887 ±2,302
4,003 ±1,898
07:09 (05:48)
130
Hacker Evolution: Untold
Sep 14, 2010
$4.99
15% (58%)
300,466 ±16,445
106,199 ±9,779
02:16 (01:40)
131
Shadows: Price For Our Sins Bonus Edition
Oct 24, 2013
$9.99
14% (57%)
40,973 ±6,074
6,829 ±2,480
03:54 (04:21)
132
Iron Sky: Invasion
Dec 13, 2012
$19.99
13% (56%)
105,257 ±9,735
38,618 ±5,897
03:03 (01:14)
133
Cities XL Platinum
Feb 6, 2013
$14.99
13% (56%)
502,974 ±21,271
270,560 ±15,605
11:57 (02:03)
134
1942: The Pacific Air War
Apr 1, 2015
$6.99
N/A (N/A)
4,474 ±2,007
1,648 ±1,218
00:11 (00:19)
135
Fireburst
Apr 25, 2012
$9.99
13% (56%/59%)
35,321 ±5,640
12,245 ±3,321
01:40 (00:18)
136
Faces of Illusion: The Twin Phantoms
Jan 19, 2017
$9.99
N/A (N/A)
4,003 ±1,898
2,119 ±1,381
03:32 (03:58)
137
Mystery Masters: Psycho Train Deluxe Edition
Feb 3, 2015
$9.99
N/A (N/A)
16,483 ±3,853
5,887 ±2,302
03:13 (02:24)
138
Franchise Hockey Manager 3
Oct 31, 2016
$9.99
N/A (N/A/64%)
4,709 ±2,059
4,239 ±1,953
56:05 (14:41)
139
Military Life: Tank Simulator
Jun 1, 2016
$4.99
N/A (N/A)
8,006 ±2,685
471 ±651
01:10 (00:45)
140
Veteran Combat
Feb 16, 2015
$2.99
N/A (N/A)
8,948 ±2,838
1,884 ±1,302
00:22 (00:28)
141
My Best Friends - Cats & Dogs
Mar 27, 2014
$9.99
N/A (N/A)
4,239 ±1,953
2,826 ±1,595
03:42 (00:54)
142
Pure Pool
Jul 31, 2014
$12.99
10% (52%/68%)
13,187 ±3,446
11,538 ±3,223
11:27 (02:59)
143
Theme Park Studio
Dec 2, 2016
$29.99
10% (51%)
16,483 ±3,853
16,012 ±3,797
09:40 (01:47)
144
Telltale Texas Hold Em
Jun 17, 2008
$2.99
N/A (N/A)
44,505 ±6,331
8,948 ±2,838
01:58 (00:21)
145
Panzer Elite Action Gold Edition
May 16, 2014
$9.99
9% (50%)
16,012 ±3,797
6,122 ±2,348
03:35 (01:46)
146
Taxi
Aug 22, 2014
$0.99
9% (50%)
20,486 ±4,295
8,713 ±2,801
01:28 (00:37)
147
Speed Kills
May 16, 2014
$9.99
N/A (N/A)
140,578 ±11,250
74,410 ±8,186
02:47 (02:53)
148
Poker Pretty Girls Battle: Texas Hold'em
Oct 21, 2015
$9.99
9% (50%)
11,538 ±3,223
9,184 ±2,876
04:32 (03:01)
149
A-Train 8
Sep 18, 2013
$19.99
N/A (N/A)
19,544 ±4,195
5,180 ±2,160
00:19 (00:11)
150
Ghost Encounters: Deadwood - Collector's Edition
Mar 13, 2015
$4.99
8% (49%)
18,367 ±4,067
11,303 ±3,190
04:01 (03:44)
151
Spectre
Oct 3, 2016
$4.99
N/A (N/A)
12,245 ±3,321
1,177 ±1,029
00:05 (00:04)
152
Lords of Football
Apr 5, 2013
$3.74
7% (46%/52%)
43,092 ±6,229
39,324 ±5,951
07:28 (02:20)
153
CINEVEO - VR Cinema
Apr 24, 2015
$29.99
7% (46%)
6,593 ±2,436
5,887 ±2,302
01:44 (00:29)
154
Professional Farmer 2014
Nov 27, 2013
$14.99
6% (45%)
227,233 ±14,302
169,777 ±12,363
12:44 (02:02)
155
Silent Hunter 5: Battle of the Atlantic
Mar 2010
$9.99
6% (44%/62%)
89,951 ±9,000
81,710 ±8,578
23:06 (08:45)
156
TransOcean 2: Rivals
May 10, 2016
$24.99
6% (44%/69%)
24,018 ±4,651
22,606 ±4,512
17:58 (05:22)
157
Safety Driving Simulator: Car
May 4, 2016
$4.99
N/A (N/A)
6,358 ±2,393
1,648 ±1,218
30:09 (35:12)
158
Echelon
Jul 3, 2014
$3.99
5% (42%/70%)
24,725 ±4,719
18,367 ±4,067
02:58 (03:15)
159
Truck Mechanic Simulator 2015
May 1, 2015
$2.49
5% (42%)
27,551 ±4,981
21,428 ±4,393
02:54 (00:51)
160
Transport Giant
Sep 5, 2014
$9.99
5% (41%)
31,318 ±5,311
17,190 ±3,934
35:33 (03:05)
161
Ship Simulator: Maritime Search and Rescue
Jul 1, 2014
$17.99
N/A (N/A)
28,257 ±5,044
25,667 ±4,808
05:46 (02:17)
162
M.U.D. TV
Apr 19, 2010
$9.99
5% (40%/53%)
48,037 ±6,577
26,373 ±4,873
04:32 (01:41)
163
Diner Dash: Hometown Hero
Aug 12, 2009
$9.99
N/A (N/A)
8,948 ±2,838
6,829 ±2,480
21:15 (18:53)
164
Medieval Defenders
Nov 11, 2016
Free
3% (37%)
20,015 ±4,245
10,832 ±3,123
01:55 (00:50)
165
Warehouse and Logistics Simulator
Feb 25, 2014
$9.99
3% (37%)
54,159 ±6,984
16,012 ±3,797
00:36 (00:14)
166
RECYCLE
Sep 3, 2014
$9.99
3% (36%)
20,251 ±4,270
18,367 ±4,067
05:50 (02:04)
167
Tetris Ultimate
Dec 10, 2015
$14.99
3% (35%)
8,242 ±2,724
5,180 ±2,160
04:05 (01:00)
168
Airport Firefighters - The Simulation
May 13, 2015
$14.99
3% (35%)
20,251 ±4,270
13,893 ±3,537
03:10 (02:47)
169
Rail Cargo Simulator
Jun 7, 2016
$4.99
N/A (N/A)
12,480 ±3,352
942 ±921
05:44 (07:30)
170
Industry Empire
Jul 30, 2014
$19.99
2% (31%)
22,606 ±4,512
20,957 ±4,344
10:07 (02:42)
171
Dream Pinball 3D
Sep 19, 2012
$6.99
2% (29%/61%)
104,080 ±9,681
34,615 ±5,583
00:34 (00:12)
172
Air Conflicts: Vietnam
Oct 2, 2013
$17.99
1% (28%/43%)
30,847 ±5,271
18,602 ±4,093
02:25 (00:58)
173
The Terminal 2
Aug 8, 2014
$4.99
1% (25%)
7,535 ±2,605
7,300 ±2,564
02:42 (01:31)
174
World Ship Simulator
Nov 4, 2016
$19.99
1% (24%)
38,618 ±5,897
14,128 ±3,567
00:55 (00:18)
175
Agricultural Simulator 2013 - Steam Edition
Jun 7, 2013
$9.99
1% (21%)
101,490 ±9,560
45,447 ±6,397
05:05 (00:33)
176
Driving School Simulator
Sep 25, 2014
$14.99
1% (20%)
11,538 ±3,223
8,477 ±2,763
02:46 (00:44)
177
G-Ball
May 28, 2014
$0.99
N/A (N/A)
14,599 ±3,626
2,119 ±1,381
00:12 (00:23)
178
Airline Tycoon 2
Oct 24, 2011
$9.99
0% (17%/57%)
121,269 ±10,449
76,294 ±8,289
08:05 (01:24)
179
Farming Giant
Nov 6, 2013
$9.99
0% (16%)
36,970 ±5,770
25,196 ±4,763
05:08 (00:11)
180
MTB Downhill Simulator
May 27, 2016
$3.99
0% (12%)
4,239 ±1,953
3,768 ±1,842
00:18 (00:15)
181
Flatout 3: Chaos & Destruction
Dec 13, 2011
$29.99
0% (11%)
186,496 ±12,958
97,251 ±9,358
01:17 (00:20)
182
Adventure Park
Nov 8, 2013
$19.99
0% (9%/49%)
22,135 ±4,465
10,596 ±3,089
03:50 (00:58)
183
Offroad: VR
Dec 30, 2016
$7.99
N/A (N/A)
30,847 ±5,271
28,021 ±5,023
03:21 (03:30)
184
Strongmind
Nov 4, 2016
$1.99
N/A (N/A)
82,652 ±8,627
74,645 ±8,199
03:19 (03:29)