Gunship!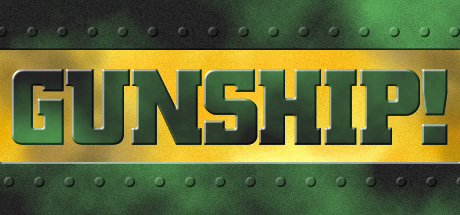 Store | Hub | SteamDB | Site
Developer: Microprose Publisher: Retroism
Genre: Action, Simulation
Languages: English
Tags: Simulation (29), Action (26)
Category: Single-player
Release date: Jul 11, 2014
Price: $6.99
Owners: 19,727 ± 3,745
Players in the last 2 weeks: 561 ± 1,098 (2.84%)
Players total: 2,419 ± 1,311 (12.26%)
Followers: 216
Peak concurrent players yesterday: 1
Playtime in the last 2 weeks: 00:55 (average) 00:55 (median)
Playtime total: 00:29 (average) 00:41 (median)

Steam Spy is still in beta, so expect major bugs.
Peak daily concurrent players:
CCU data courtesy of SteamDB. Used with permission.
Hourly concurrent players:
YouTube:
The views data is based on top 50 videos uploaded last week. Actual number of views might be more than the number shown.

The displayed number of videos uploaded yesterday is limited to 50, so if there were more videos uploaded, the number will still show 50.

If the game has commonly used word as its name (like "FEAR" or "Volume") its number of Youtube views might be wrong.
Games similar to this one:
#
Game
Release date

Price

Score rank
(Userscore / Metascore)

Owners

Players

Playtime (Median)

1
Pajama Sam: Games to Play on Any Day
Oct 23, 2014
$4.99
N/A (N/A)
26,427 ±4,334
2,792 ±1,408
02:54 (00:56)
2
Let's Explore the Airport (Junior Field Trips)
Apr 24, 2015
$6.99
N/A (N/A)
17,308 ±3,508
2,233 ±1,260
00:57 (01:02)
3
Wild Animals - Animated Jigsaws
Nov 7, 2016
$9.99
N/A (N/A)
4,839 ±1,854
3,722 ±1,626
11:04 (12:35)
4
Lost Lands: Dark Overlord
Jun 26, 2015
$6.99
N/A (N/A)
12,469 ±2,977
4,467 ±1,782
06:27 (05:49)
5
Puppy Dog: Jigsaw Puzzles
Jul 19, 2016
$1.99
N/A (N/A)
56,204 ±6,321
35,918 ±5,053
02:59 (02:58)
6
Mystery Case Files: Ravenhearst
Apr 21, 2010
$9.99
N/A (N/A)
3,536 ±1,585
2,419 ±1,311
13:29 (13:24)
7
Flowers -Le volume sur printemps-
Aug 17, 2016
$19.99
99% (98%)
5,397 ±1,959
3,722 ±1,626
58:55 (08:40)
8
Big Thinkers 1st Grade
Aug 18, 2015
$6.99
N/A (N/A)
13,958 ±3,150
931 ±813
01:17 (02:04)
9
Unveil
Apr 19, 2016
$14.99
N/A (N/A)
2,233 ±1,260
2,047 ±1,206
03:38 (04:19)
10
Beautiful Japanese Scenery - Animated Jigsaws
Sep 15, 2016
$9.99
N/A (N/A)
3,164 ±1,499
2,605 ±1,361
09:35 (12:47)
11
Soda Drinker Pro
Apr 13, 2016
$4.99
74% (90%)
5,025 ±1,890
3,164 ±1,499
01:35 (01:42)
12
New York Mysteries: Secrets of the Mafia
May 22, 2015
$6.99
61% (86%)
13,586 ±3,108
6,328 ±2,121
06:07 (05:54)
13
Sea Legends: Phantasmal Light Collector's Edition
Sep 17, 2014
$4.99
N/A (N/A)
21,216 ±3,884
2,605 ±1,361
01:22 (01:42)
14
Cranky Cat
Jun 5, 2013
$2.99
N/A (N/A)
2,978 ±1,455
2,605 ±1,361
04:03 (02:13)
15
Arma: Cold War Assault Mac/Linux
Mar 14, 2017
$4.99
N/A (N/A)
2,419 ±1,311
1,675 ±1,091
03:11 (03:54)
16
Tile Rider
Jun 4, 2015
$3.99
N/A (N/A)
1,675 ±1,091
1,117 ±891
02:48 (04:00)
17
Trump Simulator VR
Oct 27, 2016
$0.99
N/A (N/A)
1,489 ±1,028
744 ±727
01:06 (01:22)
18
KART CHASER : THE BOOST VR
Jan 25, 2017
$9.99
N/A (N/A)
4,094 ±1,706
744 ±727
01:07 (01:23)
19
Jewel Quest Pack
Aug 24, 2009
$19.99
N/A (N/A)
5,583 ±1,992
3,164 ±1,499
162:44 (157:07)
20
STAR WARS: Rogue Squadron 3D
Mar 29, 2016
$9.99
42% (78%)
170,100 ±10,995
69,045 ±7,006
02:03 (00:25)
21
Buzz Aldrin's Space Program Manager
Oct 31, 2014
$29.99
42% (78%/62%)
16,377 ±3,412
15,447 ±3,314
18:13 (09:17)
22
Virtual Rides 3 - Funfair Simulator
Mar 16, 2017
$24.99
40% (77%)
2,047 ±1,206
2,047 ±1,206
06:29 (10:52)
23
Dokuro
Dec 8, 2014
$9.99
N/A (N/A)
8,747 ±2,493
1,675 ±1,091
01:44 (01:10)
24
Vehicle Simulator
Dec 9, 2015
$24.99
N/A (N/A)
3,908 ±1,667
3,908 ±1,667
18:23 (13:24)
25
Space Rift - Episode 1
Aug 2, 2016
$19.99
N/A (N/A)
931 ±813
186 ±363
01:16 (00:25)
26
Twisted Lands Trilogy: Collector's Edition
Oct 28, 2015
$19.99
N/A (N/A)
10,236 ±2,697
1,675 ±1,091
09:46 (09:58)
27
Chess Ultra
Jun 21, 2017
$12.99
N/A (N/A)
1,675 ±1,091
1,117 ±891
00:58 (01:16)
28
Train Town
Aug 26, 2014
$2.99
N/A (N/A)
9,305 ±2,572
2,792 ±1,408
10:34 (08:01)
29
Mantis Burn Racing
Oct 12, 2016
$14.99
N/A (N/A/71%)
2,047 ±1,206
1,861 ±1,150
02:36 (06:10)
30
Zombie Pinball
Jun 21, 2016
$4.99
N/A (N/A)
5,025 ±1,890
3,536 ±1,585
03:12 (03:47)
31
Police Quest: SWAT 2
Apr 18, 2017
$5.99
N/A (N/A)
2,978 ±1,455
558 ±630
01:19 (01:19)
32
The Secret Order 5: The Buried Kingdom
Apr 6, 2017
$9.99
N/A (N/A)
3,164 ±1,499
2,419 ±1,311
04:35 (04:55)
33
Kanji Training Game
Sep 23, 2015
$4.99
N/A (N/A)
2,605 ±1,361
2,419 ±1,311
02:34 (02:02)
34
Ropeway Simulator 2014
Dec 9, 2014
$9.99
N/A (N/A)
8,933 ±2,520
2,605 ±1,361
62:41 (06:56)
35
Aerofly FS 1 Flight Simulator
Oct 17, 2012
$9.99
21% (64%)
12,283 ±2,955
11,911 ±2,910
08:37 (02:54)
36
Franchise Hockey Manager 2
Sep 28, 2015
$19.99
21% (64%/79%)
6,886 ±2,212
6,514 ±2,152
34:55 (17:42)
37
Jane Angel: Templar Mystery
Sep 17, 2014
$4.99
N/A (N/A)
10,050 ±2,673
744 ±727
03:51 (04:57)
38
The Little Crane That Could
Apr 27, 2015
$11.99
N/A (N/A)
2,871 ±1,776
2,297 ±1,588
01:39 (01:46)
39
Trackday Manager
Mar 31, 2016
$11.99
17% (61%)
6,141 ±2,089
5,955 ±2,057
18:01 (12:29)
40
Sacra Terra: Kiss of Death Collectors Edition
Feb 2, 2017
$9.99
N/A (N/A)
7,258 ±2,271
3,350 ±1,543
02:18 (02:20)
41
300 Dwarves
Jun 5, 2014
$6.99
N/A (N/A)
4,839 ±1,854
2,605 ±1,361
04:10 (07:24)
42
Masters of the World - Geopolitical Simulator 3
Feb 5, 2014
$34.99
6% (43%)
15,633 ±3,334
15,447 ±3,314
28:29 (14:22)
43
D Series OFF ROAD Driving Simulation
May 19, 2015
$7.99
N/A (N/A)
744 ±727
744 ±727
01:18 (01:30)
44
Terraformer Expedition to Mars
Nov 20, 2015
$24.99
N/A (N/A)
1,117 ±891
931 ±813
06:02 (09:45)
45
My Riding Stables
Mar 28, 2014
$9.99
N/A (N/A)
5,769 ±2,025
2,233 ±1,260
01:02 (01:07)
46
Safety Driving Simulator: Car
May 4, 2016
$4.99
N/A (N/A)
7,816 ±2,357
1,861 ±1,150
00:40 (00:36)
47
Trucker
Oct 21, 2016
$1.99
N/A (N/A)
2,047 ±1,206
931 ±813
04:30 (06:48)
48
Hoyle Official Card Games
Nov 18, 2015
$19.99
N/A (N/A)
1,489 ±1,028
1,117 ±891
33:50 (10:14)
49
Industry Empire
Jul 30, 2014
$19.99
2% (31%)
22,146 ±3,968
21,402 ±3,901
25:08 (04:10)
50
The Terminal 2
Aug 8, 2014
$4.99
1% (24%)
8,003 ±2,385
7,258 ±2,271
06:24 (02:41)
51
Ultimate Rock Crawler
Jan 25, 2016
$4.99
N/A (N/A)
2,047 ±1,206
2,047 ±1,206
02:26 (00:40)
52
The Martian VR Experience
Nov 15, 2016
$9.99
N/A (N/A)
744 ±727
558 ±630
00:30 (00:29)
53
Pacific Liberation Force
Sep 16, 2014
$4.99
N/A (N/A)
1,489 ±1,028
186 ±363
01:13 (00:24)
54
Black Viper: Sophia's Fate
Oct 16, 2014
$9.99
N/A (N/A)
15,261 ±3,294
1,303 ±962
01:20 (02:13)