Gunship!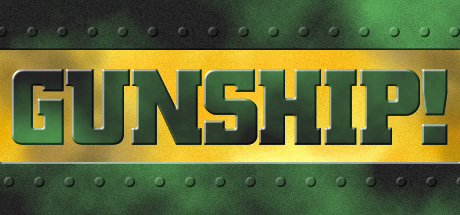 Store | Hub | SteamDB | Site
Developer: Microprose Publisher: Retroism
Genre: Action, Simulation
Languages: English
Tags: Simulation (29), Action (26)
Category: Single-player
Release date: Jul 11, 2014
Price: $6.99
Owners: 21,038 ± 4,243
Players in the last 2 weeks: 1,344 ± 1,861 (6.39%)
Players total: 4,476 ± 1,957 (21.28%)
Followers: 226
Peak concurrent players yesterday: 1
YouTube stats: 85,641 views and 144 comments for videos uploaded last week, over 50 new videos uploaded yesterday
Playtime in the last 2 weeks: 05:30 (average) 10:14 (median)
Playtime total: 05:25 (average) 00:42 (median)

Steam Spy is still in beta, so expect major bugs.
Peak daily concurrent players:
CCU data courtesy of SteamDB. Used with permission.
Hourly concurrent players:
YouTube:
The views data is based on top 50 videos uploaded last week. Actual number of views might be more than the number shown.

The displayed number of videos uploaded yesterday is limited to 50, so if there were more videos uploaded, the number will still show 50.

If the game has commonly used word as its name (like "FEAR" or "Volume") its number of Youtube views might be wrong.
Games similar to this one:
#
Game
Release date

Price

Score rank
(Userscore / Metascore)

Owners

Players

Playtime (Median)

1
Pajama Sam: Games to Play on Any Day
Oct 23, 2014
$4.99
N/A (N/A)
27,976 ±4,893
3,581 ±1,750
15:02 (00:28)
2
Mos Speedrun 2
Sep 3, 2015
$8.99
N/A (N/A)
671 ±758
224 ±437
00:14 (00:04)
3
Bitslap
Sep 23, 2016
$6.99
N/A (N/A)
895 ±875
895 ±875
00:39 (00:48)
4
Scarab Tales
Jul 1, 2015
$4.99
N/A (N/A)
9,847 ±2,903
671 ±758
04:45 (04:42)
5
Block King
Feb 10, 2017
$0.99
N/A (N/A)
1,350 ±1,321
338 ±660
00:41 (00:20)
6
Kitten Cannon
Oct 31, 2016
Free
N/A (N/A)
18,576 ±3,987
7,162 ±2,475
00:19 (00:07)
7
Sid Meier's Covert Action (Classic)
Oct 9, 2014
$6.99
68% (88%)
30,661 ±5,122
6,267 ±2,315
02:47 (00:52)
8
Kubz VR
Sep 5, 2016
$3.99
N/A (N/A)
6,267 ±2,315
895 ±875
00:09 (00:12)
9
Heroic Dungeon
Jun 21, 2017
$2.99
N/A (N/A)
7,833 ±2,589
671 ±758
02:51 (02:51)
10
Eastside Hockey Manager
Dec 1, 2015
$19.99
59% (85%)
162,931 ±11,807
63,785 ±7,388
82:08 (08:33)
11
Hypt
Apr 23, 2015
$4.99
N/A (N/A)
24,619 ±4,590
2,238 ±1,384
00:17 (00:26)
12
B-17 Flying Fortress: The Mighty 8th
Oct 30, 2014
$6.99
N/A (N/A/82%)
21,485 ±4,288
9,400 ±2,836
01:35 (00:01)
13
Street Racing Syndicate
Apr 24, 2014
$9.99
52% (82%)
398,823 ±18,468
244,844 ±14,472
03:29 (03:03)
14
LOGistICAL
Feb 15, 2017
$9.99
49% (81%)
1,013 ±1,144
1,013 ±1,144
01:19 (01:50)
15
VR Ping Pong
Sep 13, 2016
$9.99
49% (81%)
9,176 ±2,802
6,043 ±2,274
01:57 (00:39)
16
F1 RACE STARS
Nov 13, 2012
$14.99
45% (79%/62%)
84,823 ±8,519
64,680 ±7,440
06:42 (01:24)
17
Battle of Painters
Jun 19, 2017
$2.99
N/A (N/A)
6,043 ±2,274
1,119 ±978
00:52 (00:57)
18
Dokuro
Dec 8, 2014
$9.99
N/A (N/A)
12,757 ±3,304
4,029 ±1,856
02:46 (01:34)
19
Demonlisher
Sep 16, 2014
$4.99
N/A (N/A)
6,714 ±2,397
224 ±437
00:15 (00:05)
20
SUDOKU.
Jul 26, 2017
$0.99
32% (72%)
9,400 ±2,836
1,119 ±978
01:56 (02:06)
21
Freddi Fish and Luther's Water Worries
May 1, 2014
$4.99
N/A (N/A)
24,395 ±4,569
2,909 ±1,578
01:04 (00:10)
22
The Golf Club
Aug 19, 2014
$29.99
19% (62%/70%)
41,852 ±5,984
39,166 ±5,789
34:31 (04:47)
23
Bunker Constructor
Jun 24, 2016
$4.99
N/A (N/A)
4,252 ±1,907
895 ±875
02:59 (00:07)
24
Pro Cycling Manager 2015
Jun 18, 2015
$19.99
14% (57%)
63,337 ±7,362
42,747 ±6,048
122:58 (48:02)
25
Veteran Combat
Feb 16, 2015
$1.99
N/A (N/A)
10,519 ±3,000
671 ±758
00:06 (00:04)
26
1942: The Pacific Air War
Apr 1, 2015
$6.99
N/A (N/A)
7,833 ±2,589
2,462 ±1,451
00:58 (00:27)
27
Make America Great Again
Sep 15, 2016
$2.99
N/A (N/A)
5,819 ±2,231
224 ±437
00:11 (00:03)
28
CINEVEO - VR Cinema
Apr 24, 2015
$29.99
7% (46%)
6,938 ±2,436
6,938 ±2,436
00:35 (00:20)
29
The Dreamlord
Dec 13, 2016
$3.99
N/A (N/A)
84,375 ±8,497
1,567 ±1,157
00:20 (00:33)
30
Race & Destroy
May 16, 2016
$1.99
N/A (N/A)
3,133 ±1,637
1,343 ±1,072
00:09 (00:11)
31
G-Ball
May 28, 2014
$0.99
N/A (N/A)
18,352 ±3,963
2,462 ±1,451
00:06 (00:04)
32
Pacific Liberation Force
Sep 16, 2014
$1.24
N/A (N/A)
3,357 ±1,695
671 ±758
00:27 (00:24)
33
Luxury Hotel Emporium
Aug 7, 2015
$4.99
N/A (N/A)
12,086 ±3,216
1,343 ±1,072
00:04 (00:03)