Freight Tycoon Inc.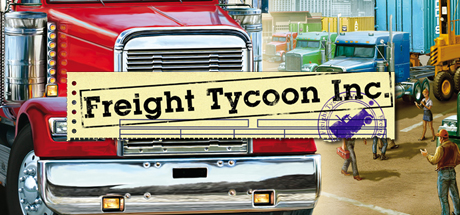 Store | Hub | SteamDB | Site
Developer: Nikita Publisher: 1C Company
Genre: Strategy
Languages: English, German, Russian, French, Traditional Chinese, Japanese, Czech
Tags: Strategy (32), Management (15), Simulation (14), Economy (11), Singleplayer (6), Indie (6)
Category: Single-player, Steam Cloud
Release date: Apr 3, 2014
Price: $4.99
Score rank: 17% Userscore: 61% Old userscore: 61%
Owners: 30,670 ± 4,863
Players total: 23,608 ± 4,267 (76.97%)
Followers: 881
Peak concurrent players yesterday: 8
Playtime total: 11:03 (average) 02:57 (median)

Steam Spy is still in beta, so expect major bugs.
Peak daily concurrent players:
CCU data courtesy of SteamDB. Used with permission.
Hourly concurrent players:
YouTube:
The views data is based on top 50 videos uploaded last week. Actual number of views might be more than the number shown.

The displayed number of videos uploaded yesterday is limited to 50, so if there were more videos uploaded, the number will still show 50.

If the game has commonly used word as its name (like "FEAR" or "Volume") its number of Youtube views might be wrong.
Games similar to this one:
#
Game
Release date

Price

Score rank
(Userscore / Metascore)

Owners

Players

Playtime (Median)

1
Impossible Creatures Steam Edition
Nov 11, 2015
$9.99
95% (96%/72%)
69,209 ±7,305
53,471 ±6,421
09:25 (02:35)
2
Total Annihilation
Dec 18, 2015
$4.99
92% (95%/86%)
96,852 ±8,642
63,963 ±7,023
12:15 (01:52)
3
Infested Planet
Mar 6, 2014
$14.99
89% (94%/75%)
117,433 ±9,515
105,327 ±9,012
09:15 (04:45)
4
Battlezone 98 Redux
Apr 18, 2016
$19.99
81% (92%/75%)
36,723 ±5,321
27,643 ±4,617
04:06 (01:30)
5
The Magic Circle
Jul 9, 2015
$19.99
77% (91%/79%)
107,950 ±9,123
48,224 ±6,098
04:24 (03:10)
6
CRYPTARK
Jun 20, 2017
$14.99
77% (91%/80%)
20,985 ±4,023
18,563 ±3,783
04:29 (02:07)
7
Syrian Warfare
Feb 21, 2017
$19.99
74% (90%)
17,756 ±3,700
15,335 ±3,439
10:47 (04:10)
8
Thea: The Awakening
Nov 20, 2015
$19.99
74% (90%/73%)
130,952 ±10,048
117,232 ±9,507
33:01 (09:57)
9
Sudden Strike Gold
May 22, 2017
$5.99
N/A (N/A)
22,195 ±4,137
5,448 ±2,049
04:26 (00:30)
10
Pang Adventures
Apr 18, 2016
$9.99
N/A (N/A)
19,169 ±3,845
7,466 ±2,399
17:29 (02:37)
11
Ultimate General: Civil War
Jul 14, 2017
$29.99
67% (88%)
73,446 ±7,525
70,420 ±7,369
44:06 (10:46)
12
STAR WARS Galactic Battlegrounds Saga
Mar 1, 2016
$5.99
64% (87%)
364,810 ±16,767
146,489 ±10,627
09:57 (01:39)
13
Executive Assault
Jul 17, 2015
$12.99
64% (87%)
40,557 ±5,592
35,916 ±5,263
07:16 (03:09)
14
Bionic Dues
Oct 8, 2013
$9.99
61% (86%/71%)
359,766 ±16,650
202,986 ±12,509
03:22 (03:07)
15
Kingdom: Classic
Oct 21, 2015
Free
59% (85%/74%)
452,583 ±18,673
268,563 ±14,387
08:15 (04:46)
16
Warhammer 40,000: Sanctus Reach
Jan 19, 2017
$29.99
59% (85%/68%)
20,379 ±3,964
19,370 ±3,865
23:34 (07:03)
17
Ghost Master
Dec 21, 2006
$4.99
59% (85%/81%)
174,132 ±11,586
101,493 ±8,846
04:05 (00:56)
18
Marble Age
Mar 4, 2015
$5.99
56% (84%)
43,382 ±5,784
34,907 ±5,188
11:21 (04:00)
19
Bloodsports.TV
Mar 30, 2015
$9.99
56% (84%/69%)
81,921 ±7,948
47,216 ±6,034
05:16 (03:31)
20
SHOGUN: Total War - Collection
Jun 25, 2015
$9.99
56% (84%)
172,720 ±11,539
40,153 ±5,564
09:57 (00:40)
21
Crisis in the Kremlin
Mar 20, 2017
$4.99
54% (83%)
11,703 ±3,004
11,098 ±2,925
04:51 (02:30)
22
NOBUNAGA'S AMBITION: Sphere of Influence
Sep 1, 2015
$59.99
54% (83%/70%)
29,863 ±4,799
26,836 ±4,549
24:46 (13:50)
23
Braveland
Mar 17, 2014
$4.99
51% (82%)
43,987 ±5,824
33,697 ±5,097
03:49 (02:58)
24
Eador. Imperium
Jan 27, 2017
$19.99
51% (82%)
8,676 ±2,586
7,466 ±2,399
24:06 (04:22)
25
Has-Been Heroes
Mar 27, 2017
$19.99
51% (82%/63%)
8,676 ±2,586
7,466 ±2,399
08:36 (01:43)
26
Unity of Command: Stalingrad Campaign
Oct 17, 2012
$19.99
51% (82%/84%)
105,932 ±9,037
68,200 ±7,252
18:07 (02:25)
27
Age of Gladiators
Feb 25, 2016
$9.99
49% (81%)
24,617 ±4,357
21,792 ±4,099
07:36 (05:22)
28
Nuclear Dawn
Sep 26, 2011
$9.99
49% (81%/71%)
416,465 ±17,913
260,089 ±14,159
05:39 (01:49)
29
The Witcher Adventure Game
Nov 27, 2014
$9.99
42% (78%/68%)
136,602 ±10,262
82,728 ±7,987
03:52 (00:53)
30
War for the Overworld
Apr 2, 2015
$29.99
42% (78%/65%)
314,770 ±15,575
220,541 ±13,038
11:55 (05:09)
31
SuperPower 2 Steam Edition
Apr 18, 2014
$2.49
42% (78%)
90,395 ±8,349
60,734 ±6,843
18:12 (04:27)
32
Chaos Reborn
Oct 26, 2015
$9.99
39% (76%/85%)
68,200 ±7,252
49,637 ±6,187
09:13 (01:50)
33
Victory At Sea
Aug 8, 2014
$24.99
39% (76%)
37,127 ±5,351
29,257 ±4,750
20:46 (04:32)
34
Defense Zone 3 Ultra HD
Dec 14, 2016
$2.99
39% (76%)
2,825 ±1,476
2,421 ±1,366
28:21 (11:21)
35
Civil War II
Jul 3, 2014
$39.99
37% (75%)
15,940 ±3,506
11,905 ±3,030
36:39 (03:52)
36
Supreme Ruler Ultimate
Oct 17, 2014
$19.99
37% (75%)
29,863 ±4,799
26,634 ±4,532
73:55 (12:17)
37
Distant Worlds: Universe
May 23, 2014
$59.99
35% (74%/81%)
60,129 ±6,809
56,094 ±6,577
42:03 (13:45)
38
Space Hulk Ascension
Nov 12, 2014
$29.99
33% (73%/72%)
131,759 ±10,079
70,016 ±7,348
09:31 (01:55)
39
Port Royale 3
May 4, 2012
$14.99
23% (66%)
216,909 ±12,931
165,052 ±11,280
12:30 (04:06)
40
Kaiju-A-GoGo
Apr 23, 2015
$13.99
23% (66%)
15,133 ±3,416
8,878 ±2,616
08:01 (04:10)
41
The Bureau: XCOM Declassified
Aug 19, 2013
$19.99
23% (66%/66%)
1,102,906 ±29,128
608,354 ±21,646
07:46 (03:04)
42
DYNASTY WARRIORS 8 Empires
Feb 26, 2015
$49.99
22% (65%)
44,794 ±5,877
42,373 ±5,716
34:24 (18:00)
43
Battle of Empires : 1914-1918
Jul 22, 2015
$8.99
21% (64%)
62,349 ±6,934
57,910 ±6,682
18:34 (05:36)
44
Close Combat - Gateway to Caen
Jun 6, 2014
$39.99
20% (63%)
23,608 ±4,267
19,976 ±3,925
39:08 (08:46)
45
Warlock 2: The Exiled
Apr 10, 2014
$19.99
20% (63%/73%)
79,701 ±7,839
64,165 ±7,034
23:17 (06:11)
46
Omerta - City of Gangsters
Jan 31, 2013
$19.99
18% (62%)
296,610 ±15,120
224,375 ±13,151
13:21 (05:43)
47
Skyshine's BEDLAM
Sep 16, 2015
$19.99
18% (62%/67%)
49,637 ±6,187
34,302 ±5,143
04:24 (02:36)
48
BLADESTORM: Nightmare
May 28, 2015
$59.99
15% (59%)
11,905 ±3,030
9,887 ±2,761
17:05 (11:16)
49
Anno 2205
Nov 2, 2015
$39.99
15% (58%/72%)
119,653 ±9,605
112,793 ±9,325
29:43 (15:44)
50
RESCUE 2: Everyday Heroes
Jun 3, 2015
$19.99
13% (56%)
22,195 ±4,137
20,581 ±3,984
08:34 (04:10)
51
Operation Flashpoint: Red River
Jun 6, 2011
$9.99
11% (53%/67%)
642,857 ±22,250
217,918 ±12,961
04:32 (01:00)
52
Planar Conquest
May 30, 2016
$19.99
9% (50%/53%)
26,029 ±4,480
12,107 ±3,055
19:41 (04:09)
53
WARMACHINE: Tactics
Nov 20, 2014
Free
7% (46%)
275,424 ±14,570
114,407 ±9,392
04:28 (01:52)
54
CLASH
Nov 15, 2016
Free
4% (38%)
133,979 ±10,163
60,129 ±6,809
02:18 (02:21)
55
A Game of Thrones - Genesis
Sep 28, 2011
$9.99
2% (30%)
193,906 ±12,226
151,130 ±10,794
05:33 (01:37)
56
Starion Tactics
Sep 5, 2014
$9.99
N/A (N/A)
90,395 ±8,349
27,845 ±4,634
03:59 (03:39)
57
Stronghold 3 Gold
May 25, 2012
$29.99
1% (26%)
742,534 ±23,910
658,999 ±22,527
09:21 (03:40)