Freight Tycoon Inc.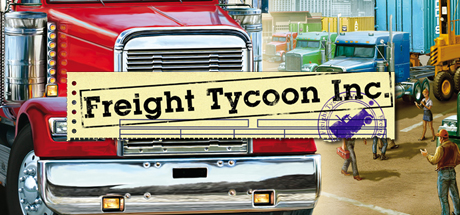 Store | Hub | SteamDB | Site
Developer: Nikita Publisher: 1C Company
Genre: Strategy
Languages: English, German, Russian, French, Traditional Chinese, Japanese, Czech
Tags: Strategy (32), Management (15), Simulation (14), Economy (11), Indie (6), Singleplayer (6)
Category: Single-player, Steam Cloud
Release date: Apr 3, 2014
Price: $4.99
Score rank: 18% Userscore: 62% Old userscore: 61%
Owners: 26,651 ± 5,759
Players in the last 2 weeks: 815 ± 1,595 (3.06%)
Players total: 20,801 ± 5,088 (78.05%)
Followers: 781
Peak concurrent players yesterday: 3
Playtime in the last 2 weeks: 29:28 (average) 29:28 (median)
Playtime total: 09:57 (average) 09:48 (median)

Steam Spy is still in beta, so expect major bugs.
Peak daily concurrent players:
CCU data courtesy of SteamDB. Used with permission.
Hourly concurrent players:
YouTube:
The views data is based on top 50 videos uploaded last week. Actual number of views might be more than the number shown.

The displayed number of videos uploaded yesterday is limited to 50, so if there were more videos uploaded, the number will still show 50.

If the game has commonly used word as its name (like "FEAR" or "Volume") its number of Youtube views might be wrong.
Games similar to this one:
#
Game
Release date

Price

Score rank
(Userscore / Metascore)

Owners

Players

Playtime (Median)

1
Gary Grigsby's War in the East
Jul 9, 2015
$79.99
97% (97%)
7,800 ±3,115
6,825 ±2,914
128:30 (03:46)
2
Militia
Dec 2, 2015
$5.99
N/A (N/A)
13,326 ±4,072
7,800 ±3,115
03:39 (04:17)
3
Seven Kingdoms: Ancient Adversaries
Mar 22, 2016
$5.99
N/A (N/A)
5,850 ±2,698
1,300 ±1,272
12:37 (15:02)
4
Sid Meier's Civilization IV: Beyond the Sword
Jul 24, 2007
$9.99
94% (96%/86%)
1,344,591 ±40,840
58,503 ±8,532
46:45 (12:14)
5
Templar Battleforce
Sep 21, 2015
$9.99
94% (96%)
19,826 ±4,967
15,926 ±4,452
07:03 (01:47)
6
Earth Overclocked
Dec 4, 2015
$4.99
N/A (N/A)
19,826 ±4,967
11,701 ±3,816
02:21 (01:45)
7
Majesty: Gold Edition
Sep 4, 2009
$9.99
91% (95%)
112,780 ±11,846
39,327 ±6,996
08:20 (03:57)
8
Hegemony Gold: Wars of Ancient Greece
Mar 30, 2012
$14.99
91% (95%)
18,526 ±4,801
15,926 ±4,452
24:31 (20:36)
9
Defend The Highlands
Nov 6, 2015
$9.99
N/A (N/A)
39,002 ±6,967
13,976 ±4,170
03:20 (03:50)
10
Hostile Waters: Antaeus Rising
Jan 30, 2014
$9.99
91% (95%/80%)
253,512 ±17,758
113,106 ±11,863
03:11 (03:33)
11
Battle Academy 2: Eastern Front
Sep 12, 2014
$39.99
88% (94%/78%)
7,992 ±3,261
4,865 ±2,544
16:22 (03:49)
12
Kick Ass Commandos
Nov 17, 2016
$9.99
88% (94%)
15,276 ±4,360
6,500 ±2,844
04:00 (04:36)
13
Kohan: Ahriman's Gift
Aug 24, 2011
$9.99
N/A (N/A/79%)
15,276 ±4,360
8,450 ±3,243
16:42 (01:07)
14
Sword of the Stars
Jun 4, 2010
$9.99
84% (93%/75%)
18,526 ±4,801
11,376 ±3,762
89:34 (34:45)
15
Kohan II: Kings of War
Aug 24, 2011
$9.99
84% (93%/81%)
20,151 ±5,008
13,001 ±4,022
13:09 (09:24)
16
Fort Meow
Jun 24, 2015
$7.99
84% (93%)
8,450 ±3,243
5,850 ±2,698
03:14 (03:52)
17
Darkest Hour: A Hearts of Iron Game
Apr 8, 2011
$9.99
84% (93%/81%)
154,383 ±13,859
85,479 ±10,313
53:14 (02:45)
18
Sword of the Stars Complete Collection
Jun 4, 2010
$9.99
84% (93%/75%)
133,256 ±12,876
73,779 ±9,582
32:16 (09:27)
19
Treasure Planet Battle at Procyon
Feb 24, 2015
$9.99
N/A (N/A)
6,500 ±2,844
3,575 ±2,109
07:40 (06:47)
20
Rooks Keep
Dec 5, 2014
$7.99
N/A (N/A)
30,551 ±6,166
14,626 ±4,266
03:27 (01:31)
21
Guards
Aug 19, 2016
$2.99
84% (93%/49%)
3,822 ±2,255
3,127 ±2,040
04:14 (03:30)
22
Battlezone 98 Redux
Apr 18, 2016
$19.99
84% (93%/75%)
23,401 ±5,396
18,526 ±4,801
09:12 (01:40)
23
OZMAFIA!!
Apr 29, 2016
$34.99
84% (93%)
7,150 ±2,983
6,500 ±2,844
23:17 (18:59)
24
Skulls of the Shogun
Jul 29, 2013
$9.99
81% (92%/72%)
216,786 ±16,422
102,705 ±11,305
03:29 (02:15)
25
The Magic Circle
Jul 9, 2015
$19.99
81% (92%/79%)
109,530 ±11,674
49,077 ±7,815
03:47 (02:53)
26
Predynastic Egypt
Oct 10, 2016
$9.99
81% (92%)
17,551 ±4,673
15,276 ±4,360
07:34 (08:54)
27
Heroes of Annihilated Empires
Nov 22, 2006
$14.99
81% (92%/65%)
56,553 ±8,389
17,551 ±4,673
14:54 (06:39)
28
Company of Heroes: Opposing Fronts
Sep 24, 2007
$19.99
81% (92%/87%)
2,461,345 ±55,176
714,060 ±29,785
13:50 (00:57)
29
Burnstar
Mar 18, 2015
$4.99
N/A (N/A)
16,901 ±4,586
10,401 ±3,597
04:04 (03:41)
30
Sacrifice
Aug 19, 2009
$9.99
77% (91%/89%)
47,452 ±7,684
26,001 ±5,688
04:18 (00:47)
31
Concrete Jungle
Sep 23, 2015
$12.99
77% (91%/76%)
35,102 ±6,609
18,851 ±4,843
06:24 (02:35)
32
Spectromancer
Feb 11, 2009
$9.99
77% (91%)
25,351 ±5,617
19,501 ±4,926
27:30 (08:56)
33
Executive Assault
Jul 17, 2015
$12.99
77% (91%)
33,477 ±6,454
30,226 ±6,133
06:15 (03:48)
34
Warrior Kings: Battles
May 6, 2014
$9.99
77% (91%/64%)
14,301 ±4,219
7,800 ±3,115
12:34 (07:07)
35
Great Big War Game
Aug 28, 2012
$6.99
N/A (N/A)
8,125 ±3,180
6,175 ±2,772
10:41 (03:08)
36
Hive
Mar 20, 2014
$9.99
77% (91%)
22,101 ±5,244
14,951 ±4,313
04:21 (02:22)
37
Warhammer 40,000: Dawn of War - Winter Assault
Aug 7, 2007
$12.99
77% (91%)
1,011,774 ±35,442
409,520 ±22,565
04:33 (00:55)
38
Swords and Soldiers HD
Dec 2, 2010
$9.99
77% (91%)
265,538 ±18,174
146,257 ±13,490
03:05 (01:19)
39
Sneaky Sneaky
Nov 12, 2014
$4.99
73% (90%/63%)
18,851 ±4,843
14,626 ±4,266
04:31 (02:32)
40
Joint Task Force
Mar 27, 2007
$9.99
73% (90%/68%)
47,452 ±7,684
16,901 ±4,586
08:45 (01:47)
41
Command: Northern Inferno
Oct 22, 2015
$19.99
N/A (N/A)
9,100 ±3,365
5,525 ±2,622
15:22 (05:57)
42
Kohan: Immortal Sovereigns
Aug 24, 2011
$9.99
N/A (N/A/87%)
15,276 ±4,360
8,125 ±3,180
09:52 (03:14)
43
Thrillville: Off the Rails
Jul 8, 2009
$9.99
70% (89%/70%)
21,451 ±5,167
19,501 ±4,926
03:49 (04:19)
44
Ground Control Anthology
Jul 8, 2015
$4.99
N/A (N/A/86%)
11,701 ±3,816
3,575 ±2,109
01:00 (01:02)
45
Flashpoint Campaigns: Red Storm
Nov 21, 2014
$49.99
70% (89%)
7,150 ±2,983
5,850 ±2,698
03:06 (02:11)
46
Stalingrad
Mar 25, 2015
$4.99
70% (89%)
22,426 ±5,283
9,425 ±3,425
10:15 (01:39)
47
Eternal Destiny
Apr 21, 2016
$9.99
70% (89%)
5,907 ±2,804
5,212 ±2,633
45:04 (13:26)
48
Yomi
May 8, 2015
$14.99
70% (89%)
6,950 ±3,041
6,255 ±2,885
09:19 (03:05)
49
Atom Zombie Smasher
Mar 14, 2011
$9.99
66% (88%/75%)
431,296 ±23,157
287,314 ±18,904
03:42 (01:26)
50
Bloodsports.TV
Mar 30, 2015
$9.99
66% (88%/69%)
75,404 ±9,687
38,352 ±6,908
04:39 (03:56)
51
Rush for Berlin: Gold Edition
Oct 29, 2009
$4.99
66% (88%/76%)
26,651 ±5,759
10,075 ±3,541
05:14 (04:24)
52
Magnifico
Dec 2, 2014
$4.99
N/A (N/A)
57,203 ±8,437
22,101 ±5,244
02:38 (01:12)
53
Khet 2.0
Oct 1, 2014
$9.99
66% (88%)
20,801 ±5,088
13,001 ±4,022
02:36 (00:54)
54
Dawn of Discovery
Jun 23, 2009
$4.99
66% (88%/82%)
88,079 ±10,469
32,502 ±6,360
25:50 (06:51)
55
Brothers in Arms: Road to Hill 30
May 13, 2008
$4.99
66% (88%/87%)
96,530 ±10,960
68,903 ±9,260
05:13 (03:38)
56
Interloper
May 21, 2015
$11.99
66% (88%/77%)
22,751 ±5,321
15,276 ±4,360
02:31 (02:54)
57
Catch Me
Sep 5, 2016
$5.99
66% (88%)
18,851 ±4,843
17,226 ±4,630
03:11 (02:00)
58
Greed Corp
Dec 10, 2010
$9.99
66% (88%/76%)
274,313 ±18,471
139,432 ±13,171
03:22 (01:22)
59
Battle Academy
Apr 16, 2014
$14.99
66% (88%)
28,926 ±6,000
11,376 ±3,762
26:18 (10:52)
60
Crookz - The Big Heist
Aug 25, 2015
$19.99
66% (88%/74%)
19,176 ±4,885
12,026 ±3,868
03:53 (01:12)
61
Hitman GO: Definitive Edition
Feb 23, 2016
$7.99
66% (88%/72%)
68,903 ±9,260
29,901 ±6,100
03:25 (01:34)
62
Hearts of Iron 2 Complete
Jan 23, 2009
$14.99
63% (87%/83%)
78,979 ±9,914
41,602 ±7,195
36:50 (02:41)
63
MoonBase Commander
Feb 6, 2014
$5.99
63% (87%/77%)
13,001 ±4,022
6,825 ±2,914
02:33 (01:38)
64
Age of Wonders: Shadow Magic
Oct 2010
$9.99
63% (87%/82%)
110,830 ±11,743
43,227 ±7,334
29:52 (03:09)
65
Battlepillars Gold Edition
Apr 28, 2014
$4.99
63% (87%)
22,426 ±5,283
16,576 ±4,542
02:41 (01:53)
66
Faces of War
Apr 16, 2014
$4.99
63% (87%/67%)
59,153 ±8,580
30,226 ±6,133
07:39 (02:02)
67
Brothers in Arms: Earned in Blood
Oct 10, 2008
$4.99
60% (86%/84%)
84,504 ±10,254
37,377 ±6,820
06:03 (03:15)
68
Steel Rain
Dec 3, 2015
$9.99
N/A (N/A)
12,351 ±3,920
7,475 ±3,050
04:43 (02:54)
69
Mold on Pizza Deluxe
Sep 25, 2015
$9.99
60% (86%)
7,800 ±3,115
6,175 ±2,772
02:11 (02:25)
70
Crush Your Enemies
Jul 13, 2016
$9.99
60% (86%/63%)
18,201 ±4,759
11,701 ±3,816
03:20 (02:18)
71
Nexus: The Jupiter Incident
Jul 3, 2007
$9.99
60% (86%/77%)
79,304 ±9,934
52,978 ±8,119
12:28 (02:45)
72
Light of Altair
Jun 4, 2009
$14.99
N/A (N/A/66%)
20,476 ±5,048
9,750 ±3,483
10:09 (07:00)
73
The Men of Yoshiwara: Kikuya
Oct 14, 2015
$29.99
60% (86%)
5,850 ±2,698
4,550 ±2,379
09:17 (10:17)
74
Star Ruler
Sep 20, 2010
$9.99
57% (85%)
161,858 ±14,191
66,953 ±9,128
12:04 (01:44)
75
Mushroom Wars
Apr 7, 2016
$9.99
57% (85%/80%)
11,701 ±3,816
7,475 ±3,050
03:43 (01:46)
76
Fleet Command
Oct 26, 2006
$9.99
57% (85%)
52,003 ±8,044
25,026 ±5,581
32:54 (18:15)
77
Age of Wonders
Oct 2010
$5.99
57% (85%)
103,680 ±11,358
42,577 ±7,279
25:42 (01:46)
78
The Settlers: Heritage of Kings
Jul 22, 2008
$4.99
57% (85%/58%)
28,926 ±6,000
23,076 ±5,359
14:07 (05:54)
79
Battle Mages: Sign of Darkness
Jul 24, 2014
$4.99
N/A (N/A)
12,676 ±3,972
7,800 ±3,115
07:24 (02:44)
80
Fear Equation
Jan 15, 2016
$14.99
N/A (N/A)
10,401 ±3,597
5,850 ±2,698
03:56 (02:33)
81
Graviteam Tactics: Operation Star
Feb 11, 2014
$29.99
55% (84%)
28,926 ±6,000
21,776 ±5,206
12:44 (01:25)
82
Ghost Master
Dec 21, 2006
$1.24
55% (84%/81%)
179,409 ±14,940
105,305 ±11,447
03:57 (01:09)
83
Victory and Glory: Napoleon
Mar 17, 2016
$29.99
N/A (N/A)
3,475 ±2,150
2,780 ±1,923
07:08 (08:31)
84
Sid Meier's Civilization IV: Warlords
Apr 6, 2007
$4.99
55% (84%/84%)
1,327,365 ±40,578
197,935 ±15,692
11:53 (01:13)
85
World War I
Apr 9, 2015
$4.99
55% (84%)
30,551 ±6,166
7,800 ±3,115
03:11 (01:18)
86
Gratuitous Space Battles
Nov 16, 2009
$14.99
52% (83%/72%)
570,728 ±26,634
340,292 ±20,571
05:26 (02:03)
87
Braveland
Mar 17, 2014
$4.99
52% (83%)
39,002 ±6,967
29,576 ±6,067
04:39 (03:39)
88
Harvest: Massive Encounter
Jan 23, 2009
$7.99
52% (83%)
50,702 ±7,943
26,976 ±5,794
10:09 (02:19)
89
Romopolis
May 18, 2016
$3.99
N/A (N/A)
13,001 ±4,022
8,775 ±3,304
02:46 (02:52)
90
Tiny Guardians
Mar 23, 2016
$9.99
N/A (N/A)
17,226 ±4,630
10,401 ±3,597
02:58 (01:56)
91
Making History: The Calm & The Storm
Mar 13, 2007
$4.99
50% (82%/70%)
75,404 ±9,687
35,427 ±6,640
28:38 (02:48)
92
Decisive Campaigns: The Blitzkrieg from Warsaw to Paris
Jan 22, 2015
$39.99
N/A (N/A)
3,127 ±2,040
2,085 ±1,665
04:38 (01:34)
93
Fate of the World
Feb 28, 2011
$9.99
50% (82%/70%)
82,229 ±10,115
69,228 ±9,282
05:44 (00:59)
94
Anomaly Warzone Earth Mobile Campaign
Nov 6, 2013
$4.99
50% (82%)
130,331 ±12,734
64,678 ±8,971
03:46 (03:10)
95
Dwarfs!
May 4, 2011
$9.99
50% (82%)
354,592 ±20,999
178,109 ±14,886
03:15 (00:59)
96
Act of War: Direct Action
Mar 12, 2008
$2.99
48% (81%/82%)
28,601 ±5,966
20,476 ±5,048
06:06 (01:51)
97
Battle Group 2
Jun 13, 2014
$7.99
48% (81%)
65,003 ±8,994
32,502 ±6,360
04:51 (03:25)
98
CivCity: Rome
Apr 6, 2007
$9.99
48% (81%/67%)
76,054 ±9,728
44,202 ±7,417
12:47 (06:36)
99
Monday Night Combat
Jan 24, 2011
$4.99
48% (81%/82%)
290,564 ±19,010
234,986 ±17,097
09:10 (02:43)
100
Fat Chicken
Dec 4, 2014
$9.99
N/A (N/A)
5,560 ±2,720
4,170 ±2,355
03:29 (02:43)
101
McDROID
Sep 5, 2014
$9.99
48% (81%)
9,425 ±3,425
7,150 ±2,983
02:41 (03:02)
102
Arcane Sorcery
Sep 15, 2015
$1.39
N/A (N/A)
20,801 ±5,088
13,651 ±4,122
05:39 (04:59)
103
Rise: Battle Lines
Nov 17, 2015
$5.99
N/A (N/A)
7,475 ±3,050
2,275 ±1,682
02:19 (01:47)
104
rymdkapsel
Jan 30, 2014
$7.99
45% (80%/77%)
16,576 ±4,542
13,976 ±4,170
03:46 (02:24)
105
Defense Zone
Jul 14, 2014
$2.99
N/A (N/A)
2,780 ±1,923
1,390 ±1,360
14:45 (22:36)
106
Caveman Craig
Aug 28, 2015
$10.99
N/A (N/A)
17,226 ±4,630
10,075 ±3,541
03:15 (03:16)
107
7,62 High Calibre
Apr 30, 2014
$4.99
45% (80%)
40,952 ±7,139
23,401 ±5,396
14:08 (04:15)
108
Imperium Romanum Gold Edition
Nov 25, 2008
$9.99
45% (80%/63%)
149,832 ±13,653
57,203 ±8,437
07:21 (01:16)
109
Men of War: Red Tide
Nov 1, 2009
$4.99
45% (80%/77%)
253,512 ±17,758
73,454 ±9,561
09:50 (03:02)
110
Foresight
Nov 28, 2014
$14.99
N/A (N/A)
7,645 ±3,189
5,212 ±2,633
03:28 (03:20)
111
Seven Kingdoms 2 HD
Feb 4, 2015
$9.99
45% (80%)
41,602 ±7,195
17,551 ±4,673
04:43 (06:56)
112
Galcon Fusion
Feb 11, 2010
$9.99
45% (80%/68%)
181,359 ±15,021
64,353 ±8,949
03:29 (00:56)
113
Sengoku Jidai: Shadow of the Shogun
May 19, 2016
$29.99
N/A (N/A/80%)
4,865 ±2,544
4,170 ±2,355
07:57 (04:36)
114
Ironcast
Mar 26, 2015
$14.99
45% (80%/75%)
33,477 ±6,454
30,226 ±6,133
12:30 (08:27)
115
Soldiers: Heroes of World War II
Jul 3, 2014
$4.99
43% (79%/77%)
62,403 ±8,812
25,026 ±5,581
14:43 (00:45)
116
Perimeter
Apr 3, 2014
$3.99
43% (79%/77%)
38,677 ±6,938
19,176 ±4,885
02:29 (01:37)
117
Starscape
Nov 3, 2008
$9.99
43% (79%)
17,226 ±4,630
12,351 ±3,920
05:30 (01:38)
118
Star Ruler 2
Mar 27, 2015
$24.99
43% (79%)
57,203 ±8,437
43,552 ±7,362
16:27 (04:12)
119
Total Extreme Wrestling
Mar 19, 2015
$19.99
43% (79%)
8,340 ±3,331
4,170 ±2,355
81:19 (115:41)
120
Conquest of Elysium 3
Oct 24, 2012
$9.99
43% (79%)
44,527 ±7,444
28,926 ±6,000
07:44 (01:09)
121
Dominions 3
Sep 10, 2013
$19.99
43% (79%/82%)
22,426 ±5,283
12,351 ±3,920
09:12 (02:28)
122
WARSHIFT
Oct 12, 2016
$12.99
43% (79%)
32,827 ±6,391
26,976 ±5,794
02:44 (03:00)
123
Star Wolves 3: Civil War
Mar 2, 2010
$4.99
43% (79%)
125,131 ±12,478
56,228 ±8,365
10:08 (02:01)
124
UFO: Extraterrestrials Gold
Feb 17, 2010
$9.99
43% (79%/68%)
105,305 ±11,447
34,452 ±6,548
24:19 (09:21)
125
Chaos Reborn
Oct 26, 2015
$9.99
41% (78%/85%)
65,003 ±8,994
47,777 ±7,711
09:30 (03:37)
126
Demolition, Inc.
Sep 19, 2011
$5.99
41% (78%)
91,329 ±10,660
73,129 ±9,539
02:44 (01:09)
127
Star Hammer: The Vanguard Prophecy
Jun 4, 2015
$19.99
41% (78%/69%)
13,651 ±4,122
10,075 ±3,541
04:39 (02:15)
128
Making History II: The War of the World
Aug 27, 2010
$14.99
41% (78%/38%)
40,952 ±7,139
27,951 ±5,898
61:29 (04:52)
129
Little King's Story
Aug 5, 2016
$24.99
41% (78%/62%)
5,850 ±2,698
4,875 ±2,463
06:55 (06:45)
130
Auralux: Constellations
Jun 1, 2016
$9.99
N/A (N/A)
2,780 ±1,923
2,432 ±1,799
22:30 (35:06)
131
Where's My Helmet?
May 20, 2016
$0.99
N/A (N/A)
8,450 ±3,243
6,500 ±2,844
02:25 (02:41)
132
Act of War: High Treason
Mar 12, 2008
$2.99
41% (78%/74%)
27,951 ±5,898
18,851 ±4,843
08:28 (02:09)
133
Fantasy Wars
Aug 6, 2010
$4.99
41% (78%/67%)
80,279 ±9,995
23,401 ±5,396
06:16 (10:08)
134
GUILTY GEAR 2 -OVERTURE-
Mar 31, 2016
$19.99
39% (77%)
10,077 ±3,662
7,297 ±3,116
03:55 (01:20)
135
Hogs of War
Jul 28, 2015
$4.99
39% (77%)
4,170 ±2,355
3,127 ±2,040
07:24 (05:47)
136
For The Glory
Nov 11, 2009
$9.99
N/A (N/A)
29,576 ±6,067
12,676 ±3,972
57:37 (04:36)
137
Grand Ages: Rome
Mar 20, 2009
$9.99
37% (76%/72%)
221,986 ±16,617
122,856 ±12,364
09:26 (03:42)
138
Battlestations: Midway
Mar 15, 2007
$6.99
37% (76%/76%)
332,816 ±20,344
84,179 ±10,235
09:43 (01:08)
139
Space Hulk Ascension
Nov 12, 2014
$29.99
37% (76%/72%)
64,028 ±8,926
53,303 ±8,144
11:04 (02:31)
140
Sid Meier's Ace Patrol
Aug 27, 2013
$4.99
37% (76%)
606,805 ±27,461
151,782 ±13,742
04:00 (02:18)
141
UFO: Aftermath
Apr 23, 2014
$3.99
37% (76%)
68,578 ±9,238
15,601 ±4,406
05:09 (00:49)
142
Cossacks: European Wars
Aug 26, 2011
$4.99
37% (76%/74%)
103,680 ±11,358
49,077 ±7,815
10:54 (02:21)
143
Cubemen
Mar 16, 2012
$3.99
37% (76%/74%)
195,010 ±15,576
114,081 ±11,914
02:53 (00:39)
144
Dangerous Waters
Feb 7, 2006
$14.99
35% (75%/82%)
63,053 ±8,858
27,626 ±5,863
09:01 (01:12)
145
Vegas: Make It Big
Dec 21, 2006
$4.99
35% (75%)
48,752 ±7,789
20,151 ±5,008
04:43 (01:31)
146
Victory At Sea
Aug 8, 2014
$24.99
35% (75%)
41,602 ±7,195
33,152 ±6,423
15:54 (03:39)
147
Age of Wonders 2
Oct 2010
$9.99
35% (75%/86%)
82,229 ±10,115
35,102 ±6,609
22:58 (02:16)
148
Reversi
Mar 19, 2015
$9.99
N/A (N/A)
12,026 ±3,868
8,125 ±3,180
03:07 (03:27)
149
Survivor Squad: Gauntlets
Nov 16, 2015
$4.99
35% (75%)
22,426 ±5,283
11,701 ±3,816
03:26 (03:44)
150
Steam Squad
Jul 28, 2016
$17.99
N/A (N/A)
3,250 ±2,011
2,600 ±1,799
02:48 (03:45)
151
Airship Dragoon
Aug 26, 2014
$19.99
N/A (N/A)
15,926 ±4,452
10,401 ±3,597
04:01 (03:50)
152
Battle Fleet 2
Nov 20, 2014
$14.99
35% (75%)
23,401 ±5,396
19,176 ±4,885
15:02 (03:14)
153
Divinity: Dragon Commander
Aug 6, 2013
$39.99
35% (75%)
314,615 ±19,781
230,436 ±16,931
08:26 (04:45)
154
Supreme Ruler 1936
May 9, 2014
$19.99
33% (74%)
26,976 ±5,794
21,451 ±5,167
30:03 (09:20)
155
King Arthur - The Role-playing Wargame
Nov 24, 2009
$9.99
33% (74%)
273,338 ±18,439
219,061 ±16,508
13:41 (02:18)
156
American Conquest - Fight Back
Aug 26, 2011
$4.99
33% (74%/66%)
95,555 ±10,904
39,977 ±7,053
11:07 (05:39)
157
Warfare
Jul 20, 2009
$6.49
N/A (N/A)
38,677 ±6,938
5,200 ±2,544
06:49 (00:52)
158
Ironclad Tactics
Sep 18, 2013
$14.99
33% (74%/69%)
87,429 ±10,430
50,702 ±7,943
04:55 (03:06)
159
UFO: Aftershock
Apr 16, 2014
$3.99
32% (73%)
67,928 ±9,194
14,626 ±4,266
11:35 (03:02)
160
Deadnaut
Dec 8, 2014
$9.99
32% (73%)
19,501 ±4,926
13,976 ±4,170
02:42 (02:47)
161
Majesty 2
Sep 17, 2009
$9.99
32% (73%/72%)
98,155 ±11,051
67,278 ±9,150
25:02 (06:22)
162
Beasts Battle
Jun 15, 2016
$1.99
N/A (N/A)
13,326 ±4,072
7,800 ±3,115
03:15 (03:24)
163
Civil War II
Jul 3, 2014
$39.99
32% (73%)
16,251 ±4,497
11,376 ±3,762
71:48 (23:21)
164
Pongo
May 11, 2015
$0.99
32% (73%)
57,203 ±8,437
43,877 ±7,389
04:59 (03:36)
165
Swords & Crossbones: An Epic Pirate Story
Sep 30, 2015
$4.99
N/A (N/A)
12,026 ±3,868
8,125 ±3,180
02:34 (01:41)
166
MASSIVE CHALICE
Jun 1, 2015
$19.99
30% (72%/73%)
233,361 ±17,038
126,106 ±12,526
08:17 (02:42)
167
Space Empires V
Oct 16, 2006
$3.74
30% (72%/68%)
81,904 ±10,095
44,852 ±7,471
26:20 (01:17)
168
There Came an Echo
Feb 24, 2015
$14.99
30% (72%/58%)
27,951 ±5,898
14,951 ±4,313
03:22 (02:27)
169
Space Colony
Apr 30, 2015
$14.99
30% (72%/74%)
43,227 ±7,334
28,926 ±6,000
04:04 (03:04)
170
Spirit Of War
Mar 12, 2015
$9.99
N/A (N/A)
20,476 ±5,048
13,001 ±4,022
03:03 (03:13)
171
Rock 'N' Roll Defense
Aug 10, 2016
$1.99
30% (72%)
37,052 ±6,790
20,476 ±5,048
04:12 (03:20)
172
Panzer Tactics HD
May 22, 2014
$9.99
30% (72%/69%)
34,452 ±6,548
16,576 ±4,542
32:24 (24:41)
173
Commando Jack
Aug 22, 2014
$9.99
N/A (N/A)
233,361 ±17,038
100,755 ±11,197
03:15 (02:56)
174
Rebirth of Island
Nov 4, 2016
$5.99
N/A (N/A)
13,326 ±4,072
7,475 ±3,050
04:11 (02:54)
175
Commander : The Great War
Jul 25, 2014
$29.99
30% (72%)
9,425 ±3,425
8,125 ±3,180
18:41 (19:34)
176
Machines At War 3
Jul 23, 2014
$14.99
N/A (N/A)
14,626 ±4,266
2,600 ±1,799
00:34 (00:43)
177
REDCON
Apr 22, 2016
$5.99
29% (71%)
17,876 ±4,716
16,251 ±4,497
03:53 (10:14)
178
Revolution Under Siege Gold
Jul 2, 2015
$24.99
N/A (N/A)
10,401 ±3,597
6,175 ±2,772
02:10 (00:42)
179
RISK Factions
Mar 8, 2011
$9.99
29% (71%/77%)
75,729 ±9,707
70,203 ±9,347
09:19 (04:12)
180
American Conquest
Aug 26, 2011
$4.99
29% (71%/76%)
106,280 ±11,500
49,077 ±7,815
06:34 (00:43)
181
BattleLore: Command
Mar 31, 2015
$6.99
29% (71%)
6,500 ±2,844
3,575 ±2,109
02:44 (01:54)
182
Fortify
Apr 8, 2016
$4.99
29% (71%)
5,850 ±2,698
4,550 ±2,379
01:26 (00:59)
183
Tank Battle: 1944
Mar 1, 2016
$9.99
N/A (N/A)
2,925 ±1,908
2,275 ±1,682
03:16 (02:22)
184
The Hive
Aug 25, 2016
$19.99
29% (71%)
14,951 ±4,313
11,051 ±3,708
03:19 (02:14)
185
Rooster Teeth vs. Zombiens
Dec 19, 2014
Free
29% (71%)
4,170 ±2,355
3,127 ±2,040
01:02 (01:10)
186
Lux Delux
May 1, 2015
$9.99
27% (70%)
35,427 ±6,640
20,151 ±5,008
10:04 (01:58)
187
Galaxy Reavers
Sep 18, 2016
$4.99
27% (70%)
6,500 ±2,844
4,875 ±2,463
25:44 (93:24)
188
Sengoku
Sep 15, 2011
$9.99
27% (70%/70%)
118,956 ±12,166
69,553 ±9,303
05:18 (01:30)
189
Warhammer 40,000 Armageddon: Da Orks
Aug 18, 2016
$19.99
N/A (N/A)
2,780 ±1,923
1,390 ±1,360
11:19 (22:18)
190
Cuban Missile Crisis
Mar 25, 2015
$4.99
27% (70%)
18,851 ±4,843
6,500 ±2,844
04:50 (03:37)
191
Elven Legacy
Apr 7, 2009
$4.99
27% (70%/71%)
87,104 ±10,411
29,251 ±6,033
05:53 (01:28)
192
Across The Rhine
Nov 6, 2014
$6.99
N/A (N/A)
10,401 ±3,597
1,300 ±1,272
04:00 (02:59)
193
Defect
Jul 28, 2016
$14.99
N/A (N/A)
3,900 ±2,203
3,575 ±2,109
01:11 (00:50)
194
LA Cops
Mar 13, 2015
$14.99
26% (69%/45%)
13,976 ±4,170
6,825 ±2,914
01:10 (00:45)
195
Kaiju-A-GoGo
Apr 23, 2015
$13.99
26% (69%)
19,826 ±4,967
13,326 ±4,072
09:42 (08:36)
196
Spice Road
Apr 24, 2014
$19.99
N/A (N/A)
8,450 ±3,243
6,825 ±2,914
03:48 (03:28)
197
Frozen Synapse Prime
Nov 14, 2014
$24.99
25% (68%/83%)
100,430 ±11,179
46,477 ±7,605
03:29 (03:08)
198
The Living Dungeon
Nov 2, 2015
$12.99
N/A (N/A)
17,551 ±4,673
11,051 ±3,708
05:15 (05:05)
199
Assault on Arnhem
Mar 11, 2016
$9.99
N/A (N/A)
4,550 ±2,379
3,900 ±2,203
11:07 (07:59)
200
Achron
Aug 29, 2011
$19.99
N/A (N/A/54%)
13,326 ±4,072
7,800 ±3,115
02:59 (01:58)
201
Eclipse: New Dawn for the Galaxy
Sep 16, 2016
$14.99
25% (68%)
4,517 ±2,452
2,780 ±1,923
13:29 (16:02)
202
Zafehouse: Diaries
Sep 6, 2013
$4.99
25% (68%)
60,778 ±8,697
34,452 ±6,548
07:02 (02:07)
203
Goblin Defenders: Steel'n' Wood
Nov 23, 2015
$2.99
N/A (N/A)
26,651 ±5,759
17,226 ±4,630
03:34 (03:47)
204
The Nightmare Cooperative
Jul 16, 2014
$4.99
N/A (N/A)
71,503 ±9,433
26,326 ±5,724
01:41 (01:13)
205
Global Outbreak: Doomsday Edition
Aug 11, 2014
$8.99
N/A (N/A)
5,212 ±2,633
4,517 ±2,452
07:57 (07:41)
206
Sid Meier's Ace Patrol: Pacific Skies
Nov 5, 2013
$4.99
25% (68%)
602,579 ±27,366
116,031 ±12,016
03:47 (02:00)
207
7th Legion
Oct 23, 2014
$6.99
N/A (N/A)
13,326 ±4,072
1,625 ±1,422
07:37 (12:29)
208
Nomad Fleet
Apr 19, 2016
$9.99
23% (67%)
6,602 ±2,964
4,865 ±2,544
04:22 (01:41)
209
Valhalla Hills
Dec 2, 2015
$29.99
23% (67%/69%)
135,207 ±12,970
61,753 ±8,766
05:12 (01:26)
210
Theatre of War 2: Kursk 1943
Jul 9, 2010
$4.99
23% (67%)
71,829 ±9,454
20,476 ±5,048
13:08 (01:35)
211
Skyshine's BEDLAM
Sep 16, 2015
$19.99
23% (67%/67%)
44,527 ±7,444
30,877 ±6,199
03:40 (01:56)
212
Pyrite Heart
Sep 25, 2014
$4.99
23% (67%)
12,676 ±3,972
7,150 ±2,983
02:43 (00:57)
213
Planets Under Attack
Sep 27, 2012
$9.99
23% (67%)
211,585 ±16,224
68,903 ±9,260
02:54 (01:03)
214
1849
May 8, 2014
$14.99
23% (67%)
25,676 ±5,653
19,826 ±4,967
07:00 (03:36)
215
Close Combat : Panthers in the Fog
May 14, 2015
$39.99
N/A (N/A)
8,125 ±3,180
4,550 ±2,379
30:23 (08:55)
216
Royal Defense
Nov 10, 2014
$5.99
23% (67%)
43,552 ±7,362
23,401 ±5,396
06:26 (04:30)
217
Brigade E5: New Jagged Union
Apr 30, 2014
$3.99
N/A (N/A/41%)
14,301 ±4,219
4,550 ±2,379
06:41 (04:27)
218
Legions of Steel
Jul 16, 2015
$19.99
N/A (N/A/64%)
7,800 ±3,115
2,925 ±1,908
03:44 (00:36)
219
Battle of the Bulge
Sep 17, 2015
$9.99
N/A (N/A)
9,750 ±3,483
5,200 ±2,544
03:12 (00:59)
220
Ceres
Oct 16, 2015
$19.99
21% (65%/74%)
4,875 ±2,463
3,250 ±2,011
12:34 (27:18)
221
To End All Wars
Aug 29, 2014
$39.99
21% (65%/71%)
10,075 ±3,541
7,150 ±2,983
12:18 (02:33)
222
Life in Bunker
Feb 25, 2016
$15.99
21% (65%)
13,001 ±4,022
11,701 ±3,816
05:17 (04:37)
223
Port Royale 2
Jun 16, 2009
$4.99
21% (65%/75%)
74,754 ±9,645
54,603 ±8,243
19:15 (01:02)
224
Marauder
Apr 4, 2014
$9.99
21% (65%)
30,877 ±6,199
20,476 ±5,048
04:50 (02:11)
225
Fallen Enchantress
Oct 23, 2012
$9.99
21% (65%/78%)
110,505 ±11,726
86,454 ±10,372
22:46 (09:09)
226
Supreme Ruler Cold War
Jul 29, 2011
$9.99
21% (65%/63%)
34,452 ±6,548
20,801 ±5,088
40:10 (02:42)
227
Crusader Kings Complete
Feb 14, 2012
$9.99
21% (65%/73%)
91,329 ±10,660
30,877 ±6,199
13:47 (03:44)
228
Chainsaw Warrior
Oct 7, 2013
$4.99
21% (65%)
56,553 ±8,389
27,626 ±5,863
02:38 (01:31)
229
The Few
Jun 18, 2014
$7.99
21% (65%)
29,576 ±6,067
18,526 ±4,801
06:22 (27:47)
230
A Game of Dwarves
Oct 23, 2012
$9.99
21% (65%/60%)
117,656 ±12,099
81,904 ±10,095
15:38 (05:39)
231
Colonial Conquest
Jul 28, 2015
$9.99
21% (65%)
12,162 ±4,023
9,035 ±3,467
06:09 (02:41)
232
Hunters Of The Dead
Sep 4, 2014
$4.99
20% (64%)
27,951 ±5,898
18,526 ±4,801
02:24 (02:01)
233
Patrician IV: Steam Special Edition
Sep 17, 2010
$14.99
20% (64%/66%)
188,509 ±15,314
88,729 ±10,508
16:01 (01:59)
234
Memoir '44 Online
Oct 12, 2011
Free
20% (64%)
349,067 ±20,835
36,727 ±6,760
11:28 (01:41)
235
Europa Universalis: Rome - Gold Edition
Dec 18, 2008
$9.99
20% (64%/79%)
71,829 ±9,454
37,377 ±6,820
16:43 (01:21)
236
Men of War: Condemned Heroes
Apr 12, 2012
$7.99
20% (64%/57%)
138,782 ±13,141
55,578 ±8,316
08:38 (02:31)
237
Hegemony Rome: The Rise of Caesar
May 15, 2014
$19.99
19% (63%)
59,803 ±8,627
41,927 ±7,223
09:02 (02:09)
238
Purgatory
Jun 22, 2016
$0.99
19% (63%)
85,154 ±10,294
39,002 ±6,967
02:52 (02:37)
239
Dungeon Manager ZV
Oct 16, 2015
$9.99
N/A (N/A)
3,900 ±2,203
3,250 ±2,011
02:16 (02:04)
240
Robin Hood
Aug 26, 2011
$7.99
19% (63%/80%)
129,681 ±12,702
52,328 ±8,070
03:27 (00:49)
241
Sun Blast
Apr 2, 2015
$1.99
19% (63%)
188,834 ±15,327
138,457 ±13,125
04:09 (03:08)
242
Operation Flashpoint: Dragon Rising
Oct 6, 2009
$9.99
19% (63%/76%)
699,434 ±29,479
287,964 ±18,925
05:50 (01:22)
243
Urja
Jan 9, 2015
$9.99
19% (63%)
33,802 ±6,486
21,451 ±5,167
03:20 (03:39)
244
Desert Ashes
Nov 10, 2014
$4.99
N/A (N/A)
27,301 ±5,829
16,901 ±4,586
02:27 (02:10)
245
Jagged Alliance: Crossfire
Aug 24, 2012
$14.99
19% (63%/63%)
125,131 ±12,478
48,752 ±7,789
18:45 (06:05)
246
Zombie Tycoon 2: Brainhov's Revenge
Dec 9, 2013
$9.99
19% (63%)
59,803 ±8,627
39,652 ±7,025
02:54 (02:03)
247
Mosby's Confederacy
Nov 19, 2008
$9.99
N/A (N/A)
11,376 ±3,762
5,850 ±2,698
09:53 (01:02)
248
Crystal Rift
Mar 30, 2016
$9.99
18% (62%)
8,125 ±3,180
4,875 ±2,463
01:14 (00:28)
249
Battleplan: American Civil War
Jul 4, 2014
$9.99
N/A (N/A/66%)
49,077 ±7,815
22,101 ±5,244
03:10 (02:32)
250
SPACECOM
Sep 17, 2014
$9.99
18% (62%/68%)
79,954 ±9,975
43,552 ±7,362
03:24 (03:05)
251
BLADESTORM: Nightmare
May 28, 2015
$59.99
18% (62%)
9,750 ±3,483
8,450 ±3,243
20:57 (12:29)
252
Antisquad
May 22, 2014
$5.99
17% (61%)
45,827 ±7,552
30,551 ±6,166
04:07 (03:10)
253
Rush for Glory
Jun 16, 2014
$14.99
N/A (N/A)
64,678 ±8,971
12,026 ±3,868
01:04 (01:01)
254
Hydrophobia: Prophecy
May 9, 2011
$4.99
17% (61%/64%)
321,116 ±19,984
158,283 ±14,033
02:11 (01:01)
255
Cossacks II: Battle for Europe
Aug 26, 2011
$4.99
16% (60%/69%)
103,355 ±11,340
52,003 ±8,044
08:14 (02:22)
256
Gnumz: Masters of Defense
Dec 21, 2015
$4.99
N/A (N/A)
14,626 ±4,266
10,726 ±3,653
05:12 (04:54)
257
Armada 2526 Gold Edition
Feb 28, 2013
$19.99
16% (60%/66%)
49,077 ±7,815
19,176 ±4,885
09:07 (02:36)
258
7 Grand Steps, Step 1: What Ancients Begat
Jun 7, 2013
$19.99
16% (60%)
169,008 ±14,501
49,727 ±7,867
04:24 (02:16)
259
Crown and Council
Apr 22, 2016
Free
16% (60%)
104,655 ±11,411
49,727 ±7,867
04:10 (00:40)
260
Nightside
Aug 6, 2015
$6.99
N/A (N/A)
19,501 ±4,926
11,701 ±3,816
03:25 (02:06)
261
Check vs. Mate
Aug 16, 2012
$19.99
15% (59%/69%)
13,326 ±4,072
10,401 ±3,597
09:24 (03:38)
262
Disciples III - Renaissance Steam Special Edition
Jul 16, 2010
$14.99
15% (59%/56%)
187,534 ±15,274
82,229 ±10,115
17:23 (01:55)
263
Rescue: Everyday Heroes
Dec 11, 2013
$9.99
14% (58%)
60,453 ±8,673
22,101 ±5,244
04:22 (02:18)
264
Horizon
Feb 6, 2014
$29.99
14% (58%)
79,954 ±9,975
43,227 ±7,334
20:24 (03:01)
265
Eador. Imperium
Jan 27, 2017
$19.99
13% (57%)
7,475 ±3,050
4,875 ±2,463
47:31 (14:29)
266
Prophour23
Oct 22, 2014
$9.99
N/A (N/A)
17,226 ±4,630
6,825 ±2,914
02:41 (01:50)
267
Abalone
Apr 23, 2014
$4.99
N/A (N/A)
7,475 ±3,050
4,550 ±2,379
06:00 (09:32)
268
Delve Deeper
Sep 24, 2010
$4.99
13% (57%)
87,429 ±10,430
64,353 ±8,949
04:42 (02:51)
269
Revelations 2012
Apr 23, 2012
Free
13% (56%)
20,151 ±5,008
6,175 ±2,772
04:09 (01:52)
270
East India Company
Jul 31, 2009
$9.99
13% (56%/67%)
58,178 ±8,509
34,452 ±6,548
09:57 (05:23)
271
The Campaign Series: Fall Weiss
May 30, 2014
$14.99
N/A (N/A)
38,027 ±6,879
17,876 ±4,716
03:21 (02:35)
272
Warhammer 40,000: Kill Team
May 22, 2014
$9.99
13% (56%)
87,429 ±10,430
46,802 ±7,632
02:04 (02:02)
273
RESCUE 2
Jun 3, 2015
$19.99
13% (56%)
13,651 ±4,122
13,001 ±4,022
08:38 (13:12)
274
Operation Flashpoint: Red River
Jun 6, 2011
$9.99
13% (56%/67%)
620,455 ±27,768
216,461 ±16,409
04:38 (01:10)
275
The Settlers 7: Paths to a Kingdom - Gold Edition
Mar 10, 2011
$9.99
12% (55%/79%)
151,782 ±13,742
142,032 ±13,293
23:13 (06:00)
276
Gratuitous Tank Battles
May 17, 2012
$9.99
12% (55%/69%)
68,253 ±9,216
37,702 ±6,850
04:06 (00:41)
277
Crusaders: Thy Kingdom Come
Oct 8, 2009
$9.99
N/A (N/A)
20,151 ±5,008
11,051 ±3,708
03:17 (02:34)
278
Royal Bounty HD
Aug 10, 2015
$2.99
11% (54%)
7,800 ±3,115
4,875 ±2,463
03:20 (02:21)
279
9th Company - Roots of Terror
Dec 3, 2009
$9.99
11% (54%)
33,477 ±6,454
12,351 ±3,920
03:08 (15:09)
280
Armada 2526
Apr 8, 2011
$14.99
N/A (N/A/66%)
22,751 ±5,321
15,601 ±4,406
08:00 (02:14)
281
PeriAreion
Feb 19, 2015
$5.99
N/A (N/A)
9,425 ±3,425
6,175 ±2,772
05:28 (03:14)
282
Smugglers 5
Apr 11, 2014
$9.99
11% (54%)
31,527 ±6,264
12,026 ±3,868
05:06 (03:56)
283
Star Traders: 4X Empires
Dec 16, 2014
$9.99
N/A (N/A)
9,730 ±3,598
6,602 ±2,964
09:24 (03:09)
284
Pirates of Black Cove
Aug 2, 2011
$9.99
11% (54%/56%)
75,729 ±9,707
40,627 ±7,110
07:50 (02:03)
285
Z Steel Soldiers
Aug 1, 2014
$12.99
11% (53%)
29,251 ±6,033
13,976 ±4,170
04:43 (03:21)
286
Meridian: Squad 22
Aug 11, 2016
$14.99
N/A (N/A)
6,500 ±2,844
3,575 ±2,109
03:42 (03:20)
287
Odd||Even
Apr 6, 2016
$4.99
N/A (N/A)
31,852 ±6,296
18,851 ±4,843
03:50 (04:22)
288
Devils & Demons
Oct 6, 2015
$9.99
N/A (N/A)
19,501 ±4,926
3,250 ±2,011
02:57 (01:09)
289
ZAMB! Biomutant Extermination
Jun 20, 2014
$4.99
N/A (N/A)
5,525 ±2,622
2,275 ±1,682
00:47 (00:53)
290
King Arthur II - The Role-playing Wargame
Jan 27, 2012
$9.99
9% (51%/66%)
165,758 ±14,360
91,329 ±10,660
08:28 (01:24)
291
Chronostorm: Siberian Border
Nov 20, 2015
$0.49
N/A (N/A)
4,550 ±2,379
2,275 ±1,682
03:46 (03:27)
292
Leviathan: Warships
Apr 30, 2013
$9.99
9% (50%)
270,088 ±18,329
119,931 ±12,216
03:32 (00:48)
293
Frontline : Road to Moscow
Aug 8, 2014
$9.99
N/A (N/A)
12,676 ±3,972
4,875 ±2,463
04:00 (05:34)
294
Ancestory
Oct 13, 2015
$14.99
N/A (N/A)
4,170 ±2,355
3,127 ±2,040
03:12 (05:01)
295
Planar Conquest
May 30, 2016
$19.99
8% (49%/53%)
26,651 ±5,759
12,676 ±3,972
07:43 (10:32)
296
Hero Generations
Apr 10, 2015
$5.99
8% (48%)
17,876 ±4,716
13,976 ±4,170
04:04 (03:00)
297
Theatre of War 3: Korea
Mar 24, 2011
$6.99
7% (47%/49%)
60,128 ±8,650
24,051 ±5,471
03:55 (02:10)
298
Real Warfare
Nov 30, 2011
$3.99
N/A (N/A)
48,427 ±7,763
8,125 ±3,180
00:48 (00:42)
299
Impire
Feb 14, 2013
$19.99
7% (46%/45%)
125,131 ±12,478
74,104 ±9,603
09:05 (03:59)
300
Villagers
Mar 25, 2016
$19.99
7% (46%)
15,276 ±4,360
14,301 ±4,219
14:03 (06:10)
301
Crossfire: Dungeons
May 21, 2015
$3.99
N/A (N/A)
12,026 ±3,868
10,075 ±3,541
03:30 (02:45)
302
Commander: Conquest of the Americas
Jul 30, 2010
$9.99
7% (46%/68%)
81,904 ±10,095
52,653 ±8,095
09:31 (02:09)
303
Carrier Command: Gaea Mission
Sep 28, 2012
$32.99
6% (45%)
224,586 ±16,714
78,979 ±9,914
08:37 (01:47)
304
Cossacks II: Napoleonic Wars
Aug 26, 2011
$4.99
6% (45%/73%)
112,130 ±11,812
55,253 ±8,292
04:23 (00:42)
305
DUNGEONS - Steam Special Edition
Feb 10, 2011
$9.99
6% (44%/65%)
216,786 ±16,422
130,006 ±12,718
07:26 (01:53)
306
Falling Skies: The Game
Sep 30, 2014
$2.99
6% (44%)
6,175 ±2,772
4,875 ±2,463
06:32 (01:48)
307
The Kings' Crusade
Oct 8, 2010
$9.99
N/A (N/A/71%)
69,553 ±9,303
35,102 ±6,609
11:12 (02:18)
308
Zombie Wars: Invasion
Jan 14, 2016
$2.99
N/A (N/A)
7,150 ±2,983
5,200 ±2,544
04:05 (03:32)
309
Gratuitous Space Battles 2
Apr 16, 2015
$2.49
5% (43%)
18,526 ±4,801
13,651 ±4,122
06:48 (03:07)
310
Skyward Collapse
May 23, 2013
$2.99
5% (43%/64%)
113,106 ±11,863
66,303 ±9,083
02:53 (01:07)
311
Risk
Jun 10, 2013
$9.99
5% (42%)
30,226 ±6,133
26,326 ±5,724
15:17 (02:10)
312
Ancient Space
Sep 23, 2014
$19.99
5% (42%)
47,777 ±7,711
29,576 ±6,067
03:31 (02:09)
313
Island Defense
Jul 23, 2015
$4.99
N/A (N/A)
13,976 ±4,170
10,075 ±3,541
05:42 (09:33)
314
Control Craft 2
Feb 15, 2016
$2.99
N/A (N/A)
8,450 ±3,243
7,150 ±2,983
08:56 (03:59)
315
Sword of the Stars II: Enhanced Edition
Nov 30, 2012
$19.99
5% (42%/65%)
163,483 ±14,262
89,054 ±10,527
30:03 (02:26)
316
StarDrive
Apr 26, 2013
$29.99
5% (42%/61%)
208,985 ±16,124
158,608 ±14,047
17:42 (05:08)
317
Real Warfare 2: Northern Crusades
Nov 18, 2011
$4.99
5% (41%)
48,427 ±7,763
13,001 ±4,022
04:08 (00:47)
318
The Entente Gold
Jun 16, 2014
$1.99
5% (41%)
51,027 ±7,969
42,252 ±7,251
04:13 (02:32)
319
Hydraulic Empire
Jul 31, 2015
$7.99
N/A (N/A)
12,676 ±3,972
8,125 ±3,180
03:38 (04:02)
320
Star Wolves 2
Mar 2, 2010
$3.99
4% (40%)
66,628 ±9,106
9,750 ±3,483
03:32 (00:41)
321
Naval War: Arctic Circle
Apr 10, 2012
$19.99
4% (40%/64%)
72,804 ±9,518
43,227 ±7,334
06:51 (01:34)
322
DUNGEONS - The Dark Lord (Steam Special Edition)
Sep 27, 2011
$19.99
4% (40%/72%)
173,558 ±14,694
56,228 ±8,365
02:54 (01:06)
323
Shadows of War
Jan 2, 2015
$2.99
4% (38%)
24,701 ±5,544
17,226 ±4,630
02:35 (02:54)
324
Stellar Impact
Apr 12, 2012
$9.99
4% (38%/74%)
99,455 ±11,124
68,253 ±9,216
04:28 (01:55)
325
Galactic Inheritors
Jun 9, 2015
$19.99
N/A (N/A)
12,351 ±3,920
6,500 ±2,844
03:54 (03:25)
326
Into the Void
Dec 4, 2015
$9.99
N/A (N/A)
25,676 ±5,653
15,926 ±4,452
04:25 (03:57)
327
The Game of Life
Jun 10, 2013
$9.99
3% (35%)
9,750 ±3,483
7,800 ±3,115
02:26 (01:27)
328
Strategic War in Europe
Mar 21, 2014
$14.99
N/A (N/A)
50,377 ±7,918
28,276 ±5,932
03:27 (04:15)
329
Mechs & Mercs: Black Talons
Jan 9, 2015
$9.99
2% (32%)
11,376 ±3,762
7,475 ±3,050
06:46 (02:54)
330
A Game of Thrones - Genesis
Sep 28, 2011
$9.99
2% (30%)
206,710 ±16,036
158,608 ±14,047
04:17 (01:32)
331
Defenders of Time
Nov 4, 2014
Free
N/A (N/A/55%)
5,212 ±2,633
4,865 ±2,544
02:58 (03:32)
332
US and THEM
Mar 18, 2014
$9.99
1% (28%)
22,101 ±5,244
4,550 ±2,379
01:51 (01:31)
333
Abyss Raiders: Uncharted
Apr 30, 2015
$4.99
1% (27%)
17,876 ±4,716
11,701 ±3,816
02:54 (03:43)
334
Starion Tactics
Sep 5, 2014
$9.99
N/A (N/A)
77,029 ±9,790
19,826 ±4,967
04:14 (05:30)
335
Ground Pounders
Jul 15, 2014
$9.99
N/A (N/A)
7,150 ±2,983
5,850 ±2,698
03:55 (04:04)
336
APOX
Jan 20, 2011
$14.99
1% (24%/48%)
39,977 ±7,053
24,701 ±5,544
02:19 (01:07)
337
Genesis Rising
Aug 6, 2007
$4.99
1% (22%/57%)
29,576 ±6,067
10,075 ±3,541
05:54 (07:54)
338
Uprising44: The Silent Shadows
Apr 18, 2014
$1.99
N/A (N/A)
2,432 ±1,799
1,042 ±1,177
01:19 (01:53)
339
Lords of the Black Sun
Sep 12, 2014
$29.99
1% (21%)
24,051 ±5,471
20,476 ±5,048
04:20 (01:34)
340
Human Extinction Simulator
Jan 21, 2015
$19.99
N/A (N/A)
7,150 ±2,983
4,225 ±2,293
04:16 (02:18)
341
Perimeter 2: New Earth
Feb 10, 2009
$14.99
N/A (N/A/43%)
19,826 ±4,967
9,425 ±3,425
02:32 (02:11)
342
Tryst
Sep 14, 2012
$14.99
N/A (N/A/50%)
16,576 ±4,542
6,175 ±2,772
01:47 (00:57)
343
Gemini Wars
Nov 2, 2012
$14.99
0% (14%/53%)
36,402 ±6,731
26,001 ±5,688
07:07 (01:23)
344
Prison Tycoon 3™: Lockdown
Jan 29, 2008
$9.99
0% (12%)
37,377 ±6,820
20,801 ±5,088
14:19 (01:13)
345
Citadels
Jul 25, 2013
$14.99
0% (11%/20%)
32,502 ±6,360
28,601 ±5,966
05:57 (02:11)
346
Spaceforce Constellations
Dec 12, 2013
$9.99
N/A (N/A)
3,127 ±2,040
2,085 ±1,665
01:14 (00:47)