Freight Tycoon Inc.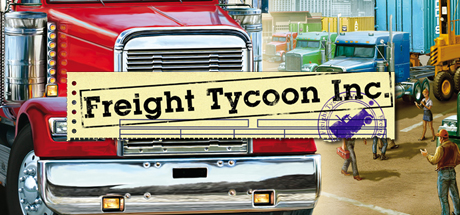 Store | Hub | SteamDB | Site
Developer: Nikita Publisher: 1C Company
Genre: Strategy
Languages: English, German, Russian, French, Traditional Chinese, Japanese, Czech
Tags: Strategy (33), Management (16), Simulation (15), Economy (12), Indie (6), Singleplayer (6)
Category: Single-player, Steam Cloud
Release date: Apr 3, 2014
Price: $4.99
Score rank: 17% Userscore: 61% Old userscore: 61%
Owners: 28,310 ± 5,232
Players in the last 2 weeks: 1,508 ± 2,088 (5.33%)
Players total: 23,507 ± 4,768 (83.04%)
Followers: 994
Peak concurrent players yesterday: 6
Playtime in the last 2 weeks: 01:30 (average) 01:46 (median)
Playtime total: 13:13 (average) 02:43 (median)

Steam Spy is still in beta, so expect major bugs.
Peak daily concurrent players:
CCU data courtesy of SteamDB. Used with permission.
Hourly concurrent players:
YouTube:
The views data is based on top 50 videos uploaded last week. Actual number of views might be more than the number shown.

The displayed number of videos uploaded yesterday is limited to 50, so if there were more videos uploaded, the number will still show 50.

If the game has commonly used word as its name (like "FEAR" or "Volume") its number of Youtube views might be wrong.
Games similar to this one:
#
Game
Release date

Price

Score rank
(Userscore / Metascore)

Owners

Players

Playtime (Median)

1
Impossible Creatures Steam Edition
Nov 11, 2015
$9.99
95% (96%/72%)
97,063 ±9,688
70,522 ±8,258
08:11 (02:40)
2
Total Annihilation
Dec 18, 2015
$4.99
95% (96%/86%)
100,854 ±9,875
73,555 ±8,433
10:14 (01:40)
3
Infested Planet
Mar 6, 2014
$14.99
89% (94%/75%)
287,396 ±16,667
157,727 ±12,349
07:00 (03:40)
4
Pang Adventures
Apr 18, 2016
$9.99
78% (91%)
20,727 ±4,477
12,891 ±3,530
02:48 (01:47)
5
The Magic Circle
Jul 9, 2015
$19.99
78% (91%/79%)
116,020 ±10,591
49,037 ±6,886
04:29 (03:17)
6
Battlezone 98 Redux
Apr 18, 2016
$4.99
74% (90%/75%)
38,673 ±6,115
29,321 ±5,325
21:37 (01:40)
7
Thea: The Awakening
Nov 20, 2015
$19.99
74% (90%/73%)
142,813 ±11,751
129,164 ±11,175
29:25 (10:53)
8
Sudden Strike Gold
May 22, 2017
$5.99
71% (89%)
50,806 ±7,009
18,199 ±4,195
04:56 (00:30)
9
Syrian Warfare
Feb 21, 2017
$19.99
71% (89%)
31,849 ±5,549
27,299 ±5,138
11:20 (03:08)
10
Executive Assault
Jul 17, 2015
$12.99
65% (87%)
49,795 ±6,939
42,212 ±6,389
06:54 (03:24)
11
Ultimate General: Civil War
Jul 14, 2017
$29.99
65% (87%)
100,854 ±9,875
94,535 ±9,561
48:49 (12:33)
12
STAR WARS Galactic Battlegrounds Saga
Mar 1, 2016
$5.99
65% (87%)
387,492 ±19,351
183,256 ±13,310
07:39 (01:49)
13
Kingdom: Classic
Oct 21, 2015
$4.99
62% (86%/74%)
2,058,029 ±44,524
988,066 ±30,883
05:09 (03:52)
14
Bionic Dues
Oct 8, 2013
$9.99
62% (86%/71%)
351,093 ±18,421
197,158 ±13,806
04:00 (03:14)
15
CRYPTARK
Jun 20, 2017
$14.99
62% (86%/80%)
48,026 ±6,815
29,827 ±5,370
03:37 (01:14)
16
Eador. Imperium
Jan 27, 2017
$19.99
62% (86%)
10,869 ±3,242
7,077 ±2,616
23:43 (05:14)
17
Warhammer 40,000: Sanctus Reach
Jan 19, 2017
$29.99
59% (85%/68%)
23,002 ±4,716
21,991 ±4,611
29:55 (12:42)
18
Ghost Master
Dec 21, 2006
$4.99
59% (85%/81%)
162,276 ±12,526
93,524 ±9,509
03:55 (00:51)
19
Crisis in the Kremlin
Mar 20, 2017
$4.99
56% (84%)
26,288 ±5,042
24,771 ±4,894
05:50 (04:03)
20
NOBUNAGA'S AMBITION: Sphere of Influence
Sep 1, 2015
$59.99
54% (83%/70%)
32,860 ±5,637
30,332 ±5,416
44:31 (13:38)
21
Marble Age
Mar 4, 2015
$5.99
54% (83%)
47,520 ±6,779
38,168 ±6,075
07:30 (03:29)
22
SHOGUN: Total War - Collection
Jun 25, 2015
$9.99
51% (82%)
183,509 ±13,320
41,707 ±6,350
23:16 (01:13)
23
Unity of Command: Stalingrad Campaign
Oct 17, 2012
$19.99
49% (81%/84%)
98,579 ±9,763
63,192 ±7,817
12:26 (02:28)
24
Bloodsports.TV
Mar 30, 2015
$9.99
49% (81%/69%)
77,852 ±8,676
40,695 ±6,273
04:43 (03:15)
25
Nuclear Dawn
Sep 26, 2011
$9.99
47% (80%/71%)
402,405 ±19,720
258,328 ±15,802
06:58 (01:55)
26
Braveland
Mar 17, 2014
$4.99
47% (80%)
43,476 ±6,484
33,365 ±5,680
04:24 (03:25)
27
Age of Gladiators
Feb 25, 2016
$9.99
47% (80%)
31,596 ±5,527
26,035 ±5,017
10:40 (04:02)
28
Defense Zone 3 Ultra HD
Dec 14, 2016
$2.99
47% (80%)
8,847 ±2,925
4,297 ±2,038
36:29 (18:23)
29
Has-Been Heroes
Mar 27, 2017
$19.99
45% (79%/63%)
33,112 ±5,658
17,946 ±4,166
20:14 (03:11)
30
War for the Overworld
Apr 2, 2015
$29.99
45% (79%/65%)
410,999 ±19,929
284,363 ±16,579
12:23 (04:52)
31
The Witcher Adventure Game
Nov 27, 2014
$9.99
43% (78%/68%)
165,057 ±12,632
94,029 ±9,535
04:25 (00:49)
32
SuperPower 2 Steam Edition
Apr 18, 2014
$9.99
43% (78%)
89,732 ±9,315
63,697 ±7,848
26:11 (04:41)
33
Chaos Reborn
Oct 26, 2015
$9.99
39% (76%/85%)
91,754 ±9,419
64,961 ±7,926
11:59 (02:18)
34
Civil War II
Jul 3, 2014
$39.99
37% (75%)
17,946 ±4,166
13,649 ±3,633
61:37 (05:02)
35
Supreme Ruler Ultimate
Oct 17, 2014
$19.99
37% (75%)
31,596 ±5,527
28,057 ±5,209
111:03 (14:36)
36
Victory At Sea
Aug 8, 2014
$24.99
37% (75%)
42,718 ±6,427
32,101 ±5,571
21:41 (04:29)
37
Distant Worlds: Universe
May 23, 2014
$59.99
35% (74%/81%)
62,939 ±7,801
55,609 ±7,333
51:23 (11:23)
38
Space Hulk Ascension
Nov 12, 2014
$29.99
35% (74%/72%)
144,836 ±11,833
75,072 ±8,520
08:21 (01:43)
39
Kaiju-A-GoGo
Apr 23, 2015
$13.99
23% (66%)
21,232 ±4,531
15,166 ±3,829
06:23 (04:10)
40
The Bureau: XCOM Declassified
Aug 19, 2013
$3.99
23% (66%/66%)
2,488,997 ±48,944
918,303 ±29,775
05:54 (02:16)
41
Port Royale 3
May 4, 2012
$14.99
22% (65%)
219,149 ±14,555
168,343 ±12,757
21:45 (05:03)
42
Battle of Empires : 1914-1918
Jul 22, 2015
$8.99
21% (64%)
70,269 ±8,243
64,456 ±7,895
18:30 (05:36)
43
Warlock 2: The Exiled
Apr 10, 2014
$19.99
21% (64%/73%)
75,830 ±8,563
60,664 ±7,659
27:12 (08:16)
44
DYNASTY WARRIORS 8 Empires
Feb 26, 2015
$49.99
20% (63%)
51,312 ±7,044
49,290 ±6,904
35:33 (18:03)
45
Omerta - City of Gangsters
Jan 31, 2013
$14.99
18% (62%)
293,968 ±16,856
226,479 ±14,796
14:14 (05:02)
46
Close Combat - Gateway to Caen
Jun 6, 2014
$39.99
18% (62%)
21,991 ±4,611
19,463 ±4,338
25:39 (05:58)
47
Skyshine's BEDLAM
Sep 16, 2015
$19.99
16% (60%/67%)
42,465 ±6,408
32,607 ±5,615
05:04 (02:28)
48
Anno 2205
Nov 2, 2015
$39.99
16% (60%/72%)
161,013 ±12,477
147,616 ±11,947
30:20 (15:27)
49
BLADESTORM: Nightmare
May 28, 2015
$59.99
16% (60%)
12,133 ±3,425
10,616 ±3,204
18:04 (09:03)
50
Operation Flashpoint: Red River
Jun 6, 2011
$2.49
11% (53%/67%)
622,818 ±24,528
214,346 ±14,395
07:10 (01:09)
51
RESCUE 2: Everyday Heroes
Jun 3, 2015
$19.99
10% (52%)
26,541 ±5,066
22,749 ±4,690
06:03 (02:53)
52
Planar Conquest
May 30, 2016
$19.99
8% (49%/53%)
21,991 ±4,611
12,638 ±3,496
25:16 (02:45)
53
WARMACHINE: Tactics
Nov 20, 2014
Free
6% (44%)
274,758 ±16,297
115,262 ±10,557
06:06 (01:35)
54
CLASH
Nov 15, 2016
Free
4% (39%)
179,465 ±13,172
105,404 ±10,095
03:08 (03:30)
55
A Game of Thrones - Genesis
Sep 28, 2011
$9.99
2% (30%)
212,324 ±14,327
165,562 ±12,652
05:37 (01:44)
56
Starion Tactics
Sep 5, 2014
$9.99
N/A (N/A)
91,502 ±9,406
38,421 ±6,095
34:21 (04:30)
57
Stronghold 3 Gold
May 25, 2012
$29.99
1% (26%)
791,666 ±27,649
697,890 ±25,962
10:14 (03:53)