Freight Tycoon Inc.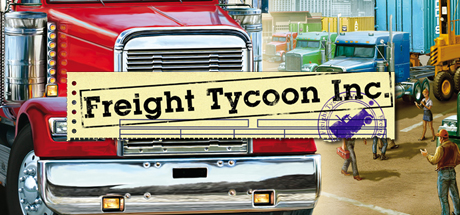 Store | Hub | SteamDB | Site
Developer: Nikita Publisher: 1C Company
Genre: Strategy
Languages: English, German, Russian, French, Traditional Chinese, Japanese, Czech
Tags: Strategy (32), Management (15), Simulation (14), Economy (11), Indie (6), Singleplayer (6)
Category: Single-player, Steam Cloud
Release date: Apr 3, 2014
Price: $4.99
Score rank: 19% Userscore: 62% Old userscore: 61%
Owners: 24,392 ± 4,723
Players in the last 2 weeks: 715 ± 1,399 (2.93%)
Players total: 19,131 ± 4,183 (78.43%)
Followers: 798
Peak concurrent players yesterday: 10
Playtime in the last 2 weeks: 00:30 (average) 00:30 (median)
Playtime total: 07:11 (average) 01:33 (median)

Steam Spy is still in beta, so expect major bugs.
Peak daily concurrent players:
CCU data courtesy of SteamDB. Used with permission.
Hourly concurrent players:
YouTube:
The views data is based on top 50 videos uploaded last week. Actual number of views might be more than the number shown.

The displayed number of videos uploaded yesterday is limited to 50, so if there were more videos uploaded, the number will still show 50.

If the game has commonly used word as its name (like "FEAR" or "Volume") its number of Youtube views might be wrong.
Games similar to this one:
#
Game
Release date

Price

Score rank
(Userscore / Metascore)

Owners

Players

Playtime (Median)

1
Tethered
Feb 27, 2017
$24.99
99% (98%)
3,826 ±1,870
3,109 ±1,686
01:16 (01:48)
2
Gary Grigsby's War in the East
Jul 9, 2015
$79.99
97% (97%)
7,891 ±2,686
6,696 ±2,474
68:42 (04:46)
3
Militia
Dec 2, 2015
$5.99
N/A (N/A)
11,957 ±3,307
6,696 ±2,474
05:37 (05:49)
4
Impossible Creatures Steam Edition
Nov 11, 2015
$9.99
97% (97%/72%)
55,718 ±7,138
41,131 ±6,133
07:41 (02:29)
5
Seven Kingdoms: Ancient Adversaries
Mar 22, 2016
$5.99
N/A (N/A)
4,783 ±2,091
1,674 ±1,237
23:44 (50:50)
6
868-HACK
Jan 26, 2015
$5.65
N/A (N/A)
2,630 ±1,551
1,913 ±1,322
01:55 (03:36)
7
War of the Human Tanks - ALTeR
Feb 13, 2015
$12.99
95% (96%)
5,739 ±2,291
3,109 ±1,686
08:46 (04:52)
8
Defend The Highlands
Nov 6, 2015
$9.99
N/A (N/A)
44,957 ±6,412
16,022 ±3,828
04:02 (03:15)
9
Hegemony Gold: Wars of Ancient Greece
Mar 30, 2012
$14.99
92% (95%)
20,805 ±4,362
17,457 ±3,996
36:58 (02:38)
10
Kick Ass Commandos
Nov 17, 2016
$4.99
92% (95%)
17,935 ±4,050
9,565 ±2,958
02:20 (02:43)
11
Majesty Gold HD
Sep 4, 2009
$9.99
89% (94%)
118,850 ±10,425
38,979 ±5,971
04:32 (00:56)
12
Kohan II: Kings of War
Aug 24, 2011
$9.99
86% (93%/81%)
20,805 ±4,362
13,870 ±3,562
10:46 (05:15)
13
Fort Meow
Jun 24, 2015
$7.99
83% (92%)
11,718 ±3,274
7,652 ±2,645
04:05 (02:47)
14
Sword of the Stars: Complete Collection
Jun 4, 2010
$9.99
83% (92%/75%)
16,979 ±3,941
11,239 ±3,206
65:22 (28:03)
15
Battlezone 98 Redux
Apr 18, 2016
$19.99
83% (92%/75%)
26,305 ±4,905
22,479 ±4,534
08:33 (02:24)
16
Sword of the Stars: Complete Collection
Jun 4, 2010
$9.99
83% (92%/75%)
126,263 ±10,745
64,566 ±7,684
36:25 (02:49)
17
Predynastic Egypt
Oct 10, 2016
$7.49
83% (92%)
14,109 ±3,592
12,196 ±3,340
10:01 (06:30)
18
Eufloria HD
Oct 14, 2014
$14.99
83% (92%)
286,005 ±16,169
41,848 ±6,187
03:33 (01:08)
19
Swords and Soldiers HD
Dec 2, 2010
$9.99
79% (91%)
247,026 ±15,027
129,611 ±10,887
03:19 (01:05)
20
Warhammer 40,000: Dawn of War Winter Assault
Aug 7, 2007
$12.99
79% (91%)
1,006,755 ±30,308
373,528 ±18,476
04:35 (00:55)
21
Knights of Honor
Feb 4, 2009
$9.99
79% (91%/77%)
104,980 ±9,798
67,436 ±7,853
19:27 (04:30)
22
Skulls of the Shogun
Jul 29, 2013
$9.99
79% (91%/72%)
208,286 ±13,800
105,458 ±9,820
04:22 (01:55)
23
Sacrifice
Aug 19, 2009
$9.99
79% (91%/89%)
51,892 ±6,889
30,370 ±5,270
05:00 (01:00)
24
Unholy Heights
Oct 4, 2013
$3.99
79% (91%)
164,764 ±12,274
113,111 ±10,170
05:31 (02:31)
25
Great Big War Game
Aug 28, 2012
$6.99
N/A (N/A)
10,044 ±3,031
7,652 ±2,645
16:46 (03:34)
26
Hive
Mar 20, 2014
$9.99
79% (91%)
22,000 ±4,486
15,544 ±3,770
03:13 (01:11)
27
Command: Northern Inferno
Oct 22, 2015
$19.99
N/A (N/A)
10,283 ±3,067
6,457 ±2,430
17:25 (01:19)
28
Sneaky Sneaky
Nov 12, 2014
$4.99
75% (90%/63%)
13,392 ±3,500
11,239 ±3,206
03:00 (02:06)
29
Snow Fortress
Dec 16, 2016
$14.99
N/A (N/A)
4,304 ±1,984
3,348 ±1,750
00:36 (00:25)
30
Kohan: Immortal Sovereigns
Aug 24, 2011
$9.99
N/A (N/A/87%)
16,261 ±3,856
9,805 ±2,994
07:47 (02:31)
31
Out of Ammo
Sep 14, 2016
$19.99
75% (90%)
25,587 ±4,837
24,153 ±4,700
03:36 (02:02)
32
Khet 2.0
Oct 1, 2014
$9.99
75% (90%)
22,000 ±4,486
14,587 ±3,652
05:23 (02:09)
33
Warrior Kings: Battles
May 6, 2014
$9.99
75% (90%/64%)
9,805 ±2,994
4,783 ±2,091
11:04 (06:12)
34
Graviteam Tactics: Mius-Front
Mar 4, 2016
$34.99
75% (90%)
5,022 ±2,143
5,022 ±2,143
27:35 (22:47)
35
Steel Rain
Dec 3, 2015
$9.99
N/A (N/A)
12,196 ±3,340
7,652 ±2,645
05:40 (04:45)
36
Spectromancer
Feb 11, 2009
$9.99
72% (89%)
25,348 ±4,815
18,413 ±4,104
24:59 (09:24)
37
Galaxy Admirals
Jan 17, 2017
$1.99
72% (89%)
30,131 ±5,249
21,044 ±4,387
04:38 (04:01)
38
Ground Control Anthology
Jul 8, 2015
$4.99
N/A (N/A/86%)
14,826 ±3,682
5,739 ±2,291
03:13 (02:21)
39
Flashpoint Campaigns: Red Storm Player's Edition
Nov 21, 2014
$49.99
72% (89%)
5,500 ±2,243
4,544 ±2,038
26:33 (08:53)
40
Time Rifters
Oct 21, 2014
$9.99
69% (88%)
17,696 ±4,023
13,870 ±3,562
02:18 (01:54)
41
Dawn of Discovery
Jun 23, 2009
$9.99
69% (88%/82%)
100,676 ±9,595
35,870 ±5,728
27:39 (08:21)
42
Crookz - The Big Heist
Aug 25, 2015
$19.99
69% (88%/74%)
15,783 ±3,799
10,761 ±3,137
05:42 (03:25)
43
Cossacks: Art of War
Aug 26, 2011
$4.99
69% (88%/74%)
92,784 ±9,211
36,348 ±5,766
06:32 (01:30)
44
Greed Corp
Dec 10, 2010
$9.99
69% (88%/76%)
267,352 ±15,633
127,698 ±10,806
02:57 (01:15)
45
Battle Academy
Apr 16, 2014
$14.99
69% (88%)
35,392 ±5,689
13,870 ±3,562
12:59 (03:00)
46
Enemy
Mar 17, 2015
$14.99
66% (87%)
6,935 ±2,518
5,500 ±2,243
05:56 (02:23)
47
Stalingrad
Mar 25, 2015
$4.99
66% (87%)
21,761 ±4,461
10,283 ±3,067
03:48 (00:59)
48
Hearts of Iron 2 Complete
Jan 23, 2009
$14.99
66% (87%/83%)
86,327 ±8,885
50,457 ±6,793
42:29 (01:59)
49
Rush for Berlin Gold
Oct 29, 2009
$4.99
66% (87%/76%)
20,566 ±4,337
6,935 ±2,518
04:51 (04:54)
50
Advanced Tactics Gold
Aug 15, 2014
$29.99
N/A (N/A)
6,696 ±2,474
4,304 ±1,984
33:11 (08:59)
51
Interloper
May 21, 2015
$11.99
66% (87%/77%)
19,370 ±4,209
14,587 ±3,652
02:50 (02:33)
52
MoonBase Commander
Feb 6, 2014
$5.99
66% (87%/77%)
14,348 ±3,622
8,609 ±2,806
05:13 (02:15)
53
Light of Altair
Jun 4, 2009
$14.99
N/A (N/A/66%)
23,196 ±4,606
7,652 ±2,645
05:26 (02:42)
54
Tiny Guardians
Mar 23, 2016
$9.99
N/A (N/A)
17,935 ±4,050
8,848 ±2,845
04:53 (03:55)
55
Magnifico
Dec 2, 2014
$4.99
N/A (N/A)
60,740 ±7,453
17,935 ±4,050
02:06 (01:06)
56
Arsenal of Democracy: A Hearts of Iron Game
Feb 23, 2010
$9.99
63% (86%)
49,501 ±6,728
23,674 ±4,653
37:42 (02:05)
57
Age of Wonders Shadow Magic
Oct 2010
$9.99
63% (86%/82%)
110,958 ±10,073
38,501 ±5,934
27:08 (04:09)
58
Foresight
Nov 28, 2014
$14.99
N/A (N/A)
8,131 ±2,727
4,783 ±2,091
06:26 (02:17)
59
Catch Me
Sep 5, 2016
$5.99
60% (85%)
11,239 ±3,206
10,283 ±3,067
03:37 (01:12)
60
Conflicks - Revolutionary Space Battles
Nov 5, 2015
$6.99
N/A (N/A/63%)
7,652 ±2,645
5,978 ±2,338
04:00 (03:01)
61
TASTEE: Lethal Tactics
May 10, 2016
$14.99
60% (85%)
18,174 ±4,077
12,674 ±3,405
03:27 (01:19)
62
Star Ruler
Sep 20, 2010
$9.99
60% (85%)
150,655 ±11,737
63,849 ±7,642
08:31 (01:29)
63
Age of Wonders
Oct 2010
$5.99
60% (85%)
108,328 ±9,953
47,827 ±6,614
07:48 (01:21)
64
Rooks Keep
Dec 5, 2014
$7.99
N/A (N/A)
27,500 ±5,015
10,522 ±3,102
03:10 (01:55)
65
The Men of Yoshiwara: Kikuya
Oct 14, 2015
$29.99
60% (85%)
8,370 ±2,767
5,978 ±2,338
15:02 (10:23)
66
Breach & Clear
Mar 21, 2014
$14.99
60% (85%)
233,873 ±14,622
132,959 ±11,026
05:21 (02:04)
67
Hunting Unlimited 2008
Jan 29, 2008
$9.99
N/A (N/A)
28,457 ±5,102
7,413 ±2,604
05:41 (02:24)
68
The Settlers: Heritage of Kings
Jul 22, 2008
$9.99
60% (85%/58%)
23,913 ±4,677
17,218 ±3,968
07:51 (03:43)
69
Hitman GO: Definitive Edition
Feb 23, 2016
$7.99
58% (84%/72%)
72,458 ±8,140
30,370 ±5,270
02:50 (01:07)
70
Civilization IV: Warlords
Apr 6, 2007
$4.99
58% (84%/84%)
1,277,694 ±34,132
30,370 ±5,270
14:10 (00:44)
71
Fleet Command
Oct 26, 2006
$9.99
58% (84%)
44,479 ±6,378
22,239 ±4,510
12:12 (02:00)
72
Crush Your Enemies
Jul 13, 2016
$9.99
58% (84%/63%)
19,131 ±4,183
14,109 ±3,592
03:00 (02:37)
73
Civilization IV: Warlords
Apr 6, 2007
$4.99
58% (84%/84%)
1,277,694 ±34,132
174,807 ±12,642
09:10 (00:54)
74
Zoo Empire
Sep 3, 2015
$6.99
N/A (N/A/59%)
7,652 ±2,645
2,391 ±1,479
02:06 (02:34)
75
Ceville
Feb 27, 2009
$5.99
55% (83%/73%)
32,044 ±5,414
11,718 ±3,274
04:56 (02:25)
76
Space Empires IV Deluxe
Feb 7, 2006
$9.99
55% (83%/79%)
74,371 ±8,247
30,848 ±5,312
18:36 (01:11)
77
Arcane Sorcery
Sep 15, 2015
$6.99
N/A (N/A)
16,022 ±3,828
10,522 ±3,102
07:39 (05:35)
78
Braveland
Mar 17, 2014
$4.99
55% (83%)
43,522 ±6,309
31,327 ±5,353
04:27 (03:08)
79
Age of Gladiators
Feb 25, 2016
$9.99
55% (83%)
21,522 ±4,437
19,848 ±4,261
07:21 (03:41)
80
Unity of Command: Stalingrad Campaign
Oct 17, 2012
$19.99
55% (83%/84%)
107,610 ±9,920
65,762 ±7,755
15:45 (01:54)
81
Honey Rose: Underdog Fighter Extraordinaire
Sep 29, 2016
Free
N/A (N/A)
19,848 ±4,261
2,630 ±1,551
02:22 (02:33)
82
Fate of the World
Feb 28, 2011
$9.99
52% (82%/70%)
87,523 ±8,947
70,305 ±8,019
04:51 (01:16)
83
Anomaly Warzone Earth Mobile Campaign
Nov 6, 2013
$4.99
52% (82%)
121,480 ±10,540
55,957 ±7,154
03:47 (02:56)
84
Romopolis
May 18, 2016
$3.99
N/A (N/A)
10,522 ±3,102
5,261 ±2,193
02:41 (03:02)
85
Pick a Hero
Jun 9, 2016
$0.99
N/A (N/A)
3,953 ±2,333
2,516 ±1,861
06:33 (05:34)
86
Vietnam 65
Mar 5, 2015
$9.99
52% (82%/81%)
15,544 ±3,770
11,718 ±3,274
10:58 (04:01)
87
Battle Group 2
Jun 13, 2014
$7.99
52% (82%)
64,566 ±7,684
33,001 ±5,494
04:56 (03:23)
88
ROD: Revolt Of Defense
Aug 12, 2016
$0.99
52% (82%)
20,805 ±4,362
17,696 ±4,023
02:12 (01:23)
89
Halo: Spartan Strike
Apr 16, 2015
$2.99
50% (81%)
100,197 ±9,572
48,544 ±6,663
03:44 (00:43)
90
Harvest: Massive Encounter
Jan 23, 2009
$7.99
50% (81%)
39,696 ±6,025
20,566 ±4,337
05:43 (01:52)
91
Act of War: Direct Action
Mar 12, 2008
$2.99
50% (81%/82%)
26,305 ±4,905
17,696 ±4,023
07:40 (01:50)
92
Seven Kingdoms 2 HD
Feb 4, 2015
$9.99
50% (81%)
40,653 ±6,098
14,109 ±3,592
28:56 (00:46)
93
Sins of a Solar Empire: Trinity
Nov 16, 2011
$19.99
50% (81%/87%)
273,330 ±15,807
182,699 ±12,925
21:27 (05:28)
94
Fat Chicken
Dec 4, 2014
$9.99
N/A (N/A)
7,891 ±2,686
5,261 ±2,193
06:03 (02:46)
95
Mushroom Wars
Apr 7, 2016
$9.99
50% (81%/80%)
16,979 ±3,941
10,522 ±3,102
03:28 (03:51)
96
Monday Night Combat
Jan 24, 2011
$4.99
50% (81%/82%)
314,940 ±16,967
253,961 ±15,237
10:39 (02:52)
97
Heroes of Might & Magic V: Hammers of Fate
Oct 10, 2008
$9.99
48% (80%/66%)
243,678 ±14,925
67,675 ±7,867
08:11 (00:42)
98
Industry Giant 2
Aug 14, 2015
$6.99
48% (80%)
59,544 ±7,379
36,588 ±5,785
14:15 (02:59)
99
Aeon Command
Jul 3, 2014
$2.99
48% (80%)
38,979 ±5,971
27,979 ±5,059
02:56 (01:58)
100
Galcon Fusion
Feb 11, 2010
$9.99
48% (80%/68%)
180,785 ±12,857
71,740 ±8,100
04:03 (00:35)
101
Perimeter: Emperor's Testament
May 22, 2014
$3.99
N/A (N/A/72%)
26,066 ±4,882
2,152 ±1,403
03:06 (04:48)
102
Act of War: High Treason
Mar 12, 2008
$2.99
48% (80%/74%)
26,783 ±4,949
18,892 ±4,157
15:25 (02:45)
103
Perimeter
Apr 3, 2014
$3.99
48% (80%/77%)
37,544 ±5,860
15,783 ±3,799
03:51 (01:30)
104
7,62 High Calibre
Apr 30, 2014
$4.99
48% (80%)
47,588 ±6,597
28,696 ±5,123
09:48 (02:34)
105
Men of War: Red Tide
Nov 1, 2009
$4.99
48% (80%/77%)
276,200 ±15,890
77,240 ±8,405
10:17 (01:00)
106
Deadstone
Nov 12, 2014
$7.99
N/A (N/A)
3,109 ±1,686
1,913 ±1,322
06:59 (09:14)
107
CivCity: Rome
Apr 6, 2007
$9.99
48% (80%/67%)
78,436 ±8,469
48,783 ±6,679
10:34 (03:22)
108
rymdkapsel
Jan 30, 2014
$7.99
48% (80%/77%)
17,696 ±4,023
15,305 ±3,741
03:26 (01:59)
109
TableTop Soccer
Apr 22, 2016
$1.99
N/A (N/A)
6,696 ±2,474
4,544 ±2,038
06:34 (02:42)
110
Supreme Ruler 2020 Gold
Jul 9, 2009
$9.99
48% (80%/65%)
57,870 ±7,275
18,652 ±4,130
80:38 (08:15)
111
Legends of Callasia
Jun 10, 2016
Free
48% (80%)
59,784 ±7,394
17,696 ±4,023
06:34 (00:55)
112
Eador: Genesis
Oct 14, 2013
$5.99
48% (80%)
53,327 ±6,984
16,022 ±3,828
29:52 (02:42)
113
Battlevoid: Harbinger
Feb 24, 2016
$9.99
48% (80%)
32,283 ±5,434
24,153 ±4,700
10:29 (03:32)
114
Fantasy Wars
Aug 6, 2010
$4.99
45% (79%/67%)
73,414 ±8,194
20,326 ±4,312
06:59 (01:13)
115
MAZE LORD
Jun 17, 2016
$4.99
45% (79%)
19,370 ±4,209
13,870 ±3,562
04:35 (05:06)
116
Star Wolves 3: Civil War
Mar 2, 2010
$4.99
45% (79%)
141,328 ±11,368
63,131 ±7,598
09:50 (02:27)
117
Fortified
Feb 3, 2016
$14.99
45% (79%/66%)
14,109 ±3,592
12,196 ±3,340
05:12 (03:02)
118
Starscape
Nov 3, 2008
$9.99
45% (79%)
16,022 ±3,828
11,957 ±3,307
03:07 (00:58)
119
Reprisal Universe
Sep 15, 2014
$6.99
45% (79%)
52,849 ±6,952
30,131 ±5,249
02:44 (00:31)
120
UFO: Extraterrestrials Gold
Feb 17, 2010
$9.99
45% (79%/68%)
109,284 ±9,997
33,718 ±5,553
17:25 (02:17)
121
Ironcast
Mar 26, 2015
$14.99
45% (79%/75%)
27,022 ±4,971
25,587 ±4,837
19:36 (05:52)
122
Imperial Glory
Apr 11, 2014
$0.74
45% (79%/69%)
88,480 ±8,995
47,588 ±6,597
08:48 (02:00)
123
Codename: Panzers, Phase One
Feb 18, 2016
$14.99
N/A (N/A/81%)
13,152 ±3,468
8,848 ±2,845
10:55 (04:01)
124
Stars in Shadow
Jan 19, 2017
$24.99
44% (78%/74%)
10,761 ±3,137
9,565 ±2,958
15:44 (05:07)
125
Demolition Inc.
Sep 19, 2011
$5.99
44% (78%)
95,893 ±9,364
76,045 ±8,339
02:01 (01:02)
126
Dominions 3: The Awakening
Sep 10, 2013
$19.99
44% (78%/82%)
14,587 ±3,652
6,935 ±2,518
22:07 (05:16)
127
Star Hammer: The Vanguard Prophecy
Jun 4, 2015
$19.99
44% (78%/69%)
11,957 ±3,307
8,848 ±2,845
04:52 (01:55)
128
Strategy & Tactics: Wargame Collection
Apr 22, 2016
$9.99
41% (77%)
9,326 ±2,920
6,935 ±2,518
14:18 (03:22)
129
Ironclad Tactics
Sep 18, 2013
$14.99
41% (77%/69%)
93,023 ±9,223
54,523 ±7,061
05:01 (02:15)
130
Warhammer 40,000: Armageddon
Nov 26, 2014
$39.99
41% (77%/68%)
35,153 ±5,670
31,327 ±5,353
33:30 (10:09)
131
Where's My Helmet?
May 20, 2016
$0.99
N/A (N/A)
9,805 ±2,994
6,457 ±2,430
03:02 (02:44)
132
McDroid - Arcade Tower Defense
Sep 5, 2014
$9.99
41% (77%)
12,196 ±3,340
7,891 ±2,686
05:35 (02:14)
133
Toy Soldiers: Complete
Feb 17, 2016
$14.99
41% (77%)
65,523 ±7,741
55,718 ±7,138
10:09 (04:45)
134
Making History II: The War of the World
Aug 27, 2010
$14.99
41% (77%/38%)
44,240 ±6,361
30,370 ±5,270
92:19 (06:17)
135
Imperium Romanum Gold Edition
Nov 25, 2008
$9.99
41% (77%/63%)
150,655 ±11,737
51,653 ±6,873
08:26 (01:29)
136
Total Extreme Wrestling
Mar 19, 2015
$19.99
41% (77%)
8,848 ±2,845
4,544 ±2,038
44:29 (17:54)
137
WARSHIFT
Oct 12, 2016
$12.99
41% (77%)
34,914 ±5,651
28,457 ±5,102
02:11 (00:47)
138
Codex of Victory
Mar 16, 2017
$14.99
41% (77%)
4,544 ±2,038
4,304 ±1,984
08:08 (04:22)
139
Sengoku Jidai: Shadow of the Shogun
May 19, 2016
$29.99
39% (76%/80%)
4,304 ±1,984
3,826 ±1,870
16:20 (10:47)
140
Fear Equation
Jan 15, 2016
$14.99
N/A (N/A)
11,478 ±3,240
6,696 ±2,474
03:49 (05:57)
141
Cubemen
Mar 16, 2012
$3.99
39% (76%/74%)
192,981 ±13,283
110,480 ±10,051
01:48 (00:46)
142
ORB
Mar 13, 2014
$1.24
N/A (N/A)
16,739 ±3,913
7,413 ±2,604
04:08 (00:45)
143
Hegemony III: Clash of the Ancients
Aug 25, 2015
$29.99
39% (76%)
21,761 ±4,461
20,326 ±4,312
09:26 (05:21)
144
Pike and Shot : Campaigns
Aug 13, 2015
$39.99
39% (76%)
6,217 ±2,384
5,739 ±2,291
14:20 (05:05)
145
Grand Ages: Rome
Mar 20, 2009
$9.99
39% (76%/72%)
213,786 ±13,980
119,328 ±10,446
10:05 (02:42)
146
King Arthur - The Role-playing Wargame
Nov 24, 2009
$9.99
37% (75%)
266,156 ±15,598
208,764 ±13,815
15:53 (02:27)
147
Victory At Sea
Aug 8, 2014
$24.99
37% (75%)
41,609 ±6,169
31,805 ±5,393
17:38 (04:38)
148
Airship Dragoon
Aug 26, 2014
$19.99
N/A (N/A)
16,739 ±3,913
9,326 ±2,920
05:05 (03:01)
149
Lords of the Realm
Dec 3, 2015
$1.99
N/A (N/A)
16,022 ±3,828
4,783 ±2,091
07:21 (00:48)
150
Cossacks: European Wars
Aug 26, 2011
$4.99
37% (75%/74%)
108,328 ±9,953
49,262 ±6,712
16:08 (01:46)
151
Anomaly Korea
Nov 6, 2013
$4.99
35% (74%)
189,155 ±13,151
88,958 ±9,020
02:46 (01:28)
152
Hidden Dimensions 3
Oct 12, 2016
Free
N/A (N/A)
13,631 ±3,531
1,435 ±1,145
20:11 (05:44)
153
Supreme Ruler 1936
May 9, 2014
$19.99
35% (74%)
28,696 ±5,123
22,718 ±4,558
47:43 (14:22)
154
Little King's Story
Aug 5, 2016
$24.99
35% (74%/62%)
3,348 ±1,750
2,630 ±1,551
05:53 (08:01)
155
Age of Wonders II: The Wizard's Throne
Oct 2010
$9.99
35% (74%/86%)
80,588 ±8,585
35,631 ±5,709
09:08 (00:53)
156
American Conquest: Fight Back
Aug 26, 2011
$4.99
35% (74%/66%)
100,197 ±9,572
35,392 ±5,689
17:56 (02:17)
157
Machines At War 3
Jul 23, 2014
$14.99
N/A (N/A)
15,544 ±3,770
2,630 ±1,551
01:34 (02:57)
158
Battle Fleet 2
Nov 20, 2014
$14.99
34% (73%)
22,479 ±4,534
20,566 ±4,337
09:51 (03:28)
159
688(I) Hunter/Killer
Oct 26, 2006
$9.99
N/A (N/A)
40,653 ±6,098
15,065 ±3,712
07:39 (00:38)
160
Spirit of War
Mar 12, 2015
$9.99
N/A (N/A)
17,696 ±4,023
9,805 ±2,994
03:09 (03:10)
161
Deadnaut
Dec 8, 2014
$9.99
34% (73%)
20,805 ±4,362
14,826 ±3,682
03:16 (03:13)
162
Pongo
May 11, 2015
$0.99
34% (73%)
48,305 ±6,647
37,305 ±5,841
04:02 (03:24)
163
Caveman Craig
Aug 28, 2015
$10.99
N/A (N/A)
12,435 ±3,372
6,457 ±2,430
05:53 (04:14)
164
Ravenmark: Scourge of Estellion
Sep 10, 2015
$14.99
N/A (N/A/75%)
14,587 ±3,652
6,217 ±2,384
06:07 (05:13)
165
Hogs of War
Jul 28, 2015
$4.99
32% (72%)
5,978 ±2,338
5,261 ±2,193
03:59 (00:21)
166
Lux Delux
May 1, 2015
$14.99
32% (72%)
36,588 ±5,785
19,131 ±4,183
60:10 (02:12)
167
Warhammer 40,000: Armageddon - Da Orks
Aug 18, 2016
$19.99
N/A (N/A)
2,630 ±1,551
1,435 ±1,145
01:20 (01:26)
168
Scourge of War: Waterloo
Nov 19, 2015
$49.99
32% (72%)
5,739 ±2,291
5,022 ±2,143
09:19 (04:39)
169
Commander: The Great War
Jul 25, 2014
$29.99
30% (71%)
9,805 ±2,994
8,848 ±2,845
55:45 (06:03)
170
Hero Academy
Aug 10, 2012
$4.99
30% (71%/75%)
215,221 ±14,027
131,285 ±10,957
13:32 (01:31)
171
There Came an Echo
Feb 24, 2015
$14.99
30% (71%/58%)
35,392 ±5,689
18,174 ±4,077
02:22 (01:48)
172
Majesty 2
Sep 17, 2009
$9.99
30% (71%/72%)
99,958 ±9,561
66,240 ±7,783
17:15 (06:59)
173
Tank Battle: 1944
Mar 1, 2016
$9.99
N/A (N/A)
3,826 ±1,870
2,870 ±1,620
25:13 (03:26)
174
Survivor Squad: Gauntlets
Nov 16, 2015
$4.99
29% (70%)
22,718 ±4,558
12,196 ±3,340
03:50 (03:30)
175
Rise: Battle Lines
Nov 17, 2015
$5.99
N/A (N/A)
10,044 ±3,031
4,065 ±1,928
02:56 (03:04)
176
Oddworld: Munch's Oddysee
Dec 20, 2010
$4.99
29% (70%)
217,851 ±14,113
78,675 ±8,482
02:44 (00:54)
177
Othello
Mar 19, 2015
$9.99
N/A (N/A)
9,565 ±2,958
6,217 ±2,384
04:39 (04:20)
178
Sol 0: Mars Colonization
Jan 15, 2016
$3.99
29% (70%)
22,239 ±4,510
20,805 ±4,362
05:55 (04:27)
179
Order of War
Sep 17, 2009
$7.99
29% (70%/69%)
187,003 ±13,076
144,437 ±11,492
12:10 (02:20)
180
Elven Legacy
Apr 7, 2009
$4.99
29% (70%/71%)
85,849 ±8,861
27,261 ±4,993
05:12 (01:07)
181
Heroes of Normandie
Oct 1, 2015
$29.99
29% (70%/65%)
9,326 ±2,920
8,131 ±2,727
07:42 (05:20)
182
RISK: Factions
Mar 8, 2011
$9.99
29% (70%/77%)
70,545 ±8,032
64,327 ±7,670
13:13 (04:03)
183
Rome: Total War - Alexander
Aug 28, 2007
$4.99
29% (70%/79%)
796,556 ±26,967
323,070 ±17,184
04:49 (00:43)
184
Panzer Tactics HD
May 22, 2014
$2.49
29% (70%/69%)
30,848 ±5,312
13,870 ±3,562
32:56 (05:29)
185
Kaiju-A-GoGo
Apr 23, 2015
$13.99
27% (69%)
19,131 ±4,183
11,000 ±3,172
13:39 (05:37)
186
The Hive
Aug 25, 2016
$19.99
27% (69%)
15,544 ±3,770
10,522 ±3,102
04:19 (02:58)
187
Space Colony: Steam Edition
Apr 30, 2015
$14.99
27% (69%/74%)
39,935 ±6,043
27,979 ±5,059
04:53 (02:08)
188
Zombie City Defense 2
Aug 19, 2016
$9.99
27% (69%)
10,522 ±3,102
10,044 ±3,031
04:37 (03:28)
189
The Nightmare Cooperative
Jul 16, 2014
$4.99
N/A (N/A)
69,588 ±7,978
30,370 ±5,270
01:55 (00:58)
190
Beasts Battle
Jun 15, 2016
$1.99
N/A (N/A)
16,022 ±3,828
9,326 ±2,920
02:49 (03:07)
191
American Conquest
Aug 26, 2011
$4.99
27% (69%/76%)
111,676 ±10,106
52,610 ±6,936
05:46 (00:49)
192
Sengoku
Sep 15, 2011
$9.99
27% (69%/70%)
117,415 ±10,362
67,436 ±7,853
04:49 (01:31)
193
Deadlock II: Shrine Wars
Oct 23, 2014
$6.99
N/A (N/A)
12,196 ±3,340
2,391 ±1,479
06:35 (11:04)
194
LA Cops
Mar 13, 2015
$14.99
27% (69%/45%)
14,826 ±3,682
6,457 ±2,430
03:22 (00:46)
195
BattleLore: Command
Mar 31, 2015
$6.99
27% (69%)
7,174 ±2,561
5,261 ±2,193
03:17 (03:10)
196
REDCON
Apr 22, 2016
$5.99
26% (68%)
19,848 ±4,261
18,652 ±4,130
04:58 (02:23)
197
Warrior Kings
Apr 24, 2014
$9.99
N/A (N/A/73%)
9,805 ±2,994
3,109 ±1,686
02:53 (02:55)
198
1849
May 8, 2014
$14.99
26% (68%)
21,522 ±4,437
18,413 ±4,104
08:41 (03:39)
199
Zafehouse: Diaries
Sep 6, 2013
$4.99
26% (68%)
61,697 ±7,512
33,001 ±5,494
07:44 (02:19)
200
Battle Worlds: Kronos
Nov 4, 2013
$19.99
26% (68%/71%)
30,131 ±5,249
23,674 ±4,653
08:38 (01:34)
201
Nomad Fleet
Apr 19, 2016
$9.99
25% (67%)
7,174 ±2,561
5,500 ±2,243
04:13 (03:12)
202
Sorcerer King
Jul 16, 2015
$19.99
25% (67%/75%)
44,957 ±6,412
33,957 ±5,573
19:08 (07:38)
203
Theatre of War 2: Africa 1943
Jul 9, 2010
$4.99
25% (67%/63%)
112,154 ±10,127
36,827 ±5,804
04:06 (00:52)
204
Steam Squad
Jul 28, 2016
$17.99
N/A (N/A)
1,913 ±1,322
1,435 ±1,145
37:04 (72:36)
205
Royal Defense
Nov 10, 2014
$5.99
25% (67%)
42,088 ±6,204
24,631 ±4,746
04:42 (03:52)
206
The Few
Jun 18, 2014
$7.99
25% (67%)
36,827 ±5,804
20,805 ±4,362
03:54 (02:52)
207
Spice Road
Apr 24, 2014
$19.99
N/A (N/A)
9,565 ±2,958
7,413 ±2,604
06:10 (02:38)
208
Port Royale 3
May 4, 2012
$14.99
24% (66%)
212,112 ±13,926
157,829 ±12,013
30:21 (03:51)
209
Chainsaw Warrior
Oct 7, 2013
$4.99
24% (66%)
52,370 ±6,921
27,022 ±4,971
03:45 (01:36)
210
Mosby's Confederacy
Nov 19, 2008
$9.99
N/A (N/A)
9,565 ±2,958
4,304 ±1,984
04:40 (02:18)
211
March of the Eagles
Feb 18, 2013
$19.99
24% (66%/71%)
80,110 ±8,559
52,610 ±6,936
11:07 (02:28)
212
Jagged Alliance - Back in Action
Feb 8, 2012
$19.99
24% (66%/62%)
281,222 ±16,033
186,046 ±13,042
46:20 (07:24)
213
SunAge: Battle for Elysium
Dec 15, 2014
$5.99
24% (66%)
7,174 ±2,561
5,500 ±2,243
05:59 (08:16)
214
Epic Manager - Create Your Own Adventuring Agency!
Dec 12, 2016
$17.99
24% (66%)
9,805 ±2,994
8,848 ±2,845
05:09 (03:12)
215
Take Thy Throne
Jul 5, 2016
$1.99
24% (66%)
27,022 ±4,971
15,783 ±3,799
02:45 (02:26)
216
Europa Universalis: Rome - Gold Edition
Dec 18, 2008
$9.99
24% (66%/79%)
76,284 ±8,352
38,022 ±5,897
14:09 (02:08)
217
Pyrite Heart
Sep 25, 2014
$4.99
24% (66%)
10,761 ±3,137
7,174 ±2,561
02:13 (01:30)
218
A Game of Dwarves
Oct 23, 2012
$9.99
22% (65%/60%)
107,371 ±9,909
71,023 ±8,059
10:30 (04:14)
219
The Seven Years War (1756-1763)
Oct 30, 2015
$19.99
22% (65%)
7,891 ±2,686
3,587 ±1,811
07:06 (05:39)
220
Theatre of War 2: Kursk 1943
Jul 9, 2010
$4.99
22% (65%)
79,871 ±8,547
27,740 ±5,037
05:20 (00:53)
221
Port Royale 2
Jun 16, 2009
$4.99
22% (65%/75%)
76,045 ±8,339
57,392 ±7,245
16:47 (01:38)
222
Fallen Enchantress
Oct 23, 2012
$9.99
22% (65%/78%)
111,197 ±10,084
89,436 ±9,044
33:17 (09:44)
223
Men of War: Condemned Heroes
Apr 12, 2012
$7.99
22% (65%/57%)
143,481 ±11,454
50,696 ±6,809
11:24 (01:22)
224
Legions of Ashworld
Jul 4, 2014
$4.99
N/A (N/A)
8,131 ±2,727
1,913 ±1,322
01:53 (02:25)
225
Frozen Synapse Prime
Nov 14, 2014
$24.99
22% (65%/83%)
105,219 ±9,809
49,023 ±6,696
03:50 (02:28)
226
Patrician IV - Steam Special Edition
Sep 17, 2010
$14.99
21% (64%/66%)
188,199 ±13,118
85,610 ±8,848
16:07 (01:44)
227
Close Combat - Gateway to Caen
Jun 6, 2014
$39.99
21% (64%)
21,283 ±4,412
17,457 ±3,996
30:43 (11:52)
228
Hunters Of The Dead
Sep 4, 2014
$4.99
21% (64%)
26,066 ±4,882
16,022 ±3,828
03:53 (02:25)
229
Revolution Under Siege Gold
Jul 2, 2015
$24.99
N/A (N/A)
9,805 ±2,994
4,065 ±1,928
36:51 (09:03)
230
Assault on Arnhem
Mar 11, 2016
$9.99
N/A (N/A)
4,065 ±1,928
2,630 ±1,551
04:46 (09:21)
231
Marauder
Apr 4, 2014
$9.99
21% (64%)
27,261 ±4,993
17,696 ±4,023
07:06 (02:21)
232
Crusader Kings Complete
Feb 14, 2012
$9.99
21% (64%/73%)
92,545 ±9,200
35,870 ±5,728
04:42 (00:27)
233
Supreme Ruler: Cold War
Jul 29, 2011
$9.99
21% (64%/63%)
39,696 ±6,025
25,587 ±4,837
26:39 (04:26)
234
The Living Dungeon
Nov 2, 2015
$12.99
N/A (N/A)
14,587 ±3,652
9,326 ±2,920
05:28 (05:44)
235
Jagged Alliance: Crossfire
Aug 24, 2012
$14.99
20% (63%/63%)
121,480 ±10,540
40,892 ±6,115
14:57 (03:53)
236
Zombie Tycoon 2: Brainhov's Revenge
Dec 9, 2013
$9.99
20% (63%)
49,501 ±6,728
31,805 ±5,393
05:05 (02:02)
237
Desperados: Wanted Dead or Alive
Nov 20, 2013
$4.99
20% (63%/78%)
102,110 ±9,663
47,588 ±6,597
07:11 (00:29)
238
Legions of Steel
Jul 16, 2015
$19.99
N/A (N/A/64%)
7,652 ±2,645
1,435 ±1,145
02:17 (02:40)
239
Battle of the Bulge
Sep 17, 2015
$9.99
20% (63%)
13,152 ±3,468
5,978 ±2,338
03:57 (01:21)
240
Skyshine's BEDLAM
Sep 16, 2015
$19.99
20% (63%/67%)
41,848 ±6,187
30,609 ±5,291
04:42 (03:22)
241
War, the Game
Jan 12, 2015
$6.99
20% (63%/65%)
37,783 ±5,878
25,348 ±4,815
04:45 (02:23)
242
Drive on Moscow
Oct 27, 2016
$9.99
N/A (N/A)
2,870 ±1,620
1,674 ±1,237
61:35 (116:37)
243
Desert Ashes
Nov 10, 2014
$4.99
N/A (N/A)
28,218 ±5,080
14,826 ±3,682
03:00 (03:03)
244
Ninja Cats vs Samurai Dogs
Feb 21, 2014
$4.99
N/A (N/A)
10,283 ±3,067
3,348 ±1,750
01:15 (00:59)
245
Close Combat - Panthers in the Fog
May 14, 2015
$39.99
N/A (N/A)
12,435 ±3,372
7,174 ±2,561
26:38 (15:51)
246
Alea Jacta Est
Nov 4, 2014
$24.99
N/A (N/A)
10,522 ±3,102
4,783 ±2,091
08:33 (07:38)
247
To End All Wars
Aug 29, 2014
$39.99
17% (61%/71%)
11,718 ±3,274
6,457 ±2,430
63:18 (57:58)
248
Hydrophobia: Prophecy
May 9, 2011
$4.99
17% (61%/64%)
334,071 ±17,474
161,176 ±12,140
02:00 (00:50)
249
Men of War: Vietnam
Sep 8, 2011
$7.99
17% (61%/68%)
180,785 ±12,857
104,741 ±9,787
05:51 (01:29)
250
Sovereignty: Crown of Kings
Feb 2, 2017
$24.99
17% (61%)
6,696 ±2,474
6,457 ±2,430
26:15 (09:35)
251
SPACECOM
Sep 17, 2014
$9.99
17% (61%/68%)
79,871 ±8,547
38,261 ±5,915
03:53 (02:59)
252
Goblin Defenders: Steeln Wood
Nov 23, 2015
$2.99
N/A (N/A)
20,805 ±4,362
13,870 ±3,562
04:03 (03:38)
253
Antisquad
May 22, 2014
$5.99
17% (61%)
53,327 ±6,984
32,522 ±5,454
05:04 (02:02)
254
Urja
Jan 9, 2015
$9.99
17% (60%)
36,348 ±5,766
21,044 ±4,387
03:42 (03:37)
255
Disciples III - Renaissance Steam Special Edition
Jul 16, 2010
$14.99
17% (60%/56%)
187,242 ±13,084
73,175 ±8,181
14:43 (03:18)
256
7 Grand Steps: What Ancients Begat
Jun 7, 2013
$19.99
17% (60%)
171,220 ±12,512
54,283 ±7,046
05:50 (03:11)
257
Gnumz: Masters of Defense
Dec 21, 2015
$4.99
N/A (N/A)
13,392 ±3,500
8,609 ±2,806
08:17 (05:37)
258
Maelstrom: The Battle for Earth Begins
Feb 13, 2009
$4.99
17% (60%/58%)
38,261 ±5,915
10,761 ±3,137
03:14 (01:04)
259
Battleplan: American Civil War
Jul 4, 2014
$9.99
17% (60%/66%)
60,023 ±7,409
23,913 ±4,677
03:37 (02:02)
260
Codename: Panzers - Cold War
May 6, 2009
$14.99
16% (59%)
31,805 ±5,393
20,566 ±4,337
03:21 (01:04)
261
Dungeon Manager ZV
Oct 16, 2015
$9.99
15% (58%)
2,870 ±1,620
2,391 ±1,479
04:38 (05:19)
262
Armada 2526 Gold Edition
Feb 28, 2013
$19.99
15% (58%/66%)
52,849 ±6,952
19,609 ±4,235
13:01 (02:29)
263
Cossacks II: Battle for Europe
Aug 26, 2011
$4.99
14% (57%/69%)
115,502 ±10,277
66,718 ±7,811
12:03 (01:07)
264
Prophour23
Oct 22, 2014
$2.49
N/A (N/A)
18,892 ±4,157
9,805 ±2,994
02:28 (02:39)
265
Revelations 2012
Apr 23, 2012
Free
14% (57%)
24,153 ±4,700
10,761 ±3,137
03:00 (00:56)
266
Gates of Horizon
Dec 18, 2014
$9.99
14% (57%)
4,783 ±2,091
4,304 ±1,984
09:03 (04:09)
267
Horizon
Feb 6, 2014
$29.99
14% (57%)
77,719 ±8,431
50,218 ±6,777
14:58 (03:29)
268
Abalone
Apr 23, 2014
$4.99
N/A (N/A)
13,152 ±3,468
7,652 ±2,645
05:14 (04:30)
269
Delve Deeper
Sep 24, 2010
$4.99
13% (56%)
97,567 ±9,446
71,979 ±8,113
03:49 (01:47)
270
Check vs Mate
Aug 16, 2012
$19.99
13% (56%/69%)
11,718 ±3,274
9,805 ±2,994
03:03 (01:05)
271
Gratuitous Tank Battles
May 17, 2012
$9.99
13% (56%/69%)
71,023 ±8,059
38,501 ±5,934
02:48 (00:37)
272
Pain Train
Jan 11, 2017
$0.99
12% (55%)
12,674 ±3,405
8,370 ±2,767
03:13 (02:27)
273
Frontline : Road to Moscow
Aug 8, 2014
$9.99
N/A (N/A)
17,218 ±3,968
4,304 ±1,984
09:51 (20:32)
274
Warhammer 40,000: Kill Team
May 22, 2014
$9.99
12% (55%)
87,045 ±8,922
49,023 ±6,696
02:28 (01:24)
275
East India Company
Jul 31, 2009
$9.99
12% (55%/67%)
59,305 ±7,365
32,522 ±5,454
11:42 (01:10)
276
Pirates of Black Cove
Aug 2, 2011
$9.99
12% (54%/56%)
71,262 ±8,073
39,696 ±6,025
06:47 (01:40)
277
Clockwork Empires
Oct 26, 2016
$29.99
12% (54%/58%)
17,935 ±4,050
17,457 ±3,996
22:15 (06:06)
278
Z Steel Soldiers
Aug 1, 2014
$12.99
12% (54%)
37,305 ±5,841
20,087 ±4,286
04:38 (03:55)
279
Armada 2526
Apr 8, 2011
$14.99
N/A (N/A/66%)
17,935 ±4,050
11,718 ±3,274
13:47 (03:48)
280
9th Company: Roots Of Terror
Dec 3, 2009
$9.99
12% (54%)
31,327 ±5,353
10,522 ±3,102
04:10 (01:45)
281
The Settlers 7: Paths to a Kingdom: Deluxe Gold Edition
Mar 10, 2011
$19.99
12% (54%/79%)
143,002 ±11,435
132,002 ±10,987
22:46 (07:10)
282
Smugglers 5
Apr 11, 2014
$9.99
12% (54%)
34,914 ±5,651
15,305 ±3,741
08:03 (02:35)
283
Nightside
Aug 6, 2015
$13.99
12% (54%)
20,805 ±4,362
13,631 ±3,531
02:48 (03:13)
284
Crusaders: Thy Kingdom Come
Oct 8, 2009
$9.99
N/A (N/A)
18,174 ±4,077
8,609 ±2,806
03:39 (01:17)
285
The Campaign Series: Fall Weiss
May 30, 2014
$14.99
N/A (N/A)
34,435 ±5,612
18,413 ±4,104
03:26 (02:31)
286
Desert Law
Mar 25, 2015
$2.99
N/A (N/A)
11,957 ±3,307
1,435 ±1,145
02:32 (04:37)
287
Meridian: New World
Sep 26, 2014
$6.99
10% (52%/43%)
84,414 ±8,786
51,653 ±6,873
02:54 (01:10)
288
Royal Bounty HD
Aug 10, 2015
$2.99
10% (52%)
10,283 ±3,067
7,413 ±2,604
03:26 (03:35)
289
Chronostorm: Siberian Border
Nov 20, 2015
$0.99
N/A (N/A)
3,826 ±1,870
2,391 ±1,479
11:22 (04:17)
290
Star Traders: 4X Empires
Dec 16, 2014
$9.99
N/A (N/A)
9,805 ±2,994
6,217 ±2,384
17:13 (01:56)
291
PeriAreion
Feb 19, 2015
$5.99
N/A (N/A)
10,761 ±3,137
6,217 ±2,384
07:53 (05:02)
292
Arms Dealer
Mar 26, 2015
$12.99
9% (50%)
10,283 ±3,067
7,413 ±2,604
03:22 (02:20)
293
Toy Soldiers: War Chest
Aug 12, 2015
$14.99
9% (50%/60%)
14,109 ±3,592
10,044 ±3,031
06:47 (02:59)
294
Magic Quest
May 6, 2016
$1.99
N/A (N/A)
11,718 ±3,274
6,935 ±2,518
05:57 (04:51)
295
Battle Chess: Game of Kings
Dec 11, 2015
$29.99
8% (49%)
5,978 ±2,338
5,261 ±2,193
03:24 (02:51)
296
King Arthur II: The Role-Playing Wargame
Jan 27, 2012
$9.99
8% (49%/66%)
168,351 ±12,407
92,067 ±9,176
10:39 (02:10)
297
Planar Conquest
May 30, 2016
$4.99
8% (49%/53%)
27,022 ±4,971
11,718 ±3,274
10:00 (04:19)
298
Meridian: Squad 22
Aug 11, 2016
$14.99
N/A (N/A)
5,261 ±2,193
3,587 ±1,811
03:02 (03:42)
299
Leviathan: Warships
Apr 30, 2013
$9.99
8% (48%)
282,657 ±16,074
123,872 ±10,643
02:52 (01:00)
300
Synonymy
Mar 5, 2015
$1.99
N/A (N/A)
10,522 ±3,102
7,413 ±2,604
03:06 (01:16)
301
The Fleets of Sol
Apr 1, 2016
$8.99
N/A (N/A)
9,565 ±2,958
2,152 ±1,403
01:43 (01:46)
302
WARMACHINE: Tactics
Nov 20, 2014
Free
7% (47%)
279,070 ±15,972
101,871 ±9,652
04:29 (01:32)
303
Commander: Conquest of the Americas
Jul 30, 2010
$9.99
7% (46%/68%)
91,110 ±9,128
58,349 ±7,305
16:53 (02:13)
304
Theatre of War 3: Korea
Mar 24, 2011
$6.99
6% (45%/49%)
64,088 ±7,656
25,587 ±4,837
03:01 (01:10)
305
Carrier Command: Gaea Mission
Sep 28, 2012
$32.99
6% (45%)
244,156 ±14,940
84,175 ±8,774
11:20 (01:48)
306
Infection: Humanity's Last Gasp
May 26, 2016
$9.99
N/A (N/A)
6,935 ±2,518
3,109 ±1,686
04:17 (04:38)
307
Cossacks II: Napoleonic Wars
Aug 26, 2011
$4.99
6% (44%/73%)
114,784 ±10,245
55,957 ±7,154
05:51 (00:51)
308
The Kings' Crusade
Oct 8, 2010
$9.99
6% (44%/71%)
71,740 ±8,100
37,305 ±5,841
08:44 (02:01)
309
Rulers of Nations
Jul 16, 2014
$19.99
6% (44%/63%)
9,326 ±2,920
5,500 ±2,243
15:13 (04:58)
310
Skyward Collapse
May 23, 2013
$4.99
6% (43%/64%)
104,023 ±9,753
58,588 ±7,320
03:03 (01:23)
311
DUNGEONS - Steam Special Edition
Feb 10, 2011
$9.99
6% (43%/65%)
212,112 ±13,926
127,937 ±10,816
06:47 (01:40)
312
Hydraulic Empire
Jul 31, 2015
$7.99
N/A (N/A)
14,348 ±3,622
8,609 ±2,806
04:21 (04:16)
313
Sword of the Stars II: Enhanced Edition
Nov 30, 2012
$19.99
5% (42%/65%)
165,003 ±12,283
100,436 ±9,584
32:33 (02:34)
314
Risk
Jun 10, 2013
$9.99
5% (42%)
25,587 ±4,837
22,957 ±4,582
12:26 (02:30)
315
Ancient Space
Sep 23, 2014
$19.99
5% (42%)
52,610 ±6,936
38,501 ±5,934
03:16 (01:02)
316
Pride of Nations
Jun 7, 2011
$19.99
N/A (N/A/70%)
37,783 ±5,878
21,761 ±4,461
10:55 (01:16)
317
Draconian Wars
Aug 28, 2014
$5.99
N/A (N/A)
9,326 ±2,920
5,022 ±2,143
04:08 (01:57)
318
Guardians of Graxia
Nov 10, 2010
$0.49
5% (41%)
65,523 ±7,741
33,001 ±5,494
03:56 (00:44)
319
The Entente Gold
Jun 16, 2014
$1.99
5% (41%)
45,914 ±6,480
38,022 ±5,897
03:03 (02:18)
320
Naval War: Arctic Circle
Apr 10, 2012
$19.99
5% (41%/64%)
69,110 ±7,950
35,870 ±5,728
08:08 (01:39)
321
Dungeons - The Dark Lord
Sep 27, 2011
$19.99
4% (40%/72%)
182,938 ±12,933
63,371 ±7,613
03:03 (01:00)
322
Island Defense
Jul 23, 2015
$1.99
N/A (N/A)
13,152 ±3,468
7,891 ±2,686
05:00 (03:59)
323
Control Craft 2
Feb 15, 2016
$2.99
N/A (N/A)
11,478 ±3,240
7,413 ±2,604
04:40 (04:23)
324
Real Warfare 2: Northern Crusades
Nov 18, 2011
$4.99
4% (39%)
47,109 ±6,564
13,631 ±3,531
03:38 (01:20)
325
Gratuitous Space Battles 2
Apr 16, 2015
$9.99
4% (39%)
19,609 ±4,235
13,631 ±3,531
04:19 (02:06)
326
Stellar Impact
Apr 12, 2012
$9.99
4% (38%/74%)
105,219 ±9,809
71,979 ±8,113
06:40 (02:09)
327
Shadows of War
Jan 2, 2015
$2.99
3% (36%)
24,631 ±4,746
16,261 ±3,856
03:06 (01:48)
328
Sim Junta
Aug 18, 2015
$4.99
N/A (N/A)
5,739 ±2,291
2,870 ±1,620
02:40 (00:50)
329
The Game of Life
Jun 10, 2013
$9.99
N/A (N/A)
10,044 ±3,031
8,848 ±2,845
01:33 (01:23)
330
Strategic War in Europe
Mar 21, 2014
$14.99
N/A (N/A)
54,762 ±7,077
30,848 ±5,312
05:06 (03:27)
331
Jagged Alliance Flashback
Oct 21, 2014
$19.99
3% (34%)
34,435 ±5,612
27,261 ±4,993
08:50 (02:30)
332
Evopollution
Apr 23, 2014
$4.99
2% (33%)
14,826 ±3,682
11,718 ±3,274
03:41 (02:46)
333
Ancestory
Oct 13, 2015
$14.99
N/A (N/A)
5,500 ±2,243
3,587 ±1,811
06:07 (06:52)
334
Defenders of Time
Nov 4, 2014
Free
N/A (N/A/55%)
5,261 ±2,193
3,587 ±1,811
03:50 (04:45)
335
Pain Train 2
Mar 16, 2017
$6.99
N/A (N/A)
2,152 ±1,403
1,196 ±1,045
02:17 (02:36)
336
Into the Void
Dec 4, 2015
$4.99
N/A (N/A)
19,848 ±4,261
11,718 ±3,274
05:37 (05:17)
337
Mechs & Mercs: Black Talons
Jan 9, 2015
$9.99
2% (31%)
10,044 ±3,031
6,217 ±2,384
04:57 (02:44)
338
Tank Operations: European Campaign
Nov 22, 2013
$9.99
2% (30%)
49,979 ±6,761
7,891 ±2,686
07:12 (01:48)
339
A Game of Thrones - Genesis
Sep 28, 2011
$9.99
2% (30%)
205,655 ±13,712
157,350 ±11,995
05:31 (01:37)
340
Abyss Raiders: Uncharted
Apr 30, 2015
$4.99
1% (28%)
16,500 ±3,885
11,239 ±3,206
03:47 (03:20)
341
US and THEM
Mar 18, 2014
$2.49
1% (28%)
25,109 ±4,792
4,304 ±1,984
02:40 (01:28)
342
Starion Tactics
Sep 5, 2014
$9.99
N/A (N/A)
67,197 ±7,839
21,283 ±4,412
04:00 (03:07)
343
Ground Pounders
Jul 15, 2014
$9.99
N/A (N/A)
9,805 ±2,994
5,022 ±2,143
06:23 (03:55)
344
Power of Defense
Aug 4, 2010
$9.99
N/A (N/A)
11,239 ±3,206
5,261 ±2,193
02:25 (03:21)
345
Direct Hit: Missile War
Aug 7, 2014
$9.99
N/A (N/A)
1,674 ±1,237
1,435 ±1,145
03:20 (04:46)
346
APOX
Jan 20, 2011
$14.99
1% (25%/48%)
42,805 ±6,257
29,414 ±5,187
03:52 (01:23)
347
Perimeter 2: New Earth
Feb 10, 2009
$3.74
N/A (N/A/43%)
15,305 ±3,741
5,500 ±2,243
02:17 (01:33)
348
Uprising44: The Silent Shadows
Apr 18, 2014
$1.99
N/A (N/A)
5,261 ±2,193
1,913 ±1,322
00:38 (00:23)
349
Lords of the Black Sun
Sep 12, 2014
$29.99
1% (21%)
21,044 ±4,387
18,652 ±4,130
03:53 (02:25)
350
Human Extinction Simulator
Jan 21, 2015
$19.99
N/A (N/A)
7,413 ±2,604
4,065 ±1,928
04:10 (03:51)
351
Deadlock: Planetary Conquest
Oct 23, 2014
$6.99
N/A (N/A)
5,739 ±2,291
2,391 ±1,479
00:35 (00:57)
352
Gemini Wars
Nov 2, 2012
$14.99
0% (13%/53%)
38,979 ±5,971
28,218 ±5,080
04:50 (01:18)
353
Prison Tycoon 3: Lockdown
Jan 29, 2008
$9.99
0% (12%)
35,153 ±5,670
17,218 ±3,968
04:03 (01:38)
354
Citadels
Jul 25, 2013
$14.99
0% (11%/20%)
36,348 ±5,766
32,761 ±5,474
04:49 (01:58)
355
Russian Front
Jul 23, 2015
$14.99
N/A (N/A)
4,065 ±1,928
957 ±935
06:48 (08:53)