Freight Tycoon Inc.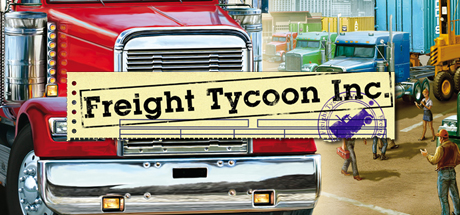 Store | Hub | SteamDB | Site
Developer: Nikita Publisher: 1C Company
Genre: Strategy
Languages: English, German, Russian, French, Traditional Chinese, Japanese, Czech
Tags: Strategy (33), Management (16), Simulation (15), Economy (12), Singleplayer (6), Indie (6)
Category: Single-player, Steam Cloud
Release date: Apr 3, 2014
Price: $4.99
Score rank: 18% Userscore: 62% Old userscore: 61%
Owners: 31,014 ± 5,979
Players in the last 2 weeks: 877 ± 1,718 (2.83%)
Players total: 23,788 ± 5,236 (76.7%)
Followers: 949
Peak concurrent players yesterday: 9
Playtime in the last 2 weeks: 02:28 (average) 02:28 (median)
Playtime total: 07:43 (average) 02:09 (median)

Steam Spy is still in beta, so expect major bugs.
Peak daily concurrent players:
CCU data courtesy of SteamDB. Used with permission.
Hourly concurrent players:
YouTube:
The views data is based on top 50 videos uploaded last week. Actual number of views might be more than the number shown.

The displayed number of videos uploaded yesterday is limited to 50, so if there were more videos uploaded, the number will still show 50.

If the game has commonly used word as its name (like "FEAR" or "Volume") its number of Youtube views might be wrong.
Games similar to this one:
#
Game
Release date

Price

Score rank
(Userscore / Metascore)

Owners

Players

Playtime (Median)

1
Total Annihilation
Dec 18, 2015
$4.99
95% (96%/86%)
91,237 ±10,255
65,341 ±8,678
14:33 (02:09)
2
Impossible Creatures Steam Edition
Nov 11, 2015
$9.99
95% (96%/72%)
85,215 ±9,910
62,029 ±8,456
10:47 (02:42)
3
Infested Planet
Mar 6, 2014
$14.99
89% (94%/75%)
302,015 ±18,654
168,924 ±13,953
08:04 (03:51)
4
The Magic Circle
Jul 9, 2015
$19.99
77% (91%/79%)
117,434 ±11,634
55,103 ±7,970
03:58 (03:05)
5
Battlezone 98 Redux
Apr 18, 2016
$19.99
77% (91%/75%)
35,832 ±6,427
25,896 ±5,463
16:04 (01:25)
6
Pang Adventures
Apr 18, 2016
$9.99
74% (90%)
21,981 ±5,033
8,431 ±3,117
02:22 (01:42)
7
Thea: The Awakening
Nov 20, 2015
$19.99
74% (90%/73%)
137,307 ±12,580
124,058 ±11,957
29:34 (09:58)
8
Sudden Strike Gold
May 22, 2017
$5.99
74% (90%)
49,985 ±7,590
9,937 ±3,384
08:42 (01:01)
9
Syrian Warfare
Feb 21, 2017
$19.99
70% (89%)
28,907 ±5,772
24,992 ±5,367
08:14 (03:51)
10
CRYPTARK
Jun 20, 2017
$14.99
64% (87%/80%)
48,178 ±7,452
34,327 ±6,290
05:34 (01:31)
11
Eador. Imperium
Jan 27, 2017
$19.99
64% (87%)
11,442 ±3,632
7,829 ±3,004
31:14 (04:09)
12
Executive Assault
Jul 17, 2015
$12.99
64% (87%)
43,661 ±7,094
40,650 ±6,845
08:08 (03:57)
13
Ultimate General: Civil War
Jul 14, 2017
$29.99
64% (87%)
91,839 ±10,288
88,828 ±10,118
68:18 (14:06)
14
STAR WARS Galactic Battlegrounds Saga
Mar 1, 2016
$5.99
61% (86%)
389,036 ±21,170
163,504 ±13,727
09:34 (01:47)
15
Bionic Dues
Oct 8, 2013
$9.99
61% (86%/71%)
369,163 ±20,622
219,811 ±15,915
03:48 (03:11)
16
Kingdom: Classic
Oct 21, 2015
N/A
58% (85%/74%)
600,115 ±26,287
322,189 ±19,266
07:45 (04:08)
17
Warhammer 40,000: Sanctus Reach
Jan 19, 2017
$29.99
58% (85%/68%)
20,476 ±4,858
18,970 ±4,676
22:47 (07:32)
18
Ghost Master
Dec 21, 2006
$4.99
58% (85%/81%)
174,946 ±14,199
100,872 ±10,782
03:35 (00:56)
19
SHOGUN: Total War - Collection
Jun 25, 2015
$9.99
56% (84%)
183,076 ±14,525
42,156 ±6,971
17:41 (01:12)
20
Crisis in the Kremlin
Mar 20, 2017
$4.99
56% (84%)
14,453 ±4,082
13,249 ±3,908
08:43 (03:08)
21
Marble Age
Mar 4, 2015
$5.99
53% (83%)
48,178 ±7,452
41,855 ±6,946
11:25 (03:45)
22
NOBUNAGA'S AMBITION: Sphere of Influence
Sep 1, 2015
$59.99
53% (83%/70%)
33,725 ±6,235
29,810 ±5,862
38:18 (18:19)
23
Unity of Command: Stalingrad Campaign
Oct 17, 2012
$19.99
51% (82%/84%)
99,066 ±10,686
58,717 ±8,227
12:26 (02:28)
24
Braveland
Mar 17, 2014
$4.99
48% (81%)
49,382 ±7,545
39,145 ±6,717
03:40 (03:28)
25
Age of Gladiators
Feb 25, 2016
$9.99
48% (81%)
31,918 ±6,065
26,799 ±5,558
07:49 (04:59)
26
Bloodsports.TV
Mar 30, 2015
$9.99
48% (81%/69%)
93,947 ±10,406
51,791 ±7,726
04:36 (03:37)
27
Defense Zone 3 Ultra HD
Dec 14, 2016
$2.99
46% (80%)
5,420 ±2,499
3,914 ±2,124
30:09 (08:35)
28
Has-Been Heroes
Mar 27, 2017
$19.99
46% (80%/63%)
26,197 ±5,495
12,948 ±3,863
05:34 (02:49)
29
Nuclear Dawn
Sep 26, 2011
$9.99
46% (80%/71%)
430,590 ±22,270
263,774 ±17,434
11:16 (02:06)
30
War for the Overworld
Apr 2, 2015
$29.99
44% (79%/65%)
398,973 ±21,438
263,172 ±17,414
13:00 (05:10)
31
SuperPower 2 Steam Edition
Apr 18, 2014
$9.99
42% (78%)
101,174 ±10,799
66,245 ±8,738
26:59 (03:51)
32
The Witcher Adventure Game
Nov 27, 2014
$9.99
42% (78%/68%)
159,288 ±13,549
85,516 ±9,928
03:21 (00:35)
33
Civil War II
Jul 3, 2014
$39.99
38% (76%)
18,368 ±4,601
14,152 ±4,039
70:15 (15:36)
34
Supreme Ruler Ultimate
Oct 17, 2014
$19.99
38% (76%)
31,014 ±5,979
26,799 ±5,558
71:54 (09:29)
35
Distant Worlds: Universe
May 23, 2014
$59.99
36% (75%/81%)
59,319 ±8,269
51,490 ±7,704
58:49 (11:50)
36
Chaos Reborn
Oct 26, 2015
$9.99
36% (75%/85%)
82,806 ±9,769
59,018 ±8,248
11:31 (02:24)
37
Victory At Sea
Aug 8, 2014
$6.24
36% (75%)
46,973 ±7,358
34,026 ±6,263
30:27 (03:51)
38
Space Hulk Ascension
Nov 12, 2014
$29.99
33% (73%/72%)
141,824 ±12,785
74,375 ±9,259
13:42 (02:18)
39
Kaiju-A-GoGo
Apr 23, 2015
$13.99
24% (67%)
19,873 ±4,786
14,754 ±4,124
14:18 (04:24)
40
The Bureau: XCOM Declassified
Aug 19, 2013
$19.99
23% (66%/66%)
2,568,181 ±54,272
829,864 ±30,905
06:06 (02:13)
41
Port Royale 3
May 4, 2012
$14.99
23% (66%)
225,834 ±16,132
172,838 ±14,113
16:50 (04:38)
42
Battle of Empires : 1914-1918
Jul 22, 2015
$8.99
22% (65%)
67,449 ±8,817
61,427 ±8,414
15:33 (05:10)
43
DYNASTY WARRIORS 8 Empires
Feb 26, 2015
$49.99
21% (64%)
54,501 ±7,926
51,490 ±7,704
28:27 (17:02)
44
Warlock 2: The Exiled
Apr 10, 2014
$19.99
21% (64%/73%)
91,538 ±10,272
72,568 ±9,146
32:09 (07:15)
45
Close Combat - Gateway to Caen
Jun 6, 2014
$39.99
19% (63%)
28,304 ±5,712
23,788 ±5,236
25:09 (08:46)
46
Omerta - City of Gangsters
Jan 31, 2013
$14.99
18% (62%)
306,532 ±18,793
234,867 ±16,451
17:17 (05:03)
47
BLADESTORM: Nightmare
May 28, 2015
$59.99
16% (60%)
13,851 ±3,996
10,539 ±3,485
10:49 (08:24)
48
Skyshine's BEDLAM
Sep 16, 2015
$19.99
16% (60%/67%)
44,565 ±7,167
34,929 ±6,345
05:46 (02:58)
49
Anno 2205
Nov 2, 2015
$39.99
16% (60%/72%)
137,608 ±12,593
125,865 ±12,044
32:35 (18:09)
50
RESCUE 2: Everyday Heroes
Jun 3, 2015
$19.99
12% (55%)
18,368 ±4,601
15,357 ±4,207
05:29 (03:48)
51
Operation Flashpoint: Red River
Jun 6, 2011
$9.99
11% (53%/67%)
649,799 ±27,352
228,243 ±16,217
04:50 (00:59)
52
Planar Conquest
May 30, 2016
$3.99
8% (49%/53%)
31,316 ±6,008
17,464 ±4,487
16:58 (02:06)
53
WARMACHINE: Tactics
Nov 20, 2014
Free
6% (45%)
275,216 ±17,807
118,939 ±11,708
04:50 (01:53)
54
CLASH
Nov 15, 2016
Free
4% (38%)
157,180 ±13,459
82,806 ±9,769
02:52 (03:20)
55
A Game of Thrones - Genesis
Sep 28, 2011
$9.99
2% (30%)
218,005 ±15,850
166,816 ±13,865
04:42 (01:27)
56
Starion Tactics
Sep 5, 2014
$9.99
N/A (N/A)
94,248 ±10,422
35,832 ±6,427
04:29 (05:19)
57
Stronghold 3 Gold
May 25, 2012
$29.99
1% (26%)
760,909 ±29,595
675,393 ±27,885
10:04 (04:00)