Freight Tycoon Inc.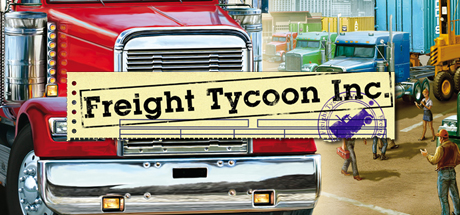 Store | Hub | SteamDB | Site
Developer: Nikita Publisher: 1C Company
Genre: Strategy
Languages: English, German, Russian, French, Traditional Chinese, Japanese, Czech
Tags: Strategy (32), Management (15), Simulation (14), Economy (11), Indie (6), Singleplayer (6)
Category: Single-player, Steam Cloud
Release date: Apr 3, 2014
Price: $1.24 75%
Score rank: 18% Userscore: 62% Old userscore: 61%
Owners: 26,403 ± 4,492
Players in the last 2 weeks: 1,217 ± 1,190 (4.61%)
Players total: 21,402 ± 4,045 (81.06%)
Followers: 841
Peak concurrent players yesterday: 16
Playtime in the last 2 weeks: 01:09 (average) 01:12 (median)
Playtime total: 04:40 (average) 01:39 (median)

Steam Spy is still in beta, so expect major bugs.
Peak daily concurrent players:
CCU data courtesy of SteamDB. Used with permission.
Hourly concurrent players:
YouTube:
The views data is based on top 50 videos uploaded last week. Actual number of views might be more than the number shown.

The displayed number of videos uploaded yesterday is limited to 50, so if there were more videos uploaded, the number will still show 50.

If the game has commonly used word as its name (like "FEAR" or "Volume") its number of Youtube views might be wrong.
Games similar to this one:
#
Game
Release date

Price

Score rank
(Userscore / Metascore)

Owners

Players

Playtime (Median)

1
Lazerbait
Oct 13, 2016
Free
100% (99%)
43,205 ±5,747
21,002 ±4,007
00:52 (00:18)
2
Atlas Reactor VR Character Viewer
Apr 5, 2016
Free
N/A (N/A)
47,005 ±5,994
9,001 ±2,623
00:13 (00:06)
3
Command HQ
Nov 6, 2014
$1.74
N/A (N/A)
20,602 ±3,968
3,200 ±1,564
20:28 (01:48)
4
X-COM: Terror From the Deep
May 4, 2007
$4.99
86% (93%)
631,267 ±21,952
112,412 ±9,269
12:18 (00:37)
5
Original War
Jan 27, 2014
$0.99
82% (92%/61%)
92,410 ±8,404
37,604 ±5,361
08:58 (00:56)
6
Hive
Mar 20, 2014
$2.49
78% (91%)
23,002 ±4,193
17,002 ±3,605
03:54 (01:29)
7
Warhammer 40,000: Dawn of War Winter Assault
Aug 7, 2007
$3.24
78% (91%)
1,002,706 ±27,654
399,042 ±17,458
04:26 (00:56)
8
Swords and Soldiers HD
Dec 2, 2010
$2.49
78% (91%)
264,628 ±14,219
145,815 ±10,556
02:30 (00:58)
9
Sacrifice
Aug 19, 2009
$9.99
78% (91%/89%)
50,805 ±6,232
29,803 ±4,773
04:58 (01:04)
10
Reverse Crawl
Sep 24, 2015
$2.03
78% (91%)
44,805 ±5,852
17,202 ±3,626
04:12 (02:09)
11
Snow Fortress
Dec 16, 2016
$7.49
N/A (N/A)
3,400 ±1,612
3,000 ±1,514
01:32 (01:15)
12
UFHO2
Jun 2, 2015
Free
N/A (N/A)
41,204 ±5,612
2,000 ±1,236
00:32 (00:49)
13
Command: Northern Inferno
Oct 22, 2015
$9.99
N/A (N/A)
6,801 ±2,280
4,000 ±1,748
02:41 (02:17)
14
Sneaky Sneaky
Nov 12, 2014
$4.99
74% (90%/63%)
17,602 ±3,668
14,402 ±3,318
02:56 (01:48)
15
Ground Control Anthology
Jul 8, 2015
$1.69
N/A (N/A/86%)
13,201 ±3,176
6,001 ±2,141
02:41 (00:27)
16
Cossacks: Art of War
Aug 26, 2011
$1.24
67% (88%/74%)
94,610 ±8,504
40,204 ±5,543
08:40 (01:09)
17
Flotilla
Apr 2010
$5.99
67% (88%/72%)
99,811 ±8,734
50,005 ±6,182
02:13 (00:29)
18
Archon Classic
Nov 2, 2010
$9.99
67% (88%)
26,003 ±4,458
10,401 ±2,819
02:49 (00:59)
19
Atom Zombie Smasher
Mar 14, 2011
$5.99
67% (88%/75%)
419,644 ±17,903
280,830 ±14,648
04:13 (01:28)
20
Rush for Berlin Gold
Oct 29, 2009
$2.49
67% (88%/76%)
19,602 ±3,871
7,001 ±2,313
06:22 (01:22)
21
Advanced Tactics Gold
Aug 15, 2014
$9.89
N/A (N/A)
7,201 ±2,346
5,801 ±2,105
22:22 (07:29)
22
Greed Corp
Dec 10, 2010
$9.99
67% (88%/76%)
266,228 ±14,262
132,214 ±10,052
03:20 (01:08)
23
Sang-Froid - Tales of Werewolves
Apr 5, 2013
Free
64% (87%/79%)
335,235 ±16,003
175,819 ±11,591
03:33 (01:15)
24
Magnifico
Dec 2, 2014
$2.49
N/A (N/A)
64,407 ±7,016
21,602 ±4,063
02:12 (01:06)
25
Gunman Taco Truck
Jan 28, 2017
$3.99
61% (86%)
7,001 ±2,313
2,800 ±1,463
03:58 (01:30)
26
Civilization IV: Warlords
Apr 6, 2007
$1.24
61% (86%/84%)
1,286,936 ±31,319
33,204 ±5,038
17:15 (01:12)
27
Civilization IV: Warlords
Apr 6, 2007
$1.24
61% (86%/84%)
1,286,936 ±31,319
182,419 ±11,807
24:55 (00:48)
28
Rooks Keep
Dec 5, 2014
$3.99
N/A (N/A)
35,604 ±5,217
16,402 ±3,541
02:59 (01:47)
29
SHOGUN: Total War - Collection
Jun 25, 2015
$2.49
59% (85%)
164,417 ±11,209
33,804 ±5,083
06:15 (00:37)
30
Age of Wonders
Oct 2010
$1.49
59% (85%)
104,611 ±8,942
43,605 ±5,773
12:53 (01:08)
31
Command & Conquer: Red Alert 3 - Uprising
Oct 6, 2009
$4.99
53% (83%)
1,149,522 ±29,604
428,445 ±18,089
23:44 (01:12)
32
Fate of the World
Feb 28, 2011
$2.49
53% (83%/70%)
80,008 ±7,820
67,407 ±7,178
04:18 (01:17)
33
Graviteam Tactics: Operation Star
Feb 11, 2014
$5.99
51% (82%)
28,403 ±4,659
23,202 ±4,211
12:31 (01:08)
34
Tiny Troopers
Aug 24, 2012
$0.99
51% (82%/57%)
104,611 ±8,942
59,606 ±6,750
01:52 (00:36)
35
Act of War: Direct Action
Mar 12, 2008
$0.74
51% (82%/82%)
29,803 ±4,773
19,402 ±3,851
06:34 (02:24)
36
Wyrmsun
May 22, 2015
Free
51% (82%)
56,606 ±6,578
15,202 ±3,409
01:35 (00:36)
37
Anomaly 2
May 15, 2013
$2.99
49% (81%/77%)
343,836 ±16,206
134,014 ±10,120
02:37 (01:08)
38
Seven Kingdoms 2 HD
Feb 4, 2015
$3.99
49% (81%)
39,404 ±5,488
14,402 ±3,318
04:02 (00:31)
39
Commandos: Beyond the Call of Duty
Mar 15, 2007
$0.74
49% (81%)
513,654 ±19,804
107,811 ±9,077
02:45 (00:10)
40
Eador: Genesis
Oct 14, 2013
$0.59
49% (81%)
54,606 ±6,460
15,202 ±3,409
23:46 (02:37)
41
Heroes of Might & Magic V: Hammers of Fate
Oct 10, 2008
$3.39
46% (80%/66%)
267,628 ±14,299
82,409 ±7,936
07:25 (00:40)
42
Galcon Fusion
Feb 11, 2010
$4.99
46% (80%/68%)
173,418 ±11,512
65,207 ±7,060
02:45 (00:39)
43
Honey Rose: Underdog Fighter Extraordinaire
Sep 29, 2016
Free
N/A (N/A)
22,002 ±4,101
3,800 ±1,704
01:00 (00:54)
44
Reprisal Universe
Sep 15, 2014
$1.39
46% (80%)
54,206 ±6,437
28,003 ±4,626
01:51 (00:27)
45
Perimeter: Emperor's Testament
May 22, 2014
$0.99
N/A (N/A/72%)
25,603 ±4,424
3,000 ±1,514
03:46 (02:00)
46
Perimeter
Apr 3, 2014
$0.99
46% (80%/77%)
35,604 ±5,217
18,602 ±3,771
03:06 (01:50)
47
Cluck Yegger in Escape From The Planet of The Poultroid
Nov 9, 2015
$2.09
N/A (N/A)
15,202 ±3,409
2,600 ±1,409
00:25 (00:13)
48
Legends of Callasia
Jun 10, 2016
Free
46% (80%)
56,606 ±6,578
17,202 ±3,626
07:20 (00:40)
49
UFO: Extraterrestrials Gold
Feb 17, 2010
$9.99
44% (79%/68%)
112,612 ±9,277
39,804 ±5,516
19:04 (01:38)
50
Demolition Inc.
Sep 19, 2011
$5.99
44% (79%)
96,610 ±8,593
79,408 ±7,791
02:05 (01:06)
51
Fantasy Wars
Aug 6, 2010
$1.24
44% (79%/67%)
78,408 ±7,741
19,202 ±3,831
12:07 (00:39)
52
World War I
Apr 9, 2015
$1.24
42% (78%)
29,803 ±4,773
8,401 ±2,534
03:24 (00:49)
53
Dangerous Waters
Feb 7, 2006
$3.74
40% (77%/82%)
62,207 ±6,895
26,403 ±4,492
09:29 (01:12)
54
WARSHIFT
Oct 12, 2016
$6.49
40% (77%)
35,004 ±5,173
28,803 ±4,692
02:15 (01:12)
55
ORB
Mar 13, 2014
$0.49
38% (76%)
17,602 ±3,668
10,801 ±2,873
02:33 (00:57)
56
Cubemen
Mar 16, 2012
$0.99
36% (75%/74%)
182,019 ±11,794
102,611 ±8,856
01:45 (00:45)
57
UFO: Aftermath
Apr 23, 2014
$0.99
36% (75%)
77,208 ±7,682
15,802 ±3,475
06:01 (01:08)
58
Cossacks: European Wars
Aug 26, 2011
$1.24
36% (75%/74%)
106,011 ±9,001
49,005 ±6,120
09:52 (01:11)
59
Patrician III
Nov 18, 2010
$1.24
36% (75%/75%)
143,815 ±10,484
60,606 ±6,806
13:16 (00:41)
60
Age of Wonders II: The Wizard's Throne
Oct 2010
$2.49
36% (75%/86%)
77,408 ±7,692
32,403 ±4,977
09:19 (01:05)
61
American Conquest: Fight Back
Aug 26, 2011
$1.24
33% (73%/66%)
101,411 ±8,804
35,204 ±5,187
14:34 (02:00)
62
Children of Orc
Dec 20, 2016
Free
N/A (N/A)
16,802 ±3,584
7,001 ±2,313
00:48 (00:19)
63
Darwinia
Jul 14, 2005
$1.49
33% (73%/84%)
723,477 ±23,498
221,423 ±13,007
01:47 (00:14)
64
Railroad Tycoon 3
May 4, 2007
$3.74
31% (72%/80%)
256,827 ±14,008
123,013 ±9,696
17:45 (01:31)
65
War in a Box: Paper Tanks
Jul 4, 2014
$2.99
31% (72%)
57,006 ±6,601
16,402 ±3,541
01:57 (00:40)
66
Sub Command
Oct 26, 2006
$1.49
N/A (N/A/84%)
52,406 ±6,329
19,402 ±3,851
05:09 (01:01)
67
UFO: Aftershock
Apr 16, 2014
$0.99
31% (72%)
72,608 ±7,450
13,601 ±3,224
10:32 (00:30)
68
Cuban Missile Crisis
Mar 25, 2015
$1.24
31% (72%)
24,403 ±4,319
7,401 ±2,378
09:06 (01:29)
69
Rome: Total War - Alexander
Aug 28, 2007
$2.49
30% (71%/79%)
795,684 ±24,641
315,433 ±15,523
04:20 (00:40)
70
Oddworld: Munch's Oddysee
Dec 20, 2010
$1.24
30% (71%)
217,023 ±12,877
85,409 ±8,080
02:56 (00:58)
71
Archipelago
Aug 17, 2016
$0.66
N/A (N/A)
1,800 ±1,173
1,200 ±957
00:35 (00:37)
72
Rooster Teeth vs. Zombiens
Dec 19, 2014
Free
28% (70%)
3,600 ±1,659
3,400 ±1,612
00:47 (00:58)
73
American Conquest
Aug 26, 2011
$1.24
27% (69%/76%)
108,411 ±9,103
48,205 ±6,070
06:09 (01:00)
74
LA Cops
Mar 13, 2015
$3.74
27% (69%/45%)
15,202 ±3,409
7,001 ±2,313
01:41 (00:35)
75
Warrior Kings
Apr 24, 2014
$0.99
N/A (N/A/73%)
9,601 ±2,709
2,800 ±1,463
01:36 (02:08)
76
Space Empires V
Oct 16, 2006
$3.74
27% (69%/68%)
84,409 ±8,032
45,805 ±5,917
25:23 (01:35)
77
Deadlock II: Shrine Wars
Oct 23, 2014
$1.74
N/A (N/A)
12,001 ±3,029
3,200 ±1,564
09:56 (20:33)
78
Brigade E5: New Jagged Union
Apr 30, 2014
$0.99
N/A (N/A/41%)
21,402 ±4,045
6,001 ±2,141
06:09 (00:39)
79
Sengoku
Sep 15, 2011
$2.49
25% (68%/70%)
117,012 ±9,457
70,007 ±7,315
04:10 (01:22)
80
Cthulhu Realms
Jul 1, 2016
Free
25% (68%)
88,409 ±8,220
23,803 ±4,265
01:58 (00:17)
81
Void Destroyer
Jan 20, 2015
$4.54
25% (68%)
91,610 ±8,368
31,003 ±4,868
02:22 (00:31)
82
Eclipse: New Dawn for the Galaxy
Sep 16, 2016
$11.99
24% (67%)
3,400 ±1,612
2,800 ±1,463
13:58 (07:05)
83
Nomad Fleet
Apr 19, 2016
$2.49
24% (67%)
6,401 ±2,212
4,200 ±1,792
02:09 (01:44)
84
SunAge: Battle for Elysium
Dec 15, 2014
$5.99
24% (67%)
6,201 ±2,177
4,801 ±1,915
01:59 (01:34)
85
Steam Squad
Jul 28, 2016
$11.69
N/A (N/A)
3,000 ±1,514
2,800 ±1,463
03:36 (02:53)
86
Mosby's Confederacy
Nov 19, 2008
$9.99
N/A (N/A)
11,201 ±2,926
4,400 ±1,834
04:29 (03:48)
87
Chainsaw Warrior
Oct 7, 2013
$2.49
23% (66%)
56,806 ±6,589
31,603 ±4,915
02:42 (01:46)
88
Theatre of War 2: Kursk 1943
Jul 9, 2010
$1.24
23% (66%)
75,808 ±7,612
24,003 ±4,283
14:15 (01:19)
89
Planets Under Attack
Sep 27, 2012
$9.99
23% (66%)
219,223 ±12,942
70,807 ±7,357
01:54 (00:42)
90
Kaiju Panic
Oct 9, 2015
$7.49
N/A (N/A)
4,400 ±1,834
3,200 ±1,564
01:17 (01:22)
91
Black Hat Cooperative
Jul 29, 2016
$4.99
N/A (N/A)
4,200 ±1,792
3,000 ±1,514
01:15 (00:57)
92
Crusader Kings Complete
Feb 14, 2012
$2.49
23% (66%/73%)
91,210 ±8,349
29,403 ±4,741
07:48 (00:24)
93
America's Army 3
Jun 17, 2009
Free
23% (66%/70%)
941,500 ±26,799
397,042 ±17,414
15:56 (00:28)
94
Men of War: Condemned Heroes
Apr 12, 2012
$2.39
22% (65%/57%)
134,414 ±10,135
51,605 ±6,280
06:11 (01:21)
95
Quarantine
May 24, 2017
$9.99
21% (64%)
5,601 ±2,069
4,400 ±1,834
02:26 (01:35)
96
The Nightmare Cooperative
Jul 16, 2014
$1.24
N/A (N/A)
74,208 ±7,531
35,604 ±5,217
01:30 (00:56)
97
Haegemonia: The Solon Heritage
May 1, 2014
$1.99
N/A (N/A)
58,806 ±6,704
11,401 ±2,952
02:23 (00:19)
98
7th Legion
Oct 23, 2014
$1.74
N/A (N/A)
16,802 ±3,584
2,600 ±1,409
00:41 (00:06)
99
Memoir '44 Online
Oct 12, 2011
Free
19% (63%)
335,035 ±15,998
40,404 ±5,557
06:20 (01:00)
100
Blight of the Immortals
Oct 25, 2016
Free
N/A (N/A)
21,802 ±4,082
3,600 ±1,659
17:15 (00:26)
101
Everything is Peachy
Aug 25, 2016
$1.19
N/A (N/A)
7,401 ±2,378
800 ±782
00:13 (00:12)
102
Men of War: Vietnam
Sep 8, 2011
$2.39
18% (62%/68%)
174,818 ±11,558
102,611 ±8,856
06:12 (01:17)
103
Crown and Council
Apr 22, 2016
Free
17% (61%)
96,410 ±8,584
48,405 ±6,083
02:36 (00:29)
104
Hydrophobia: Prophecy
May 9, 2011
$1.49
17% (61%/64%)
345,637 ±16,249
167,218 ±11,304
02:15 (00:54)
105
UFO: Afterlight
Jan 6, 2014
$1.39
16% (60%/71%)
321,634 ±15,675
42,204 ±5,680
06:33 (00:14)
106
Crystal Rift
Mar 30, 2016
$1.99
16% (60%)
6,601 ±2,246
4,200 ±1,792
00:40 (00:24)
107
Armada 2526 Gold Edition
Feb 28, 2013
$3.99
16% (60%/66%)
47,405 ±6,019
17,002 ±3,605
14:12 (01:33)
108
Maelstrom: The Battle for Earth Begins
Feb 13, 2009
$0.49
15% (59%/58%)
39,604 ±5,502
9,601 ±2,709
02:42 (00:38)
109
Prophour23
Oct 22, 2014
$2.29
N/A (N/A)
16,602 ±3,562
8,601 ±2,564
02:42 (02:17)
110
Revelations 2012
Apr 23, 2012
Free
14% (57%)
24,403 ±4,319
9,801 ±2,737
01:48 (00:49)
111
Frontline : Road to Moscow
Aug 8, 2014
$4.99
N/A (N/A)
14,802 ±3,363
3,600 ±1,659
04:02 (01:16)
112
Gratuitous Tank Battles
May 17, 2012
$4.99
14% (57%/69%)
69,207 ±7,273
39,604 ±5,502
02:31 (00:33)
113
Oil Rush
Jan 25, 2012
$7.99
13% (56%/67%)
363,238 ±16,657
123,613 ±9,720
01:32 (00:21)
114
Rush for Glory
Jun 16, 2014
$3.74
N/A (N/A)
70,807 ±7,357
15,602 ±3,453
01:49 (00:27)
115
Delve Deeper
Sep 24, 2010
$0.49
13% (56%)
92,810 ±8,422
73,208 ±7,480
05:53 (01:57)
116
Master of Magic Chess
May 23, 2017
Free
N/A (N/A)
4,200 ±1,792
3,200 ±1,564
00:25 (00:34)
117
Theatre of War
Jul 9, 2010
$0.99
11% (53%/66%)
100,011 ±8,743
38,404 ±5,418
06:40 (00:39)
118
Earth 2140
Nov 15, 2013
$0.99
11% (53%)
90,010 ±8,294
19,602 ±3,871
02:22 (00:13)
119
Neocolonialism
Dec 1, 2014
$1.59
N/A (N/A)
18,002 ±3,709
2,600 ±1,409
01:15 (00:40)
120
Gods vs Humans
Oct 10, 2014
$1.99
N/A (N/A)
33,604 ±5,068
7,801 ±2,442
02:06 (00:35)
121
Star Traders: 4X Empires
Dec 16, 2014
$4.99
N/A (N/A)
11,601 ±2,978
9,001 ±2,623
04:31 (02:19)
122
Arms Dealer
Mar 26, 2015
$5.99
9% (50%)
11,001 ±2,900
8,601 ±2,564
20:29 (01:08)
123
ZAMB! Biomutant Extermination
Jun 20, 2014
$1.24
N/A (N/A)
5,001 ±1,955
2,200 ±1,296
00:27 (00:26)
124
Synonymy
Mar 5, 2015
$0.49
N/A (N/A)
12,401 ±3,079
10,601 ±2,846
02:17 (02:18)
125
Real Warfare 1242
Nov 30, 2011
$0.99
N/A (N/A)
49,205 ±6,133
8,601 ±2,564
00:50 (00:38)
126
Leviathan: Warships
Apr 30, 2013
$2.49
8% (48%)
285,430 ±14,767
123,413 ±9,712
03:02 (00:49)
127
Desperados 2: Cooper's Revenge
Mar 12, 2008
$2.49
N/A (N/A/66%)
65,007 ±7,049
13,401 ±3,200
06:12 (00:21)
128
Commander: Conquest of the Americas
Jul 30, 2010
$9.99
7% (47%/68%)
75,008 ±7,572
45,005 ±5,865
22:27 (02:45)
129
Last Days of Old Earth
Jun 7, 2016
$12.49
N/A (N/A/66%)
2,600 ±1,409
2,400 ±1,354
01:43 (02:20)
130
Evolution RTS
Apr 7, 2014
Free
7% (46%)
143,615 ±10,476
48,205 ±6,070
00:59 (00:12)
131
Theatre of War 3: Korea
Mar 24, 2011
$1.74
6% (44%/49%)
63,007 ±6,940
22,802 ±4,175
03:43 (01:03)
132
Skyward Collapse
May 23, 2013
$0.99
6% (44%/64%)
118,213 ±9,505
76,008 ±7,622
03:44 (01:28)
133
The Kings' Crusade
Oct 8, 2010
$2.49
6% (43%/71%)
69,207 ±7,273
32,803 ±5,007
08:56 (01:23)
134
Galactic Civilizations I: Ultimate Edition
Aug 14, 2012
$2.49
6% (43%/83%)
394,442 ±17,357
51,605 ±6,280
09:13 (00:26)
135
DUNGEONS - Steam Special Edition
Feb 10, 2011
$2.49
6% (43%/65%)
204,222 ±12,492
122,613 ±9,680
06:10 (01:41)
136
Cossacks II: Napoleonic Wars
Aug 26, 2011
$1.24
6% (43%/73%)
109,412 ±9,144
48,805 ±6,108
04:29 (00:43)
137
Guardians of Graxia
Nov 10, 2010
$1.19
5% (41%)
68,407 ±7,231
37,204 ±5,333
03:41 (00:44)
138
Reign: Conflict of Nations
Jul 12, 2010
$0.99
N/A (N/A/60%)
70,407 ±7,336
15,002 ±3,386
02:18 (00:17)
139
Sacraboar
Nov 6, 2009
$1.79
N/A (N/A)
55,006 ±6,484
10,601 ±2,846
00:19 (00:12)
140
Star Wolves 2
Mar 2, 2010
$0.99
4% (40%)
72,408 ±7,439
8,801 ±2,593
03:20 (01:04)
141
Dungeons - The Dark Lord
Sep 27, 2011
$4.99
4% (40%/72%)
164,017 ±11,196
57,406 ±6,624
03:00 (01:07)
142
Assault Corps 2
Jul 15, 2015
$2.99
N/A (N/A)
3,800 ±1,704
3,000 ±1,514
01:36 (00:37)
143
Wars of Napoleon
May 6, 2016
$19.99
N/A (N/A)
1,600 ±1,106
1,000 ±874
02:39 (04:09)
144
Shattered Union
Oct 25, 2006
$4.99
4% (39%/67%)
40,204 ±5,543
14,001 ±3,271
03:45 (00:48)
145
Disciples III - Resurrection
Oct 11, 2011
$3.74
3% (37%/63%)
144,615 ±10,513
33,404 ±5,053
14:44 (01:04)
146
Real Warfare 2: Northern Crusades
Nov 18, 2011
$1.24
3% (37%)
46,405 ±5,956
11,401 ±2,952
02:09 (00:33)
147
Sim Junta
Aug 18, 2015
$0.49
N/A (N/A)
4,801 ±1,915
1,400 ±1,034
00:27 (00:46)
148
Ironclads: High Seas
Apr 28, 2010
$0.99
N/A (N/A)
38,404 ±5,418
3,400 ±1,612
01:27 (02:39)
149
Fallen: A2P Protocol
Aug 14, 2015
$4.99
3% (34%)
22,202 ±4,119
15,002 ±3,386
03:14 (00:53)
150
Feudalism
Jun 14, 2016
$3.74
N/A (N/A)
3,400 ±1,612
1,600 ±1,106
01:12 (02:01)
151
The Game of Life
Jun 10, 2013
$2.49
2% (33%)
6,601 ±2,246
6,001 ±2,141
02:00 (01:55)
152
Ironclads: Anglo Russian War 1866
Jun 21, 2011
$1.49
N/A (N/A)
39,204 ±5,474
4,400 ±1,834
01:04 (00:28)
153
A Game of Thrones - Genesis
Sep 28, 2011
$2.49
2% (30%)
206,422 ±12,559
166,418 ±11,277
04:45 (01:28)
154
Tank Operations: European Campaign
Nov 22, 2013
$9.99
2% (29%)
48,605 ±6,095
9,201 ±2,652
18:33 (00:40)
155
US and THEM
Mar 18, 2014
$1.99
1% (28%)
24,003 ±4,283
6,001 ±2,141
03:51 (00:28)
156
Future Wars
Jul 15, 2010
$0.99
1% (28%)
88,409 ±8,220
27,803 ±4,610
01:31 (00:12)
157
APOX
Jan 20, 2011
$14.99
1% (24%/48%)
41,004 ±5,598
25,203 ±4,389
03:10 (01:32)
158
Tryst
Sep 14, 2012
$14.99
N/A (N/A/50%)
17,402 ±3,647
7,401 ±2,378
02:25 (01:04)
159
Gemini Wars
Nov 2, 2012
$2.99
0% (14%/53%)
33,604 ±5,068
23,803 ±4,265
04:48 (01:35)
160
Prison Tycoon 3: Lockdown
Jan 29, 2008
$1.99
0% (13%)
36,804 ±5,304
19,202 ±3,831
07:01 (01:33)
161
Spaceforce Constellations
Dec 12, 2013
$2.49
N/A (N/A)
2,000 ±1,236
1,400 ±1,034
00:37 (00:54)
162
Jurassic Island: The Dinosaur Zoo
Nov 23, 2015
$2.79
N/A (N/A)
2,200 ±1,296
1,800 ±1,173
01:05 (00:43)