App

Spy Fox 2 "Some Assembly Required"
Spy Fox 2 "Some Assembly Required"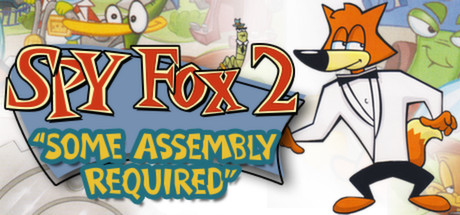 Store | Hub | SteamDB | Site
Developer: Humongous Entertainment Publisher: Humongous Entertainment, Nightdive Studios
Genre: Adventure, Casual
Languages: English, French, Dutch, German
Tags: Adventure (60), Casual (52), Point & Click (36), Family Friendly (28)
Category: Single-player, Steam Trading Cards
Release date: May 1, 2014
Price: $6.99
Score rank: 89% Userscore: 94% Old userscore: 94%
Owners: 32,805 ± 4,962
Players total: 15,519 ± 3,413 (47.31%)
Followers: 246
Peak concurrent players yesterday: 4
Playtime total: 01:46 (average) 01:44 (median)

Steam Spy is still in beta, so expect major bugs.
Peak daily concurrent players:
CCU data courtesy of SteamDB. Used with permission.
Hourly concurrent players:
YouTube:
The views data is based on top 50 videos uploaded last week. Actual number of views might be more than the number shown.

The displayed number of videos uploaded yesterday is limited to 50, so if there were more videos uploaded, the number will still show 50.

If the game has commonly used word as its name (like "FEAR" or "Volume") its number of Youtube views might be wrong.
Games similar to this one:
#
Game
Release date

Price

Score rank
(Userscore / Metascore)

Owners

Players

Playtime (Median)

1
Pajama Sam 3: You Are What You Eat From Your Head To Your Feet
May 15, 2014
$6.99
99% (98%)
36,538 ±5,237
16,304 ±3,498
02:25 (01:39)
2
Pajama Sam 2: Thunder and Lightning Aren't So Frightening
May 1, 2014
$6.99
95% (96%)
39,681 ±5,457
21,805 ±4,045
04:46 (01:46)
3
Bik - A Space Adventure
Oct 14, 2014
$4.99
N/A (N/A)
4,125 ±1,759
2,750 ±1,436
02:41 (02:49)
4
Putt-Putt Joins the Parade
Apr 17, 2014
$6.99
95% (96%)
28,484 ±4,624
8,643 ±2,547
03:52 (00:38)
5
Dreadhalls
Mar 9, 2017
$9.99
95% (96%)
3,143 ±1,536
2,750 ±1,436
00:35 (00:37)
6
Freddi Fish 2: The Case of the Haunted Schoolhouse
May 1, 2014
$6.99
95% (96%)
32,216 ±4,917
16,304 ±3,498
01:35 (01:06)
7
Red Comrades 2: For the Great Justice. Reloaded
Oct 14, 2016
$4.99
92% (95%)
7,072 ±2,304
3,536 ±1,629
02:40 (03:19)
8
Alien Swarm
Jul 19, 2010
Free
92% (95%/77%)
4,858,719 ±60,043
4,858,719 ±60,043
05:47 (01:34)
9
Sanitarium
Oct 29, 2014
$9.99
89% (94%)
20,233 ±3,897
11,786 ±2,974
04:59 (02:31)
10
Freddi Fish 4: The Case of the Hogfish Rustlers of Briny Gulch
May 29, 2014
$6.99
N/A (N/A)
25,341 ±4,361
5,500 ±2,032
01:49 (01:28)
11
Putt-Putt Travels Through Time
May 15, 2014
$6.99
89% (94%)
29,662 ±4,718
12,965 ±3,119
07:30 (01:24)
12
Putt-Putt Enters the Race
May 29, 2014
$6.99
N/A (N/A)
29,269 ±4,687
7,661 ±2,398
06:18 (01:16)
13
Legacy of Dorn: Herald of Oblivion
Dec 2, 2015
$1.99
N/A (N/A)
6,090 ±2,138
4,518 ±1,841
02:03 (01:33)
14
The Inner World
Sep 27, 2013
$14.99
85% (93%/72%)
94,487 ±8,421
43,609 ±5,721
04:22 (02:28)
15
To Be or Not To Be
Feb 4, 2015
$4.99
85% (93%)
12,376 ±3,048
7,661 ±2,398
02:00 (01:21)
16
Escape Bloody Mary
Oct 25, 2016
$3.99
N/A (N/A)
6,482 ±2,206
3,143 ±1,536
01:40 (00:41)
17
Putt-Putt Goes to the Moon
May 5, 2014
$6.99
81% (92%)
25,341 ±4,361
9,036 ±2,604
01:44 (00:45)
18
Bad Mojo Redux
Jul 3, 2014
$5.99
N/A (N/A/74%)
19,644 ±3,840
4,518 ±1,841
00:59 (00:43)
19
Black Mirror II
Apr 2, 2014
$9.99
71% (89%/71%)
54,610 ±6,402
11,983 ±2,999
13:23 (08:29)
20
Chronology
May 12, 2014
$4.99
67% (88%)
75,040 ±7,505
22,787 ±4,136
02:34 (01:44)
21
Gray Matter
Apr 1, 2014
$9.99
67% (88%/72%)
54,021 ±6,368
27,894 ±4,576
05:53 (02:09)
22
The Uninvited: MacVenture Series
Jan 26, 2015
$2.99
N/A (N/A)
20,823 ±3,953
9,233 ±2,632
01:50 (01:26)
23
The Little Acre
Dec 13, 2016
$12.99
64% (87%/62%)
13,751 ±3,213
6,090 ±2,138
02:25 (02:30)
24
Mimpi
Jan 20, 2015
$3.99
64% (87%)
11,590 ±2,949
7,072 ±2,304
03:32 (02:07)
25
Jolly Rover
Jun 7, 2010
$9.99
61% (86%/71%)
112,756 ±9,199
40,270 ±5,498
02:07 (00:35)
26
Adventures of Bertram Fiddle: Episode 1: A Dreadly Business
Apr 2, 2015
$5.99
61% (86%)
19,644 ±3,840
5,107 ±1,958
01:22 (01:39)
27
Blue Toad Murder Files: The Mysteries of Little Riddle
Dec 3, 2010
$4.49
N/A (N/A)
27,109 ±4,511
5,304 ±1,995
02:38 (01:43)
28
LostWinds
Mar 24, 2016
$9.99
61% (86%)
13,554 ±3,190
7,661 ±2,398
02:10 (01:45)
29
Spy Fox 3 "Operation Ozone"
May 15, 2014
$6.99
N/A (N/A)
30,448 ±4,781
8,054 ±2,459
01:47 (01:34)
30
Leaving Lyndow
Feb 8, 2017
$3.99
56% (84%/74%)
9,233 ±2,632
5,893 ±2,103
01:00 (00:58)
31
Finding Teddy
Dec 3, 2013
$6.99
56% (84%)
109,613 ±9,070
57,164 ±6,550
02:32 (01:33)
32
realMyst: Masterpiece Edition
Feb 5, 2014
$17.99
56% (84%)
88,790 ±8,163
65,807 ±7,028
04:22 (02:19)
33
Her Majesty's SPIFFING
Dec 7, 2016
$11.99
56% (84%/60%)
4,911 ±1,920
3,339 ±1,583
01:18 (01:35)
34
Dead Secret
Mar 28, 2016
$14.99
53% (83%)
24,751 ±4,310
18,072 ±3,683
01:53 (01:23)
35
Whispering Willows
Jul 9, 2014
$9.99
51% (82%/64%)
40,270 ±5,498
23,966 ±4,241
02:32 (01:48)
36
Lilly Looking Through
Nov 1, 2013
$9.99
51% (82%/71%)
98,416 ±8,594
47,538 ±5,973
02:15 (01:44)
37
The Last Express Gold Edition
Nov 21, 2013
$6.99
51% (82%/82%)
27,305 ±4,527
15,912 ±3,456
03:09 (01:59)
38
Tengami
Jan 15, 2015
$4.99
51% (82%/57%)
55,199 ±6,437
18,858 ±3,762
01:09 (01:04)
39
Puzzle Bots
Oct 22, 2010
$4.99
N/A (N/A)
88,594 ±8,154
14,144 ±3,258
02:05 (00:28)
40
Game Royale 2 - The Secret of Jannis Island
Dec 22, 2016
$4.99
49% (81%)
2,947 ±1,487
2,161 ±1,273
00:59 (01:05)
41
Narcosis
Mar 28, 2017
$19.99
49% (81%/72%)
9,233 ±2,632
6,679 ±2,239
02:14 (01:36)
42
Pilot Brothers
Dec 18, 2014
$4.99
N/A (N/A)
13,751 ±3,213
2,750 ±1,436
03:25 (01:24)
43
The Maker's Eden
Jul 30, 2014
$8.99
N/A (N/A)
25,144 ±4,344
13,751 ±3,213
02:05 (01:10)
44
Shadowgate: MacVenture Series
Jan 26, 2015
$2.99
N/A (N/A)
69,343 ±7,214
18,465 ±3,723
02:40 (00:51)
45
Reversion - The Escape (1st Chapter)
Jun 10, 2014
$0.99
N/A (N/A)
454,756 ±18,467
110,399 ±9,103
01:46 (01:05)
46
Astroloco: Worst Contact
Mar 11, 2016
$4.99
N/A (N/A)
3,732 ±1,673
3,143 ±1,536
09:33 (02:31)
47
Boo Bunny Plague
Sep 4, 2014
$1.99
44% (79%)
17,090 ±3,582
12,572 ±3,072
01:55 (01:22)
48
URU: Complete Chronicles
Aug 3, 2010
$9.99
N/A (N/A)
65,414 ±7,007
18,662 ±3,743
07:16 (00:57)
49
Mirror Mysteries
Apr 10, 2014
$4.99
42% (78%)
26,126 ±4,428
9,626 ±2,688
05:09 (02:06)
50
The 7th Guest
Oct 18, 2013
$5.99
42% (78%)
96,451 ±8,508
32,020 ±4,902
03:05 (01:18)
51
Neoncube
Oct 2, 2015
$0.99
42% (78%)
8,250 ±2,488
6,090 ±2,138
02:18 (01:45)
52
The Bunker
Sep 20, 2016
$19.99
42% (78%/57%)
10,411 ±2,795
5,500 ±2,032
02:07 (01:50)
53
Infinite Space III: Sea of Stars
Oct 29, 2015
$9.99
N/A (N/A)
21,412 ±4,009
13,358 ±3,166
04:01 (01:48)
54
Phantasmagoria
Aug 29, 2016
$9.99
N/A (N/A)
99,005 ±8,620
11,001 ±2,873
02:10 (00:29)
55
White Night
Mar 3, 2015
$7.49
40% (77%/68%)
21,215 ±3,990
11,590 ±2,949
05:05 (02:36)
56
Phantasmagoria 2: A Puzzle of Flesh
Aug 29, 2016
$5.99
N/A (N/A)
99,987 ±8,663
5,107 ±1,958
02:11 (00:56)
57
Through Abandoned
Jul 22, 2015
$0.99
38% (76%)
12,769 ±3,096
2,947 ±1,487
10:21 (01:27)
58
Disney Infinity 1.0: Gold Edition
Dec 9, 2016
$29.99
N/A (N/A)
5,697 ±2,068
2,750 ±1,436
03:02 (02:14)
59
Legend of Miro
Aug 22, 2016
$9.99
N/A (N/A)
19,840 ±3,859
7,268 ±2,335
02:46 (02:39)
60
My Ex-Boyfriend the Space Tyrant
Jul 21, 2014
$14.99
37% (75%)
2,947 ±1,487
2,554 ±1,384
01:34 (01:12)
61
King's Quest Collection
Jul 23, 2009
$19.99
35% (74%)
96,255 ±8,500
34,573 ±5,094
03:52 (00:31)
62
Dyscourse
Mar 25, 2015
$14.99
35% (74%/71%)
60,700 ±6,750
30,055 ±4,750
02:44 (02:06)
63
The Whispered World Special Edition
May 6, 2014
$19.99
35% (74%)
347,500 ±16,145
105,095 ±8,881
04:40 (02:08)
64
The Old City: Leviathan
Dec 3, 2014
$5.99
33% (73%/62%)
38,698 ±5,389
15,322 ±3,391
02:02 (01:34)
65
Return to Mysterious Island
Mar 6, 2014
$7.99
33% (73%)
48,324 ±6,023
14,340 ±3,281
03:32 (01:29)
66
Richard & Alice
Jun 5, 2014
$5.99
33% (73%/70%)
64,628 ±6,965
26,323 ±4,445
02:44 (01:50)
67
Riven: The Sequel to MYST
Aug 4, 2010
$5.99
28% (70%/83%)
100,380 ±8,680
49,503 ±6,096
04:49 (01:19)
68
Verde Station
Dec 18, 2014
$4.99
28% (70%)
22,198 ±4,082
6,875 ±2,271
01:57 (01:22)
69
Dj Vu II: MacVenture Series
Jan 26, 2015
$2.99
N/A (N/A)
14,536 ±3,303
5,304 ±1,995
01:58 (00:49)
70
A Golden Wake
Oct 9, 2014
$9.99
28% (70%/68%)
20,626 ±3,935
9,626 ±2,688
05:37 (02:17)
71
Amerzone: The Explorers Legacy
Aug 22, 2014
$4.99
27% (69%)
47,145 ±5,949
6,482 ±2,206
02:13 (00:41)
72
Adam's Venture: Origins
Apr 1, 2016
$29.99
N/A (N/A)
5,304 ±1,995
2,750 ±1,436
09:59 (03:45)
73
Asemblance
Jun 21, 2016
$9.99
25% (68%)
4,322 ±1,801
2,947 ±1,487
01:59 (01:16)
74
Nostradamus: The Last Prophecy
Apr 24, 2014
$4.99
25% (68%/70%)
61,878 ±6,815
8,054 ±2,459
03:49 (01:07)
75
The Clockwork Man: The Hidden World
Sep 23, 2011
$9.99
N/A (N/A)
9,429 ±2,660
6,482 ±2,206
05:35 (04:23)
76
Wayward Manor
Jul 15, 2014
$6.99
N/A (N/A/41%)
9,429 ±2,660
3,732 ±1,673
00:47 (00:34)
77
Al Emmo and the Lost Dutchman's Mine
May 9, 2014
$9.99
N/A (N/A/77%)
13,554 ±3,190
10,411 ±2,795
04:00 (01:32)
78
The Moment of Silence
Mar 27, 2015
$14.99
N/A (N/A/70%)
15,912 ±3,456
3,536 ±1,629
03:51 (02:09)
79
Adventurezator: When Pigs Fly
Sep 17, 2015
$19.99
N/A (N/A)
22,590 ±4,118
12,965 ±3,119
02:09 (01:27)
80
Pitiri 1977
Nov 7, 2014
$3.99
N/A (N/A)
54,217 ±6,379
17,287 ±3,602
01:37 (01:20)
81
realMYST
Aug 4, 2010
$5.99
19% (63%/66%)
84,469 ±7,962
53,235 ±6,321
02:30 (00:38)
82
Rememoried
Aug 31, 2015
$9.99
19% (63%)
15,912 ±3,456
9,626 ±2,688
01:49 (01:34)
83
The Great Fusion
Feb 25, 2015
$2.99
N/A (N/A)
7,661 ±2,398
4,322 ±1,801
02:14 (01:48)
84
Unrest
Jul 23, 2014
$14.99
18% (62%/65%)
22,198 ±4,082
9,626 ±2,688
02:04 (01:23)
85
Captain Morgane and the Golden Turtle
Jan 3, 2014
$4.99
18% (62%)
35,163 ±5,137
21,019 ±3,972
02:40 (01:28)
86
A Vampyre Story
Jul 15, 2014
$19.99
14% (58%/75%)
8,054 ±2,459
2,750 ±1,436
01:43 (02:00)
87
Dracula 4 and 5 - Special Steam Edition
May 29, 2014
$7.99
N/A (N/A)
33,984 ±5,051
2,750 ±1,436
05:37 (03:51)
88
The 11th Hour
Oct 18, 2013
$5.99
N/A (N/A)
80,736 ±7,784
14,340 ±3,281
02:03 (00:33)
89
Broken Sword 3 - the Sleeping Dragon
Dec 2, 2009
$5.99
10% (52%/82%)
152,437 ±10,696
44,788 ±5,798
04:35 (00:58)
90
eXperience 112
Oct 24, 2014
$9.99
N/A (N/A)
28,680 ±4,640
3,732 ±1,673
06:20 (01:11)
91
Gunspell - Steam Edition
Nov 7, 2014
$14.99
N/A (N/A)
111,381 ±9,143
9,429 ±2,660
03:12 (00:50)
92
Lume
May 9, 2011
$5.99
6% (44%/69%)
98,219 ±8,586
37,913 ±5,334
01:10 (00:41)
93
Horror in the Asylum
Feb 1, 2016
$4.99
N/A (N/A)
7,268 ±2,335
4,715 ±1,881
02:02 (02:27)
94
Apartment 666
Aug 3, 2016
$2.99
4% (40%)
32,609 ±4,947
17,679 ±3,643
03:07 (02:28)
95
Dead Mountaineer's Hotel
Oct 28, 2011
$7.99
2% (31%)
11,393 ±2,924
6,875 ±2,271
03:31 (01:17)
96
Jack Keane 2 - The Fire Within
Jun 28, 2013
$19.99
N/A (N/A)
47,538 ±5,973
6,875 ±2,271
04:52 (01:07)
97
Dracula 2: The Last Sanctuary
Apr 17, 2014
$4.99
1% (25%/68%)
39,484 ±5,444
5,107 ±1,958
03:52 (01:13)