App

Spy Fox 2 "Some Assembly Required"
Spy Fox 2 "Some Assembly Required"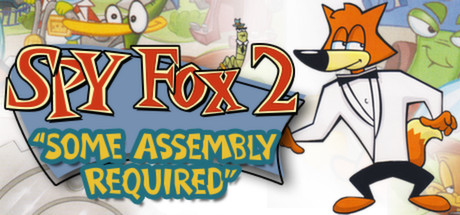 Store | Hub | SteamDB | Site
Developer: Humongous Entertainment Publisher: Humongous Entertainment, Nightdive Studios
Genre: Adventure, Casual
Languages: English, French, Dutch, German
Tags: Adventure (61), Casual (52), Point & Click (37), Family Friendly (29), Survival Horror (5)
Category: Single-player, Steam Trading Cards
Release date: May 1, 2014
Price: $6.99
Score rank: 89% Userscore: 94% Old userscore: 95%
Owners: 40,428 ± 6,372
Players in the last 2 weeks: 785 ± 1,086 (1.94%)
Players total: 19,426 ± 4,417 (48.05%)
Followers: 282
Peak concurrent players yesterday: 5
Playtime in the last 2 weeks: 01:35 (average) 01:35 (median)
Playtime total: 02:07 (average) 01:45 (median)

Steam Spy is still in beta, so expect major bugs.
Peak daily concurrent players:
CCU data courtesy of SteamDB. Used with permission.
Hourly concurrent players:
YouTube:
The views data is based on top 50 videos uploaded last week. Actual number of views might be more than the number shown.

The displayed number of videos uploaded yesterday is limited to 50, so if there were more videos uploaded, the number will still show 50.

If the game has commonly used word as its name (like "FEAR" or "Volume") its number of Youtube views might be wrong.
Games similar to this one:
#
Game
Release date

Price

Score rank
(Userscore / Metascore)

Owners

Players

Playtime (Median)

1
Nightshade
Apr 11, 2017
$34.99
99% (98%)
3,150 ±1,778
3,150 ±1,778
20:18 (29:31)
2
Lost Lands: The Four Horsemen
Jul 14, 2015
$6.99
99% (98%)
11,288 ±3,367
6,300 ±2,515
10:05 (10:30)
3
Bad Dream: Coma
Mar 9, 2017
$8.99
97% (97%)
11,288 ±3,367
8,138 ±2,859
04:55 (05:09)
4
Supipara - Chapter 1 Spring Has Come!
Jul 29, 2016
$14.99
97% (97%)
1,575 ±1,257
788 ±889
10:12 (08:41)
5
Blackwell Epiphany
Apr 24, 2014
$9.99
97% (97%)
35,702 ±5,988
16,014 ±4,010
07:39 (06:22)
6
Monsters Ate My Birthday Cake
Jul 1, 2014
$7.99
N/A (N/A)
5,513 ±2,353
4,725 ±2,178
04:22 (03:03)
7
Technobabylon
May 2015
$14.99
95% (96%/82%)
101,069 ±10,075
34,652 ±5,900
06:40 (03:46)
8
Idol Magical Girl Chiru Chiru Michiru Part 2
Jul 29, 2015
$19.99
N/A (N/A)
82,431 ±9,099
15,489 ±3,944
03:26 (03:13)
9
Pajama Sam 2: Thunder and Lightning Aren't So Frightening
May 1, 2014
$6.99
95% (96%)
44,891 ±6,715
25,202 ±5,031
03:03 (01:41)
10
Pajama Sam 3: You Are What You Eat From Your Head To Your Feet
May 15, 2014
$6.99
95% (96%)
44,891 ±6,715
22,577 ±4,762
02:25 (01:37)
11
Oknytt
Apr 4, 2014
$4.99
92% (95%/61%)
62,479 ±7,922
34,652 ±5,900
04:34 (03:21)
12
Hector: Badge of Carnage - Full Series
Apr 27, 2011
$19.99
92% (95%/75%)
374,875 ±19,399
12,338 ±3,520
03:17 (03:26)
13
The Count Lucanor
Mar 3, 2016
$9.99
92% (95%/78%)
51,979 ±7,225
21,789 ±4,678
02:45 (02:22)
14
Sanitarium
Oct 29, 2014
$9.99
92% (95%)
24,939 ±5,005
14,438 ±3,808
05:31 (03:20)
15
Alien Swarm
Jul 19, 2010
Free
92% (95%/77%)
4,989,676 ±70,444
4,989,676 ±70,444
05:34 (01:30)
16
AR-K: The Great Escape
Jul 14, 2015
$3.99
89% (94%/78%)
8,401 ±2,905
3,150 ±1,778
06:06 (03:33)
17
Midnight Mysteries 4: Haunted Houdini
Mar 28, 2012
$9.99
N/A (N/A)
57,491 ±7,599
10,501 ±3,247
04:36 (03:01)
18
Blackwell Unbound
Jan 13, 2012
$4.99
86% (93%)
123,121 ±11,120
39,115 ±6,268
03:33 (02:35)
19
Detective Grimoire
Aug 18, 2014
$6.99
86% (93%)
45,941 ±6,793
23,102 ±4,817
03:22 (02:56)
20
The Inner World
Sep 27, 2013
$14.99
86% (93%/72%)
144,122 ±12,031
43,053 ±6,576
04:47 (03:14)
21
Tales of Monkey Island Complete Pack: Chapter 2 - The Siege of Spinner Cay
Aug 20, 2009
N/A
N/A (N/A)
224,190 ±15,004
79,543 ±8,938
04:04 (03:03)
22
The Coma: Cutting Class
Oct 19, 2015
N/A
82% (92%/69%)
9,976 ±3,165
7,876 ±2,812
04:38 (06:32)
23
The Rainy Port Keelung
Mar 30, 2015
$24.99
78% (91%)
8,926 ±2,994
6,563 ±2,567
07:50 (04:20)
24
Tesla Effect: A Tex Murphy Adventure
May 8, 2014
$19.99
78% (91%/68%)
373,300 ±19,358
54,604 ±7,406
05:00 (01:28)
25
Stacking
Mar 6, 2012
$9.99
78% (91%/80%)
439,980 ±21,015
217,102 ±14,765
04:10 (02:02)
26
Astroloco: Worst Contact
Mar 11, 2016
$4.99
N/A (N/A)
3,413 ±1,851
1,838 ±1,358
03:04 (03:19)
27
Resonance
Jul 25, 2012
$9.99
74% (90%/76%)
53,816 ±7,352
33,077 ±5,764
05:13 (03:03)
28
The Night of the Rabbit
May 28, 2013
$12.99
74% (90%/75%)
378,813 ±19,500
141,497 ±11,921
06:16 (02:56)
29
Morningstar: Descent to Deadrock
Feb 17, 2015
$9.99
74% (90%)
37,540 ±6,140
22,051 ±4,706
03:37 (03:19)
30
Gray Matter
Apr 1, 2014
$9.99
70% (89%/72%)
60,117 ±7,771
29,139 ±5,410
06:26 (02:46)
31
Black Mirror II
Apr 2, 2014
$9.99
70% (89%/71%)
61,167 ±7,838
16,539 ±4,076
12:40 (14:09)
32
The Book of Unwritten Tales
Jul 31, 2012
$19.99
70% (89%/82%)
218,677 ±14,818
98,969 ±9,970
09:23 (05:16)
33
Nearwood - Collector's Edition
Apr 16, 2014
$9.99
70% (89%)
29,927 ±5,483
12,863 ±3,594
04:35 (03:35)
34
The Uninvited: MacVenture Series
Jan 26, 2015
$2.99
N/A (N/A)
19,951 ±4,476
8,663 ±2,950
02:06 (02:08)
35
Shardlight
Mar 8, 2016
$14.99
70% (89%/75%)
15,489 ±3,944
7,876 ±2,812
03:57 (03:09)
36
The Music Machine
May 6, 2015
$4.99
70% (89%)
18,901 ±4,357
11,026 ±3,328
02:44 (02:39)
37
Midnight Mysteries 3: Devil on the Mississippi
Mar 28, 2012
$9.99
N/A (N/A)
54,604 ±7,406
8,663 ±2,950
04:10 (04:35)
38
DisneyPixar WALL-E
Feb 24, 2015
$19.99
70% (89%)
7,088 ±2,668
3,413 ±1,851
07:49 (06:44)
39
Blue Rose
Apr 23, 2015
$15.99
N/A (N/A)
42,790 ±6,556
24,677 ±4,978
03:46 (03:32)
40
The Little Acre
Dec 13, 2016
$12.99
67% (88%/62%)
25,202 ±5,031
8,401 ±2,905
03:08 (02:08)
41
Ne no Kami: The Two Princess Knights of Kyoto
Oct 26, 2016
$9.99
N/A (N/A)
4,200 ±2,054
2,363 ±1,540
03:24 (04:38)
42
Detective Case and Clown Bot in: Murder in the Hotel Lisbon
Jul 17, 2014
$5.99
67% (88%)
46,991 ±6,870
15,489 ±3,944
03:21 (03:01)
43
Black Mirror III
Apr 3, 2014
$9.99
67% (88%/75%)
61,954 ±7,888
13,388 ±3,667
11:34 (10:24)
44
The Men of Yoshiwara: Ohgiya
Apr 19, 2016
$15.99
67% (88%)
9,976 ±3,165
6,825 ±2,618
10:24 (07:56)
45
The Wardrobe
Feb 15, 2017
$14.99
67% (88%/72%)
3,938 ±1,988
3,413 ±1,851
06:15 (06:57)
46
Nancy Drew: Alibi in Ashes
Nov 2, 2011
$6.99
N/A (N/A)
11,288 ±3,367
8,138 ±2,859
07:49 (07:32)
47
INFRA
Jan 15, 2016
$24.99
67% (88%)
16,014 ±4,010
11,026 ±3,328
09:50 (04:30)
48
Freddi Fish 5: The Case of the Creature of Coral Cove
Jun 6, 2014
$6.99
N/A (N/A)
30,977 ±5,578
9,976 ±3,165
03:18 (01:09)
49
Clockwork Tales: Of Glass and Ink
Apr 24, 2014
$9.99
67% (88%)
99,232 ±9,983
61,692 ±7,872
05:22 (03:35)
50
House of Hell
Jan 19, 2016
$4.99
N/A (N/A)
3,150 ±1,778
1,575 ±1,257
03:32 (06:51)
51
Nancy Drew: The Captive Curse
Jul 25, 2011
$6.99
N/A (N/A)
10,501 ±3,247
7,876 ±2,812
08:39 (08:36)
52
Silence
Nov 15, 2016
$29.99
61% (86%/75%)
198,726 ±14,126
40,690 ±6,393
05:56 (03:09)
53
Fire
Apr 9, 2015
$9.99
61% (86%/64%)
21,789 ±4,678
15,489 ±3,944
03:08 (03:02)
54
Runaway: A Twist of Fate
Apr 21, 2011
$9.99
61% (86%/79%)
120,496 ±11,001
23,627 ±4,871
06:25 (03:23)
55
Message Quest
Oct 22, 2015
$2.99
61% (86%)
23,364 ±4,844
15,489 ±3,944
01:49 (01:32)
56
J.U.L.I.A.: Among the Stars
Sep 12, 2014
$19.99
61% (86%/71%)
28,877 ±5,386
21,526 ±4,650
07:48 (07:13)
57
Adventures of Bertram Fiddle: Episode 1: A Dreadly Business
Apr 2, 2015
$5.99
59% (85%)
23,889 ±4,898
8,663 ±2,950
02:20 (02:07)
58
Secret Files: Tunguska
Oct 29, 2009
$9.99
59% (85%)
83,218 ±9,142
16,539 ±4,076
07:35 (05:32)
59
Metal Dead
Oct 6, 2014
$1.99
56% (84%)
32,552 ±5,718
19,689 ±4,447
03:27 (02:35)
60
Mimpi
Jan 20, 2015
$0.99
56% (84%)
14,176 ±3,773
8,401 ±2,905
02:53 (01:45)
61
Sylvio
Jun 5, 2015
$12.99
56% (84%/60%)
4,463 ±2,117
2,363 ±1,540
04:11 (06:08)
62
The Book of Unwritten Tales: The Critter Chronicles
Dec 5, 2012
$19.99
56% (84%/73%)
114,720 ±10,734
30,715 ±5,554
06:16 (06:59)
63
Spy Fox 3 "Operation Ozone"
May 15, 2014
$6.99
56% (84%)
36,490 ±6,054
14,701 ±3,843
02:44 (01:42)
64
Ankh - Anniversary Edition
May 21, 2015
$7.99
N/A (N/A)
10,238 ±3,207
5,250 ±2,296
03:33 (03:16)
65
Syberia II
May 19, 2011
$12.99
56% (84%/80%)
529,236 ±23,046
163,024 ±12,795
04:56 (03:10)
66
Ostrich Island
Jan 8, 2015
$4.99
56% (84%)
16,539 ±4,076
12,863 ±3,594
02:27 (01:35)
67
The Next BIG Thing
Apr 21, 2011
$9.99
56% (84%/75%)
82,956 ±9,128
35,440 ±5,966
05:03 (04:02)
68
Enigmatis: The Ghosts of Maple Creek
Oct 16, 2014
$9.99
56% (84%)
72,455 ±8,531
50,141 ±7,097
05:33 (04:32)
69
Heileen 3: New Horizons
Jul 17, 2014
$24.99
N/A (N/A)
18,639 ±4,327
10,238 ±3,207
04:13 (03:21)
70
Haunted Past: Realm of Ghosts
Apr 10, 2014
$4.99
N/A (N/A)
13,651 ±3,703
3,675 ±1,921
02:59 (02:59)
71
Robin's Quest
Apr 17, 2014
$4.99
53% (83%)
9,451 ±3,081
3,150 ±1,778
02:44 (02:07)
72
Sinless + OST
Dec 16, 2015
$4.99
51% (82%)
84,268 ±9,200
50,666 ±7,134
04:11 (03:20)
73
Game Royale 2 - The Secret of Jannis Island
Dec 22, 2016
$4.99
51% (82%)
3,675 ±1,921
2,363 ±1,540
01:39 (01:31)
74
Theatre Of The Absurd
May 8, 2014
$4.99
51% (82%)
26,252 ±5,135
7,088 ±2,668
04:31 (03:33)
75
Whispering Willows
Jul 9, 2014
$9.99
51% (82%/64%)
37,803 ±6,162
21,526 ±4,650
02:17 (01:50)
76
Yesterday Origins
Nov 10, 2016
$14.99
51% (82%/74%)
18,639 ±4,327
11,026 ±3,328
08:17 (07:52)
77
Dead Synchronicity: Tomorrow Comes Today
Apr 10, 2015
$19.99
51% (82%/70%)
61,429 ±7,855
23,889 ±4,898
04:16 (03:22)
78
Sherlock Holmes and The Hound of The Baskervilles
Apr 23, 2012
$9.99
51% (82%)
37,540 ±6,140
12,863 ±3,594
04:57 (04:20)
79
The Last Crown: Midnight Horror
Oct 29, 2015
$4.99
49% (81%)
9,188 ±3,038
4,463 ±2,117
03:30 (02:14)
80
Projector Face
Jun 1, 2016
$4.99
N/A (N/A)
6,038 ±2,462
3,413 ±1,851
03:58 (02:57)
81
Leaving Lyndow
Feb 8, 2017
$3.99
49% (81%/74%)
12,076 ±3,483
7,876 ±2,812
01:19 (01:04)
82
Shadows 2: Perfidia
Mar 24, 2017
$0.49
49% (81%)
182,975 ±13,555
162,236 ±12,764
03:51 (03:33)
83
Princess Isabella - Return of the Curse
Apr 15, 2014
$4.99
N/A (N/A)
14,701 ±3,843
3,938 ±1,988
04:37 (03:54)
84
Defunct
Jan 29, 2016
$9.99
49% (81%)
34,390 ±5,877
23,627 ±4,871
02:07 (01:22)
85
The Charnel House Trilogy
Apr 16, 2015
$5.99
49% (81%/68%)
35,702 ±5,988
21,526 ±4,650
03:15 (02:43)
86
Teddy Floppy Ear - Kayaking
Jan 16, 2015
$4.99
49% (81%)
133,359 ±11,573
84,268 ±9,200
04:10 (03:15)
87
SVRVIVE: The Deus Helix
Nov 17, 2016
$18.99
46% (80%)
7,876 ±2,812
4,463 ±2,117
02:13 (02:10)
88
Shiftlings
Mar 3, 2015
$14.99
N/A (N/A/70%)
86,893 ±9,342
21,264 ±4,621
03:52 (03:29)
89
The Maker's Eden
Jul 30, 2014
$8.99
N/A (N/A)
19,689 ±4,447
9,713 ±3,123
10:26 (01:53)
90
Moebius: Empire Rising
Apr 15, 2014
$14.99
44% (79%/54%)
30,977 ±5,578
17,326 ±4,172
06:47 (05:18)
91
The Bunker
Sep 20, 2016
$19.99
44% (79%/57%)
15,489 ±3,944
7,088 ±2,668
02:16 (02:42)
92
Shadowgate: MacVenture Series
Jan 26, 2015
$2.99
N/A (N/A)
72,455 ±8,531
18,639 ±4,327
02:21 (01:08)
93
Empress Of The Deep 2: Song Of The Blue Whale
May 8, 2014
$4.99
N/A (N/A)
12,338 ±3,520
4,200 ±2,054
04:26 (06:19)
94
The Samaritan Paradox
Apr 18, 2014
$6.99
N/A (N/A/75%)
38,853 ±6,247
19,951 ±4,476
03:47 (03:06)
95
Boo Bunny Plague
Sep 4, 2014
$1.99
42% (78%)
17,064 ±4,140
12,338 ±3,520
01:51 (01:18)
96
Vzerthos: The Heir of Thunder
Jan 19, 2017
$6.99
N/A (N/A)
1,838 ±1,358
1,050 ±1,027
01:29 (01:44)
97
Gunmetal Arcadia Zero
Nov 15, 2016
$5.99
N/A (N/A)
72,192 ±8,515
4,988 ±2,238
00:44 (00:33)
98
Perception
May 30, 2017
$22.99
40% (77%)
12,076 ±3,483
7,876 ±2,812
01:48 (01:43)
99
Perils of Man
Apr 28, 2015
$9.99
40% (77%/61%)
10,238 ±3,207
7,876 ±2,812
06:29 (06:31)
100
White Night
Mar 3, 2015
$14.99
40% (77%/68%)
17,326 ±4,172
9,188 ±3,038
03:16 (02:06)
101
Dreamscapes: The Sandman - Premium Edition
Apr 16, 2014
$6.99
N/A (N/A)
37,015 ±6,097
5,775 ±2,408
03:34 (03:17)
102
Princess Isabella
Apr 15, 2014
$4.99
38% (76%)
13,651 ±3,703
4,725 ±2,178
04:25 (04:02)
103
The 7th Guest
Oct 18, 2013
$5.99
38% (76%)
93,981 ±9,715
35,440 ±5,966
02:46 (00:52)
104
Voyage: Journey to the Moon
Aug 29, 2014
$4.99
38% (76%)
48,303 ±6,965
7,088 ±2,668
02:12 (01:27)
105
Supreme League of Patriots
Jan 29, 2015
$5.99
N/A (N/A/56%)
30,452 ±5,530
16,801 ±4,108
04:34 (04:15)
106
The Apotheosis Project
Jul 10, 2015
$2.99
N/A (N/A)
14,701 ±3,843
9,713 ±3,123
05:13 (04:28)
107
Alpha Polaris : A Horror Adventure Game
Oct 21, 2015
$9.99
37% (75%)
4,988 ±2,238
3,150 ±1,778
02:53 (03:26)
108
Corrosion: Cold Winter Waiting [Enhanced Edition]
Jul 1, 2015
$7.99
35% (74%)
33,077 ±5,764
16,801 ±4,108
03:53 (03:56)
109
Schrdingers Cat And The Raiders Of The Lost Quark
Sep 23, 2014
$9.99
35% (74%/59%)
37,803 ±6,162
13,388 ±3,667
03:13 (03:22)
110
Agatha Christie - The ABC Murders
Feb 4, 2016
$14.99
33% (73%)
126,009 ±11,249
51,716 ±7,207
04:47 (02:57)
111
Mirrored - Chapter 1
Oct 30, 2015
$1.99
33% (73%)
11,026 ±3,328
7,876 ±2,812
02:47 (03:21)
112
Midnight Mysteries
Sep 28, 2009
$9.99
N/A (N/A)
60,117 ±7,771
13,126 ±3,631
03:48 (02:51)
113
The Detail
Oct 28, 2014
$3.99
31% (72%/77%)
85,056 ±9,243
39,115 ±6,268
02:41 (01:53)
114
Adventure Time: Finn and Jake Investigations
Dec 1, 2015
$9.99
31% (72%)
4,725 ±2,178
3,938 ±1,988
04:40 (02:39)
115
Runaway, A Road Adventure
Mar 14, 2007
$9.99
30% (71%/74%)
128,109 ±11,343
41,740 ±6,475
06:57 (02:56)
116
Nevermind
Sep 29, 2015
$19.99
30% (71%)
29,665 ±5,458
15,751 ±3,977
03:09 (02:33)
117
PONCHO
Nov 3, 2015
$9.99
28% (70%/62%)
25,464 ±5,057
12,601 ±3,557
03:22 (02:57)
118
Quantum Conscience
Jun 9, 2015
$4.99
N/A (N/A)
21,001 ±4,593
12,601 ±3,557
04:13 (04:05)
119
Dj Vu II: MacVenture Series
Jan 26, 2015
$2.99
N/A (N/A)
12,863 ±3,594
5,250 ±2,296
01:49 (02:00)
120
Last Heroes
Nov 13, 2015
$1.99
N/A (N/A)
9,188 ±3,038
5,775 ±2,408
03:57 (04:09)
121
Adam's Venture Chronicles
Aug 3, 2015
$9.99
28% (70%)
35,440 ±5,966
12,338 ±3,520
04:06 (02:49)
122
Black Sails - The Ghost Ship
Sep 17, 2015
$9.99
28% (70%)
21,526 ±4,650
11,288 ±3,367
03:41 (03:25)
123
The Clockwork Man: The Hidden World
Sep 23, 2011
$9.99
27% (69%)
7,876 ±2,812
4,988 ±2,238
07:06 (06:31)
124
Sinking Island
Dec 5, 2014
$7.99
27% (69%/68%)
26,514 ±5,161
5,250 ±2,296
06:19 (05:31)
125
The Last Sniper VR
Aug 3, 2016
$7.99
27% (69%)
11,288 ±3,367
9,976 ±3,165
01:20 (00:44)
126
Midnight Mysteries: Salem Witch Trials
Mar 28, 2012
$9.99
N/A (N/A)
53,029 ±7,298
8,926 ±2,994
03:15 (03:09)
127
Crime Secrets: Crimson Lily
Jul 14, 2016
$9.99
27% (69%)
34,390 ±5,877
19,951 ±4,476
03:25 (03:10)
128
Bionic Heart
Aug 13, 2014
$9.99
N/A (N/A)
18,376 ±4,296
11,551 ±3,406
02:20 (01:52)
129
Virginia
Sep 22, 2016
$9.99
24% (67%/74%)
54,079 ±7,370
29,927 ±5,483
02:57 (01:51)
130
Alter Ego
Aug 3, 2010
$9.99
24% (67%/59%)
25,989 ±5,109
8,663 ±2,950
03:47 (01:45)
131
Pitiri 1977
Nov 7, 2014
$3.99
N/A (N/A)
53,554 ±7,334
14,438 ±3,808
01:40 (01:15)
132
Hamlet or the Last Game without MMORPG Features, Shaders ...
Oct 22, 2012
$4.99
23% (66%)
50,403 ±7,115
29,139 ±5,410
02:46 (02:31)
133
City Quest
Aug 20, 2015
$9.99
N/A (N/A)
6,563 ±2,567
3,413 ±1,851
02:49 (03:31)
134
Blues and Bullets
Jul 22, 2015
$4.99
23% (66%/73%)
40,690 ±6,393
28,089 ±5,312
04:02 (02:37)
135
Soul Axiom
Feb 29, 2016
$19.99
22% (65%/57%)
47,778 ±6,927
13,651 ±3,703
06:46 (07:48)
136
EPCH
May 17, 2016
$14.99
N/A (N/A)
1,570 ±1,536
1,570 ±1,536
02:22 (04:12)
137
Tales of Monkey Island Complete Pack: Chapter 4 - The Trial and Execution of Guybrush Threepwood
Oct 30, 2009
N/A
N/A (N/A)
224,190 ±15,004
56,966 ±7,564
04:42 (04:01)
138
The Secret Monster Society
Jul 28, 2016
$3.99
N/A (N/A)
4,725 ±2,178
2,363 ±1,540
05:01 (05:21)
139
Mythos: The Beginning - Director's Cut
Oct 27, 2014
$5.99
N/A (N/A)
18,376 ±4,296
11,026 ±3,328
02:56 (02:17)
140
Adventurezator: When Pigs Fly
Sep 17, 2015
$19.99
N/A (N/A)
19,951 ±4,476
11,026 ±3,328
02:24 (01:42)
141
Odysseus: Long Way Home
Feb 23, 2015
$3.99
N/A (N/A)
127,846 ±11,331
114,458 ±10,722
03:50 (03:31)
142
Hidden: On the trail of the Ancients
Aug 5, 2015
$9.99
N/A (N/A)
4,988 ±2,238
3,413 ±1,851
06:34 (10:46)
143
Empress Of The Deep
May 8, 2014
$4.99
19% (63%)
11,813 ±3,444
5,513 ±2,353
01:41 (01:44)
144
Myst V
Mar 16, 2012
$9.99
18% (62%/80%)
66,680 ±8,184
27,827 ±5,287
06:26 (02:15)
145
Al Emmo and the Lost Dutchman's Mine
May 9, 2014
$9.99
N/A (N/A/77%)
12,601 ±3,557
7,088 ±2,668
02:53 (02:18)
146
Heileen 2: The Hands Of Fate
Jun 11, 2014
$9.99
N/A (N/A)
17,589 ±4,203
9,976 ±3,165
03:10 (01:59)
147
Captain Morgane and the Golden Turtle
Jan 3, 2014
$4.99
17% (61%)
34,127 ±5,855
17,851 ±4,234
05:04 (02:46)
148
The Great Fusion
Feb 25, 2015
$2.99
N/A (N/A)
5,775 ±2,408
2,888 ±1,703
02:17 (01:39)
149
Fall of the New Age Premium Edition
Jul 25, 2014
$6.99
N/A (N/A)
40,165 ±6,352
5,775 ±2,408
02:32 (02:47)
150
The Travels of Marco Polo
May 6, 2015
$6.99
N/A (N/A)
12,601 ±3,557
5,513 ±2,353
03:35 (03:26)
151
Memento Mori
Nov 9, 2012
$12.99
16% (60%/66%)
28,614 ±5,361
10,763 ±3,288
04:21 (02:29)
152
A Vampyre Story
Jul 15, 2014
$19.99
16% (60%/75%)
8,401 ±2,905
3,413 ±1,851
03:52 (05:24)
153
Rememoried
Aug 31, 2015
$9.99
15% (59%)
13,126 ±3,631
7,613 ±2,765
01:34 (01:29)
154
Block Legend DX
Feb 24, 2015
$4.99
N/A (N/A)
4,725 ±2,178
4,200 ±2,054
03:53 (04:00)
155
Jack Orlando: Director's Cut
Oct 4, 2013
$4.99
15% (59%)
154,623 ±12,461
82,431 ±9,099
03:38 (04:16)
156
Appointment With FEAR
Aug 26, 2014
$4.99
N/A (N/A)
12,601 ±3,557
8,138 ±2,859
01:53 (01:30)
157
Voodoo Whisperer Curse of a Legend
Apr 8, 2014
$4.99
N/A (N/A)
7,350 ±2,717
2,625 ±1,623
02:24 (02:12)
158
Eisenhorn: XENOS
Aug 8, 2016
$19.99
12% (55%/46%)
7,350 ±2,717
4,200 ±2,054
02:26 (01:03)
159
Armikrog
Sep 30, 2015
$9.99
11% (54%/57%)
37,278 ±6,119
26,777 ±5,186
04:52 (04:02)
160
Subject 13
May 28, 2015
$9.99
11% (54%/59%)
54,604 ±7,406
30,977 ±5,578
04:12 (03:44)
161
Dark Lore Mysteries: The Hunt For Truth
Apr 8, 2014
$4.99
N/A (N/A)
8,926 ±2,994
3,675 ±1,921
02:37 (03:03)
162
White Haven Mysteries
Apr 17, 2014
$4.99
11% (53%)
5,250 ±2,296
3,150 ±1,778
04:32 (04:25)
163
Ghost Pirates of Vooju Island
Jan 27, 2015
$9.99
N/A (N/A/66%)
14,438 ±3,808
2,363 ±1,540
02:05 (04:48)
164
Office lovers
Aug 7, 2016
$15.99
N/A (N/A)
3,675 ±1,921
2,625 ±1,623
07:30 (03:30)
165
Gunspell - Steam Edition
Nov 7, 2014
$14.99
N/A (N/A)
137,034 ±11,731
14,438 ±3,808
32:09 (01:01)
166
Mirror Mysteries 2
Apr 10, 2014
$4.99
N/A (N/A)
9,188 ±3,038
2,888 ±1,703
04:05 (04:37)
167
Black Rainbow
Apr 30, 2014
$6.99
N/A (N/A)
5,250 ±2,296
1,313 ±1,148
02:01 (02:30)
168
Daughter of Shadows: An SCP Breach Event
Apr 4, 2016
$0.99
9% (50%)
3,150 ±1,778
2,363 ±1,540
07:01 (06:27)
169
Pilot Brothers 3: Back Side of the Earth
Jan 22, 2015
$4.99
N/A (N/A)
5,250 ±2,296
0 ±0
00:00 (00:00)
170
A Princess' Tale
May 20, 2016
$3.99
N/A (N/A)
3,413 ±1,851
2,625 ±1,623
03:44 (05:47)
171
ADventure Lib
Aug 4, 2015
$1.99
8% (49%)
7,088 ±2,668
5,250 ±2,296
06:48 (03:44)
172
Lex Mortis
Feb 9, 2015
$4.99
5% (42%)
260,418 ±16,170
247,029 ±15,749
03:33 (03:30)
173
Endless Room
Sep 30, 2016
$1.99
N/A (N/A)
66,680 ±8,184
65,104 ±8,086
03:32 (03:30)
174
Vault Cracker
May 15, 2014
$4.99
N/A (N/A)
7,088 ±2,668
2,625 ±1,623
04:56 (06:33)
175
COAST GUARD
Oct 21, 2015
$14.99
N/A (N/A/47%)
9,188 ±3,038
6,038 ±2,462
03:48 (03:23)
176
Corto Maltese - Secrets of Venice
Dec 4, 2014
$9.99
N/A (N/A)
5,775 ±2,408
3,675 ±1,921
04:00 (04:24)