App

Spy Fox 2 "Some Assembly Required"
Spy Fox 2 "Some Assembly Required"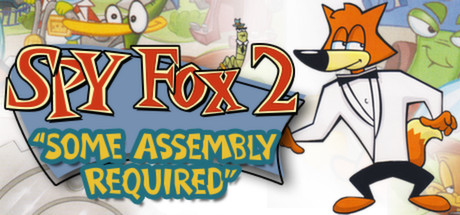 Store | Hub | SteamDB | Site
Developer: Humongous Entertainment Publisher: Humongous Entertainment, Nightdive Studios
Genre: Adventure, Casual
Languages: English, French, Dutch, German
Tags: Adventure (60), Casual (52), Point & Click (36), Family Friendly (28), Survival Horror (5)
Category: Single-player, Steam Trading Cards
Release date: May 1, 2014
Price: $6.99
Score rank: 92% Userscore: 95% Old userscore: 95%
Owners: 36,202 ± 5,762
Players in the last 2 weeks: 718 ± 1,405 (1.98%)
Players total: 15,824 ± 3,809 (43.71%)
Followers: 277
Peak concurrent players yesterday: 2
Playtime in the last 2 weeks: 00:54 (average) 00:54 (median)
Playtime total: 03:52 (average) 01:50 (median)

Steam Spy is still in beta, so expect major bugs.
Peak daily concurrent players:
CCU data courtesy of SteamDB. Used with permission.
Hourly concurrent players:
YouTube:
The views data is based on top 50 videos uploaded last week. Actual number of views might be more than the number shown.

The displayed number of videos uploaded yesterday is limited to 50, so if there were more videos uploaded, the number will still show 50.

If the game has commonly used word as its name (like "FEAR" or "Volume") its number of Youtube views might be wrong.
Games similar to this one:
#
Game
Release date

Price

Score rank
(Userscore / Metascore)

Owners

Players

Playtime (Median)

1
Supipara - Chapter 1 Spring Has Come!
Jul 29, 2016
$14.99
97% (97%)
2,877 ±1,624
1,918 ±1,326
04:29 (06:45)
2
Blackwell Epiphany
Apr 24, 2014
$9.99
97% (97%)
39,559 ±6,023
19,420 ±4,220
07:04 (06:17)
3
Pajama Sam 3: You Are What You Eat From Your Head To Your Feet
May 15, 2014
$6.99
97% (97%)
43,635 ±6,325
20,858 ±4,373
03:04 (01:39)
4
Nightshade
Apr 11, 2017
$34.99
97% (97%)
3,117 ±1,690
3,117 ±1,690
23:25 (26:37)
5
Lost Lands: The Four Horsemen
Jul 14, 2015
$6.99
97% (97%)
12,947 ±3,445
3,596 ±1,816
08:14 (07:38)
6
Bad Dream: Coma
Mar 9, 2017
$4.49
97% (97%)
13,426 ±3,509
9,830 ±3,002
06:21 (05:52)
7
Idol Magical Girl Chiru Chiru Michiru Part 2
Jul 29, 2015
$19.99
N/A (N/A)
77,919 ±8,453
14,625 ±3,662
10:03 (03:17)
8
Pajama Sam 2: Thunder and Lightning Aren't So Frightening
May 1, 2014
$6.99
95% (96%)
43,395 ±6,308
22,776 ±4,570
02:46 (01:26)
9
Monsters Ate My Birthday Cake
Jul 1, 2014
$7.99
N/A (N/A)
2,637 ±1,555
1,918 ±1,326
03:20 (02:43)
10
Technobabylon
May 2015
$14.99
95% (96%/82%)
99,257 ±9,540
33,565 ±5,548
06:10 (03:37)
11
Alien Swarm
Jul 19, 2010
Free
92% (95%/77%)
5,247,914 ±69,000
5,247,914 ±69,000
05:03 (01:32)
12
Oknytt
Apr 4, 2014
$4.99
92% (95%/61%)
62,815 ±7,589
34,045 ±5,587
04:19 (03:40)
13
Hector: Badge of Carnage - Full Series
Apr 27, 2011
$19.99
92% (95%/75%)
374,491 ±18,525
13,426 ±3,509
04:31 (03:35)
14
The Count Lucanor
Mar 3, 2016
$9.99
89% (94%/78%)
52,985 ±6,970
20,619 ±4,348
03:08 (02:29)
15
Sanitarium
Oct 29, 2014
$9.99
89% (94%)
18,701 ±4,141
13,666 ±3,540
05:41 (03:31)
16
Midnight Mysteries 4: Haunted Houdini
Mar 28, 2012
$9.99
N/A (N/A)
55,143 ±7,111
8,152 ±2,734
13:16 (04:59)
17
Blackwell Unbound
Jan 13, 2012
$4.99
89% (94%)
135,459 ±11,144
49,389 ±6,730
03:24 (02:36)
18
Detective Grimoire
Aug 18, 2014
$6.99
86% (93%)
50,348 ±6,795
31,647 ±5,387
02:53 (02:46)
19
AR-K: The Great Escape
Jul 14, 2015
$7.99
86% (93%/78%)
13,906 ±3,571
5,754 ±2,297
06:27 (04:13)
20
The Inner World
Sep 27, 2013
$14.99
86% (93%/72%)
101,175 ±9,632
48,669 ±6,680
04:21 (03:08)
21
The Coma: Cutting Class
Oct 19, 2015
N/A
82% (92%/69%)
9,111 ±2,890
7,672 ±2,652
06:37 (05:32)
22
Resonance
Jul 25, 2012
$9.99
78% (91%/76%)
60,897 ±7,473
35,483 ±5,704
05:13 (03:30)
23
Tesla Effect: A Tex Murphy Adventure
May 8, 2014
$19.99
78% (91%/68%)
412,132 ±19,433
60,178 ±7,428
06:56 (01:23)
24
The Rainy Port Keelung
Mar 30, 2015
$24.99
78% (91%)
11,268 ±3,214
7,432 ±2,610
09:20 (09:09)
25
Stacking
Mar 6, 2012
$9.99
78% (91%/80%)
447,136 ±20,241
226,325 ±14,404
03:39 (01:57)
26
The Night of the Rabbit
May 28, 2013
$19.99
74% (90%/75%)
388,157 ±18,860
145,289 ±11,541
06:29 (03:00)
27
Astroloco: Worst Contact
Mar 11, 2016
$4.99
N/A (N/A)
4,316 ±1,989
3,357 ±1,754
03:55 (03:36)
28
Morningstar: Descent to Deadrock
Feb 17, 2015
$9.99
74% (90%)
37,161 ±5,837
22,057 ±4,497
03:05 (03:04)
29
The Book of Unwritten Tales
Jul 31, 2012
$19.99
74% (90%/82%)
244,306 ±14,965
116,519 ±10,336
07:59 (04:24)
30
Tales of Monkey Island Complete Pack: Chapter 2 - The Siege of Spinner Cay
Aug 20, 2009
N/A
N/A (N/A)
224,887 ±14,358
80,317 ±8,582
04:11 (03:12)
31
The Wardrobe
Feb 15, 2017
$8.99
71% (89%/72%)
4,076 ±1,933
3,836 ±1,875
07:22 (08:01)
32
INFRA
Jan 15, 2016
$24.99
71% (89%)
17,262 ±3,978
12,947 ±3,445
12:06 (04:26)
33
The Music Machine
May 6, 2015
$4.99
71% (89%)
25,653 ±4,850
13,906 ±3,571
03:07 (03:00)
34
Midnight Mysteries 3: Devil on the Mississippi
Mar 28, 2012
$9.99
N/A (N/A)
51,786 ±6,891
9,350 ±2,928
09:11 (04:26)
35
Black Mirror II
Apr 2, 2014
$9.99
71% (89%/71%)
67,850 ±7,888
14,625 ±3,662
13:59 (13:04)
36
Nearwood - Collector's Edition
Apr 16, 2014
$9.99
71% (89%)
36,682 ±5,800
11,748 ±3,282
03:53 (03:10)
37
Shardlight
Mar 8, 2016
$14.99
68% (88%/75%)
11,988 ±3,315
7,193 ±2,568
08:39 (06:33)
38
The Men of Yoshiwara: Ohgiya
Apr 19, 2016
$15.99
68% (88%)
6,713 ±2,481
4,555 ±2,044
13:28 (13:50)
39
Clockwork Tales: Of Glass and Ink
Apr 24, 2014
$9.99
68% (88%)
101,655 ±9,654
60,178 ±7,428
04:16 (03:30)
40
Gray Matter
Apr 1, 2014
$9.99
68% (88%/72%)
65,212 ±7,733
33,086 ±5,508
05:12 (02:03)
41
Blue Rose
Apr 23, 2015
$15.99
N/A (N/A)
46,272 ±6,514
29,010 ±5,158
04:13 (03:37)
42
Detective Case and Clown Bot in: Murder in the Hotel Lisbon
Jul 17, 2014
$5.99
68% (88%)
57,301 ±7,249
18,701 ±4,141
03:55 (03:07)
43
Ne no Kami: The Two Princess Knights of Kyoto
Oct 26, 2016
$9.99
N/A (N/A)
3,596 ±1,816
1,918 ±1,326
03:48 (05:43)
44
The Uninvited: MacVenture Series
Jan 26, 2015
$2.99
N/A (N/A)
21,338 ±4,423
11,268 ±3,214
03:49 (03:09)
45
Nancy Drew: Alibi in Ashes
Nov 2, 2011
$6.99
N/A (N/A)
10,789 ±3,145
8,391 ±2,774
10:26 (06:13)
46
Defunct
Jan 29, 2016
$9.99
65% (87%)
21,578 ±4,448
13,906 ±3,571
03:54 (02:41)
47
Freddi Fish 5: The Case of the Creature of Coral Cove
Jun 6, 2014
$6.99
N/A (N/A)
30,688 ±5,305
9,830 ±3,002
08:18 (01:45)
48
House of Hell
Jan 19, 2016
$4.99
N/A (N/A)
3,836 ±1,875
3,117 ±1,690
01:32 (01:11)
49
The Little Acre
Dec 13, 2016
$12.99
65% (87%/62%)
12,707 ±3,413
5,754 ±2,297
04:14 (02:41)
50
Black Mirror III
Apr 3, 2014
$9.99
65% (87%/75%)
71,206 ±8,080
13,666 ±3,540
11:20 (12:53)
51
Nancy Drew: The Captive Curse
Jul 25, 2011
$6.99
N/A (N/A)
10,789 ±3,145
8,391 ±2,774
10:42 (10:16)
52
Runaway: A Twist of Fate
Apr 21, 2011
$9.99
62% (86%/79%)
136,418 ±11,184
28,770 ±5,136
06:49 (05:00)
53
DisneyPixar WALL-E
Feb 24, 2015
$19.99
N/A (N/A)
9,111 ±2,890
4,076 ±1,933
09:49 (06:18)
54
Message Quest
Oct 22, 2015
$2.99
62% (86%)
20,858 ±4,373
12,707 ±3,413
02:13 (01:52)
55
J.U.L.I.A.: Among the Stars
Sep 12, 2014
$19.99
62% (86%/71%)
32,846 ±5,488
23,975 ±4,689
08:33 (06:00)
56
Secret Files: Tunguska
Oct 29, 2009
$9.99
59% (85%)
96,859 ±9,424
17,502 ±4,006
06:06 (04:45)
57
Adventures of Bertram Fiddle: Episode 1: A Dreadly Business
Apr 2, 2015
$5.99
59% (85%)
20,858 ±4,373
5,994 ±2,344
02:10 (01:28)
58
Fire
Apr 9, 2015
$9.99
59% (85%/64%)
21,098 ±4,398
15,584 ±3,780
03:20 (02:47)
59
The Next BIG Thing
Apr 21, 2011
$9.99
59% (85%/75%)
100,456 ±9,597
44,354 ±6,377
04:40 (03:41)
60
Yesterday Origins
Nov 10, 2016
$14.99
59% (85%/74%)
11,748 ±3,282
8,391 ±2,774
09:25 (09:28)
61
Vzerthos: The Heir of Thunder
Jan 19, 2017
$6.99
N/A (N/A)
2,158 ±1,406
1,199 ±1,048
03:02 (04:03)
62
Mimpi
Jan 20, 2015
$3.99
59% (85%)
14,625 ±3,662
7,672 ±2,652
01:58 (01:32)
63
Syberia II
May 19, 2011
$12.99
56% (84%/80%)
530,569 ±22,047
155,599 ±11,944
05:50 (03:56)
64
Metal Dead
Oct 6, 2014
$4.99
56% (84%)
40,278 ±6,077
26,133 ±4,895
03:32 (02:05)
65
The Book of Unwritten Tales: The Critter Chronicles
Dec 5, 2012
$19.99
56% (84%/73%)
123,472 ±10,640
32,127 ±5,428
05:42 (04:45)
66
Silence
Nov 15, 2016
$29.99
56% (84%/75%)
153,681 ±11,870
33,086 ±5,508
04:54 (02:54)
67
Spy Fox 3 "Operation Ozone"
May 15, 2014
$6.99
N/A (N/A)
34,524 ±5,626
12,467 ±3,381
03:05 (02:18)
68
Ankh - Anniversary Edition
May 21, 2015
$7.99
N/A (N/A)
12,947 ±3,445
7,193 ±2,568
04:49 (03:28)
69
Princess Isabella - Return of the Curse
Apr 15, 2014
$4.99
N/A (N/A)
17,742 ±4,033
2,398 ±1,482
03:31 (03:44)
70
Ostrich Island
Jan 8, 2015
$4.99
54% (83%)
19,420 ±4,220
13,906 ±3,571
04:05 (01:28)
71
Robin's Quest
Apr 17, 2014
$4.99
54% (83%)
15,584 ±3,780
3,117 ±1,690
03:47 (04:35)
72
Enigmatis: The Ghosts of Maple Creek
Oct 16, 2014
$9.99
54% (83%)
76,720 ±8,387
53,944 ±7,033
05:39 (04:21)
73
Sherlock Holmes and The Hound of The Baskervilles
Apr 23, 2012
$9.99
54% (83%)
45,073 ±6,429
15,104 ±3,721
15:17 (04:14)
74
Sinless + OST
Dec 16, 2015
$4.99
54% (83%)
71,446 ±8,094
40,278 ±6,077
03:38 (03:30)
75
Heileen 3: New Horizons
Jul 17, 2014
$24.99
N/A (N/A)
21,817 ±4,473
12,467 ±3,381
03:21 (02:28)
76
Theatre Of The Absurd
May 8, 2014
$4.99
54% (83%)
30,448 ±5,284
5,754 ±2,297
02:17 (02:24)
77
SVRVIVE: The Deus Helix
Nov 17, 2016
$18.99
51% (82%)
8,152 ±2,734
3,596 ±1,816
02:20 (02:12)
78
Haunted Past: Realm of Ghosts
Apr 10, 2014
$4.99
N/A (N/A)
14,385 ±3,632
3,357 ±1,754
01:45 (02:28)
79
The Maker's Eden
Jul 30, 2014
$8.99
N/A (N/A)
31,407 ±5,366
16,063 ±3,838
02:03 (01:03)
80
Whispering Willows
Jul 9, 2014
$9.99
51% (82%/64%)
47,710 ±6,614
26,373 ±4,918
02:14 (02:01)
81
Dead Synchronicity: Tomorrow Comes Today
Apr 10, 2015
$19.99
49% (81%/70%)
71,686 ±8,107
30,688 ±5,305
03:41 (03:06)
82
The Charnel House Trilogy
Apr 16, 2015
$5.99
49% (81%/68%)
37,161 ±5,837
20,379 ±4,323
02:36 (02:56)
83
Teddy Floppy Ear - Kayaking
Jan 16, 2015
$4.99
49% (81%)
128,027 ±10,834
77,919 ±8,453
03:30 (03:15)
84
Sylvio
Jun 5, 2015
$12.99
N/A (N/A/60%)
5,994 ±2,344
3,836 ±1,875
02:28 (01:42)
85
Perception
May 30, 2017
$22.99
49% (81%)
7,193 ±2,568
5,275 ±2,199
01:53 (01:37)
86
Game Royale 2 - The Secret of Jannis Island
Dec 22, 2016
$4.99
49% (81%)
2,398 ±1,482
1,439 ±1,148
01:44 (01:20)
87
Projector Face
Jun 1, 2016
$4.99
N/A (N/A)
6,953 ±2,525
4,076 ±1,933
02:31 (02:44)
88
Moebius: Empire Rising
Apr 15, 2014
$14.99
49% (81%/54%)
26,612 ±4,940
16,303 ±3,866
06:49 (05:30)
89
Leaving Lyndow
Feb 8, 2017
$3.99
49% (81%/74%)
10,549 ±3,110
7,193 ±2,568
01:18 (00:48)
90
Shadows 2: Perfidia
Mar 24, 2017
$1.99
47% (80%)
156,078 ±11,962
128,267 ±10,844
03:33 (03:30)
91
Gunmetal Arcadia Zero
Nov 15, 2016
$5.99
N/A (N/A)
67,130 ±7,846
4,555 ±2,044
00:35 (00:14)
92
The Last Crown: Midnight Horror
Oct 29, 2015
$4.99
47% (80%)
7,432 ±2,610
3,596 ±1,816
03:30 (03:38)
93
The Samaritan Paradox
Apr 18, 2014
$6.99
N/A (N/A/75%)
48,669 ±6,680
26,133 ±4,895
04:47 (03:37)
94
Shiftlings
Mar 3, 2015
$14.99
N/A (N/A/70%)
92,304 ±9,200
23,256 ±4,618
03:33 (03:16)
95
The Bunker
Sep 20, 2016
$19.99
45% (79%/57%)
12,227 ±3,348
6,234 ±2,391
02:01 (02:05)
96
Princess Isabella
Apr 15, 2014
$4.99
41% (77%)
16,063 ±3,838
4,795 ±2,097
03:10 (03:17)
97
Empress Of The Deep 2: Song Of The Blue Whale
May 8, 2014
$4.99
N/A (N/A)
18,221 ±4,087
3,596 ±1,816
04:12 (04:32)
98
White Night
Mar 3, 2015
$14.99
41% (77%/68%)
17,502 ±4,006
10,549 ±3,110
07:04 (01:05)
99
Boo Bunny Plague
Sep 4, 2014
$1.99
41% (77%)
17,981 ±4,060
11,508 ±3,248
02:15 (01:36)
100
Perils of Man
Apr 28, 2015
$9.99
41% (77%/61%)
7,672 ±2,652
6,713 ±2,481
05:15 (05:39)
101
The 7th Guest
Oct 18, 2013
$5.99
39% (76%)
98,298 ±9,494
35,004 ±5,665
03:59 (00:50)
102
Voyage: Journey to the Moon
Aug 29, 2014
$1.49
39% (76%)
50,348 ±6,795
6,713 ±2,481
02:06 (00:46)
103
Shadowgate: MacVenture Series
Jan 26, 2015
$2.99
N/A (N/A)
75,522 ±8,322
22,057 ±4,497
02:02 (01:53)
104
Schrdingers Cat And The Raiders Of The Lost Quark
Sep 23, 2014
$9.99
37% (75%/59%)
42,676 ±6,256
14,385 ±3,632
03:44 (04:18)
105
Supreme League of Patriots
Jan 29, 2015
$5.99
N/A (N/A/56%)
29,489 ±5,200
15,104 ±3,721
05:05 (04:02)
106
Dreamscapes: The Sandman - Premium Edition
Apr 16, 2014
$6.99
N/A (N/A)
26,133 ±4,895
3,117 ±1,690
03:47 (03:46)
107
Corrosion: Cold Winter Waiting [Enhanced Edition]
Jul 1, 2015
$7.99
37% (75%)
40,038 ±6,059
18,940 ±4,167
04:08 (04:23)
108
Midnight Mysteries
Sep 28, 2009
$9.99
N/A (N/A)
56,821 ±7,218
12,467 ±3,381
05:34 (04:47)
109
Alpha Polaris : A Horror Adventure Game
Oct 21, 2015
$9.99
35% (74%)
7,193 ±2,568
2,637 ±1,555
04:37 (05:10)
110
Mirrored - Chapter 1
Oct 30, 2015
$1.99
35% (74%)
11,029 ±3,180
6,953 ±2,525
02:31 (03:00)
111
The Detail
Oct 28, 2014
$3.99
33% (73%/77%)
82,474 ±8,696
42,196 ±6,220
02:19 (01:55)
112
Adventure Time: Finn and Jake Investigations
Dec 1, 2015
$9.99
33% (73%)
4,795 ±2,097
3,836 ±1,875
05:05 (05:41)
113
Agatha Christie - The ABC Murders
Feb 4, 2016
$14.99
33% (73%)
120,115 ±10,494
53,225 ±6,986
05:21 (02:50)
114
The Apotheosis Project
Jul 10, 2015
$3.99
N/A (N/A)
17,022 ±3,951
10,549 ±3,110
04:53 (05:05)
115
The Last Sniper VR
Aug 3, 2016
$7.99
30% (71%)
12,467 ±3,381
11,029 ±3,180
01:25 (00:42)
116
Runaway, A Road Adventure
Mar 14, 2007
$9.99
30% (71%/74%)
134,980 ±11,125
50,348 ±6,795
06:57 (02:58)
117
PONCHO
Nov 3, 2015
$9.99
30% (71%/62%)
29,250 ±5,179
11,748 ±3,282
04:22 (04:07)
118
Nevermind
Sep 29, 2015
$19.99
30% (71%)
33,086 ±5,508
16,303 ±3,866
04:40 (02:31)
119
Dj Vu II: MacVenture Series
Jan 26, 2015
$2.99
N/A (N/A)
14,145 ±3,601
5,514 ±2,248
03:32 (02:06)
120
Quantum Conscience
Jun 9, 2015
$4.99
N/A (N/A)
25,893 ±4,873
15,344 ±3,751
04:29 (04:00)
121
Black Sails - The Ghost Ship
Sep 17, 2015
$9.99
28% (70%)
26,852 ±4,962
15,584 ±3,780
04:37 (03:47)
122
Midnight Mysteries: Salem Witch Trials
Mar 28, 2012
$9.99
N/A (N/A)
52,266 ±6,923
13,666 ±3,540
06:16 (03:48)
123
Crime Secrets: Crimson Lily
Jul 14, 2016
$9.99
27% (69%)
35,963 ±5,742
18,940 ±4,167
03:24 (03:01)
124
Odysseus: Long Way Home
Feb 23, 2015
$3.99
N/A (N/A)
131,623 ±10,985
115,081 ±10,272
04:09 (03:31)
125
Last Heroes
Nov 13, 2015
$0.49
N/A (N/A)
11,988 ±3,315
6,473 ±2,436
02:48 (02:36)
126
Adam's Venture Chronicles
Aug 3, 2015
$9.99
25% (68%)
35,723 ±5,723
15,584 ±3,780
03:32 (02:24)
127
Bionic Heart
Aug 13, 2014
$9.99
N/A (N/A)
22,776 ±4,570
15,584 ±3,780
02:31 (01:18)
128
Sinking Island
Dec 5, 2014
$7.99
25% (68%/68%)
29,010 ±5,158
3,836 ±1,875
05:00 (03:52)
129
Soul Axiom
Feb 29, 2016
$19.99
24% (67%/57%)
40,518 ±6,095
14,625 ±3,662
10:23 (07:28)
130
The Clockwork Man: The Hidden World
Sep 23, 2011
$9.99
N/A (N/A)
11,988 ±3,315
7,193 ±2,568
06:53 (05:01)
131
Virginia
Sep 22, 2016
$9.99
24% (67%/74%)
38,120 ±5,912
24,694 ±4,759
02:56 (01:57)
132
City Quest
Aug 20, 2015
$9.99
N/A (N/A)
10,070 ±3,038
5,754 ±2,297
03:41 (03:42)
133
Blues and Bullets
Jul 22, 2015
$4.99
23% (66%/73%)
46,032 ±6,497
31,168 ±5,346
03:24 (03:02)
134
Adventurezator: When Pigs Fly
Sep 17, 2015
$19.99
N/A (N/A)
25,414 ±4,827
17,262 ±3,978
03:32 (02:11)
135
Alter Ego
Aug 3, 2010
$9.99
23% (66%/59%)
27,811 ±5,050
7,432 ±2,610
05:34 (05:02)
136
Tales of Monkey Island Complete Pack: Chapter 4 - The Trial and Execution of Guybrush Threepwood
Oct 30, 2009
N/A
N/A (N/A)
224,887 ±14,358
60,417 ±7,443
05:00 (04:12)
137
Hidden: On the trail of the Ancients
Aug 5, 2015
$9.99
N/A (N/A)
7,432 ±2,610
4,555 ±2,044
03:51 (03:28)
138
EPCH
May 17, 2016
$14.99
N/A (N/A)
1,076 ±1,215
1,076 ±1,215
27:07 (31:57)
139
Hamlet or the Last Game without MMORPG Features, Shaders ...
Oct 22, 2012
$4.99
22% (65%)
43,395 ±6,308
25,174 ±4,804
03:10 (02:44)
140
Pitiri 1977
Nov 7, 2014
$3.99
N/A (N/A)
57,540 ±7,264
23,256 ±4,618
01:50 (01:24)
141
The Secret Monster Society
Jul 28, 2016
$2.19
N/A (N/A)
6,234 ±2,391
3,836 ±1,875
03:37 (03:49)
142
Mythos: The Beginning - Director's Cut
Oct 27, 2014
$5.99
N/A (N/A)
20,858 ±4,373
11,988 ±3,315
03:00 (02:15)
143
Empress Of The Deep
May 8, 2014
$4.99
18% (62%)
14,145 ±3,601
4,076 ±1,933
02:26 (02:39)
144
Al Emmo and the Lost Dutchman's Mine
May 9, 2014
$9.99
N/A (N/A/77%)
14,625 ±3,662
8,391 ±2,774
02:30 (01:55)
145
Captain Morgane and the Golden Turtle
Jan 3, 2014
$4.99
18% (62%)
37,881 ±5,894
20,139 ±4,297
02:57 (02:14)
146
Heileen 2: The Hands Of Fate
Jun 11, 2014
$9.99
N/A (N/A)
22,057 ±4,497
13,906 ±3,571
02:45 (01:57)
147
The Travels of Marco Polo
May 6, 2015
$6.99
N/A (N/A)
15,104 ±3,721
8,631 ±2,813
02:57 (03:07)
148
Rememoried
Aug 31, 2015
$9.99
16% (60%)
15,104 ±3,721
6,473 ±2,436
02:41 (01:50)
149
Myst V
Mar 16, 2012
$9.99
16% (60%/80%)
55,383 ±7,126
23,496 ±4,642
06:45 (02:34)
150
Jack Orlando: Director's Cut
Oct 4, 2013
$4.99
16% (60%)
132,343 ±11,015
69,768 ±7,998
03:15 (03:58)
151
A Vampyre Story
Jul 15, 2014
$19.99
16% (60%/75%)
7,432 ±2,610
2,877 ±1,624
02:34 (02:02)
152
Block Legend DX
Feb 24, 2015
$4.99
N/A (N/A)
8,631 ±2,813
5,994 ±2,344
04:06 (03:40)
153
The Great Fusion
Feb 25, 2015
$2.99
N/A (N/A)
8,391 ±2,774
5,514 ±2,248
01:51 (01:57)
154
Memento Mori
Nov 9, 2012
$12.99
15% (59%/66%)
27,571 ±5,028
7,193 ±2,568
06:05 (03:44)
155
Fall of the New Age Premium Edition
Jul 25, 2014
$6.99
N/A (N/A)
34,524 ±5,626
3,596 ±1,816
03:17 (02:18)
156
Appointment With FEAR
Aug 26, 2014
$4.99
N/A (N/A)
10,789 ±3,145
7,912 ±2,693
03:51 (03:02)
157
Voodoo Whisperer Curse of a Legend
Apr 8, 2014
$4.99
N/A (N/A)
7,432 ±2,610
719 ±812
03:06 (02:56)
158
Subject 13
May 28, 2015
$9.99
13% (56%/59%)
59,698 ±7,399
31,887 ±5,407
04:24 (03:41)
159
Eisenhorn: XENOS
Aug 8, 2016
$19.99
12% (55%/46%)
6,953 ±2,525
4,555 ±2,044
02:29 (01:43)
160
Dark Lore Mysteries: The Hunt For Truth
Apr 8, 2014
$4.99
N/A (N/A)
8,871 ±2,852
959 ±937
02:08 (01:02)
161
White Haven Mysteries
Apr 17, 2014
$4.99
11% (53%)
5,514 ±2,248
1,199 ±1,048
03:53 (03:27)
162
Armikrog
Sep 30, 2015
$9.99
11% (53%/57%)
25,893 ±4,873
19,660 ±4,246
03:56 (03:31)
163
Office lovers
Aug 7, 2016
$15.99
N/A (N/A)
3,117 ±1,690
2,398 ±1,482
05:08 (06:47)
164
Gunspell - Steam Edition
Nov 7, 2014
$14.99
N/A (N/A)
131,623 ±10,985
10,549 ±3,110
03:21 (02:19)
165
Mirror Mysteries 2
Apr 10, 2014
$4.99
N/A (N/A)
8,871 ±2,852
1,918 ±1,326
02:03 (02:16)
166
Black Rainbow
Apr 30, 2014
$6.99
N/A (N/A)
8,871 ±2,852
959 ±937
03:18 (04:21)
167
Daughter of Shadows: An SCP Breach Event
Apr 4, 2016
$0.99
9% (50%)
3,117 ±1,690
2,398 ±1,482
03:33 (03:53)
168
A Princess' Tale
May 20, 2016
$0.49
N/A (N/A)
4,555 ±2,044
3,117 ±1,690
02:56 (02:41)
169
Cylne
Mar 5, 2015
$8.99
N/A (N/A)
3,836 ±1,875
2,637 ±1,555
02:21 (01:42)
170
ADventure Lib
Aug 4, 2015
$1.99
8% (48%)
5,514 ±2,248
4,076 ±1,933
02:16 (02:47)
171
Ghost Pirates of Vooju Island
Jan 27, 2015
$9.99
N/A (N/A/66%)
16,543 ±3,895
2,637 ±1,555
02:17 (02:17)
172
Pilot Brothers 3: Back Side of the Earth
Jan 22, 2015
$4.99
N/A (N/A)
9,350 ±2,928
240 ±468
00:01 (00:00)
173
Lex Mortis
Feb 9, 2015
$4.99
5% (42%)
255,815 ±15,313
240,231 ±14,840
03:38 (03:31)
174
Vault Cracker
May 15, 2014
$4.99
N/A (N/A)
9,350 ±2,928
719 ±812
10:16 (10:15)
175
Endless Room
Sep 30, 2016
$1.99
N/A (N/A)
61,616 ±7,517
58,499 ±7,324
03:35 (03:30)
176
COAST GUARD
Oct 21, 2015
$14.99
N/A (N/A/47%)
11,508 ±3,248
7,432 ±2,610
03:20 (03:11)
177
Corto Maltese - Secrets of Venice
Dec 4, 2014
$9.99
N/A (N/A)
6,713 ±2,481
4,555 ±2,044
03:44 (04:14)