Bridge!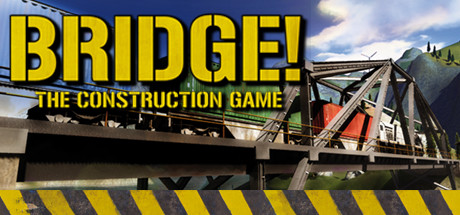 Store | Hub | SteamDB | Site
Developer: Toxtronyx Publisher: Aerosoft
Genre: Casual, Simulation, Strategy
Languages: English, French, German, Spanish
Tags: Casual (21), Strategy (21), Simulation (21)
Category: Single-player
Release date: Oct 28, 2015
Price: $4.99
Owners: 2,052 ± 1,796
Players total: 1,231 ± 1,391 (60%)
Followers: 155
YouTube stats: 2,546,670 views and 13,845 comments for videos uploaded last week, over 50 new videos uploaded yesterday
Playtime total: 00:20 (average) 00:24 (median)

Steam Spy is still in beta, so expect major bugs.
Peak daily concurrent players:
CCU data courtesy of SteamDB. Used with permission.
Hourly concurrent players:
YouTube:
The views data is based on top 50 videos uploaded last week. Actual number of views might be more than the number shown.

The displayed number of videos uploaded yesterday is limited to 50, so if there were more videos uploaded, the number will still show 50.

If the game has commonly used word as its name (like "FEAR" or "Volume") its number of Youtube views might be wrong.
Games similar to this one:
#
Game
Release date

Price

Score rank
(Userscore / Metascore)

Owners

Players

Playtime (Median)

1
Push Me Pull You
Jul 14, 2016
$14.99
N/A (N/A)
4,644 ±2,203
3,824 ±1,999
00:39 (00:41)
2
FIM Speedway Grand Prix 15
Nov 30, 2015
$24.99
78% (91%/68%)
15,023 ±3,963
13,111 ±3,702
18:47 (06:37)
3
Nature Treks VR
May 4, 2017
$9.99
68% (88%)
6,829 ±2,671
4,917 ±2,267
01:02 (00:39)
4
Demolition Company Gold Edition
Aug 4, 2011
$9.99
59% (85%)
26,222 ±5,235
24,857 ±5,097
09:55 (04:37)
5
Happy Drummer VR
Jan 24, 2017
$9.99
N/A (N/A)
2,041 ±1,786
1,633 ±1,597
08:29 (08:37)
6
Sword Master VR
Sep 23, 2016
$9.99
32% (72%)
10,380 ±3,294
9,014 ±3,069
02:14 (00:34)
7
Smash Cars
Oct 18, 2011
$9.99
N/A (N/A)
9,560 ±3,161
7,921 ±2,877
02:25 (01:25)
8
MXGP - The Official Motocross Videogame Compact
Dec 3, 2014
$1.99
23% (66%)
5,736 ±2,448
4,644 ±2,203
07:50 (21:38)
9
Rugby League Team Manager 2015
Jun 19, 2015
$19.99
N/A (N/A)
9,014 ±3,069
8,194 ±2,926
33:28 (12:04)
10
The Collider 2
Apr 19, 2016
$9.99
N/A (N/A/70%)
2,185 ±1,511
1,366 ±1,194
00:57 (01:29)
11
MotoGP17
Jun 15, 2017
$49.99
20% (63%)
13,384 ±3,740
12,019 ±3,544
27:03 (14:08)
12
Thirty Years' War
Jun 9, 2016
$29.99
N/A (N/A)
5,463 ±2,389
1,366 ±1,194
04:52 (03:19)
13
Train Mechanic Simulator 2017
Mar 23, 2017
$14.99
16% (60%)
11,745 ±3,504
10,926 ±3,379
07:43 (04:11)
14
Princess Maker 3: Fairy Tales Come True
Jun 27, 2017
$19.99
15% (59%)
11,472 ±3,463
9,014 ±3,069
11:39 (08:09)
15
Star Trek: Starfleet Command Gold Edition
Nov 22, 2016
$9.99
N/A (N/A)
7,375 ±2,776
6,282 ±2,562
08:44 (02:15)
16
Crash And Burn Racing
Dec 9, 2014
$2.99
N/A (N/A)
10,380 ±3,294
1,912 ±1,413
00:47 (01:43)
17
World of Subways 1 The Path
Nov 5, 2014
$9.99
13% (56%)
3,824 ±1,999
2,731 ±1,689
18:50 (17:46)
18
Rugby Union Team Manager 2015
Dec 3, 2014
$19.99
9% (51%)
11,199 ±3,421
10,380 ±3,294
48:09 (05:01)
19
World of Subways 4 New York Line 7
Mar 23, 2015
$19.99
9% (51%)
10,380 ±3,294
9,833 ±3,206
38:43 (05:37)
20
Comic Book Hero: The Greatest Cape
Dec 9, 2015
$9.99
N/A (N/A)
33,597 ±5,926
4,917 ±2,267
28:38 (08:09)
21
Robot Arena III
Jun 20, 2016
$9.99
1% (29%)
4,644 ±2,203
3,824 ±1,999
06:00 (02:12)
22
Trainz: Classic Cabon City
Sep 1, 2010
$19.99
N/A (N/A)
29,773 ±5,579
9,833 ±3,206
01:17 (00:21)
23
Professional Lumberjack 2015
Mar 5, 2015
$19.99
N/A (N/A)
25,130 ±5,125
21,852 ±4,779
03:32 (00:34)
24
MotorSport Revolution
Jan 15, 2015
$14.99
N/A (N/A)
6,282 ±2,562
2,185 ±1,511
00:25 (00:32)