OZMAFIA!!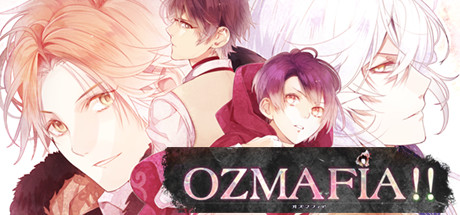 Store | Hub | SteamDB | Site
Developer: Poni-Pachet SY Publisher: MangaGamer
Genre: Adventure
Languages: English
Tags: Otome (41), Visual Novel (34), Anime (27), Female Protagonist (26), Romance (25), Adventure (25), Dating Sim (10)
Category: Single-player, Steam Trading Cards, Steam Cloud
Release date: Apr 29, 2016
Price: $34.99
Score rank: 75% Userscore: 90% Old userscore: 91%
Owners: 8,111 ± 2,681
Players in the last 2 weeks: 685 ± 1,341 (8.45%)
Players total: 6,952 ± 2,482 (85.71%)
Followers: 3,415
Peak concurrent players yesterday: 11
Peak on Twitch yesterday: 1 viewers, 1 channels
YouTube stats: 28 views and 0 comments for videos uploaded last week, 0 new videos uploaded yesterday.
Playtime in the last 2 weeks: 05:12 (average) 05:12 (median)
Playtime total: 19:22 (average) 17:21 (median)

Steam Spy is still in beta, so expect major bugs.
Peak daily concurrent players:
CCU data courtesy of SteamDB. Used with permission.
Hourly concurrent players:
YouTube:
The views data is based on top 50 videos uploaded last week. Actual number of views might be more than the number shown.

The displayed number of videos uploaded yesterday is limited to 50, so if there were more videos uploaded, the number will still show 50.

If the game has commonly used word as its name (like "FEAR" or "Volume") its number of Youtube views might be wrong.
Games similar to this one:
#
Game
Release date

Price

Score rank
(Userscore / Metascore)

Owners

Players

Playtime (Median)

1
Battle Academy 2: Eastern Front
Sep 12, 2014
$39.99
82% (92%/78%)
5,794 ±2,266
4,635 ±2,026
56:06 (13:42)
2
Flashpoint Campaigns: Red Storm Player's Edition
Nov 21, 2014
$49.99
71% (89%)
5,794 ±2,266
5,098 ±2,125
47:52 (24:57)
3
Alien Robot Monsters
Sep 9, 2015
$5.99
71% (89%)
3,940 ±1,868
2,549 ±1,503
16:23 (15:16)
4
NOBUNAGA'S AMBITION: Sphere of Influence
Sep 1, 2015
$59.99
55% (83%/70%)
21,089 ±4,323
19,698 ±4,178
35:27 (12:36)
5
Auralux: Constellations
Jun 1, 2016
$9.99
N/A (N/A)
2,549 ±1,503
2,317 ±1,433
17:04 (17:54)
6
Tank Brawl
Apr 20, 2016
$3.99
N/A (N/A)
6,952 ±2,482
927 ±906
13:11 (15:56)
7
Sengoku Jidai: Shadow of the Shogun
May 19, 2016
$29.99
37% (75%/80%)
2,781 ±1,570
2,549 ±1,503
10:19 (09:28)
8
Little King's Story
Aug 5, 2016
$24.99
35% (74%/62%)
3,708 ±1,812
2,549 ±1,503
09:21 (17:59)
9
Civil War II
Jul 3, 2014
$39.99
33% (73%)
14,368 ±3,568
9,965 ±2,972
443:40 (14:33)
10
Ravenmark: Scourge of Estellion
Sep 10, 2015
$14.99
N/A (N/A/75%)
14,600 ±3,597
6,489 ±2,398
06:38 (06:46)
11
NOBUNAGAS AMBITION: Kakushin with Power Up Kit / with
Jun 25, 2015
$54.99
N/A (N/A)
4,867 ±2,076
4,403 ±1,975
69:43 (43:04)
12
Ground Breakers
Jun 15, 2016
$4.99
N/A (N/A)
6,721 ±2,440
3,940 ±1,868
04:31 (12:29)
13
Firefight
Jul 11, 2016
$9.99
N/A (N/A)
1,390 ±1,110
927 ±906
14:28 (09:40)
14
Shock Tactics
Apr 11, 2017
$19.99
N/A (N/A)
1,854 ±1,281
1,390 ±1,110
09:29 (11:56)