OZMAFIA!!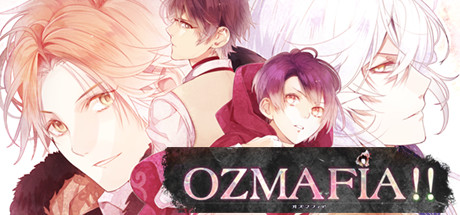 Store | Hub | SteamDB | Site
Developer: Poni-Pachet SY Publisher: MangaGamer
Genre: Adventure
Languages: English
Tags: Otome (48), Visual Novel (38), Female Protagonist (31), Romance (30), Anime (30), Adventure (27), Dating Sim (13)
Category: Single-player, Steam Trading Cards, Steam Cloud
Release date: Apr 29, 2016
Price: $34.99
Score rank: 71% Userscore: 89% Old userscore: 90%
Owners: 7,691 ± 2,579
Players total: 5,429 ± 2,167 (70.59%)
Followers: 3,764
Peak concurrent players yesterday: 10
YouTube stats: 3 views and 0 comments for videos uploaded last week, 1 new videos uploaded yesterday.
Playtime total: 19:35 (average) 21:35 (median)

Steam Spy is still in beta, so expect major bugs.
Peak daily concurrent players:
CCU data courtesy of SteamDB. Used with permission.
Hourly concurrent players:
YouTube:
The views data is based on top 50 videos uploaded last week. Actual number of views might be more than the number shown.

The displayed number of videos uploaded yesterday is limited to 50, so if there were more videos uploaded, the number will still show 50.

If the game has commonly used word as its name (like "FEAR" or "Volume") its number of Youtube views might be wrong.
Games similar to this one:
#
Game
Release date

Price

Score rank
(Userscore / Metascore)

Owners

Players

Playtime (Median)

1
The House in Fata Morgana
May 13, 2016
$24.99
99% (98%)
3,846 ±1,824
2,488 ±1,467
28:00 (37:49)
2
Higurashi When They Cry Hou - Ch.2 Watanagashi
Nov 13, 2015
$7.99
99% (98%)
24,884 ±4,639
9,727 ±2,900
10:55 (10:53)
3
Contradiction - Spot The Liar!
Jul 10, 2015
$9.99
97% (97%)
31,444 ±5,215
16,288 ±3,753
06:07 (06:10)
4
STEINS;GATE
Sep 8, 2016
$34.99
97% (97%/87%)
110,167 ±9,761
73,520 ±7,974
07:15 (01:26)
5
Shantae and the Pirate's Curse
Apr 23, 2015
$19.99
95% (96%)
265,125 ±15,141
125,776 ±10,430
06:44 (05:33)
6
Princess Evangile All Ages Version
Mar 27, 2015
$34.99
92% (95%)
4,072 ±1,876
3,167 ±1,655
14:50 (15:34)
7
A Kiss For The Petals - Remembering How We Met
Sep 25, 2015
$7.99
89% (94%)
21,038 ±4,266
14,930 ±3,594
03:25 (02:00)
8
Narcissu 1st & 2nd
Apr 24, 2015
Free
89% (94%)
386,830 ±18,286
164,912 ±11,942
01:10 (00:12)
9
Tokyo School Life
Feb 12, 2015
$14.99
89% (94%)
28,729 ±4,985
20,359 ±4,196
04:49 (03:50)
10
Metro: Last Light Redux
Aug 25, 2014
$19.99
86% (93%/76%)
1,877,367 ±40,219
1,033,355 ±29,867
09:20 (06:27)
11
SC2VN - The eSports Visual Novel
Sep 22, 2015
Free
82% (92%)
142,290 ±11,093
52,935 ±6,767
01:59 (00:26)
12
Contrast
Nov 15, 2013
$9.99
74% (90%/62%)
245,218 ±14,561
143,647 ±11,146
03:11 (02:26)
13
Pathologic Classic HD
Oct 29, 2015
$2.59
65% (87%/76%)
73,520 ±7,974
42,755 ±6,081
07:38 (02:29)
14
Hearthlands
Apr 28, 2017
$19.99
59% (85%)
26,241 ±4,764
19,002 ±4,054
12:05 (03:42)
15
Chivalry: Medieval Warfare
Oct 16, 2012
$24.99
57% (84%/79%)
5,821,897 ±70,521
4,706,652 ±63,485
17:36 (04:03)
16
Hyperdevotion Noire: Goddess Black Heart (Neptunia)
Apr 26, 2016
$29.99
57% (84%)
46,601 ±6,349
26,015 ±4,744
64:08 (05:08)
17
Dysfunctional Systems: Learning to Manage Chaos
Sep 26, 2013
$4.99
43% (78%)
51,351 ±6,665
23,074 ±4,467
02:20 (01:18)
18
Elder Sign: Omens
Nov 27, 2013
$14.99
43% (78%)
13,799 ±3,455
12,668 ±3,310
09:11 (02:55)
19
Clones
Nov 18, 2010
$4.99
43% (78%)
125,098 ±10,402
84,831 ±8,566
03:04 (02:45)
20
Anime Studio Simulator
Nov 2, 2016
$7.99
N/A (N/A)
8,822 ±2,762
5,655 ±2,211
02:42 (02:16)
21
I am Setsuna
Jul 19, 2016
$39.99
35% (74%)
58,590 ±7,119
51,125 ±6,650
11:59 (05:49)
22
ARSLAN: THE WARRIORS OF LEGEND
Feb 9, 2016
$59.99
33% (73%/57%)
11,763 ±3,190
10,632 ±3,032
33:20 (03:35)
23
Gravitron 2
Sep 30, 2008
$4.99
N/A (N/A)
13,347 ±3,398
7,013 ±2,463
00:40 (00:13)
24
FOR HONOR
Feb 13, 2017
$59.99
6% (45%/76%)
526,631 ±21,333
519,845 ±21,195
50:59 (23:00)