OZMAFIA!!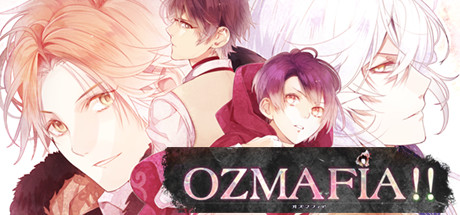 Store | Hub | SteamDB | Site
Developer: Poni-Pachet SY Publisher: MangaGamer
Genre: Adventure
Languages: English
Tags: Otome (46), Visual Novel (37), Anime (29), Female Protagonist (28), Romance (28), Adventure (27), Dating Sim (11)
Category: Single-player, Steam Trading Cards, Steam Cloud
Release date: Apr 29, 2016
Price: $34.99
Score rank: 70% Userscore: 89% Old userscore: 90%
Owners: 7,763 ± 2,399
Players total: 6,986 ± 2,276 (90%)
Followers: 3,631
Peak concurrent players yesterday: 17
Playtime total: 33:22 (average) 24:41 (median)

Steam Spy is still in beta, so expect major bugs.
Peak daily concurrent players:
CCU data courtesy of SteamDB. Used with permission.
Hourly concurrent players:
YouTube:
The views data is based on top 50 videos uploaded last week. Actual number of views might be more than the number shown.

The displayed number of videos uploaded yesterday is limited to 50, so if there were more videos uploaded, the number will still show 50.

If the game has commonly used word as its name (like "FEAR" or "Volume") its number of Youtube views might be wrong.
Games similar to this one:
#
Game
Release date

Price

Score rank
(Userscore / Metascore)

Owners

Players

Playtime (Median)

1
The Legend of Heroes: Trails in the Sky SC
Oct 29, 2015
$29.99
97% (97%/80%)
49,876 ±6,081
25,035 ±4,308
49:41 (35:33)
2
Everlasting Summer
Nov 19, 2014
Free
92% (95%)
1,270,180 ±30,646
816,253 ±24,580
12:29 (02:36)
3
Analogue: A Hate Story
Apr 27, 2012
$9.99
92% (95%/62%)
148,657 ±10,498
90,242 ±8,180
03:51 (02:28)
4
SENRAN KAGURA ESTIVAL VERSUS
Mar 17, 2017
$39.99
92% (95%)
42,501 ±5,614
37,455 ±5,270
13:17 (04:37)
5
Nurse Love Addiction
Jul 7, 2016
$39.99
89% (94%)
8,927 ±2,573
6,210 ±2,146
10:43 (09:02)
6
X-note
Jan 16, 2015
$19.99
N/A (N/A)
29,693 ±4,692
16,496 ±3,497
03:57 (03:23)
7
Sickness
Jan 20, 2016
$9.99
N/A (N/A)
17,078 ±3,558
3,493 ±1,609
06:25 (07:43)
8
Clickteam Fusion 2.5
Dec 5, 2013
$99.99
77% (91%)
100,139 ±8,617
41,337 ±5,536
40:03 (01:49)
9
The Royal Trap: The Confines Of The Crown
Apr 3, 2015
$19.99
77% (91%)
16,690 ±3,518
7,763 ±2,399
05:23 (04:29)
10
Save Jesus
Aug 4, 2016
$1.99
74% (90%)
91,600 ±8,241
64,237 ±6,901
10:16 (02:43)
11
Teddy Floppy Ear - Mountain Adventure
Jan 9, 2015
$4.99
67% (88%)
116,247 ±9,284
72,388 ±7,326
04:48 (03:21)
12
DARK SOULS III
Apr 11, 2016
$59.99
67% (88%/89%)
1,793,001 ±36,388
1,705,864 ±35,496
81:44 (49:11)
13
Sunrider Academy
Apr 15, 2015
$9.99
64% (87%)
60,549 ±6,700
45,994 ±5,840
10:40 (06:09)
14
Bad Rats Show
Jul 20, 2016
$1.99
61% (86%)
24,259 ±4,241
10,674 ±2,813
04:14 (03:48)
15
Hitogata Happa
Sep 27, 2011
$3.99
61% (86%)
60,549 ±6,700
23,288 ±4,155
01:11 (00:14)
16
Sunrider: Liberation Day - Captain's Edition
Mar 4, 2016
$24.99
59% (85%)
89,466 ±8,145
27,364 ±4,504
07:17 (06:05)
17
TyranoBuilder Visual Novel Studio
Mar 27, 2015
$14.99
56% (84%)
31,245 ±4,813
22,900 ±4,121
22:12 (02:22)
18
Gun Wings
Dec 8, 2015
$3.99
53% (83%)
11,838 ±2,963
8,539 ±2,516
02:44 (02:49)
19
How to Take Off Your Mask
Jul 10, 2015
$14.99
N/A (N/A)
7,375 ±2,338
3,881 ±1,696
04:35 (04:54)
20
Littlewitch Romanesque: Editio Regia
Apr 3, 2015
$24.99
49% (81%)
4,270 ±1,779
3,105 ±1,517
17:48 (25:15)
21
001 Game Creator
Jul 13, 2015
$59.99
46% (80%)
3,105 ±1,517
2,523 ±1,367
64:44 (18:22)
22
Children of the Nile: Alexandria
Sep 22, 2008
$2.49
N/A (N/A)
36,679 ±5,215
17,078 ±3,558
29:55 (06:08)
23
Sword of Asumi
Jan 8, 2015
$8.99
40% (77%)
63,655 ±6,870
38,814 ±5,365
03:10 (02:56)
24
Bloodbath Kavkaz
Apr 20, 2015
$7.49
37% (75%)
305,852 ±15,055
162,436 ±10,974
04:45 (04:39)
25
CAFE 0 ~The Drowned Mermaid~
Jan 29, 2015
$6.99
N/A (N/A)
21,153 ±3,960
13,197 ±3,128
03:00 (02:57)
26
East Tower - Akio
Apr 27, 2015
$4.99
N/A (N/A)
13,003 ±3,105
8,151 ±2,458
03:04 (03:02)
27
Planet Stronghold
May 5, 2014
$18.99
N/A (N/A)
35,126 ±5,104
13,585 ±3,174
05:44 (03:44)
28
Pyrite Heart
Sep 25, 2014
$4.99
23% (66%)
15,720 ±3,414
11,062 ±2,864
02:13 (01:20)
29
DarkEnd
Oct 17, 2014
$7.99
N/A (N/A)
142,252 ±10,269
88,495 ±8,100
04:18 (04:20)
30
Beach Bounce
Aug 14, 2015
$12.99
21% (64%)
42,113 ±5,588
27,558 ±4,520
06:11 (05:17)
31
Dinosaur Hunt
Sep 17, 2015
$0.99
18% (62%)
109,067 ±8,992
84,614 ±7,921
02:10 (01:13)
32
Train of Afterlife
Jan 13, 2015
$7.79
N/A (N/A)
22,318 ±4,068
12,809 ±3,082
03:36 (02:40)
33
Heartomics: Lost Count
Nov 26, 2016
$9.99
N/A (N/A)
4,464 ±1,819
1,941 ±1,199
03:09 (05:41)
34
dUpLicity ~Beyond the Lies~
Jan 8, 2015
$9.99
N/A (N/A)
17,854 ±3,638
11,062 ±2,864
03:46 (03:02)
35
DisneyPixar Toy Story 3: The Video Game
Oct 6, 2014
$19.99
7% (47%/73%)
13,585 ±3,174
8,151 ±2,458
05:10 (03:20)
36
RTS Creator
Dec 1, 2014
$9.99
N/A (N/A)
1,553 ±1,073
970 ±848
05:09 (08:18)