OZMAFIA!!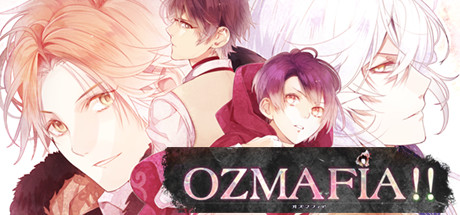 Store | Hub | SteamDB | Site
Developer: Poni-Pachet SY Publisher: MangaGamer
Genre: Adventure
Languages: English
Tags: Otome (41), Visual Novel (33), Anime (26), Female Protagonist (26), Romance (25), Adventure (25), Dating Sim (10)
Category: Single-player, Steam Trading Cards, Steam Cloud
Release date: Apr 29, 2016
Price: $34.99
Score rank: 79% Userscore: 91% Old userscore: 92%
Owners: 7,561 ± 2,535
Players in the last 2 weeks: 671 ± 1,313 (8.87%)
Players total: 6,449 ± 2,342 (85.29%)
Followers: 3,361
Peak concurrent players yesterday: 14
YouTube stats: 521 views and 0 comments for videos uploaded last week, 0 new videos uploaded yesterday.
Playtime in the last 2 weeks: 00:44 (average) 00:44 (median)
Playtime total: 16:33 (average) 14:23 (median)

Steam Spy is still in beta, so expect major bugs.
Peak daily concurrent players:
CCU data courtesy of SteamDB. Used with permission.
Hourly concurrent players:
YouTube:
The views data is based on top 50 videos uploaded last week. Actual number of views might be more than the number shown.

The displayed number of videos uploaded yesterday is limited to 50, so if there were more videos uploaded, the number will still show 50.

If the game has commonly used word as its name (like "FEAR" or "Volume") its number of Youtube views might be wrong.
Games similar to this one:
#
Game
Release date

Price

Score rank
(Userscore / Metascore)

Owners

Players

Playtime (Median)

1
War of the Human Tanks - ALTeR
Feb 13, 2015
$12.99
95% (96%)
5,115 ±2,085
3,114 ±1,627
11:40 (07:35)
2
Hegemony Gold: Wars of Ancient Greece
Mar 30, 2012
$14.99
92% (95%)
18,904 ±4,009
14,678 ±3,533
20:08 (06:42)
3
Treasure Planet: Battle at Procyon
Feb 24, 2015
$9.99
N/A (N/A)
4,448 ±1,944
1,779 ±1,230
06:34 (08:54)
4
System Crash
Aug 1, 2016
$14.99
N/A (N/A)
1,557 ±1,150
1,112 ±972
03:00 (03:47)
5
Kohan: Ahriman's Gift
Aug 24, 2011
$9.99
N/A (N/A/79%)
15,568 ±3,638
5,560 ±2,174
14:23 (07:07)
6
Sword of the Stars: Complete Collection
Jun 4, 2010
$9.99
83% (92%/75%)
16,457 ±3,741
11,120 ±3,075
44:35 (16:44)
7
Heroes of Annihilated Empires
Nov 22, 2006
$14.99
83% (92%/65%)
55,821 ±6,889
16,680 ±3,766
09:55 (03:50)
8
Knights of Honor
Feb 4, 2009
$9.99
79% (91%/77%)
106,082 ±9,497
69,387 ±7,681
21:17 (04:23)
9
Snow Fortress
Dec 16, 2016
$14.99
N/A (N/A)
2,891 ±1,568
2,002 ±1,304
01:31 (02:10)
10
Brothers in Arms: Hell's Highway
Oct 8, 2008
$9.99
75% (90%/79%)
112,531 ±9,781
67,608 ±7,582
12:26 (05:18)
11
Advanced Tactics Gold
Aug 15, 2014
$29.99
N/A (N/A)
6,227 ±2,301
4,670 ±1,993
22:28 (03:22)
12
Spectromancer
Feb 11, 2009
$9.99
72% (89%)
27,799 ±4,862
21,350 ±4,261
46:09 (10:18)
13
Flashpoint Campaigns: Red Storm Player's Edition
Nov 21, 2014
$49.99
72% (89%)
6,005 ±2,259
4,448 ±1,944
29:26 (12:28)
14
Dawn of Discovery
Jun 23, 2009
$9.99
69% (88%/82%)
91,626 ±8,826
34,471 ±5,414
48:58 (06:40)
15
Light of Altair
Jun 4, 2009
$14.99
N/A (N/A/66%)
22,017 ±4,327
7,784 ±2,572
09:34 (06:00)
16
The Men of Yoshiwara: Kikuya
Oct 14, 2015
$29.99
60% (85%)
9,118 ±2,784
6,672 ±2,382
11:56 (09:29)
17
Arcane Sorcery
Sep 15, 2015
$6.99
N/A (N/A)
17,569 ±3,865
13,566 ±3,396
05:22 (05:18)
18
Mushroom Wars
Apr 7, 2016
$9.99
50% (81%/80%)
17,569 ±3,865
13,566 ±3,396
04:43 (03:34)
19
Locoland
May 28, 2015
$4.99
N/A (N/A)
2,224 ±1,375
1,334 ±1,065
05:43 (03:07)
20
Shattered Throne
Nov 28, 2016
$9.99
N/A (N/A)
2,446 ±1,442
1,112 ±972
06:56 (05:02)
21
MAZE LORD
Jun 17, 2016
$4.99
45% (79%)
18,681 ±3,985
14,233 ±3,479
05:29 (05:44)
22
Uprising: Join or Die
May 19, 2016
$6.99
N/A (N/A)
3,781 ±1,793
2,891 ±1,568
06:18 (04:21)
23
For The Glory: A Europa Universalis Game
Nov 11, 2009
$9.99
N/A (N/A)
27,132 ±4,803
11,787 ±3,166
12:18 (02:55)
24
Hidden Dimensions 3
Oct 12, 2016
Free
N/A (N/A)
13,344 ±3,368
2,669 ±1,506
17:05 (07:29)
25
GUILTY GEAR 2 -OVERTURE-
Mar 31, 2016
$19.99
35% (74%)
6,005 ±2,259
3,114 ±1,627
08:17 (03:18)
26
Supreme Ruler 1936
May 9, 2014
$19.99
35% (74%)
22,239 ±4,348
19,126 ±4,033
54:19 (07:33)
27
Winds Of Trade
Feb 13, 2017
$14.99
N/A (N/A)
1,557 ±1,150
890 ±869
03:55 (04:29)
28
Warhammer 40,000: Armageddon - Da Orks
Aug 18, 2016
$19.99
N/A (N/A)
3,558 ±1,739
1,557 ±1,150
03:54 (07:56)
29
Majesty 2
Sep 17, 2009
$9.99
30% (71%/72%)
101,189 ±9,275
64,494 ±7,405
20:15 (07:35)
30
Panzer Tactics HD
May 22, 2014
$2.49
29% (70%/69%)
28,466 ±4,920
16,235 ±3,715
35:33 (03:46)
31
RISK: Factions
Mar 8, 2011
$9.99
29% (70%/77%)
68,720 ±7,644
64,717 ±7,418
13:07 (04:31)
32
The Settlers: Rise Of An Empire Gold Edition
Oct 10, 2008
$19.99
27% (69%/66%)
41,588 ±5,947
36,695 ±5,586
19:48 (07:26)
33
Deadlock II: Shrine Wars
Oct 23, 2014
$6.99
N/A (N/A)
11,342 ±3,105
2,446 ±1,442
07:39 (05:03)
34
Infectonator : Survivors
Aug 8, 2016
$9.99
26% (68%)
30,468 ±5,090
27,577 ±4,842
09:11 (06:23)
35
Sorcerer King
Jul 16, 2015
$19.99
25% (67%/75%)
42,255 ±5,994
31,580 ±5,182
23:22 (10:18)
36
Sorcerer King: Rivals
Sep 22, 2016
$14.99
25% (67%)
6,449 ±2,342
3,781 ±1,793
45:47 (08:29)
37
Fallen Enchantress
Oct 23, 2012
$9.99
22% (65%/78%)
108,306 ±9,596
89,847 ±8,740
28:07 (09:36)
38
DYNASTY WARRIORS 8 Empires
Feb 26, 2015
$49.99
22% (65%)
40,253 ±5,850
38,697 ±5,736
26:17 (16:44)
39
The Seven Years War (1756-1763)
Oct 30, 2015
$19.99
22% (65%)
8,673 ±2,715
3,781 ±1,793
05:47 (05:10)
40
Pandora: First Contact
May 30, 2014
$29.99
21% (64%/68%)
38,252 ±5,703
30,246 ±5,071
22:40 (06:36)
41
Close Combat - Gateway to Caen
Jun 6, 2014
$39.99
21% (64%)
18,236 ±3,938
15,568 ±3,638
31:35 (05:48)
42
Jagged Alliance: Crossfire
Aug 24, 2012
$14.99
20% (63%/63%)
125,653 ±10,336
48,482 ±6,420
14:53 (03:50)
43
Drive on Moscow
Oct 27, 2016
$9.99
N/A (N/A)
3,336 ±1,684
2,224 ±1,375
17:03 (26:38)
44
Life in Bunker
Feb 25, 2016
$15.99
20% (63%)
13,344 ±3,368
12,676 ±3,283
04:21 (03:44)
45
Sovereignty: Crown of Kings
Feb 2, 2017
$24.99
17% (61%)
7,784 ±2,572
6,672 ±2,382
16:59 (10:02)
46
Gnumz: Masters of Defense
Dec 21, 2015
$4.99
N/A (N/A)
13,788 ±3,424
9,563 ±2,851
05:25 (05:32)
47
Megamagic: Wizards of the Neon Age
Apr 20, 2016
$4.99
N/A (N/A/67%)
8,451 ±2,680
5,560 ±2,174
04:21 (04:44)
48
Frontline : Road to Moscow
Aug 8, 2014
$9.99
N/A (N/A)
15,790 ±3,664
4,448 ±1,944
39:05 (11:09)
49
RESCUE 2: Everyday Heroes
Jun 3, 2015
$19.99
12% (55%)
14,456 ±3,506
13,788 ±3,424
08:26 (05:58)
50
Champions of Anteria
Aug 30, 2016
$29.99
12% (54%/67%)
6,449 ±2,342
5,337 ±2,130
10:01 (05:36)
51
The Settlers 7: Paths to a Kingdom: Deluxe Gold Edition
Mar 10, 2011
$19.99
12% (54%/79%)
145,668 ±11,128
134,993 ±10,713
22:59 (06:50)
52
Cults and Daggers
Feb 12, 2015
$29.99
N/A (N/A)
2,669 ±1,506
2,224 ±1,375
02:10 (03:20)
53
Jagged Alliance Online: Reloaded
Sep 24, 2015
$9.99
10% (52%)
6,449 ±2,342
5,782 ±2,217
17:41 (04:41)
54
Infinium Strike
Jul 14, 2016
$9.99
N/A (N/A)
3,114 ±1,627
2,002 ±1,304
05:28 (07:28)
55
Odd||Even
Apr 6, 2016
$4.99
N/A (N/A)
28,911 ±4,958
16,902 ±3,791
04:36 (04:24)
56
Rulers of Nations
Jul 16, 2014
$19.99
6% (44%/63%)
11,120 ±3,075
6,005 ±2,259
15:10 (06:40)
57
StarDrive
Apr 26, 2013
$5.99
5% (42%/61%)
181,696 ±12,428
139,886 ±10,905
21:43 (05:05)
58
The Horus Heresy: Battle of Tallarn - Iron Edition
Feb 8, 2017
$9.99
N/A (N/A)
2,002 ±1,304
890 ±869
03:12 (04:04)
59
Devils & Demons
Oct 6, 2015
$9.99
N/A (N/A)
20,238 ±4,148
4,225 ±1,895
02:49 (05:54)