Super Trench Attack!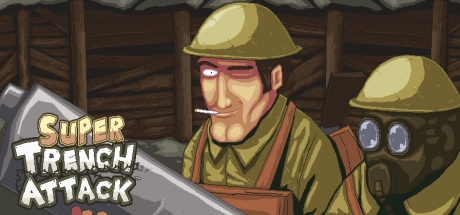 Store | Hub | SteamDB | Site
Developer: Retro Army Limited Publisher: Retro Army Limited
Genre: Action, Indie, RPG
Languages: English
Tags: Action (74), Indie (69), RPG (68), Comedy (31), World War I (29), Singleplayer (16), Shooter (10), Isometric (10), Pixel Graphics (9), Retro (7), Funny (6)
Category: Single-player, Steam Achievements, Full controller support, Steam Trading Cards, Captions available, Steam Cloud, Steam Leaderboards
Release date: Jul 24, 2014
Price: $4.99
Score rank: 82% Userscore: 92% Old userscore: 92%
Owners: 79,199 ± 8,605
Players in the last 2 weeks: 1,494 ± 1,462 (1.89%)
Players total: 53,044 ± 7,042 (66.98%)
Followers: 1,694
Peak concurrent players yesterday: 4
YouTube stats: 13 views and 0 comments for videos uploaded last week, 1 new videos uploaded yesterday.
Playtime in the last 2 weeks: 00:09 (average) 00:12 (median)
Playtime total: 02:54 (average) 02:17 (median)

Steam Spy is still in beta, so expect major bugs.
Peak daily concurrent players:
CCU data courtesy of SteamDB. Used with permission.
Hourly concurrent players:
YouTube:
The views data is based on top 50 videos uploaded last week. Actual number of views might be more than the number shown.

The displayed number of videos uploaded yesterday is limited to 50, so if there were more videos uploaded, the number will still show 50.

If the game has commonly used word as its name (like "FEAR" or "Volume") its number of Youtube views might be wrong.
Games similar to this one:
#
Game
Release date

Price

Score rank
(Userscore / Metascore)

Owners

Players

Playtime (Median)

1
Little Big Adventure 2
Oct 20, 2015
$3.99
99% (98%)
12,955 ±3,480
4,400 ±2,028
10:59 (04:54)
2
Starward Rogue
Jan 22, 2016
$11.99
97% (97%)
90,688 ±9,208
30,555 ±5,345
02:30 (01:11)
3
Major Mayhem
Feb 24, 2014
$4.99
N/A (N/A)
44,733 ±6,467
29,578 ±5,259
03:20 (01:22)
4
Outcast 1.1
Dec 18, 2014
$5.99
95% (96%)
43,511 ±6,378
23,955 ±4,733
22:30 (02:39)
5
Spider: Rite of the Shrouded Moon
Aug 6, 2015
$9.99
N/A (N/A)
35,933 ±5,796
4,644 ±2,084
01:10 (00:33)
6
Delta Force: Black Hawk Down
Jun 18, 2009
$14.99
92% (95%/77%)
28,111 ±5,127
12,711 ±3,447
05:32 (00:56)
7
A-10 VR
Apr 5, 2016
$4.99
92% (95%)
11,978 ±3,346
10,022 ±3,061
03:52 (00:42)
8
UBERMOSH:BLACK
Feb 17, 2016
$1.99
92% (95%)
22,733 ±4,610
5,867 ±2,342
03:36 (00:14)
9
Mighty Switch Force! Hyper Drive Edition
Jun 25, 2015
$9.99
92% (95%/85%)
12,222 ±3,380
8,555 ±2,828
03:10 (01:51)
10
Streets of Fury EX
Jun 25, 2015
$9.99
92% (95%)
10,511 ±3,135
8,067 ±2,746
03:08 (02:23)
11
HoloBall
Apr 25, 2016
$14.99
89% (94%)
26,155 ±4,945
23,711 ±4,708
01:50 (00:54)
12
Space Ace
Aug 27, 2013
$9.99
N/A (N/A)
6,844 ±2,529
4,644 ±2,084
00:37 (00:40)
13
Platypus
Aug 15, 2014
$6.99
89% (94%)
41,800 ±6,251
21,511 ±4,485
02:29 (01:24)
14
The Original Strife: Veteran Edition
Dec 12, 2014
$9.99
89% (94%)
56,466 ±7,266
28,600 ±5,171
02:47 (01:56)
15
Alien Shooter 2: Reloaded
May 27, 2009
$4.99
89% (94%)
208,754 ±13,968
66,733 ±7,899
06:05 (01:37)
16
PixelJunk Shooter
Nov 11, 2013
$8.99
89% (94%/73%)
157,177 ±12,121
78,222 ±8,552
03:30 (01:43)
17
Earth Overclocked
Dec 4, 2015
$4.99
N/A (N/A)
18,578 ±4,168
9,778 ±3,023
02:01 (02:02)
18
Savant - Ascent
Dec 4, 2013
$1.99
89% (94%)
239,065 ±14,948
116,599 ±10,440
01:34 (00:40)
19
Bleed
Jul 3, 2013
$4.99
85% (93%)
134,199 ±11,201
107,066 ±10,005
02:53 (01:27)
20
Ittle Dew
Jul 23, 2013
$9.99
85% (93%/67%)
142,266 ±11,532
71,377 ±8,169
04:38 (02:09)
21
Rogue Trooper
Mar 29, 2007
$9.99
85% (93%/69%)
66,244 ±7,870
15,644 ±3,824
02:37 (01:27)
22
MURI
Dec 6, 2013
$3.99
85% (93%)
43,266 ±6,360
22,489 ±4,585
02:38 (01:10)
23
Run or Die
Dec 11, 2014
$4.99
85% (93%)
11,244 ±3,242
6,600 ±2,484
01:33 (01:10)
24
NyxQuest: Kindred Spirits
Sep 27, 2010
$2.99
85% (93%)
24,689 ±4,804
14,911 ±3,734
02:20 (00:36)
25
Shank
Oct 25, 2010
$9.99
82% (92%/67%)
525,552 ±22,155
263,265 ±15,685
02:46 (00:56)
26
Megabyte Punch
Oct 15, 2013
$14.99
82% (92%/69%)
244,443 ±15,115
66,977 ±7,913
04:04 (01:04)
27
Monster Bash
May 5, 2014
$4.99
N/A (N/A)
57,444 ±7,329
5,867 ±2,342
01:05 (00:23)
28
Painkiller: Black Edition
Jan 24, 2007
$9.99
82% (92%)
336,597 ±17,734
175,510 ±12,808
04:23 (01:13)
29
Planet of the Eyes
Aug 24, 2015
$9.99
79% (91%/66%)
69,911 ±8,085
13,933 ±3,609
02:05 (01:21)
30
Delta Force Black Hawk Down: Team Sabre
Jun 18, 2009
$9.99
79% (91%)
21,022 ±4,433
12,711 ±3,447
08:10 (00:51)
31
Thunder Wolves
May 15, 2013
$9.99
79% (91%/69%)
129,066 ±10,984
40,333 ±6,141
01:36 (00:32)
32
Sam & Max 103: The Mole, the Mob and the Meatball
Jun 15, 2007
Free
N/A (N/A)
156,199 ±12,083
34,222 ±5,657
01:55 (01:37)
33
Aqua Kitty - Milk Mine Defender
Feb 3, 2014
$6.99
75% (90%)
55,244 ±7,187
31,289 ±5,409
01:43 (01:12)
34
Shadow Man
Oct 18, 2013
$4.99
75% (90%)
77,977 ±8,538
24,444 ±4,781
02:47 (00:31)
35
Zombie Shooter
May 27, 2009
$4.99
75% (90%)
132,243 ±11,119
48,400 ±6,727
02:48 (01:01)
36
Ember Kaboom
Jun 3, 2016
$4.99
N/A (N/A)
27,133 ±5,037
1,956 ±1,352
00:34 (00:51)
37
Grey Cubes
May 15, 2015
$0.99
72% (89%)
27,622 ±5,082
9,778 ±3,023
01:43 (00:45)
38
Rot Gut
Jul 12, 2016
$1.99
72% (89%)
10,267 ±3,098
4,400 ±2,028
01:10 (01:17)
39
Rad Rodgers: World One
Dec 1, 2016
$11.99
N/A (N/A/72%)
5,378 ±2,242
3,178 ±1,723
01:14 (01:40)
40
Adventures of Pip
Jun 4, 2015
$14.99
72% (89%/72%)
21,755 ±4,510
11,244 ±3,242
05:03 (02:14)
41
Tiny Barbarian DX
Dec 3, 2013
$29.99
72% (89%)
23,466 ±4,684
14,422 ±3,672
03:11 (01:08)
42
Star Trek: Judgment Rites
May 8, 2015
$5.99
N/A (N/A)
9,533 ±2,985
5,133 ±2,191
13:55 (00:42)
43
Raiden IV: OverKill
Sep 2, 2015
$14.99
72% (89%)
32,511 ±5,513
22,733 ±4,610
03:50 (01:39)
44
Intrusion 2
Sep 11, 2012
$9.99
72% (89%/80%)
384,264 ±18,947
163,532 ±12,364
01:42 (00:27)
45
Choplifter HD
Jan 11, 2012
$9.99
68% (88%/65%)
76,022 ±8,431
30,066 ±5,302
03:23 (00:55)
46
Spooky Cats
Jun 4, 2015
$2.99
68% (88%)
18,822 ±4,195
10,511 ±3,135
01:57 (01:45)
47
Alien Shooter
May 27, 2009
$4.99
68% (88%)
91,177 ±9,233
39,844 ±6,104
02:27 (00:41)
48
Avoid - Sensory Overload
Apr 8, 2014
$4.99
68% (88%)
20,533 ±4,381
13,933 ±3,609
03:10 (01:22)
49
Judge Dredd: Dredd vs. Death
Mar 26, 2009
$7.99
65% (87%/55%)
69,177 ±8,042
39,600 ±6,085
02:42 (00:45)
50
MDK 2
Sep 17, 2009
$9.99
65% (87%/83%)
22,244 ±4,560
8,555 ±2,828
01:45 (01:05)
51
Vertigo
Dec 22, 2016
$14.99
65% (87%)
5,133 ±2,191
3,667 ±1,851
01:47 (01:29)
52
Anodyne
Mar 22, 2013
$9.99
65% (87%/75%)
205,576 ±13,862
111,955 ±10,230
02:58 (01:33)
53
Lightblade VR
May 31, 2016
$3.99
65% (87%)
34,222 ±5,657
33,000 ±5,555
00:56 (00:39)
54
Iron Grip: Warlord
Dec 5, 2008
Free
62% (86%/59%)
147,643 ±11,748
59,155 ±7,437
02:59 (00:57)
55
Delta Force 2
Jun 18, 2009
$4.99
62% (86%)
21,511 ±4,485
10,267 ±3,098
04:14 (00:59)
56
Droid Assault
Jan 9, 2013
$9.99
62% (86%)
85,310 ±8,931
51,088 ±6,911
02:23 (01:22)
57
Acan's Call: Act 1
Aug 11, 2016
Free
62% (86%)
57,200 ±7,313
22,000 ±4,535
00:24 (00:18)
58
Prince of Persia: Warrior Within
Nov 21, 2008
$9.99
62% (86%/83%)
203,132 ±13,779
66,488 ±7,884
05:55 (01:25)
59
Dimensional
Dec 14, 2016
$4.99
N/A (N/A)
2,444 ±1,511
1,956 ±1,352
02:26 (02:01)
60
Spermination
Apr 29, 2015
$2.99
60% (85%)
21,267 ±4,459
12,711 ±3,447
01:25 (00:31)
61
Renegade Ops
Oct 26, 2011
$15
60% (85%/76%)
736,750 ±26,225
203,621 ±13,796
02:52 (01:05)
62
METAL SLUG 2
Apr 14, 2016
$6.99
60% (85%)
40,333 ±6,141
9,778 ±3,023
00:45 (00:46)
63
Call of Duty: United Offensive
Oct 13, 2006
$9.99
60% (85%/87%)
200,687 ±13,696
104,866 ±9,901
08:04 (01:06)
64
Vintage Year
Jan 2, 2015
$2.99
N/A (N/A)
23,466 ±4,684
11,489 ±3,277
02:05 (01:52)
65
Hard Reset Redux
Jun 3, 2016
$19.99
57% (84%/73%)
62,333 ±7,634
37,889 ±5,952
03:24 (01:25)
66
Cluck Yegger in Escape From The Planet of The Poultroid
Nov 9, 2015
$2.99
N/A (N/A)
11,733 ±3,312
1,467 ±1,171
00:20 (00:15)
67
Sonic the Hedgehog 4 - Episode II
May 15, 2012
$9.99
55% (83%/54%)
247,865 ±15,220
66,488 ±7,884
04:58 (00:46)
68
What The Box?
Sep 12, 2016
$4.99
55% (83%)
39,111 ±6,047
34,466 ±5,677
01:24 (00:41)
69
Song of the Deep
Jul 11, 2016
$14.99
55% (83%/71%)
146,666 ±11,709
33,244 ±5,575
03:58 (01:39)
70
Strike Suit Infinity
Apr 30, 2013
$6.99
55% (83%/66%)
218,287 ±14,284
116,844 ±10,451
02:03 (00:57)
71
Rosenkreuzstilette
Feb 2, 2017
$9.99
55% (83%)
3,667 ±1,851
2,444 ±1,511
01:34 (01:47)
72
Glare
Oct 10, 2013
$9.99
N/A (N/A/69%)
16,133 ±3,884
6,111 ±2,390
02:20 (01:17)
73
Karateka
Dec 3, 2012
$9.99
55% (83%/48%)
33,978 ±5,636
12,222 ±3,380
01:20 (00:55)
74
Jet Gunner
Aug 4, 2014
$0.99
55% (83%)
147,643 ±11,748
96,799 ±9,513
02:11 (01:13)
75
Xotic
Sep 16, 2011
$9.99
52% (82%/67%)
93,622 ±9,356
33,000 ±5,555
01:07 (00:29)
76
VERSUS SQUAD
Oct 26, 2016
$7.99
52% (82%)
6,111 ±2,390
4,889 ±2,138
02:07 (02:21)
77
Kingpin Life of Crime
Aug 19, 2009
$9.99
50% (81%)
14,178 ±3,641
10,511 ±3,135
03:30 (01:13)
78
Daedalus - No Escape
Oct 28, 2014
$4.99
50% (81%)
20,289 ±4,355
4,156 ±1,971
00:20 (00:19)
79
Stargunner
May 5, 2014
Free
N/A (N/A)
77,977 ±8,538
3,911 ±1,912
00:50 (00:51)
80
Dragon's Lair
May 17, 2013
$9.99
50% (81%)
43,022 ±6,342
32,266 ±5,493
01:02 (00:22)
81
Serious Sam VR: The First Encounter
Mar 30, 2017
$29.99
50% (81%)
15,400 ±3,794
12,222 ±3,380
02:13 (00:43)
82
Gatling Gears
Aug 30, 2011
$9.99
50% (81%)
33,733 ±5,616
17,600 ±4,056
02:58 (01:15)
83
iBomber Attack
Nov 1, 2012
$5.99
47% (80%)
53,288 ±7,058
16,378 ±3,913
02:00 (00:31)
84
Earthworm Jim 2
Nov 4, 2009
$19.99
N/A (N/A)
21,022 ±4,433
5,133 ±2,191
00:16 (00:18)
85
Shadow Ops: Red Mercury
Jul 2, 2014
$6.99
47% (80%/61%)
21,755 ±4,510
5,622 ±2,292
03:53 (02:50)
86
Kung Fu Strike - The Warrior's Rise
Jul 24, 2012
$9.99
47% (80%)
162,310 ±12,317
71,133 ±8,155
02:30 (00:43)
87
SMASHING THE BATTLE
May 15, 2016
$11.99
47% (80%)
21,267 ±4,459
17,355 ±4,028
02:16 (00:49)
88
DESYNC
Feb 28, 2017
$14.99
47% (80%/68%)
4,156 ±1,971
3,911 ±1,912
01:21 (01:00)
89
TimeShift
Jul 23, 2009
$19.99
47% (80%/71%)
133,466 ±11,170
52,555 ±7,010
03:22 (00:47)
90
Hail to the King: Deathbat
Oct 30, 2014
$5.99
45% (79%)
8,555 ±2,828
7,089 ±2,574
03:33 (01:26)
91
The Legend of Dark Witch
Dec 1, 2015
$4.99
45% (79%)
26,400 ±4,968
13,689 ±3,577
02:32 (01:11)
92
Strike Suit Zero: Director's Cut
Apr 8, 2014
$19.99
45% (79%)
43,266 ±6,360
27,622 ±5,082
03:47 (01:24)
93
Gunjack
Apr 5, 2016
$9.99
45% (79%)
16,378 ±3,913
12,222 ±3,380
04:18 (00:57)
94
GIGANTIC ARMY
Mar 6, 2014
$5.99
45% (79%)
82,866 ±8,802
38,377 ±5,990
02:18 (01:04)
95
Anima Gate of Memories
Jun 2, 2016
$19.99
44% (78%)
14,422 ±3,672
11,978 ±3,346
04:21 (02:05)
96
Alien Breed: Impact
Jun 3, 2010
$9.99
44% (78%/64%)
433,886 ±20,133
152,043 ±11,922
03:06 (01:03)
97
A Blind Legend
Apr 7, 2016
$6.99
44% (78%)
13,933 ±3,609
7,578 ±2,662
01:30 (01:30)
98
Wicce
May 2, 2016
$4.99
44% (78%)
3,422 ±1,788
2,689 ±1,585
01:53 (01:39)
99
Urban Chaos
Oct 15, 2013
$6.99
44% (78%)
13,689 ±3,577
5,133 ±2,191
01:38 (00:29)
100
Vertical Drop Heroes HD
Jul 25, 2014
$6.99
44% (78%/70%)
240,776 ±15,001
70,155 ±8,099
09:09 (00:46)
101
Rocket Knight
May 11, 2010
$14.99
44% (78%/63%)
9,533 ±2,985
7,822 ±2,704
02:22 (01:24)
102
Dark Sector
Mar 24, 2009
$9.99
44% (78%/66%)
76,022 ±8,431
31,778 ±5,451
05:17 (01:46)
103
LocoCycle
Feb 14, 2014
$9.99
41% (77%)
17,355 ±4,028
8,311 ±2,787
05:03 (01:26)
104
Prince of Persia: The Two Thrones
Nov 21, 2008
$9.99
41% (77%/85%)
201,910 ±13,738
59,400 ±7,452
04:36 (00:49)
105
Alien Breed 2: Assault
Sep 22, 2010
$9.99
41% (77%/63%)
488,885 ±21,369
129,310 ±10,995
02:07 (00:28)
106
Alien Shooter 2 Conscription
May 18, 2012
$9.99
N/A (N/A)
76,999 ±8,485
16,622 ±3,942
02:10 (01:10)
107
NecroVisioN: Lost Company
Feb 19, 2010
$6.99
41% (77%)
99,733 ±9,656
17,355 ±4,028
03:06 (01:08)
108
Descent: FreeSpace The Great War
May 7, 2014
$9.99
41% (77%)
21,267 ±4,459
14,178 ±3,641
05:36 (00:45)
109
Zeit
Jan 12, 2011
$9.99
N/A (N/A/72%)
6,844 ±2,529
5,133 ±2,191
01:55 (04:00)
110
Smell Of Death
Jul 4, 2016
$15.99
N/A (N/A)
5,867 ±2,342
1,467 ±1,171
00:18 (00:20)
111
Fist Puncher
Jun 21, 2013
$9.99
41% (77%/73%)
41,311 ±6,215
25,178 ±4,852
02:32 (01:29)
112
Prince of Persia
Dec 10, 2008
$9.99
41% (77%/82%)
250,798 ±15,310
114,888 ±10,364
05:12 (01:02)
113
Woah Dave!
Oct 30, 2014
$4.99
39% (76%)
18,333 ±4,140
8,067 ±2,746
01:26 (01:10)
114
Bionic Commando: Rearmed
Jul 28, 2009
$9.99
39% (76%/86%)
407,241 ±19,505
106,088 ±9,959
01:30 (00:24)
115
Zero Reflex : Black Eye Edition
Nov 4, 2015
$3.99
39% (76%)
19,800 ±4,303
6,844 ±2,529
01:39 (00:33)
116
Hot Tin Roof: The Cat That Wore A Fedora
Feb 20, 2015
$14.99
N/A (N/A/66%)
124,421 ±10,785
23,222 ±4,660
01:48 (00:55)
117
TEMBO THE BADASS ELEPHANT
Jul 21, 2015
$14.99
39% (76%)
36,666 ±5,855
22,978 ±4,635
02:50 (01:11)
118
BiT Evolution
Jun 9, 2015
$9.99
N/A (N/A)
54,022 ±7,107
20,289 ±4,355
02:25 (01:24)
119
Project Freedom
Oct 14, 2009
$2.99
39% (76%)
18,822 ±4,195
6,600 ±2,484
01:09 (00:33)
120
Cinemaware Anthology: 1986-1991
Nov 14, 2014
$9.99
N/A (N/A)
10,267 ±3,098
6,844 ±2,529
00:47 (00:28)
121
FEIST
Jul 23, 2015
$9.99
39% (76%)
28,600 ±5,171
17,600 ±4,056
03:52 (01:42)
122
Watch This!
Sep 23, 2016
$3.99
37% (75%)
22,978 ±4,635
16,133 ±3,884
02:24 (00:52)
123
AquaNox 2: Revelation
Apr 20, 2010
$4.99
37% (75%/59%)
130,043 ±11,026
16,867 ±3,971
06:41 (00:55)
124
Story Of the Survivor
Feb 16, 2016
$4.99
N/A (N/A)
21,267 ±4,459
2,444 ±1,511
00:18 (00:29)
125
Rayman Raving Rabbids
Jun 13, 2008
$9.99
37% (75%/58%)
14,422 ±3,672
11,000 ±3,207
02:51 (01:36)
126
Assault Suit Leynos
Aug 30, 2016
$19.99
N/A (N/A)
2,200 ±1,434
1,467 ±1,171
00:21 (00:21)
127
Spell Fighter VR
Mar 23, 2016
Free
35% (74%)
102,177 ±9,774
51,333 ±6,928
01:02 (00:23)
128
The First Templar - Steam Special Edition
May 12, 2011
$9.99
35% (74%/57%)
116,110 ±10,419
41,066 ±6,196
04:46 (01:37)
129
Ubersoldier II
Mar 25, 2014
$9.99
35% (74%/62%)
42,044 ±6,270
14,911 ±3,734
03:31 (01:02)
130
Bionic Commando
Jul 28, 2009
$9.99
35% (74%/69%)
154,243 ±12,008
57,688 ±7,344
02:46 (01:02)
131
DisneyPixar Finding Nemo
Feb 24, 2015
$9.99
N/A (N/A)
9,289 ±2,947
4,156 ±1,971
03:59 (00:36)
132
The Aquatic Adventure of the Last Human
Jan 19, 2016
$9.99
35% (74%/76%)
13,200 ±3,513
10,022 ±3,061
02:12 (01:32)
133
ManaCollect
Apr 17, 2015
$6.99
N/A (N/A)
9,289 ±2,947
5,133 ±2,191
02:47 (02:52)
134
The Mean Greens - Plastic Warfare
Dec 8, 2015
$9.99
35% (74%)
169,399 ±12,583
114,399 ±10,341
03:20 (01:12)
135
Retrovirus
Jan 31, 2013
$9.99
35% (74%/70%)
25,178 ±4,852
18,089 ±4,112
03:36 (02:15)
136
Adventure Time: Finn and Jake's Epic Quest
Apr 11, 2014
$9.99
35% (74%)
24,933 ±4,828
23,711 ±4,708
03:03 (01:42)
137
Warp
Mar 21, 2012
$9.99
35% (74%)
46,444 ±6,590
27,133 ±5,037
04:36 (01:29)
138
Aztaka
Nov 5, 2009
$9.99
34% (73%)
36,911 ±5,875
11,733 ±3,312
01:49 (00:48)
139
Kill to Collect
Apr 6, 2016
$9.99
34% (73%/57%)
6,844 ±2,529
4,889 ±2,138
04:33 (01:49)
140
Chronicles of Teddy
Apr 2, 2015
$14.99
34% (73%)
14,667 ±3,703
10,022 ±3,061
04:30 (01:50)
141
Painkiller Overdose
Oct 30, 2007
$4.99
34% (73%/65%)
255,198 ±15,443
64,044 ±7,738
03:26 (00:35)
142
Lost Planet: Extreme Condition
Jun 26, 2007
$14.99
32% (72%/66%)
453,441 ±20,581
263,020 ±15,678
04:51 (01:17)
143
Unreal 2: The Awakening
Mar 17, 2008
$14.99
32% (72%/75%)
298,220 ±16,694
66,733 ±7,899
02:10 (00:36)
144
Rain Blood Chronicles: Mirage
Nov 11, 2013
$9.99
32% (72%/68%)
13,444 ±3,545
7,578 ±2,662
01:51 (00:47)
145
Project: Snowblind
Mar 29, 2007
$5.99
32% (72%/76%)
69,422 ±8,056
14,911 ±3,734
02:54 (00:22)
146
Guns n Zombies
Oct 30, 2014
$7.99
30% (71%)
106,577 ±9,982
72,111 ±8,211
02:47 (01:38)
147
A.R.E.S.: Extinction Agenda
Jan 19, 2011
$4.99
30% (71%/68%)
126,866 ±10,890
91,422 ±9,245
02:18 (01:33)
148
Elliot Quest
Nov 10, 2014
$14.99
30% (71%)
23,222 ±4,660
7,578 ±2,662
07:39 (01:24)
149
Slain: Back from Hell
Mar 24, 2016
$12.99
30% (71%/74%)
27,133 ±5,037
19,555 ±4,276
02:07 (00:52)
150
Who's That Flying?!
Jan 31, 2011
$5.99
29% (70%/76%)
30,800 ±5,366
15,644 ±3,824
01:27 (00:36)
151
Incandescent
Jun 30, 2015
$0.99
N/A (N/A)
23,711 ±4,708
11,733 ±3,312
03:43 (02:24)
152
The Chaos Engine
Aug 29, 2013
$9.99
29% (70%/40%)
96,799 ±9,513
46,444 ±6,590
01:57 (01:15)
153
Phantaruk
Aug 16, 2016
$11.99
N/A (N/A/53%)
19,800 ±4,303
6,356 ±2,437
00:42 (00:28)
154
Strike Vector
Jan 28, 2014
$11.99
27% (69%/73%)
171,599 ±12,665
121,488 ±10,657
02:05 (00:45)
155
Majestic Nights
Oct 30, 2014
$4.99
N/A (N/A/32%)
16,867 ±3,971
9,289 ±2,947
01:27 (01:04)
156
YAIBA: NINJA GAIDEN Z
Mar 21, 2014
$29.99
27% (69%/49%)
20,778 ±4,407
14,422 ±3,672
04:10 (02:23)
157
NecroVision
May 20, 2009
$4.99
27% (69%/63%)
119,532 ±10,571
49,622 ±6,811
03:59 (01:11)
158
Disney Alice in Wonderland
Oct 6, 2014
$19.99
N/A (N/A/63%)
9,533 ±2,985
5,133 ±2,191
33:59 (03:08)
159
The Ship: Single Player
Nov 20, 2006
Free
26% (68%)
1,325,368 ±35,148
369,842 ±18,589
01:56 (00:47)
160
Scary Girl
Apr 9, 2012
$6.99
N/A (N/A)
14,178 ±3,641
6,356 ±2,437
01:33 (00:37)
161
Foreign Legion: Multi Massacre
Jul 9, 2012
$6.99
25% (67%)
72,844 ±8,252
34,466 ±5,677
01:51 (00:38)
162
Watchmen: The End is Nigh
Mar 4, 2009
$4.99
23% (66%/61%)
36,666 ±5,855
22,489 ±4,585
01:43 (01:14)
163
Resilience: Wave Survival
Dec 23, 2015
$5.99
23% (66%)
4,889 ±2,138
3,178 ±1,723
00:55 (00:57)
164
Assassins Creed Chronicles: India
Jan 12, 2016
$9.99
23% (66%)
24,200 ±4,757
13,200 ±3,513
04:20 (01:54)
165
Epigenesis
Aug 1, 2014
Free
23% (66%)
247,865 ±15,220
128,577 ±10,963
03:52 (02:22)
166
Dogfight 1942
Sep 21, 2012
$9.99
23% (66%)
113,910 ±10,319
55,488 ±7,203
04:12 (01:11)
167
Kings of Kung Fu
Jun 25, 2015
$9.99
22% (65%)
17,111 ±4,000
13,933 ±3,609
01:31 (00:45)
168
Double Dragon IV
Jan 30, 2017
$6.99
22% (65%/50%)
8,800 ±2,868
8,555 ±2,828
03:11 (02:48)
169
El Matador
Apr 3, 2014
$3.99
22% (65%/54%)
27,378 ±5,059
8,311 ±2,787
01:34 (00:34)
170
Plain Sight
Apr 5, 2010
$4.99
22% (65%/76%)
174,532 ±12,773
111,221 ±10,197
01:44 (00:37)
171
4089: Ghost Within
Jan 9, 2015
$5.99
21% (64%)
16,867 ±3,971
7,822 ±2,704
01:45 (01:37)
172
Stick 'Em Up 2: Paper Adventures
Jul 27, 2015
$2.99
21% (64%)
11,733 ±3,312
6,111 ±2,390
00:50 (00:46)
173
E.T. Armies
Mar 3, 2016
$14.99
21% (64%/54%)
10,022 ±3,061
6,111 ±2,390
02:41 (02:12)
174
DogFighter
Jun 14, 2010
$2.99
21% (64%)
287,464 ±16,390
133,466 ±11,170
01:55 (00:33)
175
Flashback
Oct 1, 2013
$9.99
20% (63%)
24,200 ±4,757
16,622 ±3,942
05:59 (02:47)
176
Alien Shooter: Revisited
May 27, 2009
$4.99
20% (63%)
56,466 ±7,266
19,311 ±4,249
04:59 (00:44)
177
Kane and Lynch: Dead Men
Dec 13, 2007
$6.99
20% (63%/67%)
433,397 ±20,121
139,577 ±11,423
02:19 (00:38)
178
Frontlines: Fuel of War
Feb 29, 2008
$19.99
20% (63%/73%)
248,354 ±15,235
128,332 ±10,953
05:42 (01:41)
179
Sir! I'd Like To Report A Bug!
Oct 19, 2015
$3.99
N/A (N/A)
3,422 ±1,788
1,467 ±1,171
02:10 (02:43)
180
Alpha Prime
Nov 7, 2007
$4.99
19% (62%/59%)
310,198 ±17,025
66,244 ±7,870
02:02 (00:35)
181
Woolfe - The Red Hood Diaries
Mar 17, 2015
$9.99
17% (61%/55%)
62,577 ±7,649
43,266 ±6,360
02:26 (01:18)
182
Vector Thrust
Jul 2, 2015
$24.99
17% (61%/57%)
36,422 ±5,836
22,733 ±4,610
04:01 (01:41)
183
The Ship: Remasted
Oct 31, 2016
$19.99
17% (61%)
51,333 ±6,928
35,200 ±5,737
01:41 (00:44)
184
Code of Princess
Apr 14, 2016
$14.99
17% (61%/53%)
10,511 ±3,135
8,555 ±2,828
02:16 (01:30)
185
Mad Combat Marines
Jul 13, 2016
$0.99
16% (60%)
14,422 ±3,672
10,267 ±3,098
04:03 (02:16)
186
Rogue Warrior
Dec 1, 2009
$4.99
16% (60%/29%)
86,044 ±8,969
38,866 ±6,028
03:39 (01:08)
187
Guardians of Orion
Dec 21, 2016
$0.99
16% (60%)
248,354 ±15,235
173,065 ±12,719
03:19 (00:53)
188
Big Brain Wolf
Nov 5, 2009
$4.99
16% (60%)
22,000 ±4,535
9,778 ±3,023
02:07 (01:44)
189
Masked Forces
Nov 23, 2016
$0.99
15% (59%)
9,289 ±2,947
7,089 ±2,574
01:18 (00:31)
190
Cold War
Jan 8, 2014
$4.99
14% (57%/64%)
33,978 ±5,636
10,511 ±3,135
01:07 (00:31)
191
Yar's Revenge
Apr 28, 2011
$9.99
N/A (N/A/56%)
4,644 ±2,084
2,444 ±1,511
00:39 (00:37)
192
Gun Monkeys
Jun 28, 2013
$5.99
13% (56%)
800,305 ±27,330
460,530 ±20,741
01:35 (00:52)
193
Blood II: The Chosen + Expansion
Jul 14, 2014
$4.99
12% (55%/72%)
15,644 ±3,824
9,044 ±2,908
02:49 (00:50)
194
Rocko's Quest
Apr 24, 2014
$4.99
N/A (N/A/41%)
6,111 ±2,390
1,467 ±1,171
00:26 (00:42)
195
The Stalin Subway
Sep 19, 2014
$3.99
11% (53%)
17,844 ±4,085
13,200 ±3,513
03:11 (01:54)
196
Legendary
Dec 1, 2008
$2.99
11% (53%/50%)
291,864 ±16,515
134,199 ±11,201
01:42 (00:38)
197
Painkiller Redemption
Feb 25, 2011
$4.99
10% (52%/43%)
205,821 ±13,870
40,089 ±6,122
02:55 (00:55)
198
The Club
Feb 20, 2008
$14.99
10% (51%/67%)
25,911 ±4,922
9,533 ±2,985
01:10 (00:42)
199
Aces of the Galaxy
Jul 23, 2009
$9.99
N/A (N/A)
5,133 ±2,191
2,933 ±1,656
01:25 (00:35)
200
Tom Clancy's Rainbow Six Lockdown
May 13, 2008
$9.99
8% (48%/59%)
71,866 ±8,197
19,800 ±4,303
03:53 (00:34)
201
The Stalin Subway: Red Veil
Oct 24, 2014
$2.99
8% (48%)
20,044 ±4,329
13,933 ±3,609
01:48 (01:19)
202
Blazing Angels 2: Secret Missions of WWII
May 13, 2008
$9.99
7% (47%/72%)
23,222 ±4,660
14,422 ±3,672
04:01 (01:18)
203
Albedo: Eyes from Outer Space
Apr 10, 2015
$14.99
7% (47%/66%)
51,822 ±6,961
21,755 ±4,510
02:14 (01:38)
204
Babel Rising
Aug 7, 2012
Free
7% (46%)
19,311 ±4,249
15,889 ±3,854
01:32 (00:53)
205
Disney's Tangled
Oct 6, 2014
$19.99
N/A (N/A)
5,133 ±2,191
3,178 ±1,723
05:29 (05:28)
206
Alone in the Dark
Oct 29, 2013
$9.99
7% (46%/55%)
47,666 ±6,676
12,222 ±3,380
01:55 (00:45)
207
Burn Zombie Burn!
Aug 12, 2010
$9.99
5% (42%/72%)
92,399 ±9,294
42,044 ±6,270
01:58 (00:29)
208
Bunch of Heroes
Sep 21, 2011
$4.99
5% (41%)
168,421 ±12,547
116,110 ±10,419
01:33 (00:48)
209
Damnation
May 22, 2009
$9.99
5% (41%/41%)
80,177 ±8,658
25,178 ±4,852
02:43 (00:42)
210
Beyond Space Remastered Edition
Jun 18, 2014
$4.99
5% (41%)
33,244 ±5,575
20,533 ±4,381
01:32 (01:19)
211
Obludia
Jul 18, 2014
$8.99
N/A (N/A)
14,911 ±3,734
7,578 ±2,662
01:33 (01:19)
212
Apartment 666
Aug 3, 2016
$2.99
4% (40%)
27,622 ±5,082
14,911 ±3,734
02:02 (01:46)
213
The Fallen Kingdom
Sep 19, 2016
$7.99
N/A (N/A)
4,889 ±2,138
733 ±828
00:16 (00:14)
214
Twin Sector
Sep 16, 2009
$0.99
4% (40%/49%)
81,155 ±8,711
28,355 ±5,149
01:38 (00:41)
215
Blacklight: Tango Down
Jul 14, 2010
$0.99
4% (38%/65%)
62,088 ±7,619
54,266 ±7,123
03:07 (01:08)
216
Dead Horde
Jul 27, 2011
$1.99
3% (36%)
105,355 ±9,924
68,933 ±8,028
01:30 (00:46)
217
OCEAN CITY RACING: Redux
Nov 14, 2014
$2.99
3% (35%)
72,599 ±8,239
19,800 ±4,303
01:05 (00:25)
218
Umbrella Corps/Biohazard Umbrella Corps
Jun 21, 2016
$29.99
3% (35%)
9,778 ±3,023
8,311 ±2,787
02:53 (01:26)
219
Knight Adventure
Oct 15, 2015
$4.99
N/A (N/A)
11,733 ±3,312
10,022 ±3,061
02:57 (02:35)
220
Chernobyl Commando
Jun 6, 2014
$9.99
2% (30%)
57,688 ±7,344
13,689 ±3,577
03:16 (00:25)
221
Miner Wars 2081
Nov 28, 2012
$9.99
2% (30%/52%)
92,888 ±9,319
54,266 ±7,123
02:39 (00:44)
222
Ku: Shroud of the Morrigan
Mar 17, 2014
$4.99
N/A (N/A)
28,844 ±5,193
17,111 ±4,000
02:48 (02:06)
223
Raiden Legacy - Steam Edition
Dec 10, 2015
$9.99
N/A (N/A)
2,933 ±1,656
2,200 ±1,434
01:29 (00:43)
224
Shadow Harvest: Phantom Ops
Apr 5, 2011
$9.99
N/A (N/A/34%)
41,555 ±6,233
24,689 ±4,804
04:48 (00:57)
225
Overlord: Fellowship of Evil
Oct 19, 2015
$18.99
1% (25%)
36,177 ±5,816
14,911 ±3,734
01:38 (01:10)
226
Orc Attack: Flatulent Rebellion
May 15, 2014
$9.99
N/A (N/A)
18,822 ±4,195
2,933 ±1,656
00:39 (00:53)