Super Trench Attack!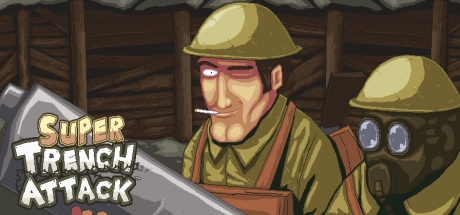 Store | Hub | SteamDB | Site
Developer: Retro Army Limited Publisher: Retro Army Limited
Genre: Action, Indie, RPG
Languages: English
Tags: Action (74), Indie (69), RPG (68), Comedy (31), World War I (29), Singleplayer (16), Isometric (10), Shooter (10), Pixel Graphics (8), Retro (7), Funny (6)
Category: Single-player, Steam Achievements, Full controller support, Steam Trading Cards, Captions available, Steam Cloud, Steam Leaderboards
Release date: Jul 24, 2014
Price: $0.49 90%
Score rank: 83% Userscore: 92% Old userscore: 92%
Owners: 85,008 ± 8,248
Players in the last 2 weeks: 2,484 ± 1,718 (2.92%)
Players total: 59,673 ± 6,910 (70.2%)
Followers: 1,668
Peak concurrent players yesterday: 34
Playtime in the last 2 weeks: 00:38 (average) 00:46 (median)
Playtime total: 02:32 (average) 01:43 (median)

Steam Spy is still in beta, so expect major bugs.
Peak daily concurrent players:
CCU data courtesy of SteamDB. Used with permission.
Hourly concurrent players:
YouTube:
The views data is based on top 50 videos uploaded last week. Actual number of views might be more than the number shown.

The displayed number of videos uploaded yesterday is limited to 50, so if there were more videos uploaded, the number will still show 50.

If the game has commonly used word as its name (like "FEAR" or "Volume") its number of Youtube views might be wrong.
Games similar to this one:
#
Game
Release date

Price

Score rank
(Userscore / Metascore)

Owners

Players

Playtime (Median)

1
TY the Tasmanian Tiger
Dec 12, 2016
$14.99
100% (99%)
36,013 ±5,368
33,291 ±5,162
06:59 (04:41)
2
Major Mayhem
Feb 24, 2014
$4.99
N/A (N/A)
41,666 ±5,774
24,079 ±4,390
03:36 (01:39)
3
Chicken Invaders 3
Jun 8, 2015
$4.99
95% (96%)
5,653 ±2,127
4,816 ±1,963
07:06 (04:48)
4
Batman: Arkham Asylum Game of the Year Edition
Mar 26, 2010
$19.99
95% (96%/91%)
102,177 ±9,042
94,011 ±8,674
21:14 (14:39)
5
Bleed 2
Feb 8, 2017
$9.99
95% (96%/83%)
2,931 ±1,531
2,513 ±1,418
02:36 (03:10)
6
JUJU
Dec 10, 2014
$19.99
N/A (N/A/65%)
2,931 ±1,531
1,884 ±1,228
11:16 (16:28)
7
Deadhunt
Jan 12, 2016
$4.99
N/A (N/A)
1,863 ±1,488
1,242 ±1,215
07:21 (11:33)
8
Mighty Switch Force! Hyper Drive Edition
Jun 25, 2015
$9.99
92% (95%/85%)
15,913 ±3,568
11,725 ±3,063
03:13 (01:21)
9
Miracle Fly
Oct 26, 2015
$7.99
N/A (N/A)
22,194 ±4,214
13,819 ±3,325
03:16 (03:36)
10
Shadow Warrior
Sep 26, 2013
$39.99
89% (94%/73%)
982,194 ±28,005
734,499 ±24,225
07:23 (03:20)
11
Stick it to The Man!
Dec 13, 2013
$14.99
89% (94%/83%)
46,901 ±6,126
20,728 ±4,073
02:55 (02:00)
12
Lethe - Episode One
Aug 1, 2016
$14.99
89% (94%)
3,978 ±1,784
2,722 ±1,476
02:32 (01:48)
13
Max: The Curse of Brotherhood
May 21, 2014
$14.99
89% (94%)
46,691 ±6,113
26,382 ±4,595
04:49 (02:47)
14
Space Ace
Aug 27, 2013
$9.99
89% (94%)
7,747 ±2,490
4,188 ±1,830
00:32 (01:21)
15
The Juicer
Sep 11, 2015
$0.49
86% (93%)
13,191 ±3,249
8,166 ±2,556
04:28 (03:42)
16
Child Of Ault
Jan 24, 2017
$9.99
N/A (N/A)
6,281 ±2,242
4,188 ±1,830
02:39 (03:01)
17
Adventure in the Tower of Flight
Dec 23, 2015
$7.99
N/A (N/A)
10,888 ±2,952
6,491 ±2,279
04:06 (04:22)
18
Shovel Knight: Specter of Torment
Apr 5, 2017
$9.99
N/A (N/A)
3,141 ±1,585
2,513 ±1,418
06:32 (04:28)
19
Tallowmere
Mar 3, 2015
$4.99
86% (93%)
21,566 ±4,154
15,494 ±3,521
08:12 (02:40)
20
Explosionade
Sep 23, 2015
$3.99
N/A (N/A)
11,725 ±3,063
6,909 ±2,351
03:27 (03:37)
21
Death Skid Marks
Nov 20, 2014
$9.99
83% (92%)
22,613 ±4,254
18,425 ±3,840
08:43 (04:43)
22
Disney G-Force
Oct 6, 2014
$19.99
N/A (N/A/61%)
10,888 ±2,952
4,397 ±1,876
03:12 (02:56)
23
Ys VI: The Ark of Napishtim
Apr 28, 2015
$19.99
83% (92%)
58,417 ±6,837
26,800 ±4,631
07:24 (04:49)
24
Momodora III
Jul 1, 2014
$1.99
79% (91%)
48,576 ±6,235
32,244 ±5,080
02:15 (01:57)
25
Devil May Cry 4
Dec 22, 2009
$19.99
79% (91%/78%)
311,974 ±15,796
211,472 ±13,007
07:50 (02:38)
26
Planet of the Eyes
Aug 24, 2015
$9.99
79% (91%/66%)
74,748 ±7,734
11,725 ±3,063
02:32 (01:39)
27
Near Death
Aug 2, 2016
$14.99
79% (91%/70%)
6,281 ±2,242
4,816 ±1,963
03:27 (04:15)
28
Delta Force — Black Hawk Down: Team Sabre
Jun 18, 2009
$9.99
79% (91%)
25,544 ±4,521
14,238 ±3,375
42:35 (01:30)
29
Knightmare Tower
Jun 16, 2014
$3.99
79% (91%)
16,750 ±3,661
12,144 ±3,117
03:21 (03:16)
30
Apocalypse: Party's Over
May 30, 2016
$4.99
75% (90%)
8,375 ±2,589
5,653 ±2,127
05:05 (05:26)
31
Clash of Puppets
Dec 16, 2014
$4.99
N/A (N/A)
15,285 ±3,497
9,003 ±2,684
02:17 (01:55)
32
Marc Eckō's Getting Up: Contents Under Pressure
Dec 13, 2013
$14.99
75% (90%/69%)
50,879 ±6,381
29,522 ±4,861
04:31 (01:21)
33
Mayhem Triple
Sep 4, 2015
$4.99
N/A (N/A)
4,816 ±1,963
2,513 ±1,418
03:08 (03:21)
34
Sayonara Umihara Kawase
Oct 5, 2015
$14.99
75% (90%)
12,563 ±3,171
6,700 ±2,315
07:34 (07:31)
35
Blacksea Odyssey
Jun 1, 2016
$9.99
75% (90%/74%)
17,378 ±3,729
5,234 ±2,046
09:55 (02:56)
36
Spaceman Sparkles 3
Mar 21, 2016
$4.99
N/A (N/A)
3,559 ±1,687
2,513 ±1,418
04:18 (03:27)
37
Death Ray Manta SE
Sep 17, 2015
$2.99
N/A (N/A)
52,554 ±6,485
20,100 ±4,011
01:50 (01:28)
38
Super Furball
Apr 21, 2015
$3.99
N/A (N/A)
8,585 ±2,621
4,397 ±1,876
02:58 (03:37)
39
Hyphen
Feb 12, 2015
$3.99
N/A (N/A)
2,513 ±1,418
1,466 ±1,083
02:41 (02:23)
40
Earn to Die 2
May 5, 2016
$4.99
72% (89%)
9,422 ±2,746
8,585 ±2,621
21:12 (03:45)
41
Moccasin
Feb 21, 2017
$0.99
N/A (N/A)
26,800 ±4,631
18,425 ±3,840
03:10 (03:28)
42
The Fall
May 30, 2014
$9.99
72% (89%/76%)
186,766 ±12,224
114,530 ±9,573
03:04 (02:24)
43
Azure Striker Gunvolt
Aug 28, 2015
$14.99
72% (89%)
25,335 ±4,503
20,938 ±4,093
07:44 (02:45)
44
Tcheco in the Castle of Lucio
Jun 22, 2015
$0.99
69% (88%)
22,822 ±4,274
16,541 ±3,638
03:13 (03:28)
45
Klang
Sep 22, 2016
$14.99
N/A (N/A/71%)
2,094 ±1,294
1,675 ±1,157
01:09 (01:37)
46
Zombo Buster Rising
Oct 2, 2016
$1.99
69% (88%)
7,538 ±2,456
5,025 ±2,005
03:03 (03:18)
47
Super Chibi Knight
Jun 24, 2015
$4.99
69% (88%)
11,306 ±3,008
9,422 ±2,746
04:30 (03:36)
48
Shoot Many Robots
Apr 6, 2012
$9.99
69% (88%)
108,249 ±9,307
88,148 ±8,399
08:37 (04:38)
49
Avoid - Sensory Overload
Apr 8, 2014
$4.99
69% (88%)
17,797 ±3,774
11,306 ±3,008
02:04 (01:31)
50
TY the Tasmanian Tiger 4
Sep 17, 2015
$5.99
69% (88%)
14,656 ±3,425
7,538 ±2,456
03:49 (03:36)
51
The Haunted: Hells Reach
Oct 24, 2011
$8.99
66% (87%/51%)
60,720 ±6,971
50,041 ±6,328
06:27 (02:43)
52
Sumoman
Mar 28, 2017
$16.99
N/A (N/A)
1,884 ±1,228
1,675 ±1,157
02:35 (03:15)
53
Dustoff Heli Rescue
Mar 6, 2015
$3.99
66% (87%)
27,638 ±4,703
18,844 ±3,883
02:43 (02:37)
54
Shadow Complex Remastered
May 3, 2016
$14.99
63% (86%)
146,356 ±10,821
50,879 ±6,381
03:54 (02:47)
55
Viking Squad
Oct 4, 2016
$14.99
63% (86%)
6,909 ±2,351
5,444 ±2,087
04:11 (04:15)
56
DeathSpank: Thongs of Virtue
Nov 30, 2010
$14.99
63% (86%/78%)
90,033 ±8,488
23,450 ±4,332
09:59 (04:09)
57
Prison Run and Gun
Mar 16, 2016
$1.99
63% (86%)
11,516 ±3,036
8,166 ±2,556
02:08 (01:57)
58
A Lenda do Herói - O Herói desta Canção
Mar 24, 2016
$15.99
63% (86%)
16,960 ±3,684
16,122 ±3,592
09:17 (04:21)
59
The Tiny Tale 2
Jan 30, 2015
$6.99
N/A (N/A)
4,397 ±1,876
3,141 ±1,585
03:03 (03:40)
60
Isbarah
Feb 25, 2015
$13.99
N/A (N/A)
2,094 ±1,294
1,047 ±915
02:44 (03:34)
61
She Wants Me Dead
May 13, 2016
$7.99
N/A (N/A)
6,909 ±2,351
4,188 ±1,830
02:33 (02:25)
62
Gnomes Vs. Fairies: Greckel's Quest
Jul 1, 2016
$2.99
N/A (N/A)
3,769 ±1,736
2,513 ±1,418
02:08 (02:09)
63
Gurgamoth
Feb 16, 2016
$4.99
N/A (N/A)
8,585 ±2,621
5,653 ±2,127
02:16 (02:42)
64
Roll'd
Apr 14, 2016
$0.99
60% (85%)
30,360 ±4,929
20,100 ±4,011
02:44 (02:48)
65
Mystik Belle
May 22, 2015
$9.99
60% (85%)
4,816 ±1,963
2,931 ±1,531
03:52 (04:03)
66
Shadow Blade: Reload
Aug 10, 2015
$14.99
60% (85%/70%)
23,660 ±4,351
13,191 ±3,249
03:56 (03:17)
67
Rack N Ruin
Sep 1, 2015
$9.99
N/A (N/A)
19,263 ±3,926
10,050 ±2,836
03:12 (02:50)
68
Deathstate: Abyssal Edition
Oct 19, 2015
$14.99
57% (84%)
10,678 ±2,923
9,213 ±2,715
07:42 (03:27)
69
Last Knight: Rogue Rider Edition
Oct 3, 2014
$7.99
57% (84%)
32,035 ±5,063
20,519 ±4,052
03:44 (02:40)
70
Rosenkreuzstilette
Feb 2, 2017
$9.99
57% (84%)
4,188 ±1,830
2,513 ±1,418
02:50 (02:29)
71
Amaranthine
Apr 6, 2016
$2.99
N/A (N/A)
3,769 ±1,736
2,931 ±1,531
02:54 (03:18)
72
LEGO® Indiana Jones™ 2: The Adventure Continues
Feb 18, 2010
$19.99
55% (83%/66%)
49,623 ±6,302
22,403 ±4,234
13:46 (04:33)
73
Fighties
Jul 13, 2015
$4.99
52% (82%)
11,516 ±3,036
9,631 ±2,776
05:31 (03:50)
74
Dungeons & Darkness
Sep 29, 2016
$9.99
N/A (N/A)
1,884 ±1,228
1,675 ±1,157
09:14 (13:09)
75
Crysis 2 - Maximum Edition
Mar 22, 2011
$29.99
52% (82%)
95,058 ±8,722
93,802 ±8,664
27:31 (17:46)
76
Umihara Kawase Shun: Steam Edition
Nov 24, 2015
$11.99
N/A (N/A)
9,003 ±2,684
3,769 ±1,736
03:46 (02:22)
77
Spaceman Sparkles 2
May 20, 2015
$2.99
N/A (N/A)
6,700 ±2,315
5,653 ±2,127
02:45 (03:17)
78
Airport Madness: World Edition
May 28, 2015
$9.99
50% (81%)
18,844 ±3,883
15,494 ±3,521
07:19 (03:04)
79
Velocity 2X
Aug 19, 2015
$19.99
N/A (N/A)
52,554 ±6,485
8,375 ±2,589
04:29 (02:48)
80
Zombillie
Apr 29, 2016
$4.99
N/A (N/A)
30,150 ±4,912
17,588 ±3,752
03:01 (03:01)
81
Weapon of Choice
Sep 23, 2015
$4.99
N/A (N/A)
7,538 ±2,456
4,188 ±1,830
02:48 (03:12)
82
Trigger Runners
Mar 3, 2016
$1.99
N/A (N/A)
9,422 ±2,746
5,863 ±2,166
03:29 (03:29)
83
The Warlock of Firetop Mountain
Aug 30, 2016
$19.99
48% (80%/70%)
8,585 ±2,621
8,166 ±2,556
11:26 (02:41)
84
RollerForce
Sep 14, 2016
$4.99
N/A (N/A)
1,675 ±1,157
1,047 ±915
02:29 (03:07)
85
Envoy
Mar 17, 2016
$4.99
N/A (N/A)
22,403 ±4,234
15,075 ±3,473
03:56 (04:15)
86
Disney Infinity 3.0: Gold Edition
Dec 9, 2016
$29.99
48% (80%)
9,422 ±2,746
4,397 ±1,876
20:29 (07:20)
87
Protoshift
Jan 15, 2016
$0.99
N/A (N/A)
12,563 ±3,171
8,375 ±2,589
03:11 (03:33)
88
A.R.E.S. Extinction Agenda EX
Oct 3, 2014
$9.99
45% (79%)
9,841 ±2,806
6,491 ±2,279
04:20 (03:17)
89
Strike Suit Zero: Director's Cut
Apr 8, 2014
$19.99
45% (79%)
41,248 ±5,745
28,266 ±4,756
03:41 (01:40)
90
Hail to the King: Deathbat
Oct 30, 2014
$5.99
45% (79%)
6,700 ±2,315
5,025 ±2,005
02:09 (01:44)
91
Curse of the Crescent Isle DX
Aug 21, 2015
$4.99
N/A (N/A)
6,700 ±2,315
3,559 ±1,687
03:24 (02:28)
92
Rocket Knight
May 11, 2010
$14.99
45% (79%/63%)
11,097 ±2,980
7,538 ±2,456
02:09 (01:26)
93
Gun Metal
Jan 16, 2014
$0.99
45% (79%)
225,919 ±13,444
116,624 ±9,660
03:08 (02:58)
94
Ninjahtic
Jul 6, 2015
$1.99
45% (79%)
10,888 ±2,952
5,653 ±2,127
04:22 (02:59)
95
Run Rabbit Run
Mar 31, 2016
$3.99
N/A (N/A)
12,563 ±3,171
9,422 ±2,746
02:29 (02:24)
96
Doctor Who: The Eternity Clock
Nov 15, 2012
$9.99
43% (78%)
16,960 ±3,684
14,447 ±3,400
05:36 (02:37)
97
The Last Tinker™: City of Colors
May 12, 2014
$19.99
43% (78%/72%)
59,882 ±6,923
29,522 ±4,861
03:55 (02:52)
98
Cubway
Aug 11, 2016
$3.99
N/A (N/A)
5,444 ±2,087
3,769 ±1,736
04:14 (04:12)
99
Cashtronauts
Aug 31, 2016
$7.99
N/A (N/A)
8,585 ±2,621
4,816 ±1,963
03:25 (03:18)
100
Toadled
Sep 22, 2016
$0.99
43% (78%)
21,775 ±4,174
16,332 ±3,615
02:54 (02:55)
101
Jim Power -The Lost Dimension
Sep 30, 2015
$4.99
N/A (N/A)
11,306 ±3,008
7,119 ±2,387
06:22 (06:32)
102
Monster High: New Ghoul in School
Dec 21, 2015
$9.99
N/A (N/A)
1,466 ±1,083
1,256 ±1,002
07:11 (11:24)
103
PAC-MAN™ and the Ghostly Adventures
Oct 29, 2013
$19.99
43% (78%)
14,028 ±3,351
9,841 ±2,806
12:18 (01:36)
104
Wicce
May 2, 2016
$4.99
N/A (N/A)
2,094 ±1,294
1,466 ±1,083
02:59 (04:03)
105
Out There: Ω Edition
Apr 2, 2015
$9.99
41% (77%)
53,601 ±6,549
40,829 ±5,716
05:55 (03:36)
106
Diluvion
Feb 2, 2017
$19.99
41% (77%/66%)
18,216 ±3,818
15,075 ±3,473
04:32 (02:16)
107
Arkshot
May 19, 2016
$4.99
N/A (N/A)
5,653 ±2,127
3,978 ±1,784
01:21 (01:32)
108
FEIST
Jul 23, 2015
$9.99
41% (77%)
31,826 ±5,047
19,053 ±3,905
02:42 (01:18)
109
Attractio
Jan 18, 2016
$19.99
N/A (N/A)
61,138 ±6,995
4,606 ±1,920
02:29 (01:29)
110
Advent Rising
Sep 14, 2006
$9.99
41% (77%/70%)
47,529 ±6,167
27,429 ±4,685
05:45 (04:20)
111
Cast of the Seven Godsends - Redux
Jul 20, 2015
$6.99
N/A (N/A)
39,363 ±5,613
19,682 ±3,969
04:32 (04:13)
112
Fist Puncher
Jun 21, 2013
$9.99
41% (77%/73%)
42,504 ±5,832
24,916 ±4,465
03:31 (01:34)
113
Cross of the Dutchman
Sep 10, 2015
$4.49
41% (77%/59%)
19,263 ±3,926
8,166 ±2,556
04:06 (02:51)
114
BossConstructor
Oct 24, 2016
$14.99
41% (77%)
9,422 ±2,746
8,375 ±2,589
08:16 (04:11)
115
Deadlings: Rotten Edition
Nov 11, 2014
$3.99
41% (77%)
75,586 ±7,777
46,063 ±6,072
02:43 (02:31)
116
Alien Attack: In Space
Jun 21, 2016
$1.99
39% (76%)
19,891 ±3,990
14,866 ±3,449
04:00 (04:29)
117
Vampire of the Sands
Jul 17, 2015
$4.99
N/A (N/A)
29,104 ±4,826
15,703 ±3,545
05:09 (06:01)
118
VR Journey
Dec 15, 2016
$2.99
N/A (N/A)
7,119 ±2,387
3,559 ±1,687
03:24 (03:57)
119
Master Reboot
Oct 29, 2013
$14.99
39% (76%/59%)
90,661 ±8,518
44,388 ±5,960
03:09 (02:18)
120
Olympia Rising
Jul 23, 2015
$4.99
N/A (N/A)
16,541 ±3,638
9,422 ±2,746
02:42 (02:58)
121
Traverser
Jul 9, 2015
$14.99
N/A (N/A/61%)
5,653 ±2,127
1,466 ±1,083
04:40 (05:53)
122
Platformines
Mar 28, 2014
$9.99
39% (76%/67%)
115,577 ±9,617
46,901 ±6,126
03:05 (02:48)
123
Spirits of Xanadu
Mar 26, 2015
$2.99
39% (76%)
21,566 ±4,154
15,703 ±3,545
02:58 (02:42)
124
Vector Strain
Dec 9, 2015
$4.99
N/A (N/A)
18,425 ±3,840
11,306 ±3,008
02:51 (03:07)
125
Special Tactics
Apr 26, 2016
$9.99
N/A (N/A)
2,722 ±1,476
1,675 ±1,157
03:57 (05:11)
126
Corgi Warlock
Dec 3, 2015
$2.99
37% (75%)
25,335 ±4,503
18,635 ±3,862
02:35 (02:02)
127
Riddled Corpses
Jun 2, 2015
$7.99
37% (75%)
21,985 ±4,194
13,819 ±3,325
03:21 (03:06)
128
Left Alone
Apr 28, 2016
$4.89
37% (75%)
5,863 ±2,166
4,606 ±1,920
03:55 (04:40)
129
Starchaser: Priestess of the Night Sky
Jul 24, 2015
$9.99
N/A (N/A)
5,234 ±2,046
1,884 ±1,228
02:18 (03:28)
130
Casey Powell Lacrosse 16
Mar 8, 2016
$49.99
N/A (N/A)
2,303 ±1,357
2,094 ±1,294
125:34 (01:09)
131
Warp
Mar 21, 2012
$9.99
37% (75%)
44,807 ±5,988
28,266 ±4,756
03:39 (01:49)
132
Jelly Killer
Mar 24, 2016
$2.99
37% (75%)
7,538 ±2,456
4,816 ±1,963
04:23 (04:21)
133
ARSLAN: THE WARRIORS OF LEGEND
Feb 9, 2016
$59.99
35% (74%/57%)
7,119 ±2,387
5,444 ±2,087
05:27 (03:41)
134
ManaCollect
Apr 17, 2015
$6.99
N/A (N/A)
7,119 ±2,387
3,769 ±1,736
03:56 (04:38)
135
Retrovirus
Jan 31, 2013
$9.99
35% (74%/70%)
23,869 ±4,371
16,960 ±3,684
04:28 (01:56)
136
Incoming Forces
Mar 6, 2014
$9.99
N/A (N/A/67%)
149,496 ±10,937
72,864 ±7,636
03:29 (03:29)
137
Watch This!
Sep 23, 2016
$3.99
35% (74%)
19,682 ±3,969
12,353 ±3,144
01:09 (01:02)
138
Syndrome
Oct 6, 2016
$19.99
35% (74%/56%)
4,188 ±1,830
3,350 ±1,637
05:47 (02:42)
139
EARTHLOCK: Festival of Magic
Sep 27, 2016
$29.99
34% (73%)
13,819 ±3,325
9,422 ±2,746
06:28 (02:08)
140
Wooden Sen'SeY
Dec 5, 2013
$9.99
N/A (N/A)
28,266 ±4,756
12,144 ±3,117
01:24 (01:15)
141
Kill to Collect
Apr 6, 2016
$19.99
32% (72%/57%)
7,747 ±2,490
6,491 ±2,279
07:02 (07:03)
142
Cavern of Time
Feb 10, 2017
$1.19
N/A (N/A)
1,466 ±1,083
838 ±818
03:16 (02:16)
143
Spud's Quest
Jul 31, 2014
$7.99
N/A (N/A)
1,466 ±1,083
628 ±709
03:29 (01:41)
144
FIVE: Guardians of David
Nov 24, 2015
$14.99
N/A (N/A/66%)
14,238 ±3,375
9,422 ±2,746
07:29 (08:07)
145
Viktor
Jun 13, 2014
$7.99
32% (72%)
22,822 ±4,274
14,238 ±3,375
04:33 (02:07)
146
Bubsy Two-Fur
Dec 17, 2015
$4.99
30% (71%)
11,516 ±3,036
7,956 ±2,523
04:34 (04:18)
147
God Mode
Apr 19, 2013
$9.99
30% (71%/58%)
286,220 ±15,131
230,316 ±13,574
04:34 (02:40)
148
Phantaruk
Aug 16, 2016
$11.99
N/A (N/A/53%)
18,007 ±3,796
4,816 ±1,963
02:21 (01:37)
149
Elliot Quest
Nov 10, 2014
$9.99
30% (71%)
25,544 ±4,521
9,422 ±2,746
04:45 (01:20)
150
Zombie Camp
Jul 31, 2016
$1.99
N/A (N/A)
8,585 ±2,621
5,234 ±2,046
02:34 (03:04)
151
Revenge of Roger Rouge
Apr 22, 2016
$0.99
N/A (N/A)
3,769 ±1,736
2,513 ±1,418
02:39 (02:24)
152
Collapse
Apr 11, 2014
$3.99
29% (70%)
45,644 ±6,044
28,057 ±4,738
03:13 (02:04)
153
Darkest of Days
Sep 2009
$19.99
29% (70%/51%)
15,075 ±3,473
14,238 ±3,375
10:17 (08:33)
154
Wyv and Keep: The Temple of the Lost Idol
Aug 8, 2014
$14.99
N/A (N/A)
20,519 ±4,052
10,469 ±2,894
03:37 (03:04)
155
Toxic Bunny HD
Jul 18, 2014
$5.99
N/A (N/A)
8,794 ±2,653
4,816 ±1,963
03:29 (01:29)
156
Incandescent
Jun 30, 2015
$0.99
N/A (N/A)
16,332 ±3,615
7,119 ±2,387
03:14 (02:43)
157
Kill The Plumber
Dec 31, 2015
$4.99
N/A (N/A)
7,119 ±2,387
5,444 ±2,087
02:52 (03:20)
158
8-Bit Commando
Jun 2, 2014
$2.99
N/A (N/A)
46,063 ±6,072
21,775 ±4,174
03:09 (02:46)
159
Majestic Nights
Oct 30, 2014
$4.99
N/A (N/A/32%)
15,075 ±3,473
9,003 ±2,684
04:07 (01:37)
160
Banzai Escape
Feb 29, 2016
$5.99
N/A (N/A)
10,678 ±2,923
8,585 ±2,621
04:56 (04:39)
161
Scourge: Outbreak
Apr 2, 2014
$7.99
26% (68%)
128,349 ±10,134
57,788 ±6,800
05:21 (04:17)
162
Nightmare on Azathoth
Oct 30, 2015
$5.99
N/A (N/A)
5,234 ±2,046
3,559 ±1,687
02:59 (03:22)
163
Assassin's Creed® Chronicles: India
Jan 12, 2016
$9.99
25% (67%)
27,429 ±4,685
12,144 ±3,117
04:02 (02:31)
164
ARMA: Combat Operations
Mar 12, 2008
$1.59
25% (67%/74%)
46,691 ±6,113
29,732 ±4,878
14:29 (01:20)
165
Lost Planet® 2
Oct 15, 2010
$19.99
25% (67%/63%)
175,459 ±11,848
125,208 ±10,009
07:21 (02:24)
166
Platypus II
Aug 15, 2014
$6.99
25% (67%)
168,131 ±11,598
96,733 ±8,798
03:22 (03:04)
167
Urban Pirate
Jun 17, 2016
$6.99
N/A (N/A)
7,747 ±2,490
5,025 ±2,005
03:43 (03:40)
168
Disney Planes
Oct 6, 2014
$19.99
N/A (N/A)
8,375 ±2,589
4,188 ±1,830
03:33 (02:08)
169
Prince of Persia: The Forgotten Sands™
Jun 8, 2010
$9.99
23% (66%/75%)
221,522 ±13,312
88,148 ±8,399
05:56 (03:42)
170
Devil's Dare 悪魔の挑戦
Oct 21, 2014
$12.99
22% (65%)
24,079 ±4,390
15,075 ±3,473
02:13 (01:37)
171
Infinity Runner
Jul 14, 2014
$6.99
22% (65%/56%)
9,003 ±2,684
5,444 ±2,087
04:00 (02:13)
172
Fair Strike
Apr 23, 2015
$3.99
N/A (N/A/56%)
4,967 ±2,430
4,036 ±2,190
03:03 (03:48)
173
E.T. Armies
Mar 3, 2016
$14.99
22% (65%/54%)
9,003 ±2,684
5,025 ±2,005
05:48 (03:50)
174
Infinite Tanks
Mar 25, 2017
$4.99
22% (65%)
1,242 ±1,215
1,242 ±1,215
06:25 (11:46)
175
Swiftly
Jan 26, 2016
$0.99
22% (65%)
12,563 ±3,171
8,585 ±2,621
02:14 (02:25)
176
Zoo Rampage
Jul 9, 2014
$3.99
22% (65%)
5,444 ±2,087
4,397 ±1,876
01:48 (01:58)
177
Hybrid Wars
Sep 29, 2016
$17.99
21% (64%/54%)
8,375 ±2,589
6,072 ±2,204
05:14 (02:10)
178
BloodRayne Betrayal
Apr 30, 2014
$9.99
21% (64%)
97,152 ±8,817
60,092 ±6,935
04:08 (03:09)
179
Disney Epic Mickey 2: The Power of Two
Oct 6, 2014
$19.99
21% (64%)
18,425 ±3,840
11,306 ±3,008
15:12 (01:28)
180
Flashback
Oct 1, 2013
$9.99
21% (64%)
25,544 ±4,521
19,053 ±3,905
05:03 (02:23)
181
Smithy
Jun 3, 2016
$3.99
N/A (N/A)
9,422 ±2,746
6,909 ±2,351
03:05 (03:11)
182
Bombshell
Jan 29, 2016
$34.99
21% (64%)
7,328 ±2,422
5,444 ±2,087
04:28 (03:01)
183
Sir! I'd Like To Report A Bug!
Oct 19, 2015
$3.99
N/A (N/A)
3,769 ±1,736
2,303 ±1,357
04:05 (03:17)
184
Sky To Fly: Faster Than Wind
Mar 25, 2016
$3.99
N/A (N/A)
12,981 ±3,223
8,166 ±2,556
02:33 (02:30)
185
Ninjahtic Mind Tricks
Jul 16, 2015
$1.99
N/A (N/A)
9,841 ±2,806
4,816 ±1,963
04:55 (03:50)
186
Woodle Tree 2: Worlds
Sep 16, 2016
$3.99
20% (63%)
25,335 ±4,503
17,588 ±3,752
03:41 (04:18)
187
Blood Knights
Nov 13, 2013
$9.99
20% (63%)
65,954 ±7,265
35,804 ±5,353
03:25 (02:24)
188
Vector Thrust
Jul 2, 2015
$24.99
19% (62%/57%)
32,872 ±5,129
18,216 ±3,818
05:28 (02:14)
189
Ninja Blade
Nov 19, 2009
$9.99
19% (62%/61%)
14,447 ±3,400
10,678 ±2,923
04:43 (02:11)
190
I am Weapon: Revival
Oct 23, 2015
$15.99
19% (62%)
16,960 ±3,684
9,213 ±2,715
03:36 (02:23)
191
Tic-Toc-Tower
Sep 28, 2015
$4.99
N/A (N/A)
12,563 ±3,171
8,375 ±2,589
03:39 (03:49)
192
Wanderlust Adventures
Aug 10, 2015
$4.99
19% (62%)
19,472 ±3,948
18,425 ±3,840
07:48 (04:28)
193
Zombie Camp: Last Survivor
Apr 17, 2015
$2.99
N/A (N/A)
2,931 ±1,531
838 ±818
03:36 (04:42)
194
! That Bastard Is Trying To Steal Our Gold !
Mar 3, 2016
$3.99
N/A (N/A)
6,700 ±2,315
4,188 ±1,830
04:58 (05:47)
195
The Waste Land
Sep 16, 2014
$0.99
16% (60%)
8,794 ±2,653
5,653 ±2,127
02:18 (02:28)
196
Will Fight for Food: Super Actual Sellout: Game of the Hour
Apr 22, 2015
$5.99
N/A (N/A)
17,797 ±3,774
8,375 ±2,589
03:30 (03:20)
197
Crazy Forest
Jul 6, 2016
$0.49
N/A (N/A)
82,286 ±8,115
47,529 ±6,167
02:19 (02:58)
198
Heavy Fire: Afghanistan
Aug 15, 2014
$2.99
16% (59%)
37,060 ±5,446
26,172 ±4,577
02:22 (01:56)
199
Russian VR Coasters
Jul 27, 2016
$5.75
N/A (N/A)
2,303 ±1,357
2,303 ±1,357
03:10 (05:33)
200
Stay Dead Evolution
Feb 4, 2015
$5.99
N/A (N/A)
25,335 ±4,503
10,050 ±2,836
03:20 (03:12)
201
Super Helmets on Fire DX Ultra Edition Plus Alpha
Feb 15, 2016
$0.99
N/A (N/A)
8,166 ±2,556
5,863 ±2,166
02:48 (03:19)
202
Scooby Doo! & Looney Tunes Cartoon Universe: Adventure
Jul 16, 2014
$19.99
N/A (N/A)
3,141 ±1,585
2,094 ±1,294
15:51 (03:04)
203
I, Gladiator
Apr 7, 2015
$7.99
14% (57%)
15,075 ±3,473
10,678 ±2,923
04:46 (03:06)
204
Prospekt
Feb 18, 2016
$9.99
14% (57%/43%)
20,100 ±4,011
15,285 ±3,497
03:56 (03:13)
205
Inversion™
Jul 26, 2012
$9.99
14% (57%)
43,551 ±5,904
28,057 ±4,738
04:53 (02:12)
206
Solarix
Apr 30, 2015
$19.99
13% (56%)
20,519 ±4,052
9,422 ±2,746
03:44 (03:24)
207
Marvel: Ultimate Alliance 2
Jul 26, 2016
$39.99
12% (54%)
11,725 ±3,063
6,281 ±2,242
06:57 (01:54)
208
Disposable Heroes
Mar 22, 2016
$4.99
N/A (N/A)
6,909 ±2,351
3,769 ±1,736
03:55 (04:34)
209
TRANSFORMERS™: Rise of the Dark Spark
Jun 24, 2014
$9.99
10% (51%)
33,710 ±5,194
24,497 ±4,428
10:42 (05:56)
210
Rubber and Lead
Sep 4, 2015
$4.99
N/A (N/A)
45,854 ±6,058
30,569 ±4,946
04:09 (04:26)
211
Scapeland
Mar 31, 2016
$3.99
N/A (N/A)
9,841 ±2,806
6,491 ±2,279
03:35 (03:41)
212
Quick Slick Deadly
Sep 21, 2015
$1.99
N/A (N/A)
32,454 ±5,096
19,053 ±3,905
03:35 (03:35)
213
Runeyana
Mar 21, 2017
$8.99
N/A (N/A)
4,606 ±1,920
2,094 ±1,294
05:16 (05:14)
214
Infinium Strike
Jul 14, 2016
$9.99
N/A (N/A)
3,559 ±1,687
2,513 ±1,418
01:22 (02:47)
215
Fabula Mortis
Oct 27, 2014
$11.99
N/A (N/A)
16,122 ±3,592
9,213 ±2,715
02:42 (02:40)
216
Young Justice: Legacy
Nov 19, 2013
$2.99
7% (47%)
6,700 ±2,315
5,234 ±2,046
03:06 (01:23)
217
Fly in the House
Mar 6, 2015
$9.99
6% (45%)
11,097 ±2,980
8,375 ±2,589
04:41 (03:13)
218
Heavy Fire: Shattered Spear
Oct 23, 2015
$3.99
N/A (N/A)
6,072 ±2,204
3,350 ±1,637
01:58 (02:27)
219
Burstfire
Sep 24, 2015
Free
6% (43%)
72,026 ±7,592
52,135 ±6,459
04:14 (05:14)
220
Obludia
Jul 18, 2014
$8.99
N/A (N/A)
14,447 ±3,400
8,375 ±2,589
02:47 (01:35)
221
R.I.P.D.: The Game
Jul 16, 2013
$9.99
5% (42%)
36,013 ±5,368
23,869 ±4,371
02:26 (02:12)
222
Avaris 2: The Return of the Empress
Dec 14, 2015
$7.99
N/A (N/A)
2,303 ±1,357
1,884 ±1,228
01:44 (02:41)
223
Wave of Darkness
Nov 5, 2015
$29.99
N/A (N/A)
11,516 ±3,036
6,700 ±2,315
03:13 (02:54)
224
Dusk 12
Aug 22, 2014
$3.99
5% (41%)
6,281 ±2,242
3,978 ±1,784
02:23 (01:52)
225
Crispy Chicken
Apr 18, 2017
$4.95
N/A (N/A)
4,816 ±1,963
3,769 ±1,736
04:01 (04:18)
226
- Arcane Raise -
Mar 10, 2017
$2.99
N/A (N/A)
6,909 ±2,351
5,234 ±2,046
02:21 (02:20)
227
Dead But Alive! Southern England
Oct 2, 2015
$14.99
N/A (N/A)
14,656 ±3,425
7,747 ±2,490
03:27 (03:38)
228
Blue Sheep
Mar 31, 2016
$1.99
N/A (N/A)
4,397 ±1,876
2,513 ±1,418
02:48 (02:48)
229
Tiamat X
May 29, 2015
$1.99
N/A (N/A)
40,410 ±5,687
16,332 ±3,615
03:21 (03:37)
230
Kick-Ass 2
Aug 15, 2014
$19.99
N/A (N/A)
16,332 ±3,615
9,422 ±2,746
03:29 (02:47)
231
Umbrella Corps™/Biohazard Umbrella Corps™
Jun 21, 2016
$29.99
3% (36%)
10,888 ±2,952
9,213 ±2,715
07:34 (02:56)
232
CDF Ghostship
Jun 26, 2015
$9.99
3% (35%)
4,606 ±1,920
3,141 ±1,585
04:36 (01:30)
233
PixBit
May 21, 2016
$1.99
N/A (N/A)
58,626 ±6,850
41,038 ±5,731
03:04 (03:28)
234
Botology
Jun 24, 2015
$1.99
2% (32%)
28,057 ±4,738
20,938 ±4,093
03:52 (03:22)
235
Bloodbath
Jun 16, 2014
$14.99
N/A (N/A)
5,863 ±2,166
4,606 ±1,920
01:54 (02:04)
236
Hush
Jul 29, 2015
$9.99
N/A (N/A)
11,725 ±3,063
7,328 ±2,422
04:30 (05:43)
237
Ku: Shroud of the Morrigan
Mar 17, 2014
$4.99
N/A (N/A)
24,707 ±4,447
13,610 ±3,300
02:58 (02:06)
238
Knight Adventure
Oct 15, 2015
$4.99
N/A (N/A)
8,375 ±2,589
6,281 ±2,242
03:40 (03:35)
239
Psichodelya
Aug 8, 2014
$6.99
N/A (N/A)
45,854 ±6,058
16,750 ±3,661
02:45 (01:43)
240
Raiden Legacy - Steam Edition
Dec 10, 2015
$9.99
N/A (N/A)
2,303 ±1,357
1,675 ±1,157
04:24 (06:25)
241
The Asskickers-Steam Edition
Feb 6, 2015
$9.99
N/A (N/A)
10,050 ±2,836
5,234 ±2,046
03:30 (03:24)
242
Solar Shifter EX
Sep 11, 2015
$4.99
N/A (N/A)
16,332 ±3,615
5,863 ±2,166
03:37 (03:56)
243
Hard Truck Apocalypse: Arcade / Ex Machina: Arcade
Mar 14, 2014
$4.99
1% (25%)
19,263 ±3,926
10,888 ±2,952
03:07 (02:38)
244
VERGE:Lost chapter
Oct 1, 2015
$1.99
1% (21%)
47,948 ±6,194
39,573 ±5,628
04:01 (04:00)
245
Zombies on a Plane
Mar 25, 2016
$4.99
N/A (N/A)
6,491 ±2,279
5,444 ±2,087
03:04 (03:20)
246
Once Bitten, Twice Dead!
Jul 7, 2015
$4.99
N/A (N/A)
17,378 ±3,729
9,213 ±2,715
03:35 (03:31)