Super Trench Attack!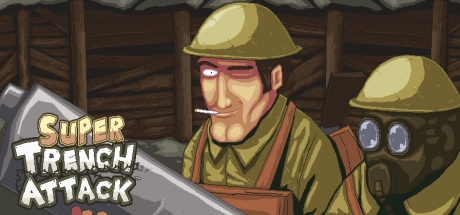 Store | Hub | SteamDB | Site
Developer: Retro Army Limited Publisher: Retro Army Limited
Genre: Action, Indie, RPG
Languages: English
Tags: Action (73), Indie (68), RPG (67), Comedy (30), World War I (28), Singleplayer (15), Isometric (10), Shooter (9), Pixel Graphics (7), Retro (6), Funny (5)
Category: Single-player, Steam Achievements, Full controller support, Steam Trading Cards, Captions available, Steam Cloud, Steam Leaderboards
Release date: Jul 24, 2014
Price: $4.99
Score rank: 85% Userscore: 93% Old userscore: 92%
Owners: 74,274 ± 7,807
Players in the last 2 weeks: 644 ± 727 (0.87%)
Players total: 50,017 ± 6,406 (67.34%)
Followers: 1,615
Peak concurrent players yesterday: 5
Playtime in the last 2 weeks: 00:16 (average) 00:16 (median)
Playtime total: 02:36 (average) 01:53 (median)

Steam Spy is still in beta, so expect major bugs.
Peak daily concurrent players:
CCU data courtesy of SteamDB. Used with permission.
Hourly concurrent players:
YouTube:
The views data is based on top 50 videos uploaded last week. Actual number of views might be more than the number shown.

The displayed number of videos uploaded yesterday is limited to 50, so if there were more videos uploaded, the number will still show 50.

If the game has commonly used word as its name (like "FEAR" or "Volume") its number of Youtube views might be wrong.
Games similar to this one:
#
Game
Release date

Price

Score rank
(Userscore / Metascore)

Owners

Players

Playtime (Median)

1
TY the Tasmanian Tiger
Dec 12, 2016
$14.99
100% (99%)
31,341 ±5,071
28,980 ±4,876
07:19 (04:12)
2
Starward Rogue
Jan 22, 2016
$11.99
97% (97%)
84,577 ±8,331
23,613 ±4,402
02:21 (00:59)
3
Turok
Dec 17, 2015
$19.99
94% (96%)
48,514 ±6,309
40,786 ±5,785
04:09 (02:14)
4
Rune Classic
Jun 13, 2012
$9.99
91% (95%)
101,321 ±9,118
32,844 ±5,191
04:58 (01:04)
5
Savant - Ascent
Dec 4, 2013
$1.99
91% (95%)
239,350 ±14,012
111,410 ±9,561
01:45 (00:42)
6
Defend The Highlands
Nov 6, 2015
$9.99
N/A (N/A)
30,697 ±5,019
10,733 ±2,968
02:40 (00:43)
7
The Original Strife: Veteran Edition
Dec 12, 2014
$9.99
88% (94%)
54,310 ±6,676
25,545 ±4,578
04:25 (01:42)
8
Lethe - Episode One
Aug 1, 2016
$14.99
88% (94%)
6,869 ±2,374
3,864 ±1,780
05:21 (06:12)
9
Angry Video Game Nerd II: ASSimilation
Mar 29, 2016
$9.99
88% (94%)
17,173 ±3,754
14,597 ±3,461
05:37 (03:07)
10
Unbox
Sep 5, 2016
$19.99
88% (94%/68%)
17,173 ±3,754
9,445 ±2,784
02:37 (01:04)
11
Tallowmere
Mar 3, 2015
$4.99
88% (94%)
19,320 ±3,982
15,241 ±3,536
04:31 (02:50)
12
80 Days
Sep 28, 2015
$9.99
85% (93%/84%)
82,431 ±8,224
42,289 ±5,891
06:46 (02:40)
13
Gurumin: A Monstrous Adventure
Mar 30, 2015
$9.99
81% (92%)
67,834 ±7,461
30,268 ±4,984
04:43 (03:53)
14
Momodora III
Jul 1, 2014
$1.99
81% (92%)
49,158 ±6,351
33,487 ±5,242
02:54 (01:48)
15
Bye-Bye, Wacky Planet
Nov 4, 2016
$4.99
N/A (N/A)
58,818 ±6,947
32,629 ±5,174
03:13 (03:44)
16
Geometry Wars™ 3: Dimensions Evolved
Nov 25, 2014
$14.99
81% (92%)
119,997 ±9,922
64,399 ±7,269
06:09 (01:43)
17
Megabyte Punch
Oct 15, 2013
$14.99
81% (92%/69%)
236,774 ±13,936
69,766 ±7,566
03:55 (00:50)
18
Devil May Cry 4
Dec 22, 2009
$19.99
81% (92%/78%)
301,602 ±15,727
204,360 ±12,948
08:13 (02:38)
19
Cobalt
Feb 2, 2016
$19.99
77% (91%/69%)
29,194 ±4,895
21,681 ±4,218
07:56 (02:18)
20
INK
Aug 5, 2015
$4.99
77% (91%/68%)
191,909 ±12,547
75,991 ±7,896
02:11 (00:57)
21
Raiden IV: OverKill
Sep 2, 2015
$14.99
77% (91%)
31,126 ±5,054
21,466 ±4,197
02:47 (01:06)
22
Oddworld: New 'n' Tasty
Feb 25, 2015
$19.99
77% (91%/87%)
200,925 ±12,838
116,348 ±9,770
05:28 (02:17)
23
Shadow Man
Oct 18, 2013
$4.99
77% (91%)
76,850 ±7,941
21,896 ±4,239
04:09 (00:27)
24
Conflict Desert Storm™
May 28, 2012
$6.99
74% (90%/56%)
27,692 ±4,767
21,252 ±4,176
03:48 (00:44)
25
The Curious Expedition
Sep 2, 2016
$14.99
74% (90%/74%)
38,854 ±5,647
37,351 ±5,536
10:21 (04:26)
26
Zombie Shooter
May 27, 2009
$4.99
74% (90%)
129,657 ±10,314
50,231 ±6,420
02:05 (01:01)
27
POSTAL Redux
May 20, 2016
$8.99
74% (90%/54%)
30,912 ±5,036
19,534 ±4,004
02:27 (01:24)
28
Tomb Raider II
Nov 28, 2012
$6.99
70% (89%)
725,562 ±24,381
116,133 ±9,761
04:51 (00:17)
29
A Lenda do Herói
Mar 24, 2016
$15.99
70% (89%)
21,896 ±4,239
21,466 ±4,197
08:35 (06:08)
30
Intralism
Nov 4, 2016
$2
70% (89%)
15,670 ±3,586
11,592 ±3,084
03:38 (02:23)
31
Blades of Time
Apr 20, 2012
$9.99
70% (89%/63%)
256,952 ±14,517
134,809 ±10,517
04:29 (01:13)
32
Zeno Clash
Apr 21, 2009
$9.99
67% (88%/77%)
485,139 ±19,942
287,649 ±15,360
02:59 (01:36)
33
Shoot Many Robots
Apr 6, 2012
$4.99
67% (88%)
118,494 ±9,860
97,243 ±8,932
10:18 (04:47)
34
ORCS
May 20, 2016
$0.49
67% (88%)
12,880 ±3,251
8,587 ±2,654
01:22 (01:21)
35
Intrusion 2
Sep 11, 2012
$9.99
67% (88%/80%)
384,248 ±17,750
160,139 ±11,462
01:32 (00:31)
36
Mini Ninjas
Sep 8, 2009
$9.99
67% (88%/74%)
357,629 ±17,125
129,442 ±10,305
04:05 (01:04)
37
The Haunted: Hells Reach
Oct 24, 2011
$8.99
67% (88%/51%)
57,530 ±6,871
45,079 ±6,082
05:49 (02:21)
38
Tomb Raider: Legend
Mar 29, 2007
$6.99
67% (88%/82%)
803,914 ±25,661
194,485 ±12,631
05:24 (01:22)
39
What The Box?
Sep 12, 2016
$4.99
63% (87%)
41,859 ±5,861
37,137 ±5,520
01:19 (00:46)
40
Enemy Mind
Jun 6, 2014
$9.99
63% (87%)
260,172 ±14,608
131,374 ±10,382
02:47 (02:22)
41
ShootMania Storm
Apr 10, 2013
$9.99
63% (87%/76%)
76,850 ±7,941
71,698 ±7,670
33:22 (03:47)
42
Fighties
Jul 13, 2015
$4.99
63% (87%)
13,524 ±3,331
11,162 ±3,026
10:15 (02:50)
43
Yomawari: Night Alone
Oct 25, 2016
$19.99
63% (87%)
11,592 ±3,084
8,801 ±2,687
04:02 (01:33)
44
Serious Sam Double D XXL
Aug 30, 2011
$9.99
63% (87%)
500,380 ±20,253
109,049 ±9,459
01:21 (00:24)
45
Seraph
Sep 20, 2016
$12.99
63% (87%/80%)
12,450 ±3,196
10,089 ±2,877
16:01 (03:05)
46
Meltdown
Jun 5, 2014
$6.99
63% (87%)
64,184 ±7,257
39,927 ±5,724
05:37 (02:25)
47
Zombo Buster Rising
Oct 2, 2016
$1.99
N/A (N/A)
5,796 ±2,181
3,220 ±1,625
02:41 (02:33)
48
Tomb Raider III
Nov 28, 2012
$6.99
60% (86%)
720,840 ±24,301
96,599 ±8,903
04:00 (00:12)
49
Ring Runner: Flight of the Sages
Nov 19, 2013
$4.99
60% (86%/75%)
148,762 ±11,048
83,075 ±8,256
02:41 (01:12)
50
Roll'd
Apr 14, 2016
$0.99
60% (86%)
28,980 ±4,876
17,602 ±3,800
03:49 (01:53)
51
Renegade Ops
Oct 26, 2011
$15
60% (86%/76%)
742,091 ±24,656
216,810 ±13,336
03:32 (01:14)
52
Song of the Deep
Jul 11, 2016
$14.99
58% (85%/71%)
139,317 ±10,691
26,618 ±4,674
04:00 (01:17)
53
Attractio
Jan 18, 2016
$19.99
N/A (N/A)
55,168 ±6,728
4,293 ±1,877
01:13 (00:27)
54
WASTED
Jun 7, 2016
$12.99
58% (85%/68%)
107,546 ±9,394
43,362 ±5,965
03:57 (01:32)
55
TWINKLE STAR SPRITES
May 26, 2016
$7.99
N/A (N/A)
25,974 ±4,617
5,796 ±2,181
01:39 (00:50)
56
Hard Reset Redux
Jun 3, 2016
$19.99
55% (84%/73%)
69,122 ±7,531
37,995 ±5,584
04:00 (01:47)
57
Mega Man Legacy Collection / ロックマン クラシックス コレクション
Aug 24, 2015
$14.99
55% (84%/85%)
76,635 ±7,930
63,755 ±7,233
03:51 (01:10)
58
Sonic the Hedgehog 4 - Episode II
May 15, 2012
$9.99
53% (83%/54%)
235,056 ±13,885
63,755 ±7,233
03:50 (01:08)
59
In Verbis Virtus
Apr 3, 2015
$19.99
53% (83%)
57,744 ±6,884
45,938 ±6,140
03:45 (02:27)
60
Fahrenheit: Indigo Prophecy Remastered
Jan 28, 2015
$9.99
53% (83%)
195,129 ±12,652
78,996 ±8,051
04:19 (01:56)
61
Watch This!
Sep 23, 2016
$3.99
53% (83%)
17,388 ±3,777
12,021 ±3,141
01:34 (00:50)
62
Blockstorm
May 21, 2015
$4.99
50% (82%)
370,294 ±17,425
283,356 ±15,245
05:33 (02:47)
63
POSTAL
Mar 21, 2013
$1.99
50% (82%/56%)
340,886 ±16,720
198,778 ±12,770
01:32 (00:39)
64
Team Fortress Classic
Apr 1, 1999
$4.99
50% (82%)
5,475,634 ±66,570
775,150 ±25,199
12:35 (00:16)
65
Way of the Samurai 4
Jul 23, 2015
$24.99
50% (82%/72%)
66,546 ±7,389
60,964 ±7,073
16:30 (05:36)
66
TimeShift™
Jul 23, 2009
$19.99
48% (81%/71%)
131,803 ±10,399
52,807 ±6,583
03:19 (01:02)
67
GALAK-Z
Oct 29, 2015
$9.99
48% (81%/78%)
188,260 ±12,427
68,907 ±7,519
04:48 (01:23)
68
Kung Fu Strike - The Warrior's Rise
Jul 24, 2012
$9.99
46% (80%)
174,092 ±11,951
78,781 ±8,040
02:25 (00:51)
69
Section 8®: Prejudice™
May 4, 2011
$9.99
46% (80%/77%)
222,177 ±13,500
180,532 ±12,170
08:15 (03:06)
70
Zeno Clash 2
Apr 30, 2013
$14.99
46% (80%)
263,821 ±14,710
110,766 ±9,533
02:56 (01:47)
71
Dead Rising 2: Off the Record
Oct 11, 2011
$19.99
43% (79%/66%)
262,748 ±14,680
158,636 ±11,408
09:23 (02:54)
72
Invention
Jan 11, 2017
$0.99
43% (79%)
6,655 ±2,337
4,937 ±2,013
02:27 (02:23)
73
Gun Metal
Jan 16, 2014
$9.99
43% (79%)
210,155 ±13,130
106,902 ±9,366
04:06 (03:06)
74
Ben and Ed
Dec 8, 2015
$9.99
43% (79%)
71,483 ±7,659
67,404 ±7,437
04:46 (02:14)
75
NECROPOLIS: BRUTAL EDITION
Jul 2016
$29.99
41% (78%)
97,457 ±8,942
90,588 ±8,621
07:22 (04:34)
76
STAR WARS™ SHADOWS OF THE EMPIRE™
Feb 7, 2017
$5.99
41% (78%)
52,593 ±6,569
9,875 ±2,846
01:04 (00:45)
77
1979 Revolution: Black Friday
Apr 4, 2016
$11.99
41% (78%/80%)
20,393 ±4,091
13,309 ±3,305
01:56 (01:34)
78
Deadly 30
Jan 8, 2014
$4.99
41% (78%)
138,673 ±10,666
90,159 ±8,601
02:55 (01:38)
79
Chaser
Jul 16, 2010
$4.99
39% (77%/66%)
84,792 ±8,341
32,414 ±5,157
06:43 (00:52)
80
Onechanbara Z2: Chaos
Jun 2, 2016
$39.99
39% (77%)
13,094 ±3,278
11,377 ±3,055
04:58 (02:29)
81
ROM: Extraction
Dec 7, 2016
$19.99
37% (76%)
4,079 ±1,829
3,435 ±1,679
00:32 (00:33)
82
Office Battle
Dec 2, 2015
$0.99
37% (76%)
48,943 ±6,337
31,341 ±5,071
02:37 (01:41)
83
Slain: Back from Hell
Mar 24, 2016
$12.99
37% (76%/74%)
25,330 ±4,559
19,749 ±4,026
02:31 (01:03)
84
Zombie Vikings
Dec 7, 2015
$11.99
37% (76%/74%)
15,241 ±3,536
10,304 ±2,908
03:17 (02:30)
85
Tomb Raider V: Chronicles
Nov 28, 2012
$6.99
37% (76%)
520,773 ±20,661
56,242 ±6,793
03:02 (00:08)
86
Assassin's Creed Freedom Cry
Feb 25, 2014
$14.99
35% (75%)
129,442 ±10,305
75,562 ±7,874
06:18 (04:07)
87
The Aquatic Adventure of the Last Human
Jan 19, 2016
$9.99
35% (75%/76%)
14,382 ±3,435
9,445 ±2,784
03:42 (02:37)
88
Deadfall Adventures
Nov 15, 2013
$19.99
33% (74%/53%)
115,704 ±9,743
64,828 ±7,294
08:12 (03:51)
89
Painkiller Overdose
Oct 30, 2007
$4.99
33% (74%/65%)
246,863 ±14,230
62,252 ±7,147
04:52 (00:35)
90
THE LAST BLADE
Aug 31, 2016
$9.99
N/A (N/A)
12,236 ±3,169
3,435 ±1,679
01:55 (00:28)
91
Hunted: The Demon's Forge™
May 30, 2011
$4.99
32% (73%/61%)
115,274 ±9,725
58,818 ±6,947
04:59 (01:42)
92
Praetorians
Apr 11, 2014
$4.99
32% (73%/78%)
72,986 ±7,739
34,990 ±5,358
06:24 (00:19)
93
Unreal 2: The Awakening
Mar 17, 2008
$14.99
30% (72%/75%)
302,246 ±15,744
69,551 ±7,554
02:15 (00:34)
94
God Mode
Apr 19, 2013
$9.99
30% (72%/58%)
314,911 ±16,070
253,947 ±14,432
04:41 (02:27)
95
Abyss Odyssey
Jul 15, 2014
$14.99
29% (71%/69%)
306,754 ±15,861
157,992 ±11,385
04:26 (02:55)
96
Toren
May 11, 2015
$9.99
29% (71%/57%)
52,807 ±6,583
28,550 ±4,840
02:13 (01:29)
97
Uncanny Valley
Apr 23, 2015
$9.99
29% (71%/67%)
131,803 ±10,399
36,493 ±5,472
02:13 (01:21)
98
STAR WARS™ - X-Wing Special Edition
Apr 28, 2015
$9.99
27% (70%)
153,484 ±11,221
43,577 ±5,980
02:56 (00:15)
99
Lost Planet® 2
Oct 15, 2010
$19.99
27% (70%/63%)
179,459 ±12,133
129,657 ±10,314
11:18 (02:33)
100
The Showdown Effect
Mar 5, 2013
$9.99
27% (70%/67%)
510,899 ±20,464
315,985 ±16,098
03:12 (01:03)
101
Zanzarah: The Hidden Portal
Aug 20, 2015
$7.99
26% (69%)
36,493 ±5,472
10,519 ±2,938
03:40 (01:02)
102
Alien Rage - Unlimited
Sep 24, 2013
$19.99
26% (69%/52%)
198,134 ±12,749
102,824 ±9,185
04:52 (00:57)
103
The Ship: Remasted
Oct 31, 2016
$19.99
25% (68%)
51,305 ±6,488
33,273 ±5,225
01:32 (00:43)
104
Hybrid Wars
Sep 29, 2016
$17.99
25% (68%/54%)
6,869 ±2,374
4,937 ±2,013
06:22 (04:45)
105
Dogfight 1942
Sep 21, 2012
$9.99
25% (68%)
119,353 ±9,896
55,168 ±6,728
03:20 (00:52)
106
Just Cause
Mar 15, 2007
$6.99
25% (68%/75%)
1,244,404 ±31,908
315,985 ±16,098
03:12 (00:37)
107
Prince of Persia: The Forgotten Sands™
Jun 8, 2010
$4.99
22% (66%/75%)
212,302 ±13,197
91,232 ±8,652
06:44 (03:18)
108
BloodRayne Betrayal
Apr 30, 2014
$9.99
21% (65%)
82,860 ±8,246
52,378 ±6,556
03:32 (02:50)
109
GEARGUNS - Tank offensive
Sep 20, 2016
$7.99
21% (65%)
11,592 ±3,084
7,084 ±2,411
03:23 (04:25)
110
Blood Knights
Nov 13, 2013
$9.99
20% (64%)
63,755 ±7,233
35,849 ±5,424
03:30 (02:15)
111
Vector Thrust
Jul 2, 2015
$24.99
20% (64%/57%)
32,844 ±5,191
20,608 ±4,112
05:22 (01:38)
112
John Wick Chronicles
Feb 9, 2017
$19.99
19% (63%)
7,513 ±2,483
4,723 ±1,968
23:57 (02:34)
113
EVE: Valkyrie
Nov 17, 2016
$59.99
19% (63%/69%)
7,513 ±2,483
6,440 ±2,299
03:33 (03:05)
114
LOST PLANET® 3
Aug 26, 2013
$24.99
18% (62%)
473,333 ±19,698
214,878 ±13,276
06:41 (03:04)
115
Crown and Council
Apr 22, 2016
Free
16% (60%)
93,593 ±8,763
44,006 ±6,009
01:46 (00:38)
116
Call of Duty: Black Ops - Mac Edition
Sep 27, 2012
$39.99
15% (59%)
69,336 ±7,543
30,482 ±5,001
11:06 (03:39)
117
Viking: Battle for Asgard
Oct 17, 2012
$14.99
10% (52%)
1,026,091 ±28,983
252,230 ±14,383
03:24 (00:26)
118
Albedo: Eyes from Outer Space
Apr 10, 2015
$14.99
9% (50%/66%)
50,446 ±6,434
23,398 ±4,382
02:15 (01:36)
119
Grind Zones
Jul 19, 2016
$4.99
8% (48%)
105,400 ±9,299
55,383 ±6,741
03:54 (03:41)
120
Dark Void™
Jan 19, 2010
$9.99
7% (47%/57%)
47,441 ±6,239
26,618 ±4,674
02:28 (00:48)
121
Call of Juarez®: The Cartel
Sep 13, 2011
$4.99
7% (46%/51%)
188,689 ±12,441
155,416 ±11,292
08:48 (03:24)
122
Batman™: Arkham Origins Blackgate - Deluxe Edition
Apr 1, 2014
$19.99
5% (41%)
545,030 ±21,136
113,342 ±9,643
03:30 (01:11)
123
Air Conflicts: Pacific Carriers
Sep 21, 2012
$12.99
4% (38%)
119,568 ±9,905
58,388 ±6,922
08:00 (01:02)
124
Down To One
Jan 7, 2016
$0.99
4% (38%)
106,473 ±9,347
75,132 ±7,852
02:03 (00:26)
125
Nux
Aug 15, 2014
$6.99
N/A (N/A)
139,102 ±10,683
87,153 ±8,456
03:20 (03:01)
126
Robotex
Nov 19, 2014
$4.99
2% (32%)
174,092 ±11,951
117,206 ±9,806
02:40 (02:22)