Super Trench Attack!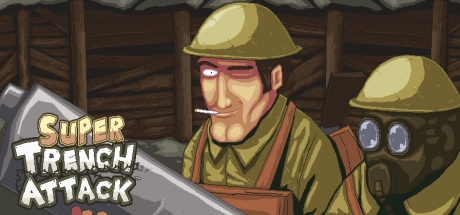 Store | Hub | SteamDB | Site
Developer: Retro Army Limited Publisher: Retro Army Limited
Genre: Action, Indie, RPG
Languages: English
Tags: Action (74), Indie (69), RPG (68), Comedy (30), World War I (29), Singleplayer (16), Isometric (10), Shooter (10), Pixel Graphics (9), Retro (7), Funny (6)
Category: Single-player, Steam Achievements, Full controller support, Steam Trading Cards, Captions available, Steam Cloud, Steam Leaderboards
Release date: Jul 24, 2014
Price: $0.49 90%
Score rank: 82% Userscore: 92% Old userscore: 92%
Owners: 93,410 ± 8,449
Players in the last 2 weeks: 1,600 ± 1,106 (1.71%)
Players total: 63,607 ± 6,973 (68.09%)
Followers: 1,709
Peak concurrent players yesterday: 11
YouTube stats: 9 views and 7 comments for videos uploaded last week, 1 new videos uploaded yesterday.
Playtime in the last 2 weeks: 01:10 (average) 01:41 (median)
Playtime total: 02:37 (average) 01:49 (median)

Steam Spy is still in beta, so expect major bugs.
Peak daily concurrent players:
CCU data courtesy of SteamDB. Used with permission.
Hourly concurrent players:
YouTube:
The views data is based on top 50 videos uploaded last week. Actual number of views might be more than the number shown.

The displayed number of videos uploaded yesterday is limited to 50, so if there were more videos uploaded, the number will still show 50.

If the game has commonly used word as its name (like "FEAR" or "Volume") its number of Youtube views might be wrong.
Games similar to this one:
#
Game
Release date

Price

Score rank
(Userscore / Metascore)

Owners

Players

Playtime (Median)

1
Mini Ghost
Apr 28, 2017
$1.59
99% (98%)
12,001 ±3,029
4,801 ±1,915
01:23 (01:00)
2
Impossible Creatures Steam Edition
Nov 11, 2015
$2.49
97% (97%/72%)
64,407 ±7,016
48,405 ±6,083
05:29 (02:16)
3
Dungeon Warfare
Nov 4, 2015
$2.49
97% (97%)
25,003 ±4,372
18,002 ±3,709
17:40 (07:16)
4
Charlie Murder
May 12, 2017
$9.99
95% (96%)
7,401 ±2,378
4,400 ±1,834
06:55 (06:06)
5
Templar Battleforce
Sep 21, 2015
$4.99
95% (96%)
19,602 ±3,871
17,202 ±3,626
13:16 (02:30)
6
Starward Rogue
Jan 22, 2016
$2.39
95% (96%)
96,610 ±8,593
34,804 ±5,158
02:44 (01:40)
7
Turok 2: Seeds of Evil
Mar 16, 2017
$13.39
92% (95%)
23,803 ±4,265
19,402 ±3,851
07:04 (03:47)
8
Tethered
Feb 27, 2017
$9.99
92% (95%)
6,401 ±2,212
4,600 ±1,875
01:09 (00:53)
9
Streets of Fury EX
Jun 25, 2015
$1.99
92% (95%)
13,601 ±3,224
10,201 ±2,792
03:16 (01:54)
10
IS Defense
Apr 19, 2016
$2.99
92% (95%/50%)
18,002 ±3,709
14,402 ±3,318
05:42 (03:37)
11
Hyper Knights
May 19, 2017
$4.49
92% (95%)
7,201 ±2,346
5,601 ±2,069
03:56 (02:44)
12
Mad Bullets
Jun 10, 2016
$0.67
89% (94%)
10,601 ±2,846
7,201 ±2,346
03:01 (02:54)
13
The Original Strife: Veteran Edition
Dec 12, 2014
$2.49
89% (94%)
60,806 ±6,817
32,603 ±4,992
02:55 (02:18)
14
Zeus + Poseidon
Dec 15, 2016
$7.49
89% (94%)
28,803 ±4,692
15,202 ±3,409
12:33 (04:41)
15
Shadow Warrior
Sep 26, 2013
$3.99
89% (94%/73%)
990,905 ±27,491
741,678 ±23,791
07:24 (03:31)
16
Ys VI: The Ark of Napishtim
Apr 28, 2015
$5.99
86% (93%)
50,005 ±6,182
24,003 ±4,283
09:30 (04:12)
17
Renowned Explorers: International Society
Sep 2, 2015
$7.99
82% (92%)
207,422 ±12,589
137,215 ±10,240
12:02 (05:32)
18
DEAD RISING
Sep 12, 2016
$9.99
82% (92%)
46,605 ±5,968
37,204 ±5,333
09:54 (04:29)
19
Anarcute
Jul 12, 2016
$8.99
82% (92%/79%)
11,001 ±2,900
9,001 ±2,623
02:28 (01:30)
20
HoloBall
Apr 25, 2016
$7.04
82% (92%)
24,003 ±4,283
22,202 ±4,119
01:18 (00:57)
21
TRANSFORMERS: Devastation
Oct 6, 2015
$9.99
82% (92%)
82,209 ±7,927
61,607 ±6,862
06:21 (02:59)
22
Predynastic Egypt
Oct 10, 2016
$6.99
82% (92%)
22,202 ±4,119
19,202 ±3,831
08:03 (05:09)
23
Angry Video Game Nerd II: ASSimilation
Mar 29, 2016
$6.99
82% (92%)
17,802 ±3,689
15,202 ±3,409
05:36 (02:30)
24
Gurumin: A Monstrous Adventure
Mar 30, 2015
$3.49
82% (92%)
77,408 ±7,692
39,004 ±5,460
05:06 (04:35)
25
Megabyte Punch
Oct 15, 2013
$2.24
82% (92%/69%)
243,826 ±13,649
67,807 ±7,199
02:41 (00:44)
26
Battlezone 98 Redux
Apr 18, 2016
$4.99
82% (92%/75%)
25,203 ±4,389
20,002 ±3,910
07:58 (02:09)
27
Ittle Dew
Jul 23, 2013
$9.99
82% (92%/67%)
146,215 ±10,571
79,408 ±7,791
03:32 (01:58)
28
Frozen Synapse
May 26, 2011
$6.24
78% (91%/85%)
751,680 ±23,951
534,056 ±20,193
04:32 (01:27)
29
Painkiller: Black Edition
Jan 24, 2007
$2.49
78% (91%)
359,638 ±16,574
189,020 ±12,018
04:11 (01:14)
30
Apotheon
Feb 3, 2015
$3.74
78% (91%/78%)
176,819 ±11,624
132,814 ±10,075
04:14 (01:29)
31
Unholy Heights
Oct 4, 2013
$3.19
78% (91%)
170,618 ±11,419
125,213 ±9,782
04:53 (02:21)
32
Sudden Strike Gold
May 22, 2017
$5.99
N/A (N/A)
10,201 ±2,792
2,600 ±1,409
02:10 (02:30)
33
Romance of the Three Kingdoms with Power Up Kit / with
Apr 18, 2017
$19.99
N/A (N/A)
3,000 ±1,514
2,200 ±1,296
04:31 (06:02)
34
Ace of Seafood
Apr 8, 2016
$5.99
74% (90%)
9,801 ±2,737
6,801 ±2,280
03:56 (02:24)
35
Geometry Wars 3: Dimensions Evolved
Nov 25, 2014
$7.49
74% (90%)
132,414 ±10,060
71,208 ±7,377
05:50 (01:28)
36
Steel Rain
Dec 3, 2015
$3.49
N/A (N/A)
17,202 ±3,626
11,401 ±2,952
04:08 (03:16)
37
Sayonara Umihara Kawase
Oct 5, 2015
$4.49
74% (90%)
12,801 ±3,128
6,801 ±2,280
02:40 (01:30)
38
Cossacks: Back to War
Sep 2, 2010
$1.24
74% (90%/60%)
171,618 ±11,452
118,413 ±9,513
23:05 (04:08)
39
Normality
Oct 9, 2015
$0.59
N/A (N/A)
124,013 ±9,735
82,409 ±7,936
03:31 (03:30)
40
Knight Squad
Nov 16, 2015
$2.99
70% (89%)
107,211 ±9,052
41,204 ±5,612
03:12 (01:49)
41
Out of Ammo
Sep 14, 2016
$19.99
70% (89%)
25,403 ±4,406
25,003 ±4,372
03:55 (02:00)
42
TITAN SLAYER
Apr 27, 2017
$9.09
N/A (N/A)
3,800 ±1,704
3,400 ±1,612
02:52 (03:13)
43
Transformers: War for Cybertron
Jun 22, 2010
$4.99
70% (89%/75%)
234,225 ±13,378
191,220 ±12,088
10:31 (03:57)
44
Cobalt
Feb 2, 2016
$19.99
67% (88%/69%)
24,803 ±4,354
19,402 ±3,851
06:05 (02:17)
45
The Disney Afternoon Collection
Apr 18, 2017
$13.39
67% (88%)
3,400 ±1,612
2,400 ±1,354
02:57 (02:41)
46
Blacksea Odyssey
Jun 1, 2016
$4.99
67% (88%/74%)
21,802 ±4,082
6,401 ±2,212
05:53 (01:39)
47
GIGA WRECKER
Feb 6, 2017
$9.99
67% (88%)
13,601 ±3,224
9,801 ±2,737
04:44 (02:46)
48
Mansions of Madness
Aug 1, 2016
Free
67% (88%)
64,607 ±7,027
37,204 ±5,333
06:11 (02:18)
49
Sudden Strike 3
May 22, 2017
$5.99
N/A (N/A)
10,201 ±2,792
2,200 ±1,296
20:13 (20:22)
50
The Way
May 20, 2016
$6.74
64% (87%/67%)
28,603 ±4,676
11,801 ±3,003
03:23 (01:52)
51
Anodyne
Mar 22, 2013
$2.99
64% (87%/75%)
208,622 ±12,626
111,412 ±9,228
03:00 (01:53)
52
The Haunted: Hells Reach
Oct 24, 2011
$2.24
64% (87%/51%)
65,607 ±7,081
51,605 ±6,280
07:09 (02:44)
53
Rebuild 3: Gangs of Deadsville
May 29, 2015
$8.99
61% (86%/75%)
68,407 ±7,231
66,807 ±7,146
31:19 (11:46)
54
Sonic Adventure 2
Nov 19, 2012
$2.49
61% (86%)
444,247 ±18,419
275,629 ±14,511
12:49 (02:54)
55
Bloodsports.TV
Mar 30, 2015
$2.49
61% (86%/69%)
81,009 ±7,869
46,605 ±5,968
06:14 (03:58)
56
ENSLAVED: Odyssey to the West Premium Edition
Oct 24, 2013
$4.99
61% (86%/70%)
435,446 ±18,236
195,021 ±12,207
04:53 (02:10)
57
Runestone Keeper
Mar 2, 2015
$4.99
61% (86%)
221,223 ±13,001
115,412 ±9,392
12:17 (03:43)
58
Faces of War
Apr 16, 2014
$1.24
61% (86%/67%)
73,808 ±7,511
38,404 ±5,418
05:04 (01:35)
59
Blitzkrieg 2 Anthology
Sep 16, 2014
$2.49
61% (86%/75%)
93,010 ±8,431
49,405 ±6,145
12:19 (02:52)
60
Star Ruler
Sep 20, 2010
$2.49
59% (85%)
161,617 ±11,113
71,208 ±7,377
09:42 (01:08)
61
Junk Jack
Nov 30, 2016
$11.24
59% (85%)
9,201 ±2,652
8,401 ±2,534
21:08 (04:25)
62
Marble Age
Mar 4, 2015
$4.19
59% (85%)
47,405 ±6,019
39,804 ±5,516
08:17 (03:46)
63
Oddworld: Stranger's Wrath HD
Dec 20, 2010
$2.49
59% (85%)
246,026 ±13,710
123,613 ±9,720
03:38 (00:59)
64
Renegade Ops
Oct 26, 2011
$5.1
59% (85%/76%)
740,678 ±23,775
201,621 ±12,412
03:16 (01:11)
65
Crush Your Enemies
Jul 13, 2016
$1.99
59% (85%/63%)
19,602 ±3,871
15,202 ±3,409
03:11 (02:18)
66
Binary Domain
Apr 27, 2012
$5.09
59% (85%/68%)
717,076 ±23,394
259,427 ±14,079
04:54 (01:14)
67
Orbital Gear
Aug 7, 2014
$0.99
59% (85%/59%)
302,232 ±15,195
214,623 ±12,806
02:27 (01:43)
68
Over 9000 Zombies!
Feb 25, 2015
$0.99
59% (85%)
72,408 ±7,439
51,405 ±6,268
02:14 (01:32)
69
htoL#NiQ: The Firefly Diary
May 18, 2016
$7.49
59% (85%)
10,801 ±2,873
7,001 ±2,313
05:15 (04:27)
70
Commandos 2: Men of Courage
Mar 15, 2007
$0.74
59% (85%/87%)
627,866 ±21,893
232,625 ±13,332
05:05 (00:20)
71
Hive Jump
Jan 18, 2017
$9.99
56% (84%)
8,201 ±2,503
6,401 ±2,212
03:44 (04:55)
72
Hard Reset Redux
Jun 3, 2016
$7.99
56% (84%/73%)
68,207 ±7,220
37,204 ±5,333
03:23 (01:44)
73
Afghanistan '11
Mar 23, 2017
$26.99
56% (84%)
4,400 ±1,834
4,200 ±1,792
13:41 (09:59)
74
Ghost Master
Dec 21, 2006
$0.49
56% (84%/81%)
177,819 ±11,657
102,211 ±8,838
03:34 (00:57)
75
Deathstate: Abyssal Edition
Oct 19, 2015
$1.99
53% (83%)
16,602 ±3,562
13,001 ±3,152
07:06 (04:30)
76
Shank 2
Feb 7, 2012
$2.49
53% (83%/72%)
609,464 ±21,570
306,232 ±15,295
04:03 (01:50)
77
Dreamfall Chapters
Oct 21, 2014
$20.09
53% (83%/71%)
248,426 ±13,777
136,614 ±10,218
15:26 (05:34)
78
Cultures - Northland
Mar 26, 2015
$1.24
51% (82%)
71,408 ±7,388
33,804 ±5,083
05:23 (02:42)
79
Braveland
Mar 17, 2014
$1.99
51% (82%)
46,805 ±5,981
37,804 ±5,375
03:58 (03:12)
80
Gratuitous Space Battles
Nov 16, 2009
$7.49
51% (82%/72%)
551,058 ±20,512
340,636 ±16,131
05:54 (02:10)
81
Rocketbirds 2 Evolution
Jan 26, 2017
$4.99
51% (82%)
8,801 ±2,593
6,001 ±2,141
04:32 (03:12)
82
Fahrenheit: Indigo Prophecy Remastered
Jan 28, 2015
$1.99
51% (82%)
214,023 ±12,788
77,808 ±7,712
04:57 (02:25)
83
Codename: Panzers, Phase One
Feb 18, 2016
$3.74
49% (81%/81%)
15,402 ±3,431
9,401 ±2,680
12:43 (04:20)
84
Zombie Party
Jun 10, 2016
$1.99
49% (81%)
22,202 ±4,119
17,202 ±3,626
06:19 (01:59)
85
Airport Madness: World Edition
May 28, 2015
$4.99
49% (81%)
23,202 ±4,211
18,602 ±3,771
07:02 (02:31)
86
In Verbis Virtus
Apr 3, 2015
$4.99
49% (81%)
65,807 ±7,092
52,406 ±6,329
03:56 (02:22)
87
Xenoraid: The First Space War
Sep 30, 2016
$2.99
N/A (N/A)
2,200 ±1,296
2,000 ±1,236
08:23 (08:51)
88
Enemy Mind
Jun 6, 2014
$1.99
49% (81%)
260,028 ±14,095
146,616 ±10,585
02:34 (02:03)
89
Monster Monpiece
Mar 14, 2017
$3.99
46% (80%)
12,201 ±3,054
7,801 ±2,442
05:28 (04:02)
90
Interplanetary
May 12, 2015
$7.49
46% (80%)
108,011 ±9,086
78,408 ±7,741
05:26 (03:06)
91
Star Ruler 2
Mar 27, 2015
$6.24
46% (80%)
56,806 ±6,589
45,605 ±5,904
27:54 (04:27)
92
Sins of a Solar Empire: Trinity
Nov 16, 2011
$9.99
46% (80%/87%)
277,229 ±14,553
177,419 ±11,644
17:12 (05:08)
93
Ironcast
Mar 26, 2015
$7.49
44% (79%/75%)
26,403 ±4,492
24,403 ±4,319
13:47 (08:16)
94
Kung Fu Strike - The Warrior's Rise
Jul 24, 2012
$0.99
44% (79%)
177,219 ±11,637
78,208 ±7,731
03:32 (00:49)
95
SAMURAI WARRIORS 4-II
Sep 29, 2015
$24.99
44% (79%)
39,004 ±5,460
35,004 ±5,173
22:29 (12:23)
96
Flinthook
Apr 18, 2017
$11.99
42% (78%/80%)
19,002 ±3,811
18,202 ±3,730
06:49 (05:47)
97
Worms W.M.D
Aug 23, 2016
$14.99
42% (78%/79%)
91,610 ±8,368
83,209 ±7,975
09:15 (04:34)
98
Tom Clancy's Rainbow Six Vegas
Apr 9, 2008
$3.39
42% (78%/85%)
264,228 ±14,208
85,009 ±8,061
02:08 (00:17)
99
Disney Infinity 3.0: Gold Edition
Dec 9, 2016
$14.99
42% (78%)
9,801 ±2,737
5,201 ±1,994
15:46 (07:47)
100
The Last Tinker: City of Colors
May 12, 2014
$1.99
42% (78%/72%)
71,408 ±7,388
36,004 ±5,246
04:52 (03:46)
101
Gun Metal
Jan 16, 2014
$0.99
42% (78%)
241,226 ±13,576
128,214 ±9,899
03:25 (03:01)
102
The Witcher Adventure Game
Nov 27, 2014
$2.49
42% (78%/68%)
147,616 ±10,621
87,409 ±8,174
03:56 (00:52)
103
Chaser
Jul 16, 2010
$1.24
40% (77%/66%)
87,809 ±8,192
30,403 ±4,821
06:49 (00:57)
104
Warhammer 40,000: Armageddon
Nov 26, 2014
$19.99
40% (77%/68%)
39,004 ±5,460
36,204 ±5,260
28:01 (08:39)
105
Ember
Sep 9, 2016
$2.49
40% (77%/70%)
32,403 ±4,977
23,002 ±4,193
07:03 (01:58)
106
Anima Gate of Memories
Jun 2, 2016
$9.99
40% (77%)
16,002 ±3,497
10,401 ±2,819
04:27 (01:51)
107
MAZE LORD
Jun 17, 2016
$0.49
38% (76%)
22,402 ±4,138
17,002 ±3,605
05:02 (05:19)
108
Riddled Corpses
Jun 2, 2015
$1.99
38% (76%)
27,203 ±4,560
20,202 ±3,930
03:24 (03:05)
109
Making History: The Great War
Jan 29, 2015
$14.99
38% (76%)
26,803 ±4,526
19,002 ±3,811
29:28 (04:42)
110
Killer is Dead - Nightmare Edition
May 23, 2014
$2.99
38% (76%)
349,637 ±16,342
204,022 ±12,486
04:41 (02:20)
111
Victory At Sea
Aug 8, 2014
$4.99
38% (76%)
41,804 ±5,653
31,403 ±4,899
23:29 (04:23)
112
Legacy of Kain: Soul Reaver 2
Dec 6, 2012
$1.39
38% (76%/77%)
314,233 ±15,494
53,006 ±6,365
02:17 (00:23)
113
Hegemony III: Clash of the Ancients
Aug 25, 2015
$7.49
36% (75%)
23,402 ±4,229
20,802 ±3,987
17:53 (05:32)
114
Assassin's Creed Freedom Cry
Feb 25, 2014
$7.49
36% (75%)
127,013 ±9,852
72,208 ±7,429
06:12 (03:40)
115
Supreme Ruler Ultimate
Oct 17, 2014
$8.99
36% (75%)
24,003 ±4,283
22,002 ±4,101
67:06 (09:56)
116
Divinity: Dragon Commander
Aug 6, 2013
$3.99
36% (75%)
314,433 ±15,499
222,624 ±13,042
08:06 (03:56)
117
Zombie Vikings
Dec 7, 2015
$2.99
36% (75%/74%)
16,602 ±3,562
9,201 ±2,652
03:47 (02:59)
118
Pike and Shot : Campaigns
Aug 13, 2015
$19.99
36% (75%)
7,201 ±2,346
6,801 ±2,280
46:06 (18:57)
119
Mercenary Kings
Mar 25, 2014
$9.99
36% (75%/76%)
352,037 ±16,398
240,625 ±13,559
06:46 (02:41)
120
The Big Elk
May 24, 2016
$0.49
36% (75%)
73,608 ±7,501
62,207 ±6,895
03:32 (03:30)
121
Z
Jul 4, 2014
$0.69
36% (75%)
86,809 ±8,145
54,606 ±6,460
04:16 (02:51)
122
Eador. Imperium
Jan 27, 2017
$9.99
36% (75%)
8,401 ±2,534
6,401 ±2,212
41:17 (03:34)
123
Kill to Collect
Apr 6, 2016
$4.99
35% (74%/57%)
11,001 ±2,900
9,201 ±2,652
03:29 (01:39)
124
Civil War II
Jul 3, 2014
$13.19
35% (74%)
14,202 ±3,295
10,801 ±2,873
56:00 (05:56)
125
ARSLAN: THE WARRIORS OF LEGEND
Feb 9, 2016
$29.99
35% (74%/57%)
8,201 ±2,503
6,401 ±2,212
05:59 (03:56)
126
Deadfall Adventures
Nov 15, 2013
$4.99
35% (74%/53%)
133,214 ±10,090
78,808 ±7,761
07:04 (03:59)
127
BIOS
Dec 13, 2016
$5.09
35% (74%)
6,201 ±2,177
5,201 ±1,994
11:07 (01:08)
128
Sid Meiers Ace Patrol
Aug 27, 2013
$1.24
35% (74%)
566,260 ±20,792
153,616 ±10,835
03:17 (01:54)
129
Bounty Train
May 16, 2017
$12.49
35% (74%/67%)
21,802 ±4,082
19,002 ±3,811
11:05 (04:27)
130
Alien Rage - Unlimited
Sep 24, 2013
$1.99
35% (74%/52%)
201,221 ±12,400
99,811 ±8,734
03:07 (00:55)
131
King of Dragon Pass
Jul 28, 2015
$2.99
35% (74%)
21,802 ±4,082
17,202 ±3,626
11:34 (05:57)
132
Praetorians
Apr 11, 2014
$0.74
33% (73%/78%)
77,608 ±7,702
33,204 ±5,038
03:12 (00:20)
133
Battle Fleet 2
Nov 20, 2014
$5.99
33% (73%)
13,801 ±3,248
12,001 ±3,029
21:32 (06:19)
134
Phoning Home
Feb 7, 2017
$9.99
33% (73%/61%)
7,801 ±2,442
6,201 ±2,177
11:25 (03:40)
135
Hero Academy
Aug 10, 2012
$4.99
31% (72%/75%)
216,823 ±12,871
122,813 ±9,688
25:05 (01:32)
136
Lux Delux
May 1, 2015
$4.99
31% (72%)
44,005 ±5,800
25,203 ±4,389
07:23 (02:22)
137
Commander: The Great War
Jul 25, 2014
$14.99
31% (72%)
10,801 ±2,873
10,401 ±2,819
29:48 (12:04)
138
Dead Effect 2
May 6, 2016
$3.59
31% (72%/53%)
61,006 ±6,829
40,804 ±5,585
05:41 (03:41)
139
Chronicles of Teddy
Apr 2, 2015
$5.99
31% (72%)
12,801 ±3,128
8,801 ±2,593
04:52 (01:54)
140
Slain: Back from Hell
Mar 24, 2016
$5.19
30% (71%/74%)
37,004 ±5,318
28,603 ±4,676
02:30 (01:11)
141
FIVE: Guardians of David
Nov 24, 2015
$3.74
30% (71%/66%)
18,602 ±3,771
12,601 ±3,103
07:54 (08:47)
142
God Mode
Apr 19, 2013
$1.99
30% (71%/58%)
295,831 ±15,033
240,825 ±13,565
04:43 (02:42)
143
EARTHLOCK: Festival of Magic
Sep 27, 2016
$9.89
30% (71%)
24,403 ±4,319
14,602 ±3,341
08:39 (01:14)
144
The Guild Gold Edition
Sep 9, 2014
$2.49
30% (71%/82%)
143,215 ±10,462
42,404 ±5,693
04:20 (00:25)
145
MASSIVE CHALICE
Jun 1, 2015
$1.99
30% (71%/73%)
243,026 ±13,627
138,815 ±10,300
08:44 (02:33)
146
Hunted: The Demons Forge
May 30, 2011
$1.24
28% (70%/61%)
132,014 ±10,044
62,607 ±6,918
05:52 (01:39)
147
Heroes of Normandie
Oct 1, 2015
$19.79
28% (70%/65%)
8,601 ±2,564
7,801 ±2,442
13:37 (05:29)
148
Toren
May 11, 2015
$1.99
28% (70%/57%)
64,207 ±7,005
37,404 ±5,347
02:27 (01:46)
149
The Showdown Effect
Mar 5, 2013
$2.49
28% (70%/67%)
509,854 ±19,731
315,833 ±15,533
03:08 (01:18)
150
REDCON
Apr 22, 2016
$2.99
27% (69%)
19,402 ±3,851
18,602 ±3,771
05:37 (03:04)
151
Sorcerer King
Jul 16, 2015
$9.99
25% (68%/75%)
45,605 ±5,904
36,004 ±5,246
21:08 (09:11)
152
1849
May 8, 2014
$5.99
25% (68%)
22,202 ±4,119
20,402 ±3,949
13:40 (04:00)
153
Talisman: The Horus Heresy
Feb 22, 2016
$2.99
25% (68%)
17,202 ±3,626
12,801 ±3,128
03:59 (01:44)
154
Ascension: Deckbuilding Game
Dec 16, 2014
$4.99
25% (68%)
10,801 ±2,873
10,001 ±2,765
36:37 (13:28)
155
Toy Odyssey: The Lost and Found
Sep 20, 2016
$3.74
25% (68%/66%)
57,606 ±6,636
14,402 ±3,318
04:56 (02:30)
156
Trine 3: The Artifacts of Power
Aug 20, 2015
$5.49
24% (67%)
518,055 ±19,889
247,826 ±13,760
04:09 (03:10)
157
Epigenesis
Aug 1, 2014
Free
24% (67%)
229,624 ±13,246
118,413 ±9,513
02:31 (02:17)
158
Assassins Creed Chronicles: India
Jan 12, 2016
$4.99
23% (66%)
26,403 ±4,492
10,801 ±2,873
04:06 (02:20)
159
Eador. Masters of the Broken World
Apr 19, 2013
$2.99
23% (66%/74%)
176,019 ±11,598
132,814 ±10,075
34:47 (04:40)
160
Hounds : The Last Hope
Jan 27, 2016
Free
23% (66%)
15,202 ±3,409
11,601 ±2,978
45:36 (02:14)
161
DRAGON QUEST HEROES Slime Edition
Dec 3, 2015
$19.99
23% (66%)
46,405 ±5,956
40,404 ±5,557
11:44 (05:17)
162
Medieval: Total War - Collection
Jun 25, 2015
$2.49
22% (65%)
125,213 ±9,782
40,004 ±5,530
17:27 (03:32)
163
Zanzarah: The Hidden Portal
Aug 20, 2015
$1.99
22% (65%)
55,606 ±6,519
15,202 ±3,409
03:11 (00:40)
164
A Game of Dwarves
Oct 23, 2012
$2.49
22% (65%/60%)
99,210 ±8,708
68,807 ±7,252
11:25 (04:18)
165
Fallen Enchantress
Oct 23, 2012
$4.99
22% (65%/78%)
113,612 ±9,318
90,010 ±8,294
23:50 (07:56)
166
The Few
Jun 18, 2014
$5.99
22% (65%)
34,004 ±5,098
22,202 ±4,119
12:58 (02:41)
167
Police Tactics: Imperio
Sep 7, 2016
$11.99
21% (64%)
13,801 ±3,248
13,401 ±3,200
08:25 (03:34)
168
DYNASTY WARRIORS 8 Empires
Feb 26, 2015
$19.99
21% (64%)
44,605 ±5,839
42,805 ±5,720
42:50 (17:38)
169
Disney Alice in Wonderland
Oct 6, 2014
$4.99
N/A (N/A/63%)
11,401 ±2,952
6,201 ±2,177
04:19 (03:23)
170
Dinocide
Jan 21, 2016
$2.99
N/A (N/A/51%)
67,607 ±7,188
23,402 ±4,229
02:47 (02:05)
171
Battle of the Bulge
Sep 17, 2015
$4.99
19% (63%)
9,401 ±2,680
5,001 ±1,955
06:56 (02:21)
172
BloodRayne Betrayal
Apr 30, 2014
$2.49
19% (63%)
90,810 ±8,331
58,606 ±6,693
03:43 (03:09)
173
Close Combat - Gateway to Caen
Jun 6, 2014
$19.99
19% (63%)
21,802 ±4,082
17,802 ±3,689
40:18 (11:04)
174
Pandora: First Contact
May 30, 2014
$9.89
19% (63%/68%)
41,004 ±5,598
34,004 ±5,098
15:24 (06:46)
175
Skyshine's BEDLAM
Sep 16, 2015
$1.99
19% (63%/67%)
47,405 ±6,019
30,803 ±4,852
04:28 (02:00)
176
Warlock 2: The Exiled
Apr 10, 2014
$4.99
19% (63%/73%)
86,809 ±8,145
68,607 ±7,241
39:49 (07:41)
177
Robin Hood: The Legend of Sherwood
Aug 26, 2011
$0.95
18% (62%/80%)
122,413 ±9,672
54,006 ±6,425
04:54 (00:25)
178
To End All Wars
Aug 29, 2014
$19.99
18% (62%/71%)
10,601 ±2,846
8,001 ±2,473
13:21 (01:29)
179
Hegemony Rome: The Rise of Caesar
May 15, 2014
$4.99
17% (61%)
63,607 ±6,973
48,005 ±6,057
10:10 (02:26)
180
Vector Thrust
Jul 2, 2015
$4.99
17% (61%/57%)
30,803 ±4,852
19,002 ±3,811
06:39 (01:59)
181
Valhalla Hills
Dec 2, 2015
$4.99
17% (61%/69%)
155,416 ±10,898
73,808 ±7,511
03:52 (01:46)
182
The Ship: Remasted
Oct 31, 2016
$4.99
17% (61%)
53,206 ±6,377
33,804 ±5,083
01:25 (00:47)
183
StarDrive 2
Apr 9, 2015
$5.99
15% (59%/70%)
73,208 ±7,480
64,207 ±7,005
28:24 (11:13)
184
Mighty No. 9
Jun 21, 2016
$4.99
15% (59%/52%)
61,607 ±6,862
46,605 ±5,968
05:19 (01:49)
185
Survival Zombies The Inverted Evolution
May 8, 2017
$0.49
15% (59%)
41,404 ±5,626
27,803 ±4,610
02:28 (02:04)
186
Colonial Conquest
Jul 28, 2015
$3.99
15% (59%)
7,801 ±2,442
5,801 ±2,105
03:43 (02:02)
187
Savage Resurrection
Aug 18, 2016
Free
14% (58%)
101,211 ±8,795
74,208 ±7,531
04:49 (02:15)
188
Devil May Cry 3 Special Edition
Jun 12, 2007
$4.99
14% (58%/66%)
225,424 ±13,124
139,015 ±10,307
03:42 (00:30)
189
War of Beach
Oct 15, 2015
Free
14% (58%)
133,414 ±10,098
68,007 ±7,210
03:59 (00:17)
190
LARA CROFT AND THE TEMPLE OF OSIRIS
Dec 8, 2014
$3.99
13% (56%/73%)
251,227 ±13,855
105,611 ±8,984
04:13 (02:01)
191
Worms World Party Remastered
Jul 16, 2015
$2.99
13% (56%)
29,803 ±4,773
23,803 ±4,265
09:01 (02:39)
192
Wickland
Feb 6, 2015
$0.49
13% (56%)
112,412 ±9,269
68,207 ±7,220
02:35 (01:51)
193
Rise of Venice
Sep 27, 2013
$6.24
12% (55%/66%)
67,607 ±7,188
52,206 ±6,317
23:55 (04:36)
194
Warhammer 40,000: Kill Team
May 22, 2014
$2.49
12% (55%)
82,209 ±7,927
49,405 ±6,145
02:52 (01:10)
195
Pain Train
Jan 11, 2017
$0.49
12% (54%)
20,802 ±3,987
16,802 ±3,584
02:42 (02:51)
196
Viking: Battle for Asgard
Oct 17, 2012
$5.99
11% (53%)
1,046,111 ±28,245
250,627 ±13,838
03:03 (00:25)
197
The Stalin Subway
Sep 19, 2014
$0.51
11% (53%)
16,402 ±3,541
12,201 ±3,054
02:35 (01:53)
198
Clockwork Empires
Oct 26, 2016
$14.99
10% (51%/58%)
20,202 ±3,930
19,602 ±3,871
20:35 (06:32)
199
Blitzkrieg 3
Jun 2, 2017
$20.09
8% (48%)
54,006 ±6,425
51,605 ±6,280
21:29 (05:20)
200
WARMACHINE: Tactics
Nov 20, 2014
Free
7% (47%)
273,829 ±14,464
108,011 ±9,086
05:05 (02:17)
201
StarDrive
Apr 26, 2013
$5.99
5% (42%/61%)
187,620 ±11,974
142,415 ±10,432
21:36 (04:00)
202
Pain Train 2
Mar 16, 2017
$0.69
5% (41%)
3,400 ±1,612
2,600 ±1,409
02:27 (03:00)
203
Postal III
Feb 17, 2012
$4.79
4% (40%/24%)
68,607 ±7,241
58,006 ±6,659
05:00 (02:29)
204
Air Conflicts: Pacific Carriers
Sep 21, 2012
$1.94
4% (40%)
114,812 ±9,367
49,805 ±6,170
05:59 (01:04)
205
Call of Duty: Modern Warfare Remastered
$29.99
4% (38%)
212,422 ±12,740
117,812 ±9,489
03:53 (01:47)
206
Urban Empire
Jan 20, 2017
$19.99
3% (37%/62%)
45,805 ±5,917
43,405 ±5,760
08:54 (04:59)
207
Umbrella Corps/Biohazard Umbrella Corps
Jun 21, 2016
$5.99
3% (34%)
11,401 ±2,952
9,001 ±2,623
05:18 (01:53)
208
Zombie Zoeds
May 20, 2015
$0.49
2% (30%)
244,226 ±13,660
171,818 ±11,459
04:04 (03:11)