Aware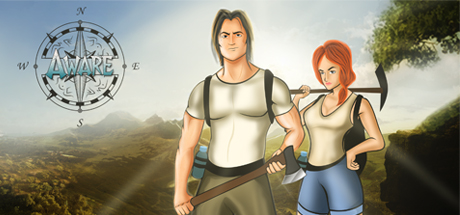 Store | Hub | SteamDB | Site
Developer: Guilherme Nunes Barbosa, Lennie Svensson, Morgan Andersson Publisher: Limevision Studios
Genre: Action, Adventure, Indie, Early Access
Languages: English
Tags: Early Access (28), Adventure (25), Action (24), Indie (24), Survival (8)
Category: Single-player, Multi-player, Co-op
Release date: Mar 18, 2015
Price: $12.99
Owners: 643 ± 1,259
Followers: 751
YouTube stats: 1,501 views and 123 comments for videos uploaded last week, 3 new videos uploaded yesterday.

Steam Spy is still in beta, so expect major bugs.
Peak daily concurrent players:
CCU data courtesy of SteamDB. Used with permission.
Hourly concurrent players:
YouTube:
The views data is based on top 50 videos uploaded last week. Actual number of views might be more than the number shown.

The displayed number of videos uploaded yesterday is limited to 50, so if there were more videos uploaded, the number will still show 50.

If the game has commonly used word as its name (like "FEAR" or "Volume") its number of Youtube views might be wrong.
Games similar to this one:
#
Game
Release date

Price

Score rank
(Userscore / Metascore)

Owners

Players

Playtime (Median)

1
Omni Link
Oct 17, 2016
$14.99
N/A (N/A)
621 ±859
310 ±607
00:04 (00:02)
2
Waddle Home
Jul 7, 2016
$9.99
N/A (N/A)
44,598 ±5,974
4,606 ±1,920
00:15 (00:06)
3
Pinkman
Jan 16, 2017
$0.99
99% (98%)
1,863 ±1,488
931 ±1,052
00:15 (00:11)
4
Copy Kitty
Aug 11, 2016
$9.99
N/A (N/A)
3,769 ±1,736
628 ±709
28:50 (28:43)
5
UniBall
Feb 24, 2017
Free
95% (96%)
9,422 ±2,746
6,700 ±2,315
07:42 (00:08)
6
Beeswing
May 8, 2015
$4.99
N/A (N/A)
1,863 ±1,488
621 ±859
07:13 (05:53)
7
Oh My Gore!
Oct 20, 2016
$9.99
N/A (N/A)
1,675 ±1,157
1,047 ±915
04:11 (03:45)
8
Nature's Zombie Apocalypse
Jul 23, 2015
$12.99
N/A (N/A)
1,256 ±1,002
838 ±818
00:33 (00:22)
9
This World Unknown
Sep 2, 2016
$7.99
N/A (N/A)
2,094 ±1,294
209 ±409
18:57 (06:19)
10
Stratus: Battle For The Sky
Dec 2, 2016
$15.99
N/A (N/A)
621 ±859
310 ±607
00:05 (00:02)
11
Real Heroes: Firefighter
Mar 14, 2017
$9.99
N/A (N/A)
1,047 ±915
0 ±0
00:00 (00:00)
12
AIRHEART - Tales of broken Wings
Oct 13, 2016
$14.99
N/A (N/A)
1,256 ±1,002
1,047 ±915
01:34 (01:18)
13
Alwa's Awakening
Feb 2, 2017
$9.99
66% (87%/71%)
2,094 ±1,294
1,256 ±1,002
10:38 (10:49)
14
The Franz Kafka Videogame
Apr 6, 2017
$9.99
N/A (N/A/68%)
1,047 ±915
419 ±578
01:29 (00:35)
15
Snowball!
Dec 16, 2016
$2.99
N/A (N/A)
1,884 ±1,228
838 ±818
00:45 (00:29)
16
Try Hard Parking
Jan 3, 2017
$1.99
N/A (N/A)
2,931 ±1,531
2,303 ±1,357
00:22 (00:24)
17
The Orchard of Stray Sheep
Jun 20, 2016
$9.99
N/A (N/A)
1,256 ±1,002
0 ±0
00:00 (00:00)
18
Neptune: Arena FPS
Dec 19, 2016
$4.99
N/A (N/A)
628 ±709
419 ±578
02:52 (01:54)
19
BATTLECREW™ Space Pirates
Jan 31, 2017
$4.99
N/A (N/A)
2,513 ±1,418
1,675 ±1,157
18:05 (22:44)
20
SurvHive
Aug 1, 2016
$14.99
N/A (N/A)
2,513 ±1,418
628 ±709
02:15 (01:04)
21
Amihailu in Dreamland
Aug 23, 2016
Free
N/A (N/A)
21,775 ±4,174
419 ±578
00:03 (00:01)
22
Musclecar Online
Feb 12, 2015
$5.99
N/A (N/A)
9,213 ±2,715
628 ±709
00:02 (00:01)
23
One Night Two Crazies
Aug 10, 2016
$0.99
N/A (N/A)
1,466 ±1,083
628 ±709
00:08 (00:07)
24
Pay2Win: The Tricks Exposed
Dec 15, 2015
$4.99
N/A (N/A)
8,375 ±2,589
838 ±818
00:45 (00:42)
25
Bliss
Dec 8, 2014
$4.99
N/A (N/A)
8,166 ±2,556
1,256 ±1,002
01:37 (00:29)
26
GoatPunks
Jan 20, 2017
$9.99
N/A (N/A)
1,884 ±1,228
209 ±409
00:11 (00:03)
27
Thick Air
Sep 15, 2016
$4.99
N/A (N/A)
2,303 ±1,357
1,675 ±1,157
00:10 (00:12)
28
Wheels of Aurelia
Sep 20, 2016
$9.99
N/A (N/A/63%)
2,931 ±1,531
838 ±818
00:55 (00:34)
29
Custom Town
Aug 24, 2016
$2.99
N/A (N/A)
4,188 ±1,830
1,466 ±1,083
01:10 (01:02)
30
The Other 99
Aug 25, 2016
$14.99
N/A (N/A)
1,256 ±1,002
1,047 ±915
06:29 (02:17)
31
Spirit Run - Fire vs. Ice
Feb 12, 2015
$2.99
N/A (N/A)
6,281 ±2,242
419 ±578
00:14 (00:09)
32
Hexaball
Mar 13, 2017
$0.99
N/A (N/A)
3,559 ±1,687
419 ±578
00:19 (00:11)
33
MyRPG Master
Feb 9, 2015
$39.99
N/A (N/A)
1,047 ±915
838 ±818
01:24 (01:25)
34
Hunted: One Step Too Far
Sep 2, 2016
$1.74
N/A (N/A)
3,978 ±1,784
209 ±409
00:06 (00:02)
35
Economic Conquest
Jan 4, 2017
$4.99
N/A (N/A)
838 ±818
419 ±578
06:44 (04:29)
36
Terminal Hacker - Into the Deep
Oct 30, 2015
$1.99
N/A (N/A)
621 ±859
310 ±607
00:17 (00:08)
37
Zpeciation: Tough Days (TD)
Feb 15, 2017
$2.99
N/A (N/A)
838 ±818
628 ±709
02:53 (02:46)
38
We Are Chicago
Feb 9, 2017
$14.99
N/A (N/A/49%)
931 ±1,052
310 ±607
00:28 (00:14)