App

QP Shooting - Dangerous!!
QP Shooting - Dangerous!!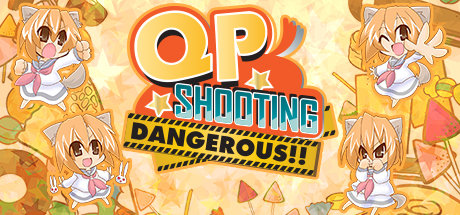 Store | Hub | SteamDB | Site
Developer: Orange_Juice Publisher: Fruitbat Factory
Genre: Action, Indie
Languages: English
Tags: Bullet Hell (49), Shoot 'Em Up (43), Anime (37), Indie (36), Action (32), Cute (23), Female Protagonist (19), Singleplayer (9)
Category: Single-player, Steam Achievements, Full controller support, Steam Trading Cards, Steam Cloud, Steam Leaderboards
Release date: Nov 14, 2014
Price: $7.99
Score rank: 92% Userscore: 95% Old userscore: 93%
Owners: 53,640 ± 7,438
Players in the last 2 weeks: 798 ± 1,104 (1.49%)
Players total: 33,694 ± 5,895 (62.81%)
Followers: 1,994
Peak concurrent players yesterday: 1
Peak on Twitch yesterday: 1 viewers, 1 channels
YouTube stats: 1,397 views and 0 comments for videos uploaded last week, 0 new videos uploaded yesterday.
Playtime in the last 2 weeks: 01:15 (average) 01:15 (median)
Playtime total: 05:42 (average) 01:43 (median)

Steam Spy is still in beta, so expect major bugs.
Peak daily concurrent players:
CCU data courtesy of SteamDB. Used with permission.
Hourly concurrent players:
YouTube:
The views data is based on top 50 videos uploaded last week. Actual number of views might be more than the number shown.

The displayed number of videos uploaded yesterday is limited to 50, so if there were more videos uploaded, the number will still show 50.

If the game has commonly used word as its name (like "FEAR" or "Volume") its number of Youtube views might be wrong.
Games similar to this one:
#
Game
Release date

Price

Score rank
(Userscore / Metascore)

Owners

Players

Playtime (Median)

1
TIS-100
Jul 20, 2015
$6.99
97% (97%)
346,100 ±18,889
184,641 ±13,799
09:37 (01:40)
2
SENRAN KAGURA ESTIVAL VERSUS
Mar 17, 2017
$39.99
95% (96%)
69,004 ±8,436
61,727 ±7,979
32:42 (05:44)
3
Trine Enchanted Edition
Jul 2, 2009
$14.99
95% (96%/80%)
1,679,017 ±41,550
1,198,412 ±35,120
04:49 (02:43)
4
Shovel Knight: Treasure Trove
Jun 26, 2014
$24.99
95% (96%/85%)
477,909 ±22,193
440,981 ±21,320
11:35 (05:54)
5
Under Leaves
Apr 27, 2017
$4.99
95% (96%)
2,695 ±1,667
2,695 ±1,667
21:36 (66:18)
6
Beat Hazard
Apr 15, 2010
$9.99
95% (96%/70%)
640,717 ±25,693
486,265 ±22,386
05:51 (02:47)
7
Ori and the Blind Forest
Mar 10, 2015
N/A
95% (96%/88%)
1,410,817 ±38,097
789,238 ±28,512
09:25 (06:02)
8
VVVVVV
Sep 7, 2010
$4.99
95% (96%/81%)
1,059,865 ±33,032
627,509 ±25,427
03:03 (00:44)
9
Fran Bow
Aug 27, 2015
$14.99
95% (96%/70%)
245,559 ±15,912
150,138 ±12,443
07:35 (07:20)
10
Tales from the Borderlands
Nov 25, 2014
$24.99
92% (95%)
842,878 ±29,463
470,901 ±22,030
11:06 (10:07)
11
Blood and Bacon
Feb 1, 2016
$0.99
92% (95%)
685,462 ±26,574
595,433 ±24,770
03:47 (01:50)
12
Kerbal Space Program
Apr 27, 2015
$39.99
89% (94%/88%)
2,015,144 ±45,504
1,925,924 ±44,489
71:47 (14:47)
13
Super Meat Boy
Nov 30, 2010
$14.99
89% (94%/87%)
2,822,712 ±53,813
2,401,138 ±49,653
05:24 (01:48)
14
Sakura Dungeon
Jun 3, 2016
$19.99
86% (93%)
150,947 ±12,477
78,439 ±8,994
11:49 (03:29)
15
FEZ
May 1, 2013
$9.99
82% (92%/91%)
1,477,934 ±38,990
1,020,241 ±32,410
03:35 (01:18)
16
ABZU
Aug 2, 2016
$19.99
82% (92%/83%)
687,888 ±26,621
473,058 ±22,081
02:35 (01:35)
17
Buzz Aldrin: Cycling Pathways to Mars
Mar 17, 2017
Free
78% (91%)
15,903 ±4,050
7,817 ±2,839
00:24 (00:10)
18
Westerado: Double Barreled
Apr 16, 2015
$14.99
78% (91%)
175,476 ±13,452
100,542 ±10,183
03:47 (01:57)
19
Divekick
Aug 20, 2013
$4.99
74% (90%/73%)
269,009 ±16,654
176,824 ±13,503
03:56 (02:02)
20
Rocksmith 2014 Edition - Remastered
Oct 4, 2016
$39.99
74% (90%)
617,805 ±25,230
576,834 ±24,380
61:21 (11:27)
21
Endless Sky
Oct 30, 2015
Free
74% (90%)
616,996 ±25,214
478,449 ±22,206
06:55 (00:19)
22
Warhammer 40,000: Dawn of War II: Retribution
Feb 28, 2011
$29.99
74% (90%)
1,872,284 ±43,868
1,329,143 ±36,981
42:31 (10:47)
23
Organ Trail: Director's Cut
Mar 19, 2013
$4.99
74% (90%)
424,808 ±20,925
315,911 ±18,047
04:37 (02:39)
24
Rivals of Aether
Mar 28, 2017
$14.99
71% (89%)
353,917 ±19,101
208,900 ±14,677
19:19 (04:13)
25
Pinball FX2
May 10, 2013
Free
68% (88%/84%)
514,298 ±23,022
299,468 ±17,571
09:47 (00:53)
26
Haydee
Sep 26, 2016
$14.99
65% (87%)
115,367 ±10,908
101,081 ±10,210
03:24 (01:02)
27
Injustice: Gods Among Us Ultimate Edition
Nov 12, 2013
$19.99
62% (86%)
1,041,805 ±32,750
907,031 ±30,562
08:38 (04:38)
28
Sakura Angels
Jan 16, 2015
$9.99
62% (86%)
308,903 ±17,846
143,939 ±12,184
04:22 (02:00)
29
Bloody Trapland
Nov 18, 2013
$2.49
62% (86%)
302,433 ±17,658
273,861 ±16,804
03:53 (02:16)
30
Dino D-Day
Apr 8, 2011
$9.99
62% (86%/53%)
1,572,815 ±40,219
1,021,319 ±32,427
03:39 (01:32)
31
Z3TA+ 2
Sep 9, 2013
N/A
N/A (N/A)
5,930 ±2,473
4,582 ±2,174
03:50 (01:36)
32
Valdis Story: Abyssal City
Oct 30, 2013
$14.99
59% (85%/83%)
180,058 ±13,626
134,505 ±11,778
10:43 (02:44)
33
Dead Age
Nov 4, 2016
$14.99
56% (84%)
188,684 ±13,949
92,186 ±9,751
06:54 (03:06)
34
MODO indie 901
Dec 11, 2014
$14.99
N/A (N/A)
1,214 ±1,371
809 ±1,119
233:07 (233:06)
35
La-Mulana
Apr 15, 2013
$14.99
54% (83%/80%)
250,680 ±16,077
159,034 ±12,806
08:52 (01:53)
36
Stellaris
May 9, 2016
$39.99
54% (83%/78%)
1,691,147 ±41,699
1,509,741 ±39,406
98:06 (36:12)
37
The Yawhg
Feb 27, 2014
$9.99
49% (81%/66%)
100,811 ±10,197
65,500 ±8,219
02:05 (01:18)
38
Survivalist
Jan 30, 2015
$1.99
47% (80%)
195,692 ±14,205
143,400 ±12,161
10:16 (01:40)
39
Punch Club
Jan 8, 2016
$9.99
47% (80%/73%)
618,344 ±25,241
439,094 ±21,274
08:25 (05:18)
40
Sheltered
Mar 15, 2016
$14.99
45% (79%)
332,892 ±18,525
255,532 ±16,232
13:55 (04:06)
41
Castle In The Darkness
Feb 5, 2015
$9.99
45% (79%/76%)
55,257 ±7,549
42,858 ±6,649
06:57 (02:07)
42
Evil Maze
Jun 17, 2016
$1.99
45% (79%)
111,863 ±10,741
85,716 ±9,402
04:34 (03:44)
43
EVE Online
Dec 15, 2010
Free
39% (76%/88%)
1,663,114 ±41,353
1,354,481 ±37,331
54:06 (01:41)
44
Dungeon Defenders II
Jun 20, 2017
Free
35% (74%)
3,380,138 ±58,854
2,480,655 ±50,464
13:48 (01:57)
45
Assassin's Creed Syndicate
Nov 18, 2015
$39.99
35% (74%/74%)
497,047 ±22,633
400,279 ±20,313
29:49 (20:45)
46
Mortal Kombat X
Apr 13, 2015
$19.99
33% (73%/76%)
1,197,604 ±35,108
1,115,392 ±33,884
18:30 (07:03)
47
Blade Symphony
May 7, 2014
$4.99
33% (73%/72%)
332,623 ±18,518
269,009 ±16,654
05:27 (01:45)
48
World of Tanks Blitz
Nov 9, 2016
Free
32% (72%)
3,090,643 ±56,294
2,273,911 ±48,325
33:14 (01:47)
49
Demigod
Dec 14, 2011
$9.99
32% (72%/76%)
219,143 ±15,032
143,939 ±12,184
06:54 (01:27)
50
Immune - True Survival
Mar 25, 2015
$0.99
16% (60%)
156,877 ±12,719
127,227 ±11,455
03:00 (01:34)
51
Front Mission Evolved
Sep 28, 2010
$9.99
14% (58%/63%)
280,600 ±17,009
125,879 ±11,394
07:40 (03:25)
52
MAGIX Music Maker Hip Hop Edition 6
Mar 30, 2015
$39.99
N/A (N/A)
2,965 ±1,748
2,156 ±1,491
06:23 (09:22)
53
Warhammer 40,000 : Eternal Crusade
Mar 16, 2017
$19.99
11% (54%)
683,036 ±26,527
445,833 ±21,436
15:36 (01:24)
54
Infestation: The New Z
Nov 22, 2016
Free
8% (48%)
5,207,407 ±72,918
3,956,163 ±63,636
13:23 (00:49)
55
Nether: Resurrected
Jun 5, 2014
$4.99
5% (42%/57%)
666,054 ±26,196
584,381 ±24,539
10:00 (03:02)
56
Infestation: Survivor Stories Classic
N/A
5% (42%)
994,095 ±31,993
949,350 ±31,266
45:14 (05:48)
57
DrumKit VR - Play drum kit in the world of VR
Jul 8, 2016
$4.99
N/A (N/A)
1,348 ±1,179
1,078 ±1,054
00:25 (00:18)
58
Defenders of Ardania
Mar 14, 2012
$9.99
N/A (N/A/58%)
42,050 ±6,586
18,868 ±4,411
03:38 (00:43)