App

QP Shooting - Dangerous!!
QP Shooting - Dangerous!!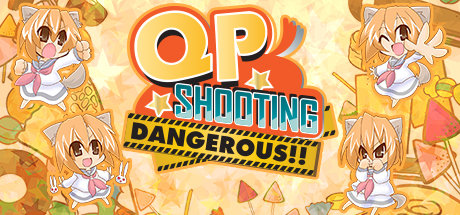 Store | Hub | SteamDB | Site
Developer: Orange_Juice Publisher: Fruitbat Factory
Genre: Action, Indie
Languages: English
Tags: Bullet Hell (44), Shoot 'Em Up (38), Indie (35), Anime (34), Action (31), Cute (20), Female Protagonist (16), Singleplayer (6)
Category: Single-player, Steam Achievements, Full controller support, Steam Trading Cards, Steam Cloud, Steam Leaderboards
Release date: Nov 14, 2014
Price: $7.99
Score rank: 91% Userscore: 95% Old userscore: 92%
Owners: 44,852 ± 7,471
Players in the last 2 weeks: 606 ± 1,186 (1.35%)
Players total: 28,276 ± 5,932 (63.04%)
Followers: 1,828
Peak concurrent players yesterday: 2
Playtime in the last 2 weeks: 00:17 (average) 00:17 (median)
Playtime total: 01:28 (average) 01:05 (median)

Steam Spy is still in beta, so expect major bugs.
Peak daily concurrent players:
CCU data courtesy of SteamDB. Used with permission.
Hourly concurrent players:
YouTube:
The views data is based on top 50 videos uploaded last week. Actual number of views might be more than the number shown.

The displayed number of videos uploaded yesterday is limited to 50, so if there were more videos uploaded, the number will still show 50.

If the game has commonly used word as its name (like "FEAR" or "Volume") its number of Youtube views might be wrong.
Games similar to this one:
#
Game
Release date

Price

Score rank
(Userscore / Metascore)

Owners

Players

Playtime (Median)

1
Smashbox Arena
Dec 7, 2016
$19.99
99% (98%)
7,992 ±3,261
7,297 ±3,116
05:42 (02:25)
2
Deathsmiles
Mar 10, 2016
$19.99
99% (98%/78%)
24,051 ±5,471
19,176 ±4,885
03:43 (02:02)
3
Shift Happens
Feb 22, 2017
$14.99
97% (97%)
7,150 ±2,983
6,500 ±2,844
02:32 (01:38)
4
Mount & Blade: Warband
Mar 31, 2010
$19.99
97% (97%/78%)
2,634,253 ±57,069
2,432,419 ±54,853
111:17 (34:36)
5
A Kiss For The Petals - Remembering How We Met
Sep 25, 2015
$7.99
91% (95%)
19,826 ±4,967
13,651 ±4,122
03:23 (02:15)
6
Tokyo School Life
Feb 12, 2015
$14.99
91% (95%)
27,301 ±5,829
18,851 ±4,843
03:39 (02:48)
7
Rising Storm/Red Orchestra 2 Multiplayer
Sep 13, 2011
$19.99
88% (94%/76%)
2,775,310 ±58,566
1,831,139 ±47,630
28:17 (04:24)
8
Danmaku Unlimited 2
Mar 18, 2014
$4.99
88% (94%)
37,377 ±6,820
16,251 ±4,497
01:53 (01:57)
9
SATAZIUS
Dec 16, 2011
$5.99
81% (92%)
50,377 ±7,918
28,276 ±5,932
02:24 (01:06)
10
Oblivious Garden ~Carmina Burana
Dec 12, 2014
$14.99
81% (92%)
18,526 ±4,801
11,376 ±3,762
05:32 (05:05)
11
Sky Force Anniversary
Apr 29, 2015
$9.99
77% (91%)
32,177 ±6,328
25,026 ±5,581
08:19 (04:00)
12
Victoria II
Aug 30, 2010
$19.99
73% (90%/75%)
436,821 ±23,304
304,215 ±19,451
64:45 (07:24)
13
NotGTAV
Jul 2, 2015
$2.99
73% (90%)
92,630 ±10,736
68,253 ±9,216
01:50 (00:38)
14
Arcana Heart 3 LOVE MAX!!!!!
Sep 29, 2015
$29.99
73% (90%)
18,851 ±4,843
14,301 ±4,219
07:40 (02:27)
15
Sakura Santa
Dec 21, 2015
$9.99
70% (89%)
38,677 ±6,938
15,926 ±4,452
02:42 (03:08)
16
Koihime Enbu
May 19, 2016
$39.99
70% (89%/68%)
10,401 ±3,597
8,775 ±3,304
08:16 (01:30)
17
Pathologic Classic HD
Oct 29, 2015
$12.99
70% (89%/76%)
54,278 ±8,219
30,551 ±6,166
07:19 (01:40)
18
Waking Mars
Dec 13, 2012
$9.99
70% (89%/79%)
274,313 ±18,471
62,728 ±8,835
03:37 (01:29)
19
Ys I
Feb 14, 2013
$14.99
66% (88%)
175,184 ±14,763
112,455 ±11,829
04:02 (01:59)
20
Ys II
Feb 14, 2013
$14.99
66% (88%)
175,184 ±14,763
47,452 ±7,684
05:08 (01:43)
21
Highschool Romance
Nov 18, 2015
$9.99
63% (87%)
26,001 ±5,688
17,876 ±4,716
03:07 (02:54)
22
Foul Play
Sep 18, 2013
$14.99
60% (86%/69%)
94,905 ±10,867
63,378 ±8,881
01:54 (01:22)
23
What's under your blanket !?
Jan 5, 2016
$0.99
60% (86%)
95,880 ±10,923
74,429 ±9,624
01:16 (00:27)
24
Ether Vapor Remaster
Sep 27, 2012
$7.99
60% (86%)
63,378 ±8,881
36,727 ±6,760
01:53 (01:01)
25
Hyperdevotion Noire: Goddess Black Heart (Neptunia)
Apr 26, 2016
$29.99
57% (85%)
37,052 ±6,790
22,101 ±5,244
11:09 (08:49)
26
Croixleur Sigma
Apr 30, 2014
$7.99
50% (82%/56%)
35,752 ±6,670
26,001 ±5,688
02:21 (01:11)
27
The Yawhg
Feb 27, 2014
$9.99
50% (82%/66%)
95,555 ±10,904
64,678 ±8,971
02:41 (01:43)
28
Hatred
Jun 1, 2015
$8.99
45% (80%/43%)
126,106 ±12,526
114,406 ±11,931
05:28 (02:21)
29
Hover Junkers
Apr 5, 2016
$34.99
45% (80%/80%)
40,302 ±7,082
37,377 ±6,820
02:19 (01:56)
30
Lethis - Path of Progress
Jun 25, 2015
$19.99
37% (76%/65%)
28,276 ±5,932
26,651 ±5,759
12:26 (04:44)
31
Chantelise
Jul 29, 2011
$9.99
37% (76%/62%)
184,284 ±15,141
83,529 ±10,195
02:28 (00:38)
32
Cherry Tree High Girls' Fight
Jun 13, 2016
$12.99
N/A (N/A)
2,085 ±1,665
1,042 ±1,177
04:59 (05:34)
33
Cabela's® Big Game Hunter® Pro Hunts
Mar 25, 2014
$29.99
33% (74%)
41,277 ±7,167
37,377 ±6,820
14:49 (12:08)
34
Science Girls
Mar 20, 2014
$4.99
30% (72%)
15,926 ±4,452
8,450 ±3,243
02:21 (01:22)
35
FINAL FANTASY® XIII-2
Dec 11, 2014
$19.99
22% (66%)
382,219 ±21,801
180,384 ±14,980
16:36 (04:12)
36
Gabe Newell Simulator 2.0
Dec 14, 2015
$3
6% (45%)
10,425 ±3,725
7,645 ±3,189
02:38 (02:13)
37
Nightmare
Dec 20, 2016
$3.99
N/A (N/A)
14,626 ±4,266
11,701 ±3,816
03:23 (03:30)
38
Cities XXL
Feb 5, 2015
$9.99
1% (26%/47%)
127,081 ±12,575
88,404 ±10,488
13:57 (03:43)