App

Disney•Pixar Toy Story Mania!
Disney•Pixar Toy Story Mania!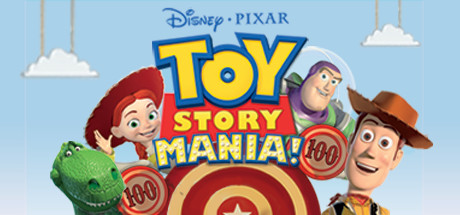 Store | Hub | SteamDB | Site
Developer: Papaya Studio Publisher: Disney Interactive
Genre: Casual
Languages: English, French, Italian, German, Spanish, Dutch, Polish, Russian
Tags: Casual (49), Family Friendly (27)
Category: Single-player, Steam Cloud
Release date: Oct 6, 2014
Price: $19.99
Owners: 7,150 ± 2,983
Players in the last 2 weeks: 606 ± 1,186 (8.47%)
Players total: 2,085 ± 1,665 (29.16%)
Followers: 111
Peak concurrent players yesterday: 2
YouTube stats: 14 views and 0 comments for videos uploaded last week, 0 new videos uploaded yesterday.
Playtime in the last 2 weeks: 00:05 (average) 00:05 (median)
Playtime total: 01:06 (average) 01:48 (median)

Steam Spy is still in beta, so expect major bugs.
Peak daily concurrent players:
CCU data courtesy of SteamDB. Used with permission.
Hourly concurrent players:
YouTube:
The views data is based on top 50 videos uploaded last week. Actual number of views might be more than the number shown.

The displayed number of videos uploaded yesterday is limited to 50, so if there were more videos uploaded, the number will still show 50.

If the game has commonly used word as its name (like "FEAR" or "Volume") its number of Youtube views might be wrong.
Games similar to this one:
#
Game
Release date

Price

Score rank
(Userscore / Metascore)

Owners

Players

Playtime (Median)

1
Wandering Willows
Aug 12, 2009
$14.99
N/A (N/A)
4,875 ±2,463
1,300 ±1,272
20:22 (24:23)
2
Rocket Mania! Deluxe
Aug 30, 2006
$4.99
N/A (N/A)
31,852 ±6,296
12,351 ±3,920
13:57 (00:35)
3
7 Wonders II
Jun 10, 2008
$9.99
N/A (N/A)
20,151 ±5,008
8,450 ±3,243
13:31 (02:35)
4
Let's Explore The Airport (Junior Field Trips)
Apr 24, 2015
$6.99
N/A (N/A)
17,876 ±4,716
1,950 ±1,557
81:12 (161:24)
5
LogicBots
Feb 8, 2017
$19.99
94% (96%)
4,517 ±2,452
3,127 ±2,040
06:00 (03:55)
6
Unveil
Apr 19, 2016
$14.99
N/A (N/A)
2,432 ±1,799
2,432 ±1,799
04:23 (05:07)
7
Legends of Atlantis: Exodus
Sep 3, 2015
$6.99
N/A (N/A)
14,301 ±4,219
2,600 ±1,799
05:27 (03:07)
8
Soda Drinker Pro
Apr 13, 2016
$4.99
N/A (N/A)
3,575 ±2,109
2,600 ±1,799
02:10 (01:47)
9
Vehicle Simulator
Dec 9, 2015
$24.99
N/A (N/A)
2,432 ±1,799
2,085 ±1,665
14:30 (20:43)
10
LUXOR: Mah Jong
Jul 13, 2009
$9.99
N/A (N/A)
22,751 ±5,321
9,425 ±3,425
27:56 (01:35)
11
Front Office Football Seven
Feb 4, 2015
$18.99
60% (86%)
8,687 ±3,400
7,992 ±3,261
327:07 (19:51)
12
Mars Odyssey
Sep 8, 2016
$7.99
N/A (N/A)
3,127 ±2,040
2,432 ±1,799
01:31 (03:09)
13
Crash Dive
Jul 6, 2015
$6.99
N/A (N/A)
7,150 ±2,983
3,250 ±2,011
01:37 (00:57)
14
Bejeweled Deluxe
Aug 30, 2006
$4.99
N/A (N/A)
38,027 ±6,879
11,376 ±3,762
04:07 (00:45)
15
Twisted Lands Trilogy: Collector's Edition
Oct 28, 2015
$19.99
N/A (N/A)
9,750 ±3,483
1,300 ±1,272
06:19 (07:38)
16
Mystery Case Files: Madame Fate
Dec 14, 2007
$6.99
N/A (N/A)
1,737 ±1,520
1,737 ±1,520
06:43 (08:23)
17
Cockroach Simulator
Sep 16, 2016
$5.99
48% (81%)
16,576 ±4,542
16,251 ±4,497
02:35 (02:09)
18
7 Wonders: Treasures of Seven
Nov 14, 2008
$9.99
N/A (N/A)
14,301 ±4,219
5,850 ±2,698
14:44 (03:39)
19
Space Rift - Episode 1
Aug 2, 2016
$19.99
N/A (N/A)
1,390 ±1,360
1,042 ±1,177
01:40 (00:56)
20
Cake Mania Main Street™
Feb 16, 2010
$6.99
N/A (N/A)
3,900 ±2,203
3,900 ±2,203
28:29 (10:39)
21
Scrabble
Jun 10, 2013
$9.99
N/A (N/A)
3,900 ±2,203
3,250 ±2,011
03:46 (02:57)
22
Giant Machines 2017
Sep 29, 2016
$19.99
33% (74%)
10,726 ±3,653
10,401 ±3,597
04:38 (03:47)
23
aerofly RC 7
Nov 6, 2014
$39.99
33% (74%)
5,560 ±2,720
5,560 ±2,720
09:27 (10:48)
24
Obliteracers
Feb 23, 2016
$14.99
32% (73%/78%)
13,326 ±4,072
8,450 ±3,243
05:00 (05:03)
25
Carmageddon TDR 2000
Dec 4, 2014
$4.99
32% (73%)
64,028 ±8,926
22,751 ±5,321
03:10 (00:20)
26
Little Farm
Jun 10, 2008
$9.99
N/A (N/A)
18,526 ±4,801
5,850 ±2,698
03:03 (00:58)
27
Mishap: An Accidental Haunting
Feb 11, 2010
$4.99
N/A (N/A)
3,475 ±2,150
3,475 ±2,150
15:33 (17:29)
28
Monster Mash
Jul 17, 2009
$4.99
N/A (N/A)
2,780 ±1,923
2,780 ±1,923
06:03 (07:18)
29
Baseball Mogul 2015
Jul 24, 2015
$9.99
N/A (N/A)
16,251 ±4,497
1,300 ±1,272
30:20 (26:55)
30
Virtual Families
May 6, 2009
$9.99
N/A (N/A)
4,875 ±2,463
4,550 ±2,379
65:39 (36:35)
31
Heavy Weapon Deluxe
Aug 30, 2006
$4.99
N/A (N/A)
43,227 ±7,334
18,526 ±4,801
01:29 (00:52)
32
Polaris Sector
Mar 22, 2016
$39.99
26% (69%/76%)
10,772 ±3,786
10,077 ±3,662
21:55 (08:04)
33
Trackday Manager
Mar 31, 2016
$11.99
23% (67%)
4,550 ±2,379
4,550 ±2,379
18:27 (35:37)
34
Cake Mania 2
Jul 17, 2009
$14.99
N/A (N/A)
2,275 ±1,682
1,950 ±1,557
14:39 (16:30)
35
Ropeway Simulator 2014
Dec 9, 2014
$9.99
N/A (N/A)
7,800 ±3,115
2,275 ±1,682
07:15 (02:56)
36
IGT Slots Paradise Garden
Sep 17, 2014
$19.99
N/A (N/A)
4,550 ±2,379
1,300 ±1,272
01:36 (01:15)
37
Cake Mania
Jul 17, 2009
$14.99
N/A (N/A)
2,275 ±1,682
2,275 ±1,682
08:01 (08:58)
38
Jane Angel: Templar Mystery
Sep 17, 2014
$4.99
N/A (N/A)
8,125 ±3,180
1,300 ±1,272
03:47 (03:33)
39
Castle: Never Judge a Book by its Cover
Jun 9, 2014
$3.39
18% (62%)
18,851 ±4,843
8,775 ±3,304
05:33 (06:40)
40
Battleship
Jun 10, 2013
$9.99
N/A (N/A)
2,432 ±1,799
1,042 ±1,177
00:56 (00:41)
41
Ant Queen
Jun 17, 2016
$8.99
15% (59%)
4,875 ±2,463
4,875 ±2,463
07:41 (02:42)
42
Casino Inc
Apr 17, 2015
$5.99
N/A (N/A)
2,780 ±1,923
2,432 ±1,799
46:48 (79:29)
43
Pure Pool
Jul 31, 2014
$12.99
13% (56%/68%)
12,351 ±3,920
12,351 ±3,920
03:36 (03:59)
44
Mystery Masters: Psycho Train Deluxe Edition
Feb 3, 2015
$9.99
N/A (N/A)
20,476 ±5,048
9,750 ±3,483
03:16 (01:59)
45
Shannon Tweed's Attack Of The Groupies
Apr 1, 2014
$4.99
N/A (N/A)
7,150 ±2,983
650 ±899
00:32 (00:21)
46
Masters of the World
Feb 5, 2014
$34.99
6% (44%)
13,976 ±4,170
13,651 ±4,122
31:57 (34:12)
47
CITYCONOMY: Service for your City
Dec 2, 2015
$24.99
5% (43%)
13,976 ±4,170
13,001 ±4,022
06:46 (02:46)
48
Ship Simulator: Maritime Search and Rescue
Jul 1, 2014
$17.99
N/A (N/A)
23,401 ±5,396
22,101 ±5,244
06:35 (04:35)
49
My Riding Stables
Mar 28, 2014
$3.99
N/A (N/A)
3,900 ±2,203
1,625 ±1,422
06:18 (06:28)
50
War Operations
Sep 18, 2014
$3.99
3% (35%)
12,676 ±3,972
2,600 ±1,799
01:05 (02:36)
51
Autobahn Police Simulator
Aug 26, 2015
$19.99
2% (32%)
16,901 ±4,586
16,901 ±4,586
05:57 (03:45)
52
Industry Empire
Jul 30, 2014
$19.99
2% (30%)
16,576 ±4,542
16,251 ±4,497
17:50 (03:28)