Battle Of Europe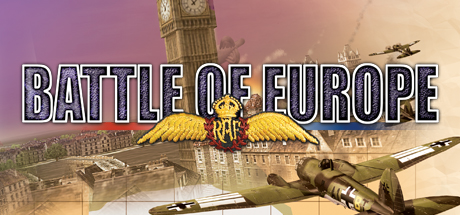 Store | Hub | SteamDB
Developer: Maus Software Publisher: Strategy First
Genre: Action
Languages: English
Tags: Action (21)
Category: Single-player
Release date: Sep 18, 2014
Price: $9.99
Metascore: 54%
Owners: 1,672 ± 1,463
Followers: 76
YouTube stats: 143 views and 0 comments for videos uploaded last week, 0 new videos uploaded yesterday.

Steam Spy is still in beta, so expect major bugs.
Peak daily concurrent players:
CCU data courtesy of SteamDB. Used with permission.
Hourly concurrent players:
YouTube:
The views data is based on top 50 videos uploaded last week. Actual number of views might be more than the number shown.

The displayed number of videos uploaded yesterday is limited to 50, so if there were more videos uploaded, the number will still show 50.

If the game has commonly used word as its name (like "FEAR" or "Volume") its number of Youtube views might be wrong.
Games similar to this one:
#
Game
Release date

Price

Score rank
(Userscore / Metascore)

Owners

Players

Playtime (Median)

1
The Curse Of Yendor
Feb 17, 2017
$4.99
N/A (N/A)
719 ±994
359 ±703
02:57 (01:28)
2
Audio Arena
Jul 25, 2016
$6.99
N/A (N/A)
1,196 ±1,045
957 ±935
05:10 (03:22)
3
Godot Engine
Feb 23, 2016
Free
83% (92%)
148,742 ±11,662
84,414 ±8,786
03:09 (00:02)
4
Spooky Night
Dec 31, 2016
Free
N/A (N/A)
10,522 ±3,102
5,739 ±2,291
00:12 (00:06)
5
Bleeding Blocks
Sep 15, 2015
$1.99
N/A (N/A)
5,500 ±2,243
478 ±661
00:01 (00:00)
6
Disney's Chicken Little
Feb 24, 2015
$9.99
N/A (N/A)
5,022 ±2,143
717 ±810
00:54 (00:23)
7
Hyphen
Feb 12, 2015
$3.99
N/A (N/A)
3,594 ±2,224
2,156 ±1,723
04:23 (01:30)
8
The Cubicle.
Apr 5, 2016
Free
69% (88%)
146,828 ±11,587
88,719 ±9,007
00:20 (00:05)
9
Wasteland 1 - The Original Classic
Nov 13, 2013
$5.99
63% (86%)
589,466 ±23,204
130,567 ±10,927
00:52 (00:05)
10
The Ables: Freepoint High
Apr 7, 2016
$2.99
N/A (N/A)
2,516 ±1,861
719 ±994
00:25 (00:24)
11
Graveyard Shift
Oct 20, 2016
$2.99
N/A (N/A)
9,326 ±2,920
0 ±0
00:00 (00:00)
12
Cluck Yegger in Escape From The Planet of The Poultroid
Nov 9, 2015
$2.99
N/A (N/A)
16,022 ±3,828
1,435 ±1,145
00:29 (00:22)
13
Wicce
May 2, 2016
$4.99
N/A (N/A)
1,674 ±1,237
478 ±661
06:24 (04:15)
14
Siegecraft Commander
Jan 16, 2017
$19.99
N/A (N/A/61%)
957 ±935
717 ±810
01:27 (01:20)
15
Vanguards
Oct 28, 2016
Free
27% (69%)
25,587 ±4,837
11,239 ±3,206
00:34 (00:06)
16
A Demon's Game - Episode 1
Feb 9, 2017
$2.79
N/A (N/A)
4,783 ±2,091
239 ±467
00:38 (00:12)
17
16 Bit Arena
Mar 24, 2015
Free
25% (67%)
127,698 ±10,806
35,392 ±5,689
00:01 (00:01)
18
Moonfall
Apr 12, 2017
$9.99
N/A (N/A)
719 ±994
359 ±703
04:23 (02:11)
19
MacGuffin
Feb 18, 2016
$2.99
N/A (N/A)
6,935 ±2,518
239 ±467
00:01 (00:00)
20
Exile's End
Aug 31, 2015
$9.99
N/A (N/A)
1,435 ±1,145
717 ±810
00:34 (00:32)
21
Elements: Epic Heroes
Dec 21, 2015
$6.99
N/A (N/A)
5,739 ±2,291
239 ±467
00:03 (00:01)
22
Wanderer: The Rebirth
Jan 11, 2017
$6.99
N/A (N/A)
719 ±994
359 ±703
10:22 (05:11)
23
Mobile Light Force (aka Gunbird)
Jul 17, 2015
$4.99
N/A (N/A)
1,674 ±1,237
717 ±810
00:17 (00:16)
24
One Way To Die: Steam Edition
Sep 1, 2015
Free
12% (55%)
155,676 ±11,931
45,914 ±6,480
00:14 (00:02)
25
Back to Dinosaur Island
Nov 18, 2015
Free
12% (55%)
473,247 ±20,794
238,656 ±14,771
00:27 (00:04)
26
Rocko's Quest
Apr 24, 2014
$4.99
N/A (N/A/41%)
4,065 ±1,928
239 ±467
00:10 (00:03)
27
Esenthel Engine
Apr 2015
Free
N/A (N/A)
110,480 ±10,051
33,240 ±5,514
00:19 (00:01)
28
Clash of the Monsters
Apr 13, 2016
Free
8% (49%)
83,697 ±8,749
36,827 ±5,804
00:07 (00:05)
29
Maui
Apr 26, 2016
Free
7% (47%)
120,045 ±10,477
68,632 ±7,923
00:09 (00:04)
30
Fractasia
Nov 17, 2016
Free
N/A (N/A)
7,891 ±2,686
1,913 ±1,322
00:11 (00:05)
31
Space Bit Attack
Apr 5, 2016
$4.99
N/A (N/A)
2,152 ±1,403
478 ±661
00:08 (00:05)
32
Kung Fu Panda Showdown of Legendary Legends
Jan 6, 2016
$14.99
N/A (N/A)
717 ±810
239 ±467
00:19 (00:06)
33
Undead Shadows
Feb 2, 2015
$3.99
N/A (N/A)
10,761 ±3,137
1,196 ±1,045
00:31 (00:45)
34
Silicone-2
Jun 3, 2015
$0.99
N/A (N/A)
3,348 ±1,750
478 ±661
01:21 (00:50)
35
Clan of Champions
Oct 30, 2012
$39.99
N/A (N/A/42%)
2,156 ±1,723
359 ±703
01:49 (00:54)
36
Save Our Souls: Episode I - The Absurd Hopes Of Blessed Children
Mar 12, 2017
$14.99
N/A (N/A)
719 ±994
359 ±703
00:12 (00:06)