App

Vampires: Guide Them to Safety!
Vampires: Guide Them to Safety!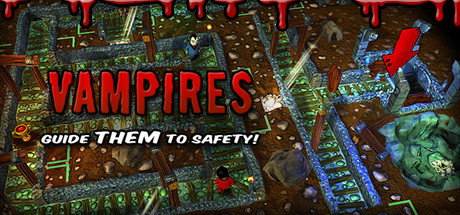 Store | Hub | SteamDB | Site
Developer: CBE software s.r.o. Publisher: CBE software s.r.o.
Genre: Indie
Languages: English, German, Czech
Tags: Indie (35), Vampire (9), Puzzle (8)
Category: Single-player, Steam Achievements, Steam Trading Cards, Steam Cloud, Stats, Steam Leaderboards
Release date: Oct 22, 2014
Price: $4.99
Owners: 7,987 ± 2,719
Players total: 4,598 ± 2,063 (57.58%)
Peak concurrent players yesterday: 1
Playtime total: 04:08 (average) 03:51 (median)

Steam Spy is still in beta, so expect major bugs.
Peak daily concurrent players:
CCU data courtesy of SteamDB. Used with permission.
Hourly concurrent players:
YouTube:
The views data is based on top 50 videos uploaded last week. Actual number of views might be more than the number shown.

The displayed number of videos uploaded yesterday is limited to 50, so if there were more videos uploaded, the number will still show 50.

If the game has commonly used word as its name (like "FEAR" or "Volume") its number of Youtube views might be wrong.
Games similar to this one:
#
Game
Release date

Price

Score rank
(Userscore / Metascore)

Owners

Players

Playtime (Median)

1
Narcissu 10th Anniversary Anthology Project
Jan 27, 2016
$1.49
99% (98%)
87,854 ±9,018
21,782 ±4,490
03:36 (02:31)
2
Hidden in Plain Sight
Jul 16, 2014
$5.99
99% (98%)
27,349 ±5,031
21,298 ±4,440
02:25 (01:24)
3
Quell
May 14, 2015
$0.79
99% (98%)
20,330 ±4,338
8,229 ±2,760
04:17 (03:06)
4
Luxor Evolved
Mar 1, 2012
$9.99
97% (97%)
59,054 ±7,394
12,585 ±3,413
08:39 (01:25)
5
Stephen's Sausage Roll
Apr 17, 2016
$29.99
97% (97%/90%)
35,335 ±5,719
13,553 ±3,542
07:59 (02:34)
6
Letter Quest: Grimm's Journey
Nov 20, 2014
N/A
95% (96%/73%)
81,562 ±8,689
36,303 ±5,797
04:41 (02:44)
7
HyperRogue
Jan 16, 2015
$2.49
95% (96%)
23,960 ±4,709
15,731 ±3,816
07:33 (02:13)
8
REVOLVER360 RE:ACTOR
Oct 24, 2014
$2.99
95% (96%)
71,639 ±8,143
33,399 ±5,560
01:59 (00:47)
9
Divide By Sheep
Jul 2, 2015
$2.49
92% (95%/83%)
125,610 ±10,783
53,487 ±7,036
02:47 (01:39)
10
Unium
Mar 27, 2015
$1.99
92% (95%)
27,591 ±5,054
19,846 ±4,286
03:27 (02:55)
11
Venusian Vengeance
Mar 27, 2015
$0.51
N/A (N/A)
9,197 ±2,918
5,324 ±2,220
05:40 (03:12)
12
Aero's Quest
Jun 8, 2015
$4.99
N/A (N/A)
15,247 ±3,757
10,649 ±3,140
06:32 (03:32)
13
A Good Snowman Is Hard To Build
Feb 25, 2015
$6.99
89% (94%)
5,809 ±2,319
5,082 ±2,169
01:49 (01:54)
14
Prelogate
Dec 10, 2014
$3.99
86% (93%)
11,617 ±3,279
8,955 ±2,879
02:00 (01:10)
15
Strata
May 29, 2014
$3.99
86% (93%)
53,487 ±7,036
15,005 ±3,727
03:06 (00:39)
16
Abduction Bit
Nov 14, 2016
$0.49
N/A (N/A)
5,809 ±2,319
3,872 ±1,893
08:37 (05:09)
17
Sokobond
Jul 21, 2014
$9.99
82% (92%/82%)
49,615 ±6,777
22,266 ±4,540
02:17 (00:54)
18
Grapple
Mar 9, 2015
$2.79
82% (92%)
32,431 ±5,479
22,992 ±4,613
03:52 (02:14)
19
Golf for Workgroups
Apr 6, 2017
$4.34
N/A (N/A)
3,630 ±1,833
1,452 ±1,159
01:55 (02:13)
20
Cubot
Jan 8, 2015
$1.99
82% (92%)
34,851 ±5,680
21,782 ±4,490
01:36 (00:58)
21
About Love, Hate and the other ones
Dec 12, 2014
$0.69
82% (92%)
72,365 ±8,184
40,660 ±6,135
03:18 (01:51)
22
Unhack
Jan 9, 2015
$2.79
82% (92%)
36,061 ±5,778
22,992 ±4,613
02:31 (02:12)
23
Avalanche 2: Super Avalanche
Jun 11, 2015
$3.49
N/A (N/A)
78,899 ±8,546
32,431 ±5,479
03:53 (03:12)
24
I Expect You To Die
Apr 25, 2017
$14.99
82% (92%/77%)
36,303 ±5,797
26,622 ±4,964
02:46 (01:59)
25
Cloudberry Kingdom
Aug 2, 2013
$9.99
82% (92%/67%)
29,043 ±5,185
24,686 ±4,780
04:07 (01:59)
26
Glowfish
Sep 30, 2011
$9.99
N/A (N/A)
60,264 ±7,469
12,343 ±3,380
04:32 (00:37)
27
Ichi
Jun 12, 2014
$0.49
82% (92%)
101,892 ±9,712
71,397 ±8,130
02:57 (01:57)
28
Tribloos 2
Jan 30, 2014
$0.99
78% (91%)
146,424 ±11,642
64,378 ±7,720
04:06 (03:02)
29
Straimium Immortaly
Oct 10, 2016
$4.49
74% (90%)
8,955 ±2,879
6,293 ±2,413
03:57 (02:48)
30
On Rusty Trails
Jun 13, 2016
$3.24
74% (90%/77%)
69,945 ±8,046
11,859 ±3,313
02:37 (02:28)
31
LogiGun
Jul 22, 2014
$4.99
N/A (N/A)
8,955 ±2,879
4,598 ±2,063
09:02 (02:48)
32
Aqua Kitty - Milk Mine Defender
Feb 3, 2014
$6.99
71% (89%)
40,418 ±6,117
25,170 ±4,827
02:18 (01:11)
33
The Reject Demon: Toko Chapter 0 Prelude
May 8, 2015
$4.49
71% (89%)
17,668 ±4,044
10,891 ±3,175
02:42 (02:33)
34
12 Labours of Hercules IV: Mother Nature (Platinum Edition)
Dec 25, 2015
$0.89
71% (89%)
45,258 ±6,473
31,463 ±5,397
09:39 (04:26)
35
PANORAMICAL
Sep 17, 2015
$9.99
71% (89%)
9,923 ±3,031
6,293 ±2,413
00:49 (00:51)
36
Bob Was Hungry
Aug 19, 2015
$0.99
71% (89%)
44,048 ±6,386
31,947 ±5,438
03:33 (02:36)
37
room13
Jan 13, 2017
$7.99
N/A (N/A)
21,540 ±4,465
4,114 ±1,951
07:38 (09:28)
38
In Between
Aug 21, 2015
$4.79
68% (88%/68%)
72,123 ±8,171
45,742 ±6,507
03:38 (03:31)
39
Rooms: The Unsolvable Puzzle
May 1, 2015
$14.99
68% (88%/66%)
7,503 ±2,635
5,567 ±2,270
04:13 (01:18)
40
This Starry Midnight We Make
Jun 1, 2015
$9.99
N/A (N/A)
4,598 ±2,063
3,872 ±1,893
02:14 (02:09)
41
Zenzizenzic
Jul 23, 2015
$1.99
68% (88%/85%)
8,955 ±2,879
4,598 ±2,063
01:12 (01:59)
42
Cursed Sight
Aug 3, 2015
$4.19
65% (87%)
5,082 ±2,169
2,178 ±1,420
03:42 (04:04)
43
A grande baguna espacial - The big space mess
Apr 5, 2016
$0.99
65% (87%)
306,885 ±16,851
238,150 ±14,845
07:30 (04:26)
44
Diadra Empty
Jul 21, 2015
$5.99
N/A (N/A)
25,654 ±4,873
15,005 ±3,727
03:49 (04:09)
45
Blitz Breaker
Feb 2, 2016
$0.49
62% (86%)
10,165 ±3,067
5,324 ±2,220
04:43 (02:38)
46
in Space
Apr 27, 2015
$0.66
62% (86%)
13,795 ±3,573
8,471 ±2,800
01:47 (01:50)
47
Sophie's Curse
Mar 16, 2016
$1.69
62% (86%)
29,527 ±5,228
20,088 ±4,312
02:19 (01:56)
48
Square Heroes
Apr 9, 2015
$4.99
62% (86%)
45,500 ±6,490
33,883 ±5,600
02:55 (03:03)
49
Spy Chameleon - RGB Agent
Jun 11, 2014
$4.99
62% (86%)
64,378 ±7,720
32,673 ±5,500
01:54 (01:19)
50
Governor of Poker 2 - Premium Edition
Oct 11, 2010
$14.99
59% (85%)
33,399 ±5,560
19,120 ±4,207
28:36 (08:18)
51
King Kaiju
Jan 31, 2017
$2.99
59% (85%)
6,777 ±2,504
3,872 ±1,893
04:30 (00:41)
52
Arclight Cascade
Aug 25, 2015
Free
N/A (N/A)
12,585 ±3,413
6,051 ±2,366
03:12 (03:47)
53
Richie's Plank Experience
Dec 18, 2017
$14.99
59% (85%)
35,335 ±5,719
34,367 ±5,640
11:18 (01:25)
54
Sentinel 4: Dark Star
Aug 13, 2015
$6.99
N/A (N/A)
7,503 ±2,635
5,324 ±2,220
14:14 (05:52)
55
ASCII Attack
Mar 16, 2016
$2.99
N/A (N/A)
6,293 ±2,413
5,082 ±2,169
03:43 (03:08)
56
Death Goat
Jun 7, 2016
$2.99
56% (84%)
37,998 ±5,931
24,202 ±4,733
03:12 (03:22)
57
Cyto
Jul 10, 2014
$3.99
N/A (N/A)
39,692 ±6,062
26,138 ±4,919
02:37 (02:29)
58
Cute Things Dying Violently
Sep 2, 2015
$2.99
N/A (N/A)
12,343 ±3,380
9,197 ±2,918
04:02 (03:38)
59
AaAaAA!!! - A Reckless Disregard for Gravity
Sep 3, 2009
$9.99
53% (83%/81%)
164,091 ±12,324
122,463 ±10,647
01:48 (00:44)
60
Dungeon Painter Studio
Feb 26, 2017
$14.99
53% (83%)
30,979 ±5,355
29,769 ±5,249
31:18 (06:55)
61
Super Star Path
Jun 22, 2015
$0.99
53% (83%)
17,426 ±4,016
11,617 ±3,279
05:12 (03:31)
62
Blocks That Matter
Aug 19, 2011
$4.99
51% (82%/72%)
258,722 ±15,473
174,256 ±12,700
03:11 (01:08)
63
Korwin The Game
Oct 1, 2015
$1.99
51% (82%)
6,051 ±2,366
5,082 ±2,169
02:12 (01:53)
64
ISLANDS: Non-Places
Nov 17, 2016
$0.99
51% (82%)
8,955 ±2,879
5,082 ±2,169
00:36 (00:38)
65
Cold Waters
Jun 5, 2017
$39.99
51% (82%)
50,099 ±6,810
48,163 ±6,677
19:18 (08:20)
66
Steam and Metal
Feb 9, 2015
$9.99
N/A (N/A)
12,343 ±3,380
6,777 ±2,504
01:51 (02:10)
67
Stay Alight
Mar 2, 2015
$3.99
49% (81%)
23,476 ±4,662
16,700 ±3,932
03:38 (03:03)
68
Sweezy Gunner
May 6, 2014
$3.99
49% (81%)
27,591 ±5,054
20,572 ±4,364
03:04 (02:00)
69
The Floor is Jelly
May 30, 2014
$0.99
49% (81%/83%)
26,865 ±4,987
20,330 ±4,338
02:13 (01:12)
70
Pixel Shopkeeper
Jul 20, 2017
$7.99
49% (81%)
6,293 ±2,413
6,051 ±2,366
03:06 (05:37)
71
Automation - The Car Company Tycoon Game
Mar 12, 2015
$25.49
47% (80%)
65,830 ±7,806
64,378 ±7,720
32:15 (06:38)
72
Shutshimi
Aug 25, 2015
$9.99
N/A (N/A)
89,064 ±9,080
17,910 ±4,072
03:10 (02:36)
73
Game Type
Sep 23, 2015
$2.99
N/A (N/A)
9,923 ±3,031
6,293 ±2,413
02:22 (02:50)
74
Swipecart
May 8, 2014
$2.99
N/A (N/A)
136,259 ±11,230
86,644 ±8,956
02:24 (00:56)
75
GamersGoMakers
Aug 8, 2014
$9.99
45% (79%)
22,750 ±4,589
17,668 ±4,044
14:36 (10:28)
76
Masky
Dec 16, 2016
$0.49
N/A (N/A)
12,101 ±3,347
5,324 ±2,220
02:39 (03:05)
77
Until I Have You
Apr 4, 2016
$2.09
45% (79%)
4,356 ±2,008
1,936 ±1,338
01:38 (02:01)
78
Farm Frenzy 4
Apr 29, 2014
$0.69
45% (79%)
33,399 ±5,560
27,349 ±5,031
15:03 (02:24)
79
VRC PRO
Mar 24, 2015
$22.49
43% (78%)
14,279 ±3,636
13,311 ±3,510
27:10 (07:13)
80
Crazy Plant Shop
Aug 4, 2014
$4.99
43% (78%)
45,258 ±6,473
25,412 ±4,850
02:22 (01:50)
81
Ancients of Ooga
May 20, 2011
$9.99
N/A (N/A)
17,910 ±4,072
5,809 ±2,319
24:23 (05:02)
82
Pixel Puzzles 2: Birds
Feb 20, 2015
$9.99
N/A (N/A)
188,536 ±13,209
82,772 ±8,753
04:39 (04:20)
83
SinaRun
Oct 26, 2015
$2.39
43% (78%)
9,681 ±2,993
7,503 ±2,635
03:17 (01:50)
84
Omega Agent
May 4, 2016
$2.99
N/A (N/A)
2,904 ±1,639
1,210 ±1,058
00:39 (00:17)
85
Puzzler World 2
Oct 24, 2011
$0.74
41% (77%)
43,806 ±6,368
16,458 ±3,903
19:46 (01:18)
86
Jeeboman
Apr 5, 2016
$9.99
N/A (N/A)
25,170 ±4,827
4,114 ±1,951
00:27 (00:35)
87
Idle Evolution
Apr 3, 2017
$2.99
41% (77%)
6,777 ±2,504
6,535 ±2,459
14:43 (10:10)
88
Metal Drift
Oct 22, 2009
$9.99
41% (77%)
45,984 ±6,524
28,317 ±5,120
02:04 (00:48)
89
Dodge
Mar 16, 2015
$1.99
N/A (N/A)
9,923 ±3,031
6,293 ±2,413
02:13 (01:33)
90
Luxor: 5th Passage
Jan 25, 2011
$9.99
N/A (N/A)
60,022 ±7,454
11,133 ±3,210
08:57 (01:52)
91
Thief Town
Dec 4, 2014
$7.99
37% (75%)
23,234 ±4,638
16,216 ±3,874
01:58 (00:58)
92
Lift It
Jan 20, 2017
$4.99
N/A (N/A)
41,870 ±6,226
35,577 ±5,739
07:15 (07:32)
93
Fingered
Aug 18, 2015
$1.87
37% (75%)
62,926 ±7,632
58,327 ±7,348
01:54 (00:37)
94
CALENDULA
Feb 2, 2016
$1.39
35% (74%/67%)
8,713 ±2,840
6,777 ±2,504
01:58 (01:25)
95
Demon Hearts
Aug 7, 2015
$3.99
N/A (N/A)
16,942 ±3,960
10,165 ±3,067
02:58 (03:14)
96
Prehistoric Tales
May 26, 2016
$1.25
N/A (N/A)
12,827 ±3,446
8,713 ±2,840
03:49 (02:47)
97
Over The Void
Nov 11, 2014
$0.49
31% (72%)
20,572 ±4,364
10,891 ±3,175
02:23 (01:58)
98
Farm Frenzy: Hurricane Season
Jul 3, 2015
$0.69
N/A (N/A)
7,261 ±2,592
4,840 ±2,117
04:44 (05:05)
99
MOAI 2: Path to Another World
Jul 16, 2015
$0.79
N/A (N/A)
3,630 ±1,833
1,936 ±1,338
43:22 (58:34)
100
Point Perfect
Jul 17, 2014
$0.99
30% (71%)
41,386 ±6,190
26,380 ±4,942
01:40 (01:16)
101
Laserlife
Sep 22, 2015
$14.99
N/A (N/A)
11,617 ±3,279
6,051 ±2,366
03:10 (04:00)
102
Marble Duel
Nov 12, 2015
$0.74
28% (70%)
27,349 ±5,031
16,458 ±3,903
05:02 (04:22)
103
Citadel
Aug 17, 2016
N/A
N/A (N/A)
8,955 ±2,879
7,019 ±2,549
05:32 (03:17)
104
Brother Wings
Jan 10, 2017
$0.49
N/A (N/A)
107,216 ±9,962
104,796 ±9,849
03:42 (03:31)
105
Super Lemonade Factory
Jul 9, 2014
$4.99
N/A (N/A)
22,266 ±4,540
10,649 ±3,140
01:53 (02:13)
106
Viking Brothers
Apr 23, 2014
$4.99
N/A (N/A)
4,840 ±2,117
2,178 ±1,420
04:33 (06:21)
107
Pester
Aug 21, 2015
$0.99
N/A (N/A)
106,732 ±9,940
77,205 ±8,454
03:42 (03:30)
108
Herding Dog
Jan 15, 2016
$2.99
N/A (N/A)
10,165 ±3,067
6,535 ±2,459
03:30 (02:25)
109
Flame Over
May 28, 2015
$2.39
27% (69%)
34,609 ±5,660
14,279 ±3,636
02:34 (01:22)
110
Cibele
Nov 2, 2015
$8.99
27% (69%/71%)
89,790 ±9,117
27,107 ±5,009
04:53 (00:56)
111
Running Sausage
Mar 19, 2017
$0.49
25% (68%)
161,187 ±12,214
148,360 ±11,718
03:38 (03:31)
112
1931: Scheherazade at the Library of Pergamum
Mar 26, 2015
$6.24
25% (68%)
15,489 ±3,787
10,891 ±3,175
06:16 (04:35)
113
Wildlife Park 2 - Horses
Jul 17, 2014
$2.79
N/A (N/A)
40,176 ±6,098
15,731 ±3,816
06:20 (01:49)
114
Quadrant
May 26, 2015
$0.74
23% (66%)
5,324 ±2,220
3,388 ±1,771
01:15 (00:38)
115
Painters Guild
Sep 1, 2015
$2.49
22% (65%)
87,370 ±8,993
32,189 ±5,459
03:23 (02:11)
116
Winexy
Jan 13, 2017
$0.49
21% (64%)
34,367 ±5,640
25,170 ±4,827
03:43 (02:49)
117
Highborn
Feb 19, 2013
$1.99
N/A (N/A)
12,827 ±3,446
7,261 ±2,592
03:33 (01:28)
118
Gem Wars: Attack of the Jiblets
Dec 14, 2015
Free
18% (62%)
24,928 ±4,804
15,005 ±3,727
03:54 (03:58)
119
The Blue Flamingo
Nov 18, 2014
$0.49
17% (61%/55%)
159,251 ±12,141
76,721 ±8,427
03:32 (02:14)
120
Power of Love
Jul 21, 2015
$0.49
N/A (N/A)
48,405 ±6,694
35,093 ±5,700
04:03 (03:53)
121
GunWorld
Feb 11, 2015
$1.99
N/A (N/A)
21,782 ±4,490
13,069 ±3,478
02:36 (02:55)
122
Meadowland
Oct 22, 2014
$0.99
N/A (N/A)
9,439 ±2,956
6,051 ±2,366
02:45 (02:51)
123
Metrocide
Dec 15, 2014
$12.99
N/A (N/A/68%)
52,277 ±6,956
26,622 ±4,964
03:09 (02:51)
124
Bloop Reloaded
Feb 6, 2015
$9.99
N/A (N/A)
150,054 ±11,785
98,503 ±9,549
04:25 (03:22)
125
Boss Monster
Apr 28, 2016
$4.99
14% (58%)
22,266 ±4,540
19,604 ±4,260
02:59 (01:48)
126
Party Saboteurs
Oct 20, 2016
$9.99
N/A (N/A)
13,311 ±3,510
9,439 ±2,956
02:02 (01:48)
127
Way of Gold and Steel
Aug 17, 2015
$1.79
14% (58%)
15,973 ±3,845
10,649 ±3,140
03:18 (03:11)
128
The guard of dungeon
Mar 7, 2017
$1.01
N/A (N/A)
91,485 ±9,202
85,434 ±8,893
04:00 (03:47)
129
Wildlife Park 3
May 12, 2014
$7.99
13% (56%)
91,001 ±9,178
50,341 ±6,826
07:07 (02:42)
130
Super Comboman: Don't Mash Edition
Jul 11, 2014
N/A
N/A (N/A)
39,450 ±6,043
15,489 ±3,787
02:28 (01:41)
131
Jamsouls
Aug 21, 2014
$3.99
N/A (N/A)
17,910 ±4,072
14,279 ±3,636
04:02 (04:29)
132
Machine Hunt
May 15, 2017
$0.5
11% (53%)
36,787 ±5,836
17,184 ±3,988
02:21 (01:49)
133
Drizzlepath
Mar 12, 2015
$2.99
11% (53%)
15,489 ±3,787
9,923 ±3,031
02:06 (02:01)
134
Universe in Fire
Mar 9, 2017
$1.99
9% (51%)
197,490 ±13,519
189,504 ±13,243
03:49 (03:31)
135
Pressured
Jul 18, 2014
$2.99
9% (51%)
288,491 ±16,339
175,466 ±12,744
02:59 (03:01)
136
Quantum Rush Champions
Dec 4, 2014
$9.99
9% (50%)
35,093 ±5,700
24,928 ±4,804
04:19 (04:22)
137
Pro Gamer Manager
Apr 28, 2016
$9.99
9% (50%)
38,240 ±5,950
35,093 ±5,700
10:43 (05:15)
138
The Dolls: Reborn
May 25, 2016
$0.49
8% (48%)
59,054 ±7,394
38,482 ±5,968
02:53 (03:07)
139
Rigonauts
Aug 7, 2012
$9.99
N/A (N/A/60%)
19,362 ±4,233
12,343 ±3,380
02:18 (01:17)
140
Astro Emporia
Feb 2, 2015
$0.49
N/A (N/A)
16,700 ±3,932
11,859 ±3,313
03:28 (03:41)
141
Castle
Jan 7, 2015
$4.99
N/A (N/A)
55,423 ±7,163
44,048 ±6,386
03:00 (02:49)
142
Autumn
May 14, 2016
$1.49
N/A (N/A)
51,793 ±6,924
42,596 ±6,279
03:48 (03:31)
143
Red Goblin: Cursed Forest
May 15, 2015
$0.49
N/A (N/A)
27,349 ±5,031
11,133 ±3,210
03:42 (02:56)
144
Arcadia
Dec 2, 2010
$4.99
6% (44%)
7,987 ±2,719
6,293 ±2,413
02:16 (00:22)
145
Days of War
Jan 26, 2017
$24.99
6% (44%)
21,056 ±4,415
20,572 ±4,364
09:42 (03:00)
146
Melting Hearts: Our Love Will Grow 2
Apr 29, 2016
$0.49
N/A (N/A)
20,330 ±4,338
12,101 ±3,347
04:54 (03:25)
147
Mech Marines: Steel March
Jan 9, 2015
$7.99
N/A (N/A)
4,356 ±2,008
3,630 ±1,833
04:33 (04:22)
148
Burst
Mar 14, 2016
$0.49
N/A (N/A)
137,953 ±11,300
130,692 ±10,999
04:43 (04:01)
149
Streets of Chaos
Jan 28, 2015
$0.49
N/A (N/A)
169,174 ±12,513
136,743 ±11,250
03:23 (03:30)
150
Hippocampal: The White Sofa
May 27, 2014
$0.99
3% (35%)
7,987 ±2,719
1,936 ±1,338
01:09 (01:15)
151
The Legions of Rome
Sep 13, 2016
$2.99
N/A (N/A)
6,293 ±2,413
3,630 ±1,833
02:03 (02:45)
152
Robot vs Birds Zombies
Jul 23, 2015
$0.99
2% (30%)
20,572 ±4,364
14,037 ±3,605
03:42 (03:17)
153
Galcon Legends
Jan 13, 2014
$4.99
N/A (N/A)
100,923 ±9,665
27,349 ±5,031
03:33 (02:06)
154
Age of Castles: Warlords
May 15, 2015
$0.49
N/A (N/A)
7,261 ±2,592
4,598 ±2,063
24:52 (02:49)
155
Botology
Jun 24, 2015
$0.49
1% (27%)
98,745 ±9,560
82,772 ±8,753
04:03 (04:01)
156
National Zombie Park
Dec 15, 2014
$0.79
0% (18%)
149,570 ±11,766
143,277 ±11,516
03:33 (03:30)