It's A Wipe!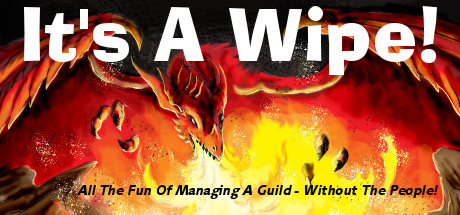 Store | Hub | SteamDB | Site
Developer: Parody Games, LLC Publisher: Parody Games, LLC
Genre: Indie, RPG, Simulation, Strategy
Languages: English
Tags: Indie (24), Strategy (23), Simulation (22), RPG (21)
Category: Single-player, Steam Achievements, Steam Trading Cards, Steam Workshop, Steam Cloud, Stats
Release date: Dec 11, 2014
Price: $4.99
Score rank: 37% Userscore: 75% Old userscore: 76%
Owners: 6,844 ± 2,678
Players in the last 2 weeks: 817 ± 1,600 (11.94%)
Players total: 6,844 ± 2,678 (100%)
Followers: 1,275
Peak concurrent players yesterday: 2
Playtime in the last 2 weeks: 00:01 (average) 00:01 (median)
Playtime total: 06:26 (average) 05:05 (median)

Steam Spy is still in beta, so expect major bugs.
Peak daily concurrent players:
CCU data courtesy of SteamDB. Used with permission.
Hourly concurrent players:
YouTube:
The views data is based on top 50 videos uploaded last week. Actual number of views might be more than the number shown.

The displayed number of videos uploaded yesterday is limited to 50, so if there were more videos uploaded, the number will still show 50.

If the game has commonly used word as its name (like "FEAR" or "Volume") its number of Youtube views might be wrong.
Games similar to this one:
#
Game
Release date

Price

Score rank
(Userscore / Metascore)

Owners

Players

Playtime (Median)

1
Linelight
Jan 30, 2017
$9.99
99% (98%/90%)
14,236 ±3,862
9,035 ±3,076
03:06 (02:11)
2
Duet
Aug 3, 2015
$4.99
97% (97%)
99,654 ±10,217
38,328 ±6,337
03:08 (02:20)
3
Lucius Demake
Aug 8, 2016
$4.99
95% (96%)
30,115 ±5,617
12,046 ±3,552
02:32 (02:18)
4
An Assassin in Orlandes
May 12, 2015
$4.99
N/A (N/A)
30,389 ±5,642
19,164 ±4,481
03:50 (03:32)
5
Super Cane Magic ZERO
Aug 26, 2015
$19.99
89% (94%)
7,939 ±2,884
7,118 ±2,731
09:17 (03:14)
6
The End Is Nigh
Jul 12, 2017
$14.99
86% (93%/84%)
55,576 ±7,630
49,553 ±7,205
09:28 (02:30)
7
Doom & Destiny Advanced
Nov 15, 2016
$9.99
86% (93%)
9,035 ±3,076
6,023 ±2,512
12:40 (06:04)
8
The Enchanted Cave 2
Jun 3, 2015
$4.99
86% (93%)
18,343 ±4,384
16,153 ±4,114
16:28 (08:00)
9
Masquerada: Songs and Shadows
Sep 30, 2016
$19.99
86% (93%/64%)
7,939 ±2,884
5,475 ±2,395
07:28 (07:03)
10
So Many Me
Jul 17, 2014
$14.99
N/A (N/A/78%)
3,559 ±1,931
3,285 ±1,855
07:20 (05:55)
11
Root Of Evil: The Tailor
Dec 8, 2016
$6.99
82% (92%)
12,867 ±3,671
5,475 ±2,395
02:08 (02:23)
12
Death Skid Marks
Nov 20, 2014
$9.99
82% (92%)
20,533 ±4,638
18,890 ±4,449
08:30 (05:32)
13
Good Robot
Apr 5, 2016
$9.99
74% (90%/67%)
31,758 ±5,768
13,689 ±3,787
03:55 (02:55)
14
NO THING
Apr 7, 2016
$3.99
74% (90%)
12,320 ±3,592
6,844 ±2,678
03:14 (03:36)
15
10,000,000
Jan 15, 2013
$4.99
74% (90%/67%)
137,434 ±11,999
114,437 ±10,949
07:22 (04:55)
16
Trace Vector
Aug 19, 2014
$6.99
N/A (N/A)
11,225 ±3,429
6,297 ±2,568
04:17 (04:12)
17
Parcel
Apr 22, 2015
$4.99
71% (89%)
21,081 ±4,699
12,594 ±3,632
03:46 (03:17)
18
Hollywood Visionary
May 1, 2015
$5.99
71% (89%)
4,928 ±2,272
4,380 ±2,142
05:08 (07:11)
19
Just Get Through
Jan 30, 2015
$1.69
68% (88%)
22,449 ±4,850
13,415 ±3,749
02:13 (01:08)
20
Eschalon: Book II
Jul 12, 2010
$5.99
N/A (N/A)
52,565 ±7,421
10,951 ±3,387
22:49 (03:41)
21
Alicemare
Nov 21, 2016
$2.99
68% (88%)
33,127 ±5,891
17,248 ±4,251
03:33 (03:13)
22
Citizens of Earth
Jan 20, 2015
$14.99
68% (88%/66%)
170,014 ±13,345
51,743 ±7,363
05:39 (03:59)
23
Remnants Of Isolation
May 1, 2015
$1.99
N/A (N/A)
99,380 ±10,203
24,913 ±5,109
03:48 (03:39)
24
Camp Sunshine
Oct 27, 2016
$4.99
65% (87%)
13,141 ±3,710
8,487 ±2,982
03:01 (03:22)
25
KeeperRL
Mar 31, 2015
$14.99
62% (86%)
19,985 ±4,576
18,890 ±4,449
07:53 (04:34)
26
Mr. Bree+
May 1, 2014
$2.99
62% (86%)
31,484 ±5,743
20,259 ±4,607
03:47 (03:02)
27
Vox Populi Vox Dei 2
Mar 17, 2015
$0.89
59% (85%)
67,622 ±8,417
53,386 ±7,479
03:34 (03:23)
28
Six Sides of the World
Jan 20, 2016
$0.99
N/A (N/A)
32,853 ±5,867
21,081 ±4,699
04:05 (03:45)
29
Heroes of a Broken Land
Aug 7, 2014
$14.99
59% (85%)
15,331 ±4,008
10,403 ±3,301
05:44 (03:50)
30
Solstice
Mar 23, 2016
$19.99
59% (85%)
98,285 ±10,147
14,236 ±3,862
02:40 (01:56)
31
DROD: Gunthro and the Epic Blunder
Sep 23, 2016
$9.99
N/A (N/A)
6,023 ±2,512
3,285 ±1,855
05:17 (04:01)
32
OBEY
May 21, 2015
$14.99
56% (84%)
10,951 ±3,387
10,677 ±3,344
03:40 (02:38)
33
Nefarious
Jan 23, 2017
$14.99
54% (83%/67%)
9,308 ±3,123
6,844 ±2,678
04:21 (04:44)
34
Avernum 4
May 11, 2012
$4.99
N/A (N/A)
76,383 ±8,945
19,164 ±4,481
18:55 (00:51)
35
A Bastard's Tale
May 26, 2015
$4.99
54% (83%)
20,259 ±4,607
13,962 ±3,825
03:08 (03:22)
36
This Book Is A Dungeon
Oct 9, 2015
$4.99
54% (83%)
36,412 ±6,176
19,164 ±4,481
02:42 (02:22)
37
Gran Vitreous
May 20, 2015
$4.99
N/A (N/A)
3,285 ±1,855
2,464 ±1,606
05:33 (06:52)
38
Planet R-12
May 5, 2016
$0.49
51% (82%)
76,930 ±8,977
65,706 ±8,297
03:59 (04:13)
39
Iggy's Egg Adventure
Aug 27, 2015
$4.99
51% (82%)
13,962 ±3,825
10,951 ±3,387
03:30 (03:51)
40
A Trip to Yugoslavia: Director's Cut
Feb 22, 2017
$0.99
N/A (N/A)
40,245 ±6,493
32,032 ±5,793
03:36 (03:55)
41
Fitz the Fox
Aug 6, 2015
$3.99
47% (80%)
13,415 ±3,749
8,487 ±2,982
03:46 (03:22)
42
Puzzle Quest 2
Aug 12, 2010
$9.99
47% (80%/83%)
65,158 ±8,262
58,040 ±7,798
47:20 (19:54)
43
Into The Gloom
Apr 7, 2015
$2.99
47% (80%)
18,343 ±4,384
9,035 ±3,076
02:34 (02:27)
44
The Madness of Little Emma
Dec 21, 2015
$8.99
47% (80%)
5,749 ±2,454
3,285 ±1,855
04:57 (06:12)
45
Islet Online
Feb 1, 2016
$24.99
47% (80%)
7,118 ±2,731
7,118 ±2,731
14:54 (09:15)
46
Sundered
Jul 28, 2017
$19.99
45% (79%/74%)
32,579 ±5,842
24,092 ±5,024
13:22 (04:42)
47
Fear Equation
Jan 15, 2016
$14.99
N/A (N/A)
9,308 ±3,123
5,475 ±2,395
03:23 (05:10)
48
Artificial Defense
Jun 1, 2016
$2.99
41% (77%)
25,735 ±5,192
19,985 ±4,576
04:05 (02:56)
49
OmniBus
May 26, 2016
$9.99
41% (77%/55%)
14,784 ±3,935
9,035 ±3,076
02:12 (02:15)
50
Almightree: The Last Dreamer
Sep 7, 2015
$4.99
41% (77%)
9,856 ±3,213
6,844 ±2,678
01:50 (01:53)
51
Battlepaths
May 30, 2014
$4.99
41% (77%)
214,912 ±15,003
136,613 ±11,963
04:03 (03:04)
52
Final Dusk
Dec 12, 2014
$2.99
41% (77%)
104,582 ±10,467
59,683 ±7,907
03:00 (03:07)
53
Chip
Apr 25, 2014
$6.99
39% (76%)
223,126 ±15,287
148,112 ±12,456
03:28 (02:37)
54
Shio
May 4, 2017
$11.99
39% (76%)
21,354 ±4,730
20,807 ±4,669
05:04 (03:00)
55
Galaxy of Pen & Paper
Jul 27, 2017
$14.99
39% (76%)
7,118 ±2,731
6,023 ±2,512
06:52 (05:31)
56
Selfie : Sisters of the Amniotic Lens
May 8, 2015
$4.99
37% (75%)
118,544 ±11,144
71,729 ±8,669
03:31 (03:30)
57
Scrap Garden
May 6, 2016
$9.99
37% (75%/58%)
77,478 ±9,009
15,605 ±4,043
02:21 (01:48)
58
Squirreltopia
Jan 12, 2015
$1.99
35% (74%)
35,864 ±6,130
24,366 ±5,052
03:05 (02:43)
59
Telepath Tactics
Apr 16, 2015
$14.99
33% (73%)
6,297 ±2,568
4,107 ±2,074
12:24 (04:54)
60
Where's My Helmet?
May 20, 2016
$0.99
N/A (N/A)
8,761 ±3,029
6,297 ±2,568
03:03 (03:17)
61
Stargazer
May 28, 2015
$4.99
30% (71%)
47,637 ±7,064
32,032 ±5,793
04:11 (03:45)
62
P.A.M.E.L.A.
Mar 9, 2017
$24.99
30% (71%)
12,867 ±3,671
10,951 ±3,387
22:07 (02:34)
63
Fly and Destroy
Jul 29, 2016
$4.99
29% (70%)
115,259 ±10,988
72,003 ±8,685
03:30 (03:30)
64
Pier Solar and the Great Architects
Sep 29, 2014
$14.99
29% (70%/73%)
41,887 ±6,624
11,498 ±3,471
03:38 (00:47)
65
Tales of the Elements
Oct 13, 2016
$6.99
N/A (N/A)
81,037 ±9,214
77,478 ±9,009
03:48 (03:30)
66
Life is Hard
Nov 3, 2015
$8.99
26% (68%)
37,233 ±6,246
24,092 ±5,024
03:35 (02:15)
67
See No Evil
Aug 25, 2014
$0.99
26% (68%)
124,020 ±11,398
89,798 ±9,699
03:07 (02:53)
68
Albert and Otto
Oct 28, 2015
$0.99
26% (68%/69%)
132,233 ±11,769
114,437 ±10,949
04:49 (05:10)
69
Celestian Tales: Old North
Aug 10, 2015
$12.99
23% (66%)
24,092 ±5,024
14,784 ±3,935
04:18 (02:24)
70
Lootfest
May 14, 2015
$0.99
N/A (N/A)
4,380 ±2,142
1,916 ±1,417
00:16 (00:21)
71
Goblins and Grottos
Jul 7, 2016
$12.99
22% (65%)
7,939 ±2,884
4,654 ±2,208
02:02 (01:48)
72
Epsilon
Oct 1, 2015
$7.99
N/A (N/A)
14,784 ±3,935
10,677 ±3,344
05:18 (06:00)
73
Squirbs
Jan 6, 2016
$4.99
22% (65%)
135,244 ±11,903
105,950 ±10,535
03:17 (03:11)
74
The Swindle
Jul 28, 2015
$14.99
21% (64%/70%)
18,069 ±4,351
13,689 ±3,787
07:04 (02:57)
75
The Mims Beginning
May 18, 2016
$16.99
21% (64%)
12,867 ±3,671
9,035 ±3,076
06:44 (02:11)
76
Gynophobia
Jul 31, 2015
$3.99
20% (63%)
24,640 ±5,081
14,510 ±3,899
02:36 (02:03)
77
Battle Mages
May 30, 2014
$3.99
20% (63%)
12,594 ±3,632
8,761 ±3,029
04:38 (02:41)
78
Heroes & Legends: Conquerors of Kolhar
Aug 21, 2014
$9.99
N/A (N/A)
30,936 ±5,693
15,879 ±4,079
03:30 (03:37)
79
Face It - A game to fight inner demons
Jun 9, 2017
$3.99
17% (61%)
93,904 ±9,918
59,135 ±7,871
05:02 (03:23)
80
SpellForce 2: Faith in Destiny
Jun 19, 2012
$14.99
16% (60%/55%)
335,647 ±18,747
97,737 ±10,119
10:12 (01:18)
81
Distant Star: Revenant Fleet
Apr 7, 2015
$9.99
16% (60%)
18,617 ±4,416
12,867 ±3,671
04:15 (01:24)
82
Toby: The Secret Mine
Oct 20, 2015
$9.99
16% (60%)
35,591 ±6,106
23,545 ±4,966
02:47 (01:54)
83
Save Your Mother
Dec 3, 2015
$3.99
N/A (N/A)
4,654 ±2,208
2,190 ±1,514
02:05 (02:25)
84
Data Hacker: Reboot
Apr 17, 2015
$4.99
14% (58%)
370,416 ±19,694
292,938 ±17,515
03:54 (03:41)
85
Deep Fear
Aug 11, 2017
$0.99
14% (58%)
17,795 ±4,318
13,415 ±3,749
04:08 (04:29)
86
Towers of Altrac - Epic Defense Battles
Jan 5, 2015
$4.99
14% (58%)
15,058 ±3,972
7,939 ±2,884
08:07 (07:58)
87
Kaboom Monsters
Jul 7, 2016
$0.5
14% (58%)
12,867 ±3,671
9,856 ±3,213
03:22 (03:18)
88
The Repopulation
Dec 22, 2014
$19.99
14% (58%)
37,507 ±6,268
36,138 ±6,153
17:02 (04:17)
89
An Imp? A Fiend!
Mar 16, 2015
$0.99
N/A (N/A)
24,092 ±5,024
12,867 ±3,671
04:38 (04:55)
90
Shadowrun Chronicles: INFECTED Director's Cut
Dec 10, 2015
$29.99
N/A (N/A)
5,202 ±2,334
3,285 ±1,855
21:29 (37:13)
91
Defragmented
Feb 12, 2016
$9.99
N/A (N/A/68%)
4,654 ±2,208
3,285 ±1,855
02:40 (03:20)
92
1Quest
Dec 3, 2014
$3.99
N/A (N/A)
32,853 ±5,867
19,164 ±4,481
03:36 (01:38)
93
Asteria
Jul 3, 2014
$4.99
12% (55%)
22,449 ±4,850
16,426 ±4,148
03:17 (02:28)
94
Voxel Warfare Online
Apr 19, 2016
$0.49
12% (55%)
100,475 ±10,259
93,631 ±9,904
03:39 (03:54)
95
Voice of Pripyat
Nov 19, 2014
$6.99
N/A (N/A)
4,380 ±2,142
2,190 ±1,514
01:19 (01:53)
96
The Lady
Jan 29, 2015
$0.99
11% (54%)
64,884 ±8,245
39,971 ±6,471
03:32 (03:21)
97
SoulCraft
Jun 1, 2015
$4.99
N/A (N/A)
23,271 ±4,938
5,202 ±2,334
01:19 (00:51)
98
No Way Out
Jan 27, 2017
$0.99
N/A (N/A)
15,605 ±4,043
12,594 ±3,632
04:41 (04:37)
99
Shadow Ninja: Apocalypse
Nov 16, 2015
$1.99
10% (52%)
27,104 ±5,329
14,510 ±3,899
04:05 (03:59)
100
Planet Driller
Jul 4, 2016
$1.99
N/A (N/A)
18,890 ±4,449
12,867 ±3,671
05:06 (04:36)
101
Servo
May 28, 2015
N/A
8% (49%)
5,749 ±2,454
4,928 ±2,272
03:24 (03:29)
102
Elements: Soul of Fire
Jan 12, 2015
$7.99
8% (49%)
367,952 ±19,628
292,938 ±17,515
04:28 (04:11)
103
Power Overwhelming
Dec 18, 2016
$2.99
8% (49%)
17,522 ±4,284
12,867 ±3,671
04:54 (05:05)
104
Shot In The Dark
Jun 10, 2015
Free
7% (47%)
86,239 ±9,505
29,020 ±5,514
03:25 (04:08)
105
Avenging Angel
Jun 1, 2015
$9.99
N/A (N/A)
8,487 ±2,982
4,928 ±2,272
03:04 (03:34)
106
Era of Majesty
Feb 26, 2016
$5.99
N/A (N/A)
159,884 ±12,941
104,582 ±10,467
03:35 (03:30)
107
Spaceforce Rogue Universe HD
May 26, 2015
$12.99
N/A (N/A)
5,202 ±2,334
3,285 ±1,855
04:52 (04:06)
108
Redshirt
Nov 13, 2013
$9.99
5% (41%/62%)
57,492 ±7,761
27,377 ±5,356
03:44 (02:00)
109
Joe's Diner
Mar 31, 2015
$7.99
N/A (N/A)
22,449 ±4,850
13,141 ±3,710
02:40 (02:43)
110
Girl Amazon Survival
Aug 16, 2016
$2.99
4% (40%)
42,161 ±6,646
38,328 ±6,337
07:04 (07:21)
111
QuestRun
Apr 18, 2014
$4.99
4% (38%)
222,578 ±15,268
134,149 ±11,854
04:22 (03:37)
112
Hero Battle
Apr 28, 2016
$0.99
N/A (N/A)
8,213 ±2,933
5,475 ±2,395
03:16 (03:27)
113
Vapour
Jul 3, 2015
$9.99
3% (35%)
47,637 ±7,064
31,210 ±5,718
04:45 (04:24)
114
The Last Hope: Trump vs Mafia - North Korea
Jan 20, 2017
$4.99
3% (34%)
189,725 ±14,097
169,740 ±13,334
03:39 (03:32)
115
16bit Trader
Jun 4, 2015
$2.99
3% (34%)
239,278 ±15,830
178,227 ±13,663
04:51 (04:27)
116
SUPER DISTRO
Jul 22, 2015
$0.99
3% (34%)
215,460 ±15,022
150,028 ±12,536
04:02 (03:48)
117
Zotrix
Jul 24, 2015
$12.99
2% (33%)
60,230 ±7,943
48,184 ±7,105
04:56 (05:13)
118
Love is Blind: Mutants
Mar 15, 2016
N/A
0% (18%)
183,155 ±13,851
161,527 ±13,007
04:08 (04:15)
119
Age of Survival
Aug 25, 2015
$18.99
0% (17%)
12,594 ±3,632
9,856 ±3,213
05:37 (05:17)
120
Robowars
Oct 24, 2014
$14.99
N/A (N/A)
182,060 ±13,809
111,152 ±10,791
03:19 (03:13)