It's A Wipe!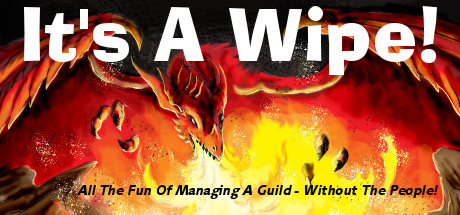 Store | Hub | SteamDB | Site
Developer: Parody Games, LLC Publisher: Parody Games, LLC
Genre: Indie, RPG, Simulation, Strategy
Languages: English
Tags: Indie (24), Strategy (23), Simulation (22), RPG (21)
Category: Single-player, Steam Achievements, Steam Trading Cards, Steam Workshop, Steam Cloud, Stats
Release date: Dec 11, 2014
Price: $4.99
Score rank: 38% Userscore: 76% Old userscore: 77%
Owners: 11,223 ± 2,785
Players total: 10,318 ± 2,671 (91.94%)
Followers: 1,332
Peak concurrent players yesterday: 3
Playtime total: 03:49 (average) 01:22 (median)

Steam Spy is still in beta, so expect major bugs.
Peak daily concurrent players:
CCU data courtesy of SteamDB. Used with permission.
Hourly concurrent players:
YouTube:
The views data is based on top 50 videos uploaded last week. Actual number of views might be more than the number shown.

The displayed number of videos uploaded yesterday is limited to 50, so if there were more videos uploaded, the number will still show 50.

If the game has commonly used word as its name (like "FEAR" or "Volume") its number of Youtube views might be wrong.
Games similar to this one:
#
Game
Release date

Price

Score rank
(Userscore / Metascore)

Owners

Players

Playtime (Median)

1
Linelight
Jan 30, 2017
$9.99
99% (98%/90%)
9,051 ±2,501
4,344 ±1,733
01:54 (01:35)
2
Little Triangle
Jan 20, 2017
$11.99
99% (98%)
7,784 ±2,320
7,241 ±2,237
03:47 (02:52)
3
TY the Tasmanian Tiger 2
Mar 20, 2017
$11.99
97% (97%)
8,870 ±2,476
7,060 ±2,209
06:01 (03:22)
4
Root Of Evil: The Tailor
Dec 8, 2016
$6.99
97% (97%)
5,250 ±1,905
2,534 ±1,323
03:08 (04:08)
5
Duet
Aug 3, 2015
$4.99
97% (97%)
87,251 ±7,767
30,411 ±4,585
03:57 (02:17)
6
Tadpole Treble
Sep 2, 2016
$4.99
97% (97%/90%)
6,155 ±2,063
4,163 ±1,696
03:18 (02:28)
7
The Legend of Heroes: Trails in the Sky the 3rd
May 3, 2017
$29.99
95% (96%/83%)
10,861 ±2,740
6,698 ±2,152
35:08 (43:18)
8
DEADBOLT
Mar 14, 2016
$9.99
95% (96%/76%)
116,396 ±8,970
74,037 ±7,154
06:16 (03:37)
9
Airships: Conquer the Skies
Feb 25, 2015
$9.99
95% (96%)
31,678 ±4,680
30,411 ±4,585
13:08 (05:20)
10
Deadly Sin 2
May 12, 2014
$4.99
N/A (N/A)
116,215 ±8,963
20,636 ±3,777
03:01 (01:38)
11
Phantom Brave PC
Jul 25, 2016
$14.99
95% (96%)
25,524 ±4,201
13,939 ±3,104
10:44 (02:03)
12
Space Fuss
Feb 28, 2017
$2.99
N/A (N/A)
3,077 ±1,458
1,629 ±1,061
11:59 (02:25)
13
Void Pyramid
Dec 5, 2016
Free
N/A (N/A)
4,888 ±1,838
1,448 ±1,000
01:58 (02:54)
14
Card Quest
Jan 20, 2017
$7.99
N/A (N/A)
1,991 ±1,173
1,086 ±866
14:13 (17:25)
15
Sixth Grade Detective
Dec 21, 2015
$4.99
N/A (N/A)
1,991 ±1,173
1,086 ±866
08:58 (15:06)
16
Super Cane Magic ZERO
Aug 26, 2015
$19.99
89% (94%)
5,793 ±2,001
5,250 ±1,905
09:56 (04:27)
17
Doom & Destiny Advanced
Nov 15, 2016
$9.99
86% (93%)
3,801 ±1,621
2,715 ±1,370
09:46 (12:07)
18
Rodina
Jul 28, 2014
$14.99
86% (93%)
30,049 ±4,558
28,239 ±4,419
05:23 (03:03)
19
Vampire: The Masquerade - Redemption
Apr 18, 2017
$5.99
86% (93%/74%)
8,870 ±2,476
3,620 ±1,582
05:00 (04:30)
20
Quest for Infamy
Jul 10, 2014
$9.99
N/A (N/A/63%)
46,160 ±5,649
24,257 ±4,095
06:16 (02:29)
21
The Metronomicon
Sep 29, 2016
$19.99
86% (93%/79%)
6,336 ±2,093
5,069 ±1,872
05:01 (04:07)
22
NO THING
Apr 7, 2016
$3.99
86% (93%)
13,214 ±3,022
8,146 ±2,373
04:04 (04:18)
23
Angels of Death
Dec 19, 2016
$9.99
86% (93%)
13,939 ±3,104
11,585 ±2,830
05:32 (05:49)
24
Parcel
Apr 22, 2015
$4.99
86% (93%)
20,274 ±3,744
13,576 ±3,064
03:05 (03:26)
25
The Enchanted Cave 2
Jun 3, 2015
$4.99
86% (93%)
19,007 ±3,625
16,654 ±3,393
15:24 (06:16)
26
So Many Me
Jul 17, 2014
$14.99
N/A (N/A/78%)
3,258 ±1,501
2,534 ±1,323
01:58 (02:58)
27
Death Skid Marks
Nov 20, 2014
$9.99
81% (92%)
21,903 ±3,891
18,283 ±3,555
09:05 (03:59)
28
An Assassin in Orlandes
May 12, 2015
$4.99
N/A (N/A)
22,265 ±3,923
13,939 ±3,104
03:13 (03:12)
29
Polygod
Oct 13, 2016
$9.99
N/A (N/A)
2,353 ±1,275
1,991 ±1,173
04:14 (03:19)
30
Hero of the Kingdom
Nov 14, 2013
$5.99
81% (92%)
139,204 ±9,810
88,338 ±7,815
03:39 (03:12)
31
Konung 2
Apr 23, 2014
$2.99
77% (91%/35%)
23,171 ±4,002
5,250 ±1,905
07:19 (01:52)
32
Catacomb Kids
Feb 20, 2015
$15.99
77% (91%)
12,671 ±2,960
11,766 ±2,852
05:24 (02:20)
33
Spooky's Jump Scare Mansion: HD Renovation
Mar 1, 2017
$9.99
74% (90%)
6,155 ±2,063
4,888 ±1,838
03:12 (01:34)
34
Wave Magic VR
Dec 29, 2016
$5.99
N/A (N/A)
3,439 ±1,542
1,991 ±1,173
02:42 (02:53)
35
Super Win the Game
Oct 1, 2014
$7.99
74% (90%)
32,765 ±4,759
16,835 ±3,412
04:01 (02:48)
36
C. Kane
Jan 25, 2016
$1.99
N/A (N/A)
5,431 ±1,937
2,715 ±1,370
02:34 (02:32)
37
Trace Vector
Aug 19, 2014
$6.99
N/A (N/A)
11,404 ±2,808
5,793 ±2,001
03:22 (03:38)
38
Hollywood Visionary
May 1, 2015
$5.99
74% (90%)
6,698 ±2,152
5,974 ±2,032
05:24 (03:12)
39
Offspring Fling!
May 11, 2012
$7.99
74% (90%/79%)
284,563 ±14,023
133,955 ±9,623
02:30 (01:37)
40
Hero and Daughter+
Feb 18, 2016
$9.99
74% (90%)
9,051 ±2,501
7,060 ±2,209
19:26 (09:32)
41
Cosmic Star Heroine
Apr 11, 2017
$14.99
74% (90%/77%)
9,051 ±2,501
5,974 ±2,032
05:49 (04:15)
42
Camp Sunshine
Oct 27, 2016
$4.99
74% (90%)
8,689 ±2,451
5,793 ±2,001
03:55 (03:57)
43
Fenix Rage
Sep 24, 2014
$14.99
N/A (N/A/75%)
45,436 ±5,605
23,714 ±4,049
14:02 (02:24)
44
Machina of the Planet Tree -Planet Ruler-
Jul 28, 2015
$12.99
74% (90%)
12,490 ±2,938
6,336 ±2,093
05:20 (03:49)
45
Freedom Fall
Jan 10, 2014
$9.99
70% (89%)
31,497 ±4,666
20,093 ±3,727
02:58 (02:13)
46
Siralim
Apr 24, 2015
$2.99
70% (89%)
24,076 ±4,080
15,387 ±3,261
13:16 (05:37)
47
Braveland Pirate
Sep 14, 2015
$6.99
70% (89%)
12,671 ±2,960
5,793 ±2,001
06:42 (05:53)
48
TRI: Of Friendship and Madness
Oct 9, 2014
$14.99
70% (89%/74%)
28,420 ±4,433
16,292 ±3,356
08:07 (01:46)
49
Citizens of Earth
Jan 20, 2015
$14.99
70% (89%/66%)
95,216 ±8,113
31,316 ±4,653
06:24 (03:39)
50
Red Rope: Don't Fall Behind
Jul 21, 2016
$7.99
N/A (N/A)
2,715 ±1,370
2,172 ±1,225
03:30 (03:27)
51
PARTICLE MACE
Jan 22, 2015
$9.99
70% (89%)
241,661 ±12,923
150,065 ±10,185
02:48 (02:35)
52
Cellar
Mar 23, 2016
$0.99
67% (88%)
7,965 ±2,346
4,888 ±1,838
02:44 (02:01)
53
DROD: Gunthro and the Epic Blunder
Sep 23, 2016
$9.99
N/A (N/A)
4,525 ±1,769
3,439 ±1,542
12:15 (04:22)
54
ChromaGun
Feb 16, 2016
$12.99
67% (88%)
9,232 ±2,526
5,974 ±2,032
06:43 (03:30)
55
Aselia the Eternal -The Spirit of Eternity Sword-
Apr 29, 2016
$14.99
N/A (N/A)
4,525 ±1,769
2,896 ±1,415
06:40 (05:33)
56
Penny Arcade's On the Rain-Slick Precipice of Darkness 3
Jun 25, 2012
$4.99
67% (88%)
304,837 ±14,514
133,955 ±9,623
05:01 (01:27)
57
Drox Operative
Feb 18, 2014
$19.99
67% (88%/74%)
13,576 ±3,064
11,042 ±2,763
17:53 (06:23)
58
DungeonUp
Sep 4, 2015
$4.99
67% (88%)
34,937 ±4,915
20,455 ±3,761
04:58 (03:41)
59
Solstice
Mar 23, 2016
$19.99
N/A (N/A)
79,830 ±7,429
12,128 ±2,896
02:23 (02:01)
60
KeeperRL
Mar 31, 2015
$14.99
67% (88%)
17,378 ±3,466
16,473 ±3,375
06:34 (03:24)
61
Just Get Through
Jan 30, 2015
$4.99
67% (88%)
21,179 ±3,827
14,120 ±3,124
02:40 (01:22)
62
SQUIDS FROM SPACE
Jun 16, 2017
$9.99
N/A (N/A)
1,838 ±1,358
788 ±889
01:45 (01:18)
63
Mighty Switch Force! Academy
Nov 23, 2015
$9.99
N/A (N/A)
3,077 ±1,458
2,172 ±1,225
03:19 (02:47)
64
Sublevel Zero Redux
Oct 8, 2015
$14.99
64% (87%/71%)
20,093 ±3,727
15,568 ±3,281
04:42 (01:15)
65
Die Young
Jun 5, 2017
$14.99
64% (87%)
6,336 ±2,093
5,431 ±1,937
03:12 (02:13)
66
Remnants Of Isolation
May 1, 2015
$1.99
N/A (N/A)
65,348 ±6,721
14,482 ±3,164
03:41 (02:56)
67
Affairs of the Court: Choice of Romance
Jun 23, 2016
$5.99
N/A (N/A)
4,163 ±1,696
3,439 ±1,542
02:37 (02:37)
68
Mr. Bree+
May 1, 2014
$2.99
61% (86%)
25,705 ±4,216
14,663 ±3,184
03:24 (02:43)
69
Fast Action Hero
Oct 3, 2016
$11.99
61% (86%)
3,439 ±1,542
3,258 ±1,501
01:18 (01:21)
70
Magicians & Looters
Jul 1, 2014
$2.99
N/A (N/A)
6,879 ±2,181
4,707 ±1,804
02:26 (02:03)
71
Nusakana
Nov 19, 2015
$8.99
N/A (N/A)
1,991 ±1,173
1,267 ±936
01:43 (02:18)
72
Flat Kingdom Paper's Cut Edition
Apr 15, 2016
$7.99
N/A (N/A)
10,137 ±2,647
6,517 ±2,122
03:45 (04:01)
73
Planet Alcatraz
Apr 16, 2014
$3.99
58% (85%)
27,877 ±4,390
17,378 ±3,466
07:46 (02:34)
74
Heroes of a Broken Land
Aug 7, 2014
$14.99
58% (85%)
10,861 ±2,740
6,517 ±2,122
18:51 (04:01)
75
Beyond Despair
Jan 16, 2017
$11.99
58% (85%)
3,439 ±1,542
2,896 ±1,415
01:57 (01:40)
76
Potatoman Seeks the Troof
Dec 3, 2014
$3.99
58% (85%)
147,712 ±10,105
56,297 ±6,239
04:53 (04:45)
77
Wayward
Apr 22, 2016
$7.99
58% (85%)
15,387 ±3,261
13,033 ±3,002
10:43 (02:43)
78
First Strike: Final Hour
May 30, 2017
$11.99
58% (85%)
9,051 ±2,501
8,327 ±2,399
04:56 (02:54)
79
World of One
Jun 8, 2017
$6.99
N/A (N/A)
2,715 ±1,370
1,810 ±1,118
03:21 (02:42)
80
Conception II: Children of the Seven Stars
Aug 15, 2016
$19.99
58% (85%)
23,895 ±4,064
17,197 ±3,448
14:37 (05:04)
81
Gran Vitreous
May 20, 2015
$4.99
N/A (N/A)
3,258 ±1,501
2,534 ±1,323
02:35 (02:06)
82
This Book Is A Dungeon
Oct 9, 2015
$4.99
56% (84%)
34,394 ±4,876
17,921 ±3,520
02:23 (01:59)
83
OBEY
May 21, 2015
$14.99
56% (84%)
9,232 ±2,526
8,146 ±2,373
04:46 (02:58)
84
DarkMaus
Jan 26, 2016
$9.99
56% (84%/83%)
15,025 ±3,223
12,128 ±2,896
04:54 (01:52)
85
The Cat! Porfirio's Adventure
Aug 4, 2016
$3.99
56% (84%)
12,671 ±2,960
7,060 ±2,209
03:04 (03:23)
86
Lethal RPG: War
Jul 17, 2015
$2.99
56% (84%)
32,040 ±4,707
7,603 ±2,292
08:26 (01:19)
87
Muffin Knight
May 2014
$6.99
56% (84%)
72,770 ±7,093
18,464 ±3,573
02:32 (01:05)
88
Construct: Escape the System
Dec 2, 2016
$7.99
N/A (N/A)
7,060 ±2,209
3,801 ±1,621
03:06 (02:39)
89
Vox Populi Vox Dei 2
Mar 17, 2015
$2.99
56% (84%)
60,099 ±6,446
45,617 ±5,616
03:14 (03:25)
90
A Wise Use of Time
Sep 4, 2015
$6.99
56% (84%)
6,879 ±2,181
4,888 ±1,838
07:03 (05:31)
91
Last Dream
Mar 13, 2014
$9.99
56% (84%)
43,083 ±5,458
29,144 ±4,489
09:10 (02:33)
92
Mechanic Escape
Apr 15, 2014
$4.99
56% (84%)
202,742 ±11,838
120,559 ±9,129
02:46 (01:08)
93
A Trip to Yugoslavia: Director's Cut
Feb 22, 2017
$0.79
N/A (N/A)
21,360 ±3,843
15,206 ±3,242
02:51 (03:05)
94
Pendragon Rising
Dec 4, 2015
$3.99
53% (83%)
6,155 ±2,063
4,888 ±1,838
04:02 (03:31)
95
Konung 3: Ties of the Dynasty
Apr 3, 2014
$2.99
N/A (N/A)
27,877 ±4,390
4,888 ±1,838
06:57 (01:07)
96
Drifting Lands
Jun 5, 2017
$18.99
53% (83%/71%)
6,336 ±2,093
5,793 ±2,001
09:31 (03:17)
97
Heart&Slash
Aug 9, 2016
$14.99
53% (83%)
12,490 ±2,938
10,318 ±2,671
08:19 (02:57)
98
NeuroVoider
Aug 31, 2016
$13.99
53% (83%)
13,757 ±3,084
11,042 ±2,763
06:15 (02:53)
99
Penny Arcade's On the Rain-Slick Precipice of Darkness 4
Jun 7, 2013
$4.99
51% (82%)
188,985 ±11,429
93,949 ±8,059
04:52 (02:45)
100
A Bastard's Tale
May 26, 2015
$4.99
51% (82%)
9,956 ±2,623
8,689 ±2,451
02:49 (01:57)
101
Sandmason
May 4, 2015
$3.99
N/A (N/A)
11,404 ±2,808
1,991 ±1,173
01:23 (01:09)
102
Nefarious
Jan 23, 2017
$14.99
49% (81%/67%)
7,965 ±2,346
6,336 ±2,093
07:11 (05:35)
103
The Age of Decadence
Oct 14, 2015
$29.99
49% (81%/81%)
82,002 ±7,529
63,900 ±6,647
19:44 (04:45)
104
Saturday Morning RPG
Jan 29, 2014
$6.99
49% (81%)
125,447 ±9,312
53,220 ±6,066
02:52 (01:34)
105
Retro Game Crunch
May 19, 2014
$9.99
49% (81%)
140,471 ±9,854
22,265 ±3,923
01:48 (00:51)
106
Iggy's Egg Adventure
Aug 27, 2015
$4.99
49% (81%)
14,301 ±3,144
10,318 ±2,671
04:30 (03:26)
107
Heroes of Legionwood
Jul 24, 2015
$6.99
N/A (N/A)
12,852 ±2,981
5,069 ±1,872
02:39 (02:32)
108
Fitz the Fox
Aug 6, 2015
$3.99
N/A (N/A)
12,309 ±2,917
8,327 ±2,399
03:01 (03:20)
109
SAELIG
Jun 30, 2017
$14.99
46% (80%)
5,974 ±2,032
5,431 ±1,937
03:34 (01:31)
110
Story of a Cube
Mar 4, 2016
$5.99
N/A (N/A)
19,369 ±3,659
15,025 ±3,223
03:19 (03:24)
111
Planet R-12
May 5, 2016
$4.99
46% (80%)
17,740 ±3,502
9,956 ±2,623
03:03 (02:49)
112
Glider Island
Apr 28, 2017
$7.99
N/A (N/A)
1,448 ±1,000
1,086 ±866
05:43 (07:05)
113
Diaries of a Spaceport Janitor
Sep 16, 2016
$9.99
44% (79%/69%)
17,921 ±3,520
13,033 ±3,002
03:11 (01:59)
114
Into The Gloom
Apr 7, 2015
$2.99
44% (79%)
15,568 ±3,281
10,137 ±2,647
02:40 (02:18)
115
Scrap Garden
May 6, 2016
$9.99
44% (79%/58%)
18,826 ±3,608
8,508 ±2,425
02:30 (02:14)
116
The Madness of Little Emma
Dec 21, 2015
$8.99
44% (79%)
5,069 ±1,872
3,258 ±1,501
06:41 (03:45)
117
Island 359
Aug 23, 2016
$19.99
44% (79%)
16,292 ±3,356
15,387 ±3,261
04:48 (01:49)
118
Ratings War
Oct 2, 2015
$4.99
42% (78%)
4,163 ±1,696
3,439 ±1,542
04:29 (03:01)
119
Artificial Defense
Jun 1, 2016
$4.99
N/A (N/A)
26,067 ±4,245
19,369 ±3,659
03:54 (03:20)
120
(The Gate of Firmament)
Feb 25, 2016
$14.99
42% (78%)
16,292 ±3,356
13,757 ±3,084
11:23 (03:28)
121
Stealth Inc 2: A Game of Clones
Apr 30, 2015
$14.99
42% (78%)
521,156 ±18,972
256,867 ±13,324
02:58 (02:16)
122
Highlands
Apr 21, 2015
$4.99
42% (78%)
16,835 ±3,412
9,232 ±2,526
04:01 (02:43)
123
Voodoo Garden
Aug 4, 2016
$2.99
42% (78%)
21,360 ±3,843
19,007 ±3,625
08:53 (01:55)
124
March of the Living
Apr 20, 2016
$14.99
42% (78%/63%)
10,318 ±2,671
9,413 ±2,551
05:41 (02:51)
125
Conan the mighty pig
Jul 7, 2016
$0.99
42% (78%)
34,394 ±4,876
29,506 ±4,517
03:07 (03:30)
126
Selfie : Sisters of the Amniotic Lens
May 8, 2015
$4.99
40% (77%)
40,729 ±5,306
26,248 ±4,260
03:06 (03:15)
127
Regalia: Of Men and Monarchs
May 18, 2017
$24.99
40% (77%/74%)
7,422 ±2,265
6,336 ±2,093
07:47 (05:19)
128
Monochroma
May 28, 2014
$19.99
40% (77%)
26,067 ±4,245
12,309 ±2,917
04:00 (02:49)
129
Fear Equation
Jan 15, 2016
$14.99
N/A (N/A)
13,033 ±3,002
7,603 ±2,292
04:36 (03:49)
130
Where's My Helmet?
May 20, 2016
$0.99
N/A (N/A)
10,499 ±2,694
6,879 ±2,181
03:10 (03:19)
131
Draw Slasher
Oct 13, 2016
$4.99
40% (77%)
12,490 ±2,938
7,965 ±2,346
03:21 (02:55)
132
Vengeance
Apr 29, 2016
$8.99
N/A (N/A)
2,534 ±1,323
1,810 ±1,118
05:22 (06:27)
133
Super Motherload
Apr 4, 2014
$14.99
38% (76%)
66,615 ±6,786
43,083 ±5,458
04:49 (02:26)
134
Battlepaths
May 30, 2014
$0.99
38% (76%)
208,535 ±12,005
134,136 ±9,629
03:54 (02:38)
135
SickBrick
Jan 30, 2015
$19.99
N/A (N/A)
50,142 ±5,888
21,722 ±3,875
02:18 (02:20)
136
Incitement 3
Aug 19, 2015
$6.99
N/A (N/A)
150,789 ±10,209
79,830 ±7,429
04:23 (04:27)
137
Abducted
Jul 28, 2015
$4.99
N/A (N/A)
13,939 ±3,104
1,086 ±866
01:39 (01:39)
138
Chip
Apr 25, 2014
$6.99
38% (76%)
199,665 ±11,747
134,679 ±9,649
05:05 (02:36)
139
Bloody Trapland 2: Curiosity
Apr 7, 2017
$14.99
N/A (N/A)
2,172 ±1,225
1,991 ±1,173
01:29 (01:10)
140
Formata
Feb 10, 2017
$9.99
35% (74%)
9,232 ±2,526
8,870 ±2,476
03:50 (02:27)
141
Squirreltopia
Jan 12, 2015
$2.99
35% (74%)
31,678 ±4,680
23,714 ±4,049
02:57 (02:27)
142
Where's My Mommy?
Mar 1, 2016
$5.99
35% (74%)
8,508 ±2,425
7,060 ±2,209
01:43 (01:14)
143
Ancient Guardian
Dec 21, 2016
$6.99
N/A (N/A)
4,525 ±1,769
2,172 ±1,225
01:20 (02:06)
144
MegaSphere
Aug 25, 2015
$14.99
N/A (N/A)
4,525 ±1,769
3,982 ±1,659
01:07 (01:17)
145
Between Me and The Night
Jan 22, 2016
$14.99
35% (74%/62%)
152,781 ±10,277
87,070 ±7,759
04:39 (04:17)
146
Lovely Planet Arcade
Jul 22, 2016
$5.99
35% (74%/78%)
8,327 ±2,399
1,810 ±1,118
01:46 (02:38)
147
Terrian Saga: KR-17
Jul 9, 2014
$4.99
35% (74%/83%)
49,599 ±5,856
34,032 ±4,851
02:25 (02:09)
148
Terra Incognita ~ Chapter One: The Descendant
Feb 3, 2015
$0.99
33% (73%)
466,307 ±17,947
264,651 ±13,524
03:19 (03:17)
149
Reaper - Tale of a Pale Swordsman
Feb 7, 2014
$4.99
33% (73%)
51,048 ±5,941
27,696 ±4,376
02:50 (01:14)
150
Homebrew - Vehicle Sandbox
Nov 14, 2014
$17.99
33% (73%)
40,729 ±5,306
34,032 ±4,851
09:01 (01:23)
151
Epsilon
Oct 1, 2015
$7.99
N/A (N/A)
15,387 ±3,261
11,766 ±2,852
05:26 (05:56)
152
Dungeon Lords Steam Edition
Dec 21, 2015
$14.99
33% (73%)
10,499 ±2,694
8,870 ±2,476
12:20 (04:10)
153
Telepath Tactics
Apr 16, 2015
$14.99
33% (73%)
6,517 ±2,122
5,250 ±1,905
09:54 (02:53)
154
Grand Class Melee 2
Feb 2, 2015
$9.99
N/A (N/A)
8,327 ±2,399
5,612 ±1,969
05:14 (02:36)
155
Yet Another World
Nov 30, 2015
$3.99
N/A (N/A)
57,202 ±6,289
51,953 ±5,993
06:07 (06:32)
156
Next Day: Survival
Jul 20, 2017
$7.49
30% (71%)
25,343 ±4,186
23,352 ±4,018
16:49 (04:15)
157
Stairs
Sep 28, 2015
$12.99
30% (71%/65%)
8,870 ±2,476
4,707 ±1,804
02:47 (02:21)
158
Ilamentia
Nov 25, 2014
$5.99
N/A (N/A)
13,395 ±3,043
7,784 ±2,320
02:02 (01:52)
159
The Cabin: VR Escape the Room
Jan 5, 2017
$4.99
N/A (N/A)
6,336 ±2,093
4,707 ±1,804
04:02 (02:04)
160
Operation Abyss: New Tokyo Legacy
Mar 27, 2017
$19.99
N/A (N/A)
4,525 ±1,769
3,258 ±1,501
10:01 (08:53)
161
The Sacred Tears TRUE
Sep 25, 2014
$9.99
N/A (N/A)
32,221 ±4,720
12,490 ±2,938
03:13 (02:23)
162
Aaru's Awakening
Feb 23, 2015
$14.99
N/A (N/A)
24,257 ±4,095
4,344 ±1,733
19:54 (00:51)
163
Power Overwhelming
Dec 18, 2016
$2.99
N/A (N/A)
6,336 ±2,093
3,439 ±1,542
03:40 (04:08)
164
Sneak Thief
Aug 5, 2016
$9.99
30% (71%)
18,464 ±3,573
16,111 ±3,337
07:18 (02:40)
165
Inquisitor
Aug 2013
$2.99
28% (70%/64%)
114,042 ±8,879
47,608 ±5,737
04:34 (02:42)
166
The Deep Paths: Labyrinth Of Andokost
Oct 26, 2016
$7.99
28% (70%)
7,965 ±2,346
2,715 ±1,370
28:05 (03:15)
167
Pesadelo - Regresso
Feb 10, 2016
$5.99
28% (70%)
10,861 ±2,740
4,888 ±1,838
02:53 (02:43)
168
Desolate Wastes: Vendor Chronicles
Jul 21, 2017
$1.19
N/A (N/A)
79,468 ±7,412
49,780 ±5,867
03:07 (03:15)
169
Soup: the Game
Mar 18, 2016
$1.99
N/A (N/A)
6,336 ±2,093
4,707 ±1,804
02:37 (02:36)
170
Tales from the Void
May 20, 2016
$9.99
N/A (N/A)
28,963 ±4,475
15,930 ±3,319
02:31 (03:02)
171
Stargazer
May 28, 2015
$4.99
27% (69%)
42,721 ±5,435
28,058 ±4,404
04:53 (03:45)
172
INTERSHELTER
Nov 20, 2016
$3.99
27% (69%)
66,072 ±6,759
48,332 ±5,781
05:57 (04:53)
173
Life is Hard
Nov 3, 2015
$8.99
27% (69%)
34,213 ±4,863
22,627 ±3,955
02:20 (02:01)
174
Almightree: The Last Dreamer
Sep 7, 2015
$4.99
27% (69%)
7,241 ±2,237
4,888 ±1,838
03:15 (02:56)
175
Albert and Otto
Oct 28, 2015
$4.99
27% (69%/69%)
30,049 ±4,558
17,378 ±3,466
04:14 (02:20)
176
Paranormal
Sep 12, 2013
$9.99
25% (68%)
39,281 ±5,211
28,058 ±4,404
02:17 (01:42)
177
Celestian Tales: Old North
Aug 10, 2015
$12.99
25% (68%)
19,369 ±3,659
13,757 ±3,084
06:41 (03:25)
178
Dungeon Hearts
Mar 28, 2013
$2.99
25% (68%/73%)
94,311 ±8,075
64,262 ±6,665
02:57 (01:30)
179
The I of the Dragon
Mar 6, 2015
$6.99
24% (67%)
145,540 ±10,030
77,114 ±7,302
03:05 (02:44)
180
Novus Inceptio
Oct 5, 2015
$19.99
24% (67%)
28,782 ±4,461
22,265 ±3,923
04:16 (01:25)
181
Folk Tale
Free
24% (67%)
101,552 ±8,379
97,027 ±8,190
06:29 (03:15)
182
Goblins and Grottos
Jul 7, 2016
$12.99
N/A (N/A)
5,974 ±2,032
4,525 ±1,769
02:39 (02:56)
183
Yury
Dec 9, 2014
$1.99
N/A (N/A)
104,086 ±8,483
66,434 ±6,777
03:39 (03:46)
184
FreezeME
Dec 10, 2015
$13.99
24% (67%)
4,525 ±1,769
3,077 ±1,458
03:06 (02:14)
185
iGrow Game
Jun 9, 2016
$4.99
23% (66%)
10,861 ±2,740
8,327 ±2,399
06:40 (05:02)
186
Mystery Chronicle: One Way Heroics
Sep 12, 2016
$9.99
23% (66%)
13,214 ±3,022
8,146 ±2,373
17:01 (06:05)
187
Cally's Trials
Jun 14, 2016
$2.09
N/A (N/A)
20,274 ±3,744
4,525 ±1,769
02:46 (02:07)
188
Depths of Fear :: Knossos
Apr 24, 2014
$5.99
22% (65%)
40,186 ±5,271
25,343 ±4,186
02:23 (01:45)
189
The Mims Beginning
May 18, 2016
$16.99
22% (65%)
8,689 ±2,451
6,336 ±2,093
04:25 (02:50)
190
Statues
Oct 27, 2015
$0.49
21% (64%)
22,808 ±3,971
13,395 ±3,043
02:54 (02:50)
191
Gynophobia
Jul 31, 2015
$3.99
21% (64%)
23,352 ±4,018
14,301 ±3,144
02:52 (02:13)
192
Turnover
Dec 15, 2015
$9.99
N/A (N/A)
2,896 ±1,415
1,086 ±866
01:31 (02:39)
193
Warlocks vs Shadows
Aug 19, 2015
$13.99
21% (64%/68%)
28,239 ±4,419
20,636 ±3,777
03:14 (02:34)
194
Mystica: The Ninth Society
Mar 6, 2016
$1.99
N/A (N/A)
7,965 ±2,346
5,431 ±1,937
03:35 (03:55)
195
Overdosed - A Trip To Hell
May 23, 2016
$6.99
N/A (N/A)
3,982 ±1,659
3,258 ±1,501
02:46 (02:51)
196
SpaceCorn
Jun 23, 2015
$0.99
19% (63%)
18,464 ±3,573
12,852 ±2,981
02:27 (02:20)
197
Kaboom Monsters
Jul 7, 2016
$2.99
18% (62%)
12,128 ±2,896
8,146 ±2,373
03:04 (02:53)
198
Adventurer Manager
Dec 4, 2014
$4.99
18% (62%)
55,030 ±6,168
47,970 ±5,759
07:19 (04:34)
199
Boundel: The Second Era
Apr 30, 2016
$6.99
18% (62%)
10,861 ±2,740
7,422 ±2,265
02:46 (01:59)
200
7 Mages
Jun 23, 2016
$13.99
18% (62%)
3,258 ±1,501
1,991 ±1,173
08:49 (17:43)
201
Francisca
Jul 26, 2016
$0.99
18% (62%)
12,490 ±2,938
8,146 ±2,373
02:13 (01:32)
202
Distant Star: Revenant Fleet
Apr 7, 2015
$9.99
17% (61%)
20,274 ±3,744
14,844 ±3,203
03:50 (01:45)
203
Doors
Feb 12, 2016
$4.99
17% (61%/40%)
12,309 ±2,917
9,775 ±2,599
02:41 (01:39)
204
Wind Child
Mar 18, 2016
$3.99
N/A (N/A)
5,431 ±1,937
4,163 ±1,696
03:32 (02:42)
205
Heroes & Legends: Conquerors of Kolhar
Aug 21, 2014
$9.99
N/A (N/A)
24,981 ±4,156
15,025 ±3,223
03:49 (03:57)
206
Malevolence: The Sword of Ahkranox
May 9, 2014
$19.99
N/A (N/A)
3,077 ±1,458
2,896 ±1,415
12:39 (09:54)
207
Clans
Mar 13, 2014
$2.99
16% (60%)
22,446 ±3,939
4,525 ±1,769
00:30 (00:41)
208
The Repopulation
Dec 22, 2014
$19.99
15% (59%)
39,281 ±5,211
37,833 ±5,114
20:16 (05:15)
209
Towers of Altrac - Epic Defense Battles
Jan 5, 2015
$6.99
15% (59%)
9,232 ±2,526
5,431 ±1,937
24:57 (07:08)
210
Toby: The Secret Mine
Oct 20, 2015
$9.99
15% (59%)
24,800 ±4,141
15,206 ±3,242
03:04 (02:06)
211
Idle Civilization
Nov 23, 2015
$4.99
15% (59%)
9,594 ±2,575
8,689 ±2,451
25:57 (13:04)
212
Shadowrun Chronicles: INFECTED Director's Cut
Dec 10, 2015
$29.99
N/A (N/A)
3,982 ±1,659
2,534 ±1,323
34:12 (21:26)
213
Monster RPG 2
Oct 12, 2015
$1.99
N/A (N/A)
7,784 ±2,320
4,707 ±1,804
03:42 (03:41)
214
Shad'O
Sep 4, 2012
$4.99
N/A (N/A/68%)
32,403 ±4,733
16,473 ±3,375
01:56 (01:26)
215
Ethan: Meteor Hunter
Feb 7, 2014
$9.99
N/A (N/A)
87,432 ±7,775
39,281 ±5,211
02:45 (01:40)
216
Ashes of Immortality
Jun 26, 2015
$9.99
N/A (N/A)
5,974 ±2,032
4,344 ±1,733
02:37 (02:54)
217
SoulCraft
Jun 1, 2015
$4.99
N/A (N/A)
20,636 ±3,777
3,982 ±1,659
00:46 (01:08)
218
Voice of Pripyat
Nov 19, 2014
$6.99
N/A (N/A)
5,612 ±1,969
3,982 ±1,659
06:49 (02:40)
219
An Imp? A Fiend!
Mar 16, 2015
$1.99
N/A (N/A)
19,007 ±3,625
10,861 ±2,740
05:47 (04:34)
220
Qasir al-Wasat: International Edition
Jan 19, 2016
$14.99
N/A (N/A)
4,163 ±1,696
2,353 ±1,275
03:46 (04:05)
221
Clumsy Moose Season
Mar 2, 2016
$3.99
N/A (N/A)
6,336 ±2,093
1,267 ±936
01:15 (01:48)
222
No Way Out
Jan 27, 2017
$4.99
N/A (N/A)
5,612 ±1,969
3,439 ±1,542
02:14 (02:44)
223
Data Hacker: Reboot
Apr 17, 2015
$4.99
11% (53%)
170,521 ±10,857
102,819 ±8,431
03:38 (03:30)
224
The Lady
Jan 29, 2015
$0.99
11% (53%)
30,049 ±4,558
15,387 ±3,261
02:46 (02:54)
225
Scott in Space
Jul 23, 2015
$4.99
N/A (N/A)
19,550 ±3,676
8,327 ±2,399
02:58 (02:48)
226
Space Impact Glitch
Mar 15, 2017
$2.99
N/A (N/A)
10,318 ±2,671
7,603 ±2,292
02:52 (03:18)
227
Jump Like A Pirate
Feb 7, 2017
$2.99
N/A (N/A)
26,791 ±4,304
21,903 ±3,891
03:13 (03:30)
228
Asteria
Jul 3, 2014
$4.99
11% (52%)
21,179 ±3,827
15,025 ±3,223
04:47 (02:18)
229
Rolling Sun
Jun 3, 2015
$4.99
10% (51%)
165,633 ±10,700
116,215 ±8,963
08:26 (03:12)
230
D.N.Age
Jul 29, 2016
$4.99
N/A (N/A)
3,077 ±1,458
2,534 ±1,323
03:29 (02:21)
231
Mistfal
Jul 7, 2016
$0.49
N/A (N/A)
5,793 ±2,001
2,896 ±1,415
02:54 (03:07)
232
Into the Dark: Ultimate Trash Edition
May 1, 2014
$7.99
N/A (N/A)
36,747 ±5,040
16,473 ±3,375
03:32 (02:54)
233
Planet Driller
Jul 4, 2016
$1.99
N/A (N/A)
15,749 ±3,300
7,060 ±2,209
03:47 (03:51)
234
Stained
Jul 10, 2014
$1.99
N/A (N/A)
2,353 ±1,275
1,086 ±866
05:47 (07:32)
235
After Reset RPG
Mar 9, 2015
$49.99
N/A (N/A)
2,715 ±1,370
1,810 ±1,118
01:01 (00:53)
236
Pertinence
Mar 25, 2016
$3.99
N/A (N/A)
12,852 ±2,981
6,698 ±2,152
03:21 (03:23)
237
Shadow Ninja: Apocalypse
Nov 16, 2015
$1.99
9% (50%)
25,162 ±4,171
15,568 ±3,281
03:18 (03:42)
238
Red Risk
Mar 4, 2016
$0.99
9% (50%)
108,069 ±8,643
78,563 ±7,370
03:36 (03:45)
239
Shot In The Dark
Jun 10, 2015
Free
8% (49%)
80,192 ±7,446
33,489 ±4,812
03:28 (04:19)
240
Double Cubes
Jan 18, 2017
$0.49
N/A (N/A)
10,318 ±2,671
5,974 ±2,032
04:34 (04:04)
241
Armored Gear
Feb 27, 2017
$2.99
N/A (N/A)
50,867 ±5,930
47,427 ±5,726
03:26 (03:30)
242
I Am Caligula
Mar 25, 2016
$0.99
N/A (N/A)
2,353 ±1,275
1,086 ±866
03:20 (03:15)
243
Mind Zero
Mar 8, 2016
$19.99
7% (47%)
2,172 ±1,225
1,086 ±866
02:46 (03:22)
244
Era of Majesty
Feb 26, 2016
$5.99
N/A (N/A)
110,241 ±8,730
59,918 ±6,436
03:15 (03:29)
245
NS2: Combat
Oct 31, 2014
$5.99
7% (47%)
16,292 ±3,356
8,327 ±2,399
08:33 (02:23)
246
Elements: Soul of Fire
Jan 12, 2015
$6.99
6% (45%)
172,874 ±10,931
101,190 ±8,364
03:48 (04:00)
247
Claustrophobia: The Downward Struggle
Sep 9, 2014
$4.99
6% (45%)
19,550 ±3,676
5,250 ±1,905
04:06 (01:45)
248
Dungeons: The Eye of Draconus
Aug 11, 2014
$3.99
N/A (N/A)
25,162 ±4,171
15,387 ±3,261
02:43 (01:29)
249
Avenging Angel
Jun 1, 2015
$9.99
N/A (N/A)
8,146 ±2,373
4,707 ±1,804
03:44 (03:19)
250
The Sea Eternal
Apr 22, 2016
$6.99
N/A (N/A)
1,991 ±1,173
1,267 ±936
02:03 (03:29)
251
BuildMoreCubes
Nov 21, 2016
$4.99
N/A (N/A)
2,534 ±1,323
1,991 ±1,173
03:51 (06:12)
252
Shallow Space
Oct 21, 2015
$14.99
5% (42%)
9,594 ±2,575
6,698 ±2,152
02:39 (02:47)
253
Barter Empire
Feb 6, 2015
$4.99
N/A (N/A)
5,250 ±1,905
1,629 ±1,061
06:14 (13:42)
254
Ghostship Aftermath
Jul 18, 2014
$9.99
5% (41%)
10,499 ±2,694
6,879 ±2,181
04:01 (04:13)
255
Galactineers
Mar 25, 2016
$9.99
N/A (N/A)
5,250 ±1,905
3,982 ±1,659
06:51 (08:02)
256
New kind of adventure
Jun 4, 2015
$0.99
5% (41%)
295,424 ±14,288
208,173 ±11,995
03:23 (03:26)
257
Redshirt
Nov 13, 2013
$9.99
4% (40%/62%)
54,306 ±6,127
28,601 ±4,447
04:02 (01:56)
258
Vapour
Jul 3, 2015
$9.99
4% (40%)
24,257 ±4,095
15,930 ±3,319
04:17 (04:25)
259
Joe's Diner
Mar 31, 2015
$7.99
N/A (N/A)
20,093 ±3,727
13,033 ±3,002
02:23 (02:30)
260
Girl Amazon Survival
Aug 16, 2016
$2.99
4% (39%)
6,336 ±2,093
4,707 ±1,804
04:31 (05:30)
261
QuestRun
Apr 18, 2014
$8.99
4% (39%)
199,303 ±11,737
119,473 ±9,088
04:11 (03:20)
262
Insane Decay of Mind: The Labyrinth
May 6, 2016
$2.99
N/A (N/A)
3,982 ±1,659
1,810 ±1,118
00:51 (00:56)
263
Spaceforce Rogue Universe HD
May 26, 2015
$12.99
N/A (N/A)
5,250 ±1,905
3,077 ±1,458
06:54 (05:04)
264
Hero Battle
Apr 28, 2016
$9.99
N/A (N/A)
9,775 ±2,599
6,155 ±2,063
03:32 (03:41)
265
The Last Hope: Trump vs Mafia
Jan 20, 2017
$3.99
N/A (N/A)
81,640 ±7,513
70,236 ±6,968
03:13 (03:30)
266
16bit Trader
Jun 4, 2015
$2.99
3% (36%)
220,482 ±12,344
166,538 ±10,729
06:31 (04:29)
267
Despair
May 12, 2015
$0.99
3% (35%)
275,874 ±13,807
207,630 ±11,979
02:59 (03:07)
268
Way of Hero
Jan 16, 2017
$0.99
N/A (N/A)
130,696 ±9,505
120,197 ±9,115
05:07 (04:31)
269
Wander
Jun 4, 2015
$8.99
2% (33%)
1,448 ±1,000
1,086 ±866
02:00 (02:40)
270
SUPER DISTRO
Jul 22, 2015
$0.99
2% (32%)
197,854 ±11,694
136,489 ±9,713
04:13 (03:43)
271
Second Warfare
Jun 22, 2015
$14.99
N/A (N/A)
1,838 ±1,358
1,050 ±1,027
02:22 (04:03)
272
Zotrix
Jul 24, 2015
$12.99
2% (30%)
21,541 ±3,859
14,844 ±3,203
03:36 (03:31)
273
Guise Of The Wolf
Jan 24, 2014
$6.99
1% (26%)
18,102 ±3,538
10,318 ±2,671
02:21 (01:45)
274
War Birds: WW2 Air strike 1942
Mar 18, 2016
$3.99
N/A (N/A)
10,499 ±2,694
7,965 ±2,346
06:36 (02:36)
275
The District
Mar 31, 2015
$0.99
1% (22%)
214,146 ±12,166
187,898 ±11,396
03:24 (03:30)
276
Love is Blind: Mutants
Mar 15, 2016
$6.99
N/A (N/A)
47,246 ±5,715
34,394 ±4,876
03:37 (03:30)
277
Age of Survival
Aug 25, 2015
$18.99
0% (19%)
10,861 ±2,740
7,603 ±2,292
05:07 (06:37)
278
Dark Shadows - Army of Evil
Mar 11, 2014
$4.99
N/A (N/A)
43,807 ±5,503
28,963 ±4,475
03:02 (03:26)
279
One Final Breath
Aug 10, 2015
$3.99
N/A (N/A)
14,301 ±3,144
6,879 ±2,181
04:19 (04:19)
280
Storm in Desert
Mar 28, 2017
$1.99
N/A (N/A)
79,649 ±7,421
74,399 ±7,172
06:17 (06:32)
281
Robowars
Oct 24, 2014
$14.99
N/A (N/A)
129,972 ±9,479
71,684 ±7,040
03:03 (02:56)
282
Stealth Labyrinth
Apr 29, 2016
$2.99
N/A (N/A)
3,439 ±1,542
1,629 ±1,061
01:09 (01:25)
283
Relaxation balls
Nov 8, 2016
$0.99
N/A (N/A)
58,469 ±6,358
51,229 ±5,951
05:57 (06:32)