Bears Can't Drift!?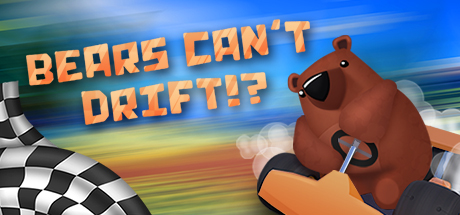 Store | Hub | SteamDB | Site
Developer: Arran Langmead Publisher: Strangely Named Studio
Genre: Indie, Racing
Languages: English
Tags: Racing (70), Indie (66), 4 Player Local (49), Local Multiplayer (48), Driving (39), Funny (14), Action (11)
Category: Single-player, Shared/Split Screen, Steam Achievements, Full controller support
Release date: Aug 8, 2016 (previously in Early Access)
Price: $6.49 35%
Old userscore: 72% Owners: 1,645 ± 1,137
Players total: 1,234 ± 984 (75%)
Followers: 1,161
Peak concurrent players yesterday: 1
Playtime total: 00:25 (average) 00:26 (median)

Steam Spy is still in beta, so expect major bugs.
Peak daily concurrent players:
CCU data courtesy of SteamDB. Used with permission.
Hourly concurrent players:
YouTube:
The views data is based on top 50 videos uploaded last week. Actual number of views might be more than the number shown.

The displayed number of videos uploaded yesterday is limited to 50, so if there were more videos uploaded, the number will still show 50.

If the game has commonly used word as its name (like "FEAR" or "Volume") its number of Youtube views might be wrong.
Games similar to this one:
#
Game
Release date

Price

Score rank
(Userscore / Metascore)

Owners

Players

Playtime (Median)

1
Magic Lantern
Jan 29, 2017
$1.49
N/A (N/A)
5,758 ±2,127
2,673 ±1,449
00:16 (00:11)
2
Pixelscape: Oceans
Sep 8, 2016
$0.99
N/A (N/A)
4,113 ±1,798
2,262 ±1,333
02:25 (02:49)
3
Lost Lands: Dark Overlord
Jun 26, 2015
$6.99
N/A (N/A)
11,722 ±3,035
5,964 ±2,165
10:37 (08:11)
4
Terra Nova: Strike Force Centauri
Jul 23, 2015
$1.49
N/A (N/A)
7,609 ±2,445
4,524 ±1,885
04:44 (03:22)
5
Farm Frenzy
Feb 15, 2010
$3.74
N/A (N/A)
5,552 ±2,089
4,113 ±1,798
06:53 (05:25)
6
Pajama Sam: Games to Play on Any Day
Oct 23, 2014
$0.99
N/A (N/A)
28,173 ±4,706
2,468 ±1,392
00:50 (00:51)
7
Puppy Dog: Jigsaw Puzzles
Jul 19, 2016
$0.49
N/A (N/A)
44,624 ±5,922
31,463 ±4,973
03:10 (03:06)
8
Let's Explore the Airport (Junior Field Trips)
Apr 24, 2015
$1.74
N/A (N/A)
19,536 ±3,918
2,879 ±1,504
01:04 (00:29)
9
Mystery Case Files: Ravenhearst
Apr 21, 2010
$4.99
N/A (N/A)
3,085 ±1,557
2,262 ±1,333
08:12 (12:15)
10
Flowers -Le volume sur printemps-
Aug 17, 2016
$13.99
99% (98%)
4,318 ±1,842
3,085 ±1,557
05:42 (05:22)
11
Rose of Winter
Oct 17, 2016
$7.19
92% (95%)
2,879 ±1,504
1,851 ±1,206
04:22 (02:31)
12
Cooking Dash
Aug 12, 2009
$9.99
N/A (N/A)
10,076 ±2,814
6,169 ±2,202
06:53 (04:45)
13
Big Thinkers 1st Grade
Aug 18, 2015
$0.97
N/A (N/A)
17,274 ±3,685
1,439 ±1,063
04:46 (05:36)
14
Unveil
Apr 19, 2016
$7.49
N/A (N/A)
1,439 ±1,063
1,439 ±1,063
02:16 (03:20)
15
Clouds & Sheep 2
Oct 24, 2016
$1.49
N/A (N/A)
2,879 ±1,504
2,262 ±1,333
03:16 (02:32)
16
Soda Drinker Pro
Apr 13, 2016
$1.99
67% (88%)
4,318 ±1,842
3,702 ±1,705
01:53 (01:38)
17
Sid Meier's Covert Action (Classic)
Oct 9, 2014
$2.09
67% (88%)
29,613 ±4,824
7,609 ±2,445
04:34 (00:24)
18
Anomalies
Oct 28, 2016
$1.69
N/A (N/A)
628 ±868
628 ±868
01:27 (01:26)
19
Cranky Cat
Jun 5, 2013
$2.99
N/A (N/A)
3,290 ±1,608
2,262 ±1,333
03:36 (05:39)
20
Sea Legends: Phantasmal Light Collector's Edition
Sep 17, 2014
$1.24
N/A (N/A)
20,564 ±4,020
3,702 ±1,705
04:45 (04:26)
21
Muddy Heights 2
Apr 19, 2016
$2.09
56% (84%)
10,693 ±2,899
9,871 ±2,785
00:56 (00:39)
22
Mars Odyssey
Sep 8, 2016
$2.39
N/A (N/A)
4,730 ±1,928
2,262 ±1,333
05:14 (01:29)
23
Tile Rider
Jun 4, 2015
$0.99
N/A (N/A)
1,234 ±984
823 ±804
04:50 (06:26)
24
A-Train PC Classic / APC
Dec 13, 2016
$49.19
N/A (N/A)
5,347 ±2,050
5,347 ±2,050
60:30 (18:05)
25
Front Office Football Seven
Feb 4, 2015
$14.81
46% (80%)
8,637 ±2,605
8,431 ±2,574
101:31 (14:03)
26
KART CHASER : THE BOOST VR
Jan 25, 2017
$5.99
N/A (N/A)
3,085 ±1,557
411 ±568
00:09 (00:05)
27
Jewel Quest Pack
Aug 24, 2009
$14.99
N/A (N/A)
6,375 ±2,238
5,141 ±2,010
19:45 (13:59)
28
Jewel Quest Pack
Aug 24, 2009
$14.99
N/A (N/A)
6,375 ±2,238
4,318 ±1,842
19:48 (11:00)
29
Jewel Quest Pack
Aug 24, 2009
$14.99
N/A (N/A)
6,375 ±2,238
4,730 ±1,928
09:12 (05:32)
30
Brink of Consciousness: The Lonely Hearts Murders
Nov 24, 2014
$2.49
N/A (N/A)
16,246 ±3,573
3,496 ±1,657
03:51 (04:32)
31
Vehicle Simulator
Dec 9, 2015
$24.99
N/A (N/A)
3,290 ±1,608
3,290 ±1,608
05:31 (03:30)
32
Virtual Rides 3 - Funfair Simulator
Mar 16, 2017
$17.49
36% (75%)
2,262 ±1,333
2,262 ±1,333
06:00 (05:29)
33
Myths Of Orion: Light From The North
Dec 3, 2014
$3.49
N/A (N/A)
3,496 ±1,657
1,851 ±1,206
05:55 (05:02)
34
Mahjong Towers Eternity
Apr 21, 2010
$4.99
N/A (N/A)
2,056 ±1,271
1,645 ±1,137
578:50 (88:51)
35
Twisted Lands Trilogy: Collector's Edition
Oct 28, 2015
$9.99
N/A (N/A)
7,403 ±2,412
1,439 ±1,063
16:52 (26:50)
36
The Treasures of Montezuma 5
Mar 10, 2016
$0.69
N/A (N/A)
3,702 ±1,705
2,673 ±1,449
09:59 (10:56)
37
Mantis Burn Racing
Oct 12, 2016
$7.49
N/A (N/A/71%)
2,262 ±1,333
1,851 ±1,206
02:28 (01:18)
38
aerofly RC 7
Nov 6, 2014
$31.99
31% (72%)
4,113 ±1,798
3,907 ±1,752
11:20 (09:19)
39
Chess Ultra
Jun 21, 2017
$12.99
N/A (N/A)
1,028 ±899
823 ±804
00:32 (00:37)
40
THE GAME OF LIFE - The Official 2016 Edition
Nov 3, 2015
$4.99
27% (69%)
11,516 ±3,008
10,693 ±2,899
03:34 (01:40)
41
Flora's Fruit Farm
Oct 1, 2009
$0.99
25% (68%)
45,447 ±5,976
14,806 ±3,411
02:14 (00:29)
42
Chronicle Keepers: The Dreaming Garden
Jun 11, 2015
$0.49
N/A (N/A)
11,516 ±3,008
3,290 ±1,608
06:00 (16:25)
43
MiniDrivers
Aug 31, 2015
$1.49
N/A (N/A)
25,911 ±4,513
20,564 ±4,020
04:08 (04:18)
44
Cake Mania Collection
Jul 17, 2009
$14.99
N/A (N/A)
3,085 ±1,557
2,262 ±1,333
08:51 (03:40)
45
Cake Mania Main Street
Feb 16, 2010
$6.99
N/A (N/A)
2,196 ±1,624
2,196 ±1,624
14:38 (17:12)
46
Void 21
Apr 4, 2016
$4.99
N/A (N/A)
2,196 ±1,624
1,255 ±1,228
01:22 (01:23)
47
Jane Angel: Templar Mystery
Sep 17, 2014
$1.24
N/A (N/A)
10,899 ±2,927
1,645 ±1,137
03:38 (05:18)
48
Trackday Manager
Mar 31, 2016
$11.99
19% (63%)
4,730 ±1,928
4,730 ±1,928
26:07 (17:07)
49
Aerofly FS 1 Flight Simulator
Oct 17, 2012
$4.99
19% (63%)
11,310 ±2,981
11,105 ±2,954
06:38 (03:20)
50
Peak Angle: Drift Online
Nov 24, 2016
$10.94
19% (63%)
13,367 ±3,241
12,544 ±3,140
11:11 (03:48)
51
Revhead
Mar 9, 2017
$7.99
15% (59%)
4,318 ±1,842
4,113 ±1,798
10:17 (05:42)
52
DinerTown Tycoon
Sep 30, 2009
$9.99
N/A (N/A)
5,347 ±2,050
2,262 ±1,333
04:43 (04:17)
53
Diner Mania
Jun 25, 2015
$0.51
N/A (N/A)
10,488 ±2,871
3,290 ±1,608
10:54 (03:04)
54
Veteran Combat
Feb 16, 2015
$1.04
N/A (N/A)
11,516 ±3,008
411 ±568
00:01 (00:00)
55
Constructor
May 26, 2017
$29.99
14% (57%)
4,730 ±1,928
4,524 ±1,885
06:59 (04:11)
56
Fireburst
Apr 25, 2012
$0.99
12% (54%/59%)
32,080 ±5,021
10,899 ±2,927
01:02 (00:22)
57
Music Wars Empire
Jun 1, 2016
$14.99
N/A (N/A)
6,375 ±2,238
411 ±568
08:29 (04:08)
58
Gunship!
Jul 11, 2014
$1.74
N/A (N/A)
21,387 ±4,100
2,879 ±1,504
00:19 (00:22)
59
Safety Driving Simulator: Car
May 4, 2016
$0.99
N/A (N/A)
7,814 ±2,478
1,439 ±1,063
00:26 (00:36)
60
Shannon Tweed's Attack Of The Groupies
Apr 1, 2014
$0.49
N/A (N/A)
5,758 ±2,127
411 ±568
00:33 (00:21)
61
Ship Simulator: Maritime Search and Rescue
Jul 1, 2014
$7.19
N/A (N/A)
27,556 ±4,654
25,294 ±4,459
07:18 (04:40)
62
MiniOne Racing
Jul 1, 2015
$1.99
N/A (N/A)
1,851 ±1,206
1,234 ±984
03:35 (03:38)
63
Existence speed
Oct 21, 2016
$0.49
N/A (N/A)
3,290 ±1,608
823 ±804
00:06 (00:08)
64
Trucker
Oct 21, 2016
$0.59
N/A (N/A)
2,056 ±1,271
1,645 ±1,137
03:24 (04:24)
65
Firefighters - The Simulation
Aug 31, 2016
$2.99
N/A (N/A)
7,403 ±2,412
1,645 ±1,137
01:27 (01:50)
66
Flight Unlimited Las Vegas
Jul 8, 2015
$2.99
N/A (N/A)
1,645 ±1,137
823 ±804
00:23 (00:24)
67
Industry Empire
Jul 30, 2014
$5.99
2% (31%)
20,153 ±3,980
19,330 ±3,898
18:35 (05:27)
68
Hunting Simulator
Jun 9, 2017
$39.99
N/A (N/A)
2,196 ±1,624
1,255 ±1,228
10:16 (11:00)
69
Starlight Inception
Apr 22, 2014
$4.99
N/A (N/A)
5,141 ±2,010
4,113 ±1,798
01:48 (00:50)
70
The Martian VR Experience
Nov 15, 2016
$6.99
N/A (N/A)
1,851 ±1,206
1,028 ±899
01:17 (01:18)
71
Black Viper: Sophia's Fate
Oct 16, 2014
$0.99
N/A (N/A)
12,133 ±3,088
2,468 ±1,392
01:46 (03:24)