Wanted Corp.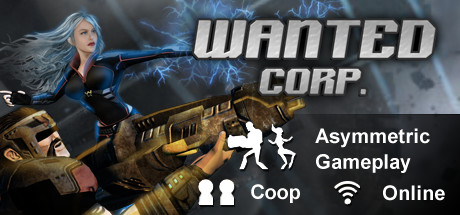 Store | Hub | SteamDB
Developer: Eko Software Publisher: Eko Software
Genre: Action
Languages: English, French, Italian, German, Spanish
Tags: Action (32), Online Co-Op (14), Local Co-Op (11)
Category: Single-player, Multi-player, Online Multi-Player, Local Multi-Player, Co-op, Online Co-op, Local Co-op, Shared/Split Screen, Steam Achievements, Partial Controller Support, Steam Cloud, Steam Leaderboards
Release date: Dec 8, 2016
Price: $4.19 65%
Owners: 1,098 ± 1,241
Players total: 750 ± 1,469 (68.29%)
Followers: 311
Playtime total: 00:04 (average) 00:04 (median)

Steam Spy is still in beta, so expect major bugs.
Peak daily concurrent players:
CCU data courtesy of SteamDB. Used with permission.
Hourly concurrent players:
YouTube:
The views data is based on top 50 videos uploaded last week. Actual number of views might be more than the number shown.

The displayed number of videos uploaded yesterday is limited to 50, so if there were more videos uploaded, the number will still show 50.

If the game has commonly used word as its name (like "FEAR" or "Volume") its number of Youtube views might be wrong.
Games similar to this one:
#
Game
Release date

Price

Score rank
(Userscore / Metascore)

Owners

Players

Playtime (Median)

1
Twixel
Nov 18, 2016
$3.99
N/A (N/A)
4,144 ±1,965
2,438 ±1,507
03:07 (03:33)
2
MadSpace: To Hell and Beyond
May 1, 2015
$5.99
N/A (N/A)
4,144 ±1,965
488 ±674
00:41 (00:27)
3
Porradaria Upgrade
Sep 30, 2015
$4.99
N/A (N/A)
46,559 ±6,589
33,639 ±5,600
04:05 (04:00)
4
Realms of Chaos
May 5, 2014
$4.99
N/A (N/A)
56,309 ±7,246
3,413 ±1,783
00:07 (00:05)
5
Laser Disco Defenders
Oct 6, 2016
$9.99
N/A (N/A)
1,950 ±1,348
1,219 ±1,066
01:57 (02:17)
6
HAUNTED: Halloween '85 (Original NES Game)
Oct 30, 2016
$7.99
N/A (N/A)
1,806 ±1,580
361 ±706
00:29 (00:14)
7
Reagan Gorbachev
Feb 24, 2016
$9.99
N/A (N/A)
2,528 ±1,869
2,167 ±1,731
01:34 (02:24)
8
Empty Soul - S&S Edition
Jun 30, 2016
$6.99
N/A (N/A)
1,444 ±1,413
722 ±999
10:06 (10:06)
9
Precursors
Feb 3, 2017
$14.99
N/A (N/A)
18,526 ±4,156
488 ±674
00:51 (00:33)
10
Man in a Maze: Deathmatch
Oct 16, 2014
$9.99
N/A (N/A)
1,950 ±1,348
731 ±825
00:06 (00:05)
11
Hide & Spook: The Haunted Alchemist
Oct 28, 2016
Free
N/A (N/A)
18,526 ±4,156
5,119 ±2,184
00:23 (00:26)
12
Miaou Moon
Aug 18, 2016
$9.99
N/A (N/A)
8,288 ±2,780
5,850 ±2,335
03:49 (03:56)
13
Orc Slayer
Nov 5, 2015
$4.99
N/A (N/A)
715 ±1,401
715 ±1,401
03:29 (03:29)
14
Giants: Citizen Kabuto
Dec 2, 2016
$9.99
N/A (N/A/85%)
1,950 ±1,348
1,463 ±1,167
03:56 (06:27)
15
Umihara Kawase
Nov 2, 2015
$9.99
N/A (N/A)
11,457 ±3,268
6,094 ±2,383
04:55 (01:46)
16
Leap Up no jutsu
Dec 30, 2016
$0.99
N/A (N/A)
15,357 ±3,784
12,432 ±3,404
03:20 (03:28)
17
Deity Quest
Jan 20, 2015
$9.99
N/A (N/A)
7,069 ±2,567
3,656 ±1,846
06:33 (03:45)
18
Bot Vice
Jul 11, 2016
$0.99
95% (96%)
14,869 ±3,723
8,044 ±2,738
01:07 (00:41)
19
Super Mutant Alien Assault
Jul 11, 2016
$9.99
N/A (N/A)
4,875 ±2,132
4,144 ±1,965
04:30 (04:22)
20
Handsome Mr. Frog
Aug 8, 2016
$0.99
85% (93%)
7,313 ±2,611
5,850 ±2,335
01:34 (00:44)
21
Shmups Skill Test
Jun 9, 2016
$4.99
N/A (N/A)
4,144 ±1,965
2,925 ±1,651
01:06 (00:54)
22
SPINGUN
Nov 11, 2016
$0.79
N/A (N/A)
8,775 ±2,860
5,850 ±2,335
02:47 (03:02)
23
Overdriven Reloaded
Oct 7, 2016
$5.99
N/A (N/A)
1,219 ±1,066
488 ±674
01:09 (00:45)
24
2 Ninjas 1 Cup
Feb 3, 2017
$0.99
64% (87%)
6,094 ±2,383
4,144 ±1,965
01:53 (02:09)
25
The Tiny Tale 2
Jan 30, 2015
$6.99
N/A (N/A)
6,338 ±2,431
3,413 ±1,783
04:24 (11:30)
26
Vzerthos: The Heir of Thunder
Jan 19, 2017
$6.99
N/A (N/A)
1,463 ±1,167
1,219 ±1,066
03:28 (04:21)
27
Skyhook
May 17, 2016
$4.99
N/A (N/A)
3,413 ±1,783
2,194 ±1,430
02:44 (02:15)
28
Klang
Sep 22, 2016
$14.99
58% (85%/71%)
1,806 ±1,580
1,444 ±1,413
03:07 (02:54)
29
She Wants Me Dead
May 13, 2016
$7.99
N/A (N/A)
8,044 ±2,738
4,388 ±2,022
02:36 (03:29)
30
Super Rad Raygun
Nov 15, 2016
$4.99
N/A (N/A/64%)
2,681 ±1,581
1,950 ±1,348
01:27 (01:15)
31
Dyna Bomb
May 13, 2016
$4.99
N/A (N/A)
3,413 ±1,783
1,950 ±1,348
04:12 (05:38)
32
The Warlock of Firetop Mountain
Aug 30, 2016
$19.99
48% (81%/70%)
147,476 ±11,725
41,440 ±6,216
02:46 (01:56)
33
Dungeon Punks
Aug 24, 2016
$14.99
N/A (N/A)
1,706 ±1,261
975 ±953
00:49 (00:56)
34
Daemon Detective Gaiden
Aug 14, 2015
$9.99
N/A (N/A)
975 ±953
731 ±825
03:37 (03:37)
35
Viking Saga: The Cursed Ring
Oct 29, 2015
$2.99
N/A (N/A)
975 ±953
731 ±825
39:16 (39:16)
36
Wonder Boy Returns
Oct 12, 2016
$14.99
N/A (N/A)
2,925 ±1,651
2,194 ±1,430
00:59 (00:56)
37
Mekazoo
Nov 14, 2016
$9.99
N/A (N/A/80%)
3,900 ±1,907
2,925 ±1,651
07:05 (02:56)
38
Carnivore Land
Mar 9, 2016
$7.99
N/A (N/A)
722 ±999
361 ±706
00:24 (00:12)
39
Line of Sight: Vietnam
Dec 1, 2016
$9.99
N/A (N/A/68%)
2,681 ±1,581
244 ±476
00:38 (00:12)
40
Crewsaders
Nov 17, 2016
$2.99
N/A (N/A)
6,338 ±2,431
731 ±825
00:27 (00:26)
41
The Next World
Mar 7, 2016
$12.99
31% (72%)
2,194 ±1,430
1,463 ±1,167
03:58 (03:27)
42
V ARRR
Jun 10, 2016
$9.99
29% (71%)
2,681 ±1,581
1,463 ±1,167
00:18 (00:21)
43
Beatbuddy: On Tour
Dec 4, 2015
$6.99
N/A (N/A)
3,413 ±1,783
731 ±825
01:48 (01:46)
44
Harold
Feb 12, 2015
$9.99
N/A (N/A/70%)
2,167 ±1,731
1,083 ±1,224
00:36 (00:23)
45
Outbreak
Jan 17, 2017
$9.99
25% (68%)
6,582 ±2,477
4,144 ±1,965
02:57 (03:28)
46
Spud's Quest
Jul 31, 2014
$7.99
N/A (N/A)
1,706 ±1,261
1,219 ±1,066
06:57 (07:34)
47
UnSummoning: the Spectral Horde
Dec 21, 2015
$3.99
N/A (N/A)
1,806 ±1,580
1,083 ±1,224
04:30 (06:42)
48
Warmada
Nov 7, 2016
$4.99
N/A (N/A)
722 ±999
722 ±999
01:40 (01:40)
49
CRAPPY ZOMBIE GAME
Oct 28, 2016
Free
N/A (N/A)
1,706 ±1,261
975 ±953
00:05 (00:06)
50
Blackfaun
Oct 26, 2016
$14.99
N/A (N/A)
1,806 ±1,580
1,444 ±1,413
04:24 (05:14)
51
Ultimate Arena
Sep 5, 2016
$11.15
12% (56%)
1,219 ±1,066
1,219 ±1,066
03:26 (05:06)
52
Clan of Champions
Oct 30, 2012
$1.99
N/A (N/A/42%)
5,119 ±2,184
2,681 ±1,581
03:47 (03:54)
53
The East New World
Apr 26, 2016
$4.99
N/A (N/A)
2,194 ±1,430
2,194 ±1,430
03:33 (07:16)
54
Grimm: Dark Legacy
Nov 2, 2016
$14.99
8% (48%)
3,413 ±1,783
2,925 ±1,651
01:49 (01:55)
55
Infinium Strike
Jul 14, 2016
$9.99
N/A (N/A)
3,900 ±1,907
3,656 ±1,846
04:07 (02:58)
56
Bladestar
Jan 15, 2016
$9.99
N/A (N/A)
4,388 ±2,022
2,438 ±1,507
04:30 (06:46)
57
ASRECorp
Jul 22, 2016
$0.99
N/A (N/A)
1,083 ±1,224
722 ±999
03:10 (03:09)
58
WARZONE
Jul 11, 2016
$2.99
N/A (N/A)
25,107 ±4,838
975 ±953
02:12 (02:53)
59
Absence
Feb 11, 2016
$5.99
N/A (N/A)
3,413 ±1,783
244 ±476
01:27 (00:29)
60
The Admin
Nov 1, 2016
$1.49
N/A (N/A)
2,194 ±1,430
1,219 ±1,066
03:29 (03:44)
61
Drunk Wizards
Jun 6, 2016
$7.99
N/A (N/A)
20,720 ±4,395
731 ±825
00:06 (00:06)