The Cosmos is MINE!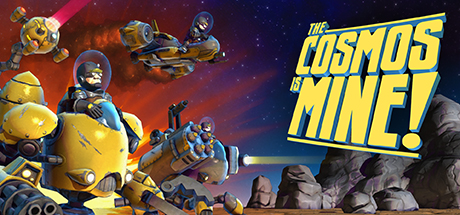 Store | Hub | SteamDB
Developer: Playcorp Publisher: Reverb Triple XP
Genre: Indie, Strategy, Early Access
Languages: English
Tags: Early Access (37), Strategy (33), Indie (32), RTS (14), Multiplayer (12), Real-Time (12), Sci-fi (12)
Category: Multi-player
Release date: Apr 24, 2015
Price: $9.99
Owners: 11,597 ± 3,273
Players total: 2,416 ± 1,494 (20.83%)
Followers: 855
Playtime total: 00:09 (average) 00:13 (median)

Steam Spy is still in beta, so expect major bugs.
Peak daily concurrent players:
CCU data courtesy of SteamDB. Used with permission.
Hourly concurrent players:
YouTube:
The views data is based on top 50 videos uploaded last week. Actual number of views might be more than the number shown.

The displayed number of videos uploaded yesterday is limited to 50, so if there were more videos uploaded, the number will still show 50.

If the game has commonly used word as its name (like "FEAR" or "Volume") its number of Youtube views might be wrong.
Games similar to this one:
#
Game
Release date

Price

Score rank
(Userscore / Metascore)

Owners

Players

Playtime (Median)

1
Flat Heroes
Sep 8, 2016
$5.59
N/A (N/A)
181,686 ±12,956
21,986 ±4,507
00:52 (00:15)
2
The Indie Mixtape
Apr 23, 2015
$1.99
N/A (N/A)
4,832 ±2,113
1,691 ±1,250
03:26 (02:50)
3
The Price of Freedom
Dec 22, 2016
Free
95% (96%)
47,838 ±6,649
27,301 ±5,023
00:17 (00:13)
4
NightSky
Mar 1, 2011
$4.99
89% (94%/78%)
561,729 ±22,773
197,390 ±13,504
01:08 (00:22)
5
Waves
Nov 16, 2011
$4.99
89% (94%/82%)
106,064 ±9,900
67,166 ±7,878
02:22 (00:38)
6
The Cat and the Coup
Jun 15, 2011
Free
86% (93%)
113,312 ±10,232
19,328 ±4,226
00:16 (00:13)
7
Shaolin vs Wutang
May 9, 2016
$9.09
86% (93%)
7,490 ±2,631
6,040 ±2,362
02:53 (02:28)
8
Switchcars
Mar 4, 2016
$8.99
86% (93%)
83,837 ±8,802
23,919 ±4,701
01:46 (00:18)
9
oO
Jul 6, 2015
$0.66
82% (92%)
60,159 ±7,456
34,791 ±5,670
01:36 (00:27)
10
10 Second Ninja
Mar 5, 2014
$1.99
82% (92%/72%)
76,347 ±8,399
45,180 ±6,461
02:21 (00:58)
11
Expand
Sep 30, 2015
$2.99
82% (92%)
54,844 ±7,119
14,013 ±3,598
01:18 (01:03)
12
KAMUI
Dec 11, 2014
$3.99
82% (92%)
47,113 ±6,598
13,288 ±3,504
00:54 (00:14)
13
Canabalt
Apr 30, 2015
$2.99
78% (91%)
40,348 ±6,106
19,812 ±4,279
02:53 (01:57)
14
Another Perspective
Aug 8, 2014
$5.99
78% (91%)
61,126 ±7,516
15,946 ±3,839
01:20 (00:26)
15
Who Is Mike - A Visual Novel
Sep 29, 2015
Free
78% (91%)
88,669 ±9,052
22,228 ±4,532
123:01 (00:36)
16
Lightfish
Oct 19, 2011
$0.99
N/A (N/A)
45,905 ±6,513
17,395 ±4,009
01:50 (00:28)
17
Oh...Sir! Prototype
Dec 21, 2015
Free
78% (91%/64%)
167,673 ±12,447
103,648 ±9,786
00:13 (00:07)
18
Slavistan
Jul 29, 2016
$0.69
78% (91%)
26,818 ±4,978
21,261 ±4,432
01:24 (00:45)
19
The Sad Story of Emmeline Burns
Jan 5, 2016
Free
78% (91%)
71,756 ±8,143
16,187 ±3,868
01:06 (00:23)
20
Fovos VR
Jan 3, 2017
Free
N/A (N/A)
17,395 ±4,009
11,597 ±3,273
00:49 (00:17)
21
Dynamite Jack
May 10, 2012
$9.99
74% (90%)
162,116 ±12,239
58,227 ±7,335
00:59 (00:13)
22
Metro Warp
Aug 5, 2015
$2.49
N/A (N/A)
3,382 ±1,768
1,933 ±1,336
00:24 (00:15)
23
Corporate Lifestyle Simulator
Mar 12, 2014
$4.99
71% (89%)
123,701 ±10,691
28,992 ±5,176
00:56 (00:19)
24
Gunman Clive
Jan 3, 2014
$1.99
71% (89%)
51,945 ±6,928
28,509 ±5,133
01:36 (00:29)
25
Probability 0
Jun 12, 2014
$6.99
N/A (N/A)
17,637 ±4,037
4,349 ±2,004
01:36 (01:19)
26
The Misadventures of P.B. Winterbottom
Apr 20, 2010
$1.24
68% (88%/79%)
161,150 ±12,202
99,782 ±9,602
01:21 (00:37)
27
Polynomial 2 - Universe of the Music
May 31, 2016
$9.59
68% (88%)
7,973 ±2,714
5,798 ±2,315
00:44 (00:43)
28
Ghost Town Mine Ride & Shootin' Gallery
Oct 28, 2016
$6.74
68% (88%)
10,147 ±3,062
7,973 ±2,714
01:17 (00:46)
29
Motte Island
Apr 7, 2014
$4.99
N/A (N/A)
25,127 ±4,819
5,798 ±2,315
00:43 (00:19)
30
Straima
Sep 25, 2015
$2.37
N/A (N/A)
8,698 ±2,835
3,382 ±1,768
04:36 (04:31)
31
Wake Up
Aug 9, 2016
Free
65% (87%)
51,220 ±6,880
20,778 ±4,382
00:26 (00:08)
32
Irrational Exuberance: Prologue
Apr 5, 2016
Free
62% (86%)
117,661 ±10,427
60,884 ±7,501
00:28 (00:09)
33
Orborun
Sep 5, 2014
$5.99
N/A (N/A)
181,686 ±12,956
36,965 ±5,845
00:45 (00:12)
34
The World Named Fred
Feb 27, 2015
$3.99
N/A (N/A)
6,040 ±2,362
1,691 ±1,250
01:24 (01:42)
35
Luxuria Superbia
Jan 28, 2014
$6.99
56% (84%)
38,898 ±5,995
11,839 ±3,307
00:46 (00:17)
36
HassleHeart
Feb 19, 2015
$1.19
N/A (N/A)
15,221 ±3,750
1,450 ±1,157
00:34 (00:04)
37
Blueshift
Dec 21, 2016
Free
56% (84%)
44,697 ±6,427
30,684 ±5,325
00:23 (00:08)
38
Multiwinia
Sep 19, 2008
$9.99
56% (84%/76%)
698,477 ±25,391
148,103 ±11,698
01:27 (00:17)
39
Jack Lumber
Apr 30, 2013
$4.99
N/A (N/A)
153,660 ±11,915
55,569 ±7,166
01:53 (00:41)
40
Hyperspace Invaders II: Pixel Edition
Sep 4, 2015
$0.49
53% (83%)
39,865 ±6,069
12,322 ±3,374
00:27 (00:10)
41
Tomato Jones
Jul 11, 2016
$1.33
53% (83%)
5,557 ±2,266
3,141 ±1,703
01:17 (01:39)
42
Slip
Apr 28, 2014
$3.99
53% (83%)
21,744 ±4,483
9,423 ±2,951
01:31 (00:41)
43
Serious Sam VR: The First Encounter
Mar 30, 2017
$19.99
51% (82%)
24,160 ±4,725
16,429 ±3,896
01:24 (00:29)
44
Where is my Heart?
May 29, 2014
$7.99
N/A (N/A/74%)
38,657 ±5,977
11,597 ±3,273
01:01 (00:23)
45
AaaaaAAaaaAAAaaAAAAaAAAAA!!! for the Awesome
Nov 23, 2011
$9.99
51% (82%)
257,791 ±15,432
130,949 ±11,000
00:52 (00:16)
46
OlliOlli
Jul 22, 2014
$3.24
51% (82%/78%)
184,344 ±13,050
92,051 ±9,223
01:51 (00:25)
47
Retro Game Crunch
May 19, 2014
$3.99
51% (82%)
150,278 ±11,783
29,959 ±5,262
01:51 (00:46)
48
Electronic Super Joy: Groove City
Jun 6, 2014
$4.99
47% (80%)
81,179 ±8,661
31,892 ±5,429
01:53 (00:31)
49
The Maw
Mar 9, 2009
$2.49
47% (80%/75%)
56,535 ±7,228
33,583 ±5,571
03:15 (01:08)
50
NaissanceE
Feb 13, 2014
$2.99
47% (80%/66%)
74,414 ±8,292
31,409 ±5,387
02:52 (00:41)
51
NEO AQUARIUM - The King of Crustaceans -
Jun 8, 2015
$2.96
45% (79%)
36,482 ±5,806
15,704 ±3,809
01:14 (00:21)
52
Warriors & Castles
Jun 30, 2015
$2.99
N/A (N/A)
11,114 ±3,205
3,382 ±1,768
00:32 (00:27)
53
Proxy Blade Zero
Jul 28, 2014
$4.99
43% (78%)
24,885 ±4,795
9,664 ±2,988
01:32 (00:30)
54
1000 Amps
Feb 22, 2012
$4.99
43% (78%)
34,066 ±5,611
17,395 ±4,009
02:02 (00:39)
55
Dyad
Apr 24, 2013
$14.99
41% (77%/80%)
30,925 ±5,346
19,570 ±4,252
01:02 (00:20)
56
Incredipede
Mar 18, 2013
$4.99
41% (77%/74%)
160,425 ±12,175
54,119 ±7,072
01:12 (00:31)
57
Organic Panic
May 14, 2014
N/A
N/A (N/A)
12,080 ±3,341
1,933 ±1,336
01:15 (00:12)
58
Swarm Arena
Aug 19, 2010
$3.99
N/A (N/A)
25,127 ±4,819
16,429 ±3,896
01:59 (00:32)
59
Fist of Physics
Dec 14, 2016
$9.99
N/A (N/A)
1,208 ±1,056
1,208 ±1,056
04:03 (06:15)
60
Snapshot
Aug 30, 2012
$9.99
N/A (N/A/74%)
300,555 ±16,662
95,434 ±9,391
00:48 (00:22)
61
Baezult
Aug 3, 2016
Free
N/A (N/A)
28,268 ±5,111
3,382 ±1,768
00:34 (00:17)
62
Starseed Pilgrim
Apr 16, 2013
$5.99
37% (75%/83%)
297,656 ±16,581
86,494 ±8,940
01:09 (00:10)
63
Runeous: Part One
May 31, 2016
Free
37% (75%)
35,757 ±5,748
3,382 ±1,768
00:30 (01:18)
64
Share
May 3, 2016
$2.49
37% (75%)
7,973 ±2,714
5,315 ±2,216
02:30 (02:19)
65
Trauma
Aug 8, 2011
$6.99
35% (74%/62%)
251,268 ±15,235
86,494 ±8,940
00:46 (00:17)
66
Cube & Star: An Arbitrary Love
Feb 14, 2014
$4.99
N/A (N/A)
29,717 ±5,240
7,490 ±2,631
00:51 (00:25)
67
Storm VR
Mar 23, 2017
$1.99
33% (73%)
3,141 ±1,703
1,933 ±1,336
00:42 (01:02)
68
Elegy for a Dead World
Dec 10, 2014
$14.99
31% (72%)
111,379 ±10,145
30,684 ±5,325
00:54 (00:18)
69
Galagan's Island: Reprymian Rising
Jun 16, 2015
$1.99
N/A (N/A)
20,536 ±4,356
3,866 ±1,890
00:47 (00:08)
70
Battle for Blood - Epic battles within 30 seconds!
Jul 8, 2015
Free
31% (72%)
192,317 ±13,330
105,339 ±9,866
02:37 (00:41)
71
Tank Blast
Jul 13, 2016
$0.49
30% (71%)
114,762 ±10,298
89,635 ±9,101
03:26 (03:30)
72
Bob Came in Pieces
Jan 22, 2010
$6.99
28% (70%/73%)
68,857 ±7,977
43,730 ±6,357
01:51 (00:34)
73
Euclidean
Sep 25, 2015
$4.99
27% (69%/62%)
21,986 ±4,507
12,322 ±3,374
01:22 (00:42)
74
Untamed: Life Of A Cougar
Aug 27, 2015
$2.99
27% (69%)
8,456 ±2,795
3,141 ±1,703
07:11 (03:28)
75
Bard to the Future
Feb 27, 2015
$4.99
N/A (N/A)
27,543 ±5,045
4,349 ±2,004
00:57 (00:11)
76
Dark Horizons: Mechanized Corps
Jul 22, 2014
$14.99
N/A (N/A)
2,416 ±1,494
2,174 ±1,417
03:37 (04:56)
77
Leadwerks Game Launcher
Aug 24, 2015
Free
N/A (N/A)
76,347 ±8,399
15,704 ±3,809
00:10 (00:02)
78
The Nest
Jun 14, 2016
$14.99
24% (67%)
13,530 ±3,536
12,322 ±3,374
02:20 (00:47)
79
Cannibal
Oct 28, 2015
$13.99
N/A (N/A)
725 ±818
483 ±668
02:14 (01:29)
80
Noct
Oct 21, 2015
$2.49
24% (67%)
66,924 ±7,864
25,610 ±4,865
00:42 (00:25)
81
Tribocalypse VR
Feb 3, 2017
$6.99
N/A (N/A)
3,624 ±1,830
483 ±668
03:30 (02:19)
82
Astro Tripper
Sep 15, 2011
$4.99
N/A (N/A)
30,925 ±5,346
9,906 ±3,025
00:35 (00:09)
83
30 IMPOSSIBLE LEVELS
Apr 25, 2016
$3.99
N/A (N/A)
50,978 ±6,864
8,939 ±2,874
00:14 (00:04)
84
RIP - Trilogy
Jun 1, 2007
$4.99
22% (65%)
152,452 ±11,868
18,362 ±4,119
02:32 (00:14)
85
RIP - Trilogy
Jun 1, 2007
$4.99
22% (65%)
152,452 ±11,868
26,335 ±4,933
02:41 (00:25)
86
Astray
Feb 3, 2015
$6.99
22% (65%)
16,187 ±3,868
6,523 ±2,455
02:05 (01:12)
87
RIP - Trilogy
Jun 1, 2007
$4.99
22% (65%)
152,452 ±11,868
40,589 ±6,124
01:17 (00:13)
88
Hold the door!
Sep 2, 2016
Free
N/A (N/A)
28,751 ±5,154
8,939 ±2,874
00:29 (00:07)
89
Visibility
May 25, 2015
Free
16% (60%)
33,100 ±5,531
7,490 ±2,631
01:49 (00:07)
90
Snooker Nation Championship
Apr 27, 2016
$1.99
15% (59%)
14,013 ±3,598
7,973 ±2,714
04:24 (02:11)
91
Sentinel
Apr 22, 2014
Free
13% (57%)
42,764 ±6,286
5,315 ±2,216
01:20 (00:57)
92
The Joylancer: Legendary Motor Knight
Nov 7, 2014
$2.99
N/A (N/A)
43,972 ±6,374
9,664 ±2,988
00:37 (00:17)
93
Terror Lab
Mar 16, 2016
$1.99
N/A (N/A)
9,181 ±2,913
1,208 ±1,056
01:23 (02:14)
94
Pregnancy
Mar 2, 2015
$1.99
13% (56%)
7,490 ±2,631
4,349 ±2,004
00:36 (00:32)
95
Starship Traveller
Mar 11, 2015
$1.49
N/A (N/A)
14,496 ±3,660
7,007 ±2,544
02:45 (02:37)
96
Gunslingers
Dec 17, 2015
Free
11% (54%)
102,682 ±9,741
43,972 ±6,374
04:31 (00:19)
97
Evertown
Jan 11, 2016
$2.99
10% (52%)
16,187 ±3,868
3,141 ±1,703
00:27 (00:16)
98
Mind Unleashed
May 5, 2016
$0.89
N/A (N/A)
5,557 ±2,266
3,141 ±1,703
03:19 (01:06)
99
Fatale
Nov 4, 2009
$6.99
9% (51%)
12,805 ±3,440
4,832 ±2,113
00:54 (00:42)
100
Go To Bed: Survive The Night
Oct 28, 2015
$4.99
N/A (N/A)
10,872 ±3,170
1,208 ±1,056
03:00 (02:44)
101
Indie Game Battle
Oct 29, 2015
$4.99
N/A (N/A)
85,528 ±8,890
9,664 ±2,988
01:08 (00:08)
102
Murder
Oct 21, 2015
$0.66
5% (43%)
10,872 ±3,170
2,174 ±1,417
00:43 (00:58)
103
Soccer Rage
Jun 2, 2015
$9.99
5% (43%)
8,456 ±2,795
2,899 ±1,637
00:45 (00:49)
104
4PM
Jul 9, 2014
$2.99
4% (38%/41%)
8,939 ±2,874
3,866 ±1,890
00:46 (00:44)
105
Dropship Down
Jul 21, 2016
N/A
N/A (N/A)
966 ±945
242 ±472
01:00 (00:20)
106
Flight of the Icarus
May 12, 2010
$0.49
3% (37%)
71,273 ±8,115
44,938 ±6,444
00:53 (00:19)
107
SpellKnights
Jul 13, 2016
Free
3% (37%)
81,421 ±8,674
28,026 ±5,089
00:15 (00:06)
108
Cyberpunk 3776
Mar 24, 2015
$9.99
N/A (N/A)
39,381 ±6,033
5,798 ±2,315
00:47 (00:03)
109
bit Dungeon+
Mar 22, 2016
$0.79
2% (33%)
17,154 ±3,981
6,040 ±2,362
00:37 (00:17)
110
1... 2... 3... KICK IT! (Drop That Beat Like an Ugly Baby)
$9.99
2% (30%)
94,950 ±9,367
67,891 ±7,921
01:42 (00:38)
111
The Note
Jul 23, 2015
$1.19
N/A (N/A)
158,734 ±12,110
5,557 ±2,266
00:13 (00:06)
112
C-RUSH
Feb 17, 2014
$1.99
N/A (N/A)
26,818 ±4,978
4,832 ±2,113
00:40 (00:13)
113
Godus Wars
Feb 3, 2016
$14.99
0% (17%)
299,831 ±16,642
32,617 ±5,490
06:05 (00:34)
114
Eternity's Child
Jul 31, 2008
$4.99
N/A (N/A)
17,154 ±3,981
3,866 ±1,890
01:00 (00:21)
115
Rift's Cave
Dec 1, 2014
$4.99
N/A (N/A)
13,288 ±3,504
1,450 ±1,157
01:27 (01:21)