La-Mulana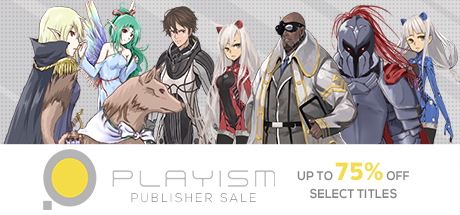 Store | Hub | SteamDB | Site
Developer: NIGORO Publisher: AGM PLAYISM
Genre: Action, Adventure, Indie
Languages: English, Japanese, Russian, Spanish
Tags: Metroidvania (312), Platformer (242), Difficult (239), Indie (195), Adventure (193), Exploration (172), Puzzle (159), Great Soundtrack (141), Action (112), 2D (109), Remake (82), Retro (81), Pixel Graphics (70), Singleplayer (53), Puzzle-Platformer (23), Classic (20), Side Scroller (20), RPG (15), Controller (14), Action-Adventure (12)
Category: Single-player, Steam Achievements, Full controller support, Steam Trading Cards, Steam Cloud
Release date: Apr 15, 2013
Price: $14.99
Score rank: 53% Userscore: 83% Old userscore: 82% Metascore: 80%
Owners: 525 ± 726
Followers: 4
YouTube stats: 332 views and 6 comments for videos uploaded last week, 3 new videos uploaded yesterday.

Steam Spy is still in beta, so expect major bugs.
Peak daily concurrent players:
CCU data courtesy of SteamDB. Used with permission.
Hourly concurrent players:
YouTube:
The views data is based on top 50 videos uploaded last week. Actual number of views might be more than the number shown.

The displayed number of videos uploaded yesterday is limited to 50, so if there were more videos uploaded, the number will still show 50.

If the game has commonly used word as its name (like "FEAR" or "Volume") its number of Youtube views might be wrong.
Games similar to this one:
#
Game
Release date

Price

Score rank
(Userscore / Metascore)

Owners

Players

Playtime (Median)

1
Orcs Must Die!
Oct 11, 2011
$9.99
97% (97%/83%)
1,534,584 ±32,318
941,030 ±25,326
07:15 (03:08)
2
Plants vs. Zombies GOTY Edition
May 5, 2009
$4.99
95% (96%/87%)
1,282,605 ±29,555
1,136,855 ±27,830
31:06 (08:18)
3
Theory Test UK 2016/17 - Driving Test Success
May 6, 2016
$12.99
N/A (N/A)
2,325 ±1,260
1,252 ±924
07:55 (06:51)
4
Splasher
Feb 7, 2017
$14.99
95% (96%/79%)
6,975 ±2,182
5,365 ±1,914
06:41 (04:49)
5
Orcs Must Die! 2
Jul 30, 2012
$14.99
92% (95%/83%)
2,450,756 ±40,797
1,874,192 ±35,701
12:11 (05:45)
6
Final Approach
Apr 4, 2016
$14.99
89% (94%)
43,457 ±5,448
22,533 ±3,923
01:46 (00:53)
7
Sanctum 2
May 15, 2013
$14.99
86% (93%/77%)
1,618,100 ±33,183
1,107,526 ±27,470
07:49 (03:03)
8
Sanctum
Apr 15, 2011
$9.99
77% (91%/70%)
1,223,590 ±28,869
711,048 ±22,021
06:09 (02:26)
9
Sonic CD
Jan 19, 2012
$4.99
77% (91%)
337,104 ±15,169
147,539 ±10,037
02:20 (00:40)
10
Stardust Vanguards
Jan 30, 2015
$3.99
N/A (N/A)
49,716 ±5,827
22,891 ±3,954
02:09 (02:10)
11
Late Shift
Apr 18, 2017
$12.99
70% (89%/80%)
21,818 ±3,860
18,062 ±3,512
03:40 (02:30)
12
Insanely Twisted Shadow Planet
Apr 17, 2012
$14.99
70% (89%/76%)
251,263 ±13,097
96,034 ±8,098
03:54 (01:01)
13
Giana Sisters: Twisted Dreams - Rise of the Owlverlord
Sep 26, 2013
$1.79
64% (87%/84%)
139,134 ±9,747
48,643 ±5,764
02:22 (01:01)
14
MISSING: An Interactive Thriller - Episode One
May 25, 2015
Free
64% (87%/63%)
36,125 ±4,967
12,161 ±2,882
00:57 (00:56)
15
FRACT OSC
Apr 22, 2014
$14.99
64% (87%/75%)
42,384 ±5,380
25,216 ±4,150
03:07 (01:13)
16
resident evil 4 / biohazard 4
Feb 27, 2014
$19.99
53% (83%/79%)
721,421 ±22,181
480,351 ±18,104
12:11 (03:47)
17
Deathtrap
Feb 4, 2015
$19.99
53% (83%/77%)
129,119 ±9,390
75,468 ±7,179
12:19 (04:14)
18
Mutant Mudds Deluxe
Nov 21, 2013
$9.99
49% (81%)
98,180 ±8,188
41,132 ±5,300
03:17 (01:40)
19
Dear Esther
Free
46% (80%/75%)
792,239 ±23,242
451,737 ±17,557
01:32 (00:56)
20
Prime World: Defenders
Jun 5, 2013
$9.99
44% (79%/58%)
131,265 ±9,468
75,111 ±7,162
16:46 (04:38)
21
Words for Evil
Dec 11, 2014
$2.99
42% (78%)
28,256 ±4,393
19,672 ±3,665
04:01 (01:20)
22
Everybody's Gone to the Rapture
Apr 14, 2016
$19.99
28% (70%/76%)
24,858 ±4,120
19,672 ±3,665
04:18 (03:03)
23
Blood of the Werewolf
Oct 28, 2013
$1.99
18% (62%/65%)
66,884 ±6,759
39,880 ±5,219
02:49 (01:14)
24
Aerannis
Sep 15, 2015
$4.99
N/A (N/A)
15,022 ±3,203
4,292 ±1,712
02:23 (01:28)
25
Sonic the Hedgehog 4 - Episode I
Jan 19, 2012
$9.99
11% (53%)
261,457 ±13,360
113,918 ±8,820
05:21 (00:44)
26
Let's Sing
Feb 13, 2014
$14.99
8% (49%)
3,756 ±1,601
3,040 ±1,441
01:22 (01:31)
27
Sinful Eden
May 9, 2016
$6.99
N/A (N/A)
1,788 ±1,105
1,252 ±924
02:11 (03:00)