La-Mulana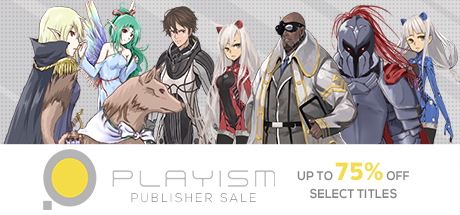 Store | Hub | SteamDB | Site
Developer: NIGORO Publisher: AGM PLAYISM
Genre: Action, Adventure, Indie
Languages: English, Japanese, Russian, Spanish
Tags: Metroidvania (312), Platformer (242), Difficult (239), Indie (195), Adventure (193), Exploration (172), Puzzle (159), Great Soundtrack (140), Action (112), 2D (109), Remake (82), Retro (81), Pixel Graphics (70), Singleplayer (53), Puzzle-Platformer (23), Classic (20), Side Scroller (20), RPG (15), Controller (14), Ninja (12)
Category: Single-player, Steam Achievements, Full controller support, Steam Trading Cards, Steam Cloud
Release date: Apr 15, 2013
Price: $14.99
Score rank: 54% Userscore: 83% Old userscore: 82% Metascore: 80%
Owners: 618 ± 698
Followers: 4
YouTube stats: 650 views and 6 comments for videos uploaded last week, 2 new videos uploaded yesterday.

Steam Spy is still in beta, so expect major bugs.
Peak daily concurrent players:
CCU data courtesy of SteamDB. Used with permission.
Hourly concurrent players:
YouTube:
The views data is based on top 50 videos uploaded last week. Actual number of views might be more than the number shown.

The displayed number of videos uploaded yesterday is limited to 50, so if there were more videos uploaded, the number will still show 50.

If the game has commonly used word as its name (like "FEAR" or "Volume") its number of Youtube views might be wrong.
Games similar to this one:
#
Game
Release date

Price

Score rank
(Userscore / Metascore)

Owners

Players

Playtime (Median)

1
Orcs Must Die!
Oct 11, 2011
$9.99
97% (97%/83%)
1,507,161 ±34,401
926,231 ±26,987
07:10 (03:16)
2
BattleBlock Theater
May 15, 2014
$14.99
97% (97%/85%)
2,386,597 ±43,244
2,108,500 ±40,660
08:07 (04:31)
3
Defender's Quest: Valley of the Forgotten (DX edition)
Oct 30, 2012
$14.99
97% (97%)
195,224 ±12,400
141,625 ±10,563
17:24 (06:45)
4
Plants vs. Zombies GOTY Edition
May 5, 2009
$4.99
95% (96%/87%)
1,223,705 ±31,009
1,093,625 ±29,319
34:42 (07:44)
5
Splasher
Feb 7, 2017
$14.99
95% (96%/79%)
4,948 ±1,974
4,741 ±1,933
06:21 (02:30)
6
Nuclear Throne
Dec 5, 2015
$11.99
95% (96%/88%)
488,987 ±19,619
341,590 ±16,400
23:13 (05:13)
7
Orcs Must Die! 2
Jul 30, 2012
$14.99
92% (95%/83%)
2,374,021 ±43,130
1,785,258 ±37,428
11:43 (05:48)
8
Sanctum 2
May 15, 2013
$14.99
89% (94%/77%)
1,583,025 ±35,253
1,073,834 ±29,053
07:21 (03:01)
9
Jigoku Kisetsukan: Sense of the Seasons
May 12, 2015
Free
89% (94%)
185,741 ±12,096
86,995 ±8,279
01:30 (00:17)
10
Magicka
Jan 25, 2011
$9.99
86% (93%/74%)
3,635,865 ±53,294
3,077,199 ±49,062
10:40 (04:41)
11
LOVE
Feb 7, 2014
$2.99
86% (93%)
58,134 ±6,768
39,581 ±5,584
02:59 (01:21)
12
Castle of Illusion
Sep 4, 2013
$14.99
74% (90%)
131,111 ±10,163
83,697 ±8,120
04:08 (01:20)
13
Insanely Twisted Shadow Planet
Apr 17, 2012
$14.99
70% (89%/76%)
243,051 ±13,836
95,035 ±8,653
03:30 (01:04)
14
Make America Great Again: The Trump Presidency
Sep 26, 2016
$2.99
70% (89%)
57,310 ±6,720
49,270 ±6,230
02:10 (02:05)
15
They Bleed Pixels
Aug 29, 2012
$9.99
67% (88%/74%)
254,389 ±14,154
173,990 ±11,707
03:48 (01:46)
16
Wild Animal Racing
Mar 7, 2016
$3.99
67% (88%)
10,101 ±2,821
8,040 ±2,517
01:28 (00:41)
17
Dino D-Day
Apr 8, 2011
$9.99
64% (87%/53%)
1,525,303 ±34,607
971,584 ±27,639
05:15 (01:37)
18
Bad Rats Show
Jul 20, 2016
$1.99
64% (87%)
18,553 ±3,823
8,246 ±2,549
11:13 (03:26)
19
Giana Sisters: Twisted Dreams - Rise of the Owlverlord
Sep 26, 2013
$4.99
64% (87%/84%)
136,265 ±10,361
51,744 ±6,385
02:59 (01:15)
20
WazHack
Feb 17, 2014
$9.99
61% (86%)
26,387 ±4,560
23,089 ±4,265
27:47 (05:04)
21
Awesomenauts - FREE MOBA GAME
Aug 1, 2012
Free
61% (86%/78%)
2,049,748 ±40,092
1,520,561 ±34,553
22:15 (04:59)
22
Cloudbuilt
Mar 20, 2014
$19.99
56% (84%/72%)
92,149 ±8,520
64,319 ±7,119
01:48 (00:50)
23
Gun Wings
Dec 8, 2015
$3.99
56% (84%)
10,514 ±2,878
8,246 ±2,549
04:35 (02:41)
24
Capsized
Apr 29, 2011
$9.99
51% (82%/80%)
501,975 ±19,877
215,014 ±13,014
01:15 (00:19)
25
Prime World: Defenders
Jun 5, 2013
$9.99
46% (80%/58%)
133,585 ±10,258
77,925 ±7,835
14:54 (04:44)
26
Primal Carnage
Oct 29, 2012
$7.99
44% (79%/67%)
485,689 ±19,553
402,404 ±17,799
09:47 (01:51)
27
Quest of Dungeons
Mar 25, 2014
$4.99
44% (79%)
96,890 ±8,737
55,042 ±6,585
05:19 (02:00)
28
ORION: Prelude
Apr 16, 2013
$0.99
40% (77%)
2,357,117 ±42,977
1,785,051 ±37,426
04:03 (01:29)
29
Empire TV Tycoon
Oct 20, 2015
$9.99
35% (74%)
43,498 ±5,854
39,581 ±5,584
05:29 (02:05)
30
Primal Carnage: Extinction
Apr 3, 2015
$12.99
35% (74%)
223,673 ±13,273
127,607 ±10,026
37:47 (03:52)
31
Mr.President!
Oct 10, 2016
$4.99
35% (74%)
97,509 ±8,765
88,232 ±8,337
03:01 (01:36)
32
Paranautical Activity: Deluxe Atonement Edition
Oct 20, 2014
$9.99
33% (73%)
232,125 ±13,521
141,006 ±10,539
03:28 (01:23)
33
A Wizard's Lizard
Jun 16, 2014
$9.99
24% (67%)
75,451 ±7,710
50,919 ±6,334
05:20 (01:34)
34
Dinosaur Hunt
Sep 17, 2015
$0.99
18% (62%)
95,035 ±8,653
68,854 ±7,365
02:32 (01:25)
35
Blood of the Werewolf
Oct 28, 2013
$1.99
18% (62%/65%)
68,029 ±7,321
43,291 ±5,840
02:42 (01:22)
36
theHunter: Primal
Mar 31, 2015
$9.99
17% (61%/49%)
167,600 ±11,490
127,401 ±10,018
16:26 (03:10)
37
Steam Marines
Sep 24, 2014
$19.99
14% (58%)
115,444 ±9,537
68,442 ±7,343
02:13 (00:26)
38
Sonic the Hedgehog 4 - Episode I
Jan 19, 2012
$9.99
12% (54%)
244,700 ±13,882
111,321 ±9,365
06:13 (00:43)