La-Mulana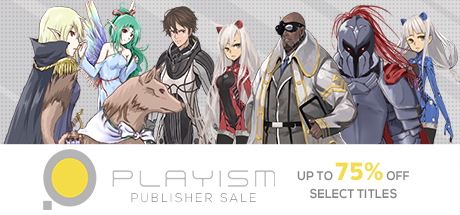 Store | Hub | SteamDB | Site
Developer: NIGORO Publisher: AGM PLAYISM
Genre: Action, Adventure, Indie
Languages: English, Japanese, Russian, Spanish
Tags: Metroidvania (316), Platformer (246), Difficult (241), Indie (198), Adventure (195), Exploration (173), Puzzle (160), Great Soundtrack (144), Action (115), 2D (111), Remake (83), Retro (82), Pixel Graphics (72), Singleplayer (55), Puzzle-Platformer (25), Classic (22), Side Scroller (21), RPG (18), Controller (16), Action-Adventure (14)
Category: Single-player, Steam Achievements, Full controller support, Steam Trading Cards, Steam Cloud
Release date: Apr 15, 2013
Price: $14.99
Score rank: 53% Userscore: 83% Old userscore: 82% Metascore: 80%
Owners: 750 ± 1,469
Followers: 4
YouTube stats: 137 views and 6 comments for videos uploaded last week, 1 new videos uploaded yesterday.

Steam Spy is still in beta, so expect major bugs.
Peak daily concurrent players:
CCU data courtesy of SteamDB. Used with permission.
Hourly concurrent players:
YouTube:
The views data is based on top 50 videos uploaded last week. Actual number of views might be more than the number shown.

The displayed number of videos uploaded yesterday is limited to 50, so if there were more videos uploaded, the number will still show 50.

If the game has commonly used word as its name (like "FEAR" or "Volume") its number of Youtube views might be wrong.
Games similar to this one:
#
Game
Release date

Price

Score rank
(Userscore / Metascore)

Owners

Players

Playtime (Median)

1
Splasher
Feb 7, 2017
$14.99
97% (97%/79%)
9,439 ±2,956
8,713 ±2,840
09:14 (06:03)
2
Plants vs. Zombies GOTY Edition
May 5, 2009
$1.24
97% (97%/87%)
1,403,731 ±36,001
1,243,997 ±33,897
31:09 (07:18)
3
Defender's Quest: Valley of the Forgotten (DX edition)
Oct 30, 2012
$4.94
95% (96%)
197,490 ±13,519
145,456 ±11,603
14:54 (07:20)
4
Orcs Must Die! 2
Jul 30, 2012
$14.99
92% (95%/83%)
2,477,586 ±47,778
1,899,878 ±41,863
12:07 (05:47)
5
LOVE
Feb 7, 2014
$0.98
86% (93%)
60,990 ±7,514
43,564 ±6,350
02:26 (01:57)
6
Sanctum 2
May 15, 2013
$3.74
86% (93%/77%)
2,743,569 ±50,264
1,447,296 ±36,554
06:21 (02:36)
7
Insanely Twisted Shadow Planet
Apr 17, 2012
$3.74
74% (90%/76%)
240,086 ±14,906
98,019 ±9,525
03:28 (01:07)
8
Castle of Illusion
Sep 4, 2013
$14.99
74% (90%)
145,214 ±11,593
101,407 ±9,688
04:41 (00:59)
9
DeadCore
Oct 17, 2014
$9.99
62% (86%/78%)
210,560 ±13,959
107,216 ±9,962
02:38 (01:07)
10
FRACT OSC
Apr 22, 2014
$14.99
62% (86%/75%)
47,920 ±6,660
28,559 ±5,142
03:29 (01:14)
11
Giana Sisters: Twisted Dreams - Rise of the Owlverlord
Sep 26, 2013
$4.99
62% (86%/84%)
141,583 ±11,448
56,391 ±7,225
02:08 (01:08)
12
Cloudbuilt
Mar 20, 2014
$4.99
59% (85%/72%)
92,453 ±9,251
60,748 ±7,499
03:10 (01:07)
13
Just Dance 2017
Oct 27, 2016
$49.99
53% (83%)
25,170 ±4,827
23,476 ±4,662
10:00 (05:02)
14
Deathtrap
Feb 4, 2015
$4.99
49% (81%/77%)
137,953 ±11,300
86,402 ±8,943
14:20 (05:00)
15
Mutant Mudds Deluxe
Nov 21, 2013
$9.99
49% (81%)
103,102 ±9,769
47,920 ±6,660
02:54 (01:51)
16
Blood of the Werewolf
Oct 28, 2013
$1.99
18% (62%/65%)
72,123 ±8,171
48,405 ±6,694
04:35 (01:36)
17
Sonic the Hedgehog 4 - Episode I
Jan 19, 2012
$9.99
9% (51%)
271,065 ±15,838
129,482 ±10,947
04:01 (00:42)