D.U.S.T.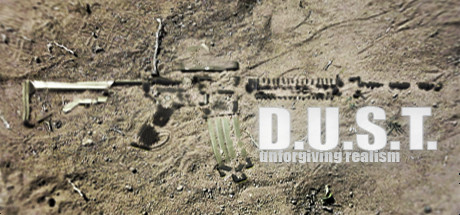 Store | Hub | SteamDB | Site
Developer: Terapoly Publisher: Terapoly
Genre: Action, Simulation, Early Access
Languages: English
Tags: Early Access (38), Simulation (34), Action (29), Realistic (15), FPS (15), Military (14), Shooter (8), Multiplayer (5)
Category: Multi-player
Release date: Oct 19, 2015
Price: $14.99
Score rank: 7% Userscore: 47% Old userscore: 48%
Owners: 3,027 ± 1,709
Players total: 3,027 ± 1,709 (100%)
Followers: 4,626
YouTube stats: 197,469 views and 2,326 comments for videos uploaded last week, over 50 new videos uploaded yesterday
Playtime total: 01:45 (average) 02:15 (median)

Steam Spy is still in beta, so expect major bugs.
Peak daily concurrent players:
CCU data courtesy of SteamDB. Used with permission.
Hourly concurrent players:
YouTube:
The views data is based on top 50 videos uploaded last week. Actual number of views might be more than the number shown.

The displayed number of videos uploaded yesterday is limited to 50, so if there were more videos uploaded, the number will still show 50.

If the game has commonly used word as its name (like "FEAR" or "Volume") its number of Youtube views might be wrong.
Games similar to this one:
#
Game
Release date

Price

Score rank
(Userscore / Metascore)

Owners

Players

Playtime (Median)

1
Default Dan
Mar 18, 2015
$5.99
N/A (N/A)
6,811 ±2,564
2,523 ±1,560
01:27 (01:40)
2
Bad Caterpillar
Oct 19, 2016
$1.99
N/A (N/A)
15,893 ±3,916
11,857 ±3,383
02:59 (03:25)
3
Polyology
Mar 28, 2016
$0.99
N/A (N/A)
5,298 ±2,261
3,280 ±1,779
03:27 (03:54)
4
Prompt
Jul 6, 2015
$4.99
N/A (N/A)
3,532 ±1,846
252 ±493
00:27 (00:09)
5
Starship Rubicon
Jul 13, 2015
$9.99
N/A (N/A)
10,343 ±3,159
6,307 ±2,467
03:27 (03:55)
6
Snail Bob 2: Tiny Troubles
Sep 24, 2015
$4.99
N/A (N/A)
12,866 ±3,524
7,316 ±2,657
03:25 (03:56)
7
SculptrVR
Apr 4, 2016
$19.99
N/A (N/A)
21,948 ±4,602
4,793 ±2,151
03:07 (01:40)
8
Seance: The Unquiet (Preview)
May 2, 2017
Free
N/A (N/A)
6,307 ±2,467
3,532 ±1,846
00:11 (00:11)
9
Quell Reflect
May 14, 2015
$3.99
N/A (N/A)
16,398 ±3,978
3,280 ±1,779
03:37 (01:52)
10
The Counting Kingdom
Aug 5, 2014
$6.99
N/A (N/A)
14,884 ±3,790
7,064 ±2,611
01:40 (01:26)
11
Beat Da Beat
Mar 10, 2016
$1.99
92% (95%)
9,586 ±3,041
8,325 ±2,834
05:43 (04:09)
12
868-HACK
Jan 26, 2015
$5.65
89% (94%)
4,793 ±2,151
3,532 ±1,846
01:19 (01:44)
13
Vortex Attack:
May 27, 2015
$7.99
N/A (N/A)
5,045 ±2,206
2,270 ±1,480
01:37 (01:46)
14
Solar War
Jan 6, 2015
$19.99
N/A (N/A)
1,261 ±1,103
1,009 ±986
08:08 (09:55)
15
Halloween Forever
Oct 25, 2016
$4.99
86% (93%)
2,270 ±1,480
1,766 ±1,305
04:17 (05:12)
16
Dream Car Builder
Sep 22, 2016
$14.99
82% (92%)
8,577 ±2,877
8,325 ±2,834
06:03 (01:38)
17
Chip's Challenge 2
May 28, 2015
$4.99
82% (92%)
22,200 ±4,629
9,082 ±2,960
04:44 (01:10)
18
Khaba
Jan 12, 2015
$3.99
N/A (N/A)
6,055 ±2,417
3,784 ±1,911
02:39 (03:21)
19
ARMED SEVEN
Mar 6, 2015
$4.99
N/A (N/A/67%)
7,820 ±2,747
3,784 ±1,911
03:06 (04:58)
20
Earthtongue
Apr 27, 2015
$4.99
78% (91%)
12,614 ±3,489
8,577 ±2,877
02:48 (03:49)
21
Mu Cartographer
Aug 24, 2016
$4.99
78% (91%)
13,875 ±3,659
4,541 ±2,093
00:29 (00:36)
22
Zombie Exodus
Oct 23, 2015
$7.99
78% (91%)
6,559 ±2,516
5,550 ±2,314
12:34 (10:28)
23
qop
Jul 13, 2017
$0.99
78% (91%)
17,659 ±4,128
7,568 ±2,702
00:51 (00:44)
24
Sethian
Nov 9, 2016
$4.99
N/A (N/A)
3,027 ±1,709
2,018 ±1,395
02:17 (03:04)
25
Egyptian Senet
Aug 20, 2015
$0.59
74% (90%)
85,269 ±9,071
6,559 ±2,516
00:52 (00:27)
26
Super Cloudbuilt
Jul 25, 2017
$19.99
74% (90%/76%)
4,036 ±1,973
1,766 ±1,305
15:46 (34:07)
27
GRIDD: Retroenhanced
May 16, 2017
$11.99
N/A (N/A)
2,270 ±1,480
1,261 ±1,103
00:40 (00:29)
28
Star Sky 2 - 2
Mar 2, 2016
$2.99
N/A (N/A)
9,839 ±3,081
5,045 ±2,206
02:30 (03:16)
29
MasterpieceVR
Sep 14, 2017
$29.99
N/A (N/A)
17,659 ±4,128
11,857 ±3,383
02:58 (00:34)
30
Beyond Gravity
Sep 23, 2014
$1.99
71% (89%)
42,382 ±6,395
29,516 ±5,337
02:41 (01:47)
31
Weed Shop 2
Mar 30, 2017
$9.99
68% (88%)
9,586 ±3,041
9,082 ±2,960
07:45 (04:34)
32
Plush
Feb 13, 2015
$3.99
N/A (N/A)
11,857 ±3,383
3,027 ±1,709
01:17 (00:46)
33
Never give up!
Dec 29, 2016
$2.99
N/A (N/A)
3,280 ±1,779
1,766 ±1,305
03:35 (03:13)
34
Dream Tale
Dec 16, 2014
$4.99
N/A (N/A)
12,109 ±3,418
757 ±854
00:48 (00:48)
35
CrossCells
May 26, 2017
$2.99
62% (86%)
17,659 ±4,128
10,596 ±3,198
06:10 (00:58)
36
Red Death
Mar 23, 2017
$0.99
N/A (N/A)
191,981 ±13,610
171,799 ±12,875
03:55 (03:43)
37
Sym
May 7, 2015
$7.99
N/A (N/A/61%)
4,036 ±1,973
2,018 ±1,395
01:24 (00:53)
38
Mighty Switch Force! Hose It Down!
Jun 4, 2015
$2.99
N/A (N/A)
4,289 ±2,034
1,766 ±1,305
00:42 (01:22)
39
Air Missions: HIND
Jun 14, 2017
$16.99
56% (84%)
13,371 ±3,592
12,361 ±3,454
12:30 (03:58)
40
UltraGoodness
Jun 2, 2017
$3.99
53% (83%)
143,544 ±11,769
139,003 ±11,581
04:09 (03:35)
41
Gridworld
Dec 24, 2015
$0.99
53% (83%)
12,866 ±3,524
11,857 ±3,383
12:53 (04:33)
42
Psy High
Dec 22, 2014
$6.99
51% (82%)
13,623 ±3,626
11,352 ±3,310
08:00 (03:19)
43
Prismatica
Jul 1, 2015
$4.99
N/A (N/A)
10,596 ±3,198
1,766 ±1,305
00:31 (00:37)
44
Void Rangers
May 11, 2017
$11.99
N/A (N/A)
760 ±1,052
760 ±1,052
04:07 (04:06)
45
hackmud
Sep 22, 2016
$19.99
45% (79%)
16,146 ±3,947
15,641 ±3,885
29:36 (05:23)
46
PRINCIPIA: Master of Science
Sep 9, 2016
$6.99
41% (77%)
4,036 ±1,973
3,280 ±1,779
04:12 (04:25)
47
Earthfall
Apr 26, 2017
$14.99
39% (76%)
9,334 ±3,001
6,307 ±2,467
18:17 (02:45)
48
B.U.T.T.O.N. (Brutally Unfair Tactics Totally OK Now)
Feb 28, 2011
$2.99
N/A (N/A)
12,109 ±3,418
7,316 ±2,657
00:22 (00:17)
49
Resette's Prescription ~Book of memory, Swaying scale~
May 30, 2016
$12.99
N/A (N/A)
1,009 ±986
757 ±854
06:56 (04:42)
50
Chesster
Mar 16, 2016
$3.99
N/A (N/A)
1,141 ±1,289
760 ±1,052
04:37 (04:36)
51
Racecraft
Mar 4, 2016
$19.99
N/A (N/A)
24,471 ±4,860
3,027 ±1,709
01:23 (00:37)
52
Craft Keep VR
Apr 21, 2017
$14.99
33% (73%)
3,532 ±1,846
3,280 ±1,779
23:48 (99:19)
53
Crashed Lander
Feb 4, 2015
$4.99
N/A (N/A)
6,307 ±2,467
2,523 ±1,560
03:16 (02:18)
54
Gish
Jul 20, 2007
$9.99
30% (71%/80%)
325,181 ±17,711
131,435 ±11,262
00:34 (00:10)
55
Devouring Stars
Jul 3, 2015
$9.99
N/A (N/A)
3,027 ±1,709
2,018 ±1,395
04:34 (06:43)
56
Sentris
Aug 22, 2014
$14.99
N/A (N/A)
6,307 ±2,467
2,775 ±1,636
00:20 (00:18)
57
Valiant
May 2, 2016
N/A
N/A (N/A)
2,270 ±1,480
2,018 ±1,395
03:13 (04:19)
58
JiPS
Apr 19, 2016
$2.99
N/A (N/A)
39,355 ±6,163
37,589 ±6,023
04:40 (04:59)
59
Expect The Unexpected
Dec 8, 2016
$6.99
N/A (N/A)
5,298 ±2,261
4,289 ±2,034
02:46 (03:10)
60
Armor Clash
Oct 21, 2015
$4.99
24% (67%)
3,280 ±1,779
3,027 ±1,709
00:43 (00:46)
61
Tkl Online
Jan 27, 2015
$7.99
N/A (N/A)
2,018 ±1,395
1,514 ±1,208
01:39 (00:43)
62
League of Mermaids
Sep 22, 2015
$6.99
N/A (N/A)
12,109 ±3,418
1,766 ±1,305
02:04 (02:10)
63
Let There Be Life
Feb 13, 2015
$5.99
N/A (N/A)
7,316 ±2,657
1,261 ±1,103
00:44 (00:50)
64
Giana Sisters: Dream Runners
Aug 26, 2015
$9.99
N/A (N/A)
23,461 ±4,758
11,100 ±3,273
02:41 (02:52)
65
Attack of the Labyrinth +
Mar 30, 2015
Free
N/A (N/A)
6,811 ±2,564
3,784 ±1,911
05:39 (04:58)
66
ENYO Arcade
Nov 9, 2015
$4.99
N/A (N/A)
3,280 ±1,779
2,270 ±1,480
01:29 (01:53)
67
Motorbike
Jan 19, 2015
$9.99
N/A (N/A)
3,784 ±1,911
3,532 ±1,846
03:00 (02:18)
68
History2048 - 3D puzzle number game
Jun 16, 2017
$1.99
N/A (N/A)
2,523 ±1,560
252 ±493
00:03 (00:01)
69
Chamber 19
Oct 21, 2016
$14.99
N/A (N/A)
5,802 ±2,366
757 ±854
00:15 (00:11)
70
Feelings Adrift
Feb 29, 2016
$6.99
17% (61%)
2,270 ±1,480
1,261 ±1,103
03:34 (02:54)
71
Bombing Bastards
Dec 4, 2014
$9.99
16% (60%)
4,289 ±2,034
2,270 ±1,480
01:28 (01:16)
72
Rule Your School
Dec 15, 2016
$2.99
N/A (N/A)
1,261 ±1,103
757 ±854
01:42 (01:42)
73
Strange Night
Jul 26, 2016
$3.99
11% (53%)
9,334 ±3,001
2,775 ±1,636
01:29 (01:45)
74
The Good Life
Nov 21, 2014
$9.99
10% (52%)
8,830 ±2,919
6,559 ±2,516
03:02 (01:52)
75
Kill Fun Yeah
May 30, 2014
$9.99
N/A (N/A)
17,659 ±4,128
4,289 ±2,034
00:28 (00:45)
76
Rolling Shapes
Jun 8, 2015
$1.99
N/A (N/A)
4,793 ±2,151
2,270 ±1,480
02:21 (03:02)
77
DEUS EX MACHINA 2
Mar 11, 2015
$6.99
N/A (N/A)
8,577 ±2,877
505 ±697
01:14 (00:28)
78
Tower Dwellers
Aug 23, 2016
$6.99
N/A (N/A)
5,045 ±2,206
4,289 ±2,034
02:49 (03:21)
79
Drift King: Survival
Nov 24, 2016
$4.99
N/A (N/A)
2,775 ±1,636
2,018 ±1,395
02:55 (02:55)
80
Oil Enterprise
Apr 20, 2016
$19.99
6% (44%)
14,380 ±3,725
12,614 ±3,489
07:02 (03:24)
81
Ancestory
Oct 13, 2015
$14.99
N/A (N/A)
4,036 ±1,973
1,766 ±1,305
08:11 (17:15)
82
Quadrant M4
May 29, 2017
$0.99
1% (22%)
8,830 ±2,919
2,018 ±1,395
00:18 (00:22)
83
SECTOR
Jun 29, 2015
Free
0% (20%)
51,464 ±7,047
3,784 ±1,911
01:33 (00:05)