Dwarfs!?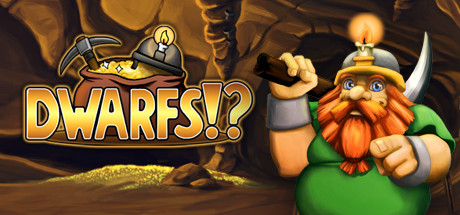 Store | Hub | SteamDB | Site
Developer: Power of 2 Publisher: Tripwire Interactive
Genre: Strategy, Indie, Casual
Languages: English
Tags: Strategy (84), Casual (67), Indie (66), 2D (27), Singleplayer (17), Fantasy (17), Tower Defense (16), Arcade (12)
Category: Single-player, Steam Achievements, Stats, Steam Leaderboards
Release date: May 4, 2011
Price: $9.99
Score rank: 50% Userscore: 82% Old userscore: 78%
Owners: 354,592 ± 20,999
Players in the last 2 weeks: 815 ± 1,595 (0.23%)
Players total: 178,109 ± 14,886 (50.23%)
Peak concurrent players yesterday: 9
Playtime in the last 2 weeks: 00:08 (average) 00:08 (median)
Playtime total: 03:20 (average) 00:59 (median)

Steam Spy is still in beta, so expect major bugs.
Peak daily concurrent players:
CCU data courtesy of SteamDB. Used with permission.
Hourly concurrent players:
YouTube:
The views data is based on top 50 videos uploaded last week. Actual number of views might be more than the number shown.

The displayed number of videos uploaded yesterday is limited to 50, so if there were more videos uploaded, the number will still show 50.

If the game has commonly used word as its name (like "FEAR" or "Volume") its number of Youtube views might be wrong.
Games similar to this one:
#
Game
Release date

Price

Score rank
(Userscore / Metascore)

Owners

Players

Playtime (Median)

1
Jagged Alliance Gold
Apr 23, 2014
$9.99
N/A (N/A)
38,352 ±6,908
6,825 ±2,914
02:19 (00:21)
2
868-HACK
Jan 26, 2015
$5.65
N/A (N/A)
4,865 ±2,544
3,475 ±2,150
03:45 (00:33)
3
Atlas Reactor VR Character Viewer
Apr 5, 2016
Free
N/A (N/A)
51,353 ±7,994
10,726 ±3,653
00:11 (00:07)
4
Quar: Battle for Gate 18
Apr 4, 2016
$19.99
N/A (N/A)
22,751 ±5,321
2,600 ±1,799
00:55 (00:53)
5
Kohan: Ahriman's Gift
Aug 24, 2011
$9.99
N/A (N/A/79%)
15,276 ±4,360
8,450 ±3,243
16:42 (01:07)
6
Company of Heroes: Opposing Fronts
Sep 24, 2007
$19.99
81% (92%/87%)
2,461,345 ±55,176
714,060 ±29,785
13:50 (00:57)
7
X-COM: Apocalypse
Sep 4, 2008
$4.99
81% (92%)
650,032 ±28,421
132,281 ±12,829
10:14 (00:14)
8
Warhammer 40,000: Dawn of War - Winter Assault
Aug 7, 2007
$12.99
77% (91%)
1,011,774 ±35,442
409,520 ±22,565
04:33 (00:55)
9
Swords and Soldiers HD
Dec 2, 2010
$9.99
77% (91%)
265,538 ±18,174
146,257 ±13,490
03:05 (01:19)
10
Sacrifice
Aug 19, 2009
$9.99
77% (91%/89%)
47,452 ±7,684
26,001 ±5,688
04:18 (00:47)
11
Master of Orion 1
Feb 25, 2016
$5.99
N/A (N/A)
132,606 ±12,845
18,526 ±4,801
07:34 (00:14)
12
ThreadSpace: Hyperbol
Jul 12, 2007
$9.99
N/A (N/A)
26,326 ±5,724
3,575 ±2,109
00:54 (00:40)
13
Kohan: Immortal Sovereigns
Aug 24, 2011
$9.99
N/A (N/A/87%)
15,276 ±4,360
8,125 ±3,180
09:52 (03:14)
14
Ground Control Anthology
Jul 8, 2015
$4.99
N/A (N/A/86%)
11,701 ±3,816
3,575 ±2,109
01:00 (01:02)
15
Flotilla
Apr 2010
$9.99
70% (89%/72%)
104,330 ±11,394
50,052 ±7,892
01:56 (00:26)
16
Magnifico
Dec 2, 2014
$4.99
N/A (N/A)
57,203 ±8,437
22,101 ±5,244
02:38 (01:12)
17
Zoo Empire
Sep 3, 2015
$6.99
N/A (N/A/59%)
10,075 ±3,541
2,275 ±1,682
00:13 (00:16)
18
Hearts of Iron 2 Complete
Jan 23, 2009
$14.99
63% (87%/83%)
78,979 ±9,914
41,602 ±7,195
36:50 (02:41)
19
Archon:Classic
Nov 2, 2010
$9.99
60% (86%)
22,101 ±5,244
6,175 ±2,772
00:29 (00:18)
20
Age of Wonders
Oct 2010
$5.99
57% (85%)
103,680 ±11,358
42,577 ±7,279
25:42 (01:46)
21
Cultures - 8th Wonder of the World
Mar 26, 2015
$4.99
55% (84%)
58,178 ±8,509
13,976 ±4,170
03:44 (00:25)
22
Ghost Master
Dec 21, 2006
$1.24
55% (84%/81%)
179,409 ±14,940
105,305 ±11,447
03:57 (01:09)
23
Worms
Oct 19, 2011
$7.99
55% (84%)
306,815 ±19,534
62,078 ±8,789
06:14 (00:03)
24
World War I
Apr 9, 2015
$4.99
55% (84%)
30,551 ±6,166
7,800 ±3,115
03:11 (01:18)
25
Sid Meier's Civilization IV: Warlords
Apr 6, 2007
$4.99
55% (84%/84%)
1,327,365 ±40,578
197,935 ±15,692
11:53 (01:13)
26
Tiny Troopers
Aug 24, 2012
$4.99
52% (83%/57%)
97,830 ±11,033
51,678 ±8,019
02:20 (00:24)
27
One Troll Army
May 19, 2016
Free
52% (83%)
223,936 ±16,690
159,908 ±14,105
01:57 (00:44)
28
Eador. Genesis
Oct 14, 2013
$5.99
50% (82%)
51,353 ±7,994
12,676 ±3,972
07:05 (00:47)
29
Space Empires IV Deluxe
Feb 7, 2006
$2.49
50% (82%/79%)
78,979 ±9,914
34,127 ±6,517
27:37 (00:58)
30
Disciples II: Rise of the Elves
Jul 6, 2006
$6.99
50% (82%/80%)
126,431 ±12,542
61,753 ±8,766
14:26 (01:42)
31
Wyrmsun
May 22, 2015
Free
50% (82%)
54,603 ±8,243
11,701 ±3,816
01:50 (00:30)
32
Honey Rose: Underdog Fighter Extraordinaire
Sep 29, 2016
Free
N/A (N/A)
21,126 ±5,127
2,275 ±1,682
02:00 (00:10)
33
Commandos: Beyond the Call of Duty
Mar 15, 2007
$4.99
48% (81%)
512,550 ±25,241
113,756 ±11,897
02:32 (00:09)
34
Fritz for Fun 13
Dec 10, 2014
$19.99
N/A (N/A)
9,425 ±3,425
1,625 ±1,422
00:52 (00:51)
35
Reprisal Universe
Sep 15, 2014
$6.99
45% (80%)
52,328 ±8,070
26,326 ±5,724
01:08 (00:34)
36
Soldiers: Heroes of World War II
Jul 3, 2014
$4.99
43% (79%/77%)
62,403 ±8,812
25,026 ±5,581
14:43 (00:45)
37
The Witcher Adventure Game
Nov 27, 2014
$9.99
43% (79%/68%)
133,582 ±12,892
75,729 ±9,707
04:08 (01:10)
38
Heroes of Might & Magic V: Hammers of Fate
Oct 10, 2008
$3.39
43% (79%/66%)
259,363 ±17,961
83,529 ±10,195
15:31 (00:46)
39
Fantasy Wars
Aug 6, 2010
$4.99
41% (78%/67%)
80,279 ±9,995
23,401 ±5,396
06:16 (10:08)
40
GUILTY GEAR 2 -OVERTURE-
Mar 31, 2016
$19.99
39% (77%)
10,077 ±3,662
7,297 ±3,116
03:55 (01:20)
41
UFO: Aftermath
Apr 23, 2014
$3.99
37% (76%)
68,578 ±9,238
15,601 ±4,406
05:09 (00:49)
42
Cossacks: European Wars
Aug 26, 2011
$4.99
37% (76%/74%)
103,680 ±11,358
49,077 ±7,815
10:54 (02:21)
43
Battlestations: Midway
Mar 15, 2007
$6.99
37% (76%/76%)
332,816 ±20,344
84,179 ±10,235
09:43 (01:08)
44
O.R.B.
Mar 13, 2014
$4.99
N/A (N/A)
17,226 ±4,630
8,450 ±3,243
02:48 (00:36)
45
Cubemen
Mar 16, 2012
$3.99
37% (76%/74%)
195,010 ±15,576
114,081 ±11,914
02:53 (00:39)
46
Darwinia
Jul 14, 2005
$9.99
35% (75%/84%)
702,034 ±29,534
227,186 ±16,811
02:25 (00:16)
47
Dangerous Waters
Feb 7, 2006
$14.99
35% (75%/82%)
63,053 ±8,858
27,626 ±5,863
09:01 (01:12)
48
Patrician III
Nov 18, 2010
$4.99
35% (75%/75%)
132,281 ±12,829
54,928 ±8,268
11:13 (00:23)
49
Vegas: Make It Big
Dec 21, 2006
$4.99
35% (75%)
48,752 ±7,789
20,151 ±5,008
04:43 (01:31)
50
688(I) Hunter/Killer
Oct 26, 2006
$9.99
N/A (N/A)
48,752 ±7,789
19,176 ±4,885
09:06 (00:31)
51
Lords of the Realm
Dec 3, 2015
$1.99
N/A (N/A)
16,901 ±4,586
2,925 ±1,908
00:50 (00:47)
52
Steam Squad
Jul 28, 2016
$17.99
N/A (N/A)
3,250 ±2,011
2,600 ±1,799
02:48 (03:45)
53
Warfare
Jul 20, 2009
$6.49
N/A (N/A)
38,677 ±6,938
5,200 ±2,544
06:49 (00:52)
54
Archipelago
Aug 17, 2016
$0.99
N/A (N/A)
1,737 ±1,520
1,737 ±1,520
00:04 (00:05)
55
American Conquest - Fight Back
Aug 26, 2011
$4.99
33% (74%/66%)
95,555 ±10,904
39,977 ±7,053
11:07 (05:39)
56
Praetorians
Apr 11, 2014
$4.99
32% (73%/78%)
70,203 ±9,347
26,326 ±5,724
07:41 (13:44)
57
Railroad Tycoon 3
May 4, 2007
$9.99
32% (73%/80%)
259,038 ±17,950
126,106 ±12,526
16:55 (01:21)
58
UFO: Aftershock
Apr 16, 2014
$3.99
32% (73%)
67,928 ±9,194
14,626 ±4,266
11:35 (03:02)
59
Space Empires V
Oct 16, 2006
$3.74
30% (72%/68%)
81,904 ±10,095
44,852 ±7,471
26:20 (01:17)
60
Victoria: Revolutions
Aug 20, 2010
$9.99
30% (72%)
163,158 ±14,247
43,877 ±7,389
05:04 (00:09)
61
War in a Box: Paper Tanks
Jul 4, 2014
$4.99
30% (72%)
49,402 ±7,841
14,301 ±4,219
01:35 (01:36)
62
Rome: Total War - Alexander
Aug 28, 2007
$4.99
29% (71%/79%)
822,290 ±31,959
323,716 ±20,065
04:07 (00:38)
63
Rooster Teeth vs. Zombiens
Dec 19, 2014
Free
29% (71%)
4,170 ±2,355
3,127 ±2,040
01:02 (01:10)
64
Earth 2150 Trilogy
Nov 1, 2013
$6.99
29% (71%/78%)
239,862 ±17,273
54,928 ±8,268
02:30 (00:07)
65
The Guild Gold Edition
Sep 9, 2014
$9.99
29% (71%/82%)
131,306 ±12,782
37,702 ±6,850
07:19 (00:35)
66
Machines At War 3
Jul 23, 2014
$14.99
N/A (N/A)
14,626 ±4,266
2,600 ±1,799
00:34 (00:43)
67
American Conquest
Aug 26, 2011
$4.99
29% (71%/76%)
106,280 ±11,500
49,077 ±7,815
06:34 (00:43)
68
Cthulhu Realms
Jul 1, 2016
Free
27% (70%)
86,454 ±10,372
21,451 ±5,167
01:23 (00:13)
69
Void Destroyer
Jan 20, 2015
$12.99
27% (70%)
72,804 ±9,518
24,701 ±5,544
02:56 (00:46)
70
Theatre of War 2: Africa 1943
Jul 9, 2010
$4.99
26% (69%/63%)
104,005 ±11,376
30,877 ±6,199
03:28 (00:47)
71
The Seven Years War (1756-1763)
Oct 30, 2015
$19.99
26% (69%)
5,850 ±2,698
2,925 ±1,908
01:16 (00:07)
72
Across The Rhine
Nov 6, 2014
$6.99
N/A (N/A)
10,401 ±3,597
1,300 ±1,272
04:00 (02:59)
73
The Nightmare Cooperative
Jul 16, 2014
$4.99
N/A (N/A)
71,503 ±9,433
26,326 ±5,724
01:41 (01:13)
74
Haegemonia: The Solon Heritage
May 1, 2014
$4.49
N/A (N/A)
58,503 ±8,532
11,051 ±3,708
01:22 (00:52)
75
Sub Command
Oct 26, 2006
$9.99
N/A (N/A/84%)
47,452 ±7,684
18,201 ±4,759
03:37 (00:39)
76
Theatre of War 2: Kursk 1943
Jul 9, 2010
$4.99
23% (67%)
71,829 ±9,454
20,476 ±5,048
13:08 (01:35)
77
Legions of Steel
Jul 16, 2015
$19.99
N/A (N/A/64%)
7,800 ±3,115
2,925 ±1,908
03:44 (00:36)
78
Brigade E5: New Jagged Union
Apr 30, 2014
$3.99
N/A (N/A/41%)
14,301 ±4,219
4,550 ±2,379
06:41 (04:27)
79
Legions of Ashworld
Jul 4, 2014
$4.99
N/A (N/A)
10,401 ±3,597
1,300 ±1,272
00:41 (00:27)
80
Desperados - Wanted Dead or Alive
Nov 20, 2013
$1.24
21% (65%/78%)
90,354 ±10,603
53,303 ±8,144
08:54 (00:28)
81
Alea Jacta Est
Nov 4, 2014
$24.99
N/A (N/A)
7,150 ±2,983
2,925 ±1,908
00:51 (00:36)
82
Crusader Kings Complete
Feb 14, 2012
$9.99
21% (65%/73%)
91,329 ±10,660
30,877 ±6,199
13:47 (03:44)
83
Port Royale 2
Jun 16, 2009
$4.99
21% (65%/75%)
74,754 ±9,645
54,603 ±8,243
19:15 (01:02)
84
Ninja Cats vs Samurai Dogs
Feb 21, 2014
$4.99
N/A (N/A)
5,560 ±2,720
1,390 ±1,360
00:18 (00:26)
85
Blight of the Immortals
Oct 25, 2016
Free
N/A (N/A)
26,651 ±5,759
4,225 ±2,293
02:44 (00:19)
86
World War II: Panzer Claws
Sep 27, 2013
$4.99
18% (62%/61%)
293,814 ±19,116
36,402 ±6,731
00:40 (00:04)
87
Maelstrom
Feb 13, 2009
$4.99
18% (62%/58%)
39,652 ±7,025
9,425 ±3,425
07:03 (03:28)
88
Hydrophobia: Prophecy
May 9, 2011
$4.99
17% (61%/64%)
321,116 ±19,984
158,283 ±14,033
02:11 (01:01)
89
Rush for Glory
Jun 16, 2014
$14.99
N/A (N/A)
64,678 ±8,971
12,026 ±3,868
01:04 (01:01)
90
UFO: Afterlight
Jan 6, 2014
$6.99
16% (60%/71%)
308,440 ±19,586
42,252 ±7,251
05:44 (00:08)
91
Cuban Missile Crisis: Ice Crusade
Mar 25, 2015
$4.99
N/A (N/A)
15,926 ±4,452
3,900 ±2,203
12:10 (21:54)
92
Warhammer: Arcane Magic
Mar 3, 2016
$3.99
N/A (N/A)
9,750 ±3,483
1,300 ±1,272
00:09 (00:07)
93
The Fleets of Sol
Apr 1, 2016
$8.99
N/A (N/A)
6,825 ±2,914
975 ±1,101
06:17 (03:05)
94
Oil Rush
Jan 25, 2012
$7.99
15% (59%/67%)
364,668 ±21,295
121,231 ±12,282
01:47 (00:23)
95
Codename: Panzers - Cold War
May 6, 2009
$14.99
15% (59%)
34,452 ±6,548
24,701 ±5,544
06:18 (02:45)
96
East India Company
Jul 31, 2009
$9.99
13% (56%/67%)
58,178 ±8,509
34,452 ±6,548
09:57 (05:23)
97
Revelations 2012
Apr 23, 2012
Free
13% (56%)
20,151 ±5,008
6,175 ±2,772
04:09 (01:52)
98
Gratuitous Tank Battles
May 17, 2012
$9.99
12% (55%/69%)
68,253 ±9,216
37,702 ±6,850
04:06 (00:41)
99
Earth 2140
Nov 15, 2013
$4.99
11% (54%)
91,004 ±10,641
17,551 ±4,673
02:24 (00:08)
100
Pirates of Black Cove
Aug 2, 2011
$9.99
11% (54%/56%)
75,729 ±9,707
40,627 ±7,110
07:50 (02:03)
101
X-COM: Interceptor
Sep 4, 2008
$4.99
11% (53%)
624,680 ±27,862
65,328 ±9,016
01:08 (00:13)
102
X-COM: Enforcer
Sep 4, 2008
$4.99
11% (53%/65%)
623,055 ±27,826
69,553 ±9,303
01:08 (00:19)
103
Space Trader: Merchant Marine
Oct 23, 2008
$0.99
10% (52%)
175,184 ±14,763
63,053 ±8,858
01:49 (00:17)
104
Devils & Demons
Oct 6, 2015
$9.99
N/A (N/A)
19,501 ±4,926
3,250 ±2,011
02:57 (01:09)
105
Gods vs Humans
Oct 10, 2014
$4.99
N/A (N/A)
31,852 ±6,296
6,825 ±2,914
00:51 (00:40)
106
Theatre of War
Jul 9, 2010
$3.99
10% (52%/66%)
97,505 ±11,015
38,352 ±6,908
08:04 (00:39)
107
Red Faction II
Aug 6, 2009
$9.99
9% (50%/64%)
507,675 ±25,121
125,781 ±12,510
01:33 (00:15)
108
Leviathan: Warships
Apr 30, 2013
$9.99
9% (50%)
270,088 ±18,329
119,931 ±12,216
03:32 (00:48)
109
World War III: Black Gold
Sep 27, 2013
$4.99
9% (50%/71%)
221,011 ±16,581
29,901 ±6,100
02:15 (00:10)
110
XIII Century
Aug 28, 2009
$4.99
8% (49%)
81,579 ±10,075
17,551 ±4,673
00:48 (00:26)
111
Desperados 2: Cooper's Revenge
Mar 12, 2008
$2.49
N/A (N/A/66%)
56,553 ±8,389
18,526 ±4,801
03:22 (01:42)
112
We Are Legion
Aug 7, 2015
$9.99
8% (48%)
8,340 ±3,331
1,390 ±1,360
01:10 (01:39)
113
Real Warfare
Nov 30, 2011
$3.99
N/A (N/A)
48,427 ±7,763
8,125 ±3,180
00:48 (00:42)
114
Evolution RTS
Apr 7, 2014
Free
7% (46%)
156,658 ±13,961
49,402 ±7,841
07:00 (00:07)
115
World War 2: Time of Wrath
Jun 6, 2014
$4.99
N/A (N/A)
27,626 ±5,863
6,825 ±2,914
27:59 (02:41)
116
Galactic Civilizations I: Ultimate Edition
Aug 14, 2012
$9.99
6% (45%/83%)
122,206 ±12,331
39,652 ±7,025
05:40 (00:50)
117
Etherlords
Feb 13, 2014
$4.99
6% (44%/77%)
80,929 ±10,035
16,901 ±4,586
03:26 (00:06)
118
Sacraboar
Nov 6, 2009
$8.99
N/A (N/A)
57,853 ±8,485
10,075 ±3,541
00:24 (00:18)
119
Reign: Conflict of Nations
Jul 12, 2010
$3.99
N/A (N/A/60%)
68,253 ±9,216
14,951 ±4,313
01:34 (00:15)
120
Real Warfare 2: Northern Crusades
Nov 18, 2011
$4.99
5% (41%)
48,427 ±7,763
13,001 ±4,022
04:08 (00:47)
121
Guardians of Graxia
Nov 10, 2010
$4.99
5% (41%)
68,903 ±9,260
37,702 ±6,850
02:20 (00:36)
122
Wars of Napoleon
May 6, 2016
$39.99
N/A (N/A)
2,780 ±1,923
2,085 ±1,665
55:08 (06:02)
123
Two Worlds II Castle Defense
Jun 14, 2011
$9.99
5% (41%)
222,961 ±16,654
39,327 ±6,996
01:45 (00:18)
124
Storm over the Pacific
Jun 13, 2014
$2.49
N/A (N/A)
17,876 ±4,716
2,925 ±1,908
00:59 (00:49)
125
Shattered Union
Oct 25, 2006
$4.99
4% (39%/67%)
50,377 ±7,918
17,876 ±4,716
07:34 (00:22)
126
Cubesis
Aug 22, 2014
$4.99
N/A (N/A)
10,401 ±3,597
3,250 ±2,011
00:21 (00:22)
127
Ironclads: High Seas
Apr 28, 2010
$9.99
N/A (N/A)
37,702 ±6,850
5,850 ±2,698
00:56 (00:05)
128
Arena Wars 2
Oct 12, 2012
$3.99
3% (34%)
57,203 ±8,437
32,502 ±6,360
00:26 (00:12)
129
Tiestru
Aug 20, 2014
$9.99
N/A (N/A)
27,951 ±5,898
1,625 ±1,422
00:06 (00:06)
130
Ironclads: Anglo Russian War 1866
Jun 21, 2011
$9.99
N/A (N/A)
36,077 ±6,700
3,575 ±2,109
01:39 (01:14)
131
Exodus Wars: Fractured Empire
Jan 30, 2015
$9.99
N/A (N/A)
2,432 ±1,799
1,042 ±1,177
00:49 (00:33)
132
Tank Operations: European Campaign
Nov 22, 2013
$9.99
2% (30%)
50,052 ±7,892
11,051 ±3,708
17:51 (00:21)
133
Future Wars
Jul 15, 2010
$4.99
2% (29%)
94,255 ±10,830
24,701 ±5,544
01:04 (00:13)
134
Gettysburg: Armored Warfare
Mar 27, 2012
$9.99
1% (24%/22%)
38,027 ±6,879
15,926 ±4,452
00:54 (00:49)
135
Genesis Rising
Aug 6, 2007
$4.99
1% (22%/57%)
29,576 ±6,067
10,075 ±3,541
05:54 (07:54)
136
Perimeter 2: New Earth
Feb 10, 2009
$14.99
N/A (N/A/43%)
19,826 ±4,967
9,425 ±3,425
02:32 (02:11)
137
Ironclads: American Civil War
Apr 28, 2010
$9.99
N/A (N/A)
36,402 ±6,731
6,825 ±2,914
00:22 (00:32)
138
Tryst
Sep 14, 2012
$14.99
N/A (N/A/50%)
16,576 ±4,542
6,175 ±2,772
01:47 (00:57)
139
Jurassic Island: The Dinosaur Zoo
Nov 23, 2015
$3.99
N/A (N/A)
1,737 ±1,520
1,737 ±1,520
00:27 (01:04)