Dwarfs!?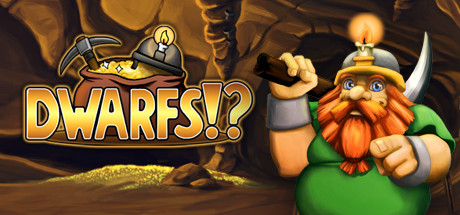 Store | Hub | SteamDB | Site
Developer: Power of 2 Publisher: Tripwire Interactive
Genre: Strategy, Indie, Casual
Languages: English
Tags: Strategy (84), Casual (67), Indie (66), 2D (27), Singleplayer (17), Fantasy (17), Tower Defense (16), Arcade (13)
Category: Single-player, Steam Achievements, Stats, Steam Leaderboards
Release date: May 4, 2011
Price: $9.99
Score rank: 50% Userscore: 81% Old userscore: 78%
Owners: 336,789 ± 17,119
Players in the last 2 weeks: 2,049 ± 1,336 (0.61%)
Players total: 173,063 ± 12,274 (51.39%)
Peak concurrent players yesterday: 8
YouTube stats: 2 views and 0 comments for videos uploaded last week, 0 new videos uploaded yesterday.
Playtime in the last 2 weeks: 00:28 (average) 00:15 (median)
Playtime total: 03:33 (average) 00:56 (median)

Steam Spy is still in beta, so expect major bugs.
Peak daily concurrent players:
CCU data courtesy of SteamDB. Used with permission.
Hourly concurrent players:
YouTube:
The views data is based on top 50 videos uploaded last week. Actual number of views might be more than the number shown.

The displayed number of videos uploaded yesterday is limited to 50, so if there were more videos uploaded, the number will still show 50.

If the game has commonly used word as its name (like "FEAR" or "Volume") its number of Youtube views might be wrong.
Games similar to this one:
#
Game
Release date

Price

Score rank
(Userscore / Metascore)

Owners

Players

Playtime (Median)

1
Master of Orion 2
Feb 25, 2016
$5.99
99% (98%)
132,530 ±10,741
45,315 ±6,281
20:05 (01:38)
2
One Finger Death Punch
Mar 3, 2014
$4.99
99% (98%)
581,582 ±22,489
482,526 ±20,487
07:19 (03:12)
3
Super House of Dead Ninjas
Feb 18, 2013
$6.99
97% (97%/79%)
126,609 ±10,499
98,373 ±9,255
06:18 (01:53)
4
SteamWorld Heist
Jun 7, 2016
$14.99
97% (97%/81%)
207,220 ±13,430
87,215 ±8,714
09:06 (03:52)
5
Epistory - Typing Chronicles
Mar 30, 2016
$14.99
95% (96%/74%)
117,273 ±10,104
46,454 ±6,360
04:03 (01:58)
6
Mini Metro
Nov 6, 2015
$9.99
95% (96%/77%)
416,034 ±19,025
304,454 ±16,277
09:59 (03:40)
7
Turok
Dec 17, 2015
$19.99
95% (96%)
51,008 ±6,664
39,167 ±5,840
04:10 (02:10)
8
Dust: An Elysian Tail
May 24, 2013
$14.99
95% (96%)
1,147,224 ±31,563
779,010 ±26,021
07:13 (03:15)
9
Total Annihilation
Dec 18, 2015
$4.99
95% (96%/86%)
90,858 ±8,894
61,711 ±7,330
07:16 (01:50)
10
Stronghold Crusader HD
Oct 21, 2013
$9.99
92% (95%/78%)
907,441 ±28,080
534,217 ±21,555
13:35 (02:41)
11
Brothers - A Tale of Two Sons
Sep 3, 2013
$14.99
92% (95%/90%)
1,332,128 ±34,003
761,248 ±25,723
02:57 (02:06)
12
Zombie Training Simulator
Apr 15, 2016
$19.99
92% (95%)
75,829 ±8,125
61,255 ±7,303
04:05 (01:36)
13
Warhammer 40,000: Dawn of War - Game of the Year Edition
Aug 7, 2007
$12.99
92% (95%/86%)
1,645,007 ±37,771
881,254 ±27,673
05:22 (01:37)
14
Warhammer 40,000: Dawn of War - Dark Crusade
Aug 7, 2007
$12.99
92% (95%/87%)
1,055,683 ±30,281
528,525 ±21,440
20:48 (04:23)
15
Command & Conquer 3: Kane's Wrath
Nov 13, 2009
$19.99
89% (94%/77%)
255,495 ±14,912
154,618 ±11,602
22:39 (05:04)
16
Brutal Legend
Feb 26, 2013
$14.99
89% (94%/80%)
1,209,162 ±32,401
706,369 ±24,781
06:12 (03:37)
17
Shadow Warrior
Sep 26, 2013
$39.99
89% (94%/73%)
951,845 ±28,757
718,666 ±24,995
07:25 (03:31)
18
Iron Impact
May 27, 2016
$3.99
N/A (N/A)
46,909 ±6,391
32,563 ±5,325
03:14 (03:30)
19
Worms Armageddon
Mar 19, 2013
$14.99
89% (94%)
717,072 ±24,967
444,953 ±19,674
08:34 (01:14)
20
Company of Heroes: Tales of Valor
Apr 8, 2009
$19.99
89% (94%/70%)
2,230,688 ±43,951
719,577 ±25,011
29:58 (02:41)
21
A Story About My Uncle
May 28, 2014
$2.59
86% (93%/73%)
443,587 ±19,644
287,148 ±15,808
03:41 (02:36)
22
ICEY
Nov 17, 2016
$10.99
86% (93%/85%)
204,032 ±13,326
189,458 ±12,842
03:39 (02:33)
23
STAR WARS Empire at War - Gold Pack
May 25, 2010
$19.99
86% (93%)
1,483,330 ±35,874
842,542 ±27,059
23:18 (03:41)
24
Lara Croft and the Guardian of Light
Sep 28, 2010
$9.99
86% (93%/82%)
1,003,992 ±29,532
418,994 ±19,092
05:09 (01:47)
25
Valley
Aug 24, 2016
$19.99
86% (93%)
24,365 ±4,606
17,534 ±3,907
05:08 (03:41)
26
Stronghold HD
Oct 21, 2013
$5.99
86% (93%/81%)
1,042,703 ±30,095
571,790 ±22,299
08:33 (02:35)
27
Stronghold HD
Oct 21, 2013
$5.99
86% (93%/81%)
365,481 ±17,833
201,755 ±13,252
10:17 (02:39)
28
Halo Wars: Definitive Edition
Apr 20, 2017
$19.99
83% (92%)
40,533 ±5,941
35,751 ±5,579
05:19 (03:36)
29
Super Trench Attack!
Jul 24, 2014
$4.99
83% (92%)
79,472 ±8,318
55,335 ±6,941
02:58 (02:02)
30
Darkest Hour: A Hearts of Iron Game
Apr 8, 2011
$9.99
83% (92%/81%)
153,935 ±11,576
95,868 ±9,136
65:51 (04:33)
31
METAL SLUG X
Oct 2, 2014
$7.99
83% (92%)
227,031 ±14,057
145,965 ±11,272
02:29 (01:11)
32
TRANSFORMERS: Devastation
Oct 6, 2015
$49.99
83% (92%)
75,601 ±8,113
55,335 ±6,941
07:31 (02:10)
33
Sid Meier's Civilization IV
Oct 25, 2006
$19.99
83% (92%/94%)
1,505,191 ±36,137
604,126 ±22,920
22:43 (03:10)
34
Original War
Jan 27, 2014
$4.99
83% (92%/61%)
84,482 ±8,576
39,395 ±5,857
11:54 (01:20)
35
Marvel's Guardians of the Galaxy: The Telltale Series
Apr 18, 2017
$24.99
83% (92%)
20,267 ±4,201
16,623 ±3,804
01:58 (01:43)
36
Momodora III
Jul 1, 2014
$1.99
79% (91%)
54,651 ±6,898
36,662 ±5,650
02:24 (01:32)
37
Bayonetta
Apr 11, 2017
$19.99
79% (91%/90%)
144,371 ±11,211
116,590 ±10,075
04:42 (02:01)
38
Frozen Synapse
May 26, 2011
$24.99
79% (91%/85%)
740,299 ±25,368
517,139 ±21,208
05:10 (01:29)
39
Blitzkrieg Anthology
Sep 16, 2014
$4.99
79% (91%)
77,195 ±8,198
45,315 ±6,281
14:53 (02:02)
40
Splatter - Zombie Apocalypse
Jun 4, 2014
Free
75% (90%)
188,547 ±12,811
117,956 ±10,134
03:04 (02:46)
41
Brothers in Arms: Hell's Highway
Oct 8, 2008
$9.99
75% (90%/79%)
125,926 ±10,470
81,522 ±8,425
08:22 (04:27)
42
Depth
Nov 3, 2014
$19.99
75% (90%/65%)
716,616 ±24,959
643,976 ±23,663
09:00 (03:41)
43
Full Mojo Rampage
May 8, 2014
$12.99
72% (89%)
301,266 ±16,192
175,340 ±12,354
04:02 (01:43)
44
POSTAL Redux
May 20, 2016
$8.99
72% (89%/54%)
43,949 ±6,186
28,009 ±4,938
03:06 (01:34)
45
Sid Meier's Civilization III Complete
Oct 25, 2006
$4.99
72% (89%/90%)
1,208,479 ±32,392
435,845 ±19,472
45:36 (02:24)
46
Choice Chamber
Jul 16, 2015
$9.99
69% (88%)
134,579 ±10,824
42,810 ±6,105
03:16 (01:24)
47
Serious Sam 2
Jan 31, 2012
$9.99
69% (88%/74%)
883,986 ±27,715
451,102 ±19,809
04:08 (01:27)
48
Supreme Commander
Sep 28, 2011
$14.99
69% (88%/86%)
850,740 ±27,190
301,949 ±16,210
09:54 (01:28)
49
Counter-Strike: Condition Zero
Mar 1, 2004
$9.99
69% (88%/65%)
10,666,358 ±95,061
4,192,445 ±60,102
34:00 (01:23)
50
The Brookhaven Experiment
Jul 5, 2016
$19.99
69% (88%)
53,513 ±6,826
50,780 ±6,649
05:17 (01:46)
51
Super Mega Neo Pug
May 11, 2016
$0.99
69% (88%)
184,221 ±12,663
106,343 ±9,622
02:58 (03:13)
52
Mansions of Madness
Aug 1, 2016
Free
66% (87%)
64,671 ±7,504
34,840 ±5,508
05:18 (01:38)
53
Warlock - Master of the Arcane
May 8, 2012
$24.99
66% (87%/71%)
782,198 ±26,074
403,509 ±18,736
15:24 (02:31)
54
Ultimate General: Gettysburg
Oct 16, 2014
$14.99
66% (87%/84%)
292,385 ±15,951
164,410 ±11,963
13:47 (03:16)
55
Worms Ultimate Mayhem
Sep 28, 2011
$14.99
66% (87%/66%)
645,342 ±23,688
339,066 ±17,177
04:50 (01:32)
56
AI War: Fleet Command
Oct 21, 2009
$9.99
66% (87%/80%)
405,559 ±18,784
224,526 ±13,979
08:41 (01:15)
57
8-Bit Invaders!
Dec 16, 2016
$14.99
66% (87%)
15,257 ±3,645
11,613 ±3,180
09:06 (02:27)
58
Shadow Complex Remastered
May 3, 2016
$14.99
63% (86%)
155,756 ±11,644
51,919 ±6,724
05:53 (02:20)
59
ENSLAVED: Odyssey to the West Premium Edition
Oct 24, 2013
$19.99
63% (86%/70%)
421,271 ±19,144
187,409 ±12,772
04:36 (02:02)
60
Sonic Adventure 2
Nov 19, 2012
$9.99
63% (86%)
447,458 ±19,729
287,148 ±15,808
11:26 (02:23)
61
Bionic Dues
Oct 8, 2013
$9.99
63% (86%/71%)
373,223 ±18,020
208,358 ±13,467
04:21 (03:13)
62
STAR WARS Galactic Battlegrounds Saga
Mar 1, 2016
$5.99
63% (86%)
295,573 ±16,038
110,897 ±9,826
10:03 (01:23)
63
Natural Selection 2
Oct 30, 2012
$9.99
60% (85%/80%)
1,654,799 ±37,883
1,172,500 ±31,908
19:33 (02:51)
64
RWBY: Grimm Eclipse
Jul 5, 2016
$19.99
60% (85%)
258,000 ±14,985
240,694 ±14,474
07:14 (03:12)
65
Breach & Clear
Mar 21, 2014
$14.99
60% (85%)
226,120 ±14,029
130,708 ±10,667
05:26 (02:04)
66
Roll'd
Apr 14, 2016
$0.99
60% (85%)
49,869 ±6,589
27,098 ±4,857
04:15 (02:21)
67
Flinthook
Apr 18, 2017
$14.99
60% (85%/81%)
12,297 ±3,272
11,158 ±3,117
05:22 (04:01)
68
Duke of Alpha Centauri
Dec 28, 2016
$2.99
58% (84%)
37,117 ±5,685
20,950 ±4,271
03:50 (03:27)
69
Knights and Merchants
Oct 14, 2013
$6.99
58% (84%)
1,039,060 ±30,042
454,973 ±19,894
04:52 (01:12)
70
Worms Revolution
Oct 10, 2012
$14.99
58% (84%/73%)
1,056,594 ±30,294
836,849 ±26,968
08:12 (03:29)
71
Worms Reloaded
Aug 26, 2010
$19.99
58% (84%/79%)
890,135 ±27,811
691,112 ±24,512
10:02 (03:24)
72
King Arthur's Gold
Nov 5, 2013
$9.99
58% (84%/81%)
338,611 ±17,165
243,426 ±14,556
09:27 (01:17)
73
Call of Duty: Black Ops II
Nov 12, 2012
$59.99
55% (83%/74%)
3,074,369 ±51,542
2,535,142 ±46,836
09:23 (03:33)
74
Shank 2
Feb 7, 2012
$9.99
55% (83%/72%)
605,947 ±22,954
293,751 ±15,989
03:55 (01:52)
75
Graviteam Tactics: Operation Star
Feb 11, 2014
$29.99
55% (83%)
30,286 ±5,135
23,682 ±4,541
12:11 (01:05)
76
Command & Conquer: Red Alert 3 - Uprising
Oct 6, 2009
$19.99
55% (83%)
1,169,084 ±31,861
441,082 ±19,588
14:06 (01:18)
77
In Verbis Virtus
Apr 3, 2015
$19.99
52% (82%)
64,671 ±7,504
46,454 ±6,360
06:10 (02:34)
78
8-Bit Armies
Apr 22, 2016
$7.49
52% (82%)
75,146 ±8,089
68,087 ±7,699
07:39 (02:37)
79
Scribblenauts Unmasked: A DC Comics Adventure
Sep 24, 2013
$19.99
52% (82%/68%)
215,190 ±13,686
180,577 ±12,537
07:40 (02:58)
80
Enemy Mind
Jun 6, 2014
$9.99
52% (82%)
272,118 ±15,389
144,143 ±11,202
04:43 (02:24)
81
Crysis 2 - Maximum Edition
Mar 22, 2011
$29.99
52% (82%)
2,224,540 ±43,891
1,168,857 ±31,858
07:05 (02:29)
82
Jotun: Valhalla Edition
Sep 29, 2015
$14.99
52% (82%/79%)
302,860 ±16,234
133,896 ±10,797
02:56 (01:14)
83
Stronghold Legends: Steam Edition
Sep 15, 2016
$7.49
50% (81%)
382,332 ±18,239
172,380 ±12,250
07:57 (01:45)
84
911 Operator
Feb 24, 2017
$14.99
50% (81%/71%)
74,463 ±8,052
72,185 ±7,928
05:56 (03:45)
85
Mushroom Wars
Apr 7, 2016
$9.99
50% (81%/80%)
16,168 ±3,752
10,703 ±3,053
04:18 (04:12)
86
Blockstorm
May 21, 2015
$4.99
48% (80%)
373,223 ±18,020
289,425 ±15,870
05:32 (03:01)
87
Carmageddon: Max Damage
Oct 27, 2016
$19.99
48% (80%)
126,154 ±10,480
39,850 ±5,890
06:24 (02:30)
88
Sid Meier's Civilization IV: Colonization
Sep 23, 2008
$19.99
48% (80%/83%)
1,263,130 ±33,114
286,464 ±15,789
19:13 (01:04)
89
Industry Giant 2
Aug 14, 2015
$6.99
48% (80%)
58,523 ±7,138
36,207 ±5,615
13:18 (02:26)
90
Castlevania: Lords of Shadow Ultimate Edition
Aug 27, 2013
$29.99
48% (80%)
368,441 ±17,905
280,544 ±15,625
09:46 (03:09)
91
Star Realms
Mar 8, 2016
Free
48% (80%)
84,937 ±8,599
41,899 ±6,040
11:57 (01:38)
92
SMASHING THE BATTLE
May 15, 2016
$11.99
48% (80%)
20,722 ±4,248
16,395 ±3,778
02:06 (00:50)
93
Medal of Honor: Airborne
Oct 6, 2009
$9.99
46% (79%/78%)
198,111 ±13,132
164,865 ±11,980
08:25 (02:47)
94
The Red Solstice
Jul 9, 2015
$19.99
46% (79%/74%)
147,786 ±11,343
75,829 ±8,125
10:24 (02:27)
95
Gun Metal
Jan 16, 2014
$9.99
46% (79%)
210,636 ±13,540
107,709 ±9,684
04:01 (02:48)
96
SuperPower 2 Steam Edition
Apr 18, 2014
$9.99
46% (79%)
86,304 ±8,668
56,018 ±6,984
25:57 (03:58)
97
Mega Man Legacy Collection /
Aug 24, 2015
$14.99
46% (79%/85%)
79,700 ±8,330
66,720 ±7,622
04:12 (01:07)
98
Invention
Jan 11, 2017
$0.99
46% (79%)
32,791 ±5,343
29,603 ±5,077
04:03 (04:27)
99
The Walking Dead: Michonne - A Telltale Miniseries
Feb 23, 2016
$14.99
44% (78%)
191,052 ±12,896
117,045 ±10,095
05:32 (04:01)
100
Dead Rising 2: Off the Record
Oct 11, 2011
$19.99
44% (78%/66%)
271,435 ±15,370
171,696 ±12,225
09:23 (03:31)
101
Neon Space 2
Jul 26, 2016
$0.99
44% (78%)
73,324 ±7,990
45,543 ±6,297
03:23 (03:55)
102
Wargame: European Escalation
Feb 22, 2012
$9.99
41% (77%/81%)
822,959 ±26,744
508,030 ±21,021
18:44 (03:09)
103
Ben and Ed
Dec 8, 2015
$9.99
41% (77%)
70,136 ±7,814
67,859 ±7,687
05:17 (02:18)
104
Out There: Edition
Apr 2, 2015
$9.99
41% (77%)
53,285 ±6,811
41,444 ±6,007
06:30 (03:53)
105
Painkiller Hell & Damnation
Oct 31, 2012
$19.99
41% (77%/64%)
546,969 ±21,810
332,690 ±17,014
05:08 (02:09)
106
Prince of Persia
Dec 10, 2008
$9.99
41% (77%/82%)
256,862 ±14,952
114,540 ±9,986
04:06 (01:25)
107
The Political Machine 2016
Feb 4, 2016
$9.99
41% (77%)
49,642 ±6,574
43,949 ±6,186
06:30 (02:07)
108
Cloud Pirates
Apr 19, 2017
Free
39% (76%)
74,918 ±8,076
56,473 ±7,012
03:14 (00:45)
109
Galactic Civilizations II: Ultimate Edition
Dec 2, 2011
$19.99
39% (76%/92%)
669,935 ±24,134
326,770 ±16,863
18:49 (02:18)
110
Killer is Dead - Nightmare Edition
May 23, 2014
$19.99
39% (76%)
355,462 ±17,587
201,527 ±13,244
04:36 (02:14)
111
Divinity: Dragon Commander
Aug 6, 2013
$39.99
37% (75%)
290,791 ±15,908
206,081 ±13,393
08:02 (03:55)
112
Darksiders II Deathinitive Edition
Nov 5, 2015
$29.99
37% (75%)
877,838 ±27,619
316,295 ±16,590
08:54 (03:27)
113
River City Ransom: Underground
Feb 27, 2017
$19.99
37% (75%)
31,880 ±5,269
28,692 ±4,998
10:08 (04:07)
114
The Mean Greens - Plastic Warfare
Dec 8, 2015
$9.99
37% (75%)
173,063 ±12,274
111,580 ±9,856
03:06 (01:18)
115
Offworld Trading Company
Apr 28, 2016
$39.99
37% (75%/78%)
246,614 ±14,651
208,814 ±13,482
10:10 (04:20)
116
Man O' War: Corsair - Warhammer Naval Battles
Apr 19, 2017
$29.99
37% (75%)
16,395 ±3,778
16,168 ±3,752
07:16 (03:28)
117
Mercenary Kings
Mar 25, 2014
$19.99
37% (75%/76%)
341,344 ±17,234
232,268 ±14,218
06:44 (02:47)
118
Space Hulk Ascension
Nov 12, 2014
$29.99
35% (74%/72%)
125,470 ±10,451
67,403 ±7,661
10:18 (01:54)
119
Alien Rage - Unlimited
Sep 24, 2013
$19.99
35% (74%/52%)
183,765 ±12,648
90,403 ±8,872
03:21 (00:56)
120
Tap Tap Infinity
Jul 17, 2015
Free
35% (74%)
275,762 ±15,492
168,508 ±12,111
24:34 (01:19)
121
Z
Jul 4, 2014
$6.99
35% (74%)
79,017 ±8,294
45,998 ±6,329
05:03 (02:30)
122
The Big Elk
May 24, 2016
$4.99
35% (74%)
40,305 ±5,924
30,969 ±5,193
04:31 (03:30)
123
Saints Row: Gat out of Hell
Jan 20, 2015
$14.99
35% (74%/66%)
557,900 ±22,027
369,808 ±17,938
07:23 (04:51)
124
Lost Planet: Extreme Condition
Jun 26, 2007
$14.99
32% (72%/66%)
450,191 ±19,789
273,712 ±15,434
05:50 (01:25)
125
Alan Wake's American Nightmare
May 22, 2012
$9.99
32% (72%/73%)
1,195,044 ±32,212
389,619 ±18,411
02:59 (01:35)
126
Masked Shooters 2
Jan 14, 2016
$0.99
30% (71%)
182,627 ±12,608
122,282 ±10,318
03:02 (02:54)
127
Grey Goo
Jan 23, 2015
$29.99
30% (71%/77%)
311,058 ±16,452
221,110 ±13,873
09:49 (04:16)
128
Red Faction: Armageddon
Jun 6, 2011
$19.99
30% (71%/75%)
1,763,646 ±39,103
707,052 ±24,792
05:30 (01:48)
129
Agent Awesome
Feb 17, 2015
$9.99
N/A (N/A)
111,352 ±9,846
74,690 ±8,064
04:01 (03:28)
130
Gold Rush! Anniversary
Nov 7, 2014
$12.99
N/A (N/A)
44,860 ±6,250
15,712 ±3,699
03:10 (03:27)
131
Bedlam
Oct 13, 2015
$12.99
29% (70%/54%)
60,572 ±7,262
25,504 ±4,712
04:18 (03:09)
132
Uncanny Valley
Apr 23, 2015
$0.99
27% (69%/67%)
153,935 ±11,576
40,305 ±5,924
02:22 (01:37)
133
8-Bit Commando
Jun 2, 2014
$2.99
N/A (N/A)
46,681 ±6,375
24,593 ±4,627
03:15 (02:29)
134
Tharsis
Jan 11, 2016
$14.99
27% (69%/61%)
275,534 ±15,485
102,016 ±9,424
03:26 (02:11)
135
BitMaster
Oct 12, 2016
$2.15
26% (68%)
50,097 ±6,605
44,404 ±6,218
02:56 (03:16)
136
Lost Planet 2
Oct 15, 2010
$19.99
25% (67%/63%)
186,498 ±12,741
137,084 ±10,924
08:19 (02:41)
137
Ace of Spades: Battle Builder
Dec 12, 2012
$14.99
25% (67%)
1,090,295 ±30,772
1,019,021 ±29,752
12:56 (04:00)
138
Dead Island: Riptide Definitive Edition
May 31, 2016
$19.99
25% (67%)
80,383 ±8,366
43,493 ±6,154
05:13 (02:37)
139
Sonic Lost World
Nov 2, 2015
$29.99
23% (66%)
131,619 ±10,704
51,919 ±6,724
04:23 (00:58)
140
The Bureau: XCOM Declassified
Aug 19, 2013
$19.99
23% (66%/66%)
1,107,602 ±31,015
579,533 ±22,449
07:33 (02:47)
141
Epigenesis
Aug 1, 2014
Free
23% (66%)
232,268 ±14,218
115,451 ±10,026
02:44 (02:08)
142
Stronghold Kingdoms
Feb 27, 2012
Free
23% (66%/75%)
1,452,133 ±35,497
704,775 ±24,753
87:40 (00:50)
143
Madness Cubed
May 12, 2016
$5.99
22% (65%)
17,534 ±3,907
15,029 ±3,617
02:59 (03:25)
144
Evolve Stage 2
Feb 10, 2015
Free
22% (65%/77%)
5,298,681 ±67,471
3,692,613 ±56,442
08:51 (01:46)
145
Medieval: Total War - Collection
Jun 25, 2015
$9.99
22% (65%)
119,778 ±10,212
38,711 ±5,806
18:24 (02:22)
146
Kane & Lynch 2: Dog Days
Aug 17, 2010
$9.99
21% (64%/66%)
746,902 ±25,480
353,640 ±17,542
03:45 (01:41)
147
Sid Meier's Railroads!
May 4, 2007
$9.99
21% (64%/77%)
564,731 ±22,161
246,614 ±14,651
18:26 (02:17)
148
STAR WARS - The Force Unleashed Ultimate Sith Edition
Dec 15, 2009
$19.99
21% (64%/65%)
1,225,102 ±32,613
674,489 ±24,216
06:38 (02:41)
149
Heaven Forest NIGHTS
Mar 14, 2017
$0.99
N/A (N/A)
72,413 ±7,940
50,325 ±6,620
03:41 (03:58)
150
Crazy Forest
Jul 6, 2016
$4.99
N/A (N/A)
88,809 ±8,793
46,681 ±6,375
02:22 (02:49)
151
Deceit
Mar 3, 2017
$14.99
20% (63%)
61,027 ±7,289
54,196 ±6,869
07:50 (03:35)
152
Valhalla Hills
Dec 2, 2015
$29.99
20% (63%/69%)
138,222 ±10,970
56,018 ±6,984
04:17 (01:24)
153
EVE: Valkyrie
Nov 17, 2016
$59.99
19% (62%/69%)
8,425 ±2,708
7,970 ±2,634
02:57 (01:40)
154
LOST PLANET 3
Aug 26, 2013
$24.99
19% (62%)
493,229 ±20,713
232,268 ±14,218
07:22 (03:54)
155
Homefront
Mar 14, 2011
$19.99
19% (62%/70%)
805,197 ±26,454
625,986 ±23,330
11:51 (04:30)
156
Purgatory
Jun 22, 2016
$0.99
19% (62%)
107,937 ±9,694
57,612 ±7,083
05:28 (03:07)
157
STAR WARS: The Force Unleashed II
Oct 26, 2010
$19.99
16% (60%/59%)
1,139,937 ±31,463
406,242 ±18,800
06:34 (03:25)
158
7 Grand Steps: What Ancients Begat
Jun 7, 2013
$19.99
16% (60%)
168,508 ±12,111
51,008 ±6,664
06:20 (03:13)
159
Sniper Ghost Warrior 3
Apr 24, 2017
$49.99
15% (58%)
40,078 ±5,907
30,969 ±5,193
05:50 (03:28)
160
ZombieCarz
Dec 7, 2016
$3.99
N/A (N/A)
109,758 ±9,775
67,403 ±7,661
03:46 (04:28)
161
Why So Evil
Nov 10, 2014
$1.99
13% (56%)
798,594 ±26,346
428,786 ±19,314
04:16 (03:57)
162
Enemy Front
Jun 10, 2014
$29.99
13% (56%/52%)
155,301 ±11,627
126,609 ±10,499
07:15 (02:27)
163
Warhammer 40,000: Kill Team
May 22, 2014
$9.99
12% (55%)
84,937 ±8,599
47,820 ±6,453
02:15 (01:16)
164
Sniper: Ghost Warrior
Jun 24, 2010
$7.99
12% (55%/55%)
1,033,139 ±29,957
818,177 ±26,666
14:34 (04:03)
165
Brilliant Bob
May 20, 2015
$2.99
12% (54%)
814,078 ±26,599
402,826 ±18,721
04:37 (04:23)
166
Aliens: Colonial Marines Collection
$29.99
12% (54%/45%)
440,855 ±19,583
365,709 ±17,838
10:04 (04:58)
167
Operation Flashpoint: Red River
Jun 6, 2011
$9.99
11% (53%/67%)
633,956 ±23,478
212,913 ±13,613
04:53 (01:02)
168
Dungeon Creepster
Mar 24, 2017
$0.99
11% (53%)
5,237 ±2,135
3,871 ±1,836
01:48 (02:06)
169
Resident Evil: Operation Raccoon City
May 18, 2012
$29.99
10% (52%/48%)
126,609 ±10,499
106,343 ±9,622
07:59 (03:16)
170
Grind Zones
Jul 19, 2016
$4.99
8% (49%)
159,855 ±11,796
97,689 ±9,222
03:17 (03:48)
171
Why So Evil 2: Dystopia
Mar 16, 2015
$1.99
8% (49%)
798,821 ±26,349
400,321 ±18,662
04:44 (04:25)
172
BioShock Remastered
Sep 15, 2016
$19.99
8% (48%)
3,691,246 ±56,431
681,776 ±24,346
04:15 (01:35)
173
WARMACHINE: Tactics
Nov 20, 2014
Free
7% (47%)
280,544 ±15,625
101,561 ±9,403
04:16 (01:31)
174
Sid Meier's Starships
Mar 12, 2015
$14.99
6% (44%/64%)
301,949 ±16,210
167,370 ±12,070
12:15 (03:14)
175
Operation: New Earth
Dec 14, 2016
Free
6% (44%)
89,264 ±8,816
61,255 ±7,303
13:16 (00:10)
176
BioShock 2 Remastered
Sep 15, 2016
$19.99
5% (42%)
3,256,312 ±53,032
290,108 ±15,889
03:58 (01:55)
177
Yellow: The Yellow Artifact
Jun 7, 2016
$0.62
N/A (N/A)
198,567 ±13,147
139,816 ±11,033
03:27 (03:30)
178
Under Zero
Mar 2, 2017
$4.99
N/A (N/A)
177,845 ±12,442
94,501 ±9,071
03:35 (03:27)
179
PixBit
May 21, 2016
$1.99
N/A (N/A)
75,146 ±8,089
50,780 ±6,649
03:00 (03:26)
180
Merger 3D
Sep 29, 2016
$2.99
N/A (N/A)
58,067 ±7,110
53,741 ±6,840
03:19 (03:30)
181
Zombie Zoeds
May 20, 2015
$4.99
2% (30%)
224,754 ±13,986
158,261 ±11,738
03:59 (03:16)
182
Slingshot people
Oct 21, 2016
$0.99
N/A (N/A)
255,951 ±14,925
120,688 ±10,250
02:50 (03:17)
183
Stronghold 3 Gold
May 25, 2012
$29.99
1% (25%)
746,447 ±25,473
652,856 ±23,825
10:16 (04:11)
184
Command & Conquer 4: Tiberian Twilight
Mar 16, 2010
$19.99
0% (19%/64%)
305,820 ±16,313
223,160 ±13,937
05:59 (02:11)
185
Lost Base Escape
Jan 23, 2017
$0.99
N/A (N/A)
72,869 ±7,965
60,572 ±7,262
04:18 (04:31)