Zuma's Revenge!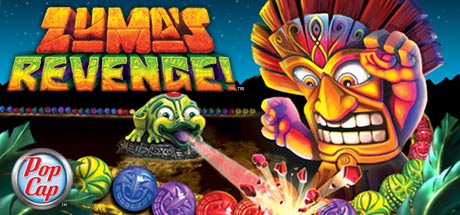 Store | Hub | SteamDB
Developer: PopCap Games, Inc. Publisher: PopCap Games, Inc.
Genre: Action, Casual
Languages: English
Tags: Casual (41), Action (30), Singleplayer (16), Match 3 (16), Puzzle (15)
Category: Single-player, Steam Achievements, Stats
Release date: Sep 15, 2009
Price: $4.99
Score rank: 95% Userscore: 96% Old userscore: 94% Metascore: 78%
Owners: 106,848 ± 9,647
Players in the last 2 weeks: 2,050 ± 1,336 (1.92%)
Players total: 59,006 ± 7,169 (55.22%)
Peak concurrent players yesterday: 93
YouTube stats: 30 views and 3 comments for videos uploaded last week, 1 new videos uploaded yesterday.
Playtime in the last 2 weeks: 05:48 (average) 09:05 (median)
Playtime total: 64:24 (average) 04:03 (median)

Steam Spy is still in beta, so expect major bugs.
Peak daily concurrent players:
CCU data courtesy of SteamDB. Used with permission.
Hourly concurrent players:
YouTube:
The views data is based on top 50 videos uploaded last week. Actual number of views might be more than the number shown.

The displayed number of videos uploaded yesterday is limited to 50, so if there were more videos uploaded, the number will still show 50.

If the game has commonly used word as its name (like "FEAR" or "Volume") its number of Youtube views might be wrong.
Games similar to this one:
#
Game
Release date

Price

Score rank
(Userscore / Metascore)

Owners

Players

Playtime (Median)

1
Paint it Back
Oct 14, 2015
$7.99
99% (98%)
7,746 ±2,597
7,518 ±2,559
26:23 (13:21)
2
Climbey
Oct 25, 2016
$9.99
95% (96%)
26,427 ±4,798
23,466 ±4,521
09:52 (02:03)
3
Eventide: Slavic Fable
Jan 28, 2016
$9.99
95% (96%)
43,286 ±6,141
23,921 ±4,565
04:01 (03:30)
4
Bejeweled 3
Dec 7, 2010
$4.99
95% (96%/82%)
439,695 ±19,564
230,100 ±14,156
47:02 (04:43)
5
Insaniquarium Deluxe
Aug 30, 2006
$4.99
92% (95%)
104,114 ±9,523
80,649 ±8,382
06:41 (01:57)
6
Megatect
Nov 4, 2015
$7.99
N/A (N/A)
1,595 ±1,178
683 ±771
04:17 (04:12)
7
Race The Sun
Dec 9, 2013
$9.99
89% (94%/79%)
837,244 ±26,985
570,920 ±22,290
03:19 (01:26)
8
Zup!
Oct 4, 2016
$0.69
89% (94%)
151,729 ±11,496
136,237 ±10,893
01:48 (00:37)
9
FlatOut 2
Dec 21, 2006
$9.99
86% (93%/76%)
487,538 ±20,600
337,176 ±17,134
07:06 (01:38)
10
ORBITAL
Jul 27, 2016
$0.99
N/A (N/A)
298,446 ±16,120
261,995 ±15,104
03:23 (03:30)
11
Kitty Powers' Matchmaker
Apr 22, 2015
$9.99
86% (93%)
58,322 ±7,128
56,272 ±7,001
13:22 (06:42)
12
Fire Pro Wrestling World
Jul 10, 2017
$19.99
82% (92%)
28,250 ±4,961
27,111 ±4,860
29:47 (06:16)
13
Arma 2: Operation Arrowhead
Jun 29, 2010
$19.99
82% (92%/73%)
4,384,423 ±61,513
3,831,500 ±57,539
54:41 (03:43)
14
Farming Simulator 17
Oct 24, 2016
$31.49
82% (92%/69%)
439,012 ±19,549
434,683 ±19,452
108:10 (40:09)
15
Zup! Zero
Apr 6, 2017
$0.69
77% (91%)
59,006 ±7,169
47,387 ±6,425
01:55 (01:21)
16
Farming Simulator 15
Oct 30, 2014
$24.99
74% (90%/64%)
730,851 ±25,215
715,587 ±24,951
86:21 (24:56)
17
Arma 3
Sep 12, 2013
$39.99
74% (90%/74%)
3,582,036 ±55,649
3,489,540 ±54,932
168:08 (32:45)
18
Snuggle Truck
Feb 3, 2012
$4.99
74% (90%)
147,628 ±11,340
84,977 ±8,604
02:08 (01:10)
19
Star Trek: Bridge Crew
May 30, 2017
$49.99
71% (89%)
45,109 ±6,269
36,679 ±5,653
05:32 (03:10)
20
Dark Arcana: The Carnival
Oct 28, 2014
$9.99
71% (89%)
79,510 ±8,322
49,665 ±6,578
03:49 (03:22)
21
Zup! 5
Jun 13, 2017
$0.69
71% (89%)
53,310 ±6,815
39,869 ±5,893
01:53 (01:13)
22
NoLimits 2 Roller Coaster Simulation
Aug 21, 2014
$39.99
68% (88%)
26,427 ±4,798
25,288 ±4,694
32:04 (04:24)
23
Hexoscope
Aug 10, 2016
$2.99
N/A (N/A)
184,535 ±12,677
166,765 ±12,052
03:33 (03:30)
24
Redout: Enhanced Edition
Sep 2, 2016
$34.99
65% (87%/81%)
108,671 ±9,729
89,306 ±8,820
03:32 (01:01)
25
Receiver
Apr 29, 2013
$4.99
62% (86%)
801,704 ±26,407
332,847 ±17,024
01:36 (00:20)
26
Riff Racer - Race Your Music!
May 12, 2016
$9.99
62% (86%)
41,008 ±5,977
31,212 ±5,214
04:49 (02:53)
27
RollerCoaster Tycoon 2: Triple Thrill Pack
May 21, 2014
$9.99
62% (86%/74%)
578,439 ±22,436
376,817 ±18,112
09:44 (01:17)
28
Poker Night 2
Apr 26, 2013
$4.99
57% (84%/75%)
820,613 ±26,716
598,715 ±22,825
07:05 (03:04)
29
Arma 2
Jun 29, 2009
$12.99
57% (84%/77%)
1,188,772 ±32,142
1,003,553 ±29,538
06:43 (00:38)
30
Arma 2
Jun 29, 2009
$12.99
57% (84%/77%)
3,440,331 ±54,546
2,788,078 ±49,139
04:00 (00:29)
31
SQUAKE
Feb 1, 2017
$3.99
N/A (N/A)
32,351 ±5,309
25,972 ±4,757
03:24 (03:02)
32
Use Your Words
Apr 3, 2017
$14.99
54% (83%)
16,175 ±3,754
14,808 ±3,592
04:17 (02:45)
33
Little Racers STREET
Feb 6, 2014
$5.99
54% (83%/62%)
152,413 ±11,522
77,459 ±8,214
04:19 (02:01)
34
GRID 2
May 27, 2013
$29.99
49% (81%/80%)
1,174,647 ±31,951
932,929 ±28,482
15:09 (04:32)
35
HellGunner
May 11, 2017
$0.62
49% (81%)
96,368 ±9,162
89,989 ±8,854
04:30 (04:31)
36
Viscera Cleanup Detail: Shadow Warrior
Oct 11, 2013
Free
45% (79%)
3,533,282 ±55,272
563,630 ±22,147
00:55 (00:18)
37
Freebie
Jun 16, 2016
$0.99
43% (78%)
487,082 ±20,590
376,361 ±18,101
04:53 (04:00)
38
Duke of Alpha Centauri
Dec 28, 2016
$2.99
43% (78%)
76,320 ±8,154
45,109 ±6,269
03:33 (03:30)
39
Passpartout: The Starving Artist
Jun 6, 2017
$9.99
43% (78%)
101,608 ±9,408
98,874 ±9,280
03:55 (02:36)
40
Two Digits
May 22, 2015
$1.99
43% (78%)
180,435 ±12,536
132,820 ±10,756
04:09 (04:31)
41
GRID Autosport
Jun 26, 2014
$39.99
37% (75%/78%)
582,767 ±22,520
481,842 ±20,479
15:26 (04:36)
42
iRacing
Jan 12, 2015
$9.99
37% (75%/79%)
30,528 ±5,157
27,111 ±4,860
43:10 (00:37)
43
FootRock
Oct 14, 2016
$0.99
35% (74%)
69,258 ±7,767
64,929 ±7,521
09:17 (03:30)
44
Bounty Train
May 16, 2017
$24.99
33% (73%/66%)
27,794 ±4,921
25,060 ±4,672
08:22 (04:40)
45
One Night Two Crazies
Aug 10, 2016
$0.99
N/A (N/A)
1,595 ±1,178
911 ±891
00:07 (00:06)
46
City Car Driving
Nov 3, 2016
$24.99
27% (69%)
54,449 ±6,887
52,171 ±6,741
24:08 (05:13)
47
Akin
Jun 6, 2016
$2.99
N/A (N/A)
131,909 ±10,719
123,707 ±10,380
05:08 (04:00)
48
Surgeon Simulator: Experience Reality
Dec 5, 2016
$19.99
26% (68%)
10,480 ±3,021
9,568 ±2,887
02:58 (01:15)
49
3 GooCubelets Games Vol.1
Sep 1, 2015
Free
26% (68%)
1,132,500 ±31,374
676,174 ±24,255
03:31 (03:30)
50
TransOcean: The Shipping Company
Sep 23, 2014
$5.99
24% (67%)
160,842 ±11,836
97,735 ±9,227
34:59 (07:00)
51
X-Plane 10 Global - 64 Bit
Jul 14, 2014
Free
24% (67%)
81,332 ±8,417
77,459 ±8,214
55:16 (04:06)
52
The First Spark
Jul 11, 2016
$3.99
23% (66%)
90,901 ±8,898
72,903 ±7,969
05:22 (04:25)
53
3 GooCubelets Games Vol.2
Nov 19, 2015
Free
23% (66%)
837,699 ±26,992
511,003 ±21,089
04:26 (04:29)
54
GooCubelets: The Void
Aug 1, 2016
Free
22% (65%)
281,587 ±15,659
197,977 ±13,131
04:27 (04:12)
55
Germ Wars
Nov 21, 2016
$0.99
N/A (N/A)
283,410 ±15,709
227,821 ±14,086
04:55 (03:30)
56
3 GooCubelets Games Vol.3
Jan 4, 2016
Free
20% (63%)
879,391 ±27,654
535,380 ±21,586
04:23 (04:30)
57
Bus Simulator 16
Mar 2, 2016
$7.49
14% (57%)
110,038 ±9,790
107,304 ±9,668
14:53 (06:57)
58
Star Fields
Aug 6, 2016
$0.99
N/A (N/A)
250,148 ±14,759
201,850 ±13,259
05:09 (03:30)
59
Snik
Sep 4, 2015
$2.99
N/A (N/A)
118,239 ±10,148
108,899 ±9,739
05:22 (05:31)
60
Rise of Flight United
Sep 5, 2013
Free
11% (52%/77%)
356,085 ±17,607
187,041 ±12,763
03:16 (00:26)
61
The Sheltered
Apr 23, 2015
$1.99
N/A (N/A)
2,046 ±1,634
341 ±667
02:11 (01:05)
62
Rage Parking Simulator 2016
Mar 3, 2016
$3.99
9% (50%)
530,596 ±21,489
395,270 ±18,550
04:35 (04:30)
63
NBA 2K16
Sep 29, 2015
$59.99
8% (49%)
466,578 ±20,153
361,780 ±17,748
110:51 (32:07)
64
Football Manager 2017
Nov 3, 2016
$49.99
8% (48%/80%)
1,172,597 ±31,924
1,147,992 ±31,588
303:35 (129:02)
65
The Pasture
Jan 17, 2017
$0.99
N/A (N/A)
72,219 ±7,932
61,967 ±7,347
03:25 (03:30)
66
Black Sand Drift
Sep 8, 2016
$0.64
N/A (N/A)
179,979 ±12,520
160,158 ±11,811
03:43 (03:30)
67
Hexaball
Mar 13, 2017
$0.99
N/A (N/A)
7,290 ±2,520
1,139 ±996
02:51 (02:36)
68
Racer 8
Jun 6, 2014
$4.99
5% (42%)
412,585 ±18,952
252,198 ±14,820
02:20 (01:33)
69
Magazime Editor
Feb 24, 2017
$0.99
N/A (N/A)
282,271 ±15,678
187,269 ±12,771
03:05 (03:30)
70
Karma
Jul 14, 2015
$0.99
N/A (N/A)
4,101 ±1,890
683 ±771
03:22 (03:16)
71
Drive Megapolis
Aug 24, 2016
$4.99
2% (30%)
258,805 ±15,012
209,140 ±13,496
03:30 (03:30)
72
Midnight Carnival
Nov 22, 2016
$0.99
N/A (N/A)
269,285 ±15,313
222,809 ±13,930
03:31 (03:30)
Geography of active players over time: