Zuma's Revenge!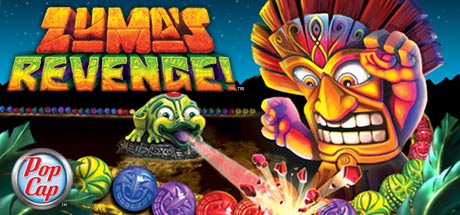 Store | Hub | SteamDB
Developer: PopCap Games, Inc. Publisher: PopCap Games, Inc.
Genre: Action, Casual
Languages: English
Tags: Casual (37), Action (29), Singleplayer (13), Match 3 (12), Puzzle (12)
Category: Single-player, Steam Achievements, Stats
Release date: Sep 15, 2009
Price: $4.99
Score rank: 95% Userscore: 96% Old userscore: 94% Metascore: 78%
Owners: 109,175 ± 9,297
Players in the last 2 weeks: 2,693 ± 1,460 (2.47%)
Players total: 61,527 ± 6,980 (56.36%)
Peak concurrent players yesterday: 84
YouTube stats: 68 views and 11 comments for videos uploaded last week, 0 new videos uploaded yesterday.
Playtime in the last 2 weeks: 56:06 (average) 68:30 (median)
Playtime total: 74:20 (average) 03:37 (median)

Steam Spy is still in beta, so expect major bugs.
Peak daily concurrent players:
CCU data courtesy of SteamDB. Used with permission.
Hourly concurrent players:
YouTube:
The views data is based on top 50 videos uploaded last week. Actual number of views might be more than the number shown.

The displayed number of videos uploaded yesterday is limited to 50, so if there were more videos uploaded, the number will still show 50.

If the game has commonly used word as its name (like "FEAR" or "Volume") its number of Youtube views might be wrong.
Games similar to this one:
#
Game
Release date

Price

Score rank
(Userscore / Metascore)

Owners

Players

Playtime (Median)

1
Raptor Valley
Sep 9, 2016
$8.99
N/A (N/A)
5,801 ±2,143
2,693 ±1,460
00:23 (00:20)
2
Trip to Vinelands
Oct 21, 2016
$0.99
N/A (N/A)
3,729 ±1,718
1,243 ±992
00:12 (00:12)
3
Quarries of Scred
Apr 22, 2015
$5.99
N/A (N/A)
7,044 ±2,361
1,450 ±1,071
00:11 (00:08)
4
Race The Sun
Dec 9, 2013
$9.99
89% (94%/79%)
837,351 ±25,724
560,375 ±21,051
03:07 (01:29)
5
Farming Simulator 17
Oct 24, 2016
$34.99
86% (93%/69%)
326,074 ±16,063
321,102 ±15,940
83:40 (36:18)
6
Zup!
Oct 4, 2016
$0.99
86% (93%)
105,031 ±9,119
92,602 ±8,562
02:39 (00:31)
7
Kitty Powers' Matchmaker
Apr 22, 2015
$9.99
86% (93%)
41,225 ±5,713
40,604 ±5,670
15:10 (06:47)
8
Razortron 2000
Oct 12, 2016
$0.99
86% (93%)
21,752 ±4,150
12,223 ±3,111
02:47 (02:46)
9
Cat Goes Fishing
Jan 19, 2015
$6.99
86% (93%)
52,412 ±6,442
49,098 ±6,235
07:11 (04:20)
10
Arma 2: Operation Arrowhead
Jun 29, 2010
$3.99
83% (92%/73%)
4,175,775 ±57,200
3,652,276 ±53,531
53:26 (03:31)
11
Arma 3
Sep 12, 2013
$19.99
79% (91%/74%)
3,078,021 ±49,179
3,002,614 ±48,577
177:00 (37:17)
12
Farming Simulator 2013 Titanium Edition
Oct 9, 2013
$19.99
79% (91%)
550,224 ±20,860
504,026 ±19,966
71:40 (13:49)
13
Cube Runner
Dec 13, 2016
$1.99
79% (91%)
41,640 ±5,742
25,895 ±4,528
03:21 (03:24)
14
DiRT Rally
Dec 7, 2015
$59.99
79% (91%/86%)
492,633 ±19,740
447,471 ±18,814
23:31 (06:25)
15
Absolute Drift
Jul 29, 2015
$11.99
75% (90%/66%)
125,748 ±9,977
94,880 ±8,667
02:38 (01:27)
16
TrackMania² Stadium
Jun 20, 2013
$9.99
75% (90%)
341,197 ±16,431
291,685 ±15,193
21:32 (03:50)
17
ORBITAL
Jul 27, 2016
$0.99
N/A (N/A)
78,722 ±7,895
70,435 ±7,468
03:13 (03:29)
18
Farming Simulator 15
Oct 30, 2014
$24.99
75% (90%/64%)
665,613 ±22,940
655,669 ±22,768
83:44 (25:41)
19
12 Labours of Hercules II: The Cretan Bull
Jun 5, 2015
$0.5
75% (90%)
178,160 ±11,875
129,477 ±10,124
05:46 (04:28)
20
RollerCoaster Tycoon® 2: Triple Thrill Pack
May 21, 2014
$9.99
69% (88%/74%)
525,157 ±20,380
338,918 ±16,376
08:11 (01:18)
21
NoLimits 2 Roller Coaster Simulation
Aug 21, 2014
$39.99
69% (88%)
22,166 ±4,189
21,545 ±4,130
33:50 (02:41)
22
Mind Snares: Alice's Journey
Apr 23, 2015
$9.99
66% (87%)
58,834 ±6,825
30,867 ±4,944
04:17 (03:35)
23
Sid Meier's Colonization (Classic)
Oct 9, 2014
$6.99
66% (87%)
45,576 ±6,007
26,310 ±4,564
40:59 (05:06)
24
Hexoscope
Aug 10, 2016
$2.99
N/A (N/A)
49,098 ±6,235
43,711 ±5,883
03:10 (03:30)
25
WolfQuest
Mar 25, 2016
$9.99
66% (87%)
23,617 ±4,324
22,995 ±4,267
23:11 (05:59)
26
Receiver
Apr 29, 2013
$4.99
63% (86%)
768,573 ±24,647
324,002 ±16,012
01:31 (00:18)
27
Catch a Falling Star
Mar 30, 2016
$0.99
60% (85%)
186,032 ±12,135
100,267 ±8,910
03:19 (03:25)
28
Mesel
Feb 23, 2016
$4.99
N/A (N/A)
1,243 ±992
414 ±572
00:06 (00:04)
29
Poker Night 2
Apr 26, 2013
$4.99
57% (84%/75%)
750,757 ±24,360
562,239 ±21,086
06:53 (03:14)
30
Arma 2
Jun 29, 2009
$2.59
57% (84%/77%)
3,256,388 ±50,572
2,623,714 ±45,431
03:42 (00:28)
31
Energy Cycle
Jan 13, 2016
$2.99
N/A (N/A)
93,637 ±8,610
71,885 ±7,544
03:24 (03:30)
32
Freebie
Jun 16, 2016
$0.49
55% (83%)
279,462 ±14,871
185,618 ±12,121
03:40 (03:49)
33
GRID 2
May 27, 2013
$29.99
52% (82%/80%)
1,062,744 ±28,972
831,343 ±25,632
14:41 (04:48)
34
Snowball!
Dec 16, 2016
$2.99
N/A (N/A)
1,864 ±1,215
1,450 ±1,071
00:32 (00:36)
35
Left in the Dark: No One on Board
Oct 2, 2014
$9.99
50% (81%)
67,121 ±7,290
38,118 ±5,494
03:27 (03:23)
36
Euro Truck Simulator
Mar 8, 2013
$4.99
48% (80%)
600,564 ±21,792
292,514 ±15,214
03:59 (00:45)
37
Viscera Cleanup Detail: Shadow Warrior
Oct 11, 2013
Free
45% (79%)
1,331,641 ±32,420
366,263 ±17,023
00:54 (00:18)
38
Pressure
Mar 26, 2013
$7.99
43% (78%/64%)
659,813 ±22,840
293,342 ±15,236
02:58 (02:16)
39
Warriors & Castles
Jun 30, 2015
$2.99
N/A (N/A)
8,287 ±2,561
1,036 ±905
00:57 (00:48)
40
Crazy Fun - FootRock
Oct 14, 2016
$0.89
39% (76%)
24,860 ±4,437
22,788 ±4,248
03:29 (03:30)
41
GooCubelets: The Void
Aug 1, 2016
$1.99
39% (76%)
126,991 ±10,027
68,985 ±7,390
04:48 (03:46)
42
The Secret Order 2: Masked Intent
Nov 5, 2015
$9.99
39% (76%)
35,839 ±5,327
21,131 ±4,090
04:06 (03:35)
43
GRID Autosport
Jun 26, 2014
$39.99
37% (75%/78%)
542,144 ±20,707
438,563 ±18,626
13:53 (04:09)
44
Akin
Jun 6, 2016
$2.99
N/A (N/A)
28,174 ±4,723
25,067 ±4,455
03:52 (03:55)
45
Marooners
Sep 15, 2016
$12.99
37% (75%)
13,673 ±3,290
11,394 ±3,003
02:12 (01:37)
46
PRiO
Mar 18, 2016
$5.99
N/A (N/A)
7,665 ±2,463
1,036 ±905
01:26 (02:06)
47
GooCubelets
Sep 1, 2015
$1.99
37% (75%)
748,064 ±24,317
396,923 ±17,721
03:39 (03:28)
48
Alice's Mom's Rescue
Sep 3, 2015
$2.99
N/A (N/A)
9,737 ±2,776
1,243 ±992
00:09 (00:11)
49
Transport Fever
Nov 8, 2016
$34.99
37% (75%/71%)
163,658 ±11,382
159,308 ±11,230
48:06 (23:29)
50
ARMA: Gold Edition
Jul 13, 2011
$1.99
32% (72%)
493,876 ±19,764
93,845 ±8,620
03:01 (00:28)
51
City Car Driving
Nov 3, 2016
$24.99
30% (71%)
41,225 ±5,713
38,739 ±5,538
10:57 (05:10)
52
OMSI 2: Steam Edition
Dec 11, 2013
$34.99
30% (71%)
108,139 ±9,253
107,310 ±9,217
127:42 (28:35)
53
GooCubelets 2
Nov 19, 2015
$1.99
29% (70%)
559,339 ±21,032
309,087 ±15,639
04:36 (04:22)
54
Dragonflight
Aug 31, 2015
$15.99
29% (70%)
1,657 ±1,145
1,450 ±1,071
00:50 (00:27)
55
One Night Two Crazies
Aug 10, 2016
$0.99
N/A (N/A)
2,693 ±1,460
1,450 ±1,071
00:10 (00:09)
56
GooCubelets: The Algoorithm
Jan 4, 2016
$1.99
26% (68%)
568,661 ±21,206
288,577 ±15,112
04:38 (04:26)
57
Citalis
Nov 3, 2016
$1.99
25% (67%)
32,732 ±5,091
29,417 ±4,826
02:48 (03:22)
58
TransOcean: The Shipping Company
Sep 23, 2014
$19.99
25% (67%)
146,878 ±10,783
90,944 ±8,485
20:25 (09:02)
59
Slybots: Frantic Zone
Jan 18, 2016
$6.99
N/A (N/A/65%)
1,657 ±1,145
1,243 ±992
00:19 (00:32)
60
Test Drive Unlimited 2
Feb 2011
$19.99
21% (64%/72%)
422,404 ±18,280
390,501 ±17,577
26:02 (08:10)
61
Samphi
Mar 18, 2016
$4.99
N/A (N/A)
3,107 ±1,568
2,486 ±1,403
02:11 (02:04)
62
BoomTown! Deluxe
Oct 14, 2016
$4.99
N/A (N/A)
13,880 ±3,315
2,693 ±1,460
00:19 (00:14)
63
Sign Motion
Oct 24, 2014
$9.99
19% (62%)
1,657 ±1,145
1,036 ±905
01:06 (01:06)
64
Contract
Jan 5, 2016
$2.99
N/A (N/A)
9,529 ±2,747
1,243 ±992
00:42 (00:35)
65
Germ Wars
Nov 21, 2016
$0.99
N/A (N/A)
80,172 ±7,967
49,305 ±6,248
03:21 (03:28)
66
Bus Simulator 16
Mar 2, 2016
$24.99
14% (57%)
88,044 ±8,349
85,972 ±8,250
11:25 (06:59)
67
Mars Industries
Oct 24, 2016
$1.99
N/A (N/A)
26,517 ±4,582
20,923 ±4,070
03:14 (03:30)
68
Star Fields
Aug 6, 2016
$0.99
N/A (N/A)
83,901 ±8,150
50,133 ±6,300
03:18 (03:30)
69
Russian SuperHero Dead Ivan
Oct 19, 2016
$0.99
N/A (N/A)
57,798 ±6,765
50,755 ±6,339
03:20 (03:30)
70
NBA 2K17
Sep 20, 2016
$59.99
10% (52%/90%)
210,684 ±12,913
205,712 ±12,760
127:26 (65:47)
71
Rise of Flight United
Sep 5, 2013
Free
10% (52%/77%)
313,437 ±15,749
159,515 ±11,237
06:03 (00:25)
72
Gamer Simulator
Sep 22, 2015
$0.99
N/A (N/A)
1,036 ±905
414 ±572
07:59 (05:19)
73
Black Sand Drift
Sep 8, 2016
$0.99
N/A (N/A)
57,798 ±6,765
49,305 ±6,248
03:21 (03:28)
74
Fiends of Imprisonment
Oct 20, 2015
$1.99
6% (45%)
681,772 ±23,216
331,253 ±16,190
03:57 (03:29)
75
CO-OP : Decrypted
Aug 17, 2015
$9.99
N/A (N/A)
10,358 ±2,864
1,657 ±1,145
01:08 (00:22)
76
European Ship Simulator
Nov 4, 2016
$19.99
4% (39%)
42,883 ±5,827
39,361 ±5,583
05:39 (01:49)
77
Dark Night
Jan 11, 2016
$3.99
N/A (N/A)
27,345 ±4,653
414 ±572
00:11 (00:07)
78
OR
Feb 8, 2017
$0.99
N/A (N/A)
70,228 ±7,457
41,640 ±5,742
03:19 (03:16)
79
Midnight Carnival
Nov 22, 2016
$0.49
N/A (N/A)
81,001 ±8,008
53,448 ±6,505
03:49 (03:28)
80
Spacebase DF-9
Oct 27, 2014
$9.99
1% (20%/49%)
186,446 ±12,148
126,369 ±10,002
10:17 (03:35)
81
Wonky Pigeon!
Nov 26, 2015
$4.99
N/A (N/A)
8,494 ±2,593
1,450 ±1,071
00:08 (00:09)
82
One Day For Ched
Sep 12, 2014
$0.99
N/A (N/A)
36,875 ±5,403
5,179 ±2,025
00:13 (00:10)
83
Rift's Cave
Dec 1, 2014
$9.99
N/A (N/A)
13,466 ±3,265
1,450 ±1,071
00:52 (01:37)