App

Holy Potatoes! A Weapon Shop?!
Holy Potatoes! A Weapon Shop?!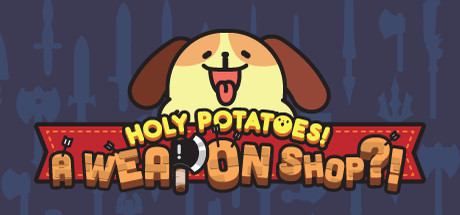 Store | Hub | SteamDB | Site
Developer: Daylight Studios Publisher: Daedalic Entertainment, Daylight Studios
Genre: Indie, Simulation
Languages: English, Japanese, French, German, Russian, Simplified Chinese
Tags: Indie (45), Simulation (34), Management (33), Casual (29), Funny (17), Singleplayer (15), RPG (14), Crafting (7)
Category: Single-player, Steam Achievements, Steam Trading Cards, Steam Cloud
Release date: Jul 13, 2015
Price: $3.74 75%
Score rank: 38% Userscore: 76% Old userscore: 75% Metascore: 69%
Owners: 144,361 ± 10,651
Players in the last 2 weeks: 2,879 ± 1,504 (1.99%)
Players total: 100,970 ± 8,908 (69.94%)
Followers: 9,964
Peak concurrent players yesterday: 80
YouTube stats: 4 views and 0 comments for videos uploaded last week, 0 new videos uploaded yesterday.
Playtime in the last 2 weeks: 02:44 (average) 02:18 (median)
Playtime total: 07:25 (average) 05:28 (median)

Steam Spy is still in beta, so expect major bugs.
Peak daily concurrent players:
CCU data courtesy of SteamDB. Used with permission.
Hourly concurrent players:
YouTube:
The views data is based on top 50 videos uploaded last week. Actual number of views might be more than the number shown.

The displayed number of videos uploaded yesterday is limited to 50, so if there were more videos uploaded, the number will still show 50.

If the game has commonly used word as its name (like "FEAR" or "Volume") its number of Youtube views might be wrong.
Games similar to this one:
#
Game
Release date

Price

Score rank
(Userscore / Metascore)

Owners

Players

Playtime (Median)

1
DEADBOLT
Mar 14, 2016
$6.99
95% (96%/76%)
112,075 ±9,385
68,273 ±7,325
07:22 (03:52)
2
Wallpaper Engine
Oct 10, 2016
$3.99
95% (96%)
2,581,018 ±44,904
2,551,816 ±44,651
15:53 (03:43)
3
Lowglow
Dec 3, 2015
$1.59
N/A (N/A)
106,934 ±9,167
74,237 ±7,638
04:23 (03:34)
4
Cook, Serve, Delicious!
Oct 8, 2013
$1.99
92% (95%)
435,962 ±18,503
283,375 ±14,920
08:01 (03:00)
5
Hot Dogs, Horseshoes & Hand Grenades
Apr 5, 2016
$19.99
92% (95%)
44,624 ±5,922
44,007 ±5,881
08:13 (04:31)
6
Clone Drone in the Danger Zone
Mar 16, 2017
$10.04
92% (95%)
26,117 ±4,531
26,117 ±4,531
13:33 (06:53)
7
The Sexy Brutale
Apr 11, 2017
$13.39
92% (95%/83%)
16,451 ±3,596
11,310 ±2,981
06:47 (05:52)
8
20XX
Nov 25, 2014
$11.99
92% (95%)
50,177 ±6,280
45,447 ±5,976
11:18 (03:38)
9
Oh...Sir! The Hollywood Roast
May 31, 2017
$3.39
92% (95%)
5,964 ±2,165
5,552 ±2,089
02:37 (02:09)
10
The Dweller
May 19, 2016
$0.49
89% (94%)
63,543 ±7,067
35,987 ±5,318
02:58 (03:09)
11
Little Inferno
Nov 19, 2012
$4.99
89% (94%/68%)
774,038 ±24,645
497,860 ±19,771
05:44 (03:24)
12
Universe Sandbox
Aug 24, 2015
$16.74
86% (93%)
252,940 ±14,097
245,537 ±13,889
14:15 (03:18)
13
Sky Rogue
Jul 30, 2015
$6.99
86% (93%)
23,649 ±4,311
22,004 ±4,159
05:08 (02:47)
14
SimplePlanes
Dec 17, 2015
$7.79
82% (92%/67%)
173,562 ±11,678
159,990 ±11,212
18:57 (04:27)
15
Bye-Bye, Wacky Planet
Nov 4, 2016
$2.49
82% (92%)
141,276 ±10,536
94,390 ±8,613
03:56 (04:00)
16
Paint the Town Red
Oct 13, 2015
$10.49
82% (92%)
188,163 ±12,159
186,312 ±12,099
11:36 (05:12)
17
Impossiball
Sep 28, 2016
$0.89
N/A (N/A)
14,806 ±3,411
12,133 ±3,088
02:32 (03:02)
18
FOTONICA
Nov 6, 2014
$1.29
74% (90%/71%)
90,071 ±8,413
47,298 ±6,097
03:47 (01:49)
19
Northgard
Feb 22, 2017
$16.99
74% (90%)
214,485 ±12,981
202,352 ±12,609
08:37 (04:22)
20
Human: Fall Flat
Jul 22, 2016
$5.99
74% (90%/70%)
101,382 ±8,926
88,221 ±8,327
05:38 (03:14)
21
Uncompromising Trash
Feb 11, 2017
$0.99
N/A (N/A)
92,333 ±8,518
75,265 ±7,691
03:32 (03:30)
22
Tasty Blue
Feb 10, 2015
$4.19
70% (89%)
18,097 ±3,771
17,685 ±3,728
05:21 (03:45)
23
HardCube
Jun 30, 2016
$0.61
N/A (N/A)
66,834 ±7,247
57,169 ±6,703
03:33 (03:30)
24
WALLSLIDE
Jul 14, 2016
$1.99
N/A (N/A)
14,601 ±3,387
14,189 ±3,339
02:57 (03:29)
25
Stories Untold
Feb 27, 2017
$4.99
67% (88%/81%)
18,097 ±3,771
10,899 ±2,927
03:43 (02:52)
26
Phoenix Force
Nov 13, 2014
$0.49
64% (87%)
62,927 ±7,032
48,532 ±6,176
03:56 (02:50)
27
Plantera
Jan 28, 2016
$0.59
64% (87%)
139,837 ±10,483
100,559 ±8,890
15:51 (03:19)
28
Horizon Shift
May 29, 2015
$0.74
N/A (N/A)
132,022 ±10,186
78,350 ±7,847
03:15 (03:03)
29
ANIMALITY
Feb 2, 2017
$1.59
N/A (N/A)
104,878 ±9,079
89,454 ±8,385
03:09 (03:15)
30
Lobotomy Corporation | Monster Management Simulation
Dec 16, 2016
$14.99
61% (86%)
18,713 ±3,835
18,097 ±3,771
06:58 (03:32)
31
Another Brick in the Mall
Nov 3, 2016
$9.74
58% (85%)
43,596 ±5,854
42,157 ±5,756
09:33 (06:29)
32
Fly O'Clock
Jul 8, 2016
$0.49
58% (85%)
65,189 ±7,158
40,306 ±5,628
02:58 (03:01)
33
Turbo Pug DX
Sep 26, 2016
$0.49
58% (85%)
180,348 ±11,904
120,095 ±9,715
03:22 (03:29)
34
State of Anarchy
Apr 27, 2016
$0.49
58% (85%)
166,570 ±11,441
101,382 ±8,926
03:06 (03:06)
35
Once in Yaissor
Nov 9, 2016
$0.49
56% (84%)
65,600 ±7,180
61,693 ±6,963
05:28 (06:31)
36
Munin
Jun 10, 2014
$0.49
56% (84%/68%)
80,817 ±7,970
37,838 ±5,453
03:30 (02:32)
37
Jalopy
Apr 22, 2016
$8.7
53% (83%)
82,668 ±8,060
77,938 ±7,826
07:17 (03:21)
38
Dragon Kingdom War
Feb 10, 2017
$6.99
N/A (N/A)
5,347 ±2,050
3,085 ±1,557
04:16 (05:14)
39
Jet Racing Extreme
Jul 14, 2015
$2.79
N/A (N/A)
244,098 ±13,848
132,228 ±10,194
04:25 (05:56)
40
We Need To Go Deeper
Feb 8, 2017
$6.49
51% (82%)
30,846 ±4,924
28,584 ±4,740
04:58 (03:46)
41
Millie
Apr 18, 2014
$0.51
51% (82%)
151,558 ±10,913
94,801 ±8,631
04:35 (02:53)
42
Grimoire: Manastorm
Feb 4, 2015
$9.99
49% (81%)
220,037 ±13,148
113,926 ±9,462
02:38 (02:30)
43
FEMINAZI: The Triggering
Feb 20, 2017
$0.49
49% (81%)
54,495 ±6,544
45,653 ±5,990
03:06 (03:20)
44
Outrunner
Apr 12, 2017
$0.99
N/A (N/A)
72,592 ±7,553
67,656 ±7,292
04:33 (04:31)
45
Frederic: Resurrection of Music Director's Cut
Apr 21, 2016
$0.59
49% (81%)
69,507 ±7,391
40,717 ±5,657
03:11 (03:16)
46
No Time To Live
Sep 30, 2015
$0.49
49% (81%)
39,072 ±5,542
36,193 ±5,333
03:41 (03:31)
47
Heavenly Battle
Jun 15, 2016
$0.99
N/A (N/A)
90,894 ±8,452
75,059 ±7,680
03:26 (03:30)
48
GearCity
May 30, 2014
$12.74
46% (80%)
18,919 ±3,856
18,097 ±3,771
27:48 (03:36)
49
Space Distant
Dec 20, 2016
$0.5
46% (80%)
43,596 ±5,854
35,782 ±5,303
05:37 (06:29)
50
NGHTMN
May 1, 2017
$0.49
N/A (N/A)
72,386 ±7,542
64,983 ±7,146
04:28 (04:31)
51
Life Beetle
Apr 18, 2017
$0.49
44% (79%)
18,302 ±3,793
11,927 ±3,062
02:41 (03:13)
52
Interstellar Rift
Jun 23, 2015
$9.89
44% (79%)
27,762 ±4,671
25,911 ±4,513
19:35 (03:05)
53
Microsoft Flight Simulator X: Steam Edition
Dec 18, 2014
$11.99
44% (79%)
844,368 ±25,738
748,333 ±24,233
63:28 (05:25)
54
Depth Hunter 2: Deep Dive
Aug 20, 2014
$4.49
40% (77%)
192,893 ±12,311
91,922 ±8,499
03:13 (01:36)
55
Shoppe Keep
May 20, 2016
$6.69
40% (77%)
253,351 ±14,108
135,518 ±10,320
06:44 (03:32)
56
Kings under the hill
Feb 1, 2017
$0.49
N/A (N/A)
55,523 ±6,606
50,382 ±6,293
03:33 (03:30)
57
Dead In Bermuda
Aug 27, 2015
$5.99
36% (75%)
30,641 ±4,907
20,976 ±4,060
05:35 (03:18)
58
Pixel Puzzles: UndeadZ
Jun 6, 2014
$0.69
36% (75%)
183,639 ±12,012
111,253 ±9,350
04:44 (04:33)
59
Elements II: Hearts of Light
Apr 1, 2016
$0.49
N/A (N/A)
128,115 ±10,034
80,406 ±7,949
03:52 (03:31)
60
Hard Room
Jan 21, 2016
$0.5
N/A (N/A)
156,083 ±11,075
84,108 ±8,130
02:52 (03:15)
61
mr.President Prologue Episode
Sep 20, 2016
$0.49
N/A (N/A)
29,613 ±4,824
25,294 ±4,459
03:16 (03:30)
62
Heckabomb
Feb 27, 2015
$0.59
N/A (N/A)
129,349 ±10,082
86,575 ±8,249
03:40 (03:07)
63
NORTH
Apr 27, 2016
$0.59
17% (61%)
144,155 ±10,643
112,486 ±9,402
03:26 (03:30)
64
The Next Door
Mar 22, 2016
$0.79
N/A (N/A)
210,578 ±12,863
152,998 ±10,965
06:06 (03:30)
65
Neon Space ULTRA
Jun 1, 2016
$0.5
N/A (N/A)
63,955 ±7,090
45,653 ±5,990
03:20 (03:28)
66
The Tower Of Elements
Aug 5, 2015
$0.99
N/A (N/A)
263,222 ±14,380
144,978 ±10,674
03:48 (03:58)
67
BoneBone: Rise of the Deathlord
Jun 17, 2016
$0.99
N/A (N/A)
109,607 ±9,281
94,595 ±8,622
03:27 (03:27)
68
Cosmic Dust & Rust
May 17, 2016
$0.49
13% (56%)
217,981 ±13,087
142,716 ±10,590
03:21 (03:30)
69
Creature Clicker - Capture, Train, Ascend!
Apr 28, 2017
$1.59
12% (54%)
73,620 ±7,606
64,572 ±7,124
03:49 (03:30)
70
Fall of Civilization
Sep 19, 2016
$0.69
N/A (N/A)
70,947 ±7,467
44,007 ±5,881
03:55 (03:23)
71
Invasion
Sep 18, 2015
$0.49
10% (52%)
228,057 ±13,386
121,123 ±9,756
04:08 (04:29)
72
Gone In November
Aug 18, 2016
$0.49
10% (52%)
114,954 ±9,505
99,325 ±8,835
03:28 (03:30)
73
ZRoll
Apr 17, 2017
$0.66
N/A (N/A)
130,994 ±10,146
118,039 ±9,631
03:31 (03:30)
74
Drayt Empire
Jul 16, 2016
$0.49
9% (50%)
195,360 ±12,389
141,071 ±10,529
03:25 (03:30)
75
King's Guard TD
Jun 8, 2016
$0.69
N/A (N/A)
121,740 ±9,781
86,781 ±8,258
03:29 (03:03)
76
Jumping Tank
Jan 20, 2017
$0.49
N/A (N/A)
165,748 ±11,412
154,026 ±11,001
03:58 (04:01)
77
Final Quest
Aug 17, 2016
$0.49
N/A (N/A)
166,159 ±11,426
115,365 ±9,522
03:37 (03:30)
78
VoxreD
Sep 30, 2016
$0.49
N/A (N/A)
42,157 ±5,756
34,342 ±5,195
05:50 (06:31)
79
Zombie Boom
Aug 23, 2016
$0.51
9% (50%)
525,622 ±20,314
289,544 ±15,082
03:55 (04:14)
80
The Falling Sun
Apr 7, 2015
$4.99
8% (49%)
89,660 ±8,394
67,039 ±7,259
03:56 (03:23)
81
Endorlight
Apr 26, 2016
$0.5
8% (49%)
468,042 ±19,171
303,323 ±15,436
04:51 (04:20)
82
Lup
Apr 1, 2016
$0.49
8% (48%)
301,472 ±15,389
186,929 ±12,119
03:36 (03:30)
83
Ninja Stealth 2
Jan 30, 2017
$0.49
N/A (N/A)
18,508 ±3,814
11,310 ±2,981
02:42 (02:38)
84
Make it indie!
Apr 1, 2015
$0.49
7% (47%)
264,250 ±14,408
207,699 ±12,775
05:06 (03:30)
85
Clergy Splode
Sep 17, 2015
$0.49
7% (47%)
249,239 ±13,993
182,610 ±11,979
03:34 (03:30)
86
Starship Annihilator
Sep 2, 2016
$0.49
N/A (N/A)
7,609 ±2,445
4,935 ±1,969
03:27 (03:21)
87
Insincere
May 12, 2016
$0.79
6% (45%)
122,357 ±9,806
73,826 ±7,617
04:32 (03:34)
88
PERFECT ANGLE: The puzzle game based on optical illusions
Dec 22, 2015
$4.99
N/A (N/A)
77,938 ±7,826
60,253 ±6,881
04:12 (04:04)
89
Nuclear Shot
Sep 7, 2015
$0.49
6% (44%)
111,047 ±9,342
67,656 ±7,292
05:40 (05:24)
90
Dear RED - Extended
Apr 12, 2016
$0.59
N/A (N/A)
157,316 ±11,118
135,107 ±10,304
03:45 (03:30)
91
Neon Hardcorps
May 30, 2016
$0.49
6% (43%)
242,864 ±13,813
161,018 ±11,248
03:34 (03:30)
92
Star Drifter
Jun 1, 2016
$0.49
6% (43%)
179,731 ±11,884
133,051 ±10,225
03:39 (03:30)
93
Retention
Jan 13, 2015
$0.49
5% (41%)
230,114 ±13,446
177,469 ±11,809
03:29 (03:30)
94
Conclusion
Aug 5, 2016
$0.49
3% (37%)
136,752 ±10,366
128,115 ±10,034
03:27 (03:30)
95
Eaten Alive
Sep 30, 2015
$0.49
3% (36%)
223,122 ±13,240
169,449 ±11,539
03:44 (03:30)
96
Final Quest II
Oct 18, 2016
$0.49
N/A (N/A)
151,970 ±10,928
113,720 ±9,453
03:40 (03:30)
97
Magdalena
Feb 22, 2016
$0.5
3% (34%)
146,212 ±10,719
129,143 ±10,074
03:31 (03:30)
98
Rise of the Ancients
May 31, 2016
$0.5
2% (32%)
92,950 ±8,547
71,564 ±7,500
03:16 (03:27)
99
Bell Ringer
Mar 18, 2016
$6.99
N/A (N/A)
135,313 ±10,312
80,201 ±7,939
03:57 (03:58)
100
The Last Hope
Aug 29, 2016
$0.49
N/A (N/A)
285,843 ±14,985
207,082 ±12,756
03:27 (03:30)
101
Time Of Silence
Dec 6, 2016
$0.49
N/A (N/A)
62,721 ±7,021
52,233 ±6,407
03:23 (03:30)
102
Night Forest
Nov 8, 2016
$0.49
N/A (N/A)
105,906 ±9,123
94,801 ±8,631
03:34 (03:30)
103
Hero Quest: Tower Conflict
Apr 13, 2016
$0.49
2% (30%)
102,204 ±8,962
70,124 ±7,424
03:37 (03:24)
104
Forbidden planet
Jan 11, 2016
$0.49
2% (30%)
191,042 ±12,252
149,502 ±10,839
04:43 (03:31)
105
Godus
Free
2% (29%)
307,847 ±15,551
275,766 ±14,719
20:08 (07:37)
106
Catacomb Explorers
Oct 22, 2016
$0.49
N/A (N/A)
186,518 ±12,106
168,421 ±11,504
03:30 (03:30)
107
Locked-in syndrome
Jan 7, 2016
$1.49
N/A (N/A)
168,010 ±11,490
109,813 ±9,290
03:20 (03:30)
108
Western Adventure
Dec 3, 2016
$0.49
N/A (N/A)
152,175 ±10,935
141,893 ±10,559
03:39 (03:30)