App

Holy Potatoes! A Weapon Shop?!
Holy Potatoes! A Weapon Shop?!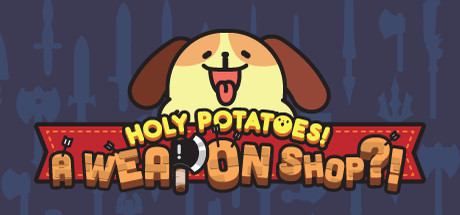 Store | Hub | SteamDB | Site
Developer: Daylight Studios Publisher: Daedalic Entertainment, Daylight Studios
Genre: Indie, Simulation
Languages: English, Japanese, French, German, Russian, Simplified Chinese
Tags: Indie (45), Simulation (36), Management (34), Casual (30), Funny (18), Singleplayer (17), RPG (13), Crafting (8)
Category: Single-player, Steam Achievements, Steam Trading Cards, Steam Cloud
Release date: Jul 13, 2015
Price: $14.99
Score rank: 35% Userscore: 74% Old userscore: 75% Metascore: 69%
Owners: 193,697 ± 13,528
Players in the last 2 weeks: 3,459 ± 1,808 (1.79%)
Players total: 132,920 ± 11,207 (68.62%)
Followers: 10,083
Peak concurrent players yesterday: 38
YouTube stats: 11 views and 0 comments for videos uploaded last week, 0 new videos uploaded yesterday.
Playtime in the last 2 weeks: 01:30 (average) 00:25 (median)
Playtime total: 06:55 (average) 04:28 (median)

Steam Spy is still in beta, so expect major bugs.
Peak daily concurrent players:
CCU data courtesy of SteamDB. Used with permission.
Hourly concurrent players:
YouTube:
The views data is based on top 50 videos uploaded last week. Actual number of views might be more than the number shown.

The displayed number of videos uploaded yesterday is limited to 50, so if there were more videos uploaded, the number will still show 50.

If the game has commonly used word as its name (like "FEAR" or "Volume") its number of Youtube views might be wrong.
Games similar to this one:
#
Game
Release date

Price

Score rank
(Userscore / Metascore)

Owners

Players

Playtime (Median)

1
Factorio
Feb 25, 2016
$20
99% (98%)
1,080,900 ±31,928
1,061,876 ±31,646
88:44 (32:46)
2
The Binding of Isaac: Rebirth
Nov 4, 2014
$14.99
97% (97%)
2,029,868 ±43,709
1,973,291 ±43,098
112:54 (42:15)
3
Wallpaper Engine
Oct 10, 2016
$3.99
95% (96%)
3,464,315 ±57,014
3,427,749 ±56,714
16:30 (04:15)
4
Hot Dogs, Horseshoes & Hand Grenades
Apr 5, 2016
$19.99
95% (96%)
69,178 ±8,085
66,213 ±7,910
07:30 (04:10)
5
Conquest of Elysium 4
Nov 16, 2015
$24.99
85% (93%)
14,824 ±3,743
12,106 ±3,382
23:46 (10:40)
6
Prison Architect
Oct 6, 2015
$29.99
85% (93%/83%)
2,413,309 ±47,639
2,207,506 ±45,573
29:45 (11:21)
7
Paint the Town Red
Oct 13, 2015
$14.99
81% (92%)
203,580 ±13,869
201,109 ±13,784
12:26 (05:58)
8
Software Inc.
May 1, 2015
$13.99
81% (92%)
92,649 ±9,357
91,166 ±9,282
23:07 (10:07)
9
American Truck Simulator
Feb 2, 2016
$19.99
81% (92%/76%)
815,554 ±27,741
765,648 ±26,880
51:44 (17:45)
10
Niche - a genetics survival game
Sep 21, 2017
$17.99
77% (91%)
65,966 ±7,896
64,483 ±7,806
15:13 (04:50)
11
Caveblazers
May 24, 2017
$9.99
74% (90%)
124,767 ±10,858
54,601 ±7,183
10:33 (04:24)
12
Planet Coaster
Nov 17, 2016
$44.99
71% (89%/84%)
914,132 ±29,367
887,944 ±28,944
26:00 (10:15)
13
My Summer Car
Oct 24, 2016
$14.99
71% (89%)
293,511 ±16,651
286,593 ±16,454
22:05 (09:04)
14
Bye-Bye, Wacky Planet
Nov 4, 2016
$1.24
65% (87%)
223,592 ±14,534
174,920 ±12,856
03:54 (04:01)
15
ASTRONEER
Dec 15, 2016
$19.99
59% (85%)
805,672 ±27,573
788,130 ±27,271
12:27 (07:18)
16
Idling to Rule the Gods
May 27, 2016
Free
56% (84%)
81,284 ±8,764
43,483 ±6,410
324:29 (26:57)
17
Another Brick in the Mall
Nov 3, 2016
$12.99
54% (83%)
54,848 ±7,200
53,613 ±7,118
11:41 (06:26)
18
Weapon Shop Fantasy
Mar 27, 2017
$6.99
51% (82%)
59,295 ±7,486
55,342 ±7,232
19:43 (10:24)
19
Lobotomy Corporation | Monster Management Simulation
Dec 16, 2016
$19.99
49% (81%)
19,765 ±4,322
19,024 ±4,240
13:05 (03:12)
20
Microsoft Flight Simulator X: Steam Edition
Dec 18, 2014
$24.99
45% (79%)
919,074 ±29,446
810,119 ±27,649
71:58 (06:04)
21
SimAirport
Mar 6, 2017
$19.99
33% (73%)
71,648 ±8,229
70,660 ±8,172
21:25 (10:14)
22
Construction Simulator 2015
Nov 18, 2014
$14.99
30% (71%)
355,523 ±18,325
347,617 ±18,120
28:11 (11:03)
23
Power-Up
Aug 29, 2014
$2.99
N/A (N/A)
143,049 ±11,626
92,896 ±9,369
05:22 (05:56)
24
Starship Theory
Jul 4, 2017
$11.99
24% (67%)
19,271 ±4,267
18,530 ±4,185
13:01 (08:09)
25
Mad Dagger
Apr 1, 2017
$0.62
24% (67%)
174,426 ±12,838
162,814 ±12,403
04:32 (04:31)
26
Train Simulator
Sep 17, 2015
$24.99
20% (63%)
1,055,699 ±31,554
930,191 ±29,623
65:58 (07:57)
27
Shroud of the Avatar: Forsaken Virtues
Nov 24, 2014
$39.99
10% (52%)
38,789 ±6,055
35,083 ±5,758
57:25 (03:52)
28
Godus
N/A
1% (28%)
308,581 ±17,073
275,475 ±16,132
20:02 (07:26)
29
Wooden House
Sep 5, 2016
$0.74
1% (25%)
131,437 ±11,144
120,814 ±10,685
03:56 (04:01)
30
Invisible Mind
Aug 10, 2016
$4.99
N/A (N/A)
212,227 ±14,160
187,521 ±13,311
06:14 (06:32)
Geography of active players over time, share:
Geography of active players over time, total numbers: