App

Holy Potatoes! A Weapon Shop!
Holy Potatoes! A Weapon Shop!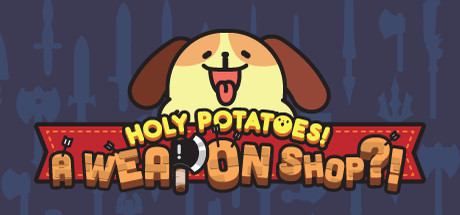 Store | Hub | SteamDB | Site
Developer: Daylight Studios Publisher: Daedalic Entertainment, Daylight Studios
Genre: Indie, Simulation
Languages: English, Japanese, French, German
Tags: Indie (45), Simulation (34), Management (30), Casual (27), Funny (16), Singleplayer (15), RPG (15), Crafting (6)
Category: Single-player, Steam Achievements, Steam Trading Cards, Steam Cloud
Release date: Jul 13, 2015
Price: $14.99
Score rank: 45% Userscore: 80% Old userscore: 75% Metascore: 69%
Owners: 145,559 ± 15,228
Players in the last 2 weeks: 2,724 ± 2,176 (1.87%)
Players total: 106,050 ± 12,999 (72.86%)
Peak concurrent players yesterday: 18
Playtime in the last 2 weeks: 01:57 (average) 02:16 (median)
Playtime total: 06:46 (average) 05:24 (median)

Steam Spy is still in beta, so expect major bugs.
Peak daily concurrent players:
CCU data courtesy of SteamDB. Used with permission.
Hourly concurrent players:
YouTube:
The views data is based on top 50 videos uploaded last week. Actual number of views might be more than the number shown.

The displayed number of videos uploaded yesterday is limited to 50, so if there were more videos uploaded, the number will still show 50.

If the game has commonly used word as its name (like "FEAR" or "Volume") its number of Youtube views might be wrong.
Games similar to this one:
#
Game
Release date

Price

Score rank
(Userscore / Metascore)

Owners

Players

Playtime (Median)

1
Factorio
Feb 25, 2016
$20
99% (98%)
828,025 ±36,289
807,231 ±35,831
59:58 (26:59)
2
Bit Blaster XL
Jan 22, 2016
$0.99
99% (98%)
193,386 ±17,551
125,181 ±14,122
01:51 (00:44)
3
The Binding of Isaac: Rebirth
Nov 4, 2014
$14.99
97% (97%)
1,834,464 ±53,943
1,777,488 ±53,103
104:38 (41:20)
4
Game Dev Tycoon
Aug 29, 2013
$9.99
94% (96%/68%)
1,296,726 ±45,385
1,247,652 ±44,520
13:31 (07:29)
5
20XX
Nov 25, 2014
$14.99
94% (96%)
49,906 ±8,918
42,004 ±8,181
12:28 (03:49)
6
Cook, Serve, Delicious!
Oct 8, 2013
$9.99
94% (96%)
413,389 ±25,654
276,563 ±20,987
08:42 (03:35)
7
Dino Run DX
Sep 29, 2015
$5.99
94% (96%)
37,845 ±7,766
27,448 ±6,613
03:09 (02:22)
8
Wallpaper Engine
Oct 10, 2016
$3.99
94% (96%)
1,762,100 ±52,874
1,732,988 ±52,437
09:58 (02:53)
9
DEADBOLT
Mar 14, 2016
$9.99
94% (96%/76%)
117,279 ±13,669
69,037 ±10,488
06:13 (03:58)
10
Hot Dogs, Horseshoes & Hand Grenades
Apr 5, 2016
$19.99
91% (95%)
40,341 ±8,018
39,509 ±7,934
05:46 (03:29)
11
Little Inferno
Nov 19, 2012
$9.99
91% (95%/68%)
798,081 ±35,628
511,121 ±28,522
04:52 (03:27)
12
Thumper
Oct 10, 2016
$15.99
91% (95%/85%)
46,579 ±8,615
42,420 ±8,222
03:21 (01:49)
13
Trickster VR
Aug 12, 2016
$12.99
91% (95%)
11,645 ±4,308
8,734 ±3,730
02:31 (00:37)
14
Oh...Sir! The Insult Simulator
Oct 25, 2016
$1.99
91% (95%/64%)
134,746 ±14,652
122,686 ±13,981
04:57 (01:33)
15
Universe Sandbox
Aug 24, 2015
$24.99
91% (95%)
235,390 ±19,363
229,568 ±19,122
11:12 (03:52)
16
Software Inc.
May 1, 2015
$13.99
87% (94%)
71,532 ±10,676
70,284 ±10,583
22:35 (12:42)
17
Velocibox
Sep 8, 2014
$7.99
87% (94%)
78,186 ±11,161
47,411 ±8,692
03:32 (02:24)
18
SimplePlanes
Dec 17, 2015
$12.99
87% (94%/67%)
124,765 ±14,099
117,695 ±13,694
13:41 (04:41)
19
Prison Architect
Oct 6, 2015
$29.99
87% (94%/83%)
2,202,105 ±59,074
2,002,065 ±56,341
28:22 (10:28)
20
Paint the Town Red
Oct 13, 2015
$9.99
87% (94%)
174,671 ±16,681
172,176 ±16,561
09:33 (05:10)
21
oO
Jul 6, 2015
$0.99
87% (94%)
37,430 ±7,723
21,210 ±5,814
01:51 (01:38)
22
Orwell
Oct 27, 2016
$9.99
87% (94%/77%)
65,294 ±10,200
53,233 ±9,210
04:28 (03:17)
23
Sky Rogue
Jul 30, 2015
$9.99
87% (94%)
22,042 ±5,926
19,962 ±5,640
06:33 (03:08)
24
Conquest of Elysium 4
Nov 16, 2015
$24.99
87% (94%)
10,397 ±4,070
8,318 ±3,640
28:20 (06:10)
25
Genital Jousting
Nov 17, 2016
$4.99
87% (94%)
150,550 ±15,487
128,092 ±14,285
00:59 (00:44)
26
Catlateral Damage
May 27, 2015
$9.99
87% (94%)
49,906 ±8,918
37,845 ±7,766
01:56 (01:07)
27
GoNNER
Oct 12, 2016
$9.99
87% (94%/81%)
15,388 ±4,952
12,477 ±4,459
02:23 (00:58)
28
American Truck Simulator
Feb 2, 2016
$19.99
84% (93%/76%)
557,284 ±29,781
539,401 ±29,300
48:19 (17:36)
29
WayOut
Nov 4, 2016
$0.99
84% (93%)
20,794 ±5,756
15,804 ±5,018
02:43 (02:23)
30
Boson X
Sep 15, 2014
$2.99
84% (93%)
84,009 ±11,570
69,868 ±10,551
05:07 (02:38)
31
LUFTRAUSERS
Mar 18, 2014
$9.99
81% (92%/80%)
377,623 ±24,520
261,175 ±20,395
03:33 (01:57)
32
Rivals of Aether
Sep 22, 2015
$14.99
81% (92%)
113,536 ±13,450
111,041 ±13,301
13:31 (05:50)
33
Pavlov
Feb 27, 2017
$9.99
81% (92%)
11,645 ±4,308
9,565 ±3,904
02:28 (03:22)
34
Parkitect
May 5, 2016
$17.99
81% (92%)
61,135 ±9,870
59,471 ±9,735
07:27 (03:11)
35
After The End: The Harvest
Jul 10, 2015
$4.99
N/A (N/A)
21,626 ±5,870
416 ±814
00:02 (00:00)
36
Serious Sam Classics: Revolution
Apr 30, 2014
$9.99
81% (92%)
722,390 ±33,899
126,013 ±14,169
02:57 (00:53)
37
My Summer Car
Oct 24, 2016
$14.99
77% (91%)
203,367 ±17,998
197,961 ±17,758
17:06 (07:41)
38
Ratz Instagib 2.0
Jul 27, 2016
$8.99
77% (91%)
66,541 ±10,297
49,490 ±8,880
03:55 (03:05)
39
Northgard
Feb 22, 2017
$19.99
77% (91%)
90,247 ±11,991
86,088 ±11,712
06:09 (04:11)
40
12 orbits
Oct 24, 2016
$1.99
N/A (N/A)
6,238 ±3,153
4,159 ±2,574
01:48 (01:42)
41
Astroneer Alpha
Dec 15, 2016
$19.99
77% (91%)
711,577 ±33,645
697,437 ±33,310
09:57 (06:48)
42
Amazing Frog
Nov 21, 2014
$15.99
73% (90%)
45,747 ±8,538
44,500 ±8,421
34:38 (10:03)
43
Sword With Sauce: Alpha
Jan 27, 2017
$2.99
73% (90%)
69,453 ±10,520
64,462 ±10,135
02:38 (01:13)
44
Corporate Lifestyle Simulator
Mar 12, 2014
$4.99
73% (90%)
97,733 ±12,479
31,607 ±7,097
00:43 (00:21)
45
BIT.TRIP RUNNER
Feb 28, 2011
$9.99
73% (90%)
802,240 ±35,720
558,116 ±29,803
02:47 (01:06)
46
Planet Coaster ®
Nov 17, 2016
$44.99
73% (90%/84%)
647,115 ±32,088
627,985 ±31,611
21:07 (09:43)
47
Another Adventure
Mar 10, 2017
$1.99
73% (90%)
31,191 ±7,050
25,369 ±6,358
01:08 (01:10)
48
Nihilumbra
Oct 25, 2013
$2.39
73% (90%/75%)
188,395 ±17,324
107,714 ±13,100
03:47 (02:35)
49
Project Nimbus
Nov 5, 2014
$11.24
73% (90%)
24,537 ±6,253
21,626 ±5,870
03:19 (04:56)
50
Serious Sam VR: The Last Hope
Oct 17, 2016
$39.99
69% (89%)
24,121 ±6,200
22,042 ±5,926
08:19 (03:04)
51
EVERSPACE™
Sep 14, 2016
$23.99
66% (88%)
52,817 ±9,174
50,322 ±8,955
06:21 (03:31)
52
State of Anarchy
Apr 27, 2016
$1.99
66% (88%)
96,485 ±12,399
61,551 ±9,903
02:52 (02:39)
53
Plantera
Jan 28, 2016
$2.99
66% (88%)
131,835 ±14,493
97,733 ±12,479
15:44 (03:04)
54
Horizon Shift
May 29, 2015
$1.69
N/A (N/A)
115,200 ±13,548
69,868 ±10,551
03:49 (03:17)
55
Astrox: Hostile Space Excavation
Nov 30, 2015
$9.99
66% (88%)
17,467 ±5,276
15,388 ±4,952
11:23 (03:46)
56
Another Brick in the Mall
Nov 3, 2016
$12.99
63% (87%)
20,378 ±5,698
19,547 ±5,581
08:41 (08:07)
57
CHKN
Apr 1, 2016
$14.99
60% (86%)
21,626 ±5,870
21,210 ±5,814
04:11 (05:03)
58
Jalopy
Apr 22, 2016
$12.99
60% (86%)
60,719 ±9,836
58,640 ±9,666
06:52 (03:50)
59
Guts and Glory
Feb 15, 2017
$9.99
60% (86%)
12,061 ±4,384
11,229 ±4,230
01:44 (01:06)
60
Squishy the Suicidal Pig
Oct 23, 2014
$1.99
57% (85%)
362,235 ±24,016
273,652 ±20,876
02:31 (00:49)
61
TIMEframe
Jul 7, 2015
$7.99
57% (85%)
84,424 ±11,598
11,229 ±4,230
01:45 (01:51)
62
Zolg
Dec 2, 2016
$0.99
N/A (N/A)
14,556 ±4,816
7,902 ±3,548
03:04 (02:26)
63
Streamline
Sep 30, 2016
$19.99
57% (85%)
582,653 ±30,450
224,161 ±18,896
03:10 (02:44)
64
Fovos VR
Jan 3, 2017
Free
N/A (N/A)
6,654 ±3,256
3,327 ±2,302
00:11 (00:14)
65
Surgeon Simulator
Apr 19, 2013
$9.99
54% (84%/71%)
1,740,058 ±52,543
1,495,934 ±48,734
03:34 (01:54)
66
Once in Yaissor
Nov 9, 2016
$0.99
54% (84%)
25,369 ±6,358
23,705 ±6,146
05:08 (05:22)
67
Murder Miners
Jul 25, 2014
$0.49
54% (84%)
451,234 ±26,801
215,012 ±18,506
02:43 (00:40)
68
Super Galaxy Squadron
Jan 23, 2015
$11.99
54% (84%)
85,256 ±11,655
20,794 ±5,756
02:24 (01:42)
69
Warbands: Bushido
Nov 29, 2016
$5.99
54% (84%)
9,565 ±3,904
7,486 ±3,454
11:52 (04:22)
70
Endless Space® 2
Oct 6, 2016
$29.99
54% (84%)
57,808 ±9,597
52,817 ±9,174
12:52 (07:28)
71
Block'hood
Mar 9, 2016
$9.99
52% (83%)
39,509 ±7,934
36,598 ±7,637
02:34 (02:00)
72
Steep
Dec 2, 2016
$59.99
52% (83%/72%)
96,069 ±12,372
92,326 ±12,129
13:15 (07:09)
73
Shark Attack Deathmatch 2
May 28, 2015
$2.99
52% (83%)
67,373 ±10,361
56,144 ±9,458
01:04 (00:35)
74
Tavern Tycoon
Jan 31, 2017
$10.99
49% (82%)
10,813 ±4,151
9,981 ±3,988
03:08 (04:08)
75
FEMINAZI: The Triggering
Feb 20, 2017
$0.99
49% (82%)
8,318 ±3,640
4,159 ±2,574
01:21 (01:26)
76
Ultimate Booster Experience
Jul 14, 2016
$4.99
49% (82%)
9,981 ±3,988
9,565 ±3,904
03:30 (00:48)
77
Tank Blast
Jul 13, 2016
$0.99
49% (82%)
19,547 ±5,581
4,159 ±2,574
01:53 (00:24)
78
Yore VR
Oct 24, 2016
$14.99
47% (81%)
2,079 ±1,820
1,248 ±1,410
00:23 (00:16)
79
Spore: Galactic Adventures
Jun 23, 2009
$4.99
45% (80%/70%)
756,493 ±34,689
417,132 ±25,770
15:31 (03:03)
80
Jack Lumber
Apr 30, 2013
$4.99
N/A (N/A)
163,026 ±16,115
58,640 ±9,666
01:36 (00:37)
81
I am Bread
Apr 9, 2015
$12.99
45% (80%/60%)
525,677 ±28,925
424,617 ±26,000
02:27 (01:01)
82
Dungeon of Zolthan
May 11, 2016
$0.99
43% (79%)
66,957 ±10,329
48,658 ±8,805
03:26 (02:59)
83
Space Farmers
Apr 17, 2014
$9.99
43% (79%)
241,213 ±19,601
134,331 ±14,629
02:00 (01:26)
84
Jet Racing Extreme
Jul 14, 2015
$3.99
43% (79%)
166,769 ±16,299
68,621 ±10,457
03:12 (01:08)
85
Shift
Aug 16, 2016
$0.99
39% (77%)
20,794 ±5,756
13,724 ±4,676
02:46 (03:02)
86
Lifeliqe VR Museum
Nov 4, 2016
Free
N/A (N/A)
12,892 ±4,532
2,079 ±1,820
00:05 (00:03)
87
City of God I - Prison Empire
Mar 6, 2017
$11.99
35% (75%)
25,785 ±6,410
24,953 ±6,306
16:14 (12:09)
88
Pixel Puzzles: UndeadZ
Jun 6, 2014
$6.99
35% (75%)
146,807 ±15,293
84,009 ±11,570
04:11 (04:38)
89
Monster Loves You!
Mar 18, 2013
$9.99
35% (75%)
233,311 ±19,277
118,943 ±13,766
01:59 (01:23)
90
Really Big Sky
Feb 24, 2012
$4.99
33% (74%)
569,761 ±30,112
306,091 ±22,078
01:48 (01:17)
91
The Deer
Mar 28, 2016
$0.99
31% (73%)
352,670 ±23,697
222,082 ±18,808
03:24 (03:18)
92
Life is Feudal: Forest Village
Aug 26, 2016
$24.99
31% (73%)
59,887 ±9,769
59,056 ±9,700
13:35 (08:02)
93
SimAirport
Mar 6, 2017
$19.99
30% (72%)
12,061 ±4,384
11,229 ±4,230
09:47 (08:11)
94
Crossout
Aug 24, 2016
$29.99
30% (72%)
18,299 ±5,400
17,467 ±5,276
23:08 (17:14)
95
Heavy Gear Assault
Feb 10, 2017
$39.99
N/A (N/A)
18,715 ±5,461
11,645 ±4,308
03:35 (04:25)
96
Hard Room
Jan 21, 2016
$2.99
N/A (N/A)
141,816 ±15,031
71,116 ±10,645
02:52 (03:02)
97
Cubium Dreams
Apr 29, 2016
$4.99
N/A (N/A)
50,322 ±8,955
29,528 ±6,859
03:07 (03:28)
98
Ampu-Tea
May 30, 2014
$4.99
26% (69%)
174,671 ±16,681
126,013 ±14,169
02:37 (02:07)
99
Survivor Squad
Jan 21, 2015
$2.99
24% (68%)
126,013 ±14,169
90,247 ±11,991
04:07 (01:47)
100
Yury
Dec 9, 2014
$1.99
24% (68%)
88,999 ±11,908
53,649 ±9,246
03:34 (03:18)
101
Dark Forester
Feb 9, 2015
$8.99
N/A (N/A)
2,079 ±1,820
832 ±1,151
00:10 (00:06)
102
Train Simulator 2015
Sep 17, 2015
$24.99
19% (64%)
1,000,617 ±39,883
879,594 ±37,399
74:56 (08:37)
103
Overhell
May 28, 2016
$1.99
N/A (N/A)
44,084 ±8,381
34,102 ±7,372
02:53 (03:29)
104
Final Quest
Aug 17, 2016
$0.99
N/A (N/A)
73,196 ±10,799
41,588 ±8,141
03:22 (03:01)
105
Train Fever
Sep 4, 2014
$29.99
18% (63%/67%)
154,709 ±15,699
143,480 ±15,119
54:41 (11:54)
106
AX:EL
Dec 4, 2015
$12.99
N/A (N/A)
50,738 ±8,992
27,032 ±6,563
03:11 (02:59)
107
NORTH
Apr 27, 2016
$1.99
17% (62%)
49,074 ±8,843
32,855 ±7,236
03:14 (03:30)
108
Heckabomb
Feb 27, 2015
$5.99
N/A (N/A)
101,476 ±12,715
64,046 ±10,102
03:20 (03:09)
109
The Tower Of Elements
Aug 5, 2015
$1.99
N/A (N/A)
182,157 ±17,034
70,700 ±10,614
02:55 (02:56)
110
RuneScape: Idle Adventures
Sep 1, 2016
Free
15% (59%)
166,354 ±16,279
133,915 ±14,606
21:47 (03:35)
111
Cosmic Dust & Rust
May 17, 2016
$0.99
15% (59%)
131,835 ±14,493
79,850 ±11,280
03:12 (03:25)
112
Dead Bits
Jun 7, 2014
$0.99
15% (59%)
687,872 ±33,081
456,225 ±26,949
03:27 (02:12)
113
Invasion
Sep 18, 2015
$1.99
N/A (N/A)
152,214 ±15,572
68,621 ±10,457
03:28 (04:12)
114
Torch Cave 2
Sep 28, 2016
$3.99
14% (58%)
42,004 ±8,181
31,191 ±7,050
03:53 (03:36)
115
Drayt Empire
Jul 16, 2016
$0.99
N/A (N/A)
83,593 ±11,541
50,738 ±8,992
03:34 (03:08)
116
RaceRoom Racing Experience
Feb 12, 2013
Free
12% (55%)
3,264,273 ±71,824
1,289,240 ±45,254
04:20 (00:25)
117
Shroud of the Avatar: Forsaken Virtues
Nov 24, 2014
$39.99
12% (55%)
39,093 ±7,893
34,518 ±7,416
24:49 (05:23)
118
Endorlight
Apr 26, 2016
$0.5
11% (54%)
401,744 ±25,291
255,769 ±20,183
04:28 (04:21)
119
King's Guard TD
Jun 8, 2016
$0.99
N/A (N/A)
123,102 ±14,004
83,593 ±11,541
03:23 (02:58)
120
Timber and Stone
Oct 20, 2015
$12.99
9% (51%)
24,121 ±6,200
21,626 ±5,870
12:55 (02:27)
121
Ballistic Protection
Oct 12, 2016
$4.99
9% (51%)
71,116 ±10,645
42,420 ±8,222
03:46 (04:14)
122
Locked-in syndrome
Jan 7, 2016
$2.99
N/A (N/A)
88,583 ±11,880
45,331 ±8,499
02:31 (02:57)
123
Lup
Apr 1, 2016
$0.99
9% (50%)
190,059 ±17,400
87,336 ±11,796
03:07 (03:10)
124
Clergy Splode
Sep 17, 2015
$0.99
8% (49%)
155,125 ±15,720
105,635 ±12,973
03:47 (03:29)
125
Make it indie!
Apr 1, 2015
$0.99
8% (48%)
142,648 ±15,075
98,980 ±12,558
03:33 (03:09)
126
Magazime Editor
Feb 24, 2017
$0.99
N/A (N/A)
29,528 ±6,859
9,981 ±3,988
03:22 (03:17)
127
Blitzkrieg 3
May 6, 2015
$20.99
5% (42%)
51,985 ±9,101
49,490 ±8,880
19:20 (07:56)
128
Canyon Capers
Apr 25, 2014
$6.99
5% (42%)
323,142 ±22,684
197,961 ±17,758
02:50 (02:01)
129
Neon Hardcorps
May 30, 2016
$0.99
N/A (N/A)
145,143 ±15,206
82,761 ±11,483
03:06 (03:00)
130
Cuties
May 29, 2016
$2.99
N/A (N/A)
54,481 ±9,317
34,518 ±7,416
04:08 (03:17)
131
Retention
Jan 13, 2015
$0.99
4% (40%)
145,559 ±15,228
104,803 ±12,922
03:42 (03:17)
132
EeOneGuy Adventure
Jun 9, 2016
$0.99
N/A (N/A)
168,849 ±16,401
86,088 ±11,712
02:19 (03:09)
133
STARUSHKO LUB
Oct 24, 2016
$0.99
N/A (N/A)
46,579 ±8,615
41,588 ±8,141
05:00 (05:26)
134
Final Quest II
Oct 18, 2016
$0.99
N/A (N/A)
66,957 ±10,329
42,420 ±8,222
03:25 (03:06)
135
Eaten Alive
Sep 30, 2015
$0.99
4% (38%)
143,064 ±15,097
103,139 ±12,819
03:45 (02:59)
136
Rise of the Ancients
May 31, 2016
$0.5
3% (37%)
59,887 ±9,769
42,420 ±8,222
03:10 (02:57)
137
Trump Simulator 2017
Feb 11, 2017
$0.99
N/A (N/A)
29,112 ±6,811
27,448 ±6,613
03:30 (03:29)
138
Altar Guardian
Oct 24, 2016
$1.99
N/A (N/A)
12,477 ±4,459
10,813 ±4,151
03:07 (03:25)
139
Western Adventure
Dec 3, 2016
$0.99
N/A (N/A)
38,677 ±7,851
36,182 ±7,593
04:15 (03:39)
140
Piximalism
Dec 13, 2016
$0.99
N/A (N/A)
44,500 ±8,421
40,757 ±8,059
04:10 (03:31)
141
Forbidden planet
Jan 11, 2016
$0.99
N/A (N/A)
112,705 ±13,400
80,681 ±11,338
04:36 (03:32)
142
Wooden House
Sep 5, 2016
$2.99
N/A (N/A)
25,785 ±6,410
21,626 ±5,870
03:35 (03:53)
143
The face of hope: Underground
Oct 28, 2016
$0.99
N/A (N/A)
27,864 ±6,663
25,369 ±6,358
03:29 (03:30)
144
Totem
Aug 30, 2016
$0.59
N/A (N/A)
29,528 ±6,859
22,458 ±5,982
03:11 (03:24)