App

Holy Potatoes! A Weapon Shop?!
Holy Potatoes! A Weapon Shop?!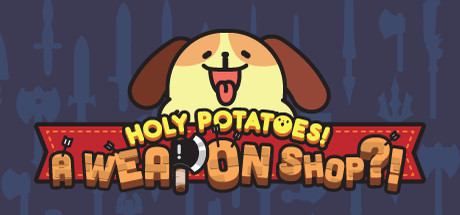 Store | Hub | SteamDB | Site
Developer: Daylight Studios Publisher: Daedalic Entertainment, Daylight Studios
Genre: Indie, Simulation
Languages: English, Japanese, French, German
Tags: Indie (45), Simulation (34), Management (32), Casual (28), Funny (16), Singleplayer (15), RPG (14), Crafting (7)
Category: Single-player, Steam Achievements, Steam Trading Cards, Steam Cloud
Release date: Jul 13, 2015
Price: $14.99
Score rank: 39% Userscore: 76% Old userscore: 75% Metascore: 69%
Owners: 149,698 ± 11,700
Players in the last 2 weeks: 1,913 ± 1,322 (1.28%)
Players total: 100,197 ± 9,572 (66.93%)
Followers: 9,927
Peak concurrent players yesterday: 28
Peak on Twitch yesterday: 4 viewers, 1 channels
Playtime in the last 2 weeks: 03:05 (average) 04:48 (median)
Playtime total: 06:50 (average) 04:22 (median)

Steam Spy is still in beta, so expect major bugs.
Peak daily concurrent players:
CCU data courtesy of SteamDB. Used with permission.
Hourly concurrent players:
YouTube:
The views data is based on top 50 videos uploaded last week. Actual number of views might be more than the number shown.

The displayed number of videos uploaded yesterday is limited to 50, so if there were more videos uploaded, the number will still show 50.

If the game has commonly used word as its name (like "FEAR" or "Volume") its number of Youtube views might be wrong.
Games similar to this one:
#
Game
Release date

Price

Score rank
(Userscore / Metascore)

Owners

Players

Playtime (Median)

1
The Dweller
May 19, 2016
$4.99
97% (97%)
40,653 ±6,098
22,718 ±4,558
02:33 (02:21)
2
Sally Face
Dec 14, 2016
$2.99
97% (97%)
6,935 ±2,518
5,739 ±2,291
01:49 (01:23)
3
DEADBOLT
Mar 14, 2016
$9.99
95% (96%/76%)
115,741 ±10,288
66,001 ±7,769
06:09 (03:35)
4
Intake
Nov 6, 2013
$9.99
95% (96%)
51,414 ±6,857
26,544 ±4,927
05:24 (01:32)
5
Rusty Lake: Roots
Oct 20, 2016
$2.99
95% (96%/75%)
24,870 ±4,769
19,609 ±4,235
05:31 (04:46)
6
Hot Dogs, Horseshoes & Hand Grenades
Apr 5, 2016
$19.99
92% (95%)
49,023 ±6,696
47,588 ±6,597
08:30 (03:26)
7
20XX
Nov 25, 2014
$14.99
92% (95%)
47,349 ±6,581
42,805 ±6,257
14:15 (03:46)
8
Cook, Serve, Delicious!
Oct 8, 2013
$9.99
92% (95%)
436,898 ±19,980
276,200 ±15,890
07:41 (03:04)
9
Little Inferno
Nov 19, 2012
$9.99
89% (94%/68%)
811,622 ±27,220
508,878 ±21,562
04:55 (03:26)
10
8Bit Fiesta
Sep 30, 2016
$7.99
89% (94%)
9,565 ±2,958
7,174 ±2,561
06:31 (03:30)
11
Oh...Sir!! The Insult Simulator
Oct 25, 2016
$1.39
86% (93%/64%)
136,785 ±11,184
121,241 ±10,529
03:04 (01:44)
12
Orwell
Oct 27, 2016
$9.99
86% (93%/77%)
71,262 ±8,073
59,305 ±7,365
04:03 (03:32)
13
SimplePlanes
Dec 17, 2015
$12.99
86% (93%/67%)
153,763 ±11,857
144,676 ±11,502
13:39 (03:39)
14
Universe Sandbox
Aug 24, 2015
$24.99
86% (93%)
235,547 ±14,674
228,851 ±14,464
13:02 (03:21)
15
Absoloot
Mar 15, 2017
$3.99
N/A (N/A)
23,913 ±4,677
20,087 ±4,286
03:10 (03:19)
16
LUFTRAUSERS
Mar 18, 2014
$9.99
83% (92%/80%)
372,571 ±18,452
254,917 ±15,265
03:55 (02:14)
17
GoNNER
Oct 12, 2016
$9.99
83% (92%/81%)
18,892 ±4,157
14,826 ±3,682
02:16 (01:56)
18
Northgard
Feb 22, 2017
$19.99
79% (91%)
104,502 ±9,776
101,871 ±9,652
07:47 (03:56)
19
Human: Fall Flat
Jul 22, 2016
$14.99
79% (91%/70%)
74,849 ±8,274
68,632 ±7,923
05:42 (03:47)
20
Hue
Aug 30, 2016
$14.99
79% (91%/79%)
74,610 ±8,260
11,957 ±3,307
02:07 (01:31)
21
Bye-Bye, Wacky Planet
Nov 4, 2016
$4.99
75% (90%)
76,045 ±8,339
40,414 ±6,080
03:33 (03:51)
22
INK
Aug 5, 2015
$4.99
72% (89%/68%)
222,873 ±14,274
91,828 ±9,164
03:02 (01:09)
23
Rise to Ruins
Oct 27, 2014
$9.99
72% (89%)
53,327 ±6,984
36,348 ±5,766
10:17 (03:47)
24
HardCube
Jun 30, 2016
$1.99
N/A (N/A)
49,262 ±6,712
37,066 ±5,822
03:15 (03:28)
25
Parkitect
May 5, 2016
$17.99
69% (88%)
50,457 ±6,793
48,783 ±6,679
06:57 (02:36)
26
EVERSPACE
Sep 14, 2016
$29.99
69% (88%)
69,588 ±7,978
66,001 ±7,769
09:19 (03:30)
27
Phoenix Force
Nov 13, 2014
$4.99
69% (88%)
62,414 ±7,555
43,522 ±6,309
03:08 (01:59)
28
A Normal Lost Phone
Jan 26, 2017
$2.99
69% (88%/71%)
8,131 ±2,727
6,696 ±2,474
01:47 (01:20)
29
Tumblestone
Jul 12, 2016
$24.99
N/A (N/A/91%)
143,959 ±11,473
28,218 ±5,080
03:35 (02:29)
30
Plantera
Jan 28, 2016
$2.99
66% (87%)
128,893 ±10,857
90,154 ±9,080
16:03 (03:57)
31
Ninja Pizza Girl
Sep 30, 2015
$6.99
66% (87%/82%)
109,763 ±10,019
18,892 ±4,157
01:47 (01:18)
32
Cube Destroyer
Feb 15, 2016
$2.99
66% (87%)
160,459 ±12,113
124,350 ±10,664
04:03 (03:24)
33
Chariot
Nov 12, 2014
$14.99
63% (86%/76%)
52,610 ±6,936
23,196 ±4,606
03:05 (02:18)
34
Frederic: Resurrection of Music
May 16, 2014
$2.99
63% (86%)
119,328 ±10,446
67,914 ±7,881
03:39 (03:08)
35
State of Anarchy
Apr 27, 2016
$0.99
63% (86%)
132,002 ±10,987
85,610 ±8,848
05:13 (03:16)
36
Beat Cop
Mar 30, 2017
$14.99
60% (85%/73%)
24,153 ±4,700
20,087 ±4,286
04:29 (02:17)
37
Frederic: Evil Strikes Back
May 23, 2014
$7.99
60% (85%)
107,132 ±9,898
56,914 ±7,215
03:00 (02:54)
38
Turbo Pug DX
Sep 26, 2016
$0.49
58% (84%)
114,306 ±10,224
64,088 ±7,656
03:11 (03:13)
39
Super Galaxy Squadron EX Turbo
Jan 23, 2015
$11.99
55% (83%)
83,936 ±8,761
18,413 ±4,104
03:00 (02:31)
40
Surgeon Simulator 2013
Apr 19, 2013
$9.99
55% (83%/71%)
1,754,289 ±39,970
1,502,002 ±36,997
03:30 (01:48)
41
We Need To Go Deeper
Feb 8, 2017
$9.99
55% (83%)
22,479 ±4,534
21,522 ±4,437
04:22 (03:12)
42
TIMEframe
Jul 7, 2015
$7.99
52% (82%)
82,740 ±8,699
14,826 ±3,682
02:13 (01:31)
43
Party Panic
Jul 28, 2016
$16.99
50% (81%)
16,022 ±3,828
14,826 ±3,682
03:07 (01:55)
44
Space Farmers
Apr 17, 2014
$9.99
48% (80%)
257,548 ±15,344
145,394 ±11,530
02:27 (01:42)
45
Heavenly Battle
Jun 15, 2016
$0.99
N/A (N/A)
78,675 ±8,482
56,197 ±7,169
03:07 (03:28)
46
Chompy Chomp Chomp
May 16, 2014
$6.99
48% (80%)
105,936 ±9,843
67,197 ±7,839
02:55 (02:26)
47
Frederic: Resurrection of Music Director's Cut
Apr 21, 2016
$5.99
45% (79%)
46,392 ±6,514
26,544 ±4,927
03:42 (02:56)
48
Interstellar Rift
Jun 23, 2015
$14.99
45% (79%)
24,870 ±4,769
23,435 ±4,630
13:35 (03:29)
49
Dungeon of Zolthan
May 11, 2016
$0.99
45% (79%)
101,154 ±9,618
67,914 ±7,881
04:33 (03:32)
50
Microsoft Flight Simulator X: Steam Edition
Dec 18, 2014
$24.99
45% (79%)
808,991 ±27,176
702,098 ±25,320
57:30 (05:26)
51
SPORE Galactic Adventures
Jun 23, 2009
$19.99
44% (78%/70%)
798,230 ±26,995
446,464 ±20,198
17:30 (02:51)
52
BATTLECREW Space Pirates
Jan 31, 2017
$9.99
N/A (N/A)
4,065 ±1,928
2,152 ±1,403
02:55 (02:01)
53
Subsistence
Oct 25, 2016
$13.99
44% (78%)
43,762 ±6,326
41,848 ±6,187
11:37 (03:18)
54
Dead In Bermuda
Aug 27, 2015
$14.99
41% (77%)
24,870 ±4,769
14,348 ±3,622
05:56 (04:15)
55
Pixel Puzzles: UndeadZ
Jun 6, 2014
$6.99
39% (76%)
172,894 ±12,573
96,132 ±9,376
04:45 (04:34)
56
Monster Loves You!
Mar 18, 2013
$9.99
37% (75%)
238,895 ±14,778
121,719 ±10,550
02:28 (01:17)
57
Really Big Sky
Feb 24, 2012
$4.99
35% (74%)
605,249 ±23,512
331,440 ±17,405
02:05 (01:17)
58
BIGFOOT
Jan 31, 2017
$15.99
35% (74%)
33,240 ±5,514
31,805 ±5,393
04:01 (02:51)
59
Spoiler Alert
Jun 30, 2014
$2.99
34% (73%)
111,197 ±10,084
57,392 ±7,245
02:34 (01:56)
60
Elements II: Hearts of Light
Apr 1, 2016
$4.99
N/A (N/A)
111,197 ±10,084
70,784 ±8,046
07:31 (03:32)
61
The Deer
Mar 28, 2016
$0.99
29% (70%)
392,180 ±18,931
260,178 ±15,422
03:58 (03:28)
62
House of Caravan
Apr 16, 2015
Free
27% (69%)
112,871 ±10,160
73,414 ±8,194
03:00 (03:08)
63
Ampu-Tea
May 30, 2014
$4.99
27% (69%)
167,394 ±12,372
119,806 ±10,467
02:43 (02:15)
64
Shard Games
Jul 29, 2016
$0.99
N/A (N/A)
26,783 ±4,949
21,044 ±4,387
04:22 (04:31)
65
Yury
Dec 9, 2014
$1.99
N/A (N/A)
92,545 ±9,200
53,327 ±6,984
03:29 (03:21)
66
Starship Corporation
Apr 29, 2016
$19.99
19% (62%)
7,891 ±2,686
7,652 ±2,645
06:53 (03:02)
67
The Tower Of Elements
Aug 5, 2015
$0.99
N/A (N/A)
187,003 ±13,076
87,523 ±8,947
03:02 (03:09)
68
Overhell
May 28, 2016
$1.99
N/A (N/A)
78,914 ±8,495
67,436 ±7,853
03:19 (03:30)
69
Streamline
Sep 30, 2016
$19.99
19% (62%)
581,335 ±23,043
225,743 ±14,366
03:06 (02:21)
70
NORTH
Apr 27, 2016
$1.99
17% (61%)
85,371 ±8,836
61,697 ±7,512
03:21 (03:30)
71
Heckabomb
Feb 27, 2015
$5.99
N/A (N/A)
108,567 ±9,964
67,675 ±7,867
03:25 (03:02)
72
Mouse in Lab
Feb 1, 2017
$0.62
N/A (N/A)
75,566 ±8,313
38,501 ±5,934
02:44 (03:19)
73
Neon Space ULTRA
Jun 1, 2016
$2.99
N/A (N/A)
53,805 ±7,015
34,914 ±5,651
03:28 (03:30)
74
Fall of Civilization
Sep 19, 2016
$6.99
N/A (N/A)
52,849 ±6,952
32,522 ±5,454
03:34 (03:30)
75
Dead Bits
Jun 7, 2014
$0.99
16% (59%)
693,489 ±25,165
455,072 ±20,391
03:20 (02:11)
76
Final Quest
Aug 17, 2016
$0.49
N/A (N/A)
101,154 ±9,618
60,262 ±7,424
03:23 (03:26)
77
Hard Room
Jan 21, 2016
$2.99
N/A (N/A)
137,502 ±11,213
71,262 ±8,073
03:21 (03:01)
78
Zombie Boom
Aug 23, 2016
$3.99
12% (55%)
388,832 ±18,850
152,089 ±11,793
03:55 (04:08)
79
Invasion
Sep 18, 2015
$1.99
12% (55%)
174,090 ±12,617
84,414 ±8,786
03:49 (04:12)
80
Cosmic Dust & Rust
May 17, 2016
$0.49
12% (55%)
155,437 ±11,922
94,936 ±9,318
03:29 (03:27)
81
Sparkle ZERO
Mar 14, 2016
$4.99
12% (55%)
48,305 ±6,647
26,544 ±4,927
03:35 (02:52)
82
BoneBone: Rise of the Deathlord
Jun 17, 2016
$1.99
N/A (N/A)
76,762 ±8,379
60,979 ±7,468
03:35 (03:29)
83
Drayt Empire
Jul 16, 2016
$0.49
11% (53%)
108,328 ±9,953
62,892 ±7,584
03:48 (03:30)
84
The Next Door
Mar 22, 2016
$0.99
N/A (N/A)
200,395 ±13,536
136,307 ±11,164
03:29 (03:26)
85
Bibou
Apr 29, 2016
$0.99
N/A (N/A)
31,087 ±5,332
27,022 ±4,971
03:51 (03:30)
86
Lup
Apr 1, 2016
$0.49
9% (50%)
199,916 ±13,520
105,697 ±9,831
03:43 (03:27)
87
Endorlight
Apr 26, 2016
$2.99
8% (48%)
421,115 ±19,617
263,526 ±15,521
04:29 (04:25)
88
King's Guard TD
Jun 8, 2016
$0.99
N/A (N/A)
114,784 ±10,245
77,001 ±8,392
02:51 (03:01)
89
Clergy Splode
Sep 17, 2015
$0.49
8% (48%)
184,133 ±12,975
124,111 ±10,653
03:32 (03:28)
90
Ninja Stealth 2
Jan 30, 2017
$0.99
N/A (N/A)
14,348 ±3,622
8,848 ±2,845
03:10 (02:49)
91
Make it indie!
Apr 1, 2015
$0.99
7% (46%)
186,525 ±13,059
140,372 ±11,329
03:12 (03:26)
92
Ballistic Protection
Oct 12, 2016
$4.99
7% (46%)
179,112 ±12,797
82,980 ±8,711
03:31 (04:13)
93
Trump Simulator 2017
Feb 11, 2017
$0.49
N/A (N/A)
66,001 ±7,769
59,544 ±7,379
03:19 (03:30)
94
Nyctophobia
Aug 25, 2015
$1.99
N/A (N/A)
197,286 ±13,430
126,024 ±10,735
03:36 (03:28)
95
Dear RED - Extended
Apr 12, 2016
$2.99
N/A (N/A)
83,219 ±8,724
72,697 ±8,154
03:42 (03:30)
96
Cuties
May 29, 2016
$2.99
N/A (N/A)
63,371 ±7,613
41,609 ±6,169
03:23 (03:23)
97
The Lost Valley
Apr 20, 2015
$4.99
4% (40%)
66,240 ±7,783
46,631 ±6,530
03:06 (03:30)
98
Conclusion
Aug 5, 2016
$1.99
4% (40%)
32,044 ±5,414
27,022 ±4,971
03:11 (03:28)
99
Retention
Jan 13, 2015
$0.99
4% (40%)
169,785 ±12,460
129,850 ±10,897
03:23 (03:26)
100
Magdalena
Feb 22, 2016
$2.99
3% (37%)
54,762 ±7,077
41,131 ±6,133
03:58 (03:27)
101
Eaten Alive
Sep 30, 2015
$0.49
3% (37%)
161,176 ±12,140
112,632 ±10,149
03:53 (03:31)
102
STARUSHKO LUB
Oct 24, 2016
$0.62
N/A (N/A)
104,023 ±9,753
77,479 ±8,418
05:04 (05:28)
103
Voxelized
Apr 5, 2017
$3.99
3% (35%)
329,766 ±17,361
183,177 ±12,941
02:49 (02:39)
104
Rise of the Ancients
May 31, 2016
$2.99
3% (35%)
61,458 ±7,497
44,479 ±6,378
03:16 (03:18)
105
Final Quest II
Oct 18, 2016
$0.49
N/A (N/A)
84,414 ±8,786
55,001 ±7,092
03:26 (03:27)
106
Locked-in syndrome
Jan 7, 2016
$2.99
N/A (N/A)
99,002 ±9,515
51,175 ±6,841
03:02 (03:29)
107
Forbidden planet
Jan 11, 2016
$0.99
N/A (N/A)
132,002 ±10,987
95,175 ±9,329
03:41 (03:31)
108
Hero Quest: Tower Conflict
Apr 13, 2016
$0.99
1% (27%)
78,197 ±8,457
54,283 ±7,046
03:45 (03:28)
109
Catacomb Explorers
Oct 22, 2016
$1.99
N/A (N/A)
85,132 ±8,824
79,871 ±8,547
03:48 (03:30)
110
The face of hope: Underground
Oct 28, 2016
$0.99
N/A (N/A)
64,805 ±7,699
60,262 ±7,424
03:24 (03:30)
111
Sleight
Nov 9, 2016
$0.99
N/A (N/A)
25,348 ±4,815
20,805 ±4,362
03:32 (03:30)
112
The Last Hope
Aug 29, 2016
$1.99
N/A (N/A)
125,067 ±10,694
79,393 ±8,521
03:00 (03:16)
113
Western Adventure
Dec 3, 2016
$0.99
N/A (N/A)
71,262 ±8,073
66,958 ±7,825
03:50 (03:31)
114
Wooden House
Sep 5, 2016
$2.99
N/A (N/A)
33,718 ±5,553
27,740 ±5,037
03:43 (04:00)
115
Gridberd
Sep 7, 2015
$6.99
N/A (N/A)
48,305 ±6,647
42,566 ±6,239
03:16 (03:30)
116
Totem
Aug 30, 2016
$3.99
N/A (N/A)
46,392 ±6,514
36,827 ±5,804
03:18 (03:28)