App

Holy Potatoes! A Weapon Shop?!
Holy Potatoes! A Weapon Shop?!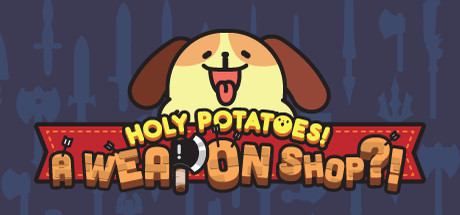 Store | Hub | SteamDB | Site
Developer: Daylight Studios Publisher: Daedalic Entertainment, Daylight Studios
Genre: Indie, Simulation
Languages: English, Japanese, French, German, Russian, Simplified Chinese
Tags: Indie (45), Simulation (36), Management (34), Casual (30), Funny (18), Singleplayer (17), RPG (13), Crafting (8)
Category: Single-player, Steam Achievements, Steam Trading Cards, Steam Cloud
Release date: Jul 13, 2015
Price: $14.99
Score rank: 37% Userscore: 75% Old userscore: 75% Metascore: 69%
Owners: 184,179 ± 12,350
Players in the last 2 weeks: 4,767 ± 1,987 (2.59%)
Players total: 126,109 ± 10,220 (68.47%)
Followers: 10,064
Peak concurrent players yesterday: 47
YouTube stats: 6 views and 0 comments for videos uploaded last week, 1 new videos uploaded yesterday.
Playtime in the last 2 weeks: 02:34 (average) 01:33 (median)
Playtime total: 06:34 (average) 04:30 (median)

Steam Spy is still in beta, so expect major bugs.
Peak daily concurrent players:
CCU data courtesy of SteamDB. Used with permission.
Hourly concurrent players:
YouTube:
The views data is based on top 50 videos uploaded last week. Actual number of views might be more than the number shown.

The displayed number of videos uploaded yesterday is limited to 50, so if there were more videos uploaded, the number will still show 50.

If the game has commonly used word as its name (like "FEAR" or "Volume") its number of Youtube views might be wrong.
Games similar to this one:
#
Game
Release date

Price

Score rank
(Userscore / Metascore)

Owners

Players

Playtime (Median)

1
Factorio
Feb 25, 2016
$20
99% (98%)
1,037,471 ±29,285
1,016,020 ±28,981
75:45 (30:56)
2
The Binding of Isaac: Rebirth
Nov 4, 2014
$14.99
97% (97%)
2,002,137 ±40,638
1,952,084 ±40,129
112:12 (42:28)
3
Wallpaper Engine
Oct 10, 2016
$3.99
95% (96%)
3,015,990 ±49,820
2,988,255 ±49,592
15:45 (03:59)
4
Hot Dogs, Horseshoes & Hand Grenades
Apr 5, 2016
$19.99
95% (96%)
58,071 ±6,936
56,337 ±6,831
06:47 (03:40)
5
Conquest of Elysium 4
Nov 16, 2015
$24.99
89% (94%)
14,951 ±3,519
13,218 ±3,309
23:43 (09:27)
6
Niche - a genetics survival game
Sep 15, 2016
$18.99
89% (94%)
39,436 ±5,715
38,136 ±5,620
16:43 (05:16)
7
Prison Architect
Oct 6, 2015
$29.99
86% (93%/83%)
2,411,665 ±44,580
2,207,551 ±42,662
28:40 (10:43)
8
Software Inc.
May 1, 2015
$13.99
81% (92%)
100,324 ±9,116
98,157 ±9,017
24:16 (10:08)
9
American Truck Simulator
Feb 2, 2016
$19.99
81% (92%/76%)
740,617 ±24,751
713,749 ±24,299
49:06 (17:41)
10
Paint the Town Red
Oct 13, 2015
$14.99
81% (92%)
197,397 ±12,786
193,497 ±12,659
11:59 (05:40)
11
Planet Coaster
Nov 17, 2016
$44.99
71% (89%/84%)
875,393 ±26,905
851,125 ±26,530
26:13 (09:25)
12
Caveblazers
May 24, 2017
$9.99
71% (89%)
30,769 ±5,048
27,952 ±4,812
11:15 (03:45)
13
My Summer Car
Oct 24, 2016
$14.99
71% (89%)
283,419 ±15,319
278,652 ±15,190
22:43 (09:58)
14
Bye-Bye, Wacky Planet
Nov 4, 2016
$4.99
67% (88%)
182,446 ±12,292
129,792 ±10,368
03:47 (04:01)
15
ASTRONEER
Dec 15, 2016
$19.99
62% (86%)
798,038 ±25,691
783,520 ±25,457
11:55 (07:28)
16
Another Brick in the Mall
Nov 3, 2016
$12.99
56% (84%)
48,103 ±6,312
45,936 ±6,169
11:56 (07:21)
17
Idling to Rule the Gods
May 27, 2016
Free
56% (84%)
74,105 ±7,835
40,303 ±5,778
234:16 (11:17)
18
Lobotomy Corporation | Monster Management Simulation
Dec 16, 2016
$19.99
54% (83%)
17,551 ±3,813
16,251 ±3,669
07:35 (02:32)
19
Weapon Shop Fantasy
Mar 27, 2017
$6.99
54% (83%)
49,837 ±6,425
47,237 ±6,255
16:57 (08:35)
20
Microsoft Flight Simulator X: Steam Edition
Dec 18, 2014
$24.99
45% (79%)
902,478 ±27,317
794,354 ±25,632
57:15 (05:30)
21
Mad Dagger
Apr 1, 2017
$0.99
N/A (N/A)
135,643 ±10,599
124,592 ±10,158
04:22 (04:31)
22
SimAirport
Mar 6, 2017
$19.99
33% (73%)
65,438 ±7,362
64,138 ±7,289
16:19 (09:42)
23
Starship Theory
Jul 4, 2017
$11.99
33% (73%)
18,851 ±3,952
18,635 ±3,929
09:29 (05:43)
24
Construction Simulator 2015
Nov 18, 2014
$14.99
30% (71%)
345,390 ±16,910
336,290 ±16,686
27:49 (10:31)
25
Power-Up
Aug 29, 2014
$2.99
N/A (N/A)
135,209 ±10,582
88,623 ±8,568
05:29 (05:54)
26
Train Simulator
Sep 17, 2015
$24.99
20% (63%)
1,003,669 ±28,805
887,527 ±27,090
71:47 (07:33)
27
Shroud of the Avatar: Forsaken Virtues
Nov 24, 2014
$39.99
11% (53%)
37,053 ±5,540
32,286 ±5,171
110:00 (03:46)
28
Zombie Boom
Aug 23, 2016
Free
8% (48%)
624,259 ±22,727
378,326 ±17,697
04:14 (04:18)
29
Godus
Free
2% (29%)
302,487 ±15,825
275,836 ±15,113
18:42 (07:41)
30
Wooden House
Sep 5, 2016
$2.99
1% (25%)
88,623 ±8,568
78,655 ±8,072
03:53 (04:00)
31
Invisible Mind
Aug 10, 2016
$4.99
N/A (N/A)
169,228 ±11,839
150,160 ±11,152
06:12 (06:32)