App

STOORM - Full Edition.
STOORM - Full Edition.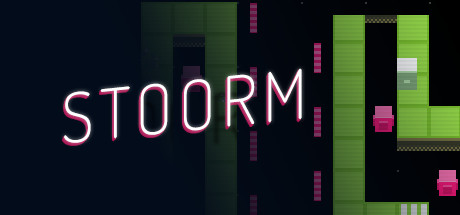 Store | Hub | SteamDB | Site
Developer: Garage Monkey Studio Publisher: Garage Monkey Studio
Genre: Action, Indie
Languages: English
Tags: Indie (21), Action (21), Arcade (11), Puzzle (11)
Category: Single-player, Partial Controller Support
Release date: Aug 31, 2015
Price: $3.99
Owners: 7,412 ± 2,646
Players total: 714 ± 1,399 (9.64%)
Followers: 67
Playtime total: 00:12 (average) 00:12 (median)

Steam Spy is still in beta, so expect major bugs.
Peak daily concurrent players:
CCU data courtesy of SteamDB. Used with permission.
Hourly concurrent players:
YouTube:
The views data is based on top 50 videos uploaded last week. Actual number of views might be more than the number shown.

The displayed number of videos uploaded yesterday is limited to 50, so if there were more videos uploaded, the number will still show 50.

If the game has commonly used word as its name (like "FEAR" or "Volume") its number of Youtube views might be wrong.
Games similar to this one:
#
Game
Release date

Price

Score rank
(Userscore / Metascore)

Owners

Players

Playtime (Median)

1
Helena The 3rd
May 1, 2015
$0.99
N/A (N/A)
6,918 ±2,557
988 ±966
00:08 (00:06)
2
BANG BANG BANG!
Oct 26, 2016
$9.99
N/A (N/A)
5,930 ±2,367
0 ±0
00:00 (00:00)
3
Hyperdrive Massacre
Oct 12, 2015
$9.99
N/A (N/A)
17,294 ±4,043
2,965 ±1,674
00:13 (00:15)
4
Monsterland
Dec 14, 2015
$0.99
N/A (N/A)
7,659 ±2,690
494 ±683
02:30 (01:39)
5
Mibibli's Quest
Aug 4, 2016
$5.99
N/A (N/A)
5,930 ±2,367
741 ±837
03:45 (03:44)
6
Astervoid 2000
Dec 1, 2016
$9.99
N/A (N/A)
6,424 ±2,464
3,212 ±1,742
02:25 (03:12)
7
Demon Truck
Sep 26, 2016
$4.99
N/A (N/A)
5,435 ±2,266
988 ±966
00:12 (00:07)
8
Saving Harmony
Sep 26, 2016
$4.99
N/A (N/A)
5,188 ±2,214
494 ±683
00:20 (00:13)
9
Fire Arrow Plus
Feb 1, 2017
$4.99
N/A (N/A)
11,118 ±3,241
247 ±483
00:23 (00:07)
10
8-Bit Armies: Arena
Feb 10, 2017
$4.99
47% (80%)
6,177 ±2,416
4,941 ±2,161
12:09 (08:02)
11
Generic Space Shooter
Mar 11, 2016
$2.99
N/A (N/A)
4,694 ±2,106
988 ±966
02:03 (02:40)
12
Xenoraid: The First Space War
Sep 30, 2016
$9.99
N/A (N/A)
2,965 ±1,674
1,729 ±1,278
02:00 (03:26)
13
Zamarian
Jan 22, 2016
$1.99
N/A (N/A)
16,553 ±3,955
1,235 ±1,080
00:09 (00:12)
14
Omega Agent
May 4, 2016
$2.99
N/A (N/A)
2,224 ±1,449
988 ±966
00:38 (00:31)
15
Unearthed Inc: The Lost Temple
Dec 16, 2016
$24.99
N/A (N/A)
3,022 ±2,091
2,644 ±1,956
01:16 (01:45)
16
99 Waves to Die
Apr 9, 2015
$2.99
N/A (N/A)
1,482 ±1,183
247 ±483
00:36 (00:12)
17
Tick Tock Bang Bang
Jun 9, 2016
$4.99
N/A (N/A)
3,459 ±1,808
2,471 ±1,528
01:03 (01:02)
18
Painted Legend
Jul 28, 2016
$0.99
N/A (N/A)
1,511 ±1,478
0 ±0
00:00 (00:00)
19
Spunk and Moxie
May 6, 2016
$3.99
N/A (N/A)
2,718 ±1,602
247 ±483
01:07 (00:22)
20
The Bellows: Arcade
Oct 21, 2016
$4.99
N/A (N/A)
1,235 ±1,080
1,235 ±1,080
01:33 (02:08)
21
Felis
Dec 28, 2016
$0.99
N/A (N/A)
2,644 ±1,956
755 ±1,045
04:07 (04:07)
22
Ride the Bullet
May 22, 2015
$3.99
N/A (N/A)
5,930 ±2,367
1,482 ±1,183
00:14 (00:13)
23
Tkl Online
Jan 27, 2015
$4.79
N/A (N/A)
2,224 ±1,449
1,235 ±1,080
00:47 (01:13)
24
Parvaneh: Legacy of the Light's Guardians
Aug 26, 2016
$9.99
N/A (N/A)
31,377 ±5,445
12,353 ±3,417
03:15 (03:54)
25
Galactic Storm
Sep 16, 2016
$2.99
N/A (N/A)
7,165 ±2,602
247 ±483
00:02 (00:00)
26
The Way of the Pixelated Fist
Apr 27, 2015
$1.99
N/A (N/A)
8,894 ±2,899
1,235 ±1,080
00:14 (00:12)
27
Futuridium EP Deluxe
Jan 7, 2016
$2.99
N/A (N/A)
2,471 ±1,528
1,729 ±1,278
01:08 (00:50)
28
Pulut Adventure
Jul 9, 2015
$1.99
N/A (N/A)
11,365 ±3,277
494 ±683
01:01 (00:40)
29
That Dam Level redux
Feb 25, 2016
$8.99
N/A (N/A)
1,977 ±1,366
247 ±483
00:04 (00:01)
30
C.R.E.E.P.S
Mar 16, 2016
$11.99
N/A (N/A)
6,177 ±2,416
741 ±837
00:13 (00:12)
31
Breaking Bones
Nov 28, 2016
$4.99
N/A (N/A)
4,447 ±2,050
247 ±483
00:15 (00:05)
32
Space Thinger
Sep 25, 2015
$2.99
N/A (N/A)
22,483 ±4,609
1,235 ±1,080
03:27 (00:23)
33
Driveby Gangster
Sep 10, 2015
$3.99
N/A (N/A)
4,447 ±2,050
247 ±483
00:34 (00:11)
34
Strike Force: Arctic Storm
Sep 21, 2016
N/A
N/A (N/A)
3,706 ±1,871
247 ±483
00:15 (00:05)
35
Shiny Gauntlet
Aug 3, 2016
$3.99
N/A (N/A)
4,941 ±2,161
2,718 ±1,602
02:58 (02:33)
36
Quantum Flux
Aug 21, 2015
$2.99
N/A (N/A)
5,930 ±2,367
494 ±683
00:01 (00:00)
37
GAIN
Jun 14, 2016
$4.99
N/A (N/A)
18,777 ±4,212
1,977 ±1,366
00:12 (00:05)