Dungeon Hero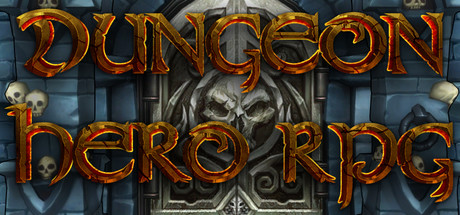 Store | Hub | SteamDB | Site
Developer: Grzegorz Slazinski Publisher: Grzegorz Slazinski
Genre: Action, Adventure, Casual, Indie, RPG
Languages: English
Tags: RPG (28), Casual (24), Action (22), Indie (21), Adventure (21), Dungeon Crawler (19), Fantasy (14), Cartoony (10), Cartoon (7), Classic (5), First-Person (5)
Category: Single-player, VR Support, Partial Controller Support, Steam Cloud, Includes level editor
Release date: Jul 7, 2015
Price: $2.09 70%
Old userscore: 52% Owners: 30,000..100,000
Followers: 766
Peak concurrent players yesterday: 2
YouTube stats: 190 views and 2 comments for videos uploaded last week, 0 new videos uploaded yesterday.

Steam Spy is still in beta, so expect major bugs.
Owners data:
Audience in 2 weeks:
Total audience:
Peak daily concurrent players:
CCU data courtesy of SteamDB. Used with permission.
Hourly concurrent players:
YouTube:
The views data is based on top 50 videos uploaded last week. Actual number of views might be more than the number shown.

The displayed number of videos uploaded yesterday is limited to 50, so if there were more videos uploaded, the number will still show 50.

If the game has commonly used word as its name (like "FEAR" or "Volume") its number of Youtube views might be wrong.
Games similar to this one:
#
Game
Release date

Price

Score rank
(Userscore / Metascore)

1
Clean'Em Up
Aug 18, 2016
Free
N/A (N/A)
2
Ballads of Reemus: When the Bed Bites
Apr 27, 2015
$4.99
N/A (N/A)
3
Voices from the Sea
Mar 24, 2015
Free
N/A (N/A)
4
Avernum 2: Crystal Souls
Jan 14, 2015
$5.99
78% (92%/78%)
5
Nelly Cootalot: The Fowl Fleet
Mar 22, 2016
$19.99
78% (92%/81%)
6
Sigils of Elohim
Oct 13, 2014
Free
N/A (N/A)
7
Echoes+
Jan 15, 2015
Free
N/A (N/A)
8
SWARMRIDERS
Jun 15, 2016
Free
74% (91%)
9
Silver
Jun 2, 2017
$5.99
N/A (N/A)
10
Frosty Kiss
Jan 8, 2016
Free
N/A (N/A)
11
The Old Tree
Jan 26, 2015
Free
66% (89%)
12
b
Jun 26, 2017
Free
N/A (N/A)
13
HEBEREKE!: March! Red Army Girls' Brigade
Sep 30, 2016
Free
N/A (N/A)
14
Subspace Continuum
Jul 3, 2015
Free
N/A (N/A)
15
panGEMic
Dec 28, 2016
Free
60% (87%)
16
Blink the Bulb
Jan 2, 2017
Free
N/A (N/A)
17
The Guilt and the Shadow
Feb 2, 2015
$8.99
N/A (N/A)
18
Mainland
May 8, 2015
Free
N/A (N/A)
19
Black Rose
Mar 15, 2016
Free
N/A (N/A)
20
3DMark 11
Oct 2, 2012
$19.99
N/A (N/A)
21
Vidar
Jun 14, 2017
$9.99
N/A (N/A)
22
Rising Angels: Reborn
Sep 12, 2014
Free
N/A (N/A)
23
Dev Guy
May 20, 2015
Free
N/A (N/A)
24
Fingerbones
Aug 3, 2015
Free
N/A (N/A)
25
Elisa: The Innkeeper - Prequel
Jun 14, 2016
Free
36% (77%)
26
Quintet
May 11, 2015
Free
34% (76%)
27
Tony Tough and the Night of Roasted Moths
May 7, 2015
$9.99
N/A (N/A/68%)
28
The Banner Saga: Factions
Feb 25, 2013
Free
30% (74%/67%)
29
Antenna
Apr 7, 2016
Free
N/A (N/A)
30
Immersion Chess
May 15, 2017
Free
N/A (N/A)
31
Invisible Apartment
Mar 2, 2015
Free
26% (71%)
32
MyDream
Feb 20, 2015
Free
N/A (N/A)
33
Immortal Empire
Dec 3, 2015
Free
N/A (N/A)
34
Ghoul Kid
Apr 26, 2016
Free
23% (69%)
35
Therian Saga
Mar 27, 2017
Free
N/A (N/A)
36
Treehouse Basketball
Feb 15, 2017
Free
N/A (N/A)
37
A Tale of Caos: Overture
Dec 21, 2016
$0.89
N/A (N/A)
38
Epic Arena
May 5, 2015
Free
20% (66%)
39
MultiVR.se
Jun 20, 2017
Free
N/A (N/A)
40
The Infinite Black
Oct 19, 2016
Free
N/A (N/A)
41
Solarium
Jul 27, 2017
Free
N/A (N/A)
42
The Gate
Apr 27, 2015
Free
18% (64%)
43
Nyctophilia
Sep 23, 2015
Free
N/A (N/A)
44
Emporea: Realms of War and Magic
Jun 8, 2016
Free
N/A (N/A)
45
Walkover
Mar 23, 2015
Free
N/A (N/A)
46
The NADI Project
Jun 1, 2016
Free
N/A (N/A)
47
Asguaard
Apr 10, 2015
$14.99
N/A (N/A)
48
Intruder Alert: Ixian Operations
Jul 21, 2016
Free
N/A (N/A)
49
AntharioN
Jul 15, 2015
$14.99
13% (59%)
50
Vinyl
Jul 1, 2016
Free
N/A (N/A)
51
One Manga Day
May 4, 2015
Free
N/A (N/A)
52
Shadow Hunter
Apr 20, 2015
Free
N/A (N/A)
53
Curse of Mermos
Jun 23, 2015
Free
N/A (N/A)
54
Escape
Apr 20, 2015
Free
11% (57%)
55
Beyond Divinity
Oct 29, 2012
$5.99
10% (55%/73%)
56
Playing History: Vikings
Jul 1, 2015
$2.99
N/A (N/A)
57
Forgotten Myths CCG
Mar 21, 2016
Free
N/A (N/A)
58
Dream Of Mirror Online
Aug 14, 2015
Free
9% (53%)
59
Might & Mayhem
Jun 5, 2017
Free
N/A (N/A)
60
Kingdoms CCG
Jan 22, 2015
Free
N/A (N/A)
61
Disney Movies VR
May 16, 2016
Free
N/A (N/A)
62
Heroes of Scene
Aug 26, 2015
Free
N/A (N/A)
63
Twisted Worlds
Jun 17, 2016
Free
N/A (N/A)
64
Rumble Fighter: Unleashed
Dec 16, 2016
Free
6% (47%)
65
Regimental Chess
Apr 29, 2015
Free
N/A (N/A)
66
Astro Lords: Oort Cloud
Jan 15, 2016
Free
N/A (N/A)
67
The SKIES
Apr 16, 2016
Free
N/A (N/A)
68
Spartans Vs Zombies Defense
Jan 6, 2015
Free
5% (44%)
69
TDP5 Arena 3D
Mar 26, 2015
Free
N/A (N/A)
70
Gladiators Online: Death Before Dishonor
Nov 4, 2015
N/A
4% (42%)
71
Dungeon-Party
Mar 13, 2013
Free
4% (39%)
72
Alganon
May 19, 2015
Free
3% (37%)
73
HIT
Feb 9, 2015
Free
N/A (N/A)
74
Confrontation
Apr 4, 2012
$9.99
N/A (N/A/51%)
75
BattleSpace
Jan 7, 2015
Free
N/A (N/A)
76
Shadow of Kingdoms
Aug 11, 2015
Free
N/A (N/A)
77
Outpost 13
Oct 26, 2015
$4.99
N/A (N/A)
78
All Guns On Deck
Aug 28, 2015
$12.99
N/A (N/A)