Temper Tantrum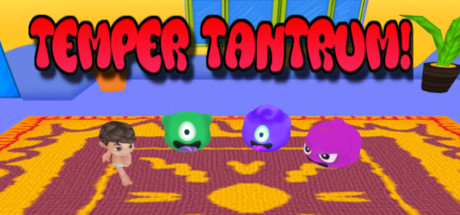 Store | Hub | SteamDB | Site
Developer: Digital Homicide Studios Publisher: Digital Homicide Studios
Genre: Action, Adventure, Casual, Indie, Simulation, Strategy
Languages: English
Tags: Indie (47), Casual (44), Action (42), Adventure (32), Psychological Horror (31), Memes (26), Walking Simulator (22), Family Friendly (21), Strategy (20), Simulation (18), Third Person (18), Singleplayer (18), Atmospheric (9), Nudity (8), Great Soundtrack (7), Survival Horror (7), Gore (6), Anime (6), FPS (6)
Category: Single-player, Steam Trading Cards
Release date: May 22, 2015
Price: $0.99
Score rank: 4% Userscore: 39% Old userscore: 38%
Owners: 0..30,000
Followers: 449
Peak concurrent players yesterday: 3
YouTube stats: 57 views and 3 comments for videos uploaded last week, 0 new videos uploaded yesterday.

Steam Spy is still in beta, so expect major bugs.
Owners data:
Audience in 2 weeks:
Total audience:
Peak daily concurrent players:
CCU data courtesy of SteamDB. Used with permission.
Hourly concurrent players:
YouTube:
The views data is based on top 50 videos uploaded last week. Actual number of views might be more than the number shown.

The displayed number of videos uploaded yesterday is limited to 50, so if there were more videos uploaded, the number will still show 50.

If the game has commonly used word as its name (like "FEAR" or "Volume") its number of Youtube views might be wrong.
Games similar to this one:
#
Game
Release date

Price

Score rank
(Userscore / Metascore)

1
Crawl
Apr 11, 2017
$14.99
94% (96%)
2
Epistory - Typing Chronicles
Mar 30, 2016
$14.99
94% (96%/74%)
3
CrossCode
May 15, 2015
$19.99
94% (96%)
4
LISA
Dec 15, 2014
$9.99
91% (95%/78%)
5
Besiege
Jan 28, 2015
$9.99
91% (95%)
6
Fallout 2: A Post Nuclear Role Playing Game
Aug 19, 2009
$9.99
N/A (N/A/86%)
7
One Way Heroics
Feb 28, 2014
$3.49
N/A (N/A)
8
Secrets of Grindea
Jul 13, 2015
$14.99
88% (94%)
9
Dr. Langeskov, The Tiger, and The Terribly Cursed Emerald: A Whirlwind Heist
Dec 4, 2015
Free
N/A (N/A)
10
Fallout: A Post Nuclear Role Playing Game
Nov 1, 2015
$9.99
N/A (N/A/89%)
11
Ghost of a Tale
Mar 13, 2018
$24.99
79% (92%/76%)
12
The Long Dark
Aug 1, 2017
$34.99
74% (91%)
13
Vagante
Feb 21, 2018
$14.99
N/A (N/A)
14
One Thousand Lies
Apr 24, 2016
Free
N/A (N/A)
15
ShellShock Live
Mar 11, 2015
$6.99
67% (89%)
16
You Have 10 Seconds 2
Aug 25, 2016
Free
67% (89%)
17
Hammerwatch
Aug 12, 2013
$9.99
67% (89%/72%)
18
PARTICLE MACE
Jan 22, 2015
$4.99
64% (88%)
19
Disgaea PC / PC
Feb 24, 2016
$14.99
64% (88%/74%)
20
Space Engineers
Oct 23, 2013
$24.99
61% (87%)
21
Magicite
Jun 9, 2014
$9.99
58% (86%)
22
CRYPTARK
Jun 20, 2017
$14.99
58% (86%/80%)
23
Seduce Me the Otome
Jun 4, 2015
Free
58% (86%)
24
Ember Strike
May 26, 2016
Free
N/A (N/A)
25
BEEP
May 6, 2011
$1.99
55% (85%)
26
Knights of Pen and Paper +1 Edition
Jun 18, 2013
$9.99
55% (85%)
27
Worlds Adrift Island Creator
Apr 28, 2016
Free
55% (85%)
28
Waveform
Mar 20, 2012
$1.99
N/A (N/A/81%)
29
Empyrion - Galactic Survival
Aug 5, 2015
$19.99
52% (84%)
30
Hyperdevotion Noire: Goddess Black Heart (Neptunia)
Apr 26, 2016
$29.99
52% (84%)
31
Stonehearth
Jun 3, 2015
$24.99
50% (83%)
32
Last Word
May 8, 2015
$9.99
N/A (N/A/67%)
33
Salt
Feb 6, 2018
$14.99
N/A (N/A)
34
Dungeon Souls
Dec 2, 2016
$12.99
47% (82%/67%)
35
TerraTech
Feb 6, 2015
$19.99
47% (82%)
36
FINAL FANTASY XIV Online
Feb 18, 2014
$19.99
45% (81%/83%)
37
Codename CURE
Oct 31, 2017
Free
N/A (N/A)
38
Punch Club
Jan 8, 2016
$9.99
43% (80%/73%)
39
7 Days to Die
Dec 13, 2013
$24.99
43% (80%)
40
We Are The Dwarves
Feb 25, 2016
$24.99
N/A (N/A/60%)
41
NVIDIA VR Funhouse
Jul 14, 2016
Free
41% (79%)
42
FINAL FANTASY VI
Dec 16, 2015
$15.99
39% (78%)
43
City of Chains
Dec 8, 2015
$8.99
39% (78%)
44
The Howler
Apr 21, 2016
$1.99
N/A (N/A)
45
Ragnarok Online
Oct 31, 2013
Free
39% (78%/79%)
46
Exanima
Apr 29, 2015
$14.99
39% (78%)
47
The Last Leviathan
Jun 22, 2016
$9.99
37% (77%)
48
Septerra Core
Sep 27, 2013
$4.99
N/A (N/A/72%)
49
Stranded Deep
Jan 23, 2015
$14.99
36% (76%)
50
Fishing Planet
Aug 28, 2017
Free
N/A (N/A)
51
Wolcen: Lords of Mayhem
Mar 24, 2016
$19.99
34% (75%)
52
Fantasy Tales Online
May 5, 2016
Free
N/A (N/A)
53
Adventure Time: Finn and Jake Investigations
Dec 1, 2015
$7.49
32% (74%)
54
Gun Rocket
May 2, 2016
$1.99
N/A (N/A)
55
PixelJunk Nom Nom Galaxy
Aug 3, 2015
$9.99
30% (73%/68%)
56
Governor of Poker 3
Feb 19, 2016
Free
30% (73%)
57
Medieval Engineers
Feb 19, 2015
$19.99
26% (70%)
58
Wild Warfare
Jul 15, 2014
Free
N/A (N/A)
59
Envy the Dead
Sep 12, 2016
$0.99
N/A (N/A)
60
Warhammer Quest
Jan 7, 2015
$14.99
25% (69%/55%)
61
Anarchy Arcade
Sep 3, 2014
Free
N/A (N/A)
62
Wurm Unlimited
Oct 21, 2015
$29.99
25% (69%)
63
Tree of Life
Aug 17, 2017
$19.99
23% (68%)
64
Disciples III: Reincarnation
Feb 14, 2014
$9.99
N/A (N/A)
65
Audition Online
Jun 3, 2015
Free
20% (65%)
66
Allods Online My.com
Jun 3, 2016
Free
N/A (N/A)
67
Gloria Victis
Jun 9, 2016
$19.99
19% (64%)
68
RoShamBo
Jul 14, 2016
Free
N/A (N/A)
69
DayZ
Dec 16, 2013
$34.99
17% (62%)
70
Just Survive
Jan 15, 2015
$19.99
15% (60%)
71
Shadowrun Chronicles - Boston Lockdown
Apr 28, 2015
$19.99
15% (60%)
72
Nomad
Jun 26, 2015
Free
14% (59%)
73
gravilon
Mar 30, 2015
$2.99
14% (59%)
74
WARMODE
Aug 25, 2015
Free
14% (59%)
75
Dungeon Siege III
Jun 20, 2011
$14.99
N/A (N/A/72%)
76
BLOCKADE 3D
Dec 19, 2014
Free
13% (58%)
77
Memories of a Vagabond
Jul 7, 2014
$4.99
N/A (N/A)
78
Games of Glory
Apr 25, 2017
Free
N/A (N/A)
79
Savage Lands
Mar 5, 2015
$14.99
10% (55%)
80
Outrage
Apr 6, 2016
$3.99
N/A (N/A)
81
Survival: Postapocalypse Now
Apr 16, 2015
$4.99
N/A (N/A)
82
The Panic Room
Apr 27, 2016
Free
N/A (N/A)
83
R.A.W. Realms of Ancient War
Oct 11, 2012
$14.99
8% (50%)
84
Firefly Online Cortex
Jan 29, 2015
Free
7% (49%)
85
Outpost 13
Oct 26, 2015
$4.99
N/A (N/A)