Ohr: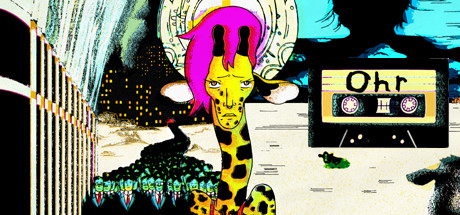 Store | Hub | SteamDB
Developer: Rail Slave Games Publisher: KISS ltd
Genre: Adventure, Indie, RPG
Languages: English
Tags: Adventure (24), RPG (23), Indie (23)
Category: Single-player
Release date: Dec 2, 2016
Price: $5.99
Owners: 12,201 ± 3,481
Players in the last 2 weeks: 793 ± 1,553 (6.5%)
Players total: 7,528 ± 2,734 (61.7%)
Followers: 129
Peak concurrent players yesterday: 3
YouTube stats: 102 views and 6 comments for videos uploaded last week, 1 new videos uploaded yesterday.
Playtime in the last 2 weeks: 00:01 (average) 00:01 (median)
Playtime total: 03:30 (average) 03:52 (median)

Steam Spy is still in beta, so expect major bugs.
Peak daily concurrent players:
CCU data courtesy of SteamDB. Used with permission.
Hourly concurrent players:
YouTube:
The views data is based on top 50 videos uploaded last week. Actual number of views might be more than the number shown.

The displayed number of videos uploaded yesterday is limited to 50, so if there were more videos uploaded, the number will still show 50.

If the game has commonly used word as its name (like "FEAR" or "Volume") its number of Youtube views might be wrong.
Games similar to this one:
#
Game
Release date

Price

Score rank
(Userscore / Metascore)

Owners

Players

Playtime (Median)

1
Tom vs. The Armies of Hell
Jul 27, 2016
$12.99
N/A (N/A)
793 ±1,553
0 ±0
00:00 (00:00)
2
FIRMA
Nov 18, 2016
$12.99
N/A (N/A)
1,298 ±1,135
519 ±718
01:17 (00:51)
3
Lost Bros
Feb 25, 2016
$2.99
N/A (N/A)
4,413 ±2,093
2,856 ±1,684
04:57 (04:24)
4
Heroes of Loot 2
Jun 7, 2016
$9.99
N/A (N/A)
3,894 ±1,966
1,817 ±1,343
04:28 (05:23)
5
Crystal Shard Adventure Bundle
Dec 15, 2016
$5.99
N/A (N/A)
785 ±1,086
392 ±767
00:01 (00:00)
6
Four Last Things
Feb 23, 2017
$7.99
100% (99%/83%)
3,375 ±1,831
2,856 ±1,684
02:01 (02:22)
7
Dreadhalls
Mar 9, 2017
$9.99
95% (96%)
7,009 ±2,638
5,971 ±2,435
00:56 (00:47)
8
Toonstruck
Nov 15, 2016
$9.99
95% (96%)
2,856 ±1,684
2,336 ±1,523
02:28 (03:29)
9
Escape!VR -The Basement-
Nov 7, 2016
$8.99
N/A (N/A)
2,336 ±1,523
2,077 ±1,436
01:28 (01:25)
10
Metrico+
Aug 23, 2016
$13.99
N/A (N/A/66%)
127,462 ±11,251
21,547 ±4,626
00:46 (00:21)
11
Gunmetal Arcadia
Feb 7, 2017
$9.99
N/A (N/A)
1,558 ±1,243
1,038 ±1,015
01:59 (01:04)
12
Alone K.W.
Feb 29, 2016
$0.99
N/A (N/A)
2,354 ±1,881
1,569 ±1,535
00:13 (00:19)
13
Mystery Maze Of Balthasar Castle
Jul 10, 2015
$4.99
N/A (N/A)
4,154 ±2,031
1,558 ±1,243
02:05 (02:46)