Gon' E-Choo!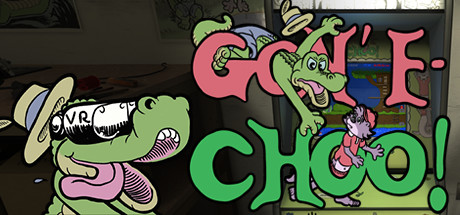 Store | Hub | SteamDB | Site
Developer: Marc Ellis Publisher: Marc Ellis
Genre: Action, Indie, Simulation
Languages: English
Tags: Simulation (25), Indie (24), Action (23), Arcade (8), Platformer (5), Retro (5)
Category: Single-player, Steam Achievements, Full controller support, Steam Trading Cards, VR Support, Steam Leaderboards
Release date: Nov 25, 2015 (previously in Early Access)
Price: $1.99
Score rank: 64% Userscore: 87% Old userscore: 81%
Owners: 12,880 ± 3,198
Players in the last 2 weeks: 1,243 ± 1,721 (9.65%)
Players total: 7,894 ± 2,503 (61.29%)
Followers: 305
Peak concurrent players yesterday: 1
Playtime in the last 2 weeks: 02:06 (average) 04:01 (median)
Playtime total: 03:08 (average) 03:58 (median)

Steam Spy is still in beta, so expect major bugs.
Peak daily concurrent players:
CCU data courtesy of SteamDB. Used with permission.
Hourly concurrent players:
YouTube:
The views data is based on top 50 videos uploaded last week. Actual number of views might be more than the number shown.

The displayed number of videos uploaded yesterday is limited to 50, so if there were more videos uploaded, the number will still show 50.

If the game has commonly used word as its name (like "FEAR" or "Volume") its number of Youtube views might be wrong.
Games similar to this one:
#
Game
Release date

Price

Score rank
(Userscore / Metascore)

Owners

Players

Playtime (Median)

1
Socxel | Pixel Soccer
Jan 30, 2017
$1.19
N/A (N/A)
162,247 ±11,349
152,275 ±10,995
03:27 (03:30)
2
Tick Tock Isle
Nov 19, 2015
$0.49
99% (98%)
46,534 ±6,079
18,697 ±3,853
03:22 (03:50)
3
Bedfellows FRENZY
Feb 22, 2017
$7.99
N/A (N/A)
2,285 ±1,347
1,039 ±908
06:46 (05:37)
4
Heroes of Hellas 3: Athens
Mar 12, 2015
$1.22
N/A (N/A)
17,658 ±3,744
12,257 ±3,119
06:20 (03:10)
5
KNIGHTS
May 30, 2016
$0.49
95% (96%)
16,412 ±3,610
11,841 ±3,066
02:21 (01:37)
6
Zuma's Revenge!
Sep 15, 2009
$1.24
95% (96%/78%)
97,016 ±8,776
52,143 ±6,434
46:33 (03:04)
7
Idol Magical Girl Chiru Chiru Michiru Part 1
Jul 29, 2015
$7.99
95% (96%)
71,879 ±7,554
14,542 ±3,398
03:57 (03:01)
8
House of 1,000 Doors: Family Secrets Collector's Edition
Apr 7, 2014
$2.49
92% (95%)
43,626 ±5,886
26,176 ±4,559
07:47 (04:16)
9
Pierhead Arcade
Sep 21, 2016
$3.99
92% (95%)
10,803 ±2,929
9,764 ±2,784
01:44 (01:17)
10
Endless Fables: The Minotaur's Curse
Dec 15, 2016
$3.99
N/A (N/A)
7,686 ±2,470
5,194 ±2,030
04:02 (03:34)
11
Witch's Pranks: Frog's Fortune Collector's Edition
Jan 15, 2015
$1.74
N/A (N/A)
17,243 ±3,700
3,116 ±1,573
03:03 (03:18)
12
Mr. Massagy
Dec 5, 2016
$4.79
92% (95%)
4,986 ±1,989
4,363 ±1,861
01:32 (01:37)
13
Rescue Team
Feb 19, 2015
$0.49
N/A (N/A)
3,739 ±1,723
1,870 ±1,218
10:20 (09:09)
14
Kitty Powers' Matchmaker
Apr 22, 2015
$6.69
89% (94%)
44,457 ±5,941
43,626 ±5,886
11:16 (07:17)
15
Chime
Sep 6, 2010
$1.69
89% (94%)
117,582 ±9,662
94,938 ±8,682
10:36 (01:49)
16
7 Wonders: Ancient Alien Makeover
Oct 24, 2012
$4.99
N/A (N/A)
23,059 ±4,279
8,725 ±2,632
11:50 (08:55)
17
Rogue System
May 16, 2016
$8.99
89% (94%)
3,739 ±1,723
2,701 ±1,464
10:37 (18:23)
18
Portal of Evil: Stolen Runes Collector's Edition
May 26, 2015
$6.99
N/A (N/A)
50,689 ±6,344
6,440 ±2,261
03:59 (02:44)
19
Enigmatis 3: The Shadow of Karkhala
Aug 11, 2016
$4.99
86% (93%)
27,838 ±4,701
17,035 ±3,678
05:54 (04:27)
20
Kalimba
Apr 22, 2015
$2.49
86% (93%/81%)
10,179 ±2,843
7,479 ±2,437
04:24 (03:29)
21
Chef Solitaire: USA
Jan 15, 2016
$2.39
N/A (N/A)
12,672 ±3,172
9,764 ±2,784
16:11 (06:35)
22
House of 1000 Doors: The Palm of Zoroaster Collector's Edition
Jul 8, 2014
$2.49
82% (92%)
32,408 ±5,073
17,658 ±3,744
04:44 (03:47)
23
The Secret Order 3: Ancient Times
Mar 10, 2016
$3.99
82% (92%)
26,799 ±4,613
14,957 ±3,446
05:31 (04:02)
24
Dog Sled Saga
Sep 22, 2016
$5.35
78% (91%)
11,841 ±3,066
10,595 ±2,900
10:21 (04:08)
25
Merlin adventurer store
Dec 2, 2016
$2.99
N/A (N/A)
1,662 ±1,148
1,454 ±1,074
03:40 (05:28)
26
All My Gods
Oct 13, 2015
$3.99
N/A (N/A)
7,686 ±2,470
1,662 ±1,148
03:46 (04:42)
27
Grim Legends 3: The Dark City
Jun 2, 2016
$4.99
78% (91%)
33,239 ±5,137
18,489 ±3,831
04:43 (03:53)
28
Flight Control HD
Nov 18, 2010
$1.24
78% (91%)
89,537 ±8,431
81,643 ±8,051
02:55 (01:14)
29
Gun Done
Jun 13, 2016
$0.49
78% (91%)
33,654 ±5,169
26,383 ±4,577
02:31 (01:38)
30
Snuggle Truck
Feb 3, 2012
$4.99
78% (91%)
137,526 ±10,449
79,773 ±7,958
01:56 (00:43)
31
Containment: The Zombie Puzzler
Mar 2, 2012
$1.99
74% (90%)
78,111 ±7,875
26,176 ±4,559
04:13 (00:44)
32
The Collider
Sep 15, 2014
$2.99
74% (90%)
30,123 ±4,891
23,890 ±4,355
02:31 (01:30)
33
Claws & Feathers
Mar 26, 2015
$0.69
N/A (N/A)
1,662 ±1,148
831 ±812
02:50 (02:22)
34
12 Labours of Hercules II: The Cretan Bull
Jun 5, 2015
$0.5
74% (90%)
181,982 ±12,019
132,955 ±10,274
05:20 (04:26)
35
Absolute Drift
Jul 29, 2015
$4.79
74% (90%)
129,839 ±10,153
99,093 ±8,870
03:15 (01:25)
36
Artemis Spaceship Bridge Simulator
Sep 16, 2013
$6.99
74% (90%)
62,946 ±7,070
47,989 ±6,173
04:53 (02:03)
37
RunningDead
Mar 3, 2017
$1.79
N/A (N/A)
6,856 ±2,333
4,986 ±1,989
03:11 (03:18)
38
Fine Sweeper
May 25, 2015
$1.49
70% (89%)
48,819 ±6,226
26,591 ±4,595
03:55 (01:55)
39
Goosebumps: The Game
Oct 13, 2015
$2.49
70% (89%)
16,412 ±3,610
3,532 ±1,674
22:45 (03:29)
40
YOU DON'T KNOW JACK Vol. 4 The Ride
Nov 5, 2013
$1.49
N/A (N/A)
64,192 ±7,139
11,426 ±3,012
02:50 (00:38)
41
Sacra Terra: Angelic Night
Jul 2, 2015
$1.22
67% (88%)
22,644 ±4,240
14,542 ±3,398
03:20 (03:17)
42
QbQbQb
Oct 29, 2014
$4.99
N/A (N/A)
16,412 ±3,610
4,570 ±1,905
00:49 (00:53)
43
HellGunner
May 11, 2017
$0.99
N/A (N/A)
26,176 ±4,559
24,306 ±4,393
04:20 (04:30)
44
Dracula: Love Kills
Oct 29, 2013
$2.49
N/A (N/A)
27,214 ±4,648
8,102 ±2,536
06:08 (06:25)
45
Use Your Words
Apr 3, 2017
$7.49
N/A (N/A)
5,401 ±2,071
5,401 ±2,071
02:14 (01:56)
46
Sid Meier's Colonization (Classic)
Oct 9, 2014
$2.09
64% (87%)
42,172 ±5,787
24,098 ±4,374
21:26 (05:24)
47
12 Labours of Hercules III: Girl Power
Aug 7, 2015
$0.5
64% (87%)
95,146 ±8,691
74,787 ±7,706
05:35 (03:34)
48
WolfQuest
Mar 25, 2016
$9.99
64% (87%)
33,862 ±5,185
32,616 ±5,089
15:44 (05:19)
49
Christmas Adventure: Candy Storm
Apr 1, 2016
$0.79
61% (86%)
8,725 ±2,632
6,440 ±2,261
03:13 (02:17)
50
RaidersSphere4th
Jun 1, 2015
$4.99
N/A (N/A)
2,701 ±1,464
2,077 ±1,284
05:04 (07:57)
51
12 Labours of Hercules VI: Race for Olympus
Dec 21, 2016
$2
N/A (N/A)
7,479 ±2,437
3,739 ±1,723
09:15 (08:37)
52
Mind Snares: Alice's Journey
Apr 23, 2015
$2.99
61% (86%)
58,168 ±6,796
33,862 ±5,185
04:14 (03:36)
53
Cloning Clyde
Mar 15, 2011
$3.99
N/A (N/A)
28,045 ±4,719
7,894 ±2,503
01:32 (00:24)
54
Mountain Crime: Requital
Aug 27, 2015
$1.22
61% (86%)
39,471 ±5,598
28,876 ±4,788
03:50 (03:37)
55
Karma. Incarnation 1
Oct 19, 2016
$1.49
61% (86%)
51,728 ±6,409
11,634 ±3,039
02:52 (02:21)
56
Crazy Machines Elements
Feb 10, 2012
$4.99
N/A (N/A)
29,915 ±4,874
8,310 ±2,568
03:24 (01:48)
57
Oik
Feb 14, 2017
$0.64
56% (84%)
23,475 ±4,317
19,736 ±3,958
02:25 (02:07)
58
Brink of Consciousness: Dorian Gray Syndrome Collector's Edition
Jul 18, 2014
$2.49
56% (84%)
33,239 ±5,137
9,348 ±2,724
12:10 (04:13)
59
ViveSpray
Nov 25, 2016
$5.94
56% (84%)
4,570 ±1,905
4,363 ±1,861
01:18 (00:49)
60
My Lady
Mar 28, 2016
$0.49
53% (83%)
2,908 ±1,519
1,870 ±1,218
00:41 (00:46)
61
Tales of the Orient: The Rising Sun
Feb 27, 2015
$4.99
N/A (N/A)
68,971 ±7,400
48,196 ±6,186
04:45 (04:03)
62
Fox & Flock
Jun 9, 2015
$0.49
53% (83%)
9,764 ±2,784
6,025 ±2,187
02:55 (03:22)
63
Legends of Solitaire: Curse of the Dragons
Sep 28, 2015
$3.99
N/A (N/A)
15,165 ±3,470
8,102 ±2,536
05:22 (05:11)
64
Joe Danger
Jun 24, 2013
$4.49
N/A (N/A)
19,943 ±3,979
15,373 ±3,494
02:20 (00:58)
65
Alex Hunter - Lord of the Mind Platinum Edition
Dec 3, 2013
$1.39
51% (82%)
25,137 ±4,468
15,996 ±3,564
06:13 (04:31)
66
Vertigo Void
Oct 30, 2015
$0.74
N/A (N/A)
8,102 ±2,536
4,363 ±1,861
02:55 (03:36)
67
Joe Danger 2: The Movie
Jun 24, 2013
$4.49
N/A (N/A/82%)
292,086 ±15,225
125,684 ±9,989
01:52 (00:58)
68
The Dope Game
May 30, 2016
$1.19
51% (82%)
8,517 ±2,600
6,856 ±2,333
02:54 (01:57)
69
Karate Master 2 Knock Down Blow
Mar 20, 2015
$3.49
51% (82%)
18,905 ±3,874
16,827 ±3,655
04:28 (03:49)
70
Left in the Dark: No One on Board
Oct 2, 2014
$2.99
51% (82%)
71,463 ±7,533
42,379 ±5,801
04:07 (03:28)
71
Evochron Legacy
Jan 18, 2016
$17.49
49% (81%)
11,426 ±3,012
10,387 ±2,872
09:28 (03:12)
72
Stable Orbit
Oct 14, 2016
$11.24
49% (81%)
6,232 ±2,224
3,739 ±1,723
03:04 (02:37)
73
Cross Set
Nov 17, 2015
$1.49
49% (81%)
9,972 ±2,814
6,440 ±2,261
04:46 (03:18)
74
Rooms: The Main Building
Jul 11, 2014
$9.99
N/A (N/A)
69,801 ±7,445
42,379 ±5,801
02:32 (01:37)
75
X: Beyond the Frontier
Oct 8, 2010
$2.49
49% (81%/67%)
210,859 ±12,937
51,520 ±6,396
06:03 (00:37)
76
Rescue Team 5
Nov 18, 2015
$1.63
N/A (N/A)
18,697 ±3,853
12,049 ±3,093
06:28 (03:33)
77
Crazy Machines
Dec 12, 2008
$4.99
49% (81%/78%)
61,492 ±6,987
27,630 ±4,684
03:34 (00:47)
78
Domestic Dog
Apr 10, 2015
$1.19
46% (80%)
27,214 ±4,648
21,397 ±4,122
01:55 (01:11)
79
Copoka
Feb 15, 2017
$3.34
N/A (N/A)
19,320 ±3,917
4,363 ±1,861
02:12 (02:30)
80
Lucid
Jul 19, 2011
$1.99
46% (80%)
71,671 ±7,544
35,939 ±5,342
05:05 (00:52)
81
Dead Hungry Diner
May 16, 2012
$0.99
N/A (N/A)
30,123 ±4,891
20,774 ±4,061
03:03 (01:10)
82
7 Wonders of the Ancient World
Feb 18, 2014
$3.49
N/A (N/A)
6,440 ±2,261
3,116 ±1,573
06:11 (04:38)
83
Legend of Merchant
Dec 16, 2016
$1.79
46% (80%)
18,489 ±3,831
15,996 ±3,564
03:29 (01:50)
84
Duke of Alpha Centauri
Dec 28, 2016
$0.5
46% (80%)
51,105 ±6,370
29,084 ±4,805
03:20 (03:19)
85
Luna's Wandering Stars
May 15, 2015
$0.99
N/A (N/A)
89,537 ±8,431
19,943 ±3,979
03:09 (03:07)
86
Demon Hunter 3: Revelation
Dec 1, 2016
$3.99
N/A (N/A)
5,401 ±2,071
3,739 ±1,723
02:52 (02:44)
87
Evochron Mercenary
Jan 16, 2012
$13.99
44% (79%/70%)
94,938 ±8,682
85,174 ±8,223
06:21 (01:53)
88
Reload
Feb 13, 2015
$0.94
N/A (N/A)
11,010 ±2,957
2,285 ±1,347
07:38 (00:48)
89
Vector 36
Jan 25, 2017
$15.99
44% (79%)
5,817 ±2,149
4,986 ±1,989
01:08 (00:46)
90
Awe
Oct 9, 2015
$0.49
42% (78%)
14,957 ±3,446
11,841 ±3,066
01:55 (01:48)
91
Pickers
Feb 22, 2012
$4.99
42% (78%)
27,007 ±4,631
9,764 ±2,784
13:14 (02:44)
92
Bridge Constructor Medieval
Sep 15, 2014
$1.99
42% (78%)
84,136 ±8,173
43,003 ±5,843
02:50 (01:03)
93
Brick Rigs
Nov 7, 2016
$11.99
42% (78%)
31,577 ±5,007
31,369 ±4,991
08:47 (04:03)
94
SEASON OF MYSTERY: The Cherry Blossom Murders
Feb 3, 2010
$2.49
40% (77%)
45,911 ±6,038
17,035 ±3,678
04:31 (03:19)
95
Dracula's Legacy
Oct 22, 2015
$0.5
40% (77%)
77,488 ±7,844
57,960 ±6,784
03:27 (03:10)
96
Inbetween Land
Feb 19, 2015
$2.79
N/A (N/A)
9,972 ±2,814
6,025 ±2,187
03:03 (03:21)
97
The Secret Order 4: Beyond Time
Sep 22, 2016
$4.99
N/A (N/A)
11,218 ±2,984
6,232 ±2,224
04:03 (03:42)
98
Funk of Titans
Jul 24, 2015
$0.69
N/A (N/A)
10,387 ±2,872
5,194 ±2,030
03:06 (03:37)
99
Bridge Constructor
Oct 16, 2013
$1.99
40% (77%)
267,988 ±14,584
156,638 ±11,151
04:31 (01:31)
100
moto RKD dash
Jun 3, 2016
$2.99
N/A (N/A)
9,972 ±2,814
7,479 ±2,437
02:44 (03:07)
101
VR Sports
Mar 13, 2017
$10.39
N/A (N/A)
2,701 ±1,464
2,285 ±1,347
03:46 (03:44)
102
Fairy Tale Mysteries 2: The Beanstalk
Oct 8, 2015
$2.99
38% (76%)
34,693 ±5,248
19,112 ±3,895
04:25 (04:04)
103
Season Match
Sep 15, 2014
$0.51
36% (75%)
8,725 ±2,632
6,648 ±2,297
11:57 (04:26)
104
Akin
Jun 6, 2016
$0.74
N/A (N/A)
61,700 ±6,999
53,805 ±6,536
04:05 (04:00)
105
Season Match 3 - Curse of the Witch Crow
Oct 30, 2014
$0.49
36% (75%)
8,517 ±2,600
6,232 ±2,224
22:41 (09:17)
106
Colours of Magic: Aqua Teeter
Apr 25, 2016
$0.49
N/A (N/A)
9,141 ±2,694
6,440 ±2,261
04:23 (04:19)
107
GemBreak
Jun 14, 2016
$0.68
36% (75%)
17,450 ±3,722
13,711 ±3,299
03:43 (03:49)
108
The Happy Hereafter
Jun 5, 2014
$0.51
36% (75%)
14,750 ±3,422
9,764 ±2,784
02:54 (02:29)
109
Jump To Die!!
Feb 9, 2017
$1.99
36% (75%)
3,532 ±1,674
1,870 ±1,218
08:36 (03:32)
110
Marooners
Sep 15, 2016
$7.79
35% (74%)
10,803 ±2,929
8,310 ±2,568
02:21 (02:38)
111
The Dreamatorium of Dr. Magnus 2
Sep 9, 2015
$7.99
N/A (N/A)
26,176 ±4,559
17,243 ±3,700
03:39 (03:30)
112
Mystic Saga
Jan 27, 2016
Free
35% (74%)
48,404 ±6,199
7,894 ±2,503
12:55 (01:12)
113
Romopolis
May 18, 2016
$0.99
N/A (N/A)
19,320 ±3,917
10,803 ±2,929
02:57 (02:53)
114
Doodle God
Sep 24, 2015
$5.09
33% (73%)
61,700 ±6,999
37,394 ±5,449
04:26 (03:19)
115
Coffin Dodgers
Jul 8, 2015
$10.99
33% (73%)
58,999 ±6,844
43,210 ±5,857
03:24 (02:57)
116
The Spatials
Mar 30, 2015
$4.99
33% (73%)
23,890 ±4,355
21,813 ±4,162
05:54 (03:06)
117
Atlantis: Pearls of the Deep
Sep 6, 2016
$1.39
N/A (N/A)
3,324 ±1,624
1,454 ±1,074
10:39 (12:01)
118
The Last Photon
Apr 15, 2016
$0.51
31% (72%)
120,906 ±9,797
88,914 ±8,402
04:01 (04:15)
119
Wildlife Camp
Nov 20, 2015
$5.24
N/A (N/A)
2,908 ±1,519
2,493 ±1,407
08:26 (03:52)
120
Rogue State
Oct 16, 2015
$1.29
30% (71%/66%)
18,905 ±3,874
14,126 ±3,349
04:41 (04:14)
121
The First Spark
Jul 11, 2016
$0.51
30% (71%)
52,767 ±6,473
37,809 ±5,479
03:56 (03:57)
122
Gravity Badgers
Nov 28, 2013
$0.99
28% (70%)
87,252 ±8,323
55,052 ±6,611
02:26 (01:34)
123
World Keepers: Last Resort
Feb 2, 2017
$1.63
N/A (N/A)
6,440 ±2,261
2,701 ±1,464
06:49 (03:26)
124
Freddi Fish and Luther's Water Worries
May 1, 2014
$1.99
N/A (N/A)
19,320 ±3,917
2,285 ±1,347
26:03 (94:57)
125
Wildlife Park 2 - Marine World
Jul 17, 2014
$2.79
N/A (N/A)
35,732 ±5,326
15,581 ±3,517
04:55 (01:08)
126
Demon Hunter 2: New Chapter
Jul 21, 2016
$3.99
N/A (N/A)
13,919 ±3,324
7,894 ±2,503
04:23 (03:20)
127
School Bus Fun
Jul 3, 2014
$1.49
N/A (N/A)
23,890 ±4,355
15,373 ±3,494
04:13 (04:21)
128
Sky Valley
Aug 4, 2016
$0.49
N/A (N/A)
9,972 ±2,814
6,856 ±2,333
02:28 (03:13)
129
Tea Party Simulator 2015
Apr 23, 2015
$4.99
25% (68%)
122,984 ±9,881
95,146 ±8,691
04:50 (04:19)
130
Parkan 2
Apr 16, 2014
$0.99
25% (68%)
61,284 ±6,976
26,176 ±4,559
02:59 (01:25)
131
Video blogger Story
Jun 13, 2016
$4.89
25% (68%)
18,281 ±3,810
15,788 ±3,541
03:19 (03:01)
132
The Guild II - Pirates of the European Seas
Jun 24, 2010
$2.49
24% (67%/63%)
299,980 ±15,429
74,787 ±7,706
05:45 (01:13)
133
Surgeon Simulator: Experience Reality
Dec 5, 2016
$13.39
24% (67%)
8,725 ±2,632
7,479 ±2,437
03:31 (02:47)
134
The Oil Blue: Steam Legacy Edition
Aug 6, 2015
$0.99
23% (66%)
26,383 ±4,577
17,450 ±3,722
03:38 (03:27)
135
Night Mysteries: The Amphora Prisoner
Feb 26, 2015
$1.49
N/A (N/A)
22,228 ±4,201
15,165 ±3,470
04:10 (03:54)
136
Hidden Object Bundle 5 in 1
Feb 26, 2015
$4.09
N/A (N/A)
19,943 ±3,979
12,880 ±3,198
14:52 (06:41)
137
Demon Hunter: Chronicles from Beyond
Dec 4, 2014
$2.99
21% (64%)
46,534 ±6,079
26,176 ±4,559
04:07 (03:35)
138
The Corporate Machine
Mar 25, 2015
$4.99
N/A (N/A/80%)
4,986 ±1,989
2,701 ±1,464
01:36 (02:02)
139
Stop Online - Battle of Words
Jan 15, 2016
$1.24
N/A (N/A)
24,721 ±4,430
17,243 ±3,700
04:39 (04:38)
140
Iron Front: Digital War Edition
May 25, 2012
$3.74
18% (62%/55%)
75,411 ±7,738
70,840 ±7,500
11:35 (03:17)
141
Al Emmo's Postcards from Anozira
Jun 2, 2015
$1.24
N/A (N/A)
8,310 ±2,568
6,648 ±2,297
04:30 (04:29)
142
String Theory
Feb 17, 2016
$0.89
N/A (N/A)
3,116 ±1,573
1,662 ±1,148
01:01 (00:56)
143
Carp Fishing Simulator
Apr 28, 2015
$2.59
15% (59%)
13,088 ±3,224
4,155 ±1,816
02:57 (01:26)
144
Puzzle Kingdoms
Apr 27, 2009
$3.74
15% (59%)
97,639 ±8,805
32,616 ±5,089
12:09 (01:43)
145
Star Fields
Aug 6, 2016
$0.49
N/A (N/A)
126,723 ±10,030
92,445 ±8,567
03:50 (03:30)
146
Evil Pumpkin: The Lost Halloween
Jul 11, 2014
$9.99
N/A (N/A)
12,672 ±3,172
6,648 ±2,297
05:47 (04:40)
147
The Clockwork Man
Aug 10, 2011
$2.79
14% (58%)
8,310 ±2,568
6,856 ±2,333
03:17 (02:31)
148
Inside The Gear
Nov 21, 2014
$0.74
N/A (N/A)
44,457 ±5,941
25,552 ±4,504
02:47 (03:01)
149
Snik
Sep 4, 2015
$0.5
N/A (N/A)
34,485 ±5,233
25,552 ±4,504
04:57 (05:31)
150
Assassins vs Pirates
May 10, 2016
$1.99
N/A (N/A)
3,116 ±1,573
2,908 ±1,519
02:23 (02:50)
151
Ant War: Domination
Oct 2, 2015
$0.98
12% (55%)
20,567 ±4,041
15,165 ±3,470
05:47 (02:53)
152
Tracks of Triumph: Good Old Times
Jan 24, 2017
$0.51
N/A (N/A)
8,517 ±2,600
4,986 ±1,989
04:02 (04:10)
153
Don't Die Dateless, Dummy!
Mar 21, 2016
$2.99
N/A (N/A)
3,116 ±1,573
1,870 ±1,218
00:59 (00:41)
154
Shred! Downhill Mountain Biking
Jul 8, 2015
$5.99
12% (54%)
4,155 ±1,816
1,454 ±1,074
01:11 (01:18)
155
Intelligent Design: An Evolutionary Sandbox
May 12, 2017
$5.59
N/A (N/A)
4,570 ±1,905
3,947 ±1,770
01:52 (00:45)
156
Dark Heritage: Guardians of Hope
Sep 24, 2015
$2.99
N/A (N/A)
29,292 ±4,823
16,204 ±3,587
04:22 (03:41)
157
Democracy 2
Oct 11, 2012
$6.79
10% (52%)
42,795 ±5,829
31,369 ±4,991
04:05 (01:34)
158
Guild Commander
Jan 23, 2015
$3.49
9% (50%)
5,401 ±2,071
4,363 ±1,861
02:08 (01:44)
159
Contract With The Devil
Dec 11, 2015
$1.49
N/A (N/A)
15,788 ±3,541
11,010 ±2,957
06:06 (05:37)
160
The Tomorrow War
Apr 3, 2014
$1.01
N/A (N/A)
42,172 ±5,787
12,880 ±3,198
03:51 (01:49)
161
ZombieRush
May 4, 2016
Free
N/A (N/A)
24,306 ±4,393
18,281 ±3,810
03:05 (03:29)
162
Where Angels Cry
Feb 27, 2014
$2.49
N/A (N/A)
19,320 ±3,917
3,739 ±1,723
02:28 (02:37)
163
The Pasture
Jan 17, 2017
$0.49
N/A (N/A)
22,436 ±4,221
18,489 ±3,831
03:53 (03:29)
164
Cannons-Defenders: Steam Edition
Apr 7, 2017
$0.49
N/A (N/A)
9,141 ±2,694
6,856 ±2,333
03:55 (03:59)
165
Time Mysteries: Inheritance - Remastered
Feb 26, 2015
$2.99
7% (46%)
65,647 ±7,220
42,379 ±5,801
03:51 (03:29)
166
Post Master
Mar 7, 2014
$0.99
7% (46%)
87,460 ±8,333
49,443 ±6,266
02:26 (02:16)
167
Showing Tonight: Mindhunters Incident
Nov 12, 2015
$1.39
N/A (N/A)
8,310 ±2,568
5,401 ±2,071
06:11 (05:49)
168
Idol Hands
Feb 18, 2015
$0.99
6% (45%)
19,112 ±3,895
8,102 ±2,536
03:26 (03:12)
169
Kingdom Tales
Feb 13, 2014
$1.49
N/A (N/A)
9,764 ±2,784
1,870 ±1,218
12:49 (14:26)
170
Farming World
May 2, 2014
$0.99
6% (43%)
66,062 ±7,242
39,471 ±5,598
03:27 (02:23)
171
Organ Biker
Jun 1, 2015
$0.49
N/A (N/A)
44,041 ±5,913
39,679 ±5,613
03:32 (03:30)
172
Apothecarium: The Renaissance of Evil - Premium Edition
May 28, 2015
$1.74
N/A (N/A)
16,412 ±3,610
2,077 ±1,284
02:07 (02:55)
173
Store Manager: Cellular Edition
Mar 31, 2017
$4.96
N/A (N/A)
9,972 ±2,814
1,454 ±1,074
00:31 (00:20)
174
Game Tycoon 2
Apr 8, 2016
$10.04
4% (38%)
14,126 ±3,349
10,595 ±2,900
03:23 (02:34)
175
Wild Season
Dec 7, 2015
$16.99
3% (36%)
11,634 ±3,039
4,570 ±1,905
06:53 (05:09)
176
The Safeguard Garrison 2
Apr 11, 2017
$0.51
N/A (N/A)
6,025 ±2,187
3,532 ±1,674
03:51 (04:28)
177
Tales From The Dragon Mountain: The Strix
Feb 20, 2014
$1.49
N/A (N/A)
16,204 ±3,587
2,493 ±1,407
02:40 (02:23)
178
Tapocalypse
Dec 16, 2016
$1.34
N/A (N/A)
9,972 ±2,814
7,479 ±2,437
06:04 (06:32)
179
Chronicles of the Witches and Warlocks
Nov 18, 2015
$1.49
N/A (N/A)
17,243 ±3,700
12,049 ±3,093
04:57 (04:36)
180
Movie Studio Boss: The Sequel
Dec 17, 2014
$1.49
N/A (N/A)
8,310 ±2,568
5,401 ±2,071
02:43 (02:46)
181
Spacebase DF-9
Oct 27, 2014
$0.99
0% (19%/49%)
184,475 ±12,101
115,713 ±9,585
07:23 (03:28)
182
Lands Of Devastation
May 18, 2016
Free
N/A (N/A)
18,489 ±3,831
13,919 ±3,324
03:28 (03:30)
183
Game Tycoon 1.5
Feb 11, 2014
$1.49
0% (11%)
86,005 ±8,263
57,129 ±6,735
02:43 (02:49)