App

DvDrum, Ultimate Drum Simulator!
DvDrum, Ultimate Drum Simulator!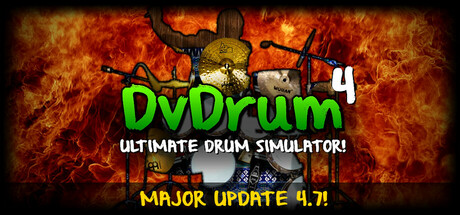 Store | Hub | SteamDB | Site
Developer: DarkTigerDevelop Publisher: DarkTigerDevelop
Genre: Casual, Indie, Simulation, Sports
Languages: English
Tags: Simulation (36), Casual (34), Indie (33), Sports (27), Music (20), Rhythm (16), Singleplayer (14), Audio Production (13), Controller (12), 2D (12), Realistic (12), Family Friendly (12), Sandbox (12), Difficult (12), Web Publishing (11), Replay Value (11), Building (11), Video Production (11), Education (11), Cute (11)
Category: Single-player, Full controller support, Steam Workshop, Steam Cloud, Includes level editor
Release date: Feb 9, 2017 (previously in Early Access)
Price: $19.99
Old userscore: 84% Owners: 7,551 ± 2,743
Players total: 2,343 ± 1,528 (31.03%)
Followers: 943
Peak concurrent players yesterday: 5
Playtime total: 00:49 (average) 00:31 (median)

Steam Spy is still in beta, so expect major bugs.
Peak daily concurrent players:
CCU data courtesy of SteamDB. Used with permission.
Hourly concurrent players:
YouTube:
The views data is based on top 50 videos uploaded last week. Actual number of views might be more than the number shown.

The displayed number of videos uploaded yesterday is limited to 50, so if there were more videos uploaded, the number will still show 50.

If the game has commonly used word as its name (like "FEAR" or "Volume") its number of Youtube views might be wrong.
Games similar to this one:
#
Game
Release date

Price

Score rank
(Userscore / Metascore)

Owners

Players

Playtime (Median)

1
Putt-Putt and Pep's Dog on a Stick
May 1, 2014
$4.99
N/A (N/A)
19,529 ±4,411
3,645 ±1,905
00:52 (00:27)
2
Bedfellows FRENZY
Feb 22, 2017
$7.99
N/A (N/A)
3,906 ±1,972
521 ±720
01:47 (01:11)
3
Freddi Fish and Luther's Maze Madness
Apr 17, 2014
$4.99
N/A (N/A)
32,288 ±5,671
7,551 ±2,743
01:04 (00:17)
4
Chicken Invaders 5
Mar 13, 2015
$4.99
95% (96%)
21,091 ±4,584
19,008 ±4,352
10:09 (05:50)
5
Virtual-O
Dec 7, 2016
$39.99
N/A (N/A)
2,343 ±1,528
2,343 ±1,528
05:27 (09:39)
6
Elastrix
Dec 18, 2014
$2.99
N/A (N/A)
3,385 ±1,836
2,083 ±1,440
00:58 (00:50)
7
NoLimits 2 Roller Coaster Simulation
Aug 21, 2014
$39.99
67% (88%)
32,548 ±5,694
31,767 ±5,626
24:48 (03:08)
8
Reload
Feb 13, 2015
$4.99
N/A (N/A)
10,415 ±3,221
2,083 ±1,440
01:32 (02:03)
9
Gardens Inc. From Rakes to Riches
Mar 25, 2014
$9.99
N/A (N/A)
30,986 ±5,556
5,208 ±2,277
11:41 (09:46)
10
AudioBeats
Jan 5, 2017
$9.99
N/A (N/A)
2,604 ±1,610
1,562 ±1,247
01:57 (03:50)
11
Rock God Tycoon
Feb 13, 2017
$10.99
56% (84%)
6,770 ±2,597
6,249 ±2,495
08:03 (04:45)
12
Funk of Titans
Jul 24, 2015
$6.99
N/A (N/A)
12,759 ±3,565
8,332 ±2,881
03:23 (03:26)
13
Snake Blocks
Dec 21, 2015
$4.99
N/A (N/A)
15,363 ±3,912
1,562 ±1,247
00:14 (00:16)
14
Musclecar Online
Feb 12, 2015
$5.99
N/A (N/A)
13,280 ±3,637
1,823 ±1,347
00:10 (00:20)
15
Hexus
Sep 17, 2014
$4.99
N/A (N/A)
11,717 ±3,416
1,302 ±1,138
03:05 (05:07)
16
Colt Express
Nov 17, 2016
$6.99
N/A (N/A)
3,125 ±1,764
2,083 ±1,440
02:55 (03:25)
17
Fly Simulator
Jul 16, 2017
$2.99
31% (72%)
6,249 ±2,495
3,385 ±1,836
00:20 (00:20)
18
Political Animals
Nov 2, 2016
$14.99
28% (70%)
5,989 ±2,442
4,947 ±2,220
01:44 (01:34)
19
Home Improvisation: Furniture Sandbox
Jul 28, 2016
$9.99
28% (70%)
14,321 ±3,777
12,759 ±3,565
01:40 (01:11)
20
Chronicle Keepers: The Dreaming Garden
Jun 11, 2015
$4.99
N/A (N/A)
11,717 ±3,416
3,645 ±1,905
02:59 (02:41)
21
ViveSpray
Nov 25, 2016
$6.99
24% (67%)
5,208 ±2,277
4,687 ±2,161
01:21 (01:03)
22
Agent Walker: Secret Journey
Sep 1, 2016
$9.99
N/A (N/A)
12,759 ±3,565
8,072 ±2,836
03:24 (03:27)
23
World Keepers: Last Resort
Feb 2, 2017
$3.99
N/A (N/A)
9,634 ±3,098
5,989 ±2,442
03:29 (03:03)
24
BOMB: Who let the dogfight?
Jul 29, 2015
$7.99
16% (60%)
2,343 ±1,528
2,343 ±1,528
02:25 (02:17)
25
Domain Defense
Jul 14, 2016
$9.99
N/A (N/A)
2,864 ±1,689
2,343 ±1,528
04:45 (06:08)
26
Perfection.
Aug 28, 2013
$2.99
N/A (N/A)
19,529 ±4,411
7,291 ±2,695
00:38 (00:13)
27
Anti-Opoly
Aug 14, 2015
$9.99
N/A (N/A)
2,604 ±1,610
1,823 ±1,347
01:21 (02:25)
28
MadOut
Jun 5, 2015
$9.99
N/A (N/A)
1,823 ±1,347
1,562 ±1,247
00:42 (00:41)
29
Infinite Game Works Episode 0
Jun 10, 2014
$12.99
N/A (N/A)
1,823 ±1,347
1,562 ±1,247
00:56 (01:06)
30
Apothecarium: The Renaissance of Evil - Premium Edition
May 28, 2015
$6.99
N/A (N/A)
16,665 ±4,074
2,604 ±1,610
03:09 (03:51)
31
Store Manager: Cellular Edition
Mar 31, 2017
$6.99
N/A (N/A)
10,415 ±3,221
1,302 ±1,138
00:51 (00:56)
32
15 Days
Apr 1, 2015
$9.99
2% (33%/63%)
15,623 ±3,945
4,687 ±2,161
03:30 (01:26)
33
Love And Order
Apr 10, 2015
$9.99
N/A (N/A)
1,460 ±2,021
730 ±1,429
04:47 (04:47)
34
Movie Studio Boss: The Sequel
Dec 17, 2014
$9.99
N/A (N/A)
10,676 ±3,261
7,551 ±2,743
04:56 (02:48)