Pocket Rumble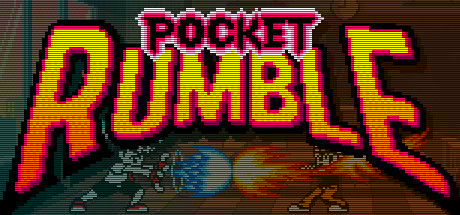 Store | Hub | SteamDB | Site
Developer: Cardboard Robot Games Publisher: Chucklefish Games
Genre: Action, Indie, Early Access
Languages: English
Tags: Early Access (36), Indie (32), Action (22), 2D Fighter (21), Pixel Graphics (20), Fighting (20)
Category: Single-player, Multi-player, Online Multi-Player, Local Multi-Player, Shared/Split Screen, Full controller support, Captions available, Stats, Steam Leaderboards
Release date: Feb 1, 2016
Price: $9.99
Score rank: 29% Userscore: 72% Old userscore: 80%
Owners: 0..30,000
Followers: 1,503
Peak concurrent players yesterday: 3
YouTube stats: 86 views and 0 comments for videos uploaded last week, 0 new videos uploaded yesterday.

Steam Spy is still in beta, so expect major bugs.
Owners data:
Audience in 2 weeks:
Total audience:
Peak daily concurrent players:
CCU data courtesy of SteamDB. Used with permission.
Hourly concurrent players:
YouTube:
The views data is based on top 50 videos uploaded last week. Actual number of views might be more than the number shown.

The displayed number of videos uploaded yesterday is limited to 50, so if there were more videos uploaded, the number will still show 50.

If the game has commonly used word as its name (like "FEAR" or "Volume") its number of Youtube views might be wrong.
Games similar to this one:
#
Game
Release date

Price

Score rank
(Userscore / Metascore)

1
Color Symphony 2
Oct 16, 2015
$9.99
N/A (N/A)
2
Beeswing
May 8, 2015
$4.99
N/A (N/A)
3
Rivalry
Jan 22, 2016
$2.99
N/A (N/A)
4
Riptale
Apr 27, 2017
$5.99
94% (96%)
5
Castle Must Be Mine
Nov 11, 2016
$15.99
94% (96%)
6
I and Me
May 4, 2016
$9.99
94% (96%)
7
Lucius Demake
Aug 8, 2016
$4.99
91% (95%)
8
Shootout on Cash Island
Jan 18, 2018
$2.99
N/A (N/A)
9
Abode
Dec 1, 2016
$9.99
N/A (N/A)
10
/reality
Apr 18, 2017
$11.99
N/A (N/A)
11
Turner
Jul 15, 2016
$2.99
N/A (N/A)
12
Cooking Witch
May 18, 2017
$1.99
N/A (N/A)
13
God Of Arrows VR
Nov 2, 2016
$2.99
N/A (N/A)
14
Ossuary
May 27, 2015
$9.99
N/A (N/A)
15
6180 the moon
Sep 19, 2014
$3.99
80% (92%)
16
Tiltagon
Mar 29, 2016
$2.99
N/A (N/A)
17
Tasty Blue
Feb 10, 2015
$5.99
N/A (N/A)
18
Axes and Acres
Apr 7, 2016
$4.99
N/A (N/A)
19
One Upon Light
Feb 23, 2016
$11.99
N/A (N/A)
20
Ahnayro: The Dream World
Dec 1, 2016
$4.99
75% (91%)
21
Mecha Ace
Dec 5, 2014
$5.99
75% (91%)
22
Bio Inc. Redemption
Mar 8, 2018
$12.99
72% (90%)
23
Tasty Planet: Back for Seconds
Mar 29, 2016
$5.99
72% (90%)
24
Castle of no Escape 2
Dec 21, 2016
$6.66
N/A (N/A)
25
Bard's Gold
Aug 14, 2015
$4.99
72% (90%/58%)
26
RunGunJumpGun
Aug 31, 2016
$7.99
N/A (N/A/82%)
27
XenoRaptor
Jun 16, 2014
$9.99
68% (89%)
28
Space Tyrant
Feb 27, 2018
$19.99
N/A (N/A)
29
Dong-Jin Rice-hime
Apr 28, 2017
$19.99
68% (89%)
30
Champion of the Gods
Jul 17, 2015
$6.99
N/A (N/A)
31
Ghost Town Mine Ride & Shootin' Gallery
Oct 28, 2016
$6.74
N/A (N/A)
32
Raptor Valley
Sep 9, 2016
$8.99
N/A (N/A)
33
Abomination Tower
Feb 13, 2015
$4.99
N/A (N/A)
34
Starr Mazer: DSP
Aug 26, 2016
$9.99
N/A (N/A)
35
Sparkle 2
Jun 1, 2015
$7.99
N/A (N/A)
36
King Oddball
Sep 9, 2016
$4.99
N/A (N/A)
37
Super Indie Karts
May 6, 2015
$9.99
59% (86%)
38
DYE
Feb 23, 2017
$4.99
N/A (N/A)
39
Gloom
Apr 13, 2017
$9.99
N/A (N/A)
40
Alwa's Awakening
Feb 2, 2017
$9.99
N/A (N/A/71%)
41
Stellar Interface
Nov 21, 2016
$3.89
N/A (N/A)
42
Heroes Never Lose: Professor Puzzler's Perplexing Ploy
Nov 23, 2015
$8.99
N/A (N/A)
43
Straima
Sep 25, 2015
$6.99
N/A (N/A)
44
My Night Job
Apr 21, 2016
$3.99
N/A (N/A)
45
Chicku
May 5, 2016
$4.99
N/A (N/A)
46
Icarus Starship Command Simulator
May 26, 2017
$3.99
N/A (N/A)
47
A House of Many Doors
Feb 3, 2017
$10.99
53% (84%)
48
The Song of Seven : Overture
May 17, 2016
$7.99
N/A (N/A)
49
100nya
Nov 12, 2016
$2.79
N/A (N/A)
50
Super Arcade Football
Apr 4, 2016
$9.99
48% (82%)
51
Clandestinity of Elsie
Jul 8, 2015
$4.99
N/A (N/A)
52
Hypersensitive Bob
Mar 29, 2016
$4.99
N/A (N/A)
53
Rogue Wizards
Sep 27, 2016
$14.99
N/A (N/A/67%)
54
Cherry Tree High I! My! Girls!
Nov 20, 2014
$3.99
46% (81%)
55
Potato Thriller
Jun 22, 2016
$2.99
N/A (N/A)
56
Drunkn Bar Fight
Nov 28, 2016
$9.59
43% (80%)
57
ROOT
Nov 16, 2015
$9.99
41% (79%)
58
Medieval Kingdom Wars
Jun 9, 2017
$29.99
N/A (N/A)
59
Gaben Kingdom
May 12, 2017
$0.99
N/A (N/A)
60
MOAI: Build Your Dream
Feb 26, 2015
$6.99
N/A (N/A)
61
Selenon Rising
Apr 29, 2016
$5.99
N/A (N/A)
62
Wayward Terran Frontier: Zero Falls
Feb 11, 2016
$29.99
N/A (N/A)
63
Decent Icons
Dec 18, 2017
$2.99
N/A (N/A)
64
Black The Fall
Jul 11, 2017
$14.99
38% (77%/72%)
65
SimAirport
Mar 6, 2017
$19.99
36% (76%)
66
The Inner Darkness
Feb 24, 2017
$4.99
N/A (N/A)
67
Dragon Kingdom War
Feb 10, 2017
$4.99
N/A (N/A)
68
Finders
Apr 9, 2015
$5.99
N/A (N/A)
69
Awareness Rooms
Jun 16, 2016
$4.99
36% (76%)
70
XLarn
May 25, 2015
$4.99
N/A (N/A)
71
Blaite
Jan 2, 2017
$0.99
N/A (N/A)
72
Moonshot
Dec 21, 2015
$4.99
N/A (N/A)
73
Cubemen 2
Apr 8, 2013
$7.99
N/A (N/A/68%)
74
Lumo
May 24, 2016
$19.99
N/A (N/A/77%)
75
Cards of Cthulhu
Oct 11, 2016
$2.99
N/A (N/A)
76
Qora
Oct 2, 2014
$9.99
30% (73%/63%)
77
Royal Heroes
Mar 16, 2016
$2.49
N/A (N/A)
78
Fracture the Flag
Dec 7, 2016
$4.99
29% (72%)
79
One More Line
Aug 28, 2015
$2.99
N/A (N/A)
80
Tavern Tycoon - Dragon's Hangover
Jan 31, 2017
$10.99
29% (72%)
81
The Purge Day
Nov 25, 2016
$2.99
N/A (N/A)
82
Furfly
Dec 18, 2015
$0.99
N/A (N/A)
83
Giana Sisters 2D
Oct 23, 2015
$7.99
N/A (N/A)
84
Macabre
Jul 6, 2015
$0.99
N/A (N/A)
85
Market Tycoon
May 11, 2017
$9.99
N/A (N/A)
86
One Dog Story
Apr 28, 2017
$4.99
N/A (N/A)
87
Brawlout
Apr 20, 2017
$19.99
23% (68%)
88
Flame of Memory
Dec 8, 2017
$1.79
N/A (N/A)
89
Crest - an indirect god sim
Mar 8, 2018
$9.99
N/A (N/A)
90
Gladiator School
Nov 9, 2017
$11.99
N/A (N/A)
91
Cubway
Aug 11, 2016
$3.99
N/A (N/A)
92
Secret in Story
Jun 19, 2017
$0.99
N/A (N/A)
93
Sign Motion
Oct 24, 2014
$9.99
N/A (N/A)
94
Pro Wrestling X
Nov 18, 2014
$9.99
17% (62%)
95
The Race for the White House
Jan 2, 2015
$14.99
N/A (N/A)
96
RC Simulation 2.0
Nov 24, 2015
$14.99
N/A (N/A)
97
Vaccine War
Mar 20, 2016
$7.99
N/A (N/A)
98
Fairspace
Oct 21, 2015
$8.99
N/A (N/A)
99
Edengrad
Apr 4, 2017
$12.99
15% (60%)
100
Entropy Rising
Nov 20, 2015
$0.99
N/A (N/A)
101
Oscura: Lost Light
Feb 24, 2015
$6.99
N/A (N/A/66%)
102
Dark Passenger
Apr 26, 2017
$1.99
N/A (N/A)
103
Spirit Run - Fire vs. Ice
Feb 12, 2015
$1.99
N/A (N/A)
104
PLUTONIUM
May 9, 2017
$1.99
N/A (N/A)
105
Samphi
Mar 18, 2016
$4.99
N/A (N/A)
106
Crystal Picnic
Nov 2, 2015
$1.99
N/A (N/A)
107
Nanobots
Mar 15, 2016
$3.99
N/A (N/A)
108
Hero's Song
Nov 7, 2016
N/A
N/A (N/A)
109
Rising Islands
Aug 2, 2016
$9.99
N/A (N/A)
110
Social Justice Warriors
Feb 27, 2015
$7.99
8% (50%)
111
Team Indie
Oct 8, 2014
$12.99
N/A (N/A)
112
Nightfall: Escape
Jun 28, 2016
$9.99
N/A (N/A)
113
The Undying Plague
Apr 10, 2015
$0.99
N/A (N/A)
114
LSDriver
Jan 3, 2017
$0.99
N/A (N/A)
115
SparkDimension
Oct 4, 2016
$9.99
N/A (N/A)
116
Undead Overlord
Jul 18, 2014
$14.99
N/A (N/A)
117
Recruits
Jul 31, 2014
$9.99
N/A (N/A)
118
One Late Night: Deadline
Dec 22, 2014
$7.99
N/A (N/A)
119
Race To Mars
Mar 7, 2014
$19.99
0% (8%)