Fish or Die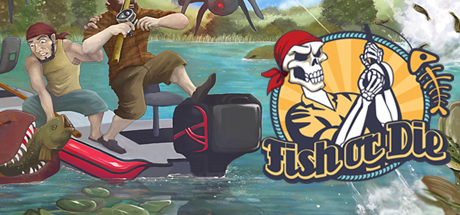 Store | Hub | SteamDB | Site
Developer: Thirsten Studios Publisher: Thirsten Studios
Genre: Casual, Indie, Sports, Strategy
Languages: English
Tags: Early Access (24), Casual (21), Strategy (21), Sports (21), Indie (21)
Category: Single-player
Release date: Apr 25, 2017 (previously in Early Access)
Price: $5.99
Followers: 125
Peak concurrent players yesterday: 1
YouTube stats: 2 views and 0 comments for videos uploaded last week, 0 new videos uploaded yesterday.

Steam Spy is still in beta, so expect major bugs.
Peak daily concurrent players:
CCU data courtesy of SteamDB. Used with permission.
Hourly concurrent players:
YouTube:
The views data is based on top 50 videos uploaded last week. Actual number of views might be more than the number shown.

The displayed number of videos uploaded yesterday is limited to 50, so if there were more videos uploaded, the number will still show 50.

If the game has commonly used word as its name (like "FEAR" or "Volume") its number of Youtube views might be wrong.
Games similar to this one:
#
Game
Release date

Price

Score rank
(Userscore / Metascore)

Owners

Players

Playtime (Median)

1
Second Death
Aug 17, 2016
$2.99
N/A (N/A)
2,188 ±1,617
313 ±611
00:46 (00:23)
2
Bit Shifter
Nov 2, 2015
$14.99
N/A (N/A)
4,782 ±2,040
1,139 ±995
03:01 (03:28)
3
StandPoint
Mar 5, 2015
$9.99
N/A (N/A)
2,505 ±1,477
1,139 ±995
00:23 (00:31)
4
Ghost in the Machine
Apr 22, 2015
$4.99
N/A (N/A)
3,416 ±1,724
228 ±445
00:05 (00:01)
5
Zxill: A Legend of Time
Sep 4, 2015
$6.99
N/A (N/A)
2,813 ±1,834
313 ±611
00:23 (00:11)
6
RPG Fighter League
Nov 11, 2016
$2.99
N/A (N/A)
2,049 ±1,336
0 ±0
00:00 (00:00)
7
StartBolita
Jul 30, 2015
$3.99
N/A (N/A)
2,960 ±1,605
228 ±445
00:31 (00:10)
8
The Food Run
Dec 9, 2016
$1.99
N/A (N/A)
1,563 ±1,367
0 ±0
00:00 (00:00)
9
The Cows Are Watching
Dec 8, 2016
$3.99
N/A (N/A)
625 ±864
313 ±611
00:10 (00:05)
10
Dungeoncraft
Jun 5, 2015
$9.99
N/A (N/A)
2,505 ±1,477
0 ±0
00:00 (00:00)
11
Johnny GravesThe Unchosen One
Apr 6, 2017
$6.99
N/A (N/A)
6,148 ±2,314
911 ±890
00:14 (00:17)
12
Vidar
Jan 31, 2017
$19.99
N/A (N/A)
625 ±864
313 ±611
04:48 (02:24)
13
Heirs And Graces
Sep 2, 2016
$19.99
N/A (N/A)
683 ±771
455 ±629
05:58 (03:58)
14
Space - The Return Of The Pixxelfrazzer
Nov 2, 2015
$2.99
N/A (N/A)
2,049 ±1,336
911 ±890
03:52 (02:10)
15
Gyrodisc Super League
Mar 4, 2016
$12.99
N/A (N/A)
938 ±1,059
625 ±864
01:55 (01:02)
16
Trouble Witches Origin - Episode1 Daughters of Amalgam -
Nov 21, 2016
$9.99
N/A (N/A)
1,594 ±1,178
1,594 ±1,178
03:55 (06:47)
17
Soul Searching
Feb 15, 2017
$9.99
97% (97%)
1,139 ±995
911 ±890
01:54 (01:48)
18
Corinne Cross's Dead & Breakfast
Aug 18, 2016
$4.99
N/A (N/A)
1,243 ±1,721
1,243 ±1,721
05:58 (10:27)
19
Trip to Vinelands
Oct 21, 2016
$0.99
N/A (N/A)
7,287 ±2,519
2,960 ±1,605
00:18 (00:13)
20
LOST ORBIT
May 12, 2015
$11.99
N/A (N/A/72%)
1,250 ±1,223
625 ±864
00:16 (00:13)
21
Ossuary
May 27, 2015
$9.99
N/A (N/A)
2,188 ±1,617
1,875 ±1,497
02:53 (02:18)
22
Tiltagon
Mar 29, 2016
$2.99
N/A (N/A)
2,188 ±1,617
1,250 ±1,223
02:58 (02:11)
23
Too Angry to Space
Aug 8, 2016
$2.99
N/A (N/A)
1,139 ±995
911 ±890
03:56 (05:11)
24
Gathering Sky
Aug 13, 2015
$4.99
N/A (N/A)
1,594 ±1,178
455 ±629
00:16 (00:10)
25
Stories Untold
Feb 27, 2017
$9.99
72% (89%/82%)
10,703 ±3,053
9,336 ±2,851
03:44 (02:52)
26
Combat Core
Aug 18, 2016
$15.99
N/A (N/A)
4,099 ±1,889
1,366 ±1,090
00:47 (00:51)
27
Heroes of Arca
Feb 16, 2017
$5.99
N/A (N/A)
1,366 ±1,090
1,139 ±995
08:42 (11:17)
28
Thirst VR
Aug 10, 2016
$2.99
N/A (N/A)
2,960 ±1,605
911 ±890
00:46 (00:06)
29
Runbow
Nov 18, 2016
$14.99
N/A (N/A)
1,822 ±1,259
1,366 ±1,090
01:46 (02:35)
30
Mind OVR Matter
Jun 20, 2016
$2.99
N/A (N/A)
4,782 ±2,040
683 ±771
00:11 (00:06)
31
Stellar Interface
Nov 21, 2016
$12.99
N/A (N/A)
938 ±1,059
938 ±1,059
17:22 (25:39)
32
The Seeker
Sep 2, 2016
$1.99
N/A (N/A)
2,277 ±1,408
228 ±445
00:31 (00:10)
33
Vektor Wars
Jun 4, 2015
$6.99
N/A (N/A)
12,297 ±3,272
2,049 ±1,336
00:33 (00:34)
34
Slam
Jul 11, 2016
$3.99
N/A (N/A)
2,277 ±1,408
228 ±445
00:22 (00:07)
35
Fuego!
Nov 16, 2015
$4.99
N/A (N/A)
2,505 ±1,477
1,594 ±1,178
02:08 (01:52)
36
Filthy Lucre
Dec 11, 2016
$7.79
N/A (N/A)
2,049 ±1,336
1,366 ±1,090
05:37 (05:58)
37
Drunken Fight Simulator
Jan 17, 2017
$2.99
N/A (N/A)
5,693 ±2,226
228 ±445
00:06 (00:02)
38
Friendship Club
Mar 24, 2015
$11.99
N/A (N/A)
3,416 ±1,724
911 ±890
01:20 (00:54)
39
Akihabara - Feel the Rhythm
Jan 26, 2017
$4.99
N/A (N/A)
4,327 ±1,941
2,049 ±1,336
03:32 (05:46)
40
Shuttle Siege
Dec 30, 2016
$4.99
N/A (N/A)
2,733 ±1,542
455 ±629
01:03 (00:42)
41
Infinite Shooter
Apr 20, 2016
$1.99
N/A (N/A)
3,416 ±1,724
0 ±0
00:00 (00:00)
42
DEFCON VR
Feb 15, 2017
Free
N/A (N/A/84%)
5,465 ±2,181
2,960 ±1,605
00:08 (00:04)
43
Detective Hank and the Golden Sneeze
Jul 29, 2016
$9.99
N/A (N/A)
1,366 ±1,090
455 ±629
03:02 (01:17)
44
The Forgotten Forest
Nov 11, 2015
$0.99
N/A (N/A)
2,049 ±1,336
228 ±445
02:15 (00:45)
45
Magnetron
Nov 16, 2015
$5.99
N/A (N/A)
2,505 ±1,477
455 ±629
00:22 (00:14)
46
Drop Hunt - Adventure Puzzle
Feb 23, 2017
$1.99
N/A (N/A)
33,019 ±5,362
30,969 ±5,193
03:13 (03:30)
47
GoatPunks
Jan 20, 2017
$9.99
N/A (N/A)
4,554 ±1,991
1,139 ±995
01:24 (02:11)
48
Bliss
Dec 8, 2014
$4.99
N/A (N/A)
7,059 ±2,479
911 ±890
00:14 (00:18)
49
Terror Lab
Mar 16, 2016
$3.99
N/A (N/A)
8,653 ±2,745
2,505 ±1,477
00:11 (00:13)
50
Sign Motion
Oct 24, 2014
$9.99
18% (61%)
3,416 ±1,724
2,733 ±1,542
01:48 (01:22)
51
Spirit Run - Fire vs. Ice
Feb 12, 2015
$2.99
N/A (N/A)
8,198 ±2,672
1,366 ±1,090
00:09 (00:07)
52
Rising Islands
Aug 2, 2016
$9.99
N/A (N/A)
4,554 ±1,991
2,733 ±1,542
01:31 (02:35)
53
Demesne
Mar 11, 2016
$19.99
N/A (N/A)
621 ±1,217
621 ±1,217
00:38 (00:38)
54
Mystical
Jul 31, 2015
$1.99
N/A (N/A)
1,822 ±1,259
0 ±0
00:00 (00:00)
55
Soda Star
May 14, 2015
$3.99
N/A (N/A)
1,366 ±1,090
0 ±0
00:00 (00:00)
56
Zombie Killin'
Jan 31, 2017
$1.99
N/A (N/A)
938 ±1,059
625 ±864
03:05 (01:51)
57
Grey Phobia
Aug 22, 2016
$2.99
N/A (N/A)
9,109 ±2,816
911 ±890
00:24 (00:17)
58
A Mass of Dead
Jul 15, 2015
$4.99
N/A (N/A)
2,500 ±1,729
1,875 ±1,497
04:05 (05:02)
59
Alphabeats: Master Edition
Mar 7, 2016
$7.99
N/A (N/A)
2,505 ±1,477
0 ±0
00:00 (00:00)
60
Mythic Victory Arena
Oct 3, 2016
$2.49
N/A (N/A)
2,049 ±1,336
228 ±445
01:00 (00:20)
61
Quizality
Mar 14, 2017
$4.99
N/A (N/A)
625 ±864
313 ±611
00:32 (00:16)
62
Dropship Down
Jul 21, 2016
Free
N/A (N/A)
1,594 ±1,178
228 ±445
00:47 (00:15)
63
A.V.
Feb 13, 2015
$6.99
N/A (N/A)
1,563 ±1,367
938 ±1,059
01:50 (02:44)
64
Sky Battles
Mar 25, 2015
$6.99
N/A (N/A)
8,653 ±2,745
228 ±445
00:01 (00:00)
65
So Many Cubes
Oct 6, 2016
$1.99
N/A (N/A)
51,691 ±6,709
2,960 ±1,605
00:21 (00:23)
66
Day of the Trumplings
Sep 3, 2016
$0.99
N/A (N/A)
5,237 ±2,135
455 ±629
00:38 (00:25)
67
Bridge to Nowhere
Oct 4, 2016
Free
N/A (N/A)
16,623 ±3,804
1,366 ±1,090
00:06 (00:07)
68
Zpeciation: Tough Days (TD)
Feb 15, 2017
$2.99
N/A (N/A)
683 ±771
683 ±771
02:20 (02:19)
69
LSDriver
Jan 3, 2017
$0.99
N/A (N/A)
2,960 ±1,605
2,277 ±1,408
02:08 (03:07)
70
The Light Empire
Dec 2, 2015
$5.99
N/A (N/A)
2,049 ±1,336
0 ±0
00:00 (00:00)
71
Wonky Pigeon!
Nov 26, 2015
$4.99
N/A (N/A)
10,930 ±3,085
1,822 ±1,259
00:03 (00:04)
72
Pluck
Jul 31, 2015
$9.99
N/A (N/A)
2,733 ±1,542
0 ±0
00:00 (00:00)
73
Pirates Deck
Aug 10, 2015
$2.99
N/A (N/A)
12,069 ±3,242
455 ±629
00:03 (00:01)
74
The Silence Of Darkness
Dec 12, 2016
$3.99
N/A (N/A)
7,515 ±2,558
0 ±0
00:00 (00:00)
75
Celestial Tear: Demon's Revenge
Nov 19, 2015
$5.99
N/A (N/A)
1,250 ±1,223
313 ±611
04:15 (02:07)
76
No Way Out
Jan 27, 2017
$9.99
N/A (N/A)
2,049 ±1,336
1,139 ±995
02:58 (02:14)