App

Epic Manager - Create Your Own Adventuring Agency!
Epic Manager - Create Your Own Adventuring Agency!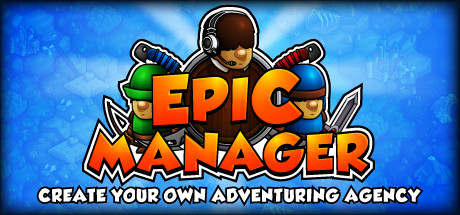 Store | Hub | SteamDB | Site
Developer: ManaVoid Entertainment Inc. Publisher: ManaVoid Entertainment Inc.
Genre: Adventure, Indie, RPG, Simulation, Strategy
Languages: English
Tags: RPG (66), Strategy (66), Indie (65), Management (52), Adventure (44), Simulation (43), Turn-Based (43), Economy (40), Great Soundtrack (29), Fantasy (23)
Category: Single-player
Release date: Dec 12, 2016 (previously in Early Access)
Price: $17.99
Old userscore: 72% Followers: 4,753
Peak concurrent players yesterday: 4
Playtime total: 03:09 (average) 03:15 (median)

Steam Spy is still in beta, so expect major bugs.
Owners data:
Audience in 2 weeks:
Total audience:
Peak daily concurrent players:
CCU data courtesy of SteamDB. Used with permission.
Hourly concurrent players:
YouTube:
The views data is based on top 50 videos uploaded last week. Actual number of views might be more than the number shown.

The displayed number of videos uploaded yesterday is limited to 50, so if there were more videos uploaded, the number will still show 50.

If the game has commonly used word as its name (like "FEAR" or "Volume") its number of Youtube views might be wrong.
Games similar to this one:
#
Game
Release date

Price

Score rank
(Userscore / Metascore)

1
Super Panda Adventures
Jul 14, 2014
$2.99
93% (96%)
2
Cinderella Phenomenon - Otome/Visual Novel
Apr 5, 2017
Free
93% (96%)
3
Unexplored
Feb 22, 2017
$9.99
N/A (N/A)
4
CrossCode
May 15, 2015
$19.99
N/A (N/A)
5
Book of Demons
Jul 28, 2016
$19.99
N/A (N/A)
6
Costume Quest
Oct 14, 2011
$9.99
87% (94%)
7
Low Magic Age
Jan 10, 2017
$5.99
83% (93%)
8
Wizardry 8
Sep 10, 2013
$9.99
N/A (N/A/85%)
9
Geneforge 1
Dec 1, 2001
$19.99
78% (92%)
10
Lucid9: Inciting Incident
Apr 14, 2016
Free
N/A (N/A)
11
Sairento VR
Feb 6, 2018
$29.99
78% (92%/78%)
12
PULSAR: Lost Colony
Sep 15, 2015
$14.99
70% (90%)
13
Magicmaker
Sep 22, 2014
$9.99
N/A (N/A)
14
Bastard Bonds
Jun 15, 2016
$15.99
N/A (N/A)
15
Delver
Feb 1, 2018
$14.99
63% (88%)
16
Arcanum: Of Steamworks and Magick Obscura
Aug 29, 2016
$5.99
N/A (N/A/81%)
17
Avadon 2: The Corruption
Oct 30, 2013
$9.99
N/A (N/A/82%)
18
Legionwood 1: Tale of the Two Swords
May 10, 2016
Free
N/A (N/A)
19
The Fall of the Dungeon Guardians - Enhanced Edition
Nov 6, 2015
$19.99
N/A (N/A)
20
BEEP
May 6, 2011
$1.99
54% (85%)
21
Planet Centauri
Jun 3, 2016
$14.99
N/A (N/A)
22
Razenroth
Aug 28, 2015
$4.99
N/A (N/A)
23
One More Dungeon
Nov 23, 2015
$1.99
N/A (N/A)
24
Dragon Knight
Feb 9, 2018
$1.99
42% (80%)
25
Holy Potatoes! Were in Space?!
Feb 14, 2017
$14.99
40% (79%)
26
City of Chains
Dec 8, 2015
$8.99
38% (78%)
27
EDEN STAR
Jan 30, 2015
$19.99
N/A (N/A)
28
Signs of Life
Jan 27, 2014
$9.99
38% (78%)
29
The Last Leviathan
Jun 22, 2016
$9.99
N/A (N/A)
30
Cubicle Quest
Feb 25, 2015
$4.99
N/A (N/A)
31
The Dwarves
Dec 1, 2016
$39.99
N/A (N/A/61%)
32
Wolcen: Lords of Mayhem
Mar 24, 2016
$14.99
N/A (N/A)
33
PixelJunk Nom Nom Galaxy
Aug 3, 2015
$9.99
N/A (N/A/68%)
34
FINAL FANTASY V
Sep 24, 2015
$15.99
N/A (N/A)
35
Medieval Engineers
Feb 19, 2015
$19.99
25% (70%)
36
Shattered Planet
Jul 3, 2014
$14.99
N/A (N/A)
37
Disciples III: Reincarnation
Feb 14, 2014
$9.99
N/A (N/A)
38
FINAL FANTASY IV: THE AFTER YEARS
May 11, 2015
$15.99
N/A (N/A)
39
Ryzom
May 6, 2016
Free
N/A (N/A/64%)
40
Shadowrun Chronicles - Boston Lockdown
Apr 28, 2015
$19.99
14% (60%)
41
Kyn
Jul 28, 2015
$19.99
13% (59%/58%)
42
Memories of a Vagabond
Jul 7, 2014
$4.99
N/A (N/A)
43
Vikings - Wolves of Midgard
Mar 24, 2017
$29.99
N/A (N/A)
44
SoulSaverOnline
Apr 5, 2017
Free
9% (54%)
45
Clicker Guild
Dec 16, 2016
Free
9% (54%)
46
Dark Eden
Nov 28, 2016
Free
N/A (N/A)
47
IKEA VR Pancake Kitchen
May 29, 2017
Free
N/A (N/A)
48
TITANS: Dawn of Tribes
Jun 15, 2017
$9.99
5% (46%)
49
- Arcane Raise -
Mar 10, 2017
$2.99
3% (38%)
50
Random Journey
Dec 18, 2016
$1.99
N/A (N/A)