App

Epic Manager - Create Your Own Adventuring Agency!
Epic Manager - Create Your Own Adventuring Agency!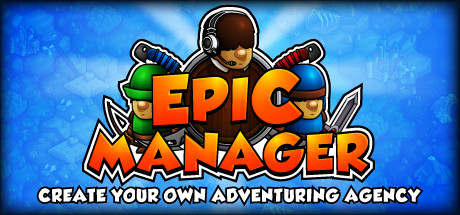 Store | Hub | SteamDB | Site
Developer: ManaVoid Entertainment Inc. Publisher: ManaVoid Entertainment Inc.
Genre: Adventure, Indie, RPG, Simulation, Strategy
Languages: English
Tags: Strategy (66), RPG (66), Indie (65), Management (51), Adventure (44), Simulation (43), Turn-Based (42), Economy (40), Great Soundtrack (29), Fantasy (23)
Category: Single-player
Release date: Dec 12, 2016 (previously in Early Access)
Price: $17.99
Score rank: 25% Userscore: 67% Old userscore: 74%
Owners: 10,795 ± 3,079
Players total: 10,795 ± 3,079 (100%)
Followers: 5,011
Peak concurrent players yesterday: 7
Playtime total: 08:38 (average) 05:29 (median)

Steam Spy is still in beta, so expect major bugs.
Peak daily concurrent players:
CCU data courtesy of SteamDB. Used with permission.
Hourly concurrent players:
YouTube:
The views data is based on top 50 videos uploaded last week. Actual number of views might be more than the number shown.

The displayed number of videos uploaded yesterday is limited to 50, so if there were more videos uploaded, the number will still show 50.

If the game has commonly used word as its name (like "FEAR" or "Volume") its number of Youtube views might be wrong.
Games similar to this one:
#
Game
Release date

Price

Score rank
(Userscore / Metascore)

Owners

Players

Playtime (Median)

1
Geneforge 4: Rebellion
Nov 1, 2006
$19.99
N/A (N/A)
99,450 ±9,345
5,283 ±2,154
10:06 (07:28)
2
Voidspire Tactics
Nov 2, 2015
$14.99
99% (98%)
2,067 ±1,347
689 ±778
39:52 (37:45)
3
Monsters' Den: Book of Dread
Jul 19, 2016
$4.99
N/A (N/A)
1,608 ±1,188
1,608 ±1,188
10:35 (11:46)
4
Book of Demons
Jul 28, 2016
$19.99
92% (95%)
13,551 ±3,450
13,321 ±3,420
06:56 (04:26)
5
Wander No More
Feb 18, 2017
Free
N/A (N/A)
4,594 ±2,008
919 ±898
00:23 (00:28)
6
Coffin of Ashes
Dec 8, 2016
$6.99
92% (95%)
3,905 ±1,852
3,215 ±1,680
03:16 (04:05)
7
Warcube
Jan 27, 2017
$9.99
85% (93%)
4,134 ±1,905
3,445 ±1,739
02:40 (02:18)
8
Aveyond 4: Shadow Of The Mist
Feb 1, 2016
$14.99
N/A (N/A)
2,067 ±1,347
459 ±635
14:37 (09:44)
9
Teddy Terror
May 21, 2015
$4.99
N/A (N/A)
8,268 ±2,695
1,378 ±1,100
01:55 (02:39)
10
Bastard Bonds
Jun 15, 2016
$15.99
82% (92%)
12,173 ±3,270
10,106 ±2,979
16:21 (09:11)
11
Don't open the doors!
Nov 11, 2016
$7.99
75% (90%/68%)
3,445 ±1,739
2,756 ±1,556
02:41 (02:43)
12
Dark Scavenger
May 16, 2014
$1.24
75% (90%)
64,769 ±7,542
21,590 ±4,354
03:02 (01:39)
13
Fresh Body
Nov 15, 2016
$9.99
75% (90%)
5,972 ±2,290
5,972 ±2,290
05:43 (05:10)
14
Invisigun Heroes
Feb 8, 2017
$14.99
68% (88%)
5,512 ±2,200
4,134 ±1,905
02:19 (02:08)
15
TowerClimb
Sep 22, 2015
$14.99
68% (88%)
4,594 ±2,008
4,364 ±1,957
02:04 (01:52)
16
Sweet Escape VR
Apr 20, 2016
$4.99
N/A (N/A)
2,986 ±1,619
2,297 ±1,420
04:07 (09:49)
17
Badass Hero
Feb 24, 2017
$9.99
65% (87%)
3,675 ±1,796
2,756 ±1,556
04:41 (05:44)
18
BloodGate
Jun 2, 2016
$8.99
62% (86%)
8,268 ±2,695
4,823 ±2,058
14:17 (06:52)
19
Aurora Dusk: Steam Age
Apr 28, 2016
$9.99
52% (82%)
3,215 ±1,680
2,756 ±1,556
02:51 (02:22)
20
Space Grunts
Jan 12, 2016
$9.99
N/A (N/A)
1,837 ±1,270
1,378 ±1,100
01:10 (01:58)
21
BloodLust Shadowhunter
Sep 21, 2015
$12.99
52% (82%)
11,254 ±3,144
11,025 ±3,112
06:35 (03:14)
22
Vanilla Bagel: The Roguelike
Jun 15, 2016
$8.99
N/A (N/A)
1,378 ±1,100
689 ±778
18:56 (18:54)
23
Super Dungeon Tactics
Dec 14, 2016
$19.99
45% (79%)
5,283 ±2,154
4,823 ±2,058
20:07 (09:15)
24
Rogalia
Dec 9, 2016
$11.99
43% (78%)
3,215 ±1,680
3,215 ±1,680
84:40 (35:57)
25
Arvale
Aug 14, 2015
$7.99
N/A (N/A)
2,756 ±1,556
1,378 ±1,100
02:49 (03:26)
26
Illyriad - 4X Grand Strategy MMO
Jan 11, 2017
$4.99
30% (71%)
2,297 ±1,420
2,297 ±1,420
22:15 (35:38)
27
Ruzar - The Life Stone
Dec 2, 2015
$12.99
29% (70%)
1,608 ±1,188
1,148 ±1,004
14:57 (20:12)
28
Millennium 2 - Take Me Higher
Jul 10, 2014
$5.99
N/A (N/A)
22,968 ±4,491
9,646 ±2,911
03:32 (01:56)
29
The Weaponographist
Apr 29, 2015
$9.99
N/A (N/A/58%)
19,982 ±4,189
8,498 ±2,732
02:15 (01:20)
30
Sorcerers of Kinetics
Nov 11, 2016
$9.99
N/A (N/A)
1,608 ±1,188
459 ±635
01:56 (01:17)
31
Lost Labyrinth Extended Version
Nov 24, 2015
$4.99
N/A (N/A)
1,148 ±1,004
919 ±898
12:27 (16:22)
32
Emerland Solitaire: Endless Journey
Jul 17, 2016
Free
N/A (N/A)
32,385 ±5,333
3,905 ±1,852
08:02 (02:34)
33
The Great Whale Road
Mar 30, 2017
$19.99
19% (62%/61%)
3,905 ±1,852
3,675 ±1,796
06:22 (07:17)
34
Loki
Nov 5, 2007
$9.99
15% (59%/61%)
21,130 ±4,308
12,862 ±3,361
23:53 (02:28)
35
The Memory of Eldurim
Feb 7, 2014
$19.99
13% (56%)
11,714 ±3,207
4,364 ±1,957
03:00 (02:09)
36
Frontier
Mar 4, 2016
$12.99
N/A (N/A)
7,809 ±2,619
459 ±635
01:20 (00:46)
37
Blade & Bones
Nov 30, 2016
$14.99
N/A (N/A)
3,215 ±1,680
2,756 ±1,556
02:25 (01:40)
38
Vagrant Hearts
Feb 27, 2015
$9.99
N/A (N/A)
10,335 ±3,013
5,742 ±2,245
03:36 (03:20)
39
Ashes of Immortality II
Aug 28, 2015
$6.99
N/A (N/A)
6,201 ±2,334
4,594 ±2,008
04:02 (03:40)
40
Midnight's Blessing
May 25, 2015
$9.99
N/A (N/A)
9,417 ±2,876
2,756 ±1,556
01:54 (02:05)
41
The Glow
Dec 10, 2015
$3.99
N/A (N/A)
8,728 ±2,768
459 ±635
01:10 (00:46)