App

Epic Manager - Create Your Own Adventuring Agency!
Epic Manager - Create Your Own Adventuring Agency!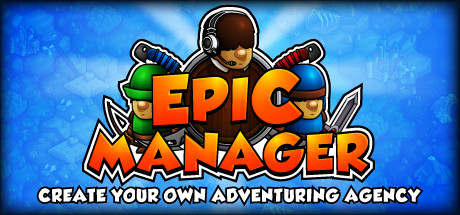 Store | Hub | SteamDB | Site
Developer: ManaVoid Entertainment Inc. Publisher: ManaVoid Entertainment Inc.
Genre: Adventure, Indie, RPG, Simulation, Strategy
Languages: English
Tags: Strategy (66), RPG (66), Indie (65), Management (52), Turn-Based (43), Simulation (43), Adventure (43), Economy (40), Great Soundtrack (29), Fantasy (23)
Category: Single-player
Release date: Dec 12, 2016 (previously in Early Access)
Price: $17.99
Score rank: 25% Userscore: 68% Old userscore: 74%
Owners: 8,431 ± 3,117
Players total: 8,130 ± 3,061 (96.43%)
Followers: 4,878
Peak concurrent players yesterday: 2
Playtime total: 07:08 (average) 04:24 (median)

Steam Spy is still in beta, so expect major bugs.
Peak daily concurrent players:
CCU data courtesy of SteamDB. Used with permission.
Hourly concurrent players:
YouTube:
The views data is based on top 50 videos uploaded last week. Actual number of views might be more than the number shown.

The displayed number of videos uploaded yesterday is limited to 50, so if there were more videos uploaded, the number will still show 50.

If the game has commonly used word as its name (like "FEAR" or "Volume") its number of Youtube views might be wrong.
Games similar to this one:
#
Game
Release date

Price

Score rank
(Userscore / Metascore)

Owners

Players

Playtime (Median)

1
CrossCode
May 15, 2015
$19.99
97% (97%)
90,333 ±10,204
53,598 ±7,860
11:41 (05:30)
2
Cinderella Phenomenon - Otome/Visual Novel
Apr 5, 2017
Free
95% (96%)
104,787 ±10,990
60,222 ±8,332
08:38 (04:14)
3
Unexplored
Feb 22, 2017
$9.99
95% (96%)
6,624 ±2,763
6,624 ±2,763
08:25 (04:53)
4
Book of Demons
Jul 28, 2016
$19.99
95% (96%)
31,316 ±6,008
30,111 ±5,891
07:14 (04:34)
5
Costume Quest
Oct 14, 2011
$9.99
92% (95%)
529,956 ±24,704
297,498 ±18,514
06:35 (02:27)
6
Super Panda Adventures
Jul 14, 2014
$0.74
92% (95%)
39,747 ±6,769
25,594 ±5,431
04:16 (02:28)
7
Sairento VR
Dec 21, 2016
$29.99
89% (94%)
26,799 ±5,558
22,884 ±5,136
03:26 (01:18)
8
Low Magic Age
Jan 10, 2017
$5.99
89% (94%)
17,766 ±4,525
16,862 ±4,409
09:55 (03:38)
9
Geneforge 1
Dec 1, 2001
$19.99
85% (93%)
107,497 ±11,131
38,542 ±6,665
05:37 (01:21)
10
Wizardry 8
Sep 10, 2013
$9.99
85% (93%/85%)
129,478 ±12,216
48,479 ±7,475
24:12 (01:32)
11
Lucid9: Inciting Incident
Apr 14, 2016
Free
81% (92%)
108,701 ±11,193
49,081 ±7,522
04:11 (00:33)
12
Bastard Bonds
Jun 15, 2016
$15.99
70% (89%)
19,271 ±4,713
15,056 ±4,166
14:27 (06:57)
13
Magicmaker
Sep 22, 2014
$9.99
70% (89%)
38,542 ±6,665
35,531 ±6,400
08:26 (03:49)
14
- Red Obsidian Remnant
Sep 4, 2017
$8.99
70% (89%)
18,368 ±4,601
17,163 ±4,448
19:39 (08:29)
15
PULSAR: Lost Colony
Sep 15, 2015
$24.99
70% (89%)
110,809 ±11,301
103,281 ±10,910
12:23 (07:03)
16
Delver
Sep 6, 2013
$7.99
67% (88%)
149,050 ±13,106
115,025 ±11,514
02:57 (01:12)
17
Arcanum: Of Steamworks and Magick Obscura
Aug 29, 2016
$5.99
67% (88%/81%)
111,411 ±11,332
40,349 ±6,820
10:27 (01:24)
18
Legionwood 1: Tale of the Two Swords
May 10, 2016
Free
61% (86%)
59,319 ±8,269
21,680 ±4,999
03:36 (00:37)
19
Avadon 2: The Corruption
Oct 30, 2013
$2.99
61% (86%/82%)
69,557 ±8,954
17,766 ±4,525
27:54 (14:54)
20
BEEP
May 6, 2011
$1.99
58% (85%)
708,817 ±28,566
480,574 ±23,526
02:20 (01:30)
21
The Fall of the Dungeon Guardians - Enhanced Edition
Nov 6, 2015
$19.99
58% (85%)
28,304 ±5,712
21,379 ±4,964
08:11 (02:31)
22
Dragon Knight
Nov 22, 2016
$3.99
53% (83%)
63,836 ±8,578
43,059 ±7,045
02:12 (01:34)
23
Planet Centauri
Jun 3, 2016
$14.99
51% (82%)
39,145 ±6,717
37,639 ±6,587
10:54 (05:42)
24
Razenroth
Aug 28, 2015
$4.99
51% (82%)
54,802 ±7,948
35,531 ±6,400
05:39 (04:39)
25
One More Dungeon
Nov 23, 2015
$4.99
48% (81%)
71,363 ±9,069
45,769 ±7,263
02:29 (01:38)
26
Holy Potatoes! Were in Space?!
Feb 14, 2017
$14.99
48% (81%)
29,810 ±5,862
24,691 ±5,335
07:56 (03:18)
27
The Last Leviathan
Jun 22, 2016
$9.99
44% (79%)
40,349 ±6,820
36,736 ±6,507
04:29 (02:08)
28
EDEN STAR
Jan 30, 2015
$19.99
44% (79%)
38,843 ±6,691
34,929 ±6,345
07:28 (03:59)
29
Signs of Life
Jan 27, 2014
$9.99
44% (79%)
53,899 ±7,882
36,736 ±6,507
09:47 (02:47)
30
Wolcen: Lords of Mayhem
Mar 24, 2016
$19.99
42% (78%)
74,375 ±9,259
68,352 ±8,876
07:29 (02:08)
31
City of Chains
Dec 8, 2015
$8.99
40% (77%)
292,379 ±18,354
212,284 ±15,640
04:24 (04:03)
32
Cubicle Quest
Feb 25, 2015
$4.99
40% (77%)
180,667 ±14,429
118,337 ±11,678
04:27 (03:09)
33
The Dwarves
Dec 1, 2016
$39.99
36% (75%/61%)
32,520 ±6,122
27,100 ±5,589
06:02 (05:03)
34
FINAL FANTASY V
Sep 24, 2015
$15.99
33% (73%)
88,226 ±10,084
43,962 ±7,118
26:20 (07:02)
35
Pathfinder Adventures
Jun 15, 2017
$14.99
33% (73%)
12,346 ±3,772
11,743 ±3,679
10:52 (05:23)
36
PixelJunk Nom Nom Galaxy
Aug 3, 2015
$9.99
31% (72%/68%)
66,847 ±8,778
49,683 ±7,568
06:58 (03:28)
37
Shattered Planet
Jul 3, 2014
$14.99
29% (71%)
107,497 ±11,131
56,910 ±8,099
05:37 (02:16)
38
Medieval Engineers
Feb 19, 2015
$19.99
29% (71%)
293,283 ±18,382
261,064 ±17,344
09:51 (02:39)
39
Disciples III: Reincarnation
Feb 14, 2014
$9.99
22% (65%)
95,753 ±10,505
60,523 ±8,352
39:56 (08:06)
40
Ryzom
May 6, 2016
Free
17% (61%/64%)
115,326 ±11,529
58,115 ±8,184
17:28 (00:17)
41
FINAL FANTASY IV: THE AFTER YEARS
May 11, 2015
$15.99
17% (61%)
92,742 ±10,339
23,186 ±5,170
20:40 (05:09)
42
Shadowrun Chronicles - Boston Lockdown
Apr 28, 2015
$19.99
16% (60%)
182,775 ±14,513
82,203 ±9,734
13:43 (04:20)
43
Memories of a Vagabond
Jul 7, 2014
$4.99
N/A (N/A)
381,810 ±20,972
243,298 ±16,744
03:08 (03:00)
44
Kyn
Jul 28, 2015
$19.99
14% (58%/58%)
17,766 ±4,525
12,647 ±3,818
02:54 (01:06)
45
SoulSaverOnline
Apr 5, 2017
Free
12% (55%)
30,412 ±5,921
20,174 ±4,822
15:39 (01:00)
46
Clicker Guild
Dec 16, 2016
Free
11% (54%)
157,782 ±13,485
124,961 ±12,001
11:03 (00:59)
47
Vikings - Wolves of Midgard
Mar 24, 2017
$29.99
11% (54%)
64,739 ±8,638
59,018 ±8,248
11:54 (05:34)
48
Dark Eden
Nov 28, 2016
Free
9% (50%)
46,371 ±7,311
26,197 ±5,495
33:26 (00:15)
49
Voodoo
Jun 15, 2017
$9.99
8% (49%)
5,721 ±2,568
3,011 ±1,863
04:42 (05:52)
50
IKEA VR Pancake Kitchen
May 29, 2017
Free
N/A (N/A)
32,219 ±6,094
7,528 ±2,945
130:46 (00:10)
51
- Arcane Raise -
Mar 10, 2017
$2.99
4% (38%)
115,928 ±11,559
109,906 ±11,255
03:51 (03:31)
52
Random Journey
Dec 18, 2016
$1.99
N/A (N/A)
33,423 ±6,207
28,304 ±5,712
05:28 (04:31)