App

Ferrum's Secrets: Where Is Grandpa?
Ferrum's Secrets: Where Is Grandpa?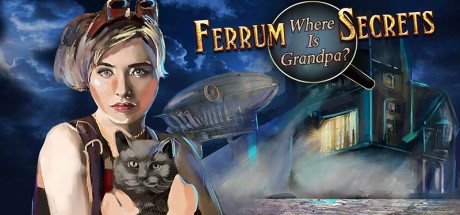 Store | Hub | SteamDB | Site
Developer: ZigZag Soft Publisher: ZigZag Soft
Genre: Adventure, Casual, Indie
Languages: English
Tags: Adventure (33), Casual (24), Indie (22), Hidden Object (15)
Category: Single-player, Steam Achievements, Steam Trading Cards, Captions available
Release date: Aug 14, 2015
Price: $4.99
Old userscore: 44% Owners: 31,921 ± 5,497
Players total: 19,796 ± 4,329 (62.02%)
Peak concurrent players yesterday: 1
Playtime total: 04:14 (average) 04:13 (median)

Steam Spy is still in beta, so expect major bugs.
Peak daily concurrent players:
CCU data courtesy of SteamDB. Used with permission.
Hourly concurrent players:
YouTube:
The views data is based on top 50 videos uploaded last week. Actual number of views might be more than the number shown.

The displayed number of videos uploaded yesterday is limited to 50, so if there were more videos uploaded, the number will still show 50.

If the game has commonly used word as its name (like "FEAR" or "Volume") its number of Youtube views might be wrong.
Games similar to this one:
#
Game
Release date

Price

Score rank
(Userscore / Metascore)

Owners

Players

Playtime (Median)

1
Wuppo
Sep 29, 2016
$14.99
97% (97%/78%)
177,666 ±12,967
60,872 ±7,590
03:51 (02:32)
2
The Journey Down: Chapter Two
Aug 25, 2014
$19.99
95% (96%/78%)
154,901 ±12,108
38,849 ±6,064
04:42 (03:37)
3
Idol Magical Girl Chiru Chiru Michiru Part 2
Jul 29, 2015
$19.99
N/A (N/A)
76,213 ±8,493
13,115 ±3,523
04:07 (03:27)
4
Tex Murphy: Under a Killing Moon
Jun 12, 2014
$9.99
N/A (N/A)
45,530 ±6,565
7,176 ±2,606
04:35 (00:43)
5
Pajama Sam 3: You Are What You Eat From Your Head To Your Feet
May 15, 2014
$6.99
95% (96%)
43,798 ±6,439
23,507 ±4,717
02:31 (01:27)
6
Bad Dream: Coma
Mar 9, 2017
$8.99
95% (96%)
13,362 ±3,556
8,166 ±2,780
04:42 (05:00)
7
Dreadhalls
Mar 9, 2017
$9.99
92% (95%)
6,681 ±2,514
5,691 ±2,321
00:57 (00:54)
8
Hector: Badge of Carnage - Full Series
Apr 27, 2011
$19.99
92% (95%/75%)
372,159 ±18,763
16,331 ±3,932
03:31 (03:35)
9
Sanitarium
Oct 29, 2014
$9.99
92% (95%)
18,558 ±4,191
11,630 ±3,318
05:01 (03:18)
10
Highrise Heroes: Word Challenge
Jan 8, 2016
$4.99
N/A (N/A)
14,599 ±3,717
9,898 ±3,061
05:54 (05:05)
11
Oknytt
Apr 4, 2014
$4.99
92% (95%/61%)
66,563 ±7,937
35,632 ±5,807
04:31 (03:50)
12
The Last Door: Season 2 - Collector's Edition
Mar 29, 2016
$9.99
92% (95%/85%)
45,777 ±6,582
18,806 ±4,219
05:17 (04:40)
13
AR-K: The Great Escape
Jul 14, 2015
$7.99
89% (94%/78%)
10,393 ±3,136
4,701 ±2,109
05:19 (05:26)
14
Brilliant Shadows - Part One of the Book of Gray Magic
Nov 2, 2015
$6.99
86% (93%)
4,454 ±2,053
2,474 ±1,530
03:42 (03:08)
15
Blackwell Unbound
Jan 13, 2012
$4.99
86% (93%)
132,384 ±11,193
44,540 ±6,493
03:16 (02:23)
16
The Dig
Jul 8, 2009
$5.99
86% (93%)
158,118 ±12,233
73,986 ±8,368
06:13 (02:45)
17
Sam & Max 201: Ice Station Santa
May 16, 2008
N/A
86% (93%/82%)
266,252 ±15,872
37,859 ±5,986
03:04 (02:39)
18
The Inner World
Sep 27, 2013
$14.99
86% (93%/72%)
144,261 ±11,685
51,964 ±7,013
04:23 (02:34)
19
Detective Grimoire
Aug 18, 2014
$6.99
86% (93%)
52,459 ±7,046
33,405 ±5,623
02:45 (02:41)
20
Airport Madness 4
Jul 24, 2015
$9.99
N/A (N/A)
14,104 ±3,654
9,650 ±3,022
05:57 (03:40)
21
The Frostrune
Feb 2, 2017
$9.99
82% (92%)
15,589 ±3,841
3,959 ±1,936
03:55 (02:51)
22
Bik - A Space Adventure
Oct 14, 2014
$4.99
N/A (N/A)
4,701 ±2,109
3,464 ±1,811
02:48 (02:52)
23
Nightmares from the Deep: The Cursed Heart
Feb 5, 2014
$9.99
82% (92%)
144,756 ±11,705
88,586 ±9,157
05:08 (03:34)
24
The Night of the Rabbit
May 28, 2013
$4.99
78% (91%/75%)
388,490 ±19,170
137,332 ±11,401
05:58 (02:29)
25
Red Comrades 2: For the Great Justice. Reloaded
Oct 14, 2016
$4.99
78% (91%)
9,155 ±2,944
4,454 ±2,053
02:50 (03:06)
26
Stacking
Mar 6, 2012
$9.99
78% (91%/80%)
453,568 ±20,713
222,454 ±14,509
03:56 (02:11)
27
Morningstar: Descent to Deadrock
Feb 17, 2015
$9.99
78% (91%)
38,849 ±6,064
21,775 ±4,540
03:36 (03:07)
28
Lost Horizon
Sep 24, 2010
$9.99
78% (91%/77%)
73,244 ±8,326
18,558 ±4,191
07:37 (06:41)
29
Adam Wolfe
Oct 7, 2016
$5.99
78% (91%)
23,755 ±4,742
15,094 ±3,780
05:12 (04:18)
30
The Coma: Cutting Class
Oct 19, 2015
N/A
78% (91%/69%)
13,115 ±3,523
10,640 ±3,173
04:30 (05:19)
31
The Uninvited: MacVenture Series
Jan 26, 2015
$2.99
N/A (N/A)
22,518 ±4,617
12,867 ±3,490
02:38 (02:16)
32
Bulb Boy
Oct 29, 2015
$8.99
74% (90%/84%)
81,657 ±8,791
33,158 ±5,602
02:44 (02:13)
33
MechaNika
Jul 16, 2015
$3.99
74% (90%)
31,673 ±5,475
22,023 ±4,566
05:27 (05:04)
34
Space Pilgrim Episode IV: Sol
Mar 4, 2016
$1.99
74% (90%)
198,204 ±13,695
121,248 ±10,712
05:45 (03:58)
35
Resonance
Jul 25, 2012
$9.99
74% (90%/76%)
54,933 ±7,211
33,653 ±5,644
05:11 (03:25)
36
Blue Rose
Apr 23, 2015
$15.99
N/A (N/A)
47,510 ±6,706
32,910 ±5,581
03:47 (03:31)
37
The Blackwell Legacy
Jan 13, 2012
$4.99
71% (89%/80%)
152,674 ±12,020
68,048 ±8,025
03:33 (02:33)
38
DisneyPixar WALL-E
Feb 24, 2015
$19.99
71% (89%)
7,671 ±2,694
4,454 ±2,053
06:51 (02:12)
39
Vampire Legends: The True Story of Kisilova
Dec 3, 2015
$9.99
71% (89%)
63,346 ±7,743
36,869 ±5,907
04:04 (03:31)
40
Clockwork Tales: Of Glass and Ink
Apr 24, 2014
$9.99
71% (89%)
100,958 ±9,775
66,315 ±7,923
04:24 (03:35)
41
Back to the Future: The Game
Dec 23, 2010
$19.99
71% (89%/74%)
589,663 ±23,613
240,270 ±15,078
04:12 (02:11)
42
LostWinds 2: Winter of the Melodias
Mar 24, 2016
$9.99
71% (89%)
15,342 ±3,811
3,217 ±1,745
05:39 (01:23)
43
Space Pilgrim Episode I: Alpha Centauri
Dec 21, 2015
$1.99
68% (88%)
293,223 ±16,656
188,306 ±13,349
03:48 (03:38)
44
Stories Untold
Feb 27, 2017
$9.99
68% (88%/81%)
187,811 ±13,332
44,788 ±6,511
02:46 (02:12)
45
The Eyes of Ara
Jul 19, 2016
$14.99
68% (88%)
13,115 ±3,523
10,393 ±3,136
15:02 (08:45)
46
Sorcery! Parts 1 and 2
Feb 2, 2016
$9.99
68% (88%/69%)
89,328 ±9,195
41,571 ±6,273
07:00 (02:00)
47
Shardlight
Mar 8, 2016
$14.99
68% (88%/75%)
20,538 ±4,409
9,898 ±3,061
05:13 (05:59)
48
Nearwood - Collector's Edition
Apr 16, 2014
$9.99
68% (88%)
34,395 ±5,706
12,867 ±3,490
07:05 (05:37)
49
House of Hell
Jan 19, 2016
$4.99
N/A (N/A)
5,691 ±2,321
1,732 ±1,280
03:45 (04:30)
50
The Music Machine
May 6, 2015
$4.99
68% (88%)
28,951 ±5,235
17,074 ±4,020
03:30 (02:36)
51
Detective Case and Clown Bot in: Murder in the Hotel Lisbon
Jul 17, 2014
$5.99
68% (88%)
56,418 ±7,308
23,012 ±4,667
03:31 (03:02)
52
(God's One Day World)
Jul 1, 2016
$9.99
65% (87%)
18,311 ±4,163
14,599 ±3,717
03:44 (03:25)
53
Space Pilgrim Episode II: Epsilon Indi
Jan 8, 2016
$1.99
65% (87%)
213,298 ±14,207
140,054 ±11,513
04:54 (03:44)
54
The Deed: Dynasty
May 10, 2016
$2.99
65% (87%)
84,874 ±8,963
54,191 ±7,162
03:54 (03:13)
55
A Boy and His Blob
Jan 19, 2016
$9.99
65% (87%)
118,279 ±10,580
56,913 ±7,340
04:25 (03:24)
56
The Lost Crown
Jun 6, 2014
$9.99
65% (87%/71%)
69,285 ±8,098
24,745 ±4,840
04:44 (02:03)
57
Lost Chronicles of Zerzura
Jul 10, 2014
$9.99
N/A (N/A)
17,074 ±4,020
2,969 ±1,676
04:14 (04:42)
58
The Journey Down: Chapter One
Jan 9, 2013
$8.99
65% (87%/72%)
266,252 ±15,872
108,381 ±10,128
06:20 (02:27)
59
Space Pilgrim Episode III: Delta Pavonis
Feb 4, 2016
$1.99
62% (86%)
200,679 ±13,781
125,950 ±10,918
04:40 (03:51)
60
The Order of the Thorne - The King's Challenge
Jan 26, 2016
$9.99
N/A (N/A/71%)
4,454 ±2,053
2,474 ±1,530
02:33 (02:48)
61
Drawn: The Painted Tower
Jan 19, 2011
$9.99
62% (86%)
10,145 ±3,099
7,176 ±2,606
21:37 (04:09)
62
The Next BIG Thing
Apr 21, 2011
$9.99
59% (85%/75%)
99,226 ±9,691
46,767 ±6,653
05:38 (03:25)
63
Seasons after Fall
Sep 2, 2016
$14.99
59% (85%/75%)
236,806 ±14,969
76,461 ±8,507
03:39 (02:34)
64
Fire
Apr 9, 2015
$9.99
59% (85%/64%)
23,012 ±4,667
14,599 ±3,717
03:05 (03:07)
65
Knee Deep
Jul 6, 2015
$19.99
59% (85%)
18,311 ±4,163
8,661 ±2,863
24:28 (04:20)
66
The Book of Unwritten Tales: The Critter Chronicles
Dec 5, 2012
$19.99
56% (84%/73%)
121,001 ±10,701
28,209 ±5,167
06:00 (04:59)
67
Last Tale
Mar 16, 2017
$0.62
56% (84%)
169,500 ±12,665
158,118 ±12,233
04:34 (04:31)
68
Spy Fox 3 "Operation Ozone"
May 15, 2014
$6.99
56% (84%)
37,364 ±5,947
12,620 ±3,456
03:07 (01:34)
69
Ankh - Anniversary Edition
May 21, 2015
$7.99
N/A (N/A)
14,352 ±3,686
7,423 ±2,651
03:10 (03:12)
70
Haunted Past: Realm of Ghosts
Apr 10, 2014
$4.99
N/A (N/A)
13,362 ±3,556
2,722 ±1,605
03:47 (04:06)
71
Heileen 3: New Horizons
Jul 17, 2014
$24.99
N/A (N/A)
20,043 ±4,356
9,898 ±3,061
03:47 (03:02)
72
The Uncertain: Episode 1 - The Last Quiet Day
Sep 22, 2016
$14.99
51% (82%)
62,851 ±7,713
29,446 ±5,279
03:38 (03:07)
73
Sylvio
Jun 5, 2015
$12.99
51% (82%/60%)
7,671 ±2,694
4,207 ±1,995
02:00 (01:02)
74
The 39 Steps
Apr 25, 2013
$14.99
51% (82%)
319,700 ±17,392
157,870 ±12,223
03:03 (03:02)
75
Yesterday
Mar 22, 2012
$9.99
51% (82%)
158,365 ±12,242
46,025 ±6,600
04:08 (03:45)
76
Dead Synchronicity: Tomorrow Comes Today
Apr 10, 2015
$12.99
51% (82%/70%)
80,172 ±8,711
33,653 ±5,644
04:07 (03:20)
77
Sherlock Holmes and The Hound of The Baskervilles
Apr 23, 2012
$9.99
51% (82%)
41,076 ±6,235
15,094 ±3,780
05:04 (05:08)
78
Whispering Willows
Jul 9, 2014
$9.99
51% (82%/64%)
48,747 ±6,793
27,219 ±5,076
02:31 (01:49)
79
Draw a Stickman: EPIC 2
Nov 6, 2015
$4.99
51% (82%)
28,456 ±5,190
24,002 ±4,766
18:53 (05:16)
80
The Charnel House Trilogy
Apr 16, 2015
$5.99
49% (81%/68%)
45,283 ±6,547
26,477 ±5,006
03:04 (02:48)
81
Narcosis
Mar 28, 2017
$19.99
49% (81%/72%)
12,620 ±3,456
7,423 ±2,651
02:37 (02:10)
82
Teddy Floppy Ear - Kayaking
Jan 16, 2015
$4.99
49% (81%)
131,641 ±11,162
81,905 ±8,805
05:33 (03:20)
83
The Maker's Eden
Jul 30, 2014
$8.99
N/A (N/A)
29,693 ±5,301
17,074 ±4,020
02:01 (01:29)
84
Moebius: Empire Rising
Apr 15, 2014
$14.99
47% (80%/54%)
27,466 ±5,099
14,104 ±3,654
06:07 (05:27)
85
Airport Madness: Time Machine
Sep 18, 2015
$6.99
N/A (N/A)
10,888 ±3,210
8,166 ±2,780
04:31 (03:59)
86
Destiny's Princess: A War Story, A Love Story
Apr 5, 2016
$15.99
47% (80%)
5,196 ±2,218
3,712 ±1,874
07:57 (08:23)
87
Shiftlings
Mar 3, 2015
$14.99
N/A (N/A/70%)
89,328 ±9,195
23,507 ±4,717
03:08 (02:22)
88
Her Majesty's SPIFFING
Dec 7, 2016
$11.99
47% (80%/60%)
5,691 ±2,321
3,959 ±1,936
02:47 (02:59)
89
Empress Of The Deep 2: Song Of The Blue Whale
May 8, 2014
$4.99
N/A (N/A)
13,857 ±3,621
4,207 ±1,995
06:20 (04:41)
90
Eventide 2: The Sorcerers Mirror
Oct 13, 2016
$9.99
43% (78%)
21,775 ±4,540
11,383 ±3,282
03:44 (03:21)
91
The Last Dream: Developer's Edition
Dec 3, 2015
$9.99
43% (78%)
23,260 ±4,692
14,847 ±3,749
04:20 (03:32)
92
Gochi-Show! -How To Learn Japanese Cooking Game-
Sep 1, 2016
$4.99
N/A (N/A)
8,908 ±2,904
6,186 ±2,420
02:43 (02:41)
93
Greenwood the Last Ritual
Jan 19, 2017
$2.99
N/A (N/A)
181,378 ±13,101
170,738 ±12,711
03:35 (03:30)
94
Mystery of Neuschwanstein
Feb 18, 2015
$9.99
N/A (N/A)
3,712 ±1,874
3,217 ±1,745
04:40 (05:28)
95
Boo Bunny Plague
Sep 4, 2014
$1.99
41% (77%)
24,497 ±4,815
16,826 ±3,991
02:52 (01:58)
96
Cursed
Jun 17, 2016
$4.99
41% (77%)
38,354 ±6,025
28,704 ±5,212
06:07 (04:50)
97
White Night
Mar 3, 2015
$14.99
41% (77%/68%)
22,518 ±4,617
12,620 ±3,456
02:41 (01:09)
98
Mirror Mysteries
Apr 10, 2014
$4.99
41% (77%)
23,260 ±4,692
8,661 ±2,863
03:58 (02:41)
99
Neoncube
Oct 2, 2015
$0.99
41% (77%)
9,650 ±3,022
6,681 ±2,514
02:50 (02:16)
100
Infinite Space III: Sea of Stars
Oct 29, 2015
$9.99
N/A (N/A)
18,558 ±4,191
9,403 ±2,983
03:48 (02:12)
101
Supreme League of Patriots
Jan 29, 2015
$5.99
N/A (N/A/56%)
32,415 ±5,539
17,321 ±4,049
04:00 (04:13)
102
Haunted
Aug 18, 2014
$14.99
N/A (N/A/76%)
12,620 ±3,456
5,444 ±2,270
05:54 (09:42)
103
Randal's Monday
Nov 12, 2014
$12.99
37% (75%/57%)
101,700 ±9,811
49,489 ±6,844
08:16 (03:50)
104
Dyscourse
Mar 25, 2015
$14.99
37% (75%/71%)
72,749 ±8,298
41,076 ±6,235
02:35 (02:14)
105
Return to Mysterious Island
Mar 6, 2014
$7.99
37% (75%)
55,923 ±7,275
13,610 ±3,589
03:38 (02:08)
106
Magi Trials
Nov 17, 2016
$8.99
N/A (N/A)
8,413 ±2,822
4,949 ±2,164
02:25 (02:25)
107
Ether One
Mar 25, 2014
$19.99
35% (74%/82%)
59,140 ±7,482
33,158 ±5,602
03:40 (02:10)
108
Richard & Alice
Jun 5, 2014
$5.99
33% (73%/70%)
77,945 ±8,589
37,859 ±5,986
02:55 (02:15)
109
Mirrored - Chapter 1
Oct 30, 2015
$1.99
33% (73%)
13,610 ±3,589
8,908 ±2,904
02:13 (02:13)
110
Adventure Time: Finn and Jake Investigations
Dec 1, 2015
$9.99
33% (73%)
5,444 ±2,270
3,959 ±1,936
04:24 (04:50)
111
My Ex-Boyfriend the Space Tyrant
Jul 21, 2014
$14.99
33% (73%)
6,186 ±2,420
4,454 ±2,053
01:49 (01:42)
112
Dark Fall 2: Lights Out
Dec 3, 2013
$4.99
N/A (N/A/66%)
71,512 ±8,227
5,939 ±2,371
04:41 (03:15)
113
Reversion - The Meeting (2nd Chapter)
Jul 8, 2014
$4.99
N/A (N/A)
51,469 ±6,980
38,602 ±6,045
03:57 (04:04)
114
Black Sails - The Ghost Ship
Sep 17, 2015
$9.99
30% (71%)
21,775 ±4,540
11,877 ±3,353
03:21 (03:23)
115
Corrosion: Cold Winter Waiting [Enhanced Edition]
Jul 1, 2015
$7.99
30% (71%)
41,571 ±6,273
22,518 ±4,617
05:53 (04:03)
116
Californium
Feb 17, 2016
$9.99
30% (71%/64%)
12,125 ±3,388
3,217 ±1,745
02:15 (02:53)
117
Cradle
Jul 24, 2015
$12.99
30% (71%/65%)
34,148 ±5,685
25,982 ±4,959
04:31 (03:57)
118
Nevermind
Sep 29, 2015
$19.99
30% (71%)
37,364 ±5,947
21,033 ±4,462
04:27 (03:30)
119
Quantum Conscience
Jun 9, 2015
$4.99
N/A (N/A)
22,518 ±4,617
15,837 ±3,872
04:08 (04:07)
120
Verde Station
Dec 18, 2014
$4.99
28% (70%)
23,260 ±4,692
7,918 ±2,737
00:55 (00:49)
121
Nostradamus: The Last Prophecy
Apr 24, 2014
$4.99
28% (70%/70%)
63,594 ±7,758
9,650 ±3,022
04:07 (01:28)
122
A Golden Wake
Oct 9, 2014
$9.99
27% (69%/68%)
21,528 ±4,514
10,393 ±3,136
03:52 (04:06)
123
Super Robot Jump Jump
Mar 31, 2016
$4.99
N/A (N/A)
6,928 ±2,561
4,949 ±2,164
04:23 (04:51)
124
Measurement Problem
Sep 27, 2016
$9.99
N/A (N/A)
8,166 ±2,780
4,454 ±2,053
05:18 (03:16)
125
Last Heroes
Nov 13, 2015
$1.99
N/A (N/A)
12,867 ±3,490
6,928 ±2,561
03:13 (02:17)
126
Sinking Island
Dec 5, 2014
$7.99
24% (67%/68%)
30,931 ±5,411
5,196 ±2,218
04:19 (03:57)
127
The Clockwork Man: The Hidden World
Sep 23, 2011
$9.99
24% (67%)
12,372 ±3,422
9,403 ±2,983
04:07 (04:13)
128
Void And Meddler
Oct 28, 2015
$3.99
23% (66%)
25,487 ±4,912
13,115 ±3,523
03:14 (02:25)
129
Blues and Bullets
Jul 22, 2015
$4.99
23% (66%/73%)
41,323 ±6,254
25,982 ±4,959
03:18 (02:39)
130
Pitiri 1977
Nov 7, 2014
$3.99
N/A (N/A)
52,706 ±7,063
19,796 ±4,329
01:40 (01:10)
131
Beyond Magic
Feb 20, 2017
$0.5
N/A (N/A)
4,111 ±2,426
1,495 ±1,462
02:05 (03:08)
132
Face Noir
Oct 17, 2013
$9.99
23% (66%/59%)
75,471 ±8,452
43,303 ±6,402
03:24 (02:35)
133
Finding Hope
Jan 30, 2017
$0.5
N/A (N/A)
5,939 ±2,371
3,712 ±1,874
02:43 (03:11)
134
Hamlet or the Last Game without MMORPG Features, Shaders ...
Oct 22, 2012
$4.99
22% (65%)
51,964 ±7,013
30,436 ±5,367
03:15 (03:10)
135
Odysseus: Long Way Home
Feb 23, 2015
$3.99
N/A (N/A)
133,621 ±11,245
118,774 ±10,602
03:50 (03:31)
136
Adam's Venture: Origins
Apr 1, 2016
$19.99
21% (64%)
6,434 ±2,467
3,712 ±1,874
02:36 (03:19)
137
Hidden: On the trail of the Ancients
Aug 5, 2015
$9.99
N/A (N/A)
5,691 ±2,321
3,464 ±1,811
04:11 (04:15)
138
Dark Fall: Lost Souls
Apr 21, 2010
$12.99
21% (64%/75%)
47,757 ±6,723
25,239 ±4,888
04:29 (02:58)
139
The Away Team
Jul 22, 2016
$2
N/A (N/A)
14,352 ±3,686
7,671 ±2,694
02:46 (03:32)
140
Project Abyss
Nov 18, 2016
$6.99
N/A (N/A)
14,352 ±3,686
7,918 ±2,737
04:13 (03:57)
141
Inexistence
Apr 18, 2016
$2.99
20% (63%)
29,446 ±5,279
20,043 ±4,356
03:53 (02:52)
142
The Secret Monster Society
Jul 28, 2016
$3.99
N/A (N/A)
6,434 ±2,467
3,959 ±1,936
04:18 (04:38)
143
Myst V
Mar 16, 2012
$9.99
18% (62%/80%)
60,129 ±7,544
24,002 ±4,766
07:13 (01:45)
144
Secret Files: Sam Peters
Oct 18, 2013
$9.99
18% (62%)
20,291 ±4,382
7,176 ±2,606
03:52 (03:58)
145
Empress Of The Deep
May 8, 2014
$4.99
18% (62%)
11,630 ±3,318
3,712 ±1,874
03:20 (02:00)
146
Captain Morgane and the Golden Turtle
Jan 3, 2014
$4.99
17% (61%)
33,405 ±5,623
18,806 ±4,219
03:17 (01:47)
147
Bottle
Apr 21, 2016
$1.99
17% (61%)
11,135 ±3,246
6,681 ±2,514
02:56 (03:06)
148
Eleusis
Oct 16, 2013
$14.99
17% (61%)
43,056 ±6,384
22,765 ±4,642
03:06 (02:39)
149
Al Emmo and the Lost Dutchman's Mine
May 9, 2014
$9.99
N/A (N/A/77%)
13,857 ±3,621
8,908 ±2,904
02:21 (01:56)
150
Unfinished - An Artist's Lament
Aug 4, 2015
$4.99
N/A (N/A)
2,227 ±1,452
1,237 ±1,082
03:03 (03:55)
151
A Vampyre Story
Jul 15, 2014
$19.99
16% (60%/75%)
9,155 ±2,944
4,701 ±2,109
02:16 (00:34)
152
The Travels of Marco Polo
May 6, 2015
$6.99
N/A (N/A)
16,084 ±3,902
6,186 ±2,420
02:50 (03:18)
153
The Great Fusion
Feb 25, 2015
$2.99
N/A (N/A)
6,681 ±2,514
3,712 ±1,874
03:12 (03:12)
154
Existentia
Aug 8, 2016
$2.99
N/A (N/A)
106,897 ±10,058
97,246 ±9,594
03:38 (03:30)
155
Rememoried
Aug 31, 2015
$9.99
15% (59%)
16,826 ±3,991
8,908 ±2,904
02:16 (01:29)
156
Bizarre Earthquake
May 11, 2016
$1.99
15% (59%)
84,874 ±8,963
72,997 ±8,312
07:19 (04:40)
157
Nicolas Eymerich - The Inquisitor - Book 1 : The Plague
Apr 30, 2014
$4.99
N/A (N/A)
24,992 ±4,864
2,227 ±1,452
02:24 (03:00)
158
Appointment With FEAR
Aug 26, 2014
$4.99
N/A (N/A)
12,125 ±3,388
7,918 ±2,737
04:42 (02:37)
159
Door To Door
Aug 2, 2016
$4.99
N/A (N/A)
13,610 ±3,589
8,166 ±2,780
03:12 (03:24)
160
Millionaire Manor
May 15, 2014
$4.99
N/A (N/A)
17,321 ±4,049
4,454 ±2,053
04:19 (02:56)
161
Block Legend DX
Feb 24, 2015
$4.99
N/A (N/A)
6,928 ±2,561
5,939 ±2,371
10:19 (03:50)
162
Voodoo Whisperer Curse of a Legend
Apr 8, 2014
$4.99
N/A (N/A)
8,661 ±2,863
1,980 ±1,368
15:15 (13:42)
163
Armikrog
Sep 30, 2015
$9.99
11% (54%/57%)
33,900 ±5,665
24,250 ±4,791
06:33 (03:36)
164
Subject 13
May 28, 2015
$9.99
11% (54%/59%)
68,542 ±8,055
41,076 ±6,235
04:23 (03:49)
165
The Land Of Lamia
Nov 23, 2015
$0.99
N/A (N/A)
25,239 ±4,888
14,599 ±3,717
03:13 (03:24)
166
White Haven Mysteries
Apr 17, 2014
$4.99
11% (53%)
5,691 ±2,321
2,474 ±1,530
03:17 (04:35)
167
Gunspell - Steam Edition
Nov 7, 2014
$14.99
N/A (N/A)
152,674 ±12,020
14,104 ±3,654
39:55 (01:33)
168
eXperience 112
Oct 24, 2014
$9.99
N/A (N/A)
29,693 ±5,301
3,712 ±1,874
01:34 (01:01)
169
A Princess' Tale
May 20, 2016
$3.99
N/A (N/A)
5,196 ±2,218
2,969 ±1,676
02:12 (02:43)
170
Mirror Mysteries 2
Apr 10, 2014
$4.99
N/A (N/A)
8,908 ±2,904
2,474 ±1,530
05:20 (07:07)
171
Lost Civilization
Apr 15, 2014
$4.99
N/A (N/A)
38,354 ±6,025
4,701 ±2,109
01:39 (01:24)
172
ADventure Lib
Aug 4, 2015
$1.99
8% (49%)
6,928 ±2,561
5,691 ±2,321
03:19 (03:27)
173
A Sirius Game
Aug 21, 2015
$4.99
N/A (N/A)
18,558 ±4,191
13,115 ±3,523
29:53 (03:30)
174
Lex Mortis
Feb 9, 2015
$4.99
5% (42%)
270,953 ±16,012
253,137 ±15,476
03:37 (03:31)
175
Endless Room
Sep 30, 2016
$1.99
N/A (N/A)
63,346 ±7,743
60,377 ±7,560
03:34 (03:30)
176
Edge of Twilight Return To Glory
Sep 28, 2016
$14.99
N/A (N/A)
13,362 ±3,556
4,949 ±2,164
18:36 (09:15)
177
SLG Remix
Jun 1, 2016
$2.99
N/A (N/A)
11,383 ±3,282
8,413 ±2,822
02:47 (03:10)
178
Jack Keane 2 - The Fire Within
Jun 28, 2013
$19.99
N/A (N/A)
49,242 ±6,827
5,196 ±2,218
02:25 (01:32)
179
COAST GUARD
Oct 21, 2015
$14.99
N/A (N/A/47%)
12,620 ±3,456
8,166 ±2,780
06:51 (02:48)
180
HotLead
Nov 6, 2015
$0.99
N/A (N/A)
114,320 ±10,402
87,843 ±9,118
03:24 (03:33)