App

Ferrum's Secrets: Where Is Grandpa?
Ferrum's Secrets: Where Is Grandpa?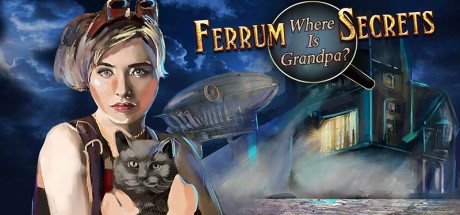 Store | Hub | SteamDB | Site
Developer: ZigZag Soft Publisher: EJR Sp. z o.o.
Genre: Adventure, Casual, Indie
Languages: English
Tags: Adventure (33), Casual (24), Indie (22), Hidden Object (15)
Category: Single-player, Steam Achievements, Steam Trading Cards, Captions available
Release date: Aug 14, 2015
Price: $4.99
Old userscore: 45% Owners: 23,156 ± 4,278
Players total: 15,093 ± 3,453 (65.18%)
Peak concurrent players yesterday: 4
Playtime total: 04:00 (average) 03:59 (median)

Steam Spy is still in beta, so expect major bugs.
Peak daily concurrent players:
CCU data courtesy of SteamDB. Used with permission.
Hourly concurrent players:
YouTube:
The views data is based on top 50 videos uploaded last week. Actual number of views might be more than the number shown.

The displayed number of videos uploaded yesterday is limited to 50, so if there were more videos uploaded, the number will still show 50.

If the game has commonly used word as its name (like "FEAR" or "Volume") its number of Youtube views might be wrong.
Games similar to this one:
#
Game
Release date

Price

Score rank
(Userscore / Metascore)

Owners

Players

Playtime (Median)

1
Pajama Sam 3: You Are What You Eat From Your Head To Your Feet
May 15, 2014
$6.99
100% (99%)
33,081 ±5,113
17,367 ±3,704
08:01 (01:33)
2
Oknytt
Apr 4, 2014
$4.99
97% (97%/61%)
58,304 ±6,788
33,701 ±5,160
04:59 (03:36)
3
The Journey Down: Chapter Two
Aug 25, 2014
$10.99
95% (96%/78%)
132,322 ±10,225
25,844 ±4,519
03:54 (03:25)
4
Bik - A Space Adventure
Oct 14, 2014
$4.99
N/A (N/A)
6,616 ±2,286
4,135 ±1,807
02:47 (02:21)
5
Monsters Ate My Birthday Cake
Jul 1, 2014
$7.99
N/A (N/A)
4,135 ±1,807
3,308 ±1,617
05:26 (07:12)
6
Full Throttle Remastered
Apr 18, 2017
$9.89
95% (96%/79%)
21,916 ±4,161
17,161 ±3,682
04:10 (03:15)
7
Idol Magical Girl Chiru Chiru Michiru Part 2
Jul 29, 2015
$19.99
N/A (N/A)
66,161 ±7,230
9,097 ±2,681
03:56 (03:19)
8
Pajama Sam 2: Thunder and Lightning Aren't So Frightening
May 1, 2014
$6.99
92% (95%)
33,494 ±5,145
19,642 ±3,940
06:30 (01:31)
9
Alien Swarm
Jul 19, 2010
Free
92% (95%/77%)
4,848,161 ±61,541
4,848,161 ±61,541
05:10 (01:34)
10
Putt-Putt Travels Through Time
May 15, 2014
$6.99
89% (94%)
26,051 ±4,537
11,371 ±2,997
20:38 (01:25)
11
Tormentum - Dark Sorrow
Mar 4, 2015
$11.99
89% (94%/72%)
44,245 ±5,913
32,460 ±5,065
04:04 (03:44)
12
The Count Lucanor
Mar 3, 2016
$9.99
89% (94%/78%)
9,717 ±2,771
7,443 ±2,425
03:22 (02:26)
13
Spy Fox 2 "Some Assembly Required"
May 1, 2014
$2.79
89% (94%)
26,671 ±4,591
12,612 ±3,157
05:33 (01:50)
14
The Consuming Shadow
Nov 20, 2015
$9.99
89% (94%)
8,890 ±2,650
6,616 ±2,286
03:41 (03:08)
15
The Frostrune
Feb 2, 2017
$5.99
89% (94%)
4,962 ±1,980
1,447 ±1,069
01:54 (02:09)
16
Legacy of Dorn: Herald of Oblivion
Dec 2, 2015
$4.99
N/A (N/A)
4,549 ±1,896
3,101 ±1,565
01:59 (02:28)
17
Putt-Putt Enters the Race
May 29, 2014
$6.99
N/A (N/A)
22,123 ±4,181
4,135 ±1,807
85:04 (05:34)
18
Beglitched
Oct 6, 2016
$4.99
86% (93%)
3,515 ±1,666
2,481 ±1,400
02:05 (01:53)
19
Lara Croft GO
Dec 4, 2016
$3.39
86% (93%)
21,296 ±4,102
14,473 ±3,382
05:26 (03:10)
20
Blackwell Unbound
Jan 13, 2012
$4.99
86% (93%)
122,398 ±9,834
43,211 ±5,843
02:44 (02:15)
21
Midnight Mysteries 4: Haunted Houdini
Mar 28, 2012
$9.99
N/A (N/A)
29,979 ±4,867
6,823 ±2,322
04:01 (03:16)
22
Ballads of Reemus: When the Bed Bites
Apr 27, 2015
$4.99
N/A (N/A)
3,515 ±1,666
1,034 ±903
03:33 (05:54)
23
Detective Grimoire
Aug 18, 2014
$6.99
86% (93%)
45,279 ±5,982
26,671 ±4,591
02:42 (02:25)
24
Downfall
Feb 15, 2016
$12.99
86% (93%/75%)
8,684 ±2,619
5,996 ±2,176
04:28 (04:56)
25
Freddi Fish 3: The Case of the Stolen Conch Shell
May 15, 2014
$6.99
86% (93%)
28,118 ±4,714
11,371 ±2,997
09:28 (01:17)
26
Dark Train
Oct 25, 2016
$4.49
N/A (N/A/77%)
1,654 ±1,143
1,447 ±1,069
01:37 (02:00)
27
de Blob
Apr 27, 2017
$14.99
N/A (N/A)
2,481 ±1,400
1,861 ±1,212
03:04 (02:19)
28
Stray Cat Crossing
Aug 28, 2015
$2.99
82% (92%)
21,916 ±4,161
12,819 ±3,183
02:07 (02:28)
29
Airport Madness 4
Jul 24, 2015
$9.99
N/A (N/A)
12,612 ±3,157
7,236 ±2,391
04:38 (02:44)
30
The Deed
Nov 23, 2015
$0.49
78% (91%)
130,048 ±10,137
87,043 ±8,293
02:52 (02:39)
31
Sorcery! Part 3
Apr 5, 2016
$9.99
N/A (N/A)
17,988 ±3,770
2,895 ±1,512
07:36 (09:28)
32
Resonance
Jul 25, 2012
$9.99
78% (91%/76%)
53,756 ±6,518
28,945 ±4,783
04:52 (02:28)
33
Kyoto Colorful Days
Jun 14, 2016
$0.99
N/A (N/A)
7,030 ±2,357
3,308 ±1,617
02:11 (02:50)
34
Back to the Future: The Game
Dec 23, 2010
$19.99
74% (90%/74%)
569,192 ±21,196
233,631 ±13,585
02:34 (02:14)
35
Nancy Drew: The White Wolf of Icicle Creek
Jul 17, 2009
$6.99
N/A (N/A/73%)
13,025 ±3,208
6,409 ±2,250
05:16 (04:37)
36
9 Clues 2: The Ward
Jul 23, 2015
$9.99
74% (90%)
41,144 ±5,702
24,604 ±4,409
04:24 (03:43)
37
The Music Machine
May 6, 2015
$4.99
74% (90%)
21,916 ±4,161
13,025 ±3,208
03:11 (02:36)
38
Nearwood - Collector's Edition
Apr 16, 2014
$9.99
74% (90%)
33,287 ±5,129
10,338 ±2,858
05:19 (04:05)
39
Broken Sword 2 - the Smoking Mirror: Remastered
Dec 2, 2009
$5.99
74% (90%)
278,704 ±14,837
63,680 ±7,094
04:13 (02:08)
40
Gabriel Knight: Sins of the Fathers 20th Anniversary Edition
Oct 15, 2014
$19.99
70% (89%/74%)
31,840 ±5,016
22,950 ±4,258
07:00 (04:53)
41
Space Pilgrim Episode IV: Sol
Mar 4, 2016
$1.99
70% (89%)
103,377 ±9,038
72,777 ±7,583
03:55 (03:32)
42
LostWinds
Mar 24, 2016
$9.99
70% (89%)
13,439 ±3,259
6,823 ±2,322
02:19 (02:24)
43
Black Mirror II
Apr 2, 2014
$9.99
70% (89%/71%)
50,861 ±6,340
10,958 ±2,942
12:44 (12:35)
44
Black Mirror III
Apr 3, 2014
$9.99
70% (89%/75%)
51,688 ±6,391
9,511 ±2,741
12:13 (10:06)
45
(God's One Day World)
Jul 1, 2016
$4.99
67% (88%)
14,679 ±3,406
12,198 ±3,105
03:00 (03:00)
46
The Deed: Dynasty
May 10, 2016
$1.49
67% (88%)
69,676 ±7,420
45,072 ±5,968
03:12 (03:13)
47
Tales of Monkey Island Complete Pack
Jul 7, 2009
$3.99
67% (88%/79%)
206,753 ±12,780
129,221 ±10,104
03:19 (02:55)
48
Ankh - Anniversary Edition
May 21, 2015
$7.99
N/A (N/A)
9,717 ±2,771
5,376 ±2,061
03:22 (03:46)
49
The Order of the Thorne - The King's Challenge
Jan 26, 2016
$9.99
N/A (N/A/71%)
4,342 ±1,852
2,688 ±1,457
03:44 (04:57)
50
Chronology
May 12, 2014
$4.99
67% (88%)
72,570 ±7,573
22,536 ±4,220
01:56 (01:40)
51
Detective Case and Clown Bot in: Murder in the Hotel Lisbon
Jul 17, 2014
$5.99
67% (88%)
46,520 ±6,063
15,920 ±3,547
05:47 (03:28)
52
Midnight Mysteries 3: Devil on the Mississippi
Mar 28, 2012
$9.99
N/A (N/A)
27,291 ±4,644
6,409 ±2,250
05:12 (05:06)
53
Journey of a Roach
Nov 4, 2013
$9.99
67% (88%/65%)
134,803 ±10,320
63,680 ±7,094
02:41 (01:45)
54
Space Pilgrim Episode II: Epsilon Indi
Jan 8, 2016
$1.99
67% (88%)
114,541 ±9,513
83,942 ±8,144
03:41 (03:31)
55
Shadowgate (2014)
Aug 21, 2014
$2.24
67% (88%/68%)
124,259 ±9,908
64,714 ±7,151
03:32 (02:01)
56
Mimpi
Jan 20, 2015
$3.99
67% (88%)
8,890 ±2,650
6,409 ±2,250
01:58 (01:52)
57
Gray Matter
Apr 1, 2014
$9.99
67% (88%/72%)
46,520 ±6,063
24,604 ±4,409
05:31 (02:27)
58
Little Briar Rose
Dec 2, 2016
$7.99
N/A (N/A)
1,447 ±1,069
1,034 ±903
02:01 (02:07)
59
Heileen 3: New Horizons
Jul 17, 2014
$24.99
N/A (N/A)
19,848 ±3,960
12,612 ±3,157
03:19 (02:16)
60
The Uninvited: MacVenture Series
Jan 26, 2015
$2.99
N/A (N/A)
19,435 ±3,919
8,890 ±2,650
02:40 (02:36)
61
Message Quest
Oct 22, 2015
$2.99
64% (87%)
18,608 ±3,835
11,992 ±3,078
01:50 (01:40)
62
The Little Acre
Dec 13, 2016
$5.19
61% (86%/62%)
8,270 ±2,556
3,722 ±1,715
03:17 (03:20)
63
Namariel Legends: Iron Lord Premium Edition
Jul 9, 2014
$6.99
N/A (N/A)
23,983 ±4,353
2,895 ±1,512
03:31 (03:57)
64
Adventures of Bertram Fiddle: Episode 1: A Dreadly Business
Apr 2, 2015
$5.99
61% (86%)
20,262 ±4,001
7,236 ±2,391
02:29 (02:04)
65
The Slaughter: Act One
Jan 28, 2016
$6.99
N/A (N/A)
10,131 ±2,829
4,755 ±1,938
04:03 (03:04)
66
Fire
Apr 9, 2015
$9.99
61% (86%/64%)
24,604 ±4,409
18,194 ±3,792
03:44 (02:57)
67
D: The Game
Oct 27, 2016
$1.19
N/A (N/A)
3,928 ±1,762
1,861 ±1,212
03:31 (03:25)
68
Blackwood Crossing
Apr 4, 2017
$10.39
61% (86%/72%)
2,068 ±1,278
1,447 ±1,069
02:55 (03:12)
69
Dreamfall: The Longest Journey
Jan 12, 2007
$19.99
61% (86%/75%)
150,103 ±10,890
51,895 ±6,404
08:50 (02:29)
70
DreadOut: Keepers of The Dark
Mar 24, 2016
$6.99
61% (86%)
23,777 ±4,335
9,924 ±2,800
03:26 (01:57)
71
Space Pilgrim Episode III: Delta Pavonis
Feb 4, 2016
$1.99
61% (86%)
99,242 ±8,855
70,710 ±7,475
04:20 (03:33)
72
Shiftlings
Mar 3, 2015
$3.74
N/A (N/A/70%)
81,254 ±8,013
16,127 ±3,570
11:49 (03:03)
73
A Boy and His Blob
Jan 19, 2016
$9.99
59% (85%)
106,271 ±9,163
41,971 ±5,759
03:46 (03:31)
74
The Lost Crown
Jun 6, 2014
$9.99
59% (85%/71%)
70,503 ±7,464
20,262 ±4,001
07:41 (02:35)
75
Trials of Azra
Sep 15, 2016
$2.49
N/A (N/A)
2,274 ±1,340
1,861 ±1,212
01:58 (02:07)
76
The Last Dream: Developer's Edition
Dec 3, 2015
$9.99
56% (84%)
13,852 ±3,308
8,890 ±2,650
03:46 (03:22)
77
Goetia
Apr 14, 2016
$3.74
56% (84%/79%)
54,996 ±6,592
15,300 ±3,477
04:42 (02:48)
78
The Next BIG Thing
Apr 21, 2011
$1.99
56% (84%/75%)
78,566 ±7,879
37,216 ±5,423
06:31 (03:09)
79
Metal Dead
Oct 6, 2014
$4.99
56% (84%)
35,768 ±5,316
20,055 ±3,981
02:41 (02:17)
80
Sorcery! Part 4
Sep 22, 2016
$5.99
N/A (N/A)
15,920 ±3,547
2,068 ±1,278
03:07 (01:47)
81
Yesterday
Mar 22, 2012
$9.99
56% (84%)
141,213 ±10,563
38,663 ±5,527
05:17 (03:04)
82
The Shivah
Nov 21, 2013
$4.99
56% (84%)
96,347 ±8,725
31,633 ±5,000
02:28 (01:52)
83
Swordbreaker The Game
Nov 6, 2015
$2.99
56% (84%)
24,397 ±4,391
15,507 ±3,500
03:07 (03:30)
84
Blue Rose
Apr 23, 2015
$19.99
N/A (N/A)
43,832 ±5,885
28,118 ±4,714
04:10 (03:51)
85
The Charnel House Trilogy
Apr 16, 2015
$5.99
54% (83%/68%)
31,840 ±5,016
17,574 ±3,726
03:01 (02:51)
86
realMyst: Masterpiece Edition
Feb 5, 2014
$17.99
54% (83%)
86,009 ±8,244
64,094 ±7,117
05:26 (02:16)
87
Princess Isabella
Apr 15, 2014
$4.99
N/A (N/A)
14,679 ±3,406
4,755 ±1,938
04:57 (03:27)
88
Whispering Willows
Jul 9, 2014
$9.99
54% (83%/64%)
38,456 ±5,513
23,777 ±4,335
03:22 (02:23)
89
Robin's Quest
Apr 17, 2014
$4.99
54% (83%)
10,338 ±2,858
2,895 ±1,512
07:54 (04:50)
90
Theatre Of The Absurd
May 8, 2014
$4.99
54% (83%)
26,464 ±4,573
5,996 ±2,176
04:03 (03:16)
91
Projector Face
Jun 1, 2016
$4.99
N/A (N/A)
6,203 ±2,214
3,722 ±1,715
02:45 (03:01)
92
Still Life
Jun 1, 2011
$7.99
51% (82%/75%)
119,503 ±9,717
42,591 ±5,801
05:29 (02:24)
93
SVRVIVE: The Deus Helix
Nov 17, 2016
$11.2
51% (82%)
5,996 ±2,176
3,515 ±1,666
02:01 (02:00)
94
The Maker's Eden
Jul 30, 2014
$8.99
N/A (N/A)
27,291 ±4,644
14,266 ±3,357
02:47 (01:50)
95
Dead Synchronicity: Tomorrow Comes Today
Apr 10, 2015
$19.99
49% (81%/70%)
47,553 ±6,130
22,123 ±4,181
04:28 (02:57)
96
Tobari and the Night of the Curious Moon
May 26, 2015
$9.99
N/A (N/A)
4,755 ±1,938
2,481 ±1,400
06:15 (02:18)
97
Lilly Looking Through
Nov 1, 2013
$9.99
49% (81%/71%)
105,031 ±9,110
52,309 ±6,429
02:36 (01:54)
98
The Emerald Maiden: Symphony of Dreams
Feb 18, 2016
$9.99
49% (81%)
24,604 ±4,409
11,992 ±3,078
07:09 (03:39)
99
Game Royale 2 - The Secret of Jannis Island
Dec 22, 2016
$2.49
49% (81%)
2,068 ±1,278
1,241 ±990
01:23 (01:38)
100
Empress Of The Deep 2: Song Of The Blue Whale
May 8, 2014
$4.99
N/A (N/A)
11,992 ±3,078
2,481 ±1,400
04:19 (06:06)
101
Boo Bunny Plague
Sep 4, 2014
$1.99
44% (79%)
18,608 ±3,835
11,165 ±2,970
02:13 (01:33)
102
Schrdingers Cat And The Raiders Of The Lost Quark
Sep 23, 2014
$9.99
N/A (N/A/59%)
35,148 ±5,270
12,198 ±3,105
04:23 (03:55)
103
Shadowgate: MacVenture Series
Jan 26, 2015
$2.99
N/A (N/A)
70,089 ±7,442
17,988 ±3,770
02:08 (01:30)
104
Haunted Past: Realm of Ghosts
Apr 10, 2014
$4.99
N/A (N/A)
12,405 ±3,131
2,688 ±1,457
02:07 (03:24)
105
Measurement Problem
Sep 27, 2016
$1.99
N/A (N/A)
7,650 ±2,458
4,549 ±1,896
03:13 (04:02)
106
The Samaritan Paradox
Apr 18, 2014
$6.99
N/A (N/A/75%)
40,110 ±5,630
22,123 ±4,181
04:55 (03:34)
107
Midnight Mysteries
Sep 28, 2009
$9.99
N/A (N/A)
33,287 ±5,129
11,992 ±3,078
05:13 (03:33)
108
Midvinter
May 5, 2016
$2.49
N/A (N/A)
10,958 ±2,942
7,030 ±2,357
03:18 (03:37)
109
Infinite Space III: Sea of Stars
Oct 29, 2015
$9.99
N/A (N/A)
21,916 ±4,161
11,165 ±2,970
04:09 (02:27)
110
Perils of Man
Apr 28, 2015
$9.99
40% (77%/61%)
5,169 ±2,021
3,722 ±1,715
02:53 (03:21)
111
Mirrored - Chapter 1
Oct 30, 2015
$1.99
38% (76%)
14,679 ±3,406
8,890 ±2,650
02:47 (03:02)
112
Memento Mori 2
May 13, 2014
$24.99
N/A (N/A/65%)
17,574 ±3,726
4,962 ±1,980
14:47 (12:10)
113
Airport Madness: Time Machine
Sep 18, 2015
$6.99
N/A (N/A)
10,544 ±2,886
7,236 ±2,391
05:10 (03:37)
114
The Bunker
Sep 20, 2016
$4.99
38% (76%/57%)
7,857 ±2,491
4,549 ±1,896
02:22 (02:15)
115
Investigator
Jun 1, 2016
$0.77
38% (76%)
22,950 ±4,258
14,473 ±3,382
03:14 (03:24)
116
Haunted
Aug 18, 2014
$14.99
N/A (N/A/76%)
13,439 ±3,259
6,409 ±2,250
03:41 (02:43)
117
Corrosion: Cold Winter Waiting [Enhanced Edition]
Jul 1, 2015
$7.99
36% (75%)
34,114 ±5,192
15,507 ±3,500
04:20 (04:08)
118
Overclocked: A History of Violence
Apr 3, 2015
$14.99
N/A (N/A/70%)
14,886 ±3,430
1,861 ±1,212
02:56 (01:57)
119
Unhappy Ever After
Jan 20, 2017
$2.03
N/A (N/A)
1,861 ±1,212
1,034 ±903
09:10 (03:20)
120
Legend of Miro
Aug 22, 2016
$3.99
N/A (N/A)
17,161 ±3,682
3,722 ±1,715
02:41 (04:43)
121
Eventide 2: The Sorcerers Mirror
Oct 13, 2016
$4.99
N/A (N/A)
8,684 ±2,619
5,996 ±2,176
02:46 (03:03)
122
Adam's Venture Chronicles
Aug 3, 2015
$1.49
36% (75%)
35,148 ±5,270
13,852 ±3,308
03:23 (02:45)
123
Supreme League of Patriots
Jan 29, 2015
$5.99
N/A (N/A/56%)
27,705 ±4,679
16,747 ±3,638
04:07 (03:56)
124
Dyscourse
Mar 25, 2015
$14.99
35% (74%/71%)
72,984 ±7,594
39,490 ±5,586
02:59 (02:56)
125
Adventure Time: Finn and Jake Investigations
Dec 1, 2015
$14.99
33% (73%)
4,549 ±1,896
3,308 ±1,617
04:23 (04:51)
126
Dj Vu: MacVenture Series
Jan 26, 2015
$2.99
N/A (N/A)
41,764 ±5,745
9,717 ±2,771
01:48 (01:04)
127
Return to Mysterious Island
Mar 6, 2014
$7.99
33% (73%)
50,034 ±6,288
15,920 ±3,547
02:37 (01:37)
128
Soulless: Ray Of Hope
Oct 18, 2016
$0.99
33% (73%)
11,578 ±3,025
4,549 ±1,896
04:12 (02:43)
129
Richard & Alice
Jun 5, 2014
$5.99
33% (73%/70%)
74,224 ±7,658
31,013 ±4,950
02:43 (02:22)
130
Alteric
Jul 13, 2016
$1.99
31% (72%)
8,890 ±2,650
5,376 ±2,061
02:48 (03:10)
131
Alpha Polaris : A Horror Adventure Game
Oct 21, 2015
$9.99
31% (72%)
6,203 ±2,214
4,342 ±1,852
03:37 (03:48)
132
Mahluk:Dark demon
Jul 19, 2016
$0.99
N/A (N/A)
16,954 ±3,660
8,684 ±2,619
02:21 (02:42)
133
Masha Rescues Grandma
Dec 23, 2016
$1.19
N/A (N/A)
4,962 ±1,980
3,101 ±1,565
03:03 (03:25)
134
Nancy Drew: Secrets Can Kill REMASTERED
Jul 25, 2011
$6.99
N/A (N/A)
13,646 ±3,284
7,857 ±2,491
04:10 (03:21)
135
Reversion - The Meeting (2nd Chapter)
Jul 8, 2014
$4.99
N/A (N/A)
30,600 ±4,917
17,367 ±3,704
02:33 (02:11)
136
Quantum Conscience
Jun 9, 2015
$4.99
N/A (N/A)
23,363 ±4,297
14,473 ±3,382
04:54 (04:11)
137
Californium
Feb 17, 2016
$9.99
28% (70%/64%)
11,785 ±3,052
3,515 ±1,666
03:38 (03:16)
138
Blues and Bullets
Jul 22, 2015
$4.99
28% (70%/73%)
49,207 ±6,236
31,427 ±4,983
03:06 (03:01)
139
Last Heroes
Nov 13, 2015
$0.49
N/A (N/A)
11,578 ±3,025
7,857 ±2,491
02:48 (03:14)
140
A Golden Wake
Oct 9, 2014
$9.99
28% (70%/68%)
21,296 ±4,102
9,304 ±2,711
03:47 (03:59)
141
Odysseus: Long Way Home
Feb 23, 2015
$3.99
N/A (N/A)
76,292 ±7,764
60,579 ±6,919
03:36 (03:31)
142
Nevermind
Sep 29, 2015
$19.99
27% (69%)
23,983 ±4,353
13,439 ±3,259
06:36 (04:01)
143
Black Sails - The Ghost Ship
Sep 17, 2015
$9.99
27% (69%)
23,156 ±4,278
13,439 ±3,259
03:28 (03:24)
144
Virginia
Sep 22, 2016
$2.49
25% (68%/74%)
27,085 ±4,626
19,435 ±3,919
03:56 (02:06)
145
Face Noir
Oct 17, 2013
$9.99
N/A (N/A/59%)
66,781 ±7,264
39,490 ±5,586
04:05 (02:51)
146
1HEART
Oct 13, 2014
$9.99
24% (67%)
11,578 ±3,025
7,443 ±2,425
03:43 (04:08)
147
Sherlock Holmes: The Silver Earring
Aug 6, 2009
$2.49
24% (67%/68%)
85,596 ±8,224
22,743 ±4,239
06:36 (02:44)
148
The Travels of Marco Polo
May 6, 2015
$6.99
N/A (N/A)
13,025 ±3,208
5,582 ±2,100
03:26 (03:13)
149
Al Emmo and the Lost Dutchman's Mine
May 9, 2014
$9.99
N/A (N/A/77%)
14,059 ±3,333
9,511 ±2,741
02:30 (01:35)
150
Wayward Manor
Jul 15, 2014
$6.99
N/A (N/A/41%)
9,511 ±2,741
2,895 ±1,512
06:00 (01:00)
151
City Quest
Aug 20, 2015
$9.99
N/A (N/A)
8,270 ±2,556
4,755 ±1,938
03:41 (04:16)
152
Fathers Island
Jun 21, 2016
$3.34
N/A (N/A)
7,030 ±2,357
4,342 ±1,852
04:18 (03:58)
153
Void And Meddler
Oct 28, 2015
$3.99
22% (65%)
17,367 ±3,704
8,890 ±2,650
02:26 (02:23)
154
Dark Fall: Lost Souls
Apr 21, 2010
$12.99
21% (64%/75%)
40,730 ±5,673
20,882 ±4,062
04:46 (02:43)
155
Adventurezator: When Pigs Fly
Sep 17, 2015
$19.99
N/A (N/A)
26,051 ±4,537
15,300 ±3,477
02:30 (02:06)
156
Hidden: On the trail of the Ancients
Aug 5, 2015
$9.99
N/A (N/A)
5,789 ±2,139
3,308 ±1,617
02:56 (04:03)
157
Rememoried
Aug 31, 2015
$9.99
21% (64%)
12,819 ±3,183
6,616 ±2,286
02:01 (01:53)
158
The Great Fusion
Feb 25, 2015
$2.99
N/A (N/A)
6,203 ±2,214
4,342 ±1,852
03:52 (02:29)
159
The Away Team
Jul 22, 2016
$1.01
N/A (N/A)
11,371 ±2,997
4,962 ±1,980
05:03 (03:41)
160
Nancy Drew: Ransom of the Seven Ships
Jul 21, 2009
$6.99
N/A (N/A/78%)
11,578 ±3,025
4,135 ±1,807
07:29 (06:47)
161
Pitiri 1977
Nov 7, 2014
$3.99
N/A (N/A)
48,380 ±6,183
17,781 ±3,748
02:33 (02:19)
162
Hamlet or the Last Game without MMORPG Features, Shaders ...
Oct 22, 2012
$4.99
21% (64%)
42,591 ±5,801
25,224 ±4,465
02:48 (03:02)
163
Corpse of Discovery
Aug 25, 2015
$7.99
19% (63%/49%)
13,439 ±3,259
2,274 ±1,340
03:14 (03:11)
164
Door To Door
Aug 2, 2016
$6.99
N/A (N/A)
11,992 ±3,078
7,650 ±2,458
05:40 (03:37)
165
Empress Of The Deep
May 8, 2014
$4.99
19% (63%)
13,852 ±3,308
3,722 ±1,715
02:48 (03:29)
166
My Secret Pets!
May 10, 2016
$3.19
18% (62%)
3,308 ±1,617
2,481 ±1,400
03:09 (02:00)
167
Unrest
Jul 23, 2014
$14.99
18% (62%/65%)
23,363 ±4,297
11,578 ±3,025
01:58 (02:01)
168
Mythos: The Beginning - Director's Cut
Oct 27, 2014
$5.99
N/A (N/A)
16,540 ±3,615
9,717 ±2,771
02:52 (02:10)
169
Playing History 2 - Slave Trade
Aug 27, 2015
$1.49
N/A (N/A)
15,300 ±3,477
1,861 ±1,212
03:54 (01:43)
170
Heileen 2: The Hands Of Fate
Jun 11, 2014
$9.99
N/A (N/A)
19,435 ±3,919
11,578 ±3,025
03:11 (01:58)
171
Chronicles of Mystery: The Scorpio Ritual
Jun 18, 2009
$4.99
N/A (N/A/62%)
26,671 ±4,591
4,342 ±1,852
04:09 (02:23)
172
Tibetan Quest: Beyond the World's End
Apr 7, 2016
$3.99
N/A (N/A)
13,852 ±3,308
8,890 ±2,650
06:38 (03:41)
173
Pulse
Oct 20, 2015
$14.99
N/A (N/A/57%)
3,722 ±1,715
1,654 ±1,143
01:12 (01:10)
174
Dracula 4 and 5 - Special Steam Edition
May 29, 2014
$7.99
N/A (N/A)
33,908 ±5,176
5,169 ±2,021
03:18 (01:39)
175
Eleusis
Oct 16, 2013
$14.99
14% (58%)
44,245 ±5,913
21,296 ±4,102
04:51 (02:46)
176
Dance of Death
Dec 21, 2015
$3.99
14% (58%)
22,743 ±4,239
16,540 ±3,615
04:27 (03:47)
177
Mystic Diary - Quest for Lost Brother
Dec 8, 2016
$3.49
N/A (N/A)
3,928 ±1,762
2,481 ±1,400
03:16 (04:05)
178
The Land Of Lamia
Nov 23, 2015
$4.99
N/A (N/A)
24,810 ±4,428
12,819 ±3,183
03:54 (03:22)
179
Memento Mori
Nov 9, 2012
$12.99
13% (56%/66%)
29,152 ±4,800
6,823 ±2,322
03:07 (01:19)
180
AR-K
Jul 21, 2014
$7.99
13% (56%)
91,178 ±8,488
47,140 ±6,103
03:54 (02:31)
181
Eisenhorn: XENOS
Aug 8, 2016
$19.99
13% (56%/46%)
4,962 ±1,980
4,342 ±1,852
04:59 (04:52)
182
Subject 13
May 28, 2015
$9.99
12% (55%/59%)
62,853 ±7,047
33,908 ±5,176
03:42 (03:37)
183
Daughter of Shadows: An SCP Breach Event
Apr 4, 2016
$0.99
N/A (N/A)
2,895 ±1,512
2,274 ±1,340
02:38 (03:59)
184
White Haven Mysteries
Apr 17, 2014
$4.99
11% (53%)
4,549 ±1,896
2,688 ±1,457
02:58 (02:32)
185
Armikrog
Sep 30, 2015
$5.99
11% (53%/57%)
29,152 ±4,800
22,123 ±4,181
04:05 (03:18)
186
Lost Civilization
Apr 15, 2014
$4.99
N/A (N/A)
34,735 ±5,239
3,515 ±1,666
02:34 (04:23)
187
Mirror Mysteries 2
Apr 10, 2014
$4.99
N/A (N/A)
11,371 ±2,997
3,101 ±1,565
03:42 (03:16)
188
Tales of Monkey Island Complete Pack: Chapter 4 - The Trial and Execution of Guybrush Threepwood
Oct 30, 2009
Free
N/A (N/A)
206,753 ±12,780
48,380 ±6,183
06:39 (04:04)
189
Warriors' Wrath
May 26, 2016
$1.79
N/A (N/A)
25,844 ±4,519
19,228 ±3,898
03:26 (03:52)
190
Viktaram
Dec 1, 2016
$0.62
N/A (N/A)
4,962 ±1,980
3,308 ±1,617
02:31 (02:58)
191
ADventure Lib
Aug 4, 2015
$1.99
8% (48%)
8,270 ±2,556
5,582 ±2,100
03:17 (03:28)
192
De-Void
Sep 2, 2016
$2.71
N/A (N/A)
5,789 ±2,139
3,722 ±1,715
03:33 (03:46)
193
A Sirius Game
Aug 21, 2015
$0.49
N/A (N/A)
13,439 ±3,259
11,992 ±3,078
04:57 (03:38)
194
Fight or Die
Jan 6, 2017
$0.5
N/A (N/A)
78,773 ±7,890
73,604 ±7,626
03:38 (03:30)
195
Lex Mortis
Feb 9, 2015
$4.99
4% (40%)
138,111 ±10,446
124,466 ±9,917
03:24 (03:30)
196
Vault Cracker
May 15, 2014
$4.99
N/A (N/A)
7,443 ±2,425
1,241 ±990
09:47 (18:06)
197
Sherlock Holmes: The Mystery of the Persian Carpet
$2.49
3% (37%)
82,701 ±8,084
16,747 ±3,638
02:26 (01:21)
198
Rescue Lucy
Jun 3, 2016
$2.99
3% (36%)
12,198 ±3,105
9,097 ±2,681
02:45 (03:13)
199
Escape The Museum
Apr 29, 2014
$1.24
N/A (N/A)
4,135 ±1,807
1,447 ±1,069
07:40 (15:17)
200
Dead Mountaineer's Hotel
Oct 28, 2011
$7.99
2% (31%)
6,823 ±2,322
4,135 ±1,807
04:06 (02:10)
201
COAST GUARD
Oct 21, 2015
$14.99
N/A (N/A/47%)
10,958 ±2,942
7,650 ±2,458
04:36 (04:46)
202
Borstal
Mar 22, 2016
$2.99
N/A (N/A)
5,582 ±2,100
3,928 ±1,762
02:14 (03:09)
203
SLG Remix
Jun 1, 2016
$0.74
N/A (N/A)
10,338 ±2,858
7,650 ±2,458
03:02 (03:20)
204
Broadside
Sep 18, 2015
$4.99
N/A (N/A)
9,924 ±2,800
6,616 ±2,286
04:56 (04:12)
205
Corto Maltese - Secrets of Venice
Dec 4, 2014
$9.99
N/A (N/A)
6,409 ±2,250
3,308 ±1,617
05:53 (04:08)