App

Attrition: Nuclear Domination
Attrition: Nuclear Domination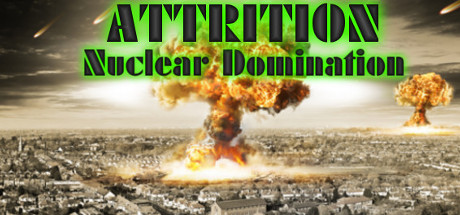 Store | Hub | SteamDB | Site
Developer: Digital Homicide Studios Publisher: Digital Homicide Studios
Genre: Action, Casual, Indie, Simulation, Strategy
Languages: English
Tags: Strategy (34), Simulation (31), Indie (30), Action (29), Casual (29)
Category: Single-player, Steam Trading Cards
Release date: Aug 7, 2015
Price: $0.99
Score rank: 2% Userscore: 32% Old userscore: 31%
Followers: 512
Peak concurrent players yesterday: 8
YouTube stats: 5 views and 0 comments for videos uploaded last week, 0 new videos uploaded yesterday.

Steam Spy is still in beta, so expect major bugs.
Peak daily concurrent players:
CCU data courtesy of SteamDB. Used with permission.
Hourly concurrent players:
YouTube:
The views data is based on top 50 videos uploaded last week. Actual number of views might be more than the number shown.

The displayed number of videos uploaded yesterday is limited to 50, so if there were more videos uploaded, the number will still show 50.

If the game has commonly used word as its name (like "FEAR" or "Volume") its number of Youtube views might be wrong.
Games similar to this one:
#
Game
Release date

Price

Score rank
(Userscore / Metascore)

Owners

Players

Playtime (Median)

1
The Sun at Night
Aug 1, 2014
$4.99
N/A (N/A/59%)
22,880 ±4,798
15,253 ±3,918
02:54 (02:06)
2
Kingdom Rush Frontiers
Jul 25, 2016
$9.99
95% (96%)
84,945 ±9,245
77,844 ±8,850
17:56 (09:48)
3
Defend The Highlands
Nov 6, 2015
$9.99
N/A (N/A)
145,695 ±12,107
71,270 ±8,468
04:03 (03:56)
4
Batman: Arkham Asylum Game of the Year Edition
Mar 26, 2010
$19.99
92% (95%/91%)
93,623 ±9,706
85,734 ±9,288
19:51 (13:55)
5
Hegemony Gold: Wars of Ancient Greece
Mar 30, 2012
$14.99
92% (95%)
19,987 ±4,484
15,253 ±3,918
24:57 (02:33)
6
Treasure Planet: Battle at Procyon
Feb 24, 2015
$9.99
92% (95%)
11,045 ±3,334
5,260 ±2,300
05:56 (04:57)
7
Lords of the Realm II
Dec 3, 2015
$2.99
92% (95%/77%)
49,179 ±7,034
34,188 ±5,865
21:18 (03:05)
8
The Original Strife: Veteran Edition
Dec 12, 2014
$9.99
89% (94%)
59,435 ±7,733
30,507 ±5,540
02:50 (01:21)
9
Nameless ~The one thing you must recall~
Dec 24, 2014
$29.99
89% (94%)
14,727 ±3,849
13,412 ±3,674
25:06 (19:39)
10
Majesty Gold HD
Sep 4, 2009
$9.99
89% (94%)
159,633 ±12,673
46,812 ±6,863
06:25 (01:03)
11
Ys VI: The Ark of Napishtim
Apr 28, 2015
$19.99
89% (94%)
62,591 ±7,936
29,718 ±5,468
09:56 (04:06)
12
JUJU
Dec 10, 2014
$19.99
N/A (N/A/65%)
4,997 ±2,242
3,945 ±1,992
29:48 (03:11)
13
Supercharged Robot VULKAISER
Jun 4, 2015
$4.99
89% (94%)
38,133 ±6,194
12,886 ±3,601
01:50 (01:49)
14
Mayhem Triple
Sep 4, 2015
$4.99
N/A (N/A)
11,834 ±3,451
6,575 ±2,572
03:00 (03:30)
15
Super Trench Attack!
Jul 24, 2014
$4.99
86% (93%)
100,987 ±10,080
68,377 ±8,295
02:46 (02:07)
16
Heroes of Might & Magic V: Tribes of the East
Oct 10, 2008
$9.99
86% (93%/70%)
312,955 ±17,741
148,588 ±12,227
34:33 (09:19)
17
Tallowmere
Mar 3, 2015
$3.99
86% (93%)
30,507 ±5,540
23,406 ±4,853
05:30 (03:06)
18
Sam & Max 301: The Penal Zone
N/A
86% (93%)
555,166 ±23,624
98,357 ±9,948
02:48 (01:29)
19
Gold Rush! Classic
Jul 25, 2014
$5.99
N/A (N/A)
236,952 ±15,439
147,536 ±12,183
04:17 (04:30)
20
Major Mayhem
Feb 24, 2014
$4.99
N/A (N/A)
37,870 ±6,173
24,458 ±4,961
02:55 (01:41)
21
Pharaoh Rebirth+
Mar 17, 2016
$9.99
86% (93%)
4,208 ±2,057
2,630 ±1,626
03:59 (05:04)
22
Death Skid Marks
Nov 20, 2014
$9.99
82% (92%)
26,036 ±5,118
23,406 ±4,853
09:51 (04:29)
23
Delta Force: Black Hawk Down
Jun 18, 2009
$14.99
82% (92%/77%)
41,289 ±6,446
18,409 ±4,304
05:34 (02:36)
24
Battle Academy 2: Eastern Front
Sep 12, 2014
$39.99
82% (92%/78%)
9,994 ±3,171
7,364 ±2,722
35:11 (13:34)
25
Delta Force Black Hawk Down: Team Sabre
Jun 18, 2009
$9.99
82% (92%)
29,981 ±5,492
16,831 ±4,115
09:05 (01:33)
26
Knightmare Tower
Jun 16, 2014
$3.99
82% (92%)
14,727 ±3,849
10,257 ±3,212
05:12 (04:01)
27
Garden Rescue
Feb 2, 2015
$3.99
N/A (N/A)
151,744 ±12,356
135,438 ±11,673
03:46 (03:31)
28
Wars and Warriors: Joan of Arc
Sep 3, 2015
$6.99
82% (92%/60%)
11,308 ±3,373
3,419 ±1,854
08:35 (05:39)
29
Burnstar
Mar 18, 2015
$4.99
N/A (N/A)
14,727 ±3,849
10,257 ±3,212
03:43 (03:36)
30
Kohan: Ahriman's Gift
Aug 24, 2011
$9.99
N/A (N/A/79%)
14,727 ±3,849
6,049 ±2,467
11:32 (05:46)
31
Delta Force Land Warrior
Jun 18, 2009
$9.99
82% (92%/74%)
26,299 ±5,144
12,623 ±3,564
10:55 (02:38)
32
Darkest Hour: A Hearts of Iron Game
Apr 8, 2011
$9.99
78% (91%/81%)
150,166 ±12,291
92,046 ±9,624
58:55 (02:54)
33
Battlezone 98 Redux
Apr 18, 2016
$19.99
78% (91%/75%)
40,500 ±6,384
33,925 ±5,843
06:14 (01:51)
34
Company of Heroes: Opposing Fronts
Sep 24, 2007
$19.99
78% (91%/87%)
2,509,162 ±50,125
705,858 ±26,634
12:08 (01:01)
35
Great Big War Game
Aug 28, 2012
$6.99
N/A (N/A)
10,782 ±3,294
9,205 ±3,043
10:38 (02:53)
36
Apocalypse: Party's Over
May 30, 2016
$4.99
78% (91%)
9,205 ±3,043
7,627 ±2,770
04:14 (04:30)
37
Swords and Soldiers HD
Dec 2, 2010
$9.99
78% (91%)
256,939 ±16,076
136,490 ±11,718
03:13 (01:06)
38
Pang Adventures
Apr 18, 2016
$9.99
78% (91%)
20,513 ±4,543
10,257 ±3,212
02:31 (02:30)
39
Sacrifice
Aug 19, 2009
$9.99
78% (91%/89%)
56,279 ±7,525
33,136 ±5,774
03:30 (01:08)
40
Heroes of Annihilated Empires
Nov 22, 2006
$14.99
78% (91%/65%)
62,854 ±7,953
23,932 ±4,907
11:16 (03:43)
41
Kohan II: Kings of War
Aug 24, 2011
$9.99
78% (91%/81%)
20,250 ±4,514
11,834 ±3,451
15:39 (03:28)
42
Khet 2.0
Oct 1, 2014
$9.99
78% (91%)
21,565 ±4,658
15,779 ±3,985
03:12 (02:50)
43
Warhammer 40,000: Dawn of War Winter Assault
Aug 7, 2007
$12.99
74% (90%)
1,055,894 ±32,564
409,208 ±20,285
04:46 (01:05)
44
Clash of Puppets
Dec 16, 2014
$4.99
N/A (N/A)
12,097 ±3,489
7,627 ±2,770
02:07 (02:07)
45
Hive
Mar 20, 2014
$9.99
74% (90%)
23,143 ±4,826
18,409 ±4,304
03:32 (01:33)
46
Blowy Fish
Sep 25, 2015
$1.99
N/A (N/A)
12,623 ±3,564
7,627 ±2,770
03:22 (03:16)
47
Braveland Pirate
Sep 14, 2015
$6.99
74% (90%)
18,409 ±4,304
9,468 ±3,086
06:12 (04:04)
48
Warrior Kings: Battles
May 6, 2014
$9.99
74% (90%/64%)
8,416 ±2,910
4,208 ±2,057
18:16 (17:18)
49
Flashpoint Campaigns: Red Storm Player's Edition
Nov 21, 2014
$49.99
74% (90%)
6,312 ±2,520
5,523 ±2,357
27:01 (20:26)
50
Fort Meow
Jun 24, 2015
$3.99
74% (90%)
12,886 ±3,601
6,575 ±2,572
02:32 (03:14)
51
Sneaky Sneaky
Nov 12, 2014
$4.99
74% (90%/63%)
15,253 ±3,918
12,623 ±3,564
03:13 (02:17)
52
UFHO2
Jun 2, 2015
Free
N/A (N/A)
45,497 ±6,766
3,156 ±1,782
01:25 (01:57)
53
Superstatic
Sep 15, 2015
$4.99
N/A (N/A)
17,094 ±4,147
12,623 ±3,564
04:27 (04:31)
54
Avoid - Sensory Overload
Apr 8, 2014
$4.99
74% (90%)
14,464 ±3,815
11,308 ±3,373
02:38 (01:29)
55
Splatter - Zombie Apocalypse
Jun 4, 2014
$4.99
74% (90%)
226,958 ±15,110
144,906 ±12,074
03:05 (02:35)
56
Sword of the Stars: Complete Collection
Jun 4, 2010
$9.99
70% (89%/75%)
16,831 ±4,115
9,468 ±3,086
70:43 (16:08)
57
The Deadly Tower of Monsters
Jan 19, 2016
$14.99
70% (89%/73%)
104,932 ±10,275
49,442 ±7,053
02:35 (01:48)
58
Spectromancer
Feb 11, 2009
$9.99
70% (89%)
22,617 ±4,770
16,568 ±4,083
28:31 (04:12)
59
Alien Robot Monsters
Sep 9, 2015
$5.99
70% (89%)
2,768 ±2,047
2,768 ±2,047
10:17 (13:42)
60
Ground Control Anthology
Jul 8, 2015
$4.99
N/A (N/A/86%)
17,094 ±4,147
8,679 ±2,955
02:16 (00:29)
61
Reverse Crawl
Sep 24, 2015
$5.99
70% (89%)
51,546 ±7,202
26,299 ±5,144
02:58 (01:56)
62
Dawn of Discovery
Jun 23, 2009
$9.99
70% (89%/82%)
110,718 ±10,554
41,026 ±6,425
23:32 (04:27)
63
Greed Corp
Dec 10, 2010
$9.99
70% (89%/76%)
262,987 ±16,264
138,857 ±11,820
03:13 (01:11)
64
MoonBase Commander
Feb 6, 2014
$5.99
70% (89%/77%)
13,149 ±3,637
8,416 ±2,910
02:51 (01:40)
65
Shadow Blade: Reload
Aug 10, 2015
$14.99
70% (89%/70%)
31,033 ±5,588
14,201 ±3,780
02:45 (02:10)
66
Archon Classic
Nov 2, 2010
$9.99
70% (89%)
22,617 ±4,770
7,101 ±2,673
04:42 (02:01)
67
Codename: Panzers, Phase Two
Feb 18, 2016
$14.99
N/A (N/A/80%)
21,565 ±4,658
11,045 ±3,334
12:12 (02:22)
68
Thrillville: Off the Rails
Jul 8, 2009
$9.99
67% (88%/70%)
24,458 ±4,961
21,565 ±4,658
06:24 (02:57)
69
Age of Wonders Shadow Magic
Oct 2010
$9.99
67% (88%/82%)
119,659 ±10,972
50,231 ±7,109
18:37 (03:00)
70
Interloper
May 21, 2015
$1
67% (88%/77%)
53,123 ±7,311
46,286 ±6,824
04:37 (05:17)
71
Joint Task Force
Mar 27, 2007
$9.99
67% (88%/68%)
44,708 ±6,707
15,516 ±3,951
17:15 (02:30)
72
Tiny Guardians
Mar 23, 2016
$9.99
N/A (N/A)
21,828 ±4,686
13,149 ±3,637
03:54 (03:25)
73
Little Big Adventure - Enhanced Edition
Oct 20, 2015
$5.99
67% (88%)
13,412 ±3,674
5,523 ±2,357
02:50 (02:17)
74
Battlepillars Gold Edition
Apr 28, 2014
$4.99
67% (88%)
22,354 ±4,743
17,620 ±4,211
03:25 (02:11)
75
Mystik Belle
May 22, 2015
$14.99
64% (87%)
4,734 ±2,182
3,682 ±1,924
03:29 (03:05)
76
Arsenal of Democracy: A Hearts of Iron Game
Feb 23, 2010
$9.99
64% (87%)
62,065 ±7,903
29,455 ±5,444
18:19 (00:36)
77
Super Furball
Apr 21, 2015
$3.99
N/A (N/A)
9,205 ±3,043
5,260 ±2,300
02:39 (02:51)
78
Steel Rain
Dec 3, 2015
$9.99
N/A (N/A)
12,623 ±3,564
7,627 ±2,770
06:00 (04:32)
79
Zero Punctuation: Hatfall - Hatters Gonna Hat Edition
Nov 20, 2015
$4.99
64% (87%)
12,360 ±3,527
11,308 ±3,373
02:50 (01:29)
80
Sang-Froid - Tales of Werewolves
Apr 5, 2013
Free
64% (87%/79%)
333,994 ±18,328
167,523 ±12,982
03:11 (01:16)
81
Spooky Cats
Jun 4, 2015
$2.99
61% (86%)
29,192 ±5,420
18,672 ±4,334
02:52 (02:21)
82
Battle Academy
Apr 16, 2014
$14.99
61% (86%)
34,188 ±5,865
14,201 ±3,780
14:52 (02:03)
83
Meltdown
Jun 5, 2014
$6.99
61% (86%)
66,010 ±8,150
45,234 ±6,746
03:47 (02:20)
84
Super Chibi Knight
Jun 24, 2015
$4.99
61% (86%)
18,146 ±4,273
14,464 ±3,815
05:36 (03:22)
85
Time Rifters
Oct 21, 2014
$9.99
61% (86%)
17,883 ±4,242
15,779 ±3,985
02:55 (01:40)
86
Cultures - Northland
Mar 26, 2015
$4.99
61% (86%)
79,422 ±8,939
36,818 ±6,087
05:12 (01:40)
87
Civilization IV: Warlords
Apr 6, 2007
$4.99
61% (86%/84%)
1,330,190 ±36,540
201,185 ±14,226
16:53 (01:19)
88
Ring Runner: Flight of the Sages
Nov 19, 2013
$4.99
61% (86%/75%)
145,695 ±12,107
84,419 ±9,216
03:46 (01:38)
89
NeonXSZ
Feb 22, 2016
$14.99
61% (86%)
4,208 ±2,057
3,419 ±1,854
03:03 (06:33)
90
Civilization IV: Warlords
Apr 6, 2007
$4.99
61% (86%/84%)
1,330,190 ±36,540
28,403 ±5,346
29:14 (01:18)
91
Light of Altair
Jun 4, 2009
$14.99
N/A (N/A/66%)
23,932 ±4,907
10,257 ±3,212
11:19 (06:12)
92
Sam & Max 101: Culture Shock
Jun 15, 2007
N/A
61% (86%)
281,659 ±16,831
108,614 ±10,454
02:39 (02:13)
93
Star Ruler
Sep 20, 2010
$9.99
61% (86%)
152,533 ±12,388
69,166 ±8,342
10:23 (01:04)
94
ShootMania Storm
Apr 10, 2013
$19.99
59% (85%/76%)
70,218 ±8,405
65,484 ±8,117
28:14 (04:35)
95
Ghost Master
Dec 21, 2006
$4.99
59% (85%/81%)
171,994 ±13,154
100,724 ±10,067
04:35 (00:54)
96
Rack N Ruin
Sep 1, 2015
$9.99
N/A (N/A)
15,779 ±3,985
8,416 ±2,910
03:00 (02:50)
97
Dustoff Heli Rescue
Mar 6, 2015
$3.99
59% (85%)
32,084 ±5,682
21,565 ±4,658
02:56 (02:29)
98
SiN Episodes: Emergence
May 10, 2006
$9.99
59% (85%/75%)
232,218 ±15,284
84,156 ±9,202
04:14 (02:07)
99
DeathSpank: Thongs of Virtue
Nov 30, 2010
$14.99
59% (85%/78%)
90,731 ±9,555
27,614 ±5,271
06:45 (04:51)
100
Cossacks: Art of War
Aug 26, 2011
$4.99
59% (85%/74%)
97,042 ±9,881
41,289 ±6,446
10:40 (00:59)
101
Rush for Berlin Gold
Oct 29, 2009
$4.99
59% (85%/76%)
24,195 ±4,934
9,731 ±3,129
06:38 (01:33)
102
Mighty Switch Force! Hose It Down!
Jun 4, 2015
$2.99
N/A (N/A)
4,734 ±2,182
2,104 ±1,455
00:36 (00:51)
103
Call of Duty: United Offensive
Oct 13, 2006
$19.99
56% (84%/87%)
199,344 ±14,161
106,247 ±10,339
12:40 (01:46)
104
Act of War: Direct Action
Mar 12, 2008
$2.99
56% (84%/82%)
29,455 ±5,444
20,250 ±4,514
08:35 (03:16)
105
Last Knight: Rogue Rider Edition
Oct 3, 2014
$7.99
56% (84%)
29,718 ±5,468
18,672 ±4,334
02:58 (02:33)
106
Vintage Year
Jan 2, 2015
$2.99
N/A (N/A)
23,932 ±4,907
15,516 ±3,951
02:28 (02:26)
107
Droid Assault
Jan 9, 2013
$9.99
56% (84%)
85,997 ±9,302
52,597 ±7,275
03:57 (01:40)
108
Foresight
Nov 28, 2014
$4.99
N/A (N/A)
8,942 ±2,999
4,471 ±2,121
03:20 (03:23)
109
Rooks Keep
Dec 5, 2014
$7.99
N/A (N/A)
30,507 ±5,540
11,571 ±3,412
02:49 (02:33)
110
Wicce
May 2, 2016
$4.99
56% (84%)
3,156 ±1,782
2,630 ±1,626
02:15 (02:15)
111
MDK 2
Sep 17, 2009
$9.99
56% (84%/83%)
23,669 ±4,880
11,045 ±3,334
02:28 (01:07)
112
Crush Your Enemies
Jul 13, 2016
$9.99
56% (84%/63%)
22,354 ±4,743
14,727 ±3,849
02:26 (02:03)
113
Railroad Tycoon II Platinum
May 4, 2007
$4.99
56% (84%/89%)
199,870 ±14,180
126,497 ±11,281
27:29 (01:54)
114
Advanced Tactics Gold
Aug 15, 2014
$29.99
N/A (N/A)
6,838 ±2,623
5,523 ±2,357
16:40 (05:08)
115
Fat Chicken
Dec 4, 2014
$9.99
N/A (N/A)
7,890 ±2,817
4,734 ±2,182
02:56 (03:30)
116
Fighties
Jul 13, 2015
$4.99
53% (83%)
11,834 ±3,451
9,468 ±3,086
08:50 (04:15)
117
Weapon of Choice
Sep 23, 2015
$4.99
N/A (N/A)
14,201 ±3,780
6,575 ±2,572
02:30 (02:37)
118
Gratuitous Space Battles
Nov 16, 2009
$14.99
53% (83%/72%)
553,062 ±23,579
334,520 ±18,342
06:06 (01:54)
119
Fleet Command
Oct 26, 2006
$9.99
53% (83%)
49,179 ±7,034
27,088 ±5,221
10:49 (01:12)
120
htoL#NiQ: The Firefly Diary / htoL#NiQ--
May 18, 2016
$9.99
53% (83%)
16,831 ±4,115
9,205 ±3,043
03:48 (02:53)
121
Zombie Shooter 2
Nov 18, 2009
$9.99
53% (83%)
146,484 ±12,140
51,020 ±7,165
03:29 (01:01)
122
Legend (1994)
Nov 10, 2015
$4.99
N/A (N/A)
12,623 ±3,564
8,416 ±2,910
06:53 (06:43)
123
Ground Control II: Operation Exodus
Jul 8, 2015
$4.99
53% (83%/80%)
21,828 ±4,686
12,097 ±3,489
02:07 (00:25)
124
Eador: Genesis
Oct 14, 2013
$5.99
53% (83%)
62,328 ±7,919
22,091 ±4,715
12:39 (02:39)
125
Super Star Path
Jun 22, 2015
$4.99
53% (83%)
16,831 ±4,115
11,834 ±3,451
03:50 (04:15)
126
Hearts of Iron 2 Complete
Jan 23, 2009
$14.99
53% (83%/83%)
87,312 ±9,373
50,231 ±7,109
34:01 (02:13)
127
Age of Wonders
Oct 2010
$5.99
53% (83%)
109,403 ±10,492
51,283 ±7,183
09:05 (01:00)
128
Retrobooster
Jul 11, 2014
$14.99
N/A (N/A)
1,578 ±1,260
263 ±514
00:08 (00:02)
129
Codename: Panzers, Phase One
Feb 18, 2016
$14.99
51% (82%/81%)
24,458 ±4,961
16,831 ±4,115
15:56 (04:01)
130
Blade Arcus from Shining: Battle Arena
Jul 28, 2016
$29.99
51% (82%)
4,208 ±2,057
3,419 ±1,854
01:49 (02:19)
131
Bear Simulator
Feb 26, 2016
$14.99
51% (82%)
15,779 ±3,985
14,727 ±3,849
07:32 (02:26)
132
Halo: Spartan Strike
Apr 16, 2015
$2.99
51% (82%)
118,081 ±10,900
51,546 ±7,202
04:41 (00:36)
133
Bloodsports.TV
Mar 30, 2015
$9.99
51% (82%/69%)
73,899 ±8,623
37,081 ±6,108
04:20 (03:27)
134
Tiny Troopers
Aug 24, 2012
$4.99
51% (82%/57%)
110,981 ±10,567
64,695 ±8,068
02:05 (00:33)
135
Gatling Gears
Aug 30, 2011
$9.99
49% (81%)
40,763 ±6,404
20,250 ±4,514
02:47 (01:29)
136
Cargo! The Quest for Gravity
Apr 21, 2011
$9.99
49% (81%)
71,270 ±8,468
34,188 ±5,865
03:24 (00:59)
137
Decisive Campaigns: The Blitzkrieg from Warsaw to Paris
Jan 22, 2015
$39.99
N/A (N/A)
4,734 ±2,182
4,208 ±2,057
28:45 (08:11)
138
rymdkapsel
Jan 30, 2014
$7.99
49% (81%/77%)
14,464 ±3,815
12,623 ±3,564
03:06 (02:21)
139
War on Folvos
Aug 8, 2014
$3.99
N/A (N/A)
55,490 ±7,472
3,682 ±1,924
01:19 (00:29)
140
Men of War: Red Tide
Nov 1, 2009
$4.99
49% (81%/77%)
255,624 ±16,035
79,159 ±8,925
09:30 (01:04)
141
Making History: The Calm & the Storm
Mar 13, 2007
$4.99
49% (81%/70%)
68,903 ±8,326
35,766 ±5,999
28:17 (02:13)
142
8-Bit Armies
Apr 22, 2016
$14.99
49% (81%)
84,419 ±9,216
73,899 ±8,623
07:51 (02:53)
143
Fate of the World
Feb 28, 2011
$9.99
49% (81%/70%)
87,312 ±9,373
70,481 ±8,421
06:35 (01:11)
144
Defense Zone
Jul 14, 2014
$2.99
N/A (N/A)
3,945 ±1,992
2,630 ±1,626
38:35 (56:42)
145
Nancy Drew: Secret of the Scarlet Hand
Oct 10, 2009
$6.99
N/A (N/A)
16,568 ±4,083
7,627 ±2,770
08:15 (07:05)
146
Jim Power -The Lost Dimension
Sep 30, 2015
$4.99
N/A (N/A)
12,360 ±3,527
7,627 ±2,770
05:43 (06:34)
147
Vector Strain
Dec 9, 2015
$4.99
N/A (N/A)
24,195 ±4,934
15,516 ±3,951
02:45 (03:16)
148
PixelJunk Shooter Ultimate
Oct 21, 2015
$9.99
49% (81%)
14,727 ±3,849
11,045 ±3,334
05:10 (04:22)
149
Spaceman Sparkles 2
May 20, 2015
$2.99
N/A (N/A)
9,994 ±3,171
7,364 ±2,722
02:54 (03:06)
150
Dominions 3: The Awakening
Sep 10, 2013
$19.99
46% (80%/82%)
14,201 ±3,780
7,890 ±2,817
10:15 (02:33)
151
Ace of Protectors
Jun 27, 2016
$1.99
N/A (N/A)
10,257 ±3,212
8,153 ±2,864
04:57 (05:14)
152
Age of Gladiators
Feb 25, 2016
$9.99
46% (80%)
29,455 ±5,444
27,351 ±5,246
10:13 (03:21)
153
Supreme Ruler 2020 Gold
Jul 9, 2009
$9.99
46% (80%/65%)
49,442 ±7,053
20,250 ±4,514
85:46 (08:45)
154
VolChaos
Dec 8, 2015
$2.99
N/A (N/A)
12,886 ±3,601
9,205 ±3,043
04:16 (05:21)
155
Ninjahtic
Jul 6, 2015
$1.99
46% (80%)
9,731 ±3,129
5,786 ±2,413
03:08 (04:39)
156
Monday Night Combat
Jan 24, 2011
$4.99
46% (80%/82%)
298,491 ±17,327
238,267 ±15,481
09:53 (02:59)
157
Game Type
Sep 23, 2015
$2.99
N/A (N/A)
11,308 ±3,373
6,312 ±2,520
03:26 (03:07)
158
Act of War: High Treason
Mar 12, 2008
$2.99
46% (80%/74%)
27,351 ±5,246
19,198 ±4,395
70:01 (05:26)
159
Dark Sector
Mar 24, 2009
$9.99
46% (80%/66%)
78,370 ±8,880
36,029 ±6,021
03:34 (01:26)
160
Perimeter
Apr 3, 2014
$3.99
46% (80%/77%)
41,026 ±6,425
24,721 ±4,987
03:51 (03:06)
161
Darkstar One
Feb 13, 2008
$9.99
46% (80%/71%)
93,360 ±9,692
52,071 ±7,238
07:34 (02:08)
162
Zombie Killtime
Aug 4, 2015
$1.99
N/A (N/A)
13,412 ±3,674
11,571 ±3,412
04:33 (05:15)
163
Anomaly 2
May 15, 2013
$14.99
46% (80%/77%)
333,205 ±18,306
131,231 ±11,490
02:43 (01:16)
164
Anomaly Warzone Earth Mobile Campaign
Nov 6, 2013
$4.99
46% (80%)
125,971 ±11,258
66,536 ±8,182
04:04 (03:00)
165
Daedalus - No Escape
Oct 28, 2014
$4.99
46% (80%)
18,935 ±4,365
6,312 ±2,520
00:46 (00:26)
166
TASTEE: Lethal Tactics
May 10, 2016
$14.99
46% (80%)
20,513 ±4,543
15,779 ±3,985
04:01 (01:30)
167
7,62 High Calibre
Apr 30, 2014
$4.99
46% (80%)
49,179 ±7,034
30,770 ±5,564
09:57 (02:51)
168
Braveland
Mar 17, 2014
$4.99
46% (80%)
46,286 ±6,824
36,029 ±6,021
03:44 (03:11)
169
OTTTD
Aug 6, 2014
$7.99
46% (80%)
51,020 ±7,165
30,244 ±5,516
05:17 (02:53)
170
Shutshimi
Aug 25, 2015
$9.99
N/A (N/A)
82,052 ±9,086
16,568 ±4,083
02:31 (02:09)
171
Hunting Unlimited 2008
Jan 29, 2008
$9.99
N/A (N/A)
31,821 ±5,659
9,731 ±3,129
06:52 (02:37)
172
Star Ruler 2
Mar 27, 2015
$24.99
44% (79%)
48,916 ±7,016
38,396 ±6,216
16:58 (06:51)
173
Imperial Glory
Apr 11, 2014
$4.99
44% (79%/69%)
80,474 ±8,998
42,341 ±6,527
09:05 (01:23)
174
Doctor Who: The Eternity Clock
Nov 15, 2012
$9.99
44% (79%)
22,880 ±4,798
20,250 ±4,514
05:07 (02:38)
175
Ancient Planet Tower Defense
Feb 3, 2015
$4.99
44% (79%)
96,779 ±9,868
25,247 ±5,040
16:44 (02:15)
176
LEGO Pirates of the Caribbean: The Video Game
Oct 6, 2014
$19.99
44% (79%)
81,000 ±9,028
54,438 ±7,401
13:38 (06:21)
177
Leisure Suit Larry in the Land of the Lounge Lizards: Reloaded
Jun 27, 2013
N/A
44% (79%)
79,685 ±8,954
52,334 ±7,257
04:54 (02:25)
178
Fortified
Feb 3, 2016
$14.99
44% (79%)
13,938 ±3,745
12,097 ±3,489
02:41 (02:24)
179
Heroes of Might & Magic V: Hammers of Fate
Oct 10, 2008
$9.99
44% (79%/66%)
266,143 ±16,362
81,526 ±9,057
10:14 (00:43)
180
Raptor: Call of The Shadows - 2015 Edition
Feb 13, 2015
$4.99
44% (79%)
28,403 ±5,346
14,990 ±3,884
02:30 (01:06)
181
Cultures - 8th Wonder of the World
Mar 26, 2015
$4.99
44% (79%)
78,107 ±8,865
19,724 ±4,455
08:53 (01:19)
182
Galcon Fusion
Feb 11, 2010
$9.99
44% (79%/68%)
171,731 ±13,144
68,640 ±8,311
02:24 (00:49)
183
Harvest: Massive Encounter
Jan 23, 2009
$7.99
44% (79%)
40,237 ±6,363
25,247 ±5,040
05:48 (02:14)
184
Vietnam 65
Mar 5, 2015
$9.99
44% (79%/81%)
17,357 ±4,179
14,201 ±3,780
14:15 (04:24)
185
NecroVisioN: Lost Company
Feb 19, 2010
$6.99
44% (79%)
90,468 ±9,541
17,883 ±4,242
05:02 (00:55)
186
Neon Space
May 12, 2016
$0.99
44% (79%)
127,286 ±11,316
84,156 ±9,202
03:11 (03:19)
187
Starscape
Nov 3, 2008
$7.99
44% (79%)
18,409 ±4,304
12,623 ±3,564
06:56 (02:09)
188
Demolition Inc.
Sep 19, 2011
$5.99
44% (79%)
92,309 ±9,637
72,585 ±8,546
01:57 (01:01)
189
Age of Wonders II: The Wizard's Throne
Oct 2010
$9.99
42% (78%/86%)
81,789 ±9,072
38,922 ±6,258
16:41 (01:44)
190
Zombeer
Jan 30, 2015
$4.99
42% (78%/32%)
4,208 ±2,057
3,682 ±1,924
01:15 (01:33)
191
The Witcher Adventure Game
Nov 27, 2014
$9.99
42% (78%/68%)
157,266 ±12,578
85,734 ±9,288
03:35 (01:08)
192
The Settlers: Heritage of Kings
Jul 22, 2008
$9.99
42% (78%/58%)
33,136 ±5,774
25,247 ±5,040
14:32 (02:39)
193
Imperium Romanum Gold Edition
Nov 25, 2008
$9.99
42% (78%/63%)
136,490 ±11,718
57,594 ±7,613
08:46 (01:55)
194
UFO: Extraterrestrials Gold
Feb 17, 2010
$9.99
42% (78%/68%)
108,877 ±10,466
27,877 ±5,296
17:50 (04:41)
195
Olympia Rising
Jul 23, 2015
$4.99
N/A (N/A)
19,198 ±4,395
11,834 ±3,451
02:52 (03:06)
196
Hard West
Nov 18, 2015
$19.99
42% (78%/73%)
224,591 ±15,031
147,536 ±12,183
08:05 (03:31)
197
Aeon Command
Jul 3, 2014
$2.99
42% (78%)
38,659 ±6,237
29,981 ±5,492
03:25 (02:32)
198
Section 8: Prejudice
May 4, 2011
$9.99
42% (78%/77%)
209,864 ±14,530
174,887 ±13,264
09:07 (03:37)
199
Warlords Battlecry III
Jan 22, 2016
$9.99
42% (78%/73%)
17,094 ±4,147
16,042 ±4,018
12:56 (04:10)
200
Xenocide
Aug 28, 2015
$2.99
N/A (N/A)
3,945 ±1,992
2,630 ±1,626
03:25 (04:40)
201
Delta Force: Xtreme
Jun 18, 2009
$19.99
N/A (N/A/65%)
18,935 ±4,365
7,627 ±2,770
04:40 (01:47)
202
Alien Breed: Impact
Jun 3, 2010
$9.99
40% (77%/64%)
427,091 ±20,723
151,218 ±12,334
03:11 (01:04)
203
Advent Rising
Sep 14, 2006
$9.99
40% (77%/70%)
46,812 ±6,863
29,192 ±5,420
05:01 (04:07)
204
Curse of the Crescent Isle DX
Aug 21, 2015
$4.99
40% (77%)
8,679 ±2,955
5,260 ±2,300
03:10 (03:39)
205
Riddled Corpses
Jun 2, 2015
$7.99
40% (77%)
28,140 ±5,321
21,302 ±4,630
03:04 (02:53)
206
Sky Gamblers: Storm Raiders
Jan 7, 2015
$9.99
40% (77%)
11,834 ±3,451
8,942 ±2,999
04:20 (02:01)
207
Mold on Pizza
Sep 25, 2015
$5.99
40% (77%)
12,886 ±3,601
8,153 ±2,864
02:50 (01:53)
208
Chaser
Jul 16, 2010
$4.99
40% (77%/66%)
80,474 ±8,998
30,507 ±5,540
05:58 (01:03)
209
GALAK-Z
Oct 29, 2015
$19.99
40% (77%/78%)
199,870 ±14,180
68,903 ±8,326
04:55 (01:48)
210
Making History II: The War of the World
Aug 27, 2010
$14.99
40% (77%/38%)
41,289 ±6,446
31,821 ±5,659
60:03 (04:36)
211
King of Dragon Pass
Jul 28, 2015
$5.99
40% (77%)
41,815 ±6,486
28,403 ±5,346
07:45 (06:32)
212
Massive Assault
Nov 4, 2009
$9.99
N/A (N/A/77%)
2,367 ±1,543
1,315 ±1,150
20:39 (34:11)
213
McDROID
Sep 5, 2014
$9.99
39% (76%)
13,938 ±3,745
11,571 ±3,412
03:38 (03:15)
214
Z
Jul 4, 2014
$6.99
39% (76%)
116,240 ±10,814
69,955 ±8,390
03:41 (03:28)
215
Hot Tin Roof: The Cat That Wore A Fedora
Feb 20, 2015
$14.99
N/A (N/A/66%)
123,341 ±11,140
26,825 ±5,195
02:08 (01:31)
216
Deadlings: Rotten Edition
Nov 11, 2014
$3.99
39% (76%)
66,273 ±8,166
43,393 ±6,608
02:27 (02:35)
217
Othello
Mar 19, 2015
$9.99
N/A (N/A)
12,623 ±3,564
9,468 ±3,086
04:21 (04:25)
218
Spirits of Xanadu
Mar 26, 2015
$1.99
39% (76%)
28,666 ±5,371
19,198 ±4,395
02:37 (02:52)
219
Cashtronauts
Aug 31, 2016
$7.99
N/A (N/A)
9,994 ±3,171
7,364 ±2,722
05:08 (04:02)
220
Master Reboot
Oct 29, 2013
$14.99
39% (76%/59%)
79,948 ±8,969
40,763 ±6,404
03:24 (02:31)
221
Woah Dave!
Oct 30, 2014
$4.99
39% (76%)
18,672 ±4,334
8,679 ±2,955
01:34 (01:11)
222
LEGO Indiana Jones: The Original Adventures
Jul 8, 2009
$19.99
39% (76%/78%)
52,334 ±7,257
30,770 ±5,564
17:34 (04:17)
223
Bloody Good Time
Oct 29, 2010
$4.99
39% (76%/73%)
108,877 ±10,466
81,789 ±9,072
08:49 (01:33)
224
Battle Mages: Sign of Darkness
Jul 24, 2014
$4.99
N/A (N/A)
13,149 ±3,637
8,153 ±2,864
05:00 (03:33)
225
Ladra
Nov 13, 2015
$1.99
N/A (N/A)
14,727 ±3,849
1,315 ±1,150
00:31 (00:35)
226
Victory and Glory: Napoleon
Mar 17, 2016
$29.99
37% (75%)
5,786 ±2,413
4,997 ±2,242
11:48 (06:08)
227
Rayman Raving Rabbids
Jun 13, 2008
$9.99
37% (75%/58%)
22,617 ±4,770
14,201 ±3,780
03:53 (01:08)
228
Perimeter: Emperor's Testament
May 22, 2014
$3.99
N/A (N/A/72%)
28,403 ±5,346
5,786 ±2,413
05:18 (01:26)
229
The Defenders: The Second Wave
Mar 30, 2015
$2.99
N/A (N/A)
39,711 ±6,321
25,510 ±5,066
03:24 (03:50)
230
Vegas: Make It Big
Dec 21, 2006
$4.99
37% (75%)
46,023 ±6,805
16,305 ±4,050
02:09 (00:30)
231
Adventure Time: The Secret Of The Nameless Kingdom
Nov 18, 2014
$4.99
37% (75%)
12,360 ±3,527
10,782 ±3,294
03:14 (01:47)
232
Supreme Ruler Ultimate
Oct 17, 2014
$19.99
37% (75%)
31,033 ±5,588
28,140 ±5,321
43:39 (10:14)
233
CivCity: Rome
Apr 6, 2007
$9.99
37% (75%/67%)
77,581 ±8,835
50,494 ±7,128
13:27 (04:07)
234
Making History: The Great War
Jan 29, 2015
$29.99
37% (75%)
30,244 ±5,516
24,721 ±4,987
19:09 (05:18)
235
ABO MANDO
Dec 31, 2015
$1.99
N/A (N/A)
35,240 ±5,955
32,873 ±5,751
04:32 (04:47)
236
Battlestations: Midway
Mar 15, 2007
$6.99
37% (75%/76%)
373,705 ±19,386
96,516 ±9,854
06:55 (00:48)
237
Fist Puncher
Jun 21, 2013
$9.99
37% (75%/73%)
44,445 ±6,687
28,929 ±5,395
03:43 (02:00)
238
Platformines
Mar 28, 2014
$9.99
37% (75%/67%)
108,877 ±10,466
42,341 ±6,527
02:48 (02:08)
239
Cossacks: European Wars
Aug 26, 2011
$4.99
37% (75%/74%)
116,503 ±10,827
49,179 ±7,034
06:28 (00:47)
240
Retrovirus
Jan 31, 2013
$9.99
35% (74%/70%)
23,406 ±4,853
16,305 ±4,050
02:47 (02:03)
241
Zombie Vikings
Dec 7, 2015
$11.99
35% (74%/74%)
33,662 ±5,820
17,620 ±4,211
05:42 (02:44)
242
UFO: Aftermath
Apr 23, 2014
$3.99
35% (74%)
67,851 ±8,263
17,357 ±4,179
07:19 (00:51)
243
Grand Ages: Rome
Mar 20, 2009
$9.99
35% (74%/72%)
210,916 ±14,566
123,341 ±11,140
09:00 (02:24)
244
Disney Planes
Oct 6, 2014
$19.99
N/A (N/A)
8,153 ±2,864
4,734 ±2,182
23:00 (03:35)
245
Warp
Mar 21, 2012
$9.99
33% (73%)
46,286 ±6,824
28,140 ±5,321
03:12 (01:35)
246
Aztaka
Nov 5, 2009
$4.99
33% (73%)
31,821 ±5,659
10,519 ±3,253
01:50 (00:38)
247
ARSLAN: THE WARRIORS OF LEGEND
Feb 9, 2016
$59.99
33% (73%/57%)
7,364 ±2,722
6,049 ±2,467
04:45 (03:52)
248
Kill to Collect
Apr 6, 2016
$9.99
33% (73%/57%)
9,468 ±3,086
8,153 ±2,864
03:42 (03:16)
249
Commander: The Great War
Jul 25, 2014
$29.99
33% (73%)
12,360 ±3,527
11,045 ±3,334
31:39 (17:45)
250
Office Battle
Dec 2, 2015
$0.99
33% (73%)
117,029 ±10,851
94,938 ±9,774
03:19 (03:39)
251
Supreme Ruler 1936
May 9, 2014
$12.99
33% (73%)
22,880 ±4,798
18,409 ±4,304
26:36 (07:50)
252
Brigade E5: New Jagged Union
Apr 30, 2014
$3.99
N/A (N/A/41%)
16,042 ±4,018
5,523 ±2,357
08:14 (04:10)
253
BiT Evolution
Jun 9, 2015
$9.99
N/A (N/A)
63,906 ±8,019
18,409 ±4,304
02:44 (02:08)
254
Swords & Crossbones: An Epic Pirate Story
Sep 30, 2015
$4.99
N/A (N/A)
16,305 ±4,050
12,886 ±3,601
03:50 (02:50)
255
Viktor
Jun 13, 2014
$7.99
33% (73%)
20,776 ±4,572
11,308 ±3,373
02:49 (02:16)
256
Gold Rush! Anniversary
Nov 7, 2014
$12.99
N/A (N/A)
147,536 ±12,183
65,747 ±8,134
03:39 (04:16)
257
Warfare
Jul 20, 2009
$12.99
N/A (N/A)
45,760 ±6,786
8,942 ±2,999
17:18 (00:34)
258
Panzer Tactics HD
May 22, 2014
$9.99
31% (72%/69%)
29,718 ±5,468
15,516 ±3,951
34:59 (04:58)
259
Rain Blood Chronicles: Mirage
Nov 11, 2013
$9.99
31% (72%/68%)
13,412 ±3,674
7,101 ±2,673
03:01 (00:49)
260
Lost Planet: Extreme Condition
Jun 26, 2007
$14.99
31% (72%/66%)
440,241 ±21,040
275,348 ±16,642
04:58 (01:21)
261
King Arthur - The Role-playing Wargame
Nov 24, 2009
$9.99
31% (72%)
267,458 ±16,402
205,919 ±14,393
15:59 (02:58)
262
Airship Dragoon
Aug 26, 2014
$19.99
N/A (N/A)
10,519 ±3,253
7,364 ±2,722
03:49 (03:11)
263
War in a Box: Paper Tanks
Jul 4, 2014
$4.99
31% (72%)
51,020 ±7,165
17,094 ±4,147
01:22 (00:35)
264
Deadnaut
Dec 8, 2014
$9.99
31% (72%)
20,776 ±4,572
14,464 ±3,815
03:42 (02:40)
265
Elven Legacy
Apr 7, 2009
$4.99
31% (72%/71%)
90,468 ±9,541
30,770 ±5,564
07:38 (02:16)
266
Pongo
May 11, 2015
$0.99
30% (71%)
57,594 ±7,613
45,234 ±6,746
03:28 (03:06)
267
Elven Legacy: Magic
Dec 3, 2009
$1.99
N/A (N/A)
56,016 ±7,508
7,627 ±2,770
06:20 (00:39)
268
Darkest of Days
Sep 2009
$19.99
30% (71%/51%)
15,516 ±3,951
15,253 ±3,918
09:40 (06:51)
269
Death Tractor
Oct 29, 2015
$3.99
N/A (N/A)
8,942 ±2,999
6,312 ±2,520
03:38 (04:12)
270
Rome: Total War - Alexander
Aug 28, 2007
$4.99
30% (71%/79%)
944,124 ±30,796
340,306 ±18,500
03:39 (00:39)
271
Starlaxis Supernova Edition
Feb 11, 2015
$6.99
N/A (N/A)
26,825 ±5,195
14,727 ±3,849
04:25 (02:44)
272
GUILTY GEAR 2 -OVERTURE-
Mar 31, 2016
$19.99
30% (71%)
13,675 ±3,709
8,416 ±2,910
09:57 (01:33)
273
Space Food Truck
Mar 25, 2016
$9.99
30% (71%)
9,994 ±3,171
7,364 ±2,722
14:17 (10:54)
274
Space Colony: Steam Edition
Apr 30, 2015
$14.99
28% (70%/74%)
40,237 ±6,363
28,666 ±5,371
06:33 (02:36)
275
Automata Empire
Apr 8, 2016
$8.99
N/A (N/A)
1,841 ±1,361
1,578 ±1,260
01:16 (02:16)
276
Majesty 2
Sep 17, 2009
$9.99
28% (70%/72%)
137,016 ±11,741
77,055 ±8,805
20:52 (08:45)
277
RISK: Factions
Mar 8, 2011
$9.99
28% (70%/77%)
81,526 ±9,057
74,951 ±8,684
20:06 (04:11)
278
American Conquest
Aug 26, 2011
$4.99
28% (70%/76%)
115,977 ±10,802
54,701 ±7,419
07:47 (00:33)
279
American Conquest: Fight Back
Aug 26, 2011
$4.99
28% (70%/66%)
104,143 ±10,236
38,922 ±6,258
11:38 (00:51)
280
Collapse
Apr 11, 2014
$19.99
28% (70%)
41,289 ±6,446
24,458 ±4,961
03:07 (02:16)
281
Mosby's Confederacy
Nov 19, 2008
$9.99
N/A (N/A)
9,994 ±3,171
5,523 ±2,357
06:25 (05:18)
282
YAIBA: NINJA GAIDEN Z
Mar 21, 2014
$29.99
28% (70%/49%)
22,354 ±4,743
16,042 ±4,018
05:26 (02:06)
283
Toxic Bunny HD
Jul 18, 2014
$5.99
N/A (N/A)
9,205 ±3,043
5,786 ±2,413
02:38 (02:18)
284
Magnetic By Nature
Nov 10, 2014
$9.99
N/A (N/A)
26,299 ±5,144
13,938 ±3,745
02:21 (01:55)
285
Spirit of War
Mar 12, 2015
$9.99
N/A (N/A)
16,831 ±4,115
9,994 ±3,171
03:35 (02:53)
286
Space Empires V
Oct 16, 2006
$14.99
28% (70%/68%)
74,688 ±8,669
41,552 ±6,466
15:38 (01:21)
287
Heroes of Normandie
Oct 1, 2015
$29.99
28% (70%/65%)
9,731 ±3,129
9,468 ±3,086
11:42 (05:48)
288
Hunted: The Demons Forge
May 30, 2011
$4.99
27% (69%/61%)
143,328 ±12,008
71,796 ±8,499
06:39 (01:27)
289
Alea Jacta Est
Nov 4, 2014
$24.99
N/A (N/A)
11,834 ±3,451
5,786 ±2,413
08:04 (06:08)
290
Men of Valor
Feb 9, 2016
$9.99
27% (69%/71%)
13,412 ±3,674
9,994 ±3,171
03:18 (01:43)
291
Wyv and Keep: The Temple of the Lost Idol
Aug 8, 2014
$14.99
N/A (N/A)
21,828 ±4,686
13,938 ±3,745
03:55 (03:49)
292
Global Outbreak: Doomsday Edition
Aug 11, 2014
$8.99
27% (69%)
4,997 ±2,242
4,471 ±2,121
11:33 (01:13)
293
Anomaly Korea
Nov 6, 2013
$4.99
25% (68%)
189,088 ±13,792
92,046 ±9,624
02:45 (01:48)
294
Revolution Under Siege Gold
Jul 2, 2015
$24.99
N/A (N/A)
13,675 ±3,709
6,049 ±2,467
19:39 (04:21)
295
Talisman: The Horus Heresy
Feb 22, 2016
$14.99
25% (68%)
30,244 ±5,516
21,302 ±4,630
07:42 (01:49)
296
Survivor Squad: Gauntlets
Nov 16, 2015
$4.99
25% (68%)
28,140 ±5,321
16,568 ±4,083
05:08 (04:53)
297
Void Destroyer
Jan 20, 2015
$12.99
25% (68%)
85,471 ±9,274
28,140 ±5,321
02:31 (00:36)
298
Nomad Fleet
Apr 19, 2016
$9.99
25% (68%)
8,679 ±2,955
5,260 ±2,300
01:47 (02:31)
299
The Hive
Aug 25, 2016
$9.99
25% (68%)
19,461 ±4,425
12,097 ±3,489
04:00 (03:07)
300
Wooden Sen'SeY
Dec 5, 2013
$9.99
N/A (N/A)
33,136 ±5,774
16,042 ±4,018
02:25 (01:20)
301
Hounds : The Last Hope
Jan 27, 2016
Free
24% (67%)
20,250 ±4,514
15,253 ±3,918
32:05 (02:56)
302
Kaiju-A-GoGo
Apr 23, 2015
$13.99
24% (67%)
22,617 ±4,770
12,886 ±3,601
09:18 (04:49)
303
Sengoku
Sep 15, 2011
$9.99
24% (67%/70%)
105,984 ±10,326
66,536 ±8,182
03:47 (01:27)
304
Men of War: Condemned Heroes
Apr 12, 2012
$7.99
24% (67%/57%)
141,224 ±11,920
49,705 ±7,072
08:00 (01:25)
305
Chainsaw Warrior
Oct 7, 2013
$4.99
24% (67%)
114,925 ±10,753
36,818 ±6,087
01:53 (01:04)
306
Stonerid
Aug 15, 2014
$4.99
24% (67%)
50,757 ±7,146
30,770 ±5,564
02:49 (02:28)
307
Romopolis
May 18, 2016
$3.99
N/A (N/A)
25,773 ±5,092
17,883 ±4,242
03:31 (03:26)
308
Infinity Runner
Jul 14, 2014
$6.99
24% (67%/56%)
8,942 ±2,999
5,523 ±2,357
03:34 (03:46)
309
Kill The Plumber
Dec 31, 2015
$4.99
24% (67%)
10,257 ±3,212
7,890 ±2,817
02:25 (02:07)
310
Platypus II
Aug 15, 2014
$6.99
24% (67%)
234,848 ±15,370
137,279 ±11,752
03:48 (03:10)
311
Zoo Rampage
Jul 9, 2014
$3.99
23% (66%)
7,364 ±2,722
5,523 ±2,357
02:33 (02:59)
312
Quick Slick Deadly
Sep 21, 2015
$1.99
N/A (N/A)
40,763 ±6,404
28,140 ±5,321
03:50 (03:41)
313
Commander Cool 2
Dec 17, 2015
$2.99
N/A (N/A)
23,932 ±4,907
16,305 ±4,050
03:15 (03:34)
314
Europa Universalis: Rome - Gold Edition
Dec 18, 2008
$9.99
23% (66%/79%)
72,322 ±8,530
38,396 ±6,216
17:01 (04:20)
315
Majestic Nights
Oct 30, 2014
$4.99
N/A (N/A/32%)
16,831 ±4,115
10,782 ±3,294
01:58 (01:37)
316
Prince of Persia: The Forgotten Sands
Jun 8, 2010
$9.99
23% (66%/75%)
220,383 ±14,889
82,841 ±9,130
06:35 (02:49)
317
Marauder
Apr 4, 2014
$9.99
23% (66%)
30,507 ±5,540
19,461 ±4,425
11:04 (03:09)
318
Metal Planet
Jun 4, 2014
$5.99
N/A (N/A)
39,711 ±6,321
24,721 ±4,987
03:40 (03:30)
319
Assassins Creed Chronicles: Russia
Feb 9, 2016
$9.99
23% (66%)
33,662 ±5,820
11,571 ±3,412
08:00 (03:45)
320
Overhell
May 28, 2016
$1.99
N/A (N/A)
344,776 ±18,621
314,796 ±17,793
03:39 (03:31)
321
March of the Eagles
Feb 18, 2013
$19.99
23% (66%/71%)
71,533 ±8,484
46,023 ±6,805
11:54 (01:56)
322
1849
May 8, 2014
$14.99
23% (66%)
21,565 ±4,658
19,198 ±4,395
06:50 (03:14)
323
Fallen Enchantress
Oct 23, 2012
$9.99
22% (65%/78%)
160,948 ±12,725
92,835 ±9,665
27:18 (09:05)
324
Ground Breakers
Jun 15, 2016
$4.99
N/A (N/A)
6,312 ±2,520
4,471 ±2,121
04:58 (03:47)
325
Port Royale 3
May 4, 2012
$14.99
22% (65%)
212,757 ±14,630
161,737 ±12,756
18:05 (05:10)
326
Devil's Dare
Oct 21, 2014
$12.99
22% (65%)
19,987 ±4,484
11,308 ±3,373
02:40 (02:31)
327
Fair Strike
Apr 23, 2015
$3.99
N/A (N/A/56%)
6,312 ±2,520
4,471 ±2,121
02:41 (03:06)
328
Port Royale 2
Jun 16, 2009
$4.99
22% (65%/75%)
72,847 ±8,561
54,175 ±7,383
17:41 (01:51)
329
Zombie Tycoon 2: Brainhov's Revenge
Dec 9, 2013
$4.99
22% (65%)
54,701 ±7,419
37,081 ±6,108
02:34 (01:54)
330
Malebolgia
May 6, 2015
$12.99
22% (65%)
16,831 ±4,115
9,731 ±3,129
03:24 (02:49)
331
7th Legion
Oct 23, 2014
$6.99
N/A (N/A)
15,253 ±3,918
2,630 ±1,626
02:03 (01:48)
332
Link
Apr 22, 2016
$4.99
N/A (N/A)
4,997 ±2,242
2,893 ±1,706
05:18 (04:01)
333
DYNASTY WARRIORS 8 Empires
Feb 26, 2015
$49.99
21% (64%)
47,864 ±6,940
46,549 ±6,844
38:03 (17:22)
334
Teenage Mutant Ninja Turtles: Mutants in Manhattan
May 24, 2016
$39.99
21% (64%)
9,205 ±3,043
6,575 ±2,572
08:20 (04:24)
335
Planets Under Attack
Sep 27, 2012
$9.99
21% (64%)
355,822 ±18,917
176,202 ±13,314
05:13 (04:29)
336
SPACECOM
Sep 17, 2014
$9.99
21% (64%/68%)
113,874 ±10,704
62,591 ±7,936
03:02 (02:52)
337
BattleLore: Command
Mar 31, 2015
$6.99
21% (64%)
8,153 ±2,864
7,364 ±2,722
05:16 (04:10)
338
Jagged Alliance: Crossfire
Aug 24, 2012
$14.99
21% (64%/63%)
122,026 ±11,080
46,812 ±6,863
21:37 (02:51)
339
Battle Worlds: Kronos
Nov 4, 2013
$19.99
21% (64%/71%)
34,451 ±5,888
26,299 ±5,144
10:08 (01:26)
340
The Few
Jun 18, 2014
$7.99
21% (64%)
31,295 ±5,612
20,513 ±4,543
06:01 (04:05)
341
Battle of the Bulge
Sep 17, 2015
$9.99
21% (64%)
12,623 ±3,564
7,364 ±2,722
02:02 (01:15)
342
Hunters Of The Dead
Sep 4, 2014
$4.99
21% (64%)
19,198 ±4,395
12,097 ±3,489
02:31 (02:14)
343
Disney Alice in Wonderland
Oct 6, 2014
$19.99
21% (64%/63%)
12,360 ±3,527
7,364 ±2,722
07:36 (03:21)
344
Tommy Tronic
Oct 28, 2010
$9.99
N/A (N/A)
2,893 ±1,706
1,578 ±1,260
03:29 (05:29)
345
Dark Quest
Jan 21, 2015
$1.49
19% (63%)
13,149 ±3,637
3,682 ±1,924
01:49 (01:58)
346
Memoir '44 Online
Oct 12, 2011
Free
19% (63%)
365,289 ±19,167
41,026 ±6,425
13:33 (00:42)
347
Spice Road
Apr 24, 2014
$19.99
N/A (N/A)
9,468 ±3,086
7,101 ±2,673
11:11 (03:50)
348
Pixel Boy and the Ever Expanding Dungeon
May 30, 2014
$0.99
19% (63%)
36,555 ±6,065
25,773 ±5,092
02:20 (01:00)
349
Will Fight for Food: Super Actual Sellout: Game of the Hour
Apr 22, 2015
$5.99
N/A (N/A)
18,146 ±4,273
11,045 ±3,334
02:35 (03:11)
350
War, the Game
Jan 12, 2015
$6.99
19% (63%/65%)
34,188 ±5,865
24,195 ±4,934
05:01 (03:18)
351
Desert Ashes
Nov 10, 2014
$4.99
N/A (N/A)
26,562 ±5,170
17,094 ±4,147
07:02 (02:31)
352
Goliath
May 12, 2016
$11.99
18% (62%/57%)
22,354 ±4,743
14,201 ±3,780
06:55 (03:54)
353
Ninja Blade
Nov 19, 2009
$9.99
18% (62%/61%)
16,831 ±4,115
12,623 ±3,564
03:08 (01:31)
354
4089: Ghost Within
Jan 9, 2015
$5.99
18% (62%)
17,357 ±4,179
10,519 ±3,253
02:01 (01:46)
355
Freight Tycoon Inc.
Apr 3, 2014
$4.99
18% (62%)
26,299 ±5,144
18,672 ±4,334
07:01 (02:02)
356
LA Cops
Mar 13, 2015
$14.99
18% (62%/45%)
21,039 ±4,601
9,468 ±3,086
01:39 (00:50)
357
Rise: Battle Lines
Nov 17, 2015
$5.99
N/A (N/A)
12,886 ±3,601
5,523 ±2,357
02:25 (02:41)
358
Pound of Ground
Nov 5, 2010
$9.99
18% (62%)
16,305 ±4,050
6,575 ±2,572
00:50 (00:46)
359
Flashback
Oct 1, 2013
$9.99
18% (62%)
32,873 ±5,751
23,932 ±4,907
06:20 (02:10)
360
Supreme Ruler: Cold War
Jul 29, 2011
$9.99
17% (61%/63%)
25,510 ±5,066
15,779 ±3,985
28:15 (03:44)
361
Codename: Panzers - Cold War
May 6, 2009
$14.99
17% (61%)
39,711 ±6,321
26,036 ±5,118
05:58 (00:57)
362
Men of War: Vietnam
Sep 8, 2011
$7.99
17% (61%/68%)
175,939 ±13,304
99,935 ±10,027
06:20 (01:22)
363
Battleplan: American Civil War
Jul 4, 2014
$9.99
17% (61%/66%)
179,883 ±13,452
103,880 ±10,223
03:24 (03:15)
364
Hegemony Rome: The Rise of Caesar
May 15, 2014
$14.99
17% (61%)
64,958 ±8,085
46,023 ±6,805
11:48 (02:28)
365
Delta Force Xtreme 2
Jun 18, 2009
$19.99
17% (61%)
18,935 ±4,365
7,627 ±2,770
08:32 (03:04)
366
Kaiju Panic
Oct 9, 2015
$9.99
N/A (N/A)
5,260 ±2,300
3,945 ±1,992
03:08 (03:25)
367
BLADESTORM: Nightmare
May 28, 2015
$59.99
16% (60%)
10,519 ±3,253
9,731 ±3,129
15:22 (09:04)
368
Skyshine's BEDLAM
Sep 16, 2015
$19.99
16% (60%/67%)
53,912 ±7,365
35,766 ±5,999
05:39 (02:20)
369
Antisquad
May 22, 2014
$5.99
16% (60%)
40,500 ±6,384
25,247 ±5,040
04:09 (02:26)
370
Ceres
Oct 16, 2015
$19.99
16% (60%/74%)
8,153 ±2,864
5,523 ±2,357
10:43 (07:04)
371
Karaski: What Goes Up...
Mar 2, 2016
$11.99
N/A (N/A)
7,101 ±2,673
3,945 ±1,992
03:32 (03:44)
372
Disciples III - Renaissance Steam Special Edition
Jul 16, 2010
$14.99
16% (60%/56%)
165,945 ±12,921
71,007 ±8,453
18:18 (03:13)
373
Goblin Defenders: Steeln Wood
Nov 23, 2015
$2.99
N/A (N/A)
24,984 ±5,014
17,883 ±4,242
03:03 (03:20)
374
Stay Dead Evolution
Feb 4, 2015
$5.99
N/A (N/A)
29,981 ±5,492
12,623 ±3,564
02:55 (02:38)
375
Patrician IV - Steam Special Edition
Sep 17, 2010
$14.99
16% (60%/66%)
188,562 ±13,773
93,360 ±9,692
14:49 (01:39)
376
Swiftly
Jan 26, 2016
$0.99
16% (60%)
133,335 ±11,582
122,289 ±11,092
03:37 (03:30)
377
Flix The Flea
Jun 1, 2015
$2.99
N/A (N/A)
117,555 ±10,875
92,046 ±9,624
04:38 (04:31)
378
Elements: Epic Heroes
Dec 21, 2015
$6.99
N/A (N/A)
4,734 ±2,182
1,052 ±1,028
00:52 (00:46)
379
7 Grand Steps: What Ancients Begat
Jun 7, 2013
$19.99
15% (59%)
169,627 ±13,063
57,331 ±7,595
04:47 (02:46)
380
Armada 2526 Gold Edition
Feb 28, 2013
$19.99
15% (59%/66%)
39,711 ±6,321
14,464 ±3,815
07:08 (01:59)
381
Shadowgrounds Survivor
Nov 14, 2007
$9.99
15% (59%/79%)
497,835 ±22,372
147,799 ±12,194
03:41 (01:48)
382
Ninjahtic Mind Tricks
Jul 16, 2015
$1.99
N/A (N/A)
9,468 ±3,086
5,260 ±2,300
03:00 (04:12)
383
Prospekt
Feb 18, 2016
$9.99
14% (58%/43%)
18,672 ±4,334
14,464 ±3,815
03:59 (02:40)
384
Wanderlust Adventures
Aug 10, 2015
$9.99
14% (58%)
24,195 ±4,934
19,987 ±4,484
08:29 (03:47)
385
Time of Fury
Jul 18, 2014
$19.99
N/A (N/A)
7,101 ±2,673
3,419 ±1,854
06:52 (03:14)
386
Achron
Aug 29, 2011
$19.99
N/A (N/A/54%)
11,045 ±3,334
6,312 ±2,520
02:19 (02:29)
387
Prophour23
Oct 22, 2014
$9.99
N/A (N/A)
18,146 ±4,273
8,416 ±2,910
03:19 (02:51)
388
Sir! I'd Like To Report A Bug!
Oct 19, 2015
$3.99
N/A (N/A)
3,156 ±1,782
2,104 ±1,455
02:50 (03:13)
389
Pirates of Black Cove
Aug 2, 2011
$9.99
14% (58%/56%)
71,796 ±8,499
44,182 ±6,668
06:11 (01:20)
390
SpellForce 2: Faith in Destiny
Jun 19, 2012
$14.99
14% (58%/55%)
318,215 ±17,890
95,464 ±9,801
11:41 (02:12)
391
Cossacks II: Battle for Europe
Aug 26, 2011
$4.99
13% (57%/69%)
121,500 ±11,056
62,065 ±7,903
11:23 (00:54)
392
Unearthed: Trail of Ibn Battuta - Episode 1 - Gold Edition
Jan 3, 2014
$4.99
13% (57%)
28,140 ±5,321
14,990 ±3,884
02:23 (01:57)
393
Dungeon Manager ZV
Oct 16, 2015
$9.99
13% (57%)
5,523 ±2,357
4,997 ±2,242
02:40 (03:07)
394
Rise of Venice
Sep 27, 2013
$19.99
13% (57%/66%)
67,588 ±8,247
51,020 ±7,165
31:50 (04:45)
395
Revelations 2012
Apr 23, 2012
Free
13% (57%)
19,987 ±4,484
8,679 ±2,955
01:07 (00:48)
396
Gnumz: Masters of Defense
Dec 21, 2015
$4.99
N/A (N/A)
44,182 ±6,668
32,347 ±5,705
07:37 (05:30)
397
9th Company: Roots Of Terror
Dec 3, 2009
$9.99
13% (56%)
26,825 ±5,195
9,731 ±3,129
05:55 (02:09)
398
Armada 2526
Apr 8, 2011
$14.99
N/A (N/A/66%)
20,776 ±4,572
12,360 ±3,527
04:47 (01:13)
399
Frontline : Road to Moscow
Aug 8, 2014
$9.99
N/A (N/A)
13,938 ±3,745
3,419 ±1,854
02:53 (01:25)
400
Gratuitous Tank Battles
May 17, 2012
$9.99
12% (55%/69%)
63,117 ±7,969
36,292 ±6,043
01:58 (00:40)
401
Delve Deeper
Sep 24, 2010
$4.99
12% (55%)
87,575 ±9,387
68,640 ±8,311
04:26 (02:35)
402
BC Kings
Jun 16, 2009
$4.99
12% (55%)
23,406 ±4,853
10,257 ±3,212
09:04 (00:49)
403
The Waste Land
Sep 16, 2014
$9.99
12% (55%)
9,205 ±3,043
7,364 ±2,722
03:16 (03:44)
404
Age of Steel: Recharge
Jan 6, 2016
$6.99
N/A (N/A)
122,289 ±11,092
100,987 ±10,080
04:34 (04:01)
405
Tic-Toc-Tower
Sep 28, 2015
$2.99
N/A (N/A)
16,568 ±4,083
10,257 ±3,212
03:44 (03:53)
406
Smugglers 5
Apr 11, 2014
$9.99
11% (53%)
34,714 ±5,910
17,620 ±4,211
08:49 (03:16)
407
Neocolonialism
Dec 1, 2014
$3.99
N/A (N/A)
13,938 ±3,745
1,841 ±1,361
01:02 (00:09)
408
Special Forces: Team X
Feb 6, 2013
$9.99
11% (53%/48%)
17,620 ±4,211
15,516 ±3,951
04:31 (02:54)
409
The Settlers 7: Paths to a Kingdom: Deluxe Gold Edition
Mar 10, 2011
$19.99
11% (53%/79%)
156,214 ±12,536
145,958 ±12,118
26:34 (08:10)
410
Magic Quest
May 6, 2016
$1.99
N/A (N/A)
84,945 ±9,245
78,370 ±8,880
04:56 (04:34)
411
MDK2 HD
Jul 30, 2012
$14.99
11% (53%/73%)
10,257 ±3,212
5,786 ±2,413
03:21 (01:39)
412
King Arthur II: The Role-Playing Wargame
Jan 27, 2012
$9.99
11% (53%/66%)
157,792 ±12,599
90,731 ±9,555
09:28 (02:08)
413
Radical Spectrum: Volume 1
Jul 8, 2016
$0.49
N/A (N/A)
212,757 ±14,630
183,828 ±13,599
04:44 (04:31)
414
Royal Bounty HD
Aug 10, 2015
$2.99
11% (53%)
12,097 ±3,489
8,942 ±2,999
05:02 (04:33)
415
Meridian: New World
Sep 26, 2014
$6.99
10% (52%/43%)
93,623 ±9,706
51,020 ±7,165
03:15 (02:06)
416
Biodrone Battle
Jul 16, 2015
$0.49
10% (52%)
106,510 ±10,352
83,630 ±9,173
07:19 (03:28)
417
Mobile Light Force (aka Gunbird)
Jul 17, 2015
$4.99
N/A (N/A)
1,315 ±1,150
789 ±891
00:15 (00:13)
418
Abalone
Apr 23, 2014
$4.99
N/A (N/A)
12,886 ±3,601
9,468 ±3,086
05:36 (05:09)
419
Crusaders: Thy Kingdom Come
Oct 8, 2009
$9.99
N/A (N/A)
23,143 ±4,826
11,571 ±3,412
02:28 (01:15)
420
TRANSFORMERS: Rise of the Dark Spark
Jun 24, 2014
$49.99
10% (52%)
33,662 ±5,820
25,773 ±5,092
11:18 (07:07)
421
Guncraft
Aug 9, 2013
$14.99
9% (51%/73%)
123,867 ±11,164
96,253 ±9,841
07:12 (01:38)
422
PeriAreion
Feb 19, 2015
$5.99
N/A (N/A)
10,257 ±3,212
6,049 ±2,467
03:39 (03:47)
423
Shadow Ninja: Apocalypse
Nov 16, 2015
$1.99
9% (51%)
25,773 ±5,092
17,883 ±4,242
03:54 (04:09)
424
Z Steel Soldiers
Aug 1, 2014
$12.99
9% (51%)
70,218 ±8,405
38,133 ±6,194
04:42 (04:09)
425
Weather Lord: The Successor's Path
May 7, 2015
$4.99
N/A (N/A)
3,156 ±1,782
2,367 ±1,543
09:32 (11:04)
426
Doomed'n Damned
Jul 13, 2015
$5.99
N/A (N/A)
7,890 ±2,817
789 ±891
01:26 (01:26)
427
Albedo: Eyes from Outer Space
Apr 10, 2015
$14.99
9% (50%/66%)
46,812 ±6,863
21,302 ±4,630
02:19 (01:31)
428
Disney Princess: Enchanted Journey
Oct 10, 2014
$19.99
N/A (N/A)
7,627 ±2,770
4,734 ±2,182
01:02 (00:01)
429
Excubitor
May 26, 2016
$14.99
N/A (N/A/69%)
3,419 ±1,854
1,578 ±1,260
03:21 (04:07)
430
Humanity Asset
Feb 20, 2014
$1.99
N/A (N/A)
252,731 ±15,944
140,698 ±11,898
03:50 (03:26)
431
Chronostorm: Siberian Border
Nov 20, 2015
$0.99
N/A (N/A)
6,575 ±2,572
4,208 ±2,057
04:12 (05:31)
432
Dusty Revenge:Co-Op Edition
Feb 17, 2014
$14.99
9% (50%)
93,623 ±9,706
22,354 ±4,743
02:26 (02:14)
433
Blazing Angels 2: Secret Missions of WWII
May 13, 2008
$9.99
8% (48%/72%)
19,198 ±4,395
12,886 ±3,601
03:11 (01:00)
434
Crossfire: Dungeons
May 21, 2015
$3.99
8% (48%)
11,571 ±3,412
9,994 ±3,171
03:24 (03:29)
435
The Fleets of Sol
Apr 1, 2016
$8.99
N/A (N/A)
6,312 ±2,520
789 ±891
01:13 (00:58)
436
Fly in the House
Mar 6, 2015
$9.99
7% (47%)
37,081 ±6,108
25,773 ±5,092
14:13 (03:26)
437
Desperados 2: Cooper's Revenge
Mar 12, 2008
$9.99
N/A (N/A/66%)
67,062 ±8,214
19,461 ±4,425
01:51 (00:19)
438
Timelines: Assault on America
Sep 24, 2013
$4.99
7% (47%)
9,994 ±3,171
6,838 ±2,623
02:33 (00:29)
439
Commander: Conquest of the Americas
Jul 30, 2010
$9.99
7% (47%/68%)
82,052 ±9,086
53,123 ±7,311
17:40 (03:20)
440
Battle Chess: Game of Kings
Dec 11, 2015
$29.99
7% (47%)
8,416 ±2,910
7,890 ±2,817
01:27 (00:51)
441
The Stalin Subway: Red Veil
Oct 24, 2014
$2.99
7% (46%)
18,409 ±4,304
13,149 ±3,637
02:00 (01:02)
442
The Bluecoats: North vs South
Feb 2, 2015
$4.99
7% (46%)
29,455 ±5,444
19,724 ±4,455
03:49 (02:39)
443
World War 2: Time of Wrath
Jun 6, 2014
$0.99
N/A (N/A)
25,773 ±5,092
7,101 ±2,673
08:42 (00:35)
444
Infinium Strike
Jul 14, 2016
$9.99
N/A (N/A)
6,312 ±2,520
5,523 ±2,357
03:01 (02:43)
445
Selknam Defense
Jul 25, 2014
$4.99
N/A (N/A)
17,357 ±4,179
4,471 ±2,121
28:44 (00:15)
446
Samudai
Feb 9, 2015
$2.99
N/A (N/A)
20,250 ±4,514
11,308 ±3,373
02:13 (01:25)
447
Impire
Feb 14, 2013
$19.99
6% (44%/45%)
119,659 ±10,972
70,218 ±8,405
08:53 (03:51)
448
Pride of Nations
Jun 7, 2011
$19.99
6% (44%/70%)
28,403 ±5,346
12,886 ±3,601
33:41 (01:36)
449
Dusk 12
Aug 22, 2014
$3.99
6% (44%)
9,731 ±3,129
5,786 ±2,413
02:40 (02:48)
450
Galactic Civilizations I: Ultimate Edition
Aug 14, 2012
$9.99
6% (44%/83%)
413,942 ±20,402
59,172 ±7,716
07:22 (00:19)
451
Island Defense
Jul 23, 2015
$1.99
N/A (N/A)
83,893 ±9,188
76,792 ±8,790
04:38 (04:31)
452
Skyward Collapse
May 23, 2013
$4.99
5% (43%/64%)
107,562 ±10,403
68,377 ±8,295
02:21 (01:24)
453
Theatre of War 3: Korea
Mar 24, 2011
$6.99
5% (43%/49%)
59,435 ±7,733
26,036 ±5,118
02:47 (01:06)
454
DUNGEONS - Steam Special Edition
Feb 10, 2011
$9.99
5% (43%/65%)
231,955 ±15,275
140,435 ±11,887
06:40 (01:35)
455
Falling Skies: The Game
Sep 30, 2014
$2.99
5% (43%)
3,945 ±1,992
2,104 ±1,455
10:41 (14:53)
456
Heavy Fire: Shattered Spear
Oct 23, 2015
$3.99
N/A (N/A)
6,049 ±2,467
3,945 ±1,992
03:01 (03:30)
457
Hydraulic Empire
Jul 31, 2015
$7.99
N/A (N/A)
14,464 ±3,815
9,468 ±3,086
03:54 (03:57)
458
Naval War: Arctic Circle
Apr 10, 2012
$19.99
5% (42%/64%)
66,536 ±8,182
32,084 ±5,682
07:13 (01:23)
459
Ancient Space
Sep 23, 2014
$19.99
5% (41%)
42,604 ±6,547
32,084 ±5,682
02:24 (00:56)
460
Cabelas African Adventures
Oct 16, 2013
$5.99
N/A (N/A)
8,153 ±2,864
5,786 ±2,413
02:42 (02:29)
461
Guardians of Graxia
Nov 10, 2010
$4.99
5% (41%)
71,796 ±8,499
42,341 ±6,527
02:13 (00:41)
462
The Entente Gold
Jun 16, 2014
$1.99
5% (41%)
42,078 ±6,507
34,714 ±5,910
02:42 (02:01)
463
R.I.P.D.: The Game
Jul 16, 2013
$9.99
5% (41%)
29,718 ±5,468
21,302 ±4,630
02:56 (02:25)
464
Draconian Wars
Aug 28, 2014
$5.99
N/A (N/A)
7,627 ±2,770
5,786 ±2,413
01:44 (01:57)
465
Ironclads: Anglo Russian War 1866
Jun 21, 2011
$2.49
N/A (N/A)
35,503 ±5,977
4,734 ±2,182
01:25 (00:39)
466
Beyond Space Remastered Edition
Jun 18, 2014
$4.99
4% (40%)
26,562 ±5,170
18,935 ±4,365
01:46 (01:36)
467
We Are Legion
Aug 7, 2015
$9.99
4% (40%)
10,782 ±3,294
2,630 ±1,626
00:51 (01:27)
468
Cossacks II: Napoleonic Wars
Aug 26, 2011
$4.99
4% (40%/73%)
115,977 ±10,802
51,020 ±7,165
08:00 (01:06)
469
Villagers
Mar 25, 2016
$19.99
4% (40%)
17,357 ±4,179
16,042 ±4,018
13:26 (10:53)
470
Cubesis
Aug 22, 2014
$4.99
N/A (N/A)
11,834 ±3,451
2,893 ±1,706
01:27 (01:46)
471
Ironclads: High Seas
Apr 28, 2010
$9.99
N/A (N/A)
36,029 ±6,021
4,734 ±2,182
01:07 (00:42)
472
Blacklight: Tango Down
Jul 14, 2010
$0.99
4% (39%/65%)
60,750 ±7,818
53,912 ±7,365
02:53 (00:55)
473
The Kings' Crusade
Oct 8, 2010
$9.99
4% (38%/71%)
72,322 ±8,530
40,237 ±6,363
07:57 (02:29)
474
Mechs & Mercs: Black Talons
Jan 9, 2015
$9.99
4% (38%)
9,205 ±3,043
6,312 ±2,520
06:27 (03:48)
475
BlackSoul: Extended Edition
Feb 26, 2014
$6.99
N/A (N/A)
23,932 ±4,907
2,630 ±1,626
00:40 (01:38)
476
Dungeons - The Dark Lord
Sep 27, 2011
$19.99
4% (38%/72%)
183,039 ±13,570
63,643 ±8,002
03:14 (01:00)
477
Strategic War in Europe
Mar 21, 2014
$14.99
N/A (N/A)
39,974 ±6,342
21,565 ±4,658
04:29 (04:07)
478
Galactic Inheritors
Jun 9, 2015
$19.99
N/A (N/A)
22,091 ±4,715
12,360 ±3,527
04:03 (03:45)
479
Kick-Ass 2
Aug 15, 2014
$19.99
N/A (N/A)
14,727 ±3,849
8,153 ±2,864
02:47 (02:36)
480
Storm over the Pacific
Jun 13, 2014
$1.99
N/A (N/A)
14,201 ±3,780
2,104 ±1,455
00:51 (00:49)
481
Shadows of War
Jan 2, 2015
$2.99
3% (34%)
42,078 ±6,507
31,558 ±5,635
03:09 (03:12)
482
Arma Tactics
Oct 1, 2013
$8.99
3% (34%/47%)
323,737 ±18,044
102,828 ±10,172
03:02 (01:42)
483
Defenders of Time
Nov 4, 2014
N/A
N/A (N/A/55%)
3,419 ±1,854
2,893 ±1,706
03:25 (04:41)
484
Into the Void
Dec 4, 2015
$4.99
N/A (N/A)
22,354 ±4,743
13,149 ±3,637
05:24 (05:19)
485
Ground Pounders
Jul 15, 2014
$9.99
N/A (N/A)
8,416 ±2,910
5,786 ±2,413
05:28 (05:07)
486
Robotex
Nov 19, 2014
$4.99
2% (31%)
165,945 ±12,921
113,348 ±10,679
04:39 (02:06)
487
Ku: Shroud of the Morrigan
Mar 17, 2014
$4.99
N/A (N/A)
24,984 ±5,014
16,568 ±4,083
03:30 (02:35)
488
Evopollution
Apr 23, 2014
$4.99
2% (31%)
13,938 ±3,745
10,782 ±3,294
02:47 (02:53)
489
AoF Chess Club 2.0
Nov 4, 2015
$1.49
N/A (N/A)
21,565 ±4,658
19,198 ±4,395
04:08 (04:21)
490
Hush
Jul 29, 2015
$9.99
N/A (N/A)
10,519 ±3,253
6,312 ±2,520
05:52 (06:27)
491
A Game of Thrones - Genesis
Sep 28, 2011
$9.99
2% (30%)
202,763 ±14,282
153,059 ±12,409
06:03 (01:39)
492
Starion Tactics
Sep 5, 2014
$9.99
N/A (N/A)
90,468 ±9,541
33,662 ±5,820
04:31 (04:52)
493
Solar Shifter EX
Sep 11, 2015
$4.99
N/A (N/A)
16,568 ±4,083
7,627 ±2,770
03:22 (03:53)
494
Tiestru
Aug 20, 2014
$9.99
N/A (N/A)
28,929 ±5,395
2,630 ±1,626
00:26 (00:24)
495
Abyss Raiders: Uncharted
Apr 30, 2015
$4.99
1% (28%)
44,182 ±6,668
40,237 ±6,363
03:54 (04:18)
496
Masterspace
Jun 15, 2015
$7.99
1% (27%)
12,360 ±3,527
5,786 ±2,413
07:40 (02:38)
497
Botology
Jun 24, 2015
$0.99
1% (27%)
84,156 ±9,202
71,533 ±8,484
04:10 (04:02)
498
Bloodbath
Jun 16, 2014
$14.99
N/A (N/A)
7,890 ±2,817
4,471 ±2,121
02:24 (01:28)
499
Hard Truck Apocalypse: Arcade / Ex Machina: Arcade
Mar 14, 2014
$4.99
1% (26%)
25,773 ±5,092
17,883 ±4,242
03:29 (03:10)
500
The Asskickers-Steam Edition
Feb 6, 2015
$9.99
N/A (N/A)
14,201 ±3,780
6,049 ±2,467
04:33 (03:37)
501
Trap Them - Sniper Edition
Oct 9, 2015
$3.99
N/A (N/A)
17,620 ±4,211
8,416 ±2,910
04:13 (04:37)
502
Overlord: Fellowship of Evil
Oct 19, 2015
$18.99
1% (24%)
49,968 ±7,091
19,724 ±4,455
02:39 (01:10)
503
APOX
Jan 20, 2011
$14.99
1% (24%/48%)
36,029 ±6,021
24,195 ±4,934
03:27 (01:19)
504
Alone in the Dark: Illumination
Jun 11, 2015
$19.99
1% (24%)
9,994 ±3,171
6,838 ±2,623
03:53 (02:57)
505
Lords of the Black Sun
Sep 12, 2014
$29.99
1% (21%)
21,565 ±4,658
18,146 ±4,273
06:25 (03:50)
506
Perimeter 2: New Earth
Feb 10, 2009
$14.99
N/A (N/A/43%)
16,568 ±4,083
7,890 ±2,817
04:14 (01:05)
507
Human Extinction Simulator
Jan 21, 2015
$19.99
N/A (N/A)
11,045 ±3,334
6,838 ±2,623
02:50 (02:52)
508
Gemini Wars
Nov 2, 2012
$14.99
0% (17%/53%)
34,714 ±5,910
25,510 ±5,066
05:07 (02:11)
509
Solar Struggle
Nov 18, 2014
$5.99
N/A (N/A)
9,731 ±3,129
6,049 ±2,467
03:49 (01:30)
510
Once Bitten, Twice Dead!
Jul 7, 2015
$4.99
N/A (N/A)
22,354 ±4,743
13,149 ±3,637
03:35 (04:02)
511
Citadels
Jul 25, 2013
$14.99
0% (12%/20%)
34,188 ±5,865
32,084 ±5,682
04:43 (02:05)
512
Iron Soul
Feb 26, 2014
$4.99
N/A (N/A)
15,516 ±3,951
6,312 ±2,520
03:21 (02:00)
513
Robowars
Oct 24, 2014
$14.99
N/A (N/A)
159,107 ±12,652
89,153 ±9,471
06:50 (03:10)
514
Project Pulsation
Dec 15, 2015
$4.99
N/A (N/A)
208,023 ±14,466
184,354 ±13,618
06:27 (06:32)
515
Ironclads: Chincha Islands War 1866
Jun 21, 2011
$2.49
N/A (N/A)
34,188 ±5,865
2,630 ±1,626
00:33 (00:49)