Super Bomb Rush!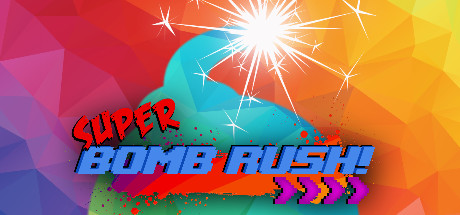 Store | Hub | SteamDB | Site
Developer: Curvature Systems Publisher: Curvature Systems
Genre: Action, Adventure, Casual, Indie, Strategy, Early Access
Languages: English
Tags: Early Access (25), Indie (22), Adventure (21), Action (21), Casual (21), Strategy (20), Time Attack (12), Funny (11), Rhythm (11), Local Co-Op (10), Memes (10), Great Soundtrack (10), 2D (10), Survival (9)
Category: Single-player, Multi-player, Shared/Split Screen, Steam Achievements, Full controller support, Steam Leaderboards
Release date: Feb 2, 2016
Price: $7.99
Owners: 7,583 ± 2,471
Players total: 1,053 ± 920 (13.89%)
Playtime total: 00:02 (average) 00:03 (median)

Steam Spy is still in beta, so expect major bugs.
Peak daily concurrent players:
CCU data courtesy of SteamDB. Used with permission.
Hourly concurrent players:
YouTube:
The views data is based on top 50 videos uploaded last week. Actual number of views might be more than the number shown.

The displayed number of videos uploaded yesterday is limited to 50, so if there were more videos uploaded, the number will still show 50.

If the game has commonly used word as its name (like "FEAR" or "Volume") its number of Youtube views might be wrong.
Games similar to this one:
#
Game
Release date

Price

Score rank
(Userscore / Metascore)

Owners

Players

Playtime (Median)

1
Divinia Chronicles: Relics of Gan-Ti
Oct 2015
$14.99
N/A (N/A)
5,055 ±2,017
211 ±411
00:50 (00:16)
2
Surge
May 24, 2016
Free
91% (95%)
78,358 ±7,943
29,700 ±4,890
00:55 (00:04)
3
Irrational Exuberance: Prologue
Apr 5, 2016
Free
74% (90%)
109,322 ±9,381
51,185 ±6,420
00:17 (00:07)
4
Adventures of Shuggy
Jun 13, 2012
$4.99
70% (89%)
243,499 ±13,999
97,105 ±8,842
01:25 (00:14)
5
Pirates of the Polygon Sea
Jul 12, 2016
$12.99
N/A (N/A)
843 ±823
632 ±713
03:20 (03:20)
6
PolyDome
Aug 9, 2016
Free
N/A (N/A)
30,964 ±4,993
10,321 ±2,883
00:12 (00:04)
7
Leadwerks Game Launcher
Aug 24, 2015
Free
N/A (N/A)
68,879 ±7,447
11,164 ±2,998
00:18 (00:02)
8
Shoot 'Em Up Kit
Jun 5, 2015
$39.99
N/A (N/A)
1,264 ±1,008
1,053 ±920
06:35 (10:23)
9
Redactem
Aug 1, 2016
$0.99
N/A (N/A)
93,524 ±8,677
6,951 ±2,366
00:48 (00:14)
10
Tower of Eglathia
Apr 6, 2015
$3.99
N/A (N/A)
1,685 ±1,164
421 ±582
01:16 (00:50)
11
After All
Apr 20, 2015
$0.99
N/A (N/A)
2,738 ±1,485
632 ±713
00:03 (00:02)
12
Copa Petrobras de Marcas
Apr 8, 2015
Free
14% (58%)
766,517 ±24,821
432,443 ±18,651
00:45 (00:11)
13
Frontier
Mar 4, 2016
$12.99
N/A (N/A)
4,423 ±1,887
843 ±823
00:49 (01:01)
14
UFO Online: Fight for Earth
Oct 10, 2014
Free
N/A (N/A)
1,474 ±1,089
843 ±823
15:54 (19:41)
15
Midnight's Blessing
May 25, 2015
$0.99
N/A (N/A)
7,162 ±2,401
632 ±713
09:52 (09:51)
16
One Day For Ched
Sep 12, 2014
$3.99
N/A (N/A)
28,436 ±4,785
2,949 ±1,541
00:06 (00:03)
17
Zone 22
Jul 31, 2015
$14.99
N/A (N/A)
2,317 ±1,366
211 ±411
00:38 (00:12)
18
Rift's Cave
Dec 1, 2014
$9.99
N/A (N/A)
15,798 ±3,566
1,896 ±1,235
00:27 (00:28)
19
NEO-NOW!
Aug 2, 2016
$2.99
N/A (N/A)
9,268 ±2,732
211 ±411
00:04 (00:01)