Zombie Gotchi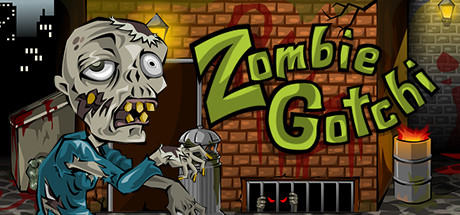 Store | Hub | SteamDB
Developer: SilentFuture Publisher: SilentFuture
Genre: Casual, Indie, Simulation, Early Access
Languages: English, German, French, Italian, Spanish, Russian
Tags: Early Access (35), Simulation (31), Indie (31), Casual (22), Zombies (11)
Category: Single-player, Steam Achievements, Steam Trading Cards, Steam Cloud, Stats
Release date: Mar 23, 2016
Price: $9.99
Followers: 284
YouTube stats: 26 views and 0 comments for videos uploaded last week, 0 new videos uploaded yesterday.

Steam Spy is still in beta, so expect major bugs.
Peak daily concurrent players:
CCU data courtesy of SteamDB. Used with permission.
Hourly concurrent players:
YouTube:
The views data is based on top 50 videos uploaded last week. Actual number of views might be more than the number shown.

The displayed number of videos uploaded yesterday is limited to 50, so if there were more videos uploaded, the number will still show 50.

If the game has commonly used word as its name (like "FEAR" or "Volume") its number of Youtube views might be wrong.
Games similar to this one:
#
Game
Release date

Price

Score rank
(Userscore / Metascore)

Owners

Players

Playtime (Median)

1
Everyday Genius: SquareLogic
Oct 21, 2009
$4.99
99% (98%)
22,224 ±4,483
19,623 ±4,212
73:08 (15:10)
2
Moonlight
Feb 5, 2016
$2.99
99% (98%)
13,476 ±3,491
8,748 ±2,812
02:54 (03:03)
3
Night Blights
Apr 15, 2016
$4.99
N/A (N/A)
18,914 ±4,135
7,566 ±2,615
03:12 (03:19)
4
Unium
Mar 27, 2015
$1.99
95% (96%)
34,755 ±5,606
24,352 ±4,692
03:45 (02:46)
5
Divide By Sheep
Jul 2, 2015
$4.99
92% (95%/83%)
140,437 ±11,268
61,234 ±7,441
02:44 (01:36)
6
Gigachess
Dec 15, 2015
$3.99
N/A (N/A)
6,856 ±2,490
5,201 ±2,168
03:51 (03:00)
7
This Starry Midnight We Make
Jun 1, 2015
$9.99
N/A (N/A)
5,911 ±2,312
3,310 ±1,730
03:17 (03:28)
8
Cloudberry Kingdom
Aug 2, 2013
$9.99
78% (91%/67%)
23,406 ±4,600
20,096 ±4,263
03:20 (01:34)
9
The Way We All Go
Mar 24, 2015
$5.99
74% (90%)
11,112 ±3,170
5,674 ±2,265
27:01 (04:54)
10
Koala Kids
Jun 22, 2015
$2.99
N/A (N/A)
31,681 ±5,352
21,515 ±4,411
03:33 (03:34)
11
Forgotten, Not Lost - A Kinetic Novel
Apr 1, 2016
$1.99
71% (89%)
46,576 ±6,489
17,968 ±4,031
02:52 (02:51)
12
In Between
Aug 21, 2015
$11.99
68% (88%/68%)
65,490 ±7,695
40,429 ±6,046
03:47 (03:31)
13
Rooms: The Unsolvable Puzzle
May 1, 2015
$14.99
68% (88%/66%)
8,748 ±2,812
7,329 ±2,574
02:52 (01:12)
14
Security Hole
Sep 28, 2016
$9.99
N/A (N/A)
6,383 ±2,402
3,546 ±1,790
02:48 (03:23)
15
Alpha Runner
Sep 2, 2015
$0.99
65% (87%)
77,784 ±8,386
51,068 ±6,795
03:19 (02:59)
16
Estiman
Nov 23, 2016
$0.99
N/A (N/A)
10,639 ±3,101
8,038 ±2,696
03:33 (03:51)
17
Masochisia
Oct 9, 2015
$7.99
65% (87%/68%)
7,802 ±2,656
5,201 ±2,168
01:53 (01:55)
18
Anode
Oct 5, 2015
$3.99
N/A (N/A)
14,895 ±3,670
11,585 ±3,236
03:09 (03:33)
19
Project Starship
Apr 5, 2016
$0.99
56% (84%)
266,452 ±15,519
197,652 ±13,367
03:55 (03:31)
20
Governor of Poker 2 - Premium Edition
Oct 11, 2010
$14.99
56% (84%)
39,247 ±5,957
20,096 ±4,263
52:38 (12:30)
21
Until I Have You
Apr 4, 2016
$13.99
56% (84%)
4,729 ±2,067
3,310 ±1,730
01:38 (00:21)
22
Cute Things Dying Violently
Sep 2, 2015
$2.99
N/A (N/A)
14,895 ±3,670
11,348 ±3,203
03:47 (03:25)
23
Way to Go!
Jun 8, 2015
$4.99
N/A (N/A)
21,515 ±4,411
2,128 ±1,387
00:33 (00:58)
24
Crash Drive 2
May 28, 2015
$4.99
54% (83%)
67,854 ±7,833
55,087 ±7,058
04:21 (04:32)
25
Lobotomy Corporation | Monster Management Simulation
Dec 16, 2016
$19.99
51% (82%)
26,007 ±4,849
24,825 ±4,738
16:28 (05:06)
26
Sentinel 4: Dark Star
Aug 13, 2015
$6.99
N/A (N/A)
9,930 ±2,996
7,566 ±2,615
05:46 (04:34)
27
Star Sky -
Oct 23, 2015
$3.99
49% (81%)
12,058 ±3,302
6,620 ±2,446
02:27 (02:24)
28
Neon Prism
Nov 18, 2016
$1.99
49% (81%)
101,190 ±9,565
62,180 ±7,498
03:31 (03:27)
29
Space Drifters 2D
Mar 28, 2016
$0.99
N/A (N/A)
21,988 ±4,459
12,531 ±3,366
04:24 (04:24)
30
CAPSULE
May 29, 2014
$4.99
49% (81%)
13,949 ±3,551
4,965 ±2,119
00:56 (00:47)
31
Collisions
Jul 28, 2015
$3.99
N/A (N/A)
47,049 ±6,522
27,662 ±5,001
02:41 (03:00)
32
Iron Sea Defenders
Sep 9, 2016
$6.99
N/A (N/A)
9,457 ±2,924
6,147 ±2,357
04:51 (05:24)
33
Automation - The Car Company Tycoon Game
Mar 12, 2015
$29.99
47% (80%)
63,126 ±7,555
61,943 ±7,484
23:14 (05:14)
34
Stay Alight
Mar 2, 2015
$3.99
47% (80%)
30,972 ±5,292
20,569 ±4,313
04:49 (03:05)
35
GamersGoMakers
Aug 8, 2014
$9.99
45% (79%)
24,352 ±4,692
16,550 ±3,868
10:21 (07:22)
36
Egg Returns Home
May 5, 2015
$1.99
45% (79%)
38,774 ±5,921
31,445 ±5,332
02:53 (03:16)
37
Ionball 2: Ionstorm
Jun 6, 2014
$4.99
45% (79%/70%)
342,817 ±17,601
167,153 ±12,293
03:25 (03:06)
38
MXGP - The Official Motocross Videogame
Mar 28, 2014
$19.99
43% (78%)
48,231 ±6,604
44,448 ±6,339
22:48 (07:16)
39
Keen Dreams
Sep 28, 2015
$4.99
N/A (N/A)
80,621 ±8,538
61,234 ±7,441
05:01 (04:39)
40
The Last NightMary - A Lenda do Cabea de Cuia
Nov 2, 2015
$3.99
43% (78%)
52,486 ±6,889
34,045 ±5,548
03:30 (03:36)
41
Ancients of Ooga
May 20, 2011
$9.99
N/A (N/A)
22,224 ±4,483
4,492 ±2,015
05:08 (02:23)
42
Paranormal State: Poison Spring
Apr 9, 2014
$9.99
41% (77%)
45,157 ±6,390
25,770 ±4,827
04:16 (03:28)
43
Pixel Puzzles 2: Birds
Feb 20, 2015
$9.99
N/A (N/A)
165,498 ±12,232
61,234 ±7,441
04:30 (04:22)
44
Particulars
Nov 19, 2014
$5.99
N/A (N/A/74%)
34,991 ±5,625
17,732 ±4,004
02:57 (02:27)
45
Alchemy Mysteries: Prague Legends
Dec 22, 2014
$1.99
39% (76%)
123,887 ±10,583
97,407 ±9,385
04:36 (03:29)
46
Space Beret
Oct 25, 2016
$0.99
N/A (N/A)
345,181 ±17,662
280,637 ±15,926
03:28 (03:30)
47
Mayhem Intergalactic
Jan 22, 2009
$9.99
N/A (N/A)
8,275 ±2,735
1,419 ±1,132
01:53 (02:00)
48
The Deletion
Jul 30, 2015
$1.99
37% (75%)
23,643 ±4,624
15,131 ±3,699
03:08 (02:40)
49
Crashed Lander
Feb 4, 2015
$4.99
N/A (N/A)
6,383 ±2,402
3,783 ±1,849
02:43 (01:15)
50
Riddles Of The Past
Jul 22, 2016
$6.99
35% (74%)
7,566 ±2,615
3,783 ±1,849
02:48 (02:40)
51
BalanCity
Sep 21, 2016
$7.99
35% (74%)
22,460 ±4,506
11,112 ±3,170
02:23 (00:54)
52
Laserlife
Sep 22, 2015
$14.99
N/A (N/A)
12,294 ±3,334
6,383 ±2,402
02:41 (03:49)
53
Caravanserail
Mar 10, 2016
$2.99
N/A (N/A)
21,515 ±4,411
15,131 ±3,699
03:09 (03:19)
54
Crash Wheels
Dec 14, 2016
$4.99
31% (72%)
7,566 ±2,615
5,911 ±2,312
05:02 (04:21)
55
Crab Cakes Rescue
Nov 14, 2014
$6.99
N/A (N/A)
61,234 ±7,441
45,394 ±6,407
03:28 (03:30)
56
Strategy & Tactics: Dark Ages
Aug 4, 2017
$14.99
30% (71%)
4,965 ±2,119
2,364 ±1,462
02:45 (01:49)
57
Impossible Quest
Jun 3, 2016
$1.99
28% (70%)
10,876 ±3,136
8,275 ±2,735
06:10 (00:59)
58
Tyler
Jan 14, 2016
$2.99
N/A (N/A)
13,949 ±3,551
6,856 ±2,490
03:22 (03:23)
59
Hoplite
Dec 14, 2016
$0.99
N/A (N/A)
95,989 ±9,316
90,551 ±9,048
03:46 (03:30)
60
Cheesecake Cool Conrad
Oct 8, 2014
$1.24
N/A (N/A)
13,476 ±3,491
709 ±800
00:17 (00:15)
61
Viking Brothers
Apr 23, 2014
$9.99
N/A (N/A)
6,147 ±2,357
3,546 ±1,790
09:04 (18:21)
62
Meadowland
Oct 22, 2014
$3.99
N/A (N/A)
9,930 ±2,996
5,438 ±2,217
03:03 (03:08)
63
Wildlife Park 2
Jul 17, 2014
$6.99
25% (68%)
56,979 ±7,178
51,777 ±6,842
09:10 (03:48)
64
The Battle for Sector 219
Jun 2, 2016
$6.99
N/A (N/A)
8,748 ±2,812
4,965 ±2,119
05:17 (05:32)
65
Ace Of Words
May 13, 2016
$4.99
N/A (N/A)
142,092 ±11,334
108,046 ±9,884
09:33 (05:32)
66
Mind Games
Mar 4, 2016
$2.99
21% (64%)
15,604 ±3,756
11,821 ±3,269
03:13 (03:04)
67
Goodnight Butcher
Dec 18, 2015
$1.99
N/A (N/A)
23,879 ±4,647
17,495 ±3,977
03:24 (03:30)
68
Won't You Be My Laser?
Sep 2, 2016
$0.99
N/A (N/A)
14,895 ±3,670
10,639 ±3,101
18:36 (04:01)
69
Annie Amber
Jun 17, 2016
$7.99
N/A (N/A)
16,077 ±3,813
9,221 ±2,887
03:34 (02:37)
70
Marble Duel
Nov 12, 2015
$4.99
18% (62%)
15,841 ±3,784
10,166 ±3,032
07:08 (04:29)
71
Pixel Survivors
May 5, 2016
$3.99
18% (62%)
24,588 ±4,715
19,387 ±4,187
03:32 (02:53)
72
Metrocide
Dec 15, 2014
$12.99
N/A (N/A/68%)
53,669 ±6,966
26,243 ±4,871
03:25 (02:45)
73
Robot Rescue Revolution
Jul 11, 2014
$4.99
N/A (N/A)
25,061 ±4,760
13,949 ±3,551
02:04 (01:31)
74
Airstrike HD
Mar 23, 2016
$1.99
N/A (N/A)
83,222 ±8,674
63,126 ±7,555
04:23 (04:29)
75
Plight of the Zombie
Feb 22, 2016
$4.99
N/A (N/A)
23,643 ±4,624
2,128 ±1,387
00:09 (00:08)
76
Boss Monster
Apr 28, 2016
$4.99
15% (59%)
20,333 ±4,288
17,495 ±3,977
04:37 (01:42)
77
Reset 1-1
Aug 30, 2016
$1.99
15% (59%)
190,086 ±13,109
150,130 ±11,650
03:51 (03:31)
78
Star Chronicles: Delta Quadrant
Jul 7, 2015
$0.99
15% (59%)
401,214 ±19,041
283,711 ±16,013
03:48 (03:30)
79
Hardware Engineering
Sep 28, 2016
$5.99
15% (59%)
5,438 ±2,217
5,201 ±2,168
01:42 (01:35)
80
Autocraft
Sep 20, 2017
$9.99
14% (58%)
28,844 ±5,107
26,243 ±4,871
08:14 (01:27)
81
Luke Sidewalker
Dec 5, 2016
$0.99
N/A (N/A)
19,150 ±4,161
11,585 ±3,236
16:42 (03:14)
82
Cosmonautica
Jul 31, 2015
$9.99
10% (52%)
101,663 ±9,587
58,397 ±7,266
09:21 (04:44)
83
Quantum Rush Champions
Dec 4, 2014
$9.99
10% (51%)
37,592 ±5,830
26,243 ±4,871
04:42 (04:30)
84
The Good Life
Nov 21, 2014
$9.99
10% (51%)
10,639 ±3,101
7,329 ±2,574
05:51 (01:26)
85
BomberZone
Jun 10, 2016
$1.99
N/A (N/A)
47,049 ±6,522
43,029 ±6,238
05:01 (04:31)
86
Attempt[42]
Dec 8, 2016
$2.99
N/A (N/A)
121,286 ±10,472
115,139 ±10,203
03:37 (03:31)
87
The Architect
Jun 4, 2015
$2.99
N/A (N/A)
14,658 ±3,640
8,275 ±2,735
03:45 (04:13)
88
1953: NATO vs Warsaw Pact
Dec 4, 2014
$4.99
N/A (N/A)
15,841 ±3,784
9,457 ±2,924
04:06 (04:16)
89
Pointless
Feb 22, 2016
Free
8% (49%)
10,876 ±3,136
7,093 ±2,532
01:59 (01:53)
90
Autumn
May 14, 2016
$2.99
N/A (N/A)
57,451 ±7,207
46,576 ±6,489
04:14 (03:26)
91
Evolution
Jun 6, 2016
Free
N/A (N/A)
11,821 ±3,269
6,620 ±2,446
02:37 (02:30)
92
Partical City Guardians
Aug 4, 2016
$1.05
6% (44%)
57,924 ±7,237
53,669 ±6,966
03:32 (03:30)
93
Melting Hearts: Our Love Will Grow 2
Apr 29, 2016
$4.99
N/A (N/A)
20,569 ±4,313
11,821 ±3,269
03:03 (03:05)
94
Yrminsul
Mar 2, 2016
$9.99
N/A (N/A)
15,841 ±3,784
7,329 ±2,574
04:02 (04:05)
95
Reigning Cats
Aug 28, 2015
$1.99
N/A (N/A)
3,074 ±1,667
2,128 ±1,387
03:28 (03:36)
96
White Mirror
Jan 26, 2016
$1.99
4% (39%)
166,680 ±12,275
149,657 ±11,632
04:19 (04:01)
97
Robot vs Birds Zombies
Jul 23, 2015
$0.99
2% (29%)
21,278 ±4,386
13,949 ±3,551
02:44 (03:08)
98
Blob From Space
Oct 15, 2014
$5.99
N/A (N/A)
31,917 ±5,372
24,825 ±4,738
04:27 (04:13)
99
Guardians of Victoria
Apr 29, 2016
$1.99
1% (24%)
248,247 ±14,980
199,543 ±13,431
05:17 (05:01)
100
Magic Box
Jan 19, 2017
$0.99
N/A (N/A)
203,089 ±13,549
199,070 ±13,415
03:37 (03:30)