App

The Ultimate Showdown
The Ultimate Showdown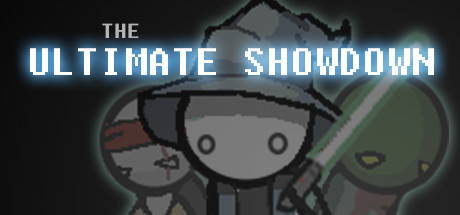 Store | Hub | SteamDB
Developer: Harrison Walters Publisher: Sole Propriotership
Genre: Action, Indie, Simulation
Languages: English
Tags: Action (22), Indie (22), Simulation (21)
Category: Single-player, Includes level editor
Release date: Sep 16, 2015
Price: $2.99
Followers: 116
YouTube stats: 76 views and 2 comments for videos uploaded last week, 0 new videos uploaded yesterday.

Steam Spy is still in beta, so expect major bugs.
Peak daily concurrent players:
CCU data courtesy of SteamDB. Used with permission.
Hourly concurrent players:
YouTube:
The views data is based on top 50 videos uploaded last week. Actual number of views might be more than the number shown.

The displayed number of videos uploaded yesterday is limited to 50, so if there were more videos uploaded, the number will still show 50.

If the game has commonly used word as its name (like "FEAR" or "Volume") its number of Youtube views might be wrong.
Games similar to this one:
#
Game
Release date

Price

Score rank
(Userscore / Metascore)

Owners

Players

Playtime (Median)

1
Starship Rubicon
Jul 13, 2015
$9.99
N/A (N/A)
11,597 ±3,273
7,007 ±2,544
03:50 (03:42)
2
My Pet Rock
Jan 23, 2017
$0.89
N/A (N/A)
49,287 ±6,749
46,388 ±6,547
05:03 (04:33)
3
Mobile Astro
Dec 15, 2016
$0.99
N/A (N/A)
7,490 ±2,631
5,074 ±2,165
03:35 (02:51)
4
Robo's World: The Zarnok Fortress
Mar 7, 2016
$9.99
N/A (N/A)
12,805 ±3,440
6,523 ±2,455
02:51 (03:04)
5
Get Over Here
Aug 20, 2015
$0.99
N/A (N/A)
9,664 ±2,988
7,007 ±2,544
04:32 (05:29)
6
Chill the Piro
Apr 28, 2016
$1.99
N/A (N/A)
34,549 ±5,650
31,409 ±5,387
04:53 (05:08)
7
BLEAK: Welcome to Glimmer
Apr 8, 2016
$7.99
N/A (N/A)
9,664 ±2,988
6,765 ±2,500
03:48 (03:43)
8
Space Scaven
Apr 8, 2016
$6.99
N/A (N/A)
15,704 ±3,809
7,490 ±2,631
02:51 (02:59)
9
Murasaki
May 12, 2016
$2.49
N/A (N/A)
6,282 ±2,409
3,141 ±1,703
02:48 (03:40)
10
Mibibli's Quest
Aug 4, 2016
$5.99
N/A (N/A)
9,423 ±2,951
2,174 ±1,417
11:19 (04:55)
11
Gunman Clive 2
Sep 3, 2015
$2.99
N/A (N/A)
12,805 ±3,440
2,658 ±1,567
01:42 (01:27)
12
Conga Master
Sep 14, 2016
$3.39
N/A (N/A)
2,658 ±1,567
2,174 ±1,417
04:56 (06:51)
13
Hyperdrive Massacre
Oct 12, 2015
$2.49
N/A (N/A)
17,395 ±4,009
2,899 ±1,637
06:03 (01:43)
14
Hyper Bounce Blast
May 27, 2016
$4.99
N/A (N/A)
27,060 ±5,000
23,194 ±4,630
03:49 (03:36)
15
Rubber Ducky and the Rainbow Gun
Dec 15, 2015
$0.99
74% (90%)
12,080 ±3,341
7,248 ±2,588
02:33 (03:02)
16
Straimium Immortaly
Oct 10, 2016
$4.49
74% (90%)
9,664 ±2,988
5,798 ±2,315
03:20 (03:00)
17
Nemesis Perspective
Dec 21, 2016
Free
N/A (N/A)
1,691 ±1,250
242 ±472
02:06 (00:42)
18
Lance A Lot: Classic Edition
Oct 18, 2016
$3.24
N/A (N/A)
3,866 ±1,890
2,899 ±1,637
01:30 (01:23)
19
Nary
Aug 2, 2016
$1.99
N/A (N/A)
9,181 ±2,913
6,523 ±2,455
04:46 (03:35)
20
Korwin The Game
Oct 1, 2015
$1.99
51% (82%)
5,315 ±2,216
4,107 ±1,948
02:53 (02:50)
21
Combat Racers
Apr 16, 2016
$6.99
N/A (N/A)
1,450 ±1,157
242 ±472
04:05 (01:21)
22
Dungeon Highway
Mar 23, 2015
$3.99
N/A (N/A)
1,450 ±1,157
725 ±818
00:44 (00:42)
23
Hypnorain
Jul 8, 2016
$9.99
N/A (N/A)
2,416 ±1,494
1,691 ±1,250
02:32 (03:27)
24
Vicky Saves the Big Dumb World
Oct 1, 2015
$0.99
N/A (N/A)
22,469 ±4,557
17,879 ±4,065
03:42 (03:50)
25
AIPD - Artificial Intelligence Police Department
Jan 28, 2016
$9.99
N/A (N/A)
1,450 ±1,157
966 ±945
04:08 (03:40)
26
Knight of the Hamsters
Apr 15, 2015
$0.99
N/A (N/A)
2,144 ±1,713
357 ±699
00:32 (00:16)
27
Inside Me
Sep 29, 2015
$7.99
N/A (N/A)
1,450 ±1,157
725 ±818
00:07 (00:07)
28
Incandescent
Jun 30, 2015
$0.49
25% (68%)
43,730 ±6,357
32,858 ±5,510
04:10 (04:17)
29
Spirit of Maya
Jan 6, 2017
$0.99
N/A (N/A)
8,215 ±2,755
4,590 ±2,059
05:49 (06:50)
30
Galactic Storm
Sep 16, 2016
$2.99
N/A (N/A)
6,282 ±2,409
242 ±472
02:10 (00:43)
31
Gem Wars: Attack of the Jiblets
Dec 14, 2015
Free
18% (62%)
26,093 ±4,910
15,946 ±3,839
03:51 (03:55)
32
Babel: Choice
Feb 12, 2016
$9.99
N/A (N/A)
1,208 ±1,056
1,208 ±1,056
02:45 (03:03)
33
Fleeting Ages
May 2, 2016
$1.99
N/A (N/A)
9,906 ±3,025
1,691 ±1,250
00:44 (00:57)
34
Bleeding Border
Nov 9, 2015
$4.99
N/A (N/A)
24,644 ±4,772
12,080 ±3,341
04:10 (04:38)
35
Sombrero: Spaghetti Western Mayhem
Oct 27, 2016
N/A
N/A (N/A)
3,866 ±1,890
2,658 ±1,567
03:43 (04:48)
36
Umbra: Shadow of Death
Dec 18, 2015
$0.99
N/A (N/A)
1,933 ±1,336
966 ±945
05:05 (05:00)
37
Miner Wars Arena
Aug 28, 2012
$4.99
N/A (N/A)
21,744 ±4,483
3,141 ±1,703
00:28 (00:15)
38
Incursion The Thing
Nov 10, 2016
$4.99
N/A (N/A)
1,379 ±1,910
1,379 ±1,910
00:30 (00:48)
39
Tower Defense Ultimate
Jun 10, 2016
$5.99
N/A (N/A)
3,141 ±1,703
1,691 ±1,250
04:09 (04:22)
40
Nightork Adventures - Beyond the Moons of Shadalee
Aug 23, 2016
$0.49
N/A (N/A)
33,583 ±5,571
27,060 ±5,000
03:10 (03:15)