Lucky Rabbit Reflex!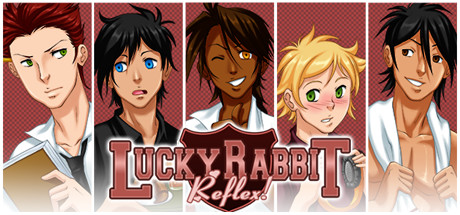 Store | Hub | SteamDB | Site
Developer: Super63 Publisher: Super63
Genre: Casual, Indie, Simulation
Languages: English
Tags: Simulation (23), Casual (22), Indie (21), Visual Novel (20), Dating Sim (19), Otome (14), Female Protagonist (13), Anime (7)
Category: Single-player, Steam Achievements, Steam Trading Cards, Partial Controller Support
Release date: Oct 9, 2015
Price: $8.99 40%
Owners: 4,753 ± 2,078
Players in the last 2 weeks: 706 ± 1,382 (14.86%)
Players total: 3,327 ± 1,739 (70%)
Followers: 575
Peak concurrent players yesterday: 2
Playtime in the last 2 weeks: 00:26 (average) 00:26 (median)
Playtime total: 05:23 (average) 04:59 (median)

Steam Spy is still in beta, so expect major bugs.
Peak daily concurrent players:
CCU data courtesy of SteamDB. Used with permission.
Hourly concurrent players:
YouTube:
The views data is based on top 50 videos uploaded last week. Actual number of views might be more than the number shown.

The displayed number of videos uploaded yesterday is limited to 50, so if there were more videos uploaded, the number will still show 50.

If the game has commonly used word as its name (like "FEAR" or "Volume") its number of Youtube views might be wrong.
Games similar to this one:
#
Game
Release date

Price

Score rank
(Userscore / Metascore)

Owners

Players

Playtime (Median)

1
LOOP: A Tranquil Puzzle Game
May 22, 2015
$4.99
97% (97%)
4,515 ±2,025
4,040 ±1,916
08:46 (05:44)
2
Animated Puzzles
Dec 16, 2016
$9.99
N/A (N/A)
3,089 ±1,675
2,614 ±1,541
14:20 (09:57)
3
New York Mysteries: The Lantern of Souls
Aug 24, 2016
$6.99
86% (93%)
3,089 ±1,675
2,614 ±1,541
04:27 (03:44)
4
Lines
Jun 8, 2017
$3.24
N/A (N/A)
1,663 ±1,229
1,426 ±1,138
03:01 (03:59)
5
Enigmatis 3: The Shadow of Karkhala
Aug 11, 2016
$4.99
86% (93%)
42,536 ±6,218
27,803 ±5,027
04:50 (03:50)
6
Power Link VR
Sep 9, 2016
Free
N/A (N/A)
5,703 ±2,276
2,139 ±1,394
00:39 (00:11)
7
All My Gods
Oct 13, 2015
$3.99
N/A (N/A)
5,941 ±2,323
1,426 ±1,138
04:14 (04:42)
8
Gardens Inc. From Rakes to Riches
Mar 25, 2014
$9.99
N/A (N/A)
32,318 ±5,420
3,089 ±1,675
10:57 (09:49)
9
Elastrix
Dec 18, 2014
$2.99
N/A (N/A)
2,139 ±1,394
713 ±805
00:58 (00:56)
10
Merlin adventurer store
Dec 2, 2016
$2.99
N/A (N/A)
34,932 ±5,634
20,436 ±4,310
04:04 (04:52)
11
Mountain Crime: Requital
Aug 27, 2015
$1.04
61% (86%)
60,834 ±7,436
42,774 ±6,235
03:34 (03:29)
12
RunningDead
Mar 3, 2017
$1.99
61% (86%)
11,882 ±3,286
8,317 ±2,749
03:09 (02:52)
13
Brink of Consciousness: Dorian Gray Syndrome Collector's Edition
Jul 18, 2014
$9.99
59% (85%)
36,833 ±5,786
8,080 ±2,710
11:23 (05:17)
14
Demon Hunter 3: Revelation
Dec 1, 2016
$3.99
N/A (N/A)
14,496 ±3,629
9,743 ±2,976
03:42 (03:21)
15
Fox & Flock
Jun 9, 2015
$1.99
54% (83%)
13,783 ±3,539
9,030 ±2,865
03:48 (04:22)
16
Plankton
Oct 27, 2016
$1.79
N/A (N/A)
11,644 ±3,253
9,030 ±2,865
02:25 (02:39)
17
Alex Hunter - Lord of the Mind Platinum Edition
Dec 3, 2013
$6.99
49% (81%)
30,179 ±5,237
19,486 ±4,208
05:42 (05:07)
18
7 Wonders of the Ancient World
Feb 18, 2014
$6.99
N/A (N/A)
33,982 ±5,557
4,277 ±1,971
15:31 (02:10)
19
Scarlett Mysteries: Cursed Child
Jun 8, 2017
$4.99
N/A (N/A)
2,139 ±1,394
475 ±657
03:27 (02:17)
20
LOGistICAL
Feb 15, 2017
$9.99
41% (77%)
1,426 ±1,138
1,188 ±1,039
73:35 (122:33)
21
Cat or Bread?
May 8, 2017
$0.99
41% (77%)
55,369 ±7,094
54,180 ±7,017
06:53 (07:00)
22
Boneless Zombie
Jul 27, 2015
$4.99
N/A (N/A)
9,505 ±2,939
1,663 ±1,229
00:22 (00:28)
23
Queen's Quest 3: The End of Dawn
Apr 27, 2017
$4.99
N/A (N/A)
7,842 ±2,669
4,277 ±1,971
03:08 (03:23)
24
Wildlife Camp
Nov 20, 2015
$6.99
N/A (N/A)
1,901 ±1,314
1,901 ±1,314
01:49 (02:12)
25
Formula Fusion
May 31, 2017
$19.99
31% (72%/58%)
9,268 ±2,902
9,030 ±2,865
02:23 (01:19)
26
The Dreamatorium of Dr. Magnus 2
Sep 9, 2015
$7.99
N/A (N/A)
31,130 ±5,319
23,288 ±4,600
03:24 (03:24)
27
Card of spirits
Jun 21, 2016
$1.99
N/A (N/A)
10,456 ±3,082
9,030 ±2,865
04:12 (03:12)
28
The Curse of the Werewolves
Sep 1, 2014
$9.99
N/A (N/A)
716 ±991
716 ±991
02:36 (02:35)
29
Chronicle Keepers: The Dreaming Garden
Jun 11, 2015
$4.99
N/A (N/A)
11,169 ±3,186
2,139 ±1,394
02:28 (02:58)
30
Agent Walker: Secret Journey
Sep 1, 2016
$3.99
N/A (N/A)
10,456 ±3,082
7,604 ±2,629
10:04 (03:05)
31
Revhead
Mar 9, 2017
$14.99
21% (64%)
4,515 ±2,025
4,277 ±1,971
09:18 (09:18)
32
The Corporate Machine
Mar 25, 2015
$9.99
N/A (N/A/80%)
58,695 ±7,304
7,842 ±2,669
03:02 (00:19)
33
Samantha Swift and the Golden Touch
Apr 29, 2009
$3.99
N/A (N/A)
38,972 ±5,951
5,228 ±2,180
03:02 (03:26)
34
Twilight City: Love as a Cure
Dec 18, 2015
$1.74
N/A (N/A)
16,397 ±3,860
1,426 ±1,138
01:14 (02:00)
35
On The Road
Mar 30, 2017
$14.99
14% (58%)
5,466 ±2,228
5,466 ±2,228
01:53 (00:52)
36
Showing Tonight: Mindhunters Incident
Nov 12, 2015
$1.99
N/A (N/A)
9,505 ±2,939
5,941 ±2,323
06:40 (06:38)
37
Blue Tear
Dec 16, 2016
$7.99
N/A (N/A)
3,564 ±1,800
1,426 ±1,138
03:24 (02:27)
38
Game Tycoon 2
Apr 8, 2016
$7.49
3% (37%)
14,971 ±3,689
11,644 ±3,253
02:19 (02:17)
39
Mountain Trap: The Manor of Memories
Dec 13, 2016
$6.99
N/A (N/A)
4,277 ±1,971
2,852 ±1,610
05:54 (05:17)
40
Pure Hold'em
Aug 20, 2015
$19.99
N/A (N/A)
2,852 ±1,610
2,614 ±1,541
03:28 (05:15)