App

Ginger: Beyond the Crystal
Ginger: Beyond the Crystal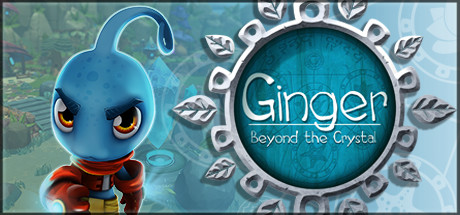 Store | Hub | SteamDB | Site
Developer: Drakhar Studio Publisher: Badland Games
Genre: Adventure, Indie
Languages: English, French, Italian, German, Spanish, Russian
Tags: Adventure (43), Indie (42), 3D Platformer (26), Cartoon (24), Platformer (16), Puzzle-Platformer (13), Singleplayer (11), Family Friendly (11), Sandbox (10), Simulation (10), Arcade (10), Casual (10)
Category: Single-player, Steam Achievements, Full controller support, Steam Trading Cards, Steam Cloud
Release date: Oct 25, 2016
Price: $14.99
Followers: 565
Peak concurrent players yesterday: 2
YouTube stats: 2 views and 0 comments for videos uploaded last week, 1 new videos uploaded yesterday.

Steam Spy is still in beta, so expect major bugs.
Peak daily concurrent players:
CCU data courtesy of SteamDB. Used with permission.
Hourly concurrent players:
YouTube:
The views data is based on top 50 videos uploaded last week. Actual number of views might be more than the number shown.

The displayed number of videos uploaded yesterday is limited to 50, so if there were more videos uploaded, the number will still show 50.

If the game has commonly used word as its name (like "FEAR" or "Volume") its number of Youtube views might be wrong.
Games similar to this one:
#
Game
Release date

Price

Score rank
(Userscore / Metascore)

Owners

Players

Playtime (Median)

1
A Midsummer Night's Choice
Aug 25, 2016
$3.99
N/A (N/A)
2,289 ±1,349
1,665 ±1,150
00:59 (01:24)
2
Steamroll
Feb 19, 2016
$12.99
N/A (N/A)
9,365 ±2,729
4,371 ±1,864
02:34 (02:34)
3
Math Rescue
May 5, 2014
$4.99
N/A (N/A)
50,365 ±6,330
2,289 ±1,349
00:04 (00:02)
4
Ballads of Reemus: When the Bed Bites
Apr 27, 2015
$4.99
N/A (N/A)
4,995 ±1,993
1,457 ±1,076
02:03 (03:20)
5
Four Last Things
Feb 23, 2017
$7.99
N/A (N/A)
624 ±704
416 ±575
01:39 (01:06)
6
Gunmetal Arcadia Zero
Nov 15, 2016
$5.99
N/A (N/A)
46,827 ±6,103
2,497 ±1,409
01:05 (00:24)
7
Jacob Jones and the Bigfoot Mystery : Episode 1
Sep 15, 2014
$4.99
N/A (N/A)
1,457 ±1,076
624 ±704
03:18 (01:57)
8
Hello Charlotte
Nov 21, 2016
$4.99
N/A (N/A)
1,457 ±1,076
1,457 ±1,076
02:40 (04:00)
9
Nancy Drew®: Curse of Blackmoor Manor
Oct 10, 2009
$6.99
N/A (N/A/81%)
16,650 ±3,639
11,239 ±2,990
08:14 (06:39)
10
Barrow Hill: Curse of the Ancient Circle
Sep 22, 2016
$7.99
N/A (N/A)
25,599 ±4,513
1,041 ±909
02:59 (02:28)
11
The Sea Will Claim Everything
Mar 24, 2016
$9.99
N/A (N/A)
3,122 ±1,576
832 ±813
10:40 (11:23)
12
Pajama Sam 3: You Are What You Eat From Your Head To Your Feet
May 15, 2014
$6.99
100% (100%)
34,756 ±5,258
15,401 ±3,500
02:22 (01:24)
13
Supipara - Chapter 1 Spring Has Come!
Jul 29, 2016
$14.99
97% (97%)
1,258 ±1,230
943 ±1,065
01:35 (01:09)
14
Open Sorcery
Feb 22, 2017
$3.99
N/A (N/A)
3,122 ±1,576
1,873 ±1,220
02:37 (02:24)
15
Guns of Infinity
Mar 29, 2016
$4.99
N/A (N/A)
3,330 ±1,627
2,081 ±1,286
11:44 (12:27)
16
Legacy of Dorn: Herald of Oblivion
Dec 2, 2015
$4.99
N/A (N/A)
3,122 ±1,576
2,289 ±1,349
01:55 (01:20)
17
Bik - A Space Adventure
Oct 14, 2014
$4.99
N/A (N/A)
5,411 ±2,074
4,162 ±1,819
01:41 (01:37)
18
Monsters Ate My Birthday Cake
Jul 1, 2014
$7.99
N/A (N/A)
3,122 ±1,576
2,497 ±1,409
06:22 (08:16)
19
Escape!VR -The Basement-
Nov 7, 2016
$11.99
N/A (N/A)
3,122 ±1,576
2,497 ±1,409
00:50 (00:53)
20
Pocket Kingdom
Dec 8, 2016
$6.99
N/A (N/A)
1,041 ±909
832 ±813
09:56 (13:08)
21
Putt-Putt® Travels Through Time
May 15, 2014
$6.99
91% (95%)
30,802 ±4,950
13,528 ±3,280
02:36 (01:47)
22
Pan-Pan
Aug 25, 2016
$12.99
N/A (N/A)
2,081 ±1,286
1,249 ±996
01:48 (01:18)
23
Cosmo's Cosmic Adventure
May 5, 2014
$4.99
N/A (N/A)
53,695 ±6,535
5,619 ±2,114
01:45 (00:09)
24
Beglitched
Oct 6, 2016
$9.99
91% (95%)
2,914 ±1,522
1,873 ±1,220
04:56 (08:30)
25
LostWinds 2: Winter of the Melodias
Mar 24, 2016
$9.99
N/A (N/A)
3,122 ±1,576
1,249 ±996
01:54 (01:52)
26
Knee Deep
Jul 6, 2015
$19.99
91% (95%)
17,898 ±3,773
9,365 ±2,729
03:40 (04:17)
27
Dreadhalls
Mar 9, 2017
$9.99
N/A (N/A)
1,249 ±996
1,041 ±909
00:54 (00:51)
28
The Coma: Cutting Class
Oct 19, 2015
$9.99
88% (94%/69%)
6,868 ±2,337
5,619 ±2,114
03:13 (02:57)
29
Nancy Drew®: Last Train to Blue Moon Canyon
Oct 10, 2009
$6.99
N/A (N/A/77%)
13,320 ±3,255
6,868 ±2,337
05:31 (05:30)
30
Creepy Castle
Oct 31, 2016
$14.99
N/A (N/A/82%)
1,457 ±1,076
1,041 ±909
02:25 (03:30)
31
Gahkthun of the Golden Lightning Steam Edition
Apr 15, 2016
$39.99
N/A (N/A)
2,081 ±1,286
832 ±813
03:53 (03:50)
32
Small Radios Big Televisions
Nov 8, 2016
$11.99
N/A (N/A/67%)
31,426 ±5,000
2,706 ±1,467
00:34 (00:27)
33
Brighter Day
Jul 17, 2015
$2.99
N/A (N/A)
2,497 ±1,409
1,873 ±1,220
03:57 (05:05)
34
Nancy Drew®: Secret of the Old Clock
Oct 10, 2009
$6.99
N/A (N/A/80%)
12,071 ±3,099
4,995 ±1,993
06:06 (05:03)
35
The Frostrune
Feb 2, 2017
$9.99
81% (92%)
3,330 ±1,627
1,249 ±996
02:08 (02:36)
36
GRAVEN The Purple Moon Prophecy
Sep 29, 2016
$9.99
N/A (N/A)
1,041 ±909
832 ±813
05:05 (06:42)
37
Lily's Day Off
Jan 6, 2017
$2.99
N/A (N/A)
624 ±704
416 ±575
00:21 (00:14)
38
Quest for Glory 1-5
Aug 29, 2016
$9.99
N/A (N/A)
69,096 ±7,414
8,741 ±2,637
19:05 (02:34)
39
Disney•Pixar WALL-E
Feb 24, 2015
$19.99
N/A (N/A)
4,371 ±1,864
1,249 ±996
06:26 (02:52)
40
Secrets of Me
Oct 4, 2016
$15.99
N/A (N/A)
1,041 ±909
624 ±704
22:17 (18:24)
41
Lost Chronicles of Zerzura
Jul 10, 2014
$9.99
N/A (N/A)
15,193 ±3,476
2,497 ±1,409
07:23 (06:34)
42
The Order of the Thorne - The King's Challenge
Jan 26, 2016
$9.99
N/A (N/A/71%)
4,995 ±1,993
2,497 ±1,409
02:29 (02:44)
43
The Rainy Port Keelung 雨港基隆
Mar 30, 2015
$24.99
70% (89%)
6,868 ±2,337
3,954 ±1,773
07:45 (05:13)
44
INFRA
Jan 15, 2016
$12.49
70% (89%)
11,447 ±3,017
9,157 ±2,699
08:12 (05:25)
45
Airport Madness 3D
May 25, 2016
$14.99
67% (88%)
7,284 ±2,407
6,868 ±2,337
06:43 (05:54)
46
Yesterday Origins
Nov 10, 2016
$29.99
N/A (N/A/74%)
6,868 ±2,337
5,619 ±2,114
09:44 (10:44)
47
Projector Face
Jun 1, 2016
$4.99
N/A (N/A)
4,371 ±1,864
2,289 ±1,349
03:06 (03:24)
48
Midvinter
May 5, 2016
$4.99
N/A (N/A)
8,741 ±2,637
5,619 ±2,114
03:12 (03:31)
49
Mooch
Sep 7, 2015
$4.99
N/A (N/A)
3,330 ±1,627
2,289 ±1,349
03:00 (05:00)
50
XBlaze Code: Embryo
Mar 1, 2016
$19.99
N/A (N/A)
3,122 ±1,576
1,249 ±996
12:36 (17:03)
51
Nancy Drew®: Shadow at the Water's Edge
Sep 15, 2011
$6.99
N/A (N/A)
16,442 ±3,616
8,741 ±2,637
10:25 (08:15)
52
Gochi-Show! -How To Learn Japanese Cooking Game-
Sep 1, 2016
$4.99
N/A (N/A)
1,249 ±996
624 ±704
00:39 (00:38)
53
Renoir
Nov 16, 2016
$9.99
N/A (N/A)
943 ±1,065
0 ±0
00:00 (00:00)
54

[email protected]

Feb 9, 2017
$14.99
N/A (N/A)
2,497 ±1,409
2,497 ±1,409
03:41 (02:08)
55
Call of Cthulhu: Shadow of the Comet
Nov 4, 2015
$5.99
N/A (N/A)
3,538 ±1,677
1,041 ±909
04:51 (05:45)
56
The Guilt and the Shadow
Feb 2, 2015
$8.99
N/A (N/A)
2,081 ±1,286
1,249 ±996
03:46 (03:59)
57
Adventure Time: Finn and Jake Investigations
Dec 1, 2015
$14.99
N/A (N/A)
2,497 ±1,409
2,289 ±1,349
06:53 (06:36)
58
Nancy Drew®: The Captive Curse
Jul 25, 2011
$6.99
N/A (N/A)
10,198 ±2,848
7,701 ±2,475
08:43 (07:08)
59
Robin's Quest
Apr 17, 2014
$4.99
53% (83%)
10,198 ±2,848
3,330 ±1,627
52:39 (03:33)
60
The Temporal Invasion
Jul 4, 2016
$4.99
N/A (N/A)
9,990 ±2,819
7,076 ±2,372
05:16 (05:08)
61
Destiny's Princess: A War Story, A Love Story
Apr 5, 2016
$15.99
53% (83%)
3,122 ±1,576
1,873 ±1,220
05:58 (07:44)
62
Warden: Melody of the Undergrowth
Apr 8, 2016
$19.99
N/A (N/A)
1,873 ±1,220
1,665 ±1,150
04:16 (03:08)
63
Princess Isabella
Apr 15, 2014
$4.99
N/A (N/A)
12,487 ±3,152
2,289 ±1,349
03:59 (04:30)
64
Detective Hayseed - Hollywood
Oct 7, 2016
$14.99
N/A (N/A)
4,787 ±1,951
2,289 ±1,349
05:35 (07:21)
65
The Last Crown: Midnight Horror
Oct 29, 2015
$4.99
48% (81%)
6,868 ±2,337
4,371 ±1,864
02:50 (02:11)
66
Game Royale 2 - The Secret of Jannis Island
Dec 22, 2016
$4.99
N/A (N/A)
2,914 ±1,522
2,706 ±1,467
01:34 (01:24)
67
Soulless: Ray Of Hope
Oct 18, 2016
$9.99
N/A (N/A)
6,452 ±2,265
3,538 ±1,677
04:06 (02:32)
68
Wailing Heights
Apr 27, 2016
$9.99
N/A (N/A/70%)
2,289 ±1,349
1,457 ±1,076
05:00 (05:20)
69
Heaven's Hope - Special Edition
Feb 25, 2016
$19.99
N/A (N/A/74%)
9,990 ±2,819
6,660 ±2,301
09:46 (08:57)
70
Planet in the Shadows
Apr 15, 2016
$3.99
N/A (N/A)
2,706 ±1,467
832 ±813
00:41 (00:39)
71
Adam's Venture: Origins
Apr 1, 2016
$17.99
N/A (N/A)
2,081 ±1,286
1,665 ±1,150
19:47 (05:13)
72
Sylvio
Jun 5, 2015
$12.99
N/A (N/A/60%)
3,954 ±1,773
2,706 ±1,467
06:21 (05:20)
73
Dustbowl
May 18, 2015
$8.99
44% (79%)
2,081 ±1,286
1,873 ±1,220
02:28 (00:42)
74
FATED: The Silent Oath
Apr 28, 2016
$9.99
42% (78%/67%)
2,914 ±1,522
2,706 ±1,467
00:44 (00:41)
75
Voyage: Journey to the Moon
Aug 29, 2014
$4.99
N/A (N/A)
38,711 ±5,549
4,579 ±1,908
02:32 (00:33)
76
Eventide 2: The Sorcerers Mirror
Oct 13, 2016
$9.99
N/A (N/A)
2,081 ±1,286
1,665 ±1,150
03:50 (02:03)
77
Duke Grabowski, Mighty Swashbuckler
Oct 6, 2016
$6.99
N/A (N/A)
1,873 ±1,220
624 ±704
03:14 (02:32)
78
Haunted
Aug 18, 2014
$11.99
N/A (N/A/76%)
10,822 ±2,934
6,036 ±2,191
04:32 (02:20)
79
Detective Hunt - Crownston City PD
May 22, 2016
$4.99
N/A (N/A)
1,041 ±909
416 ±575
05:36 (03:43)
80
The Last Sniper VR
Aug 3, 2016
$9.99
34% (74%)
8,741 ±2,637
8,325 ±2,573
01:50 (01:08)
81
Californium
Feb 17, 2016
$9.99
34% (74%/64%)
6,660 ±2,301
3,330 ±1,627
02:01 (01:28)
82
Thing-in-Itself
Jan 5, 2017
$2.49
N/A (N/A)
832 ±813
832 ±813
00:42 (00:45)
83
My Butler
Aug 14, 2016
$4.99
N/A (N/A)
2,289 ±1,349
1,665 ±1,150
03:05 (03:35)
84
Last Heroes 2
Jan 22, 2016
$1.99
N/A (N/A)
3,954 ±1,773
1,457 ±1,076
03:19 (03:09)
85
The Interactive Adventures of Dog Mendonça & Pizzaboy®
Mar 3, 2016
$3.74
N/A (N/A)
53,071 ±6,497
5,411 ±2,074
02:14 (02:08)
86
Dark Fall 2: Lights Out
Dec 3, 2013
$4.99
N/A (N/A/66%)
62,228 ±7,036
4,371 ±1,864
02:34 (01:50)
87
A Golden Wake
Oct 9, 2014
$9.99
31% (72%/68%)
19,980 ±3,987
10,822 ±2,934
03:15 (02:42)
88
Ian's Eyes
Sep 1, 2016
$9.99
N/A (N/A/36%)
1,665 ±1,150
1,249 ±996
02:19 (04:06)
89
Haven Moon
Jul 8, 2016
$7.49
29% (71%)
6,036 ±2,191
5,411 ±2,074
03:48 (03:26)
90
Bottle
Apr 21, 2016
$1.99
26% (69%)
6,036 ±2,191
3,746 ±1,726
02:02 (02:08)
91
Rememoried
Aug 31, 2015
$9.99
24% (67%)
11,030 ±2,962
6,036 ±2,191
01:50 (02:01)
92
Last Heroes
Nov 13, 2015
$1.99
N/A (N/A)
6,868 ±2,337
4,371 ±1,864
02:51 (02:59)
93
A Stroke of Fate: Operation Valkyrie
Oct 28, 2011
$6.99
N/A (N/A)
8,117 ±2,541
3,954 ±1,773
02:43 (01:13)
94
Alter Ego
Aug 3, 2010
$9.99
21% (65%/59%)
26,640 ±4,603
8,741 ±2,637
08:16 (02:22)
95
NightCry
Mar 28, 2016
$24.99
19% (63%)
3,330 ±1,627
2,497 ±1,409
09:37 (10:01)
96
It's Killing Time
Apr 22, 2016
$4.99
N/A (N/A)
1,572 ±1,375
1,572 ±1,375
04:32 (04:23)
97
Masha Rescues Grandma
Dec 23, 2016
$3.99
N/A (N/A)
4,787 ±1,951
2,914 ±1,522
02:09 (02:22)
98
The Abbey
Jul 15, 2014
$19.99
N/A (N/A)
1,665 ±1,150
624 ±704
07:58 (04:27)
99
Wind Child
Mar 18, 2016
$0.99
N/A (N/A)
2,706 ±1,467
2,081 ±1,286
04:50 (03:45)
100
Playing History 2 - Slave Trade
Aug 27, 2015
$4.99
N/A (N/A)
13,112 ±3,229
1,873 ±1,220
01:06 (01:32)
101
Father´s Island
Jun 21, 2016
$4.99
N/A (N/A)
6,036 ±2,191
3,746 ±1,726
03:59 (03:43)
102
Nikopol: Secrets of the Immortals
Jul 30, 2009
$4.99
17% (61%/68%)
164,832 ±11,449
31,635 ±5,016
01:28 (00:22)
103
Block Legend DX
Feb 24, 2015
$4.99
N/A (N/A)
6,452 ±2,265
5,619 ±2,114
03:28 (03:30)
104
Fall of the Titanic
Dec 3, 2015
Free
16% (60%)
9,157 ±2,699
8,533 ±2,605
31:06 (01:13)
105
Nancy Drew®: Trail of the Twister
Jul 25, 2011
$6.99
N/A (N/A)
15,193 ±3,476
7,284 ±2,407
05:58 (03:53)
106
The Great Fusion
Feb 25, 2015
$2.99
N/A (N/A)
5,411 ±2,074
3,954 ±1,773
02:08 (02:16)
107
Space Rangers: Quest
Sep 5, 2016
$9.99
N/A (N/A)
1,041 ±909
416 ±575
02:22 (01:34)
108
Black Island
Oct 14, 2015
$2.99
N/A (N/A)
1,572 ±1,375
1,258 ±1,230
04:25 (04:41)
109
A Vampyre Story
Jul 15, 2014
$19.99
13% (56%/75%)
6,244 ±2,228
2,914 ±1,522
01:04 (00:45)
110
Haunted House™
Sep 28, 2010
$5.99
N/A (N/A)
7,909 ±2,508
4,787 ±1,951
04:03 (00:37)
111
Tibetan Quest: Beyond the World's End
Apr 7, 2016
$9.99
N/A (N/A)
11,239 ±2,990
5,619 ±2,114
04:26 (04:13)
112
Escape The Lost Kingdom: The Forgotten Pharaoh
Apr 29, 2014
$4.99
N/A (N/A)
10,614 ±2,906
2,497 ±1,409
01:29 (01:38)
113
De-Void
Sep 2, 2016
$7.99
N/A (N/A)
3,538 ±1,677
2,289 ±1,349
03:09 (03:32)
114
Nicolas Eymerich - The Inquisitor - Book 1 : The Plague
Apr 30, 2014
$4.99
N/A (N/A)
22,685 ±4,248
2,497 ±1,409
01:04 (01:46)
115
Crossbow Warrior - The Legend of William Tell
Dec 10, 2015
$4.99
N/A (N/A)
1,572 ±1,375
943 ±1,065
00:13 (00:18)
116
Office lovers
Aug 7, 2016
$3.19
N/A (N/A)
1,041 ±909
624 ±704
18:23 (13:45)
117
Mirror Mysteries 2
Apr 10, 2014
$4.99
N/A (N/A)
7,492 ±2,441
2,081 ±1,286
03:39 (04:18)
118
Viktaram
Dec 1, 2016
$0.99
N/A (N/A)
2,289 ±1,349
1,457 ±1,076
01:32 (01:20)
119
Dangerous Relationship
Aug 23, 2016
$15.99
N/A (N/A)
2,081 ±1,286
1,665 ±1,150
11:55 (07:46)
120
The Princess' Heart
Jul 30, 2015
$4.99
N/A (N/A)
10,614 ±2,906
5,411 ±2,074
03:13 (03:01)
121
Pilot Brothers 3: Back Side of the Earth
Jan 22, 2015
$4.99
N/A (N/A)
5,619 ±2,114
416 ±575
02:08 (01:25)
122
Mistwood Heroes
Dec 30, 2016
$0.99
N/A (N/A)
7,492 ±2,441
3,954 ±1,773
02:43 (03:03)
123
Lost Horizon 2
Oct 1, 2015
$3.74
N/A (N/A/58%)
10,822 ±2,934
3,330 ±1,627
05:43 (06:09)
124
Endless Room
Sep 30, 2016
$1.99
N/A (N/A)
4,787 ±1,951
3,330 ±1,627
03:23 (02:57)
125
The Cameron Files: The Secret at Loch Ness
Jul 18, 2014
$2.99
N/A (N/A/66%)
24,350 ±4,401
1,665 ±1,150
01:11 (02:23)
126
Escape The Museum
Apr 29, 2014
$4.99
N/A (N/A)
3,538 ±1,677
832 ±813
00:23 (00:19)
127
COAST GUARD
Oct 21, 2015
$14.99
N/A (N/A/47%)
9,157 ±2,699
4,995 ±1,993
04:02 (03:23)
128
Corto Maltese - Secrets of Venice
Dec 4, 2014
$9.99
N/A (N/A)
6,244 ±2,228
4,371 ±1,864
05:52 (04:43)
129
Fireflies
Sep 7, 2015
$1.99
N/A (N/A)
8,325 ±2,573
5,411 ±2,074
06:04 (07:03)