When In Rome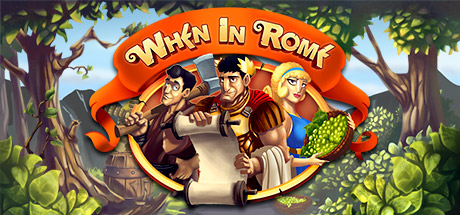 Store | Hub | SteamDB | Site
Developer: Realore Publisher: Qumaron
Genre: Adventure, Casual, Simulation, Strategy
Languages: English, French, Italian, German, Spanish, Russian
Tags: Casual (21), Strategy (20), Adventure (20), Simulation (18)
Category: Single-player
Release date: Oct 29, 2015
Price: $4.99
Owners: 0..30,000
Followers: 127
Peak concurrent players yesterday: 1
YouTube stats: 6 views and 0 comments for videos uploaded last week, 0 new videos uploaded yesterday.

Steam Spy is still in beta, so expect major bugs.
Owners data:
Audience in 2 weeks:
Total audience:
Peak daily concurrent players:
CCU data courtesy of SteamDB. Used with permission.
Hourly concurrent players:
YouTube:
The views data is based on top 50 videos uploaded last week. Actual number of views might be more than the number shown.

The displayed number of videos uploaded yesterday is limited to 50, so if there were more videos uploaded, the number will still show 50.

If the game has commonly used word as its name (like "FEAR" or "Volume") its number of Youtube views might be wrong.
Games similar to this one:
#
Game
Release date

Price

Score rank
(Userscore / Metascore)

1
Induction
Feb 7, 2017
$9.99
N/A (N/A)
2
Quell Reflect
May 14, 2015
$3.99
N/A (N/A)
3
Quell Memento
May 14, 2015
$3.99
N/A (N/A)
4
Slashy Hero
Oct 18, 2016
$6.99
N/A (N/A)
5
Dots eXtreme
Sep 13, 2016
$1.99
N/A (N/A)
6
Ricochet Kills: Noir
Mar 3, 2017
$2.99
N/A (N/A)
7
Axes and Acres
Apr 7, 2016
$4.99
N/A (N/A)
8
Dynetzzle Extended
Mar 15, 2016
$0.99
N/A (N/A)
9
Hade
Dec 2, 2016
$2.99
N/A (N/A)
10
OESE
Jun 14, 2016
$4.99
N/A (N/A)
11
RYB
Nov 17, 2016
$4.99
N/A (N/A)
12
Drunk On Nectar - The Nature Simulator
Nov 16, 2016
$14.99
N/A (N/A)
13
Puzzle Strike
Dec 21, 2015
$14.99
N/A (N/A)
14
90 Minute Fever - Football (Soccer) Manager MMO
Jul 12, 2016
$4.99
N/A (N/A)
15
Hospitalize
Sep 21, 2016
$15.99
N/A (N/A)
16
FullBlast
Jan 28, 2016
$5.99
N/A (N/A)
17
Copter and Sky
Jul 21, 2016
$4.99
N/A (N/A)
18
Porno Studio Tycoon
May 5, 2017
$19.69
13% (58%)
19
Shoot Paint
Feb 27, 2017
$0.99
N/A (N/A)
20
Village Story
Feb 27, 2017
$1.99
N/A (N/A)
21
Dyadic
Feb 25, 2016
$9.99
N/A (N/A)
22
GOD's DEATH
May 11, 2016
$3.99
N/A (N/A)
23
VRNinja
Sep 14, 2016
$9.99
N/A (N/A)