Magnetron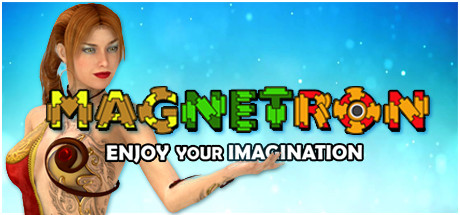 Store | Hub | SteamDB | Site
Developer: Jay-Run Publisher: Jay-Run
Genre: Action, Indie, Early Access
Languages: English
Tags: Early Access (25), Action (22), Indie (22)
Category: Single-player, Includes level editor
Release date: Nov 16, 2015
Price: $5.99
Owners: 6,015 ± 2,509
Followers: 151
YouTube stats: 11 views and 2 comments for videos uploaded last week, 1 new videos uploaded yesterday.

Steam Spy is still in beta, so expect major bugs.
Peak daily concurrent players:
CCU data courtesy of SteamDB. Used with permission.
Hourly concurrent players:
YouTube:
The views data is based on top 50 videos uploaded last week. Actual number of views might be more than the number shown.

The displayed number of videos uploaded yesterday is limited to 50, so if there were more videos uploaded, the number will still show 50.

If the game has commonly used word as its name (like "FEAR" or "Volume") its number of Youtube views might be wrong.
Games similar to this one:
#
Game
Release date

Price

Score rank
(Userscore / Metascore)

Owners

Players

Playtime (Median)

1
Captain Kaon
Apr 14, 2017
$6.99
N/A (N/A)
9,023 ±3,072
6,289 ±2,565
03:21 (03:45)
2
PIXELMAN
Feb 28, 2018
$2.99
N/A (N/A)
9,843 ±3,209
5,195 ±2,331
03:30 (03:38)
3
Expander
Dec 1, 2015
$2.99
N/A (N/A)
6,836 ±2,674
3,008 ±1,774
03:18 (03:37)
4
Nekuia
Dec 16, 2016
$9.99
N/A (N/A)
5,195 ±2,331
3,008 ±1,774
04:08 (05:22)
5
Paperbound
Mar 31, 2015
$9.99
N/A (N/A/68%)
14,492 ±3,894
7,929 ±2,880
05:19 (06:36)
6
Journey To The Center Of The Earth
Sep 25, 2015
N/A
N/A (N/A/65%)
464,558 ±22,039
338,507 ±18,815
04:20 (04:00)
7
Spectrubes
Mar 25, 2016
$1.99
N/A (N/A)
16,406 ±4,143
11,484 ±3,466
03:56 (04:06)
8
Deranged Rabbits
Jul 29, 2016
$4.99
N/A (N/A)
8,203 ±2,929
6,015 ±2,509
03:05 (02:55)
9
Mech Anarchy
Mar 15, 2016
$7.99
N/A (N/A)
3,828 ±2,001
2,461 ±1,604
04:11 (04:32)
10
Hypership Out of Control
Sep 29, 2015
$1.99
N/A (N/A)
19,140 ±4,475
13,672 ±3,782
08:20 (03:32)
11
Adventure Apes and the Mayan Mystery
Jul 15, 2016
$2.99
N/A (N/A)
6,836 ±2,674
5,469 ±2,392
03:34 (03:33)
12
Adventures Of Fluzz
Sep 3, 2016
$3.99
N/A (N/A)
18,867 ±4,443
1,914 ±1,415
01:18 (02:33)
13
Car Washer: Summer of the Ninja
Nov 4, 2015
$4.99
N/A (N/A)
19,687 ±4,539
15,312 ±4,003
04:17 (04:16)
14
3 Coins At School
Apr 20, 2016
$4.99
N/A (N/A)
26,249 ±5,241
21,874 ±4,784
05:15 (05:46)
15
Stone Tales
Dec 11, 2015
$0.99
N/A (N/A)
14,765 ±3,930
8,203 ±2,929
03:11 (03:35)
16
RefRain - prism memories -
May 12, 2016
$14.99
N/A (N/A)
5,195 ±2,331
3,555 ±1,928
43:33 (10:31)
17
Marvin's Mittens
Dec 17, 2014
$5.99
99% (98%)
9,570 ±3,164
5,469 ±2,392
02:37 (03:13)
18
Bullet Heaven 2
Dec 7, 2015
$11.99
99% (98%)
10,117 ±3,253
9,843 ±3,209
10:16 (08:37)
19
Dispersio
Dec 1, 2016
$0.99
N/A (N/A)
2,048 ±1,792
1,229 ±1,388
00:19 (00:13)
20
Wait - Extended
Oct 29, 2015
$7.99
N/A (N/A)
4,375 ±2,139
2,187 ±1,513
03:07 (03:52)
21
Cataegis : The White Wind
Sep 25, 2015
$9.99
N/A (N/A)
203,706 ±14,598
123,591 ±11,371
04:48 (05:01)
22
Stardust Galaxy Warriors: Stellar Climax
Nov 10, 2015
$9.99
86% (93%)
8,476 ±2,978
4,648 ±2,205
14:24 (02:30)
23
Raining Blobs
Jan 15, 2016
$9.99
N/A (N/A)
15,586 ±4,038
7,929 ±2,880
04:22 (05:23)
24
Conquest of Elysium 4
Nov 16, 2015
$12.49
82% (92%)
12,031 ±3,548
11,211 ±3,425
27:22 (18:27)
25
Creeper World 2: Anniversary Edition
Nov 16, 2016
$4.99
N/A (N/A)
14,765 ±3,930
8,203 ±2,929
11:02 (10:55)
26
Cosmic Cavern 3671
Jul 14, 2016
$4.99
N/A (N/A)
6,562 ±2,620
4,648 ±2,205
02:46 (03:22)
27
Max, an Autistic Journey
Aug 19, 2016
$5.99
N/A (N/A)
8,750 ±3,026
4,648 ±2,205
03:59 (03:14)
28
Finque
Nov 11, 2016
$0.99
N/A (N/A)
5,742 ±2,451
3,281 ±1,853
03:02 (03:37)
29
Heroes Never Lose: Professor Puzzler's Perplexing Ploy
Nov 23, 2015
$8.99
N/A (N/A)
3,281 ±1,853
2,461 ±1,604
04:44 (06:17)
30
SUPER IMPOSSIBLE ROAD
May 11, 2016
$12.99
59% (85%)
3,828 ±2,001
3,008 ±1,774
03:46 (02:17)
31
Mu Complex
Oct 23, 2015
$8.99
59% (85%)
8,750 ±3,026
6,836 ±2,674
03:42 (05:39)
32
Hypersensitive Bob
Mar 29, 2016
$4.99
N/A (N/A)
4,101 ±2,071
3,828 ±2,001
04:36 (03:27)
33
Pixel Gladiator
Sep 8, 2017
$1.24
49% (81%)
18,593 ±4,411
12,304 ±3,588
05:55 (02:58)
34
Rogue Wizards
Sep 27, 2016
$14.99
49% (81%/67%)
16,953 ±4,212
7,656 ±2,830
06:01 (01:25)
35
Imagine Earth
May 20, 2014
$16.99
47% (80%)
19,140 ±4,475
18,867 ±4,443
04:30 (02:36)
36
Amphora
Nov 12, 2014
$13.99
47% (80%)
4,375 ±2,139
3,555 ±1,928
01:54 (01:48)
37
Gladius | Gladiator VR Sword fighting
Dec 21, 2016
$9.99
39% (76%)
5,195 ±2,331
4,101 ±2,071
02:06 (01:22)
38
Alchemist's Awakening
Mar 21, 2016
$15.99
39% (76%)
8,750 ±3,026
7,109 ±2,727
03:20 (03:12)
39
The Shadowland
Jul 17, 2016
$0.99
N/A (N/A)
8,750 ±3,026
4,648 ±2,205
02:43 (03:11)
40
Fist Slash: Of Ultimate Fury
Dec 10, 2015
$3.99
N/A (N/A)
10,390 ±3,297
5,742 ±2,451
03:22 (03:43)
41
Tavern Tycoon - Dragon's Hangover
Jan 31, 2017
$10.99
33% (73%)
16,406 ±4,143
15,859 ±4,073
08:31 (03:48)
42
Tenshu General
Dec 1, 2015
$5.99
N/A (N/A)
3,828 ±2,001
3,008 ±1,774
03:03 (03:35)
43
Empires Of Creation
Nov 20, 2015
$4.99
N/A (N/A)
9,297 ±3,119
4,375 ±2,139
03:50 (03:51)
44
BlastZone 2
Feb 19, 2015
$2.99
30% (71%)
22,148 ±4,814
13,672 ±3,782
05:33 (05:17)
45
Filthy Lucre
Dec 11, 2016
$12.99
29% (70%)
2,187 ±1,513
1,914 ±1,415
02:49 (03:40)
46
Kings under the hill
Feb 1, 2017
$0.99
N/A (N/A)
144,098 ±12,278
139,449 ±12,079
03:49 (03:32)
47
Unforgiven VR
Feb 23, 2017
$9.99
N/A (N/A)
5,469 ±2,392
820 ±926
00:20 (00:17)
48
Mustache in Hell
Jul 28, 2016
$4.99
N/A (N/A)
8,476 ±2,978
5,195 ±2,331
03:18 (03:31)
49
Shadow Of Nebula
Feb 29, 2016
$4.99
N/A (N/A)
820 ±926
820 ±926
02:36 (02:36)
50
Footbrawl Playground
Sep 1, 2016
$5.99
N/A (N/A)
2,187 ±1,513
1,914 ±1,415
02:55 (04:36)
51
Farlight Explorers
Mar 11, 2015
$14.99
21% (64%)
6,015 ±2,509
4,922 ±2,269
04:35 (03:36)
52
Shadows of Kurgansk
Dec 15, 2016
$5.99
21% (64%)
6,289 ±2,565
5,742 ±2,451
02:16 (01:31)
53
Big Fish Legend
Jul 20, 2015
$6.99
N/A (N/A)
9,570 ±3,164
6,836 ±2,674
03:58 (03:29)
54
Sunset Rangers
Mar 1, 2018
$14.99
15% (59%)
17,500 ±4,279
2,734 ±1,691
00:48 (00:45)
55
Starship Corporation
Apr 29, 2016
$19.99
13% (57%)
15,312 ±4,003
14,218 ±3,857
05:51 (02:52)
56
Hero's Song
Nov 7, 2016
N/A
11% (54%)
3,555 ±1,928
3,008 ±1,774
12:25 (25:39)
57
Gravity Core - Braintwisting Space Odyssey
Jul 1, 2015
$9.99
N/A (N/A)
1,638 ±1,603
819 ±1,133
05:31 (03:13)
58
BoneBone: Rise of the Deathlord
Jun 17, 2016
$1.99
N/A (N/A)
180,464 ±13,740
156,676 ±12,803
03:37 (03:30)
59
Sniper Tactical
Jan 8, 2016
$4.99
N/A (N/A)
831 ±1,627
831 ±1,627
00:02 (00:02)
60
Gunnheim
Oct 16, 2015
$9.99
4% (38%)
110,192 ±10,737
60,428 ±7,952
04:19 (03:56)
61
UnderWater Adventure
Jun 1, 2016
$3.99
N/A (N/A)
10,117 ±3,253
3,008 ±1,774
02:53 (03:11)
62
SNIPER BLACKLIST
Aug 11, 2016
$0.99
N/A (N/A)
2,187 ±1,513
820 ±926
00:49 (00:46)
63
Hero Quest: Tower Conflict
Apr 13, 2016
$0.99
1% (25%)
308,976 ±17,976
265,774 ±16,673
03:59 (03:43)
64
The Albatross
Feb 15, 2017
$1.99
N/A (N/A)
49,764 ±7,216
47,577 ±7,056
04:10 (04:19)
65
Shotgun Raiders
Sep 15, 2016
$2.99
N/A (N/A)
33,359 ±5,908
22,968 ±4,902
03:48 (03:39)
66
DAMAGE CONTROL
Apr 5, 2016
$0.99
N/A (N/A)
12,851 ±3,667
6,289 ±2,565
04:22 (04:39)
67
A-Men 2
Jun 24, 2015
$8.99
N/A (N/A)
11,758 ±3,507
7,383 ±2,779
05:53 (06:25)